Kaori's easy recipe – Learn how to make "Hello Kitty Chocolate Ganache Mini Tarts"
With just a small bit of ingenuity, turn everyday food into something cute using Kaori's recipe series! With a few simple ideas, an ordinary recipe magically transforms into a cute dish.
In this article, you'll learn how to easily make "Hello Kitty Chocolate Ganache Mini Tarts." You can still make it in time before Valentine's Day arrives!
1: Ingredients
50g Chocolate
50g White Whocolate
4 Large Servings of Fresh Cream
9 Mini Tart Pastries
Chocolate Pens
Decorative Fresh Cream
Strawberries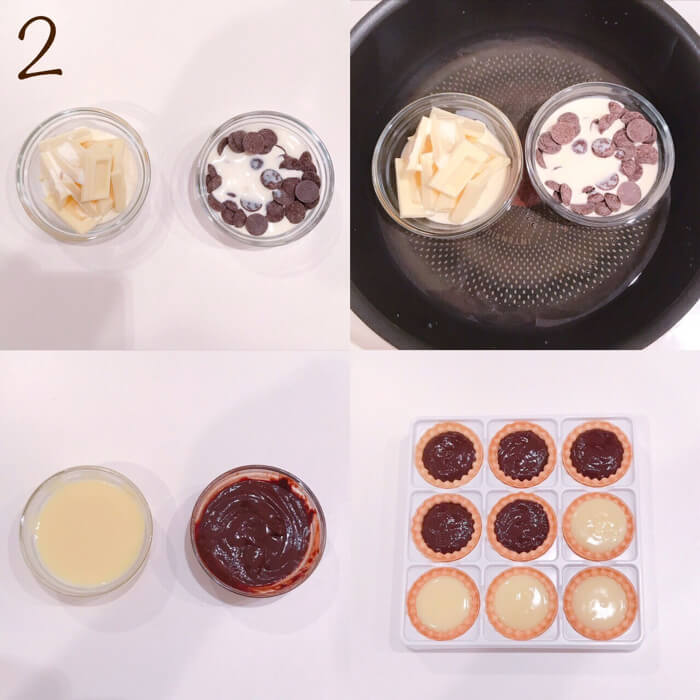 2: Divide the milk chocolate and white chocolate into two separate large servings of fresh cream and melt over a pan of hot water. Pour the melted chocolate into the mini tart pastries.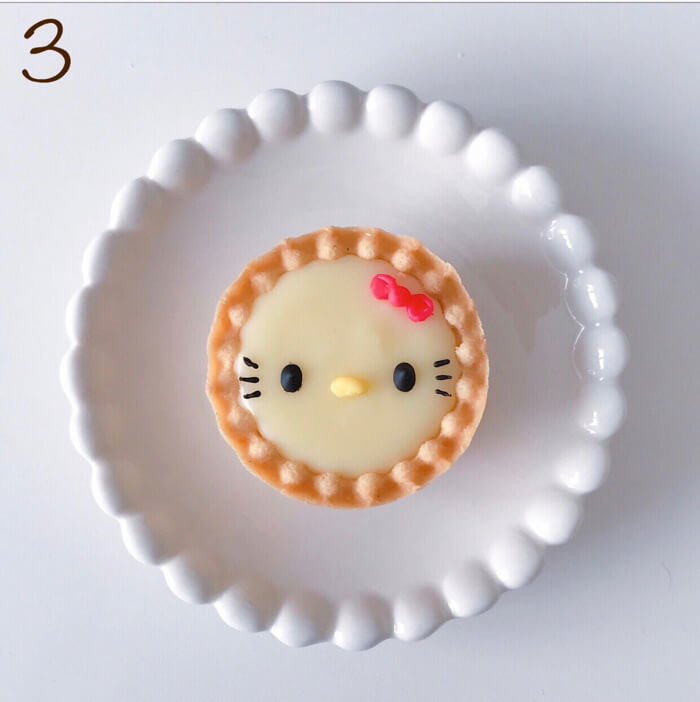 3: Leave the chocolate to cool and set. Afterwards, draw Hello Kitty's face onto the white chocolate tarts with your chocolate pens.
4: Slice the strawberries vertically and then cut into heart shapes. Top the milk chocolate tarts with fresh cream and decorate with your heart-shaped strawberries and some silver balls. (Don't worry if you don't have silver balls.)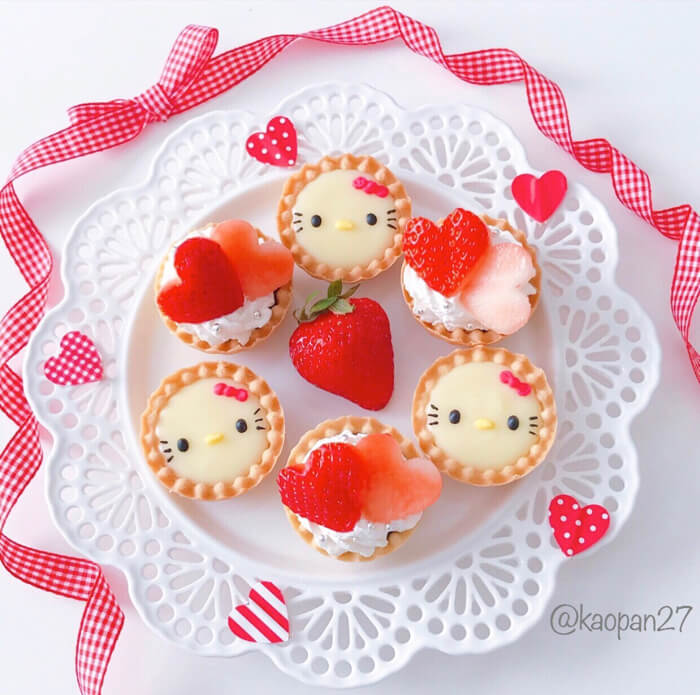 5: Done!
And there you have it – your creation is complete in no time at all with ingredients you can buy from the shop. The flavour of the chocolate becomes a little soft when you put in ganache and can be enjoyed deliciously even after some time♡
There's plenty more character-themed dishes on the way from Kaori! In the mean time, please check out her Instagram page where she has uploaded many pictures of her character dishes.
■Profile
Kaori Kubota(@kaopan27)
I live in Hokkaido and enjoy making dinner, sweet treats and character food using bread♡
I want to see my family smile, so I enjoy transforming food into characters and making cute meals♡
You can see more of my character food and bentos on my Instagram page → @kaopan27
RECOMMENDED ENTRIES
Very easy to make! Seven popular character "bentos"(box lunches) such as Kitty and Minions.

With just a small bit of ingenuity, turn everyday food into something cute using Kaori's recipe series! With a few simple ideas, an ordinary recipe magically transforms into a cute dish.

In this article, I will introduce to you the recipes which Kaori introduced before by the degree of difficulty.

<Elementary level: you don't have to use heat>
Cut-out toast of Rilakkuma, Korilakkuma and Kiiroi Tori.

Very cute toast can be made just by cutting out the parts!

Beginners should start from this recipe.

Detailed information:http://www.moshimoshi-nippon.jp/48033

Totoro's Ume Kyuri Norimaki (seaweed sushi using Japanese plum and cucumber)

Make Totoro's on the roll of norimaki and include the ingredients you like!

Persons who are not familiar of making character meals can make this recipe easily.

Detailed:http://www.moshimoshi-nippon.jp/57966

<Intermediate level >
Minion's cup rice omelet

You will surely want to show this cute menu to your family or friends.

Even persons who are clumsy can make this menu easily since it does not have precise parts.

Detailed information:http://www.moshimoshi-nippon.jp/55447

>>next page

Kaori's easy recipe – Learn how to make " "KITTY's Chocolate Spoon"

With just a small bit of ingenuity, turn everyday food into something cute using Kaori's recipe series! With a few simple ideas, an ordinary recipe magically transforms into a cute dish.

In this article, I will introduce to you how to make KITTY-chan's chocolate spoon which is suitable to be used as a gift for friends.

1: Ingredients

Chocolate

※Each piece is 30g. This time, we will use 180g of chocolate since we are going to make six pieces.

Chocolate pen

Marshmallows

Nuts (any type of nuts you want to eat)

Dried fruits

Silicon cup (available at Seria – 100 yen – 3 cups)

Wooden spoon (Available at Seria)

 

2: Dissolve the chocolate by putting the bowl into hot water.

 

3: Pour the melted chocolate into the silicon cups.

 

4: Draw the face of KITTY-chan on the marshmallow. Draw the parts of the face in the following order / nose → eyes, whiskers → ribbon.

 

5: Insert the wooden spoon into the chocolate before the chocolate gets hard.

 

6: After inserting the wooden spoon, place your favorite nuts and dried fruits on the top.

Put a little bit of chocolate underneath the marshmallow and place it on top of the surface of the chocolate.

 

7: After decorating the chocolate, put it in the refrigerator and wait for one night.

 

8: Remove the silicon cup after the chocolate gets hard. Finished!

 

The chocolate itself is very tasty but it is recommended that you put it into hot milk to make hot chocolate.

Since the chocolate is easy to be wrapped, you can give it to your kids' frineds♡

Kaori also invites you into her world of character-themed rice dishes in her recipe series! Please check out her Instagram where she has uploaded many pictures of her character dishes!

■Profile

Kaori Kubota (@kaopan27)

I live in Hokkaido and I love to make character-shaped meals, desserts and breads.

I enjoy making character foods because I want to see my family smiling,

My character foods and character bento boxes are introduced in my Instagram page→@kaopan27

Kaori's easy recipe – Learn how to make "Sanrio Character Temari Sushi" Character Sweets

With just a small bit of ingenuity, turn everyday food into something cute using Kaori's recipe series! With a few simple ideas, an ordinary recipe magically transforms into a cute dish.

Today, you will learn how to make "Sanrio Character Temaru Sushi"!

1: Ingredients

Rice

Nori (seaweed)

Ikura (roe)

Nama-fu (wheat starch)

Tuna

Snow peas

☆My Melody (face and ears)

Salmon flakes

Ham

☆Hello Kitty (chubby face)

Scallops

☆Pochacco (ears) / Keroppi (eyes)

Sliced cheese

☆Pompompurin (face, hat)

Shredded omelette

Shimeji mushrooms

☆Keroppi (eyes)

Cucumber

Shape cutters, nori hole punch

2: Prepare sumeshi (vinegared rice) and cook the mushroom, wheat starch and snow peas in shirodashi. Set aside to cool.

3: Slice the scallop, shape a round sphere of rice and place onto the slice (30g rice used in the photo). Wrap into a round shape with cling film.

4: Thinly slice the cucumber with a peeler and put on 30g rice like before. Wrap into a round shape with cling film.

5: Scallop→Hello Kitty & Pochacco

Cucumber→Keroppi

Shredded Omelette→Pompompurin

Put rice onto the shredded omelette that's on the cling film and wrap like in steps 3 and 4.

(The shredded omelette in this recipe was bought from the market.)

Salmon Flakes→My Melody

(Wrap the rice after covering with salmon flakes)

6: For Pochacco's ears, cut the nori into ear shapes and put onto sliced cheese and cut around it with a toothpick.

7: Pochacco→Fix the ears from step 6 with fried pasta.

My Melody→Cut the ham into ear shapes and fix with fried pasta. Cut the sliced cheese into an oval and place onto the rice for the face.

Pompompurin→Fix the sliced cheese ears and cooked with mushroom with fried pasta.

Keroppi→Place on sliced cheese eyes and round ham slices for the cheeks.

Hello Kitty→Place on a sliced cheese nose.

Once you have made it this far, place each one onto a plate and place on eyes and noses with hole punched nori.

(If you put the nori on too early it'll become really flimsy.)

Create some more temari sushi using the same 30g rice and decorate with roe, wheat starch and snow peas.

A perfect bento for New Year's!

Kaori will be making even more character rice dishes for you to try making!

She has lots of character rice dishes over on her Instagram page, so please be sure to check it out.

■Profile

Kaori Kubota(@kaopan27)

I live in Hokkaido and enjoy making dinner, sweet treats and character food using bread♡

I want to see my family smile, so I enjoy transforming food into characters and making cute meals♡

You can see more of my character food and bentos on my Instagram page → @kaopan27

Kaori's easy recipe – learn how to make a "Kitty's strawberry daifuku"!

With just a small bit of ingenuity, turn everyday food into something cute using Kaori's recipe series! With a few simple ideas, an ordinary recipe magically transforms into a cute dish. Today we'll look at a recipe that uses a lot of fruit. Let us introduce to you, "Kitty's strawberry daifuku".

■1:Ingredients(to make 6 pieces)

・Strawberries 6

・Rice flour for dumplings 120g

・Sugar(white sugar or granulated sugar)20〜25g

(Use white colored sugar to make daifuku white)

・White bean paste 180g

(Use white bean paste to make daifuku white)

・Water 150ml

・Chocolate pens (black・yellow)

・Kitty's ribbon pic(can be bought at a 100 yen shop)

2:Remove strawberries' calyx. Wash strawberries and wipe with kitchen paper. Divide the bean paste into 30g each and roll it up. Place the bean paste on a sheet of cellophane wrap flatly. Then put on strawberries and roll it up.

※Cut the tip of strawberries so that it can't come up from bean paste.

3:Mix sugar and rice flour for dumplings with water litter by little. Mix it until it becomes smooth.

4:When it becomes smooth like picture No.3, heat it for 2minutes and 10 seconds at 500w with a sheet of cellophane wrap. After that, mix it again and heat it for 1 more minutes.

5:After heating, mix it until it becomes smoothly like a picture above.

6:Place a dough on cornstarch. *Be careful to be burned

Divide it into 7 pieces. (6 for daifuku and 1 for Kitt7S ears)

Make each dough flat and wrap it up on bean paste. When dough stick together, make a round with your hands and put the cut sections down.

7:When you all roll up, make ears. Cut into triangle, make sure don't put cornstarch on cut section)

8:Put the cut sections down and place it on the heads.

(If the dough dry up, put a little water)

When you fixing the ears, put a pic ribbon, and write a nose, eyes, and mustache with chocolate pens.

Finished♡

Kaori also invites you into her world of character-themed rice dishes in her recipe series! Please check out her Instagram where she has uploaded many pictures of her character dishes!

■Profile

Kaori Kubota(@kaopan27)

Kaori lives in Hokkaido and enjoys making dinners, sweet treats and character food using bread ♡

Kaori also loves to experiment with small tricks to crate easy character-themed sweets @kaopan27

Kaori's easy recipe – learn how to make a cute Hello Kitty fruit sandwich!

With just a small touch, turn everyday food into something cute with Kaori's recipe series! With a few simple ideas, an ordinary recipe magically transforms into a cute dish. Today we'll be looking at a recipe that uses strawberries to make a cute Hello Kitty sandwich!

■ Ingredients

・Sliced bread

・Strawberries

・Fresh cream

・Sliced cheddar cheese

・Chocolate sheets

・Cutter

■How to make

1: Cut two slices of bread into the shape of Hello Kitty's face

2: Slice the strawberries

3: Spread fresh cream on one side of the Hello Kitty "face"

4: Layer the sliced strawberries on top of the slice of bread with the fresh cream, place another layer of bread on top to make a sandwich.

5: With a third slice of bread, make two hands for Hello Kitty.

6: Use the chocolate to make the eyes and whiskers, the cheddar cheese to make the nose, and the strawberries to make a ribbon for Hello Kitty. Use the face you cut out from the bread as a reference for size.

7: Attach the whiskers, eyes and nose to the bread using some fresh cream as glue.

8: The hands made in step 5 will now be made into a foundation. Please cut them as shown in the picture.

9: Pile the remaining slices of bread on top of each other to make a foundation layer. Place this behind the Hello Kitty head to raise it high.

10:Place the strawberry sandwich on top of the foundation layer. Put the hands in place and garnish with a strawberry – and you're done!

11:This is how it looks from a side view…now let's eat the remaining bread and fresh cream as a light snack! ♪

Kaori also invites you into her world of character-themed rice dishes in her recipe series! Please check out her Instagram where she has uploaded many pictures of her character dishes!

■Profile

Kaori Kubota(@kaopan27)

Kaori lives in Hokkaido and enjoys making dinners, sweet treats and character food using bread ♡ Kaori also loves to experiment with small tricks for easy character-themed ▶@kaopan27

−−−

Related article:A recipe for photogenic food #1 "lollipop" sandwiches

Related article:A recipe for photogenic food #14 「Prosciutto ribbon sushi」

Kaori's easy recipe – learn how to make a "Kitty's rice burger"!

With just a small bit of ingenuity, turn everyday food into something cute using Kaori's recipe series! With a few simple ideas, an ordinary recipe magically transforms into a cute dish. Today we'll look at a recipe that uses a lot of fruit. Let us introduce to you, "Kitty's rice burger".

1: Ingredients

・rice 250g~260g

・Thinly sliced beef 60~70G (pork can also be used)

・wheat flour (this will be sprinkled over the beef), adequate amount

・sauce / soy sauce – 2tbsp, sweet cooking rice wine – 2tbsp, sake – 2tbsp, sugar – 1tbsp

(Mix all the ingredients together)

・lettuce, adequate amount

・red Vienna sausage, 2.3 pieces

・laver, 1/4 piece

・cheddar cheese slice, 1/4 piece

・A Kitty-shaped mold

2: Place the mold on a sheet of cellophane wrap and stuff rice into the mold to half way. Press the rice tightly so that the shaped rice does not crumble when the mold is removed. Make two of these.

3: Line up the thinly sliced beef and sprinkle it with wheat flour.

(The beef and the sauce will attach to each other well by sprinkling it with wheat flour)

4: Put oil in the pan and fry the beef. Mix it with the sauce.

5: Put lettuce→beef mixed with the sauce→rice on top of the mold-shaped rice.

6: Remove the skin of the red Vienna sausage

7: Cut the red Vienna sausage to make a ribbon, cut out cheddar cheese to make a nose and cut out laver to make eyes and whiskers.

8: First, place the nose (cheddar cheese)on the face and then place the eyes and whiskers on the face.

Kaori also invites you into her world of character-themed rice dishes in her recipe series! Please check out her Instagram where she has uploaded many pictures of her character dishes!

■Profile

Kaori Kubota(@kaopan27)

Kaori lives in Hokkaido and enjoys making dinners, sweet treats and character food using bread ♡

Kaori also loves to experiment with small tricks to crate easy character-themed sweets @kaopan27

Related article:Kaori's easy recipe – Learn how to make "Rilakkuma & Korilakkuma's Trifle Scoop Cake"

Related article:Kaori's easy recipe – Learn how to make "Pompompurin-chan's Sweet Potato"
RELATED ENTRIES
Kyary Pamyu Pamyu Collaborates with Famous Poeme Sweets in Ehime Prefecture

Kyary Pamyu Pamyu made waves with music lovers around the world last month when she performed at Coachella, one of the largest and most famous music festivals on Earth. On May 28, Kyary will perform in Ehime, and the artist has released details about another collaboration as part of the LOCAL POWER JAPAN Project, launched to energize Japan through the appeal of regional towns and cities.

In Ehime Prefecture, Kyary is teaming up with Poeme, a famous sweets shop in Setouchi close to the Seto Inland Sea. The shop itself opened in 1950 with a different name and quickly became popular for its Butter Manju. The buns, baked in a buttery biscuit dough with red bean paste, were an extravagant confectionary at the time. In the late 1950s, a friend of the founder Okada Kazutarou tasted the Butter Manju and said "This is a poem," hence the current name of the location. After 76 years, the name of the shop still reflects Poeme's mission that has been present since the company's founding just after WWII. 

The collaboration logo for the project was inspired by Kyary's 2018 album Japamyu, which was released after four successful overseas tours. The album cemented the artist as one of Japan's top talents, and the logo combines Poeme with Japamyu to make Poemyu.

A collaborative T-shirt is also on sale featuring the new logo and the singer's 10th-anniversary logo. The shirt is only available until June 8 on the official LOCAL POWER JAPAN Project website.

Information

Ehime's Poeme x LOCAL POWER JAPAN Project

Collaboration T-shirt
Price: ¥3,300 (Tax Included)

Where to Buy:
LOCAL POWER JAPAN Project Online Shop

Available until June 8 at 23:59
https://store-localpowerjapan.com/

Official Site: https://localpowerjapan.com


*Please allow two weeks to one month from order completion to product shipment.

*A portion of T-shirt sales will be donated to local projects and social programs.

Kyoto Sweets Shop Otabe Rereleases Demon Slayer: Kimetsu no Yaiba Snacks with New Designs

Otabe, one of the most popular sweets souvenir shops in Kyoto, Otabe, is known for its delicious matcha and mini-desserts. Starting May 12, the company has released nine uniquely packaged sweets inspired by Demon Slayer: Kimetsu no Yaiba. The limited-edition packaging will feature popular characters from the series. Previously, the company released matcha cakes for the crossover–this time, fans can enjoy choco-an flavor!

Demon Slayer: Kimetsu no Yaiba Choco-an

Demon Slayer: Kimetsu no Yaiba Matcha

Demon Slayer: Kimetsu no Yaiba Otabe (with Original Sticker)

Original Sticker: 15 varieties, 1 given at random

Focusing on the hashira from the series, fans will want to be on the lookout for their favorite character. These sweets can be bought at select stations in the Kyoto and Osaka area, major Kyoto tourist attractions, and online. In addition, matcha flavored treats will also be on sale featuring Tanjiro Kamado, Nezuko Kamado, Zenitsu Agatsuma, Hashibira Inosuke, Kagaya Ubuyashiki, and Muzan Kibutsuji.



©吾峠呼世晴/集英社・アニプレックス・ufotable

Information

Demon Slayer: Kimetsu no Yaiba Choco-an
Release Date: May 12, 2022
Price: ¥432 (Tax Included)
Where to Buy: Train station in Kyoto & Osaka area, Major Kyoto tourist attractions, online.
Details: http://www.otabe.kyoto.jp/kimetsunoyaiba/

Fruit Cakes from Patisserie Giraud Available at Gotanda Station for a Limited Time

Those passing through Gotanda Station in Tokyo might want to keep an eye out for some tasty treats on sale for a limited time. Patisserie Giraud has opened a limited-time pop-up location inside the aptly-named shop Have You Eaten This Before? The pop-up will be open until May 31, 2022.



Have You Eaten This Before? features a rotating selection of products perfect as gifts, souvenirs, or as a treat for yourself. Along with six cakes made to look just like fruits, a selection of other baked goods will also be available.

Lineup

Strawberry

Orange

Lemon

Red Apple

Green Apple

Melon

While it might be difficult to eat these beautiful cakes, you'll never forget the way the juice-filled mousse and crispy pastry fill your mouth. Which one would you like to bring home?

Information

Patisserie Giraud Limited-Time Shop
Open: May 16 – May 31, 2022
Hours: Weekdays 10:00-22:00 / Weekends & Holidays 10:00-21:00
Location: JR East Gotanda Station

Official Site: https://www.giraud.co.jp

Hilton Osaka to Hold Cinnamoroll and Sanrio Character Sweets Buffet

Folk Kitchen, a restaurant on the second floor of Hilton Osaka, will hold the Sanrio Characters Sweets Buffet ~Joyful Summer Festival~ from May 20 until September 11, 2022. The event is being held to celebrate Cinnamoroll, Pompompurin, and Pochakko coming in first, second, and third in the Sanrio Character Awards. A lineup of 25 different sweets will be available, including those filled with summer fruits like mango, peach, and watermelon! In addition, a "Zero Leftovers Campaign" will be implemented–so be sure to clear your plate!

Happy Festival Heart Mousse

Joyful Pink Cake / Lime & Raspberry

Fluffy and Crunchy Mango Pavlova

Decorated with chocolate and adorable character designs, the Happy Festival Heart Mousse is a scrumptious dish blending the flavor of banana, caramel, and rum. The Joyful Pink Cake will be a smash-hit with Sanrio lovers, featuring the soft taste of white mousse and raspberry compote with a fresh lime flavor. Tons of other original sweets will be available, including everything from gingerbread to orange tarts.

 

Visitors can also find plenty of vegan sweets. Summer Blue Sky Jello features contrasting colors of pineapple pulp and soymilk cream that look like clouds floating against a summer sky. Be sure to try the Almond & Watermelon Jello and Grapefruit and Lychee Jello too!

Soft and Adorable yoshikitty Pastel Moon Plushies Available for Preorder

Yoshikitty, a character formed in collaboration between Hello Kitty and rock legend YOSHIKI, is being featured in an adorable new collection! Items in the Moon Pastel collection are now available to preorder at the Asunaro Online Store and the yoshikitty Online Shop.

Yoshikitty first debuted in 2009 as a collaboration between YOSHIKI of X JAPAN and Sanrio's popular character Hello Kitty. These new plushies were inspired by YOSHIKI's hairstyle when he first debuted and his classic purple eyeshadow.

Since the character's creation, over 10 different designs have been released. The Pastel Moon Series is a first, showing a different side to the usual grungy rock 'n roll vibe. No one expected a fluffy unicorn yoshikitty with such soft colors!

Medium Plush : ¥5,800 (Tax Included) / Large Plushie: ¥8,800 (Tax Included)

Colorful Charm (Chain not included) : ¥1,100 (Tax Included)

The collection includes two plush toys, a mascot keychain, a colorful charm, and two reusable bags. Will you be snagging anything?

ⓒ 2022 SANRIO CO., LTD. APPROVAL NO. L630897   

ⓒ 2022 Japan Music Agency Co., Ltd.

YOSHIKI x Hello Kitty Goods Now Available at the Yoshikitty Online Shop

Yoshikitty, a character formed in collaboration between Hello Kitty and rock legend YOSHIKI, now has an online shop!


Yoshikitty first debuted in 2009 as a collaboration between YOSHIKI of X JAPAN and Sanrio's popular character Hello Kitty. The character's first goods collection sold out immediately, with additional items also selling out online the same day. Yoshikitty's popularity isn't limited only to Japan, with global fans also anxious to snag some of this sought-after merchandise.



Since 2015, Yoshikitty has been nominated for the Sanrio Character Awards, rising in popularity year after year and keeping up with other beloved Sanrio personalities.

To commemorate the eighth consecutive year of her appearance in the Sanrio Character Awards, the Yoshikitty Online Shop has opened its doors. Fans can now purchase a number of exclusive items whenever they please!

Opening Announcement Video

https://www.youtube.com/watch?v=YFDArLVYAuw

Pouch (3 colors: Purple, Red, Blue): ¥2,600 each (Tax Included)

Cushion (3 colors: Purple, Red, Gray):  ¥4,400 each (Tax Included)

To celebrate the shop's opening, a new collection of lace goods is on sale now, featuring the character alongside roses and musical notes in elegant black lace. Items available include pouches, tote bags, and plenty of other goods perfect for both everyday use and formal occasions.

©️ 2022 SANRIO CO., LTD. APPROVAL NO.L630057    

©️ 2022 Japan Music Agency Co., Ltd.

Tapioca and Crepe Store 'Pearl Lady' Collaborates with Sanrio Character Cogimyun

Pearl Lady, a tapioca and crepe specialty shop, will begin selling a special crepe inspired by the Sanrio character Cogimyun starting April 8, 2022! These gorgeous treats will be available at participating Pearl Lady locations while supplies last.

Cogimyun's Sparkling Strawberry Crepe

Cogimyun's Sparkling Strawberry Crepe, topped with a Cogimyun cookie, includes sweet and sour strawberry cream. 

The dough, made with tapioca flour, offers a slightly chewy texture with a rich milk and butter flavor. Customers will also receive a special sticker as a purchase bonus. Be sure to enjoy the new Cinnamoroll drink available at Pearl Lady's sister shop CHABAR!

CHABAR x Cinnamoroll Collaboration Drink

Kyo Hayashiya and Hayashiya Shinbei Offering Special Parfaits Perfect for Spring

Hibiya Hayashiya Shinbei in Tokyo Midtown Hibiya is now offering a scrumptious Strawberry Matcha Parfait until April 24, 2022! If that's not up your alley, four Kyo Hayashiya locations in Shinjuku, Omiya, Yokohama, and Ikebukuro will begin offering a Matcha and Berry Mascarpone Parfait from April 1 until May 8, 2022. 

Strawberry Matcha Parfait


The Strawberry Matcha Parfait is an eye-catching mix of green and pink, reminiscent of cherry blossoms and bright green grass. Green tea blends with rose jelly and lychee sorbet, offering a refreshing taste with a hint of bitterness. The sweet accent of crunchy chocolate feuillantine gives each bite a little kick.

Matcha and Berry Mascarpone Parfait


The Matcha and Berry Mascarpone Parfait mixes the deep, bitter taste of Uji matcha, the sweet and sour taste of berries, and the gentle sweetness of mascarpone cream. The berry sauce is blended with crunchy chocolate feuillantine, a layer of whipped cream, green tea jelly, green tea ice cream, and milk panna cotta. To finish, it's garnished with refreshing raspberry sorbet, bittersweet matcha ice cream, and fresh strawberries.

Information

Strawberry Matcha Parfait

Price: ¥1,650 (Tax Included) / with Tea: ¥2,090 (Tax Included)

Available: March 18 – April 24, 2022

Available at Hibiya Hayashiya Shinbei (Tokyo Midtown Hibiya 2F)

Matcha and Berry Mascarpone Parfait

Price: ¥1,430 (Tax Included) / with Tea: ¥1,870 (Tax Included)

Available: April 1 – May 8, 2022

*Available until April 30 at the SOGO Yokohama location.

Available at the following 4 Kyo Hayashiya locations. 

・Takashimaya Times Square (Shinjuku Takashimaya Times Square Main Building 2F)

・Seibu Ikebukuro (Seibu Ikebukuro Main Building 8F)

・SOGO Omiya (SOGO Omiya Main Building 9F) 

・SOGO Yokohama (SOGO Yokohama 10F)

McDonald's 'McCafe by Barista' to Offer Uji Matcha Sweets for Spring

McDonald's Japan locations with 'McCafe by Barista' areas will begin selling special spring treats for a limited time starting April 6, 2022. Customers will be able to grab the 'Strawberry Uji Matcha Frappe' and the 'Uji Matcha Mont Blanc Tart.'

McCafe by Barista invites guests to enjoy high-quality frappes and smoothies. The Uji Matcha Frappe was added to the regular product lineup in June 2021, and features a mellow matcha flavor. The Strawberry variant is coming back for the first time in three years. The Mont Blanc Tart is a new addition, and is a perfect treat to enjoy with this popular frappe! 

Strawberry Uji Matcha Frappe: ¥490

The Strawberry Matcha Frappe mixes together the full-bodied flavor of matcha together with sweet and sour strawberries. It includes both a strawberry paste made from whole strawberries and a strawberry whipped cream at the bottom. The drink is topped with more strawberry whipped cream and a sprinkling of matcha powder. The refreshing taste of the strawberry sauce coupled with the whipped cream serves to elevate the great flavor of the Uji Matcha even more.

Uji Matcha Mont Blanc Tart: ¥390


The Uji Matcha Mont Blanc Tart is made with Uji Matcha batter, Uji Matcha whipped cream, white bean paste, and green tea cream. The refined sweetness is complemented by the mellow aroma and slight bitterness of Uji Matcha.

How would you like to enjoy these treats beneath the cherry trees?

Information

Strawberry Uji Matcha Frappe

Uji Matcha Mont Blanc Tart

Available: April 6 – Mid-May, 2022

Available at Participating McDonald's Japan Locations with 'McCafe by Barista'

Official Site: https://www.mcdonalds.co.jp/

Hello Kitty and the United Nations Reveal New Collaborative Products

Sanrio has announced the Hello Kitty SDG series of products, scheduled to release on March 25, 2022. The designs for the series were developed in collaboration with the United Nations with the aim of spreading knowledge about Sustainable Development Goals (SDGs) throughout the world. These items will be available at Sanrio stores, in department stores, and online.

The Hello Kitty SDGs series features a lineup of goods made from environmentally friendly materials. These items are perfect for daily use, and all were designed to raise awareness of SDGs and the global environment with Hello Kitty in the office, at school, and at home.

Merchandise at a Glance

Tote Bag: ¥2,750

Each Tote Bag is made of 100% organic cotton canvas.

Clear Folder: ¥594



Made of recycled polypropylene.

Mug: ¥1,980

Each mug is made of recyclable materials.

Neck Strap: ¥1,980

Recycled PET bottles were used to create this product.

In September 2018, Hello Kitty launched her own YouTube channel to promote peace and harmony around the world.

As of March 16, Hello Kitty has uploaded 27 videos, so be sure to watch them all!

©'21、'22 SANRIO 著作(株)サンリオ

Information

Hello Kitty SDGs

Release Date: March 25, 2022
Where to Buy: Sanrio Shops Nationwide, Department Store Sanrio Corners, Sanrio Online Shop

Hello Kitty Channel: https://www.youtube.com/channel/UCyof-1Ko_jy2sOtivyTpc4Q

New Merchandise Now Available from the Hello Kitty Museum Art Collection

New items from the Hello Kitty Museum Art Collection, a series in which Sanrio's popular character Hello Kitty collaborates with a number of classic masterpieces, are now available at the Asunarosha Online Shop!

Hello Kitty Reimagined in 7 Iconic Paintings




・The Scream – Edvard Munch
・Mona Lisa – Leonardo da Vinci
・The Milkmaid – Johannes Vermeer
・The Fifer – Edouard Manet
・Woman with a Parasol – Claude Monet
・Portrait of Mademoiselle Irene Cahen d'Anvers – Pierre-Auguste Renoir
・The Green Dancer – Edgar Degas

Merchandise

Sliding Puzzle (3 varieties)

Cube Puzzle

Picture Frame Magnets (5 varieties)

Stickers (7 varieties)

Mini Mascot Stickers

Scratch Art (Pack of 10)

The Hello Kitty Museum Art Collection transforms Hello Kitty into famous masterpieces that everyone has seen before. The first collaboration in 2013 saw the popular character in Edvard Munch's The Scream and was a massive hit! Which piece of art is your favorite?

Ⓒ 2022 SANRIO CO., LTD. Ⓛ

Sweets Shop Patisserie Pinede Offering Cat-Shaped Strawberry Mille-feuille

The sweets shop Patisserie Pinede will be offering the Yummy Kitty Cat Mille-feuille from March 18 until March 22, 2022!

The store holds a special 'Meow Meow' event on the 22nd of each month. In Japanese, the word for two, ni, sounds similar to nyan, the Japanese word for meow.


The event means tons of cat-themed sweets and decorations, including a tasty strawberry mille-feuille. This includes layers of puff pastry, cream, icing, and plenty of fruit. 

While it's hard to cut into something so cute, the sweet and sour taste is the perfect way to enjoy this meow-gical holiday!

Information

Yummy Kitty Cat Mille-feuille
Available: March 18 – March 22, 2022

Location: Patisserie Pinede

Official Site:  https://pinede.co.jp