Spring can already be seen on our calendars, but it's sure still chilly, isn't it?
Today, we're taking another look at cute spring-inspired sweets which can't wait for the Hanami season.

Patisserie Kihachi
Patisserie Kihachi will sell all kinds of cherry blossom sweets at select branches in Japan starting February 28th for a limited period. Look forward to tucking into some kawaii springtime delights such as their "Mont Blanct Sakura" that has a faint smell of cherry blossoms, and the cherry blossom leaf inspired "Verrine Sakura."
Full Details: https://www.moshimoshi-nippon.jp/90609
Pie Face
Pie Face is a pie shop that originates from Australia. Stores in Japan are set to release two new items: the "Mochi Mochi Warabi Mochi" and "Funwari Sakura Latte." The former comes in the shop's signature pie face pie with a cherry blossom flavour, while the latte is topped with cherry blossom flakes, evoking the call of spring.
Full Details: https://www.moshimoshi-nippon.jp/88796
Starbucks Coffee
Starbucks chains in Japan are currently selling cherry blossom flavoured coffee and beverages as well their 'sakura season' tumblers and mugs that are popular every year. There are 3 drinks to look forward to sipping, all inspired by cherry blossoms: a latte, frappuchino and tea! The secret ingredient added to the drinks are sake lees, making them very elegant drinks indeed.
Full Details: https://www.moshimoshi-nippon.jp/90669
YOKU MOKU Aoyhama Honten BLUE BRICK LOUNGE
Yoku Moku's line-up features crème brûlée, a cake and a tea set that include cherry blossom and strawberry toppings to excite the mood of spring. These sweets are sure to tickle the fancy of girls.
Afternoon Tea
The theme of the new spring menu coming to Afternoon Tea is "Once Upon A Spring Day." Available from March 6th, the menu includes a range of sweets, drinks and merchandise, such as a cherry blossom parfait filled with rice flour dumplings and syrup-covered anko, and a Hanami inspired tea set."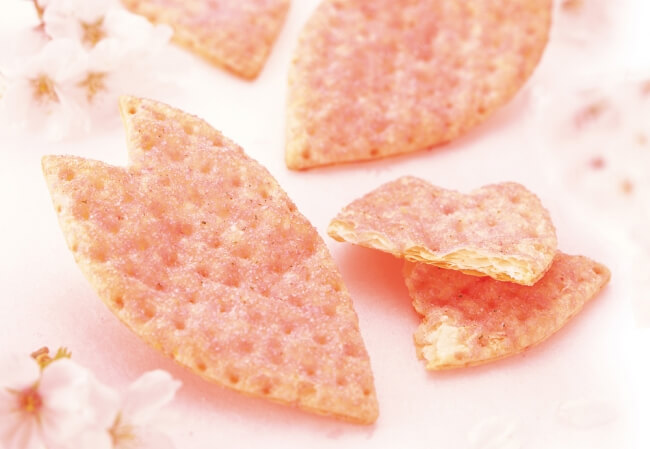 Gin no Budo
Located in Ginza, Tokyo, Gin no Budo has a long history. Their longtime spring seller "Ooki na Sakura no Hanabira no Pai" will be available this year too. They are crunchy pies shaped like big cherry blossom leaves. They smell buttery and are coated with shiny pink sugar and sprinkled with shredded cherry blossom leaves. Enjoy their crunchy, fried texture.
Did you like this list? Get a taste of spring early with these cherry blossom inspired foods and drinks!