MMN Festival: Popular Models, Youtuber & Fortune-Tellers to Appear at Laforet Harajuku!
It's finally March, which means "MOSHI MOSHI NIPPON FESTIVAL 2018 in SHIBUYA" (MMN Festival) is almost here. This year's MMN Festival will move away from the Tokyo Metropolitan Gymnasium and take place around the Shibuya and Harajuku area! We will deliver Japanese culture to the world to the fullest in the form of music, fashion, food, tourist experiences and more from Shibuya.
What's more is that this year's festival is free for all to enter! But you need to register in advance, so don't forget. Click here to register.
The MMN Festival will take place in four main locations: Laforet Museum Harajuku, Tower Records Shibuya, SHIBUYA CAST., and Onden Shrine.
Let us introduce to you the contents of the talk show & fortune at Laforet Harajuku.
Laforet Harajuku has its own museum where we will hold a 'Harajuku Kawaii Market' with the theme of 'Find Japan's Kawaii♡'. Head on over to get involved with the many experience-based contents available, offering fashion, beauty, fortune telling, DIY and more. You'll be served up everything you need to transform into a kawaii girl simply by visiting. We will deliver Japan's kawaii culture from the hub of Laforet Harajuku!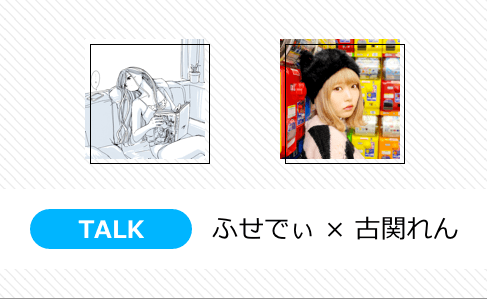 TALK:Fusedy × Ren Koseki
Illustrator Fusedy, who released the manga Kimi no Ude no Naka wa Sekaiichi Atatakai Basho in February to popular success, will hold a talk on "Love" with Japanese model Ren Koseki. Fusedy will also talk about Ren'ai Gaku ("Love Studies") from the manga, and there will be a Q&A session with both of them where they will offer love consultation to people that send in their questions prior to the talk. If you're having doubts or difficulties with love, then be sure to sign up at the link below.
URL:https://goo.gl/forms/05ofoTaKi94bkBy43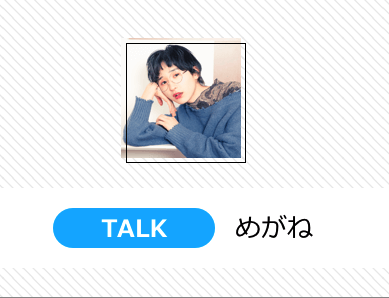 TALK :Megane
Popular Youtuber "Megane" has been invited as a guest to a talk show that will hosted by Rei Maruyama and Yuri Suganuma who will pry Megane to discuss things people usually would not know about. You can also propose your own questions for Megane to
answer on stage! Send your questions here: https://goo.gl/forms/uDAJAry9rUUM40au1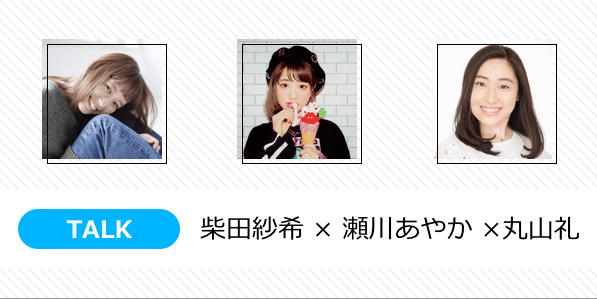 TALK: Saki Shibata × Ayaka Segawa × Rei Maruyama
Saki Shibata, Ayaka Segawa and Rei Maruyama are all close friends in their personal lives. Each of them is active in a certain field: one is a performer, another is an artist and nurse, and the other is a model. In this talk, the three of them will mutually discuss their lines of work. Performer Rei Maruyama will tell some jokes, and we she might even tell us about something the three of them have talked about in private! Don't miss thir upfront and honest unfolding in a talk where you can get to know them in a way you can't on social media!

TALK: Rikako Ōya × Ellie × Yuri Suganuma × Ema Tanioku × Yuna Yabe
A host of models will offer tips & tricks on taking Instagram-worthy photos as well as a range of how-to's! The line-up includes Rikako Ōya (Babyraids Japan) who has an article series on MOSHI MOSHI NIPPON, Ellie, Yuri Suganuma, Ema Tanioku and Yuna Yabe will look at cuts from each of their posts will checking their Instagrammable points. And don't miss out on the tour that will be held by Yuri Suganama and Ema Tanioku after the event that is related to their featured articles.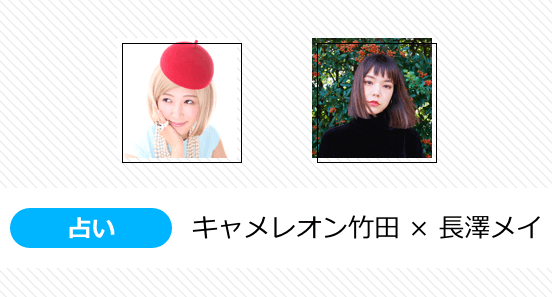 FORTUNE-TELLING: Chamereon Takeda × Mei Nagasawa
Mei Nagasawa, who is a lover of all things spiritual, will have her fortune told for romance and work by Chamereon Takeda. The constellations will also be ranked on stage in relation to one's fate for love! This is an opportunity to experience a fortune-telling from Chamereon Takeda herself in the flesh.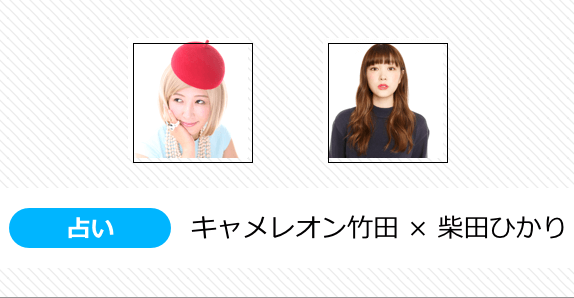 FORTUNE-TELLING: Chamereon Takeda × Hikari Shibata
Hikari Shibata will have her fortune told by Chamereon Takeda through horoscopes. There will also be a horoscope ranking for April for everybody that attends the session! This is an opportunity to experience a fortune-telling from Chamereon Takeda herself in the flesh!
Registration for the event is free of charge!
To register, place visit the Peatix website below and follow the instructions. Upon completing your registration, you will receive a QR Code from Peatix that you must take with you on the day of the event.
*Upon registering, you will be signed up as a MOSHI MOSHI NIPPON Member where you will receive newsletters and other information. You will also be signed up to Omotenashi Platform.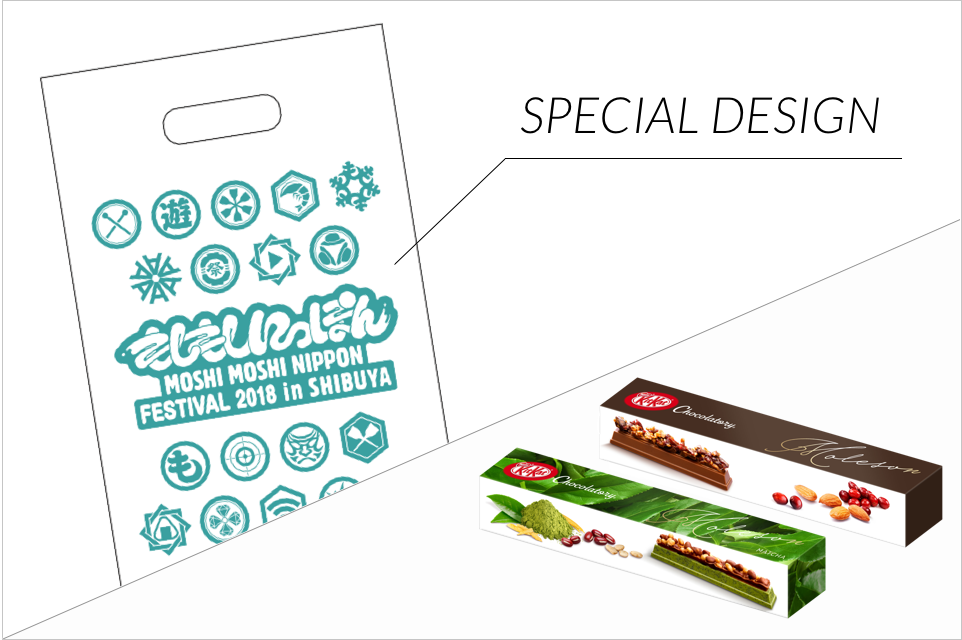 Those that register for the event in advance will receive an original bag as thanks. There are 1,500 bags available on a first-come, first-served basis. You will find in them one of either popular products from KitKat Chocolatory: the "KitKat Chocolatory Moleson" (¥500) or the "KitKat Chocolatory Moleson Matcha" (¥500).
RELATED ENTRIES
Interview: Internationally Popular Japanese Artist Chocomoo Talks About Upcoming Harajuku Exhibition

A huge exhibition of Chocomoo's artwork is set to adorn WITH HARAJUKU HALL from August 20 to September 28 this year for "Chocomoo EXHIBITION -OUR SECRET PARTY- Supported by WITH HARAJUKU."

Chocomoo is a Japanese artist born and bred in Kyoto. Her work is known for its originality and pop style which she draws in black and white. Her work has been used for clothing and apparel brands, for music artists, and for many other special collaborations with other companies. She is active internationally and draws huge popularity with Japanese women between the ages of 10-20. We have translated an interview with her which was just released.

Chocomoo Interview

"I've loved drawing ever since I was a kid. I'd draw in notebooks, sketchbooks. When I went to New York for the first time, too, I kept a sketch diary and would draw in the park. I was later asked by a guy who managed a gallery if I'd put my work on at his site."

It was there at that gallery exhibiting several of her works that the first buyer came by.

"I sold my first piece of art. A piece of art drawn by an 'ordinary person,' not someone who was an active artist. It was about 30 dollars, if I recall, but I was super happy."

 

New York helped pave the way for Chocomoo to begin her first steps towards becoming an illustrator.

She would post her art on her blog and social media, which was seen by singers and songwriters who got in touch with her. She penned artwork for their tour merchandise, album covers, and more. Recently, she collaborated with Italian car brand FIAT. They released 100 limited edition cars with her art on it. Japanese convenience store FamilyMart even sold umbrellas with Chocomoo's illustrations on them. The reach of her work has no limits.

"When I create a piece, I incorporate a lot of positive words into it in the hopes that it lifts people up."

One distinct aspect of Chocomoo's art is the black and white monotone colouring. When asked why she draws in this way, she said: "I did calligraphy from elementary school to high school and was captivated by how we would write in black. When using black ink, it has a matte look to it, and when using black paint, it's got a glossiness. I think that's part of the reason why I do it."

This will be Chocomoo's biggest exhibition. She is currently working on new material and looking into the details of the exhibition. Speaking about it, she said: "I want to try evolving in a way that's me. I'm aiming to stimulate the people who come to see my work in a different kind of way."

She also commented on the 'OUR SECRET PARTY' part of the exhibition title. "It's an exhibition of my work, but I want everyone to enjoy it like they would a party. There's also new things to be discovered which you won't no about unless you visit, so I put 'secret' in there."

 

Chocomoo was asked to give a comment on her future plans and goals. She said, with a smile: "I want to steadily keep doing what I'm best at without changing what I already have, but I also want my work to reach lots of children too. I'd be happy for them to colour in my work, and I want to challenge myself to making some kind of video format aimed at kids. After that, since I've already painted a car, I want to go bigger and paint an aeroplane!"

Interview/Original Text: Naho Sotome (五月女菜穂)

Photos: 大黒屋 Ryan 尚保

English Translation: Joshua Kitosi-Isanga

As Chocomoo looks to expand her portfolio and reach, we look forward to seeing what she has in store for her exhibition in Harajuku.

©2020 Chocomoo

Information

Chocomoo EXHIBITION -OUR SECRET PARTY- Supported by WITH HARAJUKU
Running: August 20, 2020 – September 28, 2020
Location: WITH HARAJUKU HALL (1-14-30, Jingumae, Shibuya, Tokyo) *Building under construction at the time of posting this article
Exhibition Website: http://chocomoo-exihibition.com/

Tokyo Otaku Mode TOKYO Collaborates With Hatsune Miku at Shibuya PARCO

Tokyo Otaku Mode Inc. is opening a pop-up shop in collaboration with Hatsune Miku at Tokyo Otaku Mode TOKYO which is located on the 6th floor of Shibuya PARCO in Tokyo.

The shop will be open from December 27 until January 19 next year. Japanese illustrator hakusai is on board to illustrate the designs for the shop itself as well as the shop-exclusive merchandise. The design features Hatsune Miku, Megurine Luka, Kagamine Rin and Len, KAITO and MEIKO wearing traditional Japanese dress.

Acrylic Stands – ¥1,200 Each (Before Tax)

Mini Towels – ¥700 Each (Before Tax)

There are 10 original and exclusive pieces of merchandise with various designs to choose from. Plus, customers who purchase over ¥3,000 (tax included) worth of items will receive a special Vocaloid sticker.

The Snow Miku Sky Town store at New Chitose Airport in Hokkaido is also collaborating with the pop-up shop where they will sell select merchandise from Snow Miku Sky Town.

Those of you looking to get your hands on some limited-edition Vocaloid goodies will want to roll on up to Tokyo Otaku Mode TOKYO before the pop-up shop closes.

*The items shown in the photos above are of products in development. Actual products are subject to change.

Art by hakusai  © Crypton Future Media, INC. www.piapro.net  

Information

Tokyo Otaku Mode TOKYO

Address: Shibuya PARCO (floor 6), 15-1 Udagawacho, Shibuya Ward, Tokyo

Opening Hours: 10:00-21:00

Sales Period: December 27, 2019 – January 19, 2020

Corporate Website: https://corporate.otakumode.com/

Harajuku's Korilakkuma Cafe: another me in the mirror | Food Review

"Korilakkuma Cafe: another me in the mirror" is set to open in Japan's hub of kawaii culture Harajuku on December 21 where it will run until March 22 next year.

MOSHI MOSHI NIPPON received early access to the cafe, so we went together with Ruki from Spain.

The cafe incorporates "interactive tabletop projection mapping" technology developed by Sony, which allows customers to enjoy their meals while playing together with the characters as they walk around their plates and tables.

So what exactly does this look like…?

Korilakkuma Cafe: another me in the mirror is located along Takeshita Street in Harajuku. Enter Takeshita Street and walk just a little bit to find HARAJUKU AR BOX. The entrance is pictured above.

The cafe operates on a "pair seating" system, making it the perfect spot to go with your best friend or special someone♡

The theme of the cafe is "another me in the mirror," which sees Korilakkuma meeting another Korilakkuma inside of a mirror. When seated at your pair table, you'll notice all of the Korilakkuma artwork adorning the cafe.

When we sat down, the staff came and gave us a dolomite coasterーa gift for all customers who visit the cafe.

When you place the coasters down on the table, that's when the fun begins. Trace your finger around the table to play with Korilakkuma and company.

Here is Ruki having Korilakkuma move around.

When we had finished playing, the appetisers from our course menu arrived. It costs ¥2,500 per person, and you both have to order when ordering this course menu. You can pick from clam chowder or minestrone.

If you thought that was it for the projection mapping, think again! The fun was only just beginning, as a new display came on the table when the plates went down.

Ruki was completely enchanted by the sparkling food. It makes you feel like you're inside of a picture book♡

The salad was Caesar, and the minestrone was packed full of veg and ingredients, making it nice and filling.

The next dish that was brought was the main. You pick one each of a main dish and dessert and share between two people.

We ordered the "Omurice – Let's Draw Together" (in Japanese: 一緒におえかきオムライス). Korilakkuma was wrapped up completely in an omelette blanket. The projection mapping comes on when you set this plate down too.

Korilakkuma draws around the plate, and we got to join in too by decorating Korilakkuma's blanket with drawings of Rilakkuma and Kiiroitori in ketchup.

The mapping helps you with drawing by projecting an outline you can trace. Ruki did hers really well!

As we forked into the omurice we found a cheeseburger underneath! The combination of the juicy cheese hamburger with the soft egg was to die for, and it becomes even more delicious and smooth when you pour over the cream sauce.

Last up was dessert. We got the "Spell-Cast Pancakes" (in Japanese: パンケーキに魔法をかけて). The projection mapping cast a mirror onto the pancakes. Even more animations happen when you wave the brush you're given on the table.

The fluffy pancakes are topped with a hearty serving of cream. You can enjoy them as they are, but they're delicious if you top them with the fruits, iced cream and nuts scattered around the plate too!

Twin Korilakkuma Strawberry Milk – ¥990

Korilakkuma Cafe au Lait – ¥890 (Served Hot Only)

As well as the course menu, there are also special drinks you can order separately which come with another free and exclusive coaster.

Sliding Mirror (Pink or Purple) – ¥1,200 Each

Acrylic Key Ring (4 Designs/Chosen Randomly) – ¥500 Each

Korilakkuma fans can expect to sift through a whole range of cafe-exclusive merchandise too, so be sure to check out what they've got in stock when you visit.

Korilakkuma Cafe: another me in the mirror is Harajuku's hottest new spot where you can enter the kawaii world of Korilakkuma. Pull up a seat and enjoy and interactive meal experience.

©2019 San-X Co., Ltd. All Rights Reserved.

Information

Korilakkuma Cafe: another me in the mirror

Running: December 21, 2019 – March 22, 2020 (Not running December 30, 2019 to January 3, 2020)

Location: HARAJUKU AR BOX -table projection mapping cafe- (4-28-28 Jingumae, Shibuya, Tokyo)

Grand Opening: December 9, 2019 at 16:00

Reservations: Now Open

*This cafe serves course menus for two people to share only

*Drinks ordered separately

Table Projection Mapping Seats: ¥2,500 per person (Before Tax)

*Reservations for two people only
*Course menu charged separately

Official Website: https://korilakkumacafe.jp/

Laforet Harajuku's 2020 Fukubukuro Lucky Bags Are Not to be Missed

Laforet Harajuku has finally dropped details on its 2020 fukubukuro. Fukubukuro is a New Year custom in Japan where stores make up grab bags full of random items for people to purchase at a discounted price. Around 50 stores in Laforet are set to participate, with pre-orders now running until December 31, 2019.

As always, the line-up this year is diverse, from the unique fukubukuro you can actually look inside to see what they have—which is a popular one every year—to the Laforet Gentei Fukubukuro which contains items exclusive to Laforet Harajuku, and more.

Those who pre-order a lucky bag will receive one of two things: either a coupon to get a random free item at one of the eateries at the GOOD MEAL MARKET on the second floor, or a ¥200 discount voucher to spend at Laforet Harajuku.

On New Year's Day and January 2, a taiko performance by Yushima Tenjin Shiraume Taiko will take place at the first floor entrance to drum in the New Year.

Around 70 stores in the shopping complex will also sell items at a special price between January 1 and 7 to celebrate 2020. Select stores will be handing out bag hooks in collaboration with the popular South Korean boy band SEVENTEEN.

The "Look and Choose" Fukubukuro

OLIVE des OLIVE (Floor 5F) – Set of up to 6 items priced at ¥7,700 (Tax Included) (Original Price: ¥25,000)

Cosme Kitchen (Floor 1.5F) – Set of 7 items priced at ¥5,500 (Tax Included) (Original Price: ¥14,000)

Laforet Harajuku Exclusives-Filled Fukubukuro

POU DOU DOU (Floor 4F) – Set of 7 items priced at ¥13,200 (Tax Included) (Original Price: ¥56,000)

la belle Etude (Floor B0.5F) – Set of 6 items priced at ¥11,000 (Tax Included) (Original Price: ¥70,000~¥80,000)

Other Fukubukuro

Ank Rouge (Floor 4F) – Set of 6 items priced at ¥16,500 (Tax Included) (Original Price: ¥50,000)

jouetie (Floor 4F) – Set of 5 items priced at ¥11,000 (Tax Included) (Original Price: ¥39,600)

This is just a small look at just some of the fukubukuro set to be sold, there are so many more to get your hands on. Start your 2020 year with some delicious discounts from Laforet Harajuku.

*Contents subject to change without notice

*Listed photos are select look only – more fukubukuro to be sold

FLOWERS BY NAKED 2020: Details Revealed For Tokyo's Flower-Themed Art Event

FLOWERS BY NAKED is an annual flower-themed art event held by NAKED Inc., and the company has announced its next run: FLOWERS BY NAKED 2020 – Sakura – will take place from January 30 to March 1 next year at Nihonbashi Mitsui Hall in Tokyo, where visitors can enjoy flowers an a wholly new kind of interactive experience. Tickets went on sale on December 17, 2019, and this event will mark its 5th anniversary of taking place in Nihonbashi.

To date, FLOWERS BY NAKED has seen over 500,000 people attend the events, which have become a place for Instagrammable photos with over 660,000 posts made with the hashtag #flowersbynaked.

2020's theme is cherry blossoms, so to celebrate, NAKED has unveiled four key visuals for four gardens set for the event along descriptions. As visitors journey through the gardens, they will experience an immersive story melding the worlds of flowers and art.

■Prologue

"When a butterfly telling the spring dances in the snowy winter world, the page is turned and the world changes from winter to spring."

This is where the story begins: where winter flowers bloom. But as the pages of the big book are turned, the space is transformed into springtime as the snow melts.

■Dandelion Hill

"When you blow dandelion as if you were playing as a child, the fluff soars up to the sky with your old memories."

Watch as the scenery changes when you blow on the towering dandelions in this incredible interactive experience that combines real life with digital technology.

■Glowing Garden

"In a shimmering space that seems to be lost in a kaleidoscope by a mirror, the sun shines even more."

When you step into this radiant garden which is lit by the pouring sunlight, it will seem as if the entire world around you glows with the fiery light of our burning star.

■OUSAI Garden

"The fastest cherry blossom viewing space in Japan where you can enjoy the five senses, such as the blossoming cherry blossoms and the scent of spring."

The river seen at the beginning of the story leads to here, a holy cherry blossom garden watched over by an enormous pink cherry tree. There is plenty to interact with in this area for visitors to experience cherry blossoms with all five of their senses.

Advance tickets for this event are now on sale, so don't miss out.

Information

FLOWERS BY NAKED 2020 – Sakura –

Running: January 30, 2020 –  March 1, 2020

Opening Hours: 10:00-20:00 (Last entries 30 minutes before closing time)

*Opening hours subject to change

Location: Nihonbashi Mitsui Hall COREDO Muromachi Floors 1F + 5F (Entrance is on 4F)

Official Website (English/Japanese): https://flowers.naked.works/2020nihonbashi/

A.T.A.D: Harajuku's New adidas Store to Open in Collaboration With atmos

adidas Japan is collaborating with atmos—Tokyo's streetwear and sneaker focused boutique—to open a new shop called A.T.A.D in Harajuku on December 20, 2019.

adidas Japan has collaborated with countless artists to date, and this will be its first with atmos, together with whom it will showcase streetwear sneakers the likes of which people have never seen.

A carefully selected line-up of adidas' newest shoes will be displayed at the counter where customers order their shoes like they would a drink at a bar. They can pick the model, colour, and size, and can try them on before making a purchase. The current designs, logos and other items in the store were created by YAR, a creative studio spearheaded by Japanese graphic artist YOSHIROTTEN.

The store also plans to sell items exclusive to A.T.A.D in collaboration with Japanese artists. More information will be posted on the store's official Instagram page.

Information

A.T.A.D

Grand Opening: December 20, 2019

Address: Majima Bldg. 1F, 4-29-1 Jingumae, Shibuya, Tokyo
Opening Hours: 11:00-20:00

Official Instagram: @a.t.a.d_tokyo

PLAYFUL KIRBY: Laforet Harajuku's Newest Pop-Up Shop Offers Exclusives For Fans of Nintendo's Popular Character

Fans of Kirby who are in Japan for the holiday season will be delighted to hear that the Kirby-themed pop-up shop "PLAYFUL KIRBY" finally opened at Laforet Harajuku today and will run until Boxing Day.

When playing Super Smash Bros. there's no other character I'll pick but Kirby. If you love Kirby as much as I do, then you'll be waiting no time at all to head to PLAYFUL KIRBY like I did after hearing that they're selling a whole range of original and exclusive merchandise the likes of which Nintendo players have never seen before.

The store itself is located on the second floor of Laforet Harajuku in Harajuku, Tokyo. You'll spot it instantly with the Kirby-pink text wrapped around the walls of the entrance.

Kirby's pink colour fills the entire shop floor. Upon entering you'll spot all the different items on offer, including fashion items, as well as various photo spots featuring Kirby's cute face.

There's even a tiny Kirby door so that he can get into the shop! Be sure to find it if you visit.

The original version of this pop-up shop first appeared two years ago, and enjoyed visits not only from game fans, both kids and adults who had never heard of Kirby before, or who had heard of him but never played the games. The fashion line-up was a result of fan demand to enjoy Kirby in a variety of different ways. A visit to PLAYFUL KIRBY is like being inhaled into his Dream Land.

PLAYFUL KIRBY is centred on two collaborations. This includes a teaming-up with popular illustrator Shogo Sekine. When this pop-up shop was conceived, Shogo Sekine was at the top of the list for collaborations with the staff in charge. The staff agreed that mixing the worlds of Kirby and Sekine together would give rise to some seriously wonderful results. After much internal discussion and talks with Sekine, a whole line of merchandise was created.

The items feature Sekine's stylised typography, symbols, shapes and so on. Their subtle design means they can be used as both everyday items and nerdy fan items. They're stylish while retaining the cute aspects of Kirby.

The following items are the number one most recommended pieces of merchandise to pick up as chosen by the PLAYFUL KIRBY staff.

Tote Bags Ver. 2 PINK STRIPE – ¥2,800

These tote bags feature gradations of Kirby pinks. This design is also featured on a t-shirt you can pick up too. They're both made with high quality fabrics.

Sacoche Pouches (2 Designs) – ¥2,300 Each

The "Copy" written on the sacoche pouches refers to Kirby's ability to copy his opponents' abilities and appearance. This design is also included on a variety of other merchandise pieces like a smartphone case and more.

Blanket – ¥3,800

At first glance, this blanket just looks like a stylish blanket with a floral print, but if you look closely you'll spot Kirby blended in with the design. A perfect choice for the coming winter season.

Plush Toy – ¥2,300

Kirby had intended to put on his stylish t-shirt ready to go out, but he ended up looking just adorable.

The store's second collaboration is with Converse Stars, also showcasing an assortment of cute and fun items.

Cap – ¥5,800 / Long T-Shirt (Medium/Large) – ¥7,800 Each

Show off your love of Kirby with some simple but stylish unisex Kirby attire.

Hand Towel – ¥1,200

Another must-get item is this hand towel which keeps the roundness of Kirby's head. Use at home or take it out with you!

Stickers (3 Designs) – ¥500 Each

Get your hands on these Laforet Harajuku-exclusive stickers with designs so cute you'll want to collect them all!

I spoke with the person in charge of the pop-up shop about the future of Kirby outside of the video game, and they told me that they plan to have more pop-up shops like this and open the opportunity for people to enjoy Kirby in a range of different ways while playing his games. For someone like me, who likes Kirby more than anything, I can't wait to enjoy even more Kirby in the future.

PLAYFUL KIRBY is open until December 26, 2019, so if you're in Tokyo until then, make sure to pop on over to Laforet Harajuku.

▶︎Win Limited Edition Stickers

MOSHI MOSHI NIPPON is holding a competition on our official Instagram, Twitter and Weibo pages for a chance to win limited edition stickers from PLAYFUL KIRBY.

How to Apply: Follow us on social media and share/retweet our post about the competition for a chance to win 1 special sticker from PLAYFUL KIRBY. (Designs are chosen randomly.)

These are limited edition stickers exclusive to PLAYFUL KIRBY, so don't miss your chance to get one!

© Nintendo / HAL Laboratory, Inc.

Information

PLAYFUL KIRBY

Running: December 16, 2019 – December 26, 2019

Location: Laforet Harajuku's 2nd Floor CONTAINER (1-11-6 Jingumae, Shibuya, Tokyo)

Opening Hours: 11:00-21:00 (Until 19:00 on December 26, 2019)

PLAYFUL KIRBY Official Website: http://playfulkirby.jp

Laforet Harajuku Official Website: https://www.laforet.ne.jp/

Peanuts x The Marc Jacobs Pop-Up Shop Opens at Shibuya PARCO

A pop-up shop in collaboration with the Peanuts comic strip series starring Snoopy and The Marc Jacobs opened at GATE on the first floor of Shibuya PARCO today and will run until January 13, 2020.

[Pre-Release Item] THE PEANUTS T-SHIRT: ¥21,000 (Before Tax)

This special collaboration sees a line of apparel and items from The Marc Jacobs with gorgeous designs taken from the internationally comic strip series Peanuts by American cartoonist Charles M. Schulz.

The pop-up shop is inspired by Snoopy's dog house which when you step inside transports you into the wonderful world of Peanuts.

The shop is also collaborating with the PEANUTS CAFÉ for three days between December 20-22. Attendees can get themselves a hot chocolate at the wagon located in front of Shibuya PARCO Koen-dori Street. The delicious drink is topped with chocolate chip cookies—a favourite of the Peanuts gang—and marshmallows.

If you walk around the Center Gai, Dogenzaka and Koen-dori areas of Shibuya, you'll spot posters plastered up to promote the pop-up shop. There are five designs featuring Snoopy, Charlie Brown, Lucy van Pelt, Linus van Pelt, and Peppermint Patty. If you scan the QR codes on each of the posters you can download respective wallpapers for each character for your smartphone.

If you manage to scan all five of the QR codes, you'll receive a special present when you show your phone at the pop-up store. This is running right now until December 30, 2019, so don't miss out!

Information

PEANUTS x THE MARC JACOBS Pop-Up Store

Running: December 17, 2019 – January 13, 2020

Opening Hours: 10:00-21:00

No Fixed Holidays (Except when Shibuya PARCO is closed)

Location: Shibuya PARCO (GATE, Floor 1F)

*Please note that depending on how busy the shop is you may be given a numbered ticket upon arrival to determine when you can enter. More details can be found on the Shibuya PARCO website.

Shibuya PARCO Official Website: https://shibuya.parco.jp

Hot Chocolate Wagon

Running: December 20, 2019 – December 22, 2019

Opening Hours: 10:00-21:00

Location: In front of Shibuya PARCO Koen-dori Street

Kimono IN LAFORET 2020: Kimono Brands Galore to Gather at Event in Harajuku

Laforet Harajuku has announced that its next "Kimono IN LAFORET" kimono and furisode pop-up shop will run from January 4 to 22 next year.

Iroca Kimono "Leopard Gecko" – ¥63,800 (Tax Included) / Half-Width Obi – ¥26,400 (Tax Included)

Pure Silk Butterfly Black Cloth Furisode – ¥132,000 (Tax Included)

Light Blue Dove Print Polyester Furisode – ¥128,150 (Tax Included)

Eight brands will line the shelves of the annual pop-up shop, with kimono, furisode, accessories and more available for purchase, including new items.

Model and actress Shen Tanaka features as the star of the main visual for Kimono IN LAFORET 2020, mixing colourful kimono with western clothing to create a unique look. Marie Higuchi, who was the stylist for the visual, has also released some dress advice for those who love kimono or those who are beginners and newcomers to the scene.

Mixing kimono with the kind of regular clothing that screams you

Marie Higuchi is a stylist who also writes columns in Nylon Japan and Sozen. Her advice can be used by both beginners and experts alike: by mixing kimono with some of your own clothing, you can simply and easily create a stylish look that's you. This makes for a perfect outfit for a special occasion.

Styling Point

This outfit combines fishnet tights with sandals that have thick metallic soles to create an edgy kimono style. Using thick sandals makes them really stand out when wearing kimono, so you can easily incorporate them with any kimono you wear.

Items Used

Kimono/Obi/Other: iroca

Haneri: C.H.O.K.O

Obi Clip: conoco

Styling Point

The gorgeous flower head dress brings a strikingly elegant touch to the overall look of this outfit. Whether used with kimono or in your regular day-to-day outfits, it's sure to bloom beauty with whatever style you go with.

Items Used

Kimono: MIKI SAKURA

Head Dress: Atelier Senka

One Piece Shirt: Ank Rouge (Laforet Harajuku Floor 4F)

Styling Point

Coloured turtlenecks are in right now for the current season in Japan, and this kimono look incorporates one underneath the kimono. The mix of loose socks and thick-sole sneakers really adds to the flavour of this style, even more so with the addition of personal items like the vinyl record headband and lip clutch bag which make it unique.

Items Used

Kimono/Obi: Tamao Shigemune

Headband/Clutch Bag: SINZ (Laforet Harajuku Floor B0.5F)

Other: Personal items

If you're looking for kimono and furisode when visiting Japan in January, be sure to hit up Kimono IN LAFORET at Laforet Harajuku, located in Tokyo's fashion central: Harajuku.

Tokyo Sushi Restaurant Tsukiji Tamasushi Sasashigure Opens New Branch in Shibuya

Edomae sushi restaurant Tsukiji Tamasushi Sasashigure, which is known for its strict use of organic ingredients, just opened its second branch in Tokyo Plaza Shibuya following its first branch in Omotesando Hills.

Sasashigure is a type of sasanishiki rice grown completely organically without the use of any chemicals or fertilisers. It is grown by Akinori Kimura who is known for its "Miracle Apples," the world's first apples grown without pesticides.

Sasashigure rice yields 40% less rice quantity in one-tenth hectare than regular rice, but it has a natural sweetness and elevate flavour, with each and every grain savoured in a mouthful.

If you're all for healthy eating and protecting the environment, and happen to be in Tokyo looking for some sushi, be sure to visit the new branch of Tsukiji Tamasushi Sasashigure in Shibuya.

Information

Tsukiji Tamasushi Sasashigure

Address: Shibuya FUKURAS 6F, Tokyu Plaza Shibuya, 1-2-3 Dogenzaka, Shibuya, Tokyo

Opening Hours: 11:00-23:00 (Last Orders 22:30)

No Fixed Holidays (Except when Tokyu Plaza Shibuya is closed)

Official Website: http://www.tamasushi.co.jp/

WITH HARAJUKU: Shiseido to Open Beauty Parlour, Hair & Makeup Academy and More in Harajuku's New Shopping Complex

Shiseido has announced that it will open three new facilities in WITH HARAJUKU—a shopping complex currently in development by NTT URBAN DEVELOPMENT CORPORATION in front of Harajuku Stationーin April 2020. This includes the new beauty parlour Beauty Square, the hair & makeup academy and studio SABFA*, and the restaurant and lounge SHISEIDO PARLOUR THE HARAJUKU managed by Shiseido Parlour.

*SABFA is a school managed by Shiseido for training professional hair and makeup artists

Beauty Square will be located in the first floor as a place to discover beauty, have fun, and share experiences. As well as selling cosmetics, the facility will offer various beauty experiences using digital technology, and there will be a hair and makeup salon where customers can receive high quality service for a short period of time. By combining real experience with digital tech, Beauty Square hopes to bring in people of all ages and backgrounds from inside and outside Japan so that they can discover the fun of beauty and unlock their inner charm.

SABFA on the second floor will be home to an all-new lecture and training facility as well as a photo studio. It will train educate and support the next generation of hair and makeup artists who will challenge the ideas of beauty and revolutionise the industry.

SHISEIDO PARLOUR THE HARAJUKU is on the eighth floor where customers will be able to dine on French cuisine and indulge in line-up of wines carefully chosen by sommeliers. The restaurant overlooks Meiji Jingu, and its interior was designed by Kazuya Ura who designed the Twilight Express Mizukaze, a multiple unit sleeping-car excursion train operated by West Japan Railway Company.

Be sure to visit WITH HARAJUKU when it opens in April next year.

Information

WITH HARAJUKU

Grand Opening: April 2020

Address: 1-14-30 Jingumae, Shibuya, Tokyo

Korilakkuma Cafe Opens in Harajuku With Projection Mapping Incorporated Dishes

The all-new "HARAJUKU AR BOX -table projection mapping cafe-" will open in Harajuku, Tokyo on December 21, 2019. This permanent cafe incorporates "interactive tabletop projection mapping" technology developed by Sony. The cafe runs in a "pair seating" system and so tables must be occupied by two people. 

The first collaboration to hit the cafe for its grand opening is with Korilakkuma. The collaboration is titled "Korilakkuma Cafe: another me in the mirror." Customers will be able to enjoy their meals while playing together with the characters as they walk around their plates and tables through projection mapping technology.

The theme of the cafe is "Korilakkuma inside a mirror," which sees Korilakkuma meeting another Korilakkuma inside the mirror in a world of cats and cosmetics.

Customers will be able to get their hands on a range of exclusive merchandise with original art illustrated for the cafe, as well as enjoy themed meals which come in the form of courses made to share between two people. They are free to choose an appetizer, main dish and dessert. *Course menu only – items not available to order separately

Menu item names are translated from Japanese.

Appetizers: Soup and Salad

Welcome to the World Inside the Mirror! Soup & Salad

There are two soups to choose from: clam chowder and minestrone. As a pair you can also order one of each.

Main Dishes

Omurice – Let's Draw Together

Chicken and Mushroom Cream Pasta Made Delicious With Magic!

Friendly Twin Korilakkuma Burger (Available December 21 – January 19 only)

There are five main dishes in total to choose from including those above.

Desserts

Spell-Cast Pancakes

Crème Brûlée & Magic Mirror (Available December 21 – January 19 only)

Heart-Filled Fondant Chocolate (Available January 20 to February 16 only)

There are five desserts in total to choose from including those above.

Drinks

Korilakkuma Cafe au Lait – ¥890 (Served Hot Only)

Korilakkuma Cocoa – ¥890 (Served Hot Only)

Twin Korilakkuma Strawberry Milk – ¥990

When you order a drink, you'll get an original coaster too.

Merchandise

Pin Badge (6 Designs) – ¥400

Folder Set – ¥500

Sliding Mirror (Pink or Purple) – ¥1,200 Each

There are lots of other exclusive pieces of merchandise to get your hands on too. Every customer will also receive one of two dolomite crystals.

*All listed prices include tax. Photos are for illustrative purposes only.

©2019 San-X Co., Ltd. All Rights Reserved.

Information

Korilakkuma Cafe: another me in the mirror

Running: December 21, 2019 – March 22, 2020 (Not running December 30, 2019 to January 3, 2020)

Location: HARAJUKU AR BOX -table projection mapping cafe- (4-28-28 Jingumae, Shibuya, Tokyo)

Grand Opening: December 9, 2019 at 16:00

Reservations: Now Open

*This cafe serves course menus for two people to share only

*Drinks ordered separately

Table Projection Mapping Seats: ¥2,500 per person (Before Tax)

*Reservations for two people only
*Course menu charged separately

Official Website: https://korilakkumacafe.jp/