【Kyoto Stroll】A Day Trip Bike Ride Around Tourist Spots Near Kyoto Station
Kyoto's streets tell the story of Japan's history, tradition and culture. The depths of Kyoto are something you will fall in love with when visiting this long-standing city. In this feature, models Una and Mei took strolled those same streets while calmly and wholly taking in the scenery before laid them. Please relish at your own leisure the trip of these two Kyoto girls, one that you can enjoy fully too if you have a free day.
A trip with fellow company means riding bikes!
It takes two hours and twenty minutes to arrive from Tokyo via the Tokaido Shinkansen. The first thing the two of them did upon arriving was drop by "Kyoto Eco Trip," a bicycle rental shop just a short walk from Kyoto Station. What made them decide to kick their trip off with a bike ride was because you can get a feel the wonderful sights interwoven with historical architecture and nature against your skin even though you're on the move. Kyoto has a lot of narrow alleyways, but if you're going by bicycle you can come and go between them smoothly and unhinderedly. Plus, you have the advantage of being able to maneuver your way through open areas with speed too. Travelling by bicycle means you can discuss a route for your sightseeing as well, making it a reassuring option even for first-timers in Kyoto. There are 8 varieties of bikes to choose from at the shop, and since they're equipped with an automatic assist function, you can ride around effortlessly.
It's time to go. What kind of adventure is about to begin…?
Tō-ji Temple – home to Japan's number one 5-storey pagoda
In 1994, UNESCO designated Tō-ji as part of the "Historic Monuments of Ancient Kyoto" World Heritage Sites. It's just a 5-minute bike ride from Kyoto Eco Trip.
The location is the last existing remnant of Heian-kyō, a former name for the city of Kyoto that translates to "Capital of Peace and Tranquility." It was built as a national temple along with the relocation of the capital city (Heian-kyō) almost 1,200 years ago.
Tō-ji repeatedly experienced ruin and restoration due to war, and received its full-scale reconstruction under Toyotomi Hideyori in 1603.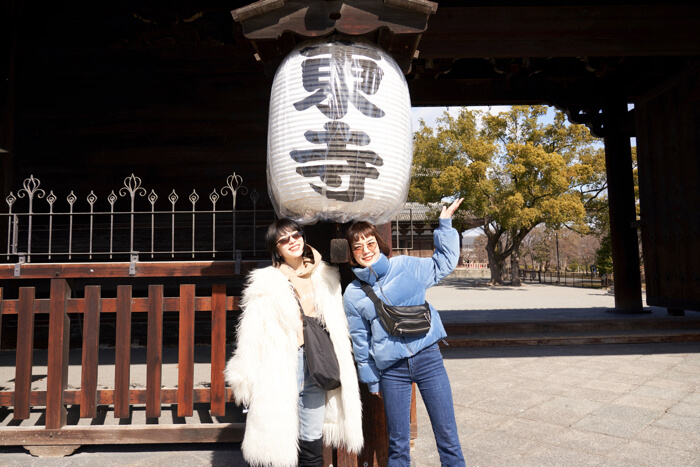 Tō-ji has many worthy highlights, but its five-storey pagoda, which is an appointed national treasure, is symbolic of Kyoto.
The pagoda was completed in 883. It was burnt down several times due to thunder but was ordered to be rebuilt to what it is today in 1644 by Tokugawa Iemitsu, the third Tokugawa Shogun. At 54.8 meters (180 feet) high, it stands as the tallest wooden five-storey pagoda in Japan.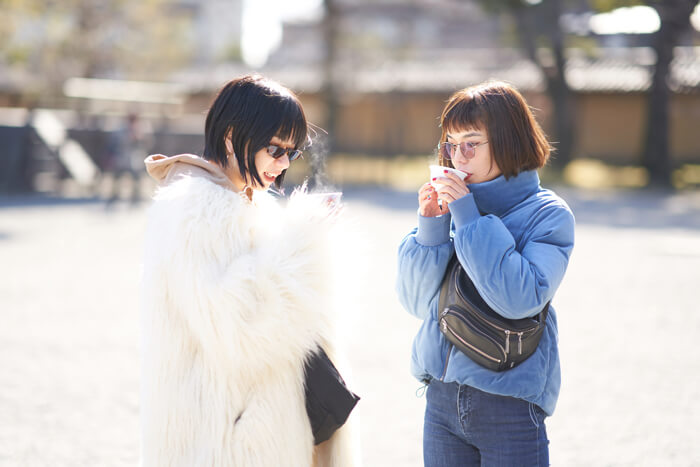 In spring, Tō-ji is also a famous location for cherry blossoms. Because it has so many varieties of the flower, you can enjoy them over a long period of time. The spectacular view of cherry blossoms surrounding sights around the temple, such as the pagoda and Mieido House, will move your heart. The cherry blossom season is almost upon us. I wanted to see it myself as a Japanese person while sipping some hot umekobucha (plum and kelp tea).
If it's souvenirs you want, Otabe Honkan has it all!
The travelling duo wanted something sweet during their cycling trip, so they stopped by "Otabe Honkan." If you're looking to buy popular souvenirs from Kyoto, then this is the place to go. You can find the most perfect confectioneries as, whether as a treat for yourself or as a gift to family and friends, including a range of famous products such as "Otabe," "Yatsuhashi" and "Kyo Baum."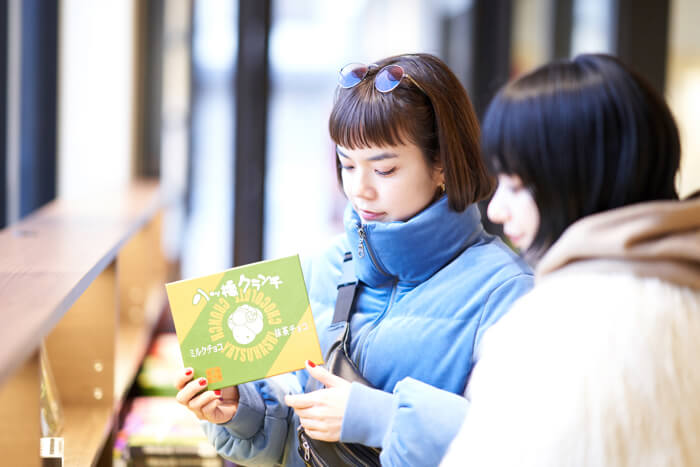 Here they are taste-testing while looking for their favourite picks. "Otabe" is the store's specialty and an absolute must-buy. It's made using koshihikari rice flour and red bean paste that's cooked delicately with adzuki beans from the district of Tokachi in Hokkaido.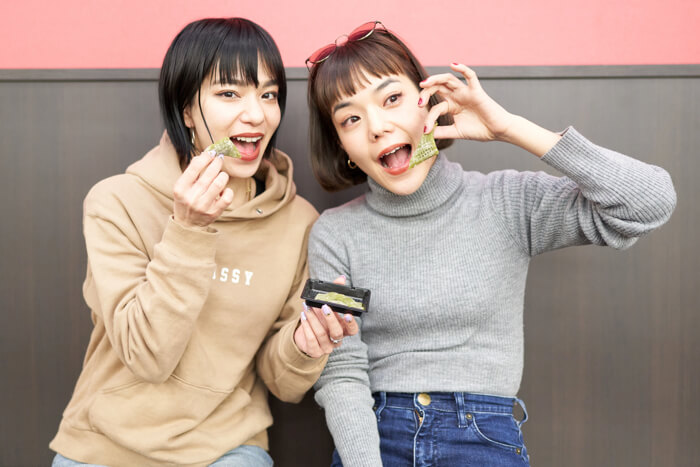 On the second floor of the shop you can see otabe being made in the factory through a glass window. You can even try tasting freshly made otabe. It's soft, and you can enjoy the texture of the mouth-melting outside and the red bean paste. You'll find yourself smiling without even realising.
Una and Mei purchased souvenirs as well as some sweets since they became hungry on their trip.
Tōfuku-ji Temple has the oldest hojo architecture in Japan
The next destination on the list is Tōfuku-ji, a Buddhist temple with priceless architecture where you can glimpse into the life of a Zen priest of the Muromachi Period. It traces back to 1255. The temple was founded by Kujō Michiie who prayed for a temple to be built with Buddha enshrined in it as a family temple for his grandfather, Fujiwara no Kanezane. It took 19 years before completion.
The chief priest garden (houjou) that underwent ruin was built anew in 1939 has continued to survive, transcending time and space. It is called "Tofuku-ji Temple Honbo Garden." A houjou is where a priest resides. This garden is one of the four gardens that surrounds the chief priest's houjou, each of which faces in each direction: North, East, South and West. It was created by Mirei Shigemori, a Japanese modern landscape architect.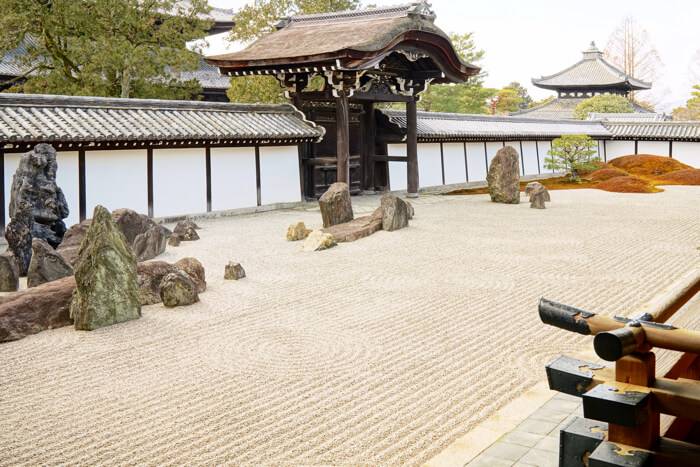 The South garden uses the classic Japanese rock garden (karesansui) landscape. Una and Mei never grew tired no matter how many times they gazed at it, with its powerful large rocks and fine, detailed sand design.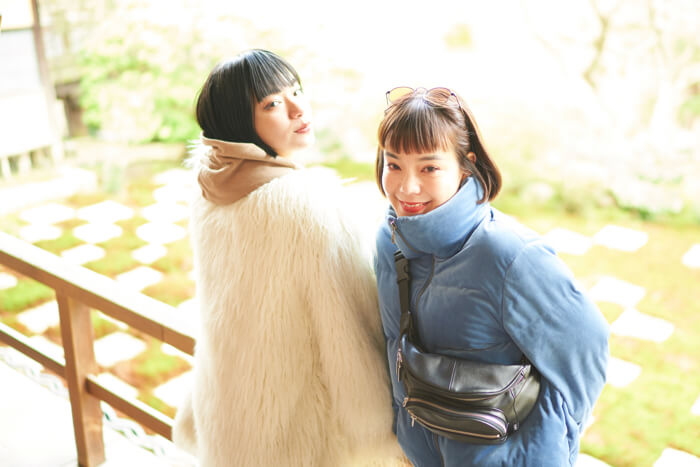 In the North was a more novel design garden that designed with a checkered pattern. It reuses paving stones that you wouldn't find in an everyday garden.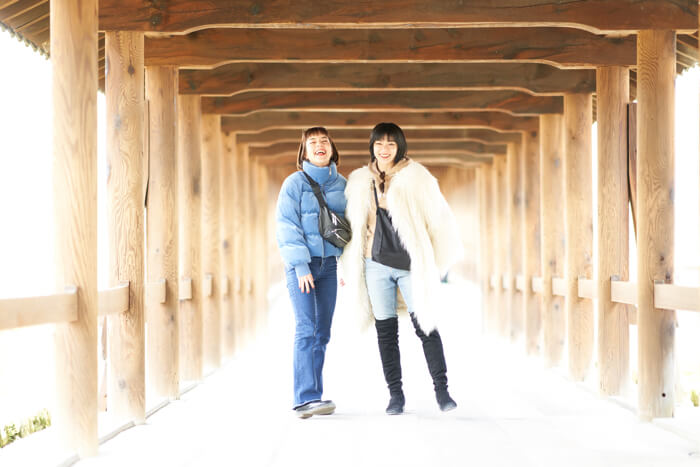 From the Tsuten Bridge you can see a valley known as 'Sengyokukan' where a small stream runs. This is the place people that makes people think of Tōfuku-ji's red autumntime leaves. The bright red maple leaves that bury this location is truly a sight to behold. The winter branches that are gradually becoming dyed red had a real elegance to them.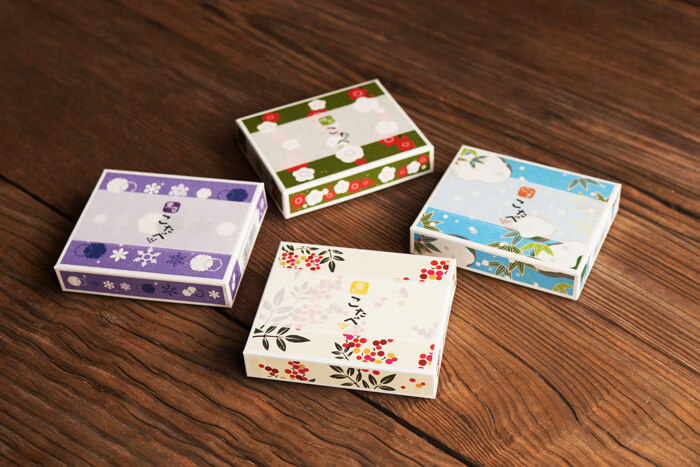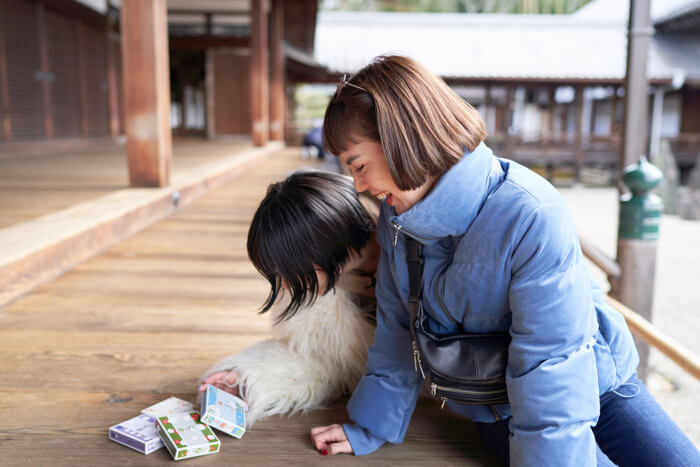 The travel snacks bought at Otabe Honkan came in cute packaging that went perfect with the aesthetic of Tōfuku-ji, so the two of them took a photo to commemorate. They then moved onto the next location.
Wrapping up the trip gazing at the serene flow of Kamo River
The final place Una and Mei cycled to was Kamo River, a place steeped in Kyoto's history just like the city itself. The river breeze is refreshing is you cycle along the riverbank.
The two of them parked their bikes up and had a fun girl's chat while being revitalised by the flow of the beautiful river.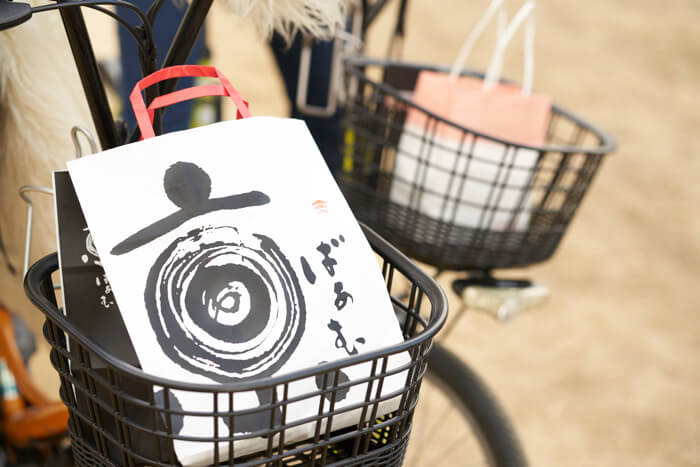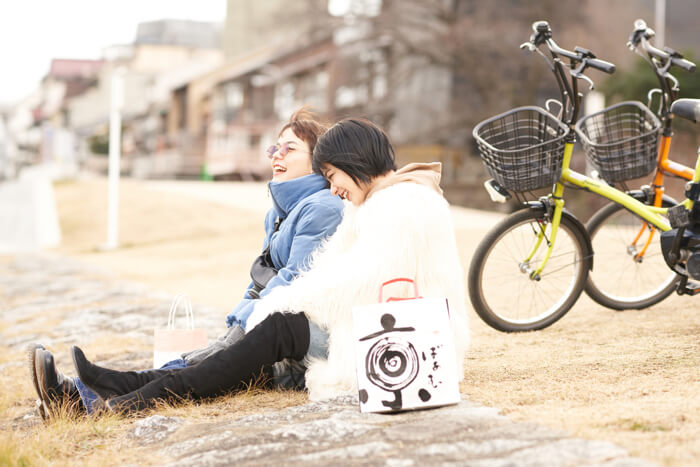 When summer rolls in, the tea shops and restaurants that run along Kamo River from Kiyamachi Nijou to Kiyamachi Gojou set up noryoyuka, balconies that look over the river, specially for the summer season. You will see the place bustling at the start of summer in the evenings – the only time it gets this busy.
Spring, Summer, Autumn and Winter. Kyoto's charm lies in its ever-changing face throughout the seasons, something you'll entirely stuck on. It's a place you will want to revisit time and time again.
Try renting a bicycle on your Kyoto trip and enjoy the city and all its sights in a light different from usual.
Model:Una& Mei Nagasawa
Writer:Ai Watanabe
Photographer:Takuya Ikawa
RECOMMENDED ENTRIES
【Kyoto Stroll】 Two travellers, one day of tourist spots, gourmet food and activities in Kyoto!

Welcome back to MOSHI MOSHI NIPPON's "Tokyo Stroll" series that recommends you travel destinations! Today, Hikari Shibata and Yuri Suganuma are leaving Tokyo and heading to the old capital Kyoto.

Together, Hikari and Yuri took the 07:00AM shinkansen train to Kyoto, arriving at 10:00AM. The first thing on their list was to fill up on some Kyoto gourmet! Sifting through Instagram and other SNS sites for the most popular spots, they decided to try some rare Kyoto confectionary at "Otabe Honkan".

 

Having set their hearts on eating before sightseeing, they visited "Otabe Honkan", a place they researched prior to their trip. After taking the subway to Jujo Station then walking for about nine minutes, they arrived.

They ordered according to what was popular online – "Kuchidoke Aisu" ( melt-in-the-mouth ice cream, ¥500 including tax), and the "Soufflé Sandwich" (¥162), which is new on the menu.

The melt-in-the-mouth "Kuchidoke Aisu" is an adzuki bean and milk shaved ice dessert which is topped with fluffy fresh cream and matcha. The Japanese word "ookini" (meaning "thank you" Kansai dialect) was written in matcha on the dessert – how cute! ♡

Hikari: The fresh cream wasn't too sweet. Yummy!! Every now and then, I got a mouthful of adzuki beans. I really liked the variety of flavours ◎.

The new soufflé sandwich was made by adding velvety cream cheese to the bread dough.

Yuri: The soufflé was soooo fluffy! The cream cheese flavour and the sandwich is a match made in heaven!

Otabe Honkan works with a factory as a joint establishment. The factory produces a variety of popular brand confectionaries from different parts of Kyoto. Fresh Yatsuhashi is one of the famous products made by Otabe.

The factory also holds handmade sweet-making classes and allows visitors to the view the factory, so if you're interested, check the link to the website below.

■Information

Otabe Honkan

Adress:35,2, Nishikujo Takahatacho, Minami Ward, Kyoto,

Opening hours: 09:00 〜 18:00

Off to Kyoto Tower – the symbol of Kyoto!

Stomachs full, the girls return to Kyoto Station and make their way to Kyoto Tower, which is the tallest building in Kyoto. The observation room is elevated 100 metres above the ground, and offers a stunning view of the streets. The many souvenir shops make it all the more popular with tourists.

On the 3rd floor of Kyoto Tower, there is a Makizushi sample-making event! (Makizushi: sushi rolled in seaweed with a filling). There are many classes running here that allow visitors to experience Japan to the full. Yuri and Hikari decided to try out something very unique to Kyoto. They headed to the Otabe dojo to learn how to make fresh Yatsuhashi sweets by hand.

Before preparation, they got changed into specialist clothing and then took a commemorative photo…but what is this photo really for?

To make these fresh Yatsuhashi by hand, the girls made a steamed flour dough, stuffed it with anko red bean paste et voila! The thick and chewy texture of the mochi made the kneading process hard work! Yuri and Hikari were silently working all the way through, kneading and kneading and kneading until their work was approved by their sensei.

Here's a picture of their highly praised Yatsuhashi. Our confectionary chefs made plain Yatsuhashi, matcha Yatsuhashi and Murasaki Imo (purple sweet potato) Yatsuhashi! Now it's time to enjoy the snacks with a tea ceremony!

Yuri: We made these ourselves and to no surprise, they're delicious!

Hikari: The dough is chewy and has a gentle flavour!

At the end, the girls received a souvenir gift and a certificate, and with that, class had ended. Inside the souvenir package, there was the photo taken at the start of the class! This put a smile on their faces.

■Information

Kyoto Tower Sando Otabe Taiken Dojo (京都タワーサンド おたべ体験道場)

Address:Kyoto Tower Building floor 2, 721-1, Higashishiokojicho, Shimogyo Ward, Kyoto

Reservations: https://otabe-ktt.dt-r.com/

*Reservation possible for up to the previous day at 15:00

 

>>next page Go to Kiyomizu-dera

Kyoto's most popular confectionery souvenir "yatsuhashi" is now on sale in cake form!

Hi everyone, Shiota here from the MOSHI MOSHI BOX Harajuku Tourist Information Center.

"Yatsuhashi" is a well-recognised traditional Japanese confectionery in Kyoto. It's delicious whether eaten raw or baked and is a popular souvenir item from there.

Today I'd like to show you a newly released product from Bijuu, a company known for its yatsuhashi, called "Kyo-Machiya Cake – Kokuto Kinako"!

Kyo-Machiya Cake is a new kind of sweet. It is made with yatsuhashi that has been kneaded with brown sugar and sponge cake made with soy flour. The cake is filled with soy flour ganache mixed with brown sugar red bean paste.

It comes in packs of four (¥760) and six (¥1,080) so they are perfect as a souvenir or gift to somebody.

*both prices do not include tax

They're small making them nice and easy to eat. They also look like Western style cakes and come in stylish packaging.

When you open the package you are instantly hit with the sweet-smelling aroma of soy flour. And because the soy flour is dark roasted with domestic soya beans the smell is much more fragrant.

Let's have a taste.

Mmm! Raw yatsuhashi is so chewy!

There's lots of different flavours of yatsuhashi you can get your hands on nowadays like matcha and chocolate. But this is my first time eating brown sugar flavour. The fluffy texture of the sponge together with the chewy yatsuhashi is irresistible. I've never tasted anything like it.

Ellie: "So sweet! The aroma of the soy flour is to die for, it's mouth-watering. The soy flour ganache between the sponge is sweet and very tasty. Plus the outside layer is yatshashi so your hands don't get messy."

People who aren't too good with cinnamon or who can't eat yatsuhashi might be able to get through one of these. You can enjoy eating it cold or try warming it up a little too!

If you find yourself in Kyoto and in need of a souvenir, then how about settling on a Kyo-Machiya Cake?

MOSHI MOSHI BOX staff recommends Osaka souvenirs!

Osaka is known as a popular sightseeing spot in Japan. So, when you visit Osaka, of course, you will want to buy some souvenirs. But you may wonder, what souvenir is a good souvenir to buy in Osaka.

In his article, the staff of MOSHI MOSHI BOX who love to travel, will introduce to you some recommended souvenirs which can be bought in and around Osaka Station.

"Nakanoshima Caramel Scotch recommended by our Spanish staff, Ruki.

It looks like a cookie but it is a snack which includes caramel and almonds.
The crunchy texture of scotch is superb. The blue box is very cute too.

◼︎Information
Nakanoshima Caramel Scotch
Available store: Entrée Marche Osaka
Address: 3-1-1, Umeda, Kitaku, Osakashi, Osaka
Business hours: 6:00 to 13:00
TEL:06-6440-1122

"batondor" recommended by our Hong Kong staff Minimal


A special stick dessert with only eight sticks in a box.
The taste of the product is very thick compared to "Pockies" which can be bought at convenience stores and it has the flavor of butter. It is a great match with alcohol!

◼︎Information

batondor Hankyu Umeda Store

Address: B1F, Umeda Honten, 8-7, Kakutacho, Kitaku, Osaka

Business hours: Friday, Sutarday – 10:00 to 21:00

Sunday to Thursday – 10:00 to 20:00

TEL:06-6361-1381

URL:

http://www.glico.co.jp/batondor/index.html

"Fueki Pudding" recommended by our Chinese-speaking staff, Banako


A pudding using the motif of the good-old Fueki paste container. The container can be used as an accessory case or interior. I am planning to buy it for my friends when I visit Osaka next time.

◼︎Information
Fueki Pudding
Available venue: Inside Osaka Station
Price: 700 yen – two pieces (tax not included), three pieces – 1,200 yen (tax not included)
TEL:06-6648-4678

"Tenten Hitokuchi Gyoza" recommended by the Miss ID Semi-Finalist Midori


I always buy this product when I visit Osaka. I don't cook at all but this gyoza (dumpling) is very easy to make.
It is recommended to put it into a pot during the cold season!

◼︎Information

Tenten Hitokuchi Gyoza

Available stores:
Entrée Marche Osaka
Available hours: 8:00 to 24:00

Seven-Eleven Heart in  JR Osaka Station North Store
Available hours: 7:00 to 24:00

Seven-Eleven Heart in  JR Osaka Station Access Bridge Store
Available hours: 7:00 to 23:00

Seven Eleven Heart in JR Osaka Station Midosuji South Entrance/Exit Store
Available hours: 7:00 to 23:00

Seven-Eleven Heart in JR Osaka 11th Gate Store
Available store: 7:00 to 21:00

"Jagariko Takoyaki Aji" recommended by English-speaking staff, Ellie


Takoyaki is one of the most famous foods of Osaka. As you might know, Jagariko is a very popular snack among Japanese people but this flavor has a thick flavor of takoyaki.
It is fairy cheep and it is a very "Osaka-like" product which is suitable to be bought as a gift for your friends!

"Rikuro Ojisanno Omise – Yakitate (freshly baked) Cheese Cake" recommended by the curator of MOSHI MOSHI BOX Shiota.

A tasteful cheese cake famous in Osaka. You can watch the staff of the shop making cheese cakes! It is recommended to warm this cake up before you eat it. Of course, you can also enjoy the product after cooling it down inside a refrigerator.

◼︎Information

Rikuro Ojisan no Omise Daimaru Umeda Store

Address: 3-1-1, Umeda, Kitaku, West Osaka / Japanese/Western dessert floor, B1F of Daimaru Umeda Store

TEL:0120-57-2132

URL:

http://www.rikuro.co.jp/

How did you like our MOSHI MOSHI BOX staff recommended Osaka souvenirs? Please refer to this article when you are not sure which souvenir to buy. Let's have fun in Osaka, a city which has lots of delicious food and unique items.

【Tokyo Stroll】Strolling in Okushibuya for half a day, which is a sophisticated town that is away from the hustle and bustle.

Okushibuya is the area including Kamiyama-cho, Tomigaya, Udagawa-cho which all are about a 15 minute walk from Shibuya station. This area is so calm and sophisticated compared to hustle and bustle Shibuya Scramble Crossing or Center Shopping Street, and I felt like I had matured just by walking around there. Today, I strolled around this sophisticated town which has a lot of great stores with the girl named Una.

Starting with the store named "ShuShu&JOJO"

 "ShuShu" and "JOJO" are antique shops in Shibuya. They carry mostly French accessories, vintage miscellaneous goods, and collectors items in Europe. Today, we visited "JOJO" in Maruyama-cho.

There are a variety of items in this store. This store's owner's sibling has been living in France, and they try to find the items in the area where Japanese have hardly ever been. That's why they carry so many things that you can't find in the any other stores in Japan.

The recommended products are the only one items made with gemstones such as opal. Some of the rings are able to change sizes, so feel free to ask for that.

▼Information

JOJO

Address:14-11  Maruyama Town, Shibuya-ku, Tokyo

Hours:3:00PM to 11:00PM

Holiday:Wednesday

To the interior house plant shop "NEOGREEN"

The next one visited was "NEOGREEN" which carries interior house plants such as bonsai and potted plants. They chose the best pot to match with each plats' characteristics. Even though all of these are orthodox kinds of plants, they pick up the certain ones which has a unique and characteristic shape.

The shop appeared to be a forest in a sophisticated town, and you will be refreshed just by stepping in here. They have the "Green Awareness Bookshelf" which is selling books about plants.

All pots are made with china, not plastics, and the owner purposely pick out the one to go with the interior. Price starts from 1000yen. Why don't you get green for yourself to get refreshed on your daily life?

▼Information

NEOGREEN

Address:1-5 Green Hills Kamiyama1F, Kamiyama cho, Shibuya-ku, Tokyo

Hours:12:00PM to 8:00PM

Holiday:Monday

>>next page

Strolling Around Summertime Harajuku to "Gion Tokuya" Wearing a Yukata Rented at the "Moshi Moshi Kimono Salon"

It's commonplace in Japan to dress up in yukata to attend the big summer events such as the various omatsuri (festivals) and going to see the hanabi (fireworks). But yukata are summer kimono, meaning they are to be only worn in summer, which would make wearing one as casual dress even more beautiful…

Today, we follow Mei Nagasawa, who is dressed in her favourite yukata, to go and do one of the things she likes to do in summer – drop by her favourite kakigori (shaved ice) shop.

Freely try on yukata just 5 minutes' walk from Harajuku Station!

Mei Nagasawa had her yukata fitted at the Moshi Moshi Kimono Salon, which is produced by 夢乃屋 -YUMENOYA-. It is a recognsied tourist spot that offers yukata which combine two styles: "Taisho Roman," which refers to the cultural style of the Taisho period combined with 'romantic,' and "Harajuku's kawaii culture," to create a new style called "Harajuku Roman."

There's a huge range of different designs to choose from, so you can have a fun time picking out which kimono or yukata suits you best! They will even help you put them on, style your hair, and you can take photos too, which makes it a very popular tourist spot.

People from all different countries visit the salon every single day. And if you're stuck choosing which colour or design to go with, the staff will gladly assist you on choosing one that suits the occasion, or help you pick an obi (kimono sash) that suits you. If there's anything that you need or want to know about kimono and yukata then they are there to help.

Mei: "I went with something that was similar to my usual outfit – something that just felt right at the time! Since I'm wearing Japanese clothes, I wanted something that had a kind of retro feel to it, since I like that kind of thing. My instinct told me that this was the colour to go with today. And the obi went with it, too!"

The salon's hair and make-up stylist MAHO will set your hair beautifully based on you styling and hair accessory wishes. Mei didn't have her hair put up and instead went with a soft and stylish bob.

Mei: "The colour of the yukata is sophisticated, and I want the hairstyle to bring out that Taisho Roman feel, so I went with a big ribbon in my hair that looks like an obi for a yukata!"

There's also a wide selection of accessories to choose from to go with your yukata, including handbags, geta (Japanese wooden shoes) and more. It's super fun to pick and choose what colours go with your yukata and find what suits you best. Mei picked out her choice of handbag and geta in just 10 seconds. And she took a commemorative photo before heading out to stroll the town!

Mei: "I chose a handbag and pair of geta with black on them to go with my hair accessory! Wearing black at your feet really brings your whole look together, so I definitely recommend it!"

>>next page

"Healing power" spots – Seven recommended gardens in Tokyo where you can enjoy wonderful views

The year is coming to an end and I assume that many of you are searching for places with "healing powers." In this article, I will introduce to you some gardens where you can enjoy superb views and feel refreshed.

Kyu Shiba Rikyu Garden (Hamamatsucho)

This garden is located near Hamamatsucho Station and is close to Haneda Airport and Tokyo Tower. It is known as a former Daimyo's Garden, or imperial garden of the early Edo period, along with Koishikawa Kōrakuen Garden. Part of the charm of the garden is the large pond in the middle where people can walk around to appreciate the serene surroundings. The garden itself feels cemented in history and is a popular spot visited by company workers on their break, as well as by tourists.

Detailed information: https://www.moshimoshi-nippon.jp/47786

Koichikawa Korakuen (Iidabashi)

I would like to introduce to you Koishikawa Korakuen which is designated as the national beauty spot/historical site. The nearest stations are Iidabashi, Korakuen and Suidobashi. You can enjoy beautiful views while enjoying sceneries of shrines and temples. It is recommended that you walk around this garden since it is close to the stations noted above.

 

Rikugien (Komagome)

This garden was created by a servant of the historical figure Tsunayoshi Tokugawas and is known as one of the two most famous daimyo (Japanese vassal lord) gardens created in the Edo Period. The garden is designated as a national beauty spot. Many trees are planted inside the vast, bright garden and you can enjoy the beautiful scenery both in autumn and winter. The closest station is Komagome Station.

Shinjuku Gyoen (Shinjuku)

Shinjuku Gyoen is a park/garden which you can visit on foot from Shinjuku Station. It is very popular with tourists. In this garden surrounded by nature located in the center of Tokyo, you can enjoy a wonderful time while watching the tall buildings of Shinjuku. You can use this garden for family outings, picnics with friends or as a date spot.

Otaguro Park (Ogikubo)

The closest station is Ogikubo Station. This Japanese garden is a spot where you can enjoy a comfortable, Japanese-style atmosphere. Observing the different expressions of the trees throughout the year is a charm point of this park. The place is gathering popularity among local residents as a "healing spot."

Mukojima Hyakkaen (Mukojima)

The closet stations are Mukojima Station and Hikibune Station. This botanical garden was created by an antique dealer during the Edo Period and has a different atmosphere than Koishikawa Korakuen and Rikugien since it was created based on the local culture of the Edo Period. You can view Sky Tree from the garden.

Kiyosumi Garden (Kiyosumi Shirakawa)

The building inside the garden used to be the compound of a wealthy merchant living during the Edo Period and the garden became a "kaiyu-shiki rinten" (circuit-style woods and pond). It has a fountain and a small mountain. It is a famous garden which was designated as a beauty spot in Tokyo. The closest garden is Kiyosumi Shirakawa Station.

How did you like our introduction to "healing spots" in Tokyo? Why not visit these beautiful Japanese gardens and come away refreshed and healed?
RELATED ENTRIES
Kyoto's New Cafe YOJIYA CAFE Ocha no Crepe Serves Tasty Takeout Matcha Crepes

YOJIYA CAFE opened up a new cafe called YOJIYA CAFE Ocha no Crepe in Kyoto on November 30, 2020, serving a selection of crepes made with Uji matcha and specially-selected ingredients.


YOJIYA is a Kyoto-based company that first opened 116 years ago specialising in aburatorigami blotting paper. Today, the company has expanded its range of cosmetic and beauty items, and it even operates two cafes in Kyoto. On Monday (November 30), it opened YOJIYA CAFE Ocha no Crepe in Nijo Fuyacho, Kyoto, an all-new cafe serving takeout crepes.

Ocha no Crepe Matcha | ¥750 (Tax Included)


The cafe's signature matcha crepe is filled with cream, rice flour dumplings, and matcha from Uji. The crepe pastry itself is made from an original blend of two types of wheat flour. The cream is a delicious blend of three types of cream plus matcha cream. It's also filled with crunchy pie which is cooked fresh every morning. The crepe is finished with an illustration of a matcha teacup and whisk made from matcha.

The high quality matcha crepes are made the perfect size and with the perfect combinations so they can be enjoyed even after a meal.

Be sure to pay a visit to YOJIYA CAFE Ocha no Crepe when visiting Kyoto.

Information

YOJIYA CAFE Ocha no Crepe
Grand Opening: November 30, 2020
Address: Nijo dori & Fuyacho-dori, Hoteiyachō, Nakagyo Ward, Kyoto
Opening Hours: 11:00-18:00
No Fixed Holidays
TEL: 075-255-9292

YOJIYA CAFE Official Website: http://www.yojiyacafe.com

Enjoy the Beautiful Taste of Kyoto at Isetan Shinjuku in Tokyo

Isetan Shinjuku has announced a special event dedicated to promoting the beautiful taste of Tokyo. Set to begin on December 2, the event will see both traditional and newer restaurants from Kyoto come together to serve up Kyoto-style cuisine to the people of Tokyo from oldies like sushi to dango to more modern dishes like okonomiyaki and katsu sandwiches. Visitors will also be able to watch real chefs from Kyoto at work.

Hi-Lite Shokudo's "Hi-Lite Katsu Sandwich" | ¥850

Since first opening in 1960, Hi-Lite Shokudo has continued to treasure the taste of home cooking and has continued to evolve that taste over the years to cater to each generation. Its famous katsu sandwich is made with a secret sauce that has kept it unbeaten against other popular eateries in Kyoto, and they've upped the taste for this event.

Kotoka's "Mitarashi-dango" | ¥864 (6 Sticks) 

These dango are made fresh in front of customers and are doused in a rich secret sauce. Their chewy texture is irresistible.

Izuu's Mackerel and Tilefish Assortment | ¥4,455 (3 of each per person)

Izuu is an iconic sushi restaurant in Kyoto that was first established in 1781. This assortment is made with chub mackerel from coastal waters, esumai rice from Shiga Prefecture, and kombu from Hokkaido.。

Yumeya's Fuwafuwa Okonomiyaki | ¥801 (1 portion)

Many people living outside of Kyoto search for the okonomiyaki flavour served by Yumeya. It's made fresh, fluffy, and is topped with lots of ingredients.

Daitokuji Saiki-ya's "Dashimaki Tamago" | ¥648 (1 portion)

Daitokuji Saiki-ya is a specialty store in Kyoto catered food in business for 1933 years. It serves Kyoto-style dashimaki tamago as well as lots of other delicious food that captures the taste of Kyoto.

Sailor Moon Opens Its Third Petit Store at KIDDYLAND Kyoto Shijo Kawaramachi

To celebrate the upcoming release of the two-part Sailor Moon Eternal movie, a third branch of Sailor Moon store -petit- is set to open at KIDDYLAND Kyoto Shijo Kawaramachi on December 5, 2020.


Sailor Moon fans can look forward to getting their hands on a magical menagerie of original merchandise originally only available at the Sailor Moon store in Harajuku as well as a super soft, exclusive store-original Climax Moon Compact cushion.

Other items include candy charms, acrylic Christmas 2020 stands, pins, and more. Customers who spend over ¥3,000 (tax included) will also receive a free folder. These are available on a first-come, first-served basis and feature a cute design drawn by one of the store owners.

Information

Sailor Moon store -petit-
Grand Opening: December 5, 2020

Location: KIDDYLAND Kyoto Shijo Kawaramachi

Address: 344 Takoyakushi Sagaru Shioyacho, Kawaramachidori, Nakagyo-ku, Kyoto-shi, Kyoto

Opening Hours: 11:00-21:00 (Subject to change without notice)
Official Website: http://sailormoon-official.com/store/

Sailor Moon Eternal
Animated film releasing in two parts in 2021.
Part One: January 8, 2021
Part Two: February 11, 2021
Official Website: https://sailormoon-movie.jp/ 

Sendai Stroll: Taking a Walk Around Japan's City of Trees With Chinese Influencer Etsuna

Sendai, the capital of Miyagi Prefecture and the largest city in Japan's Tohoku region, is a two-hour bullet train ride from Tokyo. The city has earned the nickname Mori no Miyako, or 'City of Trees,' due to the abundant rows of zelkova trees lining many of its streets. It bustles with charm and is enjoyed by locals and tourists for its history, sights, and events, such as its associations with the Japanese regional ruler Date Masamune, the famous Sendai Tanabata Festival, and more. However, there are many other incredible locations that Sendai has to offer that aren't as well known as the popular sites, so today we are joined by Etsuna who is giving us the latest in what can be found in the city.

Along The Coast

The coast of Sendai was struck by a tsunami when the Great East Japan Earthquake struck back on in March 2011. Today, the area is continuing its re-development efforts. New facilities have and are being built, including plenty of new spots the area never had before. Sendai is home to a memorial hall for remembering those affected during the disaster which is a must-visit if travelling to Sendai.

Sendai Umino-Mori Aquarium

Feel the sea breeze and ocean water of Tohoku against your skin

Sendai Umino-Mori Aquarium opened in 2015 as the larrgest aquarium in the Tohoku region. The first floor is themed on the waters of Tohoku where many rare aquatic species from the Sanriku Coast are housed. The second floor is centred on sea creatures found in the oceans around the world such as tropical fish, jellyfish, marine mammals, and other familiar faces.

Visitors can even meet ascidians there which are famous in the Sanriku Coast.

The large fish tanks let in a lot of natural light, recreating the beauty of the Sanriku sea.


There's also a special spot where you can get up close to some of the fish!


The aquarium offers an optional program where visitors can feed the penguins.


"It's a pretty big aquarium," said Etsuna. "It was great to see all of the different things they have on display. I had a lot of fun feeding the penguins too!"

Sendai Umino-Mori Aquarium

Address: 4-6 Nakano, Miyagino-ku, Sendai-shi, Miyagi Prefecture
Opening Hours: 10:00-17:00 (May change depending ont he season)
No Fixed Holidays
TEL: 022-355-2222
Access: 10-minutes by shuttle bus (free ride) from JR Nakanosakae Station
Price: Adults ¥2,200 / Seniors, High School and Junior High School Children ¥1,600 / Elementary School Children ¥1,100 / Infants ¥600 (All Tax-Inclusive)

Official Website: http://www.uminomori.jp/umino/

Sendai Chuooroshiuri Market

Fresh fish at an affordable price

Sendai Chuooroshiuri Market is like the kitchen of Sendai. The food shops there were opened by locals. Visitors will find many different bites to eat when visiting. Etsuna visited Sushi Yoshi, a restaurant in the area so popular that there's always a line.


The restaurant's name, Sushi Yoshi, suggests that it's a sushi restaurant, but they actually serve common delicacies like rice bowls and set meals.


Maguro Sanshudon | ¥1,500


This rice bowl contains three kinds of maguro tuna, so much in fact that you can't even see the rice!

"You can enjoy delicious fresh fish at a reasonable price. You might have to wait in line, but it's totally worth it!"

 Sushi Yoshi
Address: 4-3-1 Oroshimachi, Wakabayashi-ku, Sendai, Miyagi
Opening Hours: 6:30-13:30
Closed: Wednesdays and Sundays
TEL: 022-232-8042
Access: 20-minutes by bus from Sendai Station

Sendai 3/11 Memorial Community Center

Learn the story of the disaster

Inside Arai Station, which is the last stop on the Tokyo Metro Tozai Line, you can find the Sendai 3/11 Memorial Community Center where visitors can learn all about how the Great East Japan Earthquake affected Sendai through the exhibition rooms and in the communal space.


The first floor features a panel with a 3D map of how the tsunami inundated the region as a result of the earthquake.


Up on the second floor is a permanent exhibition showcasing the restoration and restoration efforts of the community as well as real photos from around the time of the disaster.

There are also staff members there who survived the disaster and can describe their experiences as well as current issues facing Sendai.

"I got teary when the speaker told me about the hardships they faced at that time," explains Etsuna. "The people of Sendai are living their lives looking forward, and I have a lot of respect for them."


Sendai 3/11 Memorial Community Center
Address: Kutsugata-85 Arai, Wakabayashi-ku, Sendai, Miyagi
Opening Hours: 10:00-17:00
Closed: Mondays (or Tuesday if the Monday falls on a public holiday) / Day after public holiday / New Year Holidays
TEL: 022-390-9022
Access: Arai Station
Entry: Free

Official Website: http://sendai311-memorial.jp

 

Sendai Arahama Elementary School

The school that still stands after the earthquake disaster

On the day of the Tohoku earthquake, many local residents fled to Sendai Arahama Elementary School where 320 people were trapped including the evacuees, children, and teachers, before managing to escape safely to the roof. The school is now open as a memorial to preserve the memories of those who survived.

The tsunami that struck after the earthquake made it to the second floor of the school. These first two floors have been kept untouched and are as they were on the day.

There are photos as well as video footage exhibited on the fourth floor where the tsunami didn't reach.


From the school building's roof you can gaze at the peaceful coastline.


"Seeing the place that was hit by the tsunami up close has really changed my outlook on life. There is green in the surrounding area. I felt life budding all around."


Sendai Arahama Elementary School
Address: Shinborihata-32-1 Arahama, Wakabayashi-ku, Sendai, Miyagi
Opening Hours: 9:30-16:00
Closed: Mondays / Every 4th Thursday of the month / New Year Holidays
TEL: 022-355-861
Access: 15-minutes by bus from Arai Station
Entry: Free

Akiu Area


Akiu Onsen is a spa town known to locals as the 'living room' of Sendai. It's a 30-50 minute bus ride from Sendai Station. It has been nicknamed one of Japan's Three Baths alongside Bessho Onsen and Nozawa Onsen, both in Nagano Prefecture. It's another place that Date Masamune frequented many times.

Rairaikyo Gorge

A stroll along the gorge path

Rairaikyo Gorge gets its name from the abundance of enormous rocks that have been eroded by the Natori River and given them strange shapes. The Kanji 'rai' used in the gorge's name literally means 'many rocks.' The gorge is home to a 1-km path that people can walk along and soak up the incredible natural environment that offers sights to behold throughout the year. From late October to mid November, when the autumn leaves are in bloom, the area is also lit up in the evenings.


The heart-shaped hollow in the rocks as pictured above is considered a sacred place for couples.


Taking a stroll along the path one sees maple trees aplenty. Visiting during the height of autumn graces you with a colourful scene you wouldn't want to miss.


"I feel healed having gotten to take a leisurely stroll through nature," explained Etsuna. "The rocks of Akiu have some interesting shapes."


Rairaikyo Gorge

Address: Akiumachi Yumoto, Taihaku Ward, Sendai, Miyagi
Access: Approx. 40 minutes by bus from Sendai Station

Akiu-sha

A stylish, old fashioned cafe in the hot spring town


When taking a trip to Akiu Onsen, one hot spot that's a must-visit is Akiu-sha, a restaurant that was renovated from an old private farm house from the Edo Period. During the day it serves lunch food and drinks while in the evenings it's used for events like private parties.

There's an open garden at the site which is sometimes used for weddings. At the back are vegetable plots tended to by the restaurant.

Akiu-sha Lunch | ¥1,280 (Before Tax)


The Akiu-sha Lunch is made with fresh vegetables grown in both their own plot as well as from around Akiu.

Akiu Saiseki Chocolate | ¥850 (Before Tax)


A white chocolate dessert inspired by the unique rocks of Akiu. Customers can use the little wooden hammer to break apart the dessert to create a rubble of chocolate.

The inside of the restaurant is spacious with towering beams holding it up.


"The vegetables are so fresh, I couldn't believe how tasty they were! This flavour is unique to this place."

Akiu-sha
Address: Nozoki-9-4 Akiumachi Yumoto, Taihaku Ward, Sendai, Miyagi
Opening Hours: 11:00-17:00 (Last Food Orders 14:30 / Cafe Last Orders 16:00)
Closed: Tuesdays
TEL: 022-724-7767 (Bookings not possible)
Access: 50-minutes by bus from Sendai Station

Official Website: http://akiuwinery.co.jp

Akiu Winery

Taste and compare different original wines

Akiu Winery in Akiu Onsen was the first winery to open in Sendai. It's home to an enormous grape field, and inside is the brewery itself as well as a dining area and shop. They serve an array of original wines.

As well as originals, Akiu Winery also stocks famous wines from Sendai.


Merlot Red Wine 2018 (Sample) | Koshu Sur Lie 2019 (750ml) ¥2,300 | Steuben Rosé 2019 (750ml) ¥2,000 (All Before Tax)


Akiu Winery's line-up of wines are famous in Sendai.


At the back of the winery is the expansive grape field.


Craft Grill | ¥1,330


At the outdoor terrace you can enjoy a BBQ grill together with a glass of wine.

"The sight of the grape field made me feel like I was in France. You can enjoy a BBQ too so I definitely want people to come here!"


Akiu Winery
Address: Biwaharanishi-6, Akiumachi Yumoto, Taihaku Ward, Sendai, Miyagi
Official Website: http://akiuwinery.co.jp

Akiu Great Falls

The Three Great Waterfalls of Japan

Akiu Great Falls is considered one of Japan's three most famous waterfalls alongside Kegon Falls in Tochigi Prefecture and Nachi Falls in Wakayama Prefecture. It's about 15-minutes by car downstream from Akiu Onsen and is also accessible by bus.

They have a retro shop at the entrance of the waterfall.


Also located next to the waterfall is Akiu-Otaki Fudoson, a temple surrounded by dense green foliage and enormous gingko trees.


"Being in nature really relaxed me and took away the day's stress! It's quite a walk to the waterfall basin so you get plenty of exercise too."


Akiu Great Falls
Address: Otaki Akiumachi Baba, Taihaku Ward, Sendai, Miyagi
TEL: 022-398-2323 (Akiu Onsen Tourist Information Center)
Access: 50-minutes by bus from Sendai Station (Running on weekends and public holidays only)

Around Sendai Station

Sendai Station can be considered as the doorstep of Japan's Tohoku region. It of course runs JR East's Tohoku Shinkansen bullet trains as well as operates Sendai Subway services and buses. The area around the station is great for finding tasty local delicacies, shopping, and souvenir-buying.

WANOSHOKU NIKAI

Seri-nabe is Sendai's new specialty food

If you're asked to give an example of a famous speciality food product from Sendai, chances are people will jump straight to the city's gyutan beef tongue, but what has been the talk of the town recently is seri-nabe. Seri-nabe is a type of hotpot cooked with Japanese parsley ('seri') – one of Japan's seven spring flowers. Miyagi Prefecture boasts as a top class producer of Japanese parsley. The hotpot is served in a simple duck broth which allows the fragrance of the parsley to come through.


"I can't get enough of the crunchy texture of the [parsley] roots! It was delicious, I had a refreshing soy sauce soup finished with ramen."


WASHOKU NIKAI
Address: 2-5-15 Ichibanchō, Aoba-ku, Sendai, Miyagi
Opening Hours: 17:00-Midnight
No Fixed Holidays
TEL: 022-224-6040

Iroha Yokocho

Bar crawl deep into the back streets

The side streets of the Sunmall Ichibancho arcade have a retro Japanese vibe to them, packed full of shops that make one feel nostalgic.

The long, winding alleys feature plenty of Instagram-worthy spots.

"This is a great spot for enjoying a bar crawl, just having a light drink and then moving onto the next place. Even if you don't drink there's tasty food to enjoy too!"

Iroha Yokocho

Address: 2-3-28 Ichibancho, Aoba-ku, Sendai, Miyagi
TEL: 022-223-3151

S-PAL Sendai

A fashion mall connected to the station

S-PAL is a fashion mall directly connected to Sendai Station, home to apparel stores, restaurants, souvenir shops, sundry sellers, and more. Here are some sundry stores selling a variety of miscellaneous items perfect as souvenir purchases.

Nakagawa Masashichi

This is an old-time chain that has been around for 300 years. Specialising in lifestyle goods, this S-PAL branch is the only one in all of Tohoku.


Its interior design has a retro feel to it with shelves and tables piled with cute bits and bobs.

Kaya-ori Tea Towel | ¥440 (Tax Included)


A specialty product of Tohoku, this tea towel is made using the traditional weaving technique of kaya-ori. Exclusive to Tohoku.

IORI

IORI is another shop you'll only find in the Tohoku area. They sell imabari towels which are perfect as gifts to yourself or another.


Handkerchiefs | ¥600 Each (Tax Included)〜


These handkerchiefs are only sold in Sendai and feature a variety of embroidered motifs like the windsocks of the Sendai Tanabata Festival, kokeshi dolls, the helmet of Date Masamune, and more.

KANEIRI STANDARD STORE

A select shop stocking stationery and other trinkets that promote the culture and craftsmanship of Tohoku. This store is right next to Sendai Station and has plenty of souvenir-worthy items, so it's absolutely worth a visit.


As well as lifestyle goods, the store also sells items made in Miyagi, like kokeshi dolls.

Matsukawa Daruma | ¥1,300 (Before Tax)


These Matsukawa Daruma are super cute, especially the blue one which is inspired by the Sendai Domain, also known as the Date Domain.

Dagashiya Zousan

Dagashiya Zousan sells old-time Japanese sweets and confections, stocked with many popular treats from Tohoku adored by both kids and adults alike.


The traditional sweets are all packed together along the shelves and up the walls.

The popular souvenir shops of Sendai

You can't go home after a fun trip without picking up a souvenir, so here's s line-up of shops that have been surging in popularity recently in Sendai, all of which sell Sendai-specific items.

Drinkable zunda at Agurienomori Mitte


Drinkable Zunda | ¥370 (Before Tax)


Zunda are mashed green soybeans boiled and turned into a sweet paste. They are also a local delicacy. Zunda mochi are very famous, but zunda beverages are popular too. This shop sells a variety of zunda treats to pick from.

Bamboo grass kamaboko at Kanezaki-ya



There are many makers of sasa-kamaboko, or bamboo grass fish paste, but what makes Kanezaki-ya's so great is how it retains the original umami flavour and plump texture of the fish.

Zaou cheese at Tohoku Meguri Irotoiro

Zaou Cream Cheese, Vanilla Cream Spread | ¥557 Each (Before Tax)


A food select shop selling a range of different ingredients. Their kaou cheese with sweet vanilla is their most popular item.

"It's a fashion mall so of course they sell clothes, but they had a bunch of other stuff too, everything from traditional Japanese daruma to food. I really recommend S-PAL Sendai if you're searching for souvenirs!"

S-PAL Sendai
Address: 1-1-1 Chuo, Aoba-ku, Sendai, Miyagi
Opening Hours: 10:00-20:00 (Restaurant wing open 11:00-22:00)
No Fixed Holidays
TEL: 022-267-2111
Access: Connected directly to Sendai Station
Official Website: https://www.s-pal.jp/sendai/ 

"Sendai looking and progressing into the future as it overcomes the effects of the disaster. It's a place with amazing food, fun shops, and is teeming with nature. If you've never been to Sendai before, then be sure to visit and have fun!"

Information

TOHOKU PASIFIC COAST:http://tohoku-pacific-coast.com/

"TOHOKU Pacific Coast" refers to the eastern coastal area of Tohoku, Japan. The area was extensively damaged due to the tsunami caused by the Great East Japan Earthquake in 2011. However, it has overcome this adversity and is once again gaining attention as a sightseeing spot that once attracted tourists from all over due to its flourishing wildlife and delicious seafood.

Hotel & Rooms Kyoto Shichijo: Kyoto's New Hotel Opening in Spring 2021

Solare Hotels & Resorts has announced that the new Hotel & Rooms Kyoto Shichijo will open in Spring 2021. It will be located just a 7-minute walk from the JR side of Kyoto Station's Central Exit, making it a convenient hub for tourists looking to sightsee in the city.

The casual yet stylish hotel caters to couples, families, and groups travelling together.

"Verical Garden" in the Elevator Hall

Enjoy the open central garden at the hotel cafe

The hotel takes advantage of the building's old Kyoto-style townhouse design and incorporates a contemporary feel to its interior. The décor is a merging of traditional and contemporary Japan. Guest rooms are centred on groups 2-3 people with double and twin rooms available, allowing for comfort and relaxation.

Spacious washroom with wooden décor

A traditional and modern fusion of stylish mirrors and warm wood

The washrooms offer a relaxing respite from the day's travels, incorporating the beauty of traditional Kyoto with the modern. The hotel also has its own cafe on the first floor which serves breakfast and lunch and even turns into a bar in the evenings. It's open to both guests and non-guests to serve as a hub for travellers and locals to enjoy the fruits of Kyoto together.

If you're planning a trip to Kyoto next spring or beyond, be sure to check out

Information

Hotel & Rooms Kyoto Shichijo (Japanese: ホテル・アンドルームス京都七条)
Address: 730 Ebisunocho, Shimogyo-ku, Kyoto
Grand Opening: Spring 2021

Official Website: https://www.solarehotels.co.jp/

10 Spots in Kyoto to Fall Into the Autumn Colours

Kyoto, the ancient capital of Japan, is littered with countless leafy spots to enjoy the autumn colours. Here's a list of must-visit, little-known good spots in the city that enjoy all the visual treats of the seasonal, all of which are carrying out proper social distancing and anti-COVID-19 measures.

Forgot about the time and enjoy the scenery with few people around

Soak up autumn with a boat ride | Hozugawa River in Kameoka

Ride the Hozugawa River along the 16km valley from Kameoka to Arashiyama. The autumn spectacle in this area is a grand sight to behold. Visitors can enjoy two hours along the valley stretch with the colours of the maple trees reflected off the water's surface, allowing them to fall into nature and forget their stresses for a while.

Hozugawa River
Peak Autumn Time: Mid November – Early December
Address: Shimonakajima-2 Hozucho, Kameoka, Kyoto
Boat Times: 09:00-15:00 (Changes depending on season)
Price: Adults ¥4,100 / Children ¥2,700
TEL: 0771-22-5846 (Hozukawa River Boat Service)
Official Website: https://www.hozugawakudari.jp/

Shrouded amongst it all | Kuwayama Shrine in Kameoka

Planed on the grounds of Kuwayama Shrine are around 1,000 individual trees which give rise to vivid colours during autumn. Since the shrine is located among the mountains, the site enjoys an earlier bloom than other parts of Kyoto, with trees blossoming from early to mid November.

Kuwayama Shrine
Peak Autumn Time: Early to Mid November
Address: Kamigaichi-22-2 Kamiyadacho, Kameoka, Kyoto
Viewing Times: Any time
Price: ¥300
TEL: 0771-22-1023
Official Website: http://www.kuwayama-jinjya.jp/

Walk the autumn carpet | Komyo-ji in Nagaokakyo

Komyo-ji Temple, also known as Autumn Colour Temple (Momiji-ji), is famous for being the head temple of Seizan Pure Land Buddhism. Easily accessible from the city proper, the temple site is home to hundreds of towering trees which dye the area vibrant reds and yellows around this time. One of the main paths at the temple in particular has been nicknamed Autumn Colour Road (Momiji Sando) as the overhead trees and fallen leaves on the ground create a tunnel and carpet of brilliant colour.

Komyo-ji
Peak Autumn Time: Mid to Late November
Address: 26-1 Aosaijonai, Nagaokakyo-shi, Kyoto
Viewing Times: 9:00-16:00
Price: ¥500 (Free outside autumn season)
TEL: 075-955-0002
Official Website: http://www.komyo-ji.or.jp/

Thousands of fiery trees burn red and yellow | Kongoin in Maizuru

Kongoin is famous for its autumn scenery and is nicknamed Autumn Temple of Tango. The temple is home to thousands of maple trees all of various ages from decades to hundreds of years old. It faces Kahara Park which itself boasts incredible autumnal sights and is also home to a 3-storied pagoda which makes for a picturesque snapshot together with the trees.

Kongoin
Peak Autumn Time: Mid to Late November
Address: 595 Kawara, Maizuru, Kyoto
Viewing Times: 09:00-17:00
Price: ¥300
TEL: 0773-62-1180
Official Website: http://www.maizuru-kanko.net/spot/sightseeing/kongoin.php

Contrasting beauty of red maples and ordinary greens | Omoto Shinen in Ayabe

Omoto Shinen is a popular sightseeing spot in Ayabe, home to several must-sees including a wooden structure called "The Palace of Eternal Life," the Konohana-an building which is listed as an Important Cultural Property, and more. Its expansive grounds are also home to a garden where the autumn colours collide with the greens of ordinary trees, creating a beautiful contrast.

Omoto Shinen
Peak Autumn Time: Mid to Late November
Address: 1-1 Hongucho, Ayabe, Kyoto
Viewing Times: 09:30-16:30
Price: Free
TEL: 0773-42-0187
Official Website: https://www.ayabe-kankou.net/spot/omotoshinen/

A magical scene at an Important Cultural Property | Gansen-ji Temple in Kizugawa

Gansen-ji Temple is an ancient Buddhist temple that was built in 729. It's home to a three-storied pagoda which is is a registered Important Cultural Property which nestles amongst the trees. If you visit the temple this year by November 30, you will be treated to a very rare look at one of its treasures which is normally closed to the public.

Gasen-ji
Peak Autumn Time: Mid November – Early December
Address: Kaminomon-43 Kamocho Iwafune, Kizugawa, Kyoto
Viewing Times: 08:30-17:00 (09:00-16:00 from December to February)
Price: Adults ¥500 / Junior High School Students ¥400 / Elementary School Students ¥200
TEL: 0774-76-3390
Official Website: http://gansenji.or.jp/

The garden of special scenic beauty | Joruri-ji Temple in Kizugawa

Joruri-ji is a temple of the Shingo Ritsu school of Buddism. It's also home to a famous garden which is listed as a Place of Special Scenic Beauty. The vibrancy of the reds trees is truly an overwhelming delight to the eyes which is enhanced by the bright-red three-storied pagoda.

Joruri-ji Temple
Peak Viewing Time: Mid to Late November
Address: Futaba-40 Kamocho Nishio, Kizugawa, Kyoto
Viewing Times: 09:00-17:00 (Last Entries 16:00)
Price: Adults ¥400 / Children – Free
TEL: 0774-76-2390
Official Website: http://0774.or.jp/temple/jyoruriji.html

Red and yellow hue fusion | Choanji in Fukuchiyama

Choanji's autumn colours make for a truly staggering experience as the dazzling reds and yellows complement each other. There's a 600-year-old tree in near the temple which throws in another huge chunk of yellow to the red dye of the temple grounds.

Choanji
Peak Autumn Time: Early to Mid November
Address: 577 Okunobe, Fukuchiyama, Kyoto
Viewing Times: 09:00-16:30
Price: Adults ¥300 / Children ¥100
TEL: 0773-22-8768
Official Website: http://www.chouanji.jp

Evening illuminations for a late-night autumn experience

Breathtaking in the day or night | Nariaji Temple in Miyazu

Nariaji is an ancient temple huddle among mountains that overlook Amanohashidate, one of Japan's Three Scenic Views. The five-storied pagoda there is an example of Kamakura Period architecture and offers an unmissable view together with the hundreds of trees during autumn. On November 14 and 15, the area will be lit up in the evenings.

Nariaji
Peak Autumn Time: Early to Late November
Light Up Times: 17:20-21:00 (Regular viewing times are 08:00-16:30)
Address: 339 Nariaji, Miyazu, Kyoto
Price: Adults ¥500
TEL: 0772-27-0018
Official Website: http://www.nariaiji.jp/

Autumn reflected on the water | Keihanna Commemorative Park in Soraku

Keihanna Commemorative Park is split into several areas such as the Suikei-en (Japanese garden) and Mebuki-no-Mori (Budding Tree Forest). There's also the Momijiya, a garden designed in a valley where maple trees grow. Talking a stroll along the bridge and looking down at the 80 trees in their autumnal garbs reflecting off the water surface is a sight to not be missed. especially at night when the lights are turned on.

Keihanna Commemorative Park 

Peak Autumn Time: Mid to Late November

Light-Up Period: Fridays, weekends, and holidays from November 3, 2020 – November 29, 2020

Light-Up Time: Sunset to 21:00 (Last Entries 20:30)

Address: 6-1 Seikadai, Seika, Soraku District, Kyoto

Price: Adults ¥200 / Children ¥100
TEL: 0774-93-1200
Official Website: https://keihanna-park.net/

Demon Slayer: Kimetsu no Yaiba Collaborates With Kyoto's Famous Kabuki Theatre Minami-za

Minami-za, one of the most respected kabuki theatres in Japan, has announced a special exhibition in collaboration with the TV anime series Demon Slayer: Kimetsu no Yaiba which will run from November 6 to 23.

Minami-za is the oldest theatre in Japan and is registered as a Tangible Cultural Property of Japan. The Demon Slayer exhibition will feature displays, decorations, and a range of exclusive merchandise.

Lobby Exhibit

Fans will find a range of character boards displayed at the entrance lobby to Minami-za with the characters donning traditional kabuki attire.

Special Stage Photo Spots

Cut-outs of the main cast of characters will be displayed on stage. People will be able to stand up on stage and take photos with the characters in this unique collaboration with kabuki.

Signboard

An original signboard will be displayed at the entrance to Minami-za.

Free Bonus Items

All customers who visit the theatre will receive one of these 18 possible coasters for free.

Merchandise

Those who hold a ticket to the event will be able to purchase a selection of original merchandise at the theatre. The items will also be sold online at Shochiku Kabuki-ya Honpo.

Teabags (4 Flavours) | ¥800 (Tax Included)

Special teabags will also be sold at the Tokyo and Kobikicho Square branches of Shochiku Kabuki-ya Honpo as well as their online website between October 21 and 23.

Tickets to the event are available via Lawson in Japan.

©Koyoharu Gotouge/Shueisha・Aniplex・ufotable

Information

Demon Slayer: Kimetsu no Yaiba x Minami-za
Location: Minami-za (Hashihigashizumecho, Higashiyama-ku, Kyoto)
Running: November 6, 2020 – November 23, 2020 (Closed November 9 and 16)
[Tue-Thur] 15:00-20:00 (Last Entries 19:00)

[Fri-Sun] 10:00-20:00 (Last Entries 19:00)
Tickets: https://l-tike.com/kabukimetsu_minamiza/
Official Website: https://www.kabukimetsu.com/

Learn Japanese History at Kyoto's Nijo Castle Festival With the NAKED SAMURAI App

NAKED, INC. has announced the launch of a new project called 'NAKED SAMURAI' that will debut at Nijo Castle Festival 2020 which begins on October 14, 2020.

NAKED has fused technology with reality for many different projects, such as CITY LIGHT FANTASIA—an evening projection mapping exhibit—which has been showcased in the observation deck halls of government buildings and towers, the Night Walk event in Hokkaido and Aomori, and more.

With the effects of COVID-19 changing the way we live our lives, so too does NAKED have to change the way it blends tech with real life. And that's where NAKED SAMURAI comes in which the company is taking to Nijo Castle, one of Japan's many tourist hot spots as well as a World Heritage Site.

See historical architecture while learning Japanese history

NAKED SAMURAI is an app used for smartphones that has a samurai as your guide with fully-recoded lines. The samurai will tell users the history and stories behind the various spots at Nijo Castle from his perspective. When putting your phone up to certain places, certain sites that are normally locked at Nijo Castle will open up onto the app, giving you a rare look into what's inside.

Tokugawa Ieyasu, Toyotomi Hideyori, and other historical figures make an appearance

Your guides include Tokugawa Ieyasu, the founder and first shogun of the Tokugawa Shogunate who ordered the building of Nijo Castle, and Toyotomi Hideyori, the general responsible for uniting Japan. They can both give you different insights into Nijo Castle.

Using the app lets you see how Nijo Castle looked back in these historical figures' days during the Edo Period, as well as former castle tower before it was destroyed in 1750, and much more.

Information

Nijo Castle Festival 2020
Running: October 14, 2020 – December 7, 2020
Location: Nijo Castle

Address: 541 Nijojocho, Nakagyo Ward, Kyoto
Time: 8:45-16:00 (Castle closes at 17:00)

Price: General ¥1,030 / Junior to High School Students ¥350 / Elementary School Students ¥200
Official Website: https://nijo-jocastle.city.kyoto.lg.jp/event/nijojomatsuri/

*Certain parts of the event require a separate fee

*Schedule and details subject to change or cancellation depending on the situation of COVID-19

Enjoy Breakfast With a Feline Twist at eXcafe Gion in Kyoto Where They Serve Cat Shaped Toast

eXcafe Gion, a cafe located near Kyoto's popular tourist spot Yasaka Shrine, introduced its Mikeneko breakfast to the menu on Monday. The breakfast was first put on the menu at the Arashiyama branch of eXcafe.

Gion is one of Kyoto's biggest and most famous shopping districts. eXcafe Gion is located along Shinbashi-dori Street, which is listed as one of Japan's Important Preservation Districts of Historic Buildings, making it within walking distance of many traditional places in Kyoto such as Yasaka Shrine, Hanamikoji Street, Shirakawa, Tatsumidaimyojin Shrine, and more.

eXcafe Mikeneko Breakfast | ¥1,380 (Before Tax)

eXcafe's Mikeneko breakfast menu is made with the new thick-cut, three-coloured cat-shaped bread from the popular cafe Kyoto Neko Neko, which is made with three flavours: caramel, black cocoa, and plain. It comes with various toppings to choose from including anko red bean paste, butter, whipped cream, and fruit, so you can arrange your toast how you like it.

The toast is served with mitarashi-dango for dessert which can be cooked on top of the little stove that you get.

Enjoy a super cute breakfast meal at eXcafe and then a stroll around Gion when visiting Kyoto.

Information

eXcafe Mikeneko Breakfast
Serving: 8:00am-11:00am (Last Orders 10:00am) *Day menu available from 10:00am

Location: eXcafe Gion

Address: 57-1 Motoyoshichō, Higashiyama-ku, Kyoto
Opening Hours: 8:00am-6:00pm
TEL: 075-533-6161

Autumn Lights Set to Illuminate Kyoto's Konkai-Komyoji Temple This November

Autumn illuminations are set to shine on Konkai-Komyoji Temple in Kyoto from November 13.

Konkai-Komyoji Temple is a Buddhist temple that was founded in 1175. It is one of the eight temples of the Jodo sect of Buddhism and his home to numerous treasures including a painting by Edo period painter Itō Jakuchū, folding screen paintings by Tomioka Tessai, and more. There are many wonders to behold at the temple, such as the Tora-no-ma which has sliding doors that depending on how they are open or closed display a different number of tigers, or the Shiun Gardens which have a stream that reflects the beautiful autumnal colours of the overhead trees.

The temple is also home to the Goko Shuyui Amida Butsu statue, which has been picked up by the Japanese media on many occasions and referred to as the "Afro Buddha" due to its afro hairstyle.

There will be Japanese music performances with traditional instruments like the koto and shinobue three times an evening for the illumination event. If you're in Kyoto this autumn, this is one event to not miss.

Information

Konkai-Komyoji Temple Autumn Lights
Running: November 13, 2020 – December 6, 2020

Viewing Hours: 17:30-20:30 (Last Entries 20:00)

Price: General ¥1,000 / Elementary School Students ¥500 / Infants – Free / Groups of 20+ ¥800 each

Konkai-Komyoji Temple

Address: 121 Kurodanichō, Sakyō-ku, Kyoto
Official Website: https://www.kurodani.jp/lightup_aut/

My Recommended Outfits: Enjoy the Lolita Style Throughout the Year With These 4 Looks

ASOBINEXT is a new project launched by event management and talent agency ASOBISYSTEM, which is known for managing artists like Kyary Pamyu Pamyu. The project aims to create next generation icons who will promote their unique personalities and outlooks to the world using social media and in turn bring about new forms of culture.

As part of ASOBINEXT, MOSHI MOSHI NIPPON will be publishing content from each talent that is tied to ASOBINEXT in the form of their favourite and recommended things. In this edition, we are joined by ASOBINEXT's Izumi Aine, who performs on live streams and is active on social media in the hopes of becoming an idol. Today, she is showcasing a selection of different outfits.

The four looks she has put together are focused on the jumper skirt, a versatile clothing item that can be worn in a multitude of ways, no matter the season.

Black Half-Sleeve Blouse x Jumper Skirt

Both the blouse and skirt have a black base. This, together with showing a bit of arm and leg, keeps the look tight without being over the top. And I keep the look fresh by styling my hair in curled twintails!

White Long-Sleeve Blouse x Jumper Skirt

A highlight of the jumper skirt is how you can change the impression you'll leave by having the blouse just one tone. A black one piece, too, can give you a cute look like that of sweet and classic lolita fashion. I tried combining that with curly hair and a lace rose headdress. Going half-sleeve can be chilly in the spring and autumn, so I recommend this one for those seasons!

Jumper Skirt x Trench Coat

If we're talking lolita coats, then you often get those with fur on the sleeves and collar, but putting a look together with a trench coat looks great too.

Coats with lots of fur on them and warm, fluffy, and cute, but they can be difficult to pull off well.

Trench coats, on the other hand, let you have the front unzipped and open so you can show off a one piece. And if it gets cold, you can zip it up. This means there's two different ways you can wear a trench coat, making it very versatile. You can clad yourself in one during the cold spring and autumn days to keep warm.

Jumper Skirt x Grey Vest

"Thank you for visiting So-And-So Tower today. The observation deck is located on the 7th and top floor, up 356m high. It takes 120 seconds to reach it." You can just hear the announcement with this look which gives off elevator-girl-in-front-of-the-department-store vibes. If you're tired of the same old lolita looks, or are stuck on how to change things up, then I recommend this one to you.

Bonus: Jumper Skirt x Cardigan

For this bonus look I put my all into creating a casual lolita outfit. Wearing the cardigan without having a pannier on brings volume to the skirt and brings together its design, making it a lolita outfit that's not too in-your-face. This one's perfect for beginners who want to try out lolita fashion but are still a little apprehensive.

What does lolita fashion mean to Izumi Aine?

I put together four looks plus a bonus one for you all today. What did you think? When I was little, I was influenced by a manga series called Hime Gal Paradise which I used to read in Ciao Magazine. It opened my eyes to lolita fashion and all of its enchanting lace designs and patterns.

In today's internet society, the world has become a place where you can see things you don't want to, like mental abuse and insults, which I feel is making it harder to shout about the things you love. But it's been a while since smartphone have been around now, so I feel the time has come to talk about the things you love and respect our individualities! That's the kind of world I want to aim for! And my first step towards that is promoting lolita fashion.

Brand featured in this article: axes femme / BODYLINE

Izumi Aine


Worked as a model from a young age. Appears in newspaper ads, TV VTR, fashion catalogues, and other places. She stopped her activities for a while to focus on her studies, but after graduating school, she is now back at it after passing the ASOBINEXT auditions. She dreams of becoming an idol and is taking lessons and performing live on livestreams towards that goal. "Once in a lifetime" is her motto, and she lives up to that by challenging herself at things she wants to do. For her, enjoying life means you're winning.

My Film Recommendation: Pulled Into the Story by Minami Hamabe's Character in Let Me Eat Your Pancreas

ASOBINEXT is a new project launched by event management and talent agency ASOBISYSTEM, which is known for managing artists like Kyary Pamyu Pamyu. The project aims to create next generation icons who will promote their unique personalities and outlooks to the world using social media and in turn bring about new forms of culture.

As part of ASOBINEXT, MOSHI MOSHI NIPPON will be publishing content from each talent that is tied to ASOBINEXT in the form of their favourite and recommended things. Today, we are joined by ASOBINEXT's Haruna Tamura, an actor and YouTuber, whose film recommendation in this edition is the live-action adaptation of Let Me Eat Your Pancreas.




Synopsis

The story is centred on two individuals who, at the start of their relationship had never really spoken about anything in particular… initially. "Me," the male protagonist in the film, comes across a diary in a hospital waiting room and discovers it belongs to his classmate Sakura Yamauchi. He learns in the diary that she has a pancreatic illness.

映画「君の膵臓をたべたい」(7/28公開)の公式Twitterアカウントです✨
映画の最新情報をお届けします😊フォロー・RTをお願いします🙇#キミスイ #君の膵臓をたべたい #7月28日公開 #浜辺美波 #北村匠海 #北川景子 #小栗旬 #映画 pic.twitter.com/L3aWLoRomu

— 映画「キミスイ」公式 (@kimisui_movie) March 23, 2017

\映画『#キミスイ』公開カウントダウン企画第3弾/
公開まであと1ヶ月となる明日28日(水)に「#キミスイみたい」のハッシュタグをつけて、映画への期待コメントをツイートして下さい💕今回は、抽選で10名様に映画『キミスイ』ブックカバーをプレゼントしちゃいます‼続く⬇ pic.twitter.com/CHoXxj7IUT

— 映画「キミスイ」公式 (@kimisui_movie) June 27, 2017

Sakura is a very popular girl in Me's class, and he never thought she would be suffering from such a fatal illness. She had kept it a secret, with only the people in her family knowing about it. And so begins a bittersweet love story between the plain and simple Me and Sakura, his complete opposite who is the popular one of the class.

\映画『#キミスイ』公開カウントダウン企画スタート‼/
ただ今から~21時🕘までの間に「#キミスイ楽しみ」のハッシュタグをつけて、映画への期待コメントをツイートして下さい‼抽選で10名様に映画プレスをプレゼント💕皆さまお気軽にご参加ください😊#キミスイ #7月28日公開 pic.twitter.com/y5mLcviWUC

— 映画「キミスイ」公式 (@kimisui_movie) May 28, 2017

Cast 

There are different cast members in Let Me Eat Your Pancreas for playing both the present and past selves of the characters.

The characters of the past, 12 years ago, are played by the following: Minami Hamabe as Sakura Yamauchi, Takumi Kitamura as Me/Haruki Shiga, Karen Otomo as Kyoko, and Yuma Yamoto as Gamu-kun.

This film marked the first time Minami and Takumi had starred in film together, and it was a huge success amongst viewers who shed tears at the relationship between the ill-stricken girl, and the boy who found her diary that details her experiences of living with said illness.

Playing the characters of the present is: Shun Oguri as Haruki Shiga, Keiko Kitagawa as Kyoko, and Yusuke Kamiji as Gamu-kun. Comments from viewers who have watched the film often pointed towards how Shun and Yusuke gave authentic performances of Haruki and Gamu-kun grown-up together, and how they Keiko Kitagawa's dress was spot on. I was drawn in by how they all knew each other at school.

\レポートアップしました😆/
「#君の膵臓をたべたい」初日舞台挨レポートをアップしました🌻https://t.co/LD3gZP5kRh#キミスイ #君の膵臓をたべたい #大ヒット公開中 #浜辺美波 #北村匠海 #北川景子 #小栗旬 #月川翔 pic.twitter.com/fWXasWDZxa

— 映画「キミスイ」公式 (@kimisui_movie) August 1, 2017

My Favourite Part

The highlight of the film for me which I want to point out to everyone is Minami Hamabe's portrayal of Sakura Yamauchi. She purposely puts energy into her performance, and that really left an impression on me. The world of the movie and the real world are two completely different things. Of course, this character doesn't really exist, but when I watched the performance I felt I understood her. There was a real affinity there. As the story progresses, so too does the illness grow more serious, so what I want is for people to pay attention to her facial expressions, her demeanour, and such, as that happens.

\映画『#キミスイ』公開カウントダウン企画実施中‼/
本日21時🕘まで実施中!「#キミスイ楽しみ」のハッシュタグをつけて、映画への期待コメントをツイートして下さい😆映画「キミスイ」を知らないーという方はこちらから予告をどうぞ🎵⇒https://t.co/utJI3lLlJG pic.twitter.com/zixCSjyTW8

— 映画「キミスイ」公式 (@kimisui_movie) May 28, 2017

Wrapping Up

I first watched this film when I was a 3rd year high school student. Since the film is set in the same school year, the story had an even greater impact on me. I was able to learn the bittersweet-ness of romance as well as the preciousness of life. To this day, I think it remains my favourite film.

I was captured by the array of emotions that Minami Hamabe portrays in particular. There are a lot of parts that I can relate to from being a student to becoming an adult. It's a very easy story to get behind, so if you're reading this, I'd love it if you checked it out.

Minami Hamabe and Takumi Kitamura are also starring in the film Omoi, Omoware, Furi, Furare which is showing now too. I want to go and see it for myself to see how they have both grown.

Haruna Tamura

Actor and YouTuber. He has played major roles in drama series and films and has over 1 million subscribers on his YouTube channel. He is working towards appearing at Fun Fest. He's skilled at baseball and his hobbies include watching movies and playing games.