【Kyoto Stroll】A Day Trip Bike Ride Around Tourist Spots Near Kyoto Station
Kyoto's streets tell the story of Japan's history, tradition and culture. The depths of Kyoto are something you will fall in love with when visiting this long-standing city. In this feature, models Una and Mei took strolled those same streets while calmly and wholly taking in the scenery before laid them. Please relish at your own leisure the trip of these two Kyoto girls, one that you can enjoy fully too if you have a free day.
A trip with fellow company means riding bikes!
It takes two hours and twenty minutes to arrive from Tokyo via the Tokaido Shinkansen. The first thing the two of them did upon arriving was drop by "Kyoto Eco Trip," a bicycle rental shop just a short walk from Kyoto Station. What made them decide to kick their trip off with a bike ride was because you can get a feel the wonderful sights interwoven with historical architecture and nature against your skin even though you're on the move. Kyoto has a lot of narrow alleyways, but if you're going by bicycle you can come and go between them smoothly and unhinderedly. Plus, you have the advantage of being able to maneuver your way through open areas with speed too. Travelling by bicycle means you can discuss a route for your sightseeing as well, making it a reassuring option even for first-timers in Kyoto. There are 8 varieties of bikes to choose from at the shop, and since they're equipped with an automatic assist function, you can ride around effortlessly.
It's time to go. What kind of adventure is about to begin…?
Tō-ji Temple – home to Japan's number one 5-storey pagoda
In 1994, UNESCO designated Tō-ji as part of the "Historic Monuments of Ancient Kyoto" World Heritage Sites. It's just a 5-minute bike ride from Kyoto Eco Trip.
The location is the last existing remnant of Heian-kyō, a former name for the city of Kyoto that translates to "Capital of Peace and Tranquility." It was built as a national temple along with the relocation of the capital city (Heian-kyō) almost 1,200 years ago.
Tō-ji repeatedly experienced ruin and restoration due to war, and received its full-scale reconstruction under Toyotomi Hideyori in 1603.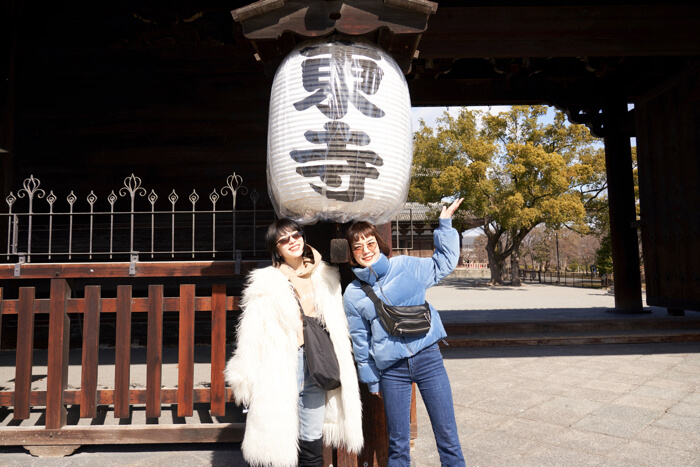 Tō-ji has many worthy highlights, but its five-storey pagoda, which is an appointed national treasure, is symbolic of Kyoto.
The pagoda was completed in 883. It was burnt down several times due to thunder but was ordered to be rebuilt to what it is today in 1644 by Tokugawa Iemitsu, the third Tokugawa Shogun. At 54.8 meters (180 feet) high, it stands as the tallest wooden five-storey pagoda in Japan.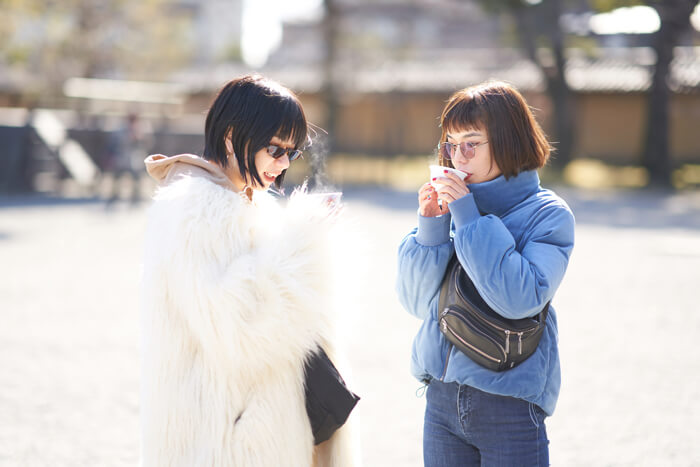 In spring, Tō-ji is also a famous location for cherry blossoms. Because it has so many varieties of the flower, you can enjoy them over a long period of time. The spectacular view of cherry blossoms surrounding sights around the temple, such as the pagoda and Mieido House, will move your heart. The cherry blossom season is almost upon us. I wanted to see it myself as a Japanese person while sipping some hot umekobucha (plum and kelp tea).
If it's souvenirs you want, Otabe Honkan has it all!
The travelling duo wanted something sweet during their cycling trip, so they stopped by "Otabe Honkan." If you're looking to buy popular souvenirs from Kyoto, then this is the place to go. You can find the most perfect confectioneries as, whether as a treat for yourself or as a gift to family and friends, including a range of famous products such as "Otabe," "Yatsuhashi" and "Kyo Baum."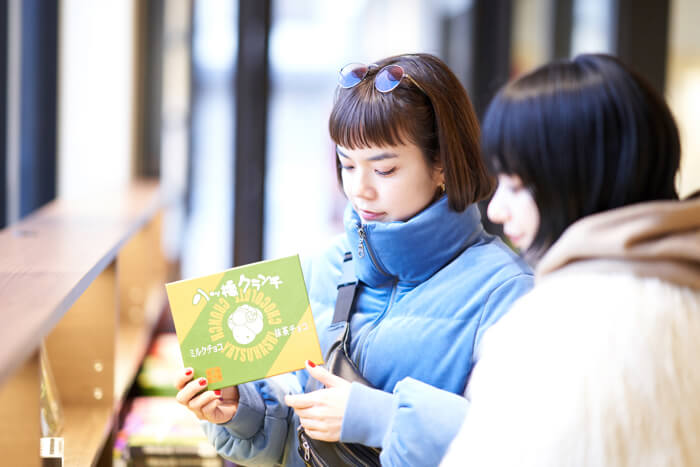 Here they are taste-testing while looking for their favourite picks. "Otabe" is the store's specialty and an absolute must-buy. It's made using koshihikari rice flour and red bean paste that's cooked delicately with adzuki beans from the district of Tokachi in Hokkaido.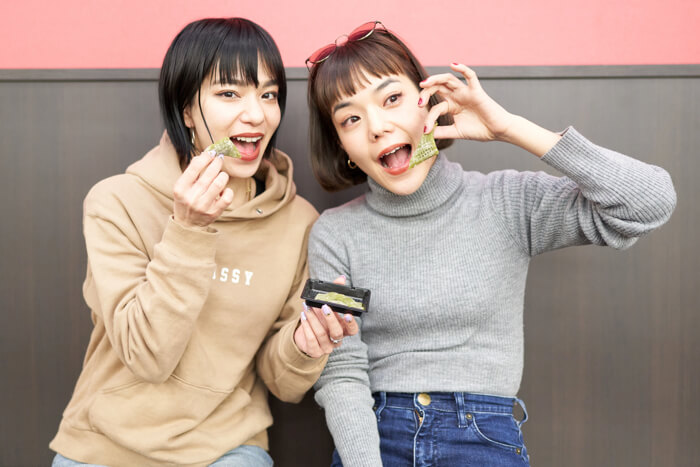 On the second floor of the shop you can see otabe being made in the factory through a glass window. You can even try tasting freshly made otabe. It's soft, and you can enjoy the texture of the mouth-melting outside and the red bean paste. You'll find yourself smiling without even realising.
Una and Mei purchased souvenirs as well as some sweets since they became hungry on their trip.
Tōfuku-ji Temple has the oldest hojo architecture in Japan
The next destination on the list is Tōfuku-ji, a Buddhist temple with priceless architecture where you can glimpse into the life of a Zen priest of the Muromachi Period. It traces back to 1255. The temple was founded by Kujō Michiie who prayed for a temple to be built with Buddha enshrined in it as a family temple for his grandfather, Fujiwara no Kanezane. It took 19 years before completion.
The chief priest garden (houjou) that underwent ruin was built anew in 1939 has continued to survive, transcending time and space. It is called "Tofuku-ji Temple Honbo Garden." A houjou is where a priest resides. This garden is one of the four gardens that surrounds the chief priest's houjou, each of which faces in each direction: North, East, South and West. It was created by Mirei Shigemori, a Japanese modern landscape architect.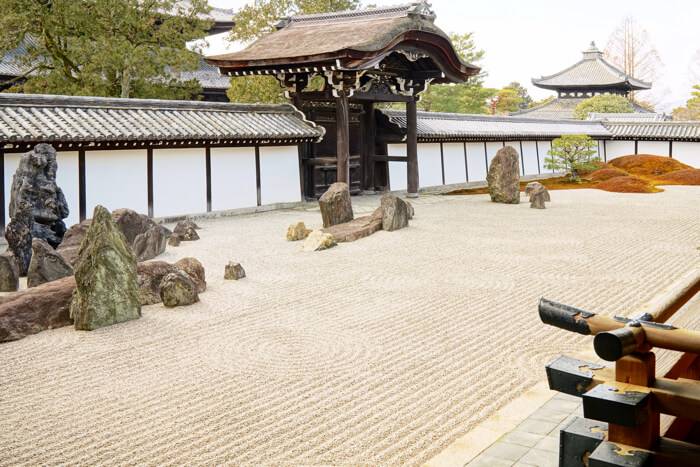 The South garden uses the classic Japanese rock garden (karesansui) landscape. Una and Mei never grew tired no matter how many times they gazed at it, with its powerful large rocks and fine, detailed sand design.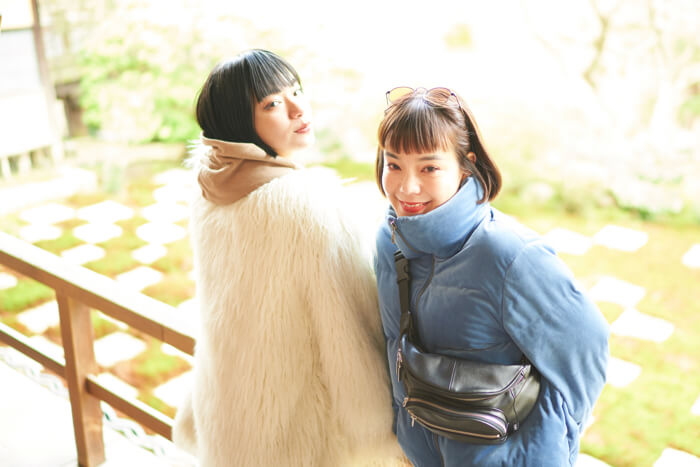 In the North was a more novel design garden that designed with a checkered pattern. It reuses paving stones that you wouldn't find in an everyday garden.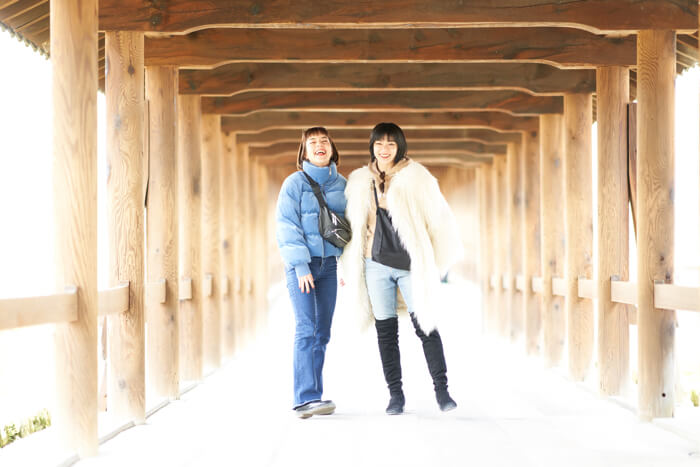 From the Tsuten Bridge you can see a valley known as 'Sengyokukan' where a small stream runs. This is the place people that makes people think of Tōfuku-ji's red autumntime leaves. The bright red maple leaves that bury this location is truly a sight to behold. The winter branches that are gradually becoming dyed red had a real elegance to them.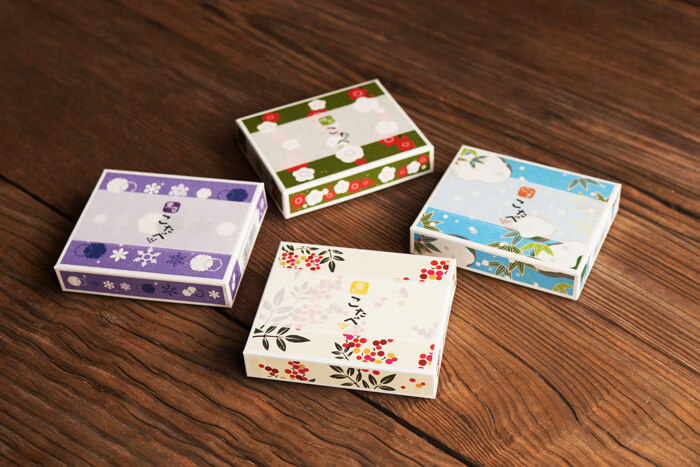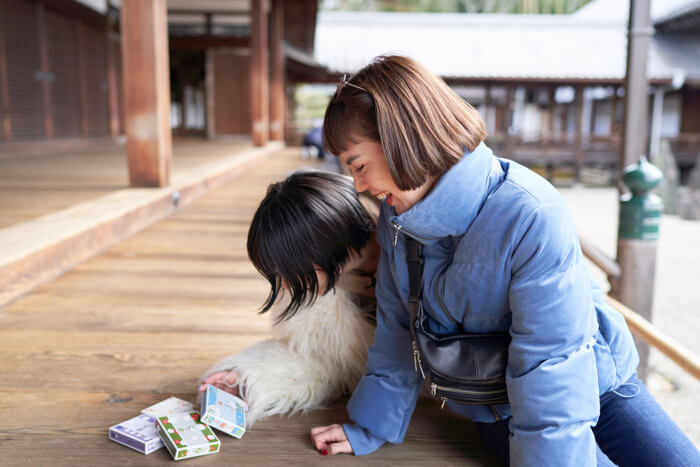 The travel snacks bought at Otabe Honkan came in cute packaging that went perfect with the aesthetic of Tōfuku-ji, so the two of them took a photo to commemorate. They then moved onto the next location.
Wrapping up the trip gazing at the serene flow of Kamo River
The final place Una and Mei cycled to was Kamo River, a place steeped in Kyoto's history just like the city itself. The river breeze is refreshing is you cycle along the riverbank.
The two of them parked their bikes up and had a fun girl's chat while being revitalised by the flow of the beautiful river.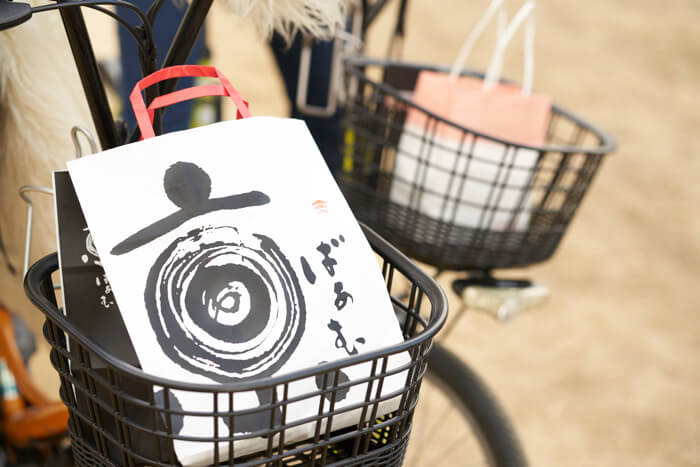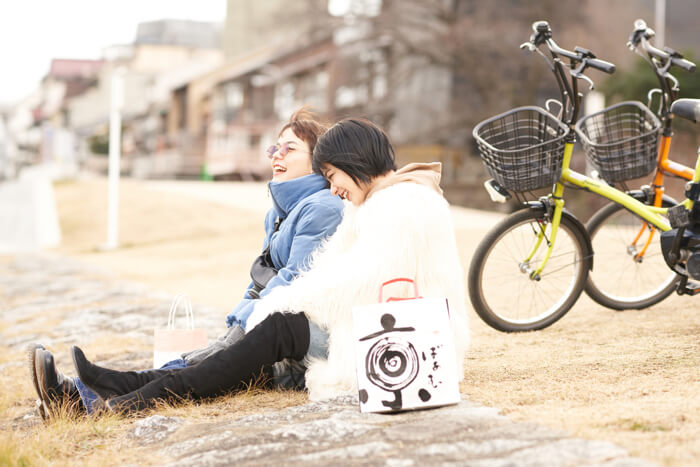 When summer rolls in, the tea shops and restaurants that run along Kamo River from Kiyamachi Nijou to Kiyamachi Gojou set up noryoyuka, balconies that look over the river, specially for the summer season. You will see the place bustling at the start of summer in the evenings – the only time it gets this busy.
Spring, Summer, Autumn and Winter. Kyoto's charm lies in its ever-changing face throughout the seasons, something you'll entirely stuck on. It's a place you will want to revisit time and time again.
Try renting a bicycle on your Kyoto trip and enjoy the city and all its sights in a light different from usual.
Model:Una& Mei Nagasawa
Writer:Ai Watanabe
Photographer:Takuya Ikawa
RECOMMENDED ENTRIES
【Kyoto Stroll】 Two travellers, one day of tourist spots, gourmet food and activities in Kyoto!

Welcome back to MOSHI MOSHI NIPPON's "Tokyo Stroll" series that recommends you travel destinations! Today, Hikari Shibata and Yuri Suganuma are leaving Tokyo and heading to the old capital Kyoto.

Together, Hikari and Yuri took the 07:00AM shinkansen train to Kyoto, arriving at 10:00AM. The first thing on their list was to fill up on some Kyoto gourmet! Sifting through Instagram and other SNS sites for the most popular spots, they decided to try some rare Kyoto confectionary at "Otabe Honkan".

 

Having set their hearts on eating before sightseeing, they visited "Otabe Honkan", a place they researched prior to their trip. After taking the subway to Jujo Station then walking for about nine minutes, they arrived.

They ordered according to what was popular online – "Kuchidoke Aisu" ( melt-in-the-mouth ice cream, ¥500 including tax), and the "Soufflé Sandwich" (¥162), which is new on the menu.

The melt-in-the-mouth "Kuchidoke Aisu" is an adzuki bean and milk shaved ice dessert which is topped with fluffy fresh cream and matcha. The Japanese word "ookini" (meaning "thank you" Kansai dialect) was written in matcha on the dessert – how cute! ♡

Hikari: The fresh cream wasn't too sweet. Yummy!! Every now and then, I got a mouthful of adzuki beans. I really liked the variety of flavours ◎.

The new soufflé sandwich was made by adding velvety cream cheese to the bread dough.

Yuri: The soufflé was soooo fluffy! The cream cheese flavour and the sandwich is a match made in heaven!

Otabe Honkan works with a factory as a joint establishment. The factory produces a variety of popular brand confectionaries from different parts of Kyoto. Fresh Yatsuhashi is one of the famous products made by Otabe.

The factory also holds handmade sweet-making classes and allows visitors to the view the factory, so if you're interested, check the link to the website below.

■Information

Otabe Honkan

Adress:35,2, Nishikujo Takahatacho, Minami Ward, Kyoto,

Opening hours: 09:00 〜 18:00

Off to Kyoto Tower – the symbol of Kyoto!

Stomachs full, the girls return to Kyoto Station and make their way to Kyoto Tower, which is the tallest building in Kyoto. The observation room is elevated 100 metres above the ground, and offers a stunning view of the streets. The many souvenir shops make it all the more popular with tourists.

On the 3rd floor of Kyoto Tower, there is a Makizushi sample-making event! (Makizushi: sushi rolled in seaweed with a filling). There are many classes running here that allow visitors to experience Japan to the full. Yuri and Hikari decided to try out something very unique to Kyoto. They headed to the Otabe dojo to learn how to make fresh Yatsuhashi sweets by hand.

Before preparation, they got changed into specialist clothing and then took a commemorative photo…but what is this photo really for?

To make these fresh Yatsuhashi by hand, the girls made a steamed flour dough, stuffed it with anko red bean paste et voila! The thick and chewy texture of the mochi made the kneading process hard work! Yuri and Hikari were silently working all the way through, kneading and kneading and kneading until their work was approved by their sensei.

Here's a picture of their highly praised Yatsuhashi. Our confectionary chefs made plain Yatsuhashi, matcha Yatsuhashi and Murasaki Imo (purple sweet potato) Yatsuhashi! Now it's time to enjoy the snacks with a tea ceremony!

Yuri: We made these ourselves and to no surprise, they're delicious!

Hikari: The dough is chewy and has a gentle flavour!

At the end, the girls received a souvenir gift and a certificate, and with that, class had ended. Inside the souvenir package, there was the photo taken at the start of the class! This put a smile on their faces.

■Information

Kyoto Tower Sando Otabe Taiken Dojo (京都タワーサンド おたべ体験道場)

Address:Kyoto Tower Building floor 2, 721-1, Higashishiokojicho, Shimogyo Ward, Kyoto

Reservations: https://otabe-ktt.dt-r.com/

*Reservation possible for up to the previous day at 15:00

 

>>next page Go to Kiyomizu-dera

Kyoto's most popular confectionery souvenir "yatsuhashi" is now on sale in cake form!

Hi everyone, Shiota here from the MOSHI MOSHI BOX Harajuku Tourist Information Center.

"Yatsuhashi" is a well-recognised traditional Japanese confectionery in Kyoto. It's delicious whether eaten raw or baked and is a popular souvenir item from there.

Today I'd like to show you a newly released product from Bijuu, a company known for its yatsuhashi, called "Kyo-Machiya Cake – Kokuto Kinako"!

Kyo-Machiya Cake is a new kind of sweet. It is made with yatsuhashi that has been kneaded with brown sugar and sponge cake made with soy flour. The cake is filled with soy flour ganache mixed with brown sugar red bean paste.

It comes in packs of four (¥760) and six (¥1,080) so they are perfect as a souvenir or gift to somebody.

*both prices do not include tax

They're small making them nice and easy to eat. They also look like Western style cakes and come in stylish packaging.

When you open the package you are instantly hit with the sweet-smelling aroma of soy flour. And because the soy flour is dark roasted with domestic soya beans the smell is much more fragrant.

Let's have a taste.

Mmm! Raw yatsuhashi is so chewy!

There's lots of different flavours of yatsuhashi you can get your hands on nowadays like matcha and chocolate. But this is my first time eating brown sugar flavour. The fluffy texture of the sponge together with the chewy yatsuhashi is irresistible. I've never tasted anything like it.

Ellie: "So sweet! The aroma of the soy flour is to die for, it's mouth-watering. The soy flour ganache between the sponge is sweet and very tasty. Plus the outside layer is yatshashi so your hands don't get messy."

People who aren't too good with cinnamon or who can't eat yatsuhashi might be able to get through one of these. You can enjoy eating it cold or try warming it up a little too!

If you find yourself in Kyoto and in need of a souvenir, then how about settling on a Kyo-Machiya Cake?

MOSHI MOSHI BOX staff recommends Osaka souvenirs!

Osaka is known as a popular sightseeing spot in Japan. So, when you visit Osaka, of course, you will want to buy some souvenirs. But you may wonder, what souvenir is a good souvenir to buy in Osaka.

In his article, the staff of MOSHI MOSHI BOX who love to travel, will introduce to you some recommended souvenirs which can be bought in and around Osaka Station.

"Nakanoshima Caramel Scotch recommended by our Spanish staff, Ruki.

It looks like a cookie but it is a snack which includes caramel and almonds.
The crunchy texture of scotch is superb. The blue box is very cute too.

◼︎Information
Nakanoshima Caramel Scotch
Available store: Entrée Marche Osaka
Address: 3-1-1, Umeda, Kitaku, Osakashi, Osaka
Business hours: 6:00 to 13:00
TEL:06-6440-1122

"batondor" recommended by our Hong Kong staff Minimal


A special stick dessert with only eight sticks in a box.
The taste of the product is very thick compared to "Pockies" which can be bought at convenience stores and it has the flavor of butter. It is a great match with alcohol!

◼︎Information

batondor Hankyu Umeda Store

Address: B1F, Umeda Honten, 8-7, Kakutacho, Kitaku, Osaka

Business hours: Friday, Sutarday – 10:00 to 21:00

Sunday to Thursday – 10:00 to 20:00

TEL:06-6361-1381

URL:

http://www.glico.co.jp/batondor/index.html

"Fueki Pudding" recommended by our Chinese-speaking staff, Banako


A pudding using the motif of the good-old Fueki paste container. The container can be used as an accessory case or interior. I am planning to buy it for my friends when I visit Osaka next time.

◼︎Information
Fueki Pudding
Available venue: Inside Osaka Station
Price: 700 yen – two pieces (tax not included), three pieces – 1,200 yen (tax not included)
TEL:06-6648-4678

"Tenten Hitokuchi Gyoza" recommended by the Miss ID Semi-Finalist Midori


I always buy this product when I visit Osaka. I don't cook at all but this gyoza (dumpling) is very easy to make.
It is recommended to put it into a pot during the cold season!

◼︎Information

Tenten Hitokuchi Gyoza

Available stores:
Entrée Marche Osaka
Available hours: 8:00 to 24:00

Seven-Eleven Heart in  JR Osaka Station North Store
Available hours: 7:00 to 24:00

Seven-Eleven Heart in  JR Osaka Station Access Bridge Store
Available hours: 7:00 to 23:00

Seven Eleven Heart in JR Osaka Station Midosuji South Entrance/Exit Store
Available hours: 7:00 to 23:00

Seven-Eleven Heart in JR Osaka 11th Gate Store
Available store: 7:00 to 21:00

"Jagariko Takoyaki Aji" recommended by English-speaking staff, Ellie


Takoyaki is one of the most famous foods of Osaka. As you might know, Jagariko is a very popular snack among Japanese people but this flavor has a thick flavor of takoyaki.
It is fairy cheep and it is a very "Osaka-like" product which is suitable to be bought as a gift for your friends!

"Rikuro Ojisanno Omise – Yakitate (freshly baked) Cheese Cake" recommended by the curator of MOSHI MOSHI BOX Shiota.

A tasteful cheese cake famous in Osaka. You can watch the staff of the shop making cheese cakes! It is recommended to warm this cake up before you eat it. Of course, you can also enjoy the product after cooling it down inside a refrigerator.

◼︎Information

Rikuro Ojisan no Omise Daimaru Umeda Store

Address: 3-1-1, Umeda, Kitaku, West Osaka / Japanese/Western dessert floor, B1F of Daimaru Umeda Store

TEL:0120-57-2132

URL:

http://www.rikuro.co.jp/

How did you like our MOSHI MOSHI BOX staff recommended Osaka souvenirs? Please refer to this article when you are not sure which souvenir to buy. Let's have fun in Osaka, a city which has lots of delicious food and unique items.

【Tokyo Stroll】Strolling in Okushibuya for half a day, which is a sophisticated town that is away from the hustle and bustle.

Okushibuya is the area including Kamiyama-cho, Tomigaya, Udagawa-cho which all are about a 15 minute walk from Shibuya station. This area is so calm and sophisticated compared to hustle and bustle Shibuya Scramble Crossing or Center Shopping Street, and I felt like I had matured just by walking around there. Today, I strolled around this sophisticated town which has a lot of great stores with the girl named Una.

Starting with the store named "ShuShu&JOJO"

 "ShuShu" and "JOJO" are antique shops in Shibuya. They carry mostly French accessories, vintage miscellaneous goods, and collectors items in Europe. Today, we visited "JOJO" in Maruyama-cho.

There are a variety of items in this store. This store's owner's sibling has been living in France, and they try to find the items in the area where Japanese have hardly ever been. That's why they carry so many things that you can't find in the any other stores in Japan.

The recommended products are the only one items made with gemstones such as opal. Some of the rings are able to change sizes, so feel free to ask for that.

▼Information

JOJO

Address:14-11  Maruyama Town, Shibuya-ku, Tokyo

Hours:3:00PM to 11:00PM

Holiday:Wednesday

To the interior house plant shop "NEOGREEN"

The next one visited was "NEOGREEN" which carries interior house plants such as bonsai and potted plants. They chose the best pot to match with each plats' characteristics. Even though all of these are orthodox kinds of plants, they pick up the certain ones which has a unique and characteristic shape.

The shop appeared to be a forest in a sophisticated town, and you will be refreshed just by stepping in here. They have the "Green Awareness Bookshelf" which is selling books about plants.

All pots are made with china, not plastics, and the owner purposely pick out the one to go with the interior. Price starts from 1000yen. Why don't you get green for yourself to get refreshed on your daily life?

▼Information

NEOGREEN

Address:1-5 Green Hills Kamiyama1F, Kamiyama cho, Shibuya-ku, Tokyo

Hours:12:00PM to 8:00PM

Holiday:Monday

>>next page

Strolling Around Summertime Harajuku to "Gion Tokuya" Wearing a Yukata Rented at the "Moshi Moshi Kimono Salon"

It's commonplace in Japan to dress up in yukata to attend the big summer events such as the various omatsuri (festivals) and going to see the hanabi (fireworks). But yukata are summer kimono, meaning they are to be only worn in summer, which would make wearing one as casual dress even more beautiful…

Today, we follow Mei Nagasawa, who is dressed in her favourite yukata, to go and do one of the things she likes to do in summer – drop by her favourite kakigori (shaved ice) shop.

Freely try on yukata just 5 minutes' walk from Harajuku Station!

Mei Nagasawa had her yukata fitted at the Moshi Moshi Kimono Salon, which is produced by 夢乃屋 -YUMENOYA-. It is a recognsied tourist spot that offers yukata which combine two styles: "Taisho Roman," which refers to the cultural style of the Taisho period combined with 'romantic,' and "Harajuku's kawaii culture," to create a new style called "Harajuku Roman."

There's a huge range of different designs to choose from, so you can have a fun time picking out which kimono or yukata suits you best! They will even help you put them on, style your hair, and you can take photos too, which makes it a very popular tourist spot.

People from all different countries visit the salon every single day. And if you're stuck choosing which colour or design to go with, the staff will gladly assist you on choosing one that suits the occasion, or help you pick an obi (kimono sash) that suits you. If there's anything that you need or want to know about kimono and yukata then they are there to help.

Mei: "I went with something that was similar to my usual outfit – something that just felt right at the time! Since I'm wearing Japanese clothes, I wanted something that had a kind of retro feel to it, since I like that kind of thing. My instinct told me that this was the colour to go with today. And the obi went with it, too!"

The salon's hair and make-up stylist MAHO will set your hair beautifully based on you styling and hair accessory wishes. Mei didn't have her hair put up and instead went with a soft and stylish bob.

Mei: "The colour of the yukata is sophisticated, and I want the hairstyle to bring out that Taisho Roman feel, so I went with a big ribbon in my hair that looks like an obi for a yukata!"

There's also a wide selection of accessories to choose from to go with your yukata, including handbags, geta (Japanese wooden shoes) and more. It's super fun to pick and choose what colours go with your yukata and find what suits you best. Mei picked out her choice of handbag and geta in just 10 seconds. And she took a commemorative photo before heading out to stroll the town!

Mei: "I chose a handbag and pair of geta with black on them to go with my hair accessory! Wearing black at your feet really brings your whole look together, so I definitely recommend it!"

>>next page

"Healing power" spots – Seven recommended gardens in Tokyo where you can enjoy wonderful views

The year is coming to an end and I assume that many of you are searching for places with "healing powers." In this article, I will introduce to you some gardens where you can enjoy superb views and feel refreshed.

Kyu Shiba Rikyu Garden (Hamamatsucho)

This garden is located near Hamamatsucho Station and is close to Haneda Airport and Tokyo Tower. It is known as a former Daimyo's Garden, or imperial garden of the early Edo period, along with Koishikawa Kōrakuen Garden. Part of the charm of the garden is the large pond in the middle where people can walk around to appreciate the serene surroundings. The garden itself feels cemented in history and is a popular spot visited by company workers on their break, as well as by tourists.

Detailed information: https://www.moshimoshi-nippon.jp/47786

Koichikawa Korakuen (Iidabashi)

I would like to introduce to you Koishikawa Korakuen which is designated as the national beauty spot/historical site. The nearest stations are Iidabashi, Korakuen and Suidobashi. You can enjoy beautiful views while enjoying sceneries of shrines and temples. It is recommended that you walk around this garden since it is close to the stations noted above.

 

Rikugien (Komagome)

This garden was created by a servant of the historical figure Tsunayoshi Tokugawas and is known as one of the two most famous daimyo (Japanese vassal lord) gardens created in the Edo Period. The garden is designated as a national beauty spot. Many trees are planted inside the vast, bright garden and you can enjoy the beautiful scenery both in autumn and winter. The closest station is Komagome Station.

Shinjuku Gyoen (Shinjuku)

Shinjuku Gyoen is a park/garden which you can visit on foot from Shinjuku Station. It is very popular with tourists. In this garden surrounded by nature located in the center of Tokyo, you can enjoy a wonderful time while watching the tall buildings of Shinjuku. You can use this garden for family outings, picnics with friends or as a date spot.

Otaguro Park (Ogikubo)

The closest station is Ogikubo Station. This Japanese garden is a spot where you can enjoy a comfortable, Japanese-style atmosphere. Observing the different expressions of the trees throughout the year is a charm point of this park. The place is gathering popularity among local residents as a "healing spot."

Mukojima Hyakkaen (Mukojima)

The closet stations are Mukojima Station and Hikibune Station. This botanical garden was created by an antique dealer during the Edo Period and has a different atmosphere than Koishikawa Korakuen and Rikugien since it was created based on the local culture of the Edo Period. You can view Sky Tree from the garden.

Kiyosumi Garden (Kiyosumi Shirakawa)

The building inside the garden used to be the compound of a wealthy merchant living during the Edo Period and the garden became a "kaiyu-shiki rinten" (circuit-style woods and pond). It has a fountain and a small mountain. It is a famous garden which was designated as a beauty spot in Tokyo. The closest garden is Kiyosumi Shirakawa Station.

How did you like our introduction to "healing spots" in Tokyo? Why not visit these beautiful Japanese gardens and come away refreshed and healed?
RELATED ENTRIES
Final Fantasy Artist Yoshitaka Amano Holds Art Exhibition at Myoshin-ji in Kyoto

Yoshitaka Amano, known by international fans as the artist behind the legendary Final Fantasy video game series, is celebrating his 70th birthday with a unique art project from November 23 until December 8 at Myoshin-ji in Kyoto. 

On the first day of the event, the venue, decorated with autumn leaves, was crowded with visitors including foreign tourists, who marveled at the fantastic space filled harmoniously with gold and blue. The exhibition will be held at Myoshin-ji, the head temple of the associated branch of Rinzai Zen Buddhism. This collection of works was designed to question visitors' sensibilities and provide a new kind of art exhibition for fans to enjoy.

After the exhibition, the main art piece by Yoshitaka himself will be converted to 3DCG, and a Virtual Golden World will be developed in collaboration with the Yoshitaka Amano VR Museum. By integrating traditional and modern art methods, guests will be able to engage more deeply in the art by enjoying digital works, the metaverse, and NFTs.

Don't miss this curious exhibition!

Information

Golden World: Infinite Light by Yoshitaka Amano 

~GOLDEN VIEW OF THE WORLD~

Running: November 23 – December 8, 2022

Venue: Myoshin-ji

Hours: 9:00-12:00 / 13:00-16:00

Tickets on sale until 15:30 each day.

Official Site: https://www.myoshinji.or.jp/


Collaboration NFTs Highlight Drafts of Kyoto's Traditional Painted Silk

The NFT marketplace HINATA will start selling collaborative pieces on November 25, combining classical drafts of Kyoto printed silk images with modern art pieces by up-and-coming creators.

Kyoto Printed Silk Draft x Modern Ukiyo-e Artist Ono Tako

Draft (Left) and Spring Dreamland – Sunshine by Ono Tako

Ono Tako is a modern-day ukiyo-e artist who creates unique paintings combining Eastern and Western elements.

A beautiful woman stands in front of lush spring scenery in this gorgeous piece.

 

Although this is clearly an ukiyo-e piece, it has a more modern flare, expressing a more universal standard of beauty while also infusing traditional elements.

 

A total of six works will be available in two variations: the soft and warm Sun and the calm and tranquil Shade. 



Ono Tako: https://twitter.com/ono800

Kyoto Printed Silk Draft x Illustrator Omulettomato

Draft (Left) and Full Moon by Omulettomato

Omulettomato is an illustrator who is rapidly gaining popularity for their feminine portraits.

 

Three different drafts depicting beautiful Japanese nature have been combined and transformed into a modern lady with moe elements.


A total of eight works will be available in three variations: Daybreak, Sunrise, and Full Moon.


Omulettomato: http://omutoma.tumblr.com

Enjoy this curious collaboration and own a piece of classical and modern Japanese culture.

NAKED GARDEN ONE KYOTO to be Held at Ninna-ji, a World Heritage Site

From December 10 until December 18, 2022, creative company NAKED will hold NAKED GARDEN ONE KYOTO at Ninna-ji! The event is part of a larger next-generation art project being held around Kyoto until Christmas Day.

This exhibition marks the first metaverse-centered event at Ninna-ji, and guests will be able to enjoy a virtual fashion show in collaboration with Jotaro Saito, a kimono designer from Kyoto. Participants will begin by creating their own avatar by snapping a photo of their face. After that, they will be able to choose a kimono by Saito to use as clothing for their avatar before taking to the runway with other visitors from all around Japan.

NAKED's goal is to bring traditional Japanese kimono culture into the digital space, and the company believes that this is only the beginning. In the future, NAKED hopes to bring other artists into the metaverse as well.
 

NAKED Distanced Lanterns


NAKED Tsukubai

Five-Storied Pagoda Projection Mapping


DANDELION PROJECT

Virtual Fashion Show


Limited Edition Paper Goshuin

This year's event also includes the DANDELION PROJECT, popular with art fans around the world. Created by Ryotaro Muramatsu, the art project has appeared in a number of towns and cities around the world, inviting participants to create flowers and send them around the globe digitally as a hope for peace. Visitors can use their smartphones to send dandelion fluff digitally to other participants around the world, sharing a wish for world peace. 

This year, the participatory art piece was installed in the main temple. Why not visit this stunning exhibition in Kyoto this winter? 

Information

NAKED GARDEN ONE KYOTO Ninna-ji
Venue: Ninna-ji (Five-storied Pagoda, Main Temple)
Running: December 10 – December 18, 2022
*No admission on December 17 due to a private event.
Hours: 17:30-21:30 *Last entry at 21:00
Official Site: https://garden.naked.works/kyoto/

monopo Collaborates with Kyoto-Based Brand Shokuraku Asano to Share Traditional Japanese Textiles with the World

Global creative agency monopo is teaming up with Shokuraku Asano, a 100-year-old obi maker from Kyoto! The company is working to create a digital experience for interested viewers, sharing each artisan's personal story. Those who love Japanese culture are welcome to enjoy traditional Japanese crafts in an entirely new way!

Using a one-of-a-kind QR obi, a new storytelling method is showing off the hard work and love that goes into the company's textiles. A special website and video allow interested viewers to experience the process of making an obi digitally, simply by using their smartphone. Even those unable to visit Japan to see these obi in person can dive into the history of the area's textiles and become more acquainted with one part of Kyoto's manufacturing culture. 

Kyoto was the ancient capital of Japan. The city is known for its history and preservation of Japanese culture, and prior to the pandemic, the city was constantly filled with visitors from around the world anxious to learn more about the country's traditional culture. When the pandemic hit the world in 2020, it changed the city forever–tourists disappeared and the city became much quieter. Now that Japan has opened its borders, however, tourists are returning in droves.

While Shokuraku Asano upholds tradition, it also seeks to leave a mark on new generations by embracing new technology. This unique project is worth noting, so get your smartphone out and start learning!

We applaud monopo's attempt to share this incredible traditional Japanese craftsmanship with people around the world. 

Special Jujutsu Kaisen Exhibition Highlights Attractions and Products from Kyoto

From November 11 until December 8, a series of Kyoto-inspired Jujutsu Kaisen goods will be on sale outside the West Gate at JR Kyoto Station! Along with the merchandise, fans will also be able to snag local foods at the exhibition. 

Collaborative Packaging: Local Products from Kyoto

*The products shown are under development and may change slightly. 

Purchase Bonus: Limited Edition Kyoto Postcard

*The postcard's design will change during the first and second halves of the exhibition.

*Postcards from the Sendai venue will not be available.

*Postcards will only be available while supplies last.

Be sure to grab some of these Jujutsu Kaisen products packed with Kyoto charm!

©芥見下々/集英社・呪術廻戦製作委員会

Kyoto National Museum Decorated by NAKED and Kojima Shouten's Famous Lanterns for Special Event

From December 10 until December 25, the Light and Food Ensemble event will be held in the garden of the Kyoto National Museum.

A new projection mapping show featuring enormous flowers will be shown on the wall of the Meiji Kotokan Hall, unchanged since its opening in 1897. The history of Kyoto will take center stage, however–NAKED is only there to make it all the more impressive.

NAKED will also collaborate with Kojima Shouten for the first time, decorating the venue with the local company's famous lanterns.

At the venue, local shops from Kyoto will be selling sweets to guests. Come enjoy Kyoto in a whole new way during this exclusive winter event!

Information

Light and Food Ensemble

Running: December 10 – December 25, 2022

Hours: 18:00-21:30 (Last entry at 21:00)

Light and Food Ensemble ~Evening Flower Banquet Directed by NAKED~

Venue: Kyoto National Museum

Tickets / Official Site: https://ensemblekyoto.com/

Final Fantasy Artist Yoshitaka Amano Holds Art Exhibition at Myoshin-ji in Kyoto

Yoshitaka Amano, known by international fans as the artist behind the legendary Final Fantasy video game series, is celebrating his 70th birthday with a unique art project in Kyoto. 

The exhibition will be held at Myoshin-ji, the head temple of the associated branch of Rinzai Zen Buddhism. Stepping into the temple, guests will be met with colorful autumn leaves and a sea of gold and blue art pieces.


"I want people to enter this world of light and experience being part of it," Amano said. "Rather than art being something flat on a wall, I want to present something new and unique." This collection of works was designed to question visitors' sensibilities and provide a new kind of art exhibition for fans to enjoy.

The main art piece, newly painted by Amano himself, will be on display in the Dharma Hall, which was decorated by one of Kano Tan'yu's masterpieces. Tan'yu was an Edo-period painter. 

The three meter tall column features Amano's own interpretation of Hiten, part of Mount Meru, a part of Buddhism cosmology considered to be the centre of all the physical, metaphysical and spiritual universes. Four smaller pieces will be displayed on all four sides to create a three-dimensional mandala. 

Information

Golden World: Infinite Light by Yoshitaka Amano 

~GOLDEN VIEW OF THE WORLD~

Running: November 23 – December 8, 2022

Venue: Myoshin-ji (1 Hanazonomyoshinjicho, Ukyo-ku, Kyoto)

Hours: 9:00-12:00 / 13:00-16:00 *Tickets sold until 15:30

Admission: Adults ¥700 / Children ¥400

Details: https://goldenworld.jp/

Official Site: https://www.myoshinji.or.jp/

NAKED GARDEN ONE KYOTO Night Walk Project Invites Guests to Stroll Through the Tale of Genji

From November 11 until December 4, NAKED will hold the unique NAKED GARDEN ONE KYOTO event in Uji. The one-of-a-kind art project is being produced through a partnership with Kyoto City, Uji City, and Otsu City in Shiga Prefecture. Several events and art exhibitions will appear in the Kyoto area until December 25, 2022.

The project first began on September 15 at Kyoto City Hall, and it will move to Uji on November 11. NAKED's unique digital art will bring color to Uji, a place steeped in Japanese history and the heart of Japanese tea culture. The Asagiri Bridge, appearing in The Tale of Genji, will be illuminated, and the Zen temple Kosho-ji will be offering tea ceremonies and a digital teamaking experience for guests to enjoy. NAKED's popular Distance Lanterns will return, allowing visitors to explore Uji at night while properly socially distancing. 

At Kosho-ji, guests can enjoy the renewed DANDELION PROJECT. Created by Ryotaro Muramatsu, the art project has appeared in a number of towns and cities around the world, inviting participants to create flowers and send them around the globe digitally as a hope for peace. Visitors can use their smartphones to send dandelion fluff with their name on it to the metaverse version of Kosho-ji and beyond, eventually causing a digital flower to bloom. 

Why not come take a quiet walk through the streets of Uji, Kyoto? 

Works

Urasenke Tea Ceremony and Digital Teamaking Experience

『DANDELION PROJECT』by RYOTARO MURAMATSU / NAKED

NAKED Distance Lantern®︎

Asagiri Bridge and Kotosaka Interactive Illuminations

NAKED Tsukubai®︎

Chazuna's New Mobility C⁺walkT Experience

Sanrio Characters, Representatives of Japanese Pop Culture, Gather in Kyoto

The 60th Anniversary Sanrio Exhibition: The Beginning of Kawaii will be held at the Kyoto City KYOCERA Museum of Art from October 7 until December 11, 2022. Cinnamoroll, the grand prize winner of the 2022 Sanrio Character Awards, visited the event on opening day, and second place winner Pompompurin visited on October 8. 

The exhibition itself traces the long and storied history of Sanrio, as the company celebrated its 60th anniversary in 2020. Guests will be able to learn more about 'kawaii culture,' something that has since garnered worldwide attention and become massively popular with audiences around the globe. Fans of specific Sanrio characters will be able to see how each was designed, and rare drawings and products will be on display.


Visitors will be able to trace how Sanrio developed each character's personality and style over time, and will surely see how the company placed major importance on communication with audiences. Sanrio's characters continue to transcend time, popular with people of all ages.

Information

60th Anniversary Sanrio Exhibition: The Beginning of Kawaii
Venue: Kyoto City KYOCERA Museum of Art, Main Building,
North Corridor 2F (124 Okazaki Enshojicho, Sakyo-ku, Kyoto)
Running: October 7 – December 11, 2022
Details: https://www.ktv.jp/event/sanrio/


Attack on Titan Playing Cards Win Big at the Ani-Monozukuri Awards 2022

At the 5th annual Kyoto Ani-Monozukuri Awards 2022, a collection of Attack on Titan playing cards made in traditional Japanese style took the Gold Prize in the Craft Design category. In Japanese, monozukuri means 'to make something by hand.'

The Kyoto Ani-Monozukuri Awards aims to revitalize business between the anime industry and local companies and organizations. It honors outstanding collaborative products, inviting those with a creative streak to try their luck at designing something uniquely anime-inspired. This year's awards show saw 157 total entries, with one winning the grand prize, seven winning both gold and silver, and six winning bronze.

Charaditional Toys was launched this year, and the company aims to create items for adults who love anime characters. The Gold Award was granted to the company after judges were inspired by the traditional Japanese craftsmanship and high quality shown in the final product. Made by Oishi Tengudo, a company founded in Kyoto in 1800, the cards were made using classic methods. These 48 original playing cards are like nothing fans of Attack on Titan have seen before. 

A second project is scheduled for release in winter 2022, so stay tuned!

©諫山創・講談社/「進撃の巨人」The Final Season製作委員会

Sound! Euphonium Collaboration Cafe Opens at Kyoto's Hotel Keihan

Fans of the Sound! Euphonium anime will want to visit Hotel Keihan Kyoto Grande from September 23 until November 20, 2022! The second-floor restaurant Octava will be holding a special collaboration cafe with the series in conjunction with the Keihan Electric Railway. The project is part of the collaboration between the series and the local railway that began in August, and fans will be able to order food and drink items inspired by their favorite characters.

Collaboration Menu

Kumiko's Omurice

Reina's Pasta with Sweet and Spicy Tomato Sauce

Hazuki's Matcha Ice Cream & Sapphire's Macarons

Mr. Taki's Spicy Curry Pizza

Sound! Tuba-kun's Fruit Cake

Drink Menu

Kumiko's Strawberry Milk

Reina's Butterfly Pea

Hazuki's Blue Soda

Sapphire's Orange Juice

Band President & Vice President's Matcha au Lait

Straw Tags

Bonuses

Bonus for Dining In-store: Lunch Mat

Drink Order Bonus: Coaster (5 varieties, 1 secret)

*Coasters will be given at random.

Life-size Panels

From omurice and pasta to fruit cake and spicy curry pizza, there is certainly a dish perfect for everyone at the cafe. Guests can also enjoy five different types of drinks, and a coaster will be handed out at random for each order. Those dining at the cafe will enjoy their meal on a special lunch mat, and life-size character panels will be perfect for snapping some photos for social media. Music from the series will be played on-site, so come enjoy while you can!

Information

Keihan Electric Railway x Sound! Euphonium 2022

Running: September 23 – November 20, 2022

Lunch: 11:30-14:30 (Last order at 14:00)

Dinner: 17:30-22:00 (Last order at 21:30)

*From 2:30 to 5:30, only items from the take-out drink menu are available.

Reservations Now Open

Reservations: https://bit.ly/3RFPf4i   

Venue: Hotel Keihan Kyoto Grande, 2F Restaurant Octavar
https://www.hotelkeihan.co.jp/kyoto/restaurant/

Kyoto's Itohkyuemon Offering Uji Green Tea Mont Blanc Parfait & Chestnut Sweets Plate for a Limited Time

Uji, Kyoto is known for its tasty matcha. Founded in 1832, Itohkyuemon offers up some of the most delicious green tea sweets in Japan. Starting on September 1, several locations are serving up an Uji Green Tea Mont Blanc Parfait and a tasty Chestnut Sweets Plate!

Uji Green Tea Mont Blanc Parfait and Chestnut Sweets Plate

The Uji Green Tea Mont Blanc Parfait is decorated with a beautiful chestnut skin on top and served with yellow candied chestnuts and baked meringue with a dazzling white color. The inside includes cookie dough, homemade Uji green tea jelly, crunchy agar, two kinds of ice cream, and Uji green tea honey. This autumn-only parfait allows guests to enjoy the taste of Uji green tea while also sampling the delicate flavor of Japanese chestnuts. The Chestnut Sweets Plate offers eight kinds of sweets in one go, including the autumn-only Chestnut Green Tea Roll Cake and Chestnut Green Tea Daifuku, Uji Hojicha Cheesecake, Uji Green Tea & Hojicha Raw Chocolate, Uji Green Tea Mini Parfait, and Uji Green Tea & Chestnut Ice Cream.

Uji Green Tea Mont Blanc Parfait

Chestnut Sweets Plate

Information

Uji Green Tea Mont Blanc Parfait and Chestnut Sweets Plate

■Uji Green Tea Mont Blanc Parfait

Available: September 1 – Early October

Where to Buy: Uji Main Store, JR Uji Station Store, Shijo-dori Store

■Chestnut Sweets Plate

Available: September 1 – Late November

Where to Buy: Uji Main Store, JR Uji Station Store, Shijo-dori Store

Official Site: https://www.itohkyuemon.co.jp/corporate/