Kyoto's streets tell the story of Japan's history, tradition and culture. The depths of Kyoto are something you will fall in love with when visiting this long-standing city. In this feature, models Una and Mei took strolled those same streets while calmly and wholly taking in the scenery before laid them. Please relish at your own leisure the trip of these two Kyoto girls, one that you can enjoy fully too if you have a free day.
A trip with fellow company means riding bikes!
It takes two hours and twenty minutes to arrive from Tokyo via the Tokaido Shinkansen. The first thing the two of them did upon arriving was drop by "Kyoto Eco Trip," a bicycle rental shop just a short walk from Kyoto Station. What made them decide to kick their trip off with a bike ride was because you can get a feel the wonderful sights interwoven with historical architecture and nature against your skin even though you're on the move. Kyoto has a lot of narrow alleyways, but if you're going by bicycle you can come and go between them smoothly and unhinderedly. Plus, you have the advantage of being able to maneuver your way through open areas with speed too. Travelling by bicycle means you can discuss a route for your sightseeing as well, making it a reassuring option even for first-timers in Kyoto. There are 8 varieties of bikes to choose from at the shop, and since they're equipped with an automatic assist function, you can ride around effortlessly.
It's time to go. What kind of adventure is about to begin…?
Tō-ji Temple – home to Japan's number one 5-storey pagoda
In 1994, UNESCO designated Tō-ji as part of the "Historic Monuments of Ancient Kyoto" World Heritage Sites. It's just a 5-minute bike ride from Kyoto Eco Trip.
The location is the last existing remnant of Heian-kyō, a former name for the city of Kyoto that translates to "Capital of Peace and Tranquility." It was built as a national temple along with the relocation of the capital city (Heian-kyō) almost 1,200 years ago.
Tō-ji repeatedly experienced ruin and restoration due to war, and received its full-scale reconstruction under Toyotomi Hideyori in 1603.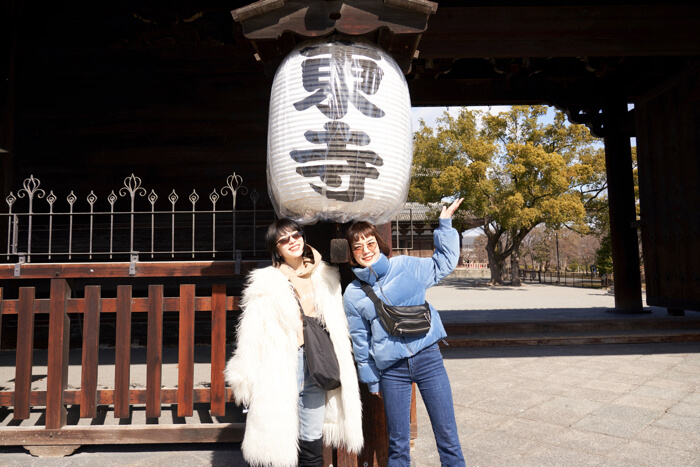 Tō-ji has many worthy highlights, but its five-storey pagoda, which is an appointed national treasure, is symbolic of Kyoto.
The pagoda was completed in 883. It was burnt down several times due to thunder but was ordered to be rebuilt to what it is today in 1644 by Tokugawa Iemitsu, the third Tokugawa Shogun. At 54.8 meters (180 feet) high, it stands as the tallest wooden five-storey pagoda in Japan.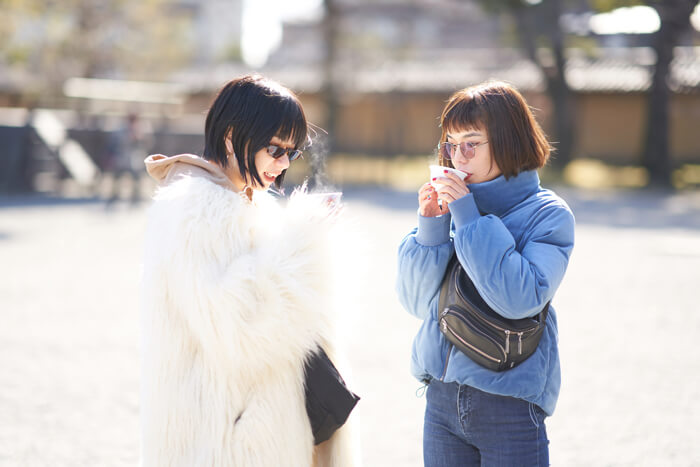 In spring, Tō-ji is also a famous location for cherry blossoms. Because it has so many varieties of the flower, you can enjoy them over a long period of time. The spectacular view of cherry blossoms surrounding sights around the temple, such as the pagoda and Mieido House, will move your heart. The cherry blossom season is almost upon us. I wanted to see it myself as a Japanese person while sipping some hot umekobucha (plum and kelp tea).
If it's souvenirs you want, Otabe Honkan has it all!
The travelling duo wanted something sweet during their cycling trip, so they stopped by "Otabe Honkan." If you're looking to buy popular souvenirs from Kyoto, then this is the place to go. You can find the most perfect confectioneries as, whether as a treat for yourself or as a gift to family and friends, including a range of famous products such as "Otabe," "Yatsuhashi" and "Kyo Baum."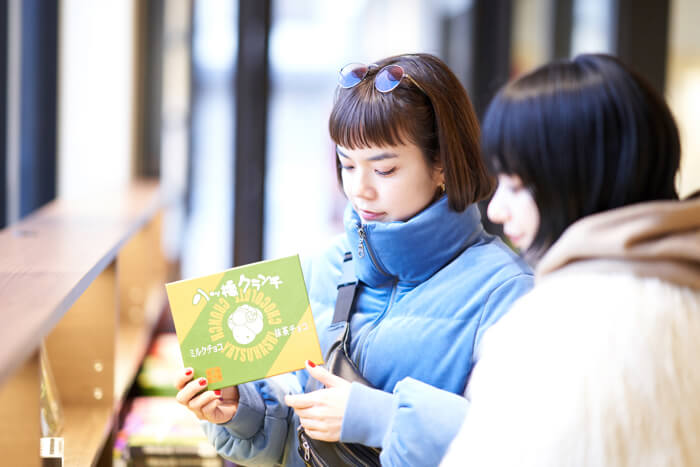 Here they are taste-testing while looking for their favourite picks. "Otabe" is the store's specialty and an absolute must-buy. It's made using koshihikari rice flour and red bean paste that's cooked delicately with adzuki beans from the district of Tokachi in Hokkaido.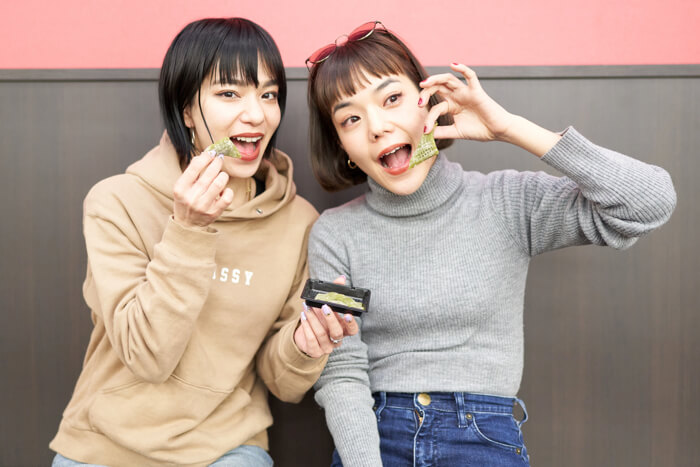 On the second floor of the shop you can see otabe being made in the factory through a glass window. You can even try tasting freshly made otabe. It's soft, and you can enjoy the texture of the mouth-melting outside and the red bean paste. You'll find yourself smiling without even realising.
Una and Mei purchased souvenirs as well as some sweets since they became hungry on their trip.
Tōfuku-ji Temple has the oldest hojo architecture in Japan
The next destination on the list is Tōfuku-ji, a Buddhist temple with priceless architecture where you can glimpse into the life of a Zen priest of the Muromachi Period. It traces back to 1255. The temple was founded by Kujō Michiie who prayed for a temple to be built with Buddha enshrined in it as a family temple for his grandfather, Fujiwara no Kanezane. It took 19 years before completion.
The chief priest garden (houjou) that underwent ruin was built anew in 1939 has continued to survive, transcending time and space. It is called "Tofuku-ji Temple Honbo Garden." A houjou is where a priest resides. This garden is one of the four gardens that surrounds the chief priest's houjou, each of which faces in each direction: North, East, South and West. It was created by Mirei Shigemori, a Japanese modern landscape architect.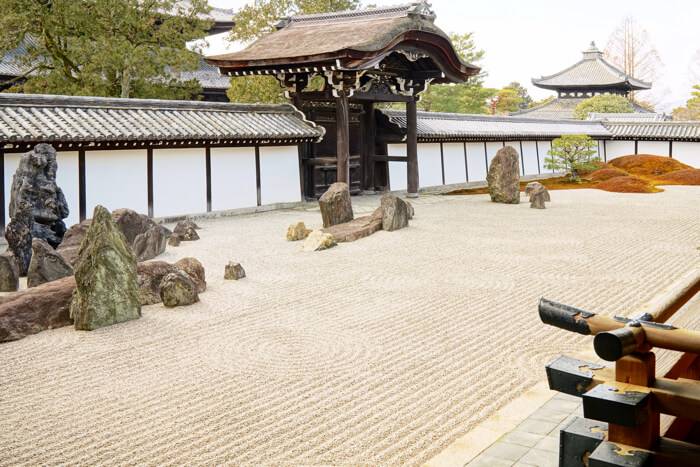 The South garden uses the classic Japanese rock garden (karesansui) landscape. Una and Mei never grew tired no matter how many times they gazed at it, with its powerful large rocks and fine, detailed sand design.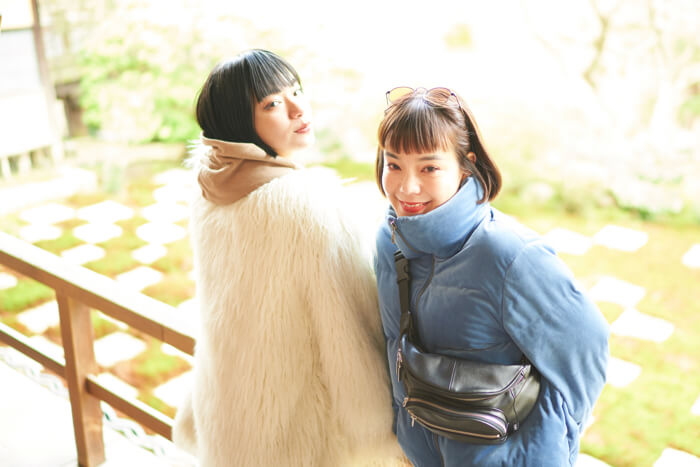 In the North was a more novel design garden that designed with a checkered pattern. It reuses paving stones that you wouldn't find in an everyday garden.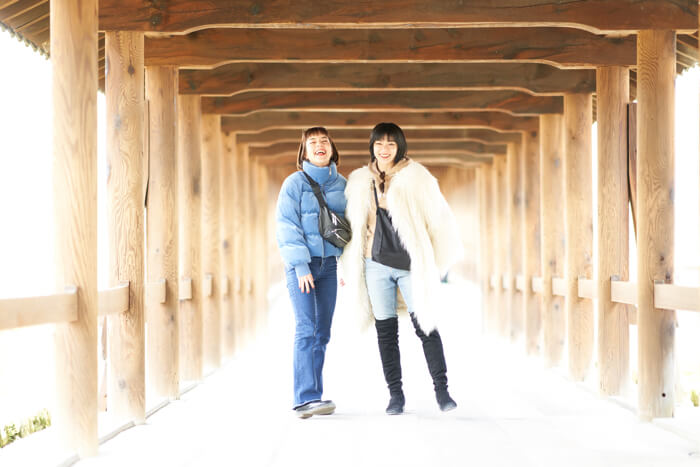 From the Tsuten Bridge you can see a valley known as 'Sengyokukan' where a small stream runs. This is the place people that makes people think of Tōfuku-ji's red autumntime leaves. The bright red maple leaves that bury this location is truly a sight to behold. The winter branches that are gradually becoming dyed red had a real elegance to them.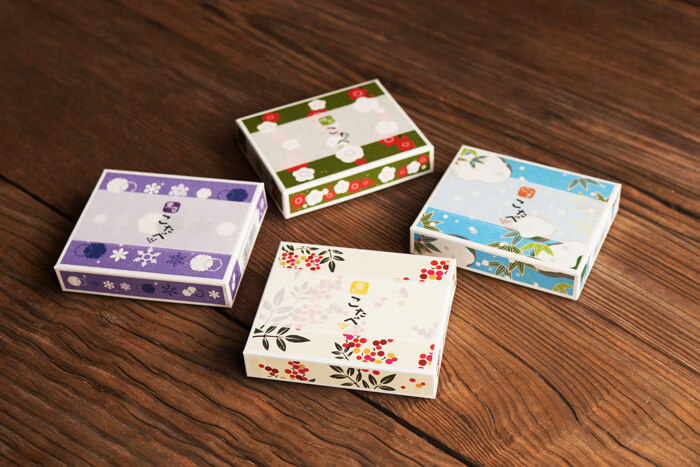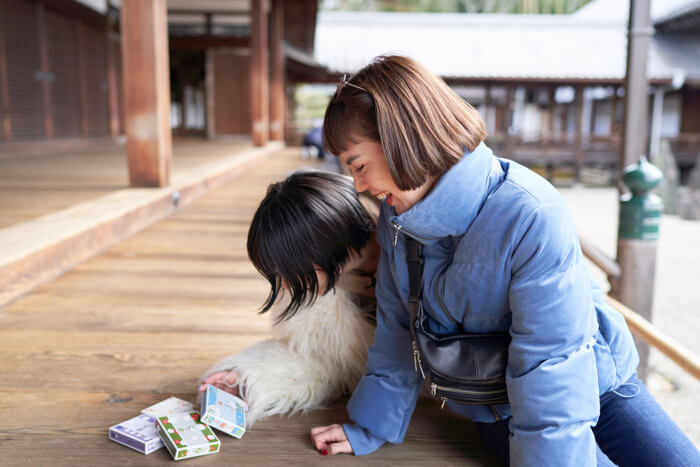 The travel snacks bought at Otabe Honkan came in cute packaging that went perfect with the aesthetic of Tōfuku-ji, so the two of them took a photo to commemorate. They then moved onto the next location.
Wrapping up the trip gazing at the serene flow of Kamo River
The final place Una and Mei cycled to was Kamo River, a place steeped in Kyoto's history just like the city itself. The river breeze is refreshing is you cycle along the riverbank.
The two of them parked their bikes up and had a fun girl's chat while being revitalised by the flow of the beautiful river.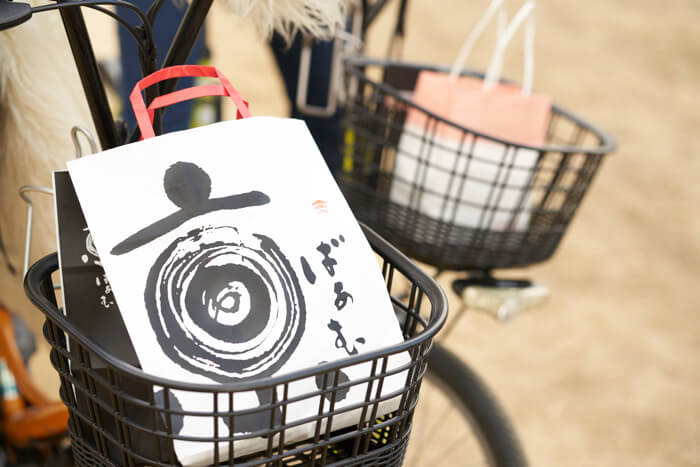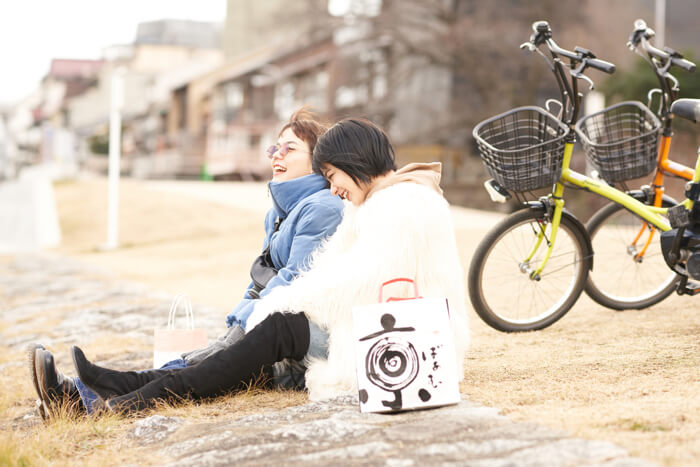 When summer rolls in, the tea shops and restaurants that run along Kamo River from Kiyamachi Nijou to Kiyamachi Gojou set up noryoyuka, balconies that look over the river, specially for the summer season. You will see the place bustling at the start of summer in the evenings – the only time it gets this busy.
Spring, Summer, Autumn and Winter. Kyoto's charm lies in its ever-changing face throughout the seasons, something you'll entirely stuck on. It's a place you will want to revisit time and time again.
Try renting a bicycle on your Kyoto trip and enjoy the city and all its sights in a light different from usual.
Model:Una& Mei Nagasawa
Writer:Ai Watanabe
Photographer:Takuya Ikawa