Let's wear a kimono and enjoy Harajuku! 7 recommended photo spots in Ura-Harajuku
Princess One Spoon Tokyo
This is a store that sells 500 kinds of accessories, girly sundries and sweets items. It is recommended to take a photo in front of the store since the exterior of the store is Western-style.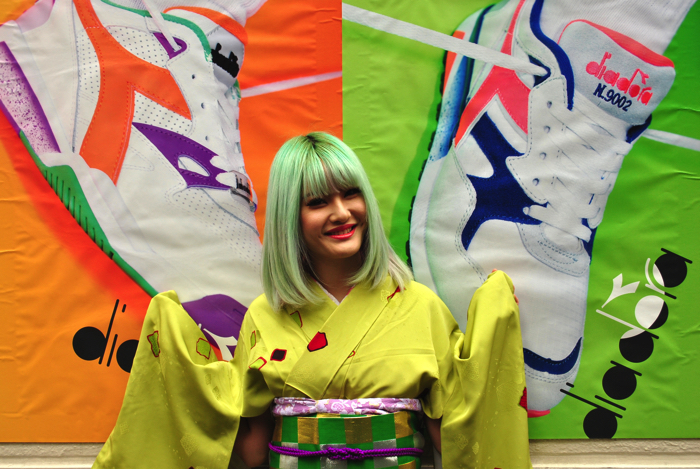 Tonchan Street
You can find many stylish adds on "Tonchan Street" behind MOSHI MOSHI BOX.
Let's find your favorite location!
How did you like our recommended photo spots? In this article, I introduced to you some standard/new photos spots of Ura-Harajuku.
Feel free to contact MOSHI MOSHI BOX if you ever get lost!
Why not check out this article as well.
https://www.moshimoshi-nippon.jp/34595
RECOMMENDED ENTRIES
From "Instagrammer" to "Osha-stagrammer!!" Discover Harajuku's "Oshare" (trendy) wall art

Hey everyone – it's MidoriBlackmore!

We all know that Harajuku is the capital of fashion, right?

Nowadays, we walk the streets of Harajuku, passing the countless number of fashion gurus. How can an entire district be so gorgeous and trendy?

That's why today I'm going to be showing you a range of gorgeous walls found on the streets of Harajuku.

I took these pictures myself!

1.GALLERIE of Harajuku Objects

Located near the remains of SPINNS 2nd store and walking down Meiji-dori in the direction of Laforet is a large "Harajuku" sign that really stands out! Decorated with stickers and with a street-style finishing touch, this cool sign is something not to be missed!

Address: Patria Building B1F 1-9-18 Jingumae Shibuya-ku Tokyo, 〒150-0001

Accessible hours:12:00~21:00

2.TOKYU PLAZA

Facing Laforet, the entrance to Tokyu Plaza is filled with its famous escalator mirrors. The mirrors make it so easy to take pictures!

Address: 4-30-3, Jingu-mae, Shibuya-ku, Tokyo

Opening hours: 11:00-21:00

3.BUBBLES

A gorgeous wall displaying the unique clothing style offered at BUBBLES is located in front of the store. Unfortunately, the swing that was located here long ago is now gone. However, many flowers have bloomed in its place.

Address: 1st floor, 4-32-12, Jingu-mae, Shibuya-ku, Tokyo

Opening hours: 12:00-20:00

>>next page

【Tokyo Stroll】Feel the true spirit of Japan during the hanami season! Explore these cherry blossom spots to get some beautiful photos

When you think of springtime in Japan, you immediately think of cherry blossoms. As the hanami season blossoms, there are no doubt lots of people out there who want to experience Japan's 4 distinct seasons. One famous hanami spot in Tokyo is Meguro River. It is a location packed every year with people who walk along the river to see all the beautiful cherry blossoms. In this article, we recommend the ideal photo spots to visit during the cherry blossom season while the flowers are in full bloom!

How to access Meguro River

Meguro River, Tokyo's quintessential hanami spot. The atmosphere changes as you walk along the river – upstream, mid-stream, and downstream – and a place where you are sure to enjoy your hanami.

Upstream: 3-minute walk from "Ikejiri-Ōhashi Station" via the Tokyu Den-en-toshi Line

Mid-stream: 1-minute walk from "Nakameguro Station" via the Tokyu Toyoko Line and Tokyo Metro Line

Downstream: 6-minute walk from "Meguro Station" via the Tokyu Meguro Line / 5-minute walk from "Fudō-mae Station" via the Tokyu Meguro Line

The closest station to Meguro River is Nakameguro Station, but it's a very accessible place via whichever station you alight from when you depart from Shibuya.

"Nakanohashi Bridge" – The symbolic bridge of Meguro River

If you walk along Meguro River in the direction of Nakameguro Station from Ikejiri-Ōhashi Station, you'll come to see a red arched bridge. This is "Nakanohashi," a characteristic bridge that has been used as the location for many TV dramas, and the symbol of Meguro River.

At the entrance of the bridge you will see "Nakanohashi" (in Hiragana) written in cute brick art. It's a recommendation photo spot location and one where anyone can take a cute photo!

Try taking a photo with the bridge and cherry blossoms in the background, alongside the cute owl statue. The hanami season is also a time where vivid pink-coloured paper lanterns are put up to decorate the scenery even more, meaning you can take some really colourful photos.

It's located upstream of Meguro River. Since both the width of the river and the bridge itself are narrow, only people and bicycles can pass through. When the cherry blossoms are in full bloom, the arch seems as if it spans the river surface. As you walk along the bridge, the overhead branches and falling cherry blossom petals are extremely beautiful.

This area isn't too busy so you can enjoy a relaxing stroll around it. And the cherry blossom trees are really close to you, so you can take really nice photos with the gorgeous cherry blossom petals.

 >>next page

Best 7 photo taking spot in Harajuku to take a photogenic picture in Tokyo sightseeing

The Harajuku city where fashionable people come from all over the world is known as the source of fashion in Tokyo. It is the best spot for visiting that you can enjoy shopping around this area, and visit the famous sightseeing spot called Meiji-Jingu which is close to Harajuku train station.

Since this town is known as a source of fashion, there are many kinds of "Kawaii" photo taking spots. If you have chance to visit Harajuku, you should visit following 7 places and take pictures.

1 Entrance of Takeshita Street

After you go through the Takeshita gate in Harajuku station, you can get to the entrance of Takeshita Street. When you look up the gate of the entrance, you can see the LED screen sign said "TAKESHITA STREET" decorated with cute balloons. These balloons changes depending on the season, and this LED screen sometimes shows videos of people walking on this street. You definitely want to take a picture of this entrance to commemorate this occasion.

If you walk about 360 meters, there are a lot of cheap cloth stores for teenagers. Other than that, there are the stores that you can take purikura (photo booth that prints out cards and stickers of the resulting photographs), colorful cotton candy store, shopping malls such as ALTA and CUTECUBE. This street is filled with the all kinds of Harajuku pop cultures.

2 CUTECUBE

If you walk about 5 minutes from the entrance of Takeshita Street, you can get to the commercial facility called "CUTECUBE." There are fashion store called "SPINNS" which is very popular among young kids in Japan and cafés that is collaborated with some popular cartoon characters inside this facility. The thing that is standing in the central of this facility is the monument of Sebastian Masuda. This object which piles up colorful blocks and cubes is very outstanding and unique. There is also similar octopus object that has a lot of colorful blocks on the third floor.

3 MOSHI MOSHI BOX Harajuku Tourist information center

When you go through the Takeshita Street and cross the Meiji Street, you can see the vivid blue building in front of you. This is Harajuku tourist information center as known as MOSHI MOSHI BOX. Other than giving information for tourist, there are an exchange counter, free karaoke machines, the stores that sells Japanese souvenir stuff. The building itself is good for taking pictures with, but the art work called "Colorful Rebellion -WORLD TIME CLOCK-" which was made by Sebastian Masuda standing outside of this building is also good photo taking spot. This world clock which decorated with colorful toys and ribbons are representing Japanese Kawaii cultures to the world.

4 MOSHI MOSHI KIMONO Salons

At the "MOSHI MOSHI Kimono salon" on the second floor of MOSHI MOSHI BOX building, you can not only experience wearing kimono, but also you can go out with wearing kimono. There are Harajuku style unique kimonos which have laces and frills, and they have Japanese traditional kimonos too.

If you are interested in Japanese Kawaii cultures, you should visit this MOSHI MOSHI kimono salon and find your favorite styles of kimono coordinate.

5 KAWAII MONSTER Café

You go straight after you left the MOSHI MOSHI BOX, there is building called "YM Square." The new café called "KAWAII MONSTER Café" on the fourth floor of this building is much talked about.

When the elevator's door opens, it looks like you are in theme park. The waitress wearing cute and fashionable dress welcomes you, and after you go inside, you can see each pieces of furniture's that are decorated with cute stuffs. There is merry-go-round in the center of this café, and you can take pictures with that. This café makes you feel like you are in the world of picture books.

Don't miss the worth photo takings foods that they change every month.

6 Harajuku

When you go opposite way after leaving KAWAII MONSTER Café, there you can see the monument says "Harajuku" in Chinese characters. This is putting up in front of cloths store called "GALLARIE." It is good for showing people that you came to Harajuku. This popular store among young people has clothes that have been selected from outside of the country.

7 Illuminations in Omotesando

When you go straight with the GALLARIE to your back, you could see the Zelkova tree-lined in the street. They put up light-ups in every winter on this street.

This place is one of the most popular illumination spot that attaches about fifty millions LED light bulb on these trees.

The light-up starts Thursday December 1st to ends December 25th from sunset to 10:00PM. The light-up on the bushes ends on Wednesday January 4th.

Even though Harajuku is known as the place for young people, there are a lot of place that older people can enjoy visiting. Harajuku is a good place that you can enjoy in any occasion such as traveling with your family, dating, or shopping with your friends.

■Related article:7 city illuminations to visit in Japan this Christmas

Enjoy a night view with the illumination—"TOKYO"

The Prince Park Tower Tokyo has been illuminating objet, the letters of "TOKYO" at south entrance. The lighting up started on Tuesday, 29, November and it will last till the end of February.

The hotel is located in Shibakoen area. This area is central part of Tokyo, so you can access easily by useful public transportation. There is the special photo spot that you can see both of the "TOKYO" and "the Tokyo tower". It must be a hot spot!

■Information

The Prince Park Tower Tokyo illumination

Illumination period:November 29th(Tue)~February 28th(Tue)

Illumination hour:Every day sunset~12:00MID.

inquiry: TEL:The Prince Park Tower Tokyo +81 3-5400-1111

—

■Related article:Feel the magic this season with the BLUE CAVE SHIBUYA illumination event!

■Related article:【MOSHI MOSHI Pick-up spot】Enjoy the light-up of the flower garden「Ashikaga Flower Park "Flower Fantasy –the light of the flower garden-"」

A photogenic world can be enjoyed! Art exhibition in Harajuku at "VINYL MUSEUM"

Hello, everybody! My name is Shiota and I am the curator of MOSHI MOSHI BOX Harajuku Information Center.

For this report, I visited the limited-time-offer photogenic art exhibition which opened behind Harajuku's Cat Street called "VINYL MUSEUM."


To get to the venue, enter Cat Street from Omotesando and take a left turn at the first corner. The exhibition venue is located in a building close to Starbucks (take a right turn at Starbucks).

This exhibition is an experience-based exhibition where you can enter the world of the exhibited art works.

When I visited many fashionable young girls were visiting the exhibition to enjoy the "Insta Bae Kukan" (a space for taking photos for your Instagram" which won the grand prize in the buzzwords contest.


This exhibition consists of two floors. The first floor has six booths with different themes. A corner featuring the popular game, Pocket Monster is also set up.

The most popular spot is the pastel-colored pool. There was a long waiting line in front of the entrance to this space.

Each ball inside the bathtub is heart-shaped.

Here is a beautiful aqua-colored booth. Many flowers are hanging from the ceiling.

The combination of the flowers and girls is superb! Why not take a gorgeous photo here!!

The walls are very cute too.

The visitors to this exhibition were all taking selfies.

A colorful booth can be found when you get to the second floor. The space looks like a supermarket in a foreign country.

You can take cute photos at this booth which is like a photo studio for a magazine. The best photo here is to appear as if you are pushing a shopping cart.

A collaborative product created with Red Bull (pack cocktail) is sold at this venue.

The drink shown above is red currant-flavored "EVERGIZING BAG RED."

The sourness of berries is superb. The vivid red color is very photogenic.

This is coconut×mango flavored "ENERGIZING BAG ORANGE."

It is a tropical drink recommended for those of you who love sweet cocktail.

Other than that, they also sell original postcards using the motifs of the artworks exhibited at the venue. Each of them are so

cute that I cannot decide which one to buy.

How did you like my report on "VINYL MUSEUM?" This exhibit will be held until the 25th of December 2017.

Feel free to contact us (MOSHI MOSHI BOX) if you get lost.

photo:Fumiko Nakazima (@o_f_u_m_i)

◼Information

VINYL MUSEUM

Address: BA-TSU ART GALLERY, 5-11-5, Jingumae, Shibuyaku, Tokyo

Date: 2017,12,13 (Wed.) to 12,25 (Mon.)

Business hours: 11:00 to 21:00

Access: 5 minutes on foot from Harajuku Station – Omotesando Exit

Entrance fee: 1,500 yen / 45 minutes
RELATED ENTRIES
Announcing the Closure of the MOSHI MOSHI BOX Harajuku Tourist Information Center

The MOSHI MOSHI BOX Harajuku Tourist Information Center, which was established by the MOSHI MOSHI NIPPON Project under management support from the Shibuya City Tourism Association, officially closed its doors in January 2019.

Since opening 4 years ago, the MOSHI MOSHI BOX (MMB) has always striven to provide tourist information and aid to sightseers in Harajuku, especially foreign visitors to Japan, by offering official multilingual maps from the Shibuya Tourism Association, guidance in multiple languages, foreign money exchange, baggage storage and more. This enabled the MMB to become recognised as a landmark of Harajuku overseas that is used by countless tourists.

What has attracted remarkable attention at the MMB is the huge World Clock that decorates the outside of the building. Created by Sebastian Masuda, the clock became a popular photo spot amongst tourists in Harajuku. Many people have posted photos of themselves next to the clock on social media, making it become a monument that symbolises Harajuku culture. We have received a lot of wishes from people to preserve the clock. The date on which the clock will be taken down has yet to be decided but it will be disassembled at some point.

With only a year left until the Tokyo 2020 Olympics there is much construction work going on at the event's main site which is located in a neighbouring area. Harajuku and its station, which will be the doorstep to Harajuku, is also undergoing reconstruction. The MOSHI MOSHI BOX too biding its time and is waiting for the opportunity to move and undergo renovations in the brand new Harajuku.

It is expected that many more overseas visitors and tourists will be coming to Japan. We will take advantage of the valuable experience we have earned by running the MMB by continuing to promote and deliver Japanese pop culture to the people of the world both on our website and at events and see what kind of information and services people will be demanding in the future.

Thank you to everyone that has used the MOSHI MOSHI BOX. We ask for your continued support of the MOSHI MOSHI NIPPON Project.

INFOBAR xv Phone Celebrates Release With Photo Spots in Tokyo, Osaka, Nagoya & Sendai

Japanese telecommunications operator KDDI is setting up photo spots based on the INFOBAR mobile phone at "au" branches across Japan, beginning in Tokyo before moving to Nagoya, Osaka and Sendai. People are free to snap pictures at these spots and post them to social media.

The exhibition is being held to commemorate the release of the INFOBAR xv which hit the market on November 29, 2018. The photo op spots are inspired by the colourful buttons on the phone, an iconic part of its design.

The set was designed by Japanese balloon artist Emi Jinguu who has competed and won in US competitions.

Head to one of the au branches below and snap some stylish pictures!

Review: Trying the New Cheese Tea at The Alley in Omotesando

Hi, everyone. Midori here, editor at MOSHI MOSHI NIPPON.

Have you heard about 'cheese tea'? It's a drink that's getting a lot of attention right now. It's tea topped with cheese foam which results in a perfect match of sweetness from the tea and sourness from the cream cheese.

Related Article: Drink Tea in Style With FORTUNER tea-box's Cheese Tea Tapioca in Harajuku

I heard that The Alley, a well-known bubble tea cafe recognised by its deer logo, released its own cheese tea so I took a trip there straight away!

I went to the branch in Omotesando. There are lots of other branches too so head to the closest one to you. The one in Omotesando sits right next to Gong Cha, another bubble tea store.

Cross the intersection at Laforet towards ICE MONSTER and turn the corner at the flamingo (pictured above).

You'll come to a road with Cafe Ron Ron on the left and Gong Cha on the right.

Turn right at the FamilyMart at the end of the street and you'll find The Alley!

The photo above was taken on a weekday before opening hours so there was no line,  but it was a different story in the afternoon on the weekend!

Ta-da!

The line is so long it's hard to know where the end even is! It sure is popular. According to the staff working there, the line is constant on weekends from opening hours to when they close, so if you don't want to line up they recommend visiting during the week.

There's also a stylish indoor section where you can enjoy your drink.

Other menu items include the following:

Bonsai bubble tea and aurora drinks are really popular on Instagram in Japan right now!

When talking about The Alley you've got to mention the deer! There was a big one drawn on the wall inside.

I went with the brown sugar tea from the cheese foam series.

I recommend drinking cheese tea without the lid. If you drink it with the lid on it's hard to get the cheese foam and tea at the same time. The Alley is best known for its tapioca bubble teas, but they have other ranges too like this one.

Now, onto tasting! Mixed in with The Alley's famous fragrant tea is brown sugar. It has a smell that is sure to make you happy. The cheese doesn't have that super sour taste, it's a mellow flavour. The drink isn't served hot but "mild hot" so you can get to drinking right away without burning yourself. It's safe for those with sensitive tongues too. I have to let hot drinks cool down first before drinking them too so I was glad with my choice.

Head to The Alley to try out their new cheese tea yourself!

Information

The Alley
Address: 6-6-6 Jingumae, Shibuya, Tokyo
Opening Hours: 10:00-22:00
No Fixed Holidays.
TEL: 03-6712-5185
Website: http://www.the-alley.jp/

Photo Opportunities in Harajuku This Summer – Showcased by "Harajuku girls" Yuna Yabe & MIOCHIN

Yuna Yabe and MIOCHIN bring the second entry to their featured article series. In the first article, they visited 6 different second hand clothing stores in Harajuku. This time, they head to various photogenic places around Harajuku. The locations they visited were submitted by their followers on social media who were asked to recommend Instagram-worthy locations in Harajuku. They took plenty of photos, so let's see how their trip went!

Instagram Worthy Spots in Harajuku Recommended by People


Yuna Yabe and MIOCHIN go through Harajuku almost every day. But just because they're always there, they may still be unaware or not know about some spots. So here's some spots recommended by their followers!


Yuna: "This is from @killer_princess2. Doesn't it look amazing?! It's completely black! You'll be able to take a super cool picture if you wear a monotone outfit! Personally, I definitely want to go and see this."

Yuna: "This is from @misa.s.world. Is it a shop display? What an extremely cool place! It made me think that although I'm in Harajuku almost every day there's still place I don't know ahout."

MIOCHIN: "This is from @kanon_thx. This is the World Clock monument at the MOSHI MOSHI BOX Harajuku Tourist Information Center managed by the MOSHI MOSHI NIPPON Project. It's a famous spot for photos in Harajuku. It's easy to find and colourful so I definitely recommend it!"

MIOCHIN: "This is from @twintail.g__. The colourful graffiti is cute! It looks like a place where you could take an Instagram photo if you match outfits with a friend♪"

Thank you to everyone who submitted recommendations. Yuna and MIOCHIN will now set off into Harajuku to take some pictures!

Visiting the Recommended Places!


The first place they went to is the "Now Is Forever" graffiti located just a short walk from Family Mart on Shibuya Cat Street. It wouldn't be an exaggeration to call this place the most popular with people visiting Harajuku for taking Instagram photos. It's a bit of a walk form the station, but its colours make it stand out so it's very easy to find and an easy location for snapping shots for your page.

Next, they headed in the direction of Takeshita Street with the "Now Is Forever" to the back of them. They went through Cat Street and took the first left to find the black concrete wall.

Yuna: "When I looked at the photo of this that a follower sent, I really wanted to come here! It's simple but you don't really see walls like this, so I recommend it to people!"

★TIP
When taking a photo of something black, you can make the black colour more compact and take a better photo by lowering exposure. Depending on what app or device your using the interface will be different, but most use a sun icon for exposure.


Cat Street is a graffiti gold mine. You'll run into many great photo opportunities just by walking.

↓

★TIP
Harajuku's streets are narrow and there's a lot of obstructions, but if you take advantage of that you can take some very different looking photos from other people. This photo is made gorgeous with the flower bed in a blurry foreground.

Yuna: I put on the VSCO C1 filter on my app. Normally I'm the type to not add flashy things, but the VSCO filters look natural and stylish so I recommend them!

The brick wall at MICO Jingumae*, a commercial complex in Cat Street, is also a recommended spot. It's easy place to take simple photos in full outfits. *Address: 4-25-4 Jingumae, Shibuya, Tokyo

↓

★TIP

When taking a photo try to make skilled use of blank spaces. By adding stamps later on it's easy to incorporate more of your style into it!

MIOCHIN: "I used the LINE Camera app and added stamps. The colourful stamps are cute and stand out because the photo has a simple background!"

↓


There's a sudden refreshing path when you climb the stairs at MICO Jingumae. You can get away from the hustle and bustle of Harajuku and have a breather.

This street has a European vibe to it. From Cat Street it's close to Omotesando Crossing along Meiji-dori. Walk along the little path beside Laforet Harajuku.


This street goes by the names Mozart Street and Fontaine Street. The two of them discovered a water fountain in front of the building with the beauty salon. Despite being smack in the middle of Harajuku it had an exotic atmosphere.

Did you enjoy this trip? Yuna and MIOCHIN went to stroll around photogenic spots in Harajuku and there were many they hadn't been introduced to yet. Part of Harajuku's appeal is how shops, displays and graffiti/illustrations change every day. No matter when you go, you're sure to have a great time. Why not visit yourself this summer?

This series can also be enjoyed on YouTube. Be sure to check it out below!

Cafe Hohokam – A Hamburger Shop Recommended by the Harajuku Tourist Information Center Staff

Hi, everyone! I'm Midori Blackmore and I work at MOSHI MOSHI BOX, the Harajuku Tourist Information Center.

Today, I went to Cafe Hohokam with fellow MOSHI MOSHI BOX colleague Ellie, so I wanted to share my experience with you all.

Hohokam is located behind MOSHI MOSHI BOX and can be found up the staircase past FABIUS Cafe.

Head up these stairs to find the entrance.

Hohokam is decorated to look like a motel you would see in Arizona. I've never been outside Japan before so I had to look up what exactly they're like. Arizona is a state in the southwestern region of the US. It's bordered by Mexico to the south, is very hot, and is home to the Grand Canyon. It also has the largest Native American population.

*We have blurred the faces of the people inside to protect their identities.

'I see,' I said to myself and looked around. So that's the atmosphere they're going for. It's very stylish but also feels incomparable to anything else.

We both ordered an orange cream soda with a Hohokam burger and French toast that comes topped with Nutella, bananas and whipped cream.

How amazing does this look? It looks like the cream soda you only see in manga. I was really surprised. It's tall and the colour is gorgeous. Really just the best. This must be the proper way to make it in the cream soda industry. When you drink your cream soda, don't you think to yourself, 'Summer has arrived,' too?

It's strange when you first take a sip because although it's blue it has an orange flavour. The soft serve cream on top is also sweet and really delicious!

There's four cream soda flavours to choose from: melon, raspberry, lemon and orange, and they're all supposed to be colourful and taste good. It might be a fun idea to order different coloured drinks with your friends.

Next up is the Hohokam burger! The menu said it has chili beans, cheese and a jalapeno patty.

Tada!

The flag on top is cute, isn't it? You can wrap the burger with the napkins provided on the table before biting into it, but we both shared it.

This is how it looks cut in half. The red part is the chili beans. It's spicy when you take a bite, but it's not overly spicy at all! For me I thought it was a refreshing kind of spiciness like that of Mexican cuisine. I'm no good with spice and even I could eat it.

The meat inside was made very well. It was just the kind of hamburger you'd expect at a hamburger shop.

There's a bunch of other burgers to choose from too, like the mozzarella burger, barbeque burger, cheeseburger and more.

Last up is the French toast with Nutella & Banana & Whip cream!

Something looking like this has got to be delicious.

The burgers at Hohokam are of course delicious, but I personally want to give the nod to their desserts. They're seriously something else!

The fluffy French toast is topped with sweet Nutella and whipped cream, but it's not heavy at all. We were already quite full but we were able to lap it up easily.

They also have a terrace smoking area. The atmosphere there was fairly nice too! Dining outside can make eating your food taste good too, can't it?

Another great thing is that everything at Hohokam can be ordered for takeout! We recommend getting a delicious burger and having a picnic in Yoyogi Park!

So, do you like the sound of Cafe Hohokam? It's great for lunch or dinner, and we also recommend using it as a café to stop by when you're out shopping.

If you're in Harajuku and have an empty stomach, or you're in need of a dessert, then please try Cafe Hohokam for yourself.

■Information

Café Hohokam

Address: 2F, 3-22-14 Jingumae, Shibuya, Tokyo

Opening Hours: 11:30-23:00(L.O. 22:30)

TEL: 03-5755-5708

Website: http://www.cafe-hohokam.com/

Photogenic Art Exhibition 'Vinyl Museum' to Take Place at BALLY Ginza

Vinyl Museum―a participation-based art exhibition―will make its return at BALLY Ginza, running from July 21 to August 5.

We previously covered the first holding of this event which brings together a variety of art displays specifically intended for people to take photos of for their Instagram pages. Last year's event in Omotesando drew in 5,500 people and over 7,000 posts were posted on Instagram.

This second event will take place in Ginza and hopes to bring in more foreign tourists. They have increased the number of booths on show, and the attendee rate is expected to be around 7,000.

■Information

2nd Vinyl Museum

Running: July 21, 2018―August 5, 2018

Address: BALLY Ginza 2F, Tokyu Plaza Ginza, 5-2-1 Ginza, Chuo, Tokyo

Access: 1-minute on foot from Exit C2 / C3 of Ginza Station via Tokyo Metro Ginza Line, Marunouchi Line, or Hibiya Line

Entry Price: ¥1,800

Website: http://vinyl-museum.com/

Top 7 Places to Eat Curry in Harajuku Not Known by Many People

Did you know that there are lots of places to eat irresistibly delicious curry in Harajuku, but not that many people know about them yet? Now you can get in on the secret.

From standard Japanese-style curry to more unique flavours, here's our list.

YOGORO

This spinach-based chicken curry (¥900) is a reputable item on YOGORO's menu, made in a tetsunabe pot! There are two types to choose from: one with spicy tomato as the base and fresh cream, and a milder version made with spinach. You can pick from pork and chicken for the meat to enjoy an original combination. We also recommend it topped with the soft-boiled egg!

Minoringo

This Keema curry (¥900) looks just like a decorative cake. The top of the curry is flooded with cheese. Its rich flavour is simply irresistible! We also recommend the standard Keema curry without the cheese too♡

Curry Up
This curry house is produced by 'A Bathing Ape' founder NIGO. The beef & butter chicken curry (¥1,100) has a distinct mild yet rich taste to it. It's enjoyable to enjoy two different flavours in one as seen in the picture. You can also combine your own flavours to your liking.

SHANTi
If we're talking soup curry, then where else to go than SHANTi. The spice is on point and there's a hearty serving of vegetables. There's also many varieties of curry to choose from, so expect to be spoilt for choice. During lunchtime you can get a large serving of rice for free, and you're free to enjoy a second helping, so if you're a big eater, look no further.

BRITISH INDIAN CAFE 1930
You wouldn't think that this is a curry house, with its landmark stylish red wall. They serve Indian curry made the way the British do. Their popular butter chicken curry mixes together honey and fresh cream to give it its distinct sweet flavour. The faint spiciness and milk sweetness has made it a particularly popular dish with female customers. The softness of the tandoori chicken is great too. Being British-style, the curry goes well together with black tea.

HENDRIX
You could call the chefs at HENDRIX spice masters. They're extremely thorough and attentive with the timing of when they put their spices in the curry. A popular dish on their menu is their pork curry. It's cooked gradually with a large amount of spice and has a deep flavour that doesn't just simply scream 'hot.' They're also particular about their saffron rice which complements the curry. They use only koshihikari rice from the city of Inzai in Chiba Prefecture. The fact they're even particular about the rice means you can look forward to some truly layered flavours!

This keema curry restaurant is located on the corner of a secluded street. It originally used to open only as a night bar, but keema curry became the talk of the town for being delicious, so it came to be open during lunchtime too. The most popular item on their menu is undoubtedly their 'Cheese Keema Curry.' It offers a large serving of rice topped with keema curry and melty mozzarella cheese. Placed again on top of that is a perfectly round egg yolk, giving it a unique appearance. This exquisite dish is cooked thoroughly with carefully selected spices.

Full Details: https://www.moshimoshi-nippon.jp/38757/2

Drooling yet? You've absolutely got to try the exquisite curry hidden away in Harajuku. Tuck in during lunchtime or dinnertime!

Popular Nail Salons in Harajuku & Trending Nails by 5 Popular Models

There must be a lot of people out there wondering how to do their nails for spring and summer this year. At the MOSHI MOSHI BOX Harajuku Tourist Information Center we've directed many foreign tourists to popular nail salons.

So, we're compiling a lot of some of the popular locations you'll find in Harajuku! Check them out alongside the list of trending nail styles by popular models that follows.

HOME
This is a nail and eyelash salon who offer a huge range of top class eyelash extensions and high-quality nail painting art. They position themselves as your indispensable partner, leading you on the way to drawing out your natural beauty, offering new a lifestyle. The comfort at the salon is outstanding, set up in an open environment with plenty of light. And the fact that they can do both your nails and hair is enticing!

■Information

HOME

Address: 5-29-9 Jingumae Shibuya-ku, Tokyo F3 302

Opening Hours: 10 am – 10 pm (Monday – Friday)

10 o'clock – 19 o'clock (Saturday / Sunday / holiday)

TEL: 03-6418-9059

Website:http://home-harajuku.com/

Anranju
This place is open from 10am to 10pm, so you can even pop in after a bit of sightseeing. You can never get tired of their gel nails which come in designs based on what's trending each month, as well as their variety of nail parts and colours. Customers can take in art with them to show the staff, so we recommend Anranju who want to enjoy their nails done exactly in accordance with what they like.

■Information

Anranju

Address: 1-17-5 Jingumae, Shibuya, Tokyo

Opening Hours: Weekdays 10:00-21:00 / Weekends & Holidays 10:00-19:00

Closed: New Year's Holiday

TEL: 03-6804-3073

Website:

http://anranju-nail.com

Cocotte Harajuku
This nail salon is recommended for people to want to get their nails done like their favourite artist during a concert, as well as character art nails, intricate nails, and more. The staff have a lot of experience with nails and have done so many that it's impossible to count them. They are very talented, and their designs are constantly incorporating the newest trends.

■Information

Cocotte Harajuku

Address: Cocotte Harajuku B1F, 3-28-10 Jingumae, Shibuya, Tokyo

Opening Hours: Weekdays 11:00-22:00 / Weekends 11:00-21:00

No Fixed Holidays

Website:

https://ameblo.jp/cocotte-nail/

Trending Nails by 5 Popular Models


Yuri Suganuma: Primary colours and glitter make cute, flashy nails
Yuri Suganuma went for different colours across all her nails. Changing the colours of each nail is impactful and gives a pop vibe. As a pointer, glitter using glitter colours makes them look fashionable, doesn't it!



Saki Shibata: Attractive nails made with dull colours
Dull colours are aplomb and raise your level of maturity. Shibasaki is using gentle, organic nails from Ambiente, so this one's recommended for people who like to do their own nails.


Misa Kimura: Supporting the springtime vibe with nail art
Misa Kimura is serving spring with her nail art. The holographic nails raise the level of their gorgeousness. Take note of the top coat which is matted!



Mei Nagasawa: Sweet and lovely nails with hearts and pink
Mei Nagasawa's beautiful nails use pink as the base colour. The little hearts popped on there are super cute, aren't they? ♡ This design will completely up the appeal of your girliness, so try it for yourself.


Ayumi Seto: Girly dots and rainbows
The dot and rainbow design matches Ayumi Seto's image perfectly. They're completely coated in glitter, making them shine and look cute when hit by the light. Colourful nails work well with simple outfit co-ords!

Did you enjoy this list? Use these trending designs by models as a reference and enjoy creating your spring and summer nails!

The World's Most Kawaii Purikura Shop "Moreru Mignon" Opens New Branch in IKSPIARI

Moreru Mignon is a purikura haven that prides itself on the concept of offering the world's cutest purikura photos. Now, the shop is opening a new branch inside IKSPIARI®, a commercial facility located inside Tokyo Disney Resort®.

SHIBUYA 109 store:https://www.moshimoshi-nippon.jp/62982

The interior of the shop is a pink photogenic wonderland. This will be the first Moreru Mignon to open in Chiba Prefecture. It boasts as the biggest puri machine chain in Japan.*

*As of February 2018, recorded by FuRyu.

The Maihama IKSPIARI branch of Moreru Mignon calls itself a town where people can become special guests. They offer a range of outfits and services for your purikura experience. Enjoy taking lots of photogenic pictures in this puri paradise ♪

PINK MONUMENT

The PINK MONUMENT is an art display in the shop decorated in pop colours. The inspiration behind the design is parks, and the centerpiece is the giant letter 'P' which towers over the surroundings.

PINK GENIC BOOK STORE

This location is made to look like a foreign arty bookstore. The huge books and hands are like trick art, and the decorative and unique walls and floor make for great photos. Check out the lit-up book title and vividly coloured bookmarks too.

PINK TOWN TV

The TVs fit into the world of Moreru Mignon too and actually play videos on how to enjoy yourself at the shop, cautions to keep in mind, and more. The pink coloured picture tubes also make this a perfect photo spot.

marché mignon

This pink bus sells colourful snacks and miscellaneous items. Some of the products also come in limited edition Moreru Mignon Maihama IKSPIARI packaging. They even sell colour contact lenses.

People who take photos in one of FuRyu's 12 popular machines or use the main space will be able to buy some original merchandise.

Enter Moreru Mignon, the world's cutest purikura shop, and snap some kawaii pictures!

■Information

Moreru Mignon Maihama IKSPIARI

Address: TRAIL & TRACK, IKSPIARI 2F, 1-4 Maihama, Urayasu-shi, Chiba Prefecture

Opening Hours: 10:00-22:00

Website: http://www.puri.furyu.jp/

Introducing AFURI—Harajuku's Michelin-Starred Ramen Restaurant

Hi, everyone. I'm Shiota, the Director of the MOSHI MOSHI BOX Harajuku Tourist Information Center.

Foreigners coming to Japan love ramen, as shown in our questionnaire where it ranked 2nd place. I'm sure there's a lot of you reading those who like it too.

Did you know, there's actually a famous ramen place in Harajuku listed by Michelin? Today, I'll introduce you to AFURI Harajuku, a ramen shop recognised worldwide.

It's easy to get to. Just take the JR Yamanote Line to Harajuku Station and it's a 3-minute walk from there. Head left out of Takeshita Exit and make a right when you come to Nescafe Harajuku. You'll be able to see it on your left.

The restaurant itself has a very stylish and modern exterior. You'll actually wonder whether it's really a ramen shop when you see it. It has a welcoming atmosphere even if you go by yourself. When we went, despite it being 3pm on a weekday, most of the seats were taken up. And half of the customers were non-Japanese! As expected of such a popular restaurant.

The smell of citrus hits your nose upon entering the restaurant, something you wouldn't expect in a place that sells ramen.

The inner section of the U-shaped counter is in fact an open kitchen, giving the whole restaurant a feeling of openness, and the background music that plays is calm. It feels like you're in a fancy café.

I ordered the Yuzu Salt Ramen (¥980).

The toppings are simple. It comes with juicy mizuna, a boiled egg, bamboo shoots, char siu chicken fillet, and refreshing yuzu skin. You can choose from a boiled char siu packed with the chicken's good flavour or a light and healthy chicken char siu.

The noodles are thin and a healthy mix of wholewheat flour from Hokkaido and rye. The soup is made with carefully selected ingredients such as roast chicken,  seafood and potherbs that have been carefully cooked in natural spring water from Mount Afuri. The flavour is both full-bodied and light and will have anybody who's tasted it addicted.

There's also a vegan ramen (¥1,350) option too made with seasonal vegetables for vegans, vegetarians and healthy eaters. It's made with freshly-harvested Kamakura vegetables. No animal products are used in the dish, whether that's in the noodles, soup or toppings. The salted soup goes perfectly with the vegetables. This option is also recommended for people who aren't good with thick ramen.

AFURI in Harajuku is celebrated not only by worldwide fans of ramen, but healthy eaters and vegetarians too. There's no doubt you'll become hooked once you give their food a try.

◼︎Information

AFURI Harajuku

Address: Grande Foresta 1F, 3-63-1 Sendagaya, Shibuya, Tokyo

Opening Hours: 10am-3am (following day)

No Fixed Holidays.

3-minutes on foot from Takeshita Exit for Harajuku Station

TEL: 03-6438-1910

Website: http://afuri.com/

■MOSHI MOSHI BOX Harajuku Tourist Information Center

MOSHI MOSHI BOX is a tourist information center located at the cross road of Takeshita Street, Meiji Street, and Harajuku Street. The staff there are experts on the Harajuku area. You can get the most up-to-date news of Harajuku from the site.

Services:

Service list

・free wi-fi

・free water

・free PC & charge

・baggage room

・gift shop

・currency exchange

Opening Hours: 10:00-18:00

Closed: The year-end and New Year holidays

Contact: 03-2225-6447

5 Newly Opened Stores in Harajuku & Omotesando Selling Popular Sweets

Hey, everyone. Shiota here, the Director of the MOSHI MOSHI BOX Harajuku Tourist Information Center. Harajuku is a candy and sweets battleground, with many different stores lining the streets. Today, we take a look at Instagram-worthy goodies from much talked about newly opened stores!

"THE PARFAIT STAND" – Takeout Parfaits
Located exactly ZERO minutes from the Takeshita Exit of Harajuku Station is THE PARFAIT STAND, the sister store to popular cheese tart shop BAKE CHEESE TART.

Topping the parfait isn't fresh cream, but meringue! The taste and texture of the parfait is irresistible throughout, with ice cream, purin, mousse and more. Just holding it is kawaii and something new to take onto the streets of Harajuku with you♡

Full Details: https://www.moshimoshi-nippon.jp/100198

"LONG! LONGER!! LONGEST!!!" – Japan's Longest Food & Sweets
Opening as Japan's first shop to center around the 'length' of food, LONG! LONGER!! LONGEST!!! is located along Takeshita Street. The menu has three size variations, the same as in the store's name. 'LONGEST' in fact offers the longest food product in Japan!

They have lots of products on offer, including soft serve ice cream, tornado potato, churros and more. You'll never forget about their crazy length once you try one!

Full Details: https://www.moshimoshi-nippon.jp/93395

"GOMAYA KUKI" – Sesame Ice Cream
GOMAYA KUKI is a store selling sesame ice cream which has received support from inside and outside Japan. They have opened a store in Ura-Harajuku. One serving is covered in close to 9,000 sesame seeds!

Their menu is full of new, unique products including ice cream made with sweets friend in sesame oil, Japanese-style parfaits sprinkled with sesame seeds, and more. They also offer takeaway ice cream in cups.

"Q-pot CAFE." – Accessories Turned Into Sweets
This café is inspired by Q-pot., an accessory brand who create kawaii products themed around sweets.

The café is decorated in all things sweet as far as the eye can see. The interior has a fairy-tale like atmosphere that female customers will love. The sweets here are both sweet in appearance and taste looking exactly Q-pot.'s necklaces, rings and so on.

"The Pie Hole Los Angeles" – Original Pies from LA
This popular store hails from Los Angeles and sells their own original pies and organic coffee, and it's found its way to Takeshita Street in Harajuku!

Since April 4, they have been holding their second all-you-can-eat session for all their pie products every Wednesday. From sweet pies to classic pies, each and every one is handmade with care and attention. Why not head to one of their all-you-can-eats to try them yourself?

Are you hungry now? Be sure to use this list as reference if you're looking for a café in Harajuku!

And if you're unsure of how to get to any of these places, then pop into the MOSHI MOSHI BOX and we'd be happy to help!

How To: "Lolita Make-Up" – Techniques by MOSHI MOSHI Kimono Salon Staff Member Maho