Collaborative Japanese/French-style restaurant produced by a Michelin chef was opened in the Paris airport
Japan and France marked their 160th anniversary of establishing diplomatic relations this year and the airport in Paris was renovated to become "Destination/Paris 21 districts." This airport will offer experiences related to shopping, gourmet and culture.

The airport is now planning to open more than one restaurant produced by a Michelin Star chef in each international terminal so that visitors can enjoy full-fledged French dishes. They announced that they will open the Japanese/French-styled restaurant, "Teppan" produced by the Michelin Star chef, Thierry Marx.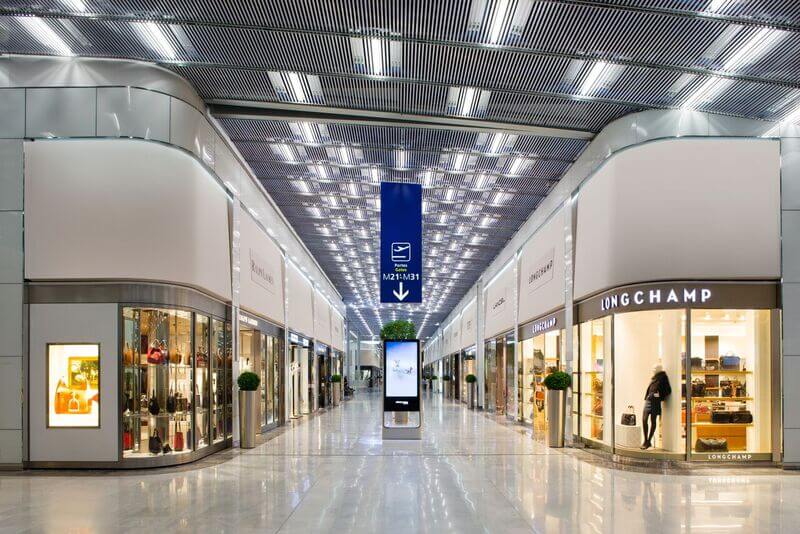 In 2016, the restaurant, "I Love Paris" produced by Guy Martin which was the first restaurant of the project, was selected as the No. 1 restaurant in "the world's best airport restaurants" and Martin has been working with the airport in Paris based on the keyword "Bistronomy." He also opened a restaurant named "The French Taste" in the 2nd terminal of Charles de Gaulle Airport. The restaurant was designed by Charles Zana, a French architect.

And in April 2018, one of the most famous French chefs, Thierry Marx opened a French/Japanese-styled restaurant named "Teppan" in terminal 1. I am sure that visitors of France will spend a wonderful time dining at this restaurant before going back to their home countries.

<Comments from Thierry Marx>
"France is known as a country that has lots of delicious foods. I think this is a wonderful project because many people can enjoy superb French dishes in their transit airport before leaving France. I would like to say thank you to the airport for offering me the chance to participate in this wonderful project."
Be sure to visit this restaurant when you visit France.
■Information
Charles de Gaulle Airport
RELATED ENTRIES
Chawanmushi Recipe: Savoury Dessert Made With Carrots, Cream Cheese & Mirin

Together with soy sauce and miso, mirin is a fundamental condiment in the Japanese kitchen and for many recipes for Japanese food. It's a sweet rice wine that has lower alcohol content and higher sugar content when compared to sake, adding a sweet flavour to dishes.

Today, we're taking a look at a recipe that uses "Mikawa Mirin," a brand of mirin made from high quality rice, to make carrot and cream cheese chawanmushi. Chawanmushi is a savoury egg custard dessert eaten in Japan.

Carrot & Cream Cheese Chawanmushi

Chawanmushi is made using mirin and has a smooth texture to it as well as a subtly sweet flavour. It's the perfect accompaniment to a hot summer's day.

Ingredients (Serves 1)


●Chawanmushi
60g carrots
240ml dashi
20ml soy sauce
120ml Mikawa Mirin
8g sugar
18g cream cheese
1 egg

●Okra-an
Okra
30ml dashi
0.5g salt
3ml Mikawa Mirin

Method

We will start by making the chawanmushi.

1. Slice the carrots and boil them until they become soft.

2. Add the soy sauce, sugar, and lots of mirin and cook through the dashi.

3. Cook for approximately 20 minutes on a medium heat, then cool with ice. Add the cooled carrots, cream cheese, and 20ml of the dashi into a blender and bend.

4. Add the egg to the mix and steam the mix for 12 minutes on a medium heat.

While the chawanmushi is cooling, we'll make the okra-an.

5. Mix together the okra-an dashi, mirin, and salt together. Add watered potato starch and thinly sliced okra. Leave to cool in the refrigerator.

6. Add the okra-an to the cooled chawanmushi and tuck into your cute two-layered dessert.

Carrot & Cream Cheese Chawanmushi

The dessert is an enjoyable mix of the sticky texture from the okra-an and smooth chawanmushi. It's great to have not only at lunch or dinner, but at home parties with friends too.

–How's the taste?


Misa Kimura: "It works really well with the mirin. The chawanmushi is like a sweet treat. It's super easy to make too, so I think I'll be making it at home!"

Mirin is indispensable to any Japanese cupboard and can be used in many ways, whether it be a classic Japanese dish or a dessert like this one.

Mikawa Mirin 700ml: ¥1,122 (Tax Included)

This authentic brand of mirin is made using a traditional method of Japanese brewing which blends in the delicious taste of rice. It's so delicious that you just want to drink the whole bottle. A high quality mirin, it has a distinct sweetness, colour, and texture. It has a rich flavour, and the taste of the rice elevates the flavours of its ingredients.

Mikawa Mirin Official Website: http://www.mikawamirin.jp/
Official Online Store: http://mikawamirin.jp/product/product_step1.php?m=n
Official Facebook: https://www.facebook.com/mikawamirin

Recipe


This recipe was conceived by ITEMAE, a famous restaurant serving Japanese cuisine that is listed in the Michelin Guide.

Model: Misa Kimura
Photographer: Haruka Yamamoto

Information

ITEMAE
Address: 10-14 Kamiyamachō, Shibuya, Tokyo
Opening Hours: Lunch 11:30-15:00 (Weekdays Only) / Dinner 18:00-23:30
Closed: Sundays / New Year's Holiday
TEL: 050-5595-4795

Inari Sushi Restaurant Tsurigitsune to Open in Osaka International Airport's North Terminal

Japanese food and confectionery company Bijuu is opening a new restaurant called Tsurigitsune inside Osaka International Airport's North Terminal on August 5, 2020. The restaurant will specialise in inari sushi, a type of sushi packed into pouches of deep-fried tofu.

Bijuu is known for producing and selling such products as Kyoto's famous coarse sweet red bean paste-filled yatsuhashi otabe crackers.

Tsurigitsune will serve "Kyo Dashi Oinari," a type of inari sushi made with fried tofu Saga Tofu Morioka—a long-standing tofu shop in Sagano, Kyoto—soaked in lots of sumptuous Kyoto-style dashi. The restaurant will also serve a special type of sweet otabe cracker which cannot be eaten anywhere else.


Kyo Dashi Oinari (Includes 15) | ¥3,240 (Tax Included)

The dashi that the Kyo Dashi Oinari are soaked in take up all the delicious flavour of kombu, sababushi smoked mackerel, iwashibushi pilchard, and katsuobushi dried bonito, all of which serve to add that authentic Kyoto flavour.


Tanto Otabeyasu | ¥930 (Tax Included) *Served 6:30-10:00

As well as Kyo Dashi Oinari, Tsurigitsune's menu includes a line-up of dishes that celebrate the flavour of dashi, including soba, dashimaki tamago omelette, and more.

If you're travelling to Osaka, why not get an authentic Kyoto experience too by dining at Tsurigitsune?

Information

Tsurigitsune
Grand Opening: August 5, 2020
Address: Osaka International Airport North Terminal 2F Boarding Area, 3-555 Hotarugaike NishimachiToyonaka, Osaka
Opening Hours: 6:30-20:20 (Last Orders 19:50)
TEL: 06-6836-9217

Official Website: http://www.bijuu.co.jp/tsurigitsune/

THE AOYAMA GRAND HOTEL to Open on the Former Aoyama Bell Commons Grounds This Summer

THE AOYAMA GRAND HOTEL in Aoyama, Tokyo will officially open on August 5, 2020. Set to be a new landmark of Tokyo as "a hotel where you have fun," the establishment will house 42 rooms and a restaurant which serves everything from food around the world to authentic Japanese cuisine. Table bookings for the restaurant opened on July 1, 2020.

THE AOYAMA GRAND HOTEL is opening on the former Aoyama Bells Commons building which is just a 3-minute walk from Gaiemmae Station. The hotel is managed by Plan・Do・See who also manage 6th by ORIENTAL HOTEL (Yurakucho), ORIENTAL HOTEL (Kobe)< WITH THE STYLE (Fukuoka), THE LUIGANS (Fukuoka), and more.

Gaiemmae in Aoyama is a hub for fashion and culture in Japan which is visited by people all over the world. THE AOYAMA GRAND HOTEL will slot nicely into place in the area, serving a timeless experience with its polished and relaxing atmosphere and incredible restaurant.

ROOM

All guest rooms are fitted with a unique mid-century modern style design that maintains both the welcoming vibe of the region and brings a contemporary feel. Rooms are made to offer an experience akin to living there, where guests can look forward to indulging all their senses.

The bathroom amenities offered are provided by Oltana, making this the first hotel in Japan to stock the company's products. The items were developed specially for THE AOYAMA GRAND HOTEL and blend essential oils with Japanese fermentation methods. Everything from the raw materials to the finish product is made in Japan, and all are made sustainably and ethically.

RESTAURANT

Welcoming guests at the hotel entrance is THE BELCOMO on the fourth floor which offers a delicious casual dining experience whether it be for lunch, dinner, coffee, or an evening drink.

On the same floor is SHIKAKU, a counter-style restaurant serving authentic and seasonal Japanese food that is prepared before guests' eyes with fresh ingredients.

And hidden on the 19th floor where the guest rooms are located is Aoyama Sushi Kanesaka, a sushi bar that serves exquisite sushi courses made with artisanal care and the utmost care.

Opening on the hotel's top floor this autumn too is TRATTORIA ANDREA ROSSI, a classic Italian restaurant which will serve simple yet delicious dishes, wines, and desserts prepared in front of customers. On the same floor, a rooftop bar called THE TOP will also open where you can enjoy seasonal original cocktails, specially-selected wines, champagnes, and more.

Information

THE AOYAMA GRAND HOTEL

Address: 2-14-4 Kita-Aoyama, Minato-ku, Tokyo

Rooms: 42

Price: ¥60,000-¥120,000 (2 people for 1 room)

Check In From 15:00 / Check Out By 13:00

Official Website: https://aoyamagrand.com/en/

NoMad Grill Lounge: Gaze Across Tokyo's Nightscape at Akasaka's Rooftop Beer Garden

Steak house NoMad Grill Lounge has opened its beer garden atop its rooftop terrace which offers an unbroken view of Tokyo's nighttime scenery.

The terrace spans 330m² across and is equipped with a roof in case of rain. There, customers can enjoy a delicious meal with a great drink, making it a perfect spot for dates, dinners, or simple get-togethers. The modern and stylish food is made using ingredients from Japan, such as their exquisite wagyu steak which is fried New York style and can be paired with a delicious glass of wine specially selected by the restaurant's sommeliers.

¥8000 Meal Plan

¥15,000 Meal Plan

NoMad Grill Lounge's beer garden plans are popular every year. All plans come as a set with the restaurant's super popular mini burgers. There are four plans to choose from, each with varying prices.

¥5,500 Lunch Beer Garden Plan

The lunchtime-exclusive beer garden plan is a new introduction to the restaurant.

Enjoy a great meal and drink while gazing out across Tokyo's nighttime view.

Information

NoMad Grill Lounge
Address: Tokyo Garden Terrace Kioicho 4F, 1-3 Kiochoi, Chiyoda Ward, Tokyo
TEL: 03-5226-1129
Official Website: http://nomad-grill-lounge.com

Blue Bottle Coffee to Open New Cafe in Tokyo's Hiroo District

Blue Bottle Coffee Japan is set to open a new cafe inside "THE RESTAURANT," a speciality restaurant hall in Hiroo, Tokyo, on June 11, 2020.

THE RESTAURANT is a two-floor fusion of food and wellness that caters to work culture and business people. The food hall is a collection of master chefs spearheading 17 popular restaurants known both throughout Japan and abroad. It offers great food in a casual business setting.

THE RESTAURANT's grand opening is set for July 20, 2020, but Blue Bottle Coffee Hiroo Cafe will open before that on June 11, 2020. They will of course serve delicious cups of hand drip speciality coffees, as well as the first ever "Blue Bottle Coffee Pale Ale" which was co-developed by Blue Bottle and Ise Kadoya Brewery from Mie Prefecture.

COFFEE PALE ALE: ¥750

The unique "COFFEE PALE ALE" steeps Blue Bottle's "Three Africas" coffee beans in Ise Kadoya Brewery's famous pale ale which has won many awards in beer contests around the world. When yyou take a sip, you get a fresh citrus aroma combined with a bitter combination of the coffee roast and sharp beer, making for a delightfully refreshing summertime beverage. The pale ale, served draft, goes well with the cafe's tartine sandwiches.

Blue Bottle Coffee Hiroo Cafe will also sell limited edition eco bags, exquisite chocolate, and more. The cafe is a great option for brunch or a takeout latte, so be sure to pay it a visit when going to Hiroo.

Information

Blue Bottle Coffee Hiroo Cafe
Address: THE RESTAURANT 1F, 5-4-16 Hiroo, Shibuya, Tokyo

Opening Hours: 8:00–22:00

Access: 1-minute on foot from Hiroo Station's 2nd exit

BLUE BOTTLE COFFEE Official Website: https://bluebottlecoffee.jp
BLUE BOTTLE COFFEE Official Online Shop: https://store.bluebottlecoffee.jp/

Stock Your Kitchen With Japanese Kitchenware Tools by SALON adam et rope'

SALON adam et rope' has launched its new "Nihon no Daidokoro Dougu" (Japanese Kitchen Tools) collection which features a curated selection of Made In Japan kitchenware and cookware items from high quality Japanese brands.

Kasane

Top: ¥12,000 / Middle: ¥12,000 / Bottom: ¥9,000 (Before Tax)

Traditionally, Japanese knives were made by men with men in mind, but these Kasane knives are made by women to fit with the modern age. They are made in such a way to feel comfortable in smaller hands. The handles are made from rare natural wood from the cerasus jamasakura trees of Gifu Prefecture which give them a texture that changes as you continue to use the knives. The blades themselves are made from high-carbon stainless steel which gives them superior sharpness and durability. The blade edge is the result of a new technology developed by Sumikama called "Zero Edge" which makes them thin and sharp.

Kaji Donya

 
Left: ¥1,300 / Middle: ¥2,000 / Right: ¥2,800 (Before Tax)

Left: ¥1,000 / Middle: ¥1,200 / Right: ¥2,000 (Before Tax)

These handy stackable containers are made by Kaji Donya, a company based in Tsubame, Niigata. The height of each one is the same which makes them super convenient when stacking inside fridges.

Ceramic Grill: ¥1,400 (Before Tax)

The ceramic grill is a longtime seller at SALON. If you're grilling bread on it, it leaves the outside crispy and the inside nice and soft. It uses far-infrared rays which means the water content of the ingredients grilled on it is not lost, allowing for the full tasty flavour to stay locked in and the food plump and juicy.

Father's Day: Otokomae Tofu Celebrates Dad's Around the World With New Tofu Product

Japanese tofu company Otokomae Tofu is celebrating Father's Day this year by releasing its new "Chichi no Hi Tofu" (Father's Day Tofu) at supermarkets around Japan for a limited time between June 15 and June 21.

When you pour soy sauce over the Father's Day Tofu, a message of gratitude appears on the tofu's surface in Japanese. This is a unique, one-of-a-kind tofu experience. There are four messages in total which translate to: "Manly," "Thanks always, dad. I love you, live a long life," "You work so hard papa, I love you," and "Dad."

Giving your dad some Father's Day Tofu is sure to make for a Father's Day to remember!

Information

Chichi no Hi Tofu (Father's Day Tofu)

Running: June 15, 2020 – June 21, 2020

Price: ¥158 (Before Tax)

Available: Supermarkets in Japan (Except Hokkaido and Okinawa)

Otokomae Tofu Official Website: http://otokomae.com

McDonald's Japan: Chicken Tatsuta Mentai Cheese & Other Japanese Flavoured Foods Coming to the Menu

McDonald's Japan is introducing some mouth-watering new foods to its menu including two which incorporates chicken tatsuta: the "Chicken Tatsuta Mentai Cheese" which is made with walleye pollack roe, and the bite-sized "Hitokuchi Tatsuta"ーthe latter of which is arriving to the side menu.

It is also introducing the "Rice Chicken Tatsuta" burger following the success of the "Rice Burger" which was released at stores for the first time earlier back in February of this year.


These new menu items will be released on May 13, 2020 at all McDonald's branches in Japan for a limited time.

Chicken Tatsuta Mentai Cheese

Chicken tatsuta is a popular Japanese dish which combines a soft, soy ginger-soaked chicken patty with spicy sauce and stuffs it inside a bun. McDonald's new "Chicken Tatsuta Mentai Cheese" adds spicy walleye pollack roe mayo and smooth white cheddar cheese to the equation. It will be available all day round, including for the morning menu.

Hitokuchi Tatsuta

Rice Chicken Tatsuta

The "Rice Chicken Burger" will be available in the evenings only.

Japanese actor Toshiyuki Nishida is appearing in the TV commercials to promote the "Hitokuchi Tatsuta" while comedian Nobuyuki Hanawa and actor Katsumi Takahashi appear in the "Rice Chicken Tatsuta" commercials which feature a re-recording of the song SWEET MEMORIES ~Amai Kioku~ by Seiko Matsuda.

AKOMEYA TOKYO in la kagū: Shopping Centre Celebrates 1st Anniversary With New Products

It's been one year since AKOMEYA TOKYO in la kagū opened in Tokyo in March 2019, and to celebrate, the shopping centre is releasing lots of new products for guests to enjoy starting on April 8, 2020.

AKOMEYA TOKYO in la kagū, the flagship store of AKOMEYA TOKYO, is celebrating its 1st anniversary with a new bigger and better product line-up. At the end of 2019, the new AKOMEYA Shokudo restaurant opened, and AKOMEYA TOKYO in la kagū began selling fresh vegetables and introduced AKOMEYA TOKYO's first line of Western-style clothing.

Floor 1F

AKOMEYA TOKYO in la kagū has upped its variation of food products, including a rice, vegetables, nuts, condiments, and more.

AKOMEYA Shokudo Kagurazaka to Open On April 1st

Seasonal Kobachizen – ¥2,200 (Before Tax)

Sweet and Sour Chicken & Vegetable Gozen – ¥1,500 (Before Tax)

The "Seasonal Kobachizen" is served with fresh white rice and a wide range of deliciously-made ingredients and condiments. There is also a line-up of classic Japanese food too available casually as self-service.

Desserts – From ¥700 (Before Tax)

Enjoy teatime too with AKOMEYA Shokudo Kagurazaka's dessert line-up. It will be a great place to pop into if you're strolling around Kagurazaka or doing some shopping.

*AKOMEYA Chubo will be open until March 29. It will close on March 30 and 31 for refurbishment before reopening on April 1 as AKOMEYA Shokudo.


More Details: https://www.akomeya.jp/shop/pg/1lakagukouji

Fragrant Smoked Food Products

Over 20 new smoked food products will be introduced made using special cooking methods. The cashew nuts, pistachios, spices, and coffee beans are smoked without any heat going into them before being smoked again inside a drum-shaped mixer to ensure every grain is coated. The soy sauces, oils, and dressings also have very tiny smoke bubbles in the liquid. Everything in the line-up is rich in smoky flavour

The Hive and Barrow's Vegetables

The Hive and Barrow is a husband and wife company which moved from the United Kingdom to Chiba Prefecture in 2010. With no agricultural experience, they were able to clear land at a mountain and begin producing a wide variety of organic vegetables outdoors in nature. The eye-catching colours of their produce, as well as its rich smell, is proof of their love and dedication to grow incredible vegetables. They sell fresh veg everyday, as well as exquisite hummous, soup bases, pickles and more, all using their fresh produce.

Floor 2F

The second floor houses Japanese lifestyle products, with a fun line-up that encourages the enjoyment of picking something out.

Western-Style Clothing to Dress Up Your Day

The clothing line-up offered on the second floor of AKOMEYA TOKYO in la kagū is not tied down by trends. It's a collection for when you want to look chic and polished offered by made-in-Japan brands that are dedicated when it comes to quality. The items are inspired to make you feel happy when you put them onーso find your favourite style.

Stocked Brands:
Alwel / ANSPINNEN / Catworth / dahl'ia / fruits of life / JOHN SMEDLEY / les Briqu'a braque / MANTERO / MATRIOCHIKA / NAPRON / R&D.M.Co- / Yarmo

Japanese Accessories

Enjoy a collection of brand accessories that boast tradition and craftsmanship from all across Japan. Each and every item is handmade with love and care by artisans, and without stereotypical designs in mind, so you can adorn yourself with originality.

Stocked Brands:

HARIO Lampwork Factory / NAGAE+ / TRIPLE O

As part of the anniversary celebration, those who spend over ¥3,000 (tax included) at AKOMEYA TOKYO in la kagū from April 8 will receive a limited-edition tea towel. These are limited in stock and won't be available once all are given out.

Shiseido Parlour to Open New Restaurant at WITH HARAJUKU in Tokyo

Shiseido Parlour, a pioneer of Japanese-style Western cuisine, has announced that it is opening its new restaurant and lounge Shiseido Parlour The Harajuku on the 8th floor of WITH HARAJUKU, a shopping centre located in front of Harajuku Station in Tokyo, on April 25, 2020.

Goshu no Sosai With Seasonal Ingredients

Main Dish

Shiseido Parlour The Harajuku breathes new life into the Japanese-style Western cuisine that has been cultivated in Ginza for 100 years, serving up a new prix fixe-style fixed price menu that elevates the taste, smell, and appearance of the seasonal ingredients used, from a Japanese way of thinking. This food can be enjoyed with a glass of one of the main wines selected by the restaurant's sommeliers, high-quality tea, and more.

Meals are enjoyed even more by the view offered at the restaurant, where you can see shrine groves of Meiji Jingu Shrine.

Main Dining

Forest Dinner (Chef's Recommendation) – ¥12,000 (Tax Included)

The design concept for the restaurant interior is forests. The restaurant promises a relaxing atmosphere like that of being wrapped amongst the mighty trees of the woods, the cool air blowing, and the rays of the sun spilling through the trees.

The interior design was created by Kazuya Ura, a Japanese architect who was involved with the building plan for the Kyoto State Guest House. The restaurant lounge features glass art on the wall which captures the image of sunlight filtering through the trees. This was created by Japanese glass designer Ikko Itabashi.

Lounge

The chic red lounge offers a view of the garden terrace and faces the direction of Akasaka. Tuck into appetisers and desserts and enjoy sipping on a drink. This is a great place to sit after your meal or for meeting up with someone.

If you're visiting Harajuku during your trip to Japan, why not pop into the new Shiseido Parlour The Harajuku?

Information

Shiseido Parlour The Harajuku

Address: WITH HARAJUKU (Floor 8F), 1-14-30 Jingumae, Shibuya, Tokyo
Opening Hours: 

Dining/Lunch: 11:30-15:30 (Last Orders 14:00)
Dinner: 18:00-22:00 (Last Orders 20:30)
Lounge: 11:30-22:30 (Last Orders 21:30)

Closed: Mondays (Except on public holidays), and closed April 27, 2020
Official Website: https://parlour.shiseido.co.jp/en/index.html

Popular Yakiniku Restaurant Futago to Open New Branch at THE JUNEI HOTEL in Kyoto

FTG Company, which operates 74 restaurants inside and outside Japan, is set to open its new restaurant Nikukappou Futago at THE JUNEI HOTEL Kyoto in Higashiyama, Kyoto on March 27, 2020 where it will serve authentic Japanese wagyu beef and full courses.

THE JUNEI HOTEL Kyoto is a small luxury tourist hotel housing eleven rooms in total, including its Bamboo Suite. Bamboo can be found throughout all the rooms as part of the hotel's concept: "A sojourn embraced by bamboo in a moonlit space." The rooms, as well as the hotel interior overall, showcases beautiful traditional handiwork using bamboo.

Inside Nikukappou Futago

Nikukappou Futago fuses traditional Japanese elements with modern ones. It features half-size eating areas as well as private areas. Customers can expect their private dining experience to include freshly-cooked full courses with high quality Japanese wagyu and seasonal ingredients.

Menu in Japanese *Menu will change monthly

Nikukappou Futago's concept is "A relaxed adult's Iki." The word iki here refers to a range of different meanings in Japanese, like "sophistication," "breath," "spirit," and "life." The restaurant will work to serve a hospitable service that enables each and every person to enjoy that iki that lives inside them.

Foie Gras & Wagyu Filet Mouthful Bowl

Wagyu Loin & Kyoto Vegetable Shabu-shabu

The course is made with seasonal ingredients and vegetables. Plus, in using a range of cooking methods, the original flavour meat of the meat is intensified.

Wagyu Sirloin Sumiyaki

Enjoy a selection of high-quality rare wagyu cuts like sirloin, filet, loin, and more. You can also enjoy a selection of classic Japanese dishes like yakiniku, shabu-shabu, and sukiyaki, all in one course.

Like the changing seasons in Kyoto, the menu will be altered every month to bring something new. Discover your iki and enjoy a great meal at Nikukappou Futago.

Information

Nikukappou Futago THE JUNEI HOTEL KYOTO

Address: THE JUNEI HOTEL KYOTO Floor 1F, 4-139 Honmachi, Higashiyama Ward, Kyoto
Grand Opening: March 27, 2020
Opening Hours: 17:00-23:00  (Last Orders 22:00)
No Fixed Holidays

Seats: 32 (6 Half-Size Rooms / 2 Private Rooms
TEL: 075-525-0052

Course Price: ¥11,000 (Tax and service charge not included) *Course menu to change each month

Official Website: https://nikutei25.com/

DIOR FROM PARIS TO JAPAN Exhibition Shows Off Dress Line-Up Inspired by Japanese Culture

The DIOR FROM PARIS TO JAPAN exhibition at HANKYU Umeda Store in Osaka began on March 1 where it is set to run until March 22.

The collection features a complete line-up inspired by Japan's rich culture, from dresses serving haute couture to exquisite Lady Dior bags re-interpreted by various artists. This exhibition is a coming-together of DIOR and Japan and expresses savoir faire the way a maison should.

The exhibition is also home to a gift shop selling a range of different items. It also has an audio guide presented by Japanese actress and fashion model Yuko Araki and actor and model Ryusei Yokohama, both of whom were selected as Japan Fashion Ambassadors for this exhibition.

See the worlds of DIOR and Japan collide at DIOR FROM PARIS TO JAPAN.

Information

DIOR FROM PARIS TO JAPAN
Running: March 1, 2020 – March 22, 2020
Location: HANKYU Umeda Gallery (HANKYU Umeda Store Floor 9F)
Address: 8-7 Kakudacho, Kita, Osaka
Entry: Free

Official Website: http://bit.ly/DiorFromParisToJapan