MMN Festival 2018: Experience-Based Booths Packed with Japanese Charm
MOSHI MOSHI NIPPON FESTIVAL 2018 in SHIBUYA was held across the weekend of March 24 and 25 and promoted Japanese culture to the world from Shibuya. The event ended with huge success.
One of the many things attendees enjoyed were the 'experienced-based booths.' From traditional Japan to the country's culture of kawaii, let's take a look at the line-up of booths that were packed with Japanese charm.
Harajuku Kawaii Market presented by Mynavi baito: Kawaii Culture at Laforet Museum
Japan's culture of kawaii gathered together at Laforet Museum for MMN Festival 2018. Many of the booths were popular including the accessory booths, DIY booths, and photo spots where people could go for a simple image change by putting on a wig.
Mynavi Baito
Mynavi Baito held a questionnaire for attendees regarding part time jobs. They asked questions like "Do you think your part-time work outfit is cute?" and other kinds of questions you'd only hear at MMN Festival. Those who answered were gifted an original memo pad. Mynavi also presented their Challenge Award onstage in relation to the questionnaire where fashion students were made to develop their own cute part-time work outfits. The students who made the outfits as well as the popular models put on an exciting performance.
DIY: Herbarium & Swag
Asami "Char" Tnabe was invited to host a workshop on how to make "herbariums" with colourful dried flowers and a bottle, and "swags" which are wall decorations made from plants and flowers. It cost just ¥1,500.
DIY: CHACO Hydrangea Accessories
Popular flower accessory shop CHACO held their own workshop. For ¥1,000 people made their own earrings and piercings from hydrangeas, perfect for spring and summer.
DIY: Mug Workshop
Apparel brand "Aymmy in the batty girls" led a ¥1,500 workshop where people got involved in making a kawaii mug with the brand logo and designs with spring and summer items. Aymmy designer Ayumi Seto also joined in the workshop where she showed how to make a cute mug while talking with fans.
Fortune Telling
Six fortune-tellers active in the media took shifts in fours. Just ¥500 got people an expert 10-minute reading. Lots of people turned up to this booth.
Big Harajuku Debut
Popular hair dye brand FRESHLIGHT hosted their popular campaign for people to make their big Harajuku debut (#原宿デビュー大作戦). They changed up their image with colourful wigs and took photos in the kawaii pink photo booth. Prizes will be sent at a later date to those who joined in the hashtag campaign by posting on social media. The models who performed on stage also stopped by this booth where they were posting plenty of 'kawaii' online.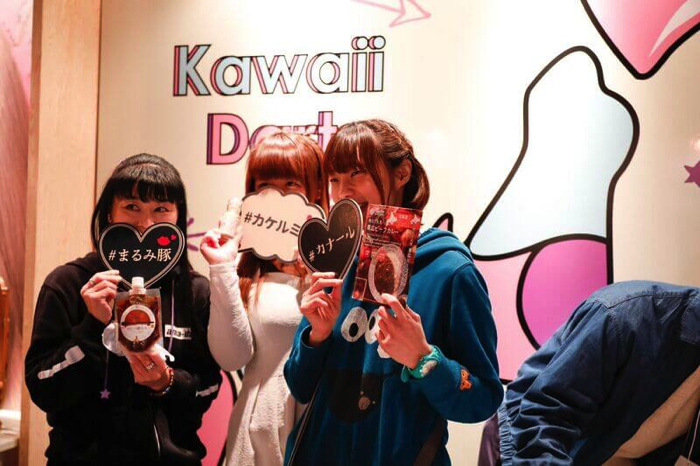 Kawaii Darts
This game challenged people to throw darts onto a map of Japan. Local specialties unique to specific regions were given out depending on which parts of Japan were hit, such as kakeru miso from Nagano and cabbage cider from Gunma.
 Kawaii Basket
To win, people had to shoot a ball into a kawaii goal that looked just like a floral headband. Kawaii products from around Japan like accessories and cosmetics were given out depending on how many goals were scored.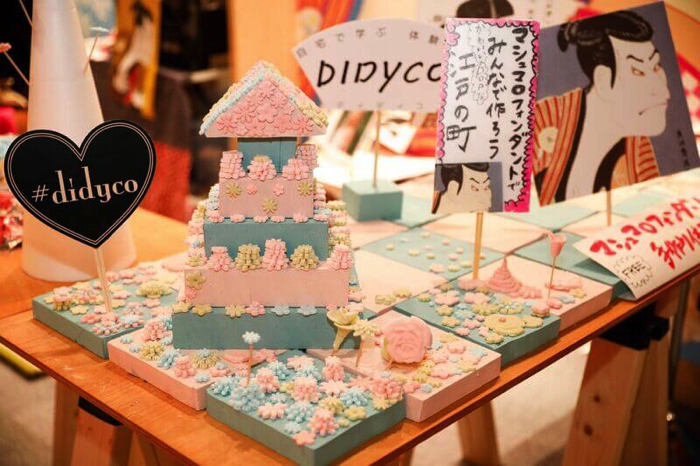 OH!江戸ポップ -oh,EDO POP!!-(DODYCO)
People handmade marshmallow fondants, a photogenic dessert that originates from the US. They decorated it with flowers they cut themselves and other bits and bobs to make a castle and street, giving the Edo Period a taste of contemporary Harajuku. Timeless pop Edo desserts were brought to life at the festival.
Clarence Lee Design ~111-HAWAII PROJECT~
Japan's first collaborative project between a Hawaiian design company that combines Japanese ukiyo-e with Hawaiian motifs and a Japanese enterprise. Thanks to the success of crowdfunding, this project will bring about an array of apparel items fusing Japan and Hawaii, such as aloha shirts with traditional ukiyo-e prints.
Hawaiianjewelry -Aquabelle-
Hawaiian jewellery brand Aquabelle prepared a photobooth inspired by Hawaii's sandy beaches where people could feel like they were in Hawaii from Harajuku, with white sand and hibiscus in the frame!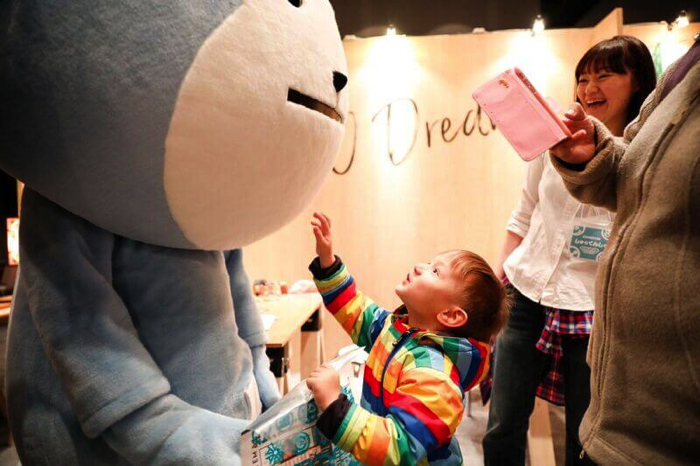 Hikari TV Dream
At the promotional booth for crowdfunding service Hikari TV Dream, people enjoyed making their own wooden keyholder with the same wood used in the creation of Okawa Kumiko, a brand of furniture from Okawa in Fukuoka that has been designated as 'an art form to leave behind for the future.' Hikari TV's main character Hikari Kaesaru also made an appearance to excite everyone.
NOTO HI BAKARA
Those who rolled up to this booth enjoyed a game of jenga made up of hinoki building blocks. Hinoki building blocks don't generate bacteria even if a child licks them. The wood acts as an antibacterial and pesticide. The prize included NOTO HI BAKARA 'essential water' made with hinoki extract.
Cute Tanuki Don't Have It Easy Either
Ponkichi is the tanuki who came down from the mountain and just wants to kill, kill, kill humans from the manga series Kawaii Tanuki mo Raku Janai (Hakusensha). The popular foul-mouthed tanuki had his own photo spots where people took photos while hearing abuse from Ponkichi. They also made their own bad-mouth pin badges for free from 12 varieties.
Yuzawaya
Yuzawaya held a workshop to make popular herbarium piercings as well as resin piercings and earrings. The herbariums combined flowers and oil. Each class lasted 30 minutes and was a hit with people every time. Many people enjoyed making this original accessory.
Tokyo Flea Market
A flea market was held which sold personal items of the stage performers including Natsume Mito, Ayumi Seto, Rinko Murata, Yuru Suganuma, and more. The line-up included items the performers had worn in magazines and on their social media.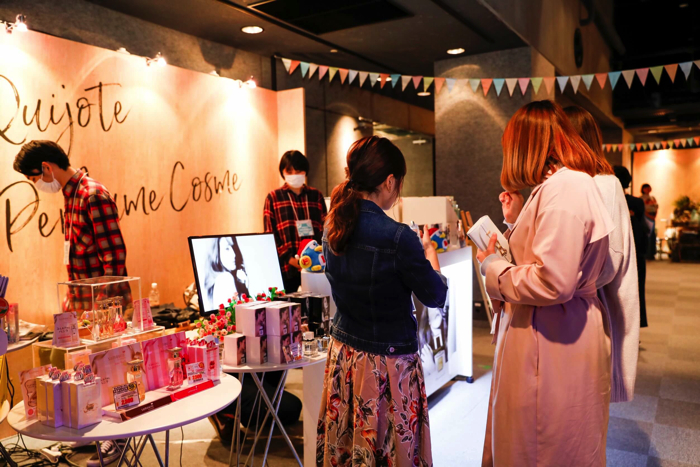 Don Quijote Perfume Cosmetics
The Don Quijote booth sold around 30 different brands of perfume. The staff working there were scent experts and offered advice on recommended perfumes like it was a perfume bar. Normally when you buy their perfume you have to pay a fee to get your name inscribed on the bottle, but they offered the service for free at the festival. "D Ting Eau de Toilette" by Akemi Darenogare also made its first Japan appearance.
MOSHI MOSHI NIPPON Market: Experiencing Japan's Unique Culture for Free
Various aspects of Japanese culture were presented at SHIBUYA CAST. From food to art, sightseeing and moe, everything was enjoyed by Japanese people and foreigners alike.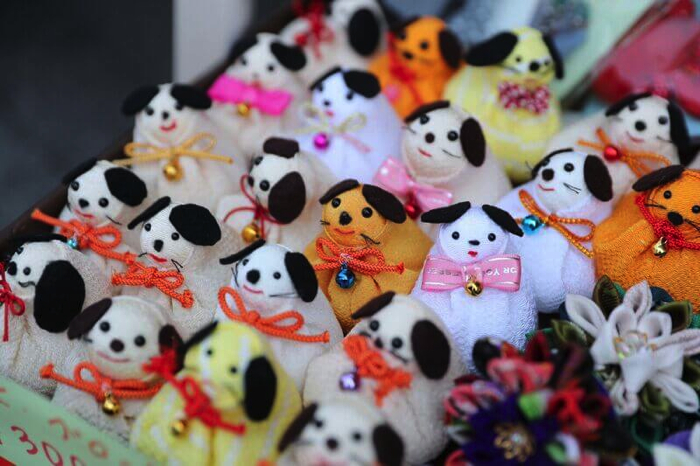 Delivering Satoyama Spring #tamura
A promoter of local specialities from and sightseeing in Tamura in Fukushima Prefecture. They sell Youchuu Gumi, (¥400) or larva gummies, named after the popular sightseeing spot Kabutomushi Shizen Kansatsu-en. They are shaped like the real thing – the body is Calpis flavoured while the centre is filled with purple blueberry sauce, creating a strange taste. They also sold strawberries, a noted product from Tamura.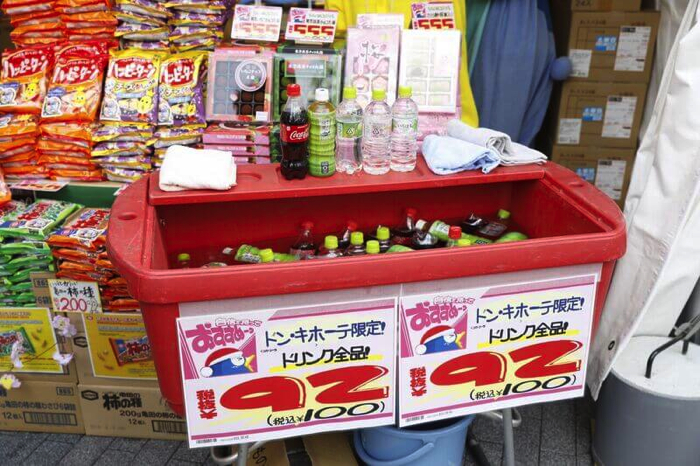 Don Quijote – Souvenir Candy
Don Quijote is a super souvenir shop, and at the festival they stocked lots and lots of confections that screamed 'Tokyo,' including some of the most popular snacks and common snacks, chocolates, as well as the Tokyo strawberry chocolate daifuku, a defining souvenir of the city.
Katsukonmi
This booth managed by Keihan Sangyo handled Katsukonmi, a flavourful powdered dashi made bountifully with carefully selected ingredients such as katsuo tuna, mackerel and konbu. People were able to taste test dash stocks that used Katsukonmi. They also have a future line-up planned of new products with plenty of dietary fibres perfect for dieting.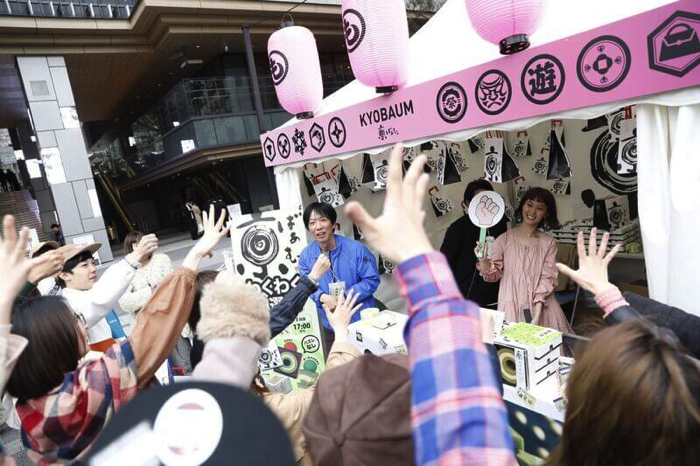 Kyo Baum
Kyo Baum has stores in Gion, Shimizu and elsewhere and specialises in Uji matcha and soy milk flavoured Baumkuchen. Lotteries were held 3 times each day to win tickets for Kyo Baum, which are the perfect eating-and-walking snack, original masu boxes, and more. There was a huge line for the lottery before it began. The matcha and sugar fondant offers a crunchy texture at room temperature, and a completely different delicious experience when melted.
MOSHI MOSHI Kimono Salon
People had the opportunity to try on kimono with a Harajuku-style spin – lots of colours, eye-catching designs, studs and more. It was free to put on yourself and take a selfie, or ¥1,000 for the staff to help you put it on and take a picture. It cost ¥4,000 to rent the kimono for as long as the booth was open. There were lots of girls enjoying the MMN Festival experience by strolling around Onden Shrine dressed in kimono!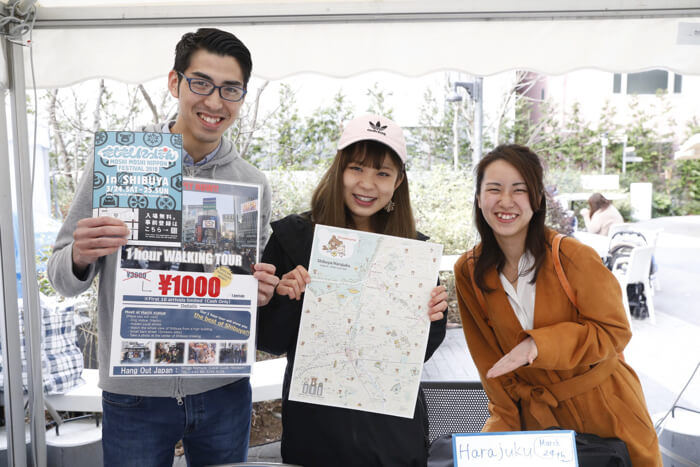 HARAJUKU EXPERIENCE
Official Harajuku sightseeing tours were held for foreign travellers by Airbnb. "Hidden Fashion Street Tour" enabled people to enjoy Harajuku fashion, "History Tour" detailed the history of Harajuku, "KAWAII×Food Tour" combined kawaii culture with cuisine, and the "Official Tour" took people around the various MMN Festival areas. The tours were mostly aimed at foreign travellers, but lots of fans turned up at the same time as the tours to see Saki Shibata and the other models working as tour guides.
PERFORMANCE SPACE
Creator MIOCHIN held a live painting session called Mio's World where she illustrated from her colourful pop perspective. This was her first ever live painting. She completed the piece across two days using permanent markers and POSCA markers while interacting with fans.
Maebashi "Kusatsu" Support Booth
A booth promoting the city of Maebashi in Gunma Prefecture, people had the opportunity to enjoy a footbath experience in the image of Kusatsu Onsen – a famous Japanese hot spring resort in Kusatsu – right in the middle of Shibuya. People lined up one by one to rest their tired feet. It became the resting place of the festival. There was also an introduction to professional football club Thespakusatsu Gunma supported by Maebashi city, as well as fliers handed out for Susono.
SHIBUYA FASHION FESTIVAL
SHIBUYA FASHION FESTIVAL.13 was held on March 24th. A lottery was held to win special benefits that could be used at participating stores.
Amato Café
Amato Danshi, the six-member idol unit centred around sweets, worked at their very own café. One of their recommended chocolates was the DEL'IMMO Bon Bons which came with a kabedon (¥1,800). The kabedon is a popular way of expressing love in Japanese media, such as anime, where one person hits (don) the wall (kabe) with one hand and pins someone against it. After receiving a kabedon from the group's members, customers were fed chocolate. What a heart-throbbing menu!
Maidreamin
The number one maid café group Maidreamin set up shop at the festival. For the special "SAKURA Float" (¥1,100 w/ omajinai), the main maids gave cute instructions to power up the item. It was quintessentially 'moe' and 'kawaii' made with cherry blossom syrup and cherry blossom ice cream. Customers also dressed up in maid outfits and original merchandise was sold. It was a sight to behold seeing customers experiencing maid culture for the first time and really getting into the fun of it, from girls to entire families.
MUSIO, Your Curious New Friend
Musio is your robot friend who came from the future. Equipped with state-of-the-art AI, Musio is able to do things like have natural conversations and express emotions. Everyone chatted with him and had their fortunes told.
The festival took place in 5 areas, and because there was plenty to be enjoyed for free, we saw many people having fun stopping by each location throughout the day.
5 areas, 5 themes. That was MOSHI MOSHI NIPPON FESTIVAL 2018 in SHIBUYA. This year was a huge change from last year. How did you find it? Did you have fun?
MOSHI MOSHI NIPPON will continue to promote Japan's multilayered culture to the world through our website, at events and elsewhere. We post the latest information about events on our website, so don't forget to stay up to date!
RECOMMENDED ENTRIES
MMN Festival 2018 Report: Idol Stage at Tower Records Shibuya Rooftop SKY GARDEN

MOSHI MOSHI NIPPON FESTIVAL 2018 in SHIBUYA delivered Japanese culture to the world from Shibuya. The event saw 16,000 people attend across the two-day period to experience a new kind of Japanese festival.

This report will cover the Featuring Japanese new music "MOSHI MOSHI MUSIC FESTIVAL" event that took place at SKY GARDEN on the rooftop of Tower Records Shibuya, a place which which has built a history of music in Shibuya.

Idols are one aspect of Japanese culture that Japan can boast to the world. The event showcased a line-up of idols groups that MOSHI MOSHI NIPPON (MMN) want to introduce to the world. Let's take a look at the idol stage which was packed full of Japanese 'kawaii'!

Kicking off the performances on Day One was two-member idol unit C-Style from the city of Kisarazu. They left a strong impact on the crowd dressed in red and blue sailor outfits and donning sunglasses.

Next was another two-member unit, Kus Kus. Their perfectly coordinated choreography captivated the audience as they danced to the tune of easy-listening electro pop.

Wyenra were the third act. If you were to divide shadows and sunshine they are a group who certainly bring the 'shadow,' wrapping the crowd with the dark side of springtime weather.

The fourth group were dancing rock idols QUEENS. Wyenra debuted this year on February 10th while QUEENS debuted on January 31st. You would never know these groups had formed so recently with their magnificent performances.

As the sun started setting on SKY GARDEN, Jewel☆Neige stepped onto stage wearing dazzlingly beautiful white and silver outfits. The audience made a huge display of their excitement with the group's unshakable performance.

Act number six was 5-member group CY8ER. There was a sense of mutual elation with everyone gathered in the crowd with the group's Japanese-esque-incorporated future bass songs with easy choreography that even first-timers seeing the group could copy.

The seventh group on stage was Nankini! Unfortunately, one member was unable to make it, but the remaining two put on a thrilling performance with everything they had. If you wanted to see them three of them together then be sure to check out another one of their events.

The final idol group of Day One was Yamakatsu whose fired up performance also had the people in the crowd psyched and singing as they wrapped up the day with the right amount of exhilaration.

The top batters for Day Two were C-Style once again. For the second day the members wore special green happi coats which had the Japanese character 'mo' (も) on the back.

Following them was NEO JAPONISM who made their debut in December 2017. Their 'neo' sound had the crowd pumped. Their outfits had a mode taste to them and incorporated a traditional Japanese style which looked pretty even on an outdoor stage.

Act three was Yamakatsu who also performed on Day One. They put on a galvanizing performance to even more people this time. And although they didn't perform it on this day, people are looking forward to their new single distopia set to hit shelves on April 17th.

Next was The Dance for Philosophy for which over 400 people turned up to the roof. The group wowed the packed venue with their funk numbers and outstanding vocal abilities.

PPP!PiXiON were next to grace the stage. Despite one member graduating from the group leaving them with four members, there was some serious support from the fans as each of them put on an energetic performance.

Sakidori Hasshinkyoku who went on stage as the sixth act began their performance with their song Karimen Destiny which was released in February. They wrapped up their setlist with their staple track Gimirepa and brought much excitement to the floor.

Following them was APPARE! Harajuku who are tied to the same studio as Sakidori Hasshinkyoku. Their setlist also inevitably livened the atmosphere, and their final song Harajuku Sunny Day had the crowd so pumped as if the building was going to fall down.

As night turned and the rooftop turned to black, the progressive sound and singing abilities of the four members from sora tob sakana established their style as unique – even in the idol world.

Pulling the curtains shut on Day Two was idol group Lovely Doll. The performance from the seven members was the kind of performance you'd expect from such a seasoned group. They finished up Day Two with Calendar Girl which was voted as the number one most popular song amongst fans.

MOSHI MOSHI NIPPON FESTIVAL in SHIBUYA 2018

MMN Festival 2018 Report: Onden Shrine – Bon Odori and an Array of Ennichi Food

MOSHI MOSHI NIPPON FESTIVAL 2018 in SHIBUYA promoted Japanese culture to the world from Shibuya. Over the course of two days, MMN delivered a new kind of Japanese festival to 16,000 people.


In this article, we report on Onden Shrine – one of the four areas of the festival – where the gods of Harajuku are enshrined. Let's take a look at the line-up of performances for the stage area as well as the variety of booths!

Stage


Mio Ooyama was in charge of presenting the on-stage performances and, with her bilingual skills, introduced each performer to the audience.

Satsumasendai Odoridaiko opened the stage with a team made up entirely of women who struck their drums like thunder. Dressed in traditional outfits, the traditional sound of their drums rippled through across the event.

The members of maid café group Maidreamin put on a full-force idol performance, captivating the crowd with their catchy music and kawaii dance moves!

Next on stage was kendama performer EASY, who is also active overseas too. His skilful performance with his kendama – a toy enjoyed by both children and adults – garnered him huge rounds of applause.

Then it was character DJ time, which all the kids had been waiting for! Shimockey of Shimo-Kitazawa and Coroton of Gunma Prefecture were there to entertain. They both sang and danced together with the children! Shimockey and Coroton were also very popular outside DJ time too.

Last on stage was Ukon Takafuji of YUMENOYA for the Japanese dance show. At the end, all the performers, attendees and venue staff joined in with Bon Odori dancing! Everyone got involved from children to adults, overseas tourists and the character DJs.

Ennichi Area


The Ennichi area was filled with food and games, as well as MOSHI MOSHI NIPPON style workshop booths. There was a diverse line-up of booths enjoyed by kids, grown-ups and foreigners too.

Harajuku Rainbow Cotton Candy


The colourful cotton candy store from Takeshita Street in Harajuku TOTTI CANDY FACTORY served up a special event-only menu. They sold a numer of things, including TOTTI Rainbow (¥800) which was a combination of 5 flavours: plain (white), strawberry (red), carbonated (blue), and lemon (yellow). Cotton candy is a common treat sold at shrine food stalls, but TOTTI give a Harajuku spin to it. People carrying cotton candy around Onden Shrine really decorated the area.

Amezaiku


The amezaiku booth was very well received last year too. Not only could to purchase some amezaiku candy, you could also make your own amezaiku rabbit, bear and more together with the teacher.

Mizuhiki


Mizuhiki artist Kaori Funaki was invited to hold a workshop for people to create 'mizuhiki' which are special cords that tie envelopes used for monetary gifts. There was also individual mizuhiki related merchandise on sale, such as chopstick rests.

Kendama


Global Kendamas Network was established to help spread the use of kendama, a popular sport originating from Japan that has given rise to pros around the world. Kendama performer EASY performed on stage, kendama for pros were sold, and people tried out kendama themselves.

Onden Shrine Omamori


Omamori and other items are sold at Onden Shrine. The god of beauty is enshrined at Onden Shrine, so the small, round omamori charm for "Beauty" (¥500) was very popular amongst girls. With foreign tourists, the omamori for "Victory" was popular.

Learn Shrine Etiquette


As part of the Harajuku tours by Airbnb which began and finished at SHIBUYA CAST, people were taught the proper manners and etiquette to praying at Japanese shrines, including about torii gates, temizuya, hishaku, and the main shrine building. Foreign tourists with an interest in Japanese culture were happy to get involved.


People were also able to participate in a formal sanpai and learned about 'tamagushi houten' – humbly presenting a tamagushi, a type of Shinto offering.

Frisbee Strike Out

At this booth, people had to throw a frisbee 6 times. When they got 1 line of bingo they picked one item they liked, and when they got 2 lines they picked two. Even if people didn't get bingo, awards were still handed out to participants. The line-up included regional Japanese specialties such as "Soy Sauce Mochi" from Oita Prefecture and staple souvenir from Fukushima Prefecture "Brown Sugar Manju".

Target Practice Game


The target practice game is common at Ennichi, but this was a special MMN Festival version. People had 5 shots per turn, and depending on how many targets they shot down, the number of prizes would change. Those who couldn't land a shot weren't left out however and were gifted low calorie chocolate. Prizes included tins of oden, tom yum flavoured okaki, and more.

Did you enjoy the events at Onden Shrine? We took elements from traditional Japanese matsuri festivals and put a MOSHI MOSHI NIPPON spin on them. During the Onden Shrine events, we were able to receive cooperation from local people and those associated with the shrine prior to the festival until the end of the festival.

MOSHI MOSHI NIPPON would like to continue holding even more events in the future where locals and those visiting Shibuya and Harajuku can have fun together.

MMN Festival 2018 Report: Natsume Mito Helps Children Paint Day Care Center for Happy Wall Project

On March 24th for MOSHI MOSHI NIPPON FESTIVAL 2018 in SHIBUYA, Japanese paint company ROOMBLOOM held the Happy Wall Project which they have been doing since 2014, an activity that contributes to society.

The Happy Wall Project is a volunteer project based on the idea of enrichening one's life even more through painting. The first run was held at Hiratsuka Children's Center and has since made its way to 21 educational facilities and welfare institutions across Japan.

With backing from Shibuya City and the Shibuya Tourism Association, ASOBISYSTEM, who produce the MOSHI MOSHI NIPPON FESTIVAL, held the Happy Wall Project as a workshop for children at Mirai∞LABO KIDS, a daycare facility located on Cat Street in Ura-Harajuku, to promote the growth and prosperity of Shibuya and Harajuku.

On the day, enrolled students and graduates of Mirai∞LABO KIDS worked with children with Down's syndrome and autism who are members of the painting group atelier A as well as people associated with Nippon Paint Holdings to create a picture book amongst other arty things. Natsume Mito also received approval to get involved.

The project they worked on was painting 3 of the walls at Mirai∞LABO KIDS. They didn't use monochromatic colours for the biggest wall – they painted a circus tent. This is the symbol of the institution. Circus members have an unbroken fighting spirit. They challenge themselves to things other people don't. These are all indispensable elements children must possess. There's a hope in the center to one day give birth to someone who will go on to work in the circus after leaving.

Natsume Mito spoke with the children to decide on what paints to use for the colour scheme of the circus tent. Instead of strong, darker colours, they decided to go with lighter pastel colours so that the children can feel calm. It was quite a challenge however as there were 189 paints to choose from. For the circus tent they chose "Birthday Present" pink, "ALOHA!" light blue, and "Grass Hopper" green. For the sides of the wall they used "Little Kiss" cherry blossom colour. The colour names were all unique and exciting.

The smaller children began painting first. There were children who had fun using their hands instead of paint brushes to put hand prints on the wall. Smaller details and parts of the painting that were higher up were left to the older children. People of all ages worked together and helped each other out, and after about an hour, the paint project was completed.

When it came to snack time to wait for the paint to dry, Natsume Mito played hide and seek with the kids. A sense of connectedness through working together rang through the room. It was a warm atmosphere, and the laughing never stopped.

After tearing off the masking tape the painting was complete. The adult guardians who watched over the work applauded everyone for their admirable efforts.

The daycare center was now bright thanks to the paint job. And a picture of a new circus tent was now in the room. The children will likely never forget about the place they helped decorate.

▼Check out this video which captures footage from the day.

■Information

MOSHI MOSHI NIPPON FESTIVAL 2018 in SHIBUYA

Locations: SHIBUYA CAST. / Tower Records Shibuya / Laforet Museum Harajuku / Onden Shrine

Dates: Saturday 24 March – Sunday 25 March

Time: 11:00-21:00 *Times differ at each area

Official Event Website:https://fes18.moshimoshi-nippon.jp/

MMN Festival 2018 in Shibuya: Laforet Museum Harakuku – Day 2 Report

MOSHI MOSHI NIPPON FESTIVAL 2018 in SHIBUYA was held across two days where Japanese culture was delivered to the world from Shibuya.

As the gentle spring air embraced us, the Harajuku Kawaii Market saw at Laforet Museum Harajuku its second run on day two of the festival, with more appearances from hugely popular models and artists.

Kicking off the stage events for Day 2 was Rikako Ōya (Babyraids Japan), Ellie, Yuri Suganuma, Ema Tanioku, and Yuna Yabe who held their talk session A Lesson on Being Photogenic. The six photo experts looked pictures from their articles on the MOSHI MOSHI NIPPON website while giving tips and tricks on how to make yourself more Instagrammable.

 
Chamereon Takeda returned once more to the stage for day to with her Zodiac Sign Rankings. Hikari Shibata had her fortune told with western astrology and tarot cards. Hikari herself loves fortune telling. According to her tarot reading, "If you're crazy about something you won't be able to escape, but if you think before you act, you will have good fortune."

At the end of the talk session, the horoscopes for April were announced. 1st place went to Cancer. Everyone in the audience, too, was happy to hear the ranking list.


Next on stage was the Fashion & Hair Dye Talk Session with Hikari Shibata, Yuri Suganuma & MIZUKI (KORD) presented by FRESHLIGHT. Popular models Hikari Shibata, Yuri Suganuma and MIZUKI (KORD) welcomed guest Michelle, who's influential in China. The four of them chatted about their experiences with hair dyeing as well as their recommended hair colours for spring.


Michelle was asked about the hair dyeing scene in China. She said that light colours are popular over there during spring. It's common to see a lot of people with pink hair, the same as in Japan. On the FRESHLIGHT website there's a video of MIZUKI skilfully demonstrating how to dye your hair, so be sure to check it out.


Amato Danshi were last on the list for the first slot. There was a real sense of oneness with the audience as if the hype from day one still lingered! During their high-tempo song Chocolate, the guys surprised everyone by throwing actual wrapped chocolate into the crowd. Everyone went crazy!

After a short break, Noah Satou and Ren Koseki opened the stage for the second slot. Their talk session centred around their Recommended Spring Cosmetics, where they introduced a variety of cosmetics from high brand to low price. It seems like the two of them are into coral this spring. They said that it can be used for a much more toned down look compared to pink.

Mynavi Baito presented their Challenge Award again on stage. Three teams of fashion students were challenged to create cute part-time work outfits which were worn on stage by Yuri Suganuma, Mei Nagasawa and Anna Yano. Team 95 created an izakaya outfit, Team Hikari produced a gas station uniform, and Team Twinkle served up moving-company couture.


The audience made their vote and Team Hikari came out on top as winners this time! One big point about their outfits was how it echoed not only the kawaii of Harajuku, but of Japan. The three of them, all born in 1995, have gotten along and been on the same wavelength since they started designing the outfit. Their victory smiles left a big impression.


A huge cheer welcomed MAGiC BOYZ onto the stage, a hip-hop group formed of three high school DJs Toma, Ryuto and Mahiro, and elementary school DJ Joe. To begin the set, the audience did some call and response with Joe, shouting "Majibo!" (short for MAGiC BOYZ) and "Kawaii!" Their passionate Japanese rap cemented their performance as the most enthusiastic, high frenzy of the day.

Yutaro stepped onto stage next to answer people's questions in his Q&A segment.  He answered everyone's questions honestly, such as "Where did you plan your first trip to?", "If your boyfriend's fashion style is uncool, how should you get him to fix it?" and "What type of girl do you like, and what hairstyle?" Everyone was absorbed in his answers.

The final event to wrap up the stage was Learn Japanese Spring Trend Styles with Shibasaki & Rinko♡. Saki Shibata and Rinko Murata introduced co-ords using their own personal items and offered suggestions and tips.

A flea market was also held on stage where people could enter a lottery to purchase personal items from models that attended the festival. People that bought Saki and Rinko's items were overjoyed after hearing them tell the story behind each one! Harajuku Kawaii Market took place on March 24th and 25th. It promoted Japan's kawaii culture from Harajuku and proved a roaring success.

MMN Festival 2018 in Shibuya: Laforet Museum Harajuku – Day 1 Report

MOSHI MOSHI NIPPON FESTIVAL 2018 in SHIBUYA is currently being held across Saturday March 24 and Sunday March 25, serving Japanese culture to the world from Shibuya. Day one ended with huge success. Laforet Museum Harajuku, one of the four areas of the festival, was home to the Harajuku Kawaii Market take place, an event themed on the concept of "Find Japanese Kawaii♡". The market was lined with a whole host of booths where people got up close with Japanese fashion, beauty, fortune-telling, DIY and more. But that's not all.

The stage was graced by models heavily active in Harajuku-style fashion magazines, popular social media influencers, and others, all of whom shook the house.

Kicking off the stage performances was none other than Amato Danshi, a six-member male idol group whose concept centres around sweets and candy. "We want to spread the greatness of sweets even more!" They sure weren't lying with those words, as the guys surprised the audience by gifting everyone sweets during their set. Things got really exciting during their high-tempo track Shu Cream ("Cream Puffs") as the crowd joined in with the group members in some seriously energetic dancing!

With excitement still rippling through the room, "Mynavi Baito presents Challenge Award" was next on stage. Nine fashion students were split into teams of three who were challenged to create cute part-time work outfits to promote to the world. Yuri Suganuma, Mei Nagasawa and Anna Yano stepped out onto stage and presented the outfits by wearing them. Team 95 created an izakaya outfit, Team Hikari produced a Gas Station uniform, and Team Twinkle served up moving-company couture.

The audience were made to vote for a winner with a raise of hands. The winners of the Challenge Award were Team Twinkle and their mover outfit! They went away with a cash prize of ¥100,000. Tears were even seen from the team upon hearing the announcement. It was a moving stage event – you could see their passion and how hard they had all worked.

Natsume Mito put on her fashion show where the tender and slightly mysterious world of Tomonori Taniguchi's picture book Bulldog Tantei to Kieta Hoshi (BUNKEI Co., LTD.) was brought to life with performances from Japanese models Akari Abe, Manaka Arai, Alice Ikeda, Anna Kawamura, Aino Kuribayashi, Saki Shibata, Yuri Suganuma, Ema Tanioku, Eri Tanioku, Chie Tsuji, Rinko Murata and Una while Natsume Mito read the book aloud.

Natsume wore a smile of joy on her face when the fashion show came to an end. She announced, "It was a challenge to bring to life and convey something that you imagine in your head. I want to go on to create the opportunity to produce more picture book stage shows!"

Natsume Mito show after report

The first slot of performances came to a close and led into slot two. Youtuber Megane and models Yoshiaki and Michi were invited as guests for a talk session. They showed lots of private photos while giving backstory to each of them. They also blurted out frank insights into each of the pictures which had people in stiches.

In a talk show with popular illustrator Fusedy and Koseki Ren, the two of them gave their cherished opinions of the topic of romance. It was very much a talk between two people who have known each other for 4 years. They were on the same wavelength. It was a girl-talk which showed no sign of stopping as they chatted with plenty of "I know, right!" and "Tell me about it!" moments as Ren empathised with the contents of Fusedy's book.


Next on stage was none other than Rilakkuma! To realise Shibuya's recent appointment as a city for international tourism and culture, an inauguration ceremony was held on stage to name Rilakkuma an official Shibuya Tourism Ambassador!

Seeing that had people sighing in adoration with accompanying exclamations of "kawaii."

With three more stage events wrapped up, it was time to move on to slot three. The first of the performances was the "Fashion & Hair Dye Talk Session with Ren Koseki, Hikari Shibata, Yuri Suganuma, Ayumi Seto and MIZUKI (KORD)" presented by FRESHLIGHT. Popular models Ren Koseki and Ayumi Steo, as well as popular stylist MIZUKI (KORD), chatted about their experiences with dyeing their hair, recommended hair colours for spring, and more.

that when it comes to spring, it's all about warm colours. When you want to shake things up a bit for going out during spring break, why not go for an easy and comfortable image change with hair dyes from FRESHLIGHT?

Fortune-teller Chamereon Takeda read Mei Nagasawa – who loves spirituality and going to shrines – for romance and work in her "Love Compatibility Rankings: Zodiac Signs" session. Chamereon Takeda used western astrology and tarot readings for Mei, who was interested in her marriage partner. She was told "Your luck will increase for both romance and work starting this autumn. It will be a time where you form a bond with someone you need, and break away with someone you don't."

In the second half of the show, Chamereon Takeda also announced the rankings for love compatibility for each zodiac sign. Coming in 1st place was the Taurus! The scene of people devouring the demonstration was a sight to behold – as if people really wanted to hear their destinies.

The final act of day one was a talk session with Saki Shibata, Ayaka Segawa, and Rei Maruyama. The three of them work as a model, artist & nurse, and performer respectively. Their open and honest discussion focuses on their careers. The conversation got pretty lively as expected from three friends!

That's it for day one at Harajuku Kawaii Market. Look forward to the performances on stage on day two!

MOSHI MOSHI MUSIC FESTIVAL CUTUP STUDIO after report

Harajuku Kawaii Market Afterreport DAY2

■Information

MOSHI MOSHI NIPPON FESTIVAL 2018 in SHIBUYA

Locations: SHIBUYA CAST. / Tower Records Shibuya / Laforet Museum Harajuku / Onden Shrine

Dates: Saturday 24 March – Sunday 25 March

Time: 11:00-21:00 *Times differ at each area

Official Event Website:https://fes18.moshimoshi-nippon.jp/ja/

MMN Festival 2018 Report: Natsume Mito Produces and Performs First Show "Tobidase! Picture Book Show 〜Storytime With Natsume Mito〜"

MOSHI MOSHI FESTIVAL 2018 in SHIBUYA was held in Shibuya and Harajuku on March 24th and 25th. On Saturday March 24th, model and artist Natsume Mito held her first ever fashion show Tobidase! Picture Book Show ~Storytime With Natsume Mito~ at Laforet Museum Harajuku.

 

Natsume Mito fully produced the fashion show which was themed on Bulldog Tanei to Kieta Hoshi (BUNKEIDO Co., LTD.), a picture book by Tomonori Taniguchi. The story is as follows. The stars have disappeared from the sky. During this time, a letter arrives for the bulldog detective requesting he search for the lost stars. He accepts and heads out to find them. He's able to locate them, but why did they disappear, and who sent the letter…? This exciting story is full of heart and can be enjoyed by kids and adults alike.

 

Natsume Mito read the story aloud while a cast of Japanese models brought the world of the book to life through fashion. Models that performed included Yuri Suganuma, Ema Tanioku, Eri Tanioku, Aino Kuribayashi, Chie Tsuji, Abe Akari, Saki Shibata, Rinko Murata, Manaka Arai, Alice Ikeda, Una, and Anna Kawamura. Natsume Mito styled the outfits in the image of everything from the bulldog detective to the animals, moon and stars. The models were immersed in their roles and walked and posed as directed.

Bulldog Detective (Eri Tanitoku) & Gorilla (Rinko Murata)

 

Bulldog Detective (Ema Tanioku) & Owl (Una)

Bulldog Detective (Ema Tanioku) & Starfish (Saki Shibata)

Bulldog Detective (Eri Tanioku) & Stars (Yuri Suganuma, Chie Tsuji, Aino Kuribayashi, Akari Abe, Rinko Murata, Manaka Arai)

At the end of the show, the models that performed spoke with the stage presenter Rei Maruyama and gave their thoughts on this first ever fashion show.

Anna Kawamura (Tortoise): Beret – Caorinomori / Hairband attached to hat, Brooch – Barairo no boushi / Bootsu – gREEN DOT / other personal items UNA (Owl): Innerwear, Jacket, Fringe Skirt – Barrack Room / Tulle Skirt – Gaijin / Hat, Choker – MARTE / other personal items Yuri Suganuma (Star): Neckband – SPINNS / Lace Pants – gREEN DOT / other personal items Chie Tsuji (Star): One Piece, Shoes – daidai / Camisole One Piece – Barrack Room / Necklace – CA4LA Bridal / other personal items Ema Tanioku (Bulldog): Shoes – daidai / other personal items

 

Eri Tanioku (Bulldog): Jacket, Shoes – HUG / Blouse, Hat – SPINNS / other personal items Alice Ikeda (Moon): Belt – HUG / Pumps – gREEN DOT / other personal items Manaka Arai (Star): One Piece – MARTE / Hair Accessory – CA4LA Bridal / Pumps – Gaijin / other personal items Rinko Murata (Star): Lace Gown – Barrack Room / Shoes – RANDA / other personal items Saki Shibata (Starfish): One Piece – gREEN DOT / Neckband, Pumps – Gaijin / Hair Accessory – CA4LA Bridal Aino Kuribayashi (Star): One Piece – Gaijin / Lace Top – gREEN DOT / Hat – Barairo no boushi / Hairband attached to hat – Caorinomori / Sandals – RANDA

Natsume Mito Comment:

"I went and produced a show that combined a picture book with fashion. This was my first time doing this, so I was worried perhaps due to my own self-satisfaction. I was finally able to feel relief after hearing claps from people who came to watch (laughs). Thank you so very much to everybody who came! And to all the models who performed too. I'm happy that the outfits I put together went perfectly with everyone. I can see once again how difficult it was to convey what was in my head to the staff too. It was a very good learning experience. I want to try creating another stage show that conveys the wonder of loving picture books together and the fun of fashion!"

Tobidase! Picture Book Show ~Storytime With Natsume Mito~ wrapped up with much success. Look forward to the many things Natsume Mito will challenge herself to next!

Outfit Co-Operation: Gaijin / CA4LA / Caorinomori / gREEN DOT / SPINNS / daidai / HUG / Barairo no boushi / Barrack Room / MARTE / RANDA
RELATED ENTRIES
Re:Zero Characters Ram and Rem Birthday Goods Available at Shibuya Marui

Starting February 2, 2022, Shibuya Marui begin selling Ram and Rem birthday goods! The popular characters from the anime series Re:Zero will be featured in brand-new illustrations exclusively for the event, showing them in their pajamas on a plethora of merchandise. Two birthday sets have been announced ahead of the event's start date.

Selected Merchandise

Ram & Rem Birthday Celebration 2022 Mug

Ram & Rem Birthday Celebration 2022 Full Color Tote Bag

Ram & Rem Birthday Celebration 2022 Canvas Art

Ram & Rem Birthday Celebration 2022 Acrylic Stand Keychain

Birthday Set

Ram & Rem Birthday Celebration 2022 Birthday Set A

Ram & Rem Birthday Celebration 2022 Birthday Set B

 

Birthday Set A will include a blanket and pillow, while the B Set will feature a trendy hoodie with silhouettes of Ram and Rem. The bag is also split into two colors with motifs of each character. Which girl is your favorite?

© 長月達平・株式会社KADOKAWA刊/Re:ゼロから始める異世界生活2製作委員会

The Museum of Japanese Art Yamato Bunkakan Opens Japanese Ceramics Exhibition

From January 5 until February 13, 2022, the Museum of Japanese Art Yamato Bunkakan in Nara will feature a large exhibition of Japanese pottery, spanning from the Jomon period to the present day. 

Important Cultural Property – Painted Platter (Imari Ware) / Yamato Bunkakan Collection

Celadon Porcelain Vase – By Soubei Kinkouzan (Taisho Period) / Privately Owned

The exhibition will feature both potteries from the museum's collection and those held by private individuals. The history of pottery in Japan began in the Jomon period around 14,500 BCE, and this earthenware eventually evolved into Sue ware, formed on a potter's wheel. The Nara period saw the emergence of glazed ceramics. During the Momoyama period (1573-1603), the world of pottery was revitalized with the popularity of the tea ceremony. During the Edo period (1603-1868), porcelain was first successfully fired in Arita, and these pieces became popular throughout Japan. Painting on ceramics also became popular during this period, and although pottery saw less popularity after the Meiji Restoration, it has since evolved in different ways with more modern technology. 

Information

Japanese Pottery: From the Jomon Period to Today

Running: January 5 – February 13, 2022

*Closed on Mondays (Open on January 10, closed on January 11)

Hours: 10:00-17:00 (Last Entry at 16:00)

Admission:

General: ¥630 / High School, College Students: ¥420 / Elementary, Middle School Students: Free

Official Site: https://www.kintetsu-g-hd.co.jp/culture/yamato/

Actor Chafurin Performs Special Reading of 'Hoichi the Earless' at Ukiyo-e Theater from Paris'

The Kadokawa Musashino Museum in Saitama is currently holding the 360-degree experimental exhibition Ukiyo-e Theater from Paris to continuously promote Japanese culture to the world. Actor Chafurin, known for his voice work in popular anime series like Detective Conan and Chibi Maruko-chan, is the owner of 'Shurindo,' a group of popular actors devoted to storytelling with sake. The recitation group will be holding a special event at the museum on January 16, 2022, where a group of personalities will perform the classic story 'Hoichi the Earless,' a popular piece of Japanese folklore. 

Ukiyo-e from Paris Design

Starring: Chafurin, Ryota Osaka, Mutsumi Tamura, Mai Nakahara, Satoshi Tsuruoka, Kafu Ohmine (Biwa Player) 

Danny Rose Studio has helped create a giant video space for the new exhibition, combining the old and the new. The Dreamed Japan – Images of the Floating World exhibition has been experienced by over 2 million people in France, and was brought back to Japan with enhancements in October 2021. Twelve unique works of art are dynamically projected on a massive space, transporting visitors into an entirely new world based on ukiyo-e pieces. 

This performance will be a special one-time event bringing together a selection of famous actors and a traditional biwa player. Hoichi the Earless tells the tale of an extremely skilled blind biwa player and his experiences with the samurai and a terrifying ghostly retainer. 

After the show, guests can enjoy the afterparty in which visitors and the performers can mingle and have a cocktail. More details will be announced on social media soon!

Participants are yet to be determined. There will be no archive of the afterparty. Those purchasing alcohol will be asked for ID. Please note that the schedule is subject to change. 

Information

Reading at Ukiyo-e in Paris Exhibition, 'Hoichi the Earless' 
Date: January 16, 2022 at 18:00 (Doors Open at 17:30)
Address: Tokorozawa Sakura Town Kadokawa Musashino Museum 1F Grand Gallery
(3-31-3 Higashitokorozawawada, Tokorozawa, Saitama)
Admission: ¥10,000 (Tax Included) 
Tickets: https://tix.kadcul.com/

Show URL: https://live.nicovideo.jp/watch/lv335023330
Archive Viewing Period: Available until April 10, 2022 at 23:59 / Watch as many times as you like during the viewing period. For more details, visit the Niconico website.
Price: ¥3,000 (Tax Included) 


Starring: Chafurin, Ryota Osaka, Mutsumi Tamura, Mai Nakahara, Satoshi Tsuruoka, Kafu Ohmine (Biwa Player) 

Shurindou Society: http://www.syurindou.com/
Ukiyo-e from Paris: https://kadcul.com/event/50
Kadokawa Musashino Museum: https://kadcul.com/
Official Site: https://kadcul.com/event/60

Lifestyle Shop KEYUCA Releases Nature-Inspired Hagi Ware for the Holidays

Lifestyle shop KEYUCA is known for its eclectic collection of original clothing, food, and home goods. On December 24, the company will release the new 'Saiun' series to its popular Hagi ware line, which will include new cups and plates perfect to use during the New Year's holiday!

[Hagi ware] Colored Cloud Cup: ¥1,650 (Tax Included)

[Hagi ware] Colored Cloud Plate: ¥2,350 (Tax Included)

KEYUCA's colorful new items remain classy while offering a different take on traditional tableware. Hagi ware is a type of Japanese pottery that originated from the town of Hagi, Yamaguchi, and these pieces usually feature natural and subdued colors. This made them popular with feudal lords, but modern audiences are looking for something a little more chic.

Simple Color Chopsticks, 5-piece Set:  ¥1,760 (Tax Included)

[Mino ware] Small Dish: ¥429 (Tax Included)

Along with these new Hagi ware pieces, a number of other items are also available at reasonable prices, such as colorful small dishes perfect for kaiseki and festive chopsticks.

Neo JAPAN, a Fair Dedicated to Traditional and Modern Japanese Culture, Held by niko and…

Lifestyle editorial brand niko and…is currently holding the Neo JAPAN event, blending aspects of traditional and modern Japanese culture. The fair is being held on the brand's official web store and at select stores nationwide. The key visuals were created by ukiyo-e artist Naga, and the store will sell a number of goods perfect for the New Year's holiday.

Feng Shui Daruma Plate

Pepper Daruma

Coasters (2 Pack)

Year of the Tiger Chopstick Rest

またniko and … TOKYO店限定で、2メートルを超える特大ガチャが設置され、新年らしい商品を詰め込んだ楽しいガチャとなっている。

This year's lineup of merchandise includes traditional Daruma along with tiger-themed art to honor the Chinese Zodiac for 2022. Guests can also participate in a silk-screening workshop at participating locations, while the niko and…TOKYO location will have a two-meter long gacha filled with fun New Year's items!

Information

Neo JAPAN
Event begins December 22, 2021
Participating Locations: niko and…TOKYO, niko and…Mozo Wonder City, niko and Kobe Harborland umie, niko and…Yokohama Bay Quarter, niko and…Aeon Mall Asahikawanishi, niko and…LaLaport Tokyo Bay, Official Web Store (.st)
*Product release date may differ depending on the store.


Silk-Screening Workshop: January 1, 2022
Participating Locations: niko and…TOKYO, niko and…Mozo Wonder City, niko and…Kobe Harborland umie
*Check each location's social media for more details. 

.st: http://www.dot-st.com/nikoand

Official Site: https://www.nikoand.jp

Harajuku Girls Magazine Zipper to Return to Quarterly Release Schedule After 5 Years

Popular Harajuku-based fashion magazine Zipper, which ceased publication in 2017, will return in March 2022! The rebirth of the magazine is being spearheaded as a joint venture between DONUTS Inc. and ASOBISYSTEM.

Zipper was first published in 1993 as a way to say "NO!" to traditional style. It continued to inspire creative minds for 24 years until it ceased publication in 2017, and many Harajuku-based celebrities and influencers cite the magazine as a major source of inspiration over the years. Now, this beacon of individuality and fashion is making a triumphant comeback right when the world needs it most.


In addition to the magazine, Zipper will also be available on YouTube, TikTok, Instagram, and Twitter, opening up the brand to fans of Japanese fashion around the world. More details will be announced in the future.


Information

Zipper

Resuming Publication in March 2022

Boutique Hotel TRUNK to Hold Winter Market with Outdoor Comfort Concept

From December 20 until December 26, 2021, TRUNK, a boutique hotel in Jingumae, Shibuya, will hold the TRUNK Winter Market 2021. The theme of the event will be 'outdoor comfort,' and carrying on last year's tradition, the hotel will deliver content aiming to warm the body and soul during the cold winter season. The public terrace will be decorated with fire pits and lanterns, creating a space where visitors can fully enjoy the cozy atmosphere. The limited-time event will offer workshops, food, and drinks to be enjoyed with family and friends.

The food menu includes 'Chicken and Mushroom Pan Stew,' served in a bread bowl and made with fresh ingredients. Guests can also enjoy a 'Cheddar Cheese Crepe with Homemade Roast Ham,' along with plenty of scrumptious desserts. Perfect for the Christmas season, warm eggnog and mulled wine will be served, and kids will love the organic hot chocolate!

Four different workshops will be set up at tents in the public terrace. Kids Gabbeh Painting will teach kids how to design their own Gabbeh, a traditional small fabric woven by nomads in southwestern Iran. After drawing their design, artisans will weave the Gabbeh, and will send it to your home. The 'Socializing Flower Swag' workshop allows visitors to make swag using dried flowers that were upcycled from fresh flowers that would otherwise be thrown away. These will be silk-screened and wrapped for a great souvenir. Outdoor Candle is a workshop where visitors can create original leather candle holders. 




At Campfire Roast Coffee, guests can roast coffee over an open fire pit. Imagine how good it smells! Afterwards, you can take home your spoils.

There will also be a TRUNK Vintage Store on-site, where hotel staff will sell decorations and furniture no longer needed in the hotel, as well as clothes and other goods. 

Hotel Koe Tokyo in Shibuya to Hold Solo Exhibition by Illustrator Kae Tanaka

Kae Tanaka will hold a solo exhibition at Hotel Koe Tokyo in Shibuya from November 26 until December 10, 2021. The artist has recently collaborated with popular girls group Nogizaka46 and actress Rio Uchida, and is skyrocketing in popularity throughout Japan.

Collaboration Goods

Overalls

Overalls

Socks

Hoodies

Tote Bag

Kae-chan Soft Vinyl Figures in Limited-Edition Color (By Lottery)

Over the past year, Hotel Koe Tokyo has been supporting the solo exhibitions of up-and-coming artists. This ima no koe (The Voices of Today) initiative is helping to highlight local talent that may otherwise be overlooked. 

Kae Tanaka is a Tumblr-based illustrator who has garnered large amounts of attention across social media. Collaborative goods created in conjunction with the hotel will be available, all of which are unisex and created by the French brand Le Pigeon Voyageur. A special Kae-chan vinyl figure will be available by lottery. 

Information

Kae Tanaka Exhibition 'Select' 

Running: November 26 – December 10, 2021

Location: Hotel Koe Tokyo 1F 'koe space' (3-7 Udagawacho, Shibuya, Tokyo)

A Tachikoma From Ghost in the Shell SAC_2045 Arrives at New Balance Harajuku

As a part of the brand's 9BOX series, New Balance has released a new graphic T-shirt collection in collaboration with Ghost in the Shell SAC_2045. The items went on sale November 12, and to commemorate the release, a Tachikoma from the series has arrived at New Balance Harajuku! For those who may not have seen the series, a Tachikoma is an AI tank prominently featured in the Ghost in the Shell universe.

T-Shirt

Long Sleeve T-Shirt

Collaboration Sticker

Picture Frame

Motoko Kusanagi, the main character of the series, perfectly exemplifies the New Balance brand, which promotes 'fearless independence.' Five new t-shirt designs are now available, all drawn by Ilya Kuvshinov, the character designer for Ghost in the Shell SAC-2045. The collection is available at official New Balance stores nationwide, as well as the online store and participating ABC Marts. Those who purchase items from the collection will receive a collaboration sticker, and a special picture frame will be available on the New Balance official store app NB Shop. 

New Balance's flagship store in Harajuku is celebrating its fifth anniversary this year and was the backdrop for the cover of Rolling Stone Japan to promote the collaboration. Fans of the anime series shouldn't miss out on these stylish threads!

Spend the Winter in a Unique Shinshu Snow Hut with Limited-Time Package

A part of Hoshino Resorts, KAI Alps is an incredible hot spring inn located in Omachi, Nagano prefecture, at the foot of the Northern Japanese Alps. In February 2022, the hotel will allow guests to book the Shinshu Snow Hut Experience, where visitors can enjoy the winter in a traditional snow-packed hut surrounded by bamboo lights. This area is one of the snowiest places in the region, and the locals have plenty of knowledge when it comes to getting through the cold.

Nagano prefecture is often called the 'Space prefecture' for its beautiful starry skies. Inside the snow hut, guests will be surrounded by lights, and bamboo lanterns will light the way. These gentle lights are perfect for the white of winter, despite the cold. 

Exclusively for this package, a kotatsu (heated table) will be placed inside the huts, and guests can wear traditional local clothing perfect for the weather. Sweet sake made at the Hokuan Sake Distillery in Omachi City and local rice cakes with Nozawa pickled greens, a Shinshu specialty, will also be served up. 

How would you like to partake in this traditional experience?

Information

Shinshu Snow Hut Experience

Running: February 1, 2022 – February 28, 2022

Price: ¥2,000 per person (Tax & Service Charge included) 

Reservations: Make on the website at least one week in advance

Capacity: 1 group per session (2-4 people per group)

Location: KAI Alps – Hoshino Resorts

Hours: 19:00-19:45 / 20:00-20:45

Limited to Hotel Guests Only

Anime Idol Group HAKOMEN Becomes Tourism Ambassadors for Hakodate

Hakodate is one of the main cities in Hokkaido, Japan's northernmost island. In September 2021, the city launched a new tourism initiative called HAKOMEN, an anime idol group based on historical figures associated with Hakodate. Starting November 1, the members are now official tourism ambassadors! In July 2021, the Jomon historical sites in Hokkaido and the northern Tohoku region were registered as World Heritage Sites, so what better time to promote these incredible areas? 

Debut Song 'Kimi to HAKO☆DATE'

HAKOMEN lore tells the story of incredible historical figures summoned to the present day by the Hollow Dogu, the only National Treasure in Hokkaido and on display at the Hakodate Jomon Culture Center. Forming an idol group to promote the town, the five members see the Hollow Dogu as their producer. On October 14, HAKOMEN made their debut with the song Kimi to HAKO☆DATE, which is already racking up impressive YouTube views. 

Comments from the Members

Hijikata Toshizo / A Cutting-Edge Commander and Moodmaker
https://twitter.com/hako_hijikata



"I was surprised that I, a man who had mastered the way of the blade, would somehow become Hakodate's tourism ambassador.
I will put all of my energy into promoting this place!" 

Takeaki Enomoto / A Highly Ambitious Peacemaker
https://twitter.com/hako_enomoto



"I'm not even from this era, but you want me to do PR for Hakodate?!
Now that I'm here, I'll be sure to convey some of the charms that only someone from the past would know!"

Takuboku Ishikawa / A Calm and Peaceful Lover of Sweets
https://twitter.com/hako_isikawa

"I love Hakodate so much that I moved there during my time, so I'm thrilled to promote it as an ambassador!
I'll do my best to make all kinds of people fall in love with Hakodate!"


Matthew C. Perry / A Happy and Gourmet Scatterbrain
https://twitter.com/hako_perry



"Back when I showed up on my black ships, the people of Hakodate were so lovely♪
It's such an honor to be able to work with Hakodate~ I'll do my very best!"

Ayasaburo Takeda / An Open-Minded Big Brother Character
https://twitter.com/hako_takeda

"As an ambassador for tourism to Hakodate, I'd love to promote Goryokaku fortress which I designed as an architect in 1855.
Of course, it's not the only attraction Hakodate has to offer!"

SHIBUYA109 Taken Over by Sanrio's Popular Character Kuromi

Kuromi is taking over the fashion headquarters of Japan! The #WorldKuromificationProject x SHIBUYA109 Autumn Campaign featuring My Melody's punk rival is currently underway until November 21, 2021!

Original Apparel

Novelties

Kuromi Pop-up Shop: Let the #WorldKuromification Process Begin!

Sticker

Mask Case

Decorations

Sculpture

Kuromi came up with the #WorldKuromificationProject to inspire people to become their best possible selves. It's also a way to create more 'Kuromies': what Kuromi calls her fans. SHIBUYA109, a hotspot for trending fashion and new styles, is the perfect spot for the character to help people find themselves through fashion and pop culture. 

 

During the event period, the famous building will be decorated from top to bottom in Kuromi swag, and original collaboration goods with popular brands will be available for pre-sale. A pop-up store will be selling unique Kuromi items, so don't miss out on these before they disappear! A campaign will also be held to give away tickets to Sanrio Puroland, and visitors will discover plenty of photo spots and other surprises as they explore SHIBUYA109.