MMN Festival 2018 Report: Idol Stage at Tower Records Shibuya Rooftop SKY GARDEN
MOSHI MOSHI NIPPON FESTIVAL 2018 in SHIBUYA delivered Japanese culture to the world from Shibuya. The event saw 16,000 people attend across the two-day period to experience a new kind of Japanese festival.
This report will cover the Featuring Japanese new music "MOSHI MOSHI MUSIC FESTIVAL" event that took place at SKY GARDEN on the rooftop of Tower Records Shibuya, a place which which has built a history of music in Shibuya.
Idols are one aspect of Japanese culture that Japan can boast to the world. The event showcased a line-up of idols groups that MOSHI MOSHI NIPPON (MMN) want to introduce to the world. Let's take a look at the idol stage which was packed full of Japanese 'kawaii'!
Kicking off the performances on Day One was two-member idol unit C-Style from the city of Kisarazu. They left a strong impact on the crowd dressed in red and blue sailor outfits and donning sunglasses.
Next was another two-member unit, Kus Kus. Their perfectly coordinated choreography captivated the audience as they danced to the tune of easy-listening electro pop.
Wyenra were the third act. If you were to divide shadows and sunshine they are a group who certainly bring the 'shadow,' wrapping the crowd with the dark side of springtime weather.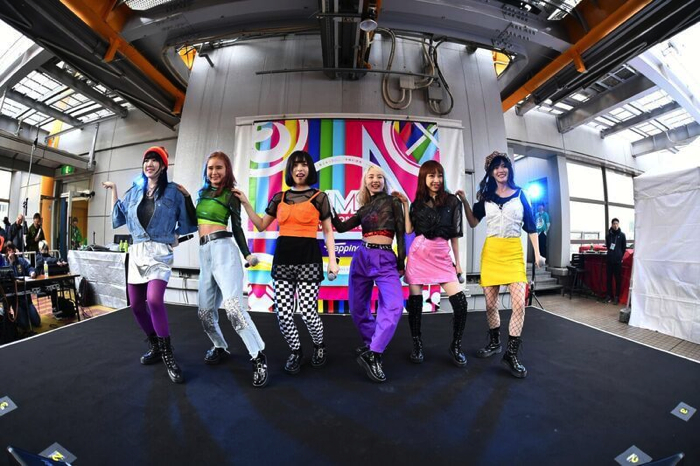 The fourth group were dancing rock idols QUEENS. Wyenra debuted this year on February 10th while QUEENS debuted on January 31st. You would never know these groups had formed so recently with their magnificent performances.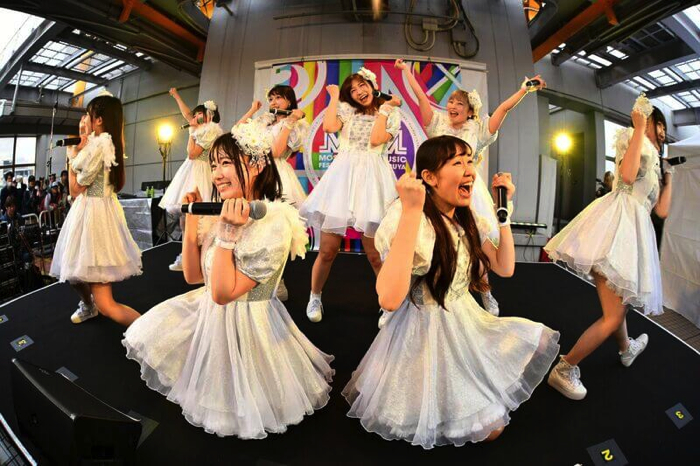 As the sun started setting on SKY GARDEN, Jewel☆Neige stepped onto stage wearing dazzlingly beautiful white and silver outfits. The audience made a huge display of their excitement with the group's unshakable performance.
Act number six was 5-member group CY8ER. There was a sense of mutual elation with everyone gathered in the crowd with the group's Japanese-esque-incorporated future bass songs with easy choreography that even first-timers seeing the group could copy.
The seventh group on stage was Nankini! Unfortunately, one member was unable to make it, but the remaining two put on a thrilling performance with everything they had. If you wanted to see them three of them together then be sure to check out another one of their events.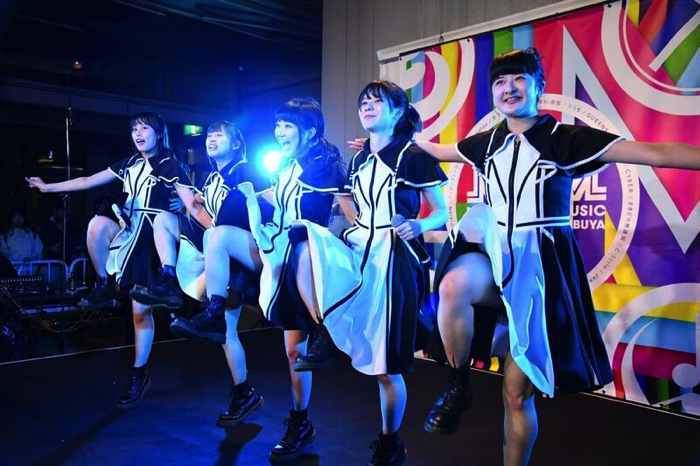 The final idol group of Day One was Yamakatsu whose fired up performance also had the people in the crowd psyched and singing as they wrapped up the day with the right amount of exhilaration.
The top batters for Day Two were C-Style once again. For the second day the members wore special green happi coats which had the Japanese character 'mo' (も) on the back.
Following them was NEO JAPONISM who made their debut in December 2017. Their 'neo' sound had the crowd pumped. Their outfits had a mode taste to them and incorporated a traditional Japanese style which looked pretty even on an outdoor stage.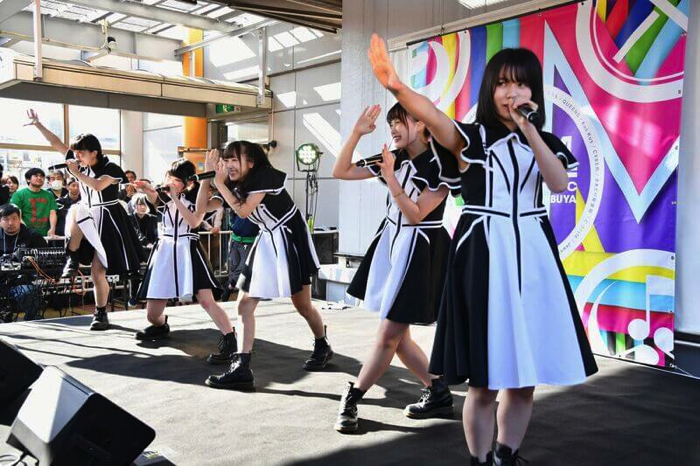 Act three was Yamakatsu who also performed on Day One. They put on a galvanizing performance to even more people this time. And although they didn't perform it on this day, people are looking forward to their new single distopia set to hit shelves on April 17th.
Next was The Dance for Philosophy for which over 400 people turned up to the roof. The group wowed the packed venue with their funk numbers and outstanding vocal abilities.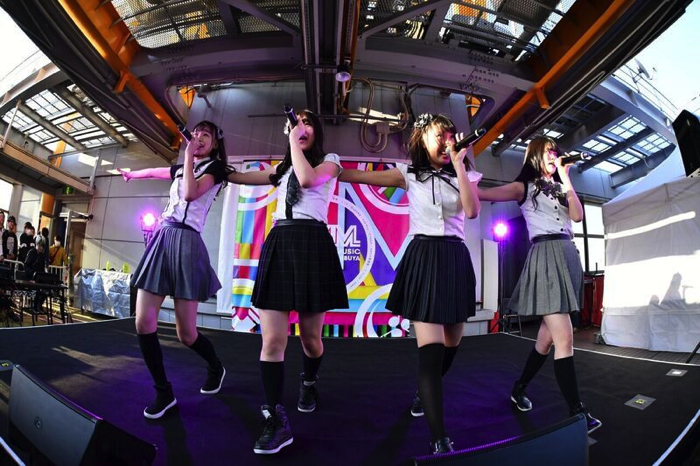 PPP!PiXiON were next to grace the stage. Despite one member graduating from the group leaving them with four members, there was some serious support from the fans as each of them put on an energetic performance.
Sakidori Hasshinkyoku who went on stage as the sixth act began their performance with their song Karimen Destiny which was released in February. They wrapped up their setlist with their staple track Gimirepa and brought much excitement to the floor.
Following them was APPARE! Harajuku who are tied to the same studio as Sakidori Hasshinkyoku. Their setlist also inevitably livened the atmosphere, and their final song Harajuku Sunny Day had the crowd so pumped as if the building was going to fall down.
As night turned and the rooftop turned to black, the progressive sound and singing abilities of the four members from sora tob sakana established their style as unique – even in the idol world.
Pulling the curtains shut on Day Two was idol group Lovely Doll. The performance from the seven members was the kind of performance you'd expect from such a seasoned group. They finished up Day Two with Calendar Girl which was voted as the number one most popular song amongst fans.
MOSHI MOSHI NIPPON FESTIVAL in SHIBUYA 2018
RECOMMENDED ENTRIES
MMN Festival 2018 Report: Onden Shrine – Bon Odori and an Array of Ennichi Food

MOSHI MOSHI NIPPON FESTIVAL 2018 in SHIBUYA promoted Japanese culture to the world from Shibuya. Over the course of two days, MMN delivered a new kind of Japanese festival to 16,000 people.


In this article, we report on Onden Shrine – one of the four areas of the festival – where the gods of Harajuku are enshrined. Let's take a look at the line-up of performances for the stage area as well as the variety of booths!

Stage


Mio Ooyama was in charge of presenting the on-stage performances and, with her bilingual skills, introduced each performer to the audience.

Satsumasendai Odoridaiko opened the stage with a team made up entirely of women who struck their drums like thunder. Dressed in traditional outfits, the traditional sound of their drums rippled through across the event.

The members of maid café group Maidreamin put on a full-force idol performance, captivating the crowd with their catchy music and kawaii dance moves!

Next on stage was kendama performer EASY, who is also active overseas too. His skilful performance with his kendama – a toy enjoyed by both children and adults – garnered him huge rounds of applause.

Then it was character DJ time, which all the kids had been waiting for! Shimockey of Shimo-Kitazawa and Coroton of Gunma Prefecture were there to entertain. They both sang and danced together with the children! Shimockey and Coroton were also very popular outside DJ time too.

Last on stage was Ukon Takafuji of YUMENOYA for the Japanese dance show. At the end, all the performers, attendees and venue staff joined in with Bon Odori dancing! Everyone got involved from children to adults, overseas tourists and the character DJs.

Ennichi Area


The Ennichi area was filled with food and games, as well as MOSHI MOSHI NIPPON style workshop booths. There was a diverse line-up of booths enjoyed by kids, grown-ups and foreigners too.

Harajuku Rainbow Cotton Candy


The colourful cotton candy store from Takeshita Street in Harajuku TOTTI CANDY FACTORY served up a special event-only menu. They sold a numer of things, including TOTTI Rainbow (¥800) which was a combination of 5 flavours: plain (white), strawberry (red), carbonated (blue), and lemon (yellow). Cotton candy is a common treat sold at shrine food stalls, but TOTTI give a Harajuku spin to it. People carrying cotton candy around Onden Shrine really decorated the area.

Amezaiku


The amezaiku booth was very well received last year too. Not only could to purchase some amezaiku candy, you could also make your own amezaiku rabbit, bear and more together with the teacher.

Mizuhiki


Mizuhiki artist Kaori Funaki was invited to hold a workshop for people to create 'mizuhiki' which are special cords that tie envelopes used for monetary gifts. There was also individual mizuhiki related merchandise on sale, such as chopstick rests.

Kendama


Global Kendamas Network was established to help spread the use of kendama, a popular sport originating from Japan that has given rise to pros around the world. Kendama performer EASY performed on stage, kendama for pros were sold, and people tried out kendama themselves.

Onden Shrine Omamori


Omamori and other items are sold at Onden Shrine. The god of beauty is enshrined at Onden Shrine, so the small, round omamori charm for "Beauty" (¥500) was very popular amongst girls. With foreign tourists, the omamori for "Victory" was popular.

Learn Shrine Etiquette


As part of the Harajuku tours by Airbnb which began and finished at SHIBUYA CAST, people were taught the proper manners and etiquette to praying at Japanese shrines, including about torii gates, temizuya, hishaku, and the main shrine building. Foreign tourists with an interest in Japanese culture were happy to get involved.


People were also able to participate in a formal sanpai and learned about 'tamagushi houten' – humbly presenting a tamagushi, a type of Shinto offering.

Frisbee Strike Out

At this booth, people had to throw a frisbee 6 times. When they got 1 line of bingo they picked one item they liked, and when they got 2 lines they picked two. Even if people didn't get bingo, awards were still handed out to participants. The line-up included regional Japanese specialties such as "Soy Sauce Mochi" from Oita Prefecture and staple souvenir from Fukushima Prefecture "Brown Sugar Manju".

Target Practice Game


The target practice game is common at Ennichi, but this was a special MMN Festival version. People had 5 shots per turn, and depending on how many targets they shot down, the number of prizes would change. Those who couldn't land a shot weren't left out however and were gifted low calorie chocolate. Prizes included tins of oden, tom yum flavoured okaki, and more.

Did you enjoy the events at Onden Shrine? We took elements from traditional Japanese matsuri festivals and put a MOSHI MOSHI NIPPON spin on them. During the Onden Shrine events, we were able to receive cooperation from local people and those associated with the shrine prior to the festival until the end of the festival.

MOSHI MOSHI NIPPON would like to continue holding even more events in the future where locals and those visiting Shibuya and Harajuku can have fun together.

MMN Festival 2018 Report: Natsume Mito Helps Children Paint Day Care Center for Happy Wall Project

On March 24th for MOSHI MOSHI NIPPON FESTIVAL 2018 in SHIBUYA, Japanese paint company ROOMBLOOM held the Happy Wall Project which they have been doing since 2014, an activity that contributes to society.

The Happy Wall Project is a volunteer project based on the idea of enrichening one's life even more through painting. The first run was held at Hiratsuka Children's Center and has since made its way to 21 educational facilities and welfare institutions across Japan.

With backing from Shibuya City and the Shibuya Tourism Association, ASOBISYSTEM, who produce the MOSHI MOSHI NIPPON FESTIVAL, held the Happy Wall Project as a workshop for children at Mirai∞LABO KIDS, a daycare facility located on Cat Street in Ura-Harajuku, to promote the growth and prosperity of Shibuya and Harajuku.

On the day, enrolled students and graduates of Mirai∞LABO KIDS worked with children with Down's syndrome and autism who are members of the painting group atelier A as well as people associated with Nippon Paint Holdings to create a picture book amongst other arty things. Natsume Mito also received approval to get involved.

The project they worked on was painting 3 of the walls at Mirai∞LABO KIDS. They didn't use monochromatic colours for the biggest wall – they painted a circus tent. This is the symbol of the institution. Circus members have an unbroken fighting spirit. They challenge themselves to things other people don't. These are all indispensable elements children must possess. There's a hope in the center to one day give birth to someone who will go on to work in the circus after leaving.

Natsume Mito spoke with the children to decide on what paints to use for the colour scheme of the circus tent. Instead of strong, darker colours, they decided to go with lighter pastel colours so that the children can feel calm. It was quite a challenge however as there were 189 paints to choose from. For the circus tent they chose "Birthday Present" pink, "ALOHA!" light blue, and "Grass Hopper" green. For the sides of the wall they used "Little Kiss" cherry blossom colour. The colour names were all unique and exciting.

The smaller children began painting first. There were children who had fun using their hands instead of paint brushes to put hand prints on the wall. Smaller details and parts of the painting that were higher up were left to the older children. People of all ages worked together and helped each other out, and after about an hour, the paint project was completed.

When it came to snack time to wait for the paint to dry, Natsume Mito played hide and seek with the kids. A sense of connectedness through working together rang through the room. It was a warm atmosphere, and the laughing never stopped.

After tearing off the masking tape the painting was complete. The adult guardians who watched over the work applauded everyone for their admirable efforts.

The daycare center was now bright thanks to the paint job. And a picture of a new circus tent was now in the room. The children will likely never forget about the place they helped decorate.

▼Check out this video which captures footage from the day.

■Information

MOSHI MOSHI NIPPON FESTIVAL 2018 in SHIBUYA

Locations: SHIBUYA CAST. / Tower Records Shibuya / Laforet Museum Harajuku / Onden Shrine

Dates: Saturday 24 March – Sunday 25 March

Time: 11:00-21:00 *Times differ at each area

Official Event Website:https://fes18.moshimoshi-nippon.jp/

MMN Festival 2018 in Shibuya: Laforet Museum Harakuku – Day 2 Report

MOSHI MOSHI NIPPON FESTIVAL 2018 in SHIBUYA was held across two days where Japanese culture was delivered to the world from Shibuya.

As the gentle spring air embraced us, the Harajuku Kawaii Market saw at Laforet Museum Harajuku its second run on day two of the festival, with more appearances from hugely popular models and artists.

Kicking off the stage events for Day 2 was Rikako Ōya (Babyraids Japan), Ellie, Yuri Suganuma, Ema Tanioku, and Yuna Yabe who held their talk session A Lesson on Being Photogenic. The six photo experts looked pictures from their articles on the MOSHI MOSHI NIPPON website while giving tips and tricks on how to make yourself more Instagrammable.

 
Chamereon Takeda returned once more to the stage for day to with her Zodiac Sign Rankings. Hikari Shibata had her fortune told with western astrology and tarot cards. Hikari herself loves fortune telling. According to her tarot reading, "If you're crazy about something you won't be able to escape, but if you think before you act, you will have good fortune."

At the end of the talk session, the horoscopes for April were announced. 1st place went to Cancer. Everyone in the audience, too, was happy to hear the ranking list.


Next on stage was the Fashion & Hair Dye Talk Session with Hikari Shibata, Yuri Suganuma & MIZUKI (KORD) presented by FRESHLIGHT. Popular models Hikari Shibata, Yuri Suganuma and MIZUKI (KORD) welcomed guest Michelle, who's influential in China. The four of them chatted about their experiences with hair dyeing as well as their recommended hair colours for spring.


Michelle was asked about the hair dyeing scene in China. She said that light colours are popular over there during spring. It's common to see a lot of people with pink hair, the same as in Japan. On the FRESHLIGHT website there's a video of MIZUKI skilfully demonstrating how to dye your hair, so be sure to check it out.


Amato Danshi were last on the list for the first slot. There was a real sense of oneness with the audience as if the hype from day one still lingered! During their high-tempo song Chocolate, the guys surprised everyone by throwing actual wrapped chocolate into the crowd. Everyone went crazy!

After a short break, Noah Satou and Ren Koseki opened the stage for the second slot. Their talk session centred around their Recommended Spring Cosmetics, where they introduced a variety of cosmetics from high brand to low price. It seems like the two of them are into coral this spring. They said that it can be used for a much more toned down look compared to pink.

Mynavi Baito presented their Challenge Award again on stage. Three teams of fashion students were challenged to create cute part-time work outfits which were worn on stage by Yuri Suganuma, Mei Nagasawa and Anna Yano. Team 95 created an izakaya outfit, Team Hikari produced a gas station uniform, and Team Twinkle served up moving-company couture.


The audience made their vote and Team Hikari came out on top as winners this time! One big point about their outfits was how it echoed not only the kawaii of Harajuku, but of Japan. The three of them, all born in 1995, have gotten along and been on the same wavelength since they started designing the outfit. Their victory smiles left a big impression.


A huge cheer welcomed MAGiC BOYZ onto the stage, a hip-hop group formed of three high school DJs Toma, Ryuto and Mahiro, and elementary school DJ Joe. To begin the set, the audience did some call and response with Joe, shouting "Majibo!" (short for MAGiC BOYZ) and "Kawaii!" Their passionate Japanese rap cemented their performance as the most enthusiastic, high frenzy of the day.

Yutaro stepped onto stage next to answer people's questions in his Q&A segment.  He answered everyone's questions honestly, such as "Where did you plan your first trip to?", "If your boyfriend's fashion style is uncool, how should you get him to fix it?" and "What type of girl do you like, and what hairstyle?" Everyone was absorbed in his answers.

The final event to wrap up the stage was Learn Japanese Spring Trend Styles with Shibasaki & Rinko♡. Saki Shibata and Rinko Murata introduced co-ords using their own personal items and offered suggestions and tips.

A flea market was also held on stage where people could enter a lottery to purchase personal items from models that attended the festival. People that bought Saki and Rinko's items were overjoyed after hearing them tell the story behind each one! Harajuku Kawaii Market took place on March 24th and 25th. It promoted Japan's kawaii culture from Harajuku and proved a roaring success.

MMN Festival 2018 in Shibuya: Laforet Museum Harajuku – Day 1 Report

MOSHI MOSHI NIPPON FESTIVAL 2018 in SHIBUYA is currently being held across Saturday March 24 and Sunday March 25, serving Japanese culture to the world from Shibuya. Day one ended with huge success. Laforet Museum Harajuku, one of the four areas of the festival, was home to the Harajuku Kawaii Market take place, an event themed on the concept of "Find Japanese Kawaii♡". The market was lined with a whole host of booths where people got up close with Japanese fashion, beauty, fortune-telling, DIY and more. But that's not all.

The stage was graced by models heavily active in Harajuku-style fashion magazines, popular social media influencers, and others, all of whom shook the house.

Kicking off the stage performances was none other than Amato Danshi, a six-member male idol group whose concept centres around sweets and candy. "We want to spread the greatness of sweets even more!" They sure weren't lying with those words, as the guys surprised the audience by gifting everyone sweets during their set. Things got really exciting during their high-tempo track Shu Cream ("Cream Puffs") as the crowd joined in with the group members in some seriously energetic dancing!

With excitement still rippling through the room, "Mynavi Baito presents Challenge Award" was next on stage. Nine fashion students were split into teams of three who were challenged to create cute part-time work outfits to promote to the world. Yuri Suganuma, Mei Nagasawa and Anna Yano stepped out onto stage and presented the outfits by wearing them. Team 95 created an izakaya outfit, Team Hikari produced a Gas Station uniform, and Team Twinkle served up moving-company couture.

The audience were made to vote for a winner with a raise of hands. The winners of the Challenge Award were Team Twinkle and their mover outfit! They went away with a cash prize of ¥100,000. Tears were even seen from the team upon hearing the announcement. It was a moving stage event – you could see their passion and how hard they had all worked.

Natsume Mito put on her fashion show where the tender and slightly mysterious world of Tomonori Taniguchi's picture book Bulldog Tantei to Kieta Hoshi (BUNKEI Co., LTD.) was brought to life with performances from Japanese models Akari Abe, Manaka Arai, Alice Ikeda, Anna Kawamura, Aino Kuribayashi, Saki Shibata, Yuri Suganuma, Ema Tanioku, Eri Tanioku, Chie Tsuji, Rinko Murata and Una while Natsume Mito read the book aloud.

Natsume wore a smile of joy on her face when the fashion show came to an end. She announced, "It was a challenge to bring to life and convey something that you imagine in your head. I want to go on to create the opportunity to produce more picture book stage shows!"

Natsume Mito show after report

The first slot of performances came to a close and led into slot two. Youtuber Megane and models Yoshiaki and Michi were invited as guests for a talk session. They showed lots of private photos while giving backstory to each of them. They also blurted out frank insights into each of the pictures which had people in stiches.

In a talk show with popular illustrator Fusedy and Koseki Ren, the two of them gave their cherished opinions of the topic of romance. It was very much a talk between two people who have known each other for 4 years. They were on the same wavelength. It was a girl-talk which showed no sign of stopping as they chatted with plenty of "I know, right!" and "Tell me about it!" moments as Ren empathised with the contents of Fusedy's book.


Next on stage was none other than Rilakkuma! To realise Shibuya's recent appointment as a city for international tourism and culture, an inauguration ceremony was held on stage to name Rilakkuma an official Shibuya Tourism Ambassador!

Seeing that had people sighing in adoration with accompanying exclamations of "kawaii."

With three more stage events wrapped up, it was time to move on to slot three. The first of the performances was the "Fashion & Hair Dye Talk Session with Ren Koseki, Hikari Shibata, Yuri Suganuma, Ayumi Seto and MIZUKI (KORD)" presented by FRESHLIGHT. Popular models Ren Koseki and Ayumi Steo, as well as popular stylist MIZUKI (KORD), chatted about their experiences with dyeing their hair, recommended hair colours for spring, and more.

that when it comes to spring, it's all about warm colours. When you want to shake things up a bit for going out during spring break, why not go for an easy and comfortable image change with hair dyes from FRESHLIGHT?

Fortune-teller Chamereon Takeda read Mei Nagasawa – who loves spirituality and going to shrines – for romance and work in her "Love Compatibility Rankings: Zodiac Signs" session. Chamereon Takeda used western astrology and tarot readings for Mei, who was interested in her marriage partner. She was told "Your luck will increase for both romance and work starting this autumn. It will be a time where you form a bond with someone you need, and break away with someone you don't."

In the second half of the show, Chamereon Takeda also announced the rankings for love compatibility for each zodiac sign. Coming in 1st place was the Taurus! The scene of people devouring the demonstration was a sight to behold – as if people really wanted to hear their destinies.

The final act of day one was a talk session with Saki Shibata, Ayaka Segawa, and Rei Maruyama. The three of them work as a model, artist & nurse, and performer respectively. Their open and honest discussion focuses on their careers. The conversation got pretty lively as expected from three friends!

That's it for day one at Harajuku Kawaii Market. Look forward to the performances on stage on day two!

MOSHI MOSHI MUSIC FESTIVAL CUTUP STUDIO after report

Harajuku Kawaii Market Afterreport DAY2

■Information

MOSHI MOSHI NIPPON FESTIVAL 2018 in SHIBUYA

Locations: SHIBUYA CAST. / Tower Records Shibuya / Laforet Museum Harajuku / Onden Shrine

Dates: Saturday 24 March – Sunday 25 March

Time: 11:00-21:00 *Times differ at each area

Official Event Website:https://fes18.moshimoshi-nippon.jp/ja/

MMN Festival 2018 Report: Natsume Mito Produces and Performs First Show "Tobidase! Picture Book Show 〜Storytime With Natsume Mito〜"

MOSHI MOSHI FESTIVAL 2018 in SHIBUYA was held in Shibuya and Harajuku on March 24th and 25th. On Saturday March 24th, model and artist Natsume Mito held her first ever fashion show Tobidase! Picture Book Show ~Storytime With Natsume Mito~ at Laforet Museum Harajuku.

 

Natsume Mito fully produced the fashion show which was themed on Bulldog Tanei to Kieta Hoshi (BUNKEIDO Co., LTD.), a picture book by Tomonori Taniguchi. The story is as follows. The stars have disappeared from the sky. During this time, a letter arrives for the bulldog detective requesting he search for the lost stars. He accepts and heads out to find them. He's able to locate them, but why did they disappear, and who sent the letter…? This exciting story is full of heart and can be enjoyed by kids and adults alike.

 

Natsume Mito read the story aloud while a cast of Japanese models brought the world of the book to life through fashion. Models that performed included Yuri Suganuma, Ema Tanioku, Eri Tanioku, Aino Kuribayashi, Chie Tsuji, Abe Akari, Saki Shibata, Rinko Murata, Manaka Arai, Alice Ikeda, Una, and Anna Kawamura. Natsume Mito styled the outfits in the image of everything from the bulldog detective to the animals, moon and stars. The models were immersed in their roles and walked and posed as directed.

Bulldog Detective (Eri Tanitoku) & Gorilla (Rinko Murata)

 

Bulldog Detective (Ema Tanioku) & Owl (Una)

Bulldog Detective (Ema Tanioku) & Starfish (Saki Shibata)

Bulldog Detective (Eri Tanioku) & Stars (Yuri Suganuma, Chie Tsuji, Aino Kuribayashi, Akari Abe, Rinko Murata, Manaka Arai)

At the end of the show, the models that performed spoke with the stage presenter Rei Maruyama and gave their thoughts on this first ever fashion show.

Anna Kawamura (Tortoise): Beret – Caorinomori / Hairband attached to hat, Brooch – Barairo no boushi / Bootsu – gREEN DOT / other personal items UNA (Owl): Innerwear, Jacket, Fringe Skirt – Barrack Room / Tulle Skirt – Gaijin / Hat, Choker – MARTE / other personal items Yuri Suganuma (Star): Neckband – SPINNS / Lace Pants – gREEN DOT / other personal items Chie Tsuji (Star): One Piece, Shoes – daidai / Camisole One Piece – Barrack Room / Necklace – CA4LA Bridal / other personal items Ema Tanioku (Bulldog): Shoes – daidai / other personal items

 

Eri Tanioku (Bulldog): Jacket, Shoes – HUG / Blouse, Hat – SPINNS / other personal items Alice Ikeda (Moon): Belt – HUG / Pumps – gREEN DOT / other personal items Manaka Arai (Star): One Piece – MARTE / Hair Accessory – CA4LA Bridal / Pumps – Gaijin / other personal items Rinko Murata (Star): Lace Gown – Barrack Room / Shoes – RANDA / other personal items Saki Shibata (Starfish): One Piece – gREEN DOT / Neckband, Pumps – Gaijin / Hair Accessory – CA4LA Bridal Aino Kuribayashi (Star): One Piece – Gaijin / Lace Top – gREEN DOT / Hat – Barairo no boushi / Hairband attached to hat – Caorinomori / Sandals – RANDA

Natsume Mito Comment:

"I went and produced a show that combined a picture book with fashion. This was my first time doing this, so I was worried perhaps due to my own self-satisfaction. I was finally able to feel relief after hearing claps from people who came to watch (laughs). Thank you so very much to everybody who came! And to all the models who performed too. I'm happy that the outfits I put together went perfectly with everyone. I can see once again how difficult it was to convey what was in my head to the staff too. It was a very good learning experience. I want to try creating another stage show that conveys the wonder of loving picture books together and the fun of fashion!"

Tobidase! Picture Book Show ~Storytime With Natsume Mito~ wrapped up with much success. Look forward to the many things Natsume Mito will challenge herself to next!

Outfit Co-Operation: Gaijin / CA4LA / Caorinomori / gREEN DOT / SPINNS / daidai / HUG / Barairo no boushi / Barrack Room / MARTE / RANDA

MMN Festival 2018 Report: MOSHI MOSHI MUSIC FESTIVAL & Up-and-Coming Artists at Tower Records

The MOSHI MOSHI NIPPON Project has one goal: to promote Japanese pop culture to the people of the world. On March 24th and 25th, MOSHI MOSHI NIPPON FESTIVAL 2018 in SHIBUYA was held, delivering Japan's popular culture to the world from the Shibuya and Harajuku area.

There were several places this year's festival took place. One of those locations was Tower Records Shibuya, where we held a music event titled "Featuring Japanese New Music: MOSHI MOSHI MUSIC FESTIVAL." Here, music artists with huge influence in the scene, as well as music media companies who have hooked up with new talent, came together as curators to deliver a fantastic showcase of promising artists. The event took place at the CUTUP STUDIO on B1F of Tower Records Shibuya.

Day One at the CUPUP STUDIO saw many performers. This included MANON, a hopeful new artist signed to ASOBISYSTEM, as well as three other artists recommended by music media company Spincoaster: SIRUP, Mizuki Ohira with Kobayashi Utena, and The Wisely Brothers.

Recognised R&B artist SIRUP warmed and spellbound the room with his sugary vocals and mellow, infectious beats.

Mizuki Ohira rocked the steelpans while Kobayashi Utena played the marimba, giving rise to an exotic musical co-performance. Three-piece female band The Wisely Brothers sent forth new-age girl power with their heavy garage rock. They also spoke about there being so much manga in Japan as one of the things they like about the country.

The second half of the event was graced by an MC battle produced by WREP, a hip-hop radio channel, hosted by Zeebra and Hachi Moji. Four spectators from the audience were appointed as team leaders and had to create teams from the 12 battle MCs present at the show.

The 4 teams battled it out in a tournament for the title of best MC. MCs that participated in the battle included MC Seishain, MC Matsushima, MC MIRI, Kizal, SAM, SHO GEN, Datemegiri, TKdakurobuchi, NiLL Nico, 8×8=49, FRANKEN, and Yuma.

Team SHO GEN, TKdakurobuchi & NiLL Nico and Team MC Matsushima, MC Seishain & SAM came out victorious. At the end of the battle, the chief members of the teams SAM and TKdakurobuchi clashed in a final battle with SAM taking the crown. The winning team took home a cash prize with the hip-hop fans in the crowd in a flurry of excitement. This marked the end of the first day.

For Day Two, Natalie Music worked as curators for the live stage event "Live Natalie meets MOSHI MOSHI NIPPON." MISMOPE were the first on stage with their spacey performance, followed by Nemuri Haru, who left a huge impact with her mad mix of poetry and rap.

Monari Wakita fitted in nine songs in 30 minutes, demonstrating her multi-layered musicianship. The packed-out CUTUP STUDIO also got involved with some fiery call & response.

Atarashii Gakkou no Leaders wowed the audience with their infectious outlook and sharp, nimble dancing. During their song Saishuu Jinrui, which is the lead song taken from their first major album Mae Narawanai released on March 21st, they demonstrated their acrobatic bodies to the tune of a lively piano.

Five-member band Luby Sparks, who are recognised in the British alternative rock scene, also announced their new vocalist Erika for the first time.

The last performer of the day was SHE IS SUMMER, who performed a string of popular hits such as Machiawase wa Kimi no Iru Shinsen and Tobikiri no Oshare Shite Wakarebanashi wo. The two-day festival came to a close with MICO's energetic, jumpy performance.
RELATED ENTRIES
YouTuber Idol Group UNI Mello to Release First Original Song

In March 2022, UNI MELLO, a virtual YouTuber idol group, made its debut. A joint venture by Pony Canyon and Hello, the group will release its first original song Find out SHANGRI-LA on streaming services on September 28, 2022.

 

UNI Mello consists of seven members: Kaede, Sekai, You, Amane, Tomoka, Shirafuji, and Shun. Each has a unique hobby and skillset, and the members have continued to grow over the past six months. On the UNI Mello YouTube channel, the members have continuously posted singing videos, as well as daily streams. The group's first original song was announced at the September 18th event Uni Mello's First Offline Meeting, and the audience was beyond thrilled.

 

Find out SHANGRI-LA is a song filled with the member's dreams and hopes, and listeners are sure to want to embark on a new journey. The track is filled with solo parts, allowing each member to shine, as well as harmonies highlighting the cohesiveness of the seven members.

More original music is planned to be released in the future, so look forward to it!

(C)UNI Mello

Tower Records Cafe to Collaborate with Tokyo Revengers for Special Menu

Tokyo Records Cafe will hold a special Tokyo Revengers cafe in three cities around Japan–Tokyo, Osaka, and Nagoya. Fans of the series won't want to miss this special collaboration menu inspired by popular characters from the series!

Menu

Collaboration Menu

Phase 1 (Top): Takemichi and Chifuyu's Omurice / Tokyo Manji Gang Team Pasta

Phase 2 (Bottom): Chifuyu's Tonkotsu Rice Bowl / Tokyo Manji vs. Black Dragon Sandwich

Collaboration Desserts

Phase 1 (Top): Inui's Cocoa Pancakes / Hina's Apple Pie

Phase 2 (Bottom): Holy Night Cake / Mitsuya and Hakkai's Sweets Plate

Collaboration Drinks


 Tokyo Revengers Latte

Collaboration Drinks (Phase 1)

Collaboration Drinks (Phase 2)

Exclusive Happy Birthday Sweets

Take-Out Menu

Tokyo Revengers Original Take-out Bottle (Phase 1/Phase 2)

Cafe Reservation Bonus: Sticker (Phase 1)

Cafe Reservation Bonus: Sticker (Phase 2)

Menu Order Bonus: Postcard (Phase 1)

Menu Order Bonus: Postcard (Phase 2)

Bonus for Customers Spending ¥4,000 or more: Name Card (Phase 1)

Bonus for Customers Spending ¥4,000 or more: Name Card (Phase 2)

The collaboration menu is inspired by the story and characters of the globally-popular anime and manga series. Guests can enjoy special offers, exclusive goods, and illustrations drawn exclusively for this event. Who is your favorite?


Information

Tower Records Cafe x Tokyo Revengers

Tower Records Cafe Omotesando
Address: Imon Harajuku Building 2F (6-3-9 Jingumae, Shibuya-ku, Tokyo)
Running: October 7 – October 31, 2022
Phase 1: October 7 – October 19, 2022
Phase 2: October 20 – October 31, 2022
Take-out Drinks are available from 13:00-18:40
Twitter: https://twitter.com/trc_omotesando
◇Omotesando Time Schedule
① 11:00-12:20 ② 12:50-14:10 ③ 14:40-16:00 ④ 16:30-17:50 ⑤ 18:20-19:40

Tower Records Cafe Nagoya Sakae Skyle
Address: SKYLE 9F (3-4-5 Sakae, Naka-ku, Nagoya)
Running: October 22 – November 14, 2022
Phase 1: October 22 – November 2, 2022
Phase 2: November 3 – November 14, 2022
Take-out Drinks are available from 13:00-18:40
Twitter  : https://twitter.com/trc_nagoya
◇Nagoya Sakae Skyle Time Schedule
① 11:00-12:20 ② 12:50-14:10 ③ 14:40-16:00 ④ 16:30-17:50 ⑤ 18:20-19:40
 
Tower Records Cafe Umeda NU Chayamachi
Address: NU Chayamachi 6F (10-12 Chayamachi, Kita-ku, Osaka)
Running: October 7 – November 6, 2022
Phase 1: October 7 – October 21, 2022
Phase 2: October 22 – November 6, 2022
Take-out Drinks are available from 13:20-19:00
Twitter  : https://twitter.com/TRC_NUchaya
◇Umeda NU Chayamachi Time Schedule
① 11:20-12:40 ② 13:10-14:30 ③ 15:00-16:20 ④ 16:50-18:10 ⑤ 18:40-20:00
 

Buy Collaboration Goods: https://tower.jp/revengers-goods

Details:  https://tower.jp/revengers-cafe2

Home Cooking Themed Yowamushi Pedal LIMIT BREAK Collaboration Cafe to Open in Shibuya

Fans of Yowamushi Pedal won't want to miss this special collaboration! Chugai Grace Cafe, located on the seventh floor of Shibuya MODI, will be running the Yowamushi Pedal LIMIT BREAK cafe from September 22 until October 17, 2022.

Collaboration Menu

Sakamichi Onoda and Sangaku Manami's Udon & Onigiri Plate 


Yasutomo Arikita and Kuroda Yukinari's Hamburger & Salad Plate

Hayato Shinkai's Chocolate & Banana Mini Parfait

Sohoku High School Mango Whipped Cream & Calpis Drink

Hakone Academy Mint Whipped Cream & Calpis Drink

Goods

Pin (Random Holographic included, 9 varieties)

Acrylic Figure Stand (9 varieties)

Pin, Mini Character Ver. (Random Holographic included, 16 varieties)

Acrylic Stand (16 varieties)

Table Plate (9 varieties)

Shoulder Bag

Menu Order Bonus / Online Preorder Bonus

Coaster (1st Half): September 22 – October 4, 2022

Coaster (2nd Half): October 5 – October 17, 2022

The collaboration cafe focuses on dishes you may find at home, such as udon, onigiri, and even a chocolate banana mini parfait as a dessert. New original goods with exclusive illustrations will also be available for purchase!

©渡辺航(週刊少年チャンピオン)/弱虫ペダル05製作委員会

NFT Digital Idol Project 'Project B-idol' Announces First Artist Collaboration

05.September.2022 | MUSIC

The digital NFT idol project 'Project B-idol' has announced its first collaboration with an artist! As the first release, the song Lumière is now available as an NFT. Produced by INIMI, a team of musical artists attracting worldwide attention, the catchy number was released on September 1, 2022.

A number of unique tracks made by both well-known artists and newcomers to music are available on the NFT Marketplace 'PlayMining NFT Premier.' Each member of Azure Melodies sang this new track, and those who purchase the song will be permitted to vote on how the group progresses.

Don't miss out on this musical NFT, available in limited quantities on PlayMining NFT Premier!

ONE OK ROCK to Appear in Tower Record's 'NO MUSIC, NO LIFE' Campaign for the First Time in 11 Years

For the first time in over a decade, ONE OK ROCK will appear in Tower Records' popular NO MUSIC, NO LIFE campaign. Special posters will appear at all Tower Records and TOWERmini stores starting September 3, 2022.

The last time ONE OK ROCK appeared on posters for the campaign was in September 2011. The band will release its first original album in three and a half years, Luxury Disease, on September 9. While the previous album saw the group tackling different genres, ONE OK ROCK's signature rock sound seems to have returned. Luxury Disease was created along with producer Rob Cavallo and other overseas artists. 

 

Those who purchase the album will be entered into a drawing to win a B2-sized version of the NO MUSIC, NO LIFE poster. Entries can be submitted through the 59 participating Tower Records stores and Tower Records Online. Don't miss your chance to get a hold of this rare poster with a special message from Taka!

Jujutsu Kaisen 0: The Movie Gets Collaboration Cafe at Three Tower Records Cafe Locations

Tower Records Cafe locations in Tokyo, Nagoya, and Osaka have announced a collaboration with Jujutsu Kaisen 0: The Movie! Starting September 9, fans will be able to grab some tasty treats and special merch. 

Jujutsu Kaisen 0: The Movie opened in theaters on December 24, 2021. A prequel to the beloved Jujutsu Kaisen series, the film was extremely well-recieved, remaining in theaters for over five months. Fans fell in love with the narrative and Yuta's story, as well as the intricate fight scenes crafted by MAPPA and the impressive soundtrack. 

To celebrate the film's release on DVD and Blu-ray in September, Tower Records Cafe locations in Tokyo, Nagoya, and Osaka will hold limited-time collaboration cafes. The menu was inspired by familiar characters and their personalities, and visitors who reserve seats ahead of time will receive a bonus sticker featuring a newly-drawn illustration made exclusively for the event.

Yuta Okkotsu's Salted Cabbage Peperoncino: ¥1,580 (Tax Included)

Panda's Small Dishes & Pancakes: ¥1,580 (Tax Included)

Satoru Gojo's Sweet Meal: ¥1,380 (Tax Included)

Part 1 Design

Part 2 Design

A random postcard will be handed out to those who order from the collaboration menu during the first phase of the cafe. There are a total of five to collect featuring Yuta, Maki, Toge, Panda, and Satoru. 

Collaboration Goods

Character Cards

Guests will also be able to purchase exclusive merchandise featuring brand-new illustrations. For every ¥2,000 spent (including tax), guests will receive a character card as a bonus!

Information

Jujutsu Kaisen 0: The Movie x Tower Records Cafe

Omotesando / Umeda NU Chayamachi:
Part 1: September 9 – September 20 / Part 2: September 21 – October 2

Nagoya Sakae SKYLE:
Part 1: September 9 – September 17 / Part 2: September 18 – September 26

Details: https://tower.jp/jujutsukaisen-cafe

Kuroko's Basketball Cafe to Open at Chugai Grace Cafe in Shibuya

From August 26 until September 18, Chugai Grace Cafe at Shibuya MODI will hold a special collaboration cafe with the popular series Kuroko's Basketball!

Menu at a Glance

Ryota Kise's French Onion-style Carbonara

Daiki Aomine's Teriyaki Burger over Rice

Shintaro Midorima's Lucky Monaka

Tetsuya Kuroko's Vanilla Shake

Atsushi Murasakibara's Violet Blueberry Water

 

Goods

Pin (Cafe ver.)

Type A (7 varieties)

Type B (7 varieties)

Mini Acrylic Stand (Cafe ver.)

Type A (7 varieties)

Type B (7 varieties)

Nametags (Cafe ver.)

Type A (7 varieties)

Type B (7 varieties)

Mini Bromide (Cafe ver.)

Type A (7 varieties)

Type B (7 varieties)

Holographic Sticker (Cafe ver., 14 varieties)

Clear Case (Cafe ver.)

Menu Order Bonus: 1 Coaster (28 varieties, random)

Web Order Bonus: 1 Coaster 

Fans of the series will be able to sample a number of unique dishes inspired by characters from Kuroko's Basketball. Original goods featuring newly-drawn cafe-inspired illustrations will also be available, and guests will be able to enter a drawing to win a one-of-a-kind tapestry.

© 藤巻忠俊/集英社・黒子のバスケ製作委員会
©「黒子のバスケ」アニメ10周年プロジェクト

Information

Kuroko's Basketball x Chugai Grace Cafe

Running: August 26 – September 18, 2022
Venue: Chugai Grace Cafe, Shibuya MODI 7F
Reservations Now Available
Details: https://chugai-grace-cafe.jp/collaboration/kurobas/

*Priority for admission will be given to customers with reservations. Same-day seatings will be available depending on availability. See the official website for more details.

*All measures to protect guests against COVID-19 are outlined on the official website.

*Contents are subject to change without notice. We apologize for any inconvenience. 

Web Sales:
Chugaionline: https://chugai-grace-cafe.jp/collaboration/kurobas/
Order Period: September 27 – October 4 at 23:59
Shipping Date: November 2022

Official Site: http://www.kurobas.com/

Virtual Idol Group 15 Voices Releases New Song 'Ash,' Story PV

15 Voices is a new virtual idol group aimed at youth around the world. A group of 15 girls living in the fictional industrial city of Kagutsuchi sacrifice the future in order to live in the present, or sacrifice the present in exchange for the future, as they travel on a mysterious bus towards a city of youth. 

This spring, a free series of web prequel novels exploring the backstory of each member began. A manga adaptation and audio drama featuring popular voice actresses are also currently in the works.

On August 3, the group released a new song, Ash. This track comes ahead of 15 Voice's new EP ASTRONOTES, which will release next week. A short version of the anime music video has also been uploaded to YouTube. 

Ash – 15 Voice (Short Music Video)

The track features music and lyrics by Vocaloid-P ichica, who expertly weaves in the sentimentality one feels at the end of summer. The band's post-punk sound is a throwback to 90s pop-punk and the emo revival of the early 2000s. This one is sure to bring the nostalgia!

The new prequel novel, The Case of Emi Akiko and Nami Akiko, has also been fully released. The story was written by Takumi Mochizuki, a Mephisto Prize winner who has written a number of popular works in the past. The story can be read for free on the tree website.

The story follows the twin sisters as they navigate through their difficult upbringing, which included a neglectful mother, an absent father, and a fortune-telling foster grandmother. The two were born and raised in a strange place, and the life they choose to live in the end will shock you. We're looking forward to seeing how this prequel tale impacts the main story.

Each chapter of the prequel novel is accompanied by a theme song sung by the group, and the story of these two sisters is joined by the track Eureka. This song will also be featured on the ASTRONOTES EP.  Don't miss the promo video narrated by Anna Suzuki (Nami) and Minori Fujidera (Emi). 

Emi Akiko & Nami Akiko Prequel Novel Video

Live activities held in the virtual world will begin this fall, so check out the group's official Twitter page for more information going forward!

Idol Group FRUITS ZIPPER Releases 4th Single 'RADIO GALAXY,' Music Video Revealed

FRUITS ZIPPER, a new idol group from ASOBISYSTEM, has a simple concept: "From Harajuku to the World." Ready to transmit what they call 'NEW KAWAII' from Harajuku, an area known for fashion and individuality, to their soon-to-be global fanbase, the group consists of seven members: Amane Tsukiashi, Suzuka Chinzei, Yui Sakurai, Luna Nakagawa, Mana Manaka, Karen Matsumoto, and Noel Hayase.

This spring, the group released the song Watashino Ichiban Kawaiitokoro, which exploded in popularity on TikTok racking up over 200 million plays. The song also ranked on the TikTok HOT SONGS list and ranked at #1 on Spotify's viral chart. Fans requested a music video, and after its release, it pulled in over 1.1 million views in one month.

The group's long-awaited new single RADIO GALAXY was released on July 29, 2022.

This is FRUITS ZIPPER's 4th single, created in collaboration with trackmaker, singer, and producer YUC'e, who has provided songs for numerous artists and idols in the past.

YUC'e is known for her dance music inlaid with 'KAWAII' elements, and the artist has become incredibly popular both in Japan and abroad. It's no surprise that she chose to work with the adorable members of FRUITS ZIPPER, who are aiming to bring Harajuku culture to fans around the world.

A music video for RADIO GALAXY was posted to YouTube ahead of the song's streaming release.

FRUITS ZIPPER's artist photos were created by YUKARI, a video director, art director, and 3DCG artist from the digital creative company OFBYFOR TOKYO.

RADIO GALAXY – FRUITS ZIPPER (Music Video)

A special campaign to celebrate the release of the new song is ongoing on a number of music streaming sites. In addition, FRUITS ZIPPER will hold their first solo concert at Ebisu LIQUIDROOM on September 12.

For a long time, RADIO GALAXY was only known to fans in the in-crowd who saw it performed at FRUITS ZIPPER live shows. Now, everyone can dance along! 

Manga Series 'Eren the Southpaw' Hijacks Reebok Harajuku and Shibuya Stores

Reebok has appointed a number of popular artists in Japan and abroad to take part in their new campaign titled 'Life is Not a Spectator Sport -Move, Move!-' This collaboration started in March 2022.

 

As a part of this collaboration, Reebok is teaming up with the manga series Eren the Southpaw. Kappa's popular ensemble drama highlights a number of creators, and has a very poignant tagline: "To all those who couldn't become geniuses." Reebok's brand message matches this and is meant to be a manifesto for life, telling people to never give up, act on their own convictions, and find their own path. 

Reebok Classic Store – Harajuku Interior

Stickers / Pins

Original Scene from Eren the Southpaw 

To commemorate the release of Reebok's flagship model INSTAPUMP FURY 95 in Sax Blue, a huge piece of window art was redrawn by Kappi. The artist also provided an original manga featuring an entirely new story. Fans can find this at the Reebok Classic Store Harajuku and on the official Reebok Twitter page. The Reebok stores in Harajuku and Shibuya have also been completely taken over by Eren the Southpaw, completely decorated from top to bottom in images from the series. 

Space Brothers Manga Inspires Collaboration Event at Shibuya Scramble Square

Shibuya Scramble Square will host a special collaboration event with the manga series Space Brothers from August 5 until August 28, 2022. The event itself will take place on the SHIBUYA SKY observation deck and the 12th-floor event space Scene12.

The popular manga series Space Brothers has sold over 28 million copies since it began serialization in 2007. After 15 years, the story is approaching its climax, with the two main characters finally landing on the moon. With fans of the series anxiously awaiting the story's conclusion, the event will be the perfect place to celebrate. It will be split into two areas: the Shibuya Space School and the Space Cafe.



Shibuya Space School will take place on the SHIBUYA SKY observation deck, and is a fun and educational production that will teach visitors about space using VR and an exhibition of equipment used in space travel. Guests can also enjoy a photo spot featuring the moon over Shibuya, an astronomical observation class for both parents and children, and a talk show about the thrill of space travel.

Cafe Menu


On the 12th floor, guests can visit the Space Cafe. Inspired by a 1970s coffee shop, the location is the perfect spot for fans to mingle, read Space Brothers, or partake in some space-inspired treats exclusive to the event.

Collaboration Goods

Event

A selection of exclusive Space Brothers merchandise and collaboration goods will be available, and the editor of the manga will also be giving a talk during the event. Those who want to test their knowledge can also take part in a quiz competition, so don't miss out!

Golden Kamuy x Sanrio Characters Collaboration Cafe to Open in Shibuya

Characters from the popular anime series Golden Kamuy will team up with beloved Sanrio characters for a new collaboration cafe! Fans should visit Chugai Grace Cafe in Shibuya by July 18 to try some themed dishes and grab some exclusive merchandise.

Menu

Eat the Great North! Cream Stew Plate

Almond Pound Cake with Lingonberry Sauce

Matagi's Stump Birthday Cake

Monkichi the Monkey and Shiraishi's Banana Soda

Cola Float and Strange Juice

Goods

Pin – Cafe ver. (7 varieties, random)

Acrylic Stand (7 varieties)

Acrylic Frame Keychain (7 varieties)

Acrylic Block – Cafe ver.

Let's Go to the Cafe! Curry (2 varieties)

Pouch (10 varieties)

Genjirou Tanigaki Birthday Set

Collab Menu Order / Advanced Reservation Bonus Coaster (17 varieties)

Matagi's Stump Birthday Cake Order Bonus – Bromide

Goods Preorder Bonus Bromide (17 varieties)

The collaboration menu will include a tasty Almond Pound Cake with Lingonberry Sauce and Matagi's Stump Birthday Cake to celebrate Tanigaki's birthday! Don't miss out on these exclusive menu items and goods. 

©野田サトル/集英社・ゴールデンカムイ製作委員会
© 2022 SANRIO CO., LTD. TOKYO, JAPAN(L)