Tulips and Nemophilas are in full bloom! 6 recommended flower festivals in Japan
Pollen dust is on the decline nowadays. Where are you planning to go this coming Golden Week? Below are 6 recommended flower festivals in Japan.
Ibaraki Komorebi Mori no Ibaraido
In this festival, you can enjoy the contrast of spring flowers (nemophilas and tulips) in a flower garden (2,500 square meters) located in front of the entrance gate to the experience-based agricultural park in Ibaraki Prefecture, "Komorebi Mori no Ibaraido."
Gunma Flower Park "Tulip Festa"
In this festival, you can enjoy viewing about 190 thousand flowers (50 kinds) from early April to late April. The main, big flower garden has been renewed, so you can walk inside the garden filled with tulips!
Also, Yaeszakuras (sakura) centering around Sekiyama and field flowers will bloom here and there.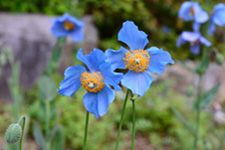 Mount Rokko National Park (Himalaya no Hikyo ni Saku Hanabana ~Aoi Keshi to Shinku no Sakunage~"
Mount Rokko National Park will hold a special event highlighting flowers in the backlands such as Himalaya mountains centering around "Himalayan blue poppy." About 1,000 blue poppies will bloom in the rock garden and rare varieties such as the red alpine rose named, Rhododendron arboreum will be exhibited.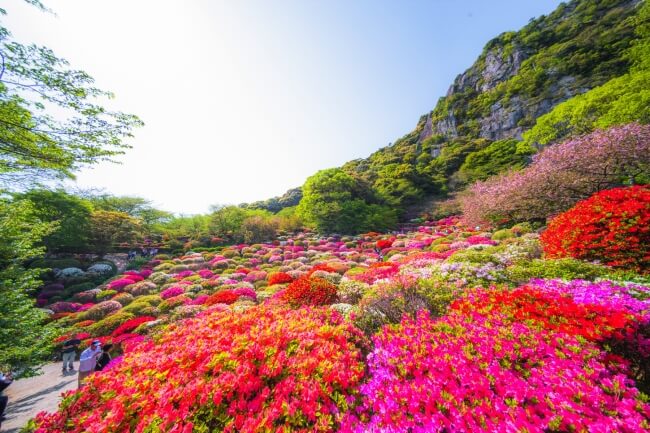 Saga Prefecture – Mifunayama Rakuen "Mifuneyama Rakuen Hana Matsuri"
Mifunayama Raken is designated as a National Treasure and you can enjoy viewing many kinds of spring flowers such as azaleas, Japanese wisterias and spring maples.
Detailed information:https://www.moshimoshi-nippon.jp/102871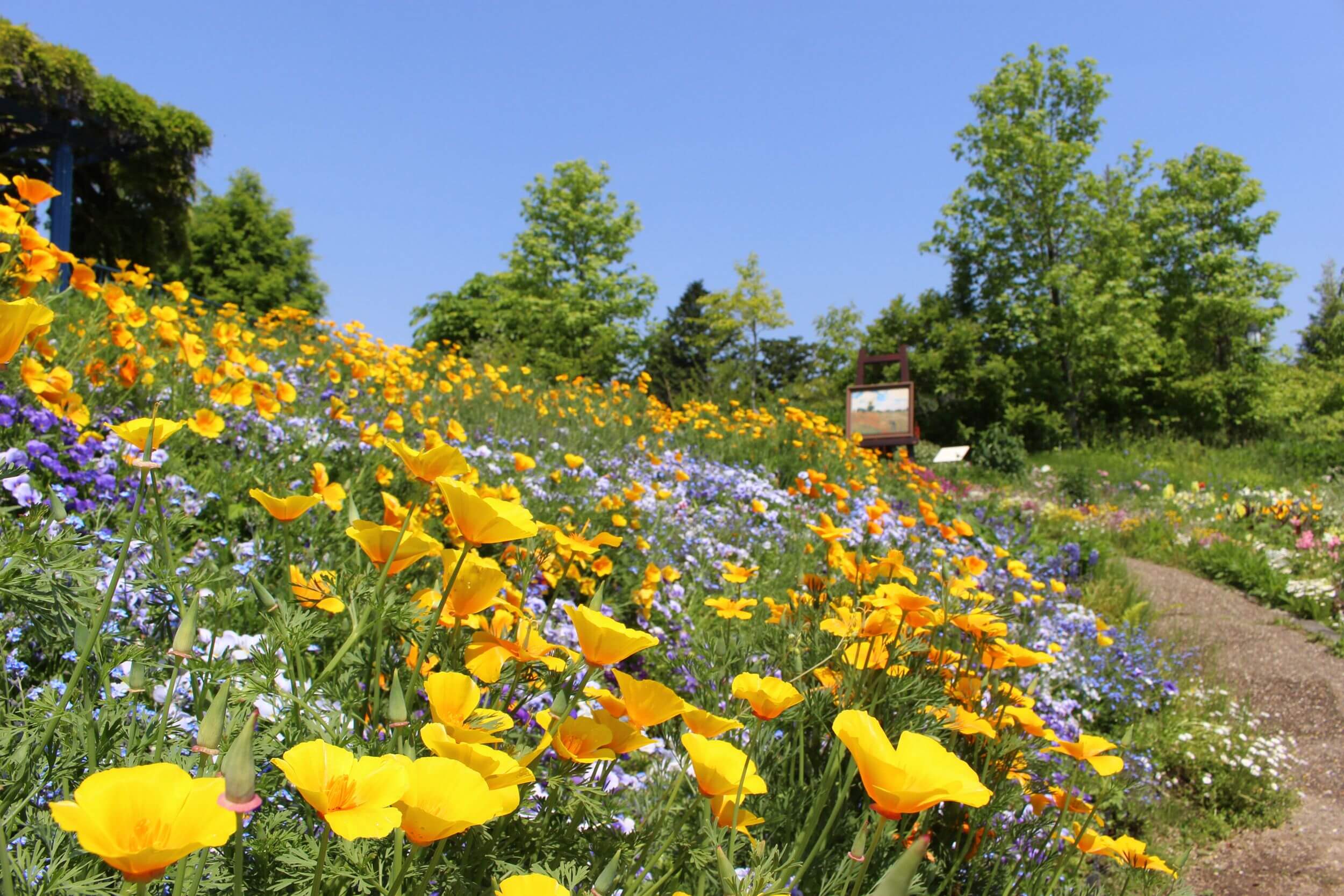 Garden Museum Hiei
Garden Museum Hiei (17,000 square meters) is an impressionist styled garden which was opened on the 14th of April.
Tulips which survived the severe winter coldness will bloom from the 28th of April (Sat.) to the 6th of May (Sun.). The garden is also offering seeds of four leaves clover in April.
Nagasaki Huis Ten Bosch "Ajisai Masturi"
Ajisai Matsuri ('Hydrangea Festival') will take place at Huis Ten Bosch in Nagasaki from June 2 to July 1, showcasing 1,250 varieties of hydrangea. There will also be a market where you can buy a variety of plans you're interested in, as well as go on a tour by a hydrangea expert, a hydrangea light-up show at night, and more.
Detailed information:https://www.moshimoshi-nippon.jp/102391
Please refer to this article when you want to visit a spring flower festival.
RECOMMENDED ENTRIES
Mother's Day in Japan: Flowers, Sweets & Other Gift Ideas for 2018!

Mother's Day is a celebration of expressing gratitude to mothers who work so hard every day. The date on which Mother's Day falls differs from country to country, but in Japan it falls on the second Sunday of May; this year it's May 13th.

Have you decided on a present for Mother's Day yet?

Let's take a look at some perfect gifts you can get in Japan for this special day, from confectioneries to flowers.

Flower Miffy

Flower Miffy is a flower shop inspired by the popular picture book series Miffy. The store is introducing some original gift sets just for Mother's Day!

The cute planser can be utilized in many ways – you can even use the pot for bits 'n' bobs and the tray for accessories. The set comes with the classic choice of carnations, and there's another set of pink preserved flowers too. This is a great choice for changing up your flower gift.


RIHGA Royal Hotel – "Mother's Bouquet"

The "Mother's Bouquet" looks just like a florid bunch of flowers, but it's in fact a delicately designed delectable cake. The bottom of the bouquet, which is made of chocolate, contains hidden fresh strawberries. Together with the bite-size "Merci Maman" confectioneries, this special offer is available for Mother's Day only. It might be fun to surprise your mother with this 'bouquet' as a present.


"Petit Bisou" – Decoration Cupcakes

Petit Bisou in Ashiya sells cupcakes and baked sweets. Over on their online shop, they're selling close to 100 different varieties of sweets and desserts. Among them – cupcakes decorated with flowers, a hugely popular gift item with female customers. For Mother's Day, they are also selling cookie sets with "Thank You, Mother" written in Japanese!


"Donguri Kyowakoku" – Studio Ghibli Character Flower Gifts

Flowers delivered directly to homes is a popular gift every year on Mother's Day, and Donguri Kyowakoku, a store that sells Studio Ghibli character merchandise, are doing just both instore and via their online shop "Sora no Ue." Popular Ghibli characters such as Totoro, Cat Bus, Jiji from Kiki's Delivery Service will be made into cute planters. As well as flower gifts, the store is also selling two different tea sets this year that come with tea and a glass mug.


"PSYCHE&" × "SABON" – Mother's Day Gifts

An arrangement of carnations co-ordinated in natural and gentle colours by PSYCHE& and a rose and lavender hand cream by SABON are being released as a set for Mother's Day. This special gift invigorates through "sight, smell and touch." This sincere gift is great for busy, hardworking mothers.

Be sure to send your mother a wonderful present full of love this Mother's Day.

8 recommended popular characters' cafes :April 2018

Cafés and menus collaborated with popular characters in Japan are gathering much attention these days. In this article, I will introduce to you some recommended collaboration cafes/menus available on April 2018.

Rilakkuma×Seibu Ikebukuro

"Rilakkuma Town Café" will be opened for a limited time offer along with the 15th anniversary exhibition "Rilakkuma Towne Yokoso"

Photogenic collaboration menus and original goods will be sold. The interiors of the shop using the illustrations of cute Rilakkuma and limited items are awesome!

Detailed information:

Pomupomupurin's birthday menus

The four Pompompurin Cafe branches in Harajuku, Umeda, Yokohama and Nagoya are introducing a special birthday menu to celebrate the popular Sanrio character's birthday. With the tasty meal you'll receive warm and fluffy Pompompurin rice, plump roast chicken and mash potato made to look like Muffin. You can also get a gift box with a red ribbon! Those who eat a meal at one of the cafes will receive a postcard with a limited-edition birthday design and a pin badge! But be quick, because there's only a limited amount available

Detailed information:https://www.moshimoshi-nippon.jp/98186

Alice in Wonderland × Restaurant Mangiare Odaiba

The Italian restaurant Mangiare in Odaiba has announced that it will serve up a limited-edition Alice in Wonderland themed lunch for 4 days. The Alice Sweet Palette Lunch Course will be available on April 29th, April 30th, May 5th and May 6th for ¥3,500. The three-course meal is made up of an hors d'oeuvre containing plenty of organic vegetables grown in mineral-rich red soil, a selection of entrées including seasonal soup and one of either pasta, meat or fish, and a specially made Alice-inspired photogenic dessert palette to top it all off.

Detailed information:https://www.moshimoshi-nippon.jp/96502

Neko no Gohanyasan × Cute Cube Harajuku

Rather than being character-themed, this collaboration café incorporates the theme of "headwear for cats", creating an entirely new kind of collaboration café called "Neko no Kaburimono" (Cats in headwear). Cat photographer Sakura Ishihara has displayed numerous photographs of adorable cats wearing headwear. There is not a single real cat at the exhibition so those who are allergic to cats can also enjoy this exhibition.

Detailed information:https://www.moshimoshi-nippon.jp/99802

Bonobono × TOWER RECORDS CAFÉ

Tower Records are launching round two of their collaboration project with popular anime "Bonobono" which is currently broadcasted by the television station Fuji TV. The cute collaboration menu is themed around Easter. There are 11 collaboration goods and extras for customers to enjoy. Now let's take a look at a few items on the menu!

Detailed information:https://www.moshimoshi-nippon.jp/99796

Sailor Moon × My Melody – Candy Parlor

Bishojo Senshi Sailor Moon and My Melody are teaming up to open a collaborative café called Sailor Moon × My Melody Candy Parlor for a limited period in Osaka, Sapporo, Tokyo and Nagoya. See everybody's favourite magical girls and Sanrio's popular character come to life in the form of food, sweets and drinks served only at this café.

Detailed information:https://www.moshimoshi-nippon.jp/90049

Harapeko Aomushi × MARRONNIER GATE GINZA

The world of "Harapeko Aomushi (The Very Hungry Caterpillar), one of the most loved picture books in the world, will become a café. The café is open from the 18th of January 2018 (Thurs.) in Ginza for a limited time offer! The items on the menu of the café will include French toast, omelet rice, Hamburger and pasta which everybody likes.

The healthy menu items will use lots of fresh and colorful vegetables which is for sure to make customers happy.

Detailed information:https://www.moshimoshi-nippon.jp/84934

Sanrio Characters × Dining Park Ikebukuro

Sanrio Characters Lovely Café" where popular Sanrio characters from back in the 80's will gather, is open at "Dining Park Ikebukuro" located on the 8F of Nishi Ikebukuro Honten, close to the east exit of Ikebukuro Station. It is be opened from the 31st of January (Wed.) to the 17th of April (Tue.). Original menu items of the good-old characters will be sold.

Detailed information:https://www.moshimoshi-nippon.jp/88086

How did you like our collaboration cafés/menus recommendation? Why not visit one of the cafes introduced in this article?

MOSHI MOSHI BOX Questionnaire to 100 Foreigners: #2 "Where are you heading to next in Tokyo?"

Hi, everyone. I'm Shiota, the director of the MOSHI MOSHI BOX.

This is the second entry to our already-popular series where we ask questions to 100 foreigners. We give questionnaires about Japan to foreign tourists that come into the MOSHI MOSHI BOX Harajuku Tourist Information Center.

The 2nd question we asked people was "Where are you heading to next in Tokyo?" Let's take a look at the answers!

1st Place: Shibuya (34 Votes)
The most popular answer was Shibuya, which got more than double that of the 2nd place rank. It's common to see lots of foreign tourists taking photos of Shibuya's famous Scramble Crossing. In the questionnaire answers, a lot of people were planning to go there for fashion and shopping.

I really love shopping. ―Karymoon, Mexico

・I've always wanted to try going to 109! I love fashion. ―Brigitte, France
・I'm off to buy clothes. If you're going from Harajuku you can walk there [Shibuya] and stroll while window shopping. ―liu, China

2nd Place: Asakusa (13 Votes)
Asakusa is popular for its traditional townscape. There was an overwhelming number of people on their way to Sensou-ji Temple. Asakusa is a great for accessing other great sightseeing spots too like Skytree and Ueno.

I want to see the beautiful, traditional streets. ―Anonymous, US

・I'm collecting goshuin from shrines, so I'm going to the famous temple of Asakusa. ―LEE SUU JUNG, Taiwan
・I like the traditional culture of Japan. I go to Asakusa every time I come to Japan. ―Anonymous, US

3rd Place: Ueno (12 Votes)
Coming close to a tie with Asakusa is Ueno. Ueno is filled with lots of fun places to visit, like museums and the zoo, making it a great place to spend the day.

I heard that the cherry blossoms in Ueno Park are beautiful, so I'm going to go there. ―Celine, France

・I'm thinking about going to the zoo and Ueno Park. ―Kati, Australia
・I like pandas, so I'm going to go and see Ueno Zoo. ―Bianca, Italy

Other Answers:

Akihabara
I love anime! If we're talking anime merchandise, then it's "Akiba," right? ―Jackson, UK

Ikebukuro
Ikebukuro is the haven for female otaku. It's also the best since there are so many cosplay events there. ―Anonymous, US

Ginza
I like the stylish streets. I'm gonna go there to shop. ―Adre, Portgual

Tsukiji
I love sushi! I'm going to go and eat delicious sashimi at Tsukiji. I want to experience the unique atmosphere too.

Shinjuku
I'm going to the big UNIQLO, museum and Hanazono Shrine found only in Shinjuku. ―Anonymous, Australia

Tokyo Tower
It looks fun. It's a famous place in Japan, isn't it? ―Sue, US

Did you enjoy this questionnaire? Travelers have a surprisingly similar mindset to that of Japanese people when it comes to having fun in Tokyo.

If you have any questions about anything or topics you want us to cover then please send us a message on our Facebook page! https://www.facebook.com/msmsnippon/

We'll continue to hold more questionnaires with foreign tourists at the MOSHI MOSHI BOX, so be sure to drop by to see us if you're in Harajuku!

■MOSHI MOSHI BOX Harajuku Tourist Information Center

MOSHI MOSHI BOX is a tourist information center located at the cross road of Takeshita Street, Meiji Street, and Harajuku Street. The staff there are experts on the Harajuku area. You can get the most up-to-date news of Harajuku from the site.

Services:

Service list

・free wi-fi

・free water

・free PC & charge

・baggage room

・gift shop

・currency exchange

Opening Hours: 10:00-18:00

Closed: The year-end and New Year holidays

Contact: 03-2225-6447

6 Best Spots to Visit in Odaiba: Gundam, Ramen, Shopping and More!

As well as being a hub for shopping, Odaiba is a popular sightseeing destination. It's seen as being a little far from central Tokyo, but you can in fact arrive there in about 20 minutes from Shibuya and Shinjuku.

Here are 6 locations in Odaiba that we recommend for foreign tourists. Be sure to take note if you're planning a trip there!

AQUA CiTY ODAIBA

This is Odaiba's huge shopping complex. There's a huge range of facilities to be found there, including a shrine, ramen, 4DX® and much more. One place you mustn't forget to visit is Odaiba's "Statue of Liberty" which has become a famous photo spot. It's relatively smaller compared to the one in New York and the replica in Paris, but you'll still see a lot of people snapping pictures.

◼︎Information

Address: 1-7-1 Daiba, Minato
Opening Hours: 11:00-23:00
Access: 1-minute on foot from Daiba Station via all lines / 6-minutes on foot from Tokyo Teleport Station via the Rinkai Line
TEL: 03-3599-4700

Website:www.aquacity.jp

Odaiba Tourist Information Center
At this information center you will find a realistic looking android by the name of Chihira Junko. She is 26-years-old, was born on June 1st and comes in at 165cm tall. This is the only place in the world with an android permanently set up at a tourist information center. She speaks Japanese, English and Chinese.

◼︎Information

Odaiba Tourist Information Center
Address: AQUA CiTY ODAIBA 3F, 1-7-1 Daiba, Minato
Opening Hours: 11:00-21:00
Access: 1-minute on foot from Daiba Station via all lines / 6-minutes on foot from Tokyo Teleport Station via the Rinkai Line
TEL: 03-3599-4700


Tokyo Ramen Kokugikan Mai
Ramen is a popular food in Japan as we discovered in our questionnaire held at the MOSHI MOSHI BOX on people's favourite Japanese food. Tokyo Ramen Kokugikan Mai is a collection of six famous ramen restaurants from around Japan that are popular both in Japan and overseas. They serve up an original menu that you can't taste anywhere else.

◼︎Information

Tokyo Ramen Kokugikan Mai
Address: AQUA CiTY ODAIBA 5F, 1-7-1 Daiba, Minato
Opening Hours: 11:00-23:00
Access: 1-minute on foot from Daiba Station via all lines / 6-minutes on foot from Tokyo Teleport Station via the Rinkai Line
TEL: 03-3599-4700

Hello Kitty Japan
This shop serves up a compelling collaboration between the Japanese style and Sanrio characters. It's lined with merchandise of popular characters from Hello Kitty to Gudetama and beyond. They also sell kawaii sweets inspired by the characters in the sweets corner of their eat-in section♡

◼︎Information

Hello Kitty Japan
Address: DiverCity Tokyo Plaza 2F, 1-1-10 Aomi, Koto, Tokyo
Opening Hours: 10:00-21:00
No Fixed Holidays.
Access: 5-minutes on foot from Daiba Station via Yurikamome / 3-minutes from Tokyo Teleport Station Exit B via the Rinkai Line
TEL: 03-3527-6118


Life-Sized Unicorn Gundam – THE GUNDAM BASE TOKYO
THE GUNDAM BASE TOKYO is an official Gunpla store aimed at Gunpla fans worldwide. You can enjoy Gunpla to the absolute max by buying, using, looking and learning. On the first floor there's also a gigantic life-sized Unicorn Gundam towering at 19.7m high. Its knees and shoulders move, and it even lights up. In the evening, the statue and screen at the back showcase scenes from the anime series.

◼︎Information

THE GUNDAM BASE TOKYO

Address: DiverCity Tokyo Plaza 7F, 1-1-10 Aomi, Koto, Tokyo

Opening Hours: 10:00-21:00

No Fixed Holidays.

Access: 9-minutes on foot from Tokyo Teleport Station via the Rinkai Line / 10-minutes on foot from Odaiba-Kaihinkōen Station via Yurikamome / 10-minutes on foot from Daiba Station via all lines

TEL: 03-6426-0780

Website:

https://www.gundam-base.net/



Madame Tussauds Tokyo
Madame Tussauds Tokyo is home to over 60 realistic life-sized statues of world famous stars and celebrities from Hollywood stars to musicians, historical figures, sportsmen – the list goes on. You can take a picture with the figures on show and you can also make a giant figure of your own hand.

◼︎Information

Madame Tussauds Tokyo
Address: DECKS Tokyo Beach Island Mall 3F, 1-6-1 Daiba, Minato, Tokyo
Opening Hours: 11:00-19:00
Access: 2-minutes on foot from Odaiba-Kaihinkōen Station via Yurikamome / 5-minutes on foot from Tokyo Teleport Station via the Rinkai Line
TEL: 03-3599-5231

Did you like our pick?

Odaiba has so many things for you to see in one day, so make sure to visit all its great spots!

Recommended "Cherry Blossom Festivals 2018" which will be held throughout Japan

Cherry blossoms are about to bloom! In this article, I will introduce to you some recommended "cherry blossom festivals."

Nagano Prefecture "Takatoo Sakura (cherry blossom) Matsuri (festival)"

"Takato Sakura Matsuri" is an annual spring festival held in Nagano Prefecture to which about 200 thousand tourists gather. Inashi Sightseeing Committee is now holding "SAKURA-genic Instagram Present Campaign" (until the 30th of April (Mon.)) where the participants can win prizes like lodging tickets and local food items by following the festival's official account or by sharing photos of cherry blossoms using your Instagram account. Takato Sakura Matsuri is held in Takato Joshi Park in Inahi, Nagano Prefecture from the 1st of April to the 30th of April every year. There are about 1,500 cherry trees planted inside the park and it is known as one of the 3 most famous cherry blossom-viewing spots in Japan.

Detailed information:https://www.moshimoshi-nippon.jp/94437

Tokyo Nihonbashi "Nihonbashi Sakura Festival"

 "Nihonbashi Sakura Festival Planning Committee" will hold an early cherry-blossom viewing event called "Nihonbashi Sakura Festival ~Aratani Deau, Nihonbashi, Yaesu, Kyobashi~" in the Nihonbashi area of Tokyo from the 16th of March 2018 (Fri.) to the 15th of April (Sun.). Nihonbashi has many beauty spots where cherry blossoms can be viewed such as Edozakura Street and Hamamachi Ryokudo. The event counts the 5th time this year and this year it will be held with the theme of "Artistic ni Tanoshimu Haru (enjoying spring in an artistic manner)." An artistic cherry-blossom viewing experience using the motifs of Edo Period's art paper cutouts, an eating binge program with the theme of cherry blossoms and some linkage art events like music festivals and exhibitions will be held.

Detailed information:https://www.moshimoshi-nippon.jp/88158

Tokyo Nihonbashi "Edo Sakura Matsuri"

Nihonbashi Mitsukoshi Main Store will hold "Edo Sakura Maturi" from the 21st of March (Wed. – holiday) to the 3rd of April (Tue.). Various kinds of items using the motifs of cherry blossoms will be sold in all floors including the food area in B1F in accordance of the blooming of cherry blossoms in Nihonbashi's famous spots such as "Edo Sakura Street" and "Nihonbashi Sakura Street." This is a cherry blossom festival where you can enjoy the atmosphere of the Edo Period.

 Tokyo Midtown "CHANDON Blossom Lounge"

Tokyo Midtown will open "CHANDON Blossom Lounge" where stylish food items as well as premium-quality sparkling wine produced in Australia named CHANDON will be offered. You can enjoy the spring season's special food while viewing the cherry blossom road of Tokyo Midtown and enjoy the mystical world of the limited-time-offer bottle of wine named, "CHANDON ROSÉ BY TOMOYUKI YONEZU 2018." Let's enjoy the sparkling wine and the view of cherry blossoms.

Tokyo/Kotoku "14th Oedo Fukagawa Sakura Matsuri"

"Oedo Fukagawa Matsuri" where you can view cherry blossoms while riding on a boat is known as the seasonal festival of Monzennakacho. About 270 Someiyoshino Cherry Blossoms planted along Oyoko River located to the south of Monzennakacho Station can be viewed from late March to early April. The cherry trees along Oyoko River arch out over the surface of the river making for a cherry blossom tunnel. You will surely feel like you have been transported back to the Edo Period by riding on a boat while viewing cherry blossoms at nighttime.

Fukui Prefecture "8th Echizen Togei Mura Shidare Zakura Matsuri"

Many kinds of stores selling potteries, wooden items, glass items, cloth sundries and accessories will be sold at "Echizen Togei Mura Shidare Zakura Matsuri" which will be held at Echizen Togei Village. Plus, 17 artisans who make potteries will gather at the venue and 34 workshops where you can create your own item will be available. Let's enjoy this "experience- based" festival inside the artistic park.

How did you like our cherry blossom festival recommendation? Why not visit one of the cherry blossom festivals introduced in this article and experience the highlight of Japan's spring season.

7 Recommended Hot Springs in Japan to Enjoy Hanami

It's still pretty chilly outside, isn't it? Let's take a look at locations around Japan where you can enjoy the cherry blossoms while taking a dip in the onsen (hot spring). Being able to enjoy hanami while bathing in the hot water is really a luxurious experience – it's something everyone should try.


"Marumine Kanko Hotel" – Fukushima Prefecture

The best part about this hotel is undoubtedly their large baths with a great view! The breathtaking panoramic view from their hot springs allows for you to enjoy gorgeous sights from season to season. Their open-air baths, which are perfect for the beautiful cherry blossom season, have separate impressive themes and designs for males and females. They also have rooms that come with their own open-air baths aimed at couples and families too.

"Kinranso Hanayama" – Fukushima Prefecture

You can enjoy the taking a dip in an open-air bath designed like a houseboat while soaking up the view of lush nature surrounding you. Kinranso Hanayama's unusual baths are truly a sight to see. The baths are one with nature and offer an extraordinary experience.


"Fuga No Yado Chouseikan" – Niigata Prefecture

This hot spring has a lot of history and has been known in the area since long ago. It opened 700 years ago and is a hot spring where you can naturally feel both nature and history. When the flowers are in full bloom, large cherry blossom trees fill your vision and spellbind you without you even realising.

"Yukemuri-no-Sato Kashiwaya" – Tochigi Prefecture

This hotel has 4 open-air baths, all of which are filled with healing water and all of which immerse you Tochigi's lavish nature. There are separate designs for the male and female baths that are a lot of fun. Two of the open-air baths that can be reserved have giant windows with a panoramic view, allowing you to enjoy the outdoor sights to your heart's content.


"Hotel Kaminoyu Hot Spring" – Yamanashi Prefecture

This large public bath house has a whopping 7 different baths, meaning you can find and pick which one you like the most. This site also has the second largest tarufuro, a type of wooden barrel bath. What's more is that you can experience Mount Fuji, a starry sky and cherry blossoms at night – all at once! This one sure is luxurious.

"Bosenkan" – Gifu Prefecture

The word "river" makes up part of the name of this hotel, referring to the existence of the nearby river that you can experience. The hotel offers a variety of plans, including one for couples as well as relaxation plan, both of which are popular. For meals, you can enjoy local beef from the city of Hida, koshihikari rice that is cultivated in Gifu's Maze River which was selected as Japan's best clear stream, and more. The international hit movie Your Name (Kimi no Na wa) was even the city of Takayama in Gifu Prefecture. Definitely take a trip here.

"Asanoya" – Hyogo Prefecture

There are two open-air baths at this hotel: "Hikoboshi" (Altair) and "Orihime" (Vega). In the women's bath, Orihime, large cherry trees bloom gracefully overhead. The hotel also has baths for couples and families that can be reserved. They even have footbaths, so it might be nice to stop by on your way back from sightseeing to heal up those weary feet.

Did you enjoy this list? Be sure to treat yourself to some self-indulging time at one of Japan's many hot spring locations.
RELATED ENTRIES
Witness the Sengoku Period Parade at the Kazutoyo Festival in Kisogawa

The town of Kisogawa in Nagoya, Aichi is just 30-minutes by car from Nagoya Station, which is set to welcome the 36th annual Kazutoyo Festival on September 15.

The city of Ichinomiya was the birthplace of Yamauchi Kazutoyo, a famous military commander during the Azuchi–Momoyama period (1568-1600). Every year, the bustling Kazutoyo Festival recalls the Sengoku Period, a time of war and upheaval in Japan which lasted over a thousand years, as well as the helmet and armor-clad commander.

The festival also has mini live performances, as well as an anime show which can be enjoyed by children. There's also food, horse riding, and other fun activities.

Experience a unique cultural autumntime festival this year at the Kazutoyo Festival in Kisogawa.

Information

36th Kisogawa Kazutoyo Festival

Date: September 15, 2019

Time: 10:00-16:00

Locations

Main Location: Ichinomiya Shiritsu Kuroda Elementary School (Kojo-26-2 Kisogawacho Kuroda, Ichinomiya, Aichi)

Sub-Locations: Aeon Mall Kisogawa (25-1 Kisogawacho Kuroda Minamihatsukaike, Aichi Prefecture) & APiTA Kisogawa Shop (51-4 Kisogawacho Kuroda, Ichinomiya, Aichi Prefecture)

Sengoku Period Parade

Time: From 10:00

Course: Sotowariden Crossing→Kisogawa Ginza Shotengai→Kuroda Elementary School

Enquiries: Kisogawa Kazutoyo Festival Planning Committee (0586-87-3618)

A Date With Yutaro: Soaking Up the Japanese Summer Sun & Visiting the Art Aquarium | Tokyo Stroll

It's been a while since our last date with Yutaro. He's been very busy with film shoots. He had some spare time today so we paid a visit to Nihonbashi for our next date. "ECO EDO Nihonbashi: Enjoy Cool Edo With All Five Senses" is an event held every year in the Nihonbashi area which takes the Edo period cultural idea of "coolness"―an in, to enjoy being cool during the summer-and puts a modern spin on it. There are many exciting things to look forward to, including the art aquarium which proves massively popular every year.

We gave ourselves more time to arrive at the meeting place to be in the safe side, but it seems Yutaro-kun was already there waiting for us!

Nihonbashi Information Center | IPPIN CAFÉ "Sparkling Herb Tea" – ¥518 (Tax Included)

"Here, you must be boiling." Yutaro-kun kindly offers a cup of IPPIN CAFE's limited-edition sparkling herb tea. It's a delicious mix of fizzy soda and lemon, a perfect refreshment for the summer. Since he ordered takeout the drink came with a goldfish straw. Goldfish are a staple sight during Japanese summer festivals so it's very fitting for the occasion! 

With our drinks in hand, it's time to head to Nihonbashi for our Edo summer date!

Wind-Chime Forest Path

Lining the path between Fukutoku Shrine and Fukutoku Garden is the Wind-Chime Forest Path where around 200 Edo-style wind chimes dangled. This year, during the evenings, the path is illuminated with beautiful lighting. 

When the breeze rolls past the wind chimes ring one by one-a cool and refreshing sound.

"I hear each one of these Edo wind chimes are individually handmade by craftsmen."

When you hear the sound of the wind chimes it makes you feel cool like a gentle breeze of the wind.

After strolling along the Wind-Chime Forest Path we make our way towards this year's ECO EDO Art Aquarium event.

The moment we step instead Yutaro is already dazzled by all the goldfish: "Wow! I knew about this place from what I'd seen online, but this my first time here! This art aquarium really is something!"

The full title of the event is "ECO EDO Nihonbashi ART AQUARIUM 2019 ~Edo, Coolness of Kingyo~ & Night Aquarium."  Goldfish were a huge part of the common culture in Nihonbashi during the Edo period. This event recreates that and brings that "coolness" aspect while combining it with contemporary art by having people observe the fish in lots of different artistic environments.

Super Oiran

"This is the biggest fish tank, apparently it has 3,000 fish swimming inside!"

"Seeing the light reflect on the water from the illuminations lets you see the fish in a different light, doesn't it?"

Looks like Yutaro-kun is having a lot of fun taking photos.

He's equally interested in just about every fish tank!

These other fish tanks have a different aesthetic to them. Their Japanese-style designs make for great photos.

Kaleidorium 3D

"This one's beautiful, it's like a kaleidoscope."

It really does look like one. When you take a peek instead you can glimpse all kinds of colourful fish gently swimming around.

Ceiling Kingyo

"There're goldfish swimming on the ceiling too. So cool! This aquarium is incredible. It brings together the great culture of Edo and contemporary art."

The Art Aquarium bustles every single year with visitors, but this year will mark its last run. It's being held at Nihonbashi Mitsui Hall, so if you have the chance to go then please do.

We of course checked out some local Nihonbashi treats too! We stopped by morozoff for some cheesecake after the aquarium.

morozoff Kamadashi Cheesecake (Goldfish) – ¥270 Each (Tax Included)

These cute cheesecakes with their goldfish designs are available for a limited time only. They're filled with sweet red bean paste. They perfect with iced tea.

"Got some! Let's eat them while we head back."

Goldfish Lantern Walkway

Our first date in Nihonbashi was so much fun. While on the date Yutaro-kun spoke about the new live-action film he's in, Kaguya-sama: Love Is War.

"It's a romance film with mind games to try and make the other person confess their love. I play the character Tsubasa. His number one highlight scene is the kabedon scene. That was my first day shooting, so I was super nervous, but I got along well with the other actors, and the atmosphere on set was harmonious, so I was able to relax for the shoots. Tsubasa is a genuine guy who will believe things that have been said to him in earnest. You've definitely gotta check out all his scenes throughout the film!"

"A lot of the cast are the same age as me, so we were all energetic together in the waiting room. There's a scene at the end where all the cast get together. It took 3 days to shoot so we ended up getting along really well."

"This film has made me realise that love comes in many shapes, and that mind games happen in a variety of ways between guys and girls. There's cute scenes that express that small bit of pride that teenagers have, the embarassment they feel, when they get butterflies, scenes that will warm your heart. The film has various elements to it so I thoroughly enjoyed watching it myself. I hope that couples in love in their teens and twenties watch it, and I also hope that married couples watch it and crack up laughing too."

"In the film it's summer break, and they go and see fireworks and stuff. It's definitely one to watch durnig the summer. You're gonna come watch it too, right? Shall we go?"

An offer we cannot refuse! We'll definitely go and see it with you, Yutaro-kun! 

Model: Yutaro

Writer: Yuki Yokoo

Photographer: Kayo Sekiguchi

Information

ECO EDO Nihonbashi 2019 ~Enjoy Cool Edo With All Five Senses~

Running: July 5, 2019 – September 23, 2019

Location: Nihonbashi Area

TEL: 03-3242-0010 (Nihonbashi Information Center)

Event Page: https://www.nihonbashi-tokyo.jp/en/ecoedo2019/

ECO EDO Nihonbashi ART AQUARIUM 2019 ~Edo, Coolness of Kingyo~ & Night Aquarium

Running: July 5, 2019 – September 23, 2019

Location: Nihonbashi Mitsui Hall Floor 5F (Entrance at 4F),  COREDO Muromachi 1, 2-2-1 Nihonbashimuromachi, Chuo Ward, Tokyo

Opening Hours: Art Aquarium 11:00-19:00 / Night Aquarium From 19:00

[Sun-Fri] 11:00-22:00 (Last Entries 22:00) [Sat & days prior to public hoiday] 11:00-23:30 (Last Entries 23:00)

Access: Directly connected to Exit A6 of Mitsukoshimae Station, accessible on the Tokyo Metro Ginza Line and Hanzomon Line / Directly connected to Shin-Nihombashi Station / 8-minutes on foot from East Exit of Kanda Station JR 8-minutes on foot from Nihonbashi Exit of Tokyo Station

TEL: 03-3270-2590

Event Page: https://www.nihonbashi-tokyo.jp/en/ecoedo2019/contents/005.html

Kaguya-sama: Love Is War Film

Release Date: September 6, 2019

Adapted from the manga of the same name by Aka Akasaka (Shueisha/Weekly Young Jump)

Cast: Sho Hirano (King & Prince), Kanna Hashimoto, Hayato Sano, Natsumi Ikema, Nana Asakawa, Mayu Hotta, YUTARO, Takashima Masahiro, Jiro Sato

Official Website: https://kaguyasama-movie.com/

TALENT PROFILE

Yutaro

Yutaro was born in Hiroshima on June 3rd 1998. His modeling career has earned him lots of attention as a fashion icon of the new generation. The famous model also works as a "charisma" shop assistant. Yutaro has gained his reputation as a "mysterious and handsome guy" from his appearance on Japanese variety shows. His debut was made on the show "Gyoretsu no Dekiru Horitsu Sodanjo" and has since then appeared on numerous different TV shows. He challenged himself to appear on stage for the very first time in March this year and is gaining popularity by the day for his diverse work.

Awa Odori Festival 2019 Kicks Off in Tokushima With Spectacular Traditional Dance

The Awa Odori Festival is the largest dance festival in Japan and is held every year in Tokushima Prefecture from August 12 to 15 as part of the Obon festival. This year, the first day welcomed over 380,000 spectators who gathered to witness the groups of traditional dancers.

This year marked the first Awa Odori Festival of the current Reiwa era which began on May 1, and so to commemorate the occasion, new elements were introduced. The biggest of these were four areas that showcases performances of Souodori which saw over 1,000 people dance along the 100 meter long dance floor.

The first day of the festival was held at the Konyamachi Theater along the bustling shopping streets of Tokushima. This spacious location made for easy access and guaranteed you could watch the procession. While the people in packed-out outdoor theatre were looking left and right to see when the show was about to start, the clock struck 10pm, at which musicians began playing their instruments. The orchestra was made up of over 400 people who played enchantingly in perfect order. As they split into groups on the left and right side of the theatre, the crowd caught the first glimpses of the dancers. Out they came in different groups, starting with female dancers, then male dancers, and then more female dancers, this time dressed in happi coats. The crowd cheered them on, especially when they spotted somebody they knew.

The dancers made up in the free areas included groups of workers, students and various others. But in the paid premium area spectators were able to watch the "famous" group.

The premium area was located in front of the town hall and packed full of people. The famous group are made up of dancers with incredible skill.
There was also a group for people in the crowd or onlookers to join in if they wanted to as well. Many celebrities also took part including comedians Hayashiya Sanpei II and Kazuya Kojima, actresses Sachiko Kokubu, Tomoko Fujita and Wakako Shimazaki, and more.

Harajuku Summer Festival 2019 to Take Place at Togo Shrine

GLOBAL PRODUCE, a Japanese event organiser, is set to sponsor Harajuku Summer Festival 2019 which will be held at Togo Shrine in Harajuku, Tokyo on August 23. Bringing together professional event producers, the festival will combine elements of traditional Japanese culture with the latest trends.

Food trucks and stalls will open in the dozens, including appearances from the shaved ice shop Kooriya bebe which makes its fluffy shaved ice from the natural spring waters of Mount Fuji―perfect for the hot weather―as well as Ichika, a cafe known for its tapioca Japanese tea lattes made with high quality tea leaves from Kagoshima. Current popular restaurants will also serve up delicious summertime food. There will even be the Harajuku Bon Odori 2019 dance event, and the marchers for the Tokyo 2020 Olympics will also be present.

Tokyo Bijin Project will make their first ever live appearance, a group of shining Japanese women with "wisdom, dignity and compassion" who are set to speak out for other strong women. They will talk leadership, interpretation, attending to people, the spread of Japanese culture, and more.

If you are in Japan for the summer then make sure you attend all of the different summer festivals you can.

Information

GLOBAL PRODUCE presents Harajuku Summer Festival 2019 at Togo Shrine

Date: August 23, 2019

Time: 19:00-21:00 (Reception open from 18:30)

Location: Togo Shrine (1-5-3 Jingumae, Shibuya, Tokyo)

Togo Shrine Official Website: http://www.togojinja.jp/

Witness the 'Queen of Lilies' the Golden-rayed Lily Blooming at Rokko Alpine Botanical Garden

The golden-rayed lilies (Lilium auratum) are now in bloom at Rokko Alpine Botanical Garden in Hyogo.

Known as yamayuri in Japan, the golden-rayed lily is the most ornate lily in the world. It is native to Japan and has a white form with golden streaks which it gets its nickname from. It has a potent fragrance which fill your nose if you visit the Rokko Alpine Botanical right now where you can witness close to 200 of these magnificent flowers.

The flowers are in bloom until early August so if you're in Japan, don't miss this chance to see this queen of lilies.

Information

Rokkō Alpine Botanical Garden

Location: Rokkō Alpine Botanical Garden (Kitarokkō-4512-150 Rokkōsanchō, Nada Ward, Kobe, Hyogo Prefecture)

Price: General (12+ Years) ¥620 / Children (4-11 Years) ¥310

Opening Period: March 16, 2019 – November 24, 2019 (Closed September 5 and September 12)

Opening Hours: 10:00-17:00 (Reception desk closes at 16:30)

Official Website: http://www.rokkosan.com

Witness The Refreshing False Anemone In Full Bloom At Rokko Alpine Botanical Garden, Hyogo

The beautiful false anemone flowers of Rokko Alpine Botanical Garden are currently in full bloom. 

False anemone can be found scattered from the south to the central part of the Tohoku region. In the Kansai region, it can only be found growing wildly among the limestone rocks of Mount Omine. Each flower blooms facing downwards and has a diameter of up to 3cm. The petals are a translucent light purple colour. This is a very popular species, especially amongst photographers.

This is the perfect opportunity to take beautiful photos of the refreshing flowers as they are shaken by the gentle breeze, swaying under the pure light that filters through the trees towering above them. The false anemone are predicted to be in full bloom until mid August, so please come see them.

Information

Rokko Alpine Botanical Garden

Address: Kitarokko-4512-150 Rokkosancho, Nada Ward, Kobe, Hyogo 

Open Period: March 16 ー November 24

Closed: September 5, 12

Opening Hours: 10:00 ー 17:00 (Reception closing time: 16:30)

Entry Prices

Adults (Middle School +):¥620/Children: (4 y/o ー Elementary School): ¥310

Rokkosan Web Portal: https://www.rokkosan.com/

Don't Miss The Beautiful Blooming of Karuizawa Lake Garden This Summer

Over the summer, Karuizawa Lake Garden is holding a range of events for parents and children to immerse themselves in the beautiful nature, smell the fragrant lilies, and experience the popular false anemone, water lilies and many more gorgeous flowers. Approximately 33,000m2 of space is covered with the Karuizawa's most beautiful plants and even a lake.  

At Karuizawa, roses are particularly beautiful during the summer O-Bon festival season, flourishing more than ever in Karuizawa's unique climate. As the roses bloom for the second time in the year during mid august, this is a particularly beautiful sight. ♪

The entire garden consists of eight areas where you can enjoy different sceneries. The rose garden, for example, consists of roses and a whole range of plants that flower at different times of the year, so you can enjoy the variation in appearance of the garden throughout the year. Different flowering plants and roses surround a waterfront in the rose garden. You must come witness just how beautiful it looks during the summer. 

Information

Lake Garden

Address: Lake New Town, Karuizawa-machi, Kitasaku District, Nagano 

Opening hours: 9am ー 5 pm (Last entries: 4:30pm)

※ The opening hours of the garden vary according to the season, so please confirm these times by visiting the garden's official website. 

※ The garden will close one hour earlier than the usual time on Wednesdays for maintenance. 

Entry fees: Vary depending on the season.

Website: http://www.karuizawa-lakegarden.jp/ 

See Hundreds of Japanese Wind Chimes at Nyoirin-ji Temple Festival in Fukuoka

Fukuoka is a tourist hot spot of Japan, bustling with tourists and travellers both from the island nation and those from overseas, especially from China, Taiwan and South Korea.

Situated on the northern shore of Japan's Kyushu Island, Fukuoka offers amazing shopping experiences and serves up some of the most delicious gourmet cuisine at its rows of restaurants. But nothing compares to its bountiful sightseeing splendours.

Rie is an Instagrammer who travels to all the different sightseeing spots Kyushu has to offer which she documents on her Instagram page. Today, she gives us a special look at one her most recommended places to visit in Fukuoka: Nyoirin-ji Temple.

Nyoirin-ji Temple is often nicknamed "Frog Temple" due to the many frogs you can see at the temple grounds, a rare sight at a Japanese temple. It's located in Fukuoka Prefecture's city of Ogori which can be reached by catching a Nishitetsu Tenjin Ōmuta Line train from Tenjin in the heart of Fukuoka and getting off at Mitsusawa Station. From there the temple is just a 15-minute walk.

Nyoirin-ji Temple is the home of thousands of frogs. A lot of the frog ornaments and items at the temple were collected by the temple's chief priest.

There's one ornament which you can take a photo through as seen above, so you should definitely try taking one yourself in your own way. You can even get a goshuin stamp with a frog illustration too if you take your goshuincho stamp book.

The frogs are a given at the Frog Temple, but a must-see is the Wind Chime Festival which is currently running until September. The temple entrance onward is decorated with lots of cute and colourful wind chimes.

Up the stairs you can walk through a wind chime tunnel which gives you a cool, refreshed feeling even in the hot summer.

It costs ¥500 for one wind chime which you can write your wish on before hanging up. You can't take them home however so be cautious of that!

Nyoirin-ji Temple was built in 729. It is home to a Cintāmaṇicakra statue which is a rare sight in Japan. It is also a registered cultural property of Fukuoka Prefecture. It's not just a location for kawaii adoration―it has been long been loved by locals since ancient times and has a long history.

The wind chimes will be strung up until the end of September. Their gentle ring is sure to make you feel at peace, so why not try dressing up in a yukata like Rie and experiencing the festival for yourself?

Rie has many other examples of popular tourist destinations from around Kyushu on her Instagram page. Be sure to give her a follow if you're planning a trip to Kyushu yourself!

Photos by Rie

Information

Nyoirin-ji Temple

Address: 1728 Yokoguma, Ogori-shi, Fukuoka

TEL: 0942-75-5294

Access: 15-minutes on foot from Mitsusawa Station via the Nishitetsu Tenjin Ōmuta Line

Website: http://www.kyushyu24.com/frm10.aspx

Goldfish Festival, Fireworks And Much More Family Fun at Aquamarine Fukushima

During the summer holiday period between July and September, Aquamarine Fukushima is holding a range of events and supporting children to learn about marine life independently. Come join in the festival fun with goldfish scooping games, quoits, and much more. There will also be a fair from August 11 to 15. 

Aquamarine Fukushima Rare Creatures Picture Book <Complete the pictures!>

Dates: July 13 ー September 1

Aquamarine Fukushima is displaying rare creatures and ecological systems. The children can write the name of the new creatures they discover in their own picture book. Once they have completed the picture book, it will be an original record of discoveries. As the children record the features of the animals and other organisms they discover, adults will also find this information beneficial when looking around the exhibitions. 

How to take part: Pick up an application form at the entranceway on floor 1 of the aquarium main building (Honkan). The answers will all be distributed in one place. (Subject to change).

Summer Aquamarine Fukushima: Children's Answer Room

Open: July 20 ー September 1 

Here, all the answers to the children's puzzles about Aquamarine life are presented in panels and explained in easy terms. Along with the picture book where the children can record interesting life forms, this is the perfect way to support independent exploration. 

Goldfish scooping and Fun Fair

You can purchase goldfish that were bred at the aquarium, or catch them yourself at the goldfish scooping area. There is also a games corner where you and your children can enjoy a range of fun activities such as quoits. 

The goldfish building, which just opened last year, will be bringing back its 60cm-large Goldfish Nebuta lantern. To raise spirits during Japan's O-bon lantern festival, the aquarium will be open for much longer so that a lantern event can be held in the evening. 

Iwaki Traditional Vegetable Marché

Open: August 17 ー 18 (11:00 ー 14:00)

Head to the Aquamarine Aguri located outside Aquamarine Fukushima to purchase everyday vegetables as well as Japanese vegetables that have been grown through the cooperation of Iwaki farmers and Iwaki city. The traditional Iwaki marché sells mainly traditional summer vegetables such as okuimo potatoes, yardlong beans, beefsteak plants, kojiroi cucumbers, and much more. From local vegetables to healthy goods, everything is produced at Aquamarine Fukushima. 

Iwaki Fireworks Festival 

Enjoy the sight of fireworks soaring through the sky before your very eyes from the Aquarium grounds. This large-scale fireworks event will run until 9 pm on August 3.

Running: August 11 ー 15 (8pm) . 

※ Last entries: Up to 1hr before closing time. 

Come visit Aquamarine Fukushima for a perfect fun-filled day with the family!

Information

Goldfish Display and Sales

Running: August 11 ー 12 (Monday, national holiday) 

Times: 10:00 ー15:00、16:30 ー19:00

Goldfish Scooping/ Fair

Running: August 11 ー 15

Times: 16:30 ー19:00

The goldfish scooping event will end once all fish have been caught.

Water Yo-Yo Fishing, Quoits, Fishing Games, Barbecue Skewers: ¥300 per turn.

 

Aquamarine Fukushima 

Address: Tatsumicho-50 Onahama, Iwaki, Fukushima

Official Website: https://www.aquamarine.or.jp/

One of Japan's Largest Awa Odori Dance Festivals To Be Held in Minami Koshigaya

Every August, Japan holds the three-day Awa Odori dance festival. One of the three largest Awa Odori dance festivals that will take place this year is the 35th Minami Koshigaya Awa Odori. This year, there will also be a festival the night before the main festival days. The main events will run from August 23 to 25 around Shin-Koshigaya Station (Tobu Skytree Line) and Minami Koshigaya Station (JR Musashino Line).

Minami Koshigaya's festival is the third largest in Japan following Tokushima, the Awa Odori's place of origin, and Koenji. Koshigaya hosts  80 participating dance groups and approximately 6,500 dancers. 

At Minami Koshigaya Awa Odori, you can witness the beauty of top class performers that are as good as those who take part in Tokushima's Awa Odori. The distance between the performers and the audience is very close, so you will definitely feel the genuineness of the performance as well as the passion of the dancers.

Traditional Kumi Odori dances, a form of narrative dance, will take place in nearby theatres and on special outdoor stages. These are popular because visitors can gather before the stage as they please to watch the entire show or just a snippet. There are also Awa Odori dance classes running for children and even an Awa Odori contest. A typical year sees 750,000 visitors. As this is the most popular summer festival in Saitama, there is no doubt that you will be more than satisfied with spending the day here.  

Information

35th Minami Koshigaya Awa Odori Dance Festival Schedule (subject to change)

August 23

Night Before Festival: 19:00 ー21: 00

Held at Koshigaya Community Centre Dai Hall and the shopping plaza in front of it.

August 24 ー 25

Dance Parade

17:10 ー 21:00 (Minami Koshigaya Chuo Dori Street)

4 Stage/ Theatre Performances: 14:00 ー 20:45 (Koshigaya Community Centre Dai Hall)

Part 1: 14:00 ー 16:30

Part 2: 17:30 ー 20: 45 (Koshigaya Community Centre Sho Hall)

Kumi Odori

17:30 ー 20:45  / 16:20 ー 20:45 (Shopping plaza in front of Koshigaya Community Centre)

17:10 ー 20:45  (Tokyo Rotary: Kumi Odori Stage located in front of the station)

Children's Awa Odori Summer Dance Classes

 August 24 and 25

Start Time: 16:20 ー (Sign up from 16:00)

Age Restrictions: 5 ー 12

Daily limit: 200 children (Participants will be presented with a commemoration gift)

Awa Odori Classes (No participant restrictions)

Dates: August 24 and 25

Slot 1: From 17:55

Slot 2: from 19:15

Venue: Shopping plaza in front of Koshigaya Community Centre

Awa Odori Contest (no participant restrictions)

Date: August 25

Time: 19:15 ー 19:45 (Sign up from 17:00)

Minami Koshigaya Awa Odori Promotion Association Official Website: http://www.minamikoshigaya-awaodori.jp/

Toshl and MIYAVI Will Perform at FUKUOKA MUSIC FES at Fukuoka Yahuoku! Dome

FUKUOKA MUSIC FES will be held at the Fukuoka Yahuoku! Dome on June 30, 2019. Taking to the stage will be two of Japan's most iconic artists ToshI, who has performed worldwide, and rockstar MIYAVI. 

Toshl

MIYAVI

 Details on the schedule for the day have also been released.

Click here to find out about other artists who will be performing at FUKUOKA MUSIC FES

There will also be festival food and original goods too that will enhance the festival spirit.

Come enjoy a special day at FUKUOKA MUSIC FES.

Information

FUKUOKA MUSIC FES

Date: June 30, 2019

Official Event Website: https://www.fukuokamusicfes.com

※ Entry fee applies to 3 y/o +.

※ Entry permitted to those under 3 (fee applies if an extra seat is required).

※ Designated seating only.

Concert Review: LiSA, GARNiDELiA, ReoNa & More Perform at SACRA MUSIC's Music Festival

SACRA MUSIC―a music label under Sony Music Labels―held a music event entitled SACRA MUSIC FES.2019 -NEW GENERATION- at Makuhari Messe in Chiba on Saturday May 18 and Sunday May 19. This non-stop live show housed a 360° stage in the centre of the venue on which artists signed to the label dazzled a total of 12,000 fans across the weekend.

This was the first live event of its kind by SACRA MUSIC. The show's subtitle "New Generation" refers to artists both signed to the label and the new generation of artists leading the music scene into the future. The line-up feature a diverse array of talent and genres spanning voice actors to rock bands, idols, virtual YouTubers and more.

The line-up for both days included ASCA, Ayano Mashiro, =LOVE, Luna Kaguya, GARNiDELiA, ClariS, Soma Saito, SawanoHiroyuki[nZk], Sangatsu no Phantasia, Spira Spica, TrySail, halca, PENGUIN RESEARCH, and ReoNa. A live band of skilled musicians dubbed the "SACRA BAND" also took to the stage to aid in performing various hits songs and anime songs. Virtual YouTuber Luna Kaguya performed as an opener, and EGOIST also made a surprise performance on screen, fusing the 2D world with the 3D world.

Several special collaborations also took place throughout the festival where artists banded together to perform covers as well as perform each others' songs. This included ClariS x TrySail, Mikiha (Spira Spica) x halca, Soma Saito x Yoji Ikuta & Shota Horie (PENGUIN RESEARCH), GARNiDELiA x Ayano Mashiro, and ASCA x ReoNa.

At the end of the first night, Eir Aoi appeared as a secret guest to perform three songs including her first single Ryuusei. At the end of the second night, LiSA was the secret guest, who performed several songs including her latest number Gurenge. The two also came together to sing each of their respective hits IGNITE and Rising Hope.

A teaser video was also shown for two new SACRA MUSIC projects titled BATON=RELAY and Tenka Soul. The concerts are only set to continue growing bigger and better.