Kaori's Easy Recipe ― Learn How to Make a 'Korilakkuma Apple Cake'
With just a small bit of ingenuity, turn everyday food into something cute using Kaori's recipe series! With a few simple ideas, an ordinary recipe magically transforms into a cute dish.
This time you'll learn a simple recipe to make a gorgeous Korilakkuma apple cake that even novice cooks can follow!
1: Ingredients
15cm cake tin (you can also use a loaf tin or smaller tin to cook individual ones)
100g weak flour
5g baking powder
60g unsalted butter
80g sugar
2 eggs (small or medium)
1 apple
10 walnuts
Cinnamon sugar (to taste)
Preparation
・Thinly slice the apples and squeeze over lemon juice. Cut 2-3 to the slices into a Korilakkuma shape.
・Roughly chop up the walnuts.
・If you don't have cinnamon sugar, mix together one tsp of cinnamon with 1/4 cup of sugar.
・Combine the weak flour and baking powder and sieve.
Melt the butter over a bain-marie.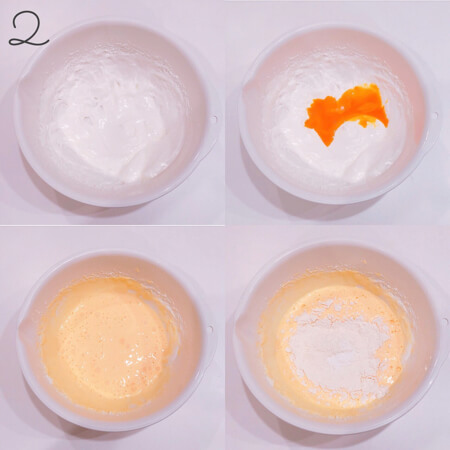 2: Separate the egg yolks and whites. Thoroughly whisk the egg whites. Combine with the egg yolks, add the flour and mix.
3: Stir the mix in step 2 well. Add the melted butter in the places where it looks like there's some flour left and mix.
Add the mix to your cake tin and add your sliced apples that you prepared (but not the Rilakkuma shaped pieces).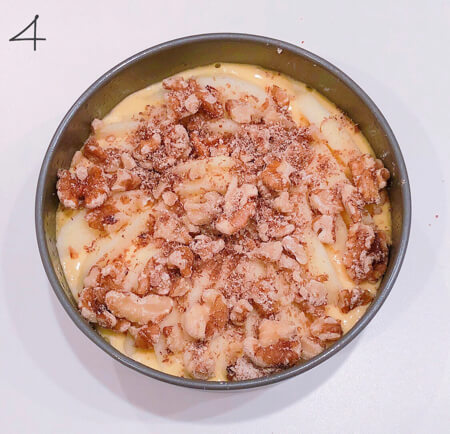 4: Place the walnuts all over the mix.
5: Sprinkle over cinnamon sugar.
Cook in a preheated oven at 170℃ for 20-25 minutes, then add the Korilakkuma apple slices and cook for a further 5-10 minutes.
6: If you cut a good shape of Korilakkuma out with your apple then leave it as it is. If the shape didn't turn out well, cut out a white chocolate Korilakkuma and place it over the apple.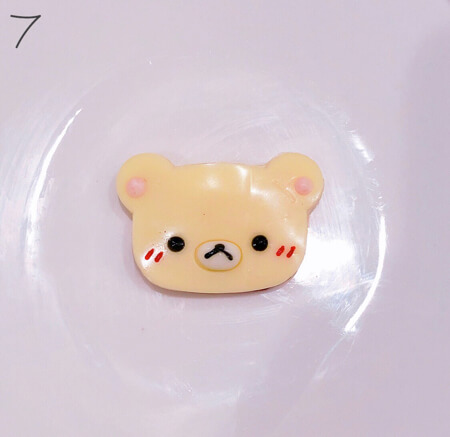 7: Draw the facial features with a chocolate pen.
Once the apple cake is done, decorate all of your Rilakkuma, and you're done.
The moist cake goes together perfectly with the apple, walnuts and cinnamon sugar! It's delicious eaten fresh, but its level of moistness increases if you eat it the next day.
Kaori invites you into her world of character-themed food dishes in her recipe series!
Please check out her Instagram where she has uploaded many pictures of her character dishes!
■Profile
Kaori Kubota (
@kaopan27
)
I live in Hokkaido and I love to make character-shaped meals, desserts and breads.
I enjoy making character foods because I want to see my family smiling.
My character foods and character bento boxes are introduced on my Instagram page→@kaopan27
RELATED ENTRIES
Rilakkuma Book Cafe Themed Afternoon Teas in Osaka Will Serve Bear-Huggingly Kawaii Food

Major bookstores across Japan are rolling out the Rilakkuma Book Fair where fans can get their hands on short Rilakkuma fairy tails, exclusive merchandise, and more.


In line with the event, Fruits Parlor & Bakery Season & Co., a cafe in Umeda, Osaka, is serving up a special menu with the theme "Rilakkuma Book Cafe" from October 30 to November 30. This includes a afternoon teas which also celebrates the cafe's 1st anniversary, more exclusive merchandise, and novelties for customers who order from the Rilakkuma menu.

Rilakkuma Zukin Afternoon Tea | ¥4,000 (Before Tax) *Reservation-only

A special afternoon tea featuring 13 different goodies from desserts to a sandwich, quiche, and more. It comes with a fruit iced tea welcome drink too.

Rilakkuma Yuki Hime Afternoon Tea | ¥4,000 (Before Tax) *Reservation-only

A different afternoon tea that serves up 12 items. This also comes with a fruit iced tea.

Rilakkuma's Honey Apple Smoothie | ¥800 (Before Tax)

A honey apple smoothie topped with refreshing vanilla ice cream, smooth fresh cream, and a Rilakkuma jelly candy.

Rilakkuma's Royal Chocolate Milk Tea | ¥1,200 (Before Tax)

Classic royal milk tea served with chocolate Rilakkumas. Eat on their own or dip into your tea!

The cafe is now taking reservations for the afternoon teas. Bookings must be made two days in advance by telephone or the official website.

Information

Rilakkuma Book Cafe
Running: October 30, 2020 – November 30, 2020
Reservations: https://season-co.shop/rilakkuma2020/

Fruits Parlor & Bakery Season & Co.
Address: LINKS UMEDA 1F, 1-1 Ofukacho, Kita-ku, Osaka
Opening Hours: 9:30-22:00 (Last Orders 21:30)
TEL: 06-6743-4212
Official Website: https://season-co.shop

Kaori's Easy Recipe: Learn to Make Winnie the Pooh Pumpkin Soft Cookies

With just a small bit of ingenuity, turn everyday food into something cute using Kaori's Easy Recipe! With a few simple ideas, an ordinary recipe magically transforms into a cute dish.

Halloween in closing in, so for this recipe I'll be using pumpkin to make delicious cookies—crunchy on the outside and moist in the middle. This recipe rolls the dough into a ball, so it's a great alternative for people who aren't good with shaping or cutting cookies.

Ingredients

50g pumpkin (mashed and skin removed)

20g-25g sugar (I used sanonto sugar to bring out the sweetness of the pumpkin, but white sugar is fine too)

30g unsalted butter

A pinch of salt

60g weak flour

1

Combine and mix the steamed pumpkin, room temperature butter, and sugar. Then incorporate the salt and flour and mix again.

2

Now to shape everything. For pumpkin decorations, roll the pumpkin together and create a little depression in the top. Use a toothpick or something similar to create five indents around the outside as pictured above.

To make Pooh Bear, simply roll round and add the ears.

3

Bake at 150℃ for 20-25 minutes. Leave to cool, then decorate Pooh's facial features with a chocolate pen.

Kaori invites you into her world of character-themed food dishes in her recipe series. Be sure to check out her Instagram where she has uploaded many pictures of her character dishes!

Kaori Kubota (@kaopan27)

I live in Hokkaido and I love to make character themed foods, desserts and pastries♡

I want to see my family smile, so I enjoy putting in a bit of effort to make character foods and changing food into something cute♡

You can see more of my character foods and character bento boxes on my Instagram page → @kaopan72

Kaori's Easy Recipe: Learn to Make Hello Kitty Strawberry Ice Cream

With just a small bit of ingenuity, turn everyday food into something cute using Kaori's Easy Recipe! With a few simple ideas, an ordinary recipe magically transforms into a cute dish.

Today's recipe will show you how to make a simple ice cream made with frozen strawberries and a blender.

Ingredients


500g frozen strawberries (either store bought or self-frozen)

120ml condensed milk

Sliced white chocolate to make Hello Kitty

1.


Defrost around 3/10 of the frozen strawberries until they are more soft than frozen, allowing them to be blended more easily.

2.


Throw the defrosted strawberries into a blender along with the condensed milk and blend.

3.


Place the blended mix into a ziplock bag and place into the freezer. After about an hour, massage the mix while it's still inside the bag. Repeat this whole process 2-3 times. Doing this will make the ice cream tastier.

Once fully set, place into a serving cup of your choice, use sliced white chocolate to make your chocolate Hello Kitty, and serve!

Kaori invites you into her world of character-themed food dishes in her recipe series. Be sure to check out her Instagram where she has uploaded many pictures of her character dishes!

Kaori Kubota (@kaopan27)

I live in Hokkaido and I love to make character themed foods, desserts and pastries♡

I want to see my family smile, so I enjoy putting in a bit of effort to make character foods and changing food into something cute♡

You can see more of my character foods and character bento boxes on my Instagram page → @kaopan72

Kaori's Easy Recipe: Learn to Transform a Standard Roll Cake into a Kawaii Hello Kitty Cake

With just a small bit of ingenuity, turn everyday food into something cute using Kaori's easy recipe! With a few simple ideas, an ordinary recipe magically transforms into a cute dish.

In this recipe, you'll learn how to transform a store-bought roll cake into a kawaii Hello Kitty cake which contains gyūhi – a form of traditional Japanese sweet which is a variety of mochi.

Ingredients

50g refined rice flour
100ml water
70g sugar
potato starch
strawberries and whipped cream to your liking
sliced chocolate (for Hello Kitty's face)

1

First, make the gyūhi by mixing 50g of refined rice flour with 100ml of water. Mix well to avoid lumps.


Once this has been mixed, add 70g of sugar and mix again.

2


Cover the bowl with plastic wrap and microwave at 600W for 2 minutes.

3

Stir the mixture with a rubber spatula and microwave again for one more minute at 600W.

4


Use a rubber spatula to stir the mixture until it clumps together in one piece. Put a large portion of potato starch onto a tray and place your gyūhi on top.

5


Once the gyūhi has cooled, cut it to the size of the palm of your hand and use a rolling pin to stretch it out into a flat shape.

6

Leave your gyūhi to cool. In the meantime, bring out your store-bought roll cake piece and fill the inside with strawberries. When done, top your roll cake piece with whipped cream.

*If your forget to add the whipped cream, the strawberries underneath will be visible through the gyūhi layer!

7


Place the gyūhi layer on top of the roll cake and press the dough together at the bottom of the cake to seal it.

8

Shape two pieces of remaining gyūhi dough into triangles and affix them to the top of the cake to create Hello Kitty's ears. Use the sliced chocolate to create whiskers, eyes and a nose for Hello Kitty's face and cut up a strawberry to make her bow.

Once you have finished putting all the decorations in place, you're done!

Kaori invites you into her world of character-themed food dishes in her recipe series. Be sure to check out her Instagram where she has uploaded many pictures of her character dishes!

Kaori Kubota (@kaopan27)

I live in Hokkaido and I love to make character themed foods, desserts and pastries♡
I want to see my family smile, so I enjoy putting in a bit of effort to make character foods and changing food into something cute♡
You can see more of my character foods and character bento boxes on my Instagram page → @kaopan72

Rilakkuma Themed Wedding Ceremonies Now Available in Japan

Japanese bridal company ESCRIT INC. launched its new "Rilakkuma Bridal Fair" on July 22, 2020 in collaboration with Sun-X's popular character Rilakkuma. This will be the first ever wedding service produced in collaboration with the beloved relaxed bear.

All who join the service will receive a free "Rilakkuma & Korilakkuma Ring Pillow." Moreover, all brides and grooms who get married through this bridal fair will also receive a welcome board, cake topper, decorative stickers, soup with a design of San-X's Kiiroitori character, and a Rilakkuma dessert—all specially prepared for and exclusive to this service. There is also a "Greeting Plan" whereby Rilakkuma and Korilakuma will visit your wedding service on the day of the wedding to celebrate with everyone. This is a dream come true for any fan of Rilakkuma.

If you're planning to get married in Japan, and love Rilakkuma, then how about it?

©2020 San-X Co., Ltd. All Rights Reserved.

Rilakkuma x Tower Records Collaboration Sees Themed Cafe, Exclusive Merchandise & More

Tower Records is collaborating with Rilakkuma for "Rilakkuma x TOWER RECORDS Campaign 2020" which will run at Tower Records, TOWERmini, and Tower Records Online in Japan from August 1 to 30.f

For the campaign, Tower Records selling a range of merchandise with exclusive designs illustrated for the event, and there'll even be Rilakkuma themed cafes. Tower Records began collaborating with Rilakkuma on merchandise in 2009 and has done so every year since. This year sees the arrival of Chairoikoguma for the first time too.

Yhose who use the Tower Records app to show their coupons in-store, they will receive the above-pictured selection of must-have exclusive goodies including a mirror, postcard, bag, and bookmark. These are available on a first-time, first-served basis. Additionally, Rilakkuma themed cafes will be held at TOWER CARDS CAFE branches in Omotesando, Nagoya SKYLE, and Sapporo PIVOT which will have entirely original menus and bonus items for dining there.

Collaboration Merchandise

The merchandise collection will drop on August 1 and will include a range of Tower Records exclusives. Pre-sales opened on July 15. You can see the full list here.

Available at all Tower Records branches and Tower Records Online

Exclusive to Tower Records Shibuya, Tower Records Sapporo PIVOT, TOWER RECORDS CAFE Omotesando, TOWER RECORDS CAFE Nagoya SKYLE, Tower Records Online

Exclusive to Tower Records Online

Rilakkuma and the Honey Forest's Concert Cafe

The entire cafe menu line-up is so cute you're completely spoilt for choice.

Rilakkuma and the Honey Forest's Concert Dessert Plate: ¥2,500

"Honey Forest Concert" is the theme of the cafe, and this image is captured in the adorable dessert plate which is topped with various desserts and fruits. Everyone who orders one of these also receives a free sticker.

Rilakkuma's Meatball Stew: ¥1,580

This hot meatball stew is served in a cute bread cup with Rilakkuma poking his head out from inside.

Kiiroitori's Omurice: ¥1,580

Kiiroitori's face is made from omelette and rice. Served with a side of healthy veg.

Rilakkuma's Honey Lemon Drink: ¥850

A sweet and sour mix of honey and lemon.

Korilakkuma's Strawberry Calpis: ¥850

Strawberries are Korilakkuma's favourite, and that's the flavour of this refreshingly sweet Calpis drink, topped with Korilakkuma vanilla ice cream.

There are lots of other dishes to look forward to in addition to the ones above, making this cafe one to go back to many times. And you can special free merchandise when visiting and dining there too.

Collaboration Cafe – Participating Stores


Omotesando/Nagoya SKYLE: August 1, 2020 – August 30, 2020

Sapporo PIVOT: August 1, 2020 – August 17, 2020
Official Website: https://tower.jp/rilakkumacafe

©2020 San-X Co., Ltd. All Rights Reserved.

Information

Rilakkuma x TOWER RECORDS Campaign 2020
Running: August 1, 2020 – August 30, 2020

Official Website: https://tower.jp/rilakkuma

Kaori's Easy Recipe: Learn to Make Korilakkuma Tofu Pudding

With just a small bit of ingenuity, turn everyday food into something cute using Kaori's Easy Recipe! With a few simple ideas, an ordinary recipe magically transforms into a cute dish.

Today, I'll be showing you a dreamy recipe on how to make the healthy Taiwanese snack douhua topped with Yukimi Daifuku mochi ice cream.

Ingredients


400ml soy milk
2-g Lakanto (Zero-calorie natural sweetener)
Pinch of salt
8g gelatin (dissolved in 1 tbsp water)

Pre-preparations


Stick bear-shaped sliced chocolate around the side of a glass and leave to set in the refrigerator.

1.


Warm soy milk and Lakanto in a saucepan until the Lakanto is completely dissolved.

2.


Add the gelatin and mix until fully dissolved.

3.


Leave the mix to cool. Once cooled, remove the glass from the refrigerator and pour the mix into the glass. Place back into the fridge until it sets.

4.


Add sliced almonds and use a chocolate pen on Yukimi Daifuku to create Korilakkuma's face, or a face of your choice.

5.

Remove the glass from the fridge and add the Yukimi Daifuku. Choose your choice of toppings, like soy flour and brown sugar syrup, then enjoy!

Kaori invites you into her world of character-themed food dishes in her recipe series. Be sure to check out her Instagram where she has uploaded many pictures of her character dishes!

Kaori Kubota (@kaopan27)

I live in Hokkaido and I love to make character themed foods, desserts and pastries♡
I want to see my family smile, so I enjoy putting in a bit of effort to make character foods and changing food into something cute♡
You can see more of my character foods and character bento boxes on my Instagram page → @kaopan72

Rilakkuma's First Ever Official Wedding Plan Is Perfect For Your Dream Day

Wedding and reception planning company ESCRIT INC. is producing its first wedding plan in collaboration with the adorable San-X character Rilakkuma. The Rilakkuma Bridal Fair will be available for reservation from mid July 2020.

 

As the number of weddings taking place has fallen drastically, ESCRIT INC. has been working hard to breathe life back into the industry, collaborating with a number of businesses and insourcing dresses, flowers and other services to make every couple's dream day come true. They have also been running a variety of bridal fairs to help customers with a more personal approach.


From the welcome board to the cake-topper and desserts, the Rilakkuma collaboration sees a number of adorable ways to accessorise your dream wedding. The sign-up for this service opened yesterday on the Rilakkuma Bridal Fair Official Website. After signing up with your email address, you will receive a notification to reserve the bridal fair service during mid July along with the latest information.

If you and your partner love Rilakkuma, the Rilakkuma Bridal Fair is sure to exceed your expections.

Kaori's Easy Recipe: Learn to Make Pompompurin Cheese Tarts

With just a small bit of ingenuity, turn everyday food into something cute using Kaori's Easy Recipe! With a few simple ideas, an ordinary recipe magically transforms into a cute dish.

In today's recipe, I'll be showing you how I made a batch of Pompompurin cheese tarts made using store-bought tart cups.

Ingredients (Makes 9-10)

9-10 store bought tart cups
200g cream cheese (brought to room temperature)
20-30g sugar
1 egg yolk
50ml fresh cream
8g potato starch (katakuriko)
Vanilla beans to taste (can be substituted for vanilla extract)
1 tbsp lemon juice

Step 1


Pour the following ingredients into a bowl in this order: cream cheese→sugar→egg yolk→vanilla beans→fresh cream→potato starch. Mix well. Make sure when you put the potato starch in last that you sprinkle it thinly.

Step 2
Bake the tart cups in an oven at 180℃ for 15-20 minutes. If you don't have store-bought cups, you can use small cocotte dishes.

Step 3

Leave to cool. Now you can start drawing the face.

For the hat I used sliced chocolate, for the ears sliced cheese, and for the facial features a chocolate pen.

Once you've drawn the face, it's time to tuck in!

Kaori invites you into her world of character-themed food dishes in her recipe series. Be sure to check out her Instagram where she has uploaded many pictures of her character dishes!

Kaori Kubota (@kaopan27)

I live in Hokkaido and I love to make character themed foods, desserts and pastries♡
I want to see my family smile, so I enjoy putting in a bit of effort to make character foods and changing food into something cute♡
You can see more of my character foods and character bento boxes on my Instagram page → @kaopan72

Kaori's Easy Recipe: Learn to Make a Gudetama Parfait

With just a small bit of ingenuity, turn everyday food into something cute using Kaori's easy recipe! With a few simple ideas, an ordinary recipe magically transforms into a cute dish.

Today, I'll be showing you how to make a Gudetama parfait made with a yogurt mousse and topped with orange and peach jelly.

Ingredients
Yogurt Mousse Ingredients:
100g sugar free yogurt
50ml fresh cream
20g sugar
3g gelatin
*With the gelatin, mix well with 1 tbsp water

Mikan & Yellow Peach Jelly Ingredients:
100ml mikan juice (or any orange juice)
150g tinned peaches (with syrup)
5g gelatin
*With the gelatin, mix well with 1 tbsp water

1


①Mix the sugar into the yogurt well. Add in 7/10 of the fresh cream and mix well again.

②Microwave the gelatin for 10-20 seconds at 500w. Add into the mixture from ① and mix well.

2

Once the mixture has set in about ⅓ of a glass, add sliced chocolate on the inside for the eyes and mouth. I cut mine into shape using a toothpick.


Make sure the chocolate is properly fixed to the glass at this point.

3


Put your yellow peach and mikan orange into a blender (but not the gelatin part). The syrup of the peaches is already sweet so there's no need to add sugar.

②Microwave the gelatin for 10-20 seconds at 500w. Add into the blended mixture and mix well.

Pour on top of the mix inside the glass. If there are any peach pieces left, cut them up and use them as toppings.


Top with fresh cream and chopped fruit, and you're done! I stuck Gudetama's face on well and good so it looks like his chocolate face is on the outside. Be sure to try doing the same.

Kaori invites you into her world of character-themed food dishes in her recipe series. Be sure to check out her Instagram where she has uploaded many pictures of her character dishes!

Kaori Kubota (@kaopan27)

I live in Hokkaido and I love to make character themed foods, desserts and pastries♡
I want to see my family smile, so I enjoy putting in a bit of effort to make character foods and changing food into something cute♡
You can see more of my character foods and character bento boxes on my Instagram page → @kaopan72

Adorable Rilakkuma Hanko Stamp Sets Now Available Online

A new series of Rilakkuma hanko stamps was released by Hankos on April 21 featuring an adorable collection of stamp pattern designs of Rilakkuma and his friends.

Hanko stamps are often used in Japan in place of signatures where you have your name printed onto the stamp itself. These Rilakkuma hanko are made to order and you can have Japanese characters written onto them.

There are 20 different illustrations featuring the cute faces of Rilakkuma, Kiiroitori, Korilakkuma, and Chairoikoguma.

There are also three fonts to choose from the orthodox, easy to read style to a cuter style. You can use them in Japan for sending deliveries, at home, and more. There's the classic type where you can dip into ink and stamp as well as two wooden types.

©2020 San-X Co., Ltd. All Rights Reserved.

Rilakkuma & Kiiroitori Confections by Tabemas Coming to Lawson Convenience Stores

Character-inspired Japanese confectionery series Tabemas has revealed that its next batch of sweet treats will see Rilakkuma and Kiiroitori arrive at Lawson convenience stores in Japan (excluding Lawson Store 100 branches) on April 28, 2020.

Tabemas Rilakkuma 2020 Strawberry Rilakkuma/Strawberry Kiiroitori – ¥285 Each (Tax Included)

The adorable confections feature Rilakkuma donning a sweet strawberry hat while Kiiroitori has gone the full fruity mile by dressing snug in a strawberry onesie. As you'd imagine, both of these sweet treats are strawberry flavoured.

'Tabemas' is an abbreviation of the Japanese words taberareru masukotto, meaning 'mascots that you can eat.' It is a Japanese confectionery series that combines well-known characters and Japanese sweets made from ingredients like red bean paste, sugar and rice flour. The sweets are also made with a dough called "nerikiri" which is used in making traditional Japanese wagashi sweets.

What better way to spend your time indoors right now than with a cute Rilakkuma or Kiiroitori sweet?

© 2020 San-X Co., Ltd. All Rights Reserved.

Information

Tabemas Rilakkuma 2020 Strawberry Rilakkuma

Tabemas Rilakkuma 2020 Strawberry Kiiroitori 

Price: ¥285 Each (Tax Included)

Release Date: April 28, 2020

Available: At the chilled desserts section of Lawson convenience stores in Japan

*Not available at Lawson Store 100

*Available while supplies last

*Stock date may differ from branch to branch

*Select stores not participating