Making good summer vacation memories! 6 recommended events which will be held in July 2018 in Tokyo
Summer vacation starts in July and many kinds of events for both children and adults will be held in the Tokyo area. In this article, we will introduce to you some recommended events which will be held in July.
Photogenic Art Exhibition 'Vinyl Museum' to Take Place at BALLY Ginza
Vinyl Museum―a participation-based art exhibition―will make its return at BALLY Ginza, running from July 21 to August 5.
We previously covered the first holding of this event which brings together a variety of art displays specifically intended for people to take photos of for their Instagram pages. Last year's event in Omotesando drew in 5,500 people and over 7,000 posts were posted on Instagram.
■Information
2nd Vinyl Museum
Running: July 21, 2018―August 5, 2018
Address: BALLY Ginza 2F, Tokyu Plaza Ginza, 5-2-1 Ginza, Chuo, Tokyo
Access: 1-minute on foot from Exit C2 / C3 of Ginza Station via Tokyo Metro Ginza Line, Marunouchi Line, or Hibiya Line
Entry Price: ¥1,800
Website: http://vinyl-museum.com/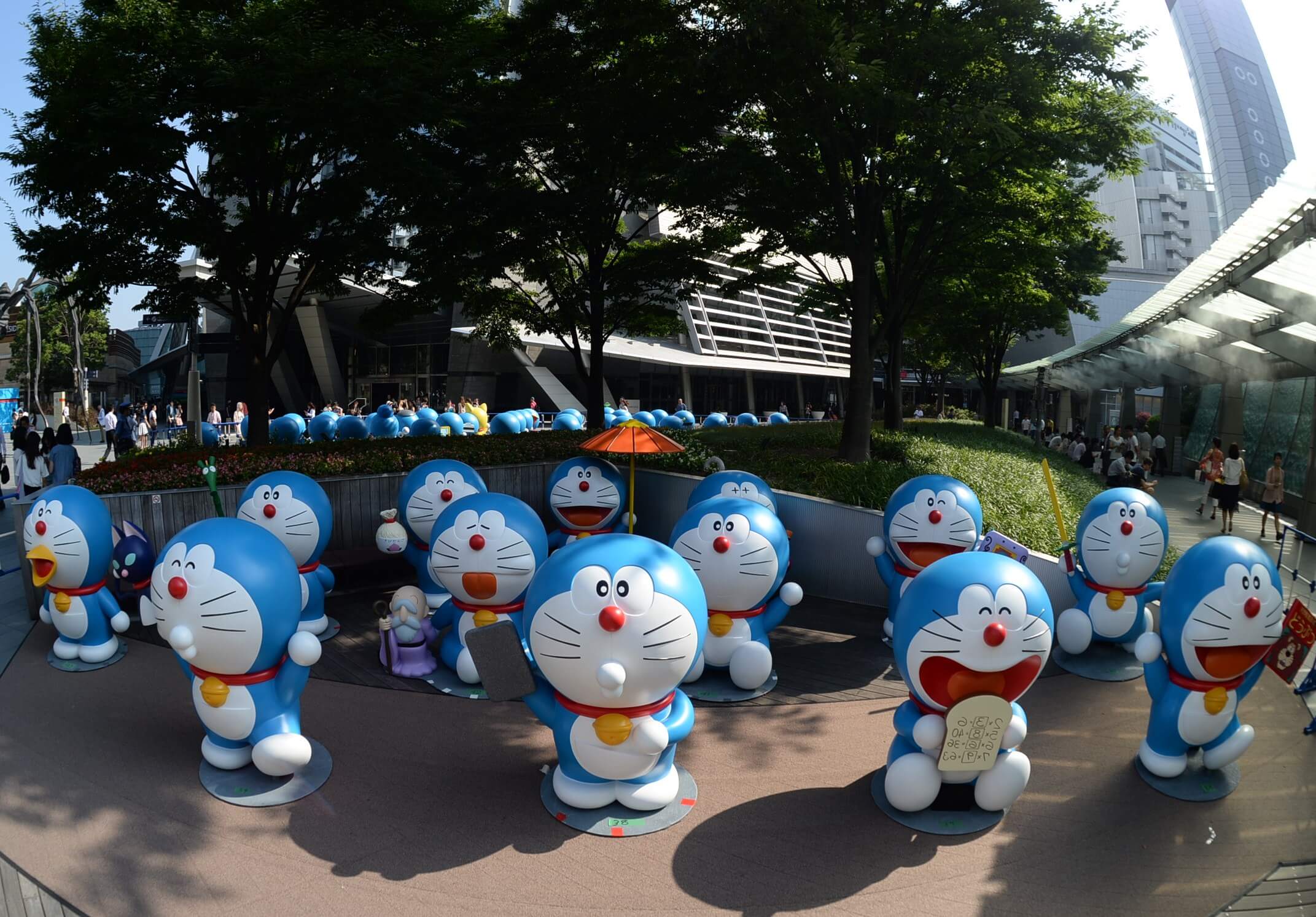 TV Asahi & Roppongi Hills Natsumatsuri Summer Station 2018
It's been 15 years since Roppongi Hills first opened, which is set to welcome summer again this year with exciting events running from July 14 to August 26. Look forward to live music performances, shows, food, VR sessions, photo spots, exhibitions and more. The popular life-sized Doraemon will make a return at 66 Plaza where there'll also be artists performing as well as anime inspired food.
Edo Cat Café: Enjoy the World of Ukiyo-e and Cats at Edo Neko Chaya
Edo Neko Chaya is a new Edo-style cat café opening in Tokyo on June 15 for a limited period (until August 31) where you can enjoy the world of ukiyo-e while playing with real cats. The café is located at "Ryogoku Station Hirokoji." Ukiyo-e paintings and models will decorate inside and bring to life the street and atmosphere of the Edo period. There will be several zones inside building, including the cat tea room, cat 'red light district,' cat bath, cat nagaya, and cat plaza. Each area will be furnished with ukiyo-e that fit the scene, bringing to life the world of Edo.
MORI Building DIGITAL ART MUSEUM
MORI Building DIGITAL ART MUSEUM: EPSON teamLab Borderless will open on June 21 (until August 31) and is co-managed by Mori Building Co., Ltd. and teamLab. This never-before-seen new world is created in an expansive and complex three-dimensional 10,000 square meter space by 520 computers and 470 projectors. Dive into a mesmerising 3D world and get lost amongst the borderless art.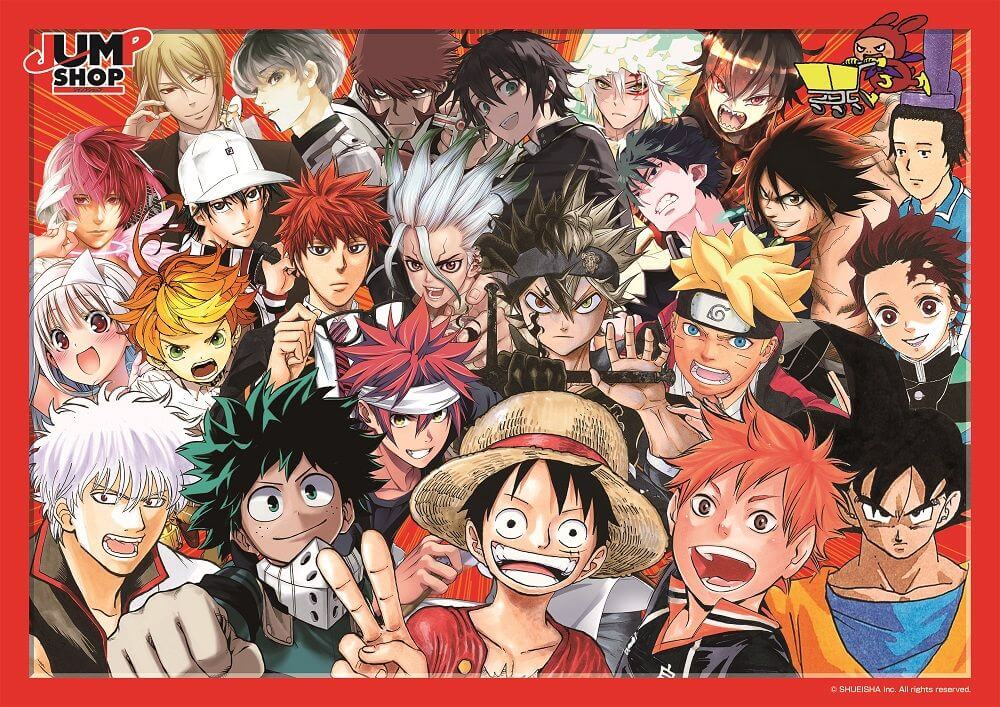 Aqua City Odaiba is set to welcome the summer with a host of exciting events, including Jump Shop 2018. Jump Shop 2018 will stock a heap of merchandise from some of the most popular manga series out there from Shonen Jump's arsenal, including One Piece, My Hero Academia, Haikyu!!, Gintama, and more. This event is held every summer and brought in around 20,000 attendees in 2017. Mark your calendars for the upcoming events happening in Aqua City Odaiba this summer, from anime to food.
■Information
Jump Shop 2018
Location: Aqua Arena, Azone 3F, Aqua City Odaiba
Running: July 13, 2018―September 2, 2018
Entry: Free (*Cost of merchandise is the actual price)
TEL: 03-6436-3061 (Weekdays 10:00-18:00)
Attack on Titan Collaborates with Tobu Zoo
An event will be held at Tobu Zoo from July 22 with popular anime series Attack on Titan, which will enter its third season on July 14 and air to October 8. The theme of the event is Survey Corps members from the series taking on the role of biological researchers to conduct biological research. Giant life-sized panels of familiar faces from Attack on Titan will be displayed, in addition to animal panels with original designs. Two of the show's main characters, Eren Jaeger and Levi, will make an appearance dressed as animal handlers.
■Information
Tobu Zoo
Address: 110 Suka, Miyashiro-machi, Minamisaitama-gun, Saitama Prefecture
TEL: 0480-93-1200
Website::http://www.tobuzoo.com/
©諫山創・講談社/「進撃の巨人」製作委員会
How did you like our article? Why not participate in some of these events with your family and friends?
RECOMMENDED ENTRIES
MIOCHIN Challenges Herself to Designing an Original Phone Case

What kind of phone case do you use? Finding the right one for yourself can be tougher than it seems. MIOCHIN―an illustration and creator working under the name MIONOSEKAI (Mio's World)―is also facing the same problem. She's looking for a case that goes with her glasses. Searching far and wide in Harajuku, you end up with one that's too big to fit in your bag… what would be better making your own. That's what MIOCHIN thought to herself, so she went and tried Web Deco Smartphone Case where you can create your own original designed case at reasonable price.

With Fun Create, you can design your own original merchandise online and order it. As well as creating your phone cases, you can make mobile batteries, uchiwa fans, name holders, mouse pads and more.

Web Deco Smartphone Case uses the JPEG format for designs. You can of course use photos saved on your phone on the site. MIOCHIN wanted to illustrate her own case, so she first of all used the ibisPaint app to draw a picture.

MIOCHIN began using a stylus one week ago. Up until then, she only used her fingers on her touch screen and drew on paper. She begins by drawing a rough outline in black and is super fast! "I draw it as I see it in my mind," she says.

Here's the completed outline before it's coloured! Flower patterns are her thing, but this time she drew her design with some star characters. For colouring, she used the same ibisPaint app.

Colour is a must-have in Mio's World. "Today's piece will be colourful as well! The theme is psychedelic pop!" she said, picking colours as she saw them in her head.

Here's the final piece coloured in. She signed the characters (which she hasn't named yet) with "MIONOSEKAI." It took only 45-minutes to complete. She's incredible!

She then saved the illustration on her phone as a JPEG file.

This kind of phone case design definitely wouldn't sell in the real world. The choice of designing your own case sounds too good to be true when looking to get your hands on one with an original design!

MIOCHIN is now beginning her order on Web Deco Smartphone Case. You first go to the Fun Create webpage and select "Web Deco Smartphone Case" (ウェブデコスマホケース) from there.

Select the type of phone you're using and initiate the design. The price is a shocking ¥1,580 for one case. It's very reasonable, so you can easily try it out.

Choosing "Select Photo" (写真を入れる) lets you locate the JPEG file your saved on your phone. You can edit the photo to how you want it including rotation and resizing. If you just want to use an illustration or photo as it is then this is all you need to do. But if you want to decorate your image even more you can even add letters and stamps.

Once the design is complete, add it to your cart and head to the order page. If you order several designs at once you will receive a discount, making the price even more reasonable.

Another aspect worthy of note is the speed. If you order by 8am it will be dispatched the same day! This makes it a great option if you're in need of a last minute present.

Here are MIOCHIN's thoughts after finishing up: "The site is thoughtful. I was able to work through everything without getting lost at all. It was super easy! I can't wait for it to arrive."

MIOCHIN's original design phone case arrived in the mail! Her results paid off more than she thought―she was very satisfied with the result!

Everyone should try their hand at designing their own personal phone cases with Web Deco Smartphone Case too!

For MOSHI MOSHI NIPPON readers, we also recommend the Sengoku Busho version! You can add the family crests of popular military commanders like Oda Nobunaga and Hiroyuki Sanada

■Information

Fun Create

iPhone5・5s・SE ¥1,580

iPhone6・6s・7・8 ¥1,580

iPhoneX ¥1,580

iPhone6+・6s+ ¥1,780

iPhone7+・8+ ¥1,780

Kobe: 6 Tourist Spots in Hyogo Prefecture's Capital Soon to Welcome Andres Iniesta

Andres Iniesta is a Spanish professional football player who has served 21 years for Barcelona and the Spain national team. As captain of Barcelona, Iniesta has become Spain's most awarded Spanish footballer, and was a main player in ensuring Barcelona's two treble wins in 2009 and 2015. He's a much respected and love footballer across the globe.

The 34-year-old legend is set to depart from Barcelona and move to Vissel Kobe.

In this article, we take a look at what kind of place Kobe is.

Kobe is located in the western part of Japan in Hyogo Prefecture and is next door to Osaka. It's just a 30-minute train ride from Osaka Station to get to Sannomiya Station in central Kobe!

Its location makes it a perfect chance for plenty more sightseeing after touring around Osaka.


Arima Onsen

Arima Onsen is one Japan's three oldest hot spring locations. A representative hot spring town of the Kansai region, this place has a peaceful and tranquil appearance.   The Kin no Yu ('Golden Waters') hot spring is an especially recommended part of the town. It sits in a reconstructed public bathhouse, and there's also a free footbath at the entrance. Over at Gin no Yu ('Silver Waters'), the water is transparent, but as  you waft the air the iron oxidises and turns it into a brown colour.   It's about an hour's train journey from Osaka Station, making it a great place to relax after a day's outing in Osaka.    

Nankin-Machi: Kobe's Chinatown
Nankin-machi is considered one of Japan's three big Chinatown locations alongside the ones in Yokohama and Nagasaki. It's a tourist hot spot with an exotic mood and is home to almost 100 shops and restaurants serving everything Chinese. You can enjoy having a bite to eat while walking the streets, or even just take in the sights on a stroll.


Ikuta Shrine

This historical shrine is one of the oldest in Japan having been around for more than 1,800 years. Its red torii archways and structures are very beautiful. It's home to a goddess of marriage and brings in droves of people every year from Japan and abroad to pray there. It's about a 10-minute walk from Sannomiya Station. Do you know the proper manners and etiquette of praying at a shrine in Japan? If not then be sure to check out our step-by-step guide.  

Kobe Harborland
Harborland is a huge shopping district packed full of restaurants, cafes, a movie theatre, Ferris wheel and more―plenty of an whole day out. It's a great location to feel the true essence of a Port of Kobe town.

The picturesque nighttime scenery after sunset is a must-see. The myriad of illuminations and lit-up boats are truly a magical sight to behold.


Nōfuku-ji – Giant Buddha

Nōfuku-ji is home to one of Japan's three great daibutsu Buddha statues, the others being in Kamakura and Nara. The original Buddha was built by the monk Saichou in 805 but the one that stands there today was rebuilt in 1991. It's said to absolutely hear the wishes of those that pray to it, so if you have something you want to pray for then be sure to visit.  

Kobe Port Tower
Kobe Port Tower―the symbol of Kobe. Its red and white appearance is unique and striking. There's an observation deck on the top floor where you can gaze over Kobe atop 108m. Things get romantic at nighttime when the tower it lit up.

Kobe is about to get all the more exciting with the decision of Andres Iniesta's move.

The list of sights to see is endless, from delicious food to the gorgeous nightscape and shrines. Don't forget to visit Kobe if you're travelling in the Kansai region.

5 Tokyo Hotels a Little Different From the Rest

Do you ever first yourself stuck for choice when it comes to choosing a hotel to stay at during your trip? Since you're making the effort to travel, you want your hotel destination to be an enjoyable experience too, right?

We've compiled a list of hotels in Tokyo that are a little different from the rest and opened, or are set to open in 2018.

At OMO, they focus on tourism, offering not simply rooms, but a travel experience. They focus on elevating the excitement of travel for its guests by giving them the chance to fully enjoy towns and cities and the tourist spots connected to them. The hotel offers a service that helps guests discover the entertaining opportunities available to them all within walking distance of the hotel, allowing a deepening of knowledge of the city.

Full Details: https://www.moshimoshi-nippon.jp/107128

Capsule Hotel「MAYU TOKYO WOMAN」

Compared to existing capsule hotels, MAYU TOKYO HOTEL has simplified the administration process, reduced the noise level, and is committed to efficient operation. It has considered the current image of capsule hotels and changed the design process in order to increase the private atmosphere. To ensure that guests can enjoy peace of mind, their design changes started from the stairs. MAYU TOKYO HOTEL only employs female staff, which is a large change from the conventional style, and being a female-exclusive hotel,  also makes is a great option for women looking to stay somewhere.

Full Details: https://www.moshimoshi-nippon.jp/105495

Henn-na Hotel in Ginza incorporates robots and the latest cutting-edge equipment around. Two humanoid robots are installed at the front desk. A bar is also situated on the first floor that serve 300 types of alcohol including the rum produced at Bar Lamp in Ginza. During the daytime, the bar transforms into a lounge where guests can chat casually. The hotel is very comfortable to stay in, offering equipment such as the iRemocon, ChromeCast and mobile devices, and the rooms are even cleaned by an auto cleaning machine. Why not experience the latest in technology with robots while in Tokyo?

Full Details: https://www.moshimoshi-nippon.jp/91425

This hotel fuses retro tastes with modern elements. The reception area features an old 1926 Victrola Credenza gramophone by JVC USA, giving the room a nostalgic and retro feel. Rooms come with big bathrooms, high quality mattresses co-manufactured with Simmons that promise a peaceful sleep, beauty products, massage chairs and more. Consider this hotel―with its nostalgic atmosphere―if you're looking for some real relaxation.

Full Details: https://www.moshimoshi-nippon.jp/89240

This hotel is truly Japanese, with 'tea' as its core theme. Opening later this year, there will be four types of rooms to choose from, each of which are inspired by Japanese tea shops. The first floor will be home to a restaurant/delicatessen offering dishes and desserts made using tea. The second floor is where the reception will be, and the third floor upwards will be the guest rooms. At the front will be a counter where you can taste test teas, and there'l even be a shop selling tea-related products. The hotel is about a 20-minute taxi ride from Haneda Airport which is super convenient for when you land in Japan.

Full Details: https://www.moshimoshi-nippon.jp/79790

We hope this list proves useful when considering your accommodation opens when travelling to Tokyo. Be sure to enjoy your Tokyo trip to the absolute fullest.

5 Day-Trip Sightseeing Spots Close to Tokyo

For this article, we've compiled a Top 5 list of great places to visit in Japan within just one hour of Tokyo. The commute is short, so they're perfect locations for day trips if you're staying in Tokyo. We've also included the easiest routes to get to them.

Nikko (Tochigi Prefecture)
Nikko is a popular site for tourism, home to the famous Toshugu Shrine which is a registered World Heritage Site. It has great access with Asakusa, making it a perfect location for shrine visits.

Recommended Spots: https://www.moshimoshi-nippon.jp/tag/nikko

■Asakusa Station (Tobu Nikko Line) → Nikko Station

Travel Time: 2 Hours 10 Minutes

Price: ¥1,360

Mount Fuji (Shizuoka Prefecture / Yamanashi Prefecture)
Mount Fuji was registered as a World Heritage Site in 2013. Its graceful, sempiternal beauty has made it an unmistakable symbol of Japan throughout the world.

Be careful when traveling there, as the closest station to the mountain isn't Fujisan Station ('Mount Fuji Station'), but Kawaguchiko Station. There is also a direct bus there to and from Shinjuku.

Recommended Spots: https://www.moshimoshi-nippon.jp/87612

■Tokyo Station (JR Chuo Line / Ome Line / Itsukaichi Line) → Mitaka (JR Limited Express Kaiji) → Otsuki (via Fuji-Q)

Travel Time: 2 Hours 33 Minutes

Price: ¥3,560

■Shinjuku Bus Terminal (Express Bus) → Kawaguchiko Station

Travel Time: 2 Hours

Price: ¥1,750

Kamakura (Kanagawa Prefecture)

Kamakura is famous for its old-fashioned streetscape and shrines. It's also close to other popular tourist spots such as Enoshima, a small island off the coast, so you can have a lot of fun there with plenty of things to do no matter how many times you visit. If you're a travel lover, then we also recommend boarding the hugely popular Enoshima Electric Railway.

Recommended Spots: https://www.moshimoshi-nippon.jp/tag/kamakura

■Tokyo Station (JR Tokaido Main Line) → Totsuka Station (Yokosuka Line) → Kamakura

Travel Time: 57 Minutes

Price: ¥910

■Shinjuku Station (Odakyu Line) → Fujisawa Station (Enoshima Electric Railway) → Kamakura

Travel Time: 1 Hour 31 Minutes

Price: ¥886

Hakone—Japan's leading onsen, or 'hot spring' spot. Hakone Shrine is known for the red torii archways which sit on the bank of Lake Ashi. The town is also known for being home to countless nearby ryokan with hot springs, so you can enjoy hopping from one to the other. And to get there, you can take the direct Romancecar train from Shinjuku which goes straight to Hakone Station.

Recommended Spots: https://www.moshimoshi-nippon.jp/tag/hakone

■Shinjuku Station (Limited Express Romancecar) → Hakone-Yumoto Station

Travel Time: 1 Hour 25 Minutes

Price: ¥2,080

■Shinjuku Station (Odakyu Line) → Odawara Station (Odakyu Line / Hakone Tozan Line)

Travel Time: 1 Hour 45 Minutes

Price: ¥1,190

Chichibu (Saitama Prefecture)
Chichibu is appealing for its rich natural environment. Those who love the outdoors will be enticed by this city. As will anime-lovers, since this is the place where Anohana: The Flower We Saw That Day is set. They even sell maps of where all the places in the series are located, as well as souvenirs of the characters.

■Ikebukuro (Seibu Ikebukuro Line) → Hanno Station (Seibu Chichibu Line) → Seibu-Chichibu Station

Travel Time: 1 Hour 48 Minutes

Price: ¥770

Did you like this list?

You might enjoy stretching your legs and branching out to see what else Japan has to offer during your time in Tokyo.

Popular Nail Salons in Harajuku & Trending Nails by 5 Popular Models

There must be a lot of people out there wondering how to do their nails for spring and summer this year. At the MOSHI MOSHI BOX Harajuku Tourist Information Center we've directed many foreign tourists to popular nail salons.

So, we're compiling a lot of some of the popular locations you'll find in Harajuku! Check them out alongside the list of trending nail styles by popular models that follows.

HOME
This is a nail and eyelash salon who offer a huge range of top class eyelash extensions and high-quality nail painting art. They position themselves as your indispensable partner, leading you on the way to drawing out your natural beauty, offering new a lifestyle. The comfort at the salon is outstanding, set up in an open environment with plenty of light. And the fact that they can do both your nails and hair is enticing!

■Information

HOME

Address: 5-29-9 Jingumae Shibuya-ku, Tokyo F3 302

Opening Hours: 10 am – 10 pm (Monday – Friday)

10 o'clock – 19 o'clock (Saturday / Sunday / holiday)

TEL: 03-6418-9059

Website:http://home-harajuku.com/

Anranju
This place is open from 10am to 10pm, so you can even pop in after a bit of sightseeing. You can never get tired of their gel nails which come in designs based on what's trending each month, as well as their variety of nail parts and colours. Customers can take in art with them to show the staff, so we recommend Anranju who want to enjoy their nails done exactly in accordance with what they like.

■Information

Anranju

Address: 1-17-5 Jingumae, Shibuya, Tokyo

Opening Hours: Weekdays 10:00-21:00 / Weekends & Holidays 10:00-19:00

Closed: New Year's Holiday

TEL: 03-6804-3073

Website:

http://anranju-nail.com

Cocotte Harajuku
This nail salon is recommended for people to want to get their nails done like their favourite artist during a concert, as well as character art nails, intricate nails, and more. The staff have a lot of experience with nails and have done so many that it's impossible to count them. They are very talented, and their designs are constantly incorporating the newest trends.

■Information

Cocotte Harajuku

Address: Cocotte Harajuku B1F, 3-28-10 Jingumae, Shibuya, Tokyo

Opening Hours: Weekdays 11:00-22:00 / Weekends 11:00-21:00

No Fixed Holidays

Website:

https://ameblo.jp/cocotte-nail/

Trending Nails by 5 Popular Models


Yuri Suganuma: Primary colours and glitter make cute, flashy nails
Yuri Suganuma went for different colours across all her nails. Changing the colours of each nail is impactful and gives a pop vibe. As a pointer, glitter using glitter colours makes them look fashionable, doesn't it!



Saki Shibata: Attractive nails made with dull colours
Dull colours are aplomb and raise your level of maturity. Shibasaki is using gentle, organic nails from Ambiente, so this one's recommended for people who like to do their own nails.


Misa Kimura: Supporting the springtime vibe with nail art
Misa Kimura is serving spring with her nail art. The holographic nails raise the level of their gorgeousness. Take note of the top coat which is matted!



Mei Nagasawa: Sweet and lovely nails with hearts and pink
Mei Nagasawa's beautiful nails use pink as the base colour. The little hearts popped on there are super cute, aren't they? ♡ This design will completely up the appeal of your girliness, so try it for yourself.


Ayumi Seto: Girly dots and rainbows
The dot and rainbow design matches Ayumi Seto's image perfectly. They're completely coated in glitter, making them shine and look cute when hit by the light. Colourful nails work well with simple outfit co-ords!

Did you enjoy this list? Use these trending designs by models as a reference and enjoy creating your spring and summer nails!

10 Useful Travel Items You Can Buy in Japan at 100-Yen Shops

Japan's 100-yen shops garner much attention even amongst foreign tourists for their massive range of useful items. Their shelves are also filled with plenty of things you would find convenient to have during your trip in Japan. Let's take a look at some of the travel goods you can pick up there – at a very reasonable price. You'll be glad you had some of these!

1.Pouch

The ¥100 pouch is a convenient little thing to store away items like cosmetics, toiletries and such. If you buy one of the transparent ones, then it becomes even more convenient as you can see the contents and locate what you need without hassle. There's many to choose from – they come in big and small sizes, and cute-looking ones have been on the increase recently. It's nice to have so much choice, so pick your favourite!

2.Zipper Bag

The zipper bags sold at Daiso, one of Japan's most popular 100-yen shops, have simple, very smart designs. They're useful for storing bathroom items, chargers and other cords, and other knick-knacks. They're popular with people not only for travelling but during everyday life too.

3.Vacuum Storage Bags

Vacuum storage bags are an old standby in travelling. There's ones for grabs with cute designs, and the whole vacuum part of it is a lot of fun. You can pack away bulky towels and clothes nice and compactly. The only problem is that the compaction force wears away gradually on long trips, so be sure to have some backups prepared for peace of mind.

4.Cushion Case

The cushion case protects your electronic devices from damage. They are a must-have for digital cameras, laptops etc. It's good to check the feel of your cushion case when choosing one. If you pick one extra cushiony then you can rest assured your devices will be safe. There's a plethora of designs and sizes to pick from!

5.Wet Wipes

You can even buy wet wipes at the 100-yen shop, an absolute must-have even in regular life. Can Do's bacteria eliminating type wet wipes have kawaii designs like ninja and samurai. They're even sold at Seria, another 100-yen chain. Those with kids will be pleased with this item.

6. Eye Mask

We recommend this one for those who struggle to sleep when going on a trip. Can Do have even kawaii-fied eye masks. From standard types to fun, amusing types, sift through the range and pull out one that you like most. They might even make a good souvenir.

7.Neck Pillow

There's nothing better than being hugged by a neck pillow when sleeping on a bus or plane. They lighten the load on your neck, so there's plenty of people that make regular use of them. Choose from pillows filled with beads, cotton, and even ones that you can fill with air which are also convenient for carrying around.

8.Raincoat

If you find yourself in a downfall of rain at your travel destination and are in need of a raincoat but want something cute, then how about taking a trip to Daiso? They sell a mix of different raincoats with cross designs, half-moon designs and more. They're the perfect thickness too so they're something you can make use of regularly.

9.Selfie Stick & Remote Camera Shutter

Selfie sticks have made their way to 100-yen shops recently, and they even sell remote camera shutters! Get all the tools you need for taking memorable photos at the 100-yen shop.

10.Tripod

Tripods for your smartphone? You betcha! They are compact and not a hassle to carry at all. Can Do tripods are stable, and best of all, you can change the angle of your camera freely. Take some fun pics!

Was this list useful? There's plenty more convenient and useful items where that came from at Japanese 100-yen shops. Make sure you pop into one and stock up.
RELATED ENTRIES
Universal Studios Japan's 'We are One' Summer Festival Begins This July

Universal Studios Japan (USJ) reopened on June 19, 2020 after temporary closure as a result of COVID-19. The park is now running with strict measures in place to prevent the spread of the novel coronavirus, including practicing the 2m social distancing rule, making it mandatory to wear face masks, and so on. The park has posted a full video demonstration of the rules on their official website.

That means summertime is set to shine on USJ once again this year. The new 'Universal Summer Parade: We are One' event will begin on July 23 as the first parade held by the park since its reopening. Guests will be able to enjoy a fun and exciting summer at USJ with all the necessary precautions in place to ensure their safety.

Many familiar faces will gather at USJ to celebrate summer with guests, including the Minions, Elmo, Snoopy, Hello Kitty, and more. Each of them will board colourful floats for the parade during the parade, which will open with the fittingly-titled "Opening Float" followed by a flurry of unique floats like the flashy "Latin Float," cute European-inspired "Europe Float," the mysterious "Indian Float," and the finale "America Float," amongst many others. There will be music to entertain guests for laughs, smiles, and fun energy while characters and entertainers ride the floats and serve summertime vibes.

The peak moment of the parade will be when confetti rains down on guests in huge quantities. Flags can also be bought for the parade for the first time in this year. Performers and the park characters will be able to entertain guests at a distance while still connecting with them through the fun performances. A special "social distance" performance created in cooperation with the Osaka Prefectural Board of Education will also be part of the parade. This year's parade plans to have guests dancing and smiling even more than previous years to lift some of that stress away and give them the fight and energy to continue into tomorrow.

Universal Summer Parade: We Are One

Put your hands into the air as the sun beats down and the floats arrive to a lively rhythm. 'We are One' is the catchphrase, so get your boogie on and explode with excitement together with the entertainers and park characters for a heated summer parade!

Running: July 23, 2020 – August 27, 2020

Location: Parade Route

Time: One per day from 11:00am (approx 40 mins) 

Buy yourself a parade flag for ¥500 and wave it around to the beat of the festival!

Cool yourself off with some summer merch

Get your hands on some merch for cooling off, including the must-have summer "Handy Fan," a "UV Poncho" which keeps you cool in the heat of the sun, a classic "Sensu" folding fan, and more.

Feel the Japanese festivities with the Universal Market

The Universal Market will give that Japanese 'matsuri' festival vibe. Enjoy some cool desserts, spicy food, and more.

Left: Super Hot! Turkey Leg ¥1,000 / Centre: Peach Jelly Soda: ¥650 / Right: Frappe Sundae ~Strawberry & Blue Hawaii~ ¥750

Since guest safety is the number one priority this summer, the park will not be holding its famous splash performance where guests are soaked with water by water shooters.

Additionally, the parade will also not stop in any of the usual designated places and will instead keep on moving, meaning the parade can be enjoyed from anywhere along the parade route. Guests will be able to keep plenty of distance from others as they watch the parade.

The park also released a statement on its 'enhanced sanitation in park operations' on its official website so you can find out more about what USJ is doing to tackle the COVID-19 spread.

If you're in Osaka this year, you can still enjoy summer at Universal Studios Japan with all the necessary precautions in place.

Raise Your Own Sky Lantern at New Greenpia Tsunan in Niigata

New Greenpia Tsunan, a resort facility in Tsunan, Niigata, is holding an exciting sky lantern event every day until March 31, 2020.

 

The sky lantern event is held every winter at New Greenpia Tsunan, and has returned again for 2020. It began in 2012 as a means of showing respect for and praying for the revival of disaster-stricken areas, such as the areas affected by the 2011 Tohoku earthquake, the Nagano and Niigata earthquake, and so on. Every year, couples and families come together to put their prayers and wishes into the lanterns before letting them go into the night sky. The countless lanterns raised at once soar up high and light up the black cloak of the night like burning stars.

For 2020, the event will also sell lantern t-shirts, handkerchiefs, hand towels, cookies, and other themed items.

 

If you're travelling in or around Niigata in Japan this year, then don't miss New Greenpia Tsunan's very special winter event.

Information

Sky Lantern Event

Running: Everyday until March 31, 2020 (Except select days where the site is closed or booked)

Location: New Greenpia Tsunan (12300 Akinari, Tsunan, Nakauonuma-gun, Niigata)

Time: Weekdays – From 18:00 / Saturdays & Days Before Public Holiday – From 18:00 & 20:00 / March Onward – From 18:30

Booking: Bookings available until 17:00 on the day at New Greenpia Tsunan

Price: ¥1,500 (1 lantern)

Official Website: https://new-greenpia.com/

*In the case of stormy weather, the event will not proceed on that day

5 Must-Visit Beautiful and Romantic Lantern Festivals in Japan | 2020 Edition

The season for Japan's enchanting and romantic lantern events has finally arrived, and the line-up this year is diverse, from events where lanterns are the main attraction to lantern-lined festivals and Japanese matsuri festivals.

Hankyu Travel International compiled a list of these events , and we've pulled out some of the best ones for you.

Hanamaki Hoshi Meguri no Yoru | Iwate Prefecture

This year marks the third run of "Hanamaki Hoshi Meguri no Yoru," an event held during winter for guests staying at Hanamaki Onsen. The event is comprised of many elements, including fireworks, folk entertainment, and more. People will also write wishes and messages or draw pictures on their lanterns before sending them up into the winter night sky. Afterwards, they can enjoy a dip in the hot springs at Hanamaki Onsen to warm themselves up and unwind from the day.

Running: January 26, 2020/February 22, 2020/February 11, 2020/February 16, 2020/February 24, 2020

Location: Namari Ski Center
Address: Nakadaira-36-1 Namari, Hanamaki, Iwate

▼Hanamaki Hoshi Meguri no Yoru Tour
https://www.hankyu-travel.com/kokunai/keyword/%E3%81%AF%E3%81%AA%E3%81%BE%E3%81%8D%E6%98%9F%E3%82%81%E3%81%90%E3%82%8A%E3%81%AE%E5%A4%9C/?p_baitai=9599

China Lantern Festival | Chiba Prefecture

Tokyo German Village is hosting its second China Lantern Festival, inspired by the typical traditional festivals held in China during spring. A selection of 30 lantern installations of varying sizes made by the world's biggest lantern maker Lantern Group have been set up in the 50,000 square meter area. Pieces include lanterns over 10 meters long and high, lanterns floating on the water, moving lanterns, and more.

Running: November 23, 2019 – April 5, 2020

Location: Tokyo German Village

Address: 419 Nagayoshi, Sodegaura, Chiba

▼Tokyo German Village Tour
https://www.hankyu-travel.com/kokunai/keyword/%E6%9D%B1%E4%BA%AC%E3%83%89%E3%82%A4%E3%83%84%E6%9D%91/?p_baitai=9599

Tsunan Yuki Matsuri | Niigata Prefecture

Since 2012, the people of Tsunan in Niigata have raised sky lanterns into the sky to pray for the revival from the disaster that the Tohoku earthquake brought in 2011. It is a two-day festival, with the first day of the event taking place at night, and the second being the main day of the festival. The festival is so popular that tickets never fail to sell out quickly every year. It brings with it a host of events, from the lanterns to the snowboard straight jumping tournament, the hanging of snow lanterns, snowmobile rides, and more.

Running: March 14, 2020 (There will also be a lantern event the night before on March 13, 2020)

Location: New Greenpia Tsunan

Address: 12300 Akinari, Tsunan, Nakauonuma-gun, Niigata

▼Niigata Tsunan Sky Lantern Festival Tour
https://www.hankyu-travel.com/chubu-hokuriku/niigata/lantern/?p_baitai=9599

Nagasaki Lantern Festival | Nagasaki Prefecture

This festival was originally held during the Chinese New year by the people of Nagasaki Chinatown, but in 1994 it was given the name "Nagasaki Lantern Festival." To date, it has been attended by over 1 million people. This year, around 15,000 lanterns of varying sizes are set to light the streets. Taking place across several areas, some standout pieces include the peach-coloured lanterns at Nagasaki Chinatown, the ceiling lanterns at Hamanomachi Arcade, the water lanterns at Nagashimagawa Park, and more. On weekends, there are also parades, traditional Chinese performance, and other exciting events. And if you head to Nagasaki Confucian Shrine (also known as Koshi-byo), you can offer a love lantern to pray for happiness in your relationship.

Running: January 24, 2020 – February 9, 2020
Locations: Nagasaki Chinatown/Central Park/Tojin Yashiki/and elsewhere
Address: Various places throughout the city of Nagasaki

▼Nagasaki Lantern Festival

Hankyu Travel International Tour: Hankyu Travel International

Nagasaki Tourism Page: https://travel.at-nagasaki.jp/en/what-to-see/62/

Ryukyu Lantern Festival 2019-2020 | Okinawa Prefecture

Murasaki Mura Ryukyu Kingdom Theme Park is known for having originally been used as the set for several historical drama series, and was subsequently turned into a theme park after filming was finished. The Ryukyu Lantern Festival welcomes a variety of different lanterns, including Chinese lanterns, paper lanterns, various Asian lanterns, and more, each of which bring a completely different atmosphere depending on the area you are in. This year sees the welcome return of the annual lantern contest where 45 individual lantern pieces are exhibited. There are also different street performances every day on the Night Lantern Stage, as well as projection mapping displays, the Night Lantern Cafe, and more.

Running: December 1, 2019 – March 31, 2020

Location: Murasaki Mura Ryukyu Kingdom Theme Park

Address: 1020-1 Takashiho, Yomitan, Nakagami-gun, Okinawa

Murasaki Mura Official Website: https://murasakimura.com/

Be part of one of Japan's many beautiful lantern festivals this year and witness some seriously breathtaking night scenes.

Celebrate Tokyo Midtown's Cherry Blossoms at MIDTOWN BLOSSOM 2020 Event

MIDTOWN BLOSSOM 2020 is set to take place in Tokyo Midtown from March 20 to April 19 to celebrate and welcome the spring and the cherry blossoms.

This marks the 13th year of the event, which will take place both in Tokyo Midtown's garden area which is home to rows of gorgeous cherry trees, as well as around the building where they have sparkling wine, sweets, flower displays, and many other exciting things planned.

CHANDON Blossom Lounge

Enjoy a luxurious cherry blossom experience this year with a glass of premium Chandon sparkling wine available at the outdoor limited-time CHANDON Blossom Lounge. This vibrant sparkling rosé wine is the perfect accompaniment to your springtime banquet and to say "Cheers!" to this year's hanami flower-viewing in Japan.

There will also be food prepared by Nagase Mitsunao, head banquet chef at the 5-star Ritz-Carlton Tokyo Hotel, as well as incredibly decorative-looking sweets to adorn the able. There are two new types of seats available this year with Japanese twists to them, including seats in the roofed lounge where you can enjoy the cool spring weather in the evening.

Running: March 20, 2020 – April 19, 2020 (Closed in the case of stormy weather)

Time: 12:00-20:00 (Last Orders 19:30) *Extended to 21:00 (Last Orders 20:30) on Fridays, Saturdays and during cherry blossom full bloom

Location: Midtown Garden, Sakura-dori area

*Select seats require a reservation – full details to be released in mid-February

Spring Flower Display ~Flower Art Award pre~

 

Za Sogetsu is a performance unit specialising in ikebana, or flower arrangement. One of the most recognised groups in the industry, their work will displayed around various locations at Tokyo Midtown, including large-scale pieces as well as never-before-scene ones. One look at this breathtaking flower art will be enough to fill you with spring vibes.

Running: March 20, 2020 – April 19, 2020

Time: 9:30-24:00 (Galleria Floor 1F) / 11:00-21:00 (Galleria Floors 2F-3F)

Location: Galleria 1F's Tree Shower & various locations at Galleria 2F-3F

Nighttime Cherry Blossom Light-Up

The entire 200-meter length of cherry trees in Tokyo Midtown's garden area will be lit up with beautiful illuminations at night-a sight that never fails to drawn in countless people. Before the flowers are in full bloom, pink lights will be used to get people ready for the main show. When the cherry blossoms are at their height, white lights will be used every night.

Running: March 20, 2020 – April 19, 2020

Time: 17:00-23:00

Location: Midtown Garden, Sakura-dori area/In front of Garden Terrace

Tokyo Midtown has many other events planned for spring 2020, so don't miss out this year.

Information

MIDTOWN BLOSSOM 2020

Running: March 20, 2020 – April 19, 2020

Location: Tokyo Midtown (9-7-1 Akasaka, Minato Ward, Tokyo)

Official Website: https://www.tokyo-midtown.com

FLOWERS BY NAKED 2020: Details Revealed For Tokyo's Flower-Themed Art Event

FLOWERS BY NAKED is an annual flower-themed art event held by NAKED Inc., and the company has announced its next run: FLOWERS BY NAKED 2020 – Sakura – will take place from January 30 to March 1 next year at Nihonbashi Mitsui Hall in Tokyo, where visitors can enjoy flowers an a wholly new kind of interactive experience. Tickets went on sale on December 17, 2019, and this event will mark its 5th anniversary of taking place in Nihonbashi.

To date, FLOWERS BY NAKED has seen over 500,000 people attend the events, which have become a place for Instagrammable photos with over 660,000 posts made with the hashtag #flowersbynaked.

2020's theme is cherry blossoms, so to celebrate, NAKED has unveiled four key visuals for four gardens set for the event along descriptions. As visitors journey through the gardens, they will experience an immersive story melding the worlds of flowers and art.

■Prologue

"When a butterfly telling the spring dances in the snowy winter world, the page is turned and the world changes from winter to spring."

This is where the story begins: where winter flowers bloom. But as the pages of the big book are turned, the space is transformed into springtime as the snow melts.

■Dandelion Hill

"When you blow dandelion as if you were playing as a child, the fluff soars up to the sky with your old memories."

Watch as the scenery changes when you blow on the towering dandelions in this incredible interactive experience that combines real life with digital technology.

■Glowing Garden

"In a shimmering space that seems to be lost in a kaleidoscope by a mirror, the sun shines even more."

When you step into this radiant garden which is lit by the pouring sunlight, it will seem as if the entire world around you glows with the fiery light of our burning star.

■OUSAI Garden

"The fastest cherry blossom viewing space in Japan where you can enjoy the five senses, such as the blossoming cherry blossoms and the scent of spring."

The river seen at the beginning of the story leads to here, a holy cherry blossom garden watched over by an enormous pink cherry tree. There is plenty to interact with in this area for visitors to experience cherry blossoms with all five of their senses.

Advance tickets for this event are now on sale, so don't miss out.

Information

FLOWERS BY NAKED 2020 – Sakura –

Running: January 30, 2020 –  March 1, 2020

Opening Hours: 10:00-20:00 (Last entries 30 minutes before closing time)

*Opening hours subject to change

Location: Nihonbashi Mitsui Hall COREDO Muromachi Floors 1F + 5F (Entrance is on 4F)

Official Website (English/Japanese): https://flowers.naked.works/2020nihonbashi/

Wear Plain Clothes This Halloween at Shibuya's Jimi Halloween 2019 Event

Worried about what to wear for Halloween this year? No need to panic. If you're spending your Halloween in Shibuya this year, which is known the world over for its incredible Halloween festivities, then head to Tokyo Culture Culture on October 27 where a very unique event is taking place.

Jimi Halloween is an event that takes out the stress of having to go all out for Halloween as people go dressed as ordinary people. It has been held annually since 2014, with the number of attendees growing each year. Over 800 people took part last year, all clad in their plain clothes.

This year's event will be split into three slots, with a capacity of 200 people per slot. Sign-ups begin on October 15 at 12:00pm (JST).

Past Examples

①Situational attire

Beauty salon client

Dressing up as someone doing something has been a popular choice at the event recently. You can come up with some creative ideas that'll make people say, "You came as that?!"

②"I've seen people like that!" attire

Flea market woman

There's always certain types of people that everyone sees, and in Japan this is one of them!

③"I get it, but I don't get it" attire

Hawaii vibe  uncle

You've heard all about them, but have you seen them?

④Work attire

Handing out tissues with pachinko ads on them

Work attire is a go-to at the plain clothes event. It wouldn't be an exaggeration to say that this is the one that started the entire movement.

⑤Miscellaneous attire

Maslow's hierarchy of needs

The final entry is those which are hard to categorise. They serve whatever vibes they are feeling.

Attend this year's event and show off your own unique ideas!

Information

Jimi Halloween

Date: October 27, 2019 (3 Slots / 200 People Per Slot)

 Slot ①: 11:00-14:00 

 Slot ②: 15:00-18:00 

 Slot ③: 19:00-22:00 

★Places are available on a first-come, first-served basis at the website below

Venue: Tokyo Culture Culture (cocoti SHIBUYA 4F, 1-23-16 Shibuya, Tokyo)

Entry: Free (Apply at the link below)

2019 Kobe Luminarie Winter Illuminations to Light Up Kobe This December

The 25th Kobe Luminarie light festival will take place from December 6 to 15. The theme of this year's festival is "25 Years, Guided by the Light of Hope" (Original Italian title: Da 25 anni, guidati dalle luci della speranza).

Kobe Luminarie is an illumination festival that has been held annually since 1995 in commemoration of the Great Hanshin earthquake which hit Kobe that year on January 17. The event has continued as a symbol of hope for Kobe and has also become a festival associated with the winter season. Last year's festival saw around 3.43 million people in attendance.

The "Light Bulbs" make a comeback radiating their warm light

Formerly the doorstep to foreign culture, Nakamachi-dori, lined with countless tasteful stores, will be lined with around 270 meters' worth of decorations. The entrance decoration, named Frontone, stands almost 22 meters tall with three towering gates each connected to each other. The Sparri Ara is a wide wall of lights which runs 50 meters from Frontone all the way to Kyomachisuji Crossing. And as a special instalment to the 25th run of the festival, the light bulbs used at the first festival will be strung up to create another wall illumination from Itomachi to the East block which will be dubbed the "Memorial Zone."

The event's largest light dome

In the eastern amusement park plaza, Cassa Armonica―an illuminated church structure set up every year―will be enveloped in a large 21 meter high dome featuring an arch for the first time standing 4 meters tall in the memorial area

Over in the floral clock area, the Sparri Ara wall lights twinkle beside the wisteria trees. The lights will change and transform to the sound of the music. Attendees will also be able to pick up small gifts too as well as take pictures at the various photo spots.

Earthquake Talk Booth

Talks will be held discussing the origins of Kobe Luminarie and why it started. Earthquake survivors will also talk about their real experiences.

International Creative Director and Executive Producer Daniel Monteverde, who has been working with Luminaire for 20 years, made the following comment: "The city of Kobe will bustle once again this year, which will mark 25 years. People will fill the streets and look to the sky while they wait for the chime of the bell to signal the illuminations. We hold the memories of the people we lost 25 years ago close to our hearts. I hope we can convey our hopes and dreams and our story to our children and the young people who will bear the next generation. I hope people will be proud of Kobe which has recovered from the earthquake."

He continues: "The Kobe Luminarie lights will shine once more for Hyogo, for Japan, and for the world. These lights are a symbol of each and every person's devotion, their efforts, and their love. I pray that the Luminarie lights will send a message of hope to the world and continue shining in our hearts for the rest of time." * Full comment translated from Japanese

Information

25th Kobe Luminarie

Running: December 6, 2019 – December 15, 2019

Location: Kyu Gaikokujin Kyoryuchi and Kobe East Park (Higashi Yuenchi) (Chuo Ward, Kobe, Hyogo)

Illumination Times

[Mon-Thurs] 18:00-21:30

[Fri] 18:00-22:00

[Sat] 17:00-22:00

[Sun] 17:00-21:30

*Times may be extended depending on the number of people. Event may be postponed in the case of bad weather.

Kobe Luminarie Official Website: http://kobe-luminarie.jp/

New York-Style Cafe & Restaurant Sarabeth's Celebrates 7 Years in Japan With Special Event in Shinjuku

It has been seven years since Sarabeth Levine took her New York-based cafe and restaurant Sarabeth's to Japan back in 2012. To celebrate, the establishment will hold a special one-night event with a commemorative menu.

"Fermented Foods" is the theme of the event, which will see an incredible line-up of premium dishes. There will also be a talk by Sarabeth Levine herself who will be in attendance.

The menu line-up features a range of healthy fermented foods, like pancakes and Eggs Benedict, while drinks options include lemonade with fermented syrup, goishicha tea from Aichi Prefecture, and more. There will also be Sarabeth cookies which you can take home with you.

Information

Sarabeth's Japan 7th Anniversary Special Event

Date: November 5, 2019

Time: Reception 18:30 / Open 19:30-20:45 (subject to change)

Price: ¥3,800 (Tax Included)

Capacity: 50 (Reservation-Only)

Location: Sarabeth's Lumine Shinjuku (Lumine 2 Floor 2F, 3-38-2 Shinjuku, Shinjuku Ward, Tokyo)

TEL:03-5357-7535

Reservations:  https://sarabeths7th.peatix.com

Netflix Anime Series 'Beastars' Promotional Event to Take Place at Tobu Zoo in Saitama

Tobu Zoo is set to collaborate with the upcoming drama anime series Beastars from November 2 to December 29.

Beastars is a manga series written and illustrated by Paru Itagaki. It is serialised in Weekly Shōnen Champion which is celebrating its 50th anniversary this year.

Beastars is set in a world of herbivores and carnivores. The story follows Legoshi, a quiet and gentle grey wolf and student at Cherryton Academy. His world is turned upside down when one of his fellow students is brutally murdered.

The collaboration event will see Tobu Zoo decorated with illustrations drawn specifically for the event. There will also be exclusive and original merchandise on sale, as well as themed food and more.

Beastars will premiere in Japan on Fuji TV's +Ultra programming block on October 9. It will also be streamed exclusively on Netflix.

©板垣巴留(秋田書店)/BEASTARS制作委員会

Information

BEASTARS

Release Date: October 9, 2019 on Fuji TV +Ultra

*To be released on Netflix on October 8, 2019 (Japan pre-release; overseas release date TBC)

Official Website: https://bst-anime.com/

Tobu Zoo

Address: 110 Suka, Miyashiro, Minamisaitama-gun, Saitama Prefecture

Official Website: http://www.tobuzoo.com/

ROPPONGI HILLS HAPPY HALLOWEEN 2019: Monster Desserts, Horror Film Parade & More

Roppongi Hills has announced this year's Halloween festival. Titled "ROPPONGI HILLS HAPPY HALLOWEEN 2019," it will take place from October 1 to 31, packed full of spooky fun from a Halloween costume parade to a ghoulish gourmet menu line-up, featuring an always-unique array of food and drink.

Halloween Cupcakes – ¥638 Each @ LOLA'S Cupcakes Tokyo (Available from October 5)

LOLA'S Cupcakes has baked up an assortment of cute monster motif cupcakes, with flavours including pumpkin, purple sweet potato and more. Whichever one you pick, it's sure to give you a smile and delight your taste buds.

Halloween Mixed Berry Cake – ¥530 @ Roasted coffee laboratory

Creepy eyeballs adorn this cake, which is topped with blackberries and blueberries while drizzled in bloody blackcurrant jam. The cake is layered with sponge, fresh cream and a sweet and sour strawberry jelly.

Happy Monster – ¥980 @ Cafe Crepe

Delight in this cute pumpkin and fresh cream crepe, filled with pumpkin ice cream and snug in an orange crepe wrap. Housed inside is an adorable purple sweet potato mont blanc monster wearing a witch's hat.

A movie-themed parade will take place on Saturday October 26 at the event in line with the 2019 Tokyo International Film Festival. Children and adults can take part in the parade if they dress up. The 1km parade will last 25 minutes.

Gift bags will be given to all kids who get involved!

▼Halloween Parade

Date: October 26, 2019

Time: 10:30-13:30 (subject to change)

Location: Roppongi Hills Arena

Participation Conditions: Anybody who dressed up can join (the theme is "Movies")

Participation: Free

Enquiries: 03-6406-6000 (Roppongi Hills Information)

Halloween will hit Roppongi Hills for the entire month of October. Be sure to visit if you're in Japan next month!

Complete a Mission and Explore Enoshima with The Mekakushi Dan

Ever dreamt of teaming up with the Mekakushi Dan from the Kagerou Project to complete a mission? Now you can and explore the wonders of Enoshima while you are at it. From September 14 to November 17, Enoshima will hold its biggest ever real life rescue game featuring Japanese mixed-media project The Kagerou Project. The event will be called Mekakucity Quest in Enoshima and will run over approximately two months.

From games and music to novels, anime and manga, The Kagerou Project characters have dominated the scene in a large range of media forms. The Mekakucity Quest in Enoshima was created in collaboration with SCRAP, who are famous countrywide for their real life escape games. 

This game can only be cleared by walking around Enoshima to find hints and answers to the challenges but don't worryーThe Mekakushi Dan will be in contact with you via the messaging app LINE to help you solve the riddles. 

Upon accepting your mission, you will receive a mission guide full of information on the mouthwatering gourmet food and fascinating history of Enoshima. The guide will take you on a wonderful journey of discovery through locations popular among tourists and even romantic date spots. This is the perfect way to enhance your Enoshima experience. 

Multimedia creator Jin, who is the founder of the Kagerou Project, has teamed up with SCRAP to create this exciting real life game which is full of fun contents that anyone can enjoy. The original storyline takes advantage of the wonders of Enoshima, creating a unique experience that is not available anywhere else. It is a rare opportunity to get close to the Mekakushi Dan and simultaneously enjoy the exciting culture of Enoshima. 

Your journey will start at Subana Kaikan (スバナ会館) which will be selling lots of Kagerou Project collaboration merchandise that cannot be obtained from anywhere else. Make sure to check out the official website for more information. 

There is an exciting bonus in store for those who successfully clear the game: A surprise phone call from Ene and Shintaro! Just hearing the voice message of these two popular characters is enough to send some fans wild. Those who clear the game will also have the opportunity to take part in a special lottery for the chance to win a ticket to watch the debut screening of the anime Kagerou Daze No.9 before anyone else. This series is set to go live next spring. 

*The debut screening is a private event that you can only take part in by clearing the Mekakucity Quest in Enoshima. There is no general screening event for those who do not succeed. 

As the sweltering heat of summer has finally subsided, this is the perfect chance to explore the wonderful tourist spots and indulge in the delicious local food of Enoshima while facing challenges with your pals or even your partner.

Information

Mekakucity Quest in Enoshima

Start Point: Subana Kaikan (スバナ会館), 1-9-12, Katasekaigan, Fujisawa, Kanagawa

Running: September 14 ー November 17, 2019 

Approximate amount of time required to complete the quest: 2 hours

Ticket Availability:

Selling on September 12, 2019 (10:00ー16:00)

*  Advanced tickets and more information is available on the official website.

* It is possible to obtain tickets after the ticket sale period has ended.

Official Website: https://realdgame.jp/mekakucityquest/

Tickets: http://bit.ly/2kJajwP

Pompompurin Zombieland: Save Pompompurin From Zombies at Sanrio's Horror Event

Sanrio's popular character Pompompurin is collaborating with Obaken, a horror experience creative company, to bring the brand new horror event known as Pompompurin Zombieland to Sanrio Puroland on November 16 and 30.

Tickets will go on pre-sale for official Pompompurin ambassadors, or Pombassadors, on September 14 at 10:00am (JST) and general sales will begin on September 28 at 10:00am (JST). To find out more about Pombassadors and how to become one click here.

Pompompurin Zombieland Promo Video

Horror experience planner Obaken is set to shake the cute world of Pompompurin into a terrifying zombie-infested one. In the story, Pompompurin was happily looking for some tasty mushrooms to pick when all of a sudden he eats a poisonous one by mistake. It is your mission to deliver him the antidote to stop him from becoming a zombie. Other unfortunate victims who also ate poisonous mushrooms have died and returned as the living dead and will roam around Puroland. The antidote to save Pompompurin, who is on the brinks of turning into a green zombie, lies in the non-poisonous mushrooms located in 6 areas of the park.

You must survive getting infected by the zombie virus and get your hands on mushrooms. If you succeed you'll receive an exclusive Pompompurin Zombieland pin badge stating that you have cleared the mission.

You can even pick up an exclusive Zombie Purin t-shirt. These are limited in stock and can't be bought anywhere else.

Additionally, if you wear a combination of yellow and brown-coloured clothing when attending the event―which are the colours of Pompompurin―you'll get the above-pictured Zombie Purin sticker.

Full details can be found on the event's website below. Don't miss out on this creepy-cute experience this autumn.

©︎'96, '19 SANRIO