Tokyo Stroll: Shopping & Sightseeing with Mozuku-kun the Dog #4 – Instagram Hat Photoshoot
In this featured series, dog lover and model Yuna Yabe heads out with her trusty partner Mozuku to visit hot spots that people and their dogs enjoy, while deepening her bond with him.
In today's article, Yuna dresses up Mozuku with hats from a capsule toy series she likes called 'Inu no Kaburi Mono' (Things for Dogs to Wear).
The 'Inu no Kaburi Mono' series Yuna is interested in is by Kitan Club. She found capsule toy items for cats that she wanted Mozuku to try on, but she also wanted to try the dog ones, so she ended up having him wear a variety of things.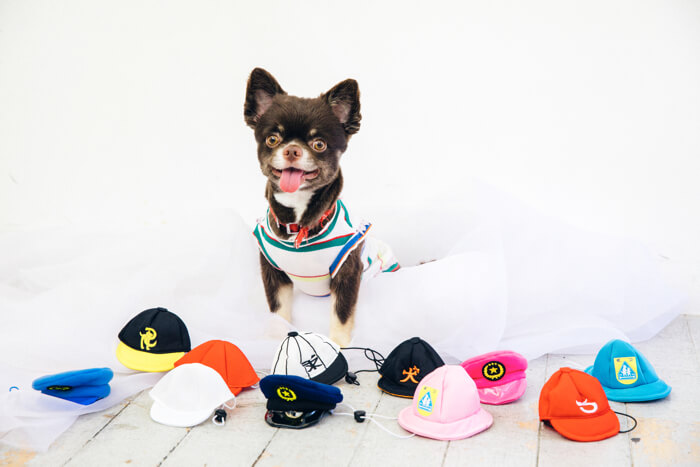 The Kitan Club hat series features 3 different designs: baseball caps, school caps and cop hats – and they all come in different colours!
First up is the black baseball caps, fittingly co-ordinated with a striped Marines uniform to complete this sporty look! A perfect outfit for exercise in the park.
Next is the white doggy cop hat. Mozuku is looking summery with the outdoor white polo shirt too. He looks like sailor!
This big dropping t-shirt gives Mozuku a kid look. He has a yellow school cap on and looks just like a Japanese kindergartener. It matches perfectly with the green!
The one Yuna wanted him to wear the most was the camo one. He's wearing it together with a border-type Western outfit remade by her grandma. He looks like a fashionable and heroic guy!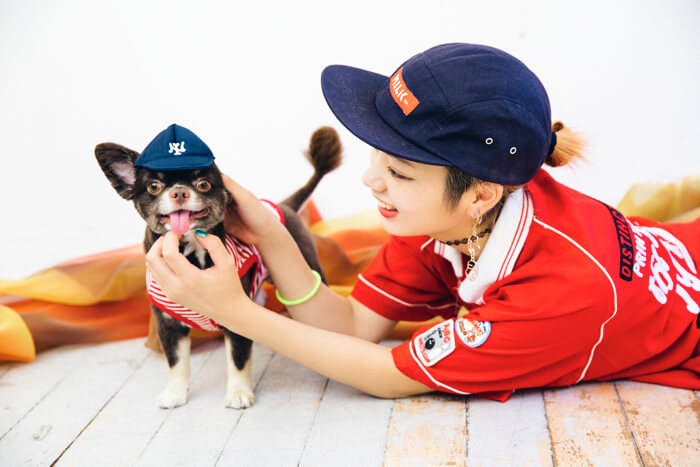 The last look is the red and navy co-ord. Wearing matching navy caps is a lot of fun.
Yuna said, "We got to see many different sides to Mozuku today. It's good to protect your head with a hat during summertime. If I wear a hat I can match looks with my dog, so I recommend it!"
If you're in Japan and come across capsule toy machines, known as gashapon, then be sure to look out for this series. They're ¥300 each.
■Information
Kitan Club Capsule Toys – Kaburi Mono
Price: ¥300 each (pre-tax)
Model:Yuna Yabe/Mozuku @yunaaay1030
Yuna Yabe won the grand prix prize at the "Zipper×ASOBISYSTEM Model Auditions" at the age of 15. She is an expert not only in fashion but make-up and video editing too. She's an influential figure to the people in her generation. Recently, her work has expanded greatly, such as appearing in music videos. Her activity continues to grow and looks to be very promising indeed.
Text: Sayoko Ishii
Photograph: Kayo Sekiguchi
Translation: Joshua Kitosi-Isanga
RECOMMENDED ENTRIES
【Tokyo Stroll】Shopping & Sightseeing with Mozuku-kun the Dog: #1 Bondi Café Yoyogi Beach Park

Yuna Yabe is new to pet ownership. With her eyes set on becoming a better owner, Yuna is going all out with by starting up a brand new regular article series. For her first entry, Yuna is introducing a fun café she visited together with her puppy!

The café the two of them visited is called "Bondi Café Yoyogi Beach Park" and it's located in the Okushibu area. It's 324m from Yoyogi-koen Station via the Chiyoda Line and 5 minutes by foot from Yoyogi-Hachiman Station via the Odakyu Line. It's easy to get to from either station. What's better is that it's close to places like the Bunkamura museum, Tokkyu Hands and NHK meaning you can make a day out of your trip on a stroll with your dog.

First of all, let's learn a little bit about the protagonist of our story. Mozuku-kun is a 1-and-a-half-year-old male long coat chihuahua. His latest interests include chasing the robot Roomba vacuum cleaner. His charm points are his brown eyes and nose and sticking his tongue out. Please treat him well♪

The café has a service that includes a rug and water bowl for dogs. But it seems like Yuna's lap is where Mozuku-kun feels most at ease!

Behind the café is a promenade where you can take a leisurely walk without having to worry about incoming cars. It's generally a quiet area, making it a peaceful and pleasant stroll for even scaredy-dogs.

The roads in this area are paved beautifully so it's a perfect spot to snap a photo with your puppy for Instagram.

The café looks out onto Inokashira-Dori, so you can get a view of Yoyogi Park and the green ambience of the tree-lined streets. The lavish greenery is gorgeous, it'll make you forget you're even in Shibuya! Even Mozuku-kun was in pretty high spirits. I wonder if he noticed all the green too?

On the café's list of recommendations is their homemade tofu pancake with coconut butter for ¥900 (tax included). You can get a heap full of fruits like in the photo above to top your pancake for an extra ¥500. If you're a fruit lover then definitely try ordering this.

There are 5 sauces to choose from to top your pancake, including the classic maple syrup and even chocolate. Yuna went with caramel sauce, her absolute favourite.

Mozuku was well behaved at first, but after seeing Yuna enjoying her food so much he stuck his tongue out in complete captivation and begged. But the pancake is a little too rich in flavour for Mozuku-kun, so he was given his favourite dog food later on.

This is a caramel macchiato (¥700 tax incl.) made using speciality coffee by the barista who creates the drinks one by one to perfection. The latte art is super cute, so be sure to take a selfie with your puppy and upload it on your social media. You'll definitely get a lot of likes.

If you're looking to go out on a stroll somewhere a little different from usual, then we recommend Bondi Café Yoyogi Beach Park. It's easily accessible from Shibuya and Harajuku, plus they have plenty of welcoming service for pets! The café is also close to Yoyogi Park, so it might be nice to take a walk there too. Yuna was happy with the terrace seats as they were spacious meaning you can use them without worry of other mischievous dogs. That's all for today – look forward to next time!

■Information

Bondi Café Yoyogi Beach Park

Address: Barbizon 55 1F, 1-15-2 Tomigaya, Shibuya, Tokyo

Access: 324m from "Yoyogi-koen Station" via the Chiyoda Line / 5-minutes by foot from "Yoyogi-Hachiman Station" via the Odakyu Line

Opening Hours: 9am-2am (last orders at 1am)

Telephone: 03-5790-9888

Homepage: http://bondicafe.net/bondi-cafe-yoyogi-beach-park/

Model:Yuna Yabe/Mozuku @yunaaay1030

Yuna Yabe is skilled not just in the area of fashion but also make-up, as well as editing her own videos. She is an influential figure to the people of her generation. She has recently appeared in music videos and her sphere of activity is growing and expected to spread.

Writer:Ryoichi Komaba

Photograph:Kayo Sekiguchi

Translation: Joshua Kitosi-Isanga

【Tokyo Stroll】Shopping & Sightseeing with Mozuku-kun the Dog: #2 Makuhari Shintoshin Pecos Pet Mall (Part 1)

Yuna Yabe is a dog lover whose eyes are set on becoming a seasoned pet owner. This series follows her journey as she takes her pet dog, Mozuku-kun, strolling around the city. For her second entry, Yuna headed to the Makuhari Shintoshin branch of "Pecos," located inside the AEON Pet Mall in Kaihin Makuhari, Chiba Prefecture. This is part one of two.

The closest stations to Pecos are Kaihin Makuhari Station and Shin-Narashino Station, both accessible via the JR Keiyo Line. There are also buses that go straight to the mall, making it super convenient if you come by train. There's also a car park right next to the mall if you decide to take the road, so it's easy to go there with a pet dog. Pecos in Makuhari Shintoshin is the biggest pet store in Japan, with the first floor spanning 820.6㎡ and the second 979.8㎡. They offer just about everything you could imagine from a pet shop in Japan, from food and clothes to an animal hospital and pet hotel.

The food corner accounts for one entire corner of the shop's second floor. Usually, they stock over 40 different varieties of dog food, and you can always buy something from there catered to your dog's breed and/or age. You can of course also take your dog around the shop with you, so if you're lost on what to buy then you can leave it in their hands (or paws).

A particularly popular brand of dog food in the shop is "Wellness" series, pictured above. The food is made up of carefully selected natural ingredients, so one reason for its popularity is how owners can be at ease while letting their dog eat this food.

Besides dog food, the shelves are also lined with plenty of snacks and supplements! Most of the supplements are for mature dogs, but even so, Yuna was absorbed in checking out what they had, thinking: it's still a bit early for Mozuku, but I'm interested in thinking about the future.

This original premium dog food can only be bought at AEON pet shops, including Pesco. It's made in Japan, so if you have a dog in Japan and are a dog lover who worries about your pet, you can absolutely trust this brand.

There's even cakes that you can buy for your pet if you're looking to gift yours something for their birthday or a commemoration. Mozuku wasn't about to leave the cake showcase that easily, almost as if he knew everything in there was delicious.

This one is perfect for pet owners who like a drink: alcohol for dogs. But don't worry, there's not actually any alcohol in there. So how about it? Having a nice evening drink together with your beloved pup?

This corner is filled with leads, beds and clothes for your dog. They have a wide range of sizes and varieties, making this area popular with fashion-conscious owners.

One popular aspect of the store praised by owners who have gone to buy clothes at Pecos is how you can actually let your dog try the clothes on in-store. You must have had that experience where you tried buying something, but it ended up being too dog, right? Well, if you're allowed to let your dog try on something before buying it, you can easily pick an outfit that looks great and is comfortable on them.

Here's Mozuku in the middle of trying something on. His ears are hidden by the turtleneck… he looks most displeased!

Pesco also sells convenient products for heading out with your dog, like dog seats for your car and prams. You can actually rent a test pram to check its usability, allowing you to consult with your pup on which best to choose.

In addition to products for your pet, the Makuhari Shintoshin branch of Pecos also has an animal hospital, trimming salon and pet hotel. It's filled with everything your pet could dream of! In part two of this article, Yuna will show the facilities of Pecos, like the animal hospital and pool, so don't miss out!

Continued in Part Two.

■Information

Pecos (Makuhari Shintonshin branch)

Address: 1-8 Toyosuna, Mihama-ku, Chiba-shi, Chiba Prefecture

Access: "Kaihin Makuhari Station" and "Shin-Narashino Station" accessible via the JR Keiyo Line

Opening Hours: 10:00-21:00 (*the animal hospital is open 24-hours a day)

Contact: 043-298-1122

URL:https://www.aeonpet.com/pecos/makuharishintoshin/index.html

Model:Yuna Yabe/Mozuku @yunaaay1030

Yuna Yabe won the grand prix prize at the "Zipper×ASOBISYSTEM Model Auditions" at the age of 15. She is an expert not only in fashion but make-up and video editing too. She's an influential figure to the people in her generation. Recently, her work has expanded greatly, such as appearing in music videos. Her activity continues to grow and looks to be very promising indeed.

Writer:Ryoichi Komaba

Photograph:Kayo Sekiguchi

Translation:Joshua Kitosi-Isanga

【Tokyo Stroll】Shopping & Sightseeing with Mozuku-kun the Dog: #2 Makuhari Shintoshin Pecos Pet Mall (Part 2)

Yuna Yabe is a dog lover whose eyes are set on becoming a seasoned pet owner with her beloved pet dog Mozuku. Continuing from where we left off in part one of this two-part article, Yuna will show us more of the Makuhari Shintoshin branch of Pecos, a huge pet store located in AEON Pet Mall!

In this second part, Yuna will introduce us to the 1st floor facilities of Pecos. The first thing is the 24-hour AEON Pet hospital. This animal hospital offers first aid to pets at any time of the day. They provide CT scans, X-rays, surgery and internal medic treatment, so if you feel something if off with your pup then contact them immediately. They also offer physical examinations for your pet dog. If you take them for an examination you can detect signs of illness early on, so a lot of people take their dogs for a yearly checkup. (Checkups are offered until February 28th this year)

So Yuna took Mozuku for an examination too! The results showed that he was a good weight and in very good health. He was even complimented on his nice fur. Keep being healthy, okay, Mozuku? ♪

This is the "Doctor Car" for transporting pets. The original purpose of the car is that it's an ambulance used for pet care during natural disasters. There's even equipment inside for emergency first-aid treatment. On normal days, it's used for doctor's visits and seeing injured pets.

The showpiece of Pecos in Makuhari Shintoshin is the pool facility. The aqua fitness service uses the water's buoyancy and pressure to allow your pet to exercise in a short period of time in an efficient and low load manner. It's highly recommended for rehabilitation after an operation and for tackling a lack of exercise! During the aqua fitness, a trainer will be there to look after your pet with the utmost care and attention, so you can feel at ease when handing them over.

This was Mozuku's first time in the pool. He had a worried look on his face while floating in the water, so the first thing was for him to get used to it with a shower and a bath.

Your pup will wear a life jacket until it's gotten accustomed to being in the water, so you can let them enjoy swimming without worry of them sinking. There's also lots of toys for your dog to play with – perfect for helping them relax!

Mozuku wouldn't settle at first in this new environment, but he got used to the water straight away and showed off his dog paddling skills. The water current in the pool is always flowing, so big dogs can enjoy swimming too.

This is a treadmill that uses water resistance. It uses the flowing power of water but isn't a burden on your dog's body at all. It's rehabilitation for walking.

After a dip in the pool, it's some for shampooing. The shampoo uses safe ingredients so it's fine if your pup licks it off.

This is the pet hotel, a super convenient facility for if you're on a trip or going for some shopping. The hotel charges per hour, so you can even leave your dog in the hotel's hands if you need to do a bit of quick shopping. There's even a beauty salon where your dog can get a trim or use one of the oxygen capsules! Mozuku refreshed himself in a capsule too after a swim in the pool.

Yuna bought Mozuku a roll cake from a shop on the second floor for being such a good boy the entire time! There was quite a lot for Mozuku to eat, so Yuna helped him out.

Pesco in Makuhari Shintoshin has it all when it comes to your dog. They even have a dog run in the facility, so you should go try it out when the weather's nice for a stroll and some shopping!

■Information

Pecos (Makuhari Shintonshin branch)

Address: 1-8 Toyosuna, Mihama-ku, Chiba-shi, Chiba Prefecture

Access: "Kaihin Makuhari Station" and "Shin-Narashino Station" accessible via the JR Keiyo Line

Opening Hours: 10:00-21:00 (*the animal hospital is open 24-hours a day)

Contact: 043-298-1122

Homepage: https://www.aeonpet.com/pecos/makuharishintoshin/index.html

Model:Yuna Yabe/Mozuku @yunaaay1030

Yuna Yabe won the grand prix prize at the "Zipper×ASOBISYSTEM Model Auditions" at the age of 15. She is an expert not only in fashion but make-up and video editing too. She's an influential figure to the people in her generation. Recently, her work has expanded greatly, such as appearing in music videos. Her activity continues to grow and looks to be very promising indeed.

Writer:Ryoichi Komaba

Photograph:Kayo Sekiguchi

Translation:Joshua Kitosi-Isanga

Tokyo Stroll: Shopping & Sightseeing with Mozuku-kun the Dog #3 – Café Kitsuné, Minamiaoyama

In this featured series, dog lover and model Yuna Yabe heads out with her trusty partner Mozuku to visit hot spots that people and their dogs enjoy, while deepening her bond with him. In this article, the two of them stopped by Café Kitsuné during a morning stroll which is a coffee shop developed by French fashion brand Maison Kitsuné.

The time is 9am. Mozuku has a spring in his step as he walks the streets of Omotesando. The two companions cross the pedestrian crossing at Omotesando Crossing and gaze at the show windows of the high fashion brands. After walking a little, they arrive at Café Kitsuné.

The entrance to Café Kitsuné has a traditional Japanese vibe to it, fenced in with bamboo. The café is designed as a Japanese teahouse from the perspective of a French person.

The ceilings are low. Do you know why? It's a bit off topic, but if you don't have a low posture in a Japanese tearoom you can't enter. There's a reason for this. It's because when entering a tearoom, everyone is expected to be equal.

When you enter Café Kitsuné, there's not much distance between people – you are close to them. That sense of relief might be the reason.

 The wallpaper has an arrow feather design known as yagasuri and a water design called seigaiha. Although it has a French pop feel to it, it's relaxing, perhaps due to the traditional Japanese base décor.

You can also purchase souvenirs at the café, including original mugs and stationery. Is that a dog ear on the side of the mug?! … No, it's a fox ear.

The barista was working quietly but nimbly at the sheet copper counter.

A vase was placed in the middle of the table. The flowers were arranged by the café staff and breathe seasonal life into the Japanese space.

The menu includes things like French toast, a ham and cheese sandwich, pound cake and so on, all of which go perfect with coffee.

The espresso machine is a Marzocco Linea. It's a big machine with three portafilters. The taste of coffee changes depending on the day's temperature and level of humidity. To tackle that, the barista changes the quantity of beans each day to maintain the same taste of the coffee.

To convert the coffee into Maison Kitsuné's "New Classic" fashion theme, the espresso doesn't have that common acidic flavour to it. Instead, it's made with a classic taste and fragrance, making it stand out from the rest. The original blend coffee beans also has just a sweet touch of citrus fruits.

Yuna-chan ordered the iced latte (¥560). The sweetness of the coffee together with the milk was balanced perfectly. It had a mellow taste.

Dogs are allowed from the entrance all the way to the terrace. Here, Yuna popped Mozuku on her lap and enjoyed a short coffee break.

Mozuku climbed onto a terrace seat and stared at Yuna-chan sipping her iced latte. She had an expression on her face like she was immersed in the stylish, grown-up café.

This is the proper way to use an elegant café when taking a walk in the city. Enjoying stopping by a café with early summer budding before your eyes in the early morning with your dog is a wonderful thing. Yuna-chan, with her coffee in hand and Mozuku by her side walking the streets of Omotesando, looked like a polished, sophisticated Tokyo girl.

'Let's go out again, Mozuku!'

■Information

Café Kitsuné
Address: 3-17-1 Minamiaoyama, Minato, Tokyo
Opening Hours: 9:00-19:00
Access: 3-minutes on foot from Omotesando Station via the Tokyo Metro Chiyoda Line, Hanzomon Line and Ginza Line
TEL: 03-5786-4842
Website: https://shop.kitsune.fr/stores

*Dogs cannot walk with your inside the café. Please use a dog carrying bag when entering

Model:Yuna Yabe/Mozuku @yunaaay1030

Yuna Yabe won the grand prix prize at the "Zipper×ASOBISYSTEM Model Auditions" at the age of 15. She is an expert not only in fashion but make-up and video editing too. She's an influential figure to the people in her generation. Recently, her work has expanded greatly, such as appearing in music videos. Her activity continues to grow and looks to be very promising indeed.

Writer:Ai Watanabe

Photograph:Kayo Sekiguchi

Translator: Joshua Kitosi-Isanga

Interview: Yuna Yabe discusses why people attend music festivals

In our previous article, we considered the appeal of FUJI ROCK FESTIVAL in the run up to this year's event and looked over our past coverage of it. In this article we interviewed Yuna Yabe, a model and DJ who made her real festival debut last year and who is a festival fanatic. We asked her what attracts young girls to festivals, her personal experiences attending them, and her advice to those who have never been to a festival but are thinking about going.

■Yuna Yabe – Profile

Born: October 30, 1997
Origin: Shizuoka Prefecture
Hobby: Shopping

Speciality: Dancing

Yuna Yabe has appeared in magazines, events and even music videos as a model, making full use of her unique fashion sense. Her love for music has taken her on the path of being a DJ. The moment she began her DJ career, she performed at EDJ JAPAN 2018.

==

—You love music and are often perceived as someone who has been attending festivals for a long time, but I heard you actually started going only last year.

Yes, last year's ITADAKI Festival was my first proper experience at a festival. Up to then I never had much interest in them and had never thought about going, but ITADAKI is in my hometown of Shizuoka and there were a lot of artists playing that I like. I thought wow, Shizuoka is going for it, so I decided to attend. EBIS BEATS and Tavito Nanao were the best!

—So, how was it actually going and experiencing one?

I was able to see so many of my favourite artists in one day, it was amazing! There was one on every hour, so I felt it was one of the fullest days of my life! I was guaranteed a front row spot for my favourite artists. I went all out, had the best time ever and came to be completely crazy about festivals.

One of the reasons I had never gone to one before was because I perceived them as being like a continuous riotous party, but I was glad to find out it was chill and open.

—Are there any memories or incidents from the festival that have stuck with you?

It wasn't an incident per se, but I met a lot of acquaintances by chance. That's one of the most fun things about a festival! Although it was a local festival I bumped into people I know from Tokyo. That moment when you see them and say "Huh!? Why are you here!?" is so much fun.

—If you were to choose the best act or performance you've seen so far which would it be?

I can't pick just one! But Tavito Nanao of GREEN ROOM this year and Sakanaction at ROCK IN JAPAN FES last year are unforgettable.

—You've already been to several festivals this year, correct? And you also performed at EDC. What festivals do you plan to go to or want to go to next, and which artists do you want to see?

I've been to JAPAN JAM BEACH, GREEN ROOM and KAMIKANE3000 this year.

The ones I'm planning to go to are FUJI ROCK and Summer Sonic. I want to go to RINGO FES at the start of summer too. I definitely want to see Kendrick Lamar at FUJI ROCK and Jorja Smith at Summer Sonic!

—You performed at EDC JAPAN very early in your DJ career. That's an incredible achievement, congratulations! How was it performing there?

I thought to myself all I can do is practice. There's a studio in front of EDC so I practiced there! The set was going to be a continuous hour with no changeovers, so I wondered to myself whether the real performance would turn out alright. My hands were sweating and I was very anxious, but the moment it started everybody put their hands up and danced. It was so much fun! In my set I moved from track to track while DJing, and I saw a lot of foreigners on board the entire time, so that made me extremely happy. Before I knew it I was having a lot of fun too, and the hour went by in an instant. It was my first time as a DJ experiencing the thrill of so many people listening to your favourite songs. I felt that if I get even better and play more boldly it'll be the best thing ever!

—How's your enthusiasm for this year's festivals?

I'm having fun knocking them down one by one!

 

—I'd now like to ask if you have any advice for people your age who are interested in attending a festival but have never gone before, or who want to try it out. What kind of preparation do you need in terms of fashion or things to take?

For fashion, I see a lot of people coordinating flashy colours, like reds and yellows. A lot of people wear baggy clothing too because it's easier to move around.

I take a cap and sunglasses to protect myself from the sun. Sunglasses make you look pretty in photos too (laughs). Most people wear their hair up. Also, a towel is a must!

I'm short, so I recommend sandals with thick soles if you're short too, since you want to be able to see the stage properly! You'll also be walking around a lot and spend long hours there, so it's important to wear something that your feet are used to and won't  get tired in!

Only wear small bags on your back that aren't going to be a nuisance to other people, and only take the absolute essentials. But I never fail to take my phone charger! (laughs)

—Are there any mistakes you've made at festivals?

I came down with heatstroke by only drinking alcohol despite it being so hot! It's very important to drink water so you don't get heatstroke.

—Is there any other advice you have for festival beginners or tips on how they can have fun?

Be weary of going to the toilet when travelling! Make an effort to know where the toilets are. You'll be in very long lines, so don't go the second you need it. Go well in advance and find windows of opportunity to go. Going in advance is very important!

Also, it's good not to meet up with a lot of friends or move around in big groups. I recommend moving around on your own or with just a few people. Seeing artists I didn't know or unexpected artists is great. Encounters like that are fun.

—Finally, what's the appeal of festivals for you?

There are many, but if I was to sum it up in a word, it would be the sense of openness! It's like taking off your shell. Everybody there is a lover of music and you can feel their excitement, so there's a sense of unity too which can be enjoyed!

==

Be sure to reference Yuna Yabe's advice and go and enjoy Japanese pop culture at a festival!

==

==

FUJI ROCK FESTIVAL '18

Running: July 27, 2018 – July 29, 2018

Venue: Naeba Ski Resort, Yuzawa, Niigata Prefecture

Time: Doors 9:00am / Start 11:00am / Finish 11:00pm

Official Website: http://www.fujirockfestival.com/

MOSHI MOSHI COOKING: Recipe to Make Kawaii Animal Rice Balls & Workshops to be Held in France and UK

This is a special edition of Kaori's featured character recipe series. For this recipe, you'll learn how to make kawaii animal rice balls with rice and different ingredients.

Putting herself to the challenge for this special edition is Yuna Yabe! Making cute-looking food isn't something she normally does. Will she be able to pull it off…?

Ingredients & Tools:

Rice

Olives

Cheese

Ham

Corn

Pasta

Salmon flakes

Heart-shaped pick

Clingfilm

Kitchen scissors

1: Cook the rice

Today we'll be cooking authentic rice in the microwave using a microwavable rice pot by HOME COORDY. Soak the rice in water and place it into the microwave for 10-minutes for freshly cooked rice!

Yuna: "I'm amazed you can make rice so easily with a pot and a microwave."

2: Prepare the rice

Yuna will be making three different animal onigiri (rice balls), so prepare three separate plates for each.

3: Mix one portion of rice prepare from step 2 with salmon flakes

There's no correct way to portion the bonito flakes, but in this recipe Yuna mixed in about one tablespoon.

4: Place the rice from steps 2 and 3 into clingfilm and roll into a ball

5: First we'll make a smiling bird. Here's what you'll need.

Face: Rice

Mouth: Corn

Eyes: Black olives

Cheeks: Ham

Crest: Pick

6: Cut the olives for the eyes and ham for the cheeks

7: Now to arrange the face. Use two pieces of corn for the beak and place on the eyes and cheeks from step 6.

8: Place in the heart-shaped pick for the crest and you're done!

Be careful! If you put the beak on too low the face will look too long! Be sure to place it close to the eyes and cheeks.

9: Next up is making a bear. Here's what you'll need.

Face: Rice

Ears & Mouth: Cheese

Eyes & Nose: Black olives

Cheeks: Ham

And pasta to fix the ears in place.

10: Cut olives for the eyes and nose, cheese for the mouth and ears, and ham for the cheeks.

11: Arrange the face with the cut ingredients just as you did with the bird. Push pasta into the places you want to put the ears.

12: Push ear-shaped cheese onto the pasta to make the ears.

Our bear is done!

13: The last animal is a pig. Here's what you'll need.

Face: Rice (mixed with salmon flakes for that pink colour)

Nose & Ears: Ham

Eyes: Black olives

14: Cut olives for the eyes and nose and ham for the ears and cheeks

15: Arrange the face with your ingredients.

Done!

Here's our three finished rice balls. The cutting was all done with scissors (instead of a knife!) so even people who aren't good at chopping can challenge themselves to this recipe

We are attending Japan Expo in France and Hyper Japan in the UK this year. In the MOSHI MOSHI NIPPON area there will be the AEON booth where you can join a free workshop to make your own rice balls! It's your chance to master the creation of kawaii onigiri with the help of your cooking sensei. Places are limited, so be sure to stop by!

This recipe was made with products by Topvalu, a private brand of AEON. For more details on their products, please visit their website below.

https://www.topvalu.net/ (Japanese only)

■Profile

Kaori Kubota(@kaopan27)

I live in Hokkaido and enjoy making dinner, sweet treats and character food using bread♡

I want to see my family smile, so I enjoy transforming food into characters and making cute meals♡

You can see more of my character food and bentos on my Instagram page → @kaopan27

■Information

Japan Expo

Running: July 5, 2018 – July 8, 2018

Venue: Paris-Nord Villepinte Exhibition Center

Official Website: http://www.japan-expo-france.jp/jp/

Hyper Japan

Running: July 13, 2018 – July 15, 2018

Venue: Olympia London
RELATED ENTRIES
Tokyo Stroll: The Café That You Want to Visit to See Someone #12 – 'J-COOK' in Gaiemmae

In this edition of The Café That You Want to Visit to See Someone, I visited J-COOK in Gaiemmae, a place I visited one time while off work which ended up in me wanting to absolutely feature it in the series!

It's just a 5-minute stroll from Gaiemmae Station.

The cafe enjoys lots of sunlight, which is brightened further by all the plants scattered through the shop. The cafes I have visited to date are often a little darker with only a little light seeping through the windows to create a certain atmosphere, and they are wonderful, but this was the first I have ever visited with so might light and so many plants. The air felt clear, adding to the level of comfort in the cafe, perhaps because there are so many plants adorning the interior.

The cafe also has a space with a slightly more darker light and atmosphere on the left side. I haven't sat in that area yet, so I think I'll try it out on my next visit.

When I come to J-COOK, my eyes always wander over to the marzipan creations (¥450).

These ones here were actually all individually handmade by the owner's husband from the early morning.

If you look really closely, you'll notice all the dog designs are different. When ordering, get to pick out which one you want, so try finding your perfect pup!

I had mine together with an iced coffee (¥450). The sweet marzipan is a delicious combination with the bitterness of the coffee.

I also got some potted cream (¥450). It's kind of like a Japanese custard pudding with just a moderate amount of sweetness.

I had mine with a bit of brandy which had fragrant vanilla notes. They've had this brandy for 33 years since the store first opened.

The cream was sensational, and the gentle notes linger afterwards.

They have a lot of different homemade soups too which are perfect for the coming cold weather. I got the New Orleans-style gumbo soup. It's spicy with clam and okra in it.

Relaxing jazz music plays in the cafe while you sit and enjoy your drink and meal.

J-COOK is a wonderful little cafe run by a husband and wife. When I first came, the wife came and talked to me. She's super friendly, and although it was our first meeting, she made me feel really comfortable and welcome. She must be full of happiness, which in turn naturally gives people who visit the strength to be positive and work hard.

I reckon their smiles have saved a lot of people.

I can't wait to visit again!

Writer/Model: Ema Tanioku

Photographer: Haruka Yamamoto

Design: Yuko Abe (ASOBISYSTEM)

Translator: Joshua Kitosi-Isanga

Information

J-COOK

Address: 3-36-26 Jingumae, Shibuya, Tokyo

Opening Hours: [Tue-Sat] 8:00-22:00 (Last Orders) / [Sun] 11:00-18:00 (Last Orders 17:30)

Closed: Mondays

Official Twitter: @jcookjp

A Date With Yutaro: Soaking Up the Japanese Summer Sun & Visiting the Art Aquarium | Tokyo Stroll

It's been a while since our last date with Yutaro. He's been very busy with film shoots. He had some spare time today so we paid a visit to Nihonbashi for our next date. "ECO EDO Nihonbashi: Enjoy Cool Edo With All Five Senses" is an event held every year in the Nihonbashi area which takes the Edo period cultural idea of "coolness"―an in, to enjoy being cool during the summer-and puts a modern spin on it. There are many exciting things to look forward to, including the art aquarium which proves massively popular every year.

We gave ourselves more time to arrive at the meeting place to be in the safe side, but it seems Yutaro-kun was already there waiting for us!

Nihonbashi Information Center | IPPIN CAFÉ "Sparkling Herb Tea" – ¥518 (Tax Included)

"Here, you must be boiling." Yutaro-kun kindly offers a cup of IPPIN CAFE's limited-edition sparkling herb tea. It's a delicious mix of fizzy soda and lemon, a perfect refreshment for the summer. Since he ordered takeout the drink came with a goldfish straw. Goldfish are a staple sight during Japanese summer festivals so it's very fitting for the occasion! 

With our drinks in hand, it's time to head to Nihonbashi for our Edo summer date!

Wind-Chime Forest Path

Lining the path between Fukutoku Shrine and Fukutoku Garden is the Wind-Chime Forest Path where around 200 Edo-style wind chimes dangled. This year, during the evenings, the path is illuminated with beautiful lighting. 

When the breeze rolls past the wind chimes ring one by one-a cool and refreshing sound.

"I hear each one of these Edo wind chimes are individually handmade by craftsmen."

When you hear the sound of the wind chimes it makes you feel cool like a gentle breeze of the wind.

After strolling along the Wind-Chime Forest Path we make our way towards this year's ECO EDO Art Aquarium event.

The moment we step instead Yutaro is already dazzled by all the goldfish: "Wow! I knew about this place from what I'd seen online, but this my first time here! This art aquarium really is something!"

The full title of the event is "ECO EDO Nihonbashi ART AQUARIUM 2019 ~Edo, Coolness of Kingyo~ & Night Aquarium."  Goldfish were a huge part of the common culture in Nihonbashi during the Edo period. This event recreates that and brings that "coolness" aspect while combining it with contemporary art by having people observe the fish in lots of different artistic environments.

Super Oiran

"This is the biggest fish tank, apparently it has 3,000 fish swimming inside!"

"Seeing the light reflect on the water from the illuminations lets you see the fish in a different light, doesn't it?"

Looks like Yutaro-kun is having a lot of fun taking photos.

He's equally interested in just about every fish tank!

These other fish tanks have a different aesthetic to them. Their Japanese-style designs make for great photos.

Kaleidorium 3D

"This one's beautiful, it's like a kaleidoscope."

It really does look like one. When you take a peek instead you can glimpse all kinds of colourful fish gently swimming around.

Ceiling Kingyo

"There're goldfish swimming on the ceiling too. So cool! This aquarium is incredible. It brings together the great culture of Edo and contemporary art."

The Art Aquarium bustles every single year with visitors, but this year will mark its last run. It's being held at Nihonbashi Mitsui Hall, so if you have the chance to go then please do.

We of course checked out some local Nihonbashi treats too! We stopped by morozoff for some cheesecake after the aquarium.

morozoff Kamadashi Cheesecake (Goldfish) – ¥270 Each (Tax Included)

These cute cheesecakes with their goldfish designs are available for a limited time only. They're filled with sweet red bean paste. They perfect with iced tea.

"Got some! Let's eat them while we head back."

Goldfish Lantern Walkway

Our first date in Nihonbashi was so much fun. While on the date Yutaro-kun spoke about the new live-action film he's in, Kaguya-sama: Love Is War.

"It's a romance film with mind games to try and make the other person confess their love. I play the character Tsubasa. His number one highlight scene is the kabedon scene. That was my first day shooting, so I was super nervous, but I got along well with the other actors, and the atmosphere on set was harmonious, so I was able to relax for the shoots. Tsubasa is a genuine guy who will believe things that have been said to him in earnest. You've definitely gotta check out all his scenes throughout the film!"

"A lot of the cast are the same age as me, so we were all energetic together in the waiting room. There's a scene at the end where all the cast get together. It took 3 days to shoot so we ended up getting along really well."

"This film has made me realise that love comes in many shapes, and that mind games happen in a variety of ways between guys and girls. There's cute scenes that express that small bit of pride that teenagers have, the embarassment they feel, when they get butterflies, scenes that will warm your heart. The film has various elements to it so I thoroughly enjoyed watching it myself. I hope that couples in love in their teens and twenties watch it, and I also hope that married couples watch it and crack up laughing too."

"In the film it's summer break, and they go and see fireworks and stuff. It's definitely one to watch durnig the summer. You're gonna come watch it too, right? Shall we go?"

An offer we cannot refuse! We'll definitely go and see it with you, Yutaro-kun! 

Model: Yutaro

Writer: Yuki Yokoo

Photographer: Kayo Sekiguchi

Information

ECO EDO Nihonbashi 2019 ~Enjoy Cool Edo With All Five Senses~

Running: July 5, 2019 – September 23, 2019

Location: Nihonbashi Area

TEL: 03-3242-0010 (Nihonbashi Information Center)

Event Page: https://www.nihonbashi-tokyo.jp/en/ecoedo2019/

ECO EDO Nihonbashi ART AQUARIUM 2019 ~Edo, Coolness of Kingyo~ & Night Aquarium

Running: July 5, 2019 – September 23, 2019

Location: Nihonbashi Mitsui Hall Floor 5F (Entrance at 4F),  COREDO Muromachi 1, 2-2-1 Nihonbashimuromachi, Chuo Ward, Tokyo

Opening Hours: Art Aquarium 11:00-19:00 / Night Aquarium From 19:00

[Sun-Fri] 11:00-22:00 (Last Entries 22:00) [Sat & days prior to public hoiday] 11:00-23:30 (Last Entries 23:00)

Access: Directly connected to Exit A6 of Mitsukoshimae Station, accessible on the Tokyo Metro Ginza Line and Hanzomon Line / Directly connected to Shin-Nihombashi Station / 8-minutes on foot from East Exit of Kanda Station JR 8-minutes on foot from Nihonbashi Exit of Tokyo Station

TEL: 03-3270-2590

Event Page: https://www.nihonbashi-tokyo.jp/en/ecoedo2019/contents/005.html

Kaguya-sama: Love Is War Film

Release Date: September 6, 2019

Adapted from the manga of the same name by Aka Akasaka (Shueisha/Weekly Young Jump)

Cast: Sho Hirano (King & Prince), Kanna Hashimoto, Hayato Sano, Natsumi Ikema, Nana Asakawa, Mayu Hotta, YUTARO, Takashima Masahiro, Jiro Sato

Official Website: https://kaguyasama-movie.com/

TALENT PROFILE

Yutaro

Yutaro was born in Hiroshima on June 3rd 1998. His modeling career has earned him lots of attention as a fashion icon of the new generation. The famous model also works as a "charisma" shop assistant. Yutaro has gained his reputation as a "mysterious and handsome guy" from his appearance on Japanese variety shows. His debut was made on the show "Gyoretsu no Dekiru Horitsu Sodanjo" and has since then appeared on numerous different TV shows. He challenged himself to appear on stage for the very first time in March this year and is gaining popularity by the day for his diverse work.

Tokyo Stroll: The Café That You Want to Visit to See Someone #11 – 'Hatoya' in Asakusa

In this edition of The Café That You Want to Visit to See Someone, I visited Hatoya which is located in Asakusa Shin-Nakamise Arcade.

The streets of Tokyo's historical district of Asakusa are packed to end with cafés. You can be spoiled for choice, but Hatoya stood out to me in particular as it's an especially old café. Business there began back in 1927 but the actual building was built back in the Taisho period, meaning its history spans more than 90 years ago!

The outside appearance of the shop is smart and chic so it's very easy to spot. I couldn't tell by looking from the outside, but the inside is full of old decorations and odds and ends which make you feel the history of the café.

One reason why I wanted to visit this place so much is because I was drawn to their logo. It's really retro-kawaii so I just couldn't resist!

You should take some photos too if you visit.

It was time to head inside. It's really comfy and cozy in there; the atmosphere was nice and relaxed.

Framed on the wall is a map of the Asakusa area during the Taisho era. Hatoya became famous back then because people could buy coffee for a mere 5 sen (a single sen is one-hundredth of a yen).

When business first began at Hatoya, because the café was opposite the stage door of a theatre, all of the famous actors and actresses would pop in. Some include famous Japanese comedian Roppa Furukawa and film actor Kiyoshi Atsumi who played Tora-san in the film series Otoko wa Tsurai yo.

I ordered the café's popular hotcakes which cost ¥600. They have been making these same hotcakes since before the war.

They were nice and fluffy and had a deliciously gorgeous brown colour. The flavour was out of this world when the butter melted from the heat of the hotcakes and mixed together with the syrup.

The portion might look like a lot but they are fluffy and have a light flavour so can be finished with no problem.

And is the café's signature milkshake (¥500).

It's so refreshing that you can knock it back all in one go. It has a simple flavour but it tasted so good!

I also ordered the ¥600 cream soda, my favourite beverage.

I've been to many cafés, and have covered many in this series, but this is the first I have dined at with such a deep history. I found myself enthralled by the stories of the owner who has continued to treasure the café and maintained it all the same since it opened. I feel like I have learned about a world I never knew about. The next time I go to Hatoya with a friend I'll be sure to let them in on its history. I encourage you to visit too!

Writer/Model: Ema Tanioku
Photographer: Haruka Yamamoto
Design: Yuko Abe (ASOBISYSTEM)

TALENT PROFILE

Ema Tanioku

"Emaeri" is the nickname for models Ema and Eri Tanioku, who are Aomoji fashion model twins. Ema and Eri Tanioku specialise in twin fashion coordination. Over the years their fanbase has increased due to their cute looks. Ema Tanioku spreads Harajuku culture within Japan as well as overseas and works as a Harajuku Tourism Ambassador. Starting off as a model, Ema has broadened her talent range from fashion magazines to TV, and from playing the lead role in dramas to movies.

Tokyo Stroll: Shopping & Sightseeing with Mozuku-kun the Dog #5 – Uzumako Ceramic Art School

It's been a minute since we last ventured out with Japanese model Yuna Yabe and her beloved pet pup Mozuku. If you're new to this feature, Yuna Yabe takes her trusty partner Mozuku to various hot spots in Japan that you can enjoy with your pet dog. Their relationship continues to deepen in this priceless experience.

Today, Yuna and Mozuku head to Uzumako Ceramic Art School which is close to Shiba Park. You can get a good view of TokyoTower from this famous park.

What's unique about this art school is that visitors are allowed to take their pets with them. So this means you can take your dog with you to do some ceramics!

Yuna has always had an interest in ceramics. And what better way to experience creating something than with her partner in crime Mozuku! With him tottering beside her, she headed through the entrance curtain with a spring in her step.

When you enter the classroom, there are lots of examples of pottery ware lining the shelves. The room has that smell of craftsmanship which lingers as you begin the class with a demonstration by the teacher. Once you have your apron on and are fired up to begin, it's time to start.

The work begins with kneading the clay to make its firmness uniform. This step helps prevent air bubbles from forming.

Yuna asked the teacher many different questions as she enjoyed kneading her clay. "Where does ceramic work originate from?" "What kind of things to other dog owners make when they come here?"

"What's Yuna up to?" Mozuku's puzzled face seemed to imply as he listened to Yuna and the teacher talk.

Yuna turned to Mozuku and said to him, "I'm going to make you a food bowl!" It seemed like the message got through as his face read, "Looks like my owner is making something just for me."

Yuna wet her hands with some water and began forming a hole in the centre of her clay bundle. The hole forms and gets bigger as the pottery wheel spins.

Next, she used both of her hands to ensure the thickness of the bowl was even all the way around.

"Amazing! The shape of the clay changes in an instant!"

By adding a little bit of pressure the pile of clay can change shape rapidly. It's like a living thing.

"It's like the clay is my own child. I wanna wrap it up!"

Once the shape is formed, Yuna cut around the edges. She is a skilled individual, she got the hang of it straight away.

Mozuku sat right beside Yuna, quiet and curious.

"Is it my turn yet?"

He seemed itching to have a go at making something himself too.

He watched over Yuna's work from atop the table.

"I wanna try spinning the wheel too!"

Mozuku in fact had the most important job of all. Yuna popped a wooden mould onto his paw and stamped a paw print into thebottom of the bowl.

"There we go!" said Yuna

Mozuku mustered all of his strength to make his mark, his facial expression unusually serious as he carried out his big task.

Time to check if the print was done properly!

Here's the final product―Mozuku did a great job!

Their teamwork paid off as they were able to create a really cute dog bowl. The tiny footprint is packed with pet love. The art school actually sells a lot of different cute and stylish pet items but the owner making their own makes it unique―the only one in the world.

If that love is able to get through to your pup, the food they eat from the bowl is sure to be even more delicious.

Thanks for your help, Mozuku.

"I can't wait to fire it!" Yuna's excitement was peak from start to finish. She was very satisfied after the class finished.

After two weeks of waiting, the bowl was completely finished.

Why not try creating something unique special for your own pet―together with them?

Model: Yuna Yabe/Mozuku @yunaaay1030

Text: Ai Watanabe

Photographer: Kayo Sekiguchi

Translator: Joshua Kitosi-Isanga

Information

Uzumako Ceramic Art School
Address: Sekisui House Floor 1F, 3-29-11 Shiba, Minato Ward, Tokyo

Business Hours: 10:00-19:00

Access: https://www.uzumakotougei.com/en/access.html

TEL: 03-6809-6363

Official Website: https://www.uzumakotougei.com/en/index.html

*The course Yuna took with Mozuku was the "Pet Ceramics Plan" where you can make 2-4 ceramic items and fire them. For your first try the staff will carve and glaze the final product to completion. This can be picked up one to one-and-a-half months after your course for ¥4,500. Please check the website for more details.

*Obedient dogs permitted. Please note that there are other participants so dogs who bark a lot or cannot relax are not permitted.

TALENT PROFILE

Yuna Yabe

Yuna Yabe won the grand prix prize at the "Zipper×ASOBISYSTEM Model Auditions" at the age of 15. She is an expert not only in fashion but make-up and video editing too. She's an influential figure to the people in her generation. Recently, her work has expanded greatly, such as appearing in music videos. Her activity continues to grow and looks to be very promising indeed.

Tokyo Stroll: Walking Through Akasaka Palace, a European-Style Splendor

Akasaka Palace―a building that has welcomed emperors, presidents and prime ministers across the world into its architectural wonders. While it is mainly used for official purposes, did you know that it also offers a public viewing, one that doesn't hinder on business affairs?

The palace is considered a national treasure of Japan. I paid a visit to this gorgeous edifice that looks just like a European-style palace. Photography is strictly forbidden when visiting, but I was able to receive special permission to cover the inner secrets of this exclusive wonder.

Akasaka Palace is open throughout the year. There is a daytime reception that lets you enter without having to book a spot in advance (though you'll have to book if you want to visit the Japanese Style Annex). Visitation is restricted when international state officials are present, so when planning your trip be sure to check the palace's schedule on the official website. Visitation through the daytime reception begins at the West Gate.

Originally built in 1909 as the Imperial Palace for the Crown Prince, the building is the only example of neo-Baroque architecture in Japan. It was built by Japanese imperial court architect Katayama Tōkuma. When planning the design for the building, he referenced various palaces across Europe which is why people liken it to Palace of Versailles in France.

Hagoromo no Ma – A reception hall for visitation welcomings

The first room you come to on the public viewing is "Hagoromo no Ma." It was originally called a ball room which is why it houses orchestra boxes. Aperitifs dance around the room for invitees who may be there for send-offs, dinner parties or even musical performances.

Overhead is a gorgeous chandelier which is made up of almost 7,000 separate parts, most of which is crystal. It is the biggest chandelier in the entire palace. The inner part of the mezzanine floor, which looks like a balcony, is used as an orchestra box when the room is used for orchestral concerts.

The intricate design of the chandelier includes masks inspired by a ball while the walls too are littered with relevant motifs such as instruments. The whole room is decorated in all things musical.

Asahi no Ma – The most high-class room of the palace

The next room you step into is "Asahi no Ma" which is used for courtesy calls of officials and important people as well as summit meetings. It is the most high-class room in all of Akasaka Palace and is where the state guests say their goodbyes to the Emperor and Empress. The room began reconstruction two years ago and reopened in April this year.

The room gets its name Asahi ("morning sun") from the painting of Aurora, the Roman Goddess of dawn, that overlooks the room.

It is said that in the Meiji Period, when the palace was built, people painted pictures of helmets to symbolize the army and boats to symbolize the navy as the country declared the political measure known as Fukoku kyōhei, which meant to "Enrich the Country, Strengthen the Armed Forces."

Shoumen Genkan/Large Hall – Welcoming guests of honour

The "Shoumen Genkan," or front entrance is where international guests of honour are welcomed. When visiting during public opening hours you don't enter from this entrance but you are allowed inside. The large hall, which is located up the stairs from the hall that continues through the entrance room, has a striking and vivid deep crimson carpet. Together with the eight towering marble pillars, this hall makes for an overwhelming viewing. The room directly opposite down the stairs is Asahi no Ma.

Sairan no Ma – Where treaties are signed

The next most high-class room from Asahi no Ma is "Sairan no Ma" which is primarily used for signing ceremonies of treaties. When Asahi no Ma was undergoing renovations, this room was used for informal talks carried out by the emperor and prime minister with foreign rulers.

The entire room takes on the Empire style which was popular during the rule of Napoleon I. Scattered throughout the room are gold leaf designs of armour, helmets, swords and so on.

Kacho no Ma – Dinner parties with guests of honour

Kacho no Ma is used for dinner banquets with important official from countries around the world. The room has a more relaxed feeling from the others due to its interior wooden design. It's also often used for press conferences so those who watch Japanese news may recognise it.

The room, with its mellow deep wooden design, houses 30 oval cloisonné medallions, depicting four seasons' flowers and birds. The ceiling art, too, depicts images of birds and wildlife killed by hunting.

It also has the heaviest chandelier in the palace inside which is a globular speaker.

Yushintei – Japanese-style hospitality in the Japanese Style Annex

The Yushintei is located in the Japanese Style Annex on the west side of Akasaka Palace. It was built in 1974. Akasaka Palace carries out events and receptions in a western style but the Yushintei welcomes international guests of honour with Japanese-style hospitality. Those who wish to enter must book in advance. The booking comes with a tour.

As you step through the entrance and into the inner garden through the passage, you will see moso bamboo. This area has a garden with shirakawa gravel and kibune stone from Kyoto.

In the main Japanese-style room where guests are served Japanese food one can observe the pond from the window. You might recognise it as the place where Prime Minster Shinzo Abe and President Donald Trump fed the fish.

The tea room comes with chairs for foreign visitors who are unable to sit in the traditional Japanese seiza position. Tea is prepared on the upper step which is inspired by Noh theatre.

Afternoon tea in the extraordinary front garden

20 afternoon tea sets are prepared each day to be enjoyed in the front garden of Akasaka Palace. These cannot be reserved in advance so be sure to arrive early if you'd like to order one. As you enjoy your afternoon tea while gazing around you are filled with a gorgeous feeling you can't experience anywhere else.

The general public viewing offers a chance to see numerous parts of the palace. We asked Rinko Murata, who's pictured in the photos on the viewing, for her thoughts.

"With the first step you take in a gorgeous space unfolds before you. Its grand design made me feel as if I had been summoned to the palace. It was like visiting a foreign country. When you look closely there are lots of decorations that symbolize Japan. It was a fresh experience where you can feel both the Japanese spirit and culture of another country. I feel moved that Japan has such a place as beautiful as this. You all need to visit too."

There is no requirement to book this viewing in advance, but during busy times (20+ people) those who do book online prior to visiting will be prioritized. Foreign visitors won't miss out on anything either as they can purchase a voice guide machine for ¥200. These guides come in Japanese, English, Chinese, French and Spanish. A visit to the Japanese Style Annex Yushintei however requires booking prior to your visit. When doing so you can choose between either a Japanese or English-speaking guide. In the case of a sudden official reception, all scheduled public viewings for that day are cancelled, so be sure to check the calendar on the official website before heading there.

Model:Rinko Murata

Writer:Sayoko Ishi

Photographer:Kayo Sekiguchi

Translation: Joshua Kitosi-Isanga

Information

Akasaka Palace

Address: 2-1-1 Motoakasaka, Minato Ward, Tokyo

Access: 7-minutes on foot from Yotsuya Station via JR and Tokyo Metro

Visiting Prices

Main Building & Garden: Adult ¥1,500 / University Student ¥1,000 / High & Junior High School Student ¥500 / Elementary School Student – Free

Japanese Style Annex, Main Building & Garden: Adult ¥2,000 / University Student ¥1,500 / High & Junior High School Student ¥700 / Not open for elementary school students

Japanese Style Annex & Garden: Adult ¥1,500 / University Student ¥1,000 / High & Junior High School Student / Not open for elementary school students ¥500

Garden: Adult ¥300 / University Student & Below – Free

*The above listed prices are the general prices. Prices may change during special openings.

Official Website: https://www.geihinkan.go.jp/en/akasaka/

TALENT PROFILE

Rinko Murata

Rinko Murata works in fashion and is active on radio and TV. Sales of her first style book were so successful that it required extra printing during its first week. She also has a rapidly growing following on her social media. As well as modelling at big fashion events, she has her own column online at "She magazine," and receives much attention for her work in the areas of culture and lifestyle.

GOODGLAS double-walled animal-themed glasses at Tokyu Department store!

Double-walled glass pioneer GOODGLAS will be selling cute animal-themed glasses at four Tokyu Department stores for a limited time only starting from 30th May 2019. The four limited stores are Shibuya main store, Shibuya station Toyoko store, Kichijoji store and Tama Plaza Kanagawa store. 

Bear: ¥3,200 + tax

Labrador: ¥3,200 + tax

The double-walled glasses will come in the following designs: Dog, cat, duck, bear, labrador, wild boar, grape, and cherry blossom.

Shiba Inu dog: ¥3,200 + tax

Bunny: 3,500 + tax

Cat: ¥3,500 + tax

From 8th June, more mug designs will be added to the series shown above! The Shiba Inu dog mug, which was fully sold out soon after it was launched for sale back in April, is making a comeback! There will also be two more brand new designs: the bunny and the cat! The Shiba Inu, bunny and cat mugs will be sold at Tokyu Department store in advance. They will be available for general sale from 14th June.

You won't be able to stop drinking from these cute mugs so get your hands on some!

Information

GOODGLAS

Release date: 30/05/2019

Available at:Four Tokyu Department stores

 

Store information

Tokyu Department store Shibuya main store (6th floor) Kitchen/ tableware section

(2 Chome-24-1 Shibuya, Shibuya City,)

Tokyu Department store Shibuya station, Toyoko store (Minamikan 8th floor) Kitchen/ tableware section

(2 Chome-24-1 Shibuya, Shibuya)

Tokyu Department store Kichijoji (6th floor) Kitchen/ tableware section

(2 Chome-3-1 Kichijoji Honcho, Musashino, Tokyo)

Tokyu Department store Tama Plaza (4th floor)  Japanese/western-style tableware section

(1 Chome-7 Utsukushigaoka, Aoba Ward, Yokohama, Kanagawa)

 

For more information on GOODGLAS double-walled glasses, please check GOODGLAS JAPAN's website: https://www.r-kj.com/

Tokyo Stroll: The Café That You Want to Visit to See Someone #10 – 'Donguriya' in Nishi-Ogikubo

In this edition of The Café That You Want to Visit to See Someone, I visited Donguriya.

To get there I plodded along from the North Exit of JR Nishi-Ogikubo Station, and after about 3-minutes I saw it!

Various shops lined the street, but nature had almost reclaimed this single building which was wrapped in foliage. There's no doubt that the people who pass by this way stop to take a look. Its inviting appearance elicits a peek as you're left wondering what kind of place it is. I feel like a wonderful story is about to unfold!

A sign sits at the front of the cafe with its mascot character waiting to greet you.


He's cute in a way that I can't describe♬

Time to head inside.

Most of the interior is made of wood, a perfect accompaniment to the cafe's name Donguriya ("Acorn Hut").


All of the signs as well as the menu on the wall are handwritten by the owner himself. It's heartwarming just to look at♬

Sipping coffee while enjoying the jazz music coming from the record player is nothing short of a luxury!

I ordered pizza toast (drink + pizza toast set is ¥800), a Donguri cookie and coffee (drink + Donguri cookie set is ¥650).

The toast is sliced thickly; the crusts are crunchy and the middle is soft. It was really tasty and had an old-fashioned taste to it.
Donguri's cookies are made by someone who has been a fan of the cafe  since long ago. They have a simple sweetness and go perfectly with the coffee!

Since the cookies are made by a regular who has always loved Donguri they are the perfect cookies for Donguriya! If you pay a visit then you should definitely order one.

The blend coffee is full-bodied and has a rich aroma. There is a slightly bitter aftertaste too. The coffee beans are also roasted in-house! It was really tasty and easy to drink even for someone like me who doesn't know a lot about coffee.

The owner and his older brother went to numerous cafes with their friends to try various different coffees before coming up with their own blend. It's the real deal.

It really felt as if I had been sucked into the world of a story with the warm light filtering through the windows and illuminating the tableware and furniture.

Finally, a photo with the owner himself!

He told me wonderful stories about the coffee and food at Donguriya which made me fall in love with the cafe even more.

I want to bring my friends here next time♬

Writer: Ema Tanioku
Photographer: Haruka Yamamoto
Design: Yuko Abe (ASOBISYSTEM)

Translator: Joshua Kitosi-Isanga

Information

Donguriya
Address: 3-30-1 Nishiogikita, Suginami Ward, Tokyo
Business Hours: [Mon-Thur] 10:30-22:00 / [Fri-Sun] 10:30-22:30
Access: 3-minutes on foot from JR Nishi-Ogikubo Station

TALENT PROFILE

Ema Tanioku

"Emaeri" is the nickname for models Ema and Eri Tanioku, who are Aomoji fashion model twins. Ema and Eri Tanioku specialise in twin fashion coordination. Over the years their fanbase has increased due to their cute looks. Ema Tanioku spreads Harajuku culture within Japan as well as overseas and works as a Harajuku Tourism Ambassador. Starting off as a model, Ema has broadened her talent range from fashion magazines to TV, and from playing the lead role in dramas to movies.

Odate City in Akita to open new tourist exchange centre featuring cute and fluffy Japanese Akita dogs!

In the cultural northern region of Japan, a tourist exchange centre will open in front of JR Odate Station in Odate city, Akita! The centre, which is called the Akita Dog Visitor Centre (Akita Inu no Sato) will open on Wednesday 8th May.

At the Akita Dog Visitor Centre, you can fully discover Akita's most beloved furry friend the Japanese Akita dog! The centre also contains a museum where you can learn about the history of Japanese Akita and their characteristics. There is also a tourist information desk, souvenir corner and much more! You can also visit the Japanese Akita exhibition area where you can get close to the Akita dogs or pop by the large lawn area located right next to the exhibition room to play with the dogs!

A statue dedicated to the faithful Akita dog Hachiko will be located right outside the centre. Hachiko was born in Odate city back when it was called Niidamura. Hachiko is known worldwide as the dog who waited faithfully for his owner's return in front of Shibuya station from the Taisho era to the start of the Showa era. The Hachiko statue will be moved from its current position in the front of JR Odate station to in front of the Akita Dog Visitor Centre in order to properly greet the people and dogs who come to visit. At the grand opening ceremony on the 8th May, there will be a photo stand-in board allowing anyone to transform into the faithful dog Hachiko. You can also see a red and white curtain made to take on the appearance of the fur of a Japanese Akita ー this is going to be one fluffy ceremony!

There are also two special promotion measures to support the grand opening!

The first promotion measure is an original web video series called "Akita Inu ga Odate no Miryoku o shinan!? Odate Lesson by Akita Dog". This is an official web series released by Odate city featuring an Akita dog teaching the world about the famous cultural wonders of Akita! From local food such as Kiritanpo (rice sticks) and delicious Hinaichidori chicken to crafts made from Akita sugi cedar wood, and spots such as the mountainous region of Tashiro Dake, this dog will show you everything! The web series is available on the YouTube channel called Akita Inu no Sato (秋田犬の里).

The second promotion measure is the release of a newspaper which will feature a countdown to the grand opening. The newspaper will contain the latest information and will be launched on Wednesday 1st May and lead up to the grand opening! The contents will be like Japan's famous newspaper Mainichi Shimbun, but its main design theme will be the Japanese Akita. The contents will really bring out the wonders of the region's loyal Akita dogs!

 

Through the Akita Dog Visitor Centre, Odate city is aiming to spread the news of the beloved Japanese Akita dog. They hope to create a facility that is loved by many people, so please come attend the grand opening ceremony of the Akita Dog Visitor Centre on Wednesday 8th May!

Information

Akita Dog Visitor Centre (Akita Inu no Sato)

Open from: 8th May 2019.

Address: 1-13-1, Onarimachi, Odate city, Akita.

Website: https://akitainunosato.jp/

Tokyo Stroll: The Café That You Want to Visit to See Someone #9 – 'Cafe Ace' in Kanda

In this edition of The Café That You Want to Visit to See Someone, I visited Cafe Ace in Kanda.

Being a cafe specialising in coffee it's no surprise they have 40 different varieties of coffee! They even have 15 kinds of tea. Being able to pick out your favourite coffee before the morning rush every morning is really wonderful.

Cafe Ace is one of the places I've wanted to cover for a long time in this series. I was excited to get inside!

Its striped roof gives it quite a retro atmosphere. The warm colour scheme of the decor inside is that from old times – it's very relaxed. It hasn't changed since it opened way back when. It has continued to maintain its ways in spite of times changing. I think that's wonderful.

The cafe carries all kinds of magazines that have been published over the years. They range from 3 to 40 years old. The owner showed me his collection as we spoke about the cafe and conveyed his sentiment for Ace. I feel I have learnt much about its history!

The menu plaques attached to the wall are all handwritten by the owner (he even wrote on the camel artwork above!)

Simply amazing. His handwritten work spreads across the entire wall of Ace.

I have come here on my before but I had no idea he had written all of this out so in learning more about it I have come to love Cafe Ace even more.


His love and warmth can be felt throughout the whole room.

And this―this is Cafe Ace's famous seaweed toast! It's made with seaweed, butter and soy sauce.


The ingredients are simple but the flavour of the seaweed complements the butter perfectly. It's super delicious, I want to eat it everyday! And it only costs ¥170.

In the morning you can have it with blend coffee for ¥500 (+¥20 for iced coffee). You even get free refills on the blend coffee up until noon!

American doughnuts, too. You can enjoy these at the small price of ¥230. They are sprinkled with cinnamon sugar and serve with a knob of butter in the ring. The heat of the doughnuts helps the butter to melt so you can lather it all over.

Finally, a photo of the owner himself. Even in the photo I feel like his smile gives his customers strength. Seeing his lively energy gave me energy too.

He holds his valuable feelings close, doing what he loves in the place he loves. I want to keep on seeing his radiating smile.

Information

Cafe Ace
Address: 3-10-6 Kanda, Chiyoda Ward, Tokyo
Opening Hours: Weekdays 7:00-18:00 / Saturday 7:00-14:00
Closed: Sundays & National Holidays
Access: 3-minutes on foot from Kanda Station via the JR Line and Tokyo Metro Ginza Line

Writer: Ema Tanioku
Photographer: Haruka Yamamoto
Design: Yuko Abe (ASOBISYSTEM)

Translation: Joshua Kitosi-Isanga

Tokyo Stroll: An izakaya date with Yutaro at Sai in Shibuya

Shibuya―Tokyo's central hub for youth culture and fashion trends. This commercial and business centre is one that never sleeps: it is always bustling with people enjoying themselves whether that be shopping with friends, going on dates with their special someone, and pretty much anything you can think of a young person doing in one of the most popular parts of a city like Tokyo.

This is where Yutaro-kun is taking me on our next long-awaited next date. It's little more of a grown-up date than usual this time as we're going to an izakaya. Yutaro-kun is crazy about umeshu, or "plum wine," so he's taking me to a place that stocks a wide variety of tasty drinks. This is our first time drinking together. My heart is pounding.

Our destination is Sai, an izakaya with private booths and charcoal fires for cooking yakitori. It's a 5-minute walk from Shibuya Station's Hachiko Exit. It's on the third floor of the building directly in front of the Udagawa Kōban police station. The bar has around 100 varieties of umeshu as well as food and meals made using them. The wall is lined with wine bottles as far as the eye can see. I'm already getting excited.

The menu lists where each wine is produced by prefecture along with descriptions of each drink. I'm interested in trying the umeshu from the region I was born in, but there's lots of other delicious sound ones too so I'm spoiled for choice.

"What shall we do? Want to compare different drinks?"

Yutaro-kun is quick to jump on board the idea. He's so manly!

Umeshu Taste-Comparing Set (3 Drinks): ¥1,000

This taste-comparing set comes with three types of umeshu. It's an 'introductory-level' set that rings true as all three varieties are very easy to drink and each of their flavours are completely different. The Akatan Umeshu produced in Nara Prefecture is made with unripened plums farmed from Nara. It has a refreshing taste and the flavour of the plums is very rich. The Kishu no Yuzu Umeshu from Wakayama is made with plums from Wakayama Prefecture and the fresh juice of yuzu fruits from Tokushima Prefecture. It's sweet and sour with a refreshing flavour complemented by the citrus fruits. The Hotei Fuku Ume Nigori Umeshu from Osaka is made from highly valuable plum wine that has been aged over a long period of time. It's mixed with plum jam and pieces of fresh plum to give it a sweet and thick texture.

As well as this introductory-level set there's the mid-level set that focuses on shochu, an upper-level set with a wide variety of drinks, and an extra set that features fruit sake.

"Mm, this one's delicious! It has a real citrus-y feel. Ah, but the Hotei Fuku is good too."

Yutaro-kun looks like he's really enjoying drinking and comparing the different varieties of umeshu.

My heart beats fast seeing his adult side drinking sake. Huh, am I drunk already?

Zeppin Caesar Salad: ¥780

The Caesar salad comes with a specially-made egg salad dressing made from soft-boiled eggs. It's fun mixing the dressing. After mixing it enough we pour it over and tuck in!

"Do you eat tomatoes?"

I'm happy how considerate he is in portioning out the salad.

Seafood Carpaccio: ¥720

We both enjoy a carpaccio together made with fresh fish bought on the day and a jelly made with Kishu Akai Umeshu. Today's fish ingredient was fatty salmon!

The amazing flavour of the salmon comes through the centre of the refreshing umeshu jelly.

Pork Spare Ribs: ¥820

Kishu Umeshu is this izakaya's No. 1 recommendation. These spare ribs are cooked slowly in it, giving them a rich and intense flavour as well as a subtle sweetness.

They're too delicious I could eat as many as they'd give me!

"So tender! So delicious! This is true happiness!"

Yutaro-kun never changes, he's always so energetic when eating something tasty.

"Thank you for the meal."

The umeshu and umeshu food was amazing, but what makes me happy more than anything is that I got to drink with Yutaro-kun. I wonder where our next date will take us?

Information

Sai

Address: JOW Bldg. Floor 3F, 30-5 Udagawacho, Shibuya, Tokyo

TEL: 03-3770-6770

Official Website: https://izakayasai.owst.jp/

Tokyo Stroll: Indulge at Harajuku's Conveyor Belt Dessert Cafe 'MAISON ABLE Cafe Ron Ron'

MAISON ABLE Cafe Ron Ron is a new hot spot in Harajuku that has been popping up all over Japanese social media. It's so popular that it's common to see lines of people waiting outside to get in, and that's due to the fact that this is the world's first-ever all-you-can-eat conveyor belt dessert cafe!

MMN decided to visit the cafe to see what all the fuss was about. Unfortunately, it was raining on the day, but that didn't stop the smiles on girls' faces waiting outside for it to open which gleamed like a clear summer's day.

We visited the cafe with Japanese model Rinko Murata who has a weakness for sweet things and whose anticipation for this place was growing.

Upon entering the cafe you must first buy a ticket from the ticket machine. It costs ¥1,800 (tax included) for all-you-can-eat desserts and a drink.

This is the drink shelf. You can choose your favourite from a selection of colourful beverages that come in original bottles.

Rinko-chan picked out a photogenic-looking drink too!

If you stand against the pastel pink walls you can snap a cute photo from any angle!

Rinko-chan was quick in wanting to snap one. There are messages written over the walls too. It makes you want to take your dessert in hand and take lots of pictures.

The dessert lane stretches a sweet 38 meters. There are over 25 delights to choose from which appetisingly pass by one by one. They arrive crowning pastel coloured plates looking like precious gems and jewels. There's even light savoury food in addition to the sweet stuff.

You're allowed 40 minutes. Heaven begins as you sit down: pick, take a photo, tuck in and repeat.

Is this one an ice cream? It actually isn't – underneath the cone hides potato salad! This is one of the non-dessert light foods and is perfect for cleansing your palate. There's a meat ball burger, nikuman meat bun, popcorn and others too. (And keep in mind that items change depending on the season!)

All the sweets are bite-sized meaning you can enjoy lots of different kinds one after the other.

"Eating something this cute feels such a waste!" commented Rinko-chan.

Piling up the plates after you've finished is kinda fun too!

The shortcake dessert with the black cat wafer is the most popular. Only 10 of them come by in an hour. Rinko-chan was lucky enough to get her hands on one.

The cat has an iconic presence in the cafe. In fact, the "Ron Ron" in the cafe's name comes from French and refers to the purring sound a cat makes when it's happy.

There's a super cute girly powder room up on the second floor.

They have hair straighteners, makeup and other bits and bobs that customers are free to use. Use of the powder room isn't included within the time restriction of the all-you-can-eat service, so once you've filled your belly with treats you can hit it up, touch up your makeup and head out shopping.

If you're in Harajuku why not enjoy lots of desserts and a girly time over at MAISON ABLE Cafe Ron Ron?

MOSHI MOSHI NIPPON Social Media Campaign

Running: November 29, 2018 – December 4, 2018

We are giving away chekki photographs of Rinko Murata randomly to 2 lucky people who follow us on either our Instagram, Twitter or Weibo pages and share this article (or hit 'Like' on Instagram). Anyone from around the world can participate in this campaign, so get involved!

Writer: Ai Watanabe

Photographer: Haruka Yamamoto

Translator: Joshua Kitosi-Isanga

Information

MAISON ABLE Cafe Ron Ron
Address: 6-7-15 Jingumae, Shibuya, Tokyo
Business Hours: 11:00-19:00 (Last Orders 18:00)
TEL: 03-5468-8290
Price: ¥1,800 (Tax Included) w/drink [40 Minutes Allowed]

Website: https://cafe-ronron.com/

Tokyo Stroll: Goshuin Collecting #9―Hanazono Shrine in Shinjuku, an Oasis in Central Tokyo

In the Tokyo Stroll series, we take you on a trip to various locations around Japan's capital. One of the frequent locations are shrines where our navigator Ellie adds to her goshuin collection.

Today, Ellie visits Hanazono Shrine in Shinjuku which is famous as the place where the Tori no Ichi Festival is held, an open-air market that takes place every November.

The closest station to Hanazono Shrine is Shinjuku-Sanchome Station. The shrine is within mere seconds' walking distance from the station's E2 exit. An alternative route is from Shinjuku Station from which it is just a 7-minute walk. The shrine is smack in the middle of Shinjuku and near the Shinjuku City Office and Shinjuku Golden Gai.

Hanazono Shrine has been the tutelary shrine of Shinjuku since Tokugawa Ieyasu and the shogunate ushered in the Edo Period. It was originally located where Isetan Shinjuku stands today but was moved in the early years of the Edo Period to part of the garden belonging to the suburban residence of the daimyo of the Tokugawa Gosanke. It is there that many flowers bloomed into a beautiful flower garden which is where the shrine's name originates – Hanazono Jinja ("Flower Garden Shrine"). Since then it became a place where many come to gather and worship the shrine as the protector and flourisher of Shinjuku.

Before heading to the main shrine to pray be sure to cleanse yourself beforehand at the chozuya (also known as temizuya). Firstly, take the ladle with your right hand, scoop up plenty of water, and rinse your left hand.

Next, switch hands. Hold the ladle with your left hand and rinse your right.

Then take the ladle with your right hand once more, pour some water into your left hand and rinse your mouth. Never bring the ladle directly to your mouth, and do not swallow the water or spit it back into the basin. There will be an area below the basin, like a bed of rocks, where you can spit the water out.

After rinsing your left hand one more time, use the pour remaining water to cleanse the handle of the ladle before returning it for the next person to use.

Uga-no-Mitama-no-kami, Yamato Takeru and Uke Mochi are those enshrined at Hanazono Shrine. Uga-no-Mitama-no-kami is associated with food and agriculture while Uke Mochi is the goddess of food. Yamato Takeru is associated with success, fortune, and family and company prosperity amongst other things. The famous Tori no Ichi Festival held at the shine every year takes place in November – the death anniversary of Yamato Takeru.

After placing a donation into the offertory, it's time to pray. The rule is: two bows, two claps, one bow. Straighten your posture and begin by bowing twice.

Clap twice, pray, and bow one final time to finish.

You'll also find the Geino Asama Shrine in the shrine grounds where Konohanasakuya-hime is enshrined. Since the Edo Period it has had deep ties with those in the entertainment industry such as actors and dancers so it is famous for receiving many offerings from those associated with the business including plays and songs. A tanka poem by Keiko Fuji, the mother of internationally acclaimed Japanese singer Hikaru Utada, is even placed beside the shrine.

There's also another subordinate shrine called the Itoku Inari Shrine. It's very popular with Japanese women for its associations with harmonious marriage, child-bearing and romantic realisation. There are red torii gates leading to the shrine which were given as an offering. When you walk through them feels like you're stepping foot through the tunnel of the spirit world.

After praying Ellie went to collect her goshuin which cost just ¥300.

The goshuin is simple, reading the date on which Ellie visited and kanji reading "Shinjuku's Tutelary Hanazono Shrine." The plum blossom design is very typical of Hanazono Shrine. The Tori no Ichi goshuin also includes the Bird Day.

The Tori no Ichi Festival has continued since the Meiji Period and takes place of the days of the Rooster. This year it will take place on October 31, November 1, November 12, November 13, November 24 and November 25. The loud voices of thriving stalls at the market is a familiar and nostalgic sound of a town ready to welcome December. It's a completely different atmosphere from the usual Hanazono Shrine. It flows with a mutual energy, so try visiting there yourself.

Information

Hanazono Shrine

Address: 5-17-3 Shinjuku, Shinjuku Ward, Tokyo

Shrine Office Times: 8:00-20:00

Praying Times: 9:30-16:30

TEL: 03-3209-5265

Access: Seconds from E2 Exit of Shinjuku-Sanchome Station via Tokyo Metro Line / 7-minutes on foot from East Exit of Shinjuku Station via JR, Odakyu and Keio Lines

Website: http://www.hanazono-jinja.or.jp

Model: Ellie
Writer: Sayoko Ishii
Photographer: Haruka Yamamoto

Translator: Joshua Kitosi-Isanga

Outfit/

GOOD GIRLS DENIM OVERALL:¥18,360

CLOWN KNIT:¥12,960

*all prices include tax (Aymmy in the batty girls)