SCANDAL's Haruna Holds Release Event for Her First Photo Book 'SOMEWHERE'
Lead vocalist and guitarist Haruna of all-female Japanese rock band SCANDAL turned 30 on August 10, and on this same day, she released her first ever photo book titled SOMEWHERE.
To celebrate and promote the release of the collection, an event was held on August 18 on the 6th floor of HMV&BOOKS in Shibuya, Tokyo which the singer attended in person.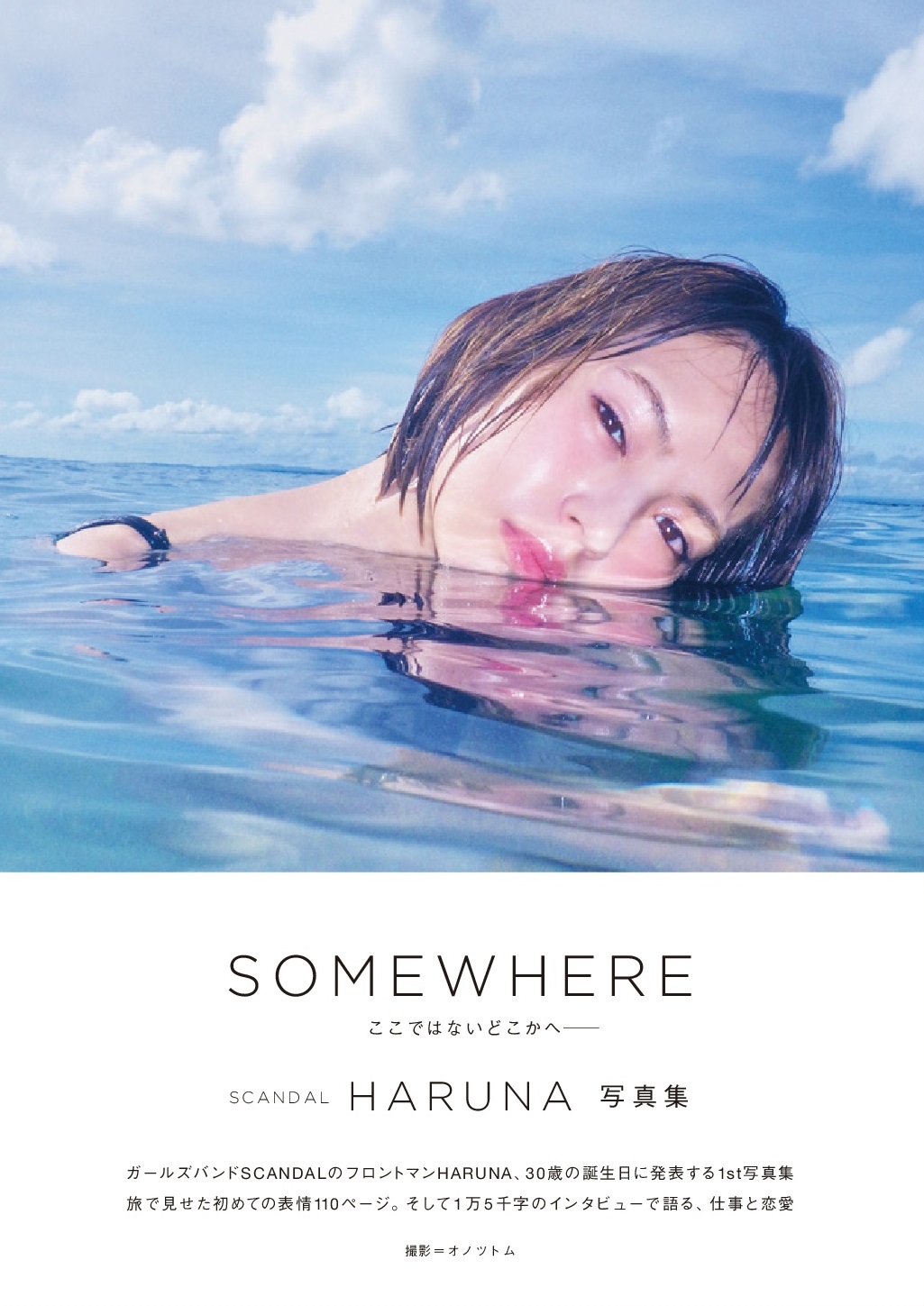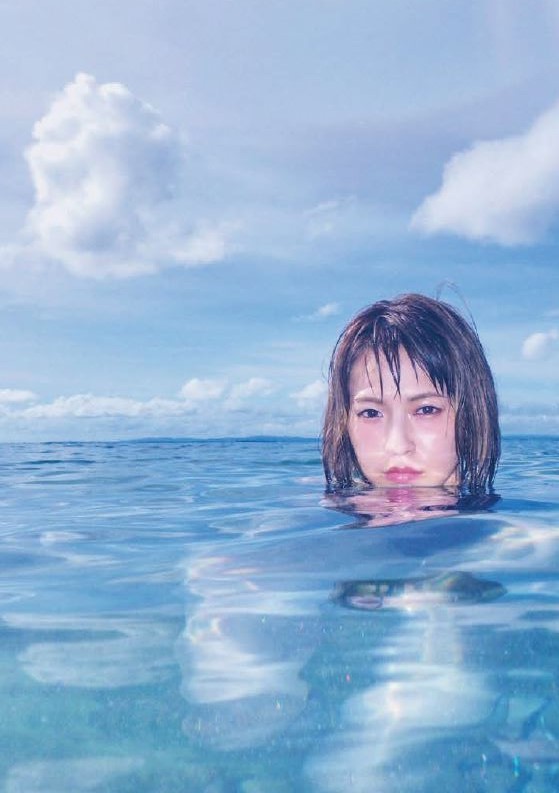 Haruna joined SCANDAL in her late teens and has spent her entire twenties as the frontwoman of this immensely and internationally popular rock band.
Her photo book, entitled SOMEWHERE, was compiled at the end of the band's Japan tour. The photos were taken by Japanese photographer Tsutomu Ono.
The book includes a long interview covering the self-confidence Haruna has acquired as being part of the band, her determination to never feel down when she's frustrated, her forward-facing gaze in any situation, her girly smile, the band, work, love and more.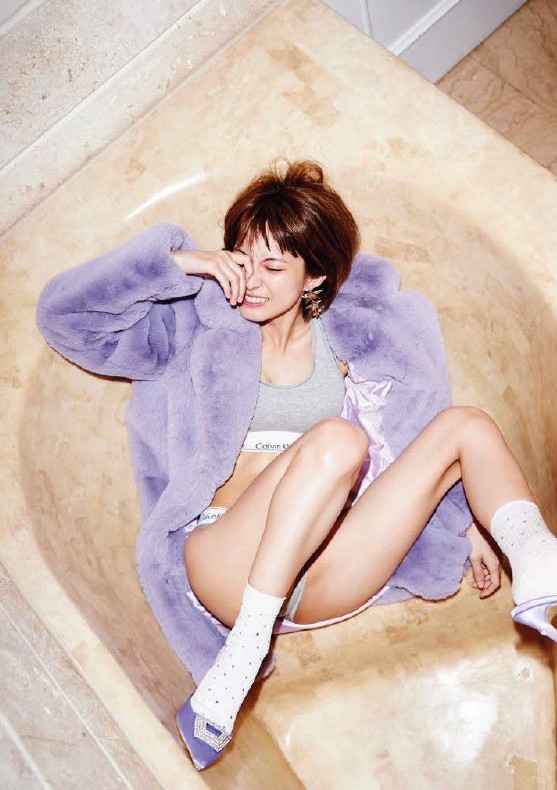 Pre-orders sold out the moment the book went up for sale, so additional prints are in the works. The number of people wanting to attend the release events in Tokyo and Osaka also far exceeds the scheduled amount. It's clear to see the fans' love and support for Haruna.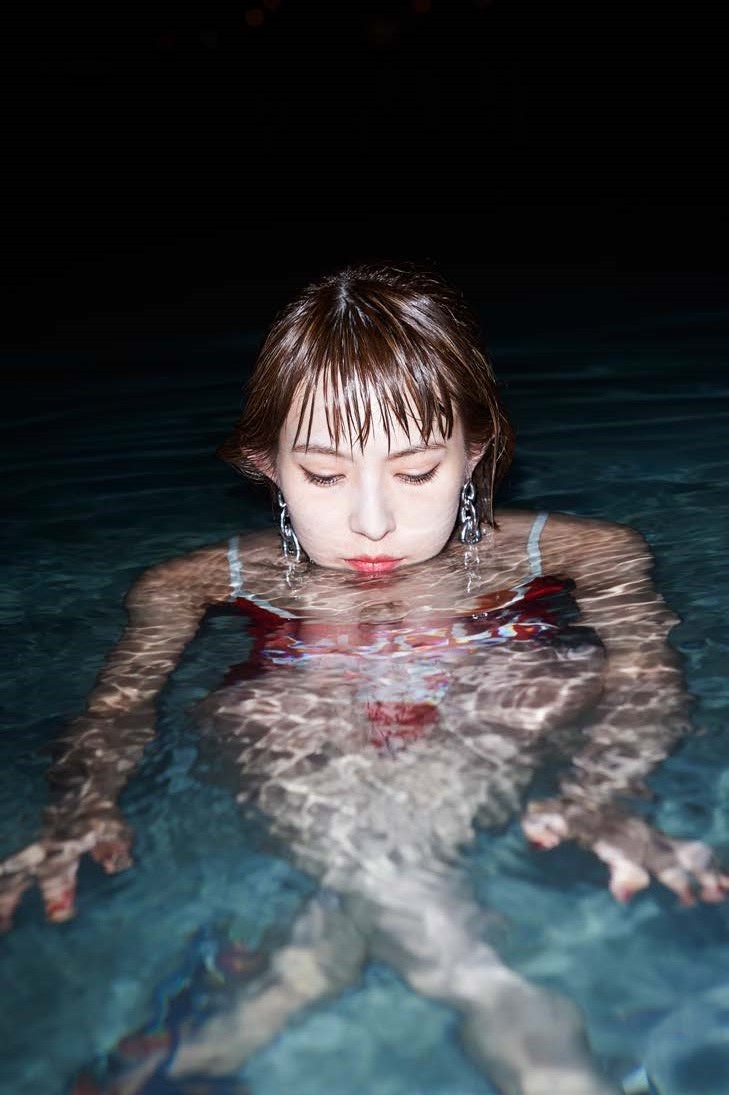 Before the event at HMV&BOOKS on August 18 began, 16 media companies were sat in attendance. Haruna confessed that she was nervous being surrounded by reporters for something other than music.
"I'm a little relieved. Additional prints are being prepared for pre-orders. I was overjoyed at seeing all my fans kindly puchasing the book before my eyes," Haruna expressed in regards to releasing a photo book.
She also recalled a particular episode during photoshoot: "There's a photo with the setting sun behind me. The colour of it changed ever so rapidly. It was such a dramatic sight and left an impression on me. I'll never forget that shoot."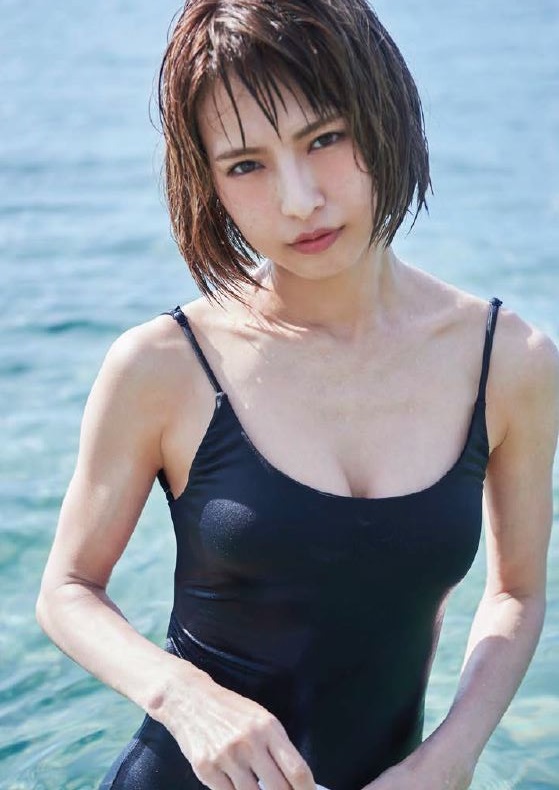 Interview
――How was the event?
I was even more nervous than I thought I would be [laughs]. The angle of the questions and the feeling of distance felt completely different than during the CD release. I think it was a very good experience. So many people kindly came to the event. There were people who had already bought and looked at the book. There was event a woman the same age as me who said, "Let's do our best  in our 30s." I was also so happy to hear someone say, "I became even more of a fan after reading the book." I talk a bit more personally than I show at concerts in the interview in the book, so I'm glad I put it out even if it's that part of myself I included that made people like me.
――What are your thoughts on releasing your first photo book?
I'm a little relieved. It was my first time releasing something by myself other than music so I wasn't able to picture how many people would read it, but I was so happy at there being reprints made for pre-orders and seeing people buy it in front of me after it was released.
――What made you want to release a photo book?
My manager had spoken to me about it, but during that time I said to him, "I'm already going to be 30 soon." He said, "You look like you're having fun even when performing. You're shining. I think the Haruna you are right now is amazing." So I gained a bit more confidence and reached a decision to release the book.
――How was it shooting on Cebu Island?
It was a tight schedule, just 2 days, but it was a lot of fun. The thing I remember the most is on the page at the end of the book. There's a photo with the setting sun behind me. The colour of it changed ever so rapidly. It was such a dramatic sight and left an impression on me. I'll never forget that shoot.
――Which is your favourite photo?
It wasn't that one. The one I really like is the one we took in the pool at night. It was my first time having a photo taken of my whole body while wearing a swimsuit. I had absolutely no idea how the photo would turn out because there weren't any lights at the pool. I never thought it would look so striking. I think it's really mysterious how it took so well, even the water. I'm very satisfied we were able to take an artistic photo.
――How did the other members react?
They said, "It's amazing that you can put out something like this having turned 30."
――What do you think about expressing yourself in the photos?
Honestly, I thought people would express doubt about a band member putting out photos, but we're a band that has come to have self confidence in breaking down things with certain meanings, like "You're band so you can't do this and that" and "You're a band so you should be like this." So I upheld my confidence in some way that a band vocalist can put out a photo book. I feel like right now is the most fun time in my life, so I hope that people can see that simply.
――Did you have any resistance to the swimsuit photoshoot?
I went to the gym and trained my body for it, so I was able to have more fun than be against it. Even when the photos were taken I learned that I like having my photo taken, so it was a good discovery.
――Will the photo book release tie in with anything in the future?
I feel like there won't be anything too scary.
――What do you rate the photo book?
Is it okay to give it a full score? It's 10/10. I ship it with confidence.
――What are your aspirations turning 30?
Even after having turned 30 my goal hasn't changed, I will remain active musically. I am to continue music after marrying and having kids. I think I would like to do both of those things before I'm 35.
――What do you want to challenge yourself to outside of music?
I've grown to like travelling in recent years. I've been on trips even on my own. I like things like that. I'm not like Another Sky though [laughs]. I'd like to do a travel show like that.
――One last time, please tell us your outlook for the future.
I think it's somewhat a miracle that SCANDAL has continued for 10 years. I think it's extraordinary for four girls to do music for 10 years. There's a lot of bands who split up in that time frame, so I have confidence in having come along 10 years. My outlook for the future is for us four to go as far as we can together.
Haruna's photo book SOMEWHERE has many people hooked right now. Be sure to pick up a copy for yourself if you're interested!
RECOMMENDED ENTRIES
MMN Interview: SCANDAL look back at their overseas performances since their debut and going from "anime characters" to a "band" (Part One)

In 2016, SCANDAL toasted to ten years since their formation, and this autumn, they will celebrate their 10th anniversary since their major debut. The band released their eighth album HONEY this month which peaked at number one on Japan's iTunes album charts on the day of release and ranked number one in iTunes J-pop charts across the globe including Hong Kong, Thailand, Singapore, Malaysia and Peru. Last year, 3 of the band members – Haruna (Vocals/Guitar), Mami (Guitar/Vocals) and Tomomi (Bass/Vocals) – became the first Japanese female artists to sign an endorsement agreement with Fender. It is evident for all to see that SCANDAL are building and fortifying their career as an all-girls band representing Japan in both name and reality. In this interview, the four members looked back at their overseas activity and told various stories from their perspective as an all-female band.

Interview & Text: Mami Naruta / Translation: Joshua Kitosi-Isanga

■"I think people overseas felt that we were performing anime characters"

――In the "HISTORY" column of your 10-year anniversary website, you have a timeline for your music activities for both Japan and the rest of the world lined up side-by-side. I felt that this was a reminder of how your band are enthusiastic about activities overseas. Your first overseas action was an American tour across six cities before your major debut in 2008. That's amazing.

Rina (Drums/Vocals): Yes, our first tour was in America, wasn't it? We did all of that despite being an independent band who hadn't even toured Japan yet. Back then we went forward with finishing everything we did to the end like crazy every time, but we had a strong connection overseas at the time, so from that year onward we went there every year without fail. At first, we felt like we were just children without a cause, but we gradually became something that couldn't be ignored. Bands would cover our songs overseas, and the number of people who came to like us after watching us on YouTube went beyond our imaginations. Our fundamental stance is to go and perform in places where there are people demanding for us, so we focus on performing live without creating borders around the world.

――I see. Looking in detail, your first few years saw you perform at a lot of Japanese culture festivals such as "Japan Expo" and "AM2." That was a time when you performed in uniform-style costumes, wasn't it?

Mami (Guitar/Vocals): It was.  The "Age of Uniforms" (laughs). That was a time when we did theme songs for anime, so the uniforms were part of it. We were also called to perform at a lot of festivals that promoted Japanese culture too.

Tomomi (Bass/Vocals): In our early days, we even had an animation kind of thing of us all on our official MySpace page. And we received a lot of attention from people overseas, so it felt like "animation" was spreading across the world as part of Japanese culture.

――From your experience having stepped onto the international stage, have you felt a desire for Japanese culture overseas, and by extension a culture for Japanese girl bands?

Haruna (Vocals/Guitar): We were also unaware of it at the time. We were simply happy with the demand and could feel the joy of being able to perform live in lots of places, so that's why we went. It might have only been recently that we became conscious of looking to overseas seriously as a girl band.

Rina: I think that awareness strengthened when we came to perform solo shows. And our overseas fans also changed with it. At culture festivals, there were many people there simply out of curiosity who weren't our target goal, and there were a lot of people who were also interested and felt Japanese culture in the seifuku costumes. I think from the point of view of people overseas, it felt like we were like anime characters performing.

――In 2015, you held a huge world tour where you performed 41 shows across Japan, France, the UK, Germany, America, Mexico, Singapore, Taiwan and Hong Kong.

Rina: There were more people who had watched our music videos on YouTube than those who knew us from anime on this tour. I felt that people came along to support us as a band. The atmosphere was totally different in the venues too compared to our early days.

Mami: I believe there's something historical about being in a position where people know your existence from social media and video-sharing websites. When we began our career, social media still wasn't being used all that much in Japan, and YouTube as it's used today wasn't a thing. I feel the change in times with regard to our connection overseas.

■"Our world tour made me feel that 'SCANDAL' had come to be seen as a band in and of itself"

――Having toured 9 countries, please tell me about any impressions that have been left on you, on or off stage.

Rina: We've had the opportunity to do a lot of interviews, but I've noticed that the content of the interviews have changed from place to place. Before, we'd get asked a lot of questions related to anime like "What do you think of anime?" and "What kind of anime theme song do you want to do next?" But now the questions are focused on the band itself. It made me feel that "SCANDAL" had come to be seen as a band in and of itself, without anime.

Mami: Mexico and South America in particular are places where the way in which Japanese bands are viewed on YouTube are different from other countries. In other countries, anime and manga take priority. How people find us derives from there most of the time. But in South America, "Japanese bands" are an established cultural genre. They search for Japanese bands from the get-go, they find their favourite and share it with friends. That's how we're introduced over there. I was really happy that they viewed us in that way.

Rina: Something I remember from on-stage… The way people enjoy live performances. I saw how each country really does have its own unique culture. In Japan I don't think we have that style of support where we hold up our country's flag, but there are places where people have fun by waving their own country's flag and drink and dance.

Tomomi: For example, football is really popular in Mexico. When we turn the lights off in the venue, people chant "Olé, Olé, Olé" like a sports match.

Rina: Right? When we toured Europe, there was someone on stage [to introduce us and] get the crowd excited. They'd say something like "Here's SCANDAL!" and the sound effects would begin playing (laughs). I noticed how the beginning of shows was different in each country and location.

Haruna: In Asia, there were a lot of times where everybody sang together. It happens a lot in Japan too where people sing the chorus together, but elsewhere they sing the entire song from start to finish, don't they?

Rina: So much so that everyone's voices become even louder than Haruna's mic volume (laughs).

Mami: Taiwan, Hong Kong and Singapore were just like that, weren't they? Usually people listen and are just there in whatever way they like. Their love really got through.

Tomomi: Something I find different from Japan are people's interests. There's a real diversity in the people that attend, from older people who look like fans of that venue to the edgy punk type. I'm super interested in how they came to know SCANDAL. Well, I know social media is big, so if it was 10 years ago, I think the people who we couldn't meet will come to our world tours now.

Rina: It's precisely because we can look up and find our favourite things that our interests are so broad.

■"It doesn't matter how we're perceived, what's most important is that people can enjoy us"

――Have your perceptions changed in relation to performing?

Rina: Strictly speaking, we've made a lot of changes to our sound and equipment, but our songs are all sung in Japanese, and I feel that wherever we go to perform I want to do everything the same without any changes. What does change is how we communicate with fans on-stage. We're working hard to be able to speak in a country's language as much as possible.

Mami: People really get in the music easily, so if they're excited, they'll join us. I feel people come to the shows and have fun, so there are no worries there.

――This is a simple question, but do overseas music fans know the difference between idol groups and girl bands? Regardless of the use of instruments or not, do you think that there are people who perceive Japanese girl groups as "idols"?

Mami: I think their understanding of the word "idol" is different from that in Japan. In Japan, it's a single genre, but overseas, it's someone who has an influence on you or someone you love. It's someone you yearn for and someone whose existence is like that of a star. I think that grasp of the word is much stronger, so there might not be a lot of people who do make that distinction.

Rina: Don't get me wrong, but I think either is fine. We don't go out of our way to say "but we're not idols." Being seen this way means not giving special instructions and just have people come to like and enjoy our music. Because I think idols and bands are both cool. I find idols to truly be multi-players. They can sing, dance, act and have variety, and are really outgoing in a human way. Even in a band set-up, an idol's nature can become their weapon of choice – their charm. I want us to be a group that can be enjoyed as humans, so even if there are people who see us as idols, I can say in all honestly that it doesn't make us feel uncomfortable in terms of motivation. If people can enjoy us and say "They're an interesting bunch," then that makes me the happiest.

MMN Interview: SCANDAL want to live coolly as Japan's representative all-female band (Part Two)

In 2016, SCANDAL toasted to ten years since their formation, and this autumn, they will celebrate their 10th anniversary since their major debut. The band released their eighth album HONEY this month which peaked at number one on Japan's iTunes album charts on the day of release and ranked number one in the iTunes J-pop charts across the globe including Hong Kong, Thailand, Singapore, Malaysia and Peru. Last year, 3 of the band members – Haruna (Vocals/Guitar), Mami (Guitar/Vocals) and Tomomi (Bass/Vocals) – became the first Japanese female artists to sign an endorsement agreement with Fender. It is evident for all to see that SCANDAL are building and fortifying their career as an all-girls band representing Japan in both name and reality. This is part two of the interview, in which the four members look back at their overseas activity and told various stories from their perspective as an all-female band.

Interview & Text: Mami Naruta / Translation: Joshua Kitosi-Isanga

—

■"We want to be cool so our listeners throughout the world can be proud"

――When SCANDAL head out across the globe, "Japan's representative girl band" really is an is appropriate catchphrase in reality and in name.

Rina (Drums / Vocals): We're not quite there yet. But that makes me happy.

Mami (Guitar / Vocals): But if we're asked whether we're placing focus on our overseas activities, that's not the case. It's just the way things pan out. We go with it without intending to separate Japan and everywhere else. It isn't the case that from the beginning we were conscious of wanting to become Japan's representative girl band or become popular overseas, so to have that said to us now makes me really happy.

Rina: I have an increased awareness for us to be cool so that people think to themselves things like "I'm glad I supported them" and "I, who support SCANDAL, love who I am" for the very fact that we have listeners all around the world. I've taken in the fact that lots of different people listen to us, so I've truly come to think that I don't want to let the fans down. I want to live cool, so much so that listening to SCANDAL's music becomes people's confidence.

Haruna (Vocals / Guitar): Yeah. We've done this for twelve years, so I want to have confidence in that.

Rina: I feel that our fans' minds are the same regardless of what country they're from. I haven't asked each of them individually, but when I look at things like the atmosphere in a venue, although people's ages, gender, race and religion are different, I really feel that everyone holds the same mindset. I think that's where the world ties together.

Haruna: Overseas fans come to our tours in Japan, and vice versa Japanese fans come when we play overseas. I'm happy that there's an interaction.

Tomomi (Bass / Vocals): There's an unofficial international fan club called "SCANDAL HEAVEN." Groups of people on there from each country get together and post photos of themselves eating together on social media.

――Fans that have transcended national borders and connected through your music have left a happy impression on you, haven't they? Also, I think within the female band scene, you have your own unique values.

Rina: I think girl bands are accepted as one part of Japanese culture. There are very few girl bands overseas. It seems difficult for them to last a long time. I hear stories of bands disbanding soon after their debut. That's why, in contrast with us who've been together for 12 years, there's a lot of people interested in what a long-lasting girl band is like. There are people who feel culture and appeal in our existence, so I've felt we've moved forward.

――It's true when you mention overseas girl bands. Nothing springs to mind immediately…

Rina: If we're talking recently then HiNDS are really cool, and they have a unique feel that I find great. If the number of girl bands increases from country to country, the music scene will become more exciting. I'd like to support them.

■"Japanese girls are skilled at creating their own personal 'cute'"

――By the way, what do each of you find to be the charm point of Japanese girls?

Rina: They're allowed to mix together the things they like. They're skilled at creating their own personal "cute." Even ordinary school girls. They create a world that they love on their Instagram pages, don't they? This is found in Kyary Pamyu Pamyu's style too, but for example, adding a little spice to something that isn't just cute. Their ability to self-produce is strong.

Haruna: Everybody knows what suits them. Whether it's make-up or different fashion styles, they skilfully incorporate what looks good on them and create something original. I think that's wonderful.

Rina: In our recent album HONEY too, I think we've been able to create songs that mix together sweet and bitter. The album is centred around songs we wrote in 2017. This time we reconsidered "Japanese rock" while keeping them sung in Japanese, so when people overseas have listened to it, I think they'll see it's a record that conveys today's Japanese girl rock. In that sense, I think we've created an album that compiles 10 years of a SCANDAL that has taken influence from many things, sweet and bitter.

――In 2017 you released your 10-year anniversary greatest hits album, toured Japan's 47 prefectures and went on your first taiban* tour. It was a substantial year for you.

Rina: Last year we put on tough, masculine-like performances, which made us wonder what kind of songs a girl band should perform. It was a period where we re-evaluated things like our position and status. We had strong thoughts that "We're girls, so we really should be doing the kind of rock that girls can do, otherwise it's not interesting," especially during our taiban tour.

[*Translator's Note: A taiban is a concert where several bands perform.]

――The bands that joined you at the taiban were UNISON SQUARE GARDEN, 04 Limited Sazabys and BLUE ENCOUNT, right?

Rina: We toured with 3 big bands at that festival, so it was something I mulled over. So I think we've been able to create an album that shakes off those thoughts in a girly way.

――Your album cover was produced by AMIAYA, twins who are active in Tokyo as fashion icons. How did that collaboration come about?

Tomomi: We've actually been close with AMIAYA ever since we were introduced to them by Mizuki (Masuda) of [music group] Negoto. We knew that the album contained a lot of personal things. It's filled with events that have happened in our daily lives, our favourite words, smells, colours and things like that. It came about because we thought since the album is so personal, it would be good if we made it together with a close friend. We were also crazy about how perfect the album colour and AMIAYA's character went together.

――All things considered, I think that how you're all able to write your songs together is really your strong point as a band.

Rina: Hehehe (laughs). The four of us are individuals so songs are born left, right and centre, but when performing as a band, they become SCANDAL's songs. It's strange, isn't it? Even though we do it together we never grow tired, and even now my heart is always racing. I think right now is the most fun time ever.

■SCANDAL recommend their favourite spots around Tokyo

――You've just released your new album. What mode is SCANDAL in right now?

Rina: We've once again been able to create something that shakes free the kind of rock that seems good, in 2018, the 10th anniversary of our major debut, so the sense of accomplishment having completed HONEY is amazing (laughs). We're taking this album on a hall tour, our first in three years, so I hope to put on the best performance we can now.

Haruna: We also have an Asia tour after our tour in Japan! We didn't have an overseas tour last year, so this time we're going to the Philippines and China for the first time. I'm really excited. We've received messages on Twitter for years of people saying "Please come to the Philippines," so we're finally going. I think they'll be fully charged for us (laughs).

Rina: Asia have welcomed us with a "Come back!" so we're always at ease there! Fans bring along their friends to the airport. I get the feeling the number of new people increases every time.

Mami: Yeah. There might even be places where the audience has completely changed. I'm interested to see how people will listen to this album.

――To wrap up, can each of you recommend some spots in Tokyo?

Tomomi: When my friend visits from my home town, we've boarded the Yakatabune at Sumida River several times. You can eat traditional Japanese food like tempura, and you can see places like Odaiba and Skytree in one go while you go down the river. It was so much fun. I recommend that course!

Mami: If you're coming for a good time during spring's cherry blossom season, then how about Shinjuku Gyoen or Meguro River? Since I don't think you can easily see cherry trees lined up like that overseas. It's not something flashy or gaudy, and this is a simple way to look at things, but you can kind of feel Japan with just one glance of them. It might be fun to visit and have fun enjoying the four seasons.

Haruna: As for me, I've been filling up by goshuincho*. For foreigners, it's kind of like a stamp rally? Well, it's not as simple as that, but I think if you've made the effort to come to Japan it could be fun to spend your time doing it. I started by purchasing a goshuincho at Sensō-ji. If you go to Sensō-ji, you also have Nakamise-dori just before you reach the temple which is a lot of fun. You can enjoy the so-called essence of Japan.

[*Translator's Note: A goshuincho is a book used for collecting goshuin, which are stamps or seals you can receive when you visit temples and shrines in Japan. Each place has their own unique stamp.]

Rina: For me… Tower Records in Shibuya. CD shops are dying overseas. I think Japan has the most CD shops in the world, but out of them all I think that's the biggest. They have everything there. I see photos people have taken that have come from overseas of the Tower Records building, and I think to myself "so that's how they view it."

――Even when you actually look at things like the stock and floorspace, it's the world's biggest CD retail store.

Rina: It's true. It's a valuable place. There's a documentary movie called "ALL THINGS MUST PASS" that covers the history of Tower Records. After I watched it I went to Tower Records in Shibuya and was really moved! I don't know what the future has in store for record shops, so I hope people enjoy it while it's there. It's the coolest CD shop.
RELATED ENTRIES
SCANDAL Release New Single 'eternal' as They Celebrate 15th Anniversary

This year marks the 15th anniversary of J-rock band SCANDAL, and their first single to be released during this celebratory milestone is eternal which dropped on Wednesday (March 3). The single welcomes Satori Shiraishi once again as producer for the single, which includes the title track and a remix by TOWATEI.

The single is being released as a limited edition and won't be restocked. The 7-inch vinyl and cassette tape versions are already sold out, so fans won't want to miss out on the CD.

SCANDAL – "eternal" Music Video

The music video was directed by Oudai Kojima and features beautiful, close-up shots of the band members with snow falling.

eternal is also available to listen to on all major music streaming and download servies.

Japanese rock band SCANDAL performed a special Christmas Eve show at Toyosu Pit on December 24, 2020, which marked their first paid show in over a year. The band are set to release the performance online tomorrow (December 29) for those who were unable to attend which will be available for fans both in Japan and overseas for a price.

The concert was held with the strictest and tightest precautionary measures against COVID-19 to ensure protection for fans in attendance. The show was SCANDAL's first collaboration with Japanese creative company NAKED, INC. which brought incredible projection mapping technology to make the show special for Christmas Eve. Themed on the four seasons, the projection mapping captured imagery of spring, summer, autumn, and winter over a year.

Fans will be able to pay to watch the show online where it will be available for a limited time from December 29, 2020 to January 11, 2021.

SCANDAL are set to celebrate their 15th anniversary as a band next year. That will begin with a fan club-exclusive tour in Japan entitled "SCANDAL MANIA TOUR 2021 request" which kicks off in April. More details can be found on SCANDAL's official website.

Information

SCANDAL『SEASONS』collaborated with NAKED
Available: December 29, 2020 to January 11, 2021

Japan Tickets
Ticket Price: ¥3,000 (Tax Included)
Buy Here: https://eplus.jp/st/scandal/

Overseas Tickets

Ticket Price: $30
Buy Here: https://store.livefrom.events/collections/scandal

Fan Club Tour – "SCANDAL MANIA TOUR 2021 request"
2021/4/3 @ Zepp Fukuoka
2021/4/4 @ Zepp Osaka Bayside
2021/4/10 @ Sendai GIGS
2021/4/11 @ KT Zepp Yokohama
2021/4/18 @ Zepp Haneda(TOKYO)
2021/4/24 @ Zepp Sapporo
2021/4/28 @ Zepp Nagoya

SCANDAL Official Website: https://www.scandal-4.com/

SCANDAL Drop Trailer For "Kiss from the darkness" Livestream's DVD & Blu-ray Release

SCANDAL have dropped a trailer for their upcoming SCANDAL WORLD TOUR 2020 "Kiss from the darkness" Livestream DVD and Blu-ray release which is set to hit shelves on November 18, 2020.

SCANDAL's world tour, which was to be held in promotion of their latest album Kiss from the darkness which was released from their private music label 'her' in February, was unfortunately cancelled in response to COVID-19. As a result, shows in Asia, Europe, and the US were also postponed. SCANDAL decided to hold a special livestream concert on August 21, 2020—the date of the band's 14th anniversary—for fans around the world as a result, which was broadcast to 53 countries.

The newly-released trailer features live snippets of Ceramic Blue, Saishuu Heiki Kimi, Tonight, and A.M.D.K.J.. Check it out below.

SCANDAL WORLD TOUR 2020 "Kiss from the darkness" Livestream Trailer

First Press Limited Edition copies will include an additional CD featuring the full 21-track set list, a special photo book compiled of photos taken by Japanese photographer Takeshi Yao at the livestreamed show, and unique packaging.

Select music stores in Japan are handing out free stickers and pictures along with copies of the album.

Information

SCANDAL WORLD TOUR 2020 "Kiss from the darkness" Livestream
First Press Limited Edition (Blu-ray+CD+Photobook): ¥7,500 (Before Tax) [VIZL-1808]
Regular Edition (Blu-ray): ¥6,000 (Before Tax) [VIXL-325]
First Press Limited Edition (2 DVDs+CD+Photobook): ¥7,500 (Before Tax) [VIZL-1809]
Regular Edition (2 DVDs): ¥6,000 (Before Tax) [VIBL-1004]

Official Website: https://www.scandal-4.com/

SCANDAL Releases 'Message' Clothing Collection in Collaboration With Ground Y

Ground Y is a clothing brand conceived by Yohji Yamamoto that claims a new fashion concept: genderless and ageless, which is expressed through synchronising various aspects. Japanese all-female rock band SCANDAL, who will celebrate their 15th anniversary next year, are releasing a clothing collection in collaboration with the brand on October 22, 2020.

SCANDAL previously joined hands with Ground Y when the clothing brand reappeared in 2017 after a break. The band featured on the company's key visual upon its re-debut.

Now, the two are coming together once more to combine each member of SCANDAL's thoughts and messages they wish to convey with Ground Y's unique designs in an original collection.

HARUNA: A bright future for people and animals

"I've always loved animals, especially dogs. Since taking my beloved pup into my house last year, I've become interested in becoming active in animal welfare. I want to slowly find what I can do to help out. I pray for a bright future for both humans and animals."

MAMI: ENRICH YOUR HEART

"Washing your hands cleanses both your heart and body. As does the sadness and negativity – it washes away with the bubbles. My message [for the collaboration] is about looking to turn things into positives, no matter the time."

RINA: Your life is yours

"My design symbolises the feminine identity, something which we carry and treasure in our work. My message is for people to be able to live how they like, always."

TOMOMI: Without haste, but without rest

"My design is inspired by slipware which is a type of pottery I love. It features words that capture the mind, something which I am looking after these days in life. I hope we can overcome this time positively, and stay positive even if a little bit, while making sure to listen to our hearts."

Each of the members' items will be released weekly between October 22 and November 12.

SCANDAL to Release SCANDAL WORLD TOUR 2020 "Kiss from the darkness" Livestream On DVD & Blu-ray

02.September.2020 | MUSIC

SCANDAL has announced that they will release their SCANDAL WORLD TOUR 2020 "Kiss from the darkness" Livestream on DVD and Blu-ray on November 18, 2020. This will be the J-rock band's first DVD and Blu-ray release in four years since SCANDAL 10th ANNIVERSARY FESTIVAL: 2006-2016.

SCANDAL's world tour, which was to be held in promotion of their latest album Kiss from the darkness which was released from their private music label 'her' in February, was unfortunately cancelled in response to COVID-19. As a result, shows in Asia, Europe, and the US have been postponed.

SCANDAL decided to hold a special livestream concert on August 21, 2020—the date of the band's 14th anniversary—for fans around the world as a result, which was broadcast to 53 countries.

First Press Limited Edition copies will include an additional CD featuring the full 21-track set list, a special photo book compiled of photos taken by Japanese photographer Takeshi Yao at the livestreamed show, and unique packaging.

Select music stores in Japan are handing out free stickers and pictures along with copies of the album.

Information

SCANDAL WORLD TOUR 2020 "Kiss from the darkness" Livestream
First Press Limited Edition (Blu-ray+CD+Photobook): ¥7,500 (Before Tax) [VIZL-1808]
Regular Edition (Blu-ray): ¥6,000 (Before Tax) [VIXL-325]
First Press Limited Edition (2 DVDs+CD+Photobook): ¥7,500 (Before Tax) [VIZL-1809]
Regular Edition (2 DVDs): ¥6,000 (Before Tax) [VIBL-1004]

Official Website: https://www.scandal-4.com/

SCANDAL Postpone US Tour Leg and Announce Special Live Stream Concert

SCANDAL have announced that the North American leg of their world tour SCANDAL WORLD TOUR 2020 "Kiss from the darkness" has been postponed due to the situation surrounding the COVID-19 pandemic. The news comes after the postponement of the band's Asian and European legs. Information on rescheduled dates will be announce at a later time.

In response to the news, SCANDAL have announced that they will host a special live stream concert on August 21, 2020—the date of the band's 14th anniversary—for fans around the world. The show will also be archived, so if you're unable to tune in live, you can catch up afterwards.

Tickets for overseas fans go on sale tomorrow (July 30) at 10:00 (JST).

Information

SCANDAL WORLD TOUR 2020 "Kiss from the darkness" Livestream

Japan

Date: August 21, 2020

Time: 19:00 (JST) *Subject to change
Price: ¥3,000
Buy Ticket: https://eplus.jp/821/scandal/

Overseas
Date: August 21, 2020
Time: 19:00 (JST) / 3:00 (PDT) / 6:00 (EDT) / 11:00 (UK)
Ticket Price: $30
Ticket Release Date: July 30, 2020 at 10:00 (JST)
Buy Ticket: https://livefrom.events/scandal

*This livestream will be archived

SCANDAL Official Website: https://www.scandal-4.com/

SCANDAL Release New Song 'SPICE' & Short Anime 'XPICE'

Japanese pop-rock band SCANDAL released their new single SPICE on music streaming and download services today (July 15). The song will be used as the theme song for the original anime short XPICE which is set to premiere on YouTube today at 19:00 (JST).

XPICE is the first entry to XFLAG's™ cross creative project series which was launched to collaborate with and harness the talents and strengths of creators and artists both inside and outside XFLAG to create unique works.

Fans located in Tokyo between July 23 and August 31 should head to FEEDBACK Shibuya, an apparel brand shop produced by SCANDAL, where they can win a selection of gacha prizes as pictured above including an XFLAG x XPICE poster. Some of the posters will be signed by the band members.

SCANDAL will hold a special live stream on August 21, 2020—the date of the bands 14th anniversary. They are scheduled to perform their new song SPICE, so make sure to tune in. More details here.

SCANDAL | Comment

"This animation doesn't have any talking in it, so we made sure to emphasise parts of the song and its message in our lyrics and the melody when writing it. We hope the people of the world enjoy it together with the animation!" *Translated from Japanese by MMN

Information

SPICE
Release Date: July 15, 2020

*Available on the following digital music services: Apple Music, LINE MUSIC, Amazon Music Unlimited, AWA, KKBOX, Rakuten Music, RecMusic, Spotify, YouTube Music

Commemoration Talk Show Livestream

Date and Time: July 15, 2020 from 6:30pm (JST)

YouTube Link: https://youtu.be/4AY5DYaTx3k
*The livestream will take place on SCANDAL's official YouTube channel

SCANDAL Official Website: https://www.scandal-4.com/

XPICE
Special Edition Website: https://xpice-project.com/

SCANDAL WORLD TOUR 2020 "Kiss from the darkness" Livestream

Date: August 21, 2020

Time: From 19:00 (JST) (Subject to change)

Ticket Price: ¥3,000

Ticket Release Date: From May 27, 2020 at 22:00 (JST)

Buy Tickets: https://eplus.jp/821/scandal/

SCANDAL To Celebrate XSPICE Anime Project Release with a Livestream Talk Show

Japanese rock band SCANDAL, is set to release their new song SPICE as a digital single on July 15, 2020. The release of the song is going to be commemorated on a special talk show.

The song was written for XFLAG's™ cross creative project series. The first project, which is called XPICE, is an original short animation that will be posted on the official YouTube channel of XFLAG ANIME at 7pm on July 15, 2020. From 6:30pm just before the video goes live, SCANDAL will livestream a commemoration talk show on their official YouTube channel.

The live talk show will see SCANDAL explaining what SPICE is all about. The audience will be taken behind the scenes to find out how the themes, setting and characters were created. SCANDAL will also be joined by special guests Hiroaki Kato and Tsubasa Nakai, who are key figures on the animation side of the project. Hiroaki Kato from mixi, Inc. is both the producer and creative director of the project while Tsubasa Nakai from Marza Animation Planet Inc. worked on the staging and animation, pulling together all the small details and directing the outstanding CG animation graphics.

The talk show is an exciting opportunity to see how SCANDAL's song collided with XSPICE to create a breathtaking audio and visual experience.

Information

SPICE
Release Date: July 15, 2020

*Available on the following digital music services: Apple Music, LINE MUSIC, Amazon Music Unlimited, AWA, KKBOX, Rakuten Music, RecMusic, Spotify, YouTube Music

Commemoration Talk Show Livestream

Date and Time: July 15, 2020 from 6:30pm (JST)

YouTube Link: https://youtu.be/4AY5DYaTx3k
*The livestream will take place on SCANDAL's official YouTube channel

SCANDAL Official Website: https://www.scandal-4.com/

XPICE
Special Edition Website: https://xpice-project.com/

SCANDAL Write New Song 'SPICE' For XFLAG's Short Anime XPICE

The first entry to XFLAG's™ cross creative project series has been announced as XPICE, an original short animation that will be posted on the official YouTube channel of XFLAG ANIME.

The project was launched to collaborate with and harness the talents and strengths of creators and artists both inside and outside XFLAG to create unique works.

The first work to be released for the project is the short anime XPICE which was made in collaboration with the four-piece Japanese rock band SCANDAL who wrote the song SPICE for it. Courage and understanding, as well as fighting together, are themes of the anime short in which we see the heroes protecting the city from the throttle of the villains. We will get to witness the heroes in action and see them grow as individuals.

The animation was handled by Japan-based CG animation studio Marza Animation Planet who is known for working on the 2020 Sonic the Hedgehog film. Spooky Graphic are the creative team behind the concept art and character designs. The anime was also made using Unity, a popular developer tool used for making many different games.

The full anime will be posted on XFLAG ANIME's official YouTube channel on July 15. In the meantime, you can check out the teaser posted today below.

Information

XPICE
Official Website: https://xpice-project.com/

SPICE

Release Date: July 15, 2020

Lyrics: RINA / Composition: MAMI / Arrangement: Keita Kawaguchi
*Will be released on all major music download and streaming services including Spotify, iTunes Store, Apple Music, YouTube Music, etc.

SCANDAL Premieres Remote Video Filmed at Home On YouTube For New Song 'Living in the city'

SCANDAL released their new single Living in the city digitally on June 3, 2020. It is the first ever song to be recorded by the band at home.

The song was originally written and composed by SCANDAL bassist TOMOMI during the writing of their latest album Kiss from the darkness which dropped back in February. It's a mellow track that captures an ordinary day in Tokyo. TOMOMI commented that she feels the song will have bigger implications now during the lockdown to when the band wrote the track.

SCANDAL premiered a new remote video for Living in the city which showcases their lives at home during the lockdown.リ

SCANDAL – "Living in the city" Remote Video (Short ver.)

Tickets are also now available for SCANDAL's upcoming livestream performance set for August 21, 2020. The livestream comes in response to the cancellation of all dates of SCANDAL WORLD TOUR 2020 "Kiss from the darkness".

 

TOMOMI | Comment

This song is about an ordinary day living in Tokyo. Tokyo is a city where it feels like if all the switches are always turned off, you'll end up swallowed by a sense of isolation. It's become a place where after 10 years of moving here, I want to say, "I'm home" [when I return]. A lot of the things that have made me who I am today can be found in the ordinary days spend living here. When I realised that, I found myself fallen in love with the place, and I got set to work in encasing those feelings into a song.

When I wrote this song, I never imagined we'd be releasing it at a time like this, but I feel like that now we've begun living a new lifestyle staying at home, this song will have different and much bigger implications to when I wrote it. It helps us rethink how much we really loved those days we took for granted.

We decided to release the song during the midst of our new stay-at-home lives, and so for the first time ever we recorded it all at our homes, and made a remote video to go with it. I hope you enjoy the song as well as seeing the band members in their homes.

SCANDAL Announce 'Kiss from the darkness' Live Stream as World Tour is Cancelled

All planned dates of SCANDAL's world tour SCANDAL WORLD TOUR 2020 "Kiss from the darkness" have unfortunately been cancelled in response to the novel coronavirus (COVID-19).

The band and staff had previously considered postponing the tour, but due to new announcements being released everyday on lockdown measures, as well as restrictions being placed on indoor events, it became difficult to predict how everything would unfold throughout the year, and so it was decided that the tour be cancelled. Information on ticket refunds till be announced at a later date.

However, not all is lost as SCANDAL has announced that they will perform on a special live stream on August 21, 2020—the date of the bands 14th anniversary. Check the details below and SCANDAL's official website for more information.

Information

SCANDAL WORLD TOUR 2020 "Kiss from the darkness" Livestream

Date: August 21, 2020

Time: From 19:00 (JST) (Subject to change)

Ticket Price: ¥3,000

Ticket Release Date: From May 27, 2020 at 22:00 (JST)

Buy Tickets: https://eplus.jp/821/scandal/

SCANDAL Official Website: https://www.scandal-4.com/

SCANDAL Record New Song 'Living in the city' at Home With TOMOMI On Vocals

SCANDAL have announced that their new song Living in the city will be released digitally on June 3, 2020.

The song was originally written and composed by SCANDAL bassist TOMOMI during the writing of their latest album Kiss from the darkness which dropped back in February. It's a mellow track that captures an ordinary day in Tokyo. It's the first song by SCANDAL to be recorded at home and aims to bring "new implications" to those who listen to it.

SCANDAL – "Living in the city" Official Audio

A short version of the track can be heard on SCANDAL's official YouTube channel ahead of the full release.

Information

Living in the city
Release Date: June 3, 2020

*Will be released on all major music download and streaming services including iTunes, Spotify, Apple Music, and elsewhere.

SCANDAL WORLD TOUR 2020 "Kiss from the darkness"
2020/9/4 @ YOYO – Palais de Tokyo, Paris
2020/9/6 @ O2 Academy Islington, London
2020/9/9 @ Musik & Frieden, Berlin
2020/9/17 @ HOUSE OF BLUES, Anaheim
2020/9/19 @ Canton Hall, Dallas
2020/9/21 @ The Masquerade, Atlanta
2020/9/23 @ Queen Elizabeth Theater, Toronto

and more TBA

SCANDAL Official Website: http://www.scandal-4.com/