In 2016, SCANDAL toasted to ten years since their formation, and this autumn, they will celebrate their 10th anniversary since their major debut. The band released their eighth album HONEY this month which peaked at number one on Japan's iTunes album charts on the day of release and ranked number one in the iTunes J-pop charts across the globe including Hong Kong, Thailand, Singapore, Malaysia and Peru. Last year, 3 of the band members – Haruna (Vocals/Guitar), Mami (Guitar/Vocals) and Tomomi (Bass/Vocals) – became the first Japanese female artists to sign an endorsement agreement with Fender. It is evident for all to see that SCANDAL are building and fortifying their career as an all-girls band representing Japan in both name and reality. This is part two of the interview, in which the four members look back at their overseas activity and told various stories from their perspective as an all-female band.
Interview & Text: Mami Naruta / Translation: Joshua Kitosi-Isanga
—
■"We want to be cool so our listeners throughout the world can be proud"
――When SCANDAL head out across the globe, "Japan's representative girl band" really is an is appropriate catchphrase in reality and in name.
Rina (Drums / Vocals): We're not quite there yet. But that makes me happy.
Mami (Guitar / Vocals): But if we're asked whether we're placing focus on our overseas activities, that's not the case. It's just the way things pan out. We go with it without intending to separate Japan and everywhere else. It isn't the case that from the beginning we were conscious of wanting to become Japan's representative girl band or become popular overseas, so to have that said to us now makes me really happy.
Rina: I have an increased awareness for us to be cool so that people think to themselves things like "I'm glad I supported them" and "I, who support SCANDAL, love who I am" for the very fact that we have listeners all around the world. I've taken in the fact that lots of different people listen to us, so I've truly come to think that I don't want to let the fans down. I want to live cool, so much so that listening to SCANDAL's music becomes people's confidence.
Haruna (Vocals / Guitar): Yeah. We've done this for twelve years, so I want to have confidence in that.
Rina: I feel that our fans' minds are the same regardless of what country they're from. I haven't asked each of them individually, but when I look at things like the atmosphere in a venue, although people's ages, gender, race and religion are different, I really feel that everyone holds the same mindset. I think that's where the world ties together.
Haruna: Overseas fans come to our tours in Japan, and vice versa Japanese fans come when we play overseas. I'm happy that there's an interaction.
Tomomi (Bass / Vocals): There's an unofficial international fan club called "SCANDAL HEAVEN." Groups of people on there from each country get together and post photos of themselves eating together on social media.
――Fans that have transcended national borders and connected through your music have left a happy impression on you, haven't they? Also, I think within the female band scene, you have your own unique values.
Rina: I think girl bands are accepted as one part of Japanese culture. There are very few girl bands overseas. It seems difficult for them to last a long time. I hear stories of bands disbanding soon after their debut. That's why, in contrast with us who've been together for 12 years, there's a lot of people interested in what a long-lasting girl band is like. There are people who feel culture and appeal in our existence, so I've felt we've moved forward.
――It's true when you mention overseas girl bands. Nothing springs to mind immediately…
Rina: If we're talking recently then HiNDS are really cool, and they have a unique feel that I find great. If the number of girl bands increases from country to country, the music scene will become more exciting. I'd like to support them.
■"Japanese girls are skilled at creating their own personal 'cute'"
――By the way, what do each of you find to be the charm point of Japanese girls?
Rina: They're allowed to mix together the things they like. They're skilled at creating their own personal "cute." Even ordinary school girls. They create a world that they love on their Instagram pages, don't they? This is found in Kyary Pamyu Pamyu's style too, but for example, adding a little spice to something that isn't just cute. Their ability to self-produce is strong.
Haruna: Everybody knows what suits them. Whether it's make-up or different fashion styles, they skilfully incorporate what looks good on them and create something original. I think that's wonderful.
Rina: In our recent album HONEY too, I think we've been able to create songs that mix together sweet and bitter. The album is centred around songs we wrote in 2017. This time we reconsidered "Japanese rock" while keeping them sung in Japanese, so when people overseas have listened to it, I think they'll see it's a record that conveys today's Japanese girl rock. In that sense, I think we've created an album that compiles 10 years of a SCANDAL that has taken influence from many things, sweet and bitter.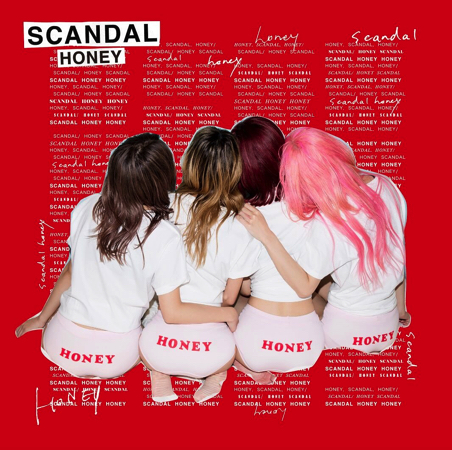 ――In 2017 you released your 10-year anniversary greatest hits album, toured Japan's 47 prefectures and went on your first taiban* tour. It was a substantial year for you.
Rina: Last year we put on tough, masculine-like performances, which made us wonder what kind of songs a girl band should perform. It was a period where we re-evaluated things like our position and status. We had strong thoughts that "We're girls, so we really should be doing the kind of rock that girls can do, otherwise it's not interesting," especially during our taiban tour.
[*Translator's Note: A taiban is a concert where several bands perform.]
――The bands that joined you at the taiban were UNISON SQUARE GARDEN, 04 Limited Sazabys and BLUE ENCOUNT, right?
Rina: We toured with 3 big bands at that festival, so it was something I mulled over. So I think we've been able to create an album that shakes off those thoughts in a girly way.
――Your album cover was produced by AMIAYA, twins who are active in Tokyo as fashion icons. How did that collaboration come about?
Tomomi: We've actually been close with AMIAYA ever since we were introduced to them by Mizuki (Masuda) of [music group] Negoto. We knew that the album contained a lot of personal things. It's filled with events that have happened in our daily lives, our favourite words, smells, colours and things like that. It came about because we thought since the album is so personal, it would be good if we made it together with a close friend. We were also crazy about how perfect the album colour and AMIAYA's character went together.
――All things considered, I think that how you're all able to write your songs together is really your strong point as a band.
Rina: Hehehe (laughs). The four of us are individuals so songs are born left, right and centre, but when performing as a band, they become SCANDAL's songs. It's strange, isn't it? Even though we do it together we never grow tired, and even now my heart is always racing. I think right now is the most fun time ever.
■SCANDAL recommend their favourite spots around Tokyo
――You've just released your new album. What mode is SCANDAL in right now?
Rina: We've once again been able to create something that shakes free the kind of rock that seems good, in 2018, the 10th anniversary of our major debut, so the sense of accomplishment having completed HONEY is amazing (laughs). We're taking this album on a hall tour, our first in three years, so I hope to put on the best performance we can now.
Haruna: We also have an Asia tour after our tour in Japan! We didn't have an overseas tour last year, so this time we're going to the Philippines and China for the first time. I'm really excited. We've received messages on Twitter for years of people saying "Please come to the Philippines," so we're finally going. I think they'll be fully charged for us (laughs).
Rina: Asia have welcomed us with a "Come back!" so we're always at ease there! Fans bring along their friends to the airport. I get the feeling the number of new people increases every time.
Mami: Yeah. There might even be places where the audience has completely changed. I'm interested to see how people will listen to this album.
――To wrap up, can each of you recommend some spots in Tokyo?
Tomomi: When my friend visits from my home town, we've boarded the Yakatabune at Sumida River several times. You can eat traditional Japanese food like tempura, and you can see places like Odaiba and Skytree in one go while you go down the river. It was so much fun. I recommend that course!
Mami: If you're coming for a good time during spring's cherry blossom season, then how about Shinjuku Gyoen or Meguro River? Since I don't think you can easily see cherry trees lined up like that overseas. It's not something flashy or gaudy, and this is a simple way to look at things, but you can kind of feel Japan with just one glance of them. It might be fun to visit and have fun enjoying the four seasons.
Haruna: As for me, I've been filling up by goshuincho*. For foreigners, it's kind of like a stamp rally? Well, it's not as simple as that, but I think if you've made the effort to come to Japan it could be fun to spend your time doing it. I started by purchasing a goshuincho at Sensō-ji. If you go to Sensō-ji, you also have Nakamise-dori just before you reach the temple which is a lot of fun. You can enjoy the so-called essence of Japan.
[*Translator's Note: A goshuincho is a book used for collecting goshuin, which are stamps or seals you can receive when you visit temples and shrines in Japan. Each place has their own unique stamp.]
Rina: For me… Tower Records in Shibuya. CD shops are dying overseas. I think Japan has the most CD shops in the world, but out of them all I think that's the biggest. They have everything there. I see photos people have taken that have come from overseas of the Tower Records building, and I think to myself "so that's how they view it."
――Even when you actually look at things like the stock and floorspace, it's the world's biggest CD retail store.
Rina: It's true. It's a valuable place. There's a documentary movie called "ALL THINGS MUST PASS" that covers the history of Tower Records. After I watched it I went to Tower Records in Shibuya and was really moved! I don't know what the future has in store for record shops, so I hope people enjoy it while it's there. It's the coolest CD shop.