Coca-Cola collaboration stamp bottles to be released! unBORDE members Kyary to attend the commemoration event
Helping 'sensitive to the times' and 'edgy', unique artists aiming to not only spread their music across Japan but also overseas, the sublabel unBORDE of Warner Music Japan was established on 21st December 2010.
With the powerful unBORDE X Coca-Cola collaboration tag, a variety of 5 year commemoration projects have been established and put into action, such as a record label festival and the 12 artist super-group 'unBORDE all stars' collaboration song. Besides this, there is a lot more being planned and developed!
From Monday 28th March, the long-awaited Coca-Cola collaboration stamp bottles will be available for sale! This special commemoration event sale will include a total variety of 12 different stamp designs of uniquely designed expressions to relay feelings on a total variety of 44 different stamp bottles.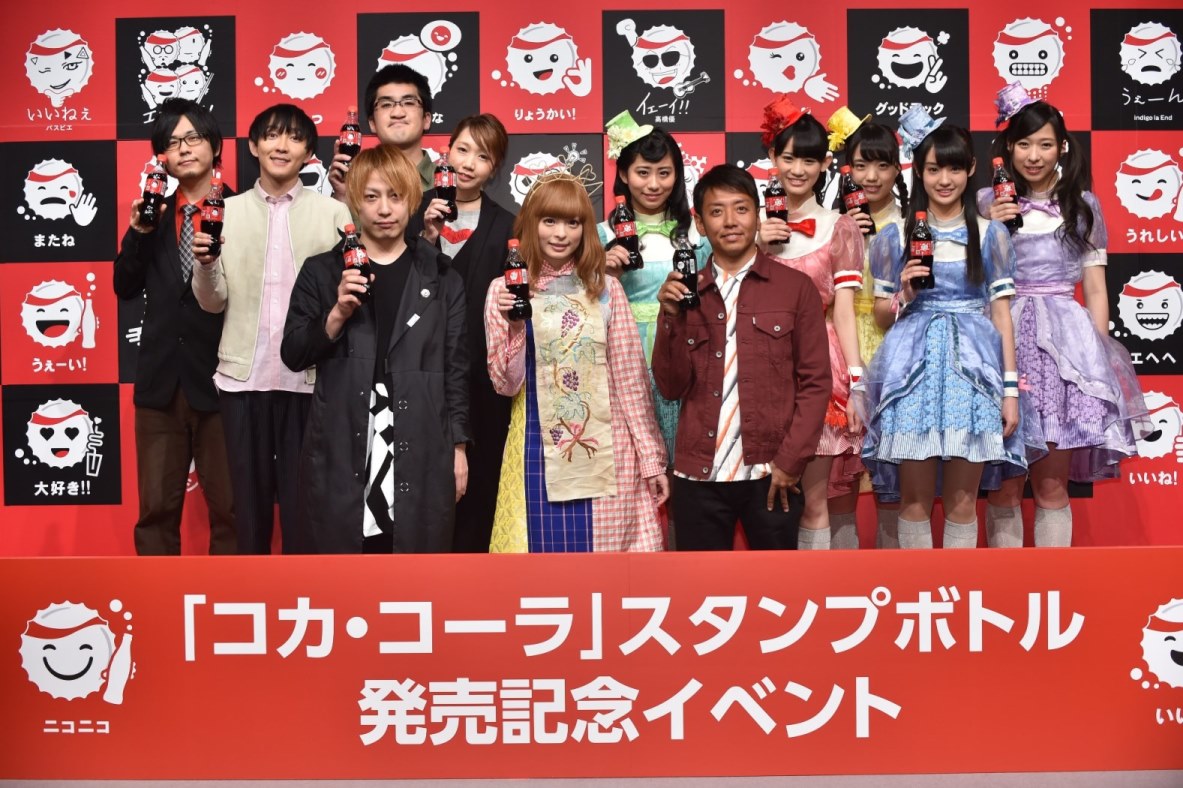 At the sales event, representing the unBORDE members will be Kyary Pamyu Pamyu, Yasutaka Nakata, (CAPSULE), PES (RIP SLYME), Shinsei Kamattechan and Team Syachihoko. The new Coca-Cola stamp bottle TV commercial featuring Kyary Pamyu Pamyu will also be aired from this day.
The commercial shows Kyary facing difficulty during a performance rehearsal, where she attempts to twirl a stick for a dance routine but drops it numerous times. As the commercial uses Kyary's new 5-year commemoration song 'Sai & Ko' (available for purchase from 20th April), a link was made between the commercial storyline and the lyrics of the song. Gratitude for continuous loyal support from fans runs through the commercial as its main message.
Fans have more to look forward to with Kyary's own collaboration Coca-Cola stamp 'Kya!' (きゃっ). The design features a face with pronounced fake eyelashes, with a cute 'little girl' vibe. The significance behind this stamp is to express that there are times when people cannot face reality or have to face something unexpected, and so it is often the case that people hide away their true feelings and become shy, closing themselves off. However, this stamp's hidden meaning is to maintain your cuteness and be able to let your thoughts and feelings flow ー don't hold back your words and most of all, let everything go and have fun!
Additionally, as this is the debut 5th year commemoration, a stamp message expressing gratitude for all the fans and staff members who have been part of the support community for the past 5 years, and hoping to strengthen further their continuous relationship with supporters into the future, has also been made.
Yasutaka Nakata (CAPSULE), who arranged unBORDE's 5th year commemoration song and lyricist PES (RIP SLYME) will also make an appearance at the commemoration event. Drinking Coca-Cola on a normal day and then, for an instant, filling yourself with a special feeling is a unique concept which made the foundations for the 'Taste the Feeling' campaign. This message makes the inspiration for the song 'Feel' and the combination with the 12 artists joining forces to sing together makes it that bit more special.
"Using the key phrase 'Taste the Feeling' as the core of the song, I established the centre focus of the lyrics for PES. At the end of the song 'Feel', the unBORDE super group members were allowed to each sing as they pleased, along with background chat added towards the end of the song. It was at this point in the song that I couldn't have been more pleased about making this musical piece. The great feeling of accomplishment was overflowing — to know that everyone who took part really enjoyed themselves. I think that this song really relayed the great feelings of enjoyment that everybody was feeling, too" explained Yasutaka Nakata.
When asked "at what times or on what occasions would you like to listen to this song?" PES replied "As this song uses Coca-Cola as its main symbol, creating the imagery of fun times and happiness, I would listen to it when the atmosphere is lively and bursting with excitement, such as at a party. However, Yasutaka Nakata had a different answer; "When I'm feeling down, I would listen to this song. Listening to the happiness and joyfulness reflected in this song will be enough to pick up my feelings when they are down. Even when the song is finished, I want people to say "I wanna hear it again!" because that would make me really happy."
Scan the QR code on the new Coca-Cola stamp bottles to reach a sample recording of the special version of 'Feel'. The 12 artist groups totalling to 41 musical individuals will, together on 10th April, perfom at Makuhari Messe event hall, where unBORDE's 5 year commemoration event 'Coca-Cola presents unBORDE 5th Anniversary Fes 2016's  first live announcment is planned!
Furthermore, the artists' collaboration stamps are also available for free on LINE! Please visit Coca-cola's official site: http://www.cocacola.jp/
RELATED ENTRIES
Kyary Pamyu Pamyu Features in Summer Promotional Poster For Shiseido Beauty Square in Harajuku

A new summer key visual was released on July 10, 2020 for Shiseido Beauty Square, a beauty facility in front of Harajuku Station, featuring Kyary Pamyu Pamyu, who is an ambassador for the establishment.

Beauty Square's concept aims to have people discovering their beauty, having fun, sharing experiences, and learning the latest in the scene. Visitors will be able to purchase cosmetics and makeup products, participate in interactive digital content, experience the salon where hair and makeup artists will beauty up customers, and more. Focused on younger customers, Beauty Square is a place to find your inner beauty, and what better place to do it than in Harajuku—Tokyo's hub for youth fashion, beauty, and culture?

The new key visual conceives Harajuku's night sky lit up by bright and vivid fireworks, with Kyary's hair and makeup an expression of the balance and harmony of beauty. Kyary Pamyu Pamyu conveys the sense of beauty and transience of Japanese fireworks and a midsummer night's dream. Kyary will continue to collaborate with "Beauty Diversity" focused company Shiseido's top hair and makeup artist Tadashi Harada on a variety of beauty projects that will stimulate people's curiosity when it comes to beauty.

Information

Beauty Square
Opened: June 18, 2020

Address: WITH HARAJUKU Floor 1F, 1-14-30 Jingumae, Shibuya, Tokyo

Opening Hours: 11:00-20:00

No Fixed Holidays
TEL: 03-5413-7717

Official Website: https://beautysquare.tokyo/

*Website available in English, Japanese, and Chinese

Yasutaka Nakata's Main Unit CAPSULE Set To Digitally Release All Albums

Music unit CAPSULE, which was formed by world-famous producer Yasutaka Nakata, is releasing all their albums on Apple Music and other worldwide music streaming services from July 10, 2020.

After debuting in 2001, Yasutaka Nakata has gone on to release 17 albums with CAPSULE and three albums in partnership with model Kate Sakai as the music unit COLTEMONIKHA. Nakata also produced albums for the soundtrack to the sensational drama Liar Game in which Shota Matsuda played the main role. All the above albums will also be released on subscription services.

This is just what fans across the world have been waiting for. As CAPSULE will be celebrating their 20th anniversary next year, make sure to check out their playlists.

Information

Release: July 10, 2020 from 12:00 AM

Available On: Apple Music, AWA, Spotify, Amazon Music, LINE Music (and more)

CAPSULE Official Website: http://www.capsule-official.com/

Kyary Pamyu Pamyu's 'Ninja Re Bang Bang Steve Aoki Remix' Gets Picked Up in Playlists Worldwide

Kyary Pamyu Pamyu's new release Ninja Re Bang Bang Steve Aoki Remix hit download and streaming services on June 25 (June 24 local time in Europe and the US). The track was released from twice Grammy nominated international celebrity DJ Steve Aoki's label Dim Mak as well as the prominent label Smash the House which plays host to the Belgian dance music festival Tomorrowland.


This song is the first from a Japanese female artist to be released from these two international music labels. Right now, the track is enjoying much attention across major music streaming services, making it onto popular playlists including the 'Tomorrowland Official Playlist' which boasts 1.2 million followers, as well as 'Friday Cratediggers' which is a collection of weekly dance and electronic music picked up by producer, DJ, and remixer Bassboy. Kyary has also featured as the profile picture on Electropolis, which curates artists at the forefront of Japan's dance music scene, and Kira Kira Pop Japan, which brings together pop numbers in Japan that are able to develop independently from ordinary pop music.

Moreover, the remix was released as part of Kyary Pamyu Pamyu's collaboration with the Nintendo Switch™️ title Ninjala. As of June 30, Ninjala has already sold over 2 million copies. Future in-game collaborations are also set to be held with Kyary.

Spotify Playlist Links (Excerpt)

Tomorrowland Official Playlist

Steve Aoki's Neon Future Playlist

Kyary Pamyu Pamyu's 'Ninja Re Bang Bang' Remixed by Steve Aoki For Nintendo Switch's Ninjala

Kyary Pamyu Pamyu's hit song Ninja Re Bang Bang was remixed by twice Grammy Award-nominated DJ Steve Aoki. Titled Ninja Re Bang Bang Steve Aoki Remix, the song was released worldwide today across digital and streaming music services.

The song was released in the US from Steve Aoki's label Dim Mak as well as the prominent label Smash the House which plays host to the Belgian dance music festival Tomorrowland. That makes Kyary for the first Japanese female artists to have a release from both of these international labels.

Steve Aoki's remix of Ninja Re Bang Bang was released as part of Kyary Pamyu Pamyu's collaboration with the new video game Ninjala which was released worldwide on Nintendo Switch™️ yesterday (June 24).

Steve commented: "I've always been a huge, huge fan of Kyary Pamyu Pamyu and her producer Yasutaka Nakata, so getting to work on this remix made me so happy. It really is an honour. It's a really great song, so working on it was a lot of fun for me."

"Ninjala" Commercial (feat. Ninja Re Bang Bang Remix)

As well as a commercial, a special Ninjala x Kyary Pamyu Pamyu mashup video was released to promote the game. The video below sees the Ninjala characters doing the famous Ninja Re Bang Bang choreography. Steve Aoki also makes an appearance.

Kyary Pamyu Pamyu x Ninjala – "Ninja Re Bang Bang Steve Aoki Remix" Mashup Video

As well as these two videos, future in-game collaborations are set to take place in Ninjala, so look forward to them.

Information

Ninja Re Bang Bang Steve Aoki Remix
Released: June 25, 2020
Distributed By: Japan: ASOBIMUSIC / USA: Dim Mak / Europe: Smash the House

Download/Stream Here: kppm.lnk.to/ninja

Kyary Pamyu Pamyu Steps Up As Harajuku's Beauty Square Ambassador

On June 18, WITH HARAJUKU, a shopping complex located in front of Harajuku Station, opened its Shiseido beauty facility "Beauty Square" on the first floor. To strike a chord with beauty-loving millennials across the country, Kyary Pamyu Pamyu has been appointed as the shop's ambassador. With "beauty diversity" as its main theme, Shiseido's top hair and makeup artist Tadashi Harada is also getting involved by launching a variety of beauty projects.

Harajuku Shiseido Beauty Square Ambassador Video:



Before the facility celebrated its grand opening, Kyary Pamyu Pamyu stepped through its doors, visiting the makeup counter and enjoying the fun interactive features such as the large LED screen located in the centre which displays endless videos.

The concept of Beauty Square is to become an interactive space to discover beauty, have fun, and share your experiences. Along with the sale of cosmetics, customers can enjoy digital interactive experiences to connect with the world of beauty or treat themselves to a makeover at the hair and makeup salon, which will glamour up your look in the bat of an eye.

From transforming your look to digital interaction, this is the perfect day out for fashion-lovers from all over the world.

Information

Beauty Square (Shiseido Beauty Square)
Open: June 18, 2020
Address: 1-14-30, Jingumae, Shibuya, Tokyo
Phone Number: 03-5413-7717 (Main Number)
Business Hours: 11:00 – 20:00 *Current business hours: 11:00 – 19:00
No Fixed Holidays

Official Website: https://beautysquare.tokyo/?rt_pr=trg20

Steve Aoki Remixes Kyary Pamyu Pamyu's Hit Song 'Ninja Re Bang Bang'

Famous DJ Steve Aoki has remixed Kary Pamyu Pamyu's hit song Ninja Re Bang Bang. The remix will be released worldwide simultaneously on June 25, 2020 (JST).

The new remix was created in collaboration with the heavily anticipated Nintendo Switch™ game Ninjala – the multiplayer action game where bubble gum is your primary weapon. The news of the remix was unveiled when Kyary Pamyu Pamyu took part in a guest stream to promote the game.

As the entire world is eagerly awaiting for the game to drop, the news of a collaboration with world-famous names Kyary Pamyu Pamyu and Steve Aoki has taken things to a whole new level. DJ Steve Aoki is a self-proclaimed fan of Kyary's producer Yasutaka Nakata and a keen gamer with his own e-sports team and deep knowledge and love for the gaming world. This is clearly the ultimate tag team.

Ninja Re Bang Bang Steve Aoki Remix will be released by Steve Aoki's label Dim Mak in America and Smash the House, famously known for being a host of the huge European festival Tomorrowland.

The album artwork has also been unveiled, revealing an illustration of Kyary Pamyu Pamyu and Steve Aoki sharing what seems to be the most unbreakable handshake ever imaginable. Their cartoon arms twist together, showing their confidence in each other. The artwork was created by Steve Nakamura, who has designed artwork for many of Kyary's albums.

From June 24, 2020, the new remix will feature as the ending theme song for the Ninjala cartoon anime which you can catch on Ninjala's official YouTube channel. The remix will also feature as the commercial song for Ninjala TV commercials which will be broadcasted across Japan from June 25.

For Steve Aoki, Kyary and Ninjala, the collaborations are only just getting started. Stay tuned as the trio release even more exciting contents together.

A Statement from Kyary Pamyu Pamyu

I'm so pleased to announce that world-famous DJ Steve Aoki has remixed my song Ninja Re Bang Bang, which was released seven years ago! Although many live concerts held overseas and even in Japan have been cancelled due to the coronavirus pandemic, I'm so happy that I can still deliver music and happiness to fans through Ninjala. The remix will feature on Ninjala's commercials and cartoon anime so please look forward to it!

©GungHo Online Entertainment, Inc. 

Information

Ninja Re Bang Bang Steve Aoki Remix
Release Date: June 25, 2020 (June 24 in Europe and America)

Release:
ASOBIMUSIC
Dim Mak (America)
Smash the House (Europe)

Kyaryu Pamyu Pamyu Official Website: http://kyary.asobisystem.com
Steve Aoki Official Website: http://www.steveaoki.com

Ninjala
Platform: Nintendo Switch™️
Release Date:
Download: June 25, 2020 (Subject to change)
Package Version: July 22, 2020 (Subject to change)
Languages: Japanese, English, French, Italian, German, Spanish, Chinese (Traditional/ Simplified), Korean (Subject to change)

Official Website: https://ninjalathegame.com/jp/

Beauty Square: Discover Your Inner Beauty at Harajuku's New Beauty Salon

Shiseido is set to open its new beauty salon Beauty Square inside WITH HARAJUKU on June 18, 2020. WITH HARAJUKU is a shopping centre located in front of Harajuku Station in Tokyo.

Beauty Square's concept aims to have people discovering their beauty, having fun, sharing experiences, and learning the latest in the scene. Visitors will be able to purchase cosmetics and makeup products, participate in interactive digital content, experience the salon where hair and makeup artists will beauty up customers, and more. Focused on younger customers, Beauty Square is a place to find your inner beauty, and what better place to do it than in Harajuku—Tokyo's hub for youth fashion, beauty, and culture?

Beauty Square is split into 4 separate zones: the Go-Live Zone, Brand Zone, Installation Zone, and Salon Zone. Let's take a look at each in detail.

Go-Live Zone

In this area, the real world and digital world collide: enormous LED screens and signs fill the area where a variety of content will be broadcast, like hair and makeup tips from the Salon Zone artists. Influencers will visit the Go-Live Zone everyday and stream live.

Brand Zone

Brand Zone is the shopping area of Beauty Square featuring a lineup of numerous Shiseido group brands, like Laura Mercier, SHISEIDO, SHISEIDO PROFESSIONAL, Dolce & Gabbana Beauty, NARS, bareMinerals, IPSA, Cle de Peau Beaute, THE GINZA, and more. The Brand Zone also offers a one-on-one counselling service carried out by beauty consultants.

Installation Zone

This is the entertainment space filled with immersive artistic content like towering LED screens, kinetic lights that move up and down, moving lights, as well a tie-up with the 3D avatar social media app ZEPETO for customers to interact with, and more. Events and pop-up shops will also open in this area.

Salon Zone

Makeup artists who honed their skills and craft at the hair and makeup academy and studio SABFA will be customers' one-on-on producers, carrying out personal hair and makeup styling. Talks will also be held.

The restaurant and lounge SHISEIDO PARLOUR THE HARAJUKU opened up on the 8th floor on June 16, 2020, where people from around the world can enjoy the traditional taste of SHISEIDO PARLOUR.

Japanese international superstar Kyary Pamyu Pamyu has also been appointed the ambassador f Beauty Square. She will be promoting beauty in various forms throughout the year with the theme "Beauty Diversity."

Information

Beauty Square
Grand Opening: June 18, 2020

Address: WITH HARAJUKU Floor 1F, 1-14-30 Jingumae, Shibuya, Tokyo

Opening Hours: 11:00-20:00

No Fixed Holidays
TEL: 03-5413-7717

Official Website: https://beautysquare.tokyo/

*Website available in English, Japanese, and Chinese

Kyary Pamyu Pamyu to Feature in First Nintendo Switch Ninjala Live Stream

Ninjala is an upcoming multiplayer action game set to release worldwide on the Nintendo Switch™ on June 24, 2020. The first ever live stream of the game is set to broadcast on the official Ninjala YouTube channel on June 18, 2020.

In the world of Ninjala, players blow bubble gum to craft different weapons and fight using the fighting style of ninjutsu. Players can also transform into nearby objects, and they must use parkour to traverse different landscapes while aiming to take down their opponents.

The first guest of the first official live stream is none other than Japanese pop star Kyary Pamyu Pamyu who will play the game. The live stream will take place on YouTube and Twitch. Look forward to seeing the game in action, as well as seeing how well Kyary can do!

The 5th Ninjala dev diary was also released on June 9 where the developers reflected on the second open beta test that as well as well as introduce two new weapons that haven't been seen before: the Scroll Blade and Drum Beat. Check out the full video below.


Don't miss Kyary Pamyu Pamyu play Ninjala live next Thursday (June 18).

© GungHo Online Entertainment, Inc.

Dance With Kyary Pamyu Pamyu in Her New TikTok Dance Challenge

On Saturday, Kyary Pamyu Pamyu announced a hashtag challenge on TikTok via her official account for her new song KAMAITACHI which is set to run from May 1, 2020 at 12:00 (JST) to May 4, 2020 at 12:00 (JST).

Kyary invites fans to use the duet function to and dance the choreography from her new song KAMAITACHI. The hashtag for this challenge is #この糸は切れない, which translates to "this thread can't be cut," a reference to her music video for the track in which the characters she plays are bound by fate, represented by them being tied by the fingers with string.

TikTok Duets enables users to line their video up side by side with another's video. For this #この糸は切れない challenge, Kyary and fans can feel connected together through the dance and using the string. Even if they cannot meet as a result of the lockdown, they can dance together on TikTok.

Kyary has posted a video on TikTok to show us how to do the dance, so copy her and make your own duet. Select videos that are posted will also be officially liked by Kyary via her official TikTok account.

Get involved and brighten your day a little while you're cooped up at home. Check below for full details on participating.

Information

How to Participate
Pattern ①: Dance duet with Kyary!
Post a dance duet using Kyary Pamyu Pamyu's video (tap the Share button in the bottom right and select Duet)
Kyary's Video: https://vt.tiktok.com/hPu68y/

Pattern ②: You be the instigator of a duet!
Post your own solo dance video and have everyone duet with you.

Pattern ③: Duet with lots of different people!
Duet together with other people's videos and create a long connecting string with everyone. Your dance video might even cross the ocean and reach those in faraway places around the world.

Hashtags:#この糸は切れない #StayHome #おうちASOBI

#この糸は切れない Challenge
Running: May 1, 2020 at 12:00 (JST) to May 4, 2020 at 12:00 (JST)
Kyary Pamyu Pamyu on TikTok: https://www.tiktok.com/@kyary_offcial

Kyary Pamyu Pamyu – "KAMAITACHI" (Lyrics/Composition: Yasutaka Nakata)

Stream/download here: https://kppm.lnk.to/kamaitachi

Kyary Pamyu Pamyu Releases 'KAMAITACHI' Music Video & Announces TikTok Live Stream

Kyary Pamyu Pamyu's new song KAMAITACHI finally dropped today on April 24, 2020 at 00:00 across all major music streaming services, including Spotify.

Kyary also premiered the music video on YouTube in line with the song's release. It's a must-see for fans, especially if you've ever wondered what Kyary would look like as a bald priest! Popular Japanese comedy duo Kamaitachiーwhose stage names happen to be the same as Kyary's new trackーalso make a cute appearance wearing SFX makeup.

Kyary also took part in responding to fans' comments in the live chat box for the premiere. They commented things like, "You're even cute as a monk" and "You shaved it all off!" to which she responded, "It's just SFX makeup!"

Japanese fans were also entertained by comedy duo Kamaitachi turning into Kamaitachi themselves.

KYARY PAMYU PAMYU – KAMAITACHI (Music Video)

A bonus video was also posted showing how they created the makeup for Kamaitachi as well as the duo shooting their scenes. Another making-of video is scheduled to be posted on April 25 at 12:00 (JST) showing Kyary recording her scenes.

Making Video (Kamaitachi ver.)

Kyary is set to live stream on TikTok on April 25 at 20:00 (JST) to commemorate the release of her new track. She will talk about the song itself, show fans how to do the dance, and comment to fans in real time. Don't miss out – follow her on TikTok below.

Kyary Pamyu Pamyu's Official TikTok account.

*Please note that "TikTok Live" is not yet an official function on the TikTok app. This live stream will be limited in some aspects.

Kyary Pamyu Pamyu Teases New Song 'KAMAITACHI' With Three Teaser Videos

Kyary Pamyu Pamyu just announced on her Instagram Live that her new song KAMAITACHI will be released across all major music streaming services on April 24, 2020 at 00:00 (JST). Kyary also announced that the song's music video will premiere on YouTube on the same day and at the same time.

KAMAITACHI was written by Yasutaka Nakata and sees the worlds of the oriental and fantasy come together through Kyary's unique lens. It's a song of puppy love laced with sad lyrics that echo against a bright springtime melody.

Fans joined Kyary Pamyu Pamyu at home on her Instagram Live where they listened to her new song 'KAMAITAICHI' together with her. She teased them with some of the track's choreography, as well as spoke about the production of the music video.

In the run up to the music video's release, teaser videos will also be posted over the next three days, starting from today on April 20. Who on earth could the two mysterious figures in the teasers be!? Be sure to tune in every day for the teasers in the run up to the official release.

Kyary will be reading and commenting in the chat when the video premieres too, so be sure to tune in and watch it together with her.

Kyary is also set to host another Instagram Live stream just before the music video's release on April 23, 2020.

Kyary Pamyu Pamyu – "KAMAITACHI" YouTube Premiere


*YouTube Premieres is a feature that lets viewers watch and experience a new video together at the same time, much like a movie or TV show premiere. Viewers and the channel owner can type in the chat box in real time for free while the video plays.

Kyary Pamyu Pamyu, ONE OK ROCK & Other Japanese Artists to Watch Live On YouTube During the Lockdown

With the world on lockdown as a result of the COVID-19 pandemic outbreak, everybody is cooped up indoors and spending time at home. If you're looking for something new to watch or listen to, then we've got you covered. MOSHI MOSHI NIPPON has compiled a list of 11 Japanese artists who have or are planning to post live footage of their full concerts and performances on YouTube.

The future looks uncertain as it is right now, so in the meantime let's find time to do the things we enjoy and stay positive as we get through this together.

ONE OK ROCK

ONE OK ROCK are set to premiere 6 of their past concerts on YouTube from 2014-2018. They will be the full performances with no cuts and will not be archived, so mark your calendars and be sure to tune in when they drop.

Full Details: https://www.moshimoshi-nippon.jp/313887

ONE OK ROCK's YouTube Channel: https://www.youtube.com/user/ONEOKROCKchannel

ARASHI

ARASHI has posted a full concert taken from his "untitled" tour which ran from November 2017 to January 2018. "Untitled" is the theme of the tour which looked towards ARASHI of the future. The stage set up and incredible performance are absolute must-sees.

ARASHI's Youtube Channel: https://www.youtube.com/channel/UCP7Gw_YZAuh4Yg2fcdcuumQ/

Kyary Pamyu Pamyu

Kyary Pamyu Pamyu is in the middle of posting 100 videos of her live performances which will be available to watch for a limited time between April 14 to May 17 this year. The videos are being released as a part of the at-home entertainment #ouchiasobi ("Play At Home") project launched by ASOBISYSTEM, the agency that Kyary is signed to. Now you can have fun too with Kyary by bringing her concerts into your home.

Full Details: https://www.moshimoshi-nippon.jp/313974

Kyary Pamyu Pamyu's Youtube Channel: https://www.youtube.com/kyarypamyupamyutv

AAA

AAA's performance at Saitama Super Arena was a highlight of their 2013 tourーa tour which took them to see 150,000 fans across Japan. The full show is now available to watch on YouTube until April 30, 2020 at 23:59 (JST), so be sure to check it out.

avex's Youtube Channel: https://www.youtube.com/user/avexnetwork/

RADWIMPS

RADWIMPS have posted some content from their recently-released live DVD and Blu-ray ANTI ANTI GENERATION TOUR 2019 onto their YouTube channel. Feel part of the crowd with the following thrilling performance.

Full Details: https://www.moshimoshi-nippon.jp/290378

RADWIMPS's Youtube Channel: https://www.youtube.com/user/radwimpsstaff/

Taichi Mukai

Taichi Mukai recently posted a video of his performance of his popular song Reset. The song was written as the first ending theme for the anime series Run with the Wind.

Taichi Mukai's Youtube Channel: https://www.youtube.com/user/0313taichi/

Official HIGE DANdism

Official HIGE DANdism's performance of I LOVE… at Pacifico Yokohama, which was held on February 10, 2020 as part of their "Travelers" tour, is available to listen to on Apple Music. This is another one that makes you feel part of the experience.

Apple Music "I LOVE…" Pacifico Yokohama (2020.02.10)

TK from Ling Tosite Sigure

TK posted a video on his YouTube channel of footage taken from his live performance at Landmark Studio in Yokohama. His live band line-up includes the familiar faces BOBO (Drums) and Sato Honoka (Violin) as well as Yoshida Ichiro Untouchable World (Bass) who was a support member for TK last year, Hiroko Sebu (Piano) who provided her piano playing on TK's single katharsis from last year, and Masao Watanabe (Cello).

Full Details: https://www.moshimoshi-nippon.jp/178674

Ling Tosite Sigure's YouTube Channel: https://www.youtube.com/user/sigureSMEJ/

amazarashi

amazarashi dropped a trailer last year for his live DVD and Blu-ray release Mirai ni Narenakatta Subete no Yoru ni. His self-cover of Long Hope Philiaーthe theme song of the anime film My Hero Academia: Two Heroes and fifth ending theme of the My Hero Academia anime seriesーis a must-see!

Full Details: https://www.moshimoshi-nippon.jp/270910

amazarashi's Youtube Channel: https://www.youtube.com/user/amazarashiSMEJ/

Suchmos

A live performance of Suchmos's hugely popular Mint. It features footage backstage from the band's tours across three years.

Full Details: https://www.moshimoshi-nippon.jp/207422

Suchmos's Youtube Channel: https://www.youtube.com/channel/UCQ3U5YJLWUr3VmQsO48jcQg/

Superfly

Here's a live music video of Superfly's song Kakusei, the theme for the anime movie Promare. The video uses live footage taken from Superfly's arena tour which incorporates gorgeous CG imagery.

Full Details: https://www.moshimoshi-nippon.jp/288707

Superfly's YouTube Channel:  https://www.youtube.com/user/superfly/