New 'Tales' Game Concept Trailer Features Original Music by Yasutaka Nakata
A concept trailer for the newest entry to the Tales video game franchise entitled Tales of Crestoria has been released and features original music by Yasutaka Nakata.
The Tales franchise is a series of fantasy role-playing video games developed by Bandai Namco that has shipped 16 million copies worldwide. The series first dropped in 1995 with Tales of Phantasia and since then has been sold in over 100 countries and regions.
Tales of Crestoria is a new game for smartphone. A concept teaser trailer and website have officially been made public.
The video is a thrilling collaboration with music producer Yasutaka Nakata that teases the start of a new adventure with an original protagonist.
Another version of the concept trailer was also released featuring the same scenes but from the protagonist's perspective. The 'Another Version' video is displayed vertically but can be viewed in full screen by accessing the official website via your smartphone.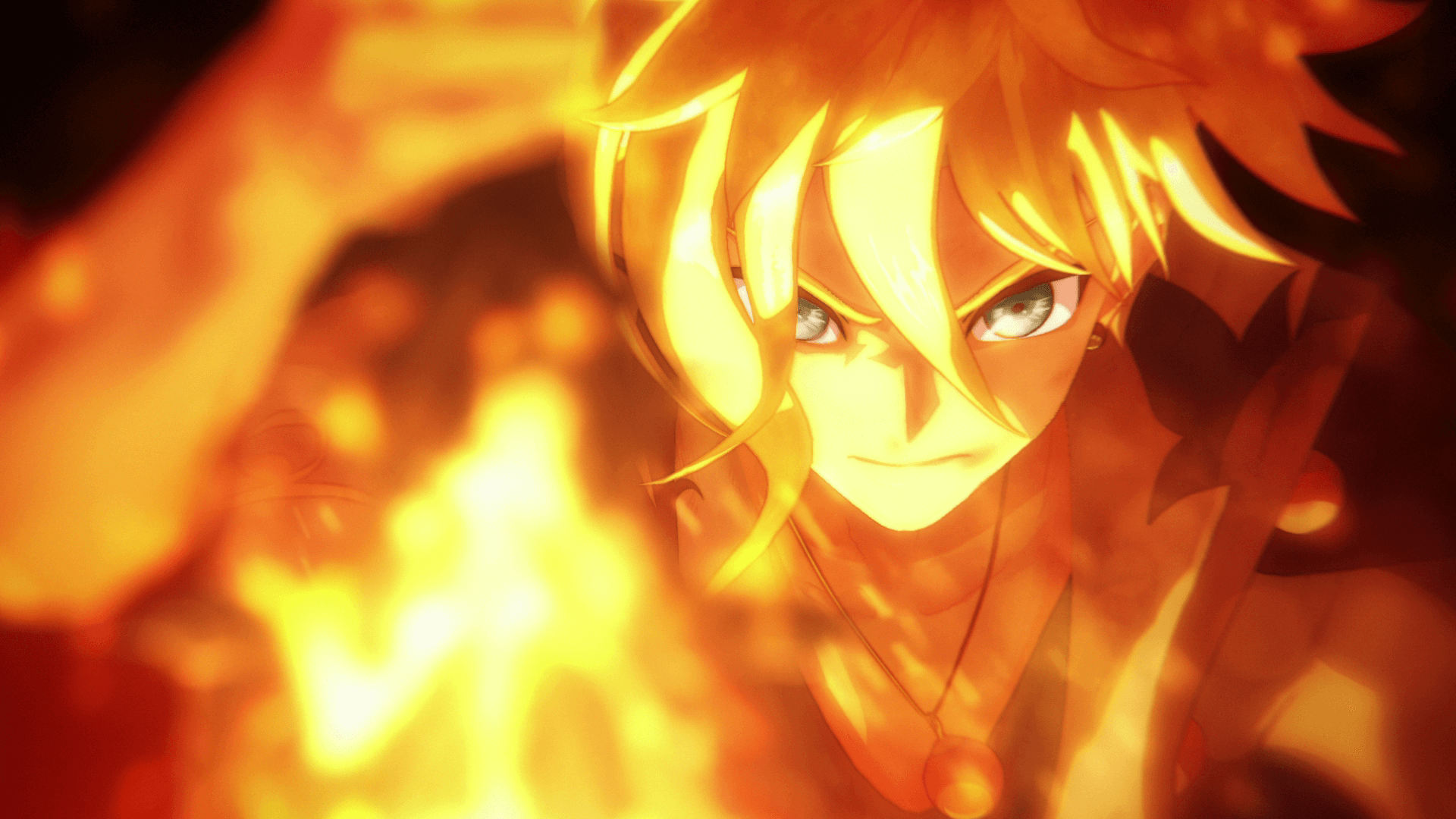 More information on the new title will be revealed via the series' Twitter page and LINE account, so be sure to keep up to date.
RELATED ENTRIES
Kyary Pamyu Pamyu Announces New Song 'KAMAITACHI' at Her Concert With Yasutaka Nakata

Kyary Pamyu Pamyu and Yasutaka Nakata performed a two-man show entitled "Yasutaka Nakata x Kyary Pamyu Pamyu Presents SPECIAL DJ & LIVE TOUR 2020 YSTK×KPP Vol.02" at Toyosu PIT in Tokyo tonight on February 21, 2020.

The background music provided before the start of the show was music that was like from a car game. As excited fans waited with bated breath, the PlayStation startup sound rang throughout the room, at which point Kyary shouted "Time to dance!" and appeared on stage together with Nakata. They opened the show with Invader Invader -Extended Mix-.

Dancers joined the stage next for Minna no Uta -Extended Mix- and PON PON PON. The audience responded with great pleasure to Nakata and Kyary's high-speed and ingenious song mashup. It was non-stop jumping and dancing as the performers continued to roll out more bangers like Enka Natrium, Ninja Re Bang Bang, and Mi, the bass grabbing hold of the crowd's heart at every moment.

When Kyary and Nakata's set reached its middle portion, they went full hardcore club mode as they performed Level Up from Nakata's solo album Digital Native. Things got crazy when they mashed Kyary's Fashion Monster into a trap beat with Star Wars as a Star Wars-style opening reel ran across the LED monitors.

They continued with a string of internationally-known pop songs, like Kyary's Tsukema Tsukeru and Sokenbicha no Uta, as well as Harajuku Iyahoi. The ever-changing set kept the crowd on their feet with its mix of live music and club music.

Kyary and Nakata weren't anywhere near finished yet however. They returned to mashup mode with Kyary's Cherry Bon Bonーa track from her early days with a Eurobeat soundーand performed a cover of AIAIAI, which Nakata wrote for virtual YouTuber Kizuna AI, during which Kizuna AI appeared as a hidden character.

The internationally iconic SEGA logo sound then rolled across the venue before Nakata and Kyary performed a special version of Ichibanka which Nakata wrote for Japanese reggae band Shōnan no Kaze. The song is used as the main theme for the PS4® game Yakuza: Like a Dragon which will be released worldwide this year. Kyary provided some cute "Soiya Soiya!" chants during the song.

In the last spurt, they rolled out the hit tunes Kizunami and Mondai Girl before wrapping up with Oto no Kuni. Kyary pulled fans into her "Japamyu" world while Yasutaka Nakata smashed out some 8-bit video game beats.

But fans needed more, and the call for an encore didn't die down. Kyary came out and said excitedly, "Thank you for the encore! Who'd've thought I'd sing some Shōnan no Kaze?! " She also thank Nakata, before announcing the release of a new digital single entitled KAMAITACHI. Release details are TBA.

She also announced a mini 5-show tour to promote its release. The song's lyrics have a traditional Japanese-feel to them, and so the tour too will take place at kabuki theatres around Japan.

To wrap up the concert, Kyary and Nakata performed KPP's pop anthem Sai & Co -Extended Mix-.

Pre-sale tickets for Kyary's "KAMAITACHI TOUR 2020" will go live on her fan club, KPP CLUB, on February 22, 2020 at 10:00 A.M (JST). Check her official website for the latest information.

—

Original Text: Fukuryu (Music Concierge)

Photo: Aki Ishii

Translation: Joshua Kitosi-Isanga

<Spotify Playlist>

Yasutaka Nakata x Kyary Pamyu Pamyu Presents SPECIAL DJ & LIVE TOUR 2020 YSTK×KPP vol.02

https://open.spotify.com/user/fyq2sid87dfxdev40jq5hbw1k/playlist/5IbtBVwFtA433dFPojpHSt?si=ytPqMi1-SJm4I2p8Zh7nsA

Information

Kyary Pamyu Pamyu KAIMACHI TOUR 2020

2020/4/26 @ Yachiyo-za (Japanese: 八千代座), Kumamoto

2020/5/2 @ Kyōto Minami-za (Japanese: 京都四條南座), Kyoto

2020/5/6 @ Misono-za (Japanese: 御園座), Aichi

2020/5/9 @ Nagame Yokyujo (Japanese: ながめ余興場), Gunma

2020/5/23 @ Uchiko-za (Japanese: 内子座), Ehime

KPP CLUB Pre-Sale Tickets

Ticket Window: February 22, 2020 at 10:00 (JST) – February 26, 2020 at 23:59 (JST)

Price: All Reserved Seating – ¥9,500 (Before Tax) *Comes with zabuton floor cushion

*These details are for the Kumamoto, Gunma, and Ehime shows only. Kyoto and Aichi ticket details TBA at a later date (as of publishing this article).

Cautions

*Ticket tout resales are strictly forbidden

*All photography, sound recording and video recording is prohibited

*Select first floor seats and all second floor seats do not fall under the reservation status and so are designated in order of arrival

*Preschool children are not permitted entry

Kyary Pamyu Pamyu Official Website: http://kyary.asobisystem.com/

CAPSULE & Other Major Japanese Artists to Perform at ageHa's 2020 Countdown Party in Tokyo

ageHa is set to host one of Japan's biggest countdown parties again this year, falling on December 31, 2019 once more.

Headlining the ARENA is English DJ and producer Sigala. He released his debut single Easy Love in 2015 which shot to number one on the UK charts. Since then, he has continued to pump out club and festival bangers such as Sweet Lovin and Say You Do. Seven of his nine singles have gone platinum, proving that he is one of the main players in the scene right now.

Another headlining act for the show, this time from Japan, is CAPSULE, the music duo spearheaded by internationally-acclaimed Japanese DJ and record producer Yasutaka Nakata who is the official producer for two of the biggest names in Japanese music: Perfume and Kyari Pamyu Pamyu. CAPSULE plan to put on a special performance for the countdown party.

banvox is also making a return from last year's ageHa countdown concert, and CYBERJAPAN DANCERS are entering the fray for a special showcase.

In the WATER area of the venue, which is produced by WORLD CLASS and TCPT, France-based bass house duo Loge21, who have piled up t he releases since Confession, will perform in Japan for the very first time. DJ Remo-con will join the line-up as a guest too.

Over at the ISLAND area, the latest in cutting edge hip hop will take to the stage. Several DJs representing Tokyo will join rapper Jin Dogg, who is garnering attention right now, including HOKUTO, KEKKE, CHARI, and FUJI TRILL.

Finally, the BOX area will give rise to trance tunes, with performances from DJ KAYA, NORIO SP, FULLMOON RAVE, agefarre, and more.

But that's not all, because the famous Robot Restaurantーa major tourist attraction in Shinjukuーis making an unexpected collaboration with ageHa to put on their first ever show outside the restaurant.

A variety of other celebratory things are planned for the countdown party to chime in the new year, including servings of toshikoshi soba, omikuji fortunes, goshuin seals, and more. If you happen to be in Tokyo for the New Year, then don't miss out on this very special event.

Idol Group CY8ER Drop Details On Upcoming 1st Major Album 'Tokyo'

Japanese idol group CY8ER recently performed at Shinkiba ageHa in Tokyo on November 23 for "CY8ER FES," where they performed their new track Renai Reality Shou (feat. Yasutaka Nakata) for the first time, a song produced by Japanese music producer and DJ Yasutaka Nakata. They also revealed details on their forthcoming first studio album Tokyo which is set for release on January 22, 2020.

Renai Reality Shou (feat. Yasutaka Nakata) was made before CY8ER made their major debut, making it a significant track to include on their first major album.

The concept of Tokyo is "Neo-Kawaii Tokyo in 2020" and serves to promote Tokyo's various subcultures, including the club scene of Shibuya, the otaku and "moe" culture of Akihabara, Harajuku's kawaii fashion scene. The record includes 8 tracks and sees 8 producers on board, including Yasutaka Nakata, Yunomi, Moe Shop, Pa's Lam System, Masayoshi Iimori, KOTONOHOUSE, Tomggg, and Neko Hacker.

The album will be released with first press limited edition and regular edition copies. The first press limited edition comes with both the album and a DVD featuring the music video and making-of for Renai Reality Shou (feat. Yasutaka Nakata). Regular editions comes with just the CD which also features a remixed version of the song.

CY8ER will celebrate their 3rd anniversary with a free live show at Shinjuku Marui Men on December 26. They will subsequently promote the new album with a series of release events. Details on these are TBA.

Information

CY8ER Major Debut Album – "Tokyo"

Release Date: January 22, 2020

First Press Limited Edition (CD+DVD)

Regular Edition (CD)

Download: iTunes Store, Apple Music, Amazon Music Unlimited, LINE MUSIC, Recochoku

*Will also be released on major streaming services in January

CY8ER Major Debut Album "Tokyo" Promotional Mini Concert

Date: November 27, 2019

Time: 18:00 (Start)

Venue: Shinjuku Marui Men (Website: https://www.0101.co.jp/074/access/)

*Shinjuku Marui Men is open 11:00-21:00 (until 20:30 on Sundays and public holidays)

Event Info: Free mini concert + bonus event. Those who purchase either edition of the album at the venue will be able to attend the bonus event. Places for the bonus event at limited and available on a first-come, first-served basis.

CD Purchasing/Priority Area Tickets/Bonus Event Tickets

Time: From 16:00

CY8ER Official Website: https://cy8er.jp

Kyary Pamyu Pamyu and Yasutaka Nakata to Embark on vol.02 of their Ultimate Three City Tour

In 2020, Kyary Pamyu Pamyu and Yasutaka Nakata will be following up on their ultimate three-city tour that took place in Tokyo, Osaka and Nagoya in 2016, returning to the three cities on tour again for vol.02.

The duo's performance at SUMMER SONIC 2019 saw both Osaka and Tokyo venues overcrowded with fans to the extent that entry had to be strongly regulated. Following the success of SUMMER SONIC and vol.01 of the duo's tour in 2016, there's no doubt that their upcoming 2020 tour will see an exponential increase in fans.

The long-awaited 2020 tour is bound to fill Tokyo, Osaka and Nagoya with excitement. This powerhouse duo is the perfect recipe for an explosive atmosphere that you just cannot miss.

Information

Yasutaka Nakata × Kyary Pamyu Pamyu Presents SPECIAL DJ & LIVE TOUR 2020 YSTK × KPP vol.02

Schedule

February 12 (Weds): Zepp Osaka Bayside, Osaka

Doors Open: 18:00, Performance Start: 19:00

February 13 (Thurs):  Zepp Nagoya, Aichi

Doors Open: 18:00, Performance Start: 19:00

February 21 (Fri): Toyosu PIT

Doors Open: 18:00, Performance Start: 19:00

YSTK × KPP vol.02 Official Website Advanced Tickets

Preorder Period: November 22 (19:00) – November 26, 2019 (23:59)

Audience Zones

1st Floor Standing: ¥5,500 (Tax Included, Drink Fee Not Included) 

2nd Floor Designated Seats: ¥6,050 (Tax Included, Drink Fee Not Included) * Only available at Osaka and Nagoya Venues

Where to Purchase

Advanced tickets will be available for purchase from the following Official Websites:

Yasutaka Nakata: http://yasutaka-nakata.com/

Kyary Pamyu Pamyu: http://kyary.asobisystem.com/

Anime Crossover Mobile Game Dengeki Bunko: Crossing Void Releases Worldwide

Dengeki Bunko: Crossing Void is a turn-based RPG developed in collaboration by 91Act and SEGA. On November 5, 2019, the game service was made available in 24 countries worldwide across Europe, America, India, Oceania, and elsewhere.

Dengeki Bunko: Crossing Void is based on the 2D fighting game Dengeki Bunko: Fighting Climax Ignition, which was released on PlayStation®4, PlayStation®3, and PlayStation®Vita in 2015. The game features a roster of characters from Dengeki Bunko's multitude of light novel series.

The game was published in mainland China last August by Tencent and in Taiwan, Hong Kong and Macao last December by Net Publishing. It was also published in South Korea and 11 other southeast Asian countries by G-Mei, an umbrella company of 37Games, in April of this year. Together with the 24 new countries added on Tuesday, the game is now available in 40 countries and regions worldwide.

If you are a fan of titles such as Sword Art Online, A Certain Magical Index, and Shakugan no Shana, and have yet to experience the world of Dengeki Bunko: Crossing Void, you are in for an immersive treat.

©SEGA  ©2017 KADOKAWA ASCII MEDIA WORKS  ©91Act

Information

Dengeki Bunko: Crossing Void

Genre: Turn-based RPG

Release Date: November 5, 2019

Price: Free (Additional items available for purchase)

Developed by: 91Act / SEGA

Platforms: iOS/Android

Language: English

Available: North America, Canada, Brazil, Iceland, Ireland, UK, Italy, Austria, Holland, Switzerland, Sweden, Spain, Denmark, Germany, Finland, France, Portugal, Belgium, Russia, India, Australia, New Zealand, Turkey, South Africa

Official Website: https://crossingvoid.91act.com/

Yakuza 7: Yasutaka Nakata and Shōnan no Kaze Collaborate On PS4® Game's Theme Song

SEGA dropped a new teaser trailer for the upcoming PS4® exclusive Yakuza 7, the latest entry to the popular franchise, at Tokyo Game Show 2019. It was revealed that DJ and music producer Yasutaka Nakata and reggae band Shōnan no Kaze collaborated on the game's main theme song.

Yasutaka Nakata

This is their first time collaborating together. We look forward to more details on the song and hearing what the two artists have forged together.

Shōnan no Kaze band leader RED RICE commented: "We were given the opportunity to work together with the game director [Toshihiro] Nagoshi on Kurohyou 2: Ryu ga Gotoku Ashura Hen and Yakuza 0 from the Yakuza series. I am thrilled to get to work on the song while seeing the game world and concept from the early stages. We are putting our all into it."

He also explained the challenges of ensuring there was the same level of fire and excitement in the song as with the introduction of a new protagonist, and so got in touch with Yasutaka Nakata to produce the song. He finished by saying how important the songs they have written for the Yakuza series are for their live shows, and that the band will work hard to ensure this song is added to that list.

©SEGA

Gamers! Rally Your Teammates For A New Quest: TOKYO GAME SHOW

The TOKYO GAME SHOW is in a league of its own. It is a mecca for gamers who cannot get enough of Japanese games and entertainment. This is where Japan's major game publishers from all kinds of platforms unite to put on an enormous exhibition. 

This includes the opportunity to explore games that are yet to be released as well as hear new announcements about the direction developers are steering the future of gaming. There's no lagging behind. This is a major event for the gaming industry, raking in leagues of heroes every year. 

On August 28, a total of 2,417 game booths were announced, which is the largest number the event has ever seen in its history. This event is home to games on a range of platforms including for console, smartphone and PC. The enormous variety of genres includes the most cutting-edge and latest trends including Esports, VR and much more.

For those of you who love cosplay, this event is your chance to finally meet your fantasy. The outside area of Hall 9 will have a Cosplaying Area Stage where two events will take place: a cosplay fashion show and a gathering. 

On Saturday 14th, Hall 1 event stage will hold the Cosplay Collection Night@2019 event where participants and event staff will take over the stage in game character cosplay. Spectating is free, so feel free to watch as each cosplayer dominates the entire stage, showing off their excellent craftsmanship and skills as they walk the runway and strike a pose definitely worth saving in your highlights! 

On Sunday 15th at 2:30 pm, cosplayers will take to the stage in units of two or more to put on a dance or combat show that you just cannot critically miss out on. 

Schedule:

September 14 (Sat)  From 12:00 ー Cosplay Runway  From 15:30 ー Cosplay Runway

September 15 (Sun) From 13:30 ー Cosplay Runway From 14:30 ー Cosplay Dance and Combat Shows From 15:30 ー Cosplay Runway

The Gathering is where cosplayers can interact with one another and have photos taken ー the perfect opportunity to send those friend requests. On September 14, a gathering dedicated to the Final Fantasy Tales Series will take place on the Cosplay Area Stage. On September 15, there will be gatherings for the Dynasty Warriors and Samurai Warriors series.

Schedule:

September 14  13:00-13:30 Final Fantasy Series Gathering  14:00-15:00 Final Fantasy Tales Series Gathering 

September 15 12:30-13:00 Dynasty Warriors and Samurai Warriors Series Gathering

More information on the exhibitions, booths and events will be announced on the morning of September 12 so please check it out. 

There is no better way to multi kill your time than to spend the entire day at TOKYO GAME SHOW 2019 ー get your tickets and GLHF!

Information

TOKYO GAME SHOW 2019

Event Information

Business Days*: September 12 & 13, 2019 (10:00~17:00)

*Business Days are open to industry and press only.

Public Entry*: September 14 & 15, 2019  (10:00~17:00)

*Doors may open at 9:30 am according to conditions on the day.  

Venue: Makuhari Messe (Mihama Ward, Chiba)

Exhibition Halls 1-11/ Event Hall/ International Conference Hall

Entry Fee: Advanced tickets: ¥1,500 (after tax)

On The Door: ¥2,000 (after tax)

Those under Elementary School age can enter for free (public entry days only)

Official Website: https://expo.nikkeibp.co.jp/tgs/2019/en/

Interview: Kyary Pamyu Pamyu & Yasutaka Nakata Joined by Kizuna AI at SUMMER SONIC 2019

Kizuna AI recently performed at SUMMER SONIC 2019 on the RAINBOW Stage on August 18. She also interviewed various acts who performed at the music festival, including Yasutaka Nakata and Kyary Pamyu Pamyu. The full interview was posted on her YouTube channel.

SUMMER SONIC 2019 – Official Artist Interview vol.02: Yasutaka Nakata & Kyary Pamyu Pamyu

Kizuna AI released a cover of Kyary Pamyu Pamyu's song Kizunami on August 16 which is taken from Kyary's fourth studio album Japamyu which dropped back in September 2018. To celebrate the release of the new song, Kizuna AI appeared as a surprise guest on Yasutaka Nakata and Kyary Pamyu Pamyu's set at SUMMER SONIC 2019 where her and Kyary performed Kizunami.

Below is a translated summary of the interview.

Kizuna AI: "Our first collaboration together! Was I okay…?"

Kyary: "I haven't collaborated with that many people. It's rare for me to sing with someone, but I was really happy with how it went!"

Kizuna AI: "Nakata, when did people start calling you Ouji [Prince]?"

Kyary: "He has a lot of out-there nicknames! [laughs]"

Yasutaka Nakata: "Battery Eater is another one [laughs]"

Kizuna AI: "What does 'chumete' mean?" [Referencing a word taken from the chorus of Kizuna AI's song AIAIAI, written and produced by Nakata]

Yasutaka Nakata: "That's a secret! Because you can interpret it in many different ways."

Kizuna AI: "What's a word or occurrence [in music] that's stuck with you the most, Kyary?"

Kyary: "Ninja Re Bang Bang. The title was originally 'tentative.' I feel it's a mysterious word that anyone can get behind. Even when touring overseas everyone sings it together."

Kizuna AI: "Finally, please give a message to your fans!"

Kyary: "It was so much fun getting to stand on stage together with Nakata. I hope we can do something together again!"

Kizuna AI: "Kyary, can you put these ears on?"

Kizuna AI has posted lots of other interviews from the festival on her YouTube channel too including with SHAED, SOFI TUKKER, Alan Walker, the telephones, and AI. Be sure to check them out.

Kyary Pamyu Pamyu & Yasutaka Nakata Joined by Kizuna AI at SUMMER SONIC 2019

Yasutaka Nakata is the internationally acclaimed architect of kawaii music and music producer of huge Japanese names such as Kyary Pamyu Pamyu and Perfume.

The DJ and music producer is known for having collaborated with a whole string of big artists, such as Kenshi Yonezu on the song NANIMONO as well as Charli XCX on Crazy Crazy. Despite having only just dropped his new song Pico Pico Tokyo (feat. Momo Mashiro) recently, he just released a new song entitled Kizunami (cover) for digital download on August 16. The track is a cover of Kyary Pamyu Pamyu's song Kizunami taken from her fourth studio album Japamyu which Nakata Produced. It is covered by virtual talent Kizuna AI who has almost 2.7 million subscribers on her YouTube channel.

To celebrate the release of the new song, Kizuna AI appeared as a surprise guest on Yasutaka Nakata and Kyary Pamyu Pamyu's set at SUMMER SONIC 2019 which was held in Tokyo and Osaka. In a very special collaboration, she sang the song alongside Kyary―the singer of the original track.

As with the Osaka show, the RAINBOW STAGE at the Tokyo concert had an admission limit due to how much music fans were anticipating this stage.

When the intro to Fashion Monster started playing as the first song of Yasutaka Nakata's set, the crowd's excitement went straight through the roof. But it didn't stop there however, as it shot into the stratosphere when Kyary Pamyu Pamyu walked onto the stage, clad in a beautiful white outfit.

Nakata and Kyary's set was an energetic amalgamation of song mash-ups and alternative arrangements, treating the crowd to familiar hit after hit. It reestablished Nakata's status as a spearhead of the industry.

He joined Kyary in front of his DJ booth for CANDY CANDY and waved his hands left and right with the crowd to Kyary's directions. The two of them rolled out even more big numbers including Invader Invader, PON PON PON and Ninja Re Bang Bang which also had fun new arrangements.

When the intro to Kizunami started up, Kizuna AI's chorus entered the fray at which Kyary asked, "Whose voice is that?" Kizuna AI suddenly appeared on the giant LED screen at the back of the stage, and the crowd reacted instantly. She riled everyone up by calling "Summer Sonic!" before joining Nakata and Kyary in a dream collaboration.

The 19-song set was up with Mondai Girl and finally Oto no Kuni during which the crowd waved their towels in unison.

Kizuna AI's cover of Kizunami is now available for digital download and is streaming on Spotify.

Yasutaka Nakata, DJ KAORI & More to Perform at ASOBINITE!!! Summer Party in Tokyo

Driving the Japanese pop culture scene, ASOBISYSTEM's annual grand party ASOBINITE!!! is back! The party will be held on Saturday 20th July at Shinkiba ageHA @STUDIO COAST.

Japan's most iconic producer Yasutaka Nakata will be firing up the party as the resident DJ. He will be accompanied by many sensational guest performers including the DJ queen DJ Kaori; who was the resident DJ for ageHa's 15th anniversary concert THE BEST PARTY!! Nakata's main music unit CAPSULE will also be performing on stage for the first time in two years! TJO, TeddyLoid and many more big name DJs will also feature at the event.  

Filled with summer vibes, the WATER stage will be hosting the event BIKINI NIGHT. The lineup of famous performers includes MITOMI, TOKOTO, BUNNY, iamSHUM and SHOTA. This party is going to kick off by the spacious poolside and there's no doubt the night is gonna be a splash!

VIRTUAFREAK will be managing a spin-off stage with an army of famous VTubers who have influenced many creatives! Witness an army of wildly enthusiastic VTubers as they tear down the BOX stage at ageHa! The lineup includes Miori Ehara, Virtual Cat, and even Wani and Komori (Wani no Yaka & Hashiyan Takasaka)!

Limited early bird tickets will be released on Tuesday 28th May during the afternoon.  This summer festival of Japanese stars is something you don't want to miss so check it out as soon as you can!

Information

ASOBINITE!!! SUMMER SPECIAL

Date: Sat 20/07/2019

OPEN 23:00 / CLOSE 05:30

Prices:

On the door: ¥4,000

International guest discount (valid form of ID required) ¥3,000

20th Pass (20-year-olds only) ¥2,000

ADVANCE TICKETS:

EARLY BIRD TIER 1 : ¥2,500

U-25 TICKET / (Under 25s): ¥2,750

GA TICKET / (General Admission) : ¥3,250

GROUP TICKET (5 tickets ): ¥12,500

Ticket release date: From 12:00 pm on 28th May  

iFLYER: http://ifyr.tv/X1jCR

VIP TABLE

Enquiries:  reserve@ageha.com

Shinkiba ageHa @STUDIO COAST

Address: 2-2-10, Shinkiba, Koto Ward, Tokyo

Website: http://www.ageha.com/

Yasutaka Nakata Releases 'Pico Pico Tokyo (feat. Momo Mashiro)' Animated Music Video Produced by Somehoodlum

Yasutaka Nakata is lauded as a spearhead of the Japanese electro scene, as the creator of 'kawaii' dance music, as the producer for big names such as Kyary Pamyu Pamyu and Perfume, for writing music for films, games―the list goes on.

Nakata just released his new song Pico Pico Tokyo (feat. Momo Mashiro) today as a digital single.

A music video was also posted on Nakata's official YouTube channel. The video was posted by Los Angeles-based artist Somehoodlum, a visionary creator who has worked on music videos for such artists as 21 Savage, Getter, Future, and Lil Uzi Vert.

The music and visuals are a mix of club culture, video game sounds and Neo-Tokyo. Check it out yourself and see the talented Yasutaka Nakata and distinguished artist Somehoodlum step into new creative territory.

Yasutaka Nakata Announces New Song 'Pico Pico Tokyo' Featuring Next Generation Artist Momo Mashiro

Yasutaka Nakata is lauded as a spearhead of the Japanese electro scene, as the creator of 'kawaii' dance music, as the producer for big names such as Kyary Pamyu Pamyu and Perfume, for writing music for films, games―the list goes on.

Nakata is set to release his new song Pico Pico Tokyo (feat. Momo Mashiro) on May 17.

As the title indicates, Momo Mashiro is on board to provide the vocals. She won the Grand Prix award at the Lawson Dream Artist auditions and made her major debut last year by featuring on Nakata's song Jump in Tonight which was included on his solo album Digital Native released last year.

We look forward to seeing how Nakata will use Mashiro's pop vocals in the new track.