Enjoy Deliciously Rich Aged Sushi at the Newly-Opened Wadanoya in Ebisu
Have you ever heard of jukusei sushi?
Jukusei sushi is aged or matured sushi. It overturns the idea of fresh fish and instead tries to bring out the maximum possible flavour out of the fish through ageing. Just how does the flavour of aged sushi change from the other sushi I've eaten?
Today I visited Wadanoya, an aged sushi shop in Ebisu, Tokyo that receives direct deliveries from Kyushu.
The restaurant is located between Daikanyama Station and Ebisu Station, just a 5-minute walk from either. It's located on the lower first floor of a building.
They offer both relaxing counter seats and horigotatsu, or sunken kotatsu seats. When there aren't a lot of customers in I recommend eating at the counter where you can chat with the owner.
The meal I ate was a set course. The starter was sashimi which I had with white wine. This fish was caught in the Goto Islands.
Next up was tempura – Satsuma chicken and seasonal vegetables. The chicken was juicy with a light dressing. It's eaten with salt and ponzu. The summer vegetables were okura and eggplant. These were also grown in Kyushu.
This was followed by horse-meat sashimi from Kumamoto served with hot Kabosu Kosho. Adding even just a little to the meat allows for enjoyment of a completely different flavour. The meat is soft, melts in your mouth and doesn't smell.
Next was sea urchin from Nagasaki Prefecture topped with butter shoyu and fish offcuts. The butter shoyu gives the sea urchin and offcuts an extremely rich flavour. It was a luxurious dish with a hearty serving of fresh sea urchin.
And then the star of the show which I couldn't wait for – aged sushi!
This fish is meichidai, or grey large-eye bream, which had been aged for one week. My first impression was "How rich!" It's a little thick and has a deep flavour. Its good, rich taste fills your entire mouth.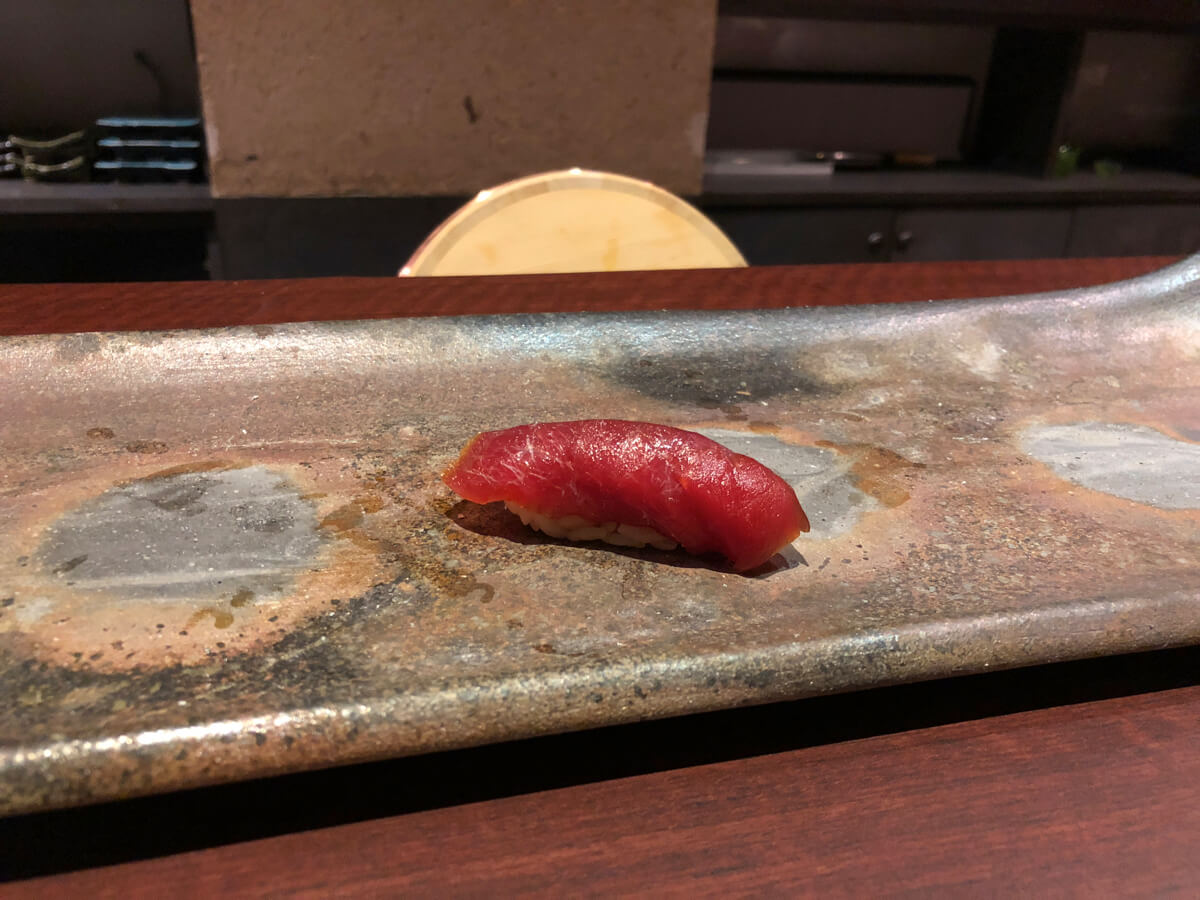 I also ate other aged sushi too including mackerel and tuna. The mackerel I had was aged in the refrigerator for 3 days and the tuna one week. It might have been the first time I had ever eaten such thick, smooth tuna.
The owner said that each respective fish is aged for the right period under the right temperature conditions. They go to such lengths to create these rich flavours!
Having enjoyed my fill with a full belly the last item on the course was a large serving of dagoshiru soup. It contains lots of ingredients like chewy dango, carrots and greater burdock. It had a subtle and mild taste.
Wadanoya is a popular restaurant that originates from Osaka. It's sure to end up popular in no time in Ebisu too. The restaurant is celebrating its opening until the end of October 2018 by serving their 28-item sushi course for ¥10,000 down from the regular price of ¥12,000.
Take advantage of this special price and try aged sushi for yourself.
Information
Wadanoya
Address: Echo Daikanyama B1F, 1-30-14 Ebisu-Nishi, Shibuya, Tokyo
TEL: 03-6427-8783
Access:
6-minutes on foot from Ebisu Station via JR Lines
4-minutes on foot from Daikanyama Station via Toyku Lines
Opening Hours: 18:00~24:00 Last Orders 23:30)
No Fixed Holidays.
Website: http://wadanoya-sushi.com/
RECOMMENDED ENTRIES
Sushi represents Japanese food! 5 recommended sushi restaurants in Tokyo

Sushi is the probably the most famous Japanese food! Below are 5 sushi restaurants we highly recommend.

Roppongi "atelier Morimoto XEX"

"atelier Morimoto XEZ" is a combined restaurant produced by Masaharu Morimoto who works in foreign countries centering around the U.S. You can make an order until 3:00 AM and enjoy many kinds of dishes which are a mixture of Japanese style and Western style. "Edomaezushi" is the recommended dish. Why don't you enjoy the dishes created by this top chef who is loved by people all over the world?

Detailed information:http://www.moshimoshi-nippon.jp/58797

■Information

atelier Morimoto XEX

Address: Roppongi Building, 7-21-19, Roppongi, Minatoku, Tokyo

Holiday: New Year's Day

TEL:03-3479-0065

URL:http://www.xexgroup.jp/morimoto

※The counter with cast iron-pan can be used until 24:00 and the isolated room can be used by paying 20,000 yen.

Shinjuku "Sushizanmai"

"Sushizanmai" is a sushi chain restaurant. The price of one of the lunch menus "Maguroduke Donburi" is only 477 yen (tax not included)! Moreover, you can drink as much coffee as you like. The lunch menu noted previously is offered from 11:00 to 17:00 at Shinjuku Higashiguchi Store (only on weekdays.) The helping of rice can be chosen at will and the menu comes with miso soup. The menu is recommended for those of you who want to enjoy seafood at a low price!

Detailed information:http://www.moshimoshi-nippon.jp/34111

■Information

Sushizanmai Shinjuku Higashiguchi Store

Address: 3F Seno Building, 3rd street, 18-4, Shinjuku, Shinjukuku, Tokyo

Business hours: 24 hours, lunch time – 11:00 to 17:00

Holiday: no holiday

TEL:03-5357-7737

Shinjuku "Hokkaido Sushi Unimaru"

The branch store of "Hokkaido Unimaru" where you can enjoy sushi and dishes of sea urchin opened inside of "Odakyu Ace" at Shinjuku Station's West Exit. The set "Uni Tabekurabe" (1,800 yen) offers three kinds of sea urchins; Murasaki Uni, Bafun Uni and Ensui Uni. Accordingly, you can compare the taste of these different sea urchins. This set menu is highly recommended. You can choose either "Shiro Shari (white rice)" using rice vinegar or "Aka Shari (red rice) using red vinegar.

Detailed information:http://www.moshimoshi-nippon.jp/40869

■Information

 "Hokkaido Sushi Unimaru"

Address: 〒160-0023, West Exit Basement #1, Nishishinjuku, Shinjuku, Tokyo (Odakyu Ace North Department)

Business hours: 8:00 to 23:00

Holiday: no holiday

TEL:0362790148

>>next page

Seaweed Temaki Sushi Restaurant 'Gonpachi Nori-Temaki' Opening in Harajuku

Traditional Japanese restaurant cuisine chain Gonpachi is opening its twelfth store, Gonpachi Nori-Temaki, in Harajuku on May 30. The restaurant is just a 2-minute walk from Harajuku Station along Omotesando and specialises in hand-rolled seaweed bites.

The restaurant aims to fuse modern designs with Japanese culture. In the centre of the restaurant is a 360° counter where they serve customers freshly rolled seaweed temaki. The price range starts from ¥200 for one temaki. There are also sets available on the menu.

The name 'Gonpachi' originates from Shirai Gonpachi, the protagonist of a famous kabuki play.

The seaweed at Gonpachi is kontobi seaweed from Maruyama Nori, a 160-year-old company who own a sushi shop with three Michelin stars. It has a fresh and natural taste as well as a light texture.

As well as regular vinegared sushi rice, you can also order 'cauliflower rice' which has reduced sugar. It's exceptionally nutritious and popular for its vitamin C and calcium content. The rice is an original Gonpachi creation.

There's a wide range of fillings to choose from, including Nagaimo Pollock Roe (Regular: ¥200 / Large: ¥350), Salmon Avocado (R: ¥300 / L: ¥480), Salmon Roe Soy Sauce Zuke (R: ¥450 / L: ¥600), Sea Urchin (R: ¥650 / L: ¥1,000), and more. The level of freshness in the line-up is exceptional across the board.

*All prices above are pre-tax.

Enjoy some delicious temaki sushi in Harajuku with friends and family!

■Information

Gonpachi Nori-Temaki Harajuku

Address: Co-op Olympia 1F, 6-35-3 Jingumae, Shibuya, Tokyo

Opening: May 30, 2018

Opening Hours: 11:00-22:00 (subject to change)

Access: 2-minutes on foot from Harajuku Station via JR Yamanote Line

Website: http://gonpachi.jp/

Experience Japanese Culture #3: Temari Sushi Lesson in a Japanese Food Class at Dikanyama

Japanese model Yuri Sugunama, a.k.a "Yurippa," is taking us on the third trip in her series series where she goes to personally experience Japanese culture and cultivate new hobbies. This time, she gets involved in a cooking lesson to make springtime temari sushi! Yurippa has always had an interest in homemade cooking but never really had the opportunity to challenge herself to it. So, how did she do…?


uki-uki cafe is located in Daikanyama which is just one stop from Shibuya on the Tōkyū Tōyoko Line. It's an easy place to get to just 5-minutes from the station tucked away in a quiet residential area. Upon opening the door to the café, you are greeted with a fresh space full of green plant life. You'll totally forget about the hustle and bustle of the city.


Teaching the lesson is uki-uki cafe's representative, Ayumi Kashiwabara. She's a food co-ordinator who promotes happy cooking that you'll unintentionally want to take a photo of. Not only does she serve food that makes your everyday dining table evermore buoyant, she also holds cooking lessons every now and then. "Call me Ayu-chan-sensei, okay?" she says with a pose. She's extremely friendly!


Today's challenge is making two items: 'temari sushi' and 'spring mizore soup.' First off, the temari sushi! You begin by mixing together 250g of rice with 25ml of vinegar, 15g of sugar, and 1/2 teaspoon of salt. This is then divided into 8 portions. Spread out some clingfilm and place ham in the middle. Then put one portion of rice on top and roll. Do this for all 8 portions. Roll the ham and rice into one and when taking the clingfilm off make sure that they stay together and don't separate.


Next is making plum lotus roots. Fill the holes of the lotus roots with bainiku plum. Use your finger to delicately press it all together. It's easy if you use a tube for this part. An excited Yurippa exclaimed, "This is the first time in my life I'm making food using bainiku plum!"


At this point, Ayu-chan-sensei added a small touch: "It'll look gorgeous if you do it like this." With just a little twist, she made it look even more fantastic by putting on thinly sliced lemon and sprinkling over some pepper. The two of them looked like they were having fun cooking next to each other.



Before dishing up the temari sushi, it's time to make the mizore soup. Add two teaspoons of Japanese dashi to 120ml of water and mix in one teaspoon of soy sauce, one teaspoon of sake, one teaspoon of mirin, and a little salt. Bring to the boil and just add some grated daikon. Daikon skin has nutritional value, so wash it thoroughly and rub dry.


Finally, add green beans into the mizore soup, put in wheat gluten, and… "All done!"


Yurippa's colourful temari sushi and mizore soup is complete and perfect for spring. Going out and adding seasonal a lunch mat, pair of chopsticks and tableware is fun too.


Yurippa was happy, commenting: "I can feel that food made by hand really is more delicious! It was easy and didn't take long, plus I like how exciting it looks. I want to invite my friends over to my house for a meal."

Cooking lessons are held once in a while at uki-uki cafe where you can learn how to make food that'll make your ordinary days more fun. If you think a cooking lesson is a little too much to handle, then just pop in to the café for a kawaii meal. Coming face to face with the food at uki-uki cafe will surely make your day that much happier.

■Information
uki-uki cafe
Address: 88.DAIKANYAMA 3F, Daikanyamacho, Shibuya, Tokyo
Opening Hours: 11:00-18:00 (Lunch Last Orders 16:00 / Last Orders 17:30)
Access: 5-minutes on foot from Daikanyama Station via the Tōkyū Tōyoko Line
Website: http://ayupichi.com/index.html
*Cooking classes are held at irregular periods. Please enquire beforehand if you are a visitor from overseas.

Model: Yuri Suganuma @yurippa93


Yuri Sugunuma is a model with a high fashion sense that has been picked up by various magazines. She receives much love and support from girls of the same generation as her to whom she is known by her nickname "Yurippa." She has a huge influence across her social media. Recently, she has stepped into other fields outside of modelling, such as appearing in TV shoots and in music videos. She is skilled in make-up and involved in the development of cosmetics.

Writer & Photographer: Haruka Yamamoto

Translator: Joshua Kitosi-Isanga
RELATED ENTRIES
Peter Luger Steak House Opens First Japanese Branch at Ebisu Garden Place

Hailing originally from Brooklyn, the 130-year-old Peter Luger Steak House has announced the opening of its first-ever Japanese branch which will welcome customers at Ebisu Garden Place in Tokyo this September with its 3-storeys of red brick.

Peter Luger is credited with spreading the mouth-watering wonder of dry-aged beef steak to the world which has made the restaurant's name globally famous. The restaurant of course wields a Michelin Star and has been featured high on the Zagat Survey for over 30 years.

The secret behind Peter Luger's signature ingredient

The restaurant's beef fillet and New York strip are signature items on the menu, both of which are made from porterhouse steak. Their steak is also made from USDA Prime beef which is dry-aged by hand to intensify the flavour and aroma.

The porterhouse is placed directly onto the broiler and seasoned solely with salt. The steak is flipped only once during the broiling process. A knob of melted butter is added to a serving platter and the steak is sliced atop it. It's then placed back into the broiler for a few minutes depending on the doneness requested by the customer. It's this process that gives Peter Luger's steaks their deliciousness. 

 

Brooklyn red brick building and theatre decor

The Japanese branch takes inspiration from the Brooklyn restaurant with its red brick exterior.

The first floor is home to the bar where customers can enjoy food and cocktails. There's also a takeout shop with gifts and other items.

The second floor is the spacious dining space which is home to Peter Ruger's first-ever open kitchen. The third floor is another seating area with balcony-like seats so you can look out over the city.

There are seven private dining rooms of varying sizes for those looking a little more intimacy and privacy. The restaurant's lighting was also designed by a New York designer.

Information

Peter Luger Steak House Tokyo

Grand Opening: September 9, 2021

Address: 4-19-19 Ebisu, Shibuya, Tokyo

Bookings: From August 2021

Peter Luger Steak House Japan Official Website: https://peterluger.co.jp/

Renai Mangaka Drama Series Gets Themed Cafe in Tokyo

Fuji TV's ongoing drama series Renai Mangaka opened a theme cafe in Ebisu on April 8 with dishes inspired by the series.

The Menu

Renai Pancakes | ¥1,892 (Tax Included)

Renai Fondant Chocolate | ¥1,122 (Tax Included)

Renai Lemon Sour | ¥660 (Tax Included)

Renai Strawberry Milk | ¥990 (Tax Included)

Renai Bread Gratin | ¥2,805 (Tax Included)

Renai Bread Dessert | ¥990 (Tax Included)

Renai Dessert Plate | ¥1,232 (Tax Included) | Available Early May 2021

Renai Omurice | ¥1,452 (Tax Included) | Available Early May 2021

The story of Renai Mangaka follows Karibe Seiichiro, a manga artist who's not the best at socializing. He rarely goes outdoors and has a strange way of thinking. One day, he meets his late-brother's former girlfriend Kuon Aiko, and asks her to be his pseudo-romance partner.

Information

Cafe Accueil Ebisu x Renai Mangaka Collaboration Cafe

Opened: April 8, 2021

Where: Cafe Accueil Ebisu

Address: 2-10-10 Ebisunishi, Shibuya-ku, Tokyo

Opening Hours: 11:00-21:00 (Last Orders 20:00)

Official Website: http://www.fujitv.co.jp/

Kirby Café Begins Serving its Spring Picnic Themed Menu

The Kirby Café branches in Tokyo and Hakata rolled out their Spring 2021 menu on Friday which is set to run until June 6. Themed on a springtime picnic, the line-up includes three items: six siz different temari-zushi servings, cherry blossom mochi, and a cherry blossom latte, all inspired by the Kirby video game series.

The Menu

Cherry Blossom Temari-zushi: Eat In ¥2,178 / Takeout ¥2,138

A serving of six sushi rolls perfect for a spring picnic. Each roll features designs that will be instantly-recognisable to Kirby fans.

Souvenir – Lunchbox (4 Designs)

Kirby's Spring Search | ¥1,078 (Tax Included)

Kirby is playing hide and seek under the cherry blossom tree in this cute dish which is adorned with shiny coloured candy.

Cherry Blossom Latte | ¥968 (Tax Included)

A light pink-coloured cherry blossom latte with a touch of salt. Mix everything together for a tasty sipping experience.

Eat All the Sushi You Can in the VR Game No Sushi, No Life Available On Steam

DMM VR lab released a new 3D VR game last week on Steam and DMM.com titled No Sushi, No Life.

The game is set in the year 20XX in a sushi bar in Neo Tokyo City. The aim of the virtual reality game is simple: to eat as much sushi as you can. Players must grab all the sushi coming their way and wolf it down. Their reflexes are tested as more sushi plates speed toward them on the conveyor belt. If a plate of sushi falls to the floor, it's game over. As players eat more sushi the conveyor belt will run faster and faster. Can you survive the culinary onslaught?

Inari Sushi Restaurant Tsurigitsune to Open in Osaka International Airport's North Terminal

Japanese food and confectionery company Bijuu is opening a new restaurant called Tsurigitsune inside Osaka International Airport's North Terminal on August 5, 2020. The restaurant will specialise in inari sushi, a type of sushi packed into pouches of deep-fried tofu.

Bijuu is known for producing and selling such products as Kyoto's famous coarse sweet red bean paste-filled yatsuhashi otabe crackers.

Tsurigitsune will serve "Kyo Dashi Oinari," a type of inari sushi made with fried tofu Saga Tofu Morioka—a long-standing tofu shop in Sagano, Kyoto—soaked in lots of sumptuous Kyoto-style dashi. The restaurant will also serve a special type of sweet otabe cracker which cannot be eaten anywhere else.


Kyo Dashi Oinari (Includes 15) | ¥3,240 (Tax Included)

The dashi that the Kyo Dashi Oinari are soaked in take up all the delicious flavour of kombu, sababushi smoked mackerel, iwashibushi pilchard, and katsuobushi dried bonito, all of which serve to add that authentic Kyoto flavour.


Tanto Otabeyasu | ¥930 (Tax Included) *Served 6:30-10:00

As well as Kyo Dashi Oinari, Tsurigitsune's menu includes a line-up of dishes that celebrate the flavour of dashi, including soba, dashimaki tamago omelette, and more.

If you're travelling to Osaka, why not get an authentic Kyoto experience too by dining at Tsurigitsune?

Information

Tsurigitsune
Grand Opening: August 5, 2020
Address: Osaka International Airport North Terminal 2F Boarding Area, 3-555 Hotarugaike NishimachiToyonaka, Osaka
Opening Hours: 6:30-20:20 (Last Orders 19:50)
TEL: 06-6836-9217

Official Website: http://www.bijuu.co.jp/tsurigitsune/

Japan's New Eel Burger is Made in Collaboration With the Theatrical Entertainment Sushi Bar Teruzushi

Matsuya Foods, Gastroduce Japan, and Teruzushi have all joined hands to cook up the new "Eel Burger" which will be sold exclusively in Japan via Matsuya Food Court on Rakuten and Matsuya PayPay Mall starting from 8:00pm (JST) on July 4, 2020.

Like all countries around the world, Japan's food industry is suffering at the hands of the COVID-19 pandemic, with less customers dining in restaurants and eateries. That's where Matsuya Foods comes in, which has launched an effort to collaborate with fellow restaurants to release exquisite dishes online. That begins with the "Eel Burger," the first of many foods to come.

Teruzushi is a sushi bar famous for its "theatrical entertainment" style of sushi serving which has earned it the spotlight in the news and on social media in Japan. They serve high-grade sushi which can have the average person easily spending over ¥30,000 during their visit.

The restaurant, located in Fukuoka, is also famous for its "Unagi Burger," which uses 220g of eel that is prepared in the kabayaki-style and wrapped around sushi rice. That itself is then wrapped in high quality domestic seaweed, resulting in a unique burger-style of sushi. The Eel Burger is an amalgamation of flavours and textures, with the crunchy seaweed complementing the soft eel.

Kaori's Easy Recipe: Learn to Make Hello Kitty Sushi Cakes For Hinamatsuri

With just a small bit of ingenuity, turn everyday food into something cute using Kaori's easy recipe! With a few simple ideas, an ordinary recipe magically transforms into a cute dish.

Hinamatsuri is almost here, and I've got the perfect treat for this year's festival: Hello Kitty Sushi Cakes. These Hello Kitty decorations can be made with basic Japanese ingredients, so follow along and try making them yourself.

1: Equipment/Ingredients

15cm cake tin

1 cup vinegared sushi rice

200g tuna

200g salmon

3 Japanese rolled omelettes (dashi-maki tamago)

20 beefsteak plant

Ikura salted salmon roe

Hanpen pounded fish cake

2:

Line a cake tin with baking sheet paper like in the photo. Use a cake tin with a detachable bottom spanning 15cm. In the case that you don't have a cake tin with a detachable bottom, cover the bottom of your tin with cling film which will make it easy to remove everything afterwards.

3:

Cut Hello Kitty, flowers and other shapes into some hanpen pounded fish cake.

4:


Slice the tuna, salmon, and Japanese egg into cubes about 1.2cm each.

Pile the ingredients in this order: rice→tuna, salmon, and egg→rice. Refer to the photo below.

5:


Leave the ingredients exposed around the outside like so✨

6:

Top with the rest of the ingredients as you like.

7:

Finish by adding your Hello Kitties and flowers which you can decorate with leftovers, like the noses and middle of the flowers. I also used cucumber and crab sticks for the head decorations.

Kaori invites you into her world of character-themed food dishes in her recipe series. Be sure to check out her Instagram where she has uploaded many pictures of her character dishes!

Kaori Kubota (@kaopan27)
I live in Hokkaido and I love to make character themed foods, desserts and pastries♡

I want to see my family smile, so I enjoy putting in a bit of effort to make character foods and changing food into something cute♡

You can see more of my character foods and character bento boxes on my Instagram page→@kaopan27

Hanami in Japan 2020: Bite-Size Sushi Hanami Bento Lunch Box Releasing in Ginza

SHARI and SHARI THE TOKYO SUSHI BAR in Ginza, as well as CRAFT in Ariake, are releasing the perfect accompaniment to your hanami flower-viewing experience in Japan this spring: the "Hanami Roll Sushi Bento" lunch box, which consists of 36 bite-size sushi pieces made up of 12 different kinds of sushi. It will be available February 18 to April 30.

Hanami Roll Sushi Bento (36 Pieces/Serves 3-4): ¥4,500 (Tax Included)

As soon as your take the lid off this colourful assortment of rolled sushi, you'll find yourself reaching for your camera to snap a photo for Instagram. Each piece is 3cm in diameter and so is deliciously bite-sized. The line-up includes four new kinds of sushi rolls conceived for this release which use seasonal spring ingredients, like sakuradai cherry blossom sea bream, sakura ebi, rape blossoms, fuki giant butterbur, green beans, and moreーas well as eight other types of sushi that are popular classics at each of the three restaurants.

Shrimp Roll

From the four new rolls, we have the sakura ebi shrimp roll, which is served with a gorgeous cherry blossom colour. It's made with shibazuke pickles and vinegared rice, which gives it its colour, and contains, rape blossoms, okra, Chinese yam, and egg. The rape blossoms add a springtime bitterness to the sweetness of the sakura ebi, creating a wonderful combination of flavours.

Beef Butterbur Miso Roll

Then there's the sakuradai roll is wrapped with vinegared tobiko flying fish roe, okra, and cucumber, which is topped with sashimi-style sakuradai cherry blossom seam bream and salty cherry blossom leaves. The spring vegetable and tempura roll has shrimp and green bean tempura mixed with yuzu kosho paste; and finally, the beef butterbur miso roll, which contains beef rib seasoned in a sukiyaki style, finished with sesame seeds, and seasoned with butterbur miso.

The eight popular classics include the wagyu roll sushi seasoned with luxurious truffle oil, Italian roll, duck roll, salmon roll, spider roll (soft shell crab), and more. All of these varied picks go great with wine or champagne.

Hanami Roll Sushi Bento (9 Pieces): ¥1,200 (Tax Included)

The "Hanami Roll Sushi Bento" comes in various sizes. As well as the 36 pieces of 12 sushi types, there's also 18 pieces of 9 types (serves 1-2), and the 9 pieces of 9 types (serves 1).

Reservations are available until 15:00 the previous day. Order yours for your Hanami cherry blossom flower-viewing this year in Japan.

Information

Hanami Roll Sushi Bento

Available:

SHARI (TEL: 050-5357-5354) (Address: Mitsui Garden Hotel Ginza Gochome Floor 2F, 5-13-15 Ginza, Chuo Ward, Tokyo)

SHARI THE TOKYO SUSHI BAR (TEL: 050-5212-7574) (Address: ALBORE GINZA Floor 8F, 2-4-18 Ginza, Chuo Ward, Tokyo)

CRAFT (TEL: 050-5357-5353) (Address: CRAFT Floor 2F, 3-7-2 Ariake, Koto Ward, Kyoto)

Prices:

36 Pieces/12 Types (Serves 3-4 People): ¥4,500

18 Pieces/9 Types (Serves 1-2 People): ¥2,400

9 Pieces/9 Types (Serves 1 Person): ¥1,200

Reservations

Reservations can be made via telephone or in-store until 15:00 the previous day.

*Reservation Window: Telephone 10:00-20:00 / In-Store 12:00-22:30

*Depending on the ingredient stock, reservations may be made on the same day

*The Hanami Roll Sushi Bento is for takeaway only and cannot be eaten in the restaurant

Asakusa's New Conveyor Belt Sushi Chain Kura Sushi Offers a Traditional Japanese Space

Muten Kura Sushi opened the first of its its all-new chain of "global flagship" sushi restaurants in Asakusa BOX on January 22.

This kaitenzushi restaurant, or "conveyor belt sushi," aims to promote Japanese culture. It wants people, both Japanese and foreign, to rediscover the wonders of kaitezsushi, and what better place to open its first branch than Asakusaーone of the biggest tourist hot spots in Tokyo?

The restaurant's design and decor takes on a more traditional approach, drawing inspiration of Japan's Edo period with classic ukiyo-e paintings and paper lanterns adorning the walls, amongst many other things. This classic image of Japan has found its way to the dining space itself too, with flat tables made from plain wood and chairs topped with tatami. This gives it that air of grace and beauty which is typically associated with traditional Japanese culture, as well as a relaxed atmosphere.

The logo used on the restaurant's paper lanterns, crockery, staff uniform and elsewhere was designed by Japanese art director and creative director Kashiwa Sato. It was created for the brand to be used on all future branches, including all Japanese restaurants and those planned for the US and Taiwan.

The restaurant even has several Japanese festival games for customers to play, like target practice and ring toss. They can win coupons that can be used in the restaurant, and kids can win toys too.

Some of the staff can speak foreign languages too, and tablets that you order food from are available in 4 languages.

Staff also carry a "Langogo Genesis," a speech translation machine, to allow for smooth customer service. It's connected to an AI language server which can speak and translate quickly in 104 languages.

This global flagship restaurant also has a self check-in and payment system. Using touch screen, customers will be shown their seats automatically. The AI also adds up how many plates you have used by scanning their QR codes, and this is used to determine how much you need to pay. This means you needn't wait for someone to bring the bill, you just head straight to the till.

There's also a smartphone app (called スマホでくら) which you can use to book a table and makes for easy checking in when you arrive at the restaurant.

Head to Kura in Asakusa, Tokyo to enjoy Japan's longtime affordable and delicious fast food: sushi.

Information

Kura Sushi Asakusa ROX

Address: Asakusa ROX Floor 4F, 1-25-15, Asakusa, Taito Ward, Tokyo)

Opening Hours:

January 22-26 @ 12:00-21:00 (Last Orders 20:30)

From January 27 @ 11:00-23:00 (Last Orders 22:30)

Official Website (English): http://www.kura-corpo.co.jp/en/

Tokyo Sushi Restaurant Tsukiji Tamasushi Sasashigure Opens New Branch in Shibuya

Edomae sushi restaurant Tsukiji Tamasushi Sasashigure, which is known for its strict use of organic ingredients, just opened its second branch in Tokyo Plaza Shibuya following its first branch in Omotesando Hills.

Sasashigure is a type of sasanishiki rice grown completely organically without the use of any chemicals or fertilisers. It is grown by Akinori Kimura who is known for its "Miracle Apples," the world's first apples grown without pesticides.

Sasashigure rice yields 40% less rice quantity in one-tenth hectare than regular rice, but it has a natural sweetness and elevate flavour, with each and every grain savoured in a mouthful.

If you're all for healthy eating and protecting the environment, and happen to be in Tokyo looking for some sushi, be sure to visit the new branch of Tsukiji Tamasushi Sasashigure in Shibuya.

Information

Tsukiji Tamasushi Sasashigure

Address: Shibuya FUKURAS 6F, Tokyu Plaza Shibuya, 1-2-3 Dogenzaka, Shibuya, Tokyo

Opening Hours: 11:00-23:00 (Last Orders 22:30)

No Fixed Holidays (Except when Tokyu Plaza Shibuya is closed)

Official Website: http://www.tamasushi.co.jp/

WASHOKU: Asakusa's Newest Restaurant For Experiencing Japanese-Style Cuisine

Asakusaーone of the hottest spots in Tokyo for sightseeing, ever-bustling with Japanese and foreign tourists and travellers alike. This ancient district is famous not only for its sights, like Sensō-ji (the oldest temple in Tokyo) and the Nakamise-dōri shopping street leading up to it, but for its bountiful offering of gourmet restaurants.

Today, we're taking a look at Taikenkei Dining -WASHOKU-, a restaurant which opened in Asakusa on November 19 this year. If you're looking for the full package when it comes to experiencing Japanese food culture, WASHOKU has customers covered. Not only do they serve food, like traditional Kyoto obanzai, but they offer cultural experience plans too where you can learn to make sushi or dress up in a kimono and walk the old streets of Asakusa.

WASHOKU's concept when it comes to both lunch and dinner centres around enjoying Japanese-style food that is colourful. And that rings tantalisingly true with their kaleidoscopic obanzai, which is formed of 12 vivid bite-sized delights. Obanzai is a traditional style of Japanese cuisine that comes from Kyoto, made up of mostly seafood and vegetables. The obanzai served at WASHOKU was conceived under the guidance of nutritionists, and so is packed full of healthy nutrients for the body. Not only that, the ingredients selected are all domestic to Japan, and are of a very high quality.


The obanzai I ate included fried beni haruka sweet potato which is sourced from Ishida Farmsーa sweet potato growerーin Katori, Chiba. It had a moist texture and rich sweetness. When I sank my teeth into it, I was flushed with feelings of the fall season.

Other foods in the assortment included sashimi, scallop and yuzu, saikyo-yaki Kyoto-style grilled fish, and more. Each mouthful of the selection offered its own distinct and unique flavours.

The obanzai is served with miso soup too with which you get to choose a miso ball from a variety of flavours to put into your bowl. I went for the sesame seed miso ball.

The miso ball is made from miso paste and various ingredients. Once placed into the hot water, it melts and turns into miso soup. The sweet light-brown miso was perfect for warming up my chilly self.

Dinner also features a dessert menu, as well as courses with an all-you-can-drink option, so I recommend these options for people who want to relax and take their time with their dining experience.

As I mentioned earlier, WASHOKU also offers a variety of experience-based plans. This includes a sushi class where you can learn to make your own hand-rolled sushi.

There are two types of "temari" hand rolled sushi you can make: the regular type, which makes use of tuna, salmon and other classic sushi toppings, and the high quality type, which uses more high-end ingredients like uni sea urchin eggs, caviar, gold leaf, and more. And for foreign customers, the restaurant has prepared a handout detailing the history of Asakusa and recipes, as well as souvenirs for them to take home.

The MMN team of course had to have a go at making our own sushi, but it proved quite difficult. You have to get the right amount of sushi rice to roll, then actually roll it perfectly into a ball before topping with your ingredients. But the sushi I made was actually really delicious! To attend this class you have to book in advance, so if you've never tried making your own sushi before or have an need some guidance, then we can't recommend it enough.

As well as food-related experiences, WASHOKU provides customers with three different plans to experience Japanese culture. The first of these is the rickshaw ride, where you board a rickshaw pulled by a runner and are taken around the various sites of Asakusa. The 'Excursion Around Asakusa Course' takes you to the most popular spots around Kaminarimon, while the 'Sky Tree Course' takes you all the way to the Sumida River, and you also get to see Tokyo Skytree and various other attractions in Asakusa.

The Edo Kiriko plan gives you the opportunity to cut your own Japanese glass to drink from. You can drink from your glass if you reserve the plan with lunch or dinner.

Finally, you can rent a kimono. Select your favourite from the shop and have a professional dresser get you readyーwith both your kimono and your hair. After you're dolled up, you can take a stroll around Asakusa to get a real feel for Japanese culture.

All three of these plans are just ¥3,500 per person, and all require reservations which you can book online.

So, if you're looking for a taste of Japanese food and culture, why not take a trip to WASHOKU when visiting Asakusa for an all-in-one experience?

Information

Taikenkei Dining -WASHOKU-

Address: 2113 Kaminarimon Bldg. Floors 5F-6F, 2 Kaminarimon, Taito Ward, Tokyo

Opening Hours: Lunch 11:00-15:00 / Dinner 15:00-17:00

No Fixed Holidays

Access: 1-minute on foot from Exit 4 of Asakusa Station via the Tokyo Metro Ginza Line / 2-minutes on foot from Exit A3 of Asakusa Station via the Toei Asakusa Line

Official Website (English): https://washoku.site/en/

Roppongi Hills Renovates Food Court Revealing Mouthwatering Michelin Guide Restaurants

Looking for a delicious Michelin-approved food experience? You surely cannot go wrong with heading to Roppongi Hills; a large-scale development project located in Tokyo, which is known for its nightlife and and shopping. Roppongi Hills is also home to the shopping mall Metro Hat, which is currently renovating its food court on basement floor 2. The foodcourt will have its grand opening on October 29th. 

The renovation will introduce seven new restaurants to the food court. Some of these include ramen shops and Yakitori restaurants which are bringing brand new rare dishes and flavours to the table.

Let's look at our recommendations:

Ginza Kagari (銀座 篝)

Chicken Soba: ¥900 (before tax)

Ginza Kagari is known for their notorious never-ending queues. In 2016 and 2017, it earned a place in the Michelin Guide Tokyo and even became popular overseas. One of their specilaties is their chicken soba. The broth is packed with the goodness and flavour of the entire chicken and even the bones. The flavour of the broth is exquisite and rich. The salt kaeshi sauce which is made from a mix of soy sauce, mirin and sugar goes perfectly with the soup. The salt mixture in the sauce consists of a range of natural salts which contain the natural goodness of the sea and perfectly enhance the flavours of the soup.

Location: Metro Hat Hollywood Plaza Floor B2

Opening Hours: 11:00 ー 23:00 (L.O: 22:00)
Website: https://www.roppongihills.com/en/  (The website is scheduled to open during mid October)

Yakitori Kokorikoan (焼鳥 ここりこ庵)

Yakitori (chicken skewer): ¥200 (before tax)

You must not miss out on Kokorikoan's Chicken Skin Hotpot ー a dish that is rare even to Tokyo. This dish is the perfect opportunity to discover a new kind of flavour and a new way to enjoy food. This restaurant prepares their dishes using special and rare cuts of chicken and chicken that is freshly ground in the morning. The chicken is flavored using traditional flavorings such as tare sauce and salt as well as flavorings that are not so conventional in Japan such as balsamic vinegar, herb vinegar, madeira wine, brandy and much more. Each cut of meat is prepared with the most careful methods and best seasonings to fully bring out the flavours. 

Location: Metro Hat/ Hollywood Plaza Floor B2
Opening Hours: Lunch: 11:00 ー 15:30 (L.O.15:00)  Dinner: 17:00 ー 23:00 (L.O.22:00)

Website: https://www.roppongihills.com/en/ (The website is scheduled to open during mid October) 

 Pintokona (ぴんとこな)

As a cheap place to enjoy authentic sushi, Pintokona has become a very popular restaurant. Now, it is having a fresh renewal. This sushi is made by using seasonal ingredients from around Japan. From November 1 to 30, there will be an exciting new menu that includes fresh fish from Miyazaki and authentic shochu (Japanese spirit). There will also be a fair that you also should not miss out on. 

Location: Metro Hat/ Hollywood Plaza Floor B2
Opening Hours: Lunch: 11:00 ー 15:30 (L.O: 15:00) Dinner: 17:00 ー 23:00 (L.O: 22:00)

Website: https://www.roppongihills.com/en/ (The website is scheduled to open during mid October) 

AFURI(アフリ)

Yuzu Orange and Salt Ramen: ¥1000 (before tax) 

Popular ramen shop AFURI sells a ramen with a translucent gold-coloured soup made using the natural spring water that gushes from the foot of Mount Afuri (Mount Oyama) located in the Tanzawa Mountain Range of the Kanto Region. Carefully selected chicken bones, pot herbs, kombu (kelp) and katsuobushi (fermented and smoked fish) is boiled in the water to add to the flavour. The whole wheat flour used to make the noodles creates a wonderfully fresh, chewy texture. The chashu roast pork pieces are freshly barbecued upon each order, creating a fresh and delicious flavour. AFURI also sells vegan ramen which is particularly popular among foreigners.

We have a full report on our heavenly trip to AFURI so if you are curious to find out more, please check out our this article: Introducing AFURI—Harajuku's Michelin-Starred Ramen Restaurant

Location: Metro Hat/ Hollywood Plaza Floor B2
Opening Hours: 11:00 ー 23:00 (L.O:22:00)
Website: https://www.roppongihills.com/shops_restaurants/restaurants/00100.html

There are just so many popular shops and restaurants at Metro Hat that you will be spoilt for choice. We hope you enjoy exploring the rich culture of Roppongi.