Enjoy Authentic and Affordable Sushi at Shari The Tokyo Sushi Bar in Ginza
Shari The Tokyo Sushi Bar in Ginza is bringing huge changes to its menu on November 1, 2018 to offer a modern sushi dining experience for customers to enjoy Ginza's yearned-for sushi culture.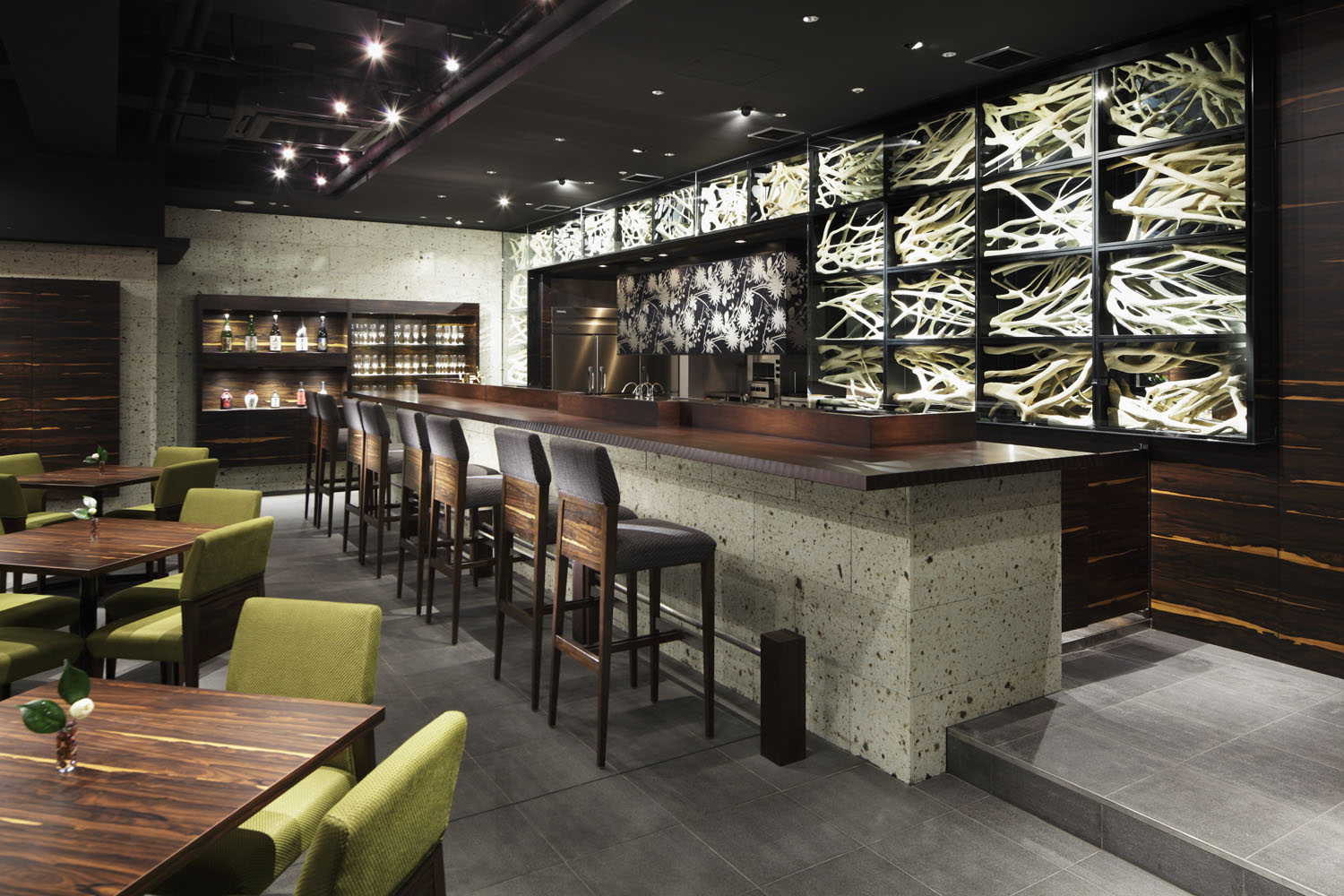 The new Shari is now equipped with counters where nigirizushi hand-formed sushi can be enjoyed. It now offers the kind of cool atmosphere where you imagine a Japanese businessman in his 40's treating his junior work colleagues to food. It is estimated an average customer will spend about ¥6,000 here.
The new menu is designed by Issei Suzuki who cultivated experience at Nadaman and worked as an executive chef at one of celebrity chef Koumei Nakamura's restaurants. Suzuki has woven together affordable izakaya cuisine with Japanese-style Chinese cooking. Customers can enjoy authentic-tasting sushi and a selection of sides together with 30 types of wine and 20 brands of sake, all of which have carefully selected by alcohol connoisseurs.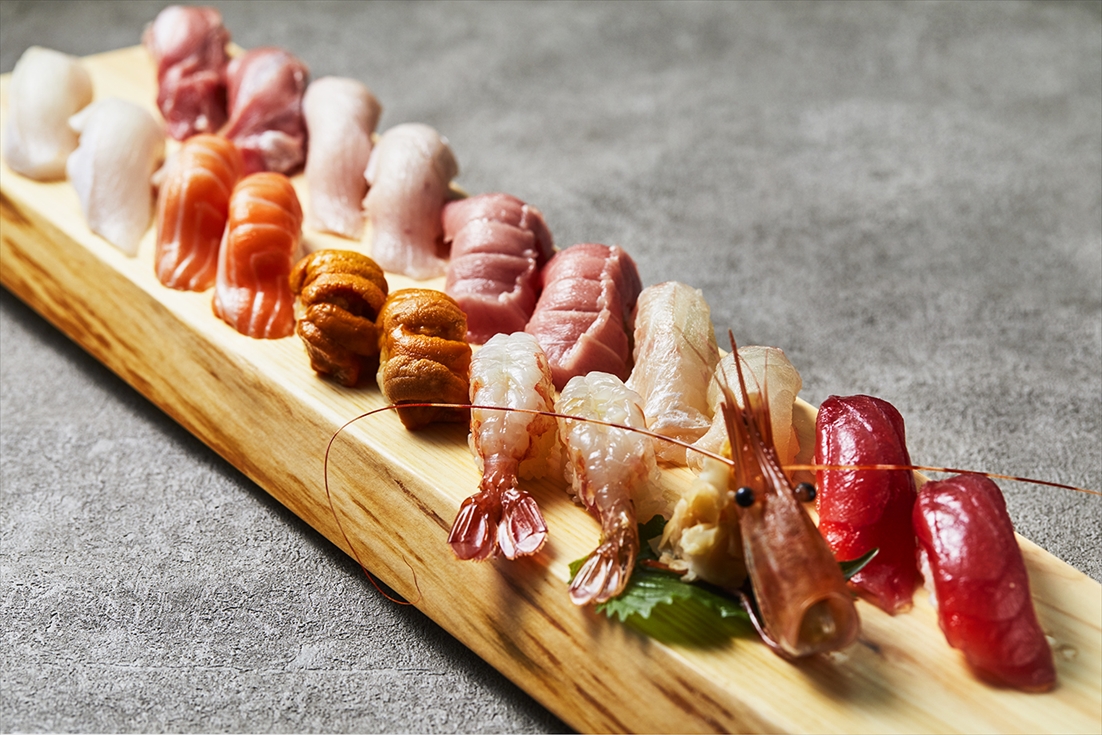 Nigirizushi is served after you have chosen your preferred toppings. Each topping is served with two sushi pieces that come in sets of 6 for ¥1,500, 12 for ¥2,500 and 18 for ¥3,500. This autumn's 18 piece combination comes with 9 different high quality ingredients including sea urchin, tuna, medium fatty tuna, sea bream, scampi and more. Each piece goes for ¥195 each making for a bargain order.
*All prices listed are tax-inclusive.
The new menu also includes makizushi rolled sushi which too is made with top grade ingredients. New items include the 'Truffle Foie Gras Roll,'Grilled Beef Roll,' 'King Crab Roll' and the cute seven-coloured and jewel-like 'Rainbow Roll.'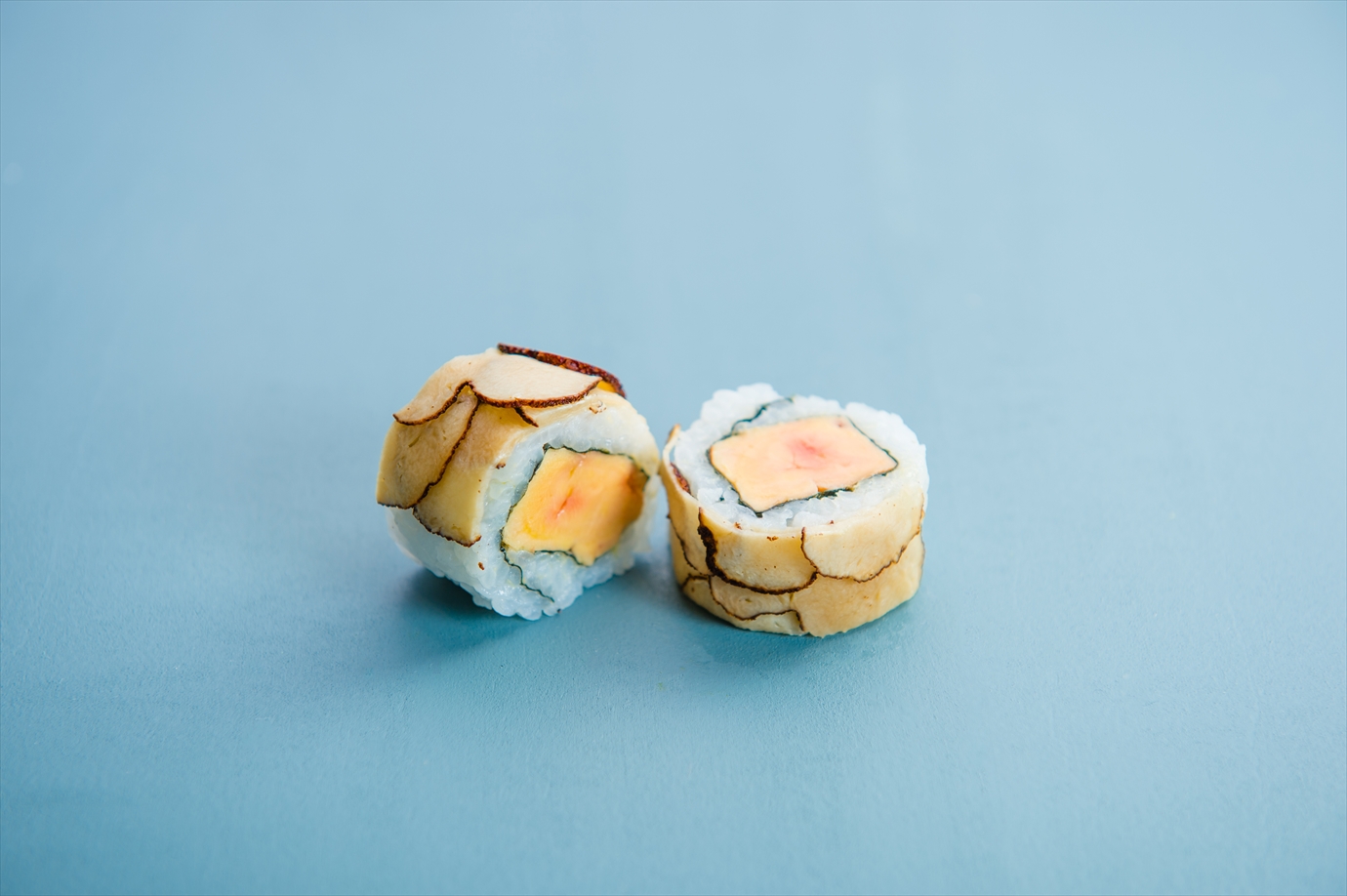 The truffle roll sushi is contains richly seasoned foie gras teriyaki wrapped in vinegared rice and laced with sliced truffle that creates a beautiful dessert-like appearance.
The beef and sea urchin are grilled after being rolled around vinegared rice. It's made with a rice wine and soy sauce based sauce that also uses beef sinew.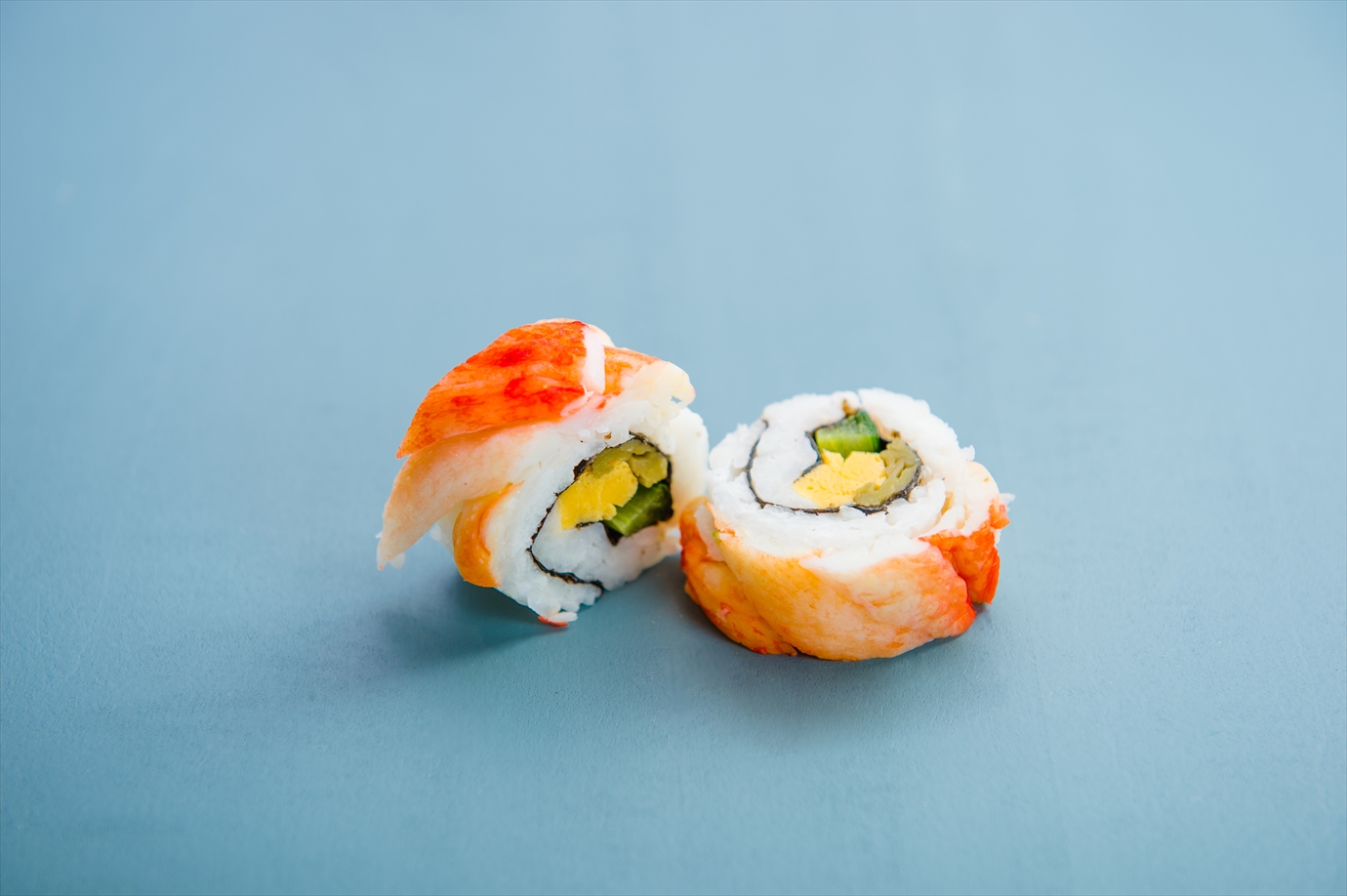 The king crab roll is best eaten the restaurant's specially made sauce that contains tommaley and ponzu.
The colourful rainbow roll is made with five types of fish―greater amberjack, tuna, mackerel pike, squid and salmon―as well as fried egg and cucumber. These 7 ingredients make the roll look like a precious gem that you'll find yourself snapping a photo of without even thinking.
The chef's recommendation consists of two dishes. The 'Kaisen Kamataki Gohan' is a new dish that contains sea urchin, shrimp and squid cooked in an iron kettle with the juices of abalone and sea bram. The 'Sake to Tappuri Ikura no Kamataki Gohan' is a bright-red salmon and salted salmon roe dish which has people who have eaten it come back for it again at an 80% rate.
Shari The Tokyo Sushi Bar is a cost-efficient location for enjoying food in Ginza whether it's from their izakaya style meals to their Japanese-style Chinese dishes.
Information
Shari The Tokyo Sushi Bar
Address: Albore Ginza Bldg. 8F, 2-4-18 Ginza, Chuo Ward, Tokyo
Opening Hours: Lunch 11:30-15:00 (Last Orders 14:30) / Dinner 17:30-23:00 (Last Orders 22:30)
TEL: 050-5212-7574
RECOMMENDED ENTRIES
Enjoy Deliciously Rich Aged Sushi at the Newly-Opened Wadanoya in Ebisu

Have you ever heard of jukusei sushi?

Jukusei sushi is aged or matured sushi. It overturns the idea of fresh fish and instead tries to bring out the maximum possible flavour out of the fish through ageing. Just how does the flavour of aged sushi change from the other sushi I've eaten?

Today I visited Wadanoya, an aged sushi shop in Ebisu, Tokyo that receives direct deliveries from Kyushu.

The restaurant is located between Daikanyama Station and Ebisu Station, just a 5-minute walk from either. It's located on the lower first floor of a building.

They offer both relaxing counter seats and horigotatsu, or sunken kotatsu seats. When there aren't a lot of customers in I recommend eating at the counter where you can chat with the owner.

The meal I ate was a set course. The starter was sashimi which I had with white wine. This fish was caught in the Goto Islands.

Next up was tempura – Satsuma chicken and seasonal vegetables. The chicken was juicy with a light dressing. It's eaten with salt and ponzu. The summer vegetables were okura and eggplant. These were also grown in Kyushu.

This was followed by horse-meat sashimi from Kumamoto served with hot Kabosu Kosho. Adding even just a little to the meat allows for enjoyment of a completely different flavour. The meat is soft, melts in your mouth and doesn't smell.

Next was sea urchin from Nagasaki Prefecture topped with butter shoyu and fish offcuts. The butter shoyu gives the sea urchin and offcuts an extremely rich flavour. It was a luxurious dish with a hearty serving of fresh sea urchin.

And then the star of the show which I couldn't wait for – aged sushi!

This fish is meichidai, or grey large-eye bream, which had been aged for one week. My first impression was "How rich!" It's a little thick and has a deep flavour. Its good, rich taste fills your entire mouth.

I also ate other aged sushi too including mackerel and tuna. The mackerel I had was aged in the refrigerator for 3 days and the tuna one week. It might have been the first time I had ever eaten such thick, smooth tuna.

The owner said that each respective fish is aged for the right period under the right temperature conditions. They go to such lengths to create these rich flavours!

Having enjoyed my fill with a full belly the last item on the course was a large serving of dagoshiru soup. It contains lots of ingredients like chewy dango, carrots and greater burdock. It had a subtle and mild taste.

Wadanoya is a popular restaurant that originates from Osaka. It's sure to end up popular in no time in Ebisu too. The restaurant is celebrating its opening until the end of October 2018 by serving their 28-item sushi course for ¥10,000 down from the regular price of ¥12,000.

Take advantage of this special price and try aged sushi for yourself.

Information

Wadanoya

Address: Echo Daikanyama B1F, 1-30-14 Ebisu-Nishi, Shibuya, Tokyo

TEL: 03-6427-8783

Access:

6-minutes on foot from Ebisu Station via JR Lines

4-minutes on foot from Daikanyama Station via Toyku Lines

Opening Hours: 18:00~24:00 Last Orders 23:30)

No Fixed Holidays.

Website: http://wadanoya-sushi.com/

Seaweed Temaki Sushi Restaurant 'Gonpachi Nori-Temaki' Opening in Harajuku

Traditional Japanese restaurant cuisine chain Gonpachi is opening its twelfth store, Gonpachi Nori-Temaki, in Harajuku on May 30. The restaurant is just a 2-minute walk from Harajuku Station along Omotesando and specialises in hand-rolled seaweed bites.

The restaurant aims to fuse modern designs with Japanese culture. In the centre of the restaurant is a 360° counter where they serve customers freshly rolled seaweed temaki. The price range starts from ¥200 for one temaki. There are also sets available on the menu.

The name 'Gonpachi' originates from Shirai Gonpachi, the protagonist of a famous kabuki play.

The seaweed at Gonpachi is kontobi seaweed from Maruyama Nori, a 160-year-old company who own a sushi shop with three Michelin stars. It has a fresh and natural taste as well as a light texture.

As well as regular vinegared sushi rice, you can also order 'cauliflower rice' which has reduced sugar. It's exceptionally nutritious and popular for its vitamin C and calcium content. The rice is an original Gonpachi creation.

There's a wide range of fillings to choose from, including Nagaimo Pollock Roe (Regular: ¥200 / Large: ¥350), Salmon Avocado (R: ¥300 / L: ¥480), Salmon Roe Soy Sauce Zuke (R: ¥450 / L: ¥600), Sea Urchin (R: ¥650 / L: ¥1,000), and more. The level of freshness in the line-up is exceptional across the board.

*All prices above are pre-tax.

Enjoy some delicious temaki sushi in Harajuku with friends and family!

■Information

Gonpachi Nori-Temaki Harajuku

Address: Co-op Olympia 1F, 6-35-3 Jingumae, Shibuya, Tokyo

Opening: May 30, 2018

Opening Hours: 11:00-22:00 (subject to change)

Access: 2-minutes on foot from Harajuku Station via JR Yamanote Line

Website: http://gonpachi.jp/

Canadian Sushi Chain KINKA IZAKAYA to Open Branch in Roppongi

The Japanese branch of Canadian restaurant group KINKA FAMILY has announced that Kinka Sushi Bar Izakaya is heading to Roppongi and will hold its grand opening on September 15.

The new branch is located near The National Art Center, about a 4-minute walk from Roppongi Station. Their food and drinks garner huge praise from customers The stylish sushi bar hailing from Canada offers up an unconventional range of sushi that's rare even in Japan like lobster sushi, as well as pressed sushi and sashimi. Wash it down with one of their original cocktails imbued with the essence of Japan.

Aburi Mosaic Sushi

Aburishasu Set of 8

The grand opening of the new Roppongi branch marks 2 years since the one in Shibuya opened. To celebrate, both branches will hold an Aburi Festival. They will serve their Aburi Mosaic Sushi and Aburishasu at the discounted price of ¥500 down from ¥1,490 for a limited time. In addition, on September 15 only, you can enjoy a new Aburi Mosaic Sushi with 16 flavours, and from September 14 to 16 you can order their set of 8 aburishasu for just ¥500 down from ¥1,690.

Experience sushi in a new way at Kinka Sushi Bar Izakaya.

■Information

Kinka Sushi Bar Izakaya – Roppongi

Address: 2F, 7-6-20 Roppongi, Minato Ward, Tokyo

Grand Opening: September 15, 2018

Opening Hours

Lunch:

[Weekdays] 11:30am-4:00pm (Last Orders 3:30pm)

[Weekends & Holidays] 11:30am-5:00pm

Dinner:

[Monday-Thursday] 5:00pm-11:30pm (Last Orders 11:00pm)

[Friday-Saturday] 5:00pm-4:00pm (Last Orders 3:00pm)

[Sunday & Holidays] 5:00pm-10:00pm (Last Orders 9:30pm)

Access: 4-minutes on foot from Roppongi Station

Closed: Obon and New Year's Holiday

Website: http://www.kinka.com/japan

Kinka Sushi Bar Izakaya – Shibuya

Address: 2F Ichigo Fiesta, 3-10 Udagawacho, Shibuya, Tokyo

Opening Hours

Lunch:

[Weekdays] 11:30am-4:00pm (Last Orders 3:30pm)

[Weekends & Holidays] 11:30am-5:00pm

Dinner:

[Monday-Saturday] 5:00pm-12:00am (Last Orders 11:30am)

[Sunday & Holidays] 5:00pm-11:00pm (Last Orders 10:30am)

Access: 5-minutes on foot from Shibuya Station

Closed: Obon and New Year's Holiday

Website: http://www.kinka.com/japan
RELATED ENTRIES
Experience Tasting Mount Koya's Famous Sesame Tofu at ONAKA PECO PECO in Tsukiji

ONAKA PECO PECO by Rurubu Kitchen is a cafe located in Tsukiji, a district in Chuo, Tokyo. They serve rice balls filled with locally sourced ingredients from various locations in Japan. In the evenings, the rice balls can be enjoyed with delicious sake.

If you visit the cafe right now you'll be able to try sesame tofu (goma tofu) made by the long-running restaurant Kadohama. Sesame tofu is a meibutsu―or "local speciality"―of Mount Koyo.

While it is possible to buy sesame tofu on Kadohama's online store, the only places you can eat them out at is at their restaurant on top of Mount Koya or at select branches of department stores such as Mitsukoshi or Isetan. We visited ONAKA PECO PECO by Rurubu Kitchen for a taste of this exquisite collaboration.

Mount Koya is located in the Ito district of northern Wakayama Prefecture and is home to the town of Koya. The region is encased an abundant mountainous landscape. The Japanese Buddhist monk Kūkai opened the sacred mountain around 1,200 years ago. In 2004, Mount Koya which was registered as a World Heritage Site by UNESCO in 2004 under the "Sacred Sites and Pilgrimage Routes in the Kii Mountain Range" category. It has since become a popular tourist destination with Japanese and foreign travellers alike.

Here is the heavenly menu lineup at ONAKA PECO PECO which is packed full of Kadohama's sesame tofu.

There are five items which are made with the sesame tofu: an onigiri rice ball, crab soup, cold tofu, pork shabu shabu, and a drink.

Time to tuck in and try this famous food which has been enjoyed for many years!

White Vegetables & Steamed Pork Shabu w/ Koji Sesame Tofu Sauce – ¥800

This dish is garnished with a generous serving of fresh white vegetables and succulent meat. It includes lotus root, enoki mushrooms, cauliflower, and pork. It also comes with a white sauce made with sesame tofu, shio koji, and sesame oil. The sauce has a mild flavour in which you can get the full glorious taste of the tofu. It's smooth and refreshing so is a perfect pick for the hot summer.

Sesame Tofu & Plum Cheese-Loaded Rice Ball – ¥250

This rice ball is a flavourful combination of a sesame tofu and plum paste and lots of cheese.

This fat rice ball is wrapped in paper like a hamburger. The rich taste of the tofu and cheese reduces the sourness of the plum, giving it a gentler flavour.

Sesame Tofu & Egg Crab Soup – ¥400

The soup is an amazing combination with the rice ball. It has a miso soup base filled with green onion, enoki mushrooms, and crab. The elastic-y tofu is cut into big satisfying chunks. Its rich, creamy flavour combined with the crab is to die for.

Sesame Tofu & Sweet Sake Jelly Drink – ¥350

The cute white-coloured beverage is a healthy mix of sesame tofu paste and sweet sake. It retains the pulpy texture of the tofu and the aftertaste is super refreshing.

You can order the drink for takeout so you can take a stroll around the streets of Tsukiji.

Kadohama Sesame Tofu – Eat In: ¥300 / Takeout: From ¥240

If you're looking to enjoy the sesame tofu on its own then you've got to try it with either the wasabi and soy sauce or brown sugar. You can also order this to take away too. Each box contains one piece of tofu.

The cafe is also selling exclusive merchandise as part of the collaboration. The collection includes a t-shirt, sacoche bag, and cap. Each item has a simple design making them easy to incorporate into looks.

Easy access to Kadohama's sesame tofu―which is made using traditional cooking methods that have been passed down generations at Mount Koya―can only be enjoyed at ONAKA PECO PECO by Rurubu Kitchen. If you're in Tokyo this summer, then take a trip to Tsukiji district to try this healthy and nutrient-packed tofu.

Model: Ririka Satsuki

Writer: Sayuri Mizuno (MMN Editorial Team)

Photographer: Haruka Yamamoto

Translator: Joshua Kitosi-Isanga

Information

ONAKA PECO PECO by Rurubu Kitchen

Address: 4-7-3 Tsukiji, Chuo Ward, Tokyo (Along Harumi-dori)

Opening Hours: 10:00-14:00 / 17:00-22:00 (Last orders at 22:00)

Closed: Sundays

Access: 10-minutes on foot from Ginza Station / 7-minutes on foot from Higashi-Ginza Station / 5-minutes on foot from Tsukiji Station

Official Website: http://onakapecopeco.com/

Irresistible Midsummer Parfait Fair Tantalises at Shiseido Parlour in Ginza

Get ready to dine on desserts in style as Shiseido Parlour announces its second-ever Midsummer Parfait Fair at its Salon de Cafe in Ginza which will be held from August 1 to 25.

Four incredible summery parfaits make the fair's lineup, each centred around local and seasonal fruits. This year sees the return of the popular mango, fig and strawberry flavours, and for the first time ever, a melon flavour made with melons from the city of Furano in Hokkaido.

Hokkaido Prefecture Furano Melon Parfait – ¥1,980 (Tax Included)

Made with sweet and fragrant Furano melons grown in Hokkaido's city of Furano, this angelic delight of a parfait is made with classic silky vanilla ice cream, refreshing hibiscus jelly, and for added accent, a squeeze of cranberry sauce. The fresh melon piece toppings are packed full of mouth-watering melon juice. The melon is served in several different ways for textural enjoyment including skinless slices, a slice with the skin on, and melon balls.

Wakayama Prefecture Kinokawa Fig Parfait – ¥2,160 (Tax Included)

The seasonal figs in this parfait have been grown and nurtured laboriously. The figs are plucked in Wakayama prefecture and are served fresh on your dessert. Tucked under the hearty serving of figs is a red wine-laced compote, sauce and sherbet while placed gracefully on top is a baked tuile. There is also a fig and apple jelly for that cheek-sucking sweet kick.

Okinawa Prefecture Apple Mango Parfait – ¥2,580 (Tax Included)

If you love mangoes, then you're in for a treat with this parfait which is prepared with mangoes from Okinawa which have been cut up into different shapes and sizes. The dessert contains a midsummer medley of ingredients including a tropical homemade mango sherbet, an exotic sauce, milk flavoured ice cream, and cranberry sauce. Savour the succulent taste, smooth texture and sweet aroma of the elusive Keats mango, the richest and most delicious of all mangoes, and one which has only a limited production in Okinawa from mid-August onward.

Nagano Prefecture Hatake Kobo Koihime Strawberry Parfait – ¥1,890 (Tax Included)

Finally, this tempting parfait is made with strawberries from Hatake Kobo in Nagano. Because of the regional climate of Nagano, these gorgeous strawberries are delicious from summer through fall. They are served with classic vanilla ice cream for the absolute perfect pairing.

Which of these do you want to try the most?♡

Information

Salon de Cafe – Shiseido Parlour

Address: Tokyo Ginza Shiseido Building 3F, 8-8-3 Ginza, Chuo, Tokyo
Opening Hours: [Tuesday-Saturday] 11:30-21:00 (Last Orders 20:30) / [Sunday & Holidays] 11:30-20:00 (Last Orders 19:30)

Closed: Mondays (Unless it falls on a national holiday)

*Closed August 26, 2019 – October 31, 2019 for renovations

Official Website: https://parlour.shiseido.co.jp/?rt_pr=pl274

The Leo Lionni Cafe in Ginza Extended Its Running Period and Refreshed Its Menu

The Leo Lionni cafe located at Sunday Brunch, MARRONNIER GATE GINZA 1 is remaining open for a longer period due to popular demand. The limited-time cafe will now be open until September 29. This cafe is themed around the world of Leo Lionni; a famous children's picture book author whose illustrated stories include Swimmy and Frederick. Some of his works have even featured in school textbooks. After much anticipation, the cafe has released a brand new menu.

The renewed menu includes three new items which are based on Frederick; the story which has been praised as Lionni's best and most popular by both children and adults. A new Frederick-themed meal, cake and drink will be made available from July 20. When you order the Frederick-themed meal, the world of Frederick will unfold before you as if it has been cut straight out of the book and served up on a plate. There is no doubt that you will find these dishes so cute that you will not want to eat them.

Frederick's Sunny Soup and Rice: ¥1,480

This is a corn, pumpkin and minced chicken dish served with a cold soup and brown rice. This depicts the image of Frederick collecting the sun as he does in the story. The rice is served hot.

"I know it" Cheesecake: ¥1,250 (price with drink set)

This is a baked cheesecake made using rhubarb and summer berries sourced from Hotaru Noen Tatsuno Farm, Nagano. This delicious cheesecake depicts the scene right at the end of the story where the mice praise Frederick saying: "but Frederick! You are a poet," to which Frederick replies: "I know it".

Frederick Cheese Tea: ¥900 

This is a pineapple iced tea with cream cheese and a Frederick biscuit perched on the top. The pineapple flavour is sweet yet slightly sour. This is bound to leave you feeling refreshed, making it the perfect summer drink. 

From July 13 to September 29, 2019, there will be a special discount campaign running at the Minna no Leo Lionni Ten; an exhibition dedicated to Lio Lionni which is currently running at the Seiji Togo Memorial Sompo Japan Nipponkoa Museum of Art. Please consider stopping by. 

Copyright © 2019 by Blueandyellow, LLC Licensed by Cosmo Merchandising

Information

Leo Lionni Cafe

Running: April 3 ー September 29, 2019 

Opening Hours: 11:00 ー 21:00 

Last orders: Food: 20:00, cakes/drinks: 20:30

Reservations can be made for until 5 pm. Customers without reservations will be served on a first-come-first-served basis after 5 pm.

Running at: Sunday Brunch  MARRONNIER GATE GINZA 1 (4th floor)

Address: 2 Chome-2-14 Ginza, Chuo City, Tokyo

* New menu will be released on July 20

Official Website: http://leolionnicafe.com/

Minna no Leo Lionni Ten Exhibition (Tokyo)

Location: Seiji Togo Memorial Sompo Japan Nipponkoa Museum of Art

Running: July 13 ー September 29, 2019 

Opening Hours: 10:00 ー 18:00 (Last entries accepted until: 17:30)

Closed: Mondays (Exceptions: July 15, Aug 12, September 16, 23)

Website: https://www.asahi.com/event/leolionni/

Minna no Leo Lionni Ten Exhibition X Leo Lionni Cafe Reciprocal Discount Scheme

If you attend the Minna no Leo Lionni Ten Exhibition held in Shinjuku and retain your ticket or ticket stub, you can exchange it at the Leo Lionni Cafe for a ¥100 discount off your meal. Likewise, if you attend the Leo Lionni Cafe, you will be presented with a ¥100 discount for entry to the Minna no Leo Lionni Ten Exhibition. 

※ ¥100 will be taken off your meal price at the Leo Lionni cafe for every exhibition ticket presented.

※ Please be aware that ¥100 discounts for the Leo Lionni Exhibition will no longer be available once stocks have been fully depleted. 

Japanese Souvenirs to Take Home With You This Summer at GINZA SIX

GINZA SIX hails as the largest shopping facility in Tokyo's upmarket district Ginza. This summer, the centre has a prepared a lineup of must-buy souvenirs and gifts, particularly in the food department, that will delight the family back home. Many of these items are available at GINZA SIX only giving you even more incentive to pay a visit while in the capital.

Listed by price range, we have selected some of these summer treats that we know you'll absolutely want to get your hands on.。

¥999 and under summer gifts made for showing a little thanks

Namacha Tea Jelly @ Nakamura Tokichi Honten – ¥417 (GINZA SIX only)

Tokichi is serving up a special GINZA SIX-only flavour of its matcha namacha jelly with added matcha bean paste. This bean paste is specially prepared matcha wrapped in white bean paste. It has a smooth texture and slight sweetness that marry together deliciously and heighten the richness of the flavour of the matcha.

Summer Limited Kohaku Tani Goldfish Yukata Ver. @ GINZA KYOUKASUIGETSU – ¥550 (GINZA SIX only)

These snacks comes in summery yukata design packaging with goldfish on them. Perfect for reminding one of Japanese summer.

¥1,000-¥2,999 summer gifts for adults

KOHAKU Fruit Bar @ PALETA – ¥1,482

This traditional wagashi (Japanese confection) is made from melted agar agar, sugar and starch syrup which is hardened to create a lollipop-like treat. Each one is handmade and crated with love and care by the confection artisans at PALETA who make them transparent like refreshing Japanese ice candy.

Basket of 5 Mio @ KASHISHOU SUEHIROAN – ¥1,759

This set comes with 5 different seasonal flavours which makes for the ultimate taste-testing gift.

¥3,000-¥4,999 delicious summers gift to share

Semi-Dried Fruits Box @ AYAfarm – ¥3,519

The perfect sharing gift to pick up, this box contains 9 different semi-dried fruits sourced from high quality fruits in Japan. The circular shape of the box make it great as a gift, and since each fruit is packaged individually, they can be enjoyed over time.

¥5,000+ premium Ginza-quality summer gifts for someone special

Parfum du Miel Series @ ハL'ABEILLE – ¥6,000 (GINZA SIX only)

Treat yourself or someone special to this premium lineup of original honeys which include bergamot, cognac and rose flavours. A sweet and tasty accompaniment to tea or ice cream.

This is just a small selection of the items on offer over at GINZA SIX right now this summer. To see more, be sure to plan a shopping trip there while in Tokyo.

Information

GINZA SIX

Address: 6-10-1 Ginza, Chuo Ward, Tokyo

Opening Hours: Shops/Cafes (B2F-5F) 10:30-20:30 / Restaurants (6F, 13F) 11:00-23:00

*Business hours differ from shop to shop.

No Fixed Holidays (But shops and restaurants will be closed on August 26, 2019)

Access: Directly connected to Ginza Station via the Tokyo Metro Ginza Line, Marunouchi Line and Hibiya Line.

TEL: 03-6891-3390
Website: http://ginza6.tokyo/

Ginza's Hidden Tokyo Ghoul Restaurant Receives Extended Opening Period

To celebrate the upcoming July 19 release of Tokyo Ghoul S, Japanese movie studio and production company Shochiku opened its 'immersive' blood-themed Tokyo Ghoul restaurant on July 5. The location of the restaurant has been kept a secret, but it is somewhere in Ginza, wrapped in 40,000 beautiful roses.

The restaurant was originally set to stay open until August 4, but due to all tickets for its 31-day run selling out in just three days, it has been extended until August 18. Tickets for these extra two weeks will go on sale on the restaurant's official website on July 12 at noon (JST).

Tokyo Ghoul Restaurant Details: The Location of This Bloody Rose Tokyo Ghoul Restaurant in Ginza is a Secret

Die-hand fans of Tokyo Ghoul aren't going to want to miss out on this exclusive ghoulish gourmet experience.

Information

Ghoul Restaurant

Running: July 5, 2019 – August 18, 2019 (*extended by two weeks)

Opening Hours: Two Slots – Slot ① Meeting 17:00 / Dining 17:30-19:30, Slot ② Meeting 20:00 / Dining 20:30-22:30

Location: Somewhere in Ginza (*Those who purchase a ticket will be told the exact location)

Official Website: http://afroand.co/ghoulrestaurant/

The Entire World Is Curious About PAPABUBBLE's Candy Art Museum To Open In Ginza

Described as the "most interesting sweets shop in the world", PAPABUBBLE sells a range of cute and fun confections. On July 1, PAPABUBBLE will open a Candy Art Museum on basement floor 2 of GINZA SIX.

PAPABUBBLE has set up shop in over 30 cities worldwide. The main shop will contain art pieces made from candy. Considering all the candy shops that are currently out there in the world, nobody has ever seen anything quite like this before. 

The museum contains around 20 different ornaments that are edible sweets. Visitors who wish to purchase the ornaments can do so. Besides the standard sweets, the display items and range of sweets for sale will be changed every day. 

When the museum opens in July, visitors will be able to enjoy the wonderful texture and flavour of candy lampshades, enjoy the artistic and charming glow of candy mushrooms, and gaze in bewilderment at an antique vase baumkuchen cake. 

To commemorate its grand opening, customers who spend more than ¥5,000 (after tax) on display items or on the sweets shop range will receive either a soft gummy brain or soft gummy dentures. This campaign will be running throughout July. 

Along with the grand opening of the art museum, there will also be Ginza-limited products on sale that are completely unique to the Ginza branch. The lineup includes sweets made from ingredients that are rarely seen in Japan. This includes colourful and fruity chocolate such as rocky roads and soft candy sweets made from snow sugar. PAPABUBBLE will also sell souvenirs that represent Ginza such as Kirihako boxes which are beautiful boxes made from wood. 

If you are in Tokyo, you just cannot miss this museum that is overflowing with originality.

Information

Candy Art Museum by PAPABUBBLE (Gallery of Sweets Art by PAPABUBBLE)

Address: B2F, 6-10-1, Ginza, Chuo Ward, Tokyo 

Opens: July 1, 2019 

Opening Hours: Mondays ー Sundays (10:30 ー 20:30)

TEL: 03-6228-5535

PAPABUBBLE JAPAN Official Website: http://www.papabubble.jp

Mogu Mogu Nippon | Indulging in Oniku no Osushi's Matsusaka Beef Don in Asakusa

Asakusa is located in Tokyo and is home to many famous tourist and sightseeing spots such as Sensō-ji Temple and the Kaminarimon Gate. It's also a place lined with restaurants serving up an array of gourmet dishes.

We have covered many popular cafés and local specialties in Asakusa in MOSHI MOSHI NIPPON. Today, we will take a look at a sushi restaurant called Oniku no Osushi which opened recently where customers can eat sushi served with Japanese wagyu beef. It is the first big name restaurant from the Gion district of Kyoto to arrive in the country's Kanto region. Since opening its doors, it has been much-talked-about and has enjoyed the hustle and bustle of hungry customers.

The restaurant is about an 8-minute walk from Akasaka Station via the subway and just a 2-minute walk via Tsukuba Express. You'll know the restaurant when you see it as the outside of it incorporates a wooden design. Inside, too, wooden planks and pillars decorate the interior.

Matsusaka beef is a brand of beef in Japan made from the meat of Japanese Black cattle that are reared under strict conditions in Matsusaka, Mie. At Oniku no Osushi, customers are able to eat this beef in the form of sushi marbled and with a rare texture.

I dined together with Chinese model and talent Etsuna. She loves eating out but this was her first time eating rare meat on sushi. We ordered the restaurant's popular Oniku no Osushi platter and the Gyusen Don (served only at lunchtime).

Oniku no Osushi Platter (8 Pieces): ¥5,000

The meat sushi platter comes with eight pieces including two pieces each of lean beef, salted beef, roast beef, and fatty gunkan beef. Excluding the gunkan beef it's recommended eating each piece from the left as pictured above. Everything is already flavoured so you can eat them as they are.

The gunkan beef is best enjoyed while it is still frozen so I started with that. The cold beef just melts as it enters you mouth. It tastes sweet and has a fatty texture to it. The egg yolk mixes together with the beef on your tongue and gives it an even smoother taste.

The meat of the lean beef, salted beef and roast beef sushi is soft and each is layered with refreshing grated lemon and daikon. When you bite into the succulent meat your taste buds are treated to the sweetness of the fat and the meats' rich flavours. I was able to taste the distinct qualities of each type.

Gyusen Don (w/ Cold Miso Soup): ¥2,480

The Gyusen Don is served at lunchtime only. It contains Matsusaka Gyusen® flakes and Kyoto-style tsukemono pickled vegetables, condiments and bite-sized meat pieces. The presentation of the dish is beautiful! You add soy sauce to it and mix with the egg yolk, and it's simple irresistible! We made sure to snap a final photo before tucking in.

The beef of this dish melts in your mouth just like the gunkan beef and blends well with the egg yolk to create a velvety flavour. The dish also has condiments and pickled vegetables too adding to the variety of tastes. If you add wasabi or ginger the flavours are elevated even further, especially when eaten with the Kyoto-style pickled vegetables which creates a spicy tang.

The miso soup that the dish is served with is also Kyoto-style. Wheat starch and pickled vegetables are added to the sweet white broth to create a mellow flavour that goes well with the dish.

Etsuna gave high praise to the dish too: "It was so delicious. I think there are still a lot of foreigners that don't know about meat sushi yet, so I think it'll get popular soon. It's a bit pricey there are a lot of foreign travelers who want to eat tasty Japanese food, so I recommend it to them."

Asakusa is famous for its takeaway food to be eaten while walking, but Oniku no Sushi serves up an Asakusa-exclusive gourmet experience too.

Steamed Rice & Meat: ¥500

If you're walking around Asakusa and are feeling peckish, then you should go for steamed rice and meat (おにくの飯蒸し). It's packed full of beefy flavour.

What did you think of this little Asakusa lunch trip? Of course, Oniku no Osushi has an evening slot for dinner too, so if you'd like to try some Matsusaka beef then be sure to pay a visit.

Writer: Sayuri Mizuno (MMN Editorial Department)

Model: 悦奈(Etsuna)

Information

Information

Oniku no Osushi (Asakusa Branch)

Address: 2-6-14 Asakusa, Taito, Tokyo

Business Hours: 11:30-15:00 / Dinner 18:00-21:00

Closed: Tuesdays

TEL: 03-5811-1939

Access: 7-minutes on foot from Sensō-ji's Kaminarimon Gate / 2-minutes on foot from Asakusa Station via Tsukuba Express

The Location of This Bloody Rose Tokyo Ghoul Restaurant in Ginza is a Secret

To celebrate the upcoming July 19 release of Tokyo Ghoul S, Japanese movie studio and production company Shochiku is opening an 'immersive' blood-themed Tokyo Ghoul restaurant from July 5 to August 4. The location of the restaurant is being kept a secret, but it is somewhere in Ginza, and is wrapped in 40,000 roses.

The Ghoul Restaurant makes an appearance in the film itself as a secret eatery where ghouls go to dine. This immersive recreation is a combination of interactivity, gourmet food, and performance and display put on by professionals.

Much of the interactive content that can be found in the restaurant was produced by AFROMANCE, such as the "SAKURA CHILL BAR by Saga," an indoor hanami experience with a littering of 1.2 million rose petals.

The entire restaurant will be steeped in an overwhelming deep crimson.

The gourmet ghoul menu was conceived by Hideo Yamamoto, a chef at the famous modern French restaurant Restaurant Air.

The creative menu brings together taste and beauty by using luxurious and high quality ingredients such as foie gras.

Performances will be carried out by live entertainment company Out Of Theater, film director and producer Issei Shibata, and video game and and visual effects company Polygon Magic. From the moment you enter to when you are dining to when you leave, you will be thrown into the world of the Ghoul Restaurants as a string of actors do the unpredictable.

Fans of Tokyo Ghoul aren't going to want to miss out on this once-in-a-lifetime opportunity. Details on what you need to do next can be found below.

Information

Ghoul Restaurant

Running: July 5, 2019 – August 4, 2019

Opening Hours: Two Slots – Slot ① Meeting 17:00 / Dining 17:30-19:30, Slot ② Meeting 20:00 / Dining 20:30-22:30

Location: Ginza (*Those who purchase a ticket will be told the exact location)

Menu: Blood & Rose Gourmet Dinner Course – ¥10,000 (Before Tax)

*Tickets will be released on June 14, 2019 at 12:00 (JST) at the official website below

Official Website: http://afroand.co/ghoulrestaurant/

Tokyo Ghoul S

Based On: Tokyo Ghoul (Young Jump Comics, Shueisha) by Sui Ishida

Directors:Hiramaki Kazuhiko / Takuya Kawasaki

Screenwriter: Chūji Mikasano

Distributed by: Shochiku

Release Date: July 19, 2019 (Japan)

Official Website: http://tokyoghoul.jp/

Shaved Ice Pop-Up Shop Opens in Ginza With Refreshing and Adventurous Flavours

From Tuesday 4th June to Sunday 1st September, a TORAYA CAFÉ AN STAND pop-up shop will open on the ground floor of Ginza Sony Park. For a limited time only, the pop-up shop will be selling kakigori (shaved ice) with a variety of adventurous flavours on the menu. The kakigori will be served with red bean paste made at TORAYA CAFÉ, which is located on floor B3. 

Last August when Ginza Sony Park opened, the red bean paste kakigori became very popular, leading to its return this year. This is your chance to experience unique flavours such as red bean paste and alcohol and even red bean paste and fruit. These flavours are limited to this pop up shop.

(※) Contains alcohol

Blueberry: ¥756, Blueberry Condensed Milk: ¥864, Limoncello: ¥540 (tax included)

Available: Tues 4th ー Sun 30th June

The Blueberry and Blueberry Condensed Milk kakigori are new flavours and are both served with red bean paste. The sweet yet tangy syrup is made from ripe blueberries and is generously poured over the kakigori. We recommend you enjoy this along with the carefully balanced condensed milk. The Limoncello red bean paste kakigori uses an Italian liqueur, creating a refreshing flavour.

Hassaku orange: ¥756, Hassaku Orange Condensed Milk: ¥ 864, Calvados (※): ¥540 (tax included)

Available: Mon 1st ー Wed 31st July

Two flavours of kakigori shaved ice are having their debut at Ginza Sony Park; the Hassaku Orange and the Hassaku Orange with Condensed Milk. The hassaku syrup is made from hassaku oranges sourced from Hiroshima. Both flavours are also served with sweet red bean paste that perfectly balances out the tangy orange.

The Calvados kakigori is made using brandy sourced from France which is stored to ferment in an oak barrel. The oaky scent and the fresh appley flavour perfectly balance each other out.

Strawberry: ¥756, Strawberry Condensed Milk: ¥864, Mulled Wine (※): ¥540 (tax included)

Available: Thurs 1st Aug ー Sun 1st Sept

Selectively bred strawberries were used to make the syrup for this strawberry kakigori. This is also served with red bean paste, which is perfect along with the sweet and sour strawberry syrup. The Mulled Wine Kakigori is made with red wine spiced with lemons, oranges, cinnamon and cloves for a new, fruity flavour.

Condensed Milk: ¥702, Matcha: ¥702, Matcha Condensed Milk: ¥810, Rum: (※) ¥540 (including tax )

Available: Tues 4th June ー Sun 1st Sept

Besides the standard red bean paste kakigori, the rum flavour is also returning this year! Sugarcane sourced from Okinawa is used to make the rum. When mixed with the blackstrap molasses sugar,  it becomes a flavour that adults just cannot resist.

Escape the heat and enjoy a moment of supreme bliss with these delicious shaved ice flavours!

Information

TORAYA CAFÉ AN STAND Ginza Pop-up shop

Running: Tues 4th June ー Sun 1st Sept 2019

Opening hours: 11:00 ー 19:00

No regular holidays

Ginza Sony Park Official Website: https://www.ginzasonypark.jp/

Coisof Releases Rain Ice Cream With Rainy Day Surprise and Resurrects Goth Ice Cream

Ice creams that will show you the meaning of true love! Coisof  will release a June-limited menu of soft serve ice creams. This includes a rain-themed ice cream that comes with a campaign that only runs on rainy days! Furthermore, the goth ice cream that was popular before the renovation of the shop is making a comeback!

Rain Ice Cream (Ame iro soft) 

With a drizzle of rainy magic, Coisof's popular milky and rich-flavoured ice cream has been transformed into a yumekawa (dreamy and cute) ice cream! ♡ The beautiful gradation of the blue lychee syrup and blue sugar pearls make it a perfect treat for the rainy season.

I bet you're dying to blow away the clouds that are hiding the June rainy day secret campaign! All you have to do is order the Rain Ice Cream on a rainy day during the June campaign period and your ice cream will be upgraded to the Rain Coi Soft (Ame iro coi soft) which is sprinkled with soft oiri candy toppings! This upgrade is absolutely free as long as it's raining! It looks so refreshing and cool! It's the perfect way to rejuvenate yourself in this humid season!

Goth Soft 

Before the shop renewal, the Goth Soft ice cream was incredibly popular. Now, post renewal, it has been resurrected! Black as midnight, the goth soft is no doubt Instagram-worthy. There's also the Goth Soft Mix which is a mix of the dark goth soft and the pure milk soft ice cream so you can enjoy both flavours at once!

Don't be glum during the rainy season! Shower yourself in love with these delicious Coisof ice creams! ♪

Information

Rain-coloured (Ame Iro Soft)

Selling period: Sat June 1 ー Sun 30

Price: ¥600 + tax

Goth Soft (black/ goth soft mix)

Selling period: From Sat June 1

Price: ¥600 + tax

coisof

Located inside re:Dine GINZA (9th floor NAMIKIKAN GINZA)

Address: 4-3-1, Ginza, Chuo, Tokyo

Opening hours: 11:00 ー 22:00

TEL: 050-3628-5009

Coisof official website: http://coisof.favy.jp

Japan's Devil Onigiri Return Tastier Than Ever & New Gyoza Onigiri Announced

Japanese convenience store chain Lawson Store 100 has announced that it will begin selling its new White Devil Onigiri and Black Devil Onigiri rice balls on June 5. It also unveiled its new Gyoza Onigiri, a whole fried dumpling wrapped in rice, which will be released on June 19.

Lawson Store 100's "Akuma no Onigiri" (The Devil's Rice Balls) first hit the convenience store's shelves back in September 2018 and were a huge hit with people of Japan with around 200,000 being sold in the first four weeks alone. The rice is cooked in a noodle soup base and is packed with simple ingredients like spring onions, tenkasu (deep-fried flour batter), and green laver seaweed. The new releases take it to the next level and are promised to be even better.

White Devil Onigiri: ¥108 (Tax Included)

The rice of the White Devil Onigiri is cooked in white dashi stock and is laced with spring onions, sea lettuce, and white sesame seeds. It's also drizzled in sesame oil for added flavour.

Black Devil Onigiri: ¥108 (Tax Included)

On the other side of the coin is the Black Devil Onigiri. This rice is made with extra sweet okonomi sauce and sour Worcester sauce. These rice balls are filled with tenkasu, sea lettuce and spring onions.

Gyoza Onigiri: ¥108 (Tax Included)

The Gyoza Onigiri was first seen on the market all the way back in October 2017. This hugely popular food snack sold around 300,000 in the first three days and over 500,000 over a week. This will be the third time it's sold. Since stock is so limited, sales have ended after just three weeks, making it a rare sight. It was released again in November 2018 with a different recipe which proved to tickle the palate of consumers too. The new version includes soy sauce and egg fried rice.

Information

White Devil Onigiri / Black Devil Onigiri

Release Date: June 5, 2019

Gyoza Onigiri

Release Date: June 19, 2019

Find the closest Lawson Store 100 to you here: https://www.e-map.ne.jp/p/lawson/

Visit Japanese Family Homes and Learn to Cook Authentic Japanese Food With airKitchen

airKitchen is an online service gaining popularity by inviting foreigners travelling to Japan to experience what it's like to cook at home there.

The number of foreign visitors to Japan has been on the rise in recent years, and with the Tokyo Olympics right around the corner, that number is predicted to continue increasing. One shift happening amongst travellers to the country is their desire for more experience consumption over material consumption. This shift has been noted by the Japanese government and companies who are pushing to offer more experience-based content to foreigners.

One such company doing just this is the online platform service airKitchen whose popularity is only continuing to increase. By using the website, foreigners can choose from a long list of Japanese hosts who will teach them how to make many different Japanese dishes in their very own homes. Bookings and payment can both be done via the company's official website. airKitchen launched in April 2018 and by April this year it already has over 4,000 users.

airKitchen's popularity can be accredited to it satisfying overseas visitors' desire to experience everyday Japanese life. They will cook authentic Japanese food in a common Japanese-style kitchen. In 2013, Washoku ("Japanese Food") was registered as a UNESCO Intangible Cultural Heritage. The appeal of Japanese food is on the rise and is sure to become even more popular.

airKitchen Introductory Video

Some of the most popular foods taught on the website include gyoza, bento and sushi. A total of three hours are allotted for each experience which includes both the cooking and eating time. The price for each service varies but the average is ¥5,000 per person. The biggest ratio of nationalities come from Europe and Australia and range from couples to families.

If you're travelling to Japan, why not book with airKitchen yourself and get a taste of everyday Japanese home life?