Enjoy Authentic and Affordable Sushi at Shari The Tokyo Sushi Bar in Ginza
Shari The Tokyo Sushi Bar in Ginza is bringing huge changes to its menu on November 1, 2018 to offer a modern sushi dining experience for customers to enjoy Ginza's yearned-for sushi culture.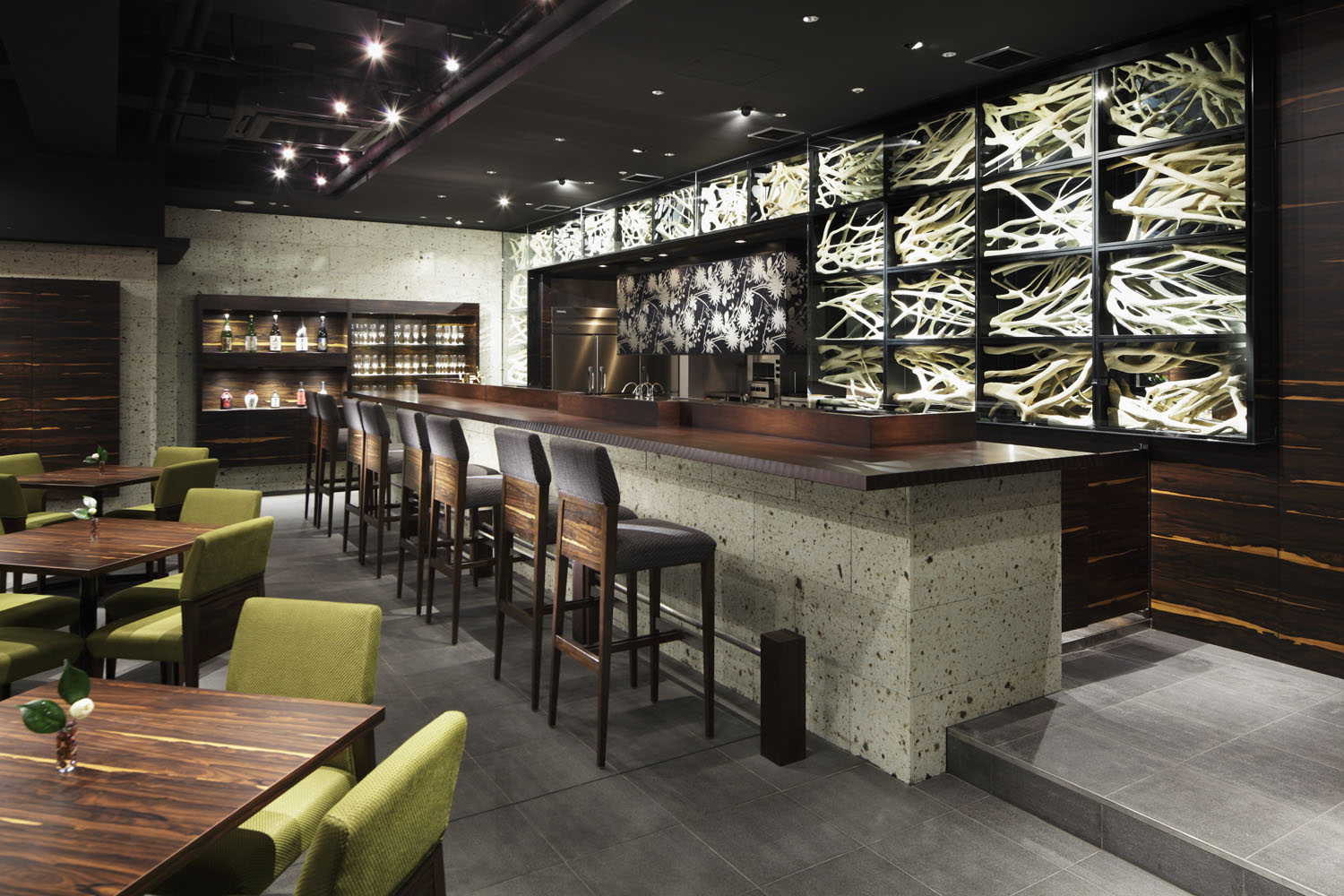 The new Shari is now equipped with counters where nigirizushi hand-formed sushi can be enjoyed. It now offers the kind of cool atmosphere where you imagine a Japanese businessman in his 40's treating his junior work colleagues to food. It is estimated an average customer will spend about ¥6,000 here.
The new menu is designed by Issei Suzuki who cultivated experience at Nadaman and worked as an executive chef at one of celebrity chef Koumei Nakamura's restaurants. Suzuki has woven together affordable izakaya cuisine with Japanese-style Chinese cooking. Customers can enjoy authentic-tasting sushi and a selection of sides together with 30 types of wine and 20 brands of sake, all of which have carefully selected by alcohol connoisseurs.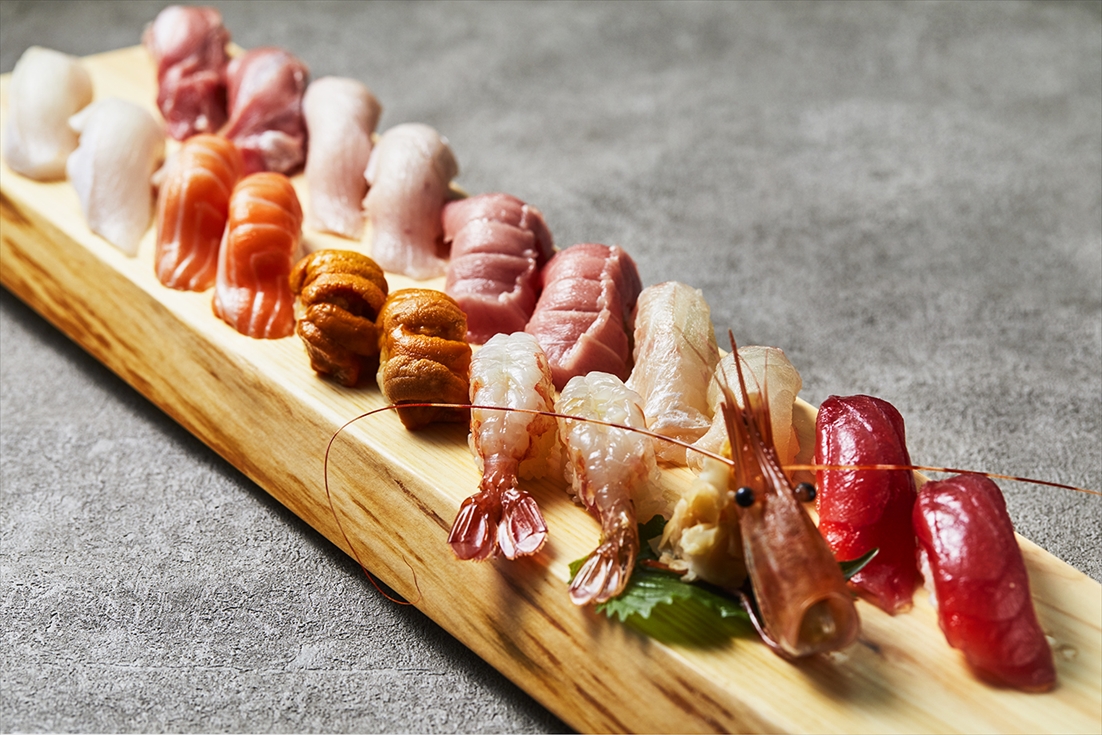 Nigirizushi is served after you have chosen your preferred toppings. Each topping is served with two sushi pieces that come in sets of 6 for ¥1,500, 12 for ¥2,500 and 18 for ¥3,500. This autumn's 18 piece combination comes with 9 different high quality ingredients including sea urchin, tuna, medium fatty tuna, sea bream, scampi and more. Each piece goes for ¥195 each making for a bargain order.
*All prices listed are tax-inclusive.
The new menu also includes makizushi rolled sushi which too is made with top grade ingredients. New items include the 'Truffle Foie Gras Roll,'Grilled Beef Roll,' 'King Crab Roll' and the cute seven-coloured and jewel-like 'Rainbow Roll.'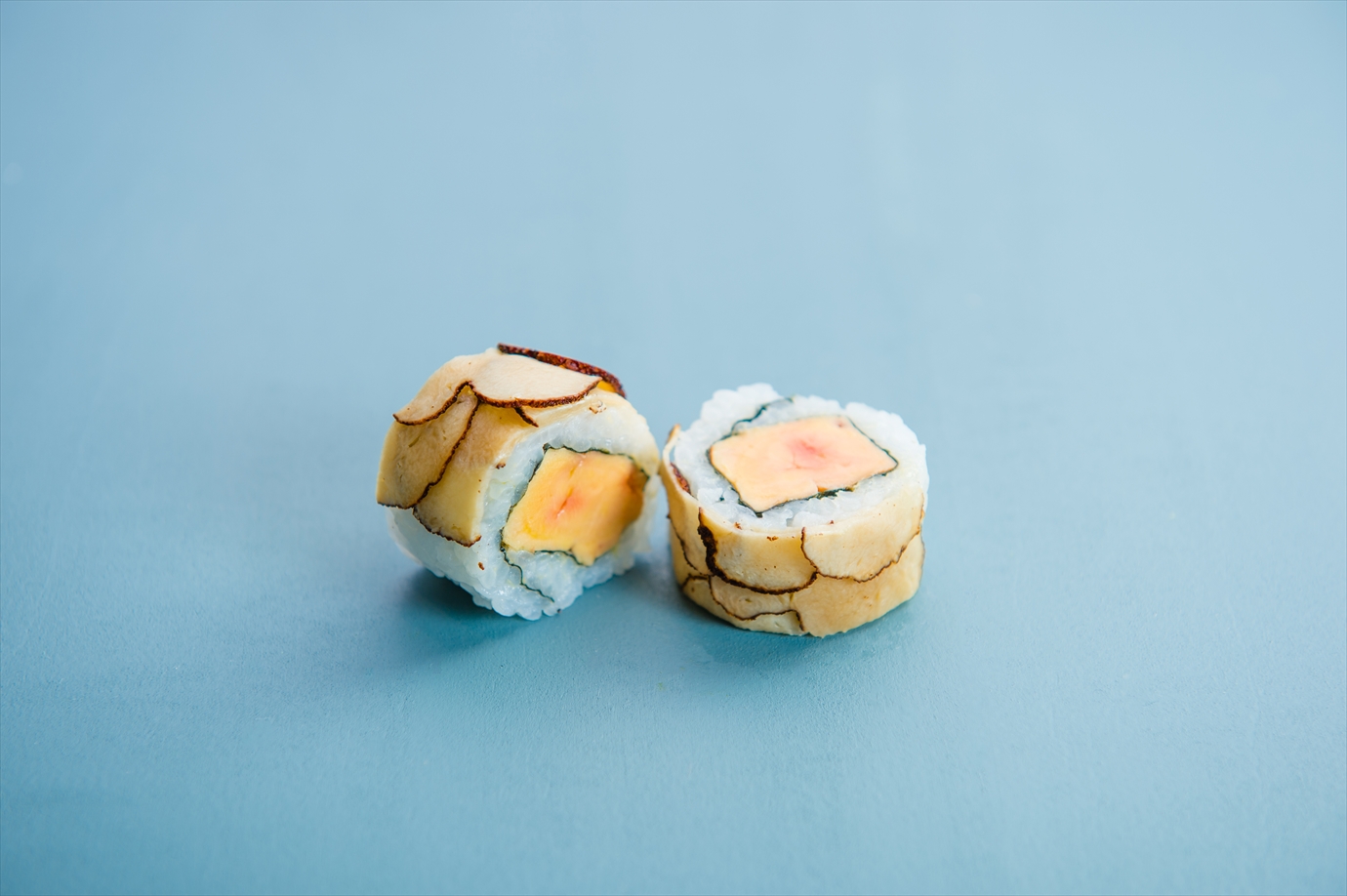 The truffle roll sushi is contains richly seasoned foie gras teriyaki wrapped in vinegared rice and laced with sliced truffle that creates a beautiful dessert-like appearance.
The beef and sea urchin are grilled after being rolled around vinegared rice. It's made with a rice wine and soy sauce based sauce that also uses beef sinew.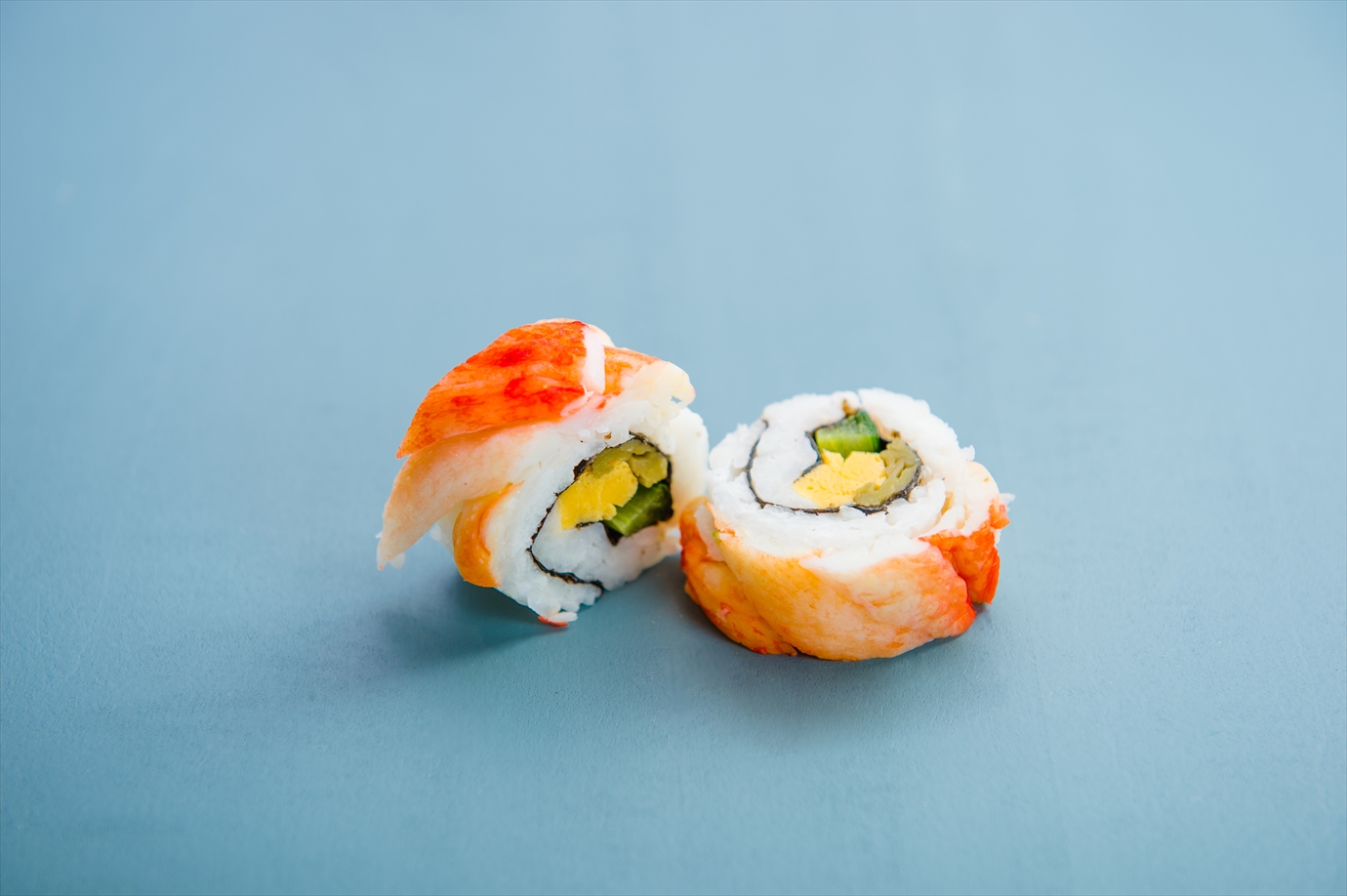 The king crab roll is best eaten the restaurant's specially made sauce that contains tommaley and ponzu.
The colourful rainbow roll is made with five types of fish―greater amberjack, tuna, mackerel pike, squid and salmon―as well as fried egg and cucumber. These 7 ingredients make the roll look like a precious gem that you'll find yourself snapping a photo of without even thinking.
The chef's recommendation consists of two dishes. The 'Kaisen Kamataki Gohan' is a new dish that contains sea urchin, shrimp and squid cooked in an iron kettle with the juices of abalone and sea bram. The 'Sake to Tappuri Ikura no Kamataki Gohan' is a bright-red salmon and salted salmon roe dish which has people who have eaten it come back for it again at an 80% rate.
Shari The Tokyo Sushi Bar is a cost-efficient location for enjoying food in Ginza whether it's from their izakaya style meals to their Japanese-style Chinese dishes.
Information
Shari The Tokyo Sushi Bar
Address: Albore Ginza Bldg. 8F, 2-4-18 Ginza, Chuo Ward, Tokyo
Opening Hours: Lunch 11:30-15:00 (Last Orders 14:30) / Dinner 17:30-23:00 (Last Orders 22:30)
TEL: 050-5212-7574
RECOMMENDED ENTRIES
Enjoy Deliciously Rich Aged Sushi at the Newly-Opened Wadanoya in Ebisu

Have you ever heard of jukusei sushi?

Jukusei sushi is aged or matured sushi. It overturns the idea of fresh fish and instead tries to bring out the maximum possible flavour out of the fish through ageing. Just how does the flavour of aged sushi change from the other sushi I've eaten?

Today I visited Wadanoya, an aged sushi shop in Ebisu, Tokyo that receives direct deliveries from Kyushu.

The restaurant is located between Daikanyama Station and Ebisu Station, just a 5-minute walk from either. It's located on the lower first floor of a building.

They offer both relaxing counter seats and horigotatsu, or sunken kotatsu seats. When there aren't a lot of customers in I recommend eating at the counter where you can chat with the owner.

The meal I ate was a set course. The starter was sashimi which I had with white wine. This fish was caught in the Goto Islands.

Next up was tempura – Satsuma chicken and seasonal vegetables. The chicken was juicy with a light dressing. It's eaten with salt and ponzu. The summer vegetables were okura and eggplant. These were also grown in Kyushu.

This was followed by horse-meat sashimi from Kumamoto served with hot Kabosu Kosho. Adding even just a little to the meat allows for enjoyment of a completely different flavour. The meat is soft, melts in your mouth and doesn't smell.

Next was sea urchin from Nagasaki Prefecture topped with butter shoyu and fish offcuts. The butter shoyu gives the sea urchin and offcuts an extremely rich flavour. It was a luxurious dish with a hearty serving of fresh sea urchin.

And then the star of the show which I couldn't wait for – aged sushi!

This fish is meichidai, or grey large-eye bream, which had been aged for one week. My first impression was "How rich!" It's a little thick and has a deep flavour. Its good, rich taste fills your entire mouth.

I also ate other aged sushi too including mackerel and tuna. The mackerel I had was aged in the refrigerator for 3 days and the tuna one week. It might have been the first time I had ever eaten such thick, smooth tuna.

The owner said that each respective fish is aged for the right period under the right temperature conditions. They go to such lengths to create these rich flavours!

Having enjoyed my fill with a full belly the last item on the course was a large serving of dagoshiru soup. It contains lots of ingredients like chewy dango, carrots and greater burdock. It had a subtle and mild taste.

Wadanoya is a popular restaurant that originates from Osaka. It's sure to end up popular in no time in Ebisu too. The restaurant is celebrating its opening until the end of October 2018 by serving their 28-item sushi course for ¥10,000 down from the regular price of ¥12,000.

Take advantage of this special price and try aged sushi for yourself.

Information

Wadanoya

Address: Echo Daikanyama B1F, 1-30-14 Ebisu-Nishi, Shibuya, Tokyo

TEL: 03-6427-8783

Access:

6-minutes on foot from Ebisu Station via JR Lines

4-minutes on foot from Daikanyama Station via Toyku Lines

Opening Hours: 18:00~24:00 Last Orders 23:30)

No Fixed Holidays.

Website: http://wadanoya-sushi.com/

Seaweed Temaki Sushi Restaurant 'Gonpachi Nori-Temaki' Opening in Harajuku

Traditional Japanese restaurant cuisine chain Gonpachi is opening its twelfth store, Gonpachi Nori-Temaki, in Harajuku on May 30. The restaurant is just a 2-minute walk from Harajuku Station along Omotesando and specialises in hand-rolled seaweed bites.

The restaurant aims to fuse modern designs with Japanese culture. In the centre of the restaurant is a 360° counter where they serve customers freshly rolled seaweed temaki. The price range starts from ¥200 for one temaki. There are also sets available on the menu.

The name 'Gonpachi' originates from Shirai Gonpachi, the protagonist of a famous kabuki play.

The seaweed at Gonpachi is kontobi seaweed from Maruyama Nori, a 160-year-old company who own a sushi shop with three Michelin stars. It has a fresh and natural taste as well as a light texture.

As well as regular vinegared sushi rice, you can also order 'cauliflower rice' which has reduced sugar. It's exceptionally nutritious and popular for its vitamin C and calcium content. The rice is an original Gonpachi creation.

There's a wide range of fillings to choose from, including Nagaimo Pollock Roe (Regular: ¥200 / Large: ¥350), Salmon Avocado (R: ¥300 / L: ¥480), Salmon Roe Soy Sauce Zuke (R: ¥450 / L: ¥600), Sea Urchin (R: ¥650 / L: ¥1,000), and more. The level of freshness in the line-up is exceptional across the board.

*All prices above are pre-tax.

Enjoy some delicious temaki sushi in Harajuku with friends and family!

■Information

Gonpachi Nori-Temaki Harajuku

Address: Co-op Olympia 1F, 6-35-3 Jingumae, Shibuya, Tokyo

Opening: May 30, 2018

Opening Hours: 11:00-22:00 (subject to change)

Access: 2-minutes on foot from Harajuku Station via JR Yamanote Line

Website: http://gonpachi.jp/

Canadian Sushi Chain KINKA IZAKAYA to Open Branch in Roppongi

The Japanese branch of Canadian restaurant group KINKA FAMILY has announced that Kinka Sushi Bar Izakaya is heading to Roppongi and will hold its grand opening on September 15.

The new branch is located near The National Art Center, about a 4-minute walk from Roppongi Station. Their food and drinks garner huge praise from customers The stylish sushi bar hailing from Canada offers up an unconventional range of sushi that's rare even in Japan like lobster sushi, as well as pressed sushi and sashimi. Wash it down with one of their original cocktails imbued with the essence of Japan.

Aburi Mosaic Sushi

Aburishasu Set of 8

The grand opening of the new Roppongi branch marks 2 years since the one in Shibuya opened. To celebrate, both branches will hold an Aburi Festival. They will serve their Aburi Mosaic Sushi and Aburishasu at the discounted price of ¥500 down from ¥1,490 for a limited time. In addition, on September 15 only, you can enjoy a new Aburi Mosaic Sushi with 16 flavours, and from September 14 to 16 you can order their set of 8 aburishasu for just ¥500 down from ¥1,690.

Experience sushi in a new way at Kinka Sushi Bar Izakaya.

■Information

Kinka Sushi Bar Izakaya – Roppongi

Address: 2F, 7-6-20 Roppongi, Minato Ward, Tokyo

Grand Opening: September 15, 2018

Opening Hours

Lunch:

[Weekdays] 11:30am-4:00pm (Last Orders 3:30pm)

[Weekends & Holidays] 11:30am-5:00pm

Dinner:

[Monday-Thursday] 5:00pm-11:30pm (Last Orders 11:00pm)

[Friday-Saturday] 5:00pm-4:00pm (Last Orders 3:00pm)

[Sunday & Holidays] 5:00pm-10:00pm (Last Orders 9:30pm)

Access: 4-minutes on foot from Roppongi Station

Closed: Obon and New Year's Holiday

Website: http://www.kinka.com/japan

Kinka Sushi Bar Izakaya – Shibuya

Address: 2F Ichigo Fiesta, 3-10 Udagawacho, Shibuya, Tokyo

Opening Hours

Lunch:

[Weekdays] 11:30am-4:00pm (Last Orders 3:30pm)

[Weekends & Holidays] 11:30am-5:00pm

Dinner:

[Monday-Saturday] 5:00pm-12:00am (Last Orders 11:30am)

[Sunday & Holidays] 5:00pm-11:00pm (Last Orders 10:30am)

Access: 5-minutes on foot from Shibuya Station

Closed: Obon and New Year's Holiday

Website: http://www.kinka.com/japan
RELATED ENTRIES
Beauty Connection Ginza's Fruits Salon Reveals Mango Menu Line-Up

Beauty Connection Ginza and its second floor fruit course cafe Fruits Salon have been closed since April 8, 2020 as a result of the novel coronavirus (COVID-19) outbreak. But that hasn't stopped Fruits Corner wanting to deliver its tasty treats to customers as it reveals its new mango themed menu which is set to run for the whole month of June. It will be taking online orders.

Following the pear, citrus fruits, and strawberry line-ups, the new mango course is made up of four different vitamin-packed and refreshing accompaniments, all made with fresh mangoes from Miyazaki Prefecture.


Mango Full Course: ¥4,400 (Tax Included)


1st. plate "Terrine"


2nd. plate "Airy Tart"

Each of the four plates, packed full of rich and sweet mangoes, offers refreshing taste to give you that early summertime vibe.


3rd. plate "Parfait"


4th. plate "Dried Fruits/Mignardises/After-Meal Drink)

The third plate is a gorgeous, eye-catching parfait centred on mango gelato and made up of delicious ingredients that all come together harmoniously. Mix everything together to create new flavours. The full course is 90 minutes, and beckons you to use all five of your senses to enjoy it.

Doraemon 50th Anniversary Online Fair Launched at TSUTAYA Ginza

Since the launch of the manga back in 1970, Doraemon has brought smiles on people's faces in the form of books, anime, live-action films, collaborations with artists, and more, for the past 50 years.

To celebrate the franchise's 50th anniversary, TSUTAYA Ginza has opened an online fair on its website. TSUTAYA Ginza is a place where people of all ages and nationalities come from around the world, and the number one book the store can recommend as part of Japan's culture continues to be the first volume of Doraemon. For the entirety of 2019—that's January to December—the first volume of Doraemon was the number one best selling book at TSUTAYA Ginza.

Doraemon 50th Anniversary Fair

Doraemon Volume 1 (Tentoumushi Comics)

Doraemon has come to be a symbol of Japan and has been passed down generations, but there probably a lot of people who don't know how the story started. To find out, pick up a copy of volume one at TSUTAYA Ginza.

Doraemon Volume 0 (Tentoumushi Comics)

As part of the anniversary celebrations, a special volume 0 has been published. This full-colour book features 6 versions of the first Doraemon story as well as comments  by the author and more.

Doraemon Mizuhiki Accessories (Pins, Earrings, Piercings)

Mizuhiki are decorative Japanese cords which are used for important ceremonial occasions such as weddings, births, and funerals. These special Doraemon mizuhiki have been turned into beautiful accessories featuring Doraemon and Dorami's iconic blue and yellow colours respectively. They can be used for decorating clothes with and more.

This is just a peek at some of the celebratory merchandise on offer for the online fair. For the full list, check out the website below.

Stock Your Kitchen With Japanese Kitchenware Tools by SALON adam et rope'

SALON adam et rope' has launched its new "Nihon no Daidokoro Dougu" (Japanese Kitchen Tools) collection which features a curated selection of Made In Japan kitchenware and cookware items from high quality Japanese brands.

Kasane

Top: ¥12,000 / Middle: ¥12,000 / Bottom: ¥9,000 (Before Tax)

Traditionally, Japanese knives were made by men with men in mind, but these Kasane knives are made by women to fit with the modern age. They are made in such a way to feel comfortable in smaller hands. The handles are made from rare natural wood from the cerasus jamasakura trees of Gifu Prefecture which give them a texture that changes as you continue to use the knives. The blades themselves are made from high-carbon stainless steel which gives them superior sharpness and durability. The blade edge is the result of a new technology developed by Sumikama called "Zero Edge" which makes them thin and sharp.

Kaji Donya

 
Left: ¥1,300 / Middle: ¥2,000 / Right: ¥2,800 (Before Tax)

Left: ¥1,000 / Middle: ¥1,200 / Right: ¥2,000 (Before Tax)

These handy stackable containers are made by Kaji Donya, a company based in Tsubame, Niigata. The height of each one is the same which makes them super convenient when stacking inside fridges.

Ceramic Grill: ¥1,400 (Before Tax)

The ceramic grill is a longtime seller at SALON. If you're grilling bread on it, it leaves the outside crispy and the inside nice and soft. It uses far-infrared rays which means the water content of the ingredients grilled on it is not lost, allowing for the full tasty flavour to stay locked in and the food plump and juicy.

Father's Day: Otokomae Tofu Celebrates Dad's Around the World With New Tofu Product

Japanese tofu company Otokomae Tofu is celebrating Father's Day this year by releasing its new "Chichi no Hi Tofu" (Father's Day Tofu) at supermarkets around Japan for a limited time between June 15 and June 21.

When you pour soy sauce over the Father's Day Tofu, a message of gratitude appears on the tofu's surface in Japanese. This is a unique, one-of-a-kind tofu experience. There are four messages in total which translate to: "Manly," "Thanks always, dad. I love you, live a long life," "You work so hard papa, I love you," and "Dad."

Giving your dad some Father's Day Tofu is sure to make for a Father's Day to remember!

Information

Chichi no Hi Tofu (Father's Day Tofu)

Running: June 15, 2020 – June 21, 2020

Price: ¥158 (Before Tax)

Available: Supermarkets in Japan (Except Hokkaido and Okinawa)

Otokomae Tofu Official Website: http://otokomae.com

McDonald's Japan: Chicken Tatsuta Mentai Cheese & Other Japanese Flavoured Foods Coming to the Menu

McDonald's Japan is introducing some mouth-watering new foods to its menu including two which incorporates chicken tatsuta: the "Chicken Tatsuta Mentai Cheese" which is made with walleye pollack roe, and the bite-sized "Hitokuchi Tatsuta"ーthe latter of which is arriving to the side menu.

It is also introducing the "Rice Chicken Tatsuta" burger following the success of the "Rice Burger" which was released at stores for the first time earlier back in February of this year.


These new menu items will be released on May 13, 2020 at all McDonald's branches in Japan for a limited time.

Chicken Tatsuta Mentai Cheese

Chicken tatsuta is a popular Japanese dish which combines a soft, soy ginger-soaked chicken patty with spicy sauce and stuffs it inside a bun. McDonald's new "Chicken Tatsuta Mentai Cheese" adds spicy walleye pollack roe mayo and smooth white cheddar cheese to the equation. It will be available all day round, including for the morning menu.

Hitokuchi Tatsuta

Rice Chicken Tatsuta

The "Rice Chicken Burger" will be available in the evenings only.

Japanese actor Toshiyuki Nishida is appearing in the TV commercials to promote the "Hitokuchi Tatsuta" while comedian Nobuyuki Hanawa and actor Katsumi Takahashi appear in the "Rice Chicken Tatsuta" commercials which feature a re-recording of the song SWEET MEMORIES ~Amai Kioku~ by Seiko Matsuda.

Popular Yakiniku Restaurant Futago to Open New Branch at THE JUNEI HOTEL in Kyoto

FTG Company, which operates 74 restaurants inside and outside Japan, is set to open its new restaurant Nikukappou Futago at THE JUNEI HOTEL Kyoto in Higashiyama, Kyoto on March 27, 2020 where it will serve authentic Japanese wagyu beef and full courses.

THE JUNEI HOTEL Kyoto is a small luxury tourist hotel housing eleven rooms in total, including its Bamboo Suite. Bamboo can be found throughout all the rooms as part of the hotel's concept: "A sojourn embraced by bamboo in a moonlit space." The rooms, as well as the hotel interior overall, showcases beautiful traditional handiwork using bamboo.

Inside Nikukappou Futago

Nikukappou Futago fuses traditional Japanese elements with modern ones. It features half-size eating areas as well as private areas. Customers can expect their private dining experience to include freshly-cooked full courses with high quality Japanese wagyu and seasonal ingredients.

Menu in Japanese *Menu will change monthly

Nikukappou Futago's concept is "A relaxed adult's Iki." The word iki here refers to a range of different meanings in Japanese, like "sophistication," "breath," "spirit," and "life." The restaurant will work to serve a hospitable service that enables each and every person to enjoy that iki that lives inside them.

Foie Gras & Wagyu Filet Mouthful Bowl

Wagyu Loin & Kyoto Vegetable Shabu-shabu

The course is made with seasonal ingredients and vegetables. Plus, in using a range of cooking methods, the original flavour meat of the meat is intensified.

Wagyu Sirloin Sumiyaki

Enjoy a selection of high-quality rare wagyu cuts like sirloin, filet, loin, and more. You can also enjoy a selection of classic Japanese dishes like yakiniku, shabu-shabu, and sukiyaki, all in one course.

Like the changing seasons in Kyoto, the menu will be altered every month to bring something new. Discover your iki and enjoy a great meal at Nikukappou Futago.

Information

Nikukappou Futago THE JUNEI HOTEL KYOTO

Address: THE JUNEI HOTEL KYOTO Floor 1F, 4-139 Honmachi, Higashiyama Ward, Kyoto
Grand Opening: March 27, 2020
Opening Hours: 17:00-23:00  (Last Orders 22:00)
No Fixed Holidays

Seats: 32 (6 Half-Size Rooms / 2 Private Rooms
TEL: 075-525-0052

Course Price: ¥11,000 (Tax and service charge not included) *Course menu to change each month

Official Website: https://nikutei25.com/

TSUTAYA BOOKS Reveals Store-Exclusive QLOCKTWO CLASSIC Design

The Ginza branch of TSUTAYA BOOKS has revealed that it will sell an exclusive shooting star design of the QLOCKTWO CLASSIC CREATOR'S EDITION.

The design was conceived in collaboration with GINZA TSUTAYA BOOKS, fusing together Japanese culture and art. The entire clock face is specially made using Japanese urushi lacquer and makes use of the maki-e Japanese lacquering technique where the lacquer is sprinkled with gold or silver powder for decoration. Only 12 of these models will be sold worldwide, making them a very limited-edition and exclusive item.

 

GINZA TSUTAYA BOOKS's Exclusive "Ryusei" Shooting Star Model

Two strong golden strokes shoot across the jet black design, both of which are made using a combination of 24k gold and a special 22.7k gold that's mixed with silver. This not only makes the thick lines powerful, but adds a touch of delicateness too. However, the focus of this design is the background lacquering. The two-coloured golden straight lines enhance the darkness of the lacquer to give the background a jet-black appearance. Emerging majestically from the gold and black contrastーwhich was created by the artisans of the Japan Traditional Crafts Exhibitionーare letters which form the time in word format. This combination of modern European art and Japanese craftsmanship is the culmination of beauty.

The standout characteristic of the QLOCKTWO CREATOR'S EDITION series is the craftsmanship. Yamada Heiando is a lacquerware shop founded in 1919 that purveys its products to the Japanese Imperial Household. The artisans of this shop tackled the difficult challenge of performing lacquering on large surfaces. The design of the new QLOCKTWO shooting star model is a traditional one even within the lacquerware of Yamada Heiando. The model realises that very challenge, producing wonderful craftsmanship on a large surface.

QLOCKTWO makes use of a ground-breaking time display system that originates in Germany which makes use of words in lieu of clock hands or numbers. As shown in the picture, the display is shown in typography, reading "IT IS HALF PAST SEVEN."

QLOCKTWO has received high praise amongst clock and watch enthusiasts in Europe, winning over 20 international design awards including the Red Dot Design Award, the iF Product Design Award, and the ADC Europe Gold Award. The product adds an elegant and modern touch to one's lifestyle. They are displayed around the world: one was set up at Paris's famous boutique Colette, which closed recently, as well as the world's oldest department store Bon Marche, and is part of the Parisan "elegant and modern lifestyle."

Winners Announced For The 7th Washoku World Challenge Competition

The final round for the 7th Washoku World Challenge Competition was held in Tokyo on February 20 and 21, which saw WANG Wei Ping of China, and chef at SUN with AQUA JAPANESE DINING SUNTORY, as the winner.

The two-day event brought together five chefs from Hong Kong, Singapore, Paris, Donostia-San Sebastian, and New York come together to compete and show their skills create dishes based on the competition's main theme of "Umami" and this year's theme of "Texture and Mouthfeel."

The judges said: "This 7th edition demonstrates that the finalists' technical level keeps improving every year. Creating Japanese dishes that incorporate the characteristics and unique ideas of other countries' culinary cultures, while respecting the fundamentals of Japanese cuisine built on the concept of umami, expands the potential of Japanese cuisine. The creations of each one of the finalists embodied this notion."

Middle Contender: WANG Wei Ping, 1st Place Winner

WANG Wei Ping's Dish

On the first day, the chefs used the same ingredients to create a "nimonowan." On the second day, they forged their own original dishes using five or more ingredients which they arranged on a Japanese "hangetsubon" tray.

When reacting to his victory, Wang Wei Ping said: "I thank the owner and other members of my restaurant. After returning to Shanghai, I would like to continue conveying the excellence of Japanese cuisine, which is both healthy and tasty."

Finalists

Hong Kong

First Place: WANG Wei Ping (China, SUN with AQUA JAPANESE DINING SUNTORY)

USA

Second Place: Yael PEET (USA, Fury's) *The restaurant will be open this summer.

Singapore

Third Place: Loh Man HONG (Singapore, FAT COW)

Paris

Wojciech POPOW (Poland, Beaverbrook)

Judges

– Head Judge: Mr. Yoshihiro MURATA

(Chairman of Japanese Culinary Academy, Owner and chef of Kikunoi, Japanese Cuisine Goodwill ambassador)

– Deputy Head Judge: Mr. Masahiro NAKATA

(Director of Taiwa Gakuen Education Inc. President of Kyoto Culinary Art College)
– Judge: Mr. Hideaki MATSUO

(Owner of Japanese Cuisine KASHIWAYA, Japanese Cuisine Goodwill ambassador)
– Special Judge: Yoshio KOJIMA

(Comedian)

CHANEL Ginza's Rooftop Space to Welcome Gorgeous Terrace Café LE JARDIN DE TWEED

The rooftop terrace space of the CHANEL Ginza building is set welcome LE JARDIN DE TWEED this March which is collaborating with champagne producer Perrier-Jouët.

LE JARDIN DE TWEED will open for a limited time this March where it will run until late October. As the name of the chic café suggests, the space takes on a tweed design with trimmed plants housed throughout. They will serve finger food from BEIGE ALAIN DUCASSE TOKYO as well as afternoon tea and more.

For drinks, there is of course exquisite Perrier-Jouët champagne, as well as a selection of special original cocktails. Their detox non-alcoholic cocktails are special recommendations for refreshing the mind and body.

©PierreMonetta

Afternoon Tea – ¥4,800 (With Tea or Coffee) / With Perrier-Jouët – ¥6,000 (1 glass serving) Serving: 14:00-16:00

The items adoring the afternoon tea set will change with each passing season. Enjoy with a glass of Perrier-Jouët, tea, coffee, or one of the available soft drinks.

What could be more indulging than sitting atop CHANEL in Tokyo's high-end Ginza district while tucking into a tasty afternoon tea with a glass of champagne?

Information

LE JARDIN DE TWEED

Running: March 2020 – Late October 2020 (Subject to change)
Opening Hours: 14:00-22:00 (Last Orders: Food 20:30/Drinks 21:30)
Closed: Mondays/Tuesdays

BEIGE ALAIN DUCASSE TOKYO

Address: CHANEL GINZA Bldg. Floor 10F, 3-5-3 Ginza, Chuo Ward, Tokyo
Opening Hours:

<Lunch> 11:30-16:00 (Last Orders 14:00)
<Dinner> 18:00-23:00 (Last Orders 20:30)
Closed: Mondays/Tuesdays/Summer Season/New Year Holidays
Official Website: http://www.beige-tokyo.com/en/

Kaori's Easy Recipe: Learn to Make Hello Kitty Sushi Cakes For Hinamatsuri

With just a small bit of ingenuity, turn everyday food into something cute using Kaori's easy recipe! With a few simple ideas, an ordinary recipe magically transforms into a cute dish.

Hinamatsuri is almost here, and I've got the perfect treat for this year's festival: Hello Kitty Sushi Cakes. These Hello Kitty decorations can be made with basic Japanese ingredients, so follow along and try making them yourself.

1: Equipment/Ingredients

15cm cake tin

1 cup vinegared sushi rice

200g tuna

200g salmon

3 Japanese rolled omelettes (dashi-maki tamago)

20 beefsteak plant

Ikura salted salmon roe

Hanpen pounded fish cake

2:

Line a cake tin with baking sheet paper like in the photo. Use a cake tin with a detachable bottom spanning 15cm. In the case that you don't have a cake tin with a detachable bottom, cover the bottom of your tin with cling film which will make it easy to remove everything afterwards.

3:

Cut Hello Kitty, flowers and other shapes into some hanpen pounded fish cake.

4:


Slice the tuna, salmon, and Japanese egg into cubes about 1.2cm each.

Pile the ingredients in this order: rice→tuna, salmon, and egg→rice. Refer to the photo below.

5:


Leave the ingredients exposed around the outside like so✨

6:

Top with the rest of the ingredients as you like.

7:

Finish by adding your Hello Kitties and flowers which you can decorate with leftovers, like the noses and middle of the flowers. I also used cucumber and crab sticks for the head decorations.

Kaori invites you into her world of character-themed food dishes in her recipe series. Be sure to check out her Instagram where she has uploaded many pictures of her character dishes!

Kaori Kubota (@kaopan27)
I live in Hokkaido and I love to make character themed foods, desserts and pastries♡

I want to see my family smile, so I enjoy putting in a bit of effort to make character foods and changing food into something cute♡

You can see more of my character foods and character bento boxes on my Instagram page→@kaopan27

Fermented Food Cafe 'Tsuke x Koji Haccomachi' to Open in Kyoto's Sanjo Area

Tsuke x Koji Haccomachi is a new cafe opening in the Sanjo area of Kyoto on February 22, 2020, that is centred entirely on fermented foods.

The name "Haccomachi" derives from the Japanese word Hakko (Hacco), meaning fermented, and Komachi (Comachi), meaning a beautiful woman. The cafe hopes for people to incorporate fermented foods into their livesーsomething which is rooted in Japanese food cultureーand live comfortably.

The cafe's logo showcases the making of kōjiーa type of mould used in the fermentation process of certain food products in Japan, like soybeans. The logo hope to pass down this long upheld tradition.

Hakko fermentation is a major part of Japan's food culture. Since ancient times, the sweetness and umami brought about by the enzymes in the fermentation process have served to accompany many foods in the country, such as miso, soy sauce, mirin, rice vinegar, and so onーall traditional condiments used in the Japanese kitchen that are still fundamental today.

The menu at Tsuke x Koji Haccomachi features a line-up of fermented foods made in Kyoto, including those from Kyoto-based soybean makers Fujiwara Shokuhin, Sawai Shoyu Honten which has produced the same high quality soy sauce for decades, sake brewery Kitagawa Honke which has been around since the Edo Period, and more.

A Small Look at the Menu

Lunch Menu

Haccomachi Special – Fermented Lunch Plate: ¥1,690

This lunch plate is an assortment of hors d'oeuvre made with fermented condiments, tandoori chicken that has been pickled to elevate the umami, marlin fish, soup, and more.

Dinner Menu

Spare Ribs On The Bone in Miso Yuan Yaki: ¥1,490

This hearty portion of spare ribs are marinated in a miso, mirin, and soy sauce mix. Taste the full umami flavour of the juicy meat.

Namerō Miso Salmon in Yoghurt Sauce: ¥770

The salmon is served namerō style, a type of tataki or pounding method, in miso. The yoghurt has both a refreshing and rich flavour.

Homemade Komekoji Rice Malt Sweet Sake Yoghurt: ¥470

The splitting of the sour yoghurt serves to elevate the sweetness of the sake. This is a drink that even those who don't like sweet sake are sure to enjoy.

Cafe Menu

Miso Pound Cake w/ Vanilla Ice Cream: ¥550

The miso pound cake is a collaboration with Japanese confectionery company Sarasa, which has 6 branches of cafes and shops in Kyoto. It's made using komekoji rice malt powder provided by an old-fashioned Japanese shop (菱六もやし). The umami of the miso is intensified, and the cake stays moist thanks to the powder. It's served with a dollop of refreshing vanilla ice cream.

Blackcurrant & Vanilla Sweet Sake Affogato: ¥550

A unique spin on the affogato dessert which has you pouring hot sweet sake over tangy and refreshing blackcurrant sherbet and rich vanilla ice cream. Enjoy the mix of the hot sake and the cool ice cream.

Discover the Japanese tradition of fermentation at Tsuke x Koji Haccomachi, opening February 22, 2020.

Information

Tsuke x Koji Haccomachi

Grand Opening: February 22, 2020
Address: 78-1 Masuyacho, Shitagaru Yanaginobamba Sanjo-dori, Nakagyo Ward, Kyoto,
Opening Hours: [Weekdays] 11:00-15:00 & 17:00-22:00 / [Weekends & Holidays] 11:00-22:00

Closed: Wednesdays
Official Website: https://haccomachi.jp/

Hanami in Japan 2020: Bite-Size Sushi Hanami Bento Lunch Box Releasing in Ginza

SHARI and SHARI THE TOKYO SUSHI BAR in Ginza, as well as CRAFT in Ariake, are releasing the perfect accompaniment to your hanami flower-viewing experience in Japan this spring: the "Hanami Roll Sushi Bento" lunch box, which consists of 36 bite-size sushi pieces made up of 12 different kinds of sushi. It will be available February 18 to April 30.

Hanami Roll Sushi Bento (36 Pieces/Serves 3-4): ¥4,500 (Tax Included)

As soon as your take the lid off this colourful assortment of rolled sushi, you'll find yourself reaching for your camera to snap a photo for Instagram. Each piece is 3cm in diameter and so is deliciously bite-sized. The line-up includes four new kinds of sushi rolls conceived for this release which use seasonal spring ingredients, like sakuradai cherry blossom sea bream, sakura ebi, rape blossoms, fuki giant butterbur, green beans, and moreーas well as eight other types of sushi that are popular classics at each of the three restaurants.

Shrimp Roll

From the four new rolls, we have the sakura ebi shrimp roll, which is served with a gorgeous cherry blossom colour. It's made with shibazuke pickles and vinegared rice, which gives it its colour, and contains, rape blossoms, okra, Chinese yam, and egg. The rape blossoms add a springtime bitterness to the sweetness of the sakura ebi, creating a wonderful combination of flavours.

Beef Butterbur Miso Roll

Then there's the sakuradai roll is wrapped with vinegared tobiko flying fish roe, okra, and cucumber, which is topped with sashimi-style sakuradai cherry blossom seam bream and salty cherry blossom leaves. The spring vegetable and tempura roll has shrimp and green bean tempura mixed with yuzu kosho paste; and finally, the beef butterbur miso roll, which contains beef rib seasoned in a sukiyaki style, finished with sesame seeds, and seasoned with butterbur miso.

The eight popular classics include the wagyu roll sushi seasoned with luxurious truffle oil, Italian roll, duck roll, salmon roll, spider roll (soft shell crab), and more. All of these varied picks go great with wine or champagne.

Hanami Roll Sushi Bento (9 Pieces): ¥1,200 (Tax Included)

The "Hanami Roll Sushi Bento" comes in various sizes. As well as the 36 pieces of 12 sushi types, there's also 18 pieces of 9 types (serves 1-2), and the 9 pieces of 9 types (serves 1).

Reservations are available until 15:00 the previous day. Order yours for your Hanami cherry blossom flower-viewing this year in Japan.

Information

Hanami Roll Sushi Bento

Available:

SHARI (TEL: 050-5357-5354) (Address: Mitsui Garden Hotel Ginza Gochome Floor 2F, 5-13-15 Ginza, Chuo Ward, Tokyo)

SHARI THE TOKYO SUSHI BAR (TEL: 050-5212-7574) (Address: ALBORE GINZA Floor 8F, 2-4-18 Ginza, Chuo Ward, Tokyo)

CRAFT (TEL: 050-5357-5353) (Address: CRAFT Floor 2F, 3-7-2 Ariake, Koto Ward, Kyoto)

Prices:

36 Pieces/12 Types (Serves 3-4 People): ¥4,500

18 Pieces/9 Types (Serves 1-2 People): ¥2,400

9 Pieces/9 Types (Serves 1 Person): ¥1,200

Reservations

Reservations can be made via telephone or in-store until 15:00 the previous day.

*Reservation Window: Telephone 10:00-20:00 / In-Store 12:00-22:30

*Depending on the ingredient stock, reservations may be made on the same day

*The Hanami Roll Sushi Bento is for takeaway only and cannot be eaten in the restaurant