Enjoy Authentic and Affordable Sushi at Shari The Tokyo Sushi Bar in Ginza
Shari The Tokyo Sushi Bar in Ginza is bringing huge changes to its menu on November 1, 2018 to offer a modern sushi dining experience for customers to enjoy Ginza's yearned-for sushi culture.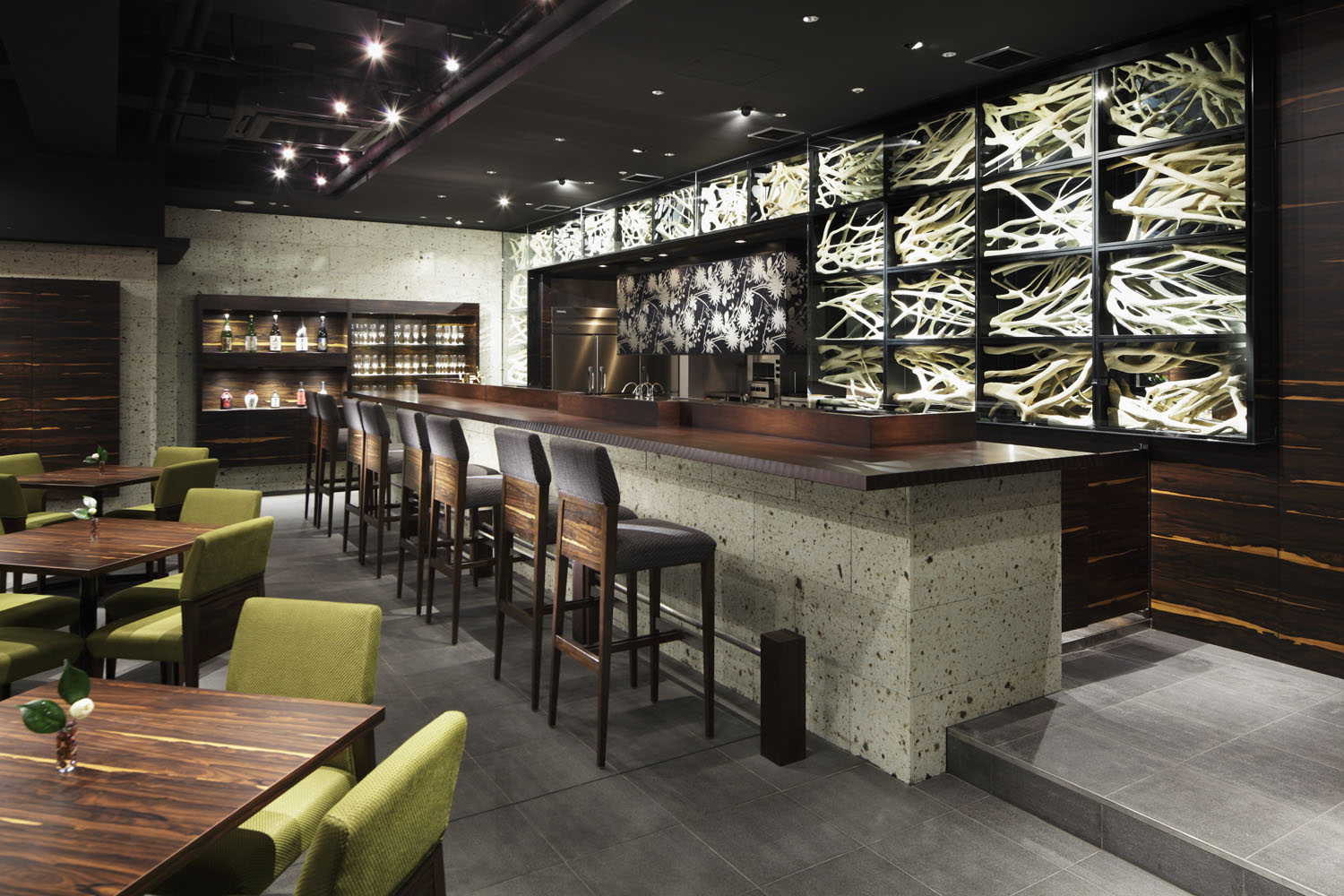 The new Shari is now equipped with counters where nigirizushi hand-formed sushi can be enjoyed. It now offers the kind of cool atmosphere where you imagine a Japanese businessman in his 40's treating his junior work colleagues to food. It is estimated an average customer will spend about ¥6,000 here.
The new menu is designed by Issei Suzuki who cultivated experience at Nadaman and worked as an executive chef at one of celebrity chef Koumei Nakamura's restaurants. Suzuki has woven together affordable izakaya cuisine with Japanese-style Chinese cooking. Customers can enjoy authentic-tasting sushi and a selection of sides together with 30 types of wine and 20 brands of sake, all of which have carefully selected by alcohol connoisseurs.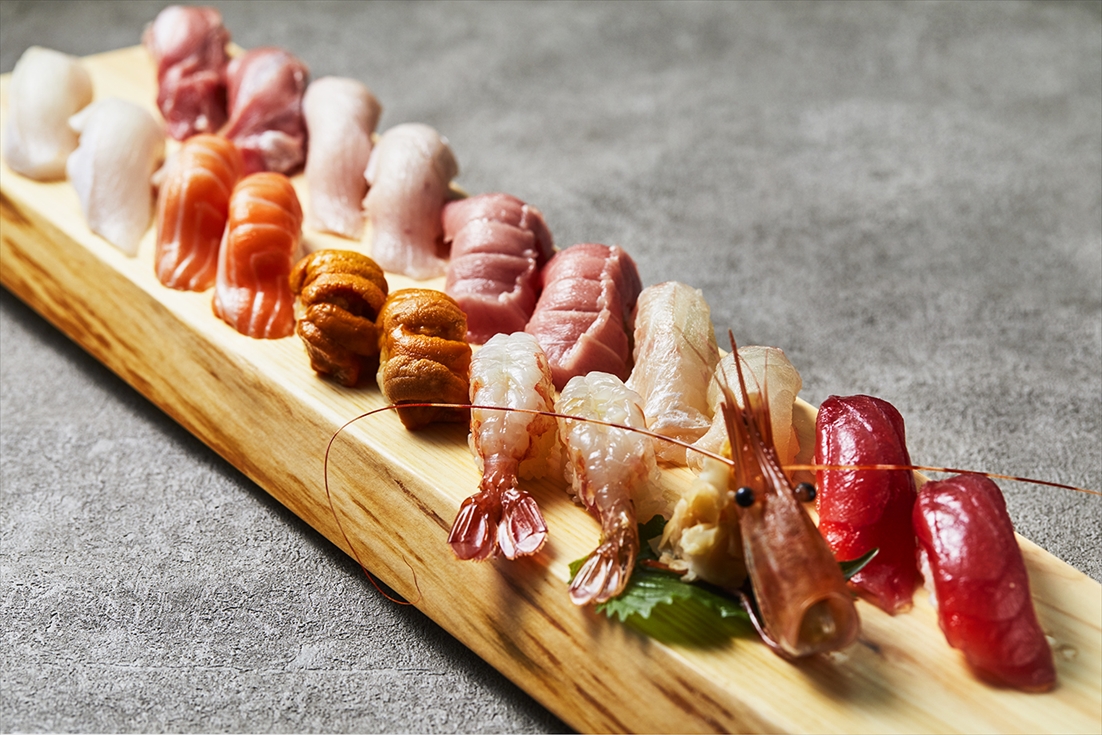 Nigirizushi is served after you have chosen your preferred toppings. Each topping is served with two sushi pieces that come in sets of 6 for ¥1,500, 12 for ¥2,500 and 18 for ¥3,500. This autumn's 18 piece combination comes with 9 different high quality ingredients including sea urchin, tuna, medium fatty tuna, sea bream, scampi and more. Each piece goes for ¥195 each making for a bargain order.
*All prices listed are tax-inclusive.
The new menu also includes makizushi rolled sushi which too is made with top grade ingredients. New items include the 'Truffle Foie Gras Roll,'Grilled Beef Roll,' 'King Crab Roll' and the cute seven-coloured and jewel-like 'Rainbow Roll.'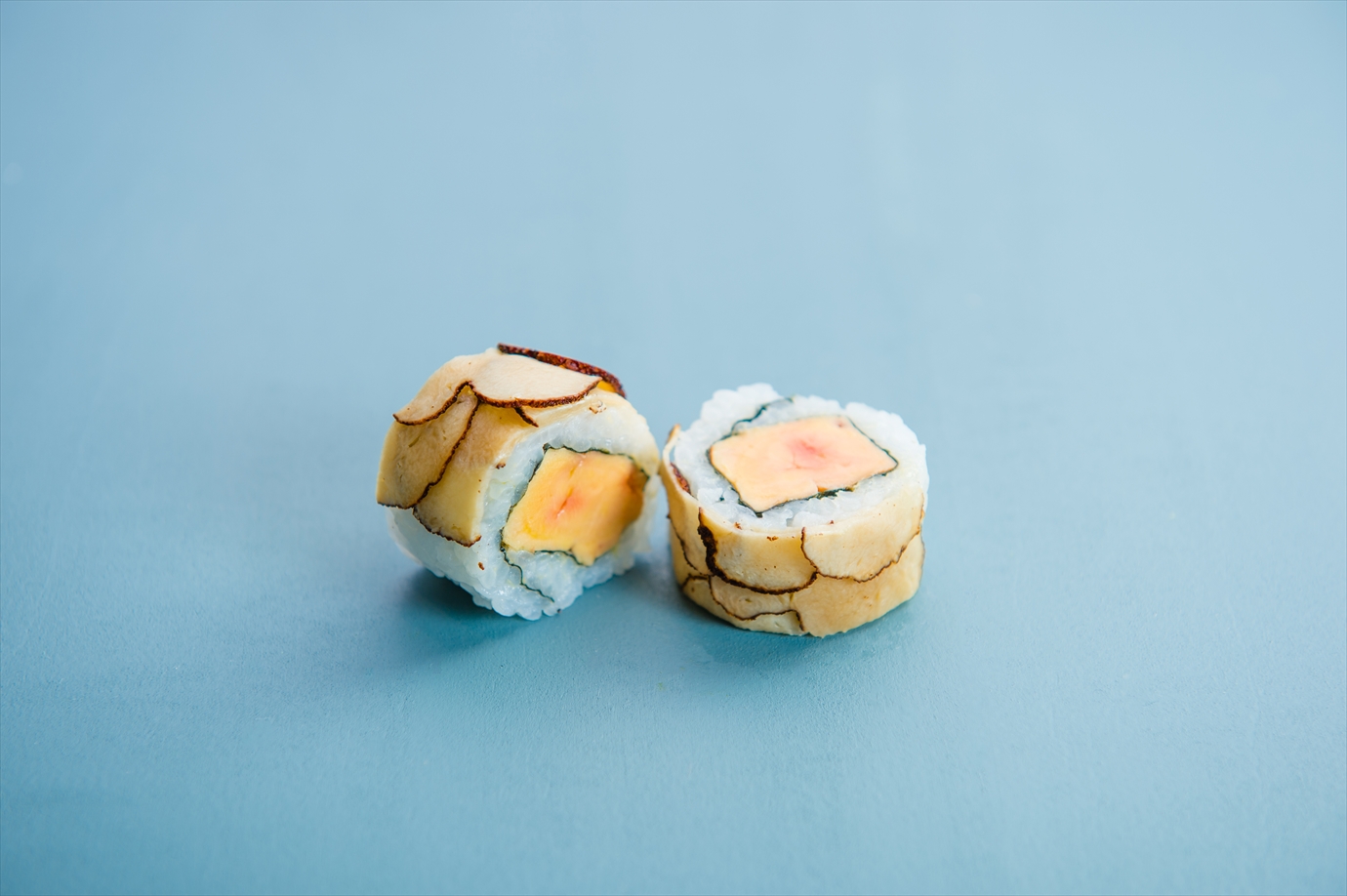 The truffle roll sushi is contains richly seasoned foie gras teriyaki wrapped in vinegared rice and laced with sliced truffle that creates a beautiful dessert-like appearance.
The beef and sea urchin are grilled after being rolled around vinegared rice. It's made with a rice wine and soy sauce based sauce that also uses beef sinew.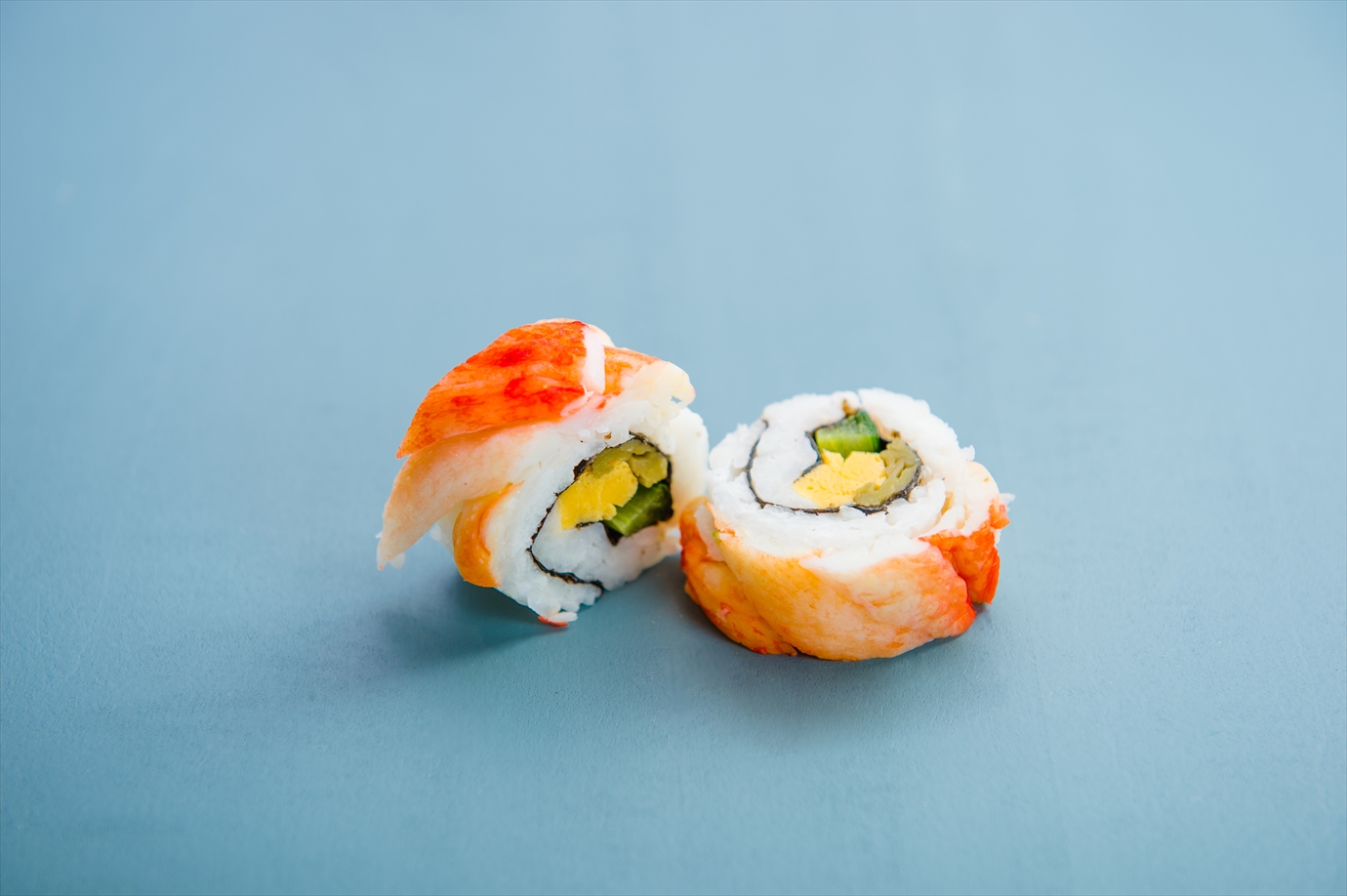 The king crab roll is best eaten the restaurant's specially made sauce that contains tommaley and ponzu.
The colourful rainbow roll is made with five types of fish―greater amberjack, tuna, mackerel pike, squid and salmon―as well as fried egg and cucumber. These 7 ingredients make the roll look like a precious gem that you'll find yourself snapping a photo of without even thinking.
The chef's recommendation consists of two dishes. The 'Kaisen Kamataki Gohan' is a new dish that contains sea urchin, shrimp and squid cooked in an iron kettle with the juices of abalone and sea bram. The 'Sake to Tappuri Ikura no Kamataki Gohan' is a bright-red salmon and salted salmon roe dish which has people who have eaten it come back for it again at an 80% rate.
Shari The Tokyo Sushi Bar is a cost-efficient location for enjoying food in Ginza whether it's from their izakaya style meals to their Japanese-style Chinese dishes.
Information
Shari The Tokyo Sushi Bar
Address: Albore Ginza Bldg. 8F, 2-4-18 Ginza, Chuo Ward, Tokyo
Opening Hours: Lunch 11:30-15:00 (Last Orders 14:30) / Dinner 17:30-23:00 (Last Orders 22:30)
TEL: 050-5212-7574
RECOMMENDED ENTRIES
Enjoy Deliciously Rich Aged Sushi at the Newly-Opened Wadanoya in Ebisu

Have you ever heard of jukusei sushi?

Jukusei sushi is aged or matured sushi. It overturns the idea of fresh fish and instead tries to bring out the maximum possible flavour out of the fish through ageing. Just how does the flavour of aged sushi change from the other sushi I've eaten?

Today I visited Wadanoya, an aged sushi shop in Ebisu, Tokyo that receives direct deliveries from Kyushu.

The restaurant is located between Daikanyama Station and Ebisu Station, just a 5-minute walk from either. It's located on the lower first floor of a building.

They offer both relaxing counter seats and horigotatsu, or sunken kotatsu seats. When there aren't a lot of customers in I recommend eating at the counter where you can chat with the owner.

The meal I ate was a set course. The starter was sashimi which I had with white wine. This fish was caught in the Goto Islands.

Next up was tempura – Satsuma chicken and seasonal vegetables. The chicken was juicy with a light dressing. It's eaten with salt and ponzu. The summer vegetables were okura and eggplant. These were also grown in Kyushu.

This was followed by horse-meat sashimi from Kumamoto served with hot Kabosu Kosho. Adding even just a little to the meat allows for enjoyment of a completely different flavour. The meat is soft, melts in your mouth and doesn't smell.

Next was sea urchin from Nagasaki Prefecture topped with butter shoyu and fish offcuts. The butter shoyu gives the sea urchin and offcuts an extremely rich flavour. It was a luxurious dish with a hearty serving of fresh sea urchin.

And then the star of the show which I couldn't wait for – aged sushi!

This fish is meichidai, or grey large-eye bream, which had been aged for one week. My first impression was "How rich!" It's a little thick and has a deep flavour. Its good, rich taste fills your entire mouth.

I also ate other aged sushi too including mackerel and tuna. The mackerel I had was aged in the refrigerator for 3 days and the tuna one week. It might have been the first time I had ever eaten such thick, smooth tuna.

The owner said that each respective fish is aged for the right period under the right temperature conditions. They go to such lengths to create these rich flavours!

Having enjoyed my fill with a full belly the last item on the course was a large serving of dagoshiru soup. It contains lots of ingredients like chewy dango, carrots and greater burdock. It had a subtle and mild taste.

Wadanoya is a popular restaurant that originates from Osaka. It's sure to end up popular in no time in Ebisu too. The restaurant is celebrating its opening until the end of October 2018 by serving their 28-item sushi course for ¥10,000 down from the regular price of ¥12,000.

Take advantage of this special price and try aged sushi for yourself.

Information

Wadanoya

Address: Echo Daikanyama B1F, 1-30-14 Ebisu-Nishi, Shibuya, Tokyo

TEL: 03-6427-8783

Access:

6-minutes on foot from Ebisu Station via JR Lines

4-minutes on foot from Daikanyama Station via Toyku Lines

Opening Hours: 18:00~24:00 Last Orders 23:30)

No Fixed Holidays.

Website: http://wadanoya-sushi.com/

Seaweed Temaki Sushi Restaurant 'Gonpachi Nori-Temaki' Opening in Harajuku

Traditional Japanese restaurant cuisine chain Gonpachi is opening its twelfth store, Gonpachi Nori-Temaki, in Harajuku on May 30. The restaurant is just a 2-minute walk from Harajuku Station along Omotesando and specialises in hand-rolled seaweed bites.

The restaurant aims to fuse modern designs with Japanese culture. In the centre of the restaurant is a 360° counter where they serve customers freshly rolled seaweed temaki. The price range starts from ¥200 for one temaki. There are also sets available on the menu.

The name 'Gonpachi' originates from Shirai Gonpachi, the protagonist of a famous kabuki play.

The seaweed at Gonpachi is kontobi seaweed from Maruyama Nori, a 160-year-old company who own a sushi shop with three Michelin stars. It has a fresh and natural taste as well as a light texture.

As well as regular vinegared sushi rice, you can also order 'cauliflower rice' which has reduced sugar. It's exceptionally nutritious and popular for its vitamin C and calcium content. The rice is an original Gonpachi creation.

There's a wide range of fillings to choose from, including Nagaimo Pollock Roe (Regular: ¥200 / Large: ¥350), Salmon Avocado (R: ¥300 / L: ¥480), Salmon Roe Soy Sauce Zuke (R: ¥450 / L: ¥600), Sea Urchin (R: ¥650 / L: ¥1,000), and more. The level of freshness in the line-up is exceptional across the board.

*All prices above are pre-tax.

Enjoy some delicious temaki sushi in Harajuku with friends and family!

■Information

Gonpachi Nori-Temaki Harajuku

Address: Co-op Olympia 1F, 6-35-3 Jingumae, Shibuya, Tokyo

Opening: May 30, 2018

Opening Hours: 11:00-22:00 (subject to change)

Access: 2-minutes on foot from Harajuku Station via JR Yamanote Line

Website: http://gonpachi.jp/

Canadian Sushi Chain KINKA IZAKAYA to Open Branch in Roppongi

The Japanese branch of Canadian restaurant group KINKA FAMILY has announced that Kinka Sushi Bar Izakaya is heading to Roppongi and will hold its grand opening on September 15.

The new branch is located near The National Art Center, about a 4-minute walk from Roppongi Station. Their food and drinks garner huge praise from customers The stylish sushi bar hailing from Canada offers up an unconventional range of sushi that's rare even in Japan like lobster sushi, as well as pressed sushi and sashimi. Wash it down with one of their original cocktails imbued with the essence of Japan.

Aburi Mosaic Sushi

Aburishasu Set of 8

The grand opening of the new Roppongi branch marks 2 years since the one in Shibuya opened. To celebrate, both branches will hold an Aburi Festival. They will serve their Aburi Mosaic Sushi and Aburishasu at the discounted price of ¥500 down from ¥1,490 for a limited time. In addition, on September 15 only, you can enjoy a new Aburi Mosaic Sushi with 16 flavours, and from September 14 to 16 you can order their set of 8 aburishasu for just ¥500 down from ¥1,690.

Experience sushi in a new way at Kinka Sushi Bar Izakaya.

■Information

Kinka Sushi Bar Izakaya – Roppongi

Address: 2F, 7-6-20 Roppongi, Minato Ward, Tokyo

Grand Opening: September 15, 2018

Opening Hours

Lunch:

[Weekdays] 11:30am-4:00pm (Last Orders 3:30pm)

[Weekends & Holidays] 11:30am-5:00pm

Dinner:

[Monday-Thursday] 5:00pm-11:30pm (Last Orders 11:00pm)

[Friday-Saturday] 5:00pm-4:00pm (Last Orders 3:00pm)

[Sunday & Holidays] 5:00pm-10:00pm (Last Orders 9:30pm)

Access: 4-minutes on foot from Roppongi Station

Closed: Obon and New Year's Holiday

Website: http://www.kinka.com/japan

Kinka Sushi Bar Izakaya – Shibuya

Address: 2F Ichigo Fiesta, 3-10 Udagawacho, Shibuya, Tokyo

Opening Hours

Lunch:

[Weekdays] 11:30am-4:00pm (Last Orders 3:30pm)

[Weekends & Holidays] 11:30am-5:00pm

Dinner:

[Monday-Saturday] 5:00pm-12:00am (Last Orders 11:30am)

[Sunday & Holidays] 5:00pm-11:00pm (Last Orders 10:30am)

Access: 5-minutes on foot from Shibuya Station

Closed: Obon and New Year's Holiday

Website: http://www.kinka.com/japan
RELATED ENTRIES
Tokyo's New Starbucks Branch in Ginza is a Cafe Dream Come True For Workers and Business People

Starbucks Coffee Japan opened a new branch at CIRCLES Ginza on July 30, 2020 that will serve as a dream location for business people.

The dream coffee shop, split into two floors, offers a unique environment and service created in collaboration with Think Lab. Rather than your regular, more public Starbucks, this branch also lets customers reserve booths and meeting spaces. This includes the SMART LOUNGE™ aimed at business users, as well as solo working spaces by Think Lab.

Starbucks Coffee CIRCLES Ginza caters to both solo workers and co-workers, giving them a space to think and concentrate alone, or come together in groups to exchange ideas. Booths offer a place to host online meetings, the SMART LOUNGE lets groups arrange chairs and tables however they like, and the Think Lab—which you pay an extra fee to use—is the perfect spot for some quiet contemplation.

1st Floor: Quick TOGO experience

The first floor is for people who aren't looking to stay at the cafe long. They are looking for a quicker experience where they can order their Starbucks drink and food and head on out. The cafe offers cashless payments, which is notable as Japan is still very much a cash-based country, as well as the Starbucks mobile order and pay service where you pick what you want on your phone and then go and pick it up.

2nd Floor: A place where you can focus

Reserve a booth for video calls and more


There are four individual half-booths which can be reserved, each of which have a screen for video calls and online meetings. These can be used for 40 minutes and can be booked in advance. The booking system was co-developed by Starbucks and Vacan.

Tables for in-person group meetings

The window tables offer a place for meetings, discussions, and business negotiations for 2-12 people. It's a relaxing area where workers and clients can chat freely.

解放される"ひとり"のためのパーソナル空間

For those who want to work along, Starbucks has created a spacious area with individual booths where you don't have to meet eyes or be bothered by other people.

If you're working in Tokyo, and need a business-oriented location where you can enjoy a coffee, then look no further than Starbucks Coffee CIRCLES Ginza.

Information

Starbucks Coffee CIRCLES Ginza

Grand Opening: July 30, 2020

Address: CIRCLES Ginza, 3-7-6 Ginza, Chuo-ku, Tokyo
Opening Hours: 7:00-22:30
TEL: 03-6228-6715

Starbucks Japan Official Website: https://www.starbucks.co.jp/

Chawanmushi Recipe: Savoury Dessert Made With Carrots, Cream Cheese & Mirin

Together with soy sauce and miso, mirin is a fundamental condiment in the Japanese kitchen and for many recipes for Japanese food. It's a sweet rice wine that has lower alcohol content and higher sugar content when compared to sake, adding a sweet flavour to dishes.

Today, we're taking a look at a recipe that uses "Mikawa Mirin," a brand of mirin made from high quality rice, to make carrot and cream cheese chawanmushi. Chawanmushi is a savoury egg custard dessert eaten in Japan.

Carrot & Cream Cheese Chawanmushi

Chawanmushi is made using mirin and has a smooth texture to it as well as a subtly sweet flavour. It's the perfect accompaniment to a hot summer's day.

Ingredients (Serves 1)


●Chawanmushi
60g carrots
240ml dashi
20ml soy sauce
120ml Mikawa Mirin
8g sugar
18g cream cheese
1 egg

●Okra-an
Okra
30ml dashi
0.5g salt
3ml Mikawa Mirin

Method

We will start by making the chawanmushi.

1. Slice the carrots and boil them until they become soft.

2. Add the soy sauce, sugar, and lots of mirin and cook through the dashi.

3. Cook for approximately 20 minutes on a medium heat, then cool with ice. Add the cooled carrots, cream cheese, and 20ml of the dashi into a blender and bend.

4. Add the egg to the mix and steam the mix for 12 minutes on a medium heat.

While the chawanmushi is cooling, we'll make the okra-an.

5. Mix together the okra-an dashi, mirin, and salt together. Add watered potato starch and thinly sliced okra. Leave to cool in the refrigerator.

6. Add the okra-an to the cooled chawanmushi and tuck into your cute two-layered dessert.

Carrot & Cream Cheese Chawanmushi

The dessert is an enjoyable mix of the sticky texture from the okra-an and smooth chawanmushi. It's great to have not only at lunch or dinner, but at home parties with friends too.

–How's the taste?


Misa Kimura: "It works really well with the mirin. The chawanmushi is like a sweet treat. It's super easy to make too, so I think I'll be making it at home!"

Mirin is indispensable to any Japanese cupboard and can be used in many ways, whether it be a classic Japanese dish or a dessert like this one.

Mikawa Mirin 700ml: ¥1,122 (Tax Included)

This authentic brand of mirin is made using a traditional method of Japanese brewing which blends in the delicious taste of rice. It's so delicious that you just want to drink the whole bottle. A high quality mirin, it has a distinct sweetness, colour, and texture. It has a rich flavour, and the taste of the rice elevates the flavours of its ingredients.

Mikawa Mirin Official Website: http://www.mikawamirin.jp/
Official Online Store: http://mikawamirin.jp/product/product_step1.php?m=n
Official Facebook: https://www.facebook.com/mikawamirin

Recipe


This recipe was conceived by ITEMAE, a famous restaurant serving Japanese cuisine that is listed in the Michelin Guide.

Model: Misa Kimura
Photographer: Haruka Yamamoto

Information

ITEMAE
Address: 10-14 Kamiyamachō, Shibuya, Tokyo
Opening Hours: Lunch 11:30-15:00 (Weekdays Only) / Dinner 18:00-23:30
Closed: Sundays / New Year's Holiday
TEL: 050-5595-4795

Inari Sushi Restaurant Tsurigitsune to Open in Osaka International Airport's North Terminal

Japanese food and confectionery company Bijuu is opening a new restaurant called Tsurigitsune inside Osaka International Airport's North Terminal on August 5, 2020. The restaurant will specialise in inari sushi, a type of sushi packed into pouches of deep-fried tofu.

Bijuu is known for producing and selling such products as Kyoto's famous coarse sweet red bean paste-filled yatsuhashi otabe crackers.

Tsurigitsune will serve "Kyo Dashi Oinari," a type of inari sushi made with fried tofu Saga Tofu Morioka—a long-standing tofu shop in Sagano, Kyoto—soaked in lots of sumptuous Kyoto-style dashi. The restaurant will also serve a special type of sweet otabe cracker which cannot be eaten anywhere else.


Kyo Dashi Oinari (Includes 15) | ¥3,240 (Tax Included)

The dashi that the Kyo Dashi Oinari are soaked in take up all the delicious flavour of kombu, sababushi smoked mackerel, iwashibushi pilchard, and katsuobushi dried bonito, all of which serve to add that authentic Kyoto flavour.


Tanto Otabeyasu | ¥930 (Tax Included) *Served 6:30-10:00

As well as Kyo Dashi Oinari, Tsurigitsune's menu includes a line-up of dishes that celebrate the flavour of dashi, including soba, dashimaki tamago omelette, and more.

If you're travelling to Osaka, why not get an authentic Kyoto experience too by dining at Tsurigitsune?

Information

Tsurigitsune
Grand Opening: August 5, 2020
Address: Osaka International Airport North Terminal 2F Boarding Area, 3-555 Hotarugaike NishimachiToyonaka, Osaka
Opening Hours: 6:30-20:20 (Last Orders 19:50)
TEL: 06-6836-9217

Official Website: http://www.bijuu.co.jp/tsurigitsune/

Tokyo Neko Neko: Cat Shaped Desserts and Pastries Served at Ginza's New Bakery

ALL HEARTS COMPANY, a Japanese company that develops bakeries and patisseries across Japan, opened its new bakery and confectionery shop Tokyo Neko Neko in Ginza, Tokyo on July 22, 2020. The shop has replaced Heart Bread ANTIQUE, another bakery also run by ALL HEARTS COMPANY, which was previously at this location.

At Tokyo Neko Neko, they are serving cat-shaped pastries and desserts including Tokyo-exclusive products from their Neko Neko Bread brand and Neko Neko Cheesecake shop. This is the second branch to open following the opening of Kyoto Neko Neko last month.

A stylish bakery


Tokyo Neko Neko's pastries and interior design takes on a completely different look from Kyoto Neko Neko, with the walls acting as a canvas to display their food like an art museum. The bakery's line-up centres on seeing as well as eating, adding an extra level of deliciousness to the products. If you've visiting Tokyo, you don't want to pass up on the opportunity to visit Tokyo Neko Neko.

Tokyo Neko Neko Bread

Tokyo Neko Neko's cat-shaped bread is palm-sized and so is a perfect gift and takeaway snack. The outside is crunchy while the middle is kept nice and moist. The secret behind the bread's tastiness is the use of fermented butter which they get from France. The use of lots of almond cream adds a tasty kick too.

Tokyo Neko Neko Bread – Plain: ¥1,000 (Before Tax)

Made using croissant pastry and loaded with fermented butter.

Tokyo Neko Neko Bread – Caramel Almond: ¥1,200 (Before Tax)

Caramel almonds and almond slices are added to this version, also made with lots of fermented butter.

Tokyo Neko Neko Bread – Praline Rose: ¥1,200 (Before Tax)

This flvour is filled with praline rose, a traditional French confection of caramelised sugar-coated almonds.

Tokyo Neko Neko has lots of other tasty foods to offer too, like their Neko Neko Cheesecake, Neko Neko Butter Sandwiches, and more.

Information

Tokyo Neko Neko Ginza

Address: OPTICA 1F, 3-4-17 Ginza, Chuo-ku, Tokyo

TEL: 03-6228-6806

Opening Hours: 10:00-20:00

No Fixed Holidays (Except New Year)

Official Website: https://nekoshoku.jp

Snoopy and the Peanuts Gang Are Heading to Ginza in Tokyo This Autumn

Tokyo's annual "Snoopy in Ginza" summer event is set to return once again to the delight of fans at Ginza Mitsukoshi. It will be held in Autumn for 2020, running from October 14 through November 3.

This year marks the 22nd run of Snoopy in Ginza, which is celebrating 70 years of the Peanuts comics and the 90th anniversary of Ginza Mitsukoshi.

Morocco


USA

13 original art pieces have been created for the event featuring Snoopy and the Peanuts gang travelling to different countries. These designs will be used on original merchandise sold at the event.

Ginza Mitsukoshi opened 90 years ago on April 10, 1930. This year also marks the 70th anniversary of Peanuts, so to celebrate both anniversaries, an original illustration of Peanuts and Ginza Mitsukoshi illustration in the 1950's was created for the event.

© 2020 Peanuts Worldwide LLC

Ginza's Luxury New Hotel Aloft Tokyo Ginza's Opening Date Announced

Information

Aloft Tokyo Ginza
Address: 6-14-3 Ginza, Chuo-ku, Tokyo
TEL: 03-6278-8122

Access

4-minutes on foot from Ginza Station via the Tokyo Metro Marunouchi Line

2-minutes on foot from Higashi-Ginza Station via the Tokyo Metro Hibiya Line

Details: https://www.marriott.co.jp/tyoal

Japan's New Eel Burger is Made in Collaboration With the Theatrical Entertainment Sushi Bar Teruzushi

Matsuya Foods, Gastroduce Japan, and Teruzushi have all joined hands to cook up the new "Eel Burger" which will be sold exclusively in Japan via Matsuya Food Court on Rakuten and Matsuya PayPay Mall starting from 8:00pm (JST) on July 4, 2020.

Like all countries around the world, Japan's food industry is suffering at the hands of the COVID-19 pandemic, with less customers dining in restaurants and eateries. That's where Matsuya Foods comes in, which has launched an effort to collaborate with fellow restaurants to release exquisite dishes online. That begins with the "Eel Burger," the first of many foods to come.

Teruzushi is a sushi bar famous for its "theatrical entertainment" style of sushi serving which has earned it the spotlight in the news and on social media in Japan. They serve high-grade sushi which can have the average person easily spending over ¥30,000 during their visit.

The restaurant, located in Fukuoka, is also famous for its "Unagi Burger," which uses 220g of eel that is prepared in the kabayaki-style and wrapped around sushi rice. That itself is then wrapped in high quality domestic seaweed, resulting in a unique burger-style of sushi. The Eel Burger is an amalgamation of flavours and textures, with the crunchy seaweed complementing the soft eel.

Summer 2020 Parfait Fair Begins at Shiseido Parlour in Tokyo

Shiseido Parlour began its annual "Midsummer Parfait Fair" at its Ginza, Tokyo branch on Wednesday which will run until August 30 and be divided into two different slots serving different parfaits. The cafe is serving up a selection of parfaits made from ice cream and local seasonal fruits under the trust that the chefs and farmers have built over the years.

2020 Midsummer Parfait Fair: Slot ① July 1, 2020 – July 31, 2020


Furano, Hokkaido – Furano Melon Parfait: ¥2,100 (Tax Included)

This parfait is made using Furamon melon which is grown in Hokkaido's city of Furano between the mountains where there is a major temperature difference. The melon is ripened after being harvested and so make it nice and soft, giving a sweet and juicy flavour and fragrance.

Sakai Nouen, Wakayama – Arakawa Peach Parfait: ¥2,300 (Tax Included)

The "Arakawa" peach is a brand of peach grown in Wakayama Precture. The peaches are grown until their nearly completely ripe while in the tree, giving them a soft texture. Inside the sweet flavour is a sour kick, both of which explode with the juiciness of the peach in the parfait.

Yaeyama Islands, Okinawa – Apple Mango Parfait: ¥2,700 (Tax Included)

The "apple mango" is a type of mango grown in the hot climate of Okinawa. The mango has a super soft, melt-in-the-mouth texture and a sour tinge which elevates its rich sweetness.

Hatake Kobo, Nagano Prefecture – Koihime Strawberry Parfait: ¥2,000 (Tax Included)

The "koihime" is a type of summer strawberry grown in-house by Shiseido Parlour. The strawberries get plenty of water, air, and sunlight so they grow into red jewels packed full of sweetness.

The second slot of the 2020 Midsummer Parfait Fair will run from August 1 to August 30.

Information

Shiseido Parlour Ginza

Address: Tokyo Ginza Shiseido Bldg. (Floor 3F), 8-8-3 Ginza, Chuo Ward, Tokyo

TEL: 03-5537-6231 (No reservations required)

Opening Hours:

[Tue-Sat] 11:00-21:00 (Last Orders 20:30)

[Sun & Hols] 11:00-20:00 (Last Orders 19:30

Closed: Mondays, New Year Holidays

Official Website: https://parlour.shiseido.co.jp/

SKY FIGHT CAFE Ginza: Tokyo's New Cafe Where Drones Fly Around

SKY FIGHT CAFE Ginza is a cafe with quite the unique experience. It opened in Tokyo's Marronnier Gate Ginza on June 5, 2020, and offers the usual cafe experience but throws drones into the mix. As well as drinks and meals, SKY FIGHT CAFE Ginza has a drone school where customers can learn how to operate drones, as well as its own store you can get your hands on drones and merchandise.

The cafe comes as the first of its kind where drone races are also held. Anyone and everyone is invited to join, whether they be a complete beginner of a professional drone pilot.

In addition to coffee and soft drinks, SKY FIGHT CAFE Ginza also serves alcoholic beverages like beer too. For every drink or food item purchased, you get one entry into a drone race.

Enjoy sipping on your drink and flying drones at SKY FIGHT CAFE Ginza.

Information

SKY FIGHT CAFE Ginza
Opened: June 5, 2020

Address: Marronnier Gate Ginza 3 (Floor 4F), 3-2-1 Ginza, Chuo Ward, Tokyo
Opening Hours: 11:00-21:00
Closed: New Year's Day
Enquiries: 03-5579-9066
Notes: No reservations necessary

Official Website: https://drone-skyfight.com/cafe/

UNIQLO is set to open its new global flagship store named UNIQLO TOKYO at MARRONNIER GATE GINZA 2 on June 19, 2020.

 

The new branch comes as the third to open this year, following UNIQLO PARK Yokohama Bayside in April and UNIQLO Harajuku last week on June 5.

 

© Herzog & de Meuron

UNIQLO TOKYO will be the embodiment of UNIQLO's "LifeWear," clothing that the company has created to "improve everyone's life." The company prides itself on weaving high-quality and high-function clothing for all people at an affordable price. Their products a multifarious, and the brand continues to evolve. To bring LifeWear to life at UNIQLO TOKYO, the brand has brought creative art director Kashiwa Sato on board, as well as award-winning Swiss architecture firm Herzog and de Meuron.

The central part of the 1st floor is called LifeWear Square, an area that fully captures UNIQLO's "LifeWear" concept for customers. The first floor will be a collection of everything from trending products to collaborative products and more. There will even be an area where you can buy flowers near the entrance which is located along MARRONNIER.

The 2nd floor is a full line-up of women's clothes. From trending attire to basic UNIQLO threads, women will be able to pick from a diverse line-up of items, including clothes that will go on pre-sale at UNIQLO TOKYO, and even homewear and office wear.

Up on the 3rd floor is the men's section which is stocked with everything from casual clothes to high quality outfits. They can even make made-to-order suits and jackets where you can choose the lengths of sleeves, the body, and so on.

The 4th floor is the children's and baby section, and it even has a library for kids to play in, so kids can have fun while you shop. The 4th floor is also home to a UT archive space which showcases all the different t-shirts that have been released as part of the UT graphic T-shirt series.

The rooftop and outside of the building will don digital signs made by interactive designer and engineer Yugo Nakamura.

UNIQLO TOKYO is set to offer a completely new UNIQLO experience to people from both inside and outside Japan when it opens on June 19, 2020.

Beauty Connection Ginza's Fruits Salon Reveals Mango Menu Line-Up

Beauty Connection Ginza and its second floor fruit course cafe Fruits Salon have been closed since April 8, 2020 as a result of the novel coronavirus (COVID-19) outbreak. But that hasn't stopped Fruits Corner wanting to deliver its tasty treats to customers as it reveals its new mango themed menu which is set to run for the whole month of June. It will be taking online orders.

Following the pear, citrus fruits, and strawberry line-ups, the new mango course is made up of four different vitamin-packed and refreshing accompaniments, all made with fresh mangoes from Miyazaki Prefecture.


Mango Full Course: ¥4,400 (Tax Included)


1st. plate "Terrine"


2nd. plate "Airy Tart"

Each of the four plates, packed full of rich and sweet mangoes, offers refreshing taste to give you that early summertime vibe.


3rd. plate "Parfait"


4th. plate "Dried Fruits/Mignardises/After-Meal Drink)

The third plate is a gorgeous, eye-catching parfait centred on mango gelato and made up of delicious ingredients that all come together harmoniously. Mix everything together to create new flavours. The full course is 90 minutes, and beckons you to use all five of your senses to enjoy it.

Doraemon 50th Anniversary Online Fair Launched at TSUTAYA Ginza

Since the launch of the manga back in 1970, Doraemon has brought smiles on people's faces in the form of books, anime, live-action films, collaborations with artists, and more, for the past 50 years.

To celebrate the franchise's 50th anniversary, TSUTAYA Ginza has opened an online fair on its website. TSUTAYA Ginza is a place where people of all ages and nationalities come from around the world, and the number one book the store can recommend as part of Japan's culture continues to be the first volume of Doraemon. For the entirety of 2019—that's January to December—the first volume of Doraemon was the number one best selling book at TSUTAYA Ginza.

Doraemon 50th Anniversary Fair

Doraemon Volume 1 (Tentoumushi Comics)

Doraemon has come to be a symbol of Japan and has been passed down generations, but there probably a lot of people who don't know how the story started. To find out, pick up a copy of volume one at TSUTAYA Ginza.

Doraemon Volume 0 (Tentoumushi Comics)

As part of the anniversary celebrations, a special volume 0 has been published. This full-colour book features 6 versions of the first Doraemon story as well as comments  by the author and more.

Doraemon Mizuhiki Accessories (Pins, Earrings, Piercings)

Mizuhiki are decorative Japanese cords which are used for important ceremonial occasions such as weddings, births, and funerals. These special Doraemon mizuhiki have been turned into beautiful accessories featuring Doraemon and Dorami's iconic blue and yellow colours respectively. They can be used for decorating clothes with and more.

This is just a peek at some of the celebratory merchandise on offer for the online fair. For the full list, check out the website below.