Grand Hyatt Tokyo's 2018 Christmas Cakes, the Theme is 'Sparkle With Joy'
The luxury Grand Hyatt Tokyo hotel sits in Roppongi towering over the bustling city of Tokyo. The hotel has unveiled its new sparkly Christmas cake range created by an expert team of global award-winning pastry chefs. This year marks the 15th anniversary since the hotel opened. The theme of the cakes is 'sparkle with joy,' a fitting title for both the celebration of the anniversary and Christmastime.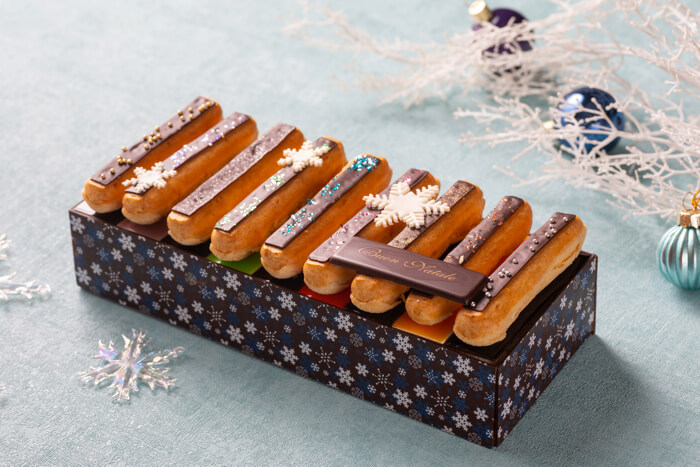 "Sparkle" – ¥5,500 (22.5cm×9cm) *150 available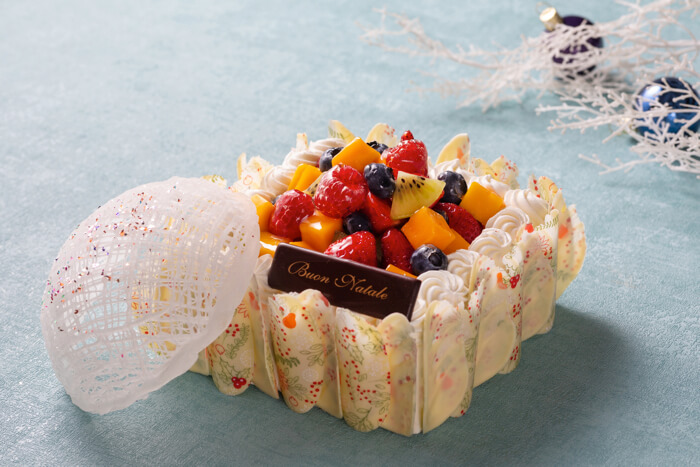 "Crystal Fruits Shortcake" – ¥5,500 (12cm×12cm) *100 available
There are 9 different cakes to choose from this year including 4 new types. The 'Sparkle' cake features an extravagantly adorned cake with a scrumptious row of eclairs on top that have been sprinkled with sparkly decorations. The 'Crystal Fruits Shortcake' has a beautifully and intricately crafted dome inside which sit jewels of colourful fruits.
Strawberry Shortcake – ¥4,600 (12cm) / ¥6,500 (15cm)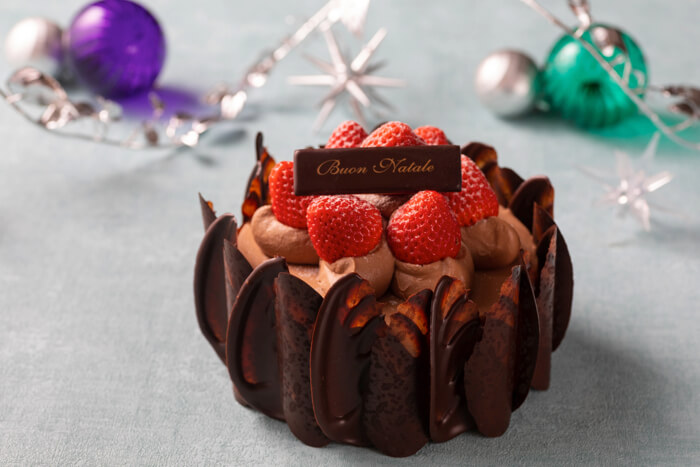 Shanty Chocolat – ¥4,600 (12cm) / ¥6,500 (15cm)
This year will also see the return of the always-popular 'Strawberry Shortcake' and 'Shanty Chocolat' too. The hotel is also offering discounts to those who order the cakes online.
As well as cakes Hyatt will also be serving Christmas bread, gift boxes and more. Don't miss out on this delightful line-up to enjoy with family and friends this holiday season.
Information
Sparkle with Joy
Reservation Windows
In-Store/Telephone: November 1, 2018 – December 16, 2018
Online: November 1, 2018 – December 17, 2018 at 11:00am
How to Order
Reservation Number: 0570-012-025 (9:00am-10:00pm)
Fiorentina Pastry Boutique: 03-4333-8713 (9:00am-10:00pm)
Online: www.tokyo.grand.hyatt.co.jp/christmascake-JP
Pick-Up Window: December 20, 2018 – December 25, 2018 (11:00am-9:00pm)
Fiorentina Pastry Boutique
Address: Grand Hyatt Tokyo (1st Floor Lobby), 6-10-3 Roppongi, Minato Ward, Tokyo
Opening Hours: 9:00am-10:00pm (Cakes & Tarts available 10:00am-10:00pm)
TEL: 03-4333-8713
Grand Hyatt Tokyo Website: https://www.hyatt.com/ja-JP/hotel/japan/grand-hyatt-tokyo/tyogh
RECOMMENDED ENTRIES
Krispy Kreme to Release 5 Christmas Doughnuts in Japan

Krispy Kreme Doughnuts Japan (KKDJ) is getting ready for the holiday season with its upcoming "Holly Jolly Holiday" line of cute Christmas doughnuts that will be released at most branches across Japan on November 14, 2018.

The tasty treats all take on Christmas motifs and unique shaps. KKDJ is also introducing milk tea flavoured crème for the very first time in the Milk Tea Box doughnut. Let's take a look.

Strawberry Milk Santa: This cute square doughnut is made to look like Santa Claus. His bright-red Christmas hat is a strawberry nappage and beard is made from milky white chocolate. Inside is a strawberry milk flavoured cream.

Caramel Reindeer: Another square doughnut, this time coated in caramel chocolate. It's filled with a bitter caramel sauce and a caramel cream with added salt to help bring out the flavour. You can enjoy three different textures: the fluffy doughnut itself, strawberry jelly reindeer nose and the crunchy pretzel antlers.

Milk Tea Box: This doughnut is made in the image of a Christmas present box and contains KKDJ's first ever milk tea flavoured cream. The yellow outer coating is purin flavoured and sprinkled with colourful sugar. It's also 'tied' with a white chocolate and strawberry chocolate ribbon.

Snowman Chocolate: The snowman doughnut is filled luxuriously with a rich raw chocolate cream and coated with wintery white coloured and milky flavoured white chocolate. His smile is painted with dark chocolate while his scarf is made with a sweet and sour strawberry nappage.

Sprinkle Wreath: This doughnut is a spin on Krispy Kreme's popular Original Glazed® doughnut. It's coated in a bright green vanilla chocolate and topped with red, green and white holiday colour sprinkles. It's the spitting image of Christmas.

KKDJ are also selling a limited edition design box called "Holiday Dozen" that contains all five of these doughnuts and the Original Glazed®, the chain's most popular doughnut.

Share some cute and delicious doughnuts this holiday season with friends and family!

Girls' Sweets Coffret Christmas Buffet to be Held at Hilton Tokyo Odaiba

Christmas is loved particularly by girls in Japan as it's the season when all the sparkly items begin to fall and flicker. Hilton Tokyo Odaiba is bringing a Christmas buffet this year which it is calling the Girls' Sweets Coffret. It's inspired by the "Christmas Coffret" cosmetic sets that are sold during the Christmas season only and tickle the hearts of girls across the country.

Coffret is a French word that refers to a small jewel box. Searches for the term "Christmas Coffret" have been on the increase in Japan since 2015 and in 2016 and 2017 ranked in the top 10 most searched Christmas related terms by women. Hilton Tokyo Odaiba is responding to this by packing everything a girl could want into their Christmas buffet.

The buffet is overlooked by a bright pink Christmas tree under which are all presents a girl could hope for including a dress, jewel box, flowers and more―all edible. A cute Santa Claus, reindeer and snowmen also decorate the table in all their delicious dessert glory. The colour palette is girly but stylish, with pink as the main colour and blacks and whites everywhere else.

There will also be a photo spot decked out with a pink Christmas tree, huge life-sized presents and other Christmas motifs. What's more is that guests who attend during the event dressed in something pink or wearing ribbons will receive a special drink.


The line-up of desserts all have some very enticing names. Translated from Japanese, some to look forward include the "Going Out With Your in My Best Dress – Princess Tart," "Like a Romantic Bride – Pink Dress Strawberry Chiffon Cake," "What I Want the Most: Jewellery – Yogurt Panna Cotta Jelly," "Drag Me Away – Pink Pearl Cupcakes," and more.

Also on the list is a cake made to look like Santa's belly called "I'll Start My Diet Tomorrow – Cranberry Mascarpone Santa Cake." There's also the the "Santa's Happy Helpers – Reindeer Chocolate Cake."

There's a range of Christmas classics too like the yule log and stollen as well as a tree-shaped mohn plunder. If you're looking for Christmas treats this year then look no further!

Information

Girls' Sweets Coffret Christmas Dessert Buffet

Address: Hilton Tokyo Odaiba, 1-9-1 Daiba, Minato Ward, Tokyo
Location: Seascape Terrace・Dining (Floor 2F)
Running: November 1, 2018 – December 28, 2018
Time: Slot 1 – 15:00-16:30 (90 minutes) / Slot 2 – 16:45-17:30 (Express Buffet – 45 minutes)

Price

Slot 1 – Weekdays: General ¥3,500, Children ¥2,100 / Weekends: General ¥3,900, Children ¥2,340

Slot 2 – Weekdays: General ¥2,400, Children ¥1,440 / Weekends: General ¥2,800, Children ¥1,680

*Listed prices do not include tax or service charge.

*Children prices are for those aged between 6-11 years.

GINZA SIX: Must-Try Christmas Sweets & Winter Goodies This Year

GINZA SIX, the biggest shopping complex in the Ginza Area, is getting ready for Christmas with a range of special seasonal foods and desserts. The line-up retains the sophistication GINZA SIX is known for as it prepares for the final Christmas of the Heisei Era of Japan.

Let's take a look at the gourmet selection on offer by splitting them into five separate themes.

Christmas Cakes: From Regulars to One of a Kinds – Gems That Glow the Skills of Patissiers

Monde argenté (ISHIYA GINZA): ¥4,000

Noel Framboisier (Ginza Sembikiya): ¥5,000

 

Classic Sweets: Promoting New Trends for the Last Heisei Period Christmas

Stollen Pistachio (PALETAS): ¥2,593

Sweet Potato Almond Noel Box (Minamikaze Noukasha Dessert House): ¥1,852

Limited Edition Christmas Sweets Gifts: Classics in Glamorous Christmas Packaging

Stardust Cookies (JOTARO SAITO): From ¥540

Limited Edition Christmas Wheat Gluten Cookie Gift (Fu Fu Fu and): ¥3,000

Party Food & Sake: A High Grade Selection to Decorate the Table

Limited Edition Christmas Charcuterie & Salad (meat&green shunjyukusei): ¥2,560

Okawa Sparkling Vinegar (Shoubunsu Vinegar Brewery): ¥2,000

Cafes & Restaurants' Christmas Menus: Bringing a Moment of Bliss on the Holy Night

 

Fantastic Christmas Course (Bistro Ozami): ¥8,000 / ¥12,000

Christmas Afternoon Tea Set (THE GRAND GINZA): ¥3,800

A range of pop up shops will also appear for a limited time. This includes pop up shops for fashion brands making their way to Japan for the first time as well as fashion x art collaborative brands, brands that will hold events where you can experience craftsmanship and more.

Additionally, Ginza Sembikiya on floor B1F, which opened the first fruit parlour in Japan in 1894, will open a cafe for a limited period serving a range of fruit products that are good for health and beauty. Open from November 3, 2018 to January 31, 2019.

<GINZA SIX Limited Edition> Ginza Sembikiya Parfaits: ¥1,500 Each (Pre-Tax)

These parfaits are made with an abundance of fruit that  has been carefully selected by Ginza Sembikiya. The fruits are cut into large slices so you can enjoy their full original flavour. The parfaits are also made with a rich homemade fruit sauce. Choose from three parfait flavours: Muskmelon, Strawberry or Fruits Mille-Feuille.

Bulgari will also open a pop up store called Bvlgari Pop (Up) Corn in the second floor SIXIÈME GINZA. The store is a reinterpretation of a 1960s movie set where they will sell a range of items including a limited edition model bag. Open from December 12, 2018 to January 15, 2019.

<GINZA SIX Limited Edition> Product Name: Serpenti Forever / Price: ¥295,000 (w/tax ¥318,600)

There's plenty of other exciting Christmas and seasonal winter food and content to look forward to at GINZA SIX as well, so be sure to check their official website for more details.

Information

GINZA SIX

Address: 6-10-1 Ginza, Chuo Ward, Tokyo

Opening Hours: Shops/Cafes (B2F-5F) 10:30-20:30 / Restaurants (6F, 13F) 11:00-23:00

*Business hours differ from shop to shop.

No Fixed Holidays.

Access: Directly connected to Ginza Station via the Tokyo Metro Ginza Line, Marunouchi Line and Hibiya Line.

TEL: 03-6891-3390
Website: http://ginza6.tokyo/
RELATED ENTRIES
Snoopy and Charlie Brown Turn Into Confections at Japanese Convenience Stores

Bandai's character-inspired Japanese confectionery series Tabemas is releasing two new traditional Japanese wagashi confections inspired by the Peanuts comic series. Snoopy and Charlie Brown will arrive at Lawson convenience stores across Japan on January 19, 2021.

Tabemas Snoopy | ¥264 Each (Before Tax)

The cute confections capture the little details of the iconic characters, from Snoopy's doggo features and collar to Charlie Brown's hair and shirt. The Snoopy confection is filled with chocolate bean paste—a nod to his favourite chocolate chip cookies—while Charlie Brown is filled with custard bean paste as a nod to his trademark shirt. The packaging features exclusive art drawn for the Peanuts comic's 70th anniversary with Snoopy atop his dog house.

© 2021 Peanuts Worldwide LLC

Information

Tabemasu Snoopy / Charlie Brown
Release Date: January 19, 2021

Available: At the chilled sweets section of Lawson convenience stores in Japan (Excluding Natural Lawson and Lawson Store 100)

*Available while supplies last

*Stock date may differ from branch to branch

*Select stores not participatingProduct Page: https://www.bandai.co.jp/candy/tabemas/snoopy03/

Delicious Valentine's Day Desserts Served Up at Eggs 'n Things

Eggs 'n Things is set to serve up a special limited-time Valentine's menu in Japan from January 16 to February 28 including the Torokeru Fondant Chocolate Pancakes and Strawberry & Banana Chocolate French Toast.

Valentine's Menu

Torokeru Fondant Chocolate Pancakes | Eat In ¥1,480 (Before Tax)

Torokeru Fondant Chocolate Pancakes | Takeout ¥1,080 (Before Tax)

 

Strawberry & Banana Chocolate French Toast | Eat In ¥1,380 (Before Tax)

Strawberry & Banana Chocolate French Toast | Takeout ¥980 (Before Tax)

Valentine's Drinks

Strawberry White Mocha | Hot or Iced ¥680 (Before Tax)

Hawaiian Cafe Mocha | Hot or Iced ¥580 (Before Tax)

This lovingly-prepared chocolate and fruit-loaded line-up is sure to get the butterflies stirring hungrily for this year Valentine's.

Miffy Cookies Get Baked Up by Netherlands Confectionery Theo Blom at Dick Bruna TABLE

The popular wine bar Dick Bruna TABLE, where customers can enjoy a glass of wine with a meal together with illustrations by Dick Bruna, the creator of Miffy, is now selling a batch of Miffy cookies created by the popular confectionery Theo Blom located in Utrecht, Netherlands.

Miffy Cookies & Chocolate | ¥4,000 (Before Tax)

Miffy Cookies | ¥4,000 (Before Tax)

Utrecht is the birthplace of Miffy author and creator Dick Bruna, and Theo Blom is a place that Bruna himself actually often visited. The confectionery is known for its tins which can be reused after the contents are eaten. The cute Miffy tins are definitely keepers.

Information

Dick Bruna TABLE – Miffy Cookies & Chocolate
Released: Mid December 2020
Location: Dick Bruna TABLE
Address: 3-1-1 Sannomiyacho, Chuo-ku, Kobe
Opening Hours:
[Weekdays] 11:00-15:00 (Last Orders 14:00) / 17:00-23:00 (Last Orders 22:00)
[Saturdays] 11:00-23:00 (Last Orders 22:00)
[Sundays/Public Holidays] 11:00-21:00 (Last Orders 20:00)
Access: 078-333-3332
Official Website: https://dickbrunatable.com/

McDonald's Japan Adds Crème Brûlée and Belgian Chocolate Pies to the Menu

McDonald's Japan is bringing back its popular Belgian Chocolate Pie from last year and is also introducing a new Crème Brûlée Pie, both of which will hit the menu at all McDonald's branches from January 13 for a limited time.

Crème Brûlée Pie | ¥150 (Before Tax)

Belgian Chocolate Pie | ¥150 (Before Tax)

The hot pies are filled with deliciously sweet cream and are a perfect, cosy treat during the cold weather.

Information

Crème Brûlée Pie / Belgian Chocolate Pie
Serving: January 13, 2021 – Mid February 2021
Available: McDonald's Japan
Price: ¥150 Each (Before Tax)
Official Website: https://www.mcdonalds.co.jp/

Nana's Green Tea x Häagen-Dazs Release Chocolate Matcha Glass Dessert

Nana's Green Tea is serving up a brand-new dessert in collaboration with Häagen-Dazs for Valentine's Day at 77 branches in Japan. The dessert was released on January 6 and will be available up to February 14.

Matcha Chocolate Glass with Häagen-Dazs | ¥880 (Before Tax)

The dessert is a tempting sight to behold – not only is it delicious but visually appealing to the eye too, and layered with various textures so that every bite is a surprise.

The dessert is made with Häagen-Dazs' "Sweet Chocolate" ice cream coupled with Nana's Green Tea's own original matcha ice cream, soft and crunchy meringue sticks, crumbled cookies, white chocolate whipped cream, and matcha chiffon cake. Sat at the bottom waiting to be discovered is a sweet strawberry sauce for a tangy kick.

Information

Nana's Green Tea – Matcha Chocolate Glass With Häagen-Dazs
Serving: January 6, 2021 – February 14, 2021
Price: ¥880 (Before Tax)
Available: 77 Nana's Green Tea branches in Japan (Excluding DiverCity Tokyo Plaza, Tokyo Dome, and Iias Okinawa Toyosaki)
Official Website: http://www.nanasgreentea.com/

Mister Donuts x Pierre Marcolini Luxury Doughnuts Hit Japan

Mister Donuts has teamed up with Belgian chocolate brand Pierre Marcolini to release the "misdo meets PIERRE MARCOLINI Collection" of doughnuts which hit Japanese branches on Friday (January 8).

Fondant Chocolate Doughnut – Chocolate | ¥200 (Before Tax)

Fondant Chocolate Doughnut – Caramel | ¥200 (Before Tax)

Fondant Chocolate Doughnut – Raspberry | ¥200 (Before Tax)

Fondant Chocolate Doughnut – Hazelnut | ¥200 (Before Tax)

Danish Chocolate – Raspberry | ¥230 (Before Tax)

Danish Chocolate – Hazelnut | ¥230 (Before Tax)

The doughnuts are part of Mister Donuts "misdo meets" series which first began in 2017 to combine the highest quality ingredients and techniques to in order to bake up the best possible doughnuts. This time, it has joined sticky bakers fingers with the popular Begian chocolate brand Pierre Marcolini to create a new kind of fondant chocolate doughnut and danish. The line-up is made with high quality authentic chocolate and has a bitter kick to it – perfect for those who aren't into sweeter treats. The heart-shaped danishes are also spot on for the Valentine's season in Japan.

Information

misdo meets PIERRE MARCOLINI Collection
Serving: January 8, 2021 – Mid March 2021
Available: Mister Donut Japan (Select branches not participating)
Official Website: https://www.misterdonut.jp

Gudetama Doughnuts at Floresta Celebrate the New Year

Floresta Nature Doughnuts, a doughnut cafe that hand-makes doughnuts using organic ingredients, is baking up two new Gudetama doughnuts with New Year's messages on them. They will be served from January 9 to 24.

Florest Gudetama Collab Doughnuts | ¥450 (Before Tax)

The doughnuts capture the lazy and lethargic energy of Gudetama. The crowning Gudetama is made from Japanese pumpkin and is sat on a bed of sweet white chocolate. Both doughnuts are also available as a set coming with an extra of any of Floresta's signature doughnuts.

Relax and take in the new year together with Gudetama.

7 Days of Strawberry Dessert Love at Isetan Shinjuku This January

Isetan Shinjuku has announced a special one-week event titled "7 Days of Loving Strawberries" which is centred around cute and delicious strawberry desserts and will run this month from January 13-19. Ten cafes and restaurants are participating with a sweet and succulent line-up including strawberry daifuku, strawberry shortcake, special parfaits and crepes, and more.

Strawberry Candle Pavlova @ mihopan popcake | Two for ¥972 (Tax Included) *Limited quantities

MIGAKI-ICHIGO Strawberry Parfait @ Ichibiko | ¥1,980 (Tax Included)

Strawberry Shake @ Ichigo-ya Sunsunen | ¥721 (Tax Included)

Crispy Strawberry Mille-Feuille Crepe @ Sorairo Crepe | ¥935 (Tax Included) *Limited quantities

Strawberry Shortcake Parfait @ Shiseido Parlour | ¥1,045 (Tax Included)

Strawberry Daifuku @ Berry UP! | ¥432 (Tax Included)

Ripe Strawberry Milk Pudding @ Kanjyuku Ichigo Kashi Kekyusho | ¥486

Whole Strawberry Sandwich @ Sajisakon | From ¥864 (Tax Included)

MIGAKI-ICHIGO Strawberry Daifuku @ Seigetsudo Hoten | ¥432 (Tax Included)

Information

7 Days of Loving Strawberries (Japanese Name: いちごに恋する七日間)
Running: January 13, 2021 – January 19, 2021
Location: Isetan Shinjuku Floor B1F
Official Website: https://mi-journey.jp/foodie/66251/

Matcha and Strawberry Parfaits Whipped Up at Saryo FUKUCHA in Kyoto

Saryo FUKUCHA in Kyoto is now serving up a very special selection of succulent strawberry and matcha parfaits until May 30, 2021. These exquisite delights will see only 10 made of each per day.

Saryo FUKUCHA is a cafe that was opened by FUKUJUEN in Kyoto Station in April 2019. This year, they have brought back their extremely popular strawberry and matcha parfaits : the Konome, Konoha, and Konoka. They have also introduced a new addition to the line-up: the Strawberry & Matcha Milk Parfait. Also on the menu is a strawberry matcha latte.

Matcha & Strawberry Parfaits


Konome | ¥1,350


Konoha | ¥1,450


Konoka | ¥1,550


Strawberry Matcha Milk Parfait | ¥800


Strawberry Matcha Latte | ¥650

Discover the taste of Japanese tea in a new way with Saryo FUKUCHA's matcha and strawberry parfaits and latte.

Information

Saryo FUKUCHA
Address: 901 Higashi Shiokojicho, Karasumadori Shiokoji Sagaru,, Shimogyo-Ku Kyoto Station Bldg. 2F, Kyoto 600-8216 Kyoto Prefecture
Opening Hours: 8:30-21:00 (Last Orders 20:30)
*The cafe is currently running on reduced opening hours as of December 25, 2020 due to COVID-19. Hours are now 08:30-19:00 (Last Orders 18:30) on weekdays and 08:30-20:00 (Last Orders 19:30) on weekends. Times are subject to change.
TEL: 075-744-0552

Official Website: https://fukucha-fukujuen.com/

Tuck Into a Strawberry and Herb Full Fruit Course at Fruits Salon in Ginza

Fruits Salon, a cafe inside Beauty Connection Ginza that serves full courses of fruit, has introduced a new strawberry and herb course to its menu which is being served until February 1, 2021.

Fruits Salon opened in November last year and garnered much attention for its full course fruit dishes. In August, the cafe served up the "Peach Full Course" which proved super popular. Last month, they offered a menu centred on juicy and sweet grapes. For December and January, the course features four items that combine the taste of seasonal strawberries and fragrant herbs.


Strawberry & Herb Full Course | ¥4,400 (Tax Included)

1st Plate: Shortcake

The first plate is a strawberry herb shortcake which contrasts beautiful red strawberries with white cream. It contains a jam made with milk sauce and gin, resulting in a harmonious balance between sweet and sour.

2nd Plate: Soup

The second plate is a hot strawberry and elderflower soup, combined with a mix of creamy yogurt, pistachio salt, and red wine reduction.

3rd Plate: Parfait

The third plate is the main: a milk gelato parfait with sorbet and chamomile. It also contains granita and champagne. The glass is completely stuffed to the brim and overflowing with sweet treat delights.

This extravagant full course is booking-only and lasts 90 minutes. That's 90 minutes of pure indulgence.

Information

Beauty Connection Ginza Fruits Salon
Address: GINZA gCUBE 2F, 7-9-15 Ginza, Chuo-ku, Tokyo
Opening Hours: 11:00-20:00
Closed: Tuesdays
TEL: 03-6263-8392

Official Website:  https://www.beauty-connection.jp/fruits/

Japan's Kirby Cafe to Celebrate the Near Year With a Special 2021 Menu Addition

The Kirby Cafe in Tokyo has announced a seasonal dish for the new year as part of the cafe's "Sweet NEW YEAR 2021" celebration which it will begin serving from January 1, 2021.


Kirby Burger & New Year Dessert | ¥1,980 (Before Tax)

The dish comes with a miniature version of Kirby Cafe's popular burger on a teeny-tiny plate measured at just 10cm in circumference.

The mini dish looks super cute lined up next to the cafe's plush toys.


The plate that the food is served on comes as a free souvenir which you can take home with you after eating. These will be limited in stock so will be available while supplies last for the New Year.

Information

Sweet NEW YEAR 2021
Kirby Burger & New Year Dessert
Serving: January 1, 2021 – January 31, 2021
Kirby Cafe Official Website/Table Reservations: https://kirbycafe.jp

Tokyo Banana Chooses Eevee as Next Pokémon Souvenir Sweet

Tokyo Banana World has revealed that its next sweet treat in its Pokémon Tokyo Banana series will be Eevee which Pokémon Trainers can expect to catch up and down Japan from January 2, 2021, including at the store itself as well as at 7-Eleven branches.

Pokémon Tokyo Banana Welcomes Eevee as Entry #2

Tokyo's official souvenir sweets brand Tokyo Banana launched its new Pokémon Tokyo Banana series of confections in November with the first catch being Pikachu. Now Eevee is being added to the collection.


The fluffy sponge is a delicious caramel macchiato flavour and is filled with sweet banana custard cream. It can be eaten as it is, refrigerated, or even baked to create completely different flavour experiences.

6 Designs Including a Lucky Heart-Shaped Tail

The sponge cakes come in six different designs, all of which are adorable. The one to look out for though is the one with a cute heart-shaped tail.

Fluffy Eevee Design Packaging

Eevee Tokyo Banana Caramel Macchiato (Contains 2) | ¥291 (Tax Included)

The packaging features fluffy artwork of Eevee in six different designs, such as a waving Eevee and winking Eevee.

Where Can You Catch Eevee Tokyo Banana?

Eevee will roll out at 7-Eleven stores across Japan (excluding Okinawa) at the dates listed below. Each branch will have a limited stock so don't miss out.

January 2, 2021 Release
Tokyo/Kanagawa/Chiba/Saitama

January 16, 2021 Release
Hokkaido/Aomori/Iwate/Akita/Miyagi/Yamagata/Fukushima/Ibaraki/Tochigi/Gunma/Niigata/Fuji/Ishikawa/Fukui

January 23, 2021 Release
Yamanashi/Nagano/Shizuoka/Aichi/Gifu/Mie/Okayama/Hiroshima/Tottori/Yamaguchi/Tokushima/Kagawa/Ehime/Kochi

January 30, 2021
Osaka/Kyoto/Hyogo/Shiga/Nara/Wakayama/Fukuoka/Saga/Nagasaki/Oita/Kumamoyo/Miyazaki/Kagoshima

©2021 Pokémon. ©1995-2021 Nintendo/Creatures Inc. /GAME FREAK inc.
ポケットモンスター・ポケモン・Pokémonは任天堂・クリーチャーズ・ゲームフリークの登録商標です。