This year marks the 5th anniversary since our pop queen Kyary Pamyu Pamyu made her debut. Her new album "KPP BEST" will be hitting shelves this month on May 25th.
The full contents for the planned "Ultra Rare Limited Edition Face Packaging" version of the new album, of which there will be 55555 limited copies available at the price of ¥5,555, have finally been revealed.
As with the Regular Edition of the album, Discs 1 and 2 of the Face Packaging will total 24 songs, including her past hits such as "Tsukema Tsukeru", "Fashion Monster" and "Ninja Re Bang Bang", as well as her latest single "Sai & Co".
Disc 3 will feature a self-mix collection of 10 tracks from Kyary's producer Nakata Yasutaka (CAPSULE), bringing this gargantuan set-list of tracks up to a whopping 34 in total.
Finally, Disc 4 will include Kyary's comments on her surprisingly 'stoic' job which have not yet been publicised, heart-warming episodes about Kyary and her family, her experience with love, commentary over her past live shows as well as her music videos, and an incredible interview that you can only see by buying this version of the album. A teaser trailer has also been published ahead of the release. There's a lot to look forward to, so get in on it!
■Teaser Trailer https://youtu.be/a016U-1VioI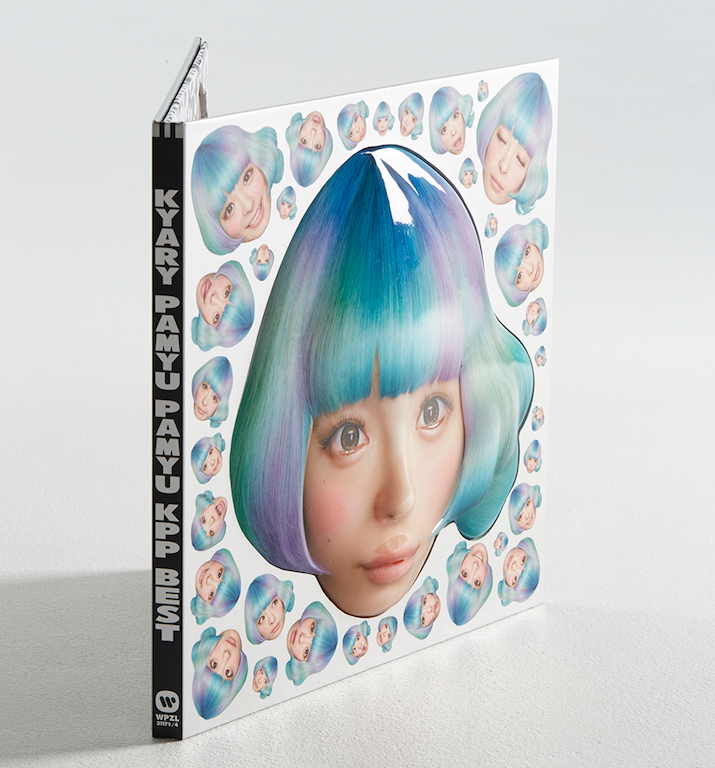 ■Content Summary
Kyary Pamyu Pamyu's first best album "KPP BEST"
On sale 2016.5.25
■Kyary Pamyu Pamyu Ultra Rare Limited Edition Face Packaging (55555 available)
(3CD+1DVD ) WPZL-31171/74 ¥5,555 +tax
[Disc 1] CD
1. KPP ON STAGE
2. PONPONPON
3. Cherry Bon Bon
4. Tsukema Tsukeru
5. Kyary ANAN
6. CANDY CANDY
7. Fashion Monster
8. Kimi ni 100 Percent
9. Furisodation
10. Family Party -albummix- 
11. Super Scooter Happy
12. Yume no Hajime Ring Ring -albummix-
[Disc 2] CD
1. Ninja Re Bang Bang
2. Mottai Night Land
3. 5iVE YEARS MONSTER
4. Kira Kira Killer
5. Invader Invader
6. Kanzen Keitai
7. Tokyo Highway
8. Crazy Party Night~Pumpkins Strike Back~
9. No No No
10. Mondai Girl
11. Cosmetic Coaster
12. Sai & Co
[Disc 3]CD
1. Cherry Bon Bon -extended mix-
2. Choudo ii no -extended mix-
3. Tsukema Tsukeru -extended mix-
4. CANDY CANDY -remix-
5. Minna no Uta -extended mix-
6. Fashion Monster -extended mix-
7. Ninja Re Bang Bang -extended mix-
8.Invader Indvader -extended mix-
9. Mottai Night Land -extended mix-
10. Kira Kira Killer -extended mix-
[Disc 4]DVD
Kyary Pamyu Pamyu: The Truth of 5 Years