Limited edition lipsticks presented in a book-box from clé de peau BEAUTÉ
The lipstick is presented in a book box, accompanied by an original story, with illustrations by Aiko Fukuda.
Their corporate logo is an illustration of a key to "Unlock the power of your radiance" for women who wear their genuine lipstick. Two special lipsticks from their collection, selected by texture and color, will be available in this gift set.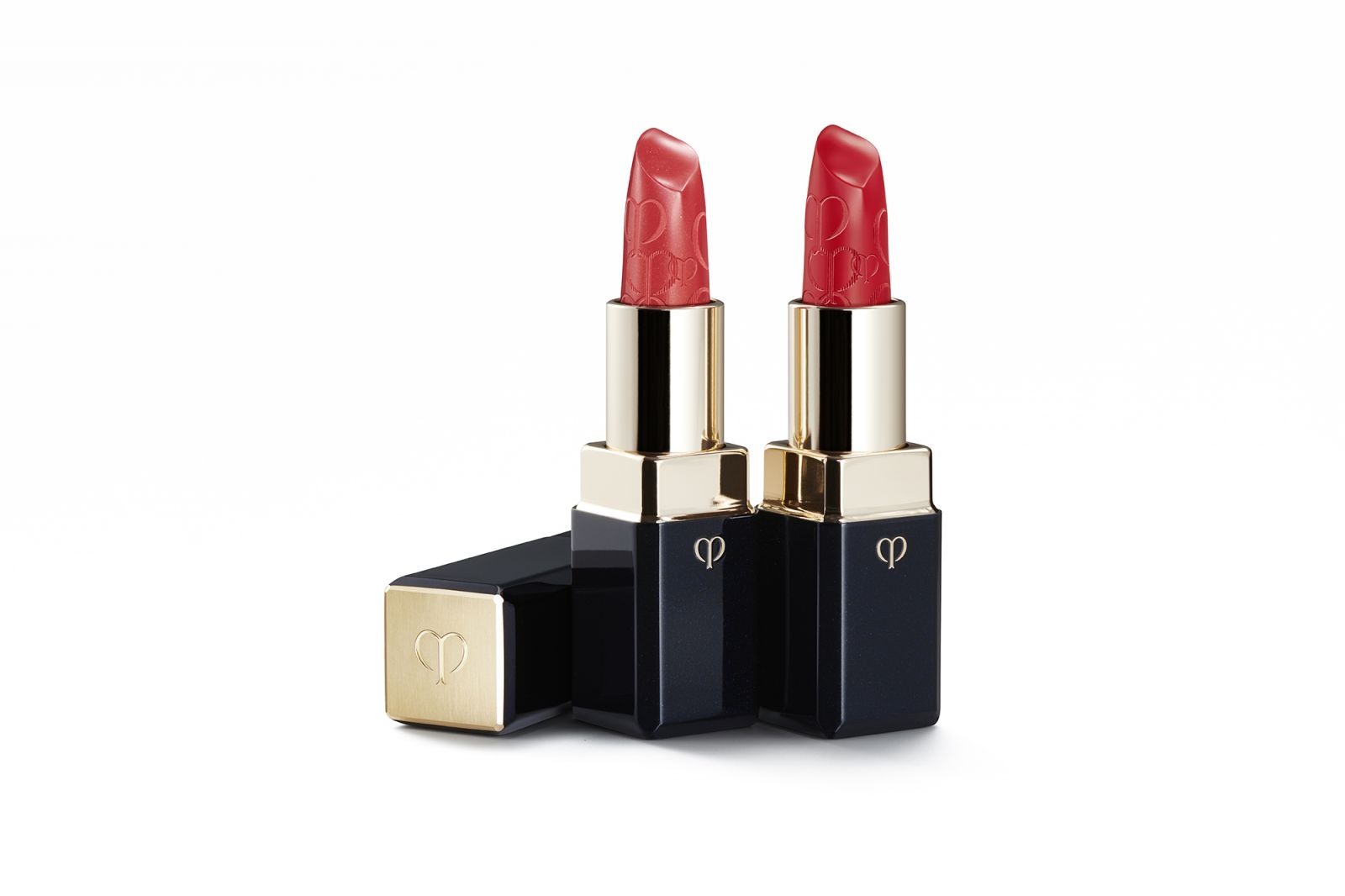 This makes for a gorgeous gift for your loved ones or yourself. Have a wonderful holiday season with lipsticks of clé de peau BEAUTÉ
Information
Clé de peau BEAUTÉ rouge à lèveres
Release date: November 21 (Wed) 2018
Stores: GINZA SIX, Omotesando Hills
Price: 6,000 (without tax)
Color: n5(Camelia), Cachemire103(legend)
Clé de peau BEAUTÉ brand site: http://www.cledepeau-beaute.com/?rt_pr=trc30
RECOMMENDED ENTRIES
Namie Amuro Promotes New Visee Product for the First Time in 20 Years

The ALL TIME BEST Project is a project set up by KOSÉ to celebrate Namie Amuro, whose existence has given strength and courage to women everywhere.

Namie Amuro has been selected to promote the third new product from the popular cosmetic series Visee – their Color Impact Liquid Liner.

This is the first time Namie Amuro has worked with Visee as the face for their commercials in 20 years, the first being back in 1997. At the time, girls who yearned to have the same make-up as her filled the streets, and became known as Amura's (アムラー) i.e. young girls who imitate the style of Namie Amuro. Blue eyeliner was one of the looks especially popular with Amura's.

Fast forward to almost 20 years today, and the colour decorating Amuro's eyes now is a light pink, which gives an energetic, spicy and sexy transparent look. It's different from back in the day and instead cute in a more devilish way. It's also faithful to her as a person today.

The new product to go on sale is the Color Impact Liquid Liner, solid one-brush colours which serve to give your eyes a striking look.Because it's easy to draw with thanks to the thinness of the brush, as well as its durability, you can draw everything from intricate lines to cat lines without it smudging. In addition to the 6 standard colours, there's also limited edition orange and khaki too.

The ALL TIME BEST Project website will continue to release lots of content about Namie Amuro until the day of her retirement in September. Be sure to check it out.

■Information

Namie Amuro×KOSÉ ALL TIME BEST Project

Visee Color Impact Liquid Liner

On Sale: May 16, 2018

Price: ¥1,000 (Pre-Tax)

Namie Amuro×KOSÉ

http://www.kose-amuronamie.jp/

Namie Amuro Official Website

KOSÉ Official Website

Naomi Watanabe Appointed Brand Ambassador of "Shu Uemura" Cosmetic Line

The vivacious and colourful Naomi Watanabe, whose career spans a wide selection from acting to comedy and fashion designing, has been appointed as a brand ambassador for Shu Uemura, a make-up artist brand that hailing from Tokyo.

Naomi Watanabe is an entertainer that thinks outside the box. She enjoys make-up and fashion freely in her own way and continues to promote positivity. She loves herself for who she is and cherishes her individual beauty. Her overwhelming performances also do not fit into a single mold. She brings new ideas to the table and breaks down stereotypes. All of this has garnered her much attention and she has captivated not only the people of Japan, but around the world. Through its future collaboration with Naomi Watanabe, Shu Uemura – which pursues the question of make-up that brings out the individual beauty of people with its free-thinking – wishes to further advocate the limitless possibilities of beauty that doesn't fit the standard.

For their first project, they have teamed up with French jewelry and accessory brand Yazbukey to create the Mattitude Collection, an evocative range of limited-edition lipsticks set to release on April 27. By wearing matte lipstick, they will draw out a girls' real qualities, which they theme as 'Sexy,' 'Lovely,' 'Funky' and 'Edgy.' Naomi Watanabe helped design these four looks. Putting on any one of these lipsticks will change a girl's appearance entirely.

Naomi Watanabe Comment:
"Shu develops a wide selection of colours. Their passion for cosmetics really shows, so normally even I go and buy from them as a customer. They really have a lot of colour usages, so I'm always excited when I go to the shop. Like 'Hm, let's try combining this and this next.' To me, make-up is something that I can use to express myself by combining things together. I challenge myself to different combinations. I want to draw out an individuality ¬¬¬¬¬that suits me. So I want everyone to try lots of different make-up for themselves too!

Make sure to check out Shu Uemura and Naomi Watanabe's collaboration!

Discover the latest Japanese cosmetic trends at @cosme Beauty Awards 2017

The @cosme Beauty Awards 2017 have been announced, bringing together the latest beauty trends in Japan.

One of the main areas to draw attention to is the Best Cosmetic Award which is based off the products with the most support from public comments as featured on the make-up & beauty website @cosme.

The desire to buy more female beauty products shot up this year, so the winning trends granted their wishes by releasing lots of items that enable one to look beautiful without trying too hard.

The grand prix winner of the best cosmetic category went to the lip product brand OPERA for their "Lip Tint" which received overwhelming praise. Their lip tint is moist, vibrant and comfortable.

Multiple items shined in first place with a total of selected to win the same award, including the high quality yet inexpensive base make-up item "Radiant Cream Concealer" from the charming NARS and the "Colour Stay Make-up" liquid foundation from the colourful Revlon.

Detailed information on the best cosmetic rankings and each award can be found on the official @cosme Beauty Awards 2017 webpage, so use it for reference and get up to date with the latest in Japan's cosmetic trends.
RELATED ENTRIES
Tokyo's New Skin Care Concept Shop SKINCARE LOUNGE BY ORBIS to Open in Omotesando

SKINCARE LOUNGE BY ORBIS is the debut concept shop by Japanese beauty company ORBIS, and it's set to open in Omotesando this summer. The shop's teaser website opened on May 13 where information on its conception, special content, interviews with the company's partners, and more will roll out in the run up to the grand opening.

ORBIS established themselves in 1984, and in 1987 launched their mail-order service. Since then, their mission has been to "create a world filled with people who are true to themselves, think positively, and lead lives of beauty." They believe in the beauty each of us has inside them and want to unlock its full potential.

SKINCARE LOUNGE BY ORBIS aims to have people learning about their own skin and to unlock its full potential. "Feel," "Learn," and "Take" are the keywords of the concept shop.

The shop's creative directors are Hisato Ogata, who is a designer and innovator at takram, and Momo Kudo of Tokyo-based architecture and interior design studio MMA Inc. They are also supported by George Amano of GEORGE CREATIVE COMPANY.

SKINCARE LOUNGE BY ORBIS has two floors. On the first floor, customers are free to test various products as well as learn about the correct way to look after their skin. The second floor offers skincare treatments, workshops, and various private events. You must be a member on the shop's official app and book in advance for the second floor services.

If you're strolling around the Harajuku and Omotesando area this summer, pop into SKINCARE LOUNGE BY ORBIS and learn all there is to know about proper skin care.

Information

SKINCARE LOUNGE BY ORBIS

Address: 5-7-1 Minamiaoyama, Minato Ward, Tokyo
LOUNGE: 10:00 AM-8:00 PM
JUICE BAR: 8:00 AM-8:00 PM
*Please note that the shop is subject to temporary closure

Official Website: http://www.orbis.co.jp/skincarelounge/

Dior Releases Tokyo Pink Colour of its Addict Lip Maximizer

Parfums Christian Dior opened pre-sales for its 2020 Summer Collection via the official Dior online boutique on Friday.

The line-up features shades for early summer's blue skies, as well as vivid colours that will stand out against the midsummer rays. Everything in the range screams bright and energetic femininity.

This summer, look forward to applying highly efficient formulas perfect for the season, with textures that feel natural on the skin, glittery shades that reflect the sunlight, and new rules set for healthy summer makeup.

Dior Addict Lip Maximizer 019 Tokyo Pink – ¥3,700

A standout of the collection is the Japan-exclusive Tokyo Pink edition of the Dior Addict Lip Maximizer. It's a pink that symbolises Tokyoーthe neon lights and feminine beautyーwhile still looking transparent. It's a clear pink with a delicate glittery look that gives instant volume to the lips the moment it's put on, serving energetic summer vibes. It has hyaluronic acid on it which keeps them looking moist all day long, as well as collagen and capsaicin.

Dior 5 Couleurs (Colour Games) – ¥7,800 / Diorshow Colour & Contour Duo – ¥3,900

Dior is also releasing limited edition versions of its Dior 5 Couleurs eye palette and eyeliner and eye shadow combo Diorshow Colour & Contour Duo for the summer season.

Information

Summer Collection 2020 "Colour Games"
Pre-Sales: May 8, 2020

Release Date: June 5, 2020 (From May 15, 2020 at select websites)

Official Website: https://www.dior.com/ja_jp

Make Bath Time Even More Special With the New Hair and Body Series From ORBIS

ORBIS released its new "RELEASE By Touch" series of hair and body products on April 23, 2020.

Since the company's establishment, ORBIS has striven to bring out the full potential of the skin's power. Its brand message is "making comfort beautiful." Their Touch series invites people to love their hair and body by touching and caring for it, leading them to a relaxing, comfortable time.

RELEASE By Touch Shampoo / RELEASE By Touch Conditioner – ¥1,300 (Before Tax)

The hair care items in the new RELEASE By Touch series includes shampoo and conditioner that gently cares for both the hair and scalp.

RELEASE By Touch Body Shampoo – ¥1,000 / RELEASE By Touch Body Wash Glove – ¥1,200 (Before Tax)

Lather your skin and body in thick bubbles and enjoy some body care time.

RELEASE By Touch Bath Towel

When you're done, wrap yourself in a fluffy towel and feel refreshed after your luxurious bath.

If you're looking for some personal relaxing bath time then you can't go wrong with the new RELEASE By Touch series from ORBIS.

Information

RELEASE By Touch Series

Release Date: April 23, 2020

Available: At ORBIS stores in Japan and online

Official Website: https://www.orbis.co.jp/

SHIRO to Release New Alcohol Hand Mist and Hand Gel Sanitisers

Japanese cosmetic brand SHIRO has announced the release of its new "Hand Refreshing Series" of hand sanitisers that both clean and keep hands moisturised.

The products contain 80% alcohol (*1) and can be used to clean your hands (*2).

 

We are living in a time when taking care of what you touch and washing your hands is of utmost importance. To make life easier for people, SHIRO has created this new line of skincare products.

Chakrasana Hand Refreshener (80ml) – ¥1,600 (Before Tax) / Alcohol: 65% / Contains: Yuzu Peel / Fragrance: Chakrasana

The Chakrasana Hand Refreshener is a hand mist that was released on April 2, 2020. It ensures your hands are sanitised for going outside, while the use of yuzu peel keeps them moisturised. The fragrance used, "Chakrasana," is an original blend of fresh orange, spicy cloves, and geraniumsーthe latter of which offers a subtle sweet smell.


Hand Refreshener 80 (80ml) – ¥1,800 (Before Tax) / Alcohol: 80% / Contains: Yuzu Peel / Fragrance: Chakrasana, Sabon

Pre-orders are now open via SHIRO's online store for their new product Hand Refreshener 80 which will launch on April 20. Another hand mist, this version contains 80% alcohol for even cleaner hands. It comes in two fragrances: the above-mentioned Chakrasana as well as Sabon which has a fresh soapy smell.

Hand Refreshing Gel 80 (200ml) – ¥2,800 (Before Tax) / Alcohol: 80% / Contains: Yuzu Peel / Fragrance: Chakrasana, Sabon

Rather than mist, this product comes as a big bottle of gel. Like the mist, it cleans your hands thoroughly while ensuring they do not dry out. Perfect to keep at home or in an office, one bottle can last you up to nearly two months. 1-3 pumps will ensure your hands are nicely sanitised. This product is now available for pre-order and will be shipped between April 23 and early May.

SHIRO has halted the manufacturing of some of its products at its Hokkaido-based factory to focus on producing alcohol sanitising items.

*1: The official homepage of the Ministry of Health, Labour and Welfare of Japan states that alcohol is most effective at 70% and above. The US Centers for Disease Control and Prevention states that you need at the very least 60% or more to ensure hand sanitation.

*2: This is not a medical or quasi-drug product.

Japanese Uji Matcha Sheet Masks to be Released by Zeitakubihadado

Japanese makeup brand Zeitakubihadado™ Matcha de Bihada has announced the release of its new "Matcha de Bihada Premium Sheet Mask" product which will receive pre-sales at select Tokyu Hands and LOFT stores around Japan on March 12, 2020 before its general release.

100% Organic and High Quality Matcha Tea Leaves

Zeitakubihadado™ is very particular when it comes to its products being safe and secure to useーas well as the products being made in Japan. The cosmetic brand has delved deep into its research into what really is good makeup for women. Matcha, which is used in the company's productsーincluding the new sheet masksーis packed full nutritional elements, including vitamins, minerals, theanine, and catechin, to name a few. It is also an antioxidant, a disinfectant, and is said to provide a relaxing effect. The matcha used in the Matcha de Bihado products is Uji matcha from Kyoto, a type which has garnered attention overseas too, all of which is 100% organic and harvested under strict management. The matcha powder, matcha extract, and hyaluronic acid help to leave the skin smooth and moisturised.

Bacterial Care With 5 Fermented Ingredients

Japanese beauty care has long since been deeply associated with "fermentation." The Premium Sheet Masks harness the power of this fermentation method with a blend of five ingredients: rice ferment filtrate, soy milk ferment filtrate, collagen ferment filtrate, yogurt filtrate, and fruit juice ferment filtrate . Such fermented ingredients are said to promote the balance of indigenous bacterium in the skin, ensuring the skin stays healthy, smooth, and beautiful.

 

Opulent Essence & Super Thick Sheets

The essence has a thick texture, and the sheets themselves are extremely thick too which holds the essence together. Because the sheets do not easily drip or turn inside out, and because they fit firmly onto the fate, they are perfect for busy multitaskers out there.

Wash Away Face Pack & Premium Sheet Mask Combination

Those looking to really take care of the skin can get a combination of two Matcha de Bihada items: the Beautiful Face Pack, which keeps your skin clean, and the Premium Sheet Mask, which balances it. Using both will ensure your skin is left soft, moist, and restored. The cosmetic line aims to be one that people will want to continue to use, from early ageing in your 20s to later adulthood.

The sheet mask is easy to use: simply even out the entire sheet while it's still in the pack with both your hands to that it is uniform all over. Remove from the pack, and turn up the outside from the eye part. Layer onto your face, making sure it's correctly lined up with your eyes and mouth. Leave for 5 minutes and then remove. Rub in the essence left on your face. It's recommended that you do this 1-2 times a week.

Try the new Matcha de Bihada sheet masks yourself and see the real benefits of Uji matcha.

Information

Matcha de Bihada Premium Sheet Mask

Pre-Sale: March 12, 2020 at most Tokyo Hands and LOFT branches in Japan

Early Sale: March 19, 2020 at Mind Wave Online Store

General Sale: April 23, 2020 at general stores, variety shops and elsewhere across Japan

Official Website: https://www.zeitakubihadado.jp

Japan's Men Skin Care Brand BULK HOMME to Release Products in France & UK

BULK HOMME, a Japanese skin care brand for men, is releasing a line of its popular products in France and the United Kingdom on March 20, 2020. To date, the company has focused in the Asian region, stocking shelves in Taiwan, China, South Korea and Hong Kong. This will be the first time the company makes its mark in Europe.

BULK HOMME placed top in the Hair Product category at Cosmoprof Bologna 2019 for its product "THE SHAMPOO," held in Italy last March, making it the first Japanese men's brand to do so. French professional footballer Kylian Mbappé was even enlisted as the global ambassador for the brand in June 2019.

The company is also using its European expansion as an opportunity to replace its outer packaging form a clear case to paper that has been certified by the Forest Stewardship Council. This will begin rolling out this March.

Products Releasing in France/UK

THE FACE WASH

THE TONER

THE LOTION

THE SHAMPOO

THE TREATMENT

THE SCALP SERUM

THE BUBBLE NET

BULK HOMME is aiming to be in 100 stores throughout France and the UK by March 2021, focusing on getting into upend department stores and with future plans to get into cosmetic stores.

Information

BULK HOMME

Release Date: (France/UK): March 20, 2020

Official Website: https://bulk.co.jp/

Japan's First Muslim Eyelash Extension Salon 'Crazy Beauty' Opens in Shibuya

Japanese eyelash extension salon Crazy Beauty has announced its efforts to strengthen its services to cater towards its increasing number of Muslim customers. The salon released a new list of policies in English including using no pork-derived ingredients in its glue, a comment about the alcohol level of its glue, and more.

"Muslim Welcome" is the name of this new initiative launched by Crazy Beauty with support from the Made in Japan Halal Support Committee.

Prayer Space

Crazy Beauty provides prayer mats and has a space for its Muslim clients to pray.

Consideration For Muslim Customers

Since Muslims are not able to use products with alcohol in them, Crazy Beauty provides Halal-certified Clean Shu! Shu! Neo, which has alkali ions in it that kills bacteria, and it also cleans and smells since. Crazy Beauty also uses MOMA Water, officially recognised by JAKIM in Malaysia. Customers can also enjoy Halal-certified tea after their session.

Muslim Welcome Eyelash Policies

・Our salon uses medical grade glue that does not contain pork-derived ingredients.

・The medical-grade glue used in our salon contains a small amount of alcohol.

・A spare space can be used for prayer purposes.

・Prayer mats are available upon request.

Source: https://crazybeauty.jp/en

If you're a Muslim and looking to experience Japan's beauty scene, then be sure to check out Crazy Beauty to see everything they have to offer.

Information

Crazy Beauty

Address: 906 Dogenzaka Square, 5-18 Maruyamacho, Shibuya, Tokyo

Reception Times: Last Phone Booking 21:00 (Until 19:00 on Sundays and Public Holidays)

No Fixed Holidays (Open during festival seasons)

TEL: 03-6416-1726

Official Website: https://crazybeauty.jp/en

Visiting @cosme TOKYO in HarajukuーThe Place That Satisfies All Of Your Makeup & Cosmetic Needs

@cosme TOKYO is a new flagship store that opened in front of Harajuku Station in Tokyo on January 10, 2020.

@cosme is a web portal centred on makeup and cosmetics. Offering a wealth of beauty information from a number of perspective, the website lets you see the latest trending items in the makeup world from the word on the streetーby letting people comment on and rank itemsーoffers solutions to skincare and makeup-related problems, and more.

@cosme TOKYO is the first-ever physical store by @cosme. Its floor space spans over 1,300 square meters where it houses an enormous selection of cosmetics and makeup products, from inexpensive and affordable quality items to luxury brands. Since opening, it has become the talk of the town in Harajuku.

It's comprised of three floors, each with their own highlights. Let's go and check it out.

1st Floor: A Hall of Fame for the latest most popular cosmetics

When you walk into the first floor area, the first thing that's sure to catch your eye is the incredible "Best Cosmetic Award Tower," a collection of items that have have won past cosmetic awards for being the best. All the cosmetics are stacked up high in their own little display case.

As you proceed further across the shop floor, there is the "@cosme Weekly Ranking" corner which ranks the most popular items on the website for that week, so customers can always know what products are the best to incorporate into their makeup and beauty routine.

But perhaps the centrepiece of @cosme TOKYO is the "Tester Bar," where customers are free to try out products using the puffs and cotton pads provided. There's also a tap and sink for rinsing. You can't deny how great this service is; without worrying about others, you can try out all the cosmetics to your heart's desire and then buy them if they're to your liking.

There are also smart lockers so you can lock your things away, allowing for your hands to be free while you test makeup and shop. But it doesn't stop there, as there's even a foreign currency exchange machine which caters for 85 currencies in 120 countries.

2nd Floor: Men's cosmetics, beauty equipment, and more

Up on the second floor, you'll find another area that ranks products, this time the ones with the most sales at @cosme TOKYO. Everything is displayed in such a way that it's easy to find products as they are separated by base makeup, mascara, lipsticks, and so on. You'll find pop artwork hand drawn by the staff to highlight products, so enjoy comparing and considering all the different items.

Recently in Japan, men's products have been garnering attention, and so @cosme have created an entire section dedicated to male and unisex makeup items. Picking out makeup with your partner is goals, and now it's finally becoming a reality.

Another area that's popularーwith both Japanese people and foreignersーis one that stocks cosmetics made with naturally-derived ingredients from Japan, as well as products with Japanese-style packaging. It's perfect if you're looking for Japanese-specific items or for gifts and souvenirs.

Also on the second floor are beauty mirrors so you can check yourself out as well as two Tester Bars, so you can try out products here too.

If you have kids, you can drop them off in the kid's area while you shop. There's also bread-feeding rooms and places for changing diapers. They have it all!

3rd Floor: A place to relax exclusive to @cosme app users

The third floor is home to a lounge that can only be used by those who have the @cosme app installed on their phone. It can be used for relaxing or for hanging out with friends. It's hard to find a such a quiet and relaxing place like this so close to Harajuku Station.

If you want to retouch your makeup, there's a powder space you can do that for free, as well as oxygen boxes. This floor is packed full of different great services.

@cosme also has its own points system. One point equals one yen, and you get five for just visiting the store.

Anyone and everyone can enjoy a fun and easy shopping experience

 

Each product in the store has a JAN code on it which when scanned at one of the tablets in store will give you information about that product in multiple languages, including English, Simplified/Traditional Chinese, and Korean. This goes for the map of each floor too, so you can find out what each floor offers without getting lost.

@cosme TOKYO also has free Wi-Fi, and can also ship products around Japan. It offers a comprehensive shopping experience that caters to both Japanese and foreign customers.

You're sure to find many items you like when visiting @cosme TOKYO, so you can't miss out on visiting if you're travelling to Harajuku or Tokyo. Enjoy shopping!

Information

@cosme TOKYO
Opened: January 10, 2020

Address: 1-14-27 Jingumae, Shibuya, Tokyo
Opening Hours: 10:00-21:00
No Fixed Holidays
Official Website: https://www.cosme.net/flagship/

Cosmetics brand SHIRO to Release Natural Makeup that Improves Your Skin

Cosmetics brand SHIRO is known for producing makeup that both looks after your skin and brings out your natural beauty. From March 5, 2020, they will be releasing the Calendula Liquid Eyeshadow for a refined and sparkly finish to your eyes and the Calendula Liquid Cheek Tint for silky smooth cheeks and a natural complexion.

Calendula, often known as Pot marigold, is a plant known for its miraculous skin-treating abilities. SHIRO has harnessed its moisturising and healing properties, developing two new products that enjoy the benefits of locking moisture into the skin and a beautiful, natural look. Each Calendula plant is raised organically and harvested by hand in Shimokawa, Hokkaido.

Calendula Liquid Eyeshadow (Comes in 6 colours): ¥3,500 (Before Tax)

Apply the Calendula Liquid Eyeshadow to instantly capture anyone's gaze. The eyeshadow is water-based, locking in moisture and adding a dynamic effect to your eyes. A small amount will spread far and evenly, instantly attaching to your skin for no risk of smearing. 

From top left  0C01 Dusk Orange/0C02 Copper Brown/0C03 Sparkle Light

From bottom left 0C04 Sand Beige/0C05 Grayish Beige/0C06 Sepia Brown

The eyeshadows come in six different colours: four glitter finishes and two matte finishes so you can change your look depending on the occasion.

Calendula Liquid Cheek Tint (Comes in 4 colours): ¥3,500 (Before Tax)


The Calendula Liquid Cheek Tint is oil-based and spreads evenly over your cheeks for a silky smooth, natural complexion. This is perfect for contouring your cheeks so you can enjoy both a radiant glow and healthier skin. 

From top left  0C07 Raw Umber/0C08 Foggy Pink,  From bottom left 0C09 Coral/ 0C10 Copper Red

This is available in four colours and can also be used as an eyeshadow or to colour your lips after using the 0C01 Copper Red Lip Liner.

SHIRO is not only available in Japan, but also has three shops in London and one in New York. SHIRO uses carefully-selected natural ingredients to bring out the natural beauty of your skin.

Rather than hiding your skin, this makeup embraces it, caring for it and adding a natural finish. 

6 Must-Buy Japanese Fall/Winter Cosmetic & Skincare Items – MOSHI MOSHI NIPPON

Japanese cosmetics company Shiseido has released its new fall/winter skincare and cosmetic items. With the cold weather cloaking us with its bitter chill, we risk our skin becoming dry and flaky. Plus, with Christmas and the New Year right around the corner, now is the season to dress up and look stylish for parties and get-togethers.

We have selected 6 cosmetic items at Shiseido you should ready yourself with for the increasingly cold weather.


d program Kandan Barrier Essence: Protect your skin from the temperature difference

Outside it's cold, but indoors it's hot. That kind of temperature difference can damage your skin, but Shiseido has developed a product to tackle the problem. Part of their d program series, this product protect the skin from drying out by maintaining moisture in your skin during cold winters. The texture is adapted to those who have sensitive skin after washing. Skincare is important during this season, so be sure yours is protected.

d program Kandan Barrier Essence – ¥3,000

Official Webpage: https://www.shiseido.co.jp/dp/


ELIXIR REFLET Balancing Oyasumi Mask: Tighten your pores and replenish moisture overnight

The ELIXIR REFLET Balancing Oyasumi Mask coats your skin in a gel that balances sebum production and tightens pores while replenishing moisture. It's to be used 2-3 times a week and worn while you sleep, so apply it before getting into bed and enjoy waking up with gorgeous and glowing skin. It's a simple skincare routine and a great product that can be used for beautiful skin all-year round.

ELIXIR REFLET Balancing Oyasumi Mask

Official Webpage: https://www.shiseido.co.jp/elixir/reflet/

Senka All Clear Double W Foam: Cleanse your face and remove your makeup with thick foam
Senka is a skincare brand hugely popular not only in Japan but Taiwan, South Korea, and other parts of southeast Asia. This new product is a 2-in-1 makeup remover and facial cleanser.

One push of the bottle releases a nice thick dollop of foam which you apply to your face. You don't need any water, you can wash just with this. It's made with rice bran oil which easily removes makeup as well as unclogs pores for thoroughly cleansed and beautiful skin. It's a great product to use in those mornings when you're not using makeup.

In the same series from Senka is their White Beauty Serum in Foundation, a natural-looking foundation that gives that no-makeup look. It's packed full of beautifying components and is a great skincare option when using makeup.

This line is also easy to buy if you're living outside of Japan, so be sure to check it out.

Sengan Senka Senka All Clear Double W Foam -open price

Junpaku Senka White Beauty Serum in Foundation -open price

Official Webpage: http://www.hada-senka.com/


 Majolica Majorca Shadow Customize: Add accent to your night-out eye makeup

Majolica Majorca Shadow Customize is the perfect choice for eye shadow when you're looking to spice up your look for a Christmas or New Year's. It can also be used as everyday eye shadow, and contains highlight pearls and shading pearls which help to highlight your eye makeupーideal for parties. The line-up includes 19 colours, including 3 new ones: Masala Chai (reddish-brown), Cinnamon (orange), and Odo Brown (walnut). Pick your weapon of choice!

Majolica Majorca Shadow Customize: ¥500

Official Webpage: https://www.shiseido.co.jp/mj/


Integrate Nuance Eyebrow Mascara: Road to natural-looking eyebrows

Whenever you're going to an event, you want to put some effort into your eyebrows, right? This product is the ideal choice for getting those natural-looking eyebrows. It's a mascara but it's powdered so doesn't clump your brows. It comes in 5 different colours, so coordinate your brows accordingly with your outfit.

Integrate Nuance Eyebrow Mascara

Official Webpage: http://www.shiseido.co.jp/ie/

Limited Edition Frozen 2 Items: Great gift ideas
Five brands have teamed up with "Frozen 2″ to release their own Anna and Elsa-inspired cosmetic designs.

MAQuillAGE's lipstick is shiny like snowflakes and is fun to use when putting on your makeup.

Limited Edition "Frozen 2"  Designs

Official Webpage: https://www.shiseido.co.jp/cms/onlineshop/campaign/h/collaboration/

aminoRESQ: The No. 1 Hair Care Brand in Four Countries Revamps Its Design & Formula

The amino acid-blended shampoo brand aminoRESQ revamped its packaging design and improved its ingredient formula on September 25, 2019.

The hair care brand is popular not just in Japan, but around the world, and is ranked number one in four countries. It has proven a popular choice amongst models and beauty Instagrammers. Over 4 million items in the series have been sold. Up to now, other amino acid-based shampoos slacked when it came to how well it actually washed hair, but aminoRESQ solves that problem, having created a shampoo that washes thoroughly but gently.

The new and improved aminoRESQ is a rich blend of 6 amino acids and ingredients which nourish both the scalp and hair from their roots. It also contains proteins for a high-quality wash. They are absorbed well by the hair and supplement efficiently.

Their moist series of products battle against dry hair and prevent it from becoming frizzy, keeping it nice and moist.

The smooth series has a combination of amino acids, moisturising keratin, and silk for a smooth and glossy finish.

There are 20 types of amino acids spread across the series, such as serine, glycine, glutamic acid, alanine and ricin, which provide nutrition and nourishment to every point of your hair, making it strong and beautiful. If this sounds like something you're looking for, why not give it a shot?

Cute Pikachu, Mew, Eeevee and Snorlax Blush & Powder Release in Pokémon Cosmetic Series

The next set of beauty items in the popular Pokémon Cosmetic Series has finally been revealed: the Pokémon Cheek and Pokémon Pressed Powder will be released on September 10. The line-up includes Pikachu, Eevee, Mew, and Snorlax.

Pokémon Cheek – ¥1,300 (Before Tax)

The Pokémon Cheek is a cream-type blush that spreads smoothly on your skin without any stickiness. It's comfortable on the skin and is durable. It also contains micropearls and so gives your skin a natural shine.

It comes in four colours: Pikachu Milky Pink, Eevee Rose Pink, Snorlax Coral Pink, and finally Mew Pearl White which brightens your natural skin tone. The blush comes as a stick and so is ncie and easy to apply and carry around.

Pokémon Pressed Powder – ¥1,500 (Before Tax)

The pressed powder comes with its very own powder puff featuring a cute original design. The powder is mixed with minerals that are gentle on the skin as well as collagen. It leaves your face looking smooth and natural without any unwanted shiny patches.

Pick from four different colours: Pikachu Pink which brightens natural skin colour, Eevee Mint which elevates transparency, Snorlax Yellow which conceals blemished, and Mew Purple which brings out transparency and shimmer.

When out there in the wild catching Pokémon, why not look good at the same time? Be sure to check out the Pokémon Cosmetic Series, and stay tuned for any new products that are released.

Information

Pokémon Cosmetic Series – Pokémon Cheek / Pokémon Pressed Powder

Release Date: September 10, 2019

Available: Pokémon Center,  ITS'DEMO, Tokyu Hands, Village Vanguard, and elsewhere

Official Website: https://lovisia.jp/pokemon/