Enjoy Kumamoto Food at the New ZENON SAKABA Opening in Kichijoji
ZENON SAKABA is a new restaurant that will hold its grand opening in Kichijoji, Tokyo on November 28. It is managed by Zizoya, a sister company of the manga and anime production company Coamix, where they aim to "express manga through spaces." This is done through setting up restaurants, bars and other establishments based on manga, such as Fist of the North Star and City Hunter.
It has already been 9 years since CAFE ZENON opened, a famous cafe in Kichijoji that brings to life the world of manga magazines. It is a bustling place that the Kichijoji-based manga publishing group opened at the underpass on the JR side of the station.
All drinks are served in wine glasses, and there's even merchandise featuring original illustrations of Kenshiro and Raoh from Fist of the North Star and Ryo Saeba from City Hunters toasting at ZENON SAKABA.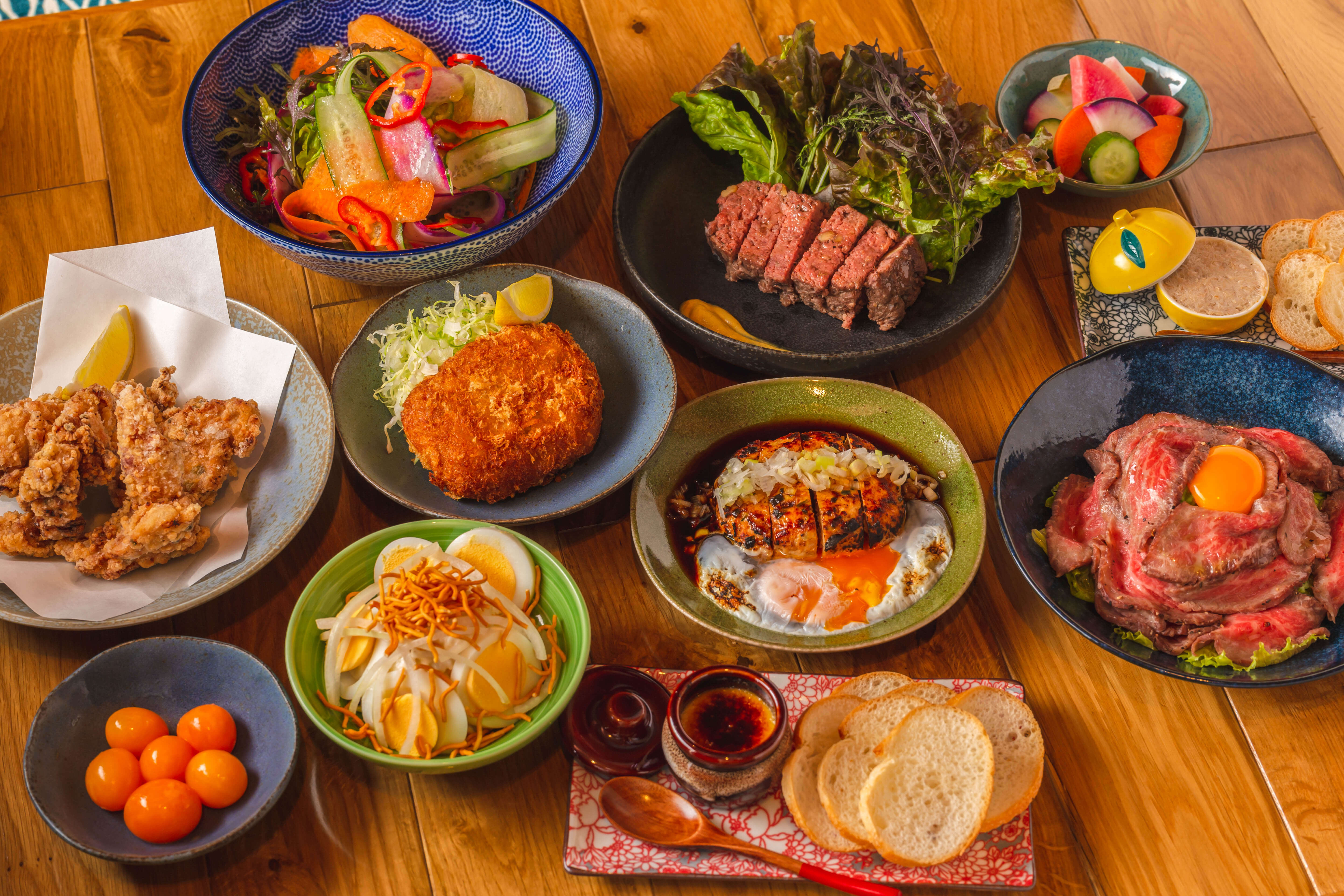 Food includes red cattle from the city of Aso in Kumamoto Prefecture which is a very hard to come by red meat packed with the flavour, giant chicken which was at one point extinct, agar leek, pork from Amakusa and more. Each item on every plate has been carefully selected from Kumamoto and has a delicious story behind it. A proud line-up of other Kumamoto drinks and ingredients you don't often encounter in Tokyo will also fill bellies including alcohol from Aso, highland vegetables, citrus fruits and more. An exquisite alcohol selection will also be available.
There's even a charcoal grill where customers can cook and eat their own food. A highlight of the restaurant is how reasonable the prices are. You might even make some friends while cooking your food. The restaurant is also the proud owner of Kichijoji's first alcohol vending machine. As well as all of this, there will be a limited-edition food sold each day by staff walking around.
There is manga, anime, jazz, a variety of troupes, performers from Inokashira Park. It's a chance to fully immerse in Kichijoji's culture. Expect exhibitions from a variety of performances as well as workshops, schools, lectures and more.
The staff at this restaurant aren't just ordinary staff either. They consist of aspiring performers, comedians, actors, musicians and more.
Aso Red Beef: ¥1,300 (+Tax)
Agar Leek Ii Tokoyaki: ¥980 (+Tax)
Amakusa Pork Soup: ¥380 (+Tax)
Whether you're looking for delicious food, want to experience something new, love amusing things―anything at all―look no further than ZENON SAKABA.
Information
ZENON SAKABA
Address: 2-11-1 Kichijoji Minamicho, Musashino, Tokyo
Opening Hours: Weekdays 17:00-00:00 / Weekends 15:00-00:00
Closed: New Year's Holidays
TEL: 0422-27−2275
Official Website: https://zenon-sakaba.jp
RECOMMENDED ENTRIES
"Harmonica Yokocho" of Kichijoji always welcomes you.

The bar streets such as "Golden Street" or "Omoide yokocho" that used to be the place where only heavy drinkers go are recently becoming more and more easier place to visit because of increasing the number of foreign tourists. However, I would like to recommend "Harmonica Yokocho" in Kichijoji for the people who feel anxious to go to those types of uncertain bar streets for the first time.

This place is also the same as the other bar district that was originaly black market after the world war. However, since they started making café and bar restaurant that young people can come in easily, people who has never come to the bar street started coming back to this place.

 The first restaurant that you can feel free to enter is called "Harmonica kitchen." It is a café and bar that you can not only use for girl's meeting for lunch and also drink alcohol by yourself at night. They carry anything from hoppy to champagne. You eat light appetizer at this restaurant, and go to next one.

The next one is recently-opened Oden pub called "Iroha." Just grab some small portions of snacks that go with sake dished up on colorful plates, and drink some shochu. This cheerful atmosphere pub is run by a young owner. The wonderful thing about this place is that you can drink shochu that already mixed with some water like the same as Kagoshima style which is the home of shochu. After you eat and warm up your body with some Oden that is made in Tukada Fisheries that is located in this Harmonica Yokocho, the next one is an old-established bar called "Sasa-no-Ha." You should drink the sake called "Tsukasa-botan" made in Kochi prefecture and eat with large portions of fresh and tasty sashimi.

This is kind of a high-status restaurant that is different from previously mentioned "Harmonica kitchen" or "Sasa-no-ha", but they are going to welcome you if you just behave politely even if you are a first timer.

There are a variety of kinds of bars for young people or older heavy drinkers. This bar street will welcome you.

■Harmonica Yokocho

Address: Musashino 1st Bldg. 1-31-6, Motomachi, Kichijoji, Musashino-shi, Tokyo

Kiwako Kurashima("The Classic Bar" Editor in Chief)

−−−

■Related article:Why don't you go bar hopping at "Omoide Yokocho"?

■Related article:Enjoy with your friends on New Year holidays at "Niku-Sakaba"

The second "Kanahei no Shodobutsu × Kotori Café" will be opened!

"Kotori Café" created under the theme of "a café where you can enjoy drinking coffee while watching birds," collaborated with "Kanahei no Shodobutsu" created by the illustrator/manga artist, "Kanahei"and opened a collaborative café at each of their stores (Omotesando/Kichichoji/Sugamo/Shinsaibashi) starting from the 3rd of February 2018 (Sat.) until the 31st of March (Sat.). (the café will open from the 8th of February at the Kichijoji Store.)

Each Kotori Café has about 25 popular small birds including a poll parrot, a canary, a hook bill and a paddy bird. The space where the small birds are kept is separate from the interior of the café so the café is very clean. I am sure that those of you who love small birds will love this café.

The illustrator/manga artist,"Kanahei"has been producing LINE stamps, creates serialized mangas, sells original goods and produces adds for companies. "Kotori Café" which is collaborating with "Kanahei" will offer original menu itmes using the motifs of Pisuke and Usagi.

Original products including product using the motif of the parrot of "Kotori Café," desserts and Kanahei's small animal goods are being sold in the sundry section of the cafes.

Collaborative café – Omotesando & Sugamo limited menu

・Pisuke Cake & Drink Set 1,600 yen (Sugamo store is opened only on Saturdays, Sundays and holidays)

・Usagi Cake & Drink Set 1,600 yen (Sugamo store is opened only on Saturdays, Sundays and holidays)

Many other collaborative menu items and goods are available. Let's check their original menu items and goods!

■information

Kotori Café Omotesando Store

Address: 6-3-7, Minami Aoyama, Minatoku, Tokyo

Business hours: 11:00 to 19:00

Fixed holiday: undecided

TEL:03-6427-5115

Kotori Café Kichijoji Store

Address: 1-14-7, Shimorenjaku, Mitakashi, Tokyo

Business hours: 10:30 to 18:00

Fixed holiday: undecided

TEL:0422-29-9224

Kotori Café Shinsaibashi Store

Address: Minami Senba BRICK 3F, 4-14-1, Minami Senba Chuoku, Osakashi, Osaka

Business hours: 11:00 to 19:00

Fixed holidays: undecided

Kotori Café Sugamo Store

Address: 3-18-13, Sugamo, Toshimaku, Tokyo

Business hours: 10:00 to 18:00

Fixed holiday: maintenance holiday – one day per month

TEL:03-6903-5084

Kotori Café URL:http://kotoricafe.jp

Senbero: Get Drunk in Tokyo Izakaya for Just ¥1,000!

Have you ever heard the Japanese word senbero? It's a combination of the words sen meaning '1000' and berobero meaning 'drunk.'

Recently, izakaya in Japan, especially in the Tokyo area, have been offering senbero services that let you get drunk for just ¥1,000. Let's take a look at some of the best cost performance locations in Tokyo so you can get your money's worth!

Motsuyaku Ban (Yutenji)

This place is known for having invented lemon sour, a standard Japanese cocktail made with shochu, soda and syrup. The lemon sours here cost ¥300 while the motsuyaku, or grilled giblets cost just ¥100. They serve a range of other items too such as innards stew, pig tail and more. You can get full quickly with just ¥1,000 here. We recommend this place if you want to eat a lot while drinking.

Iseya (Kichijoji)

This yakitori restaurant is can be found in Kichijoji. You'll know it by the red lanterns that dangle around the outside of the building. It's famous with both locals and those outside the neighbourhood. You can enjoy grilled chicken skewers from ¥80 each. A lot of izakaya sell skewers in sets of two, but Iseya offers a range of sets. The cheapest alcohol they sell is shochu at ¥220, so this place it for those who wants to drink little by little while enjoying some delicious yakitori.

Sakaba Fukuro (Ikebukuro)
This famous pub has been open for more than 50 years. Their lemon highballs are ¥200 each and their Hoppy are ¥220 each. They serve izakaya classics like innards stew and chicken cartilage karaage as well as other dishes like whale. Food prices range from ¥300 to ¥800 so it might be a good idea to order several dishes with people and share.

Oojiro (Shinbashi)

This place is popular for its super thick cut ham cutlet. Food and drink both average at around ¥300. You can also get shochu highballs and sours for ¥300 each too, making this easy on the wallets of those who want to drink a lot. If you make this your second stop on your drinking crawl you can make drinks within ¥1,000 easily!

Sake Tachinomi Kitaya (Akabane)
You'll spot Kitaya by its deep blue entrance curtain and glowing red lanterns. They offer plates upon plates of creative dishes at the first floor counter. The food menu changes daily too, so you can look forward to enjoying a different experience each time. They sell fresh tuna straight from the famous Tsukiji fish market every morning at a mind-blowing ¥160!

Senbero isn't only cheap, it also offers up a very satisfying izakaya experience. Be sure to try out lots of different izakaya while in Japan while looking for the best value for your money.
RELATED ENTRIES
Shonen Jump Izakaya: Dine Like a Hero in Shinjuku's Kabukicho District

Otona no Jump Sakaba ("Grown-Up's Jump Bar") is an izakaya-style eatery which opened in the Kabukicho area of Shinjuku to celebrate the 50th anniversary of the beloved manga magazine Weekly Shonen Jump.

Every week, kids and adults alike anticipate the release of their favourite manga series in the serialised magazine. The adults who grew up with the classic series get to eat like a hero at the bar, with meals and decorations inspired by various series including Dragon Ball, Kinnikuman, Fist of the North Star, Saint Seiya: Knights of the Zodiac, Sakigake!! Otokojuku, Rokudenashi Blues, City Hunter, and more.

The bar has now announced its plans for an end-of-year party, with tickets going on sale on December 2, 2019 for the first 1,000 people who sign up.

The New Year party plan comes with a choice of two different small pot meals.

Fans can also get their hands on a 2020 schedule book featuring designs of the series characters for different celebratory days throughout next year. This is the only chance to get this exclusive item.

©Yude Tamago/Shueisha ©Akira Miyashita/Shueisha ©Tsukasa Hojo/NSP 1985 ©Masami Kurumada/Shueisha ©Bird Studio/Shueisha ©Buronson・Tetsuo Hara/NSP 1983 ©Masanori Morita/Shueisha ©Ryūji Tsugihara/NSP 1982 ©Koichi Endo/Shueisha ©Masaya Tokuhiro/Shueisha

Inside the bar you'll find wall posters, giant figurines, treasured items of manga artists, and more. You can even read actual Jump manga from the 80s.

©Bird Studio/Shueisha ©Buronson・Tetsuo Hara/NSP 1983

As well as the above-mentioned New Year meals, there are lots of dishes inspired by various Jump series too. Those who purchase one of these Jump meals will receive a free exclusive sticker.

Information

End Of Year Plan
Includes: 2 hour time slot. Choice of either a seafood salt dish or beef sukiyaki dish. Includes 10 side dishes and all-you-can-drink line-up of 54 beverages
Price: ¥3,500 per person (Tax Included)

Bonus Item: 2020 Schedule Book
Booking: Via the online website
Notes:
・People in groups must order the same course
・Last orders are 30 minutes before your slot ends

Bookings: https://yoyaku.toreta.in/otonano-jumpsakaba/

Otona no Jump Sakaba

Address: WaMall Kabukicho 5F, 1-18-9 Kabukicho, Shinjuku, Tokyo

Opening Hours: Weekdays 17:00-23:00 (Last Orders 22:30) / Weekends & Holidays 14:00-23:00 (Last Orders 22:30)

*Hours change weekend hours from December 28-31, 2019

Official Website: https://otonano-jumpsakaba.com/

Top 5 Tokyo Beer Gardens to Cool You Down This Summer

Hi, readers! It's Midori, from MMN's editorial team.

When thinking about summer, one of the first things that springs to mind are beer gardens! Drinking a cold beer outdoors on a hot summer's day is a special kind of delicious. More and more beer garden events appear in Japan every year, the vibe and atmosphere is different for each depending on where you are.

Today, I've compiled for you 5 must-visit beer gardens in Tokyo for summer 2019.

Heineken Kirin Beer Garden: Enjoy a lamb BBQ at Kichijoji Daiichi Hotel

This beer garden is being hosted in a BBQ style. Enjoy a two-hour all-you-can-drink course with either a Jingisukan BBQ or oil ponzu fondue as well as a selection of à la carte that go perfectly with the beer on offer. Look out for the lamb BBQ as well, a hugely popular choice every year at the hotel.

▼Kichijoji Daiichi Hotel – "Heineken Kirin Beer Garden"

Location: Kichijoji Daiichi Hotel Floor 8F Garden Terrace (Entrance at floor 7F)

Address: 2-4-14 Honcho, Kichijoji, Musashino, Tokyo
Running: May 24, 2019 – September 1, 2019 (*Closed on Mondays between May 24 – June 30)
Time: 17:00-21:30 (Last Orders 21:00)

Website: https://www.hankyu-hotel.com/hotel/dh/kichijojidh/

Honoo Bulgogi vs. Tamashii Hot Pot: Ikebukuro Tobu Beer Garden

The Tobu Department Store in Ikebukuro is set to serve up its popular bulgogi nabe on the building rooftop. This year also sees the introducing of a new hot pot. Women can also enjoy a discount price on the bulgogi nabe even cheaper than previous years. There is also an happy hour service where all customers can enjoy reduced prices. If you're looking for affordable prices then look no further!

▼Honoo Bulgogi vs. Tamashii Hot Pot: Ikebukuro Tobu Beer Garden

Location: Tobu Department Store Ikebukuro Floor 16F Rooftop

Address: 1-1-25 Nishi-Ikebukuro, Toshima Ward, Tokyo
Running: April 24, 2019 – September 1, 2019
Time: 17:00-23:00 (Last orders for à la carte and drinks at 22:00)
Reservations: Via telephone or online. Reservations must be for 2+ people.

Website: http://www.tobu-dept.jp/ikebukuro/

Beer Garden With an Unbroken View Of the Sea at InterContinental Yokohama Grand

InterContinental Yokohama Grand is bringing its hugely popular beer garden Hama Beer back to Yokohama Minato Mirai again this year. Look forward to tucking into some authentic delights at the hotel terrace with a panoramic view of the Yokohama sea. They also serve a variety of non-alcoholic cocktails too. I recommend this one if you're looking for a romantic, slightly more adult beer garden experience.

▼InterContinental Yokohama Grand Beer Garden

Location: InterContinental Yokohama Grand Floor 1F Outdoor Terrace (*Location will change if it rains)

Address: 1-1-1 Minato Mirai, Nishi Ward, Yokohama, Kanagawa Prefecture
Running: June 14, 2019 – September 16, 2019 (*Except on days when there are scheduled events)

Time: [Mon-Thur] 18:00-21:00 / [Fri-Sun & Hols] 17:00-21:30

Website: https://www.interconti.co.jp/yokohama/

Machida MODI at Renewed "Sky Beer Garden" With Projection Show

The Sky Beer Garden atop Machida MODI has reopened after renovations. A projection show is taking place on the building wall as part of the beer garden. On the official homepage, people can also sign up to have a message projected onto the wall. 7 people will be randomly selected per day. This would be perfect as a surprise to that special someone! You can also enjoy the beer garden at a discounted price if you follow them on Instagram.

▼Sky Beer Garden

Location: LUGAR HA AMOR
Address: Machida MODI Rooftop, 6-2-6 Haramachida, Machida, Tokyo
Running: April 27, 2019 – September 29, 2019

TEL: 042-812-2580

Website: https://www.0101.co.jp/723/

SKY PARADISE BEER GARDEN: Delicious steak and more at Isetan Shinjuku

At Isetan Shinjuku's stylish SKY PARADISE BEER GARDEN visitors can enjoy steak from Steak NO.1 STEAK THE FIRST. The drinks menu also includes beverages other than beer, so if you're not a beer person then I definitely recommend this one. It is being held on the rooftop too so you can enjoy dining in the warm late afternoon and evening outdoors in Tokyo.

▼SKY PARADISE BEER GARDEN

Location: Isetan Shinjuku Rooftop

Address: 4-14-1 Shinjuku, Shinjuku Ward, Tokyo
Running: June 12, 2019 – September 16, 2019
Time: [Mon-Thur] 16:00-22:00 / [Fri-Sun & Hols] 11:30-22:00 (Last Orders – Food 21:00/Drink 21:30)
TEL: 03-6890-0199 (11:30-20:00)

Website: https://www.isetan.mistore.jp/shinjuku.html

There are many different unique beer gardens being held this year, so pick the one that suits you most and cool yourself off this summer in Tokyo♡

Senbero: Get Drunk in Tokyo Izakaya for Just ¥1,000!

Have you ever heard the Japanese word senbero? It's a combination of the words sen meaning '1000' and berobero meaning 'drunk.'

Recently, izakaya in Japan, especially in the Tokyo area, have been offering senbero services that let you get drunk for just ¥1,000. Let's take a look at some of the best cost performance locations in Tokyo so you can get your money's worth!

Motsuyaku Ban (Yutenji)

This place is known for having invented lemon sour, a standard Japanese cocktail made with shochu, soda and syrup. The lemon sours here cost ¥300 while the motsuyaku, or grilled giblets cost just ¥100. They serve a range of other items too such as innards stew, pig tail and more. You can get full quickly with just ¥1,000 here. We recommend this place if you want to eat a lot while drinking.

Iseya (Kichijoji)

This yakitori restaurant is can be found in Kichijoji. You'll know it by the red lanterns that dangle around the outside of the building. It's famous with both locals and those outside the neighbourhood. You can enjoy grilled chicken skewers from ¥80 each. A lot of izakaya sell skewers in sets of two, but Iseya offers a range of sets. The cheapest alcohol they sell is shochu at ¥220, so this place it for those who wants to drink little by little while enjoying some delicious yakitori.

Sakaba Fukuro (Ikebukuro)
This famous pub has been open for more than 50 years. Their lemon highballs are ¥200 each and their Hoppy are ¥220 each. They serve izakaya classics like innards stew and chicken cartilage karaage as well as other dishes like whale. Food prices range from ¥300 to ¥800 so it might be a good idea to order several dishes with people and share.

Oojiro (Shinbashi)

This place is popular for its super thick cut ham cutlet. Food and drink both average at around ¥300. You can also get shochu highballs and sours for ¥300 each too, making this easy on the wallets of those who want to drink a lot. If you make this your second stop on your drinking crawl you can make drinks within ¥1,000 easily!

Sake Tachinomi Kitaya (Akabane)
You'll spot Kitaya by its deep blue entrance curtain and glowing red lanterns. They offer plates upon plates of creative dishes at the first floor counter. The food menu changes daily too, so you can look forward to enjoying a different experience each time. They sell fresh tuna straight from the famous Tsukiji fish market every morning at a mind-blowing ¥160!

Senbero isn't only cheap, it also offers up a very satisfying izakaya experience. Be sure to try out lots of different izakaya while in Japan while looking for the best value for your money.

Top Places to Drink in Japan: 2018 Ranking Announced by HOT PEPPER

HOT PEPPER is a coupon magazine packed full of information on where to get the best for your money in Japan.

The magazine held a survey on locations through the Kanto and Kansai regions of Japan that people most want to drink at. The results are finally in―here's the list for 2018.

Top 10 – "Top Drinking Locations – 2018: Kanto Area"

1st Place: Shinjuku – 768 votes

2nd Place: Ginza – 736 votes

3rd Place: Ebisu – 489 votes

4th Place: Ikebukuro – 475 votes

5th Place – Shimbashi – 472 votes

6th Place: Yokohama – 449 votes

7th Place: Kichijoji – 407 votes

8th Place: Around Tokyo Station – 405 votes

9th Place: Ueno – 376 votes

10th Place – Roppongi 370 votes

The top batter this year in the Kanto area is Shinjuku. Since the opening of NEWoMan ni 2016, Tokyo's special ward has built a stylish image for itself, and its level of convenience has upgraded with the introduction of quadruple tracks on the Odakyu Lines. These are some of the causes for its first place ranking. Shinjuku also boasts a wide range of shops from high end expensive stores to more affordable and reasonable ones. Its ability to be a place where people of any age and gender can enjoy themselves is the secret to its popularity and success.

Several places from last year ranked again which are known for being cheap to get drinks, including Ebisu in 3rd place, Ikebukuro in 4th place and Ueno in 9th place. It's not just the cool and hip places to drink that are popular with people – the more old-fashioned ones are popular too, and the wards and towns listed are home to them.

Top 10 – "The Places I Want To Drink At – 2018: Kansai Area"

1st Place: Umeda – 1066 votes

2nd Place: Around Sannomiya Station – 526 votes

3rd Place: Namba – 371 votes

4th Place: Kawaramachi – 341 votes

5th Place: Ohatsu Tenjin – 243 votes

Joint 6th & 7th Place: Shinsaibashi / Tenma – 227 votes

8th Place: Kyobashi – 213 votes

9th Place: Gion – 186 votes

Joint 10th Place: America Mura / Nishi-Shinsaibashi – 184 votes

Umeda has consistently ranked 1st place every year since the survey began in 2015. Shinsaibashi has moved up to 6th place from 11th place last year. This district has shops of all kinds and gets particularly high support from women in their 20s.

In the Best Cost Performance Location Ranking for Tokyo, Shimbashi took the top spot, a district very popular with salary men. Coming in a close 2nd was Akabane, then Ueno in 3rd.

On the other hand, in the best cost performance locations for Kansai, Kyobashi ranked 1st place, also popular with salary men. In 2nd place was Shinsekai. Both places are popular areas for their large number of 'B-grade gourmet' restaurants.

If you're considering going for drinks in Japan then be sure to reference the Top Drinking Locations survey for 2018.

■Information

Top Drinking Locations – 2018
Survey Period: February 23, 2018―February 26, 2018
Sample: Men and women aged 20-50 in the Kanto and Kansai areas (Macromill, Inc.)
Participants: 4,146 People (Men: 2,074 / Women: 2,072)

Website: https://magazine.hotpepper.jp/

Drink Sake in a Café Setting at Kuranoya in Shimbashi

Japanese sake bar Kuranoya held the grand opening of its second branch at the Karasumori exit of Shimbashi Station on May 15, 2018.

The main components of Kuranoya are sake and meat. Drinks are their forte, and they offer up a wide variety along with the perfect meal to match.  They clear away stereotypes and confidently serve up food with a Western essence along with Japanese sake.

Their beverage line-up includes amino acids and is recommended to those who are looking to take care of their health and beauty. The café interior is stylish with the colour white as the base.

Drinks range from affordable prices such as ¥299 (pre-tax) for one cup of sake to more premium brands. There are high table counter seats which make for the perfect date setting, or even customers on their own.

There's even an all-you-can-drink plan with close to 30 brands of sake which can be enjoyed either across a two-hour period or an unlimited period. As well as their stock of highly valuable premium sake, the café even offers a sangria made using Japanese sake.

Whether you're going on a date or having a girl's get-together, Kuranoya can be used for numerous settings and promises delicious food and drinks.

■Information

Kuranoya Karasumori

Address: Murakami Bldg. 1F, Shimashi, Minato, Tokyo
Opening Hours: 17:00-23:00 (Last Orders 22:30) All Week / 17:00-23:30 (Last Orders 23:00) the day before a national holiday.
Closed: New Year's Holiday

TEL: 03-6721-5105
Webpage: https://tabelog.com/tokyo/A1301/A130103/13150045/

Premium All-You-Can-Drink Sake
Price: 2 Hours – ¥2,500 (Pre-Tax) / Unlimited Time – ¥3,000 (Pre-Tax)
Days: Monday to Thursday, Saturday (*Within the café's business hours only)

*Limited places.

Sea Urchin

Special Opening Price: ¥29 (Pre-Tax)
Available: May 21, 2018―May 31, 2018
*Reservations required.
*Normal price of ¥599 (Pre-Tax) to begin at the end of the campaign.

Travel Q&A: 10 Rules & On-the-House Services at Japanese Restaurants

Restaurants in Japan have a very different list of rules, on-the-house services and etiquette standards compared to other countries. If you enter a restaurant when in Japan without knowing some of these things you might make a mistake!

We've put together a list of 10 important points to learn before dining out in Japan.

 

1.Don't give tips

The fact that you don't need to give tips as restaurants in Japan can be bewildering to some foreign tourists. In Japan, there's normally no service charge, unless it's a high-end restaurant, in which case it's possible that a service charge will be added. If you force a tip on the staff, they will get told off by their superiors later, so keep that in mind.

2.Watch out for 'Otooshi'

Otooshi, also known as tsukidashi, are small appetizers served at bars and establishments that sell alcohol, particularly izakaya. They will be served event if you didn't order them, and you can be charged for them. There are numerous reasons they give for serving ootoshi, such as 'proof that we have taken your first order' and 'something to eat while you wait for the first food to come out.' Lots of tourists not accustomed to this practice have felt cheated.

3.Water is free

When you sit down at a restaurant in Japan, you'll be served water. Many tourists are surprised at the fact that cold water is served all year round the majority of the time in Japan. There are also establishments that serve free hot green tea instead of water.

4.The unexpected things are expensive (or cheap)

It's not rare for things like delivery pizza or Korean pork belly BBQ, which are extremely cheap and common foods in other countries, to be expensive in Japan. On the other hand, you can eat Japanese foods like sushi, tempura and ramen at a very cheap price.

5.You order alcohol first at an izakaya

It's not a set rule, but generally when you go to an izakaya, ordering a drink gives you plenty of time to read through the menu. Beer is often ordered before anything else. There's even a set phrase for it, toriaezu biiru ('[I'll have] beer for now'). Try saying it in Japanese when you're at an izakaya.

6.All-you-can services

Restaurants in Japan often have all-you-can-eat and all-you-can-drink services. If you pay a set price, you can eat or drink as much as you like. Many places offer this service, including, but not limited to, izakaya, yakiniku restaurants, and sushi bars. We recommend this to people who want to pay a little to get a lot!

7.Oshibori are free

Oshibori, or moistened towels, are given for free at Japanese restaurants. They are wet towels used to wipe your hands and face before a meal. Depending on the restaurant, you may be given a cold or hot towel. Staff at izakaya will also hand them to you. A lot of tourists praise this service as high quality.

8.Rules and menus are different at fast food restaurants

International restaurant chains like McDonald's and Subway are of course in Japan too. If you're a tourist bored of Japanese food, you'll probably want to eat something familiar like fast food. In those times, you'll be baffled by the differences between a fast food joint in your own country and in Japan. For example, in the case of McDonald's, the Japanese large-sized drinks are smaller than the medium-sized drinks in the US. There's also no self-service. Instead, the staff will pour the drink for you.

9.You cannot take food into restaurants (though there are exceptions)

One rule that puzzles a lot of people from Asia that come to Japan is the rule that states you cannot enter a place with food or drink. However, select establishments, such as food courts in large shopping malls, will permit you to do so. Be sure to do some research beforehand.

 

10.Take your shoes off on tatami

At izakaya and traditional Japanese restaurants, they implement customary Japanese style seating and tatami flooring. If you're dining at a place with tatami mats, you must take your shoes off before stepping on it. The table seats and tatami are split into different areas even if it's the same restaurant, so even if it's OK to wear your shoes at table seats, you'll need to take off your shoes when using tatami in most cases.

Did you learn something new? Sit alongside the locals when you come to Japan and enjoy some delicious Japanese cuisine!

If you have any questions you want answering about Japan, then please be sure to get in touch with us on the MOSHI MOSHI NIPPON Facebook page!

Sushi izakaya "Sugidama" flagship store opens in Kagurazaka!

Sushi izakaya Sugidama Flagship store "Sushi, Sake, Sakana Sugidama Kagurazaka" has now opened!

"Sushi, Sake, Sakana Sugidama Kagurazaka" is a new line of business of Sushiro Group. Along with freshness and flavour, a lot of care has been taken for the presentation of the sushi which go perfectly with Japanese sake.

As the name implies, it is also possible to enjoy some side dishes with your drink rather than sushi.

Taking things a step forward, there is the "Kiwamizushi" luxury menu.  You can also choose your favourite sushi and enjoy an assortment with the "Odozushi" menu. All sushi dishes on these two menus are ¥299+ tax. Besides this, you can also order items from the food menu that cost ¥399 and ¥499.

You can order alcoholic drinks for the reasonable price of ¥299. There are usually 15 varieties of Japanese sake available in half portions of 90ml – perfect for tasting and comparing!

You can also enjoy set meals and rice dishes during lunch!

Enjoy the flavours of Japanese food to your heart's content at Sushi, Sake, Sakana Sugidama Kagurazaka!

■Information

Sushi, Sake, Sakana Sugidama Kagurazaka

Address: Awatani Building 1st floor, 4-2, Kagurazaka, Shinjuku, Tokyo

Opening hours:

Monday — Friday 11:30 — 14:30/17:00 — 23:30

Weekends & national holidays: 11:30 — 23:30 ※ No regular closing hours

No regular closing days

Cherry blossoms × illumination! "Kichijoji Yozakura 2018"

The dining bar, "Kichijoji SUN Tama Bar" is now holding a spring-limited event "Kichijoji Yozakura 2018 – Hikari no Kawa-" where the interior of the bar is decorated with 8,000 cherry blossoms and 1,500 illuminations.

This will be the 3rd time for the event,"Kichijoji Yozakura (night-viewing of cherry blossoms)"to be held.

Until last year on the cherry blossoms were lit up but this year they are going to install 1,500 gold-colored LED illuminations representing a "a river of light."

Horoyoi Parfait (strawberry) 1,300 yen (tax included)

※The product will be served from the 1st of March

A new type of dessert item, "Horoyoi Parfait" will be sold. For those of you (especially girls) who like taking photos of sweets, this café is a "must visit." The café has many photogenic interior spaces and menu items. A cocktail menu "CAFÉ Style Cocktail" which is popular among women was renewed. Strawberries have been added to this parfait to boost its charm!


Why not enjoy a cherry blossom viewing party by with your girl friend/boy friend and friends by participating in "Kichijoji Yozakura 2018 -Hikari no Kawa-."

◼︎Information

Kichijoji Yozakura 2018 -Hikari no Kawa-

Period: until mid-April of 2018 (plan)

Kichijoji SUN Tama Bar

Address: Sakigakedai 3 Building 2F, 1-1-19, Kitamachi, Kichijoji, Musashinoshi, Tokyo

Business hours: weekdays, Sunday and holidays – 18:00 to 2:00 (L.O. 1:30)

Fixed holiday: undecided

Access: 10 minutes on foot form JR Chuo Line/Kyoo Inogashira Line Kichijoji Station

Japanese model Yabe Yuna introduces "Bakkai" izakaya at the beachside in Thailand

Hi, everyone!

Yuna Yabe here!

This is a continuation of my previous article where I showcased Si Racha in Thailand to everyone. Today I'm introducing you to a Japanese izakaya that you should definitely visit if you're on holiday!

This is the izakaya we went to – it's called "Bakkai".

It's easy to see if you look at a map, but…


It really is next to the ocean. No, in fact it wouldn't be too much to say that it's actually IN the ocean – that's how close to the sea it is!

The fact that it's by the sea just makes it the best location. The terrace area was seated by couples eating and in very good spirits…

I thought a lot about it, like how it makes the perfect spot for a date, and so on.

Gotta pull myself together… Moving on, I interviewed the staff working there!

I asked them what the most popular item on the menu is.

While flicking through the splendid menu, they told me it was the sashimi combination in the top left!

That sashimi combination sure looks good… I want to eat it…

I was drooling the moment I was shown the menu!

It seems most of the sashimi is imported from Japan.

It cost 799 THB which would be ¥2,800 in Japan.

70% of the customers at this izakaya are Japanese people living in Si Racha.

Part of the reason there's so many tourists is because there's a lot of hotels nearby!

So I'm not the only one that misses Japanese food even when traveling.

"Bakkai" has been open for nearly 15 years. The lady started working here a year ago.

I asked her why she works at a Japanese izakaya, and she said:

"It's fun talking with the Japanese customers. A lot of them can speak Thai and their mannerisms are good, so talking is fun."

I got kind of happy like I was being praised a lot… (what am I saying).

It seems she likes Japanese people, so that made me really happy.

I took a photo with the staff to commemorate my visit 🥂 What a wonderful time…

Oh, I mustn't forget to post the food I ate too!


The food line-up is faithfully reminiscent of Japan.

Tempura, California rolls, tekkamaki, yakitori.

Ooh, I wanna eat.

"Bakkai" is just like a real izakaya in Japan that you can enjoy at a beachside location.

And even though it's in a place like Si Racha, I think it's an especially good restaurant.

If you're on a trip in Thailand and are longing for a bit of Japan, then please be sure to stop by Bakkai♩

Writer: Yuna Yabe(@yunaaay1030)

◼︎Information

Bakkai

Address: 18 Neptune Road, Si Racha 20110, Thailand

Open: 11:00-23:00
Telephone: +66 38771721

Japanese cheap snacks all you can eat! Retro-style "Dagashi Bar" will be opened in Shinjuku

An entertainment bar where you can eat dagashi as much as you want called, "Dagashi Bar" was opened in Shinjuku followed by the store in Shibuya.

Dagashi Bar has four chain bars in Tokyo and the new "Shinjuku Dagashi Bar" which was opened recently is the largest store out of the four bars. While listening to good old tunes of the Showa Period, you can drink alcohol and eat dagashi.

Dagashi is cheap snacks sold for kids. The price is 10 to 20 yen per item.

 "Shinjuku Dagashi Bar" has a unique interior with retro city views and "Dagashi Store Hiyoko" in the center of the bar which was created under the theme of "a store located inside a store."

Inside "Dagashi Store Hiyoko," you can select dagashi from more than 100 items (including old/new dagashi) and eat as much as you want.

They also offer a wide variety of food items including good old meals, school-provided lunches, dishes using dagashis and izakaya (Japanese bar) dishes. They also offer unique "dagashi snacks" and "dagashi desserts."

Kyushoku no Agepan (school lunch's deep fried bread) 200 yen ~ (roasted soybean powder, cocoa, sugar, ice cream agepan, cinnamon, black syrup/roasted soybean powder)

Natsukashi Napolitano 780 yen ※All the prices noted in this article include tax

Many of you must have an experience where you could eat only a little dagashi. The dream you had in your childhood is most likely, "I want to eat more dagashi!" So, here your dream will come true!

Why don't you visit Dagashi Bar where you can soak in the fun atmosphere of be a kid again?

◼︎Information

Shinjuku Dagashi Bar

Address: 〒160-0021, 5F, 1-6-2, Kabukicho, Shinjukuku, Tokyo

Business hours: Monday to Friday, a day before holiday 16:00 to 23:30

Saturday, Sunday, holidays 15:00 to 23:30

Access: 3 minutes on foot from JR Line Shinjuku Station

4 minutes on foot from Seibu Shinjuku Line Shinjuku Station

4 minutes on foot from Tokyo Metro Marunouchi Line / Toei Shinjuku Line Shinjuku 3 Chome Station

TEL:03-6457-6522

5 Character collaboration cafés opened for a limited time offer (November) in Tokyo

Many character collaboration cafes are opening nowadays and some of them are opened for a limited time offer.

In this article I will introduce to you some collaborative cafes.

Gudetama, an American comic-taste character is unique! "Ikebukuro "Gudetama Café"

"Gudetama Café" is a collaborative café inside of "Dining Park Ikebukuro" which is located at the 8th floor of Seibu Ikebukuro Honten near the East Exit of Ikebukuro Station. Sanrio's very popular character "Gudetama" will be featured in this café and it will be open from the 8th of November 2017 (Wed.) to the 21st of January 2018.

A new "Gudetama" will be depicted with an American comic-taste. You can enjoy the new world of "Gudetama."

■Information

Gudetama Café Ikubukuro Shop

Time: 2017,11,8 (Wed.) to 2018,1,21 (Sun.)

Address: 〒171-0022, 8F of Seibu Ikebukuro Honten, 1-28-1, Minami Ikebukuro 1-28-1, Toyoshimaku, Tokyo

Gourmet Stadium II Gudetama Café Ikebukuro Shop

Business hours: 11:00 to 23:00 (the café will be opened from 10:30 on Saturday, Sunday and holidays)

Holiday: no holiday (depending on the facility)

TEL:03-5949-5675 (dial in)

URL:http://gudetama.createrestaurants.com/

(c)2013, 2017 SANRIO CO., LTD. APPROVAL NO.S582962

Sanrio's collaborative crepes will be sold at MOMI&TOY'S

The "melting crepe" shop "MOMI&TOY'S" has been selling collaborative items with Sanrio's popular characters, "Hello Kitty", "My Melody" and "Cinamonroll." For the collaborative menu items, some fruit which match the image of each characters and a "character monaka" is placed on top of the crepe. In each of these items it looks like the character is peeking at you from the edge of the crepe. They are all truly cute items. Each menu item is rapped with a special paper. The paper is designed with an illustration of the character. There is a fall version and a winter version of the wrapping paper.

Detailed information:http://www.moshimoshi-nippon.jp/ja/71389

■Information

MOMI&TOY'S

Available date: 20,16 (Mon.) to 12,15 (Fri.)

Available shops: MOMI&TOY'S (except some shops)

MOMI&TOY'S: Japan:62 shops, Foreign countries: 30 shops

 

Popular characters will collaborate! Kichijoji PARCO "Panpaka Pants×Pom Pom Purin Pudding Café"

Kichijoji PARCO will start the event called "Panka Pants×Pom Pom Purin Matsuri in Kichijoji PARCO" in commemoration of the collaboration of Panpaka Pants and Pomu Pomu Purin from the 1st of November (Wed.).

 The café offers ogiriginal menus and will collaborate with very popular Baumkuchen "Jiichiro." They will sell limited goods which can only be purchased at Kichijoji PARCO.

>>next page

Why don't you go to safe bar that is owned by a beautiful lady chef?

It is good to go to the bar that is ran by a strict male chef, but the bar that is ran by a female with genuine hospitality is good as well.

This little bar is owned by the lady who wears a coverall apron with a kimono. You can drink at the counter table chatting with this lady. The food coming with sake is clear broth soup, local fish sashimi, and Japanese steamed egg custard. These foods made me feel so comfortable. This bar that you can enjoy drinking by yourself is called "Yushima Yamaguchi" located in the drinking district in Yushima. The lady from Yamaguchi prefecture will welcome you with great hospitality and food cooked with ingredients sent back from Yamaguchi.

The bar, which is primarily a wine bar, owned by the lady who also wears coverall apron with kimono where you can enjoy drinking by yourself called "Banzai Panda" in the site of the Japanese geisha district, Mitaka. Home-made thick omelet, potato salad, beef tataki and so on are lined up on the plain wood counter table. And there is a low dining table in the raised tatami-floored seating area. You can enjoy the Japanese wine in the Japanese style space. This is absolutely great.

■Information

Yushima Yamaguchi

Address: TS twin Bldg. 2F, 3-37-11 Yushima, Bunkyo-ku, Tokyo

Banzaipanda

Address: 1-19-11 Nakacho, Musashino-shi, Tokyo

Kiwako Kurashima ("The Classic Bar" Editor in Chief)

■Related article:There's a food genre that "the restaurants which is hard to make reservations" in Tokyo

■Related article:The popular Japanese restaurant which even have repeat customers from outside the country