J.S. PANCAKE CAFE, which is owned by the apparel brand JOURNAL STANDARD, is currently collaborating with the internationally beloved children's picture book The Very Hungry Caterpillar by Eric Carle.
The collaboration is running for four months. It began in October and will end in January next year. Each month they serve sweet pancakes that depict the tale of the caterpillar in the story as he grows. The new menu for December features food with an autumn twist and elements perfect for the holiday season.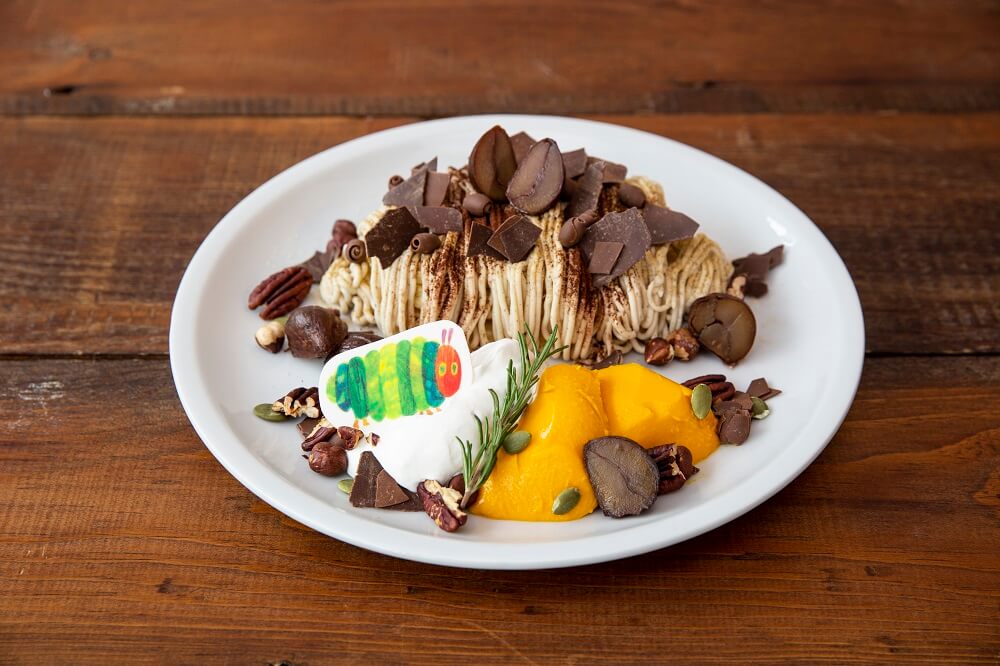 Fat Caterpillar & Chrysalis Mont Blanc Pancake: ¥1,500 (Dec 1 – Dec 19)
The mont blanc pancake features the fat caterpillar and its chrysalis. It's made with chestnut cream, chocolate, cocoa powder and soy flour, bringing to life the colourful and vivid world of Eric Carle. It's finished with a pumpkin purin for those autumn vibes.
Fruit & Berry Butterfly Pancake: ¥1,600 (Dec 20 – Jan 31 / *Except Jan 1-3)
The hungry caterpillar finally became a butterfly with this pancake. The pancake batter is made with beets and spinach and plated with 5 different fruits.
The Very Hungry Caterpillar Pancake: ¥2,300 (Dec 1 – Jan 31 / *Except Jan 1-3)
This second version of The Very Hungry Caterpillar Pancake is served with cheese fondue. The caterpillar itself is made from spinach pancakes and surrounded by colourful vegetables.
Also coming to the cafes next month is a line-up of original merchandise including caterpillar and butterfly smartphone rings.
If you're in Japan during the holiday season be sure to hit up J.S. PANCAKE CAFE for the next addition to The Very Hunger Caterpillar's pancake tale!
Information
The Very Hungry Caterpillar Pancakes
Running: October 3, 2018 – January 31, 2019
J.S. PANCAKE CAFE
Shibuya Branch
Address: 2F, 1-20-17 Jinnan, Shibuya, Tokyo
TEL: 03-3461-2177
Nakano Central Park Branch
Address: 1F Nakano Central Park East, 4-10-1 Nakano, Nakano Ward, Tokyo
TEL: 03-5345-7360
Lumine Tachikawa Branch
Address: 4F Lumine Tachikawa, 2-1-1 Akebonocho, Tachikawa, Tokyo
TEL: 042-528-4622
Machida MODI Branch
Address: 1F Machida MODI, 6-2-6 Haramachida, Machida, Tokyo
TEL: 042-812-2886
Terrace Mall Shonan Branch
Address: 2F Terrace Mall Shonan, 1-3-1 Tsujidokandai, Fujisawa, Kanagawa Prefecture
TEL: 0466-38-2147
MARK IS Minato Mirai Branch
Address: 1F MARK IS Minato Mirai, 3-5 Minatomirai, Nishi Ward, Yokohama, Kanagawa Prefecture
TEL: 045-228-2105
LaLaport Fujimi Branch
Address: 2F LaLaport Fujimi, 1-1313 Yamamuro, Fujimi, Saitama Prefecture
TEL: 049-275-1360
KUZUHA MALL Branch
Address: Honkan Hanano Mall 1F Kuzuha Mall, 15-1 Kuzuhahanazonocho, Hirakata, Osaka Prefecture
TEL: 072-866-0400
Tennoji Mio Branch
Address: 2F Tennoji Mio Plaza Building, 10-48 Tennoji Hidenin, Osaka, Osaka Prefecture
TEL: 06-6773-3016
Sapporo Stellar Place Branch
Address: 3F Sapporo Stellar Place East, 2 Chome Kita 5 Jonishi, Chuo Ward, Sapporo, Hokkaido
TEL: 011-209-5121
Kanazawa Hyakubangai Rinto Branch
Address: 1F Kanazawa Hyakubangai Rinto, 1-1, Kinoshinbomachi, Ishikawa Prefecture
TEL: 076-222-2050
J.S. FOODIES
S-PAL Sendai Branch
Address: 3F S-PAL Sendai, 1 Chome Central 115-1, Aoba Ward, Sendai, Miyagi Prefecture
TEL: 022-791-3410
J.S. PANCAKE CAFE Official Website: http://pancake.journal-standard.jp
J.S. FOODIES Official Website: http://foodies.journal-standard.jp