Matcha Strawberry Sulbing Wintertime Dessert Returns for 2018
Popular Korean dessert cafe chain Sulbing has announced it will hold a strawberry festival at its Japanese branches. The first desserts to hit the menu are the Matcha Strawberry Sulbing and Yoghurt Strawberry Sulbing which will be served for a limited time at five branches in Japan from December 1.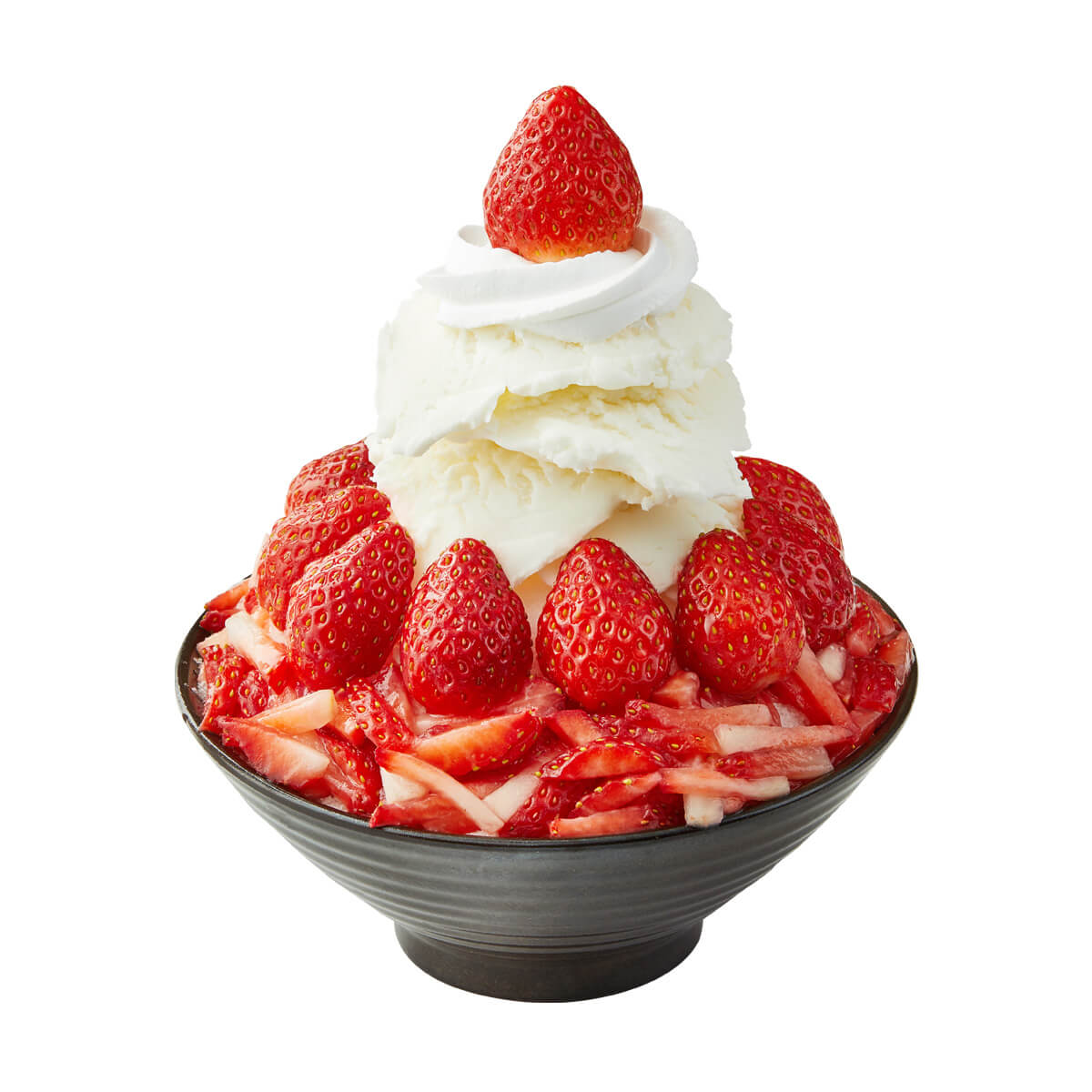 Yoghurt Strawberry Sulbing: ¥1,600 (Tax Included)
The Strawberry Festival began on November 16. A new dessert will be released at the cafe every month, the first of which is the all-new Yoghurt Strawberry Sulbing. This bowl is filled with fluffy milk flavoured shaved ice and pilled with an assortment of fresh strawberries, yoghurt ice cream and a final crowning strawberry on top.
Matcha Strawberry Sulbing: ¥1,600 (Tax Included)
The other delight to be released simultaneously is the Matcha Strawberry Sulbing which was first released in December last year to delicious reception. The shaved ice in this dessert is once again milky shaved ice as fluffy as powdered snow. Atop is a pile of strawberries and matcha ice cream. The combination creates an irresistible flavour fusion of sweet and sour strawberries and rich matcha.
Information
Sulbing Strawberry Festival – 1st Range of Desserts
Running: From December 1, 2018
Available at the following branches in Japan: Sulbing Harajuku, Sulbing Tenjin, Sulbing Sendai, Sulbing Hakata, and Sulbing Kawasaki
Official Website: http://www.sulbing.jp/
RECOMMENDED ENTRIES
Hotel Chinzanso Tokyo Unveils Strawberry Dessert & Lunch Buffet

Hotel Chinzanso Tokyo is bringing a 22-item strawberry dessert and lunch buffet to its Lobby Lounge―which overlooks the hotel gardens―on January 16, 2019.

The title of the buffet's theme is "Strawberry Party in the Forest." Customers will get to enjoy tucking into a line-up of sweet desserts and food while gazing at the outside forest-like garden.

The pancakes served at the buffet use 2 times more eggs than the hotel usually serves, giving them a fluffier texture. By topping them with strawberry, blueberry jam and other treats you can create the ultimate dessert pancake.

Of all the desserts available to pick from the buffet, one of the chef recommendations is the "Strawberry Brûlée Parfait." It includes mousse heaped with sauce made from fresh strawberries which is again topped with hardened caramelised sugar for added crunchy texture.

Other choices include shortcake, strawberry mont blanc, chewy fruit sandwiches made with rice flour, and more. You can also make your own parfait. There are three ice creams to choose from as well as strawberry compote, colourful chocolate sprays and six different syrups from France including nut, berry, sugarcane, rose, lemon and caramel. Try making your own parfait.

Sides include a croissant topped with dried raspberries, quiche inspired to look like a forest, meringue and more. There's a lunch menu too.

Enjoy the strawberry season at Hotel Chinzanso Tokyo!

Information

Strawberry & Lunch Buffet: Strawberry Party in the Forest

Running: January 16, 2019 – March 20, 2019 (*Weekdays Only)

Time: 11:30-13:30 (Last Entries 12:00)

*Reservations only. 90-minutes allowed.

Hotel Chinzanso Tokyo – Lobby Lounge "Le Jardin"

Price

General (13+ years) – ¥4,300

Elementary School Student (6-12 years)  – ¥2,000

Infants (3-5 years): ¥1,200

*Tax included in prices. Service charge charged separately.

Enquiries: 03-3943-0920 (10:00-21:00)

Event Page: https://hotel-chinzanso-tokyo.jp/restaurant/plan/245bb30c25c88dd.html

Quil Fait Bon Shizuoka's Strawberry Tart is Made With Strawberries Freshly Picked on the Same Day

Quil Fait Bon is a fruit tart store that has begun sales of a new limited stock product at its Shizuoka branch. The Morning Picked Strawberry Nectar Tarts were released on April 6, 2018 and are made in the city of Kikugawa.

The tarts are made with strawberries freshly picked on the day. They are juicy and have a strong flavour. Due to the delivery of the strawberries differing each day, sale announcements are made on Quil Fait Bon's official Facebook page.

Ripe strawberries are used which are grown using a special method. The method has the strawberries exposed to the cold which tightens the fruit, causing the sugar content to rise. The time taken to grow these strawberries means people can enjoy very delicious strawberries. They aren't picked until they are a vibrant red and have taken on their best flavour, meaning they are completely ripe when served. These are some seriously irresistible, luxurious strawberries. Combined with simple complements for the tarts – fresh cream and custard – their flavour is only elevated.

Feast on a gourmet tart made with the freshest, most succulent strawberries on the market.

■Information

Morning Picked Strawberry Nectar Tarts (菊川市産 朝摘み 寒蜜いちごのタルト)

Price: 1 Piece = ¥1,382

*Due to limited quantity, the tarts are sold only in slices. Reservations not permitted

Available: April 6, 2018 until around the end of April.

Sold from 5pm on weekdays.

Quil Fait Bon Shizuoka

Address: 2-4-15 Ryogaecho, Shizuoka-shi, Shizuoka Prefecture

TEL: 054-205-5678

Website: http://www.quil-fait-bon.com

The strawberry season is not over yet! 6 recommended strawberry food items and drinks

Sweets, foods and drinks using the motif of "strawberry" have been released since January, so in this article I will introduce to you some recommended strawberry items.

"Ichigo (strawberry) no Tarabagani (king crab) Burger" Tokyo Intercontinental Hotel

 "The Dining Room," the restaurant & bar inside Strings Hotel Tokyo Inter Continental, is now selling "Ichigo no Tarabagani Burger" as their third burger of their "high class burger" series. The buns were originally developed to look and taste like strawberries in line with their "15th"anniversary. Strawberry powder and strawberries were used to make the buns along with the best quality flour produced in Canada. Let's enjoy this seasonal burger using strawberries and king crab.

Detailed information:https://www.moshimoshi-nippon.jp/89723

"Ichigo Sweets" Patisserie Kihachi

"Patisserie Kihachi" shops, excluding some, are now selling cherry-blossom desserts and strawberry desserts such as strawberry roll cake/tiramisu for a limited time offer. Ichigo no Blanc Roll uses sweet/sour strawberry and raspberry jam, one whole strawberry and thick fresh cream including mascarpone are all wrapped in a soft chiffon cake. The dough of the chiffon cake is made with special eggs where the egg yolk turns white when heated so as to highlight the strawberries' vivid red color.

Detailed information:https://www.moshimoshi-nippon.jp/90609

The "dorayaki" specialized store, "DOU"

Dorayaki is a Japanese dessert where red bean-jam is sandwiched between two "castella" sponge cakes. It is loved by many Japanese people as a snack/dessert. "DOU" is a dorayaki-specialized store that offers new types of dorayakis. The new flavored item "Nama Dorayaki Ichigo" uses the strawberry variety, Tochiotome produced in Tochigi Prefecture.

Detailed information:https://www.moshimoshi-nippon.jp/90250

"Ichigo-daifuku" (strawberry-rice cake) specialized store, "Ichigo An"

The "ichigo-daifuku" (strawberry-rice cake) specialized store, "Ichigo An" was opened in Akihabara on the 1st of March. Roots Co., Ltd. opened an "ichigo"(strawberry) "daifuku" (a soft round rice cake stuffed with sweet bean-jam) specialized shop which will sell this sweets item produced in collaboration with their affiliated farms throughout Japan and the strawberries they use are directly sent from various production areas. The harmony of the straberries' sourness, bean-jam's sweetness and the chewy rice cake, is excellent!

Detailed information:https://www.moshimoshi-nippon.jp/93946

"Ichigo Daifuku making experience" Ibaraki Prefecture Yukueshi

Namegata Farmers Village is an experience-based agricultural theme park located in the city of Namegata in Ibaraki Prefecture. The site is currently holding a strawberry picking event where you can try picking Japan's best strawberries. You can also have a go at making your own strawberry daifuku, a popular Japanese confection, until April 8th. You have a choice of 2 anko pastes to fill your daifuku with: the classic red bean 'tsubuan' and the sweet potato 'imoan'. Pick your favourite to make a daifuku that you love.

Detailed information:https://www.moshimoshi-nippon.jp/95189

"Koji/Kiichigo" amazake specialty store / Furumachi Koji Seijojo

The amazake (sweet fermented-rice drink) specialty store "Furumachi Koji Seijojo (factory)" is now selling spring-limited amazake using koji (rice malt) "Koji/Kiichigo." This product is made with rice produced in Niigata Prefecture, the amazake of the koji created in a storehouse in Niigata Prefecture and to this strawberries/raspberries are added. The product is sweet and sour at the same time and goes well with yogurt. It is recommended to mix it with yogurt using a mixing machine to make a yogurt drink.

Let's enjoy the spring season with food items using the motif of "Strawberry!"
RELATED ENTRIES
Häagen-Dazs Dessert Buffet Whipped Up at Keio Plaza Hotel

Keio Plaza Hotel in Shinjuku, Tokyo, is welcoming Häagen-Dazs through its doors who have prepared a very special dessert buffet for the hotel's "Summer Trip with Häagen-Dazs" service. The sweet treat line-up will be served from June 1 to September 30 along with a range of savoury foods from around the world – an inviting prospect to those unable to travel during the pandemic.

Sweets Collection with Häagen-Dazs ~Ice Cream Holic~ | General ¥4,800, Children (Aged 4-12)

The first entry to the Summer Trip with Häagen-Dazs is the "Sweets Collection with Häagen-Dazs ~Ice Cream Holic~" dessert buffet. To protect customers, all desserts are ordered and served like a course rather than going to pick up the food yourself. This marks the third year of the dessert buffet, and this time it's inspired by ice cream shops in New York, the home of Häagen-Dazs. Ice cream will be served in a cool and refreshing variety of ways.

Experience that feeling of picking out a flavour from the ice cream store with a line-up of eight flavours including classics such as vanilla and strawberry as well as the new rich royal milk tea. Each serving is customisable with numerous toppings.

Other menu items include mini ice cream croissants, ice cream sodas, ice cream cake, and more. There's also a line-up of savoury food too if you want to line your belly before dessert: fried chicken, burgers, hot dogs, fries, and so on.

While the buffet is on, the hotel restaurant itself will be transformed into an ice cream theme park with summery tropical fruit colouring as well as designs and decor inspired by ice creams and cones.

Information

Sweets Collection with Häagen-Dazs ~Ice Cream Holic~

Running: June 1, 2021 – September 30, 2021

Bookings; Now Open

Location: Jurin (Keio Plaza Hotel Floor 2F)

Address: 2-2-1 Nishi-Shinjuku, Shinjuku-ku, Tokyo

Slots: 15:00-17:00 (Last Orders 16:30) / 15:30-17:30 (Last Orders 17:00)

Jurin Official Page: https://www.keioplaza.com/restaurants/coffee.html

Deliciously Luxurious Matcha Shaved Ice to be Served in Shinjuku This Summer

This summer, Southern Tower Dining and Lounge South Court—both of which are located inside Odakyu Hotel Century Southern Tower—are serving up a fluffy matcha shaved ice dessert called Wa -Nagomi- from June 1 to September 30.

Southern Tower's Famous Fluffy Light Snowfall Wa -Nagomi- Shaved Ice | Eat In ¥1,470, Takeout ¥700

The matcha-flavoured shaved ice has a texture as light and fluffy as snow. As you spoon through the dessert your taste buds are met with a range of delicious tastes and textures like the Japanese rice flour confection known as gyuhi, winter melon syrup, black soybean flour ice cream, and cream.

The dessert can also be ordered for takeout. The black soy bean flour ice cream adds a crunchy cereal-like texture to the soft shaved ice, and with the takeout option, there's also chocolate-coated wheat bran and brown sugar syrup.

Information

Wa -Nagomi-

Japanese Name: 和 -なごみ-

Serving: June 1, 2021 – September 30, 2021

Where: Southern Tower Dining / Lounge South Court (Odakyu Hotel Century Southern Tower Floor 20F)

Address: 2-2-1 Yoyogi, Shibuya, Tokyo

Opening Hours:

[Southern Tower Dining] 11:30-16:00 (Last Orders 15:00) / 17:30-22:00 (Last Orders 21:00)

[Lounge South Court] 10:00-23:30 (Last Orders 22:30)

Southern Dining Official Website: https://www.southerntower.co.jp/restaurant_lounge/st_dining/bar_lunch/

Stay in Harajuku's Yados Jingumae Hotel if You Love Art

Japanese company Rokuyon, which is responsible for creating a variety of hotel plans in Shibuya including at our own MOSHI MOSHI ROOMS, has launched a new project for guests of various hotels who are fans of brands and artists.

For their first endeavour, Rokuyon has teamed up with Yados Jingumae which has undergone major renovations. Guests staying in Room 202 this spring can enjoy a range of artworks as part of the room's exclusive Harajuku Night Owl Art Exhibition, while in summertime Room 301 will incorporate furniture by Sekai Class.

Yados Jingumae Room 202: Harajuku Night Owl Art Exhibition

Living room

Bedroom

Artist room

Participating Artists

CHiNPAN | April 23, 2021 – May 30, 2021

CHiNPAN began their career as an oil painter after getting selected at the 2008 Asia Creative Art Exhibition at The National Art Center in Tokyo. They explore the possibilities of oil painting by not limiting themselves to just paper. "Fusion" is the theme of their work which has taken them to creating visuals for shops, fashion, music, and more.

BANBU | June 10, 2021 – July 19, 2021

BANBU is a 24-y-ear-old artist who studied art abroad in Canada and New York after graduating at a vocational school in Japan. Currently based in Tokyo, they create colourful and eye-catching graphics with their three-eyed character.

Hotel Stay x Artists Come Together

"Harajuku Night Owl Art Exhibition" is the theme of Room 202 which will collaborate with different illustrators, video makers, photographers, and other artists every 1-2 months, shining the spotlight on each of their unique visions.

Yados Jingumae Room 301: Sekai Class

Hotel Stay x Furniture

Vintage furniture and artwork from around the world will be brought together in Room 301 so guests can experience a 'world living' experience. What's more is that all of the furniture, art, and items on display will be purchasable, and will change on a fixed schedule.

Royal Park Hotel Begins Serving Limited-Time Desserts For Golden Week

For this year's Golden Week, Royal Park Hotel in Tokyo is serving up a limited-time selection of two desserts on its first floor cafe and bakery IKI: the Koinobori Roll Cake and Animal Sweets & Pastries, both of which are available now until May 5. It's also selling two different mont blancs for Mother's Day and Father's Day.

Carp streamer-inspired roll cake and animal pastries

Koinobori Roll Cake – ¥2,160 (Tax Included)

Animal Sweets & Pastries: Sheep Cheesecake, Bear Tiramisu, Rabbit Mousse – ¥540 Each / Piglet Pastry, Dog Pastry, Chick Pastry – ¥324 (Tax Included)

This line-up of takeout desserts and pastries are made at the hotel's own cafe and bakery IKI, all of which have been made to celebrate Children's Day which falls on May 5 every year. This includes a moist chocolate and strawberry carp streamer roll cake which is popular at IKI every year. There's also a cute selection of animal delights including the light and fluffy Sheep Cheesecake, mascarpone cream and coffee Bear Tiramisu, and a sweet and tangy Rabbit Mousse made from assorted berry mousse and jelly, as well as three pastries made to look like a chick, dog, and piglet.

Serving: April 29, 2021 – May 5, 2021

Happy Father's Day & Happy Mother's Day Specials

Mother's Day Mont Blanc / Father's Day Mont Blanc – ¥1,944 Each (Tax Included)

The Mother's Day Mont Blanc is a wonderfully light combination of strawberry jelly, fresh strawberries, white chocolate mousse, and strawberry cream. The Father's Day version is made with a fresh mascarpone cream, a mont blanc base that's made from chestnut and blackcurrant jam, chocolate cream, and caramelised nuts.

Mother's Day Mont Blanc: May 7, 2021 – May 9, 2021

Father's Day Mont Blanc: June 18, 2021 – June 20, 2021

 

Monthly Breads: May & June

Each mother, IKI releases limited-time breads or pastries. For May, customers can enjoy the rich Edamame & Bacon Parmesan France and the bitter Chocolate Cream Cornet. In June, there's an Orange Cream Cornet made with sliced orange peel, and the Tomato Rustic which is crunchy on the outside and soft in the middle, combining tomato and cheese. There's also Shokupan made with matcha and large-grained adzuki beans.

Edamame & Bacon Parmesan France / Chocolate Cream Cornet (Dark Chocolate) – ¥302 Each (Tax Included)

Orange Cream Cornet – ¥302 / Tomato Rustic – ¥302 / Shokupan (Matcha & Adzuki Bean) – ¥648 (Tax Included)

May Monthly Bread: May 6, 2021 – May 31, 2021

June Monthly Bread: June 1, 2021 – June 30, 2021

Information

Royal Park Hotel Golden Week Desserts

Start Date: April 29, 2021

Where: IKI

Address: royal Park Hotel, 2-1-1 Nihonbashikakigarachō, Chuo-ku, Tokyo

Official Website: https://www.rph.co.jp/event/GWevent2021.html

Coji-Coji's Jiro Becomes Legendary Japanese Mermaid Amabie at Harajuku Event

Nippon Animation began holding the Amabie Jiro Fair at KIDDYLAND Harajuku's Maruko & Coji-Coji Store on April 29, selling merchandise of the character Jiro from Momoko Sakura's manga series Coji-Coji.

Pre-sale merchandise

Free hand towel


Jiro has turned into Amabie once again this year, a legendary Japanese mermaid who is said to emerges from the sea and prophesise either an abundant harvest or an epidemic. People are instructed people to make copies of its likeness to defend against illness.

Fans who spend over ¥8,000 at the Maruko & Coji-Coji store will receive a free original hand towel as pictured above.

Shiseido Parlour Releases Creamy BOUQUET DE FRAISES Biscuit Cake

The Ginza branch of Shiseido Parlour in Tokyo released its new BOUQUET DE FRAISES biscuit cake on Friday. The dessert is inspired by Shieido Parlour's strawberry parfait and is made to be held in one hand. It comes with three kinds of creams, and each is a crunchy and customisable delight decorated like a bouquet.

BOUQUET DE FRAISES | ¥540 (Tax Included)

The buttery cone is a cat tongue biscuit and is filled with cream shanty, cream patissiere, and strawberry jam. The bouquets are also topped with fresh strawberries.

BOUQUET DE FRAISES (Box of 10) | ¥5,724 (Tax Included) | Reservation-only

New Doraemon and Korosuke Dessert Gets Served at the Fujiko F. Fujio Museum

The Kawasaki-based Fujiko F. Fujio Museum, which is dedicated to the Japanese manga writing duo who created Doraemon, is now serving up its new Doraemon Korosuke Chiffon Sandwich which was added to the menu on Wednesday.

Doraemon Korosuke Chiffon Sandwich | ¥1,280 (Tax Included)

The new arrival sees Doraemon and Korosuke turned into chiffon sandwiches with the beloved blue robot cat made from chocolate and filled with banana cream and his friend filled with mango cream.

Check out some of the other items available on the menu at the museum too.

Doraemon Arrabbiata | ¥1,230 (Tax Included)

French Toast de Anki Bread | ¥980 (Tax Included)

Fork into the Doraemon Arrabbiata with tomato sauce and a Doraemon face made from egg sheets, or a French toast inspired by Doraemon's Copying Tost, one of his many Secret Gadgets.

ⒸFujiko-Pro

Information

Doraemon Korosuke Chiffon Sandwich

Released: April 21, 2021

Where: Fujiko F. Fujio Museum

Address: 2-8-1 Nagao, Tama Ward, Kawasaki, Kanagawa 214-0023, Japan

Opening Hours: 10:00-18:00

Official Website: http://fujiko-museum.com/english/

Detective Conan Turns Into Confections at Japanese Convenience Stores

In promotion of the latest entry to the Detective Conan anime film series, Detective Conan: The Scarlet Bullet, which was released on March 18, Bandai released two traditional Japanese wagashi sweets from its Tabemas confection series at 7-Eleven convenience stores in Japan on April 23.

Tabemas Detective Conan 2021

Conan Edogawa

Shuichi Akai

'Tabemas' is an abbreviation of the Japanese words taberareru masukotto, meaning 'mascots that you can eat.' It is a Japanese confectionery series that combines well-known characters and Japanese sweets made from ingredients like red bean paste, sugar and rice flour. The sweets are also made with a dough called "nerikiri" which is used in making traditional Japanese wagashi sweets.

The sweets feature titular character Conan Edogawa and FBI agent Shuichi Akai from the new film, recreating their looks in adorable detail and making the custard and chocolate flavoured respectively. The colours of the confections are naturally-derived from the ingredients used, meaning no artificial colourings are used.

(C)青山剛昌/小学館・読売テレビ・TMS 1996

Information

Tabemas Detective Conan 2021

Released: April 23, 2021

Price: ¥278 Each (Tax Included)

Available: The chilled desserts corners of 7-Eleven convenience stores in Japan

Tabemas:  https://www.bandai.co.jp/candy/tabemas/

*Available while supplies last

*Stock date may differ from branch to branch

*Select stores not participating

Laforet Harajuku Announces LAFORET GOLDEN WEEK

Golden Week is almost here in Japan, and so Laforet Harajuku is readying itself for its special LAFORET GOLDEN WEEK event which will run from April 24 to May 9.

Around 60 stores inside the Harajuku-based shopping centre are participating in this event where shoppers can get their hands on a new wardrobe full of outfits, a stock of items and accessories, and more. There is also a special item available at Charles Chaton on Floor 4F of Laforet that is made as part of a triple collaboration between the store, DJ and music producer Night Tempo, and Rie Kanou, the author of the manga series Slow Motion wo Mou Ichido. At FRAPBOIS on Floor 1.5F, there's a selection of t-shirts, shirts, one pieces and other must-grabs created in collaboration with Osamu Goods. And that's just a taste of the many exclusives to be sold and doesn't take into account all the other events that will take place at this year's LAFORET GOLDEN WEEK. Let's dive deeper.

The Little Cat Shop by MILKBOY | April 30 – May 9 | Floor 1F Entrance Space

The Little Cat Shop by MILKBOY is a cat-themed shop by three brands: MILK, MILKBOY, and LAND. It will incorporate hit motifs from the brands' past line-ups as well as introduce all-new trends. As well as clothes, there are accessories, sofvi toys, and other items, each woven with each of the brand's touch. There will also be a raffle to win exclusive sofvi toys made by notable sofvi artists like IZUMONSTER and Konatsuya. Plus, all customers who spend over ¥10,000 will get an original sticker.

Cat eyes dress ¥32,450 / CAT EYES SHIRTS ¥19,250 / CAT TOWER TEE ¥8,800 / MISCHIEF cat Frill TEE ¥13,200 / Ribbon CAT TEE ¥7,920 (Tax Included)

Kuttsuketemiyou Picture Book Pop-Up Shop | May 1 – May 16 | Floor 2F POP UP SHOP SPACE

Kuttsuketemiyou is a picture book by contemporary artist Ken Kagami and it's getting its first pop-up shop at Lofret Harajuku. The humorous book sees Kagami seeing what would happen if he tried attaching certain things to animals. It's a work of artistic nonsense enjoyed by children and adults alike, and fans of the quirky story can get their hands on a range of merchandise featuring the cute creatures. Kagami will also be doing signings.

Kuttsuketemiyou Book ¥1,650 / Mug ¥2,750 / Tote Bag ¥4,180 / T-Shirt ¥4,950 (Tax Included)

ABEMA 5th Anniversary Laforet Harajuku Campaign

In celebration of ABEMA's 5th anniversary, it is holding a limited-time campaign in collaboration with several popular Japanese TV shows such as Koi to Ookami ni wa Damasarenai and Black Cinerella. ABEMA is a Japanese video streaming website. During the campaign, customers who spend over ¥2,000 at select stores will receive a limited-edition Black Cinderella sticker and a ticket to an online event centred on Koi to Ookami ni wa Damasarenai. They can also enter a raffle to win signed merchandise from the shows if they show their receipt and have spend over ¥2,000.

Harajuku Shopping Week 2021 | April 28 – May 7

Shoppers who spend over ¥1,000 at select stores will receive a scratch card that may net them a ¥1,000 coupon.

UNDER GROUND SNAP Photoshoot | April 29 – May 8 @ 12:00-16:00

A photoshoot will take place down on Floor B1.5F. Those who sign up can have their photo taken professionally by Gothic and Lolita Market which will be featured in the early June 2021 edition of Laforet Harajuku's tabloid as well as on HARAJUKU POP WEB. Info on how to apply can be found on LAFORET GOLDEN WEEK's official website.

Laforet Harajuku Welcomes New Stores For Spring 2021

Starting this month, Laforet Harajuku is readying itself for Spring 2021 with the rollout of items by high-end brands and shops, all with an audience in mind who simply love culture regardless of their age or gender.

4.23 | New Store Opening
《Floor 3.5F》circle in circle

circle in circle welcomes a diverse selection of brands such as l'atelier du savon, CHILD WOMAN, and more. The new store's concept is to act as the perfect place for an appointment with your wardrobe. Every month, the store will collaborate with various different people, and line the shop floor with outfits that will have customers feeling like a kind in a candy store. For its initial opening, circle in circle is collaborating with photographer Kensuke Hosoya.

4.9 | New Store Opening

《Floor 1.5F》LIBERTY TOKYO

"Freedom" is the keyword at LIBERTY TOKYO, where customers are encouraged that it's great to get your hands on the things you want, and great to wear the things you want to wear. The shop stocks a range of apparel and items that combine accessories and fashion. They even sell stickers, merchandise, and more. This custom select shop offers made-to-order products, making each and every one unique and the only one in the world. It also collaborates with artists and other brands.

3.12 | New Store Opening

《Floor 5F》OSEWAYA TOKYO

OSEWAYA TOKYO is an accessory shop offering everything from basics to trends. Their motto is "bring your happiness" which is melded into their range, spanning the latest trends to must-have dailies. They have everything you hope a store specialising in accessories would have.

4.9~6.6 | New Store Opening

《Floor B0.5F》GLAZE KOHL x NUTTY VINTAGE

GLAZE KOHL x NUTTY VINTAGE is a limited-time collaboration shop between chic apparel brand GLAZE KOHL and NUTTY, a vintage shop that first opened in 1995. They line-up features new Spring 2021 items as well as the "GLAZE KOHL add VINTAGE" corner which features a selection of vintage items picked out by designers who themselves are vintage buyers. NUTTY VINTAGE is also offering a huge selection of the best authentic vintage items. Customers can enjoy some little limited-edition gifts when shopping there which are being given out to commemorate the shop's opening.

5.22~6.4 | New Store Opening

《Floor 4F》Mansion Mikura

Mansion Mikura's main store is located at Harajuku Cat Street. This limited-time rendition is a 'mansion' with four tenants – a collection of four second-hand shops including SAUCE which stocks miscellaneous items and second-hand clothes, top ranking vintage name STEP A HEAD, side car charlie which specialises in 'maniac items,' and the long-selling brand vintagesheets.

6.5~7.25 | New Store Opening

《Floor 4F》SAUCE

SAUCE is another vintage store located behind Cat Street. For its limited-time opening, it's selling hats in collaboration with Antage which previously sold out, as well as its own upcycled vintage clothing, as well as vintage clothes, rugs, and more from overseas.

5.22~5.30 | New Store Opening

《Floor 0.5F》vanilla(B0.5F)

vanilla will provide a diverse line-up of unique fashion as well as brands such as att production, room boy pony, phemesaccessories, and more.

5.31~6.6 | New Store Opening

《Floor 0.5F》Ochame Department

At Ochame Department, they believe simply being cute is being, and being the same as others is boring. Their fashion stock and handmade bits and bobs are imbued with the magic to make customers smile.

CLEAN KEEPERS Regular Member Uniforms

CLEAN KEEPERS is a cleaning project that takes place every Saturday at Laforet Harajuku in the hopes of creating a clean town and in turn clean hearts for all. Their uniform worn by regular members has changed into a blouson and one piece produced by ehka sopo on Floor B1F of Laforet. The blouson has a retro feel to it while the one piece has long sleeves and is inspired by 19th century British maids.

CLEAN KEEPERS

Running: Saturdays @ 10:30-12:30 (Booking Required/Cancellation if it rains)毎

Mini Pixar Cakes by Ginza Cozy Corner Includes Toy Story, The Incredibles, Finding Nemo, and More

Japan's confectionery shop Ginza Cozy Corner are releasing a new collection of petite Pixar cakes at all branches on April 23.

The cakes comes in time for celebrating Children's Day in Japan, as well as making a perfect snack for Golden Week and for kids and parents to enjoy together. Pixar fans have nine to enjoy in the collection such as the Little Green Men from Toy Story, Nemo and Dory from Finding Nemo and Finding Dory, Sully from Monster's Inc., the Pixar Ball, and more.

Pixar Collection (9 Included) | ¥2,700 (Tax Included)

Flavours include the strawberry mousse Lightning McQueen, the Jack Jack raspberry jelly and mango cream, the Buzz Lightyear blueberry jam and cheese mousse, and more.

Pixar Cake Assortment (6 Included) | ¥540 (Tax Included)

The packaging also features cute artwork of everyone's favourite Pixar characters. Choose between the whole nine cake box collection or this assortment of six white chocolate and strawberry cookies.

Pixar Sweets Box (10 Included) | ¥918 (Tax Included)

There's also a 10-piece box of six cookies and four madeleines.

KitKat Japan Releases New Mini Maple Chocolate Bars For Earth Day

In accordance with Earth Day, which is set for April 22, Nestlé released its limited-time KitKat Mini Maple on Monday to raise awareness of environmental issues and the future of the planet.

KitKat Mini Maple (3 Included)

KitKat Mini Maple (12 Included)

9 packaging designs with different messages related to the environment

'KitKat Always For Earth Day' online talk event to take place on April 30

In September 2019, Nestlé began packaging five of its major large-sized KitKat bags in paper bags rather than plastic, and since autumn 2020, most of their large sized bags are now made from paper. This has helped reduce 450 tonnes of plastic per year.

Now, Nestlé is releasing a new collection of packages for Earth Day featuring original designs by up-an-coming young artist SUGI. Each features messages from members of MIMO, a group managed by Japanese model Mila Aina, stating messages about helping to protect the environment and the future of planet earth.