Matcha Strawberry Sulbing Wintertime Dessert Returns for 2018
Popular Korean dessert cafe chain Sulbing has announced it will hold a strawberry festival at its Japanese branches. The first desserts to hit the menu are the Matcha Strawberry Sulbing and Yoghurt Strawberry Sulbing which will be served for a limited time at five branches in Japan from December 1.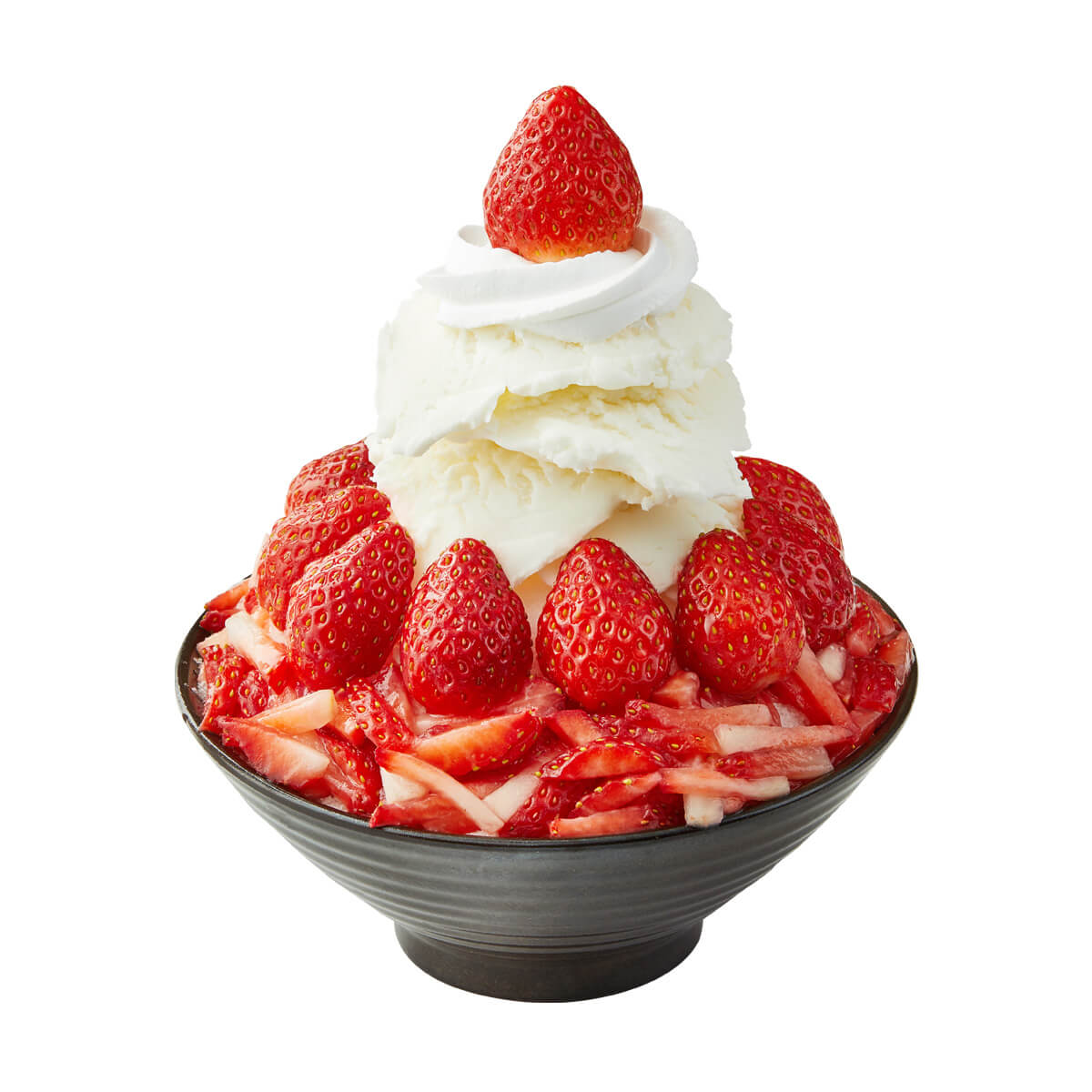 Yoghurt Strawberry Sulbing: ¥1,600 (Tax Included)
The Strawberry Festival began on November 16. A new dessert will be released at the cafe every month, the first of which is the all-new Yoghurt Strawberry Sulbing. This bowl is filled with fluffy milk flavoured shaved ice and pilled with an assortment of fresh strawberries, yoghurt ice cream and a final crowning strawberry on top.
Matcha Strawberry Sulbing: ¥1,600 (Tax Included)
The other delight to be released simultaneously is the Matcha Strawberry Sulbing which was first released in December last year to delicious reception. The shaved ice in this dessert is once again milky shaved ice as fluffy as powdered snow. Atop is a pile of strawberries and matcha ice cream. The combination creates an irresistible flavour fusion of sweet and sour strawberries and rich matcha.
Information
Sulbing Strawberry Festival – 1st Range of Desserts
Running: From December 1, 2018
Available at the following branches in Japan: Sulbing Harajuku, Sulbing Tenjin, Sulbing Sendai, Sulbing Hakata, and Sulbing Kawasaki
Official Website: http://www.sulbing.jp/
RECOMMENDED ENTRIES
Hotel Chinzanso Tokyo Unveils Strawberry Dessert & Lunch Buffet

Hotel Chinzanso Tokyo is bringing a 22-item strawberry dessert and lunch buffet to its Lobby Lounge―which overlooks the hotel gardens―on January 16, 2019.

The title of the buffet's theme is "Strawberry Party in the Forest." Customers will get to enjoy tucking into a line-up of sweet desserts and food while gazing at the outside forest-like garden.

The pancakes served at the buffet use 2 times more eggs than the hotel usually serves, giving them a fluffier texture. By topping them with strawberry, blueberry jam and other treats you can create the ultimate dessert pancake.

Of all the desserts available to pick from the buffet, one of the chef recommendations is the "Strawberry Brûlée Parfait." It includes mousse heaped with sauce made from fresh strawberries which is again topped with hardened caramelised sugar for added crunchy texture.

Other choices include shortcake, strawberry mont blanc, chewy fruit sandwiches made with rice flour, and more. You can also make your own parfait. There are three ice creams to choose from as well as strawberry compote, colourful chocolate sprays and six different syrups from France including nut, berry, sugarcane, rose, lemon and caramel. Try making your own parfait.

Sides include a croissant topped with dried raspberries, quiche inspired to look like a forest, meringue and more. There's a lunch menu too.

Enjoy the strawberry season at Hotel Chinzanso Tokyo!

Information

Strawberry & Lunch Buffet: Strawberry Party in the Forest

Running: January 16, 2019 – March 20, 2019 (*Weekdays Only)

Time: 11:30-13:30 (Last Entries 12:00)

*Reservations only. 90-minutes allowed.

Hotel Chinzanso Tokyo – Lobby Lounge "Le Jardin"

Price

General (13+ years) – ¥4,300

Elementary School Student (6-12 years)  – ¥2,000

Infants (3-5 years): ¥1,200

*Tax included in prices. Service charge charged separately.

Enquiries: 03-3943-0920 (10:00-21:00)

Event Page: https://hotel-chinzanso-tokyo.jp/restaurant/plan/245bb30c25c88dd.html

Quil Fait Bon Shizuoka's Strawberry Tart is Made With Strawberries Freshly Picked on the Same Day

Quil Fait Bon is a fruit tart store that has begun sales of a new limited stock product at its Shizuoka branch. The Morning Picked Strawberry Nectar Tarts were released on April 6, 2018 and are made in the city of Kikugawa.

The tarts are made with strawberries freshly picked on the day. They are juicy and have a strong flavour. Due to the delivery of the strawberries differing each day, sale announcements are made on Quil Fait Bon's official Facebook page.

Ripe strawberries are used which are grown using a special method. The method has the strawberries exposed to the cold which tightens the fruit, causing the sugar content to rise. The time taken to grow these strawberries means people can enjoy very delicious strawberries. They aren't picked until they are a vibrant red and have taken on their best flavour, meaning they are completely ripe when served. These are some seriously irresistible, luxurious strawberries. Combined with simple complements for the tarts – fresh cream and custard – their flavour is only elevated.

Feast on a gourmet tart made with the freshest, most succulent strawberries on the market.

■Information

Morning Picked Strawberry Nectar Tarts (菊川市産 朝摘み 寒蜜いちごのタルト)

Price: 1 Piece = ¥1,382

*Due to limited quantity, the tarts are sold only in slices. Reservations not permitted

Available: April 6, 2018 until around the end of April.

Sold from 5pm on weekdays.

Quil Fait Bon Shizuoka

Address: 2-4-15 Ryogaecho, Shizuoka-shi, Shizuoka Prefecture

TEL: 054-205-5678

Website: http://www.quil-fait-bon.com

The strawberry season is not over yet! 6 recommended strawberry food items and drinks

Sweets, foods and drinks using the motif of "strawberry" have been released since January, so in this article I will introduce to you some recommended strawberry items.

"Ichigo (strawberry) no Tarabagani (king crab) Burger" Tokyo Intercontinental Hotel

 "The Dining Room," the restaurant & bar inside Strings Hotel Tokyo Inter Continental, is now selling "Ichigo no Tarabagani Burger" as their third burger of their "high class burger" series. The buns were originally developed to look and taste like strawberries in line with their "15th"anniversary. Strawberry powder and strawberries were used to make the buns along with the best quality flour produced in Canada. Let's enjoy this seasonal burger using strawberries and king crab.

Detailed information:https://www.moshimoshi-nippon.jp/89723

"Ichigo Sweets" Patisserie Kihachi

"Patisserie Kihachi" shops, excluding some, are now selling cherry-blossom desserts and strawberry desserts such as strawberry roll cake/tiramisu for a limited time offer. Ichigo no Blanc Roll uses sweet/sour strawberry and raspberry jam, one whole strawberry and thick fresh cream including mascarpone are all wrapped in a soft chiffon cake. The dough of the chiffon cake is made with special eggs where the egg yolk turns white when heated so as to highlight the strawberries' vivid red color.

Detailed information:https://www.moshimoshi-nippon.jp/90609

The "dorayaki" specialized store, "DOU"

Dorayaki is a Japanese dessert where red bean-jam is sandwiched between two "castella" sponge cakes. It is loved by many Japanese people as a snack/dessert. "DOU" is a dorayaki-specialized store that offers new types of dorayakis. The new flavored item "Nama Dorayaki Ichigo" uses the strawberry variety, Tochiotome produced in Tochigi Prefecture.

Detailed information:https://www.moshimoshi-nippon.jp/90250

"Ichigo-daifuku" (strawberry-rice cake) specialized store, "Ichigo An"

The "ichigo-daifuku" (strawberry-rice cake) specialized store, "Ichigo An" was opened in Akihabara on the 1st of March. Roots Co., Ltd. opened an "ichigo"(strawberry) "daifuku" (a soft round rice cake stuffed with sweet bean-jam) specialized shop which will sell this sweets item produced in collaboration with their affiliated farms throughout Japan and the strawberries they use are directly sent from various production areas. The harmony of the straberries' sourness, bean-jam's sweetness and the chewy rice cake, is excellent!

Detailed information:https://www.moshimoshi-nippon.jp/93946

"Ichigo Daifuku making experience" Ibaraki Prefecture Yukueshi

Namegata Farmers Village is an experience-based agricultural theme park located in the city of Namegata in Ibaraki Prefecture. The site is currently holding a strawberry picking event where you can try picking Japan's best strawberries. You can also have a go at making your own strawberry daifuku, a popular Japanese confection, until April 8th. You have a choice of 2 anko pastes to fill your daifuku with: the classic red bean 'tsubuan' and the sweet potato 'imoan'. Pick your favourite to make a daifuku that you love.

Detailed information:https://www.moshimoshi-nippon.jp/95189

"Koji/Kiichigo" amazake specialty store / Furumachi Koji Seijojo

The amazake (sweet fermented-rice drink) specialty store "Furumachi Koji Seijojo (factory)" is now selling spring-limited amazake using koji (rice malt) "Koji/Kiichigo." This product is made with rice produced in Niigata Prefecture, the amazake of the koji created in a storehouse in Niigata Prefecture and to this strawberries/raspberries are added. The product is sweet and sour at the same time and goes well with yogurt. It is recommended to mix it with yogurt using a mixing machine to make a yogurt drink.

Let's enjoy the spring season with food items using the motif of "Strawberry!"
RELATED ENTRIES
Chocolate Specialty Shop Minimal Offering Rare Strawberry and Chocolate Treats

Japan-based chocolate specialty store Minimal is now offering a limited-edition set of gateau chocolates with fresh strawberries from Mei Strawberries in Kagawa Prefecture. These are available for preorder and are perfect for Valentine's Day!

These sweets were a huge hit last year, selling out immediately. The rare variety of strawberries used is only found in 1 percent of Japanese strawberry farms, and these are blended with milk cream and specialty chocolate. 




The strawberry jam found on the top of each chocolate piece is made from these rare Nyohou strawberries.  Originally a small-grained variety, the Nyohou varietals send from Mei Strawberries in Kagawa Prefecture are larger with a beautiful dark-red color. Fragrant, juicy, and sweet, they also have a slight acidity that provide a more complex flavor.


 

To maximize the natural strawberry flavor, the chocolate is made from Madagascar cocoa beans with a more berry-like flavor. Only slightly roasted, the graininess is intact, leaving a more powerful and rich flavor. A milky sweet cream has also been added to the center to provide a better balance.

This is the second year that the company has worked with these strawberries from Mei, and after making a number of prototypes, Minimal has found the best possible way to express these unique flavors in harmony. 


Information

Fresh Gateau Chocolate & Strawberries featuring Mei Strawberries

Price: ¥3,510 (Tax Included)
Release Date:   

Online Store/LINE Preorders: December 24, 2021~

Yoyogi Ueno Store: January 15, 2022

Sales Period: Until the End of February 2022
LINE: https://page.line.me/yrn4346m?openQrModal=true

Official Site: http://mini-mal.tokyo

Anniversaire Cafe Minatomirai Yokohama to Start Strawberry Garden Sweets Fair

Anniversaire Cafe Minatomirai Yokohama, a popular location for anniversary celebrations, is holding a limited-time Strawberry Garden fair for a limited time, from January 7 until February 6, 2022. Guests can enjoy a collection of strawberry sweets and pink drinks to start the new year in style.

Limited-Time Dessert Menu *Limited Quantities

Strawberry Plate: ¥1,870 (Tax Included)

Strawberry Caramel Pain Perdu: ¥1,870 (Tax Included)

Strawberry Mont Blanc: ¥1,980 (Tax Included)

Limited-Time Drink Menu

Strawberry Tiramisu Latte, Hot (Left)/Iced (Right): ¥1,100 (Tax Included)



Sparkle Berry Soda (Center): ¥990 (Tax Included)

Limited-Time Afternoon Tea Plan *Limited Quantities/By Reservation Only

Strawberry Stand Afternoon Tea: ¥3,800 (Tax Included)


Strawberry Plate Afternoon Tea: ¥3,300 (Tax Included)



Limited-Time Sweets for Takeout *Limited Quantities

Petit Fleur (5 pieces): ¥1,300 (Tax Included)

Information

Strawberry Garden
Running: January 7 – February 6, 2022
Address: Anniversaire Cafe Minatomirai Yokohama (2-1-4 Shinko, Naka-ku, Yokohama, Kanagawa)
Hours: Weekdays 11:00-17:00 (Last Order 16:00) / Weekends & Holidays 11:00-21:00 (Last Order 20:00) *Closed Tuesdays and Wednesdays. Hours are subject to change.
Official Site: https://cafe.anniversaire.co.jp/minatomirai/

The St. Regis Osaka Launches Strawberry Afternoon Tea for a Limited Time

The St. Regis Osaka Hotel is offering a special strawberry-themed afternoon tea set until May 2022. 

Strawberry Afternoon Tea '5th Avenue Collection'

Strawberry  Parfait 'The New York Gallery' 

Strawberry Afternoon Tea '5th Avenue Collection' to GO!

 

The St. Regis New York Hotel was founded in 1904, and is located on 5th Avenue, one of the most famous shopping streets in the world. This new afternoon tea set features a gorgeous three-tiered array of colorful savory and sweet dishes inspired by the many fashion items that line the shop windows of the NYC street. 

The Strawberry Heel Panna Cotta shows a woman's leg peeking out from the dessert clad in a fancy high heel, while the Berry Opera is made to look like a designer bag. Many of the available dishes are made using seasonal strawberries sourced from around Japan.

The French Bistro Ruedor on the first floor is also offering 'The New York Gallery,' a strawberry parfait set of three inspired by the art of New York City. This set also comes with an assorted plate of six savory and sweet items.

The WOW Strawberry, with its pop-art motif, will surprise guests with its massive strawberries and variety of different textures from mousse to jelly. The LOVE Strawberry mixes juicy, sweet, and sour strawberries with pistachio mousse and was inspired by Banksy's 'Balloon and Girl' painting. The Banana & Chocolate parfait pulls from the colorful wall art seen all around the famous city streets.

For those wanting something less sweet, hamburgers, hot dogs, and bagels, all popular on the streets of Manhattan, will be served alongside these strawberry delights. For those wary about the current pandemic conditions, the Fifth Avenue Collection can also be taken home!

Information

Strawberry Promotion 'Strawberry at the Best Address -55th Street, 5th Avenue-

Strawberry Afternoon Tea '5th Avenue Collection'
 Running: January 8 – May ~
Available Time Slots: ①12:00~ ②12:15~ ③12:30~ ④14:30~ ⑤14:45~ ⑥15:00~
*2-hour Seatings

Location: St. Regis Bar 12F

Reservations: https://www.ruedor.stregisosaka.com/stregistogo
*Welcome drink, dress cookie, and glass dessert are not included.
*Reservations are required at least one day in advance.

Strawberry Parfait Set 'The New York Gallery' 
Available: January 8 – May ~ (15:00~ / 15:30~) *Only 5 seatings per day.

 Location: Ruedor French Bistro 1F
https://www.ruedor.stregisosaka.com/

Shiseido Parlour Ginza Salon de Cafe to Hold 'Special Strawberry Day 2022' for Two Days Only

The Shiseido Parlour Ginza Salon de Cafe in Tokyo will hold the 'Special Strawberry Day 2022' event for two days only, on January 14 and 15, 2022. Guests will be able to enjoy a Strawberry Parfait prepared using carefully selected varieties of strawberries from all over Japan. Two varieties of the dessert will be available for the first time in 2022, with twelve varieties available in total–some varieties will only be available on a specific date.

Strawberry Parfait

Special Strawberry Parfait with 'Angel Strawberries' from Saga Prefecture: ¥2,600 (Tax Included)

Special Strawberry Parfait with 'Marihime Strawberries' from Wakayama Prefecture: ¥2,600 (Tax Included) *Only available on January 15

Premium Strawberry Parfait with Strawberries from Saga Prefecture: ¥3,600 (Tax Included)

Premium Strawberry Parfait with 'Mino Musume Strawberries' from Gifu Prefecture: ¥3,600 (Tax Included)

Royal Strawberry Parfait with 'Kotoka Strawberries' from Nara Prefecture: ¥5,000 (Tax Included)

Cocotte de Fraise Sales Period: January 14 – January 15

Information

Shiseido Parlour Ginza 
Address: Tokyo Ginza Shiseido Building 1F (8-8-3 Ginza, Chuo-ku, Tokyo)
Hours: 11:00-20:30 
*Closed during the New Year holiday

FUKUCHA to Offer Limited-Time Strawberry Desserts with Uji Tea Pairings

FUKUCHA Teahouse, a Fukujen cafe in Kyoto, will start a limited-time Strawberries and Uji Tea Fair on January 8, 2022. Last year's Matcha fair was incredibly popular, and certain items will also be available again in 2022. The new menu includes a strawberry version of the popular Herbal Tea Pairing Set, making it even more fun and elegant! Guests can enjoy flavorful Uji green tea along with a number of tasty strawberry treats. 

Mont Fraise: ¥1,150

Mont Fraise means 'mountain of strawberries' in French. This dessert is made with thin white chocolate and sponge cake soaked in matcha syrup with matcha cream and strawberries covering every inch. It is also served with a green tea chocolate sauce. 

Strawberry Pairing Set: ¥1650

The strawberry version of the popular Herbal Tea Pairing Set on the regular FUKUCHA menu.
・Ginger Blend Genmaicha and Strawberry Cheese Tart
・Hibiscus Blend Hojicha and Strawberry Chocolate Bonbons
・Cinnamon Blend Twig Tea with Strawberry Cream
・Peppermint Blend Twig Tea with Large Strawberry

Marscapone Strawberries: ¥1450

Using 10 strawberries, this parfait is designed to look like a herbarium. Putting a spoon into the light mascarpone cream will reveal the bright green color of the matcha chocolate sauce.

Information

Strawberry and Uji Tea Fair

Running: January 8 – May 15, 2022
*Limited to 10 Servings per day.

Official Site: https://www.fukujuen.com/

Bandai Candy Releases Second Round of Family-Sized Demon Slayer Tarts

Bandai Candy has begun selling the second round of Demon Slayer-themed tarts! This time, the family-sized treats will feature the taste of two varieties of cheesecake, and will be available at select AEON, AEON Style, MaxValu, and Daiei locations throughout Japan.

Each tart features characters from the popular Demon Slayer anime series with smiles on their faces. With a two-layered structure, customers can enjoy the flavor of baked cheesecake and gelatin cheesecake. Characters included are Tanjiro, Nezuko, Zenitsu, Giyu, Inosuke, Kyojuro, Shinobu, and Kanao.

(C)吾峠呼世晴/集英社・アニプレックス・ufotable

Information

Demon Slayer Big Tart Round Two ~Two Types of Cheesecake~

Price: ¥537 each (Tax Included)

Available Now

Where to Buy: 

AEON / AEON Style (Honshu, Shikoku, Kyushu)

MaxValu (Kanto, Hokuriku, West Japan)

Daiei's Chilled Dessert Corner

※Products only available in limited quantities. 

※Only available at participating stores.

Details: https://www.bandai.co.jp/candy/products/2021/4549660736721000.html 

Alice in Wonderland' Inspired Afternoon Tea Served at Aoyama St. Grace Cathedral for Seven Days Only

For seven days only from January to April 2022, the Aoyama St. Grace Cathedral wedding hall will open its doors to those wanting their fill of Alice in Wonderland-inspired sweets! 'Alice's Tea Party' will be an afternoon tea experience you'll never forget, and reservations are required.

The limited-time-only afternoon tea will feature a variety of adorable sweets that look like they popped out of a picture book, from Berry and Pistachio Bunny Ears Mousse to the Queen's Chandelier Butter Sandwich Cookies decorated like playing cards. Each sweet makes use of seasonal ingredients like strawberries, perfect with chocolate dips, petite tarts, and macaroons.

Information

Sweets Palette Afternoon Tea 'Alice's Tea Party' 

Running:

January 19, 2022
February 2, February 9
March 2, March 9, March 16
April 6 *Reservations Required
Times:

First Seating 12:15-13:45(Open at 12:00)

Second Seating 14:45-16:15(Open at 14:30)
Price: ¥4,500 per person (Tax and Service Charge Included)
Address: Aoyama St. Grace Cathedral Guest House (3-9-14 Kita-Aoyama, Minato-ku, Tokyo)

Access: 3-minute walk from Omotesando Station Exit A1 on Ginza Line / Chiyoda Line / Hanzomon Line
Reservations: https://www.bestbridal.co.jp/guestparty/tokyo/akasaka_aoyama_omotesando/stgrace_aoyama/2022event-10/ 

Peter Pan and Wendy-Inspired Sweets Buffet Comes to Nagoya

The Strings Hotel Yagoto NAGOYA in Aichi Prefecture is holding the 'Strawberry Neverland – Tinkerbell in Love Sweets Buffet' at it's sweets restaurant SCALA Terrace from January 15 until March 31, 2022. These limited-time desserts will use seasonal strawberries and pistachios.

Inspired by Peter Pan, the space will feature cute and refreshing sweets that will make guests think of the adorable fairy Tinkerbell. The 'Tinkerbell in Love – Raspberry Lime Mousse' is covered in the character's fairy dust, and is highly recommended by the restaurants chef patissier. A total of 16 desserts will be available, with some featuring edible flowers and other fantasy-inspired decorations. Those wanting something a little heavier can enjoy slow-cooked Indian Curry and Farfalle Cream Pasta. The space will also feature plenty of photo spots, so be sure to take some pictures with the person you love!

Sheraton Miyako Hotel Osaka to Hold Little Red Riding Hood-Inspired Strawberry Fair

The Sheraton Miyako Hotel Osaka will hold a 'Strawberry Fair' at four of its restaurants starting on January 1, 2022!

Little Red Riding Hood (Mascarpone and Berry Mousse)

Forest Friend (Cream Puff), Friendly Bear Macaroons

Forest Tree Stump (Nuts & Pistachio Cake)

Menu featuring Strawberry Items

Cafe & Gourmet Shop 'Cafe Bell' 

Running: January 15 – February 28, 2022

Sweets

Strawberry Brioche Sandwich / Strawberry Pudding / Strawberry Pistachio / Strawberry Tart / Strawberry Shortcake

Bread

Strawberry Cannelé de Bordeaux / Strawberry & Almond Chocolate Danish / Strawberry and Cream Cheese Flute 

Chinese Restaurant 'Shisen' 

Running: January 6 – February 28, 2022

Strawberry Apricot Tofu / Strawberry Pudding

'Bar eu'

Running: January 1 – February 28, 2022

Strawberry Grasshopper / Strawberry Milk for Adults / Strawberry Mojito

※Menu items subject to change depending on availability.
※Please inform the staff of any food allergies in advance.

Tokyo Gift Palette at Tokyo Station Selling Seasonal Strawberry Sweets

Tokyo Gift Palette, located near the Yaesu North Gate at Tokyo Station, offers a wide selection of unique souvenirs. From December 26, 2021 until January 11, 2022, the location will be holding the Exciting New Year's Fair, with the Strawberry Sweets Fair coming soon after from January 5 until January 25, 2022. 

Konigs-Krone Luxury 'Strawberry Parfait'


Patisserie Ginza Sembikiya 'Strawberry Omelet'


Strawberry Shop by FRANCAIS 'Strawberry Parfait'


*Only available at Tokyo Gift Palette
Tokyo Kaikan 'Reward Parfait ~Strawberry & Chestnut~

Strawberry Shop by FRANCAIS 'Fresh Strawberry Milk Cake'

Oosumi Tamaya 'Strawberry Daifuku'

Oosumi Tamaya 'Chinese New Year Daifuku'

Tokyo Kaikan 'Chocolate & Orange Tart' 

Paq & Mog Terrace 'Calbee and Tokyo Banana Bonito & Kelp Umami Dashi Potato Chips

The New Year's Fair will feature cute cakes and sweets inspired by the Chinese Zodiac, along with traditional Japanese goods. The Strawberry Sweets Fair will see a number of popular goodies on sale, including desserts that won top prizes in the 'Favorite Fruit Survey' conducted by Tokyo Gift Palette on Instagram in June 2021.

Ginza Cozy Corner Launches Limited Edition New Year's Chinese Zodiac Tiger Cake

From December 31, 2021, until January 3, 2022, Ginza Cozy Corner locations nationwide will be selling a limited edition New Year's cake featuring the Tiger from the Chinese Zodiac! 

Chinese Zodiac Tiger Cake

Fortune Cookies (10 pieces)

New Year Madeleines (6 pieces)

New Year's Grab Bag (24 pieces / 40 pieces)

Ginza Cozy Corner began selling a variety of New Year's-themed sweets starting in 2011. Traditionally, families in Japan enjoy a luxurious boxed meal called osechi on New Year's Day, and the company wanted to provide something to satisfy people's sweet tooth afterward! This year is the Year of the Tiger, making this chocolate and banana cake the perfect way to welcome 2022. Shops will also be selling other sweets like fortune cookies and mini Madeleine cakes, so there's something to bring a smile to everyone's face.

Information

Chinese Zodiac Tiger Cake

Available: December 31, 2021 – January 3, 2022

Where to Buy: Cozy Corner Locations Nationwide

Official Site: https://www.cozycorner.co.jp/

Harajuku Girls Magazine Zipper to Return to Quarterly Release Schedule After 5 Years

Popular Harajuku-based fashion magazine Zipper, which ceased publication in 2017, will return in March 2022! The rebirth of the magazine is being spearheaded as a joint venture between DONUTS Inc. and ASOBISYSTEM.

Zipper was first published in 1993 as a way to say "NO!" to traditional style. It continued to inspire creative minds for 24 years until it ceased publication in 2017, and many Harajuku-based celebrities and influencers cite the magazine as a major source of inspiration over the years. Now, this beacon of individuality and fashion is making a triumphant comeback right when the world needs it most.


In addition to the magazine, Zipper will also be available on YouTube, TikTok, Instagram, and Twitter, opening up the brand to fans of Japanese fashion around the world. More details will be announced in the future.


Information

Zipper

Resuming Publication in March 2022