Kyoto in Forests: Relishing Kyoto-Made Wine at Tamba Winehouse & Ajimu no Sato
The captivating hues of autumn are sweeping across Kyoto, the ancient capital of Japan admired by both Japanese and foreign tourists alike.
The staff at MOSHI MOSHI NIPPON took a trip to Kyoto to enjoy the sights. The theme of this new feature is "Discover your own Kyoto" where we introduce to our readers little-known good spots around the city.
The fourth article in this series will introduce you to spots where one can fully indulge in the tastes unique to Kyoto. In this Kyoto in Forests edition we visited Tamba Winehouse which is home to lush agricultural produce and tried wine made from grapes farmed in Kyoto.
1. Tamba Winehouse – Wine made in Kyoto
Tamba Winehouse is a winery located on the outskirts of Kyotamba. Established in 1979, it has gone on to win numerous awards both inside and outside Japan. The brewers at the wine house continue a lineage of desiring to craft wine that goes hand in hand with Kyoto culture. Beautiful water from the local region and fantastic soil ensures Tamba Winehouse brews a wine that is "quintessential of Kyoto."
Nights in Kyotamba are cool even in July making it the perfect climate for harvesting the grapes that will be used to make the wine.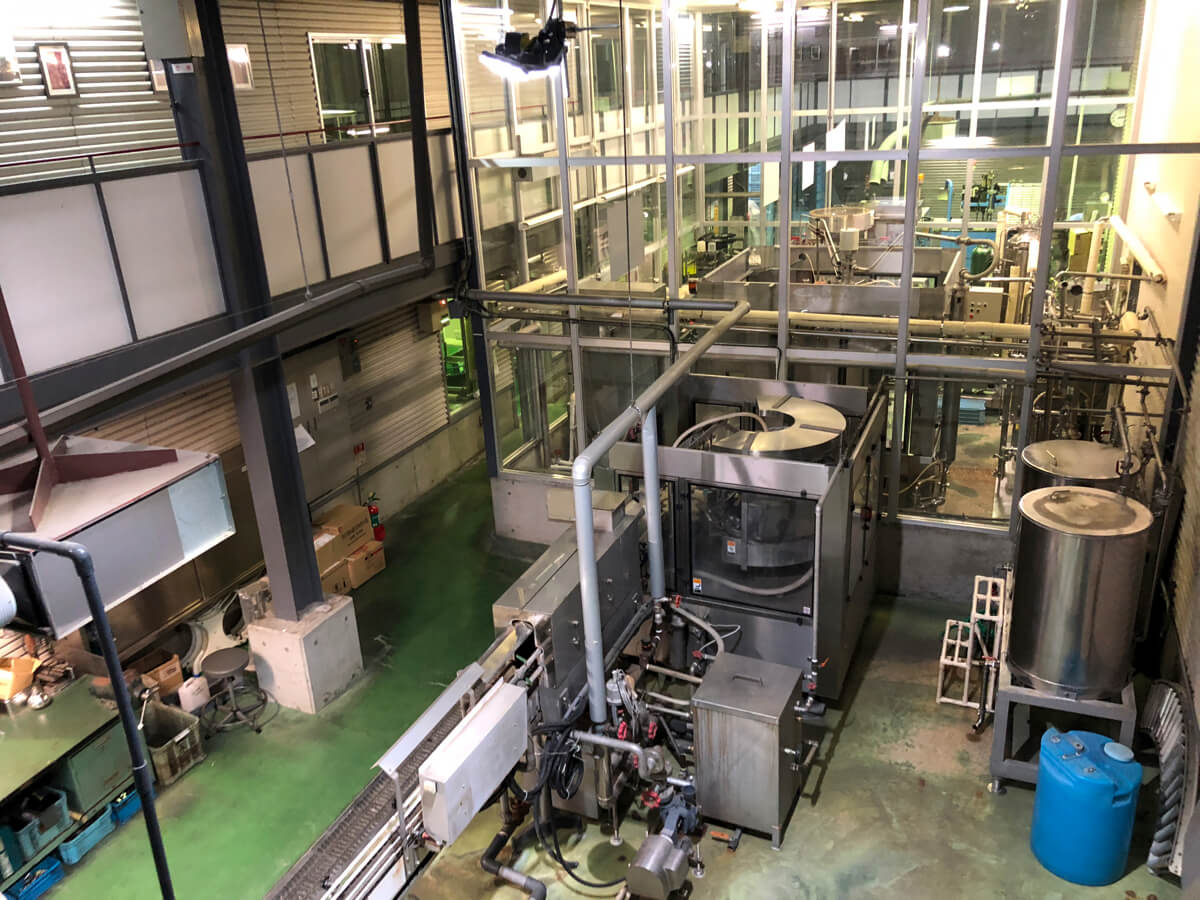 The winery offers a tour of the building where you can oversee how they maintain their grape plantation as well as witness the process of making wine.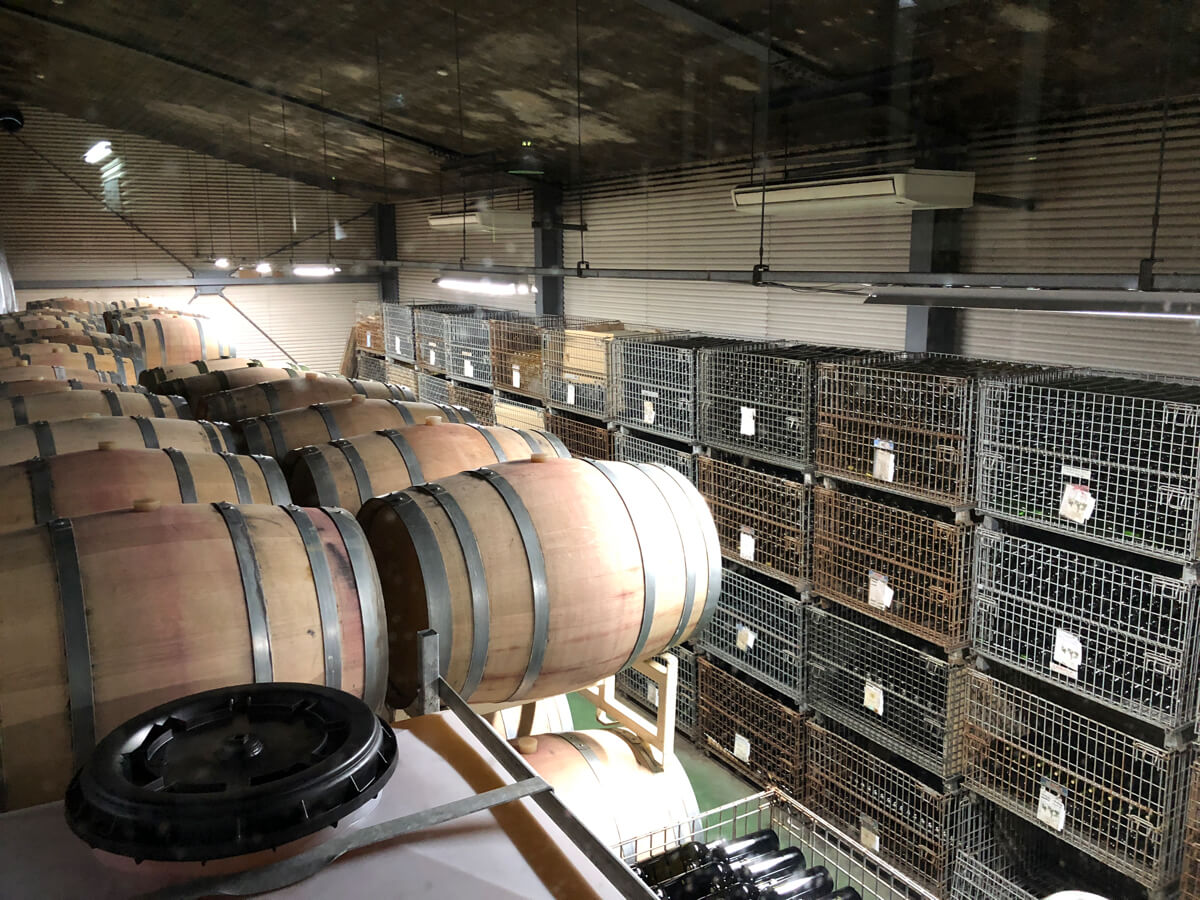 When you actually see the factory where they make the wine you start to wonder what kinds of flavours they are creating and end up wanting a taste yourself…
And so we also participated in a taste testing session. There are both free and paid taste tests to enjoy, so you can pick out which ones most take your interest to try.

You'll be glad to know that the staff offer a clear and polite explanation of the flavours of each bottle and what foods they go best with.
Any wine tasted during the session can be bought from the shop next door.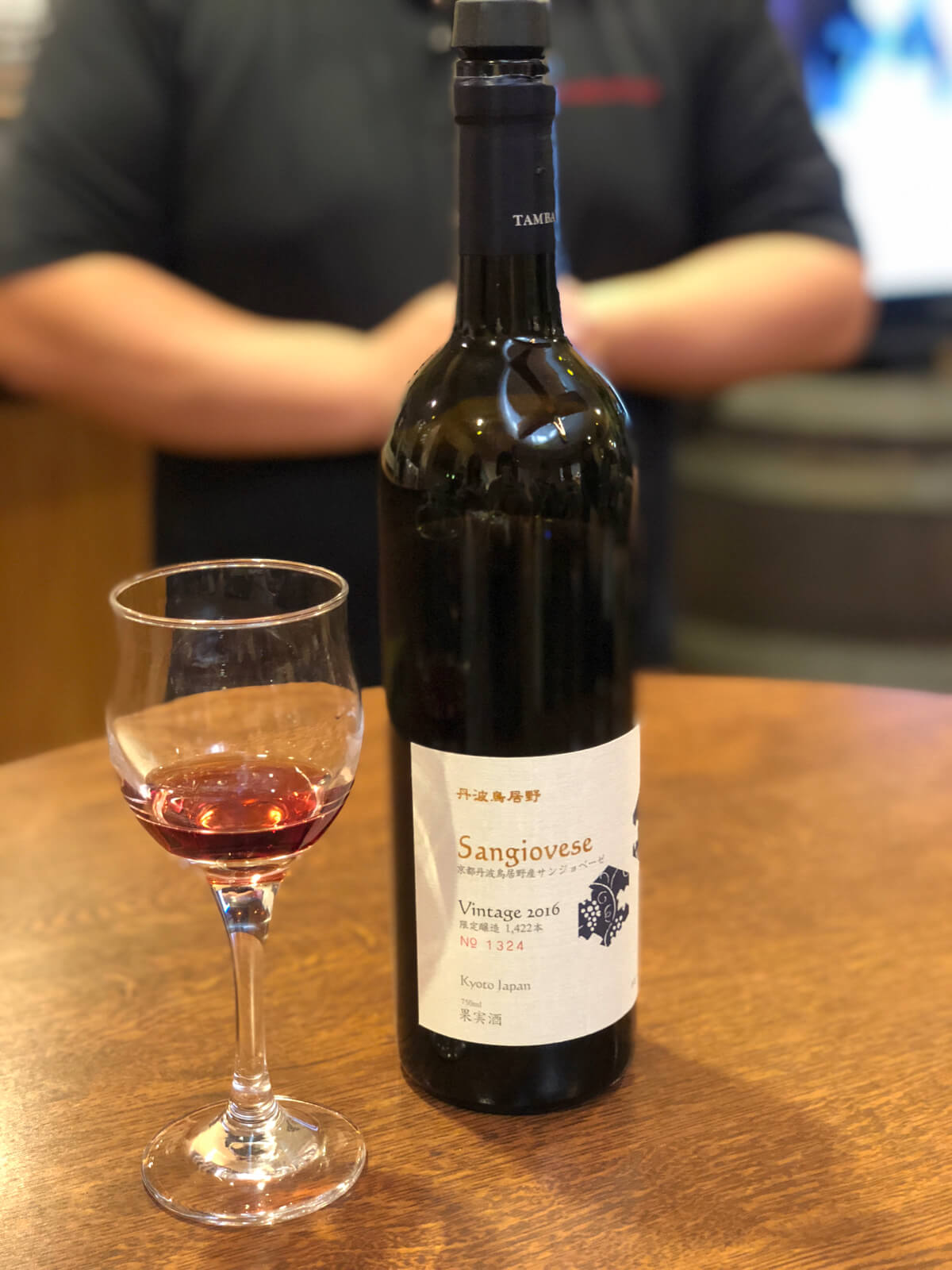 Try Kyoto's wine for yourself together with a Kyoto-style meal and taste how different it is from other countries.
■Information
Tamba Winehouse
Address: Chihara-83 Toyota Kyotanba-cho, Funai District, Kyoto Prefecture
TEL: 0771-82-2003
Website: http://www.tambawine.co.jp
Business Hours
Wine Shop: 10:00-17:00
Wine Tour: Weekdays – Start at 11:00 / Weekends & Holidays – Start at 11:30
*You must book at least 2 days in advance.
Closed: Thursdays and New Year Holidays
Access
30-minutes from Sonobe Station's East Exit (via Sagano Line) on buses bound for Fukuchiyama (福知山) or Hinokiyama (桧山). Get off at Tamba Kogen (丹波高原) Stop and walk for 15-minutes.
*They are now preparing tours so be sure to check their website if you're interested.
2: Kyotamba Ajimu no Sato – Purchase vegetables farmed in Kyotamba
Kyotamba Ajimu no Sato is a roadside station and new doorstep to those visiting Kyotamba.

It has a food court, shopping area and more. It's an absolute must-visit place when going to Kyotamba.

Our number one recommendation is the vegetables! Sold there are freshly-picked veggies from the local area.
There's plenty of choices lined up ready to be picked as Kyoto souvenirs. They sell processed foods too which are ideal for taking back to a person's home country as a gift.

Ajimu no Sato stocks a whole range of goods not available at Kyoto Station to be sure to check it out yourself!
■Information
Kyotamba Ajimu no Sato
Address: Fukashino-65-1 Sone Kyotanba-cho, Funai District, Kyoto Prefecture
TEL: 0771-89-2310
Website:
http://ajim.info
Access
40-minutes from Kyoto South Interchange, accessible from Fumichi
Did you enjoy our picks of Kyotamba's tourist spots for this edition of Kyoto in Forests? It's an essential place to visit if you're interested in wine and produce from Kyoto.
We hope you enjoyed our fourth article for Discover your own Kyoto. Some of the places listed can be tricky to get to but they are places that offer opportunities you can only experience in Kyoto. There are still many towns in Kyoto unknown to many people. If you're looking to tick off all the sightseeing spots there then be sure to enjoy your trip with Discover your own Kyoto.
■Writer 
Sayuri Mizuno / MOSHI MOSHI NIPPON Chief Editor
Instagram: @sayuri.mizuno
■Translator
Joshua Kitosi-Isanga
Twitter: @anokomorebi
RECOMMENDED ENTRIES
Kyoto by the Sea: Amanohashidate and Funaya, Japan's Most Beautiful Village

The captivating hues of autumn are sweeping across Kyoto, the ancient capital of Japan admired by both Japanese and foreign tourists alike.

The staff at MOSHI MOSHI NIPPON took a trip to Kyoto to enjoy the sights. The theme of this new feature is "Discover your own Kyoto" where we introduce to our readers little-known good spots around the city.

Our third article in this series is titled Kyoto by the Sea. If you love being by the ocean and enjoy its sights and sounds then we've got several places to show you.

1: Funaya – The most beautiful village in Japan

Our first stop on our aquatic adventure is Ine no Funaya which is recognised as the most beautiful of all of Japan's villages. It's also officially listed as an "Important Preservation District for Groups of Traditional Buildings."

Funaya literally means "boat houses." The first floor of the buildings are garages for the boats while the second floor are the residents' living spaces. Around 230 funaya line the seashore of this hidden fishing village in Kyoto.

It's possible to board a sightseeing boat there which takes you into the middle of Ine Bay to take in the sights and see what it's like to live there. You will cruise along together with common gulls and black-tailed gulls who will hop on for the ride.

The tourist information centre also offers tours of the boat houses themselves which are carried out by locals, enabling a closer inspection of them. Above is a photo of what it looks like from inside the first floor garage.

There is also a free rental bike service in the area. Be sure to follow the rules above if you decide to borrow one.

While you're in the local area, why not visit Mukai Brewery for some sake taste testing?

We recommend trying this one, it's a very old brand. It tasted sweet and was an easy sake to drink.

Many travellers from outside Japan visit Funaya. Some of the boat houses can be stayed in but due to the limited number they are often bombarded with reservations. If you're thinking of staying there don't forget to secure a place in advance. You're sure to enjoy scenery and tradition you won't experience anywhere else but in Ine.

■Ine no Funaya

Address: 491 Hirata, Ine, Yosa District, Kyoto Prefecture

Access: "Amanohashidate" via Kyoto Tango Railway / 1-hour by bus (Tango Rosen Bus) from Miyazu Station

Enquiries: 0772-32-0277

Website: http://www.town.ine.kyoto.jp/

■Ine Bay Sightseeing Boats

Opening Hours: 9:00-16:00 (25-minute ride every 30 minutes on the hour and half-past)

Price: Adults ¥680 / Children ¥340

Enquiries: 0772-42-0323

Website: https://www.inewan.com/02yuransen.html

■Mukai Brewery

Address: 67 Hirata, Ine, Yosa District, Kyoto Prefecture

No Fixed Holidays.

Enquiries: 0772-32-0003

Website: http://kuramoto-mukai.jp/

2: Amanohashidate – See one of Japan's 'three scenic views' from Kasamatsu Park

Amanohashidate is known as one of Japan's 'three scenic views.' This beautiful sandbar covered with close to 8,000 pine trees gets its name from how its bridge, when viewed from the mountains at either side of the bay, looks like it stretches across the heavens.

We took the chair lift up to Kasamatsu Park where you can enjoy an unbroken view of Amanohashidate. The cable cars and chair lifts can be used from March to November.

As well as enjoying a panoramic peek at the entire sandbar there's also a terrace where you can enjoy a light meal and a shrine from which you can see Kanmurijima Island and the volcanic island of Kutsujima.

In the place where you ride the chair lift there is a map where you can pin what country you are from. People from all around the world had visited on the day we went.

When riding back down you can sit back, relax and take in the breathtaking scenery of Amanohashidate. Your journey there promises amazing sights from start to finish.

■Amanohashidate Kasamatsu Park

Address: 75 Ōgaki, Miyazu, Kyoto Prefecture

Cable Car/Chair Lift Price: Adult Return ¥660 (Single ¥330) / Child Return ¥330 (Single ¥170)

Access: 25-minutes by bus from Amanohashidate Station via the Kyoto Tango Railway (get off the bus at Kasamatsu Cable)

Enquiries: 0772-27-0032

Website: https://www.amano-hashidate.com/030kasamatu.html

3: Tsuruya Shokudo – Enjoy fresh fish caught in Kyoto

Tsuruya Shokudo is a restaurant located along the path to Kono Shrine near the Kasamatsu Park cable cars. They use vegetables farmed in the local region and all the fish is caught from the waters of Tango! One of the meals you can eat there is the "Tango Otakaradon" which is served with seafood.

Tango Otakaradon (丹後のお宝丼): ¥1,650 (Tax Included)

This dish is served with Japanese Babylon sea snail, bigfin reef squid and Japanese amberjack. In the small bowl is akamoku seaweed which you mix until it becomes sticky before being put in the rice dish. If you aren't a fan of raw egg you can ask the staff to remove it.

Taste all the flavours of the local region by ordering the Tango Otakaradon.

Tsuruya Shokudo

Address: 848 Nakano, Miyazu, Kyoto Prefecture

Opening Hours: 08:30-17:00

No Fixed Holidays.

Enquiries: 0772-27-0114

Website: http://www.amanohashidate.jp/food/turuyasyokudou/

Did you enjoy our new "Discover your own Kyoto" feature? Experience Kyoto by the sea with your very own eyes during your trip.

■Writer 

Sayuri Mizuno / MOSHI MOSHI NIPPON Chief Editor

Instagram: @sayuri.mizuno

■Translator

Joshua Kitosi-Isanga

Twitter: @anokomorebi

3 Little-Known Places to Experience Tea Culture in Kyoto

The colours of autumn are now hitting Kyoto, Japan's ancient city steeped in history, culture and tradition and one visited by countless tourists―both Japanese and foreign―every year.

The staff at MOSHI MOSHI NIPPON took a trip to Kyoto to gather information. The theme of the research is "Discover your own Kyoto." We will introduce you to 3 little-known places in Japan's former Imperial capital that are not yet known by many people.

This is the first article in a series where we look at the tea of Kyoto. Here are our recommendations if you want to experience Kyoto Infused with Tea culture.

1: "How to Properly Pour Tea" –  Learning the proper methods at Fukujuen

The first place we want to recommend is Fukujuen Uji Tea Workshop. The closest station to it is Uji Station which you can get to in one stop from Kyoto Station via the JR Line.

Fukujuen Uji Tea Workshop was established after seeing the amount of people sitting comfortably at home pouring tea from a teapot on the decrease in favour of bottled tea. In response to this, they decided to set up a facility for people to relearn the culture of the traditional Japanese kyūsu teapot and the history of tea. They currently hold over 20 courses for people to get involved with.

Learning to Pour Tea Course (Gyokuro Tea): ¥1,188 (Tax Included)

We took the tea-pouring course which uses gyokuro green tea. Gyokuro has a sweeter taste to it compared to sencha. It's also different from sencha in that it is grown under the shade, outside of sunlight. This means it has more theanine in it, giving the tea a more delicious taste.

The necessary tools and confection needed to pour the tea are laid out for you when you sit down. You must then follow the directions of the staff while pouring the tea.

This was the first gyokuro tea we poured. The first cup has gyokuro extract in it which tastes rich. The tea tastes sweet and smooth. We could really feel its full, ambrosial taste.

The first 1-2 cups you drink are to fully appreciate the taste of the tea. From the third cup you can start eating the houjicha sweet bean jelly confection provided. The sweet taste of the jelly goes perfectly with the tea. The tea leaves used in this course last for 6 cups so relax, take your time and enjoy.

The tea-pouring course has instructions in both English and Chinese, so foreign visitors can enjoy themselves without worry.

Other courses include tea leaf picking in the tea gardens which is available during certain seasons only. There's also a reference library to learn all about the history of tea.

If you love tea and want to learn all there is to know about tea culture in Japan, then head to Fukujuen Uji Tea Workshop to enjoy the tea of Kyoto to your heart's content.

■Information

Fukujuen Uji Tea Workshop

Address: Yamada-10 Uji, Uji-shi, Kyoto Prefecture

Opening Hours: 10:00-17:00 (Last orders at Fukuju Saryo – 16:00)

Closed: Mondays (or Tuesdays if the Monday falls on a national holiday)

Access: 8-minutes on foot from Uji Station via Keihan Line / 15-minutes on foot from Uji Station via JR Nara Line

TEL: 0774-20-1100

Website: http://www.ujikoubou.com/

2: "Eating Tea" – A matcha-filled meal at Tatsumiya

After learning all about tea, we headed to Tatsumiya to eat food dotted with all kinds of tea. To get there, head across the bridge opposite Fukujuen Uji Tea Workshop and walk for about 10 minutes. See the sign and entrance above.

We ordered the matcha course (抹茶料理) which cost ¥4,500 (tax included, service charge separate). Lots of different matcha-incorporated food came out the kitchen one by one.

Everything on the trays used matcha. The tempura is eaten with matcha salt, there was matcha rice porridge – the list goes on.

Of course the final dessert had matcha in it too♡

We recommend trying this matcha course for yourself, it's something you don't really see. Plus, you can enjoy a gorgeous view of the Uji River.

■Information

Tatsumiya

Address: Tōgawa-3-7 Uji, Uji-shi, Kyoto Prefecture

Opening Hours: 11:00-15:30 (Last Orders 14:30 / 16:30-22:00 (Last Orders 19:30)

No Fixed Holidays.

TEL: 0774-21-3131

3: "Ikkyuji Temple"  – Where Ikkyū spent his last years

The final place we'd like to recommend is Shuonan Ikkyujin Temple where the famous witty Buddhist monk Ikkyū spent his final years. The temple grounds are home to maple trees which are best seen from mid-November to late November.

The red and yellow leaves had already begun blooming when we arrived. The temple is one famous for its autumn colours, but its real highlight is that it's the place where Ikkyū spent his time.

Zenzai (with Ikkyuji Temple Natto): ¥700 (Tax Included)

Zenzai is a red bean soup made with adzuki beans eaten during wintertime in Japan. Did you know that it was Ikkyū himself who named this dish? Apparently it was his favourite thing to eat. At the temple you can enjoy zenzai, Ikkyuji Temple natto and tea altogether.

"Ikkyū's wit looks at things from both sides," explained Tanabe, the temple's chief priest.

Are we thankful to ourselves and those around us, or do we envy others? The choice is ours, but Tanabe kindly taught me the former. You may enjoy having a relaxing conversation with yourself too while looking out at Shuonan's Japanese-style gardens.

■Information

Shuonan (Ikkyujin Temple)

Address: 102 Takigisatonouchi, Kyōtanabe-shi, Kyoto Prefecture

Opening Hours: 9:00-17:00 (Sanctuary 9:30-16:30)

Price: General ¥500 (13+ years) / 12 years and below ¥250

Access: 5-minutes by taxi from Shin-Tanabe Station via Kintetsu Line / 5-minutes by taxi from Kyōtanabe Station via JR Line

Did you enjoy our 3 picks for Kyoto Infused with Tea? These aren't the only places either – Kyoto is home to lots of hidden gem locations."Discover your own Kyoto" too, one that only you know about.

■Writer 

Sayuri Mizuno / MOSHI MOSHI NIPPON Chief Editor

Instagram: @sayuri.mizuno

■Translator

Joshua Kitosi-Isanga

Twitter: @anokomorebi

Kyoto Travel: Enjoy Food, Discover Art in a Traditional Japanese Building & More

The colours of autumn are now hitting Kyoto, Japan's ancient city steeped in history, culture and tradition and one visited by countless tourists―both Japanese and foreign―every year.

The staff at MOSHI MOSHI NIPPON took a trip to Kyoto to gather information. The theme of the research is "Discover own your Kyoto," where we introduce little-known places to you in Japan's former Imperial capital that are not yet known by many people.

This is the second article in the series where we consider a trip to Tokyo for adults. We have a list of recommended spots where adults can go to enjoy a quiet and peaceful time while strolling through traditional places.

1: "Oyamazaki Villa Museum of Art" – Appreciate Claude Monet in a traditional western-style building

The Oyamazaki Villa Museum of Art is a western-style house that was built around the Taisho and early Showa periods and was turned into a museum. It was formerly used as a villa.

On either side of the museum sits the Underground Jewelry Box―an underground building built to turn the villa into a museum, and the Dream Box―a gallery, both built by Japanese architect Tadao Ando. Both buildings house permanent art exhibitions as well as periodic exhibitions. The second floor of the museum also has a café. We received special permission to tour the site but it is normally off-limits.

The inside of the building has a retro style to it. The doors, lamps and stained glass windows create an otherworldly atmosphere. The stained glass window pictured above has been there since the building was first built.

Inside the Underground Jewelry Box, paintings such as those from Claude Monet's lauded Water Lilies series line the undressed concrete walls. These are housed here permanently but the pieces may be switched for certain events.

When we visited there was an event happening titled "Viewing the Kimono in Junichiro TANIZAKI's Literary Works." The exhibition looks at how Japanese author Junichiro Tanizaki depicted women and their fashion and examines the way they dress. On display are kimono recreated from his works. The exhibition is ongoing until December 2, 2018.

The designs revive those used in the time. Dot patterns are used as is lace. The outfits are also finished with baskets and boots too. Every kimono there will have you thinking just how stylish the women of that time were. You can really get a sense of the fashion back then.

The second floor café has a terrace where you can enjoy an unbroken view of the cityscape. When you've had your fill of art, head up and indulge in some tea and cake while enjoying the scenery.

■Information

Asahi Beer Oyamazaki Villa Museum of Art

Address: Zenihara-5-3 Oyamazaki, Otokuni District, Kyoto Prefecture

Opening Hours: 10:00-17:00 (Last Entries 16:30)

Closed: Mondays (or Tuesdays if it is a national holiday. Also closed on November 19, 26 and New Year's)

Entry Price: Adults ¥900 / University & High School Students ¥500 / Middle School Students and under – Free

TEL: 075-957-3123

Access: 10-minutes on foot from Yamazaki Station via the JR Kyoto Line or from Ōyamazaki Station via the Hankyu Kyoto Main Line

Website: https://www.asahibeer-oyamazaki.com/english/

2: "Yanagimachi" – A restaurant renovated from a townhouse

Next on the list is Yanagimachi, a restaurant located in Fukuchiyama. The surrounding area of the city is rich in agricultural produce and livelihood is still surrounded by the grace of the forest today.

Situated within this "Forest of Kyoto" is Yanagimachi, a restaurant that was renovated from a traditional townhouse built in the Meiji period. Despite being in the middle of Fukuchiyama it's located in a place that still has that old fashioned Japanese castle town atmosphere. The entrance can be found on the side as you walk across the stone paving.

When you walk in, it doesn't feel like a building from the Meiji period at all – it's so modern!

We ate food made using vegetables harvested locally, amazing chicken and fish. The sashimi included pickled mackerel, greater amberjack, porgy and young Pacific bluefin tuna. Their huge portions of karaage fried food are also one of their specialties.

This photo above is another one of the restaurant's famous foods: kamosuki. The fat of the duck is smooth and melts in your mouth. The locally harvested Kujo green onions are sweet and went perfectly with the duck.

Discover the taste of Kyoto by trying this food yourself – food you can't find anywhere else, served in a restaurant hidden and tucked away from the world.

■Information

Yanagimachi

Address: Shimoyanagimachi Shimoyanagi, Fukuchiyama, Kyoto Prefecture

Restaurant Opening Hours: 11:30-14:30 (Last Orders 14:00) / 18:00-23:00 (Last Orders 22:00)

*On Sundays and national holidays, restaurant hours at 18:00-22:00 (Last Orders 21:00)日祝は18:00〜22:00(L.O21:00)

Café Bar Opening Hours: 11:00-01:00 (Last Orders 00:30)

Closed: December 31, 2018 – January 4, 2019

TEL: 0773-22-1809

Access: 15-minutes on foot from Fukuchiyama Station via the JR Line and Kitakinki Tango Railway

Website: http://yanagimachi.kyoto.jp/

Did you enjoy this "adult" trip to Kyoto? Kyoto is home many hidden gem locations. Try finding your own "Discover own your Kyoto" too and discover new things to enjoy in the city.

■Writer 

Sayuri Mizuno / MOSHI MOSHI NIPPON Chief Editor

Instagram: @sayuri.mizuno

■Translator

Joshua Kitosi-Isanga

Twitter: @anokomorebi
RELATED ENTRIES
Experience Kyoto Culture in Arashiyama With HOSHINOYA Kyoto's New Hotel Plan

HOSHINOYA Kyoto has introduced a new hotel plan in an attempt to bring a little luxury into people's lives and lift their spirit during this stressful time. The plan will have people going to Arashiyama to experience a bit of Kyoto culture and hospitality to lift their mood.

You will board a small boat located at the port near the hotel entrance and be taken to your private room. During your sail, you will be able to soak in the gorgeous sights of nature all around. Check-in is being carried out in guest rooms, meaning you won't have to come into contact with other guests.

You have arrived at your room. HOSHINOYA Kyoto is located in Arashiyama which was formerly a holiday home destination for the Heian aristocrats. There are 25 rooms inside the garden, all of which look out onto the Ōi River. When you slide the window open, you can feel the gentle wind sweep through the valleys. Guest room walls are plastered with beautiful traditional kyokarakami wallpaper and fitted with HOSHINOYA Kyoto-original tatami sofas. Each and every part of the rooms are imbued with Kyoto culture. The rooms are not only comfortable and provide you with everything you need, but also offer a luxurious stay.

Inside your room, there are sutras which can be used for sutra copying, known as sakyou in Japanese, as well as equipment for making matcha to enjoy your own private tea ceremony without having to worry about the tradition's strict rooms. It's your very own private Kyoto cultural experience without having to worry about other people.

Dinner can be enjoyed in the main dining hall or in your room. The dining hall is fitted with semi-private booths where you can enjoy a seasonal Arashiyama 9 course kaiseki-ryori dinner with rice, vegetables, a special bento assortment, and more. For breakfast you can enjoy a morning hot pot which uses a special dashi stock packed full of seasonal veggies.

There are also activities to enjoy Kyoto's breathtaking green outdoors. Mosquito nets made from Japanese red cedar are provided under which you can take part in a stretch routine which uses breathing techniques and meditation.

Outdoor activities are severely restricted right now as a result of COVID-19, but HOSHINOYA Kyoto has made it so you don't have to do much moving around at all while still enjoying the fruits of nature.

Information

Kyoto Culture in Arashiyama (Japanese Hotel Plan Name: 奥嵐山で京文化に触れる久しぶりの優雅な一日)

Prices

From ¥50,100 per night (Includes dinner/2 people 1 room/service charge and tax not included)
From ¥50,100 per night (Includes dinner and breakfast in dining hall/2 people 1 room/service charge and tax not included)

Booking: https://hoshinoya.com/kyoto/

HOSHINOYA Kyoto Introduces New Rainy Season Themed Kaiseki Dinner Course

HOSHINOYA Kyotoーthe Arashiyama-based hotel where every room offers a river viewーis launching a new kaiseki multi-course dinner this summer which offers the chance to enjoy the early summer breeze together with the spectacular views of the rainy season. Served with nine dishes, the kaiseki meal will be available between June 1 to July 31 this year.

The days of June in Japan are hot that the month itself also goes by the name minazuki which translates to "the month without water." However, the evenings are enjoyed for their cool and refreshing air, and so June is also known as suzukurezuki, or "the month of cool dusk." Not only will guests be able to enjoy the refreshing feeling of the season, but their kaiseki meal will be inspired by the sights of the rainy season, as well as the verdant smells of early summer, too, adding an extra level of freshness.

HOSHINOYA Kyoto's dining concept goes by the name Gomi Jizai, which has people enjoying all five different tastes: sweet, salty, spicy, sour, and bitter. Ichiro Kubota, the Executive Chef at HOSHINOYA Kyoto, has truly honed his cooking abilities over the course of his career. His father was the head chef at one of the most famous restaurants in Kyoto's Gion district. It was there that Kubota really began to learn his craft, and he went on to work at first-class and Michelin star restaurants in both Japan and abroad. He has set the standard for Japanese cuisine for the next generation.

Suzukurezuki Appetisers: See and taste early summer with a Hassun dish

A hassun is a kind of dish or tray often used in kaiseki course meals to serve numerous different foods. This hassun is inspired by Nagoshi no Harae, an ancient and traditional summer purification ritual that takes place at temples and shrines in Kyoto in June. It includes goma-dofu, a food similar to tofu made with crushed sesame seeds that's eaten as a confection during Nagoshi no Harae to cool yourself down during the hot month of June.

It also comes with sweetfish dashi and watershield for that added feeling of coolness, as well as hotarukan which looks like fireflies gathered in the bamboo grass, and a texture-laden bamboo shoot and smoked salmon wrap.

Cool Kamo-nasu Eggplant Assortment: Sweet early summer vegetable appetisers

For appetisers, guests can look forward to some refreshing early summer vegetables, including kamo-nasu eggplant that's been mixed in lots of dashi, fried, and seasoned with eggplant to elevate the sweetness and combined with ice cream. There's also red sea urchin which is rich in sweetness, ginger foam, and new lotus root for bite. The bowl it's all served is made by Nobuyoshi Sasaki and features a lace design. The use of glass serves to enhance that level of freshness from the food.

Conger Eel Hanami: Recreating a hydrangea Hanami in a bowl

The bowl includes fatty conger eel which is topped with more conger eel that has been minced as well as arrowroot daffodils to make it look like blossoming hydrangeas. It is said that conger eels that drink the water at the end of the rainy season become more delicious. Gion Matsuri, a festival held in Kyoto in July, is also called Hamo (conger eel) Matsuri. The dish also includes bonito, tuna, and kombu.

Young Fried & Salted Sweetfish: Smell the verdant fragrances with fried food

Sweetfish is a popular ingredients during early summer in Japan, and this one has been salted and fried. Sweetfish (ayu in Japanese) is also known as kougyo in Japan which means "fragrant fish." It's known for its fresh smell which is likened to that of greenery. It's fried on a charcoal fire for some time which makes the head and tail smell incredible.焼

Cherry Mille-Feuille: A dessert gift from the early summertime

The crowning cherry of this dessert is smothered in acacia honey and then roasted, locking in all of that sweetness. The dessert is made with fresh cream, almond biscuit, and custard cream, all of which is layered to create a multi-textured pie. It's served with a tonka bean ice cream. Tonka beans come from the same rose family as cherries, meaning they work wonders together.

Information

Gomi Jizai Kaiseki
Running: June 1, 2020 – July 31, 2020
Serving: 17:30-20:30
Price: ¥20,000 per person (does not include tax or service charge – hotel fee charged separately)
Available: To both guests and non-guests
Reservations: https://hoshinoya.com/kyoto/en/

Japan Coronavirus: Room for Rescue Project Provides Free Accommodation to Foreigners Who Can't Get Home

With flights cancelled around the world, it is becoming increasingly harder for foreigners to return home from Japan, resulting in them being forced to change their plans, extend their stay, and live every day in stress and uncertainty. To lend a helping hand to foreign travellers in this stressful time, three accommodation companies Slacktide Co., Ltd, Shared Value Co.,Ltd. and Life Bonds, LLC, who manage Kaname Inn Tatemachi, Sakura Cross Hotel and BONDS HOUSE respectively, have launched a joint accommodation project called "Room for Rescue" which provides free accommodation to international visitors who cannot return home as a result of the current travel restrictions.

This collaborative project was launched to ensure that foreign travellers don't feel like their trip to Japan was a bad experience, which could be a reason to avoid visiting Japan again in the future and heavily impact the tourism industry.

Tokyo:BONDS HOUSE

Tokyo:Sakura Cross Hotel

Kanazawa: KANAME INN

Currently, three accommodations in Tokyo and one in Kanazawa have opened their doors to stranded foreigners.

Room for Rescue: Request a Room

https://kaname-inn.com/room-for-rescue/

To apply for a room, you need a valid visa and a cancelled flight ticket which meets Room for Rescue's criteria. For more information, please refer to the application page. The Room for Rescue project is also looking for more accommodations to join the fight against coronavirus and open their doors to stranded foreigners. If you own an accommodation in Japan and want to help foreign travellers, please apply using the link below.

Become Part of Room for Rescue (for accommodation owners)
https://kaname-inn.com/room-for-rescue/contact/


If you are an individual who wants to support this project, please consider donating via their crowdfunding page mentioned in the information section below.

Kyo no Ondokoro Marutamachi: Rent An Entire Kyoto Townhouse to Yourself

Kyo no Ondokoro Marutamachi is set to open in the Goshominami area of Kyoto on April 25, 2020. The single-accommodation hotel is a complete renovation of a traditional Kyoto-style townhouse.

Kyo no Ondokoro Marutamachi comes as the 7th branch of hotels from Kyo no Ondokoro. It's a single building to rent for up to 4 people, who can enjoy taking a soak in the man-made carbonated spring bath which is kind to the skin and hair, using the soft water shower, and getting ready in the spacious makeup corner. It's the perfect getaway for girl groups travelling together.

The hotel is in a convenient location for sightseeing in the ancient capital of Kyoto. The building has been completely renovated to adapt to modern lifestyle while still retaining those traditional elements of a Kyoto townhouse that was built during the Meiji Periodーand in an area that's rich in traditional scenery.

The lounge space sofa seats are inspired by Japanese rock gardens

The lounge space, which connects the second-floor bedrooms and the washitsu Japanese-style room, are furnished with unique round sofas. All the rooms open up to each other so guests can enjoy the company of each other during their travel stay.

Hinoki cypress artificial carbonated spring bath

Amenities

The round bath is made from hinoki cypress, and the carbonated water lets you stay glowing and nice and warm after you step out of it. The bathroom is also stocked full of amenities like shampoo courtesy of popular brand THREE.

Up to four people can apply their makeup together in the makeup corner

The makeup corner is big enough to sit four people so they can get ready for their day or night out together while chatting.

Colourful art pieces also adorn the walls of the makeup room, Japanese-style room and elsewhere to add a touch of beauty to them.

If you're planning a trip to Kyoto with the girls then why not book at Kyo no Ondokoro Marutamachi when it opens on April 25?

Information

Kyo no Ondokoro Marutamachi

Address: 341-2 Shōshōiotabichō, Nakagyō-ku, Kyoto, 604-0873

Grand Opening: April 25, 2020

Price: ¥30,000 per night

Bookings: Opened on March 27, 2020

Offcial Website: https://www.kyo-ondokoro.kyoto/en/

Pan Am to Release Travel Inspired Clothing Collection in Collaboration with MIZUNO

Japanese sportswear brand Mizuno is collaborating with Pan American World Airways (Pan Am) to release a clothing collection called "52 Collaboration with PAN AM" in their "Go to by mizuno" series of lifestyle attire for active adults at the end of March. It will be available in Mizuno stores, Mizuno's official online shop, and pop-up shops in Japan.

Travel is the theme of the collection, and is the first co-developed line-up from "Go to by mizuno." It incorporates the functionality of sportswear while promoting the fun and excitement of travel.

What is Pan Am?

Pan American World Airways, commonly known as Pan Am, was at the forefront of the airline industry during its 64-year run. It was the first company to adopt the Boeing 707 when it ordered 20 of them for commercial use in 1955. It became the world leading airline in both name and reality in the 1960s. In 1972, Idlewild Airport (now John F. Kennedy International Airport) became a hub for Pan Am, and they also set up a company building in Manhattan. The airline is still fondly remembered today, and is sure to be a name mentioned by those who have travelled around the world.

Collaboration Items

The clothing line-up of 38 itemsーspanning T-shirts, caps, socks, travel bags, and moreーfeatures the Pan Am logo and is made from waterproof and stretchy sports clothing that can be used for everyday wear.

Information

52 Collaboration with PAN AM

Sold at:
17 Mizuno stores (including MIZUNO TOKYO and MIZUNO OSAKA CHAYAMACHI)
Mizuno online shop
Department Stores (Kawanishi Hankyu, Nishinomiya Hankyu, Kintetsu Department Store, Nara, Kashihara, Moriguchi Keihan Department Store, Kobe Hankyu, Kawagoe, Fukudaya Department Store, Utsunomiya)
*Pop-up shops from late March to early May (check official website for shop list)
*Shonan Tsutaya pop-up exhibition (March 20-April 27)

Official Website: https://www.mizuno.jp/52goto/

Experience Hanami and Cherry Blossoms With Digital Art at FLOWERS BY NAKED 2020 – Sakura –

FLOWERS BY NAKED is an annual flower-themed digital art event held by NAKED Inc. As part of this year's event, FLOWERS BY NAKED 2020 – Sakura –, a special addendum event entitled "Nijo Castle Sakura Matsuri" will take place during the evenings at the World Heritage Site Nijo Castle From March 20 to April 12 this year.

FLOWERS BY NAKED is an interactive digital art experience. It has been held at Nijo Castle during the autumns of 2018 and 2019, but this will be the event's first time being held in Kyoto during the spring season. 2020's theme is cherry blossoms, and this will be showcased in a number of wonderful ways.

Prologue | NAKED BIG BOOK

"NAKED BIG BOOK, a monument of the beginning of this exhibition, will show collaboration works by an artist Ryotaro Muramatsu and a photographer LESLIE KEE. LESLIE KEE contained energy into photographs as the quiet expression, and Ryotaro Muramatsu reinterprets his works to dynamic photography art.​"

Arrival of Spring | Kara-mon Gate (Important Cultural Property)

"Projection mapping expresses the coming of Spring on Karamon-Gate as an important cultural property."

Flowers Wall ~ SAKURA ~ | Inner Moat

"Projection mapping of impressive sakura on the moats in Nijo-jo Castle. The landscape will transition following sakura."

Sakura Droplets | Seiryu-en Garden

"A mystical space surrounded by real sakura where bubbles confined spring fragrance float as the sakura droplet.​ ​"

The event is working on countermeasures against the coronavirus, such as installing disinfectants and having staff wear masks. It requests that visitors take normal measures against the infection such as cough etiquette and washing your hands. Click here for more information.

Information

FLOWERS BY NAKED 2020 −Sakura− World Heritage Nijo-jo Castle

Running: March 20, 2020 – April 12, 2020
Opening Hours: 18:00-21:00 (Closed at 22:00)
Location: Nijo-jo Castle
Admission Fees:

Early Bird Tickets (Available until March 19, 2020) / Junior High School and Older ¥1,000, Elementary School Students ¥800
General Tickets (March 20, 2020 – April 12, 2020) / Junior High School and Older ¥1,400, Elementary School Students ¥800
*All prices above include tax. Free for preschoolers. Disability discount available.

Official Website: https://flowers.naked.works/2020nijojo-sakura/

Popular Yakiniku Restaurant Futago to Open New Branch at THE JUNEI HOTEL in Kyoto

FTG Company, which operates 74 restaurants inside and outside Japan, is set to open its new restaurant Nikukappou Futago at THE JUNEI HOTEL Kyoto in Higashiyama, Kyoto on March 27, 2020 where it will serve authentic Japanese wagyu beef and full courses.

THE JUNEI HOTEL Kyoto is a small luxury tourist hotel housing eleven rooms in total, including its Bamboo Suite. Bamboo can be found throughout all the rooms as part of the hotel's concept: "A sojourn embraced by bamboo in a moonlit space." The rooms, as well as the hotel interior overall, showcases beautiful traditional handiwork using bamboo.

Inside Nikukappou Futago

Nikukappou Futago fuses traditional Japanese elements with modern ones. It features half-size eating areas as well as private areas. Customers can expect their private dining experience to include freshly-cooked full courses with high quality Japanese wagyu and seasonal ingredients.

Menu in Japanese *Menu will change monthly

Nikukappou Futago's concept is "A relaxed adult's Iki." The word iki here refers to a range of different meanings in Japanese, like "sophistication," "breath," "spirit," and "life." The restaurant will work to serve a hospitable service that enables each and every person to enjoy that iki that lives inside them.

Foie Gras & Wagyu Filet Mouthful Bowl

Wagyu Loin & Kyoto Vegetable Shabu-shabu

The course is made with seasonal ingredients and vegetables. Plus, in using a range of cooking methods, the original flavour meat of the meat is intensified.

Wagyu Sirloin Sumiyaki

Enjoy a selection of high-quality rare wagyu cuts like sirloin, filet, loin, and more. You can also enjoy a selection of classic Japanese dishes like yakiniku, shabu-shabu, and sukiyaki, all in one course.

Like the changing seasons in Kyoto, the menu will be altered every month to bring something new. Discover your iki and enjoy a great meal at Nikukappou Futago.

Information

Nikukappou Futago THE JUNEI HOTEL KYOTO

Address: THE JUNEI HOTEL KYOTO Floor 1F, 4-139 Honmachi, Higashiyama Ward, Kyoto
Grand Opening: March 27, 2020
Opening Hours: 17:00-23:00  (Last Orders 22:00)
No Fixed Holidays

Seats: 32 (6 Half-Size Rooms / 2 Private Rooms
TEL: 075-525-0052

Course Price: ¥11,000 (Tax and service charge not included) *Course menu to change each month

Official Website: https://nikutei25.com/

World's Largest Athletic Tower Banpaku BEAST to Open at Expo '70 Commemorative Park in Osaka

Banpaku BEAST is set to open as the largest athletic tower in the world at Expo '70 Commemorative Park on March 15, 2020, standing 24 meters tall.

The hexagonal tower was created by German-based amusement park attraction developers KristallTurm. It has four floors, each of which is its own "athletic area," as well as an observation deck. It is a comprehensive workout tower, offering 120 different kinds of athletic activities such as climbing and slacklining, meaning the fun will never end in a single day, and will have you wanting to go back for more.

The tower makes use of its full height; expect to use your entire body during your ascension, ride barrels, bikes, and more. Safety is guaranteed while still offering a heart-racing experience for those thrill-seekers. The facility can be used by both kids and adults alike who want to test themselves and feel refreshed after a good workout.


See Banpaku BEAST in action in the official video above.

Information

Banpaku BEAST

Location: Expo '70 Commemorative Park, Suita, Osaka

Time: Reception 9:30-15:00 / Open 10:00-16:30

Price: General ¥3,500 / Elementary school children and below ¥3,000
*Separate fee charged for entry to Expo '70 Commemorative Park's Natural and Cultural Gardens (General ¥260/ Elementary school children and below ¥80)
Access: 5-minutes from Expo Memorial Park Station via Osaka Monorail

Official Website: https://www.se-amuse.jp/bampakubeast/

Only Kyoto's Locals Know About This Beautiful Hidden Firefly Spot

Last year, The GrandWest Arashiyamaーa hotel in Arashiyama, Kyotoーhosted a special firefly tour to huge success. It was so well received that the hotel is bringing the tour back again this year. It will be held for three days, from May 29 to 31, with bookings available starting this month.

The tour was particularly well-received with foreign guests who were staying at the hotel, and who had never seen a firefly before. It takes place after sunset, where hotel staff take guests on a mini tour to a little-known-good-spot that only the locals know about where you can see fireflies in Kyoto.

The idea behind the tour was conceived by a hotel staff member who lives in Kyoto and spotted the fireflies at a nearby temple. That staff member had never seen fireflies before, and it was the first time since moving to Kyoto that they'd seen them in the wild like that. The number of wild fireflies is actually decreasing each year in Japan, and converselyーdespite them being a symbol of summertime in Japanーthe number of people who have never actually seen them is on the rise. The tour was created to tackle this fact by having hotel guests experiencing a part of Japanese summer.

The target audience for the 2019 tour was parents with small children, which was to be held for three days, but the number of bookings shot up for the entire duration, with 80% of them being from hotel guests from foreign countries. Numerous guests from China said that they had seen fireflies in anime and games before, and that kids and adults knew about them, but that there aren't many places in China where you can see them for real so many of them had never seen them.

Fireflies can only inhabit places where the water is clean. Because of this, it's becoming harder to see them not just in Japan, but around the world. This includes Kyoto, where the number decreases year by year. If you're travelling to Kyoto at the end of May, then don't miss out on this rare and exciting opportunity.

Information

Mini Firefly Tour

Running: May 29, 2020 – May 31, 2020

Time: Departing from the hotel at sunset (after 17:00)

No. of People: 5 per day (first-come, first-served bookings)

Price: Free

*In the case of rain, the tour will not go ahead
雨天:中止

The GrandWest Arashiyama Official Website: https://www.grandwest.kyoto/en/

7 Must-Visit Cherry Blossom Spots in Kyoto For Hanami | 2020 Edition – MOSHI MOSHI NIPPON

The warmer weather is growing ever closer as we start to approach spring, and in Japan, that means the cherry blossom season is right around the corner. Today, we are joined by Instagram user Macchan-san who has provided us with some picturesque photos of places Kyoto for this Top 7 list of must-visit locations in the ancient capital to see the cherry blossoms this year.

Gion Shirakawa


Gion Shirakawa is a place that delivers on expectations when visiting Kyoto, with its rows of traditional houses, stone pavements, and maiko whom you're sure to meet. This area is also lit up with illuminations during the cherry blossom season, which is perfect when you're listening to the sound of the flowing Shirakawa River while gazing to your heart's content at the cherry blossoms.

▶ Gion Shirakawa

Address: Shirakawa River, Higashiyama Ward, Kyoto (Between Kawabata Shopping Arcade and Gion Tatsumi Bridge)

Closest Stations: 5-minutes on foot from Gion-Shijō Station (via Keihan Electric Railway) / 10-minutes on foot from Sanjō Station (via Keihan Electric Railway) / 10-minutes on foot from Kyoto-Kawaramachi Station (via Hankyu Railway)

Official Website: http://gion-yoisakura.com/

Former Main Building of the Kyoto Prefectural Office


The Former Main Building of the Kyoto Prefectural Office is listed under Japan's list of Important Cultural Properties. It is the oldest building among existing government buildings in Japan. The courtyard is home to towering shidare-zakura cherry blossom trees, which captivate those who visit the building. The view of the buildingーwhose exterior is like that of a western mansionーtogether with the cherry blossoms is a sight to behold.

▶ Former Main Building of the Kyoto Prefectural Office

Address: Yabunouchicho, Kamigyo Ward, Kyoto

Open: Tuesdays-Fridays (and every 1st, 3rd, and 5th Saturday)

Closed: Public Holidays and New Year Holidays

Opening Hours: 10:00-17:00

Closest Station: 10-minutes on foot from Marutamachi Station

Official Website (Japanese): https://www.pref.kyoto.jp/qhonkan/

Shojuin


Shojuin is famous for its beautiful heart-shaped window located in the reception hall. During the cherry blossom season, the window is dyed a pink colour. It is also lit up in the evenings, but you need to book a place in advance to see it. Places are allocated randomly. You can book on the official website.

▶ Shojuin

Address: Kawakami-149 Okuyamada, Ujitawara, Tsuzuk District, Kyoto

Opening Hours:  9:00-16:30 (April-September)

Price: ¥500 (Includes tea and confection)

Official Website: http://shoujuin.boo.jp/

 

Access:

①Reachable by Keihan Uji Bus (Numbers 180, 182 or 184) from Uji Station and Shin-Tanabe Station. Get off at Ichumae Bus Stop (維中前)

②10 minutes by the Okayamada Community Bus or taxi

Sewaritei


Sewaritei is a very popular spot for celebrating Hanami in Japan with its rows of cherry trees that span 1.4km along the park. From the Sakura Deai Kan observation building, you can soak up the breathtaking view of 220 individual cherry blossom trees. When they are in full bloom, it's like walking through a tunnel of them, providing a romantic atmosphere.

▶ Sewaritei

Address: Yawata Zaioji, Yawata 614-8307, Kyoto Prefecture

Closest Station: 10-minutes on foot from Iwashimizu-Hachimangu Station (via Keihan Main Line)

Official Website: https://www.city.yawata.kyoto.jp/0000000479.html

Fushimi Jikkokubune Boats


Fushimi Jikkokubune is an opportunity to board an Edo Period-style boat. It departs from Bentenbashi, and takes passengers on a relaxing journey to observe Kyoto's nature as well as the cherry blossoms. The departing times are fixed and limited, so be sure to check the official website in advance.

▶ Fushimi Jikkokubune Boats

Address: 247 Minamihamacho, Fushimi Ward, Kyoto

Times: Check the official website

Closest Station: 5-minutes on foot from Chushojima Station (via the Keihan Main Line)

 

Official Website: https://kyoto-fushimi.or.jp/ship/

Fushimi Port Park


There is a walking course offered at Fushimi Port Park which lets you take in all of its sights. I recommend going for a Hanami walk when the cherry blossoms are in full bloom.

▶ Fushimi Port Park

Address: Yoshijima Kanaidocho, Fushimi Ward, Kyoto

Closest Station: 3-minutes on foot from Chushojima Station (via the Keihan Main Line)

Official Website: http://kyoto-park.or.jp/fushimi/

Fushimi Deai Bridge


This bridge appeared in the anime film I Want to Eat Your Pancreas. It's a very beautiful spot where the cherry trees reflect off the surface of the water below the bridge. The location's sights are the same as they were in the past too.

▶ Fushimi Deai Bridge (in Japanese: 伏見出会い橋)

Address: 911 Kitahamacho, Fushimi Ward, Kyoto

Closest Station: 9-minutes on foot from Chushojima Station (via the Keihan Main Line)


Did you enjoy this list? If you're planning a trip to Kyoto this spring, be sure to use these picks as reference for your Hanami and cherry blossom destinations. And if you're looking for more places to visit in Kyoto, then follow Macchan on Instagram

Photos: Macchan

MOSHI MOSHI ROOMS Opens Sentō Bathhouse and Sumō-Themed Fusion Accommodation Called 'DOSUKOI'

MOSHI MOSHI ROOMS is located in the heart of Harajuku's tourism welcomes travellers from all over the world to immerse in Japanese culture in a way they've never experienced before. The cherry blossom-themed accommodation SAKURA is a blooming success throughout the year and ORIGAMI's mesmerizing and clever designs never fail to make tourists crease their necks in amusement. 

The third Japanese culture accommodation has stomped into MOSHI MOSHI ROOMS as a fusion of sumō wrestling and sentō bathhouse culture called 'DOSUKOI'. The word dosukoi is phrase that sumo wrestlers shout out to get hyped up – perfectly summing up your excitement as you explore this spectacular fusion world from corner to corner. From a giant sumō hand to a historical sentō bathtub with a magnificent mural artwork scenery, the entrance, living room and sentō-style bathing area is overflowing with originality.

Living Room

The entrance to the living room is themed around a sentō bath. The tiled roof and traditional entranceway noren fabric dividers will be the first thing to welcome tired travellers. 

A giant sumō hand overshadows the light on the ceiling, representing the tsuppari striking technique used by sumō wrestlers. The furniture, including the soft sofa, rug and chairs, is white and beige to represent the colour of the sumō ring. 

The relaxing room is punctuated with powerful illustrations of sumō wrestlers that cover the wallpaper. 

Bathroom


The round bathtub is made from Japanese cypress wood and is large enough to fit 3-4 people – perfect to soak off your tiredness with friends and family. A large wall painting (mural)  of a grand ocean view dominated by Mount. Fuji stretches across the wall. A purple curtain is suspended above the circular bath, representing the mizuhikimaku curtain which hangs above a sumō ring. 

The dressing area is equipped with a fridge and chair like a traditional bathhouse. DOSUKOI guests will also find complimentary bath salts which are a gift.

The grand mural is an original piece by Kiyoto Maruyama – one of Japan's three remaining sentō mural artists. This graceful painting was created using a large and smaller brush. As you admire the bold colours and fine details of this rare art, which is fading away as society progresses, you will be sent on a journey back through time. 

Bedroom

The spacious sleeping area consists of two levels, each of which has enough room for two people to sleep. The room also has another bed in storage, meaning that up to five guests can stay. 

Sink and Toilet

The separate sink area is equipped with a hair dryer. There is also a Japanese Washlet toilet with multiple functions. 

Amenities and Extras

The kitchen is fully equipped with cooking utensils, a microwave, refrigerator and all the daily essentials. 

After a long, relaxing hot soak, put on a light yokozuna yukata robe and you'll feel just like a sumō champion. There are also many amenities and items that fit with the DOSUKOI theme. 

MOSHI MOSHI ROOMS isn't just a hotel but is also the perfect party space for you and your friends to get together. As the cold days are still with us, how about warming up in a toasty sentō-style bathtub with your friends?

THE HIRAMATSU Kyoto is a New Luxury Hotel On Muromachi Street Renovated From a Traditional Townhouse

The new luxury hotel THE HIRAMATSU Kyoto is set to open along Muromachi Street in Kyoto on March 18, 2020.

"Explore and indulge your curiosity" is the hotel's concept

The hotel aims to create a place that encourages guests to explore and indulge their curiosities, and one that welcomes and treasures its guests in a way that only THE HIRAMATSU Kyoto can.

Built from a traditional Edo Period Kyoto-style townhouse

THE HIRAMATSU Kyoto sits pretty much in the heart of Kyoto, and is just a three-minute stroll from Karasuma Oike Station. It faces Muromachi Streetーa street that has long thrived when it comes to trade. The hotel is renovated from an old townhouse that has been around since the Edo Period, and it has been made sure that it hasn't lost that traditional design.

Nakamura Sotoni Komu: A contemporary craftsman

To progress with the renovation work, THE HIRAMATSU KYOTO called on board the executive building director of Kyoto's famous craftsman company Nakamura Sotoni Komu, who lent their skill to effect the effort.

Information

THE HIRAMATSU Kyoto

Grand Opening: March 18, 2020

Address: 361 Sanjo Agaru Ennogyojacho, Muromachi-dori, Nakagyo Ward, Kyoto
Access: 15-minutes by taxi from Kyoto Station / 3-minutes on foot from Karasuma Oike Station (via Kyoto Municipal Subway)

Official Website: https://www.hiramatsuhotels.com/eng/kyoto/