TV Anime 'Dororo' Opening Theme to be Performed by QUEEN BEE
It has been announced that 4-piece rock band QUEEN BEE will perform the opening theme song Kaen for the upcoming anime adaptation of Osamu Tezuka's manga series Dororo.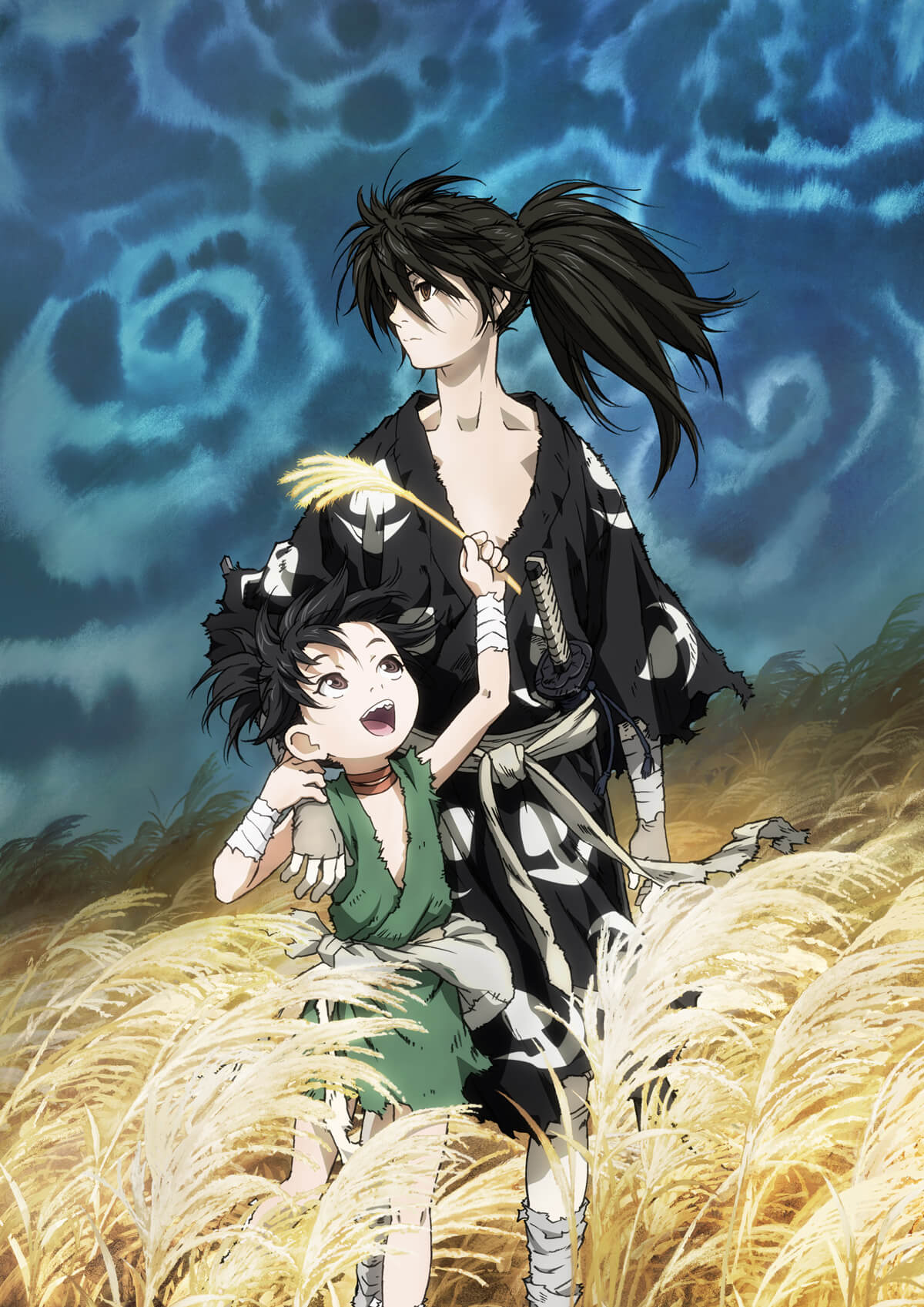 A promotional video for the anime series was released debuting QUEEN BEE's new song. A key visual has also been released featuring the story protagonists Hyakkimaru, a rōnin, and Dororo, a young orphan thief.
Kaen will be released as a single on January 30, 2019. It will come in two versions: a limited pressing edition featuring a CD and DVD and a regular edition that's coupled with two CDs. When bought at select shops you can get your hands on a special card that will enable you to view QUEEN BEE's applauded documentary for their last release Hypnotize.
Dororo will begin airing on January 7, 2019 via TOKYO MX and BS11 as well as Amazon Prime Video. More information regarding the series and the song will be released in the near future.
Information
Kaen
Release Date: January 30, 2019
Limited Pressing Edition (CD+DVD): ¥2,778 (+Tax) [AICL-3654~3655]
Regular Edition (CD): ¥1,000 (+Tax) [AICL-3656]
QUEEN BEE Official Website: http://www.ziyoou-vachi.com/
TV Anime "Dororo"
Airing on TOKYO MX from January 7, 2019 every Monday at 22:00.
Airing on BS11 from January 7, 2019 every Monday at 00:30.
Airing on Jidaigeki Channel from January 11, 2019 every Friday at 02:00.
Streaming on Amazon Prime Video in Japan and overseas from January 6, 2019 at 00:00 (JST).
Dororo Official Website: https://dororo-anime.com/
Dororo ©Tezuka Productions/TWIN ENGINE Inc.
RELATED ENTRIES
QUEEN BEE Release Music Video For Tokyo Ghoul S Main Theme 'Introduction'

QUEEN BEE just dropped their new music video for Introduction on YouTube.

The song is taken from their latest album Ju which hit shelves back in May. The song will feature as the main theme for the forthcoming film Tokyo Ghoul S, the sequel to the live-action adaptation of the popular manga and anime series Tokyo Ghoul.

The music video was directed by Nakane Sayaka who has worked on QUEEN BEE's most recent videos including HALF, Hypnotize, and Holy War.

©Sui Ishida / Shueisha   ©2019 "Tokyo Ghoul S" Production Committee

Information

Ju

Released: May 22, 2019

First Press Limited Edition (CD+DVD): ¥4,500 (Before Tax) [AICL-3700〜3701] *Includes 84-page booklet & sticker sheet

Regular Edition (CD-Only): ¥3,000 (Before Tax) [AICL-3702]

QUEEN BEE Official Website: http://www.ziyoou-vachi.com/

Tokyo Ghoul S

Based On: Tokyo Ghoul (Young Jump Comics, Shueisha) by Sui Ishida

Directors:Hiramaki Kazuhiko / Takuya Kawasaki

Screenwriter: Chūji Mikasano

Distributed by: Shochiku

Release Date: July 19, 2019 (Japan)

Official Website: http://tokyoghoul.jp/

Dororo Anime Soundtrack Album Illustration By Original Illustrator Hiroyuki Asada Revealed

Manga Dororo by Osamu Tezuka was made into an anime 50 years ago. This continual sensation is getting an official soundtrack which will be released on August 14. The CD will be titled TV Anime Dororo Music Collection Tamashi no Kodou. Hiroyuki Asada, who creates the original character design drafts, designed the illustration for the CD jacket, which has just been unveiled to the public. 

First-Press Limited Edition Version

The whimsical illustration shows Dororo and Hyakkimaru snuggling together, alone in a vast barren desert. The first-press limited edition soundtrack version comes in a luxurious tall-size DigiPak sleeve and consists of three CDs. The regular edition contains a two-disk dual case. 

Regular Version

The booklet will contain statements by illustrator Hiroyuki Asada and Yoshihiro Ike, who was in charge of the music. As a bonus, the CD jacket illustration has been adopted for use on an A2 poster, which will be sold at Animate stores countrywide. The design will also feature on clear files which will be sold on Amazon. Please check them out.

You can also view this illustration in advance at the TV Anime Dororo Original Art Exhibition Tamashi no Kodou, which is currently taking place. Please stop by to admire the illustration with your very own eyes. 

 

Dororo © Tezuka Productions Co., Ltd./TWIN ENGINE Inc.

Information

TV Anime Dororo Music Collection Tamashi no Kodou 

(TVアニメ「どろろ」音楽集-魂の鼓動-)

Release: August 14, 2019

First-Press Limited Edition 2 CDs + Blu-ray: ¥3,800 (before tax)  AICL-3745~7

Regular Edition: 2CDs: ¥2,800 (before tax) AICL-3748~10

TV Anime Dororo Original Art Exhibition Tamashi no Kodou

Running: May 31, July 15, 2019 (July 15th is a national holiday)

Opening Hours: 12:00 ー 20:00 (※Last entries accepted: 19:45) 

Closed: Tuesdays, Wednesdays, Thursdays 

Venue: space caiman (Kadokura building B1, 4-5-15, Nihonbashihongokucho, Chuo Ward, Tokyo)

Official Website: https://www.wani.com/special/dororo

Dororo

RNB (Nankai Broadcasting) : June 28, 2019 (Friday)  2:00 am (subject to change)

MBC (Minaminihon Broadcasting): August 2, 2019 (Friday) 1:45 am 

Jidaigeki Senmon Channel: November 2, 2019 (Saturday) 2:00 am

Amazon Prime Video (Available in Japan and overseas) 

Official Website: https://dororo-anime.com

Eve Releases Music Video For Dororo Ending Theme 'Yamiyo'

The music video for Eve's latest song Yamiyo was just released on YouTube, co-created by Mah and Waboku who have worked with Eve before.

Yamiyo is the second ending theme for the TV anime series Dororo. The word yamiyo means "dark night" and like the title of the song, the music video too is plunged into a dark world. A special website for the video was also launched alongside its release.

Yamiyo was also released digitally today  on major music services including iTunes, Spotify and Apple Music. A campaign is running for 100 lucky people to be randomly selected to receive a CD packaged version of the single when they purchase it on iTunes or Apple Music.

Stay tuned for the latest information surrounding Eve.

QUEEN BEE to Perform Tokyo Ghoul S Live-Action Film's Main Theme

Masataka Kubota, who is reprising his role as Ken Kaneki in the upcoming live-action film Tokyo Ghoul S, announced at the film's premiere at The Golden Hall in Ebisu that QUEEN BEE will perform the movie's main theme song.

The song is titled Introduction and is taken from QUEEN BEE's new album Ju which hit shelves in May. The band also previously performed the song HALF as the ending theme for the TV anime series Tokyo Ghoul:re.

QUEEN BEE released a new artist photo to promote the new collaboration.

Speaking about their return to the franchise once again, QUEEN BEE's vocalist Avu-chan commented: "Talks began on the day when we had finished everything on our album Ju―the music, the photos, and the music videos […] Introduction is the last song on the album. It's a song that follows the road down ten years of QUEEN BEE, and we are honoured that it will begin as the theme song for Tokyo Ghoul S. Please look forward to it."

©Sui Ishida / Shueisha   ©2019 "Tokyo Ghoul S" Production Committee

Information

Ju

Released: May 22, 2019

First Press Limited Edition (CD+DVD): ¥4,500 (Before Tax) [AICL-3700〜3701] *Includes 84-page booklet & sticker sheet

Regular Edition (CD-Only): ¥3,000 (Before Tax) [AICL-3702]

QUEEN BEE Official Website: http://www.ziyoou-vachi.com/

Tokyo Ghoul S

Based On: Tokyo Ghoul (Young Jump Comics, Shueisha) by Sui Ishida

Directors:Hiramaki Kazuhiko / Takuya Kawasaki

Screenwriter: Chūji Mikasano

Distributed by: Shochiku

Release Date: July 19, 2019 (Japan)

Official Website: http://tokyoghoul.jp/

TV Anime Dororo's Ending Theme 'Yamiyo' by Eve to be Release Digitally

It has been announced that Eve's newest song Yamiyo will be released digitally on June 25, 2019. The digital single's cover art has also been unveiled.

The song is used as the second ending theme for the anime series Dororo. The series is an adaptation of Osamu Tezuka's manga of the same name about a rōnin named Hyakkimaru whose father bartered away 48 of his body parts to 48 demons so he could obtain the power to rule the country. The story follows Hyakkimaru who now has fake body parts as he tries to defeat the 48 demons to retrieve his real parts. On the way he meets a young thief called Dororo.

The single's cover illustration was created by Mah who also worked on Eve's past tracks Bunka and Otogi. It fits perfectly with the dark tone of Yamiyo.

Information

Yamiyo

Digital Release Date: June 25, 2019 at Midnight (JST)

Eve Official Website: http://eveofficial.com

TV Anime "Dororo"

Airing on TOKYO MX from January 7, 2019 every Monday at 22:00.

Airing on BS11 from January 7, 2019 every Monday at 00:30.

Airing on Jidaigeki Channel from January 11, 2019 every Friday at 02:00.

Streaming on Amazon Prime Video in Japan and overseas from January 6, 2019 at 00:00 (JST).

Dororo Official Website: https://dororo-anime.com/

Dororo ©Tezuka Productions/TWIN ENGINE Inc.

Dororo's Soundtrack to Feature First and Second Opening & Ending Themes

It has been announced that the soundtrack for the ongoing anime series Dororo will be released by Sonic Music on August 14, 2019.

The soundtrack will included two discs. The first will feature the first opening theme Kaen by QUEEN BEE and ending theme Sayonara Gokko by amazarashi and second opening theme Dororo by ASIAN KUNG-FU GENERATION and ending theme Yamiyo by Eve. The second disc will feature 33 instrumental tracks spread across 70 minutes taken from the series. These were all composed by Yoshihiro Ike.

First Press Limited Edition copies of the soundtrack are coupled with an additional Blu-ray disc featuring the creditless opening and ending theme videos. All editions of the soundtrack feature artwork illustrated by the series' character designer Hiroyuki Asada.

Dororo is fast approaching its climax. Celebrate its 24-episode reign by picking up a copy of the soundtrack and reliving the tale.

Dororo ©Tezuka Productions/TWIN ENGINE Inc.

Information

TV Anime 'Dororo' Soundtrack

Release Date: August 14, 2019

First Press Limited Edition (2 CDs + Blu-ray): ¥3,800 (Before Tax)

Regular Edition (2 CDs): ¥2,800 (Before Tax)

TV Anime "Dororo"

Airing on TOKYO MX from January 7, 2019 every Monday at 22:00.

Airing on BS11 from January 7, 2019 every Monday at 00:30.

Airing on Jidaigeki Channel from January 11, 2019 every Friday at 02:00.

Streaming on Amazon Prime Video in Japan and overseas from January 6, 2019 at 00:00 (JST).

Dororo Official Website: https://dororo-anime.com/

Japan's Most Famous Horror Figure Sadako Features in QUEEN BEE's 'Seisen' Music Video

It has been two years since rock band QUEEN BEE released an album. Their brand new album Ju ("Ten") was just released on Wednesday 22nd May. Their song Seisen ("Holy War"), which is included on the new album, will be used as the film's main theme song for the upcoming horror film Sadako.

Along with the release of Seisen, the official music video has also gone public. The wildest thing: the scary ghost of Sadako even takes part in the music video!

Sadako x QUEEN BEE – "Seisen" Collaboration Music Video


The film Sadako is the sequel to the world-hit 1998 Japanese film Ring, which is an adaptation of Koji Suzuki's horror novel of the same name about a cursed video that when watched kills the viewer seven days after watching. With Elaiza Ikeda playing the role of the heroine and Hideo Nakata as the film's director, this latest horror film was created by the hands of an original team. The film is set to premiere in Japan on 24th May.

The music video was directed by Sayaka Nakane, who also directed the music videos for QUEEN BEE's HALF, Hypnotize and FIRE. As the film's main antagonist, Sadako makes a strong appearance in the music video. Witnessing the terrifying Sadako in a music video is something you just have to see! The song Seisen is now available for early digital download and streaming across major digital music platforms.

The new album Ju is the sequel to QUEEN BEE's previous album Q which was praised as a masterpiece. The new album consists of 10 songs, including the album version of the band's biggest singles such as FIRE; the opening theme for anime Dororo; and HALF, the ending theme for anime Tokyo Ghoul:re, both of which were hits on streaming services. Other big hits on the album include Hypnotize for which Limited Pressing Edition copies of the single sold out immediately. And of course, Sadako's main theme song Seisen is also on the album.

QUEEN BEE is currently on their 2019 Japan tour QUEEN BEE Tour 2019 "Ju" -Kaen-.

© 2019 Sadako Production Committee

New Trailer Released For 'Sadako' Film Featuring Theme Song 'Seisen' by QUEEN BEE

The original Ring film was released in Japan in 1998 and was directed by Hideo Nakata. It is an adaptation of Koji Suzuki's horror novel of the same name about a cursed video that when watched kills the viewer seven days after watching. It went on to become Japan's No. 1 horror film. The film franchise is set to receive a sequel entitled in Sadako which is set to premiere in Japan on May 24, 2019.

QUEEN BEE will perform the film's main theme song Seisen ("Holy War") which you can hear in the latest trailer.

In the trailer, we see the fear-filled protagonist Mayu (played by Elaiza Ikeda) sitting on a bed, contrasted with another scene of her where her desperate eyes are full of rage. There's also a mysterious scene of a small child with mysterious eyes.

Hideo Nakata explained how Sadako maintains that J-horror atmosphere while keeping in line with the "entertaining fear factor" of today's movies. He also noted that the film contains strong human drama elements as expressed through love as a blood connection. Nakata praised QUEEN BEE's song Seisen as being the perfect match for the film as they were able to capture and portray the movie's themes. He admitted to being in tears after seeing the band perform live.

Elaiza Ikeda's passionate performance of Mayu combined with the beautiful collaboration between Seisen and the movie are just a couple of reasons why you should check the trailer out.

©2019 Sadako Production Committee /A KADOKAWA film.

QUEEN BEE Drop Details On Forthcoming New Album 'Ju'

QUEEN BEE will release their new album Ju on May 22, 2019, their first studio album in two years. The record's lead track Seisen ("Holy War") received an early digital release on May 9.

The band revealed last month that Seisen will be used as the main theme song for the upcoming Japanese horror film Sadako, the latest entry to the Ring film series set for release in Japan on May 24, 2019. The song debuted in Japan on the J-WAVE radio show SONAR MUSIC on May 8.

Ju will feature a total of 10 tracks including Seisen, the Tokyo Ghoul:re ending theme HALF, Hypnotize which was originally only available as part of a Limited Pressing Edition, and Kaen, the opening theme song for the anime series Dororo. Each single featured on the album is an album version different from the single versions.

First Press Limited Edition copies of the album include a DVD of "Honeybee Night 4~:re~," a sold-out show organised by QUEEN BEE. They also come with an 84-page booklet filled with photos and visuals of the band as well as a special sticker sheet.

Depending on where fans purchase the CD from they will receive exclusive bonuses. Buying from either Tower Records, Amazon or their 2019 "Ju" tour will earn fans one of three cards that enables them to watch different documentary footag. This footage includes off-shots of the band when they performed at MEGAPORT FESTIVAL this year in Taiwan, an interview, and more. Additionally, when picked up at TSUTAYA RECORDS, copies will be coupled with a sticker of the CD cover art, and a sticker of the QUEEN BEE logo can be receive at select participating stores.

The band also unveiled the above-pictured new artist photo.

QUEEN BEE are in the midst of their 2019 "Ju" tour. The tour will conclude with two performances at Zepp DiverCity in Tokyo on July 5 and 6 respectively.

ASIAN KUNG-FU GENERATION Digitally Release TV Anime 'Dororo' Opening Theme

ASIAN KUNG-FU GENERATION released their new song Dororo digitally today. The song is one half of their upcoming double A-side single Dororo / Kaihouku which is set to hit shelves on May 15 and is the opening theme for the ongoing anime series Dororo.

TV Anime "Dororo" Creditless Opening Video

A creditless version of the anime's opening video was officially released on YouTube, so be sure to check out the song there.

QUEEN BEE Will Perform Theme Song For the Upcoming Film 'Sadako'

A new trailer for the latest entry to the Ring film franchise Sadako has been released. The film is set to premiere on May 24, 2019 in Japan. Check out the new trailer below.

The original Ring film was released in Japan in 1998 and was directed by Hideo Nakata. It is an adaptation of Koji Suzuki's horror novel of the same name about a cursed video that when watched kills the viewer seven days after watching.

QUEEN BEE made headlines last month for performing a cover of feels like HEAVEN which is being used in promotional videos for the film including the one above. In more recent news, it has just been announced that their new song Seisen ("Holy War") will be used as the film's main theme song.

The track will be included on the band's upcoming new album Ju ("Ten") which will drop on May 22, 2019 just before the film's release.

A new promo visual has also been released featuring the protagonist Mayu about to close her camera shutter as some familiar hands show their ghoulish hands from behind her. This poster is creepy enough to have us thinking we're already cursed by looking at it!

Information

Sadako

Release Date: February 24, 2019

Official Website: sadako-movie.jp

©2019 "Sadako" Production Committee

QUEEN BEE – "Ju"

Release Date: May 22, 2019

First Press Limited Edition (CD+DVD): ¥4,500 (Before Tax)

Regular Edition (CD-Only): ¥3,000 (Before Tax)

Official Website: http://www.ziyoou-vachi.com/

Dororo Creditless Opening Video Featuring Theme Song by ASIAN KUNG-FU GENERATION's Released on YouTube

The creditless opening video of the TV anime series Dororo has been officially released on YouTube. The song which shares the same name as the series is performed by ASIAN KUNG-FU GENERATION.

Dororo is a manga series by Osamu Tezuka about a rōnin named Hyakkimaru whose father bartered away 48 of his body parts to 48 demons so he could obtain the power to rule the country. The story follows Hyakkimaru who now has fake body parts as he tries to defeat the 48 demons to retrieve his real parts. On the way he meets a young thief called Dororo.

The song will be released as a double A-side single entitled Dororo/Kaihouku on May 15, 2019. It will also receive an early digital release on April 22.

Talking about the song and series, the band made the following statement: "It is a profound and multilayered series that shows satire towards modern society and people behind its setting and old, mysterious story. We put love into making the song so as not to not let down the manga's author Tezuka."

Information

Dororo / Kaihouku

Release Date: May 15, 2019

First Press Limited Edition (CD+Blu-ray): ¥3,241 (Before Tax) [KSCL-3146~3147]

Regular Edition  (CD-Only): ¥1,000 (Before Tax) [KSCL-3148]

ASIAN KUNG-FU GENERATION Official Website: www.asiankung-fu.com

Dororo Official Website: https://dororo-anime.com/