amazarashi Releases Music Video for Dororo Ending Theme 'Sayonara Gokko'
The long-awaited music video for amazarashi's new single Sayonaro Gokko has finally arrived. A short version was posted on his official YouTube channel which can be checked out below.
amazarashi – "Sayonara Gokko" Short Music Video

Sayonara Gokko is used as the ending theme for the ongoing anime adaptation of Osamu Tezuka's manga series series Dororo of the same name. The song tackles the series characters' Hyakkimaru and Dororo's ability to move forward even during hardships.
The music video was produced by YKBX who has been in charged in much of the artwork for amazarashi's releases. This is amazarashi's first fully-animated music video since Mudai in 2015 and sees Hiromu Akita himself wandering the streets aimlessly.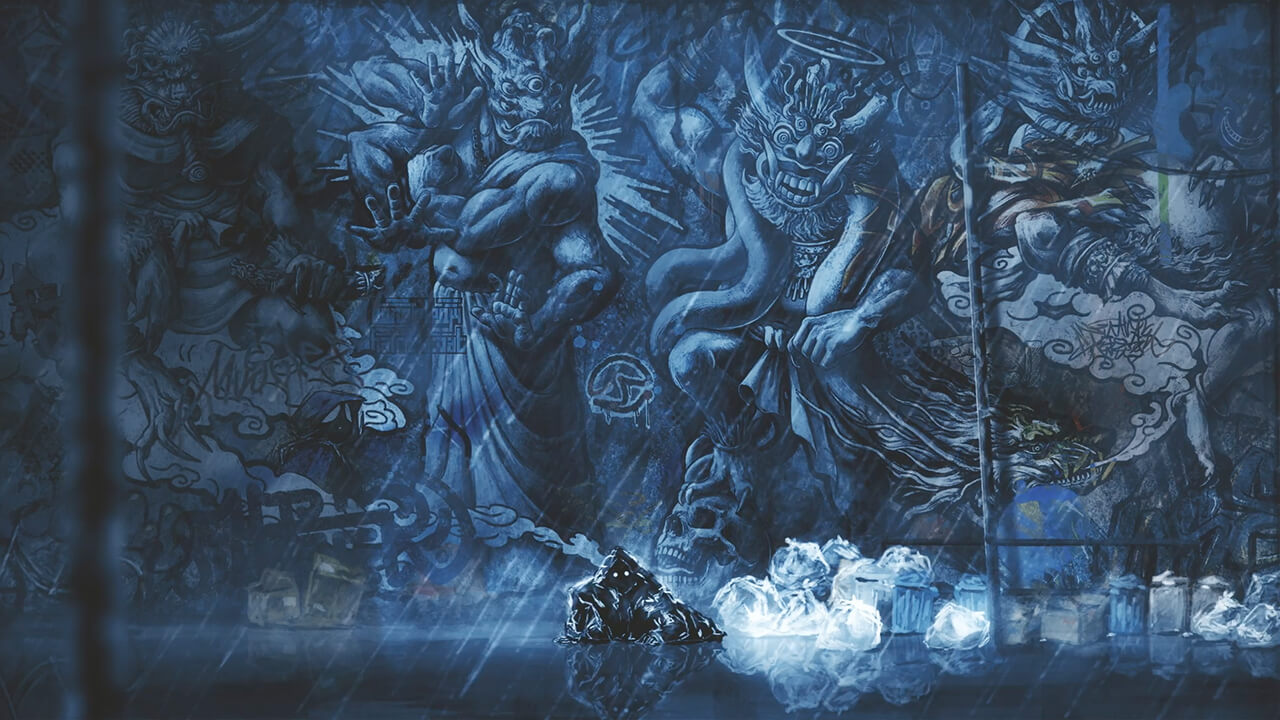 As well as Sayonara Gokko the single includes the new songs Sore o Kotoba Toiu and Aizakku. The First Press Limited Edition will include a 70-minute DVD featuring amazarashi's performance at Nakano Sunplaza, an additional concert on their 11-date 2018 tour.
Dororo is a manga series by Osamu Tezuka about a rōnin named Hyakkimaru whose father bartered away 48 of his body parts to 48 demons so he could obtain the power to rule the country. The story follows Hyakkimaru who now has fake body parts as he tries to defeat the 48 demons to retrieve his real parts. On the way he meets a young thief called Dororo.
RELATED ENTRIES
amazarashi's New Music Video Features Multiple Famous Japanese Actors

Aomori-based Japanese rock band amazarashi, which is centred around its vocalist and guitarist Hiromu Akita, has released the music video for their song Mirai ni Narenakatta Ano Yoru ni taken from their upcoming live DVD/Blu-ray Mirai ni Narenakatta Subete no Yoru ni which is set for release on November 27, 2019.

amazarashi – "Mirai ni Narenakatta Ano Yoru ni" Music Video

The music video features a cast of notable Japanese actors. When it was revealed that the likes of Ryusei Yokohama, Yosuke Sugino, Yuki Izumisawa, and Tokio Emoto, the news blew up on Japanese television and trended across social media. amazarashi became close with Japanese film director Michihito Fujii as they wrote the song Tarareba as the main theme song for his movie Ao no Kaerimichi. This led to Fujii writing the story for the music video, which is centred on past stories of amazarashi member Hiromu Akita.

The video was shot over a three-day period in 21 different locations. Some of the scenes were difficult and took a lot of effort to get right too, like the part when Ryusei Yokohama cries and screams into the falling rain along the train track at the exact same moment the train passes by.

The video also sees additional casting from actors Yurika Nakamura and Shodai Fukuyama, both of whom have starred in leading film roles, as well as young up-and-coming actor Keisuke Tomita, Takayuki Hamatsu who played the leading role in One Cut of the Dead, a cameo of music Youtuber Kobasolo who has over 2.2 million subscribers, and more.

Comments from Ryusei Yokohama, Yosuke Sugino, Yuki Izumisawa, and Tokio Emoto were published on the special site for amazarashi's forthcoming DVD/Blu-ray release. Below are their comments translated into English.

Ryusei Yokohama: "I am overwhelmed that I could be a part of such a great cast alongside director [Michihito] Fujii and the wonderful staff for amazarashi's music video. I saw that they were filming it on such an emotional and grand scale like a movie, and how beautiful of a music video it was to be, so I knew I had to be involved with this team and make that movie with them. I met amazarashi during [the shoot for] Ao no Kaerimichi and began listening to them from then onward. Their music feels close to me at any time. It's indispensable for me. Their song Mirai ni Narenakatta Ano Yoru ni is full of their extraordinary thoughts. It's a song I can relate to. It hits home. I think it's one a lot of people will be able to relate to. I hope amazarashi's appeal attracts a lot of people."

Yosuke Sugino: "Akita from amazarashi made me feel what it's like to step into his shoes for a bit with this song and music video. It was a unique music video shoot. I was looking forward to seeing how they were going to do everything, and after I did, I ended up even more attracted to the idea than I had imagined. It moved me. I hope you all get on board too. This was my first time acting alongside Izumisawa and Emoto, but we had the band members too, so thanks to them I was able to get close to them early on into the shoot. I felt there was a good air for the session. It had also been a while since I co-starred with Ryusei Yokohama, so I was just beaming."

Yuki Izumisawa: "I had the opportunity to be in amazarashi's music video. It's the same in Mirai ni Narenakatta Ano Yoru ni, but amazarashi's messages in their music is so powerful. Each and every word leave a delicate impression on you. Plus, Michihito Fujii was the director, and was able to make [the music video] pull you in like a movie. I hope it reaches a lot of people, even one. Please look forward to seeing it."

Tokio Emoto: "I wasn't too familiar with amazarashi's music, so I came to learn more about them with this music video. One thing that I thought when shooting the music video was how difficult and scary it is for something to come to an end. But it also means the start of something new. I felt that the end of this song was the start of another. I'm not sure if that's what they were going for. I had fun being involved. Thank you to everyone."

Information

Mirai ni Narenakatta Ano Yoru ni

Released: November 20, 2019

Download/Stream: https://smar.lnk.to/ZOdy4

amazarashi LIVE TOUR 2019 "Mirai ni Narenakatta Subete no Yoru ni"

Release Date: November 27, 2019

Limited Pressing Edition (Blu-ray)

Includes: Blu-ray, 2 Discs, Original Sweatshirt, LP CD Cover, Zip Lock Packaging

Price: ¥8,000 (Before Tax) / Stock No.: AIXL-127〜130

Pre-Orders: https://smar.lnk.to/zt_5l

Limited Pressing Edition (DVD)

Includes: DVD, 2 Discs, Original Sweatshirt, LP CD Cover, Zip Lock Packaging

Price: ¥7,000 (Before Tax) / Stock No.: AIBL-9439〜9442

Pre-Orders: https://smar.lnk.to/baEIk

Regular Edition (Blu-ray)

Includes: Blu-ray

Price: ¥5,300 (Before Tax) / Stock No.: AIXL-126

Pre-Orders: https://smar.lnk.to/ZN8Ex

Regular Edition (DVD)

Includes: DVD

Price: ¥4,300 (Before Tax) / Stock No.: AIBL-9438

Pre-Orders: https://smar.lnk.to/gl4T3

Blu-ray/DVD Special Site: https://www.amazarashi.com/miraininarenakatta

amazarashi Official Website: http://www.amazarashi.com/

amazarashi Drops Trailer For Upcoming Live DVD & Blu-ray

Aomori-based Japanese rock band amazarashi, which is centred around its vocalist and guitarist Hiromu Akita, have released a trailer for their upcoming live DVD/Blu-ray Mirai ni Narenakatta Subete no Yoru ni which is set for release on November 27, 2019.

The release will feature amazarashi's performance at Nakano Sun Plaza which was held as the finale of the band's 18-show tour which began in April 2019. It also features the band's set at SUMMER SONIC 2019 Spotify on Stage in MIDNIGHT SONIC. Fans can look forward to watching the first-ever live performance of their new song Mirai ni Narenakatta Ano no Yoru ni, as well as a self-cover of Long Hope Philiaーthe theme song of the anime film My Hero Academia: Two Heroes and fifth ending theme of the My Hero Academia anime seriesーwhich was composed and written by amazarashi for Masaki Suda. In total, the DVD/Blu-ray includes 19 songs.

 

Mirai ni Narenakatta Ano Yoru ni will be released digitally on November 20.

 

We look forward to seeing the newest live release from amazarashi, whose Budokan concert live DVD/Blu-ray won the Spikes Asia Creative Award and ACC TOKYO CREATIVE AWARD.

Information

amazarashi LIVE TOUR 2019 "Mirai ni Narenakatta Subete no Yoru ni"

Release Date: November 27, 2019

 

Limited Pressing Edition (Blu-ray)

Includes: Blu-ray, 2 Discs, Original Sweatshirt, LP CD Cover, Zip Lock Packaging

Price: ¥8,000 (Before Tax) / Stock No.: AIXL-127〜130

Pre-Orders: https://smar.lnk.to/zt_5l

 

Limited Pressing Edition (DVD)

Includes: DVD, 2 Discs, Original Sweatshirt, LP CD Cover, Zip Lock Packaging

Price: ¥7,000 (Before Tax) / Stock No.: AIBL-9439〜9442

Pre-Orders: https://smar.lnk.to/baEIk

 

Regular Edition (Blu-ray)

Includes: Blu-ray

Price: ¥5,300 (Before Tax) / Stock No.: AIXL-126

Pre-Orders: https://smar.lnk.to/ZN8Ex

 

Regular Edition (DVD)

Includes: DVD

Price: ¥4,300 (Before Tax) / Stock No.: AIBL-9438

Pre-Orders: https://smar.lnk.to/gl4T3

Blu-ray/DVD Special Site: https://www.amazarashi.com/miraininarenakatta

amazarashi Official Website: http://www.amazarashi.com/

Dororo Anime Soundtrack Album Illustration By Original Illustrator Hiroyuki Asada Revealed

Manga Dororo by Osamu Tezuka was made into an anime 50 years ago. This continual sensation is getting an official soundtrack which will be released on August 14. The CD will be titled TV Anime Dororo Music Collection Tamashi no Kodou. Hiroyuki Asada, who creates the original character design drafts, designed the illustration for the CD jacket, which has just been unveiled to the public. 

First-Press Limited Edition Version

The whimsical illustration shows Dororo and Hyakkimaru snuggling together, alone in a vast barren desert. The first-press limited edition soundtrack version comes in a luxurious tall-size DigiPak sleeve and consists of three CDs. The regular edition contains a two-disk dual case. 

Regular Version

The booklet will contain statements by illustrator Hiroyuki Asada and Yoshihiro Ike, who was in charge of the music. As a bonus, the CD jacket illustration has been adopted for use on an A2 poster, which will be sold at Animate stores countrywide. The design will also feature on clear files which will be sold on Amazon. Please check them out.

You can also view this illustration in advance at the TV Anime Dororo Original Art Exhibition Tamashi no Kodou, which is currently taking place. Please stop by to admire the illustration with your very own eyes. 

 

Dororo © Tezuka Productions Co., Ltd./TWIN ENGINE Inc.

Information

TV Anime Dororo Music Collection Tamashi no Kodou 

(TVアニメ「どろろ」音楽集-魂の鼓動-)

Release: August 14, 2019

First-Press Limited Edition 2 CDs + Blu-ray: ¥3,800 (before tax)  AICL-3745~7

Regular Edition: 2CDs: ¥2,800 (before tax) AICL-3748~10

TV Anime Dororo Original Art Exhibition Tamashi no Kodou

Running: May 31, July 15, 2019 (July 15th is a national holiday)

Opening Hours: 12:00 ー 20:00 (※Last entries accepted: 19:45) 

Closed: Tuesdays, Wednesdays, Thursdays 

Venue: space caiman (Kadokura building B1, 4-5-15, Nihonbashihongokucho, Chuo Ward, Tokyo)

Official Website: https://www.wani.com/special/dororo

Dororo

RNB (Nankai Broadcasting) : June 28, 2019 (Friday)  2:00 am (subject to change)

MBC (Minaminihon Broadcasting): August 2, 2019 (Friday) 1:45 am 

Jidaigeki Senmon Channel: November 2, 2019 (Saturday) 2:00 am

Amazon Prime Video (Available in Japan and overseas) 

Official Website: https://dororo-anime.com

Eve Releases Music Video For Dororo Ending Theme 'Yamiyo'

The music video for Eve's latest song Yamiyo was just released on YouTube, co-created by Mah and Waboku who have worked with Eve before.

Yamiyo is the second ending theme for the TV anime series Dororo. The word yamiyo means "dark night" and like the title of the song, the music video too is plunged into a dark world. A special website for the video was also launched alongside its release.

Yamiyo was also released digitally today  on major music services including iTunes, Spotify and Apple Music. A campaign is running for 100 lucky people to be randomly selected to receive a CD packaged version of the single when they purchase it on iTunes or Apple Music.

Stay tuned for the latest information surrounding Eve.

TV Anime Dororo's Ending Theme 'Yamiyo' by Eve to be Release Digitally

It has been announced that Eve's newest song Yamiyo will be released digitally on June 25, 2019. The digital single's cover art has also been unveiled.

The song is used as the second ending theme for the anime series Dororo. The series is an adaptation of Osamu Tezuka's manga of the same name about a rōnin named Hyakkimaru whose father bartered away 48 of his body parts to 48 demons so he could obtain the power to rule the country. The story follows Hyakkimaru who now has fake body parts as he tries to defeat the 48 demons to retrieve his real parts. On the way he meets a young thief called Dororo.

The single's cover illustration was created by Mah who also worked on Eve's past tracks Bunka and Otogi. It fits perfectly with the dark tone of Yamiyo.

Information

Yamiyo

Digital Release Date: June 25, 2019 at Midnight (JST)

Eve Official Website: http://eveofficial.com

TV Anime "Dororo"

Airing on TOKYO MX from January 7, 2019 every Monday at 22:00.

Airing on BS11 from January 7, 2019 every Monday at 00:30.

Airing on Jidaigeki Channel from January 11, 2019 every Friday at 02:00.

Streaming on Amazon Prime Video in Japan and overseas from January 6, 2019 at 00:00 (JST).

Dororo Official Website: https://dororo-anime.com/

Dororo ©Tezuka Productions/TWIN ENGINE Inc.

Dororo's Soundtrack to Feature First and Second Opening & Ending Themes

It has been announced that the soundtrack for the ongoing anime series Dororo will be released by Sonic Music on August 14, 2019.

The soundtrack will included two discs. The first will feature the first opening theme Kaen by QUEEN BEE and ending theme Sayonara Gokko by amazarashi and second opening theme Dororo by ASIAN KUNG-FU GENERATION and ending theme Yamiyo by Eve. The second disc will feature 33 instrumental tracks spread across 70 minutes taken from the series. These were all composed by Yoshihiro Ike.

First Press Limited Edition copies of the soundtrack are coupled with an additional Blu-ray disc featuring the creditless opening and ending theme videos. All editions of the soundtrack feature artwork illustrated by the series' character designer Hiroyuki Asada.

Dororo is fast approaching its climax. Celebrate its 24-episode reign by picking up a copy of the soundtrack and reliving the tale.

Dororo ©Tezuka Productions/TWIN ENGINE Inc.

Information

TV Anime 'Dororo' Soundtrack

Release Date: August 14, 2019

First Press Limited Edition (2 CDs + Blu-ray): ¥3,800 (Before Tax)

Regular Edition (2 CDs): ¥2,800 (Before Tax)

TV Anime "Dororo"

Airing on TOKYO MX from January 7, 2019 every Monday at 22:00.

Airing on BS11 from January 7, 2019 every Monday at 00:30.

Airing on Jidaigeki Channel from January 11, 2019 every Friday at 02:00.

Streaming on Amazon Prime Video in Japan and overseas from January 6, 2019 at 00:00 (JST).

Dororo Official Website: https://dororo-anime.com/

ASIAN KUNG-FU GENERATION Digitally Release TV Anime 'Dororo' Opening Theme

ASIAN KUNG-FU GENERATION released their new song Dororo digitally today. The song is one half of their upcoming double A-side single Dororo / Kaihouku which is set to hit shelves on May 15 and is the opening theme for the ongoing anime series Dororo.

TV Anime "Dororo" Creditless Opening Video

A creditless version of the anime's opening video was officially released on YouTube, so be sure to check out the song there.

Dororo Creditless Opening Video Featuring Theme Song by ASIAN KUNG-FU GENERATION's Released on YouTube

The creditless opening video of the TV anime series Dororo has been officially released on YouTube. The song which shares the same name as the series is performed by ASIAN KUNG-FU GENERATION.

Dororo is a manga series by Osamu Tezuka about a rōnin named Hyakkimaru whose father bartered away 48 of his body parts to 48 demons so he could obtain the power to rule the country. The story follows Hyakkimaru who now has fake body parts as he tries to defeat the 48 demons to retrieve his real parts. On the way he meets a young thief called Dororo.

The song will be released as a double A-side single entitled Dororo/Kaihouku on May 15, 2019. It will also receive an early digital release on April 22.

Talking about the song and series, the band made the following statement: "It is a profound and multilayered series that shows satire towards modern society and people behind its setting and old, mysterious story. We put love into making the song so as not to not let down the manga's author Tezuka."

Information

Dororo / Kaihouku

Release Date: May 15, 2019

First Press Limited Edition (CD+Blu-ray): ¥3,241 (Before Tax) [KSCL-3146~3147]

Regular Edition  (CD-Only): ¥1,000 (Before Tax) [KSCL-3148]

ASIAN KUNG-FU GENERATION Official Website: www.asiankung-fu.com

Dororo Official Website: https://dororo-anime.com/

Ren Koseki's Top 5 Recommended 2019 Winter Anime

I think we can agree when it's this cold out, there's nothing better than sitting at home inside your warm room binging anime!

Hi everyone, I'm Ren Koseki, and these are my top 5 picks from the 2019 winter season anime list!

Kakegurui ××

The story of this series takes place in Hyakkaou Private Academy where the student hierarchy is determined by money sent to the student council. These contributions come from gambling carried out by the council in the school. The students become crazy and chaotic when it comes to gambling which leads to some very over-the-top scenes.

In the new season the gambling is taken to an extreme level by the student council who has overwhelming authority in the school. The cheating and mind games too continue as students bet their money. The first season aired in 2017 so I recommend watching that first. The new season introduces new characters crazed with unique personalities. You might think I'm talking about how crazy it is too much, but you have to see it to believe it!

Streaming

Netflix

©Homura Kawamoto・Tōru Naomura / SQUARE ENIX・"Kakegurui ××" Production Committee

Kaguya-sama: Love Is War

Kaguya Shinomiya is the vice president of Shuchiin Academy's student council while Miyuki Shirogane is the president. The two of them have feelings for each other but are too prideful to confess their love for one another, leading to a battle of romantic mind games to make the one another confess their love first. Since both of them are so smart this leads to some intellectual mind games, but their offence and defence and main goal being to make the one say they like the other is so pure. In any case there are lots of parts where the desperate two are so cute it's like medicine to the soul. It gets right into the story too and is really easy to watch.

Streaming

Netflix / Amazon Video / Hulu / Nico Nico Channel / Bandai Channel / GYAO!

©Aka Akasaka / Shueisha・Kaguya-sama: Love Is War Production committee

TOKYO MXにてご覧いただきありがとうございました✨

なんて幸せな一コマなんでしょう……。ちょっと懐かしい気持ちになった方も多いはず🎵#wataten pic.twitter.com/fay7gls8P8

— TVアニメ「私に天使が舞い降りた!」公式 (@watatentv) 2019年2月5日

Wataten!: An Angel Flew Down to Me

Miyako is a college student and otaku who meets the "angel" Hana, an elementary school student and friend of her younger sister's. She becomes captivated by Hana's cuteness the moment she sees her.

It's an anime that will warm your heart. All of the girls in it are cute! All of their personalities are different, so it's wonderful to get to take in different types of cuteness all at once. There are funny scenes too where she tries hard to close the distance between her and Hana despite being a shy otaku only for it to fail. This is probably something shy people can relate to. In any case, this anime with its cute girls is sure to make you feel warm and fluffy.

Streaming

Amazon Video / Hulu / Nico Nico Channel / GYAO!

©Nanatsu Mukunoki・Ichijinsha / Wataten Production Committee

Ueno-san wa Bukiyō

The romance-comedy series is set in the science classroom of junior high school. Ueno-san is the Science Club leader and in love with her fellow underclassman Tanaka, but he has no interest in her whatsoever soo get him to notice her, Ueno-san makes full use of her bizarre inventions. She tries and tries but it just irritates Tanaka more but it only makes her want to try even harder. Seeing her like that makes you cheer her on! Each episode is short so I think it's easy to get into.

Streaming

Nico Nico / AbemaTV / Docomo Anime Store

Official Website: http://www.miss-ueno.com

© tugeneko・Hakusensha / Ueno-san wa Bukiyō Production Committee

Dororo

The manga for this series is a shonen written by Osamu Tezuka The story is about a rōnin named Hyakkimaru whose father bartered away 48 of his body parts to 48 demons. Now with fake body parts, his goal is to defeat the 48 demons to retrieve his real parts together with the young thief Dororo. You can't help but be invested in seeing what happens as Hyakkimaru defeats the demons and becomes a little more human each time. The new series is also a remake of an older anime. Contrary to what you'd expect, it doesn't look old fashioned but modern, and the action and scenes are beautiful. The original work is unfinished so nobody knows how it's going to end. I can't wait!

Streaming

Amazon Prime Video

Official Website: https://dororo-anime.com/ 

Dororo ©Tezuka Production / Twin Engine

【キービジュアル公開】電撃祭ステージにて、「ブギーポップは笑わない」キービジュアルを公開しました!公式サイトもリニューアルしております!⇒https://t.co/N8SYWImRwU
"世界の敵"を斃すため浮かび上がる死神。その目に映るものは――。#boogiepop pic.twitter.com/BEZBV9sG2p

— TVアニメ『ブギーポップは笑わない』公式 (@boogiepop_anime) 2018年10月7日

This isn't part of my main list but I'm also currently checking out Boogiepop wa Warawanai! This is the type of series where you have to watch everything to understand the full story, so I omitted it from my line-up because it's difficult to explain, but I watch it every week. It's a really well made anime that makes you use your head!

Streaming

Netflix / Amazon / Huku / Nico Nico / Bandai Channel / PlayStation™ Video

©2018 Kouhei Kadono / KADOKAWA ASCII Media Works / Boogiepop wa Warawanai Production Committee

This ends my list of 2019 winter anime. I hope you enjoy!

QUEEN BEE Releases Music Video for Dororo Opening Theme 'Kaen'

QUEEN BEE released their new single Kaen (FIRE) last week which is used as the opening theme for the TV anime series Dororo.

The band has just dropped the music video on their YouTube channel which was directed by Sayaka Nakane who worked on the band's previous videos for HALF and Saiminjutsu.

First Press Limited Edition copies of the single include a DVD featuring the second half of the band's concert at Zepp Tokyo, the final show of their sold-out 2018 "HALF" tour.

First Press Regular Edition copies include an application card to attend the band's acoustic live show being held to support the release of Kaen.

The new single is available to listen to on Spotify and Apple Music and to download on iTunes.

amazarashi Releases TV Anime Dororo Ending Theme & Live Tour Video

Japanese rock band amazarashi has released a trailer for their 2018 live tour "Chihou Toshi no Memento Mori" which is featured on the DVD included with First Press Limited Edition copies of their new single Sayonara Gokko set for release on CD on February 13.

The trailer contains footage taken from the band's performance at Nakano Sunplaza, an extra show that was added to the 11-date tour from last year. It teases performances of the band's songs Word Processor, Philosophy and Starlight.

Sayonara Gokko is used as the ending theme for the ongoing anime series Dororo. The song was released digitally on January 30, 2019.

Japanese rock band QUEEN BEE releases opening theme song for anime "Dororo" – catch their limited acoustic live!

Japanese rock band QUEEN BEE performed "Kaen", the opening theme song for anime "Dororo". Now, there is an opportunity to catch them live! Last week, their new song "Kaen" was released in advance on CD and was made available on music streaming services. As a limited-edition streaming service, you can access a special package of four songs in the "Kaen full edition" package, which can be reserved via iTunes.

  The band is celebrating the release of their standard-limited edition version with a commemoration "Acoustic Live", to which fans can apply to attend. Customers who purchase this product can enter into a prize draw to attend the premium live by completing and sending the postcard which can be found inside the CD case. There will only be 100 lucky winners! To find out more information on how to attend the live, or for more information on the release of "Kaen", please consider purchasing the CD!

 In addition, you can listen to their new song "Saiminjutsu" (acc.ver) ahead of its release, as it will be available from midday on Monday 28th January 2019 until 12:00 in the morning. This song is included on their new single "Kaen". To listen, please join the fan club so you can quickly listen to their new song!

Information

Kaen (火炎)

Release date:30th January 2019

Price

Complete limited edition:(CD+DVD)¥2,778 + tax 

※Limited number of copies. Sales will end once stock is depleted.

Standard edition:(CD)¥1,000 + tax

Kaen advanced streaming & "Kaen full edition" reservation link :https://smar.lnk.to/3P8CxWN

 

This song is only available for streaming for a 24-hour period.

Saiminjutsu (acc. ver) available on Kaen single

Fanclub:【Honeybee fan club 蜜蜂倶楽部】Allows access to listen to this single in advance for 24-hour period.

Join here:http://fc.ziyoou-vachi.com/

Ziyoou-Vachi "Kaen" release commemoration acoustic live

Fill out the postcard that comes with the standard-limited edition single to apply. 100 applicants will be chosen by prize draw to attend the commemorative acoustic live. For more information on how to apply, please check the postcard that comes inside the CD case.

Ziyoou-Vachi official website

URL:http://www.ziyoou-vachi.com/

TV anime "Dororo"

From 7th Jan 2019 (TOKYO MX) every Monday from 22:00

From 7th Jan 2019 (BS11) every Monday from 24:30

Streaming services

Amazon Prime Video available in Japan and worldwide

The first episode is available 24 hours before it is available to view on TV.

 

Official website: https://dororo-anime.com/

  

Dororo(c)Tezuka Productions/TWIN ENGINE