Hiroyuki Sawano's First Solo Performance in Shanghai a Roaring Success
Japanese musician and composer Hiroyuki Sawano is lauded with writing soundtracks for a list of popular anime series including all three seasons of Attack on Titan, Kill la Kill, Mobile Suit Gundam Unicorn and the recent anime film Mobile Suit Gundam Narrative which was released on November 30.
Sawano released his hit double A-side single narrative/NOISEofRAIN last month under his other artist name SawanoHiroyuki[nZk]. The songs featured guest vocals from LiSA and Takanori Nishikawa respectively. The single clocked into the Top 10 of Oricon's CD Single Weekly Rankings. It also crowned iTunes at No. 3 and mora at No. 1.
Sawano has been very busy recently. While composing music for anime series he has also been drawing popularity overseas. Yesterday on December 6 he performed his first solo concert in Shanghai to a crowd of 2,000 at the recently-renovated Oriental Art Center.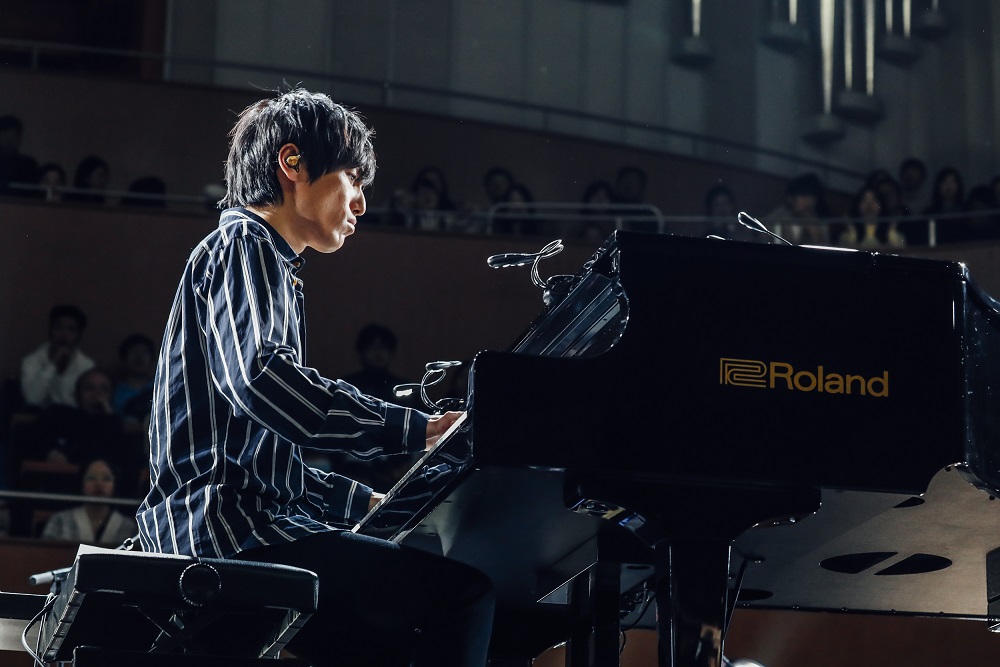 The show featured vocal appearances from Aimee Blackschleger, mpi, Gemie, and Tielle who are familiar voices on Sawano's works. The 22-song set included Mobile Suit Gundam Unicorn, Attack on Titan, Kabaneri of the Iron Fortress, Kill La Kill and more. It was a huge success for Sawano's first overseas solo concert.
Be sure to get your hands on a copy of his new single!
Information
Hiroyuki Sawano LIVE [nZk] in Shanghai
Venue: Oriental Art Center
Website: http://www.shoac.com.cn/
*The concert has now finished.
narrative / NOISEofRAIN
On Sale: November 28, 2018
First Press Limited Edition (CD+DVD): ¥1,500 (Pre-Tax) / ¥1,620 (Tax Included)
Regular Edition (CD): ¥1,250 (Pre-Tax) / ¥1,350 (Tax Included)
Limited Pressing Edition (Mobile Suit Gundam Narrative Edition) (CD): ¥1,500 (Pre-Tax) / ¥1,620 (Tax Included)
*First Press Limited Edition DVD includes music videos for 'narrative' and 'Christmas Scene.'
Hiroyuki Sawano – Mobile Suit Gundam Narrative Original Soundtrack
On Sale: November 28, 2018
Price: ¥2,778 (Pre-Tax) / ¥3,000 (Tax Included)
Hiroyuki Sawano Official Website: http://www.sawanohiroyuki.com/
SawanoHiroyuki[nZk] Official Website: http://www.sh-nzk.net/
SawanoHiroyuki[nZk] Official YouTube Channel: https://www.youtube.com/user/SawanoHiroyukiSMEJ
RELATED ENTRIES
Attack on Titan Song 'ətˈæk 0N tάɪtn<TFSv>' Gets Anime Music Video

An animated music video for the track ətˈæk 0N tάɪtn<TFSv> from Attack on Titan The Final Season has been uploaded to YouTube. The song will be featured on the upcoming second soundtrack, scheduled to be released on June 22 and composed by Hiroyuki Sawano. The track itself was played during a crucial moment in Episode 87. 

The music video features footage from The Final Season Part 2, which aired from January to April.

ətˈæk 0N tάɪtn<TFSv> – Attack on Titan The Final Season OST (Official Music Video)

The soundtrack will include 15 tracks including Ashes on the Fire -PTV- and Footsteps of Doom. Fans of the series won't want to miss picking it up, and it will also be available to stream on all major streaming services this week.

The final episodes of Attack on Titan The Final Season will air on NHK General in 2023.

©諫山創・講談社/「進撃の巨人」The Final Season製作委員会

'AMAIM Warrior at the Borderline' Ending Theme to be Performed by Natumi., Produced by Hiroyuki Sawano

The mysterious singer Natumi., known for her incredibly powerful voice, will make her CD debut on June 1, 2022, with music produced by Hiroyuki Sawano. 

 

The singer's debut song pARTs has also been chosen as the ending theme for the second season of SUNRISE BEYOND's first original anime series 'AMAIM Warrior at the Borderline,' which began airing on April 12, 2022. To mark the start of the broadcast, the track is now available to stream and the music video has been released!

 

pARTs Music Video:

Natumi. Comment

Nice to meet everyone! I'm Natumi, and I've been put in charge of the ending theme for the second season of 'AMAIM Warrior at the Borderline,' which began airing on April 11. 

Of course, the series is filled with intense battle scenes, but you also get to see the capacity of human beings to be kind. The dialogue between the characters is incredible as well.

I became completely obsessed with season one after being drawn in by the show's unique worldview.

I've loved anime since I was a child, and I'm so thrilled to be able to sing the ending theme for this awesome series. Hiroyuki Sawano, someone I adore and look up to so much, produced the song!

I hope tons of people will listen to pARTs because it turned into a truly magnificent and powerful song. Please continue to support both the series and myself as well!

 

Hiroyuki Sawano Comment

I was given the opportunity to produce Natumi.'s debut song. 

Her incredibly powerful and penetrating voice and the way she approaches her music have helped me to expand my own sound in new ways. This process also became a place where we could imagine how her career is going to progress and how she will evolve as a vocalist going forward. I'm looking forward to seeing how the finished track will impact those watching 'AMAIM Warrior at the Borderline.'

More Cast, Details Announced for Upcoming Fanfare of Adolescence Anime Series

New details have emerged about Fanfare of Adolescence, an upcoming anime series following young boys aiming to become horse jockeys. Masako Katsumi will play Naoko Saionji, the main character's foster parent, while Daisuke Namikawa will play Yoshihisa Kuji, a jockey who meets Yu at a local racetrack.


 

Additional new information will be presented during an upcoming YouTube livestream on March 6 on the official Aniplex channel. The opening theme, performed by popular boy band J01, and the ending theme by SawanoHiroyuki[nZk] with J01 members Junki Kono and Sho Yonashiro will be previewed for the first time during the broadcast, so don't miss it!

Additional Characters

Naoko Saionji (Masako Katsuki)
The president of the company Yu Arimura was signed to when he was an idol.
She has acted Yu's foster parent.

Yoshihisa Kuji (Daisuke Namikawa)
A graduate of a horse racing school and an active jockey.
He meets Yu by chance at a racetrack.

©Fanfare Anime Project

J01, SawanoHiroyuki[nZk] to Perform Opening and Ending Themes for Fanfare of Adolescence Anime Series

Fanfare of Adolescence, an anime series following young boys aiming to become horse jockeys, is scheduled to premiere this spring. The opening theme will be performed by popular boy band J01, while the ending theme will be SawanoHiroyuki[nZk] with J01 members Junki Kono and Sho Yonashiro.

The opening theme is titled Move the Soul, with all 11 members of J01 participating in the catchy track. The ending track is OUTSIDERS by SawanoHiroyuki[nZk]: Junki Kono & Shou Yonashiro. This [nZk] vocal song project has brought together a number of guest singers since it began in 2014, with many of Sawano's tracks used in anime and drama series, including Attack on Titan.

Gaining admission to horse racing schools is extremely difficult, with prospective students required to do a written exam and a physical and motor function test. After being admitted, the boys in Fanfare of Adolescence live in a boarding house and must overcome trial after trial. 

The series will begin airing in Spring 2022 on TOKYO MX, BS11, Gunma TV, Tochigi TV, and MBS.

Fanfare of Adolescence Trailer #1: https://youtu.be/APOBicMkuMI

Comment from J01's Leader Sho Yonashiro

J01 has been chosen to perform the theme song for Fanfare of Adolescence. When I first heard about the project, I was surprised and excited, but I also felt a sense of responsibility. We're incredibly grateful for this opportunity, and all of the members are hyped.


The concept of the anime is 'youthful ensemble drama/horse racing/survival game,' so I'm super excited to see the final product.


I'm happy to be participating in the ending theme as well!

Junki and I will be singing the ending theme together! I was nervous at first since it's just the two of us, but I think the song really turned out great. Please look forward to it!


Enjoy both of these tracks as you watch Fanfare of Adolescence!

Comment from Hiroyuki Sawano

I'm happy to be in charge of the music for Fanfare of Adolescence, and also happy to be producing the ending theme as SawanoHiroyuki[nZk].

Mr. Kono and Mr. Yonashiro from J01 are performing as the vocalists on the track, which has a very fresh feeling.

I hope everyone will enjoy the music as well as the story of this series.

©Fanfare Anime Project

Information

Fanfare of Adolescence
Airing in Spring 2022 on TOKYO MX, BS11, Gunma TV, Tochigi TV and MBS

Official site: https://fanfare-anime.com/

Composer Hiroyuki Sawano to Release Solo Piano Album, Announces Concert in March 2022

Composer Hiroyuki Sawano has created a number of classic pieces for anime, drama series, and films, including Attack on Titan, Promare, and Mobile Suit Gundam: Hathaway. Last year, Sawano released a video on YouTube set to the score of Attack on Titan, pulling in thousands of comments from around the world. With over 1.3 million subscribers to their channel on the Chinese video-sharing site bilibili, Sawano also performed solo at the Mercedes-Benz Arena in Shanghai in 2019. 

Hiroyuki Sawano has just released his first solo piano album 'scene,' including 19 songs from his famous works.  

Limited First Edition (CD+BD): ¥4,290 (Tax Included) 

Standard Edition (CD): ¥2,640 (Tax Included) 


The artist will also hold a live concert on March 13, 2022, featuring a number of guest vocalists including Jean-Ken Johnny, ReoNa, mizuki, mpi, Benjamin, Laco, and SennaRin. Those in Sawano's official fan club can currently snag advanced tickets, so don't miss out!

Information

Hiroyuki Sawano LIVE [n2k]007
Guest Vocalists: Jean-Ken Johnny (MAN WITH A MISSION), ReoNa, mizuki (UNIDOTS), mpi, Benjamin, Laco (EOW), SennaRin
Performance Date: March 13, 2022 (Doors Open at 17:00, Show Starts at 18:00)
Location: Tokyo International Forum Hall A(https://www.t-i-forum.co.jp/visitors/facilities/a/)
Ticket Sales: December 22, 2021 – January 10, 2022 at 23:59
Official FanClub [-30k]: https://n30k.com/s/nzk/
       
Concert Details: https://www.sonymusic.co.jp/Music/Info/hiroyukisawano/LIVEnZk007/

Solo Piano Album 'scene' 
Download & Streaming: https://sawanohiroyuki.lnk.to/scene

Purchase: https://sawanohiroyuki.lnk.to/sH3pow

Official Site: http://www.sawanohiroyuki.com/

SawanoHiroyuki[nZk] to Perform 'Legend of the Galactic Heroes: Die Neue These' Anime Opening Theme

Japanese musician and composer Hiroyuki Sawano is lauded with writing soundtracks for numerous popular anime series including all three seasons of Attack on Titan, Kill la Kill, Mobile Suit Gundam Unicorn and the recent anime film Mobile Suit Gundam Narrative. He is also active under the name SawanoHiroyuki[nZk].

To commemorate his 15th anniversary as an artist, Sawano is releasing a greatest hits album entitled BEST OF VOCAL WORKS [nZk] 2. The track-list consists of vocal songs he has been involved with, including from Promare, Mobile Suit Gundam Narrative, and Attack on Titan, as well as music he has written and/or produced for a number of artists including Takanori Nishikawa, Do As Infinity, and Aimer.

It has now been announced that SawanoHiroyuki[nZk] will perform a new opening theme CRY for the TV anime series Legend of the Galactic Heroes: Die Neue These which is set to begin airing on April 6, 2020. This follows from the first season opening theme Kaikou and second ending theme Seiran which Sawano worked on. The new song will feature guest vocals from mizuki (UNIDOTS) who also featured on SawanoHiroyuki[nZk]'s first single.

Two new promotional videos were released for the upcoming new anime season, in which you can hear a snippet of CRYーas well as the new ending theme Hikari no Hoshi by ELISA.

Reinhard Version:

Yan Version:

Comment: Hiroyuki Sawano

"I am over the moon to be writing another opening theme for Legend of the Galactic Heroes: Die Neue These. I invited mizuki on board as the guest vocalist, whom I can place my trust into. Thanks to her singing ability, she's brought yet another kind of vocal that has a different power to [the songs] 'Binary Star' and 'Tranquility.' I poured a lot into this song. I hope that people enjoy the sound of 'CRY' together with the world of the anime series. And as a viewer of 'Legend of the Galactic Heroes: Die Neue These' myself, I'm also looking forward to watching it."

Comment: mizuki (UNIDOTS)

"I am beyond honoured to be involved with Legend of the Galactic Heroes: Die Neue These through the SawanoHiroyuki[nZk] project. The moment I saw the anime visuals and the song 'CRY' come together, my heart welled up. Every time I hear the grand music, the lyrics, and the singing, I picture it linking together with the anime. I'm already excited. Sawano has created a piercing and melancholic song with 'CRY.' I pray from the bottom of my heart that it comes to be loved as the opening theme of Legend of the Galactic Heroes: Die Neue These."

©Yoshiki Tanaka/Shochiku・Production I.G

Hiroyuki Sawano Reveals Content Of Greatest Hits Album Including Attack on Titan & Promare Vocal Tracks

Hiroyoki Sawano is an acclaimed Japanese musician and composer known for having composed the soundtracks for the anime titles Promare, Attack on Titan, Kill la Kill, Mobile Suit Gundam Unicorn, and more. He has written music for a plethora of artists and is also active in music under the name SawanoHiroyuki[nZk].

The artist recently announced a greatest hits album entitled BEST OF VOCAL WORKS [nZk] 2 to celebrate his 15th anniversary in the industry. Today, the content of the album has been revealed, including the track list and goodies that come with it. Songs include a range of vocal tracks including from Promare, Mobile Suit Gundam Narrative, and Attack on Titan, as well as music he has written and/or produced for a number of artists including Takanori Nishikawa, Do As Infinity, and Aimer.

Additionally, Sawano's first greatest hits album, released under SawanoHiroyuki[nZk], will be included on the second disc of the new release. First Press Limited Edition copies will also include a bonus disc as well as a Blu-ray featuring Sawano's performance at Billboard Live TOKYO on December 1, 2019. You can see the full track list across all discs here.

Sawano is set to promote BEST OF VOCAL WORKS [nZk] 2 with two headline shows at Toyosu PIT in Tokyo on June 6 and 7. Both days will have their own themes, with June 6 being titled "Side SawanoHiroyuki[nZk]" and June 7 "Side Hiroyuku Sawano." Fan club pre-sale tickets are now on sale.

Information

Hiroyuki Sawano – "BEST OF VOCAL WORKS [nZk] 2"

Release Date: April 8, 2020

First Press Limited Edition (3 Discs+Blu-ray+Slip Case+ Special Book): ¥6,000 (Before Tax) [ VVCL 1640-3]

Regular Edition (2 Discs): ¥4,000 (Before Tax) [VVCL 1644-5]

◆Tour Information

Concert Title: Hiroyuki Sawano LIVE "BEST OF VOCAL WORKS[nZk]"

Venue: Toyosu PIT, Tokyo

Line-Up: Hiroyuki Sawano

Side SawanoHiroyuki[nZk]

Date: June 6, 2020 (Doors 18:00/Start 19:00)

Guest Vocals: ASCA / Gemie / Laco (EOW) / mizuki(UNIDOTS) / naNami / Tielle

Side Hiroyuki Sawano

Date: June 7, 2020 (Doors 17:00/Start 18:00)

Guest Vocals: Aimee Blackschleger / Benjamin / Eliana / Gemie / Laco (EOW) / mpi

General Sale Tickets

Price: All Standing – ¥6,500

*Separate mandatory drink fee charged upon entry

*Those aged 3 years old and above must hold their own valid ticket; those younger not permitted entry

Hiroyuki Sawano Official Fan Club -30k Premium Member Pre-Sale Tickets

Ticket Window: January 31, 2020 at 12:00 (JST) – February 16, 2020 at 23:59 (JST)

Hiroyuki Sawano Official Fan Club -30k Page: https://n30k.com/

Hiroyuki Sawano Official Website: http://www.sawanohiroyuki.com/

SawanoHiroyuki[nZk] Official Website: http://www.sh-nzk.net/

Concert Review: LiSA, GARNiDELiA, ReoNa & More Perform at SACRA MUSIC's Music Festival

SACRA MUSIC―a music label under Sony Music Labels―held a music event entitled SACRA MUSIC FES.2019 -NEW GENERATION- at Makuhari Messe in Chiba on Saturday May 18 and Sunday May 19. This non-stop live show housed a 360° stage in the centre of the venue on which artists signed to the label dazzled a total of 12,000 fans across the weekend.

This was the first live event of its kind by SACRA MUSIC. The show's subtitle "New Generation" refers to artists both signed to the label and the new generation of artists leading the music scene into the future. The line-up feature a diverse array of talent and genres spanning voice actors to rock bands, idols, virtual YouTubers and more.

The line-up for both days included ASCA, Ayano Mashiro, =LOVE, Luna Kaguya, GARNiDELiA, ClariS, Soma Saito, SawanoHiroyuki[nZk], Sangatsu no Phantasia, Spira Spica, TrySail, halca, PENGUIN RESEARCH, and ReoNa. A live band of skilled musicians dubbed the "SACRA BAND" also took to the stage to aid in performing various hits songs and anime songs. Virtual YouTuber Luna Kaguya performed as an opener, and EGOIST also made a surprise performance on screen, fusing the 2D world with the 3D world.

Several special collaborations also took place throughout the festival where artists banded together to perform covers as well as perform each others' songs. This included ClariS x TrySail, Mikiha (Spira Spica) x halca, Soma Saito x Yoji Ikuta & Shota Horie (PENGUIN RESEARCH), GARNiDELiA x Ayano Mashiro, and ASCA x ReoNa.

At the end of the first night, Eir Aoi appeared as a secret guest to perform three songs including her first single Ryuusei. At the end of the second night, LiSA was the secret guest, who performed several songs including her latest number Gurenge. The two also came together to sing each of their respective hits IGNITE and Rising Hope.

A teaser video was also shown for two new SACRA MUSIC projects titled BATON=RELAY and Tenka Soul. The concerts are only set to continue growing bigger and better.

Hiroyuki Sawano & Aimer Announce First Collaboration in 3 Years

Acclaimed Japanese musician and composer Hiroyoki Sawano (composed soundtracks for Attack on Titan, Kill la Kill, Mobile Suit Gundam Unicorn) and singer and lyricist Aimer have announced that they are getting together for their next long-awaited collaboration. This will mark 3 years since their last alliance on Aimer's own ninelie EP back in May 2016.

Sawano will release his 3rd studio album R∃/MEMBER under his vocal project SawanoHiroyuki[nZk] on March 6, 2019. The record features a line-up of guest vocalists including SUGIZO, Akihito Okano (Porno Graffiti), Sukima Switch, LiSA, Takanori Nishikawa, Uru, Sayuri and more. Aimer is the final artist to be revealed for the album.

Sawano will promote the album with two performances at TOYOSU PIT in Tokyo on March 6 and 7 with Aimer as a special guest.

Speaking about her involvement in the collaboration, Aimer comments: "I am truly honoured to be getting together with Sawano once again. He is someone I credit for creating the origin of my strength. I approached this song, i-mage, as it's one I'm able to sing at this moment in time. And with respect for Sawano, a different version of the song i-mage <in/AR> is included on my [new] album Penny Rain with new vocals and arrangement. Sawano always gives me the courage to never stop and keep moving forward with his music. I am grateful to him. Be sure to listen to them both. I would be overjoyed if people enjoy both of them."

Hiroyuki Sawano also comments: "My [nZk] project started from the song UnChild I produced with Aimer. I learn much from these vocalists who continue to challenge and evolve themselves through their music and live shows. Being able to get together with Aimer again has made me feel that there are new possibilities from when we first met. Her voice which reverberates through the studio supports and strengthens the story of the song, its lyrics and its melody. I was able to see how amazing she really is as a vocalist once again. Aimer supported me when I began [nZk], and she has done so again with i-mage. I would be nothing more than ecstatic if everyone else enjoys it too."

Information

SawanoHiroyuki[nZk] – 3rd album "R∃/MEMBER"

Release Date: March 6, 2019

First Press Limited Edition (CD+Blu-ray): ¥4,400 (Before Tax) [VVCL-1409~1410]

Regular Edition (CD-Only): ¥3,200 (Before Tax) [VVCL-1411]

Hiroyuki Sawano Official Website: http://www.sawanohiroyuki.com/

SawanoHiroyuki[nZk] Official Website:http://www.sh-nzk.net/

Aimer Official Website: http://www.aimer-web.jp/

Hiroyuki Sawano & Sayuri Perform Blue Exorcist: Damned Chord Smartphone Game Main Theme

Japanese musician and composer Hiroyuki Sawano is lauded with writing soundtracks for a list of popular anime series including all three seasons of Attack on Titan, Kill la Kill, Mobile Suit Gundam Unicorn and the recent anime film Mobile Suit Gundam Narrative. He is also active under the name SawanoHiroyuki[nZk] as which he released his latest single narrative/NOISEofRAIN last month which reached No. 3 on iTunes and made it into Oricon's Top 10 Weekly Singles ranking.

Sawano is now teaming up with singer-songwriter Sanketsu Shoujo Sayuri who will provide guest vocals on his new song ME & CREED <nZkv> which will be used as the main theme for the upcoming smartphone game Blue Exorcist: Damned Chord set for release in 2019.

ME & CREED <nZkv> is a new arrangement of the song of the same name which previously appeared in the original Blue Exorcist OST. A new trailer for the game was released on YouTube where fans can get an early listen of the new born track now decked out with new vocals from Sayuri.

Sawano also announced that he will release his third studio album R∃/MEMBER on March 6, 2019 which includes his collaborative track with Sayuri. This is his first album in one and a half years since 2V-ALK. The album will feature a line-up of big name guests including LiSA, Takanori Nishikawa, Uru, ASCA and more.

Sawano will support the release of his new record by playing two shows at Toyosu PIT on March 6 and 7.

Information

R∃/MEMBER

Release Date: March 6, 2019

First Press Limited Edition (CD+Blu-ray): ¥4,400 (Tax Included) [VVCL-1409~1410]

Regular Edition (CD-Only): ¥3,200 (+Tax) [VVCL-1411]

SawanoHiroyuki[nZk] LIVE "R∃/MEMBER"

2019/3/6 (Guest Vocals: Takanori Nishikawa, Aimer, mizuki, Gemie, Tielle and more)

2019/3/7 (Guest Vocals: LiSA, Aimer, mizuki, Gemie, Tielle and more)

Venue: Toyosu PIT

Price: Standing Tickets – ¥6,500 (Tax Included) *Additional drink fee charged

General sale tickets will be released on February 3, 2019 at 10:00am (JST).

Early Bird Tickets

Available by purchasing SawanoHiroyuki[nZk]'s 7th single narrative/NOISEofRAIN which is coupled with an application card you must complete. People will be selected randomly to purchase early-bird tickets.

Application Window: November 27, 2018 at 12:00 – December 18, 2018 at 23:00

Hiroyuki Sawano Official Website: http://www.sawanohiroyuki.com/

SawanoHiroyuki[nZk] Official Website: http://www.sh-nzk.net/

Sayuri Official Website: http://sayuri-web.com

Blue Exorcist: Damned Chord

Official Website: https://app.ao-ex.com

Hiroyuki Sawano to be Joined by Takanori Nishikawa, LiSA and Aimer on Solo Tour

Hiroyuki Sawano is a Japanese musician and composer who has written soundtracks for a string of popular anime series including all three seasons of Attack on Titan, Kill la Kill, Mobile Suit Gundam Unicorn and the upcoming anime film Mobile Suit Gundam Narrative. He is also set to perform his first ever overseas solo show at the Oriental Art Center in Shanghai on December 6.

Sawano is also active as an artist under the name SawanoHiroyuki[nZk].

SawanoHiroyuki[nZk] is set to release a double A-side single on November 28 featuring the theme song for Mobile Suit Gundam Narrative titled narrative which features guests vocals from LiSA and the song NOISEofRAIN which features guest vocals from Takanori Nishikawa.

The artist is set to embark on his first solo tour in almost a year from March 2019. The title of the tour is SawanoHiroyuki[nZk] LIVE "R∃/MEMBER" and the previously undisclosed support acts have been unveiled.

Aimer

LiSA

Takanori Nishikawa

Hiroyuki will be joined by Aimer whom he has collaborated with several times as well as familiar names associated with his SawanoHiroyuki[nZk] including mizuki (UNIDOTS), Gemie and Tielle. He will also be joined by LiSA and Takanori Nishkawa.

Application cards for early bird tickets to the concerts will be coupled with the narrative single which is set to drop on November 28. If you're in Japan then don't miss the chance to see this incredible line-up.

Information

SawanoHiroyuki[nZk] LIVE "R∃/MEMBER"

Venue: Toyosu PIT

March 6, 2019 – OPEN 18:00 / START 19:00 (Guests: Takanori Nishkawa, Aimer, mizuki, Gemie, Tielle and more!)

March 7, 2019 – OPEN 18:00 / START 19:00 (Guests: LiSA, Aimer, mizuki, Gemie, Tielle and more!)

icket Price: Standing ¥6,500 (Tax Included)

*Separate mandatory drink fee will be charged upon arrival.

TEL: 050-5533-0888 (DISK GARAGE)

General Tickets

On Sale: February 3, 2019 at 10:00am (JST)

Early Bird Tickets

Application Window: November 27, 2018 at 12:00 – December 18, 2018 at 23:00 (JST)

*Application cards for early bird tickets are included with copies of narrative. Those who apply will be entered into a lottery system where winners will be drawn randomly to attend.

narrative / NOISEofRAIN

On Sale: November 28, 2018

First Press Limited Edition (CD+DVD): ¥1,500 (Pre-Tax) / ¥1,620 (Tax Included)

Regular Edition (CD): ¥1,250 (Pre-Tax) / ¥1,350 (Tax Included)

Limited Pressing Edition (Mobile Suit Gundam Narrative Edition) (CD): ¥1,500 (Pre-Tax) / ¥1,620 (Tax Included)

*First Press Limited Edition DVD includes music videos for 'narrative' and 'Christmas Scene.'

Hiroyuki Sawano – Mobile Suit Gundam Narrative Original Soundtrack

On Sale: November 28, 2018

Price: ¥2,778 (Pre-Tax) / ¥3,000 (Tax Included)

SawanoHiroyuki[nZk] Official Website: http://www.sh-nzk.net/

SawanoHiroyuki[nZk] to Perform First Solo Concert in Almost a Year in 2019

Hiroyuki Sawano is a Japanese musician and composer who has written soundtracks for a string of popular anime series including all three seasons of Attack on Titan, Kill la Kill, Mobile Suit Gundam Unicorn and the upcoming anime film Mobile Suit Gundam Narrative. He is also set to perform his first ever overseas solo show at the Oriental Art Center in Shanghai on December 6, opening up opportunities for future global endeavours.

Sawano is also active as an artist under the name SawanoHiroyuki[nZk] under which he will perform the main theme song for Mobile Suit Gundam Narrative―for which he is also composing the music. The theme song is titled narrative and will feature guest vocals from J-rock heroine LiSA who has drawn huge attention for her live performances both in Japan and overseas and regardless of whether she's at an anime convention or not.

Sawano has also announced that he will perform two solo shows at Toyosu PIT on March 6 and 7 next year. It will mark over a year since he performed under the name SawanoHiroyuki[nZk] in February this year. It has yet to be announced who will be joining him as a guest vocalist, but with so many famous collaborations in his work, anticipation is high. All we can do is wait and see.

Application cards for early bird tickets to the concerts will be coupled with the narrative single which is set to drop on November 28.

Information

SawanoHiroyuki[nZk] LIVE "R∃/MEMBER"

Venue: Toyosu PIT

March 6, 2019 – OPEN 18:00 / START 19:00

March 7, 2019 – OPEN 18:00 / START 19:00

Ticket Price: Standing ¥6,500 (Tax Included)

*Separate mandatory drink fee will be charged upon arrival.

TEL: 050-5533-0888 (DISK GARAGE)

General Tickets

On Sale: February 3, 2019 at 10:00am (JST)

Early Bird Tickets

Application Window: November 27, 2018 at 12:00 – December 18, 2018 at 23:00 (JST)

*Application cards for early bird tickets are included with copies of narrative. Those who apply will be entered into a lottery system where winners will be drawn randomly to attend.

narrative / NOISEofRAIN

On Sale: November 28, 2018

First Press Limited Edition (CD+DVD): ¥1,500 (Pre-Tax) / ¥1,620 (Tax Included)

Regular Edition (CD): ¥1,250 (Pre-Tax) / ¥1,350 (Tax Included)

Limited Pressing Edition (Mobile Suit Gundam Narrative Edition) (CD): ¥1,500 (Pre-Tax) / ¥1,620 (Tax Included)

*First Press Limited Edition DVD includes music videos for 'narrative' and 'Christmas Scene.'

Hiroyuki Sawano – Mobile Suit Gundam Narrative Original Soundtrack

On Sale: November 28, 2018

Price: ¥2,778 (Pre-Tax) / ¥3,000 (Tax Included)

Hiroyuki Sawano LIVE [nZk] in Shanghai

Guest Vocals: Aimee Blackschleger, mpi, Gemie, Tielle

Venue: Oriental Art Center (425 Dingxiang Rd, Pudong Xinqu, China, 200135)

Date: December 6, 2018

Time: Doors 19:00 / Start 19:30 (Local Time)

Venue Website: http://www.shoac.com.cn/

SawanoHiroyuki[nZk] Official Website: http://www.sh-nzk.net/

LiSA Official Website: http://www.lxixsxa.com/