New Year's Sales Arriving in Tokyo & Yokohama in January 2019
Like many other countries, the New Year season is the time for bargain sales where you can get your hands on lots of great deals.
We have selected a number of steals you can grab at various shop around Tokyo and Yokohama in January.
Shibuya Mark City's Winter Sale
The winter sale at Shibuya Mark City will take place from January 2 to 15. A total of seventeen stores are taking part with whom you can get your hands on a range of winter fashion trend clothing, everyday use items and more with up to 70% off.
What's more is that for every ¥5,000 (tax included) you spend at select stores you will receive a ¥1,000 voucher to use at shops in Shibuya Mark City. These are available to the first 10,000 people with a maximum spending limit of ¥25,000.
Expect plenty of good deals for your New Year's shopping at Mark City in Shibuya.
Odaibargain
Odaibargain is now taking place across 4 facilities in Odaiba: AQUA CiTY ODAIBA, VenusFort, DiverCity Tokyo Plaza and DECKS Tokyo Beach until January 14.
Wintertime bargains to look forward to in Odaiba includes not just shopping but themed menus at restaurants too. There are also food coupons being handed out as well as entertainment and leisure services. The diverse line-up includes everything from clothing to kids and pet items with up to 90% off.
An event will also take place on New Year's Day which consists of traditional Japanese lion dancing backed by traditional wagakki music.
Yokohama Landmark Plaza & MARK IS Minato Mirai's W★SALE
Landmark Plaza located inside Yokohama Landmark Tower is teaming up with MARK IS Minato Mirai to hold a New Year's sale from January 2 to 14.
Close to 120 popular shops are participating in the sale across both establishments selling a range goods from clothing for men, women and kids as well as interior design items, food, drinks and more with up to 70% off and select stores.
Fukubukuro lucky bags will also be sold at select shops containing clothing, food and drinks, restaurant coupons and more.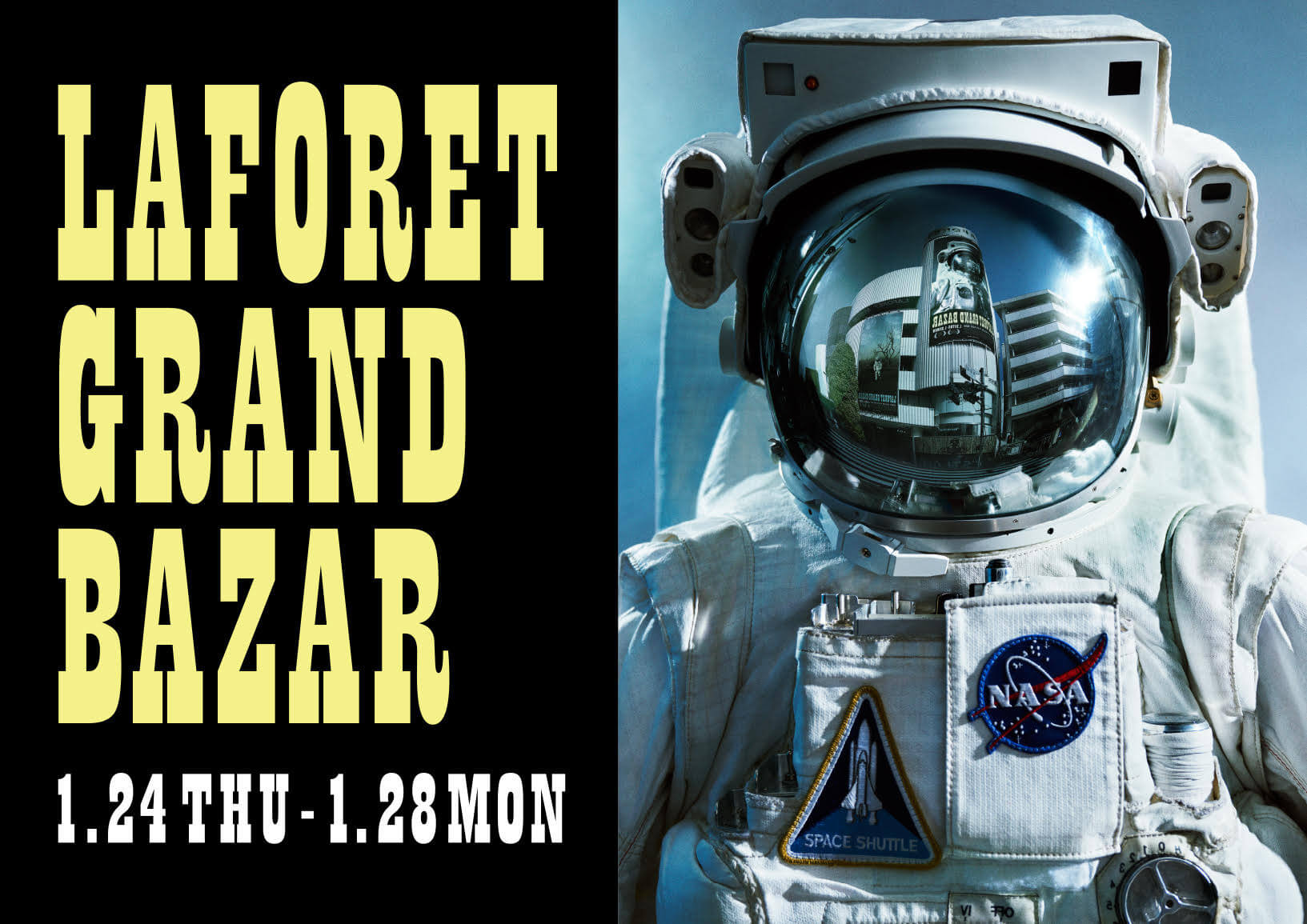 Laforet Harajuku's LAFORET GRAND BAZAR
The LAFORET GRAND BAZAR will take place at Laforet Harajuku from January 24 to 28.
There is lots planned for Laforet's sale. If you line up outside before it opens you will receive a special "Morning Ticket" that gets you a further 10% off select shops inside until 2:00pm. Lots of timed sales will also take place at fixed hours. This includes the "Laforet Card Discount" where using your Laforet Card at certain times will earn you another 5% off.
The GOOD MEAL MARKET on the second floor will serve different discounted food for ¥390 each day. Each meal is available to the first 300 people only so don't miss out.
Make sure to take advantage of all the deals on offer in the New Year!
RELATED ENTRIES
Roppongi Hills Kicks of New Year's Celebrations with Luxurious Food, Fukubukuro, Traditional Games and More

Roppongi Hills will be kicking off the New Year's celebrations from January 1 to 3, 2020 with New Year's good fortune around every corner. 

January 1 will be filled with exciting lion dances and Japanese drum performances. January 2 and 3 will see traditional and nostalgic games that are free to play, providing fun for the whole family. 

Restaurants and cafés will be serving New Year's food themed around good fortune, happiness, good omens and new beginnings. Indulge on Spiny Lobster, fatty tuna, sea bream and many other luxurious "good fortune" foods.

Spiny Lobster and Sea Bream Acqua Pazza (Limit of 15 sold per day): ¥3,278

Mohri Salvatore Cuomo

Colourful Chirashizushi Pintokona (Limit of 10 sold per day): ¥2,020

Angus Beef Steak Burger (Limit of 15 sold per day): ¥2,800
AS Classics Diner

Crêpe 2020 (Limit of 10 sold per day): ¥980
Cafe Crepe

There are also New Year's "Fukubukuro" to look out for. This is a Japanese New Year's custom where "lucky bags" are filled with unknown contents and sold at a substantial discount. There are even January sales with items up to 70% off. Travel agency H.I.S. Co., Ltd. is bringing back their yearly dream holiday package which includes a top-quality resort lodge in the Savanna and safari experience for just ¥4 million.

Have a wonderful New Year's celebration at Roppongi Hills.

Information

Event Information

January 1: 12:00-15:00

Free Entry

Japanese Drum Performance Start Times: 12:30, 13:30, 14:30

Lion Dance Start Times: 13:00, 14:00

Sake Offering: 13:00 (First-come-first-served, limit of 200 people, entry from 12:00. Obtain a ticket from the Seiriken Haifusho (整理券配布所)

 

January 2, 3: 11:00-16:00

Entry fee applies to certain areas

Japanese Drum Performance Start Times: 11:00, 13:50, 15:30

Lion Dance Start Times: 11:10, 12:30, 15:00

Koto Performance Start Times: 11:30, 12:30, 14:30

*The Koto experience corner will be closed between the following times: 11:30-11:50, 12:30-12:50, 14:30-14:50

Spinning Top Championships: January 2 from 13:00

*First-come-first-served, 12 places, please obtain a ticket from the Seiriken Haifusho (整理券配布所). Tickets will be available from 11:00.

Kendama Championships: January 3 from 13:00

*First-come-first-served, 20 places, please obtain a ticket from the Seiriken Haifusho (整理券配布所). Tickets will be available from 11:00.

Old traditional games available: Koma-mawashi (Spinning tops), kendama, beigoma, otedama and much more

Roppongi Hills

Address:  6-10-1 Roppongi, Minato City, Tokyo 106-6108, Japan

Official Website: https://www.roppongihills.com/en/

Kaori's Easy Recipe : Learn How to Make "Pressed Sushi of Sanrio's character"

With just a small bit of ingenuity, turn everyday food into something cute using Kaori's easy recipe! With a few simple ideas, an ordinary recipe magically transforms into a cute dish. In this character recipe you'll learn how to make a "Sanrio Character's Pressed Sushi", the perfect dish for a new year♡

1:Ingredients

Sashimi of your choice (for this time, try salmon, snapper and tuna) Shredded cooked egg
Salmon roe
Boiled podded peas
Green shiso
Vinegar rice
Pudding cup

☆You can use as much as you want.
☆You can use a cake pan instead of a pudding cup.

For Topping

Kamaboko of your choice
Shimeji mushroom(for pompompurin's hat) ※pour men-tsuyu a bit and use microwave.

Cookie cutters
Dried seaweed puncher

3:

1 Put saran wrap into the pudding cup
2 Put in sliced sashimi with a slight overlap
3 Let the vinegar rice cool a bit and stuff it tightly.
4 Wrap it well and let the sashimi and rice keep for a while.

4:

Cut the white Kamaboko out with a cat shaped cookie cutter (for Hello Kitty).
Cut the green Kamaboko out with a round shaped cookie cutter. Place the small round eyes on the round shaped face.(for Keroppi)

Cut the yellow Kamaboko out with a bear shaped cookie cutter, then take the ear pieces away, and replace them with raindrop shaped Kamaboko. Use pasta to fix Shimeji mushroom cooked in a microwave for the hat(for Pompom purin).

Put seaweed-eyes and nose on each face.
☆All cookie cutters except the aluminium one, and Kitty's bow, are available at Seria.

5:

Take Sushi from picture3 out and turn upside down on the green shiso.
Place shredded cooked egg, boiled podded pea, salmon roe, kamaboko on the picture5 and your pressed sushi is complete.

Kaori invites you into her world of character-themed food dishes in her recipe series! Please check out her Instagram where she has uploaded many pictures of her character dishes!

Information

■Profile
Kaori Kubota (@kaopan27)
I live in Hokkaido and I love to make character themed foods, desserts and pastries♡

I want to see my family smile, so I enjoy putting in a bit of effort to make character foods and changing food into something cute♡

You can see more of my character foods and character bento boxes on my Instagram page→@kaopan27

New Year's Shopping in Japan: 2019 Fukubukuro Lucky Bags

Fukubukuro, or "lucky bags," are a Japanese New Year custom sold by many shops across the country. The contents of the bags is always unknown but they are sold at a discounted price. It's exciting and a great chance to get your hands on a whole range of goodies for a bargain. We have compiled a list of recommended fukubukuro for you to check out.

Tobu Department Store, Ikebukuro – Fukubukuro

The Ikebukuro branch of Tobu Department Store is selling close to 57,000 fukubukuro.

The keywords for their 2019 lucky bags are "Heisei" (which refers to the current era of Japan), "Food," and "Dual Wield." Below are just a couple of fukubukuro you can get your hands on.

 

Kinokuniya is a fairly new store having opened in September 2017. They are just one fukubukuro aimed at those born during the Heisei period (1989-2019). But this is no ordinary lucky bag. You can receive a select number of items depending on your age from the store's stock of 3,500 products that prices up to ¥39,000. This includes glossaries, everyday foods and more. For example, if you're 30-years-old and were born during the Heisei period you will receive 30 items.

*1 bag per person

*Products included are those originally priced at ¥4,000 (including tax) and below.

Application Period: December 26, 2018 – January 3, 2019

How to Buy: You must sign up at the store for a chance to win one. Winners will be contacted via telephone on January 4, 2019.

Pick-Up Period: January 17, 2019 – January 23, 2019

*A separate fee will be charged for those who request delivery.

Another fukubukuro is the one at Pan Rizotta. Once again, you will receive a range of pastries from the store's line-up of 120 items depending on your age. They cost ¥3,100 and there are 5 available.

 

Application Period: December 26, 2018 – January 3, 2019

How to Buy: You must sign up at the store for a chance to win one. Winners will be contacted via telephone on January 4, 2019.

Pick-Up Period: January 6, 2019 – January 10, 2019 (*takeaway only)

PAPABUBBLE – Limited Edition Fukubukuro

For a limited time only the art candy shop PAPABUBBLE is now selling three different sized fukubukuro for the New Year. The small bag is filled with the shop's classic confections, the medium with unreleased flavours, and the large with a bunch of rare items.

Running: At all branches of PAPABUBBLE until they sell out

Price: Small ¥1,500 / Medium ¥3,000 / Large ¥5,000

Don't forget to check out their New Year candy mix which features pig designs for the 2019 Year of the Pig.

Village Vanguard Online – Cheki Fukubukuro

Village Vanguard is selling must-get fukubukuro featuring a set of 7 instax items including the camera, films, an album and more.

For girls they are offering the "Kawaii Cheki Fukubukuro" which contains cute pastel colour cameras a rare Minion camera.

For guys they are selling the "Otona Cheki Fukubkuro" with various sleek designs. Select bags contain the Suguremono Smartphone de Cheki which enables you to print your photos from your smartphone, and the Neo Classic camera. These fukubukuro are very limited in stock so you'll want to be quick!

Brooks – Overseas Fukubukuro

Online tea and coffee shop Brooks is now taking fukbukuro orders to celebrate its 50th anniversary. In line with this, they are also now selling them to 50 countries around the world. Their bags include popular brand drip coffee, tea and more.

2019 Fukubukuro: ¥5,400 (Tax Included) *Free Shipping

2019 Premium Fukubukuro: ¥10,800 (Tax Included) *Free Shipping

The overseas-only fukubukuro contains products from high quality brands, popular drip coffee, sencha sold only in Japan, genmaicha and more. Additionally, the first set of 100 sold will contain a special Onenga Coffee bag for a taste of Japanese New Year.

Overseas Fukubukuro

Running: December 18, 2018 – January 31, 2019

Price: ¥5,000 (*Free shipping. However, fees may apply depending on shipping laws in certain countries.)

Mister Donut – 2019 Fukubukuro

Mister Donut has teamed up with Pokémon: Let's Go, Pikachu! and Pokémon: Let's Go, Eevee! for their fukubukuro. Items include blankets, clear files, mini tote bags, accessories and a calendar all featuring chubby designs of Pikachu and Eevee surrounded by delicious doughnuts. The fukubukuro line-up includes the two standard ¥1,080 and ¥2,160 bags as well as a new ¥3,240 version. These will no longer be available once they sell out so don't miss out!

LOFT Shibuya & Ginza – "Thank You Heisei Fukubukuro Series"

LOFT Shibuya will resume business on New Year's Day and LOFT Ginza on January 2nd. To celebrate, lots and lots of amazing lucky bags containing hit products from the variety store will be sold. Below is just a small example of what to expect.

Thank You Heisei Fukubukuro: Omotenashi

Japanese Food (Sake Bottle, Sake Cup, Bowl, Small Bowl, Chopsticks and more) *5 Available (Shibuya LOFT)

Thank You Heisei Fukubukuro: Boom!

Panda Panda Panda Blessing (Plushie Calendar, Standing Pencil Case, Cable Biter, and more) *3 Available (Ginza LOFT)

Did you enjoy this list? If you're in Japan for the new year then you absolutely have to get your hands on a fukubukuro!

With the New Year almost upon us, lots of restaurants are prepping 'osechi'―food served during the New Year's Holidays.

Over at Daimaru Tokyo they have 25 different osechi ready to serve from 20 brands which can be bought from 10:00am to 6:00pm on December 31. Here are 5 you can expect to be sinking your teeth into.

Rakushougatsu (Serves 2) @ Nadaman Chubo – ¥12,960

This long-standing restaurant is cooking up a very traditional meal. Indulge in New Year's classics like sweet rolled omelette, black soybeans and herring roe. Added to this is roast beef.

Edo no Niji (Serves 2-3) @ Kanda Myojinshita Miyabi – ¥15,660

Enjoy the flavours of Edo with this dish that both looks and tastes delicious. It comes in three mini boxes portioned very cutely!

Wafuu Osechi Ichidan'e (Serves 1-2) @ Minokichi – ¥14,040

Minokichi has created this delicate arrangement of party snacks, fried food, vegetables and more.

Gyutan Otsumami Osechi (Serves 2-3) @ Gyutan Kanezaki – ¥16,200

From classic osechi picks to otsumami―snacks that go with alcohol―this one has it all.

Gindara Nishikyou Yaki Osechi Wafuu Nidan'e (Serves 2-3) @ Aji no Hamato Tsukiji – ¥21,600

The ultimate celebratory selection consisting of Japanese bluefish, fried food, boiled food and more.

There's plenty of great osechi to be enjoyed in Japan for the New Year so don't miss out.

7 Souvenirs Celebrating the Year of the Pig & 2019

Onenga are an important part of the New Year holidays in Japan. They are gifts given when looking back over the past year with a person and are usually handed over with the phrase kotoshi mo douzo yoroshiku onegaishimasu which thanks the person for their support over the past year and into the next.

The Daimaru Tokyo department store is selling a whole range of confections based on the 2019 "Year of the Pig" from December 26 to January 3 which will make for perfect New Year gifts. Not only can they be used as onenga but as souvenirs for anyone visiting Japan during the New Year season.

Pig Shaped Monaka Bean Jam Wafer Cakes (Set of 12): ¥1,850 / Sold at Funabashiya

Both the wafer cake shell and the red bean paste are separate from each other which retains the freshly-made crunch. It's made in the cute shape of a pig which is unique for a monaka wafer cake.

Pig Shaped Sweet Jelly: ¥918 / Sold at Ryoguchiya Korekiyo

This sweet jelly features a pig and piglet in it so adorable you'll want to take a photo. The light that filters through creates a beautiful scene of a pig and its child.

2019 Mochi (Set of 6): ¥1,080 / Sold at Ginza Akebono

This assortment of sticky rice cakes comes with various designs including "2019," pine trees, pigs and more.

Small Sweet Jelly With Pig Packaging (Set of 12): ¥3,240 / Sold at Toraya

The artistry of a long-standing store shines through on the piggy packaging of these sweet jellies.

Sweet Cigars (Set of 20): ¥1,458 / Sold at Yoku Moku

These are a hallmark product at Yoku Moku loved by men and women of all ages.

Shoufuku Tafuku (Set of 5): ¥864 / Sold at Akasaka Kakiyama

These mochi are cut thin, dried and baked before being put into cute boxes that feature illustrations of a pig dressed as a daruma.

Shichifukujin (Set of 7): ¥2,700 / Sold at Kanou Shoujuan

This set comes with a range of different confections inspired by the Seven Deities of Good Luck.

You're sure to find the perfect pick for a New Year's gift in this line-up!

Sanrio Puroland Announces New Year Celebratory Event 'The Final Heisei Celebration'

2019 will mark the final year of Japan's Heisei period under Emperor Akihito. To toast to the final New Year celebrations of this era of history, Sanrio Puroland is holding a special event called The Final HEISEI Celebration which will run from December 26, 2018 to January 8, 2019.

Sanrio has much planned for the event. Its line-up of characters who were created during the Heisei period (1989-2019) will make appearances on a daily rota and there will be a chance to meet with each of them.

Win Character Prizes

Different characters born in the Heisei period such as Cinnamoroll, Pompompurin, Pochacco and more will appear on different days to hold a fun lottery event. Get involved and win prizes.

Running: December 26, 2018 – January 8, 2019 (No Planned Holidays)

Location: Wisdom Tree Stage (Floor 1F)

 

Meet Your Favourite Characters Wearing Kimono

The Sanrio cast will appear throughout the event wearing traditional colourful Japanese garments. A special 'greeting' will also take place on New Year's Eve where all the most popular characters will come together.

Running: December 26, 2018 – January 8, 2019
Location: Around the park
*There will be other characters appearing not dressed in kimono too.

New Year's Even Special Greeting
Date: December 31, 2018
Location Puro Village (Floor 1F)

 

Cinnamoroll, Pompompurin & Pochacco Turn Into Pigs

From January 1 through January 8 one of each character―Cinamoroll, Pompompurin and Pochaccoーwho are all dogs representing the 2018 Year of the Dog in the Chinese Zodiac will transform into a pig in line with the 2019 Year of the Pig. They will go around hugging guests in the park and let you take photos with them. Be sure to hug them tight!

Running: January 1, 2019 – January 8, 2019
Location: Wisdom Tree Stage (Floor 1F)

 

Observe the Character Cast On Stage

For the first time ever Puroland is holding an event where guests can simply observe the Sanrio characters with no performance. They may even react to the audience's reactions and calls.

Running: December 26, 2018 – January 8, 2019 (Expect December 29 and 31)
Location: Discover Theater (Floor 1F)

Kagamimochi Cinnamoroll Fukubukuro Lucky-Dip Bags

Puroland will sell fukubukuro lucky bags with a kagamimochi Cinnamoroll design on them who has a mikan orange on his head. The contents of the bags include Hello Kitty merchandise, a large photo of Cinamoroll and more. 150 bags will be available per day.

Running: December 28, 2018 – January 3, 2019
Location: Sanrio Town (Floor 1F)

Price: ¥3,000
Quantity: 150 available per day

 

Puroland End-Of-Year Countdown

Puroland will hold "the world's earliest" countdown event. The island republic of Kiribati is known as the earliest place to pass into the new year. Puroland will join Kiribati in the celebrations.

Date: December 31, 2018

Time: 18:40-19:10 (JST)

Location: Puro Village & Wisdom Tree Stage (Floor 1F)
*PUROPASS tickets into the priority area will be sold for ¥500. Full details can be found on the park's homepage.

 

"New Year's Passport Coupon" – Official Puroland App

Those who download the official Puroland app and present their QR code upon entering will receive a discount on their passport entry ticket. You do this as many times as you like for the duration of the event.

Running: January 1, 2019 – January 8, 2019
Passport Discount Price: ¥2,500 (for both adults and children)
To receive the discount you must meet the following two conditions.
①Download the official Puroland app
②Present your QR code on the app at the ticket window upon entry

App Page: https://www.puroland.jp/app/

 

My Melody's Birthday Celebration

To celebrate My Melody's birthday on January 18, guests who enter the park dressed in pink and white clothing inspired by My Melody will receive a special discount on their passport entry ticket.

Running: December 26, 2018 – March 20, 2019
Passport Discount Price: Weekdays & Holidays ¥2,500 (for both adults and children) / ¥1,500 from 2pm on weekdays and 3pm during holidays
*Applies to children aged 3-17 years on holidays only.
*A holiday constitutes as a weekend, national holiday or school holiday.

To receive the discount you must meet the following two conditions.
①Co-ordinate one piece of plain pink clothing and one piece of plain white clothing.
②Present your QR code at the ticket window upon entry

More Details: https://www.puroland.jp/2019_mm-narikiri/

Enjoy a very special New Year's celebration this year at Sanrio Puroland!

GINZA SIX New Year Sale: Free Performances, Lucky-Dip Bags, Food & More

Ginza's largest shopping complex GINZA SIX has announced a huge sale for the new year which will begin on January 2. It take place at around 100 stores where they boast the latest global trends.

A host of free performances will also take place on January 2 and 3 at the Kanze Noh Theater on floor B3F. Look forward to a brass band jazz show and much more. Year-end fukubukuro lucky dip bags will also be sold by world class quality brands and there will be plenty of delicious gourmet food to enjoy.

Premium Fukubukuro Lucky-Dip Bags

'Fukubukuro' are a type of lucky-dip bag sold in Japan at the end of the year. You pay a certain amount of money that is lower than the actual cost of the items in the bag and you never know what you're going to get. For the GINZA SIX sale you can expect a whole range of premium products from fashion to lifestyle goods, beauty, food and so on. Maison de NADIA on the second floor has a Pear Diamond up for grabs at ¥2,000,000 (the original price of which is ¥4,000,000). BEAUTY TERRACE GINZA ~DRESS CIRCLE~ on floor B1F has a whole range of goodies up for grabs that could even include a trip to Hawaii. They are selling lucky bags by weight: 3kg for ¥100,000, 5kg for ¥150,000, 8kg for ¥200,000 and 15kg for ¥450,000.

Running: January 2, 2019 until bags are sold out at each individual store

*Running dates differ at select stores.

2019 at GINZA SIX: Gourmet Food for the New Year

GINZA SIX will welcome the new year with fantastic food at both their B2F food floor and restaurants throughout where they will serve everything from classic Japanese 'osechi' celebratory meals to food you can take home as gifts.

Premium New Year Strawberry Afternoon Tea Set (THE GRAND GINZA): ¥6,500 (Pre-Tax)

Auxamis's Specially Made Osechi Meal (Bistro Auxamis): ¥29,630 (Pre-Tax)

This afternoon tea set comes with an authentic Japanese tea experience in a tea room which is served with traditionally prepared new year food.

Kagami Mochi (Nakagawa Masashichi): ¥4,000-¥20,000 (Pre-Tax)

4 Drawer Noshi Makie (Yamada Heiando): ¥2,500,000 (Pre-Tax)

Products from lifestyle brands will also be sold including 'kagami mochi' mirror rice cakes which are a traditional new year decoration, as well as items themed on the 2019 Year of the Pig, cutlery crafted by traditional artisans and more.

Free Noh Performances

Enjoy a free and authentic Noh performance at the Kanze Noh Theater on floor B3F of GINZA SIX.

Date: January 2, 2019 – January 3, 2019

*Two performances a day

Morning Performance: 11:00-12:30 (Opens at 10:30)

Afternoon Performance: 15:00-16:00 (Opens at 14:00)

*Free to watch. Those under the age of 3 not permitted entry.

*Entry is first-come, first-served. The reception will open one hour before each performance.

*For enquiries, please contact GINZA SIX Information at 03-6891-3390 (10:30-20:30)

Edo New Year's Pine Decoration

A large Edo-style new year's pine decoration will sit at the entrance of GINZA SIX. It's made from three trees and bound together with straw. Its traditional shape has been passed down since Ginza Matsuya opened in 1925, allowing you to witness a tradition that has gone unchanged since the Edo period.

Location: GINZA SIX front entrance

Running: December 26, 2018 – January 7, 2019

There's plenty of other things to look forward to at the GINZA SIX sale too, from pop-up shops to events and more. If you're in Japan for the new year then why not check out GINZA SIX?

Information

2019 GINZA SIX SALE

Running: January 2, 2019 – January 20, 2019

*Dates may differ for certain shops.

*Select stores not participating in the sale.

GINZA SIX

Address: 6-10-1 Ginza, Chuo Ward, Tokyo

Opening Hours: Shops/Cafes (B2F-5F) 10:30-20:30 / Restaurants (6F, 13F) 11:00-23:00

*Business hours differ from shop to shop.

No Fixed Holidays.

Access: Directly connected to Ginza Station via the Tokyo Metro Ginza Line, Marunouchi Line and Hibiya Line.

TEL: 03-6891-3390
Website: http://ginza6.tokyo/

Don't miss this chance to meet with ex-sumo wrestlers! -Ryogoku- Edo NOREN's events

Various kinds of New Year's events which all generations can enjoy will be held at -Ryogoku- Edo NOREN which was created under the concept of "enjoying stylish food cultures of the Edo Period."

During the first season of the grand sumo tournament, a routine event where poems regarding sumo will be presented. The events are gaining much popularity among many people. Also, limited menu items using special ingredients produced in Kagoshima Prefecture will be held in accordance with the first season of the tournament.

Shinshun! Furumaizake

The venue will offer nihonsyu (sake) sold at "Tokyo Shoten" for free as a celebrative event of New Year's Day.

Date: 01,03 (Wed.) from 12:00 (the amount of nihonsyu is limited)

Customers who have a receipt of a product they bought on the same day (older than 20 years old) can participate in the event.

Rice cake-making event with ex-sumo wrestlers!

Mochi(rice cake) is a food which has been loved by Japanese people since the Edo Period and many people still participate in mochitsuki events. The mochitsuki event which will be held at -Ryogoku- Edo NOREN will invite ex-sumo wrestlers to participate! Performances by experts in mochitsuki can also be enjoyed.

Date: 01,06 (Sat.) from 14:00

※mochi will be handed out after the event is finished

Customers who have receipts of products bought on the same day (older than 20 years old) can participate in the event.

Ex-sumo wrestlers will show you some sumo performances!

Ex-sumo wrestlers will explain some techniques including forbidden techniques. After the explanation is finish, you can fight with them or take some photos with them. Both adults and children can enjoy the event!

Date: 01,06 (Sat.), 21 (Sun.) from 16:00

Delicious food from Kagoshima Prefecture will be offered!

2018 is the 150 anniversary-year of the Meiji Ishin (Meiji period revolution). "Shokuno Miyako Kagoshima Fair" offering original menu items using lots of ingredients produced in Kagoshima Prefecture will be held at -Ryogoku- Edo NOREN. The theme of the fair is "black." They will offer dishes using ingredients related to the color black, such as black pork, black Satsuma chicken and kanpachi (greater amberjack), black vinegar and black koji shochu.

Date: 01,14 to (Sun.) to 02,11 (Sun.)

Let's experience the culture of the Edo Period during the New Year's holidays.

■Information

-Ryogoku- Edo NOREN

Address: 1-3-20, Yokozuna, Sumidaku, Tokyo (beside JR Ryogoku Station)

Business hours: 10:00 to 23:00 ※the business hour of each store differs.

Fixed holidays: 01,01& 01,02, facility-inspection-day (random)

6 Locations in Japan to Grab Fukubukuro Lucky Bags in 2018

New Year in Japan means trying your luck with a fukubukoro, lucky bags sold at stores around the country filled with all different kinds of goodies. The contents of each and every bag can differ and are usually a complete mystery, making it an exciting experience! A lot of the time the contents are worth more than what you pay for the fukubukuro, so you can get your hands on some great things at a bargain price. We've listed some recommended places where you can get your own fukubukuro.

Laforet Harajuku – "Thank You Bags"

In commemoration of its 39th anniversary since opening on October 28th (Sat.), Laforet HARAJUKU will offer their annual lucky bag at an outrageously low price and they are calling the bag a "Thank-you bag." These lucky bags will be sold for 390 yen and 3900 yen (tax included) and some bags will have goods worth up to 70,000 yen inside them. A real bargain! In addition, as is now a popular annual event, they will offer lucky bags called "You can see and you can choose lucky bag!" where you can purchase the bag of your choice and they will also offer a lucky bag called, "Laforet special bag" which will be stuffed with Laforet original items only.

Full Article: https://www.moshimoshi-nippon.jp/81051

Shibuya ShinQs – "Fukubukuro"

ShinQs are also preparing unique 2018 fukubukuro (Japanese New Year lucky bags) which will appear on January 2nd. In addition to the premium fukubukuro available on the food floor which are popular every year, there will be an even more special fukubukuro on sale, the likes of which you could only imagine in your dreams… Shibuya Hikarie are also joining in the festivity with New Year's menus, merchandise and entertainment.

Full Article: https://www.moshimoshi-nippon.jp/80589

Seibu Shibuya – "An out of the ordinary experience: rickshaw fukubukuro"

Obtain a special rickshaw ticket in Seibu Shibuya's fukubukuro and gain the power to survive the year of 2018 by visiting Shibuya's shrines including two of the most famous shrines in Shibuya, "Meiji Jingu" and "Kitaya Inari Shrine" where the god of business is enshrined. You can also enjoy eating lunch at "Omotesando Ukai Tei" and take a photo at the Scramble Crossover. Your ride will depart from and return back to Seibu Shibuya.

There are many different unique fukubukuro available at Seibu Shibuya, including the "Experience Japan's Beauty" bag and the "Puella Magi Madoka Magica" bag.

Full Article: https://www.moshimoshi-nippon.jp/82383

Ginza LOFT – "Original fukubukuro" 

The Ginza branch of LOFT are going to sell limited quantities of original Ginza LOFT fukubukuro from January 2nd-4th. The store will stock lots of unique fukubukuro available only at Ginza LOFT filled with all kinds of goodies including curry, stationary, hand drip coffee starter sets, items to keep yourself moisturised during the dry season, and more. There will also be one special fukubukuro available on a first-come, first-served basis. (*sales will end once all bags have been sold)

Gion Tsujiri – "Fukbukuro with original tote bag"

Gion Tsujiri are holding special New Year's cake sale at Space of Asakusa in Matsuya Asakusa until January 2, 2018. They are selling their popular "Tsujiri no Sato" matcha confectionery, their New Year's "Daifukucha" tea, and limited edition fukubukuro. There's lots of tasty treats to look forward to including rich matcha flavoured sweets that come in a special box used to preserve tea, branded with an original mark.

THE Chiffon & Spoon – "Fukubukuro"

THE Chiffon & Spoon is a chiffon cake store where you can eat tasty chiffon cake with a spoon. From January 1st-3rd next year, the shop will sell their own original fukubukuro in limited quantities. You can get a fukubukuro that includes discount coupons for 5 small chiffon cakes of your favourite flavour together with honey jam and tea sets (¥2,160 tax incl.), another that comes with the same but you get 10 discount vouchers instead (¥3,240), and as a special set (¥3,240), you can get 10 of the same discount vouchers along with a set of 3 of their new tiramisu chiffon cakes that were released on December 28th.

Enjoy your New Year's shopping by getting your hands on one of the many fukubukuro available in Japan!

【TRAVEL Q&A】What is Hatsumode? Q&A regarding Japanese year's end and New Year's holiday customs

The year's end and New Year's holiday of 2017/2018 for most people will be from the 29th of December to the 3rd of January. In this article, I will introduce to you some year's end/new year's holiday customs in Japan.

What do you have to be aware of when traveling during the year's end/New Year's holiday?

Many stores and facilities are closed during this season. Make sure to check out the websites of the places that you want to visit beforehand.

What is hatsumode?

"Hatsumode" is a New Year's custom where people visit shrines and temples to wish for a good year. After offering prayers at temples/shrines, many people buy paper fortunes or amulets. To offer a prayer, visit shrines or temples. Each shrine/temple is considered to have different "powers" such as prosperity in business and success in academic learning so make sure to check out which shrine/temple suits your wishes. It is also fun to buy food/goods at stalls and it is recommended to eat some food like yakitori (grilled chicken), yakisoba (stir-fried noodles) and cotton candy. Don't forget to wear warm clothes when visiting a shrine/temple.

Detailed information RE how to offer a prayer:https://www.moshimoshi-nippon.jp/68492

Some customs during New Year's holidays

There are some traditional decoration items for the New Year's holidays.

・Kadomatsu

Kadomatsu is a New Year's decoration made of bamboo and pine tree branches and it is often decorated at the entrance of the house. Kadomatsu is thought to be an earmark decoration at the entrance of a house so that the Gods can come to one's house directly.

 

・Kagamimochi

Many Japanese believe that the Gods visit one's house on New Year's Day and kagamimochi is an item to welcome the gods. It is said that kagamimochi should be prepared before the 28th of December. The Gods will come to your house when the sun rises on the New Year's Day so make sure to prepare it before the 28th. Kagamimochi must continue to be decorated until the 11th of January.

Shinkansen bullet trains are very cworded!

Since many Japanese people meet with their family members during New Year's holidays, shinkansen bullet trains can become very crowded. Therefore, it is recommended that you make a reservation in good time.

What are hatsuuri and fukubukuro?

The word "hatsuuri" means the first sales in the New Year. Many stores sell fukubukuros (lucky bags with random products). By purchasing such a bag  one can try their luck. Usually, you cannot see what is inside the fukubukuro but some fukubukuros includes expensive items which means you have a chance to buy something expensive at a very low price.

What do Japanese people eat during year's end and during the New Year's holidays?

・Toshikoshi Soba (buckwheat noodles)

"Toshikoshi soba" is a food which Japanese people eat on New Year's Eve for good luck. The origin of this custom is unknown, but some people say this custom has the meaning of "severing bad luck by eating easy to break buckwheat noodles" or "wishing for longevity by eating long noodles." You can eat these buckwheat noodles warm as in "kakesoba" or cold as in "zarusoba." However, make sure to finish your noodle dish before New Year's Eve ends because it is said that eating toshikoshi soba after crossing over into the New Year brings bad luck.

 

・Osechi

Osechi is a multitiered box filled with food which brings good luck. Each food/ingredient brings a different kind of luck such as a rich harvest, perpetual youth and longevity and prosperity of descendants.

・Ozoni

Ozoni is a shoyu/miso flavored soup with mochi (rice cakes) inside. The shape of the mochi and ingredients differ depending on the house or the local area.

How did you like this introduction to New Years customs? Let's have a wonderful trip during this coming holiday season.

Several recommended events will be held inside Tokyo at year's end and during the New Year's holidays

2017 is almost finished and many events will be held inside Tokyo. In this article, I will introduce to you some recommended events which will be held at year's end and during the New Year's holidays.

Tokyo's biggest New Year's countdown party, "Legato" (Shibuya)

Legato, a spacious location conceived around the idea of a theater where one can gaze at the nighttime scenery while enjoying an assortment of foods, is holding a New Year's countdown party on the December 31st. The countdown party has continued to grow in popularity, with an annual average of more than 1,500 attendees. Legato will become even more glamorous and gorgeous this year as they have teamed up with famous champagne brand, Moët & Chandon. They will also host a fantastic line-up of DJs.

Detailed information: https://www.moshimoshi-nippon.jp/81783

"Penguin no Iru BAR Ikebukuro" will offer Christmas/year's end/New Year's holiday plans (Ikebukuro)

A baby penguin was born only recently, so they can't introduce the baby to their customers yet, but the baby is growing up strong and healthy they say. It is a gorgeous plan which is recommended for those of you who want to spend a wonderful evening.

Detailed information: https://www.moshimoshi-nippon.jp/81819

Sunshine Aquarium's New Year's events (Ikebukuro)

Sunshine Aquarium will hold some events including, "Eto Suiso," an event introducing the fish which has the letter of "戌 (dog) (the zodiac animal sign of the year 2018)" in its name, "Sunshine Aquarium Original Shichifukujin (seven gods) Stamp Rally" where visitors can collect stamps of animals disguised as "Shichifukujin" gods and a "sea lion performance time ~New Year ver.~" where sea lions will perform tricks which bring luck, from the 28th of December (Thurs.) to the 8th of January 2018 (Mon. / holiday).

Detailed information:https://www.moshimoshi-nippon.jp/80453

Sumida Aquarium's Chinese zodiac events (Tokyo Sky Tree Town)

The Sumida Aquarium in Tokyo Skytree Town have announced a New Year's event that will run from January 1st to the 8th next year called "Eto de Asobo, Otto to Chin no "Won" derland." The aquarium will celebrate the 2018 year of the dog from the Chinese zodiac with their seals, as well as their chin'anago (spotted garden eels), whose name originates from the Japanese Chin (spaniel). During the event from January 1st-3rd and 6th-8th, the staff will hold a New Year's seal parade by walking around the aquarium with the seals to wish everyone a Happy New Year.

Detailed information:https://www.moshimoshi-nippon.jp/80359

"NIHONBASHI -Hoshifuru Mori-" where you can observe shooting stars (Nihonbashi)

An illumination event titled, "NIHONBASHI -Hoshifuru Mori" is being held from the 8th of December (Fri.) to the 8th of January 2018 (Mon./holiday). This illumination event is a sharing-base event where you can observe shooting stars while watching mirror-ball illuminations. The two most famous meteor streams "Gemini Meteor Stream" and "Quadrantids" will appear in the sky.

Detailed information:https://www.moshimoshi-nippon.jp/81966

Limited time offer event will be held at Sailor Moon Café (Yurakucho)

Starting in Omotesando, the Sailor Moon café opened in four cities last September. Judging from the great response received last time, the reopening of the café will be wonderful news for fans who wanted to go but couldn't in September.

The new café is called the "Sailor Moon Café 2017 Encore". This café sells the same items as in the previous collaboration menu except everything is presented in a new "encore" arrangement. This will be accompanied by a brand new menu. For the encore, there will also be original goods available for purchase that have never been sold before.

Detailed information:https://www.moshimoshi-nippon.jp/79292

Why not join in these events to enjoy  year's end and during the New Year's holidays with your family, friends, or partner?

Three-hundred kinds of "lucky bags" created under the theme of Japan will be sold at Seibu Shibuya

Seibu Shibuya Ten will be opened on New Year's Day and they will sell "fukubukuros" which are becoming popular among tourists from foreign countries, as well as with Japanese people. ("Fukubukuros" are bags filled with multiple products that cannot be seen by the buyers.) They are going to sell many unique / experience-based / photogenic fukubukuros. Some of the fukubukuros will include tickets which can be used at popular restaurants and accommodations in Shibuya.

An out of the ordinary experience! "Tour Shibuya in a rickshaw" fukubukuro ticket

You can obtain the power to survive the year of 2018 from some shrines including one of the most famous shrines in Shibuya, "Meiji Jingu" and "Kitaya Inari Shrine" which enshrines the god of business. You can also enjoy eating lunch at "Omotesando Ukai Tei" and take a photo at the Scramble Crossover (departing/arriving Seibu Shibuya Ten)

・32,400 yen (tax included)

・One fukubukuro per pair

※Reservation date: 12,26 (Tue.) to 2018,01,03 (Thurs.)

※Reservation counter: 5F, accessway

Shibuya Seibu Fifty-year anniversary event "Nihon no Biishiki Taikan Fukubukuro" (Experience the beauty of Japan )

A fukubukuro where you can stay at the modern art/art space "Artist Room Sakura" produced by an up-and-coming Japanese-style painter Hiroko Otake. The art work was created under the theme of "Psyche ~Yuragi to Majiwari~ (wave and intersection)" and is a Japanese-style painting using the motif of a butterfly and is representing the culture of Shibuya where many people and cultures intersect.

・50,000 yen

・One fukubukuro per person

※Reservation date: 12,26 (Tue. ) to 2018,01,03 (Wed.)

※Reservation counter: 5F, accessway

 "Maho Shojo Madoka ☆ Magika ~Chara Fing Rough Premium Seibu Shibuya Ten Shogatsu Fukubukuro Tokubetsu Ver.~"

 

A fukubukuro where you can obtain the illustration (comes in a special frame) of an up-and-coming character designer who works in one of the most famous subculture industries of Japan, the "manga" industry.

・128,240 yen (special frame and serial number will be included)

・Size (exterior – height 940mm, length 750mm, depth 65mm)

※Reservation date: 12,15 (Fri.) to 2018,01,03 (Wed.)

※Reservation counter: Curio Stad Sales Counter – B Building 5F men's clothing floor

※Serial number cannot be chosen

※The product will be sent from the late January to late March (the product will be sent to your designated address).

 

Other than the fukubukuros noted above, they will sell 300 kinds of gorgeous fukubukuros!

Don't miss the fukubukuros created under the theme of Shibuya, Japan.

■Information

Seibu Shibuya Ten "Fukubukuro Oichi"

Date: 2018,1,1 (Mon, holiday) to 3 (Wed.)

Address: 21-1, Udagawacho, Shibuyaku, Tokyo

Available areas: Designated areas

TEL:03-3462-0111