Hikaru Utada's PlayStation®VR Live Experience to be Promoted at Talk Event in Shibuya
Hikaru Utada concluded her Laughter in the Dark Tour last year―her first tour in almost 12 years―on the day of her 20th anniversary. The singer is set to release her exclusive PlayStation®VR content Hikaru Utada Laughter in the Dark Tour 2018 – "Hikaru" & "Chikai" – VR worldwide for free on January 18.
A special event has been announced which will take place on the same day at Sony Square Shibuya Project in Shibuya MODI where members of the development team will talk about "Hikaru" & "Chikai" – VR.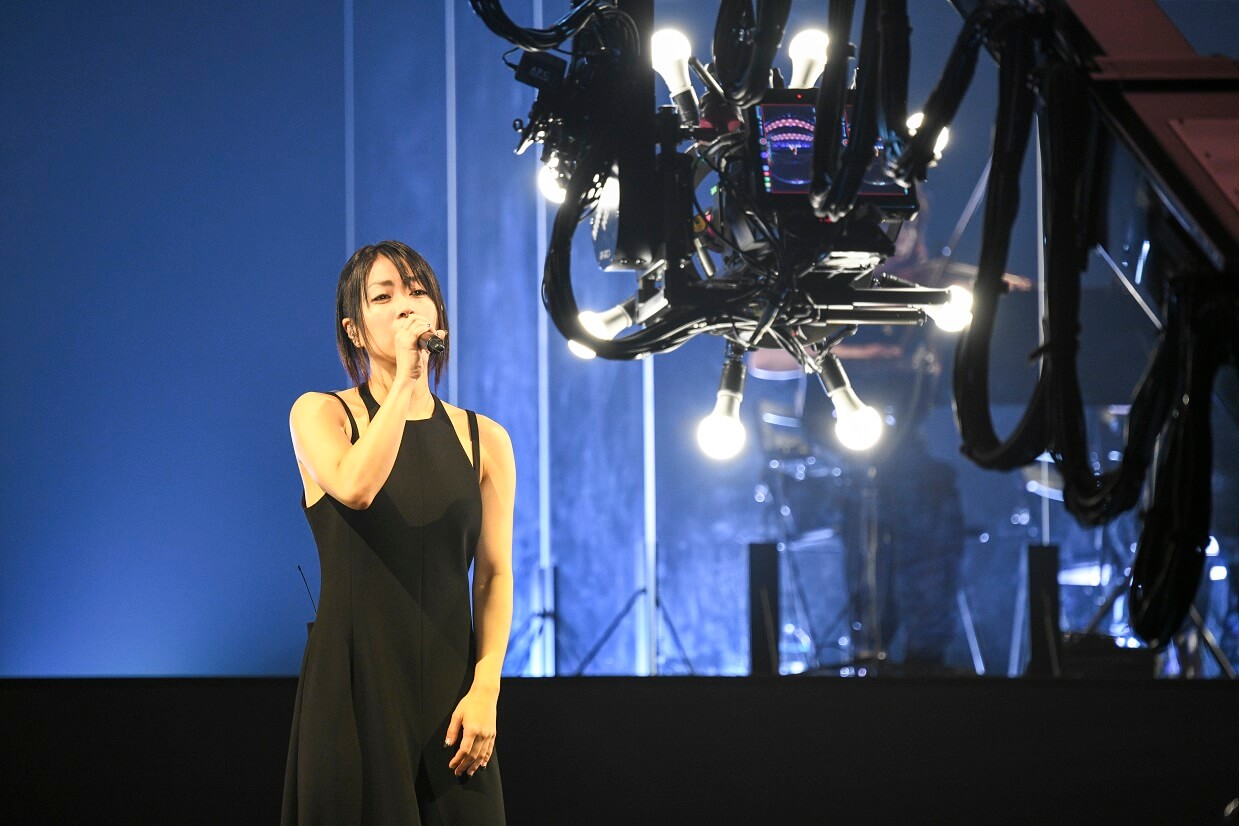 Appearing will be the video director Wataru Takeishi, who has worked alongside Utada on several of her music videos, as well as the producer 多田 浩二 (Sony Interactive Entertainment Inc.), and Ryosuke Hayashi (Sony Imaging Products & Solutions Inc.) who supported the technical side of things. Kaji Nozomu (Sony Music Labels Inc.) who works on marketing for Utada will also be present. The four of them will discuss the inside scoop of what went into making this VR content. There will be booths set up at the event for people to try out this VR experience.
There will also be a chance to experience "Hikaru" & "Chikai" – VR in high-resolution at five Sony stores in Japan from January 18 to 20. Additional talk events are scheduled to be held at the Nagoya branch on January 19 and at the Osaka branch on January 20 where Wataru Takeishi and Kaji Nozomu will discuss the music and video production.
Both the Kingdom Hearts III opening theme Face My Fears (Japanese Version) and ending theme Chikai will also be available to listen to in high-resolution in the Sony stores and exclusive Kingdom Hearts III headphones will be sold early ahead of their official release.
RELATED ENTRIES
Shiseido Releases Video for Global "POWER IS YOU" Campaign

Japanese cosmetic company Shiseido, sold in 88 countries around the world, has released a new conceptual video for its global "POWER IS YOU" campaign.

The short video features a star-studded cast of ambassadors from a variety of fields, including Megan Rapinoe, co-captain of the U.S. women's national soccer team, known for her advocacy and creative style that defies stereotypes. The athlete has commented on her inclusion in the "POWER IS YOU" campaign, proud to show her authentic self and inspire others to live their truth.

Comment from Megan Rapinoe

"Shiseido makes so many of the products I use in my daily life, so when I was invited to collaborate on this new campaign, I didn't even have to think about it. Partnering with such a great company means a lot to me. I deeply believe in the individual power of every human being, and I think that anyone has the power to change the world. "POWER IS YOU" represents the power each of us has to alter the world for the better, which is something that resonates with me personally. I want young people especially to know that it is possible to change things. I hope they do, and I hope that this campaign helps to inspire more people to feel the same." 

Conceptual Videeo

The song used for the campaign is Utada Hikaru's Find Love. The singer also appears in the video as an ambassador. 

Comment from Utada Hikaru

"The source of all power is believing in yourself.

It takes courage to know yourself, but being honest with yourself is the key to finding that inner beauty. Courage is beautiful." 

Finally, Ursula Corbero, who gained international fame for her role in the Netflix series Paper House, appears as the final ambassador. The actress is an avid philanthropist and has long supported a number of causes including breast cancer awareness, childhood cancer awareness, and climate change awareness. She is also the founder of Ymas, a company of artists allowing people to attend movie premieres and special behind-the-scenes events. 

Comment from Ursula Corbero

"Inner beauty comes from positivity.
Tap into your individual energy, and if there's something you want to do, do it!
It's okay to make mistakes. Life is not perfect, and those imperfections make it beautiful." 

Japan's Virtual Art Museum 'In ART' Announces Abstract Painting Solo Exhibition by CBA

In ART is a Japanese virtual art museum displaying works by a line-up of specially-selected artists. The museum is accessible through VR where users can not only look at art pieces but watch commentaries by the artists as well as shop at the museum store.

In ART has revealed that abstract painter CBA will be the third in a line-up of solo exhibitions. CBA is a graphic designer with over 20 years of experience and is also active as a musician both in Japan and overseas. They changed jobs to become an artist in 2010, and since then, their unique style which breaks language and cultural barriers has garnered them many fans from outside Japan. Most recently, CBA opened a solo exhibition at Franck Muller Boutique in Madrid, Spain. Their work is inherently universal, getting through to people regardless of age, language, or culture, something which is best appreciated when seen for yourself, and is now observable at In ART.

Some of CBA's works on virtual display

CBA | Comment

-shine on the life- Pray for better life
"The foundation of my work is built on putting together different elements to create something, just like how you would techno music. Colours and shapes elicit emotions and smells. Abstract painting isn't just playing around experimenting or taking chances—it's something that's formed and composed, and I'd love for people to enjoy that aspect when looking at my work. I urge you to enjoy the colours, shapes, and compositions as you would music."

In ART opened as a service offering people the opportunity to spend time enjoying art, even alone in their own house, as well as serving as a platform to support artists. Its aim is to make art a normal part of of everybody's lives, and it does this in the form of a virtual museum which uses 3DCG technology. While it is an art museum, you don't have to pay to enter. You can enjoy artwork at your leisure on your favourite device, and if there's a piece you want to buy, then you can.

Don't miss the abstract work of CBA in their virtual solo exhibition.

Information

CBA SOLO EXHIBITION +Up!
Running: June 7, 2021 – September 7, 2021

Entry: Free and open 24 hours a day
In ART Official Website: https://in-art.jp
In ART Official Museum Shop: https://shop.in-art.jp

Netflix's Devilman Anime Series Gets Online Virtual Reality Exhibition

An exhibition centred on the Devilman manga series by Go Nagai, the 1972 Devilman anime adaptation, and Netflix's 2018 DEVILMAN crybaby anime adaptation, is set to take place on the online exhibition platform Virtual Utopia from April 28 to May 31.

What to look forward to

*Visuals are of an exhibition still in development

*Visuals are of an exhibition still in development

A devilish experience split into 11 areas

Devilman has been entertaining readers and anime-lovers for almost half a decade. The exhibition will depict the comparisons between humans and demons of the series in 11 different areas, each recreating scenes that are sure to be instantly-recognisable to fans.

Main Area: Heart of a Demon / Heart of a Human

The main portion of the exhibition is split into four areas which fans will find themselves going back to numerous times, and in different orders, giving each visitor their own unique perspectives and interpretations. There's also a hidden area which can only be accessed by those who have seen the 'special exhibit.' There's also a free-to-enter area with messages from the creators.

Go deeper into the VR Devilman Exhibition with the voice guide
Forget your usual guides, this exhibition incorporates voiceover guides to walk people through the exhibition. For an extra fee, fans can have Megumi Han, who plays Miki Makimura in DEVILMAN crybaby, and Tomokazu Seki, who for this exhibition is playing Psycho Jenny, guide them through the different areas.

*Visuals are of an exhibition still in development

Users can download the Virtual Utopia app for free, and the exhibition can be attended even without a VR headset. There will also be talks by the author and other notable people in the industry which can be watched live on YouTube, so anyone can get involved.

Ground Y T-Shirt Collaboration

The exhibition is also collaborating with Yohji Yamamoto's fashion brand Ground Y on six original tees.

 ©永井豪/ダイナミック企画
TVアニメ版「デビルマン」©ダイナミック企画・東映アニメ―ション
DEVILMAN crybaby        ©Go Nagai-Devilman Crybaby Project
©VRデビルマン展実行委員会

Eat All the Sushi You Can in the VR Game No Sushi, No Life Available On Steam

DMM VR lab released a new 3D VR game last week on Steam and DMM.com titled No Sushi, No Life.

The game is set in the year 20XX in a sushi bar in Neo Tokyo City. The aim of the virtual reality game is simple: to eat as much sushi as you can. Players must grab all the sushi coming their way and wolf it down. Their reflexes are tested as more sushi plates speed toward them on the conveyor belt. If a plate of sushi falls to the floor, it's game over. As players eat more sushi the conveyor belt will run faster and faster. Can you survive the culinary onslaught?

Teasing Master Takagi-san VR Game Sequel To Be Released This Year

The popular VR game Teasing Master Takagi-san VR – 1st Semester is releasing a Semester 1 & 2 version in the remainder of 2020.

Teasing Master Takagi-san is a popular Shōnen comedy manga featured in the monthly Shōnen Sunday magazine Get the Sun (GESSAN) by KAYAC Inc. and SHOGAKUKAN Inc. The manga, which was created by Sōichirō Yamamoto, has sold over 8.7 million copies.

Become Nishikata with The Oculus Quest VR Headset

Teasing Master Takagi-san VR – Semester 1 & 2 is the sequel to Teasing Master Takagi-san VR – 1st Semester which was released in May 2020. You play as Nishikata from the manga and anime series who Takagi likes to tease all the time.

New Contents To Explore

Fishing


Enjoy a fun fishing competition with Takagi-san. The first to catch five fish wins!

Poker


How about a serious game of poker?

Compete to Build the Best Snowman


Takagi-san will challenge you to a snowman-building competition. The person who creates the best snowman wins. When it comes to snowmen, Takagi-san might have some strange preferences…

Sports Test


Rise to the challenge of a sports contest with Takagi-san. From a hand grip strength test to stamina tests, Takagi-san will be pushing you to the limits.

Teasing Master Takagi-san VR – Semester 1 & 2 can be played on Oculus Quest and Oculus Quest 2 and offers additional contents to Teasing Master Takagi-san VR – 1st Semester. Along with new game contents, there are four different story modes. Takagi-san is even voiced by Rie Takahashi who also voiced the TV series, making the game even more immersive.

The moment you put on your cordless Oculus Quest device, you will transform into Nishikata and will be able to freely move and enjoy the world of the manga.

If you've always dreamt of becoming Nishikata and being teased by Takagi-san, this is definitely the game for you.

Information

Teasing Master Takagi-san VR – 1st & 2nd Semester
Official Website: https://vr-takagi3.com/

Available On: Oculus Quest, Oculus Quest 2

Platform: The Oculus Store

Tokyo National Museum Announces VR Experience of the Famous Pine Trees Screen

Tokyo National Museum has announced that it is set to showcase the Shōrin-zu byōbu, or Pine Trees Screen, in VR at its TNM & TOPPAN Museum Theatre from October 7, 2020.


Japanese artist Hasegawa Tōhaku's Pine Trees Screen has been digitally rendered in 25,376,150,000 images so that visitors can appreciate the details of this ink-on-paper work of this officially-recognised National Treasure of Japan.

Additionally, another one of Tōhaku's works, Kaedezu Kabeharitsuke (Maple Trees) will also be available to view in VR from October 6 to November 29.

About the Pine Tree Screens

Of the many National Treasures kept at Tokyo National Musuem, Hasegawa Tōhaku's Shōrin-zu byōbu is one of the most popular. It's a piece that has much mystery surrounding it, with people not knowing the pine tree location that he painted, or why he painted it. The VR experience will look into how the painting may have come about as well as take a stroll through Tōhaku's other works, his life, and more.

The VR experience is an incredible opportunity for people unable to visit Tokyo National Museum to see a masterful and respected piece of Japanese art.

Information

National Treasure Shōrin-zu byōbu in VR (Japanese Title: 国宝 松林図屛風―乱世を生きた絵師・等伯―)

Running: October 7, 2020 – January 17, 2020

Closed: December 21, 2020 – January 1, 2021

Showing Times: Wednesday-Sunday and Public Holidays at 11:00, 12:00, 13:30, 15:00, 16:00

Location: TNM & TOPPAN Museum Theatre

Official Website: http://www.toppan-vr.jp/mt/en/

Pokémon Virtual Fest Virtual Theme Park Trailer Released

The Pokémon Company's "Pokémon Virtual Fest" is now open for business in Japan and is set to run until August 31, 2020. A trailer was posted on the official Pokémon YouTube channel in promotion of the event.

Pokémon Virtual Fest | Promotional Video

Pokémon Virtual Fest is accessible by using the 'cluster' app on mobile or PC. Pokémon Trainers can look forward to jumping into a fully-realised Pokémon world with themed attractions, events, and much more. More content will be added to the virtual theme park in the coming weeks.

Being a theme park, Pokémon Virtual Fest of course has its own attractions like the Pokémon Ferris Wheel, the Galarian Weezing Train which gives players a tour of the park, and more. Players can watch Pokémon Sword and Shield Pokémon battles on the stage, complete various escape games, visit the store area, go to the beach, and much more. For a full run-down of the event, check out our detailed breakdown here.

©2020 Pokémon. ©1995-2020 Nintendo/Creatures Inc. /GAME FREAK inc.
Pokémon, ポケットモンスター, and ポケモン are registered trademarks of Nintendo, Creatures Inc., and GAME FREAK inc.
© 2017 Cluster, Inc.

Information

Pokémon Virtual Fest Virtual
Running: August 12 – 31, 2020

Compatible Devices: Smartphone (iOS/Android), PC (Win/Mac), VR HTC VIVE/VIVE Pro, Oculus Rift/RiftS)

How to Acess: Create a free account on the 'cluster' app. The app must be installed on your device. For full details, visit the Pokémon Virtual Fest website below.

Pokémon Virtual Fest: https://pokemon2020.cluster.mu/

Kyoto's World Heritage Site Nijo Castle Announces Summer Evening Illumination Event

NAKED, INC. has announced that it is holding a special summertime light-up event at Nijo Castle, a World Heritage Site in Kyoto, from August 8 to August 30. The company has also released its first ever 3DCG VR experience NAKED NINJA -Nijo-jo Castle- on the official NAKED, INC. online store.

Enjoy art entertainment in person or at home

NAKED, INC. has collaborated with many World Heritage Sites, Cultural Properties, tourism centres, leisure spots, and more over the years. Right now, the company is grappling with the question of what the shape of tourism, as well as art and entertainment, looks like during the COVID-19 outbreak—and what shape it will take post-pandemic. Nijo Castle is no exception, a place that enjoys tourism from both Japanese people and people overseas. In considering these issues, NAKED has conceived two different ways Nijo Castle can still entertain tourism now and in the near future.

The first is holding an event in person at Nijo Castle in the form of an outdoor light-up event that will have people wandering around as opposed to being stationary. In spring of 2017, NAKED held "Nijo Castle Cherry Blossom Festival 2017" where they hosted a variety of performances and events in line with the season. In fact, one such event was planned to take place at Nijo Castle this summer, but it had to be reconsidered as a result of COVID-19. Those involved still wanted to come up with a way that people who live close by could still enjoy some leisure time this summer, which is what led to this light-up event from NAKED.

Visitors will be able to enjoy the light-up safely by staying a set distance from one another while walking around Nijo Castle. The number of people inside at once will also be restricted. As well as this, people will need to wear masks, temperature will be regulated, and alcohol gel will be provided—all to ensure that visitors are kept safe.

The second way that NAKED has devised for people to still enjoy Nijo Castle is with the release of NAKED NINJA -Nijo-jo Castle-, the company's first ever full 3DCG VR experience that lets people enjoy Nijo Castle online in a virtual space. This is so that people who cannot visit Nijo Castle can still enjoy its sights. NAKED plans to launch even more real and virtual, offline and online experiences in the future too in order to promote tourism in a new way during COVID-19.

Information

Nijo Castle x NAKED Summer Special Light-Up 2020
Running: August 8, 2020 – August 30, 2020

Time: 19:00-22:00 (Last Entries 21:20)
Location: Nijo Castle

Address: 541 Nijojocho, Nakagyo Ward, Kyoto場

NAKED NINJA-Nijo-jo Castle- VR
Price: ¥880 (Tax Included)

Official Website: https://event.naked.works/nijojo-summer2020/

Tokyo National Museum Now Showing 'Secrets of Screen Paintings' Exhibition in its VR Theater

TNM & TOPPAN Museum Theater—a theatre set up by Tokyo National Museum, The National Center for the Promotion of Cultural Properties, and Toppan Printing where visitors can experience cultural assets in virtual reality—had to temporarily closed due to the effects of the COVID-19 outbreak. However, they their Secrets of Screen Paintings: Wind God and Thunder God and Flowering Plants of Summer and Autumn exhibition can finally go ahead in the VR experience which will run from July 1 to October 4.

Additionally, Tokyo National Museum will display Japan's painting and cultural property Wind God and Thunder God in Room 7 of the main building from July 21 to August 10.

The Secrets of Screen Paintings: Wind God and Thunder God and Flowering Plants of Summer and Autumn online exhibition speaks for itself: it is a VR recreation that looks into the secrets behind two screen paintings and cultural properties—Wind God and Thunder God by Ogata Kōrin and Flowering Plants of Summer and Autumn by Sakai Hōitsu.

VR "Secrets of Screen Paintings: Wind God and Thunder God and Flowering Plants of Summer and Autumn"

There's something hidden behind Kōrin's byōbu screen painting Wind God and Thunder God. Incredibly, it's Hōitsu's masterpiece Flowering Plants of Summer and Autumn. Kōrin's screen painting belonged to Hōitsu's family. Hōitsu long admired Kōrin and considered him his mentor.

The exhibition will dive into this secret story behind Flowering Plants of Summer and Autumn, the famous painting of rain-drenched and wind-battered flowers.

The ancient paintings brought to life

The two folding screen paintings have been separated and safely stored since 1974 to ensure their preservation. The VR experience recreates the paintings' original back-to-back form.

Understand the secrets

Wind God and Thunder God was painted on the front of the folding screen while Flowering Plants of Summer and Autumn was painted on the back. By looking at both, we uncover the deeper story behind these ancient paintings.

See the folding screens in the right light

Thanks to VR technology, the folding screens can be made bigger to look at all of the little details and in the right light.

Information

Secrets of Screen Paintings: Wind God and Thunder God and Flowering Plants of Summer and Autumn

Location: TNM & TOPPAN Museum Theater (Tokyo National Museum Floor B1F)
Running: July 1, 2020 – October 4, 2020

Times: [Wed-Sun/National Holidays] 11:00/12:00/13:30/15:00/16:00
* Running time: about 35 min.
* All visitors must make an online reservation to the museum.
* Screening times are subject to change.
* Admission starts 5 minutes prior to screening.
* You may not enter/exit mid-way through the program.
* Please purchace tickets ahead of screening time. (Tickets are sold on the day only.)

Official Website: http://www.toppan-vr.jp/mt/en/showing/

Experience Teasing Master Takagi-san in New VR Game

A new VR game entitled Teasing Master Takagi-san VR – 1st Semester was released on May 22, 2020 on Steam and Oculus. The game is based on the popular manga series Teasing Master Takagi-san by Sōichirō Yamamoto.

Walk together with Takagi under your umbrella

Play some beach volleyball with Takagi

You play as Nishikata from the manga and anime series who Takagi likes to tease all the time. The VR game allows you to experience popular scenes from the original story, and also introduces some completely original story points. Walk home from school with Takagi, play volleyball with her on the beach, and more. Rie Takahashi, who voices Takagi in the anime series, also voices her in the VR game to make it that much more immersive.

Drink some juice with Takagi from the vending machine

The VR game implements not only head tracking, but 6DoF, or "six degrees of freedom," which is required for movement in game, allowing for the player to feel fully immersed.

According to SuperData Research, VR headset sales rose rapidly by 31% in 2018—from $1.6 billion to $2.1 billion—which has meant that more and more content has been coming out. Additionally, the result of the novel coronavirus (COVID-19) has shown record numbers of people using Steam and VR headsets. This is what let to the creation of Teasing Master Takagi-san VR – 1st Semester.

Steam is holding a 10% off campaign for one week starting from May 22, 2020. The Oculus Quest version will also expand on the game with a 2nd semester.

Bunjee Jump From the Top of Kyoto Tower With Their New VR Experience

Have you ever wondered what the thrill of bungee jumping would be like, but are too afraid of heights to even consider putting it on your bucket list? Have no fear, because Kyoto Tower is bringing a new VR bungee jumping experience to the top of the building which will be available to experience from February 1 for a limited time.

This VR experience was first brought to the tower in the fall of 2018, and this year it is making its grand return. After the event originally ended, there was huge demand for it to be held again.

Those brave enough to have a go at this VR bungee jump (or bungy, depending where you are from), will go above and beyond the 100 meter observation deck to the highest accessible point of Kyoto Towerーup 120.9 metersーwhich is normally closed off to the public, to the special VR deck which has been prepared.

The experience will offer you not only the thrill of jumping from Kyoto's tallest structure, but the chance to gaze upon a panoramic view of the beautiful city too.

Information

Kyoto Tower VR Bungy Jump

Running: February 1, 2020 – March 31, 2020

Time: 12:00-21:00 (Last Entries 20:45)

Location: Kyoto Tower Observation Deck – Floor 1F (the 11th floor of Kyoto Tower)

Price:

・VR Bungy Ticket: ¥800 (Tax Included)

・Observation Deck & Bungy Set Ticket (Tax Included): Adults: ¥1,400 (Individual Purchase: ¥1,600)/High School Students: ¥1,300 (Individual Purchase: ¥1,450)/Elementary & Junior High Students: ¥1,100 (Individual Purchase: ¥1,350)

*Ages 7+ only

*Set tickets are available to purchase on floor 1F of Kyoto Tower

*Run times subject to change

*Ticket charges applied for ages 7+; those aged below 7-years-old are not permitted to use the VR system

*An entry ticket to the Kyoto Tower observation deck is not necessary to experience the VR system

Official Website: https://vr-bungee.com/

Ringo Sheena To Release New Roman to Soroban Tokyo Version with Hikaru Utada

Ringo Sheena's greatest hits album Newton no Ringo ~Hajimete no Best Ban~ is currently reigning high on the sales charts. Ringo Sheena will release a brand new Tokyo version of the song Roman to Soroban, which she created with Hikaru Utada, on November 25.

Still image from the Roman to Soroban Official Music Video.

In an interview with Ringo Sheena about the release of her album Sandokushi, she referred to Hikaru Utada as the sun and herself as the shade. Roman to Soroban is the second song the two friends worked on together since Utada's release of Nijikan Dake no Vacance in which Ringo Sheena was the featuring artist. Roman to Soroban LDN ver., which goes by the English name The sun&moon in london, is the opening song of Newton no Ringo. The song features the instrumentals of the London Philharmonic Orchestra and was recorded at Abbey Road Studios in London. 

Following up on the release of the London version of Roman to Soroban, Sheena and Utada have set out to release a Tokyo version which will go by the official name Roman to Soroban TYO ver in Japanese and The sun&moon in tokyo in English.

The recording of the brand new Tokyo version will be brought to life with the cooperation of her long-time tour members Keisuke Torigoe (bass), Midorin (drums), Yukio Nagoshi (guitar), and H Zett M (keys), recreating the song in a whole new genre which rings "Tokyo sound".