Experience Teasing Master Takagi-san in New VR Game
A new VR game entitled Teasing Master Takagi-san VR – 1st Semester was released on May 22, 2020 on Steam and Oculus. The game is based on the popular manga series Teasing Master Takagi-san by Sōichirō Yamamoto.
Walk together with Takagi under your umbrella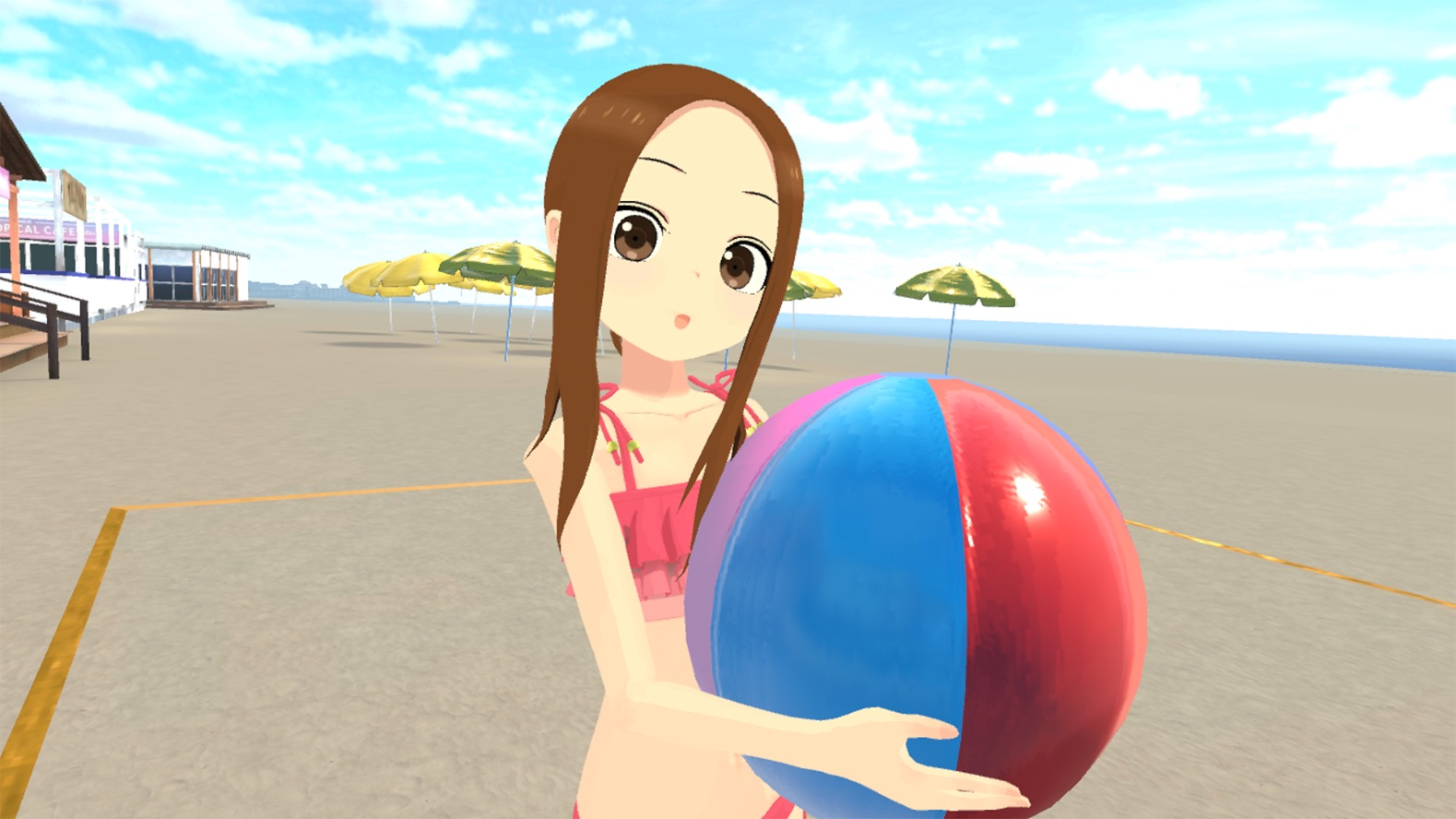 Play some beach volleyball with Takagi
You play as Nishikata from the manga and anime series who Takagi likes to tease all the time. The VR game allows you to experience popular scenes from the original story, and also introduces some completely original story points. Walk home from school with Takagi, play volleyball with her on the beach, and more. Rie Takahashi, who voices Takagi in the anime series, also voices her in the VR game to make it that much more immersive.
Drink some juice with Takagi from the vending machine
The VR game implements not only head tracking, but 6DoF, or "six degrees of freedom," which is required for movement in game, allowing for the player to feel fully immersed.
According to SuperData Research, VR headset sales rose rapidly by 31% in 2018—from $1.6 billion to $2.1 billion—which has meant that more and more content has been coming out. Additionally, the result of the novel coronavirus (COVID-19) has shown record numbers of people using Steam and VR headsets. This is what let to the creation of Teasing Master Takagi-san VR – 1st Semester.
Steam is holding a 10% off campaign for one week starting from May 22, 2020. The Oculus Quest version will also expand on the game with a 2nd semester.
RELATED ENTRIES
Pokémon Virtual Fest Virtual Theme Park Trailer Released

The Pokémon Company's "Pokémon Virtual Fest" is now open for business in Japan and is set to run until August 31, 2020. A trailer was posted on the official Pokémon YouTube channel in promotion of the event.

Pokémon Virtual Fest | Promotional Video

Pokémon Virtual Fest is accessible by using the 'cluster' app on mobile or PC. Pokémon Trainers can look forward to jumping into a fully-realised Pokémon world with themed attractions, events, and much more. More content will be added to the virtual theme park in the coming weeks.

Being a theme park, Pokémon Virtual Fest of course has its own attractions like the Pokémon Ferris Wheel, the Galarian Weezing Train which gives players a tour of the park, and more. Players can watch Pokémon Sword and Shield Pokémon battles on the stage, complete various escape games, visit the store area, go to the beach, and much more. For a full run-down of the event, check out our detailed breakdown here.

©2020 Pokémon. ©1995-2020 Nintendo/Creatures Inc. /GAME FREAK inc.
Pokémon, ポケットモンスター, and ポケモン are registered trademarks of Nintendo, Creatures Inc., and GAME FREAK inc.
© 2017 Cluster, Inc.

Information

Pokémon Virtual Fest Virtual
Running: August 12 – 31, 2020

Compatible Devices: Smartphone (iOS/Android), PC (Win/Mac), VR HTC VIVE/VIVE Pro, Oculus Rift/RiftS)

How to Acess: Create a free account on the 'cluster' app. The app must be installed on your device. For full details, visit the Pokémon Virtual Fest website below.

Pokémon Virtual Fest: https://pokemon2020.cluster.mu/

Kyoto's World Heritage Site Nijo Castle Announces Summer Evening Illumination Event

NAKED, INC. has announced that it is holding a special summertime light-up event at Nijo Castle, a World Heritage Site in Kyoto, from August 8 to August 30. The company has also released its first ever 3DCG VR experience NAKED NINJA -Nijo-jo Castle- on the official NAKED, INC. online store.

Enjoy art entertainment in person or at home

NAKED, INC. has collaborated with many World Heritage Sites, Cultural Properties, tourism centres, leisure spots, and more over the years. Right now, the company is grappling with the question of what the shape of tourism, as well as art and entertainment, looks like during the COVID-19 outbreak—and what shape it will take post-pandemic. Nijo Castle is no exception, a place that enjoys tourism from both Japanese people and people overseas. In considering these issues, NAKED has conceived two different ways Nijo Castle can still entertain tourism now and in the near future.

The first is holding an event in person at Nijo Castle in the form of an outdoor light-up event that will have people wandering around as opposed to being stationary. In spring of 2017, NAKED held "Nijo Castle Cherry Blossom Festival 2017" where they hosted a variety of performances and events in line with the season. In fact, one such event was planned to take place at Nijo Castle this summer, but it had to be reconsidered as a result of COVID-19. Those involved still wanted to come up with a way that people who live close by could still enjoy some leisure time this summer, which is what led to this light-up event from NAKED.

Visitors will be able to enjoy the light-up safely by staying a set distance from one another while walking around Nijo Castle. The number of people inside at once will also be restricted. As well as this, people will need to wear masks, temperature will be regulated, and alcohol gel will be provided—all to ensure that visitors are kept safe.

The second way that NAKED has devised for people to still enjoy Nijo Castle is with the release of NAKED NINJA -Nijo-jo Castle-, the company's first ever full 3DCG VR experience that lets people enjoy Nijo Castle online in a virtual space. This is so that people who cannot visit Nijo Castle can still enjoy its sights. NAKED plans to launch even more real and virtual, offline and online experiences in the future too in order to promote tourism in a new way during COVID-19.

Information

Nijo Castle x NAKED Summer Special Light-Up 2020
Running: August 8, 2020 – August 30, 2020

Time: 19:00-22:00 (Last Entries 21:20)
Location: Nijo Castle

Address: 541 Nijojocho, Nakagyo Ward, Kyoto場

NAKED NINJA-Nijo-jo Castle- VR
Price: ¥880 (Tax Included)

Official Website: https://event.naked.works/nijojo-summer2020/

Tokyo National Museum Now Showing 'Secrets of Screen Paintings' Exhibition in its VR Theater

TNM & TOPPAN Museum Theater—a theatre set up by Tokyo National Museum, The National Center for the Promotion of Cultural Properties, and Toppan Printing where visitors can experience cultural assets in virtual reality—had to temporarily closed due to the effects of the COVID-19 outbreak. However, they their Secrets of Screen Paintings: Wind God and Thunder God and Flowering Plants of Summer and Autumn exhibition can finally go ahead in the VR experience which will run from July 1 to October 4.

Additionally, Tokyo National Museum will display Japan's painting and cultural property Wind God and Thunder God in Room 7 of the main building from July 21 to August 10.

The Secrets of Screen Paintings: Wind God and Thunder God and Flowering Plants of Summer and Autumn online exhibition speaks for itself: it is a VR recreation that looks into the secrets behind two screen paintings and cultural properties—Wind God and Thunder God by Ogata Kōrin and Flowering Plants of Summer and Autumn by Sakai Hōitsu.

VR "Secrets of Screen Paintings: Wind God and Thunder God and Flowering Plants of Summer and Autumn"

There's something hidden behind Kōrin's byōbu screen painting Wind God and Thunder God. Incredibly, it's Hōitsu's masterpiece Flowering Plants of Summer and Autumn. Kōrin's screen painting belonged to Hōitsu's family. Hōitsu long admired Kōrin and considered him his mentor.

The exhibition will dive into this secret story behind Flowering Plants of Summer and Autumn, the famous painting of rain-drenched and wind-battered flowers.

The ancient paintings brought to life

The two folding screen paintings have been separated and safely stored since 1974 to ensure their preservation. The VR experience recreates the paintings' original back-to-back form.

Understand the secrets

Wind God and Thunder God was painted on the front of the folding screen while Flowering Plants of Summer and Autumn was painted on the back. By looking at both, we uncover the deeper story behind these ancient paintings.

See the folding screens in the right light

Thanks to VR technology, the folding screens can be made bigger to look at all of the little details and in the right light.

Information

Secrets of Screen Paintings: Wind God and Thunder God and Flowering Plants of Summer and Autumn

Location: TNM & TOPPAN Museum Theater (Tokyo National Museum Floor B1F)
Running: July 1, 2020 – October 4, 2020

Times: [Wed-Sun/National Holidays] 11:00/12:00/13:30/15:00/16:00
* Running time: about 35 min.
* All visitors must make an online reservation to the museum.
* Screening times are subject to change.
* Admission starts 5 minutes prior to screening.
* You may not enter/exit mid-way through the program.
* Please purchace tickets ahead of screening time. (Tickets are sold on the day only.)

Official Website: http://www.toppan-vr.jp/mt/en/showing/

Bunjee Jump From the Top of Kyoto Tower With Their New VR Experience

Have you ever wondered what the thrill of bungee jumping would be like, but are too afraid of heights to even consider putting it on your bucket list? Have no fear, because Kyoto Tower is bringing a new VR bungee jumping experience to the top of the building which will be available to experience from February 1 for a limited time.

This VR experience was first brought to the tower in the fall of 2018, and this year it is making its grand return. After the event originally ended, there was huge demand for it to be held again.

Those brave enough to have a go at this VR bungee jump (or bungy, depending where you are from), will go above and beyond the 100 meter observation deck to the highest accessible point of Kyoto Towerーup 120.9 metersーwhich is normally closed off to the public, to the special VR deck which has been prepared.

The experience will offer you not only the thrill of jumping from Kyoto's tallest structure, but the chance to gaze upon a panoramic view of the beautiful city too.

Information

Kyoto Tower VR Bungy Jump

Running: February 1, 2020 – March 31, 2020

Time: 12:00-21:00 (Last Entries 20:45)

Location: Kyoto Tower Observation Deck – Floor 1F (the 11th floor of Kyoto Tower)

Price:

・VR Bungy Ticket: ¥800 (Tax Included)

・Observation Deck & Bungy Set Ticket (Tax Included): Adults: ¥1,400 (Individual Purchase: ¥1,600)/High School Students: ¥1,300 (Individual Purchase: ¥1,450)/Elementary & Junior High Students: ¥1,100 (Individual Purchase: ¥1,350)

*Ages 7+ only

*Set tickets are available to purchase on floor 1F of Kyoto Tower

*Run times subject to change

*Ticket charges applied for ages 7+; those aged below 7-years-old are not permitted to use the VR system

*An entry ticket to the Kyoto Tower observation deck is not necessary to experience the VR system

Official Website: https://vr-bungee.com/

Experience the Attack on Titan VR Game at the MORI Tower Sky Deck in Roppongi Hills

As part of the ongoing Attack on Titan Exhibition FINAL event that is taking place at MORI Arts Center Gallery until September 8, a new addition has been added to the event that will take place from August 6 to September 8.

Titled "Sky Deck ~The Colossal Titan's Invasion~," the event will take place on the open-top roof of Roppongi Hills MORI Tower that will make use of the surrounding environment and utilise AR technology to project the Colossal Titan before your very eyes, up 270 meters high.

What happens when the Colossal Titan himself appears before you in real life? This virtual experience will give you a peek into the cruel and terrifying world of Attack on Titan.

Information

Attack on Titan Exhibition FINAL x Sky Deck ~The Colossal Titan's Invasion~

Location: Roppongi Hills Tokyo City View Sky Deck (Roppongi Hills MORI Tower Rooftop)

Running: August 6, 2019 – September 8, 2019

Time: 11:00-18:00

*Sky Deck opening hours extended to 22:00 (last entries 21:30) on August 25

*Sky Deck opening hours reduced to 17:00 on August 10 due to the firework festival (August 11 if postponed)

*Last entries are 30 minutes before each respective closing time

Price: Sky Deck fee only (AR is free to experience): General ¥500 / Aged 4-12 Years ¥300

*Separate fees are charged for entry to the exhibition, sky deck, and Mori Art Museum

*The recommended age for the AR experience is 7+ years

Full Details (Japanese): http://tcv.roppongihills.com/jp/news/2019/08/3400/index.html

Attack on Titan Exhibition FINAL (English): https://www.kyojinten.jp/en/

Play Hide And Seek at After Hours Spooky Japanese Theme Park in Osaka

Hirakata Park in Osaka is set to host its scary nighttime horror event "Hide And Seek at Hiraka Park" again this year from August 26 to September 1. Tickets are now on sale via Lawson Tickets. The event is being held in collaboration with MBS, Yami and ICT of NTT West.

The park will take a turn for the worse as soon as evening settles and night envelops the sky, bringing a spooky shift to the usual mirthful atmosphere during the day. Something terrible will lurk in the dark after the park closes.

Participants of this event will need to use their electronic devices, such as a tablet or smartphone, to help them reach the goal within an hour while keeping hidden from any spirits that may be lying in wait in the shadows. We also recommend taking a spare pair of pants.

But that's not all, as guests at the park can now get involved in another frightening experience using VR technology. This VR game, which is called "The Vengeful Sleep Paralysis Ghost's Mansion," was introduced to the park on July 6 and is available for a limited time only.

If you're down for some hair-raising spooks but can't wait until Halloween, then you know where you need to go this summer.

Information

Hirakata Park x NTT West: "Theme Park Hide and Seek"
Location: The whole of Hirakata Park
*The meeting point is at the park's East Gate
Running: August 26, 2019 – September 1, 2019 & September 7, 2019 – September 8, 2019
Time Slots: ①19:00 / ②19:20 / ③19:40 / ④20:00 / ⑤20:20
*Participants are allocated an hour for each slot
*You must be at the East Game meeting point 5 minutes before your chosen slot

Price: Group Ticket (Up to 4 People)  – ¥14,000 (*comes with free bonus

Tickets: Lawson Ticket (L-Code: 55500)
*Where tickets are available on the day, they will only be sold up until 20:00 that day at Lawson and MINISTOP convenience stores. Please use the Loppi ticket machines in the stores and search for the tickets using the L-Code "55500."
Ticket Enquiries: Lawson Ticket – 0570-000-777 (10:00-20:00)

Homepage: https://www.mbs.jp/obake/

Teasing Master Takagi-san Season 2 Celebrated With Exhibition at Shibuya PARCO

An exhibition will be held at the Shibuya branch of shopping complex PARCO to celebrate the forthcoming second season of the popular anime adaptation of Teasing Master Takagi-san which will begin airing on July 7.

Teasing Master Takagi-san is an ongoing romantic comedy and slice of life manga series by Sōichirō Yamamoto serialised in Monthly Shōnen Sunday. The manga has sold over 7 million copies. The first season of the anime series aired from January to March last with an OVA in July.

The exhibition will plunge fans of the series into its world with original illustrations for the anime and manga and more on display. Fans can also get their hands on exclusive merchandise including capsule toys and canvas art.

A3 Poster – ¥1,000 (Tax Included)

Acrylic Key Rings (7 Designs) – ¥500 (Tax Included) *Capsule toy; design given is random

Folder Set: ¥1,200 (Tax Included)

Canvas Art: ¥2,500 (Tax Included)

Fans of Takagi and her antics with Nishikata won't want to miss out on this special limited-run exhibition.

©2019 Sōichirō Yamamoto・Shogakukan/Teasing Master Takagi-san Season 2 Production Committee

Information

Teasing Master Takagi-san Exhibition

Location: GALLERY X BY PARCO (13-17 Udagawacho, Shibuya, Tokyo)

Running: July 11 – 22, 2019

Opening Hours: 11:00-20:00

Entry: Free

Event Page: https://art.parco.jp/galleryx/detail/?id=254

Enter the 360 degree VR world of picture book "POUPELLE OF CHIMNEY TOWN" at ASOBUILD in Yokohama!

ASOBUILD (アソビル) is an entertainment complex which can be directly accessed from Yokohama station. The permanent event space "ALE-BOX" located on the 2nd floor will feature a virtual reality simulation based on the picture book "POUPELLE OF CHIMNEY TOWN" which was written by Akihiro Nishino from comedy duo "King Kong". The virtual reality simulation will start running from 15th March 2019.

The "POUPELLE OF CHIMNEY TOWN" picture book employed 35 creators who divided the work between them. It took them four and a half years to make the entire book. The creators designed not only the characters, but also the townscape, scenery, and props down to the finest detail. This beautiful illustration will now be made into a 3D world, where you can enjoy a 360 degree VR experience.

Visitors will be pulled into the world of the picture book where they can enjoy the beautiful scenery and glittering lights of the townscape. You can also enjoy the lively conversations of the two main characters Lubicchi and his new friend Poupelle, who was born out of a trash pile.

This virtual reality simulation was managed by Yoshiya Okoyama (Moonshot COO), who also managed the VR simulation for "ABAL: DINOSAUR" which is a world where you can walk among dinosaurs. He also managed "MEGASTAR JOURNEY" which is a planetarium experience. Those who take part in the chimney town VR simulator will be represented as a pumpkin in the simulation. When you enter the world of chimney town as a pumpkin, you can even enjoy the experience with others taking part. This will be Japan's first ever event where a large number of standalone VR HMD Lenovo Mirage Solo headsets will be hooked to the same simulation system at any one time. The external acoustics add to the 3D effect of the simulation. Enter the world of the story and enter a new era of technology.

Even those who have never read the picture book "POUPELLE OF CHIMNEY TOWN" can enjoy the VR experience. However, for those who wish to fully understand the world of the story, the picture book will be displayed in the room. The sale of "POUPELLE OF CHIMNEY TOWN" original goods that cannot be obtained from anywhere else has also been planned.

Enjoy the heart-warming story of "POUPELLE OF CHIMNEY TOWN" through a VR experience.

Information

POUPELLE OF CHIMNEY TOWN VR experience

えんとつ町のプペルVR
Location: ASOBUILD (アソビル) 2nd floor, ALE-BOX

Address: 2-14-9, Takashima, Nishi-ward, Yokohama, Kanagawa
Event period: Friday 15th March ー Friday 14th June (subject to change)
Opening hours: Weekdays: (Mon ー Thurs) 11:00 ー 20:00

※ Last entries: 19:30

Fridays, weekends, the day before national holidays & national holidays: 10:00 ー 21:00

Entry fee:Adults(13 y/o +)¥1400, children (7 ー 12y/o)¥700, adult pair: ¥2500

How to obtain tickets:Reservation required to receive tickets(※ You can obtain tickets on the day only if there are free spaces.)

No regular closed days

※ All prices are stated with tax included

※ Last entries: 20:30

Ticket reservation website:https://reserve.ale-box.com/reserve/122

 

Hikaru Utada's PlayStation®VR Live Experience to be Promoted at Talk Event in Shibuya

Hikaru Utada concluded her Laughter in the Dark Tour last year―her first tour in almost 12 years―on the day of her 20th anniversary. The singer is set to release her exclusive PlayStation®VR content Hikaru Utada Laughter in the Dark Tour 2018 – "Hikaru" & "Chikai" – VR worldwide for free on January 18.

A special event has been announced which will take place on the same day at Sony Square Shibuya Project in Shibuya MODI where members of the development team will talk about "Hikaru" & "Chikai" – VR.

Appearing will be the video director Wataru Takeishi, who has worked alongside Utada on several of her music videos, as well as the producer 多田 浩二 (Sony Interactive Entertainment Inc.), and Ryosuke Hayashi (Sony Imaging Products & Solutions Inc.) who supported the technical side of things. Kaji Nozomu (Sony Music Labels Inc.) who works on marketing for Utada will also be present. The four of them will discuss the inside scoop of what went into making this VR content. There will be booths set up at the event for people to try out this VR experience.

There will also be a chance to experience "Hikaru" & "Chikai" – VR in high-resolution at five Sony stores in Japan from January 18 to 20. Additional talk events are scheduled to be held at the Nagoya branch on January 19 and at the Osaka branch on January 20 where Wataru Takeishi and Kaji Nozomu will discuss the music and video production.

Both the Kingdom Hearts III opening theme Face My Fears (Japanese Version) and ending theme Chikai will also be available to listen to in high-resolution in the Sony stores and exclusive Kingdom Hearts III headphones will be sold early ahead of their official release.

Experience Hikaru Utada's 'Hikari' & 'Chikai' Performances Live On PlayStation®VR

Hikaru Utada recently concluded her 2018 Laughter in the Dark Tour―her first tour in almost 12 years―on the day of her 20th anniversary. The next big event happening for the singer (as well as the release of Kingdom Hearts III) is the release of her own content on the PlayStation®4 for PSVR.

Titled Hikaru Utada Laughter in the Dark Tour 2018 – "Hikaru" & "Chikai" – VR, the software enables you to watch Utada's live performances of the Japanese Kingdom Hearts theme songs Hikari and Chikai from the tour. Both songs will be released worldwide on January 18, 2019 for free but PlayStation®Plus users will be able to download Hikari before everyone else on Christmas Day.

Fans can look forward to experiencing that immersive 3D environment offered by PlayStation®VR. Users will be able to watch the songs live from three different angles.

The PlayStation Japan YouTube channel posted a launch trailer for the software as well as a behind-the-scenes video where you can see Hikaru Utada getting ready for her performance at Yokohama Arena on the Laughter in the Dark Tour.

Behind-The-Scenes Video

Launch Trailer

Hikaru Utada will release her new single Face My Fears on January 18, 2019 which serve as the opening theme song to the upcoming video game Kingdom Hearts III by Square Enix.

Experience Godzilla in Virtual Reality at VR ZONE Shinjuku and VR ZONE Portal

The new Godzilla VR will officially arrive at VR ZONE Shinjuku as well as VR ZONE Portal branches across Japan on November 3, 2018.

You can get an early look at the new experience at VR ZONE Shinjuku only where a a pre-opening will be held on October 26 before Godzilla VR is put into official operation.

Godzilla VR will have users piloting a helicopter in an effort to take down the behemoth. Godzilla will wreak havoc and destroy the city below as you work with your comrades to stop him in this terrifying virtual reality experience.

November 3 is also "Godzilla Day" in Japan, so get involved and help save the city from annihilation!

Information

Godzilla VR

Locations
VR ZONE Shinjuku (Tokyo)
VR ZONE Osaka (Osaka Prefecture)
namco Aeon Mall Kakamigahara (Gifu Prefecture)
namco Aeon Mall Kyoto (Kyoto Prefecture)
namco Aeon Mall Dainichi (Osaka Prefecture)

*The VR ZONE Portal branch list hosting Godzilla VR will expand in the near future.

For details on the pre-opening, opening hours and everything else, please check the link below.
https://bandainamco-am.co.jp/others/vrzone-portal/

TM&©TOHO CO., LTD.
©BANDAI NAMCO Amusement Inc.