The Valentine's mood sets in early in Japan beginning in January where shops across the country begin selling limited time food and dessert for the season of love. It can be tough picking out the right gift for Valentine's Day, but a meal or delicious treat is always a winner. And if you're in Japan, you have plenty of options.
Here's part one of our list of seasonal sweets you and your special someone can sink your teeth into this Valentine's Day.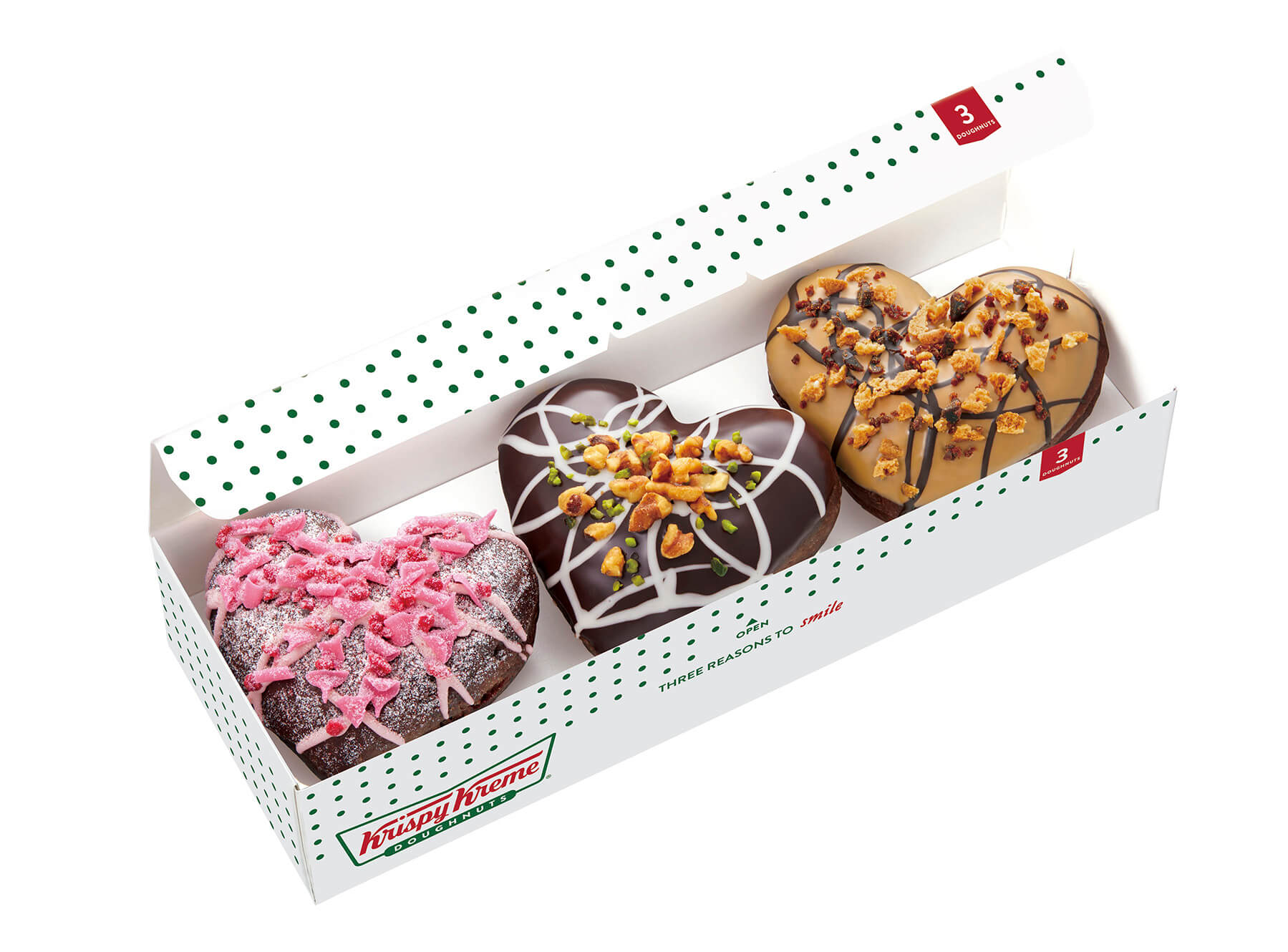 Krispy Kreme Doughnuts: Fondant Doughnuts
Krispy Kreme Doughnuts Japan is gearing up for Valentine's Day with a string of loving (and delicious) releases. The first of these in the run up to the season of love comes in the heart-shape of three doughnuts and two chocolate flavoured drinks now available at most branches in Japan. These fondant doughnuts are a popular product making a return for the first time in two years. The three flavours include the standard chocolate and the new strawberry and banana caramel. Their heart shape make them perfect for Valentine's Day♡
Full Details: https://www.moshimoshi-nippon.jp/154797
GINZA SIX: 4 Valentine's Day Treats
Tokyo's luxurious Ginza district is home to countless famous chocolateirs. Four Valentine's Day gifts have been predicted to be the trend at GINZA SIX this year, the biggest shopping complex in the Ginza area. The first is Ruby Chocolate, a variety of chocolate that was in development for over 10 years and introduced in 2017. It is to be considered as the fourth category of chocolate alongside, dark, milk and white. The second is Galentine, a tea set packed full of Valentine's season-only specially made sweets and is aimed at girls who want to have a girl's-only get-together.The third is Wasozai chocolate and the fourth is "Health-conscious" chocolate. Head to GINZA SIX to get your hands on chocolate you can't get anywhere else!
Full Details: https://www.moshimoshi-nippon.jp/144657
BAKE CHEESE TART x Dandelion Chocolate: "Baked Chocolate Cheese Tart"
BAKE CHEESE TART has teamed up with Dandelion Chocolate―the bean-to-bar chocolate makers from San Francisco―to release the new Baked Chocolate Cheese Tart. In one bite your taste buds are treated to an amalgamation of cheese mousse and rich caramel with an aftertaste of cocoa beans that have a fruity sourness to them.
Full Details: https://www.moshimoshi-nippon.jp/?p=158747
Croquant Chou Zakuzaku: Choco Zaku & Choco Soft
The Choco Zaku and Choco Soft are two new crunchy chocolate delights created by cream puff chain Croquant Chou Zakuzaku for the Valentine's season. The Choco Zaku has a crunchy exterior made from an almond crunch base and is filled with chocolate flavoured custard cream made with milk from Hokkaido. The entire puff is drizzled with chocolate sauce and topped with chocolate flakes. The Choco Soft is made with rich soft serve ice cream that tastes almost frozen and has been dipped in chocolate sauce. It is crowned with chocolate flakes and croquant. Don't miss out on these new limited edition products from this popular brand!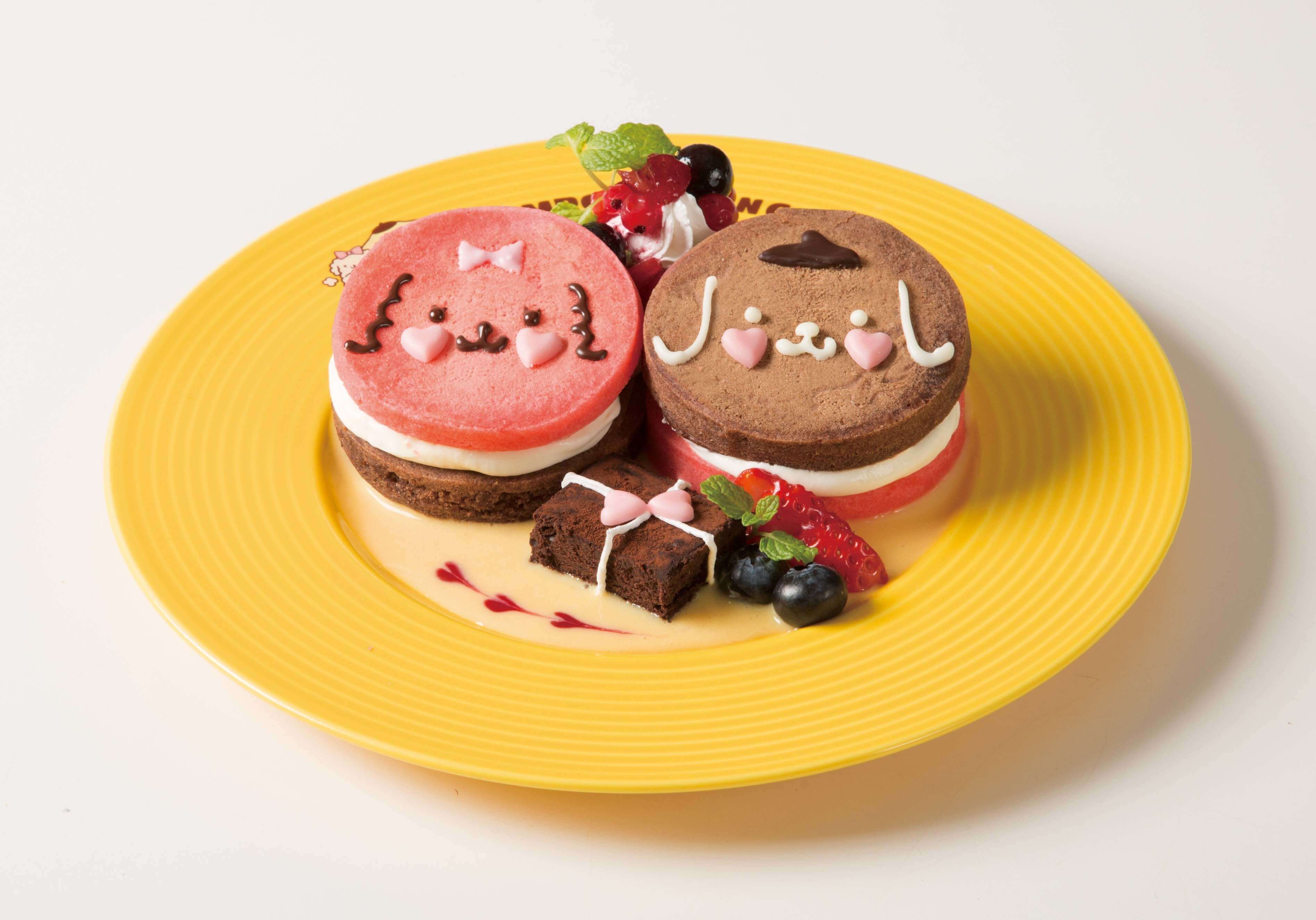 Pompompurin Cafe x Gudetama: Valentine's Day & White Day Menu
Sanrio's hugely popular characters Pompompurin and Gudetama will meet at the Yokohama and Nagoya branches of the Pompompurin Cafe for a special Valentine's Day and White Day menu special. Five items will be served, including the Cream Cheese Sandwich Lovely Pancakes, cream cheese-filled pancake sandwiches with Purin and Macaroon's faces drawn on them.
Find your favourite Valentine's Day sweets, and look forward to part two♡