Heart-Shaped Valentine's Day Doughnuts Arriving at Krispy Kreme
Krispy Kreme Doughnuts Japan is gearing up for Valentine's Day with a string of loving (and delicious) releases. The first of these in the run up to the season of love comes in the heart-shape of three doughnuts and two chocolate flavoured drinks which will arrive at all branches in Japan on January 9, 2019.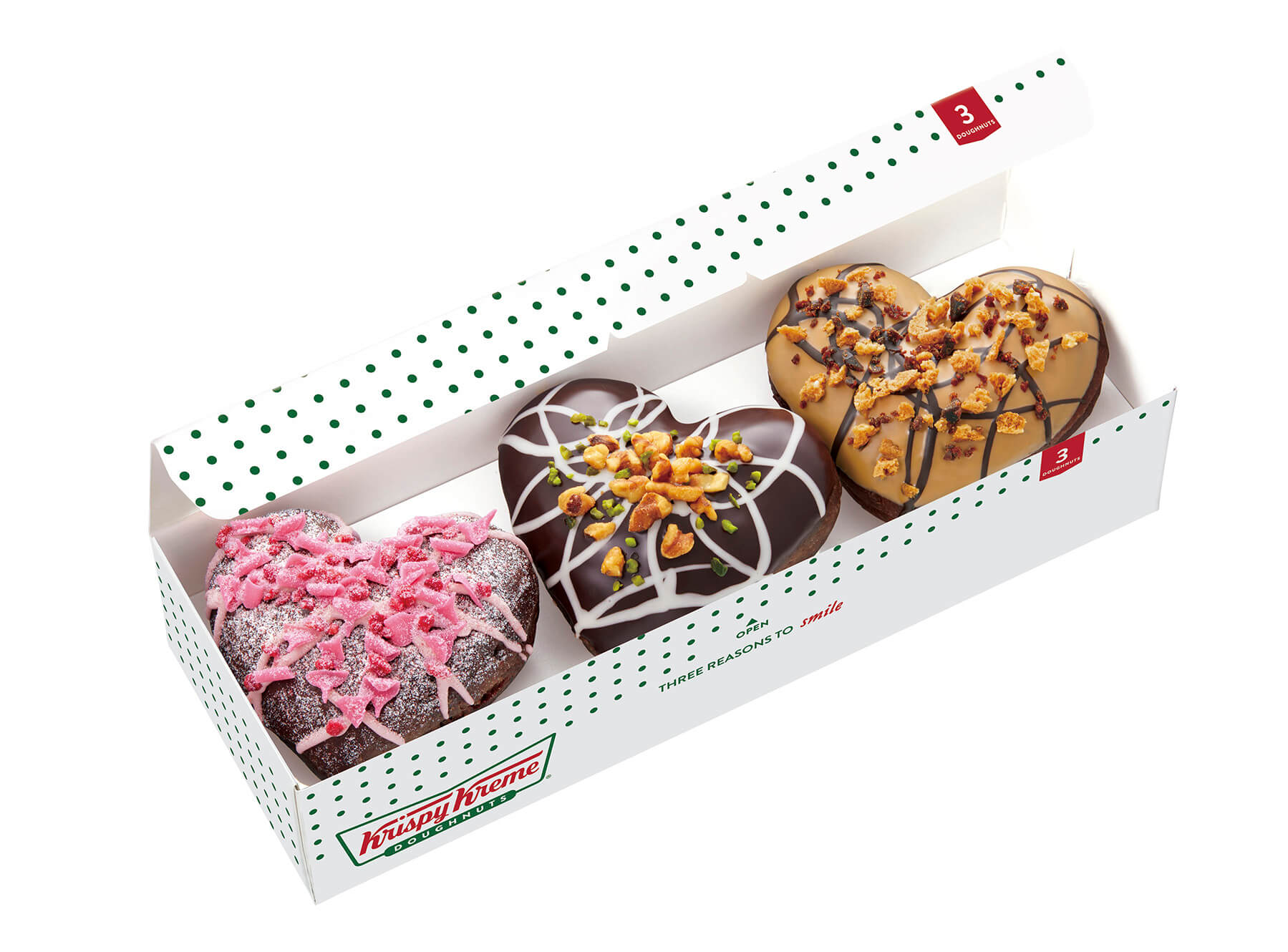 These doughnuts are a popular product making a return for the first time in two years. When warmed up for 12 seconds the microwave oven before being served the cream inside melts into a delicious fondant. The three flavours are chocolate and the new strawberry and banana caramel.
Fondant Chocolate: ¥230
The heart-shaped chocolate doughnut is filled with a velvety chocolate cream. The doughnut pastry is laced with cocoa and coated in dark chocolate. It is also decorated with a white chocolate pattern and topped with candied walnuts and pistachio for added texture.
Fondant Strawberry: ¥230
The strawberry doughnut is packed full of melty strawberry cream. The surface of the cocoa flavoured doughout is covered with strawberry chocolate and topped with bright-red freeze-dried strawberries and strawberry curls. It is finished with a dusting of strawberry sugar to create the perfect sweet and sour Valentine's treat.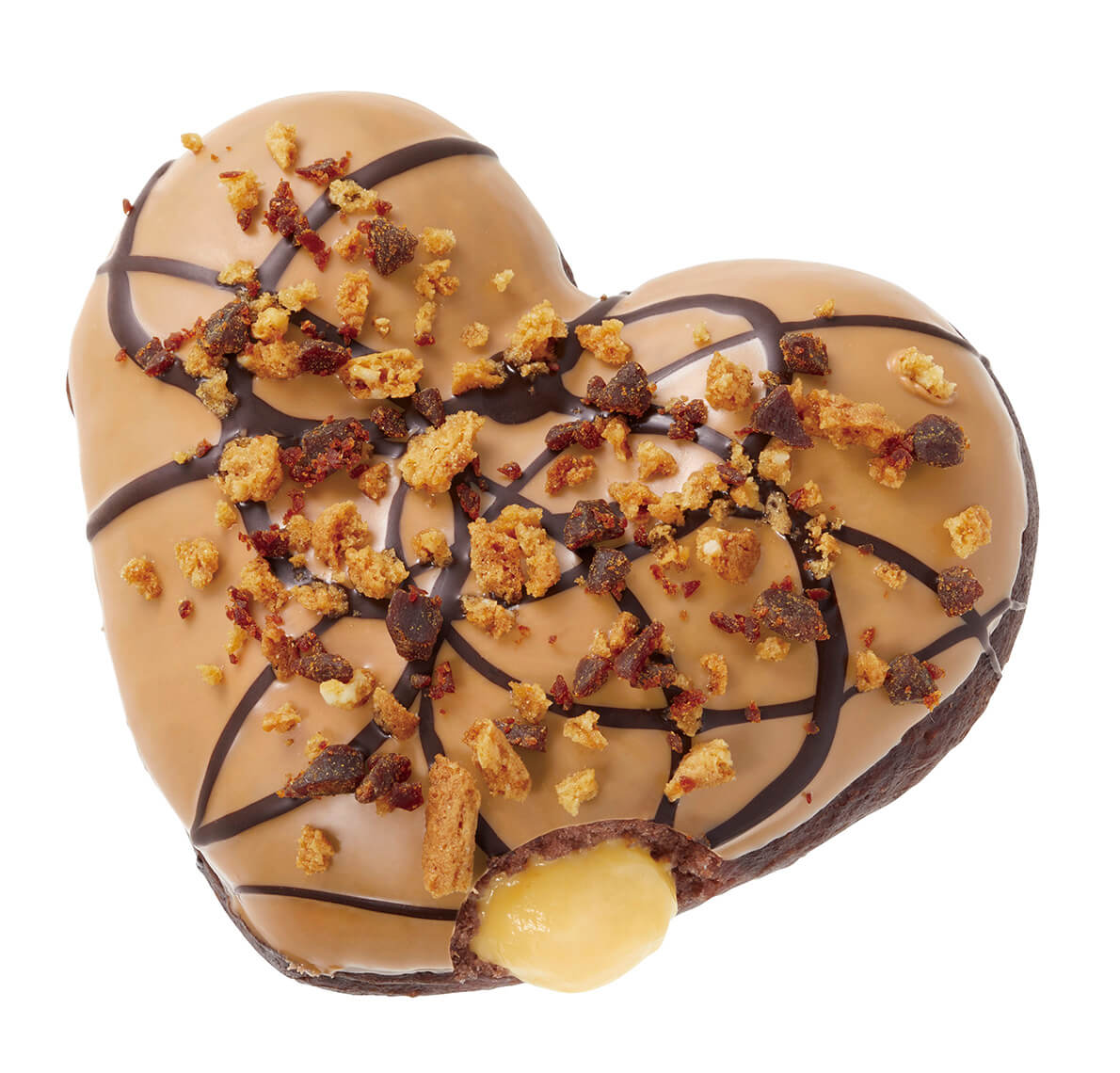 Fondant Banana Caramel: ¥230
Oozing with banana milk cream, this delectable heart is made with a banana puree that includes milk and cream. The dough is made with chocolate and the doughnut is topped with rich caramel chocolate. It's decorated with dark chocolate lines and finished with crunchy almonds and bitter caramel candy.
Hot Orange Chocolate: Small ¥370 / Tall ¥410
The two beverages arriving are the "Hot Orange Chocolate" and the "Crispy Frozen Orange Chocolate" both of which can be ordered as a set that comes with a Krispy Kreme Original Glazed® doughnut. The drinks are made with sweet and juicy setoka oranges grown in Setouchi.
Warm your heart this Valentine's season at Krispy Kreme.
Information
3 Fondant Doughnuts & 2 Chocolate Drinks
Running: January 9, 2019 – Mid-February 2019
Available: At most Krispy Kreme branches in Japan
Krispy Kreme Doughnuts Website: www.krispykreme.com
RELATED ENTRIES
Kaori's Easy Recipe: Learn to Make a Pompompurin Cookie Shot

With just a small bit of ingenuity, turn everyday food into something cute using Kaori's easy recipe! With a few simple ideas, an ordinary recipe magically transforms into a cute dish.

In this recipe you'll learn how to make a "Pompompurin Cookie Shot," perfect for Valentine's Day! It may look difficult but I have made it so it's nice and easy to make!

1: Ingredients/Equipment

2 glasses or purin cups

40g unsalted butter or margarine

75g flour

20g sugar

1 cup milk

Chocolate

 

2:

①Knead together the unsalted butter, flour and sugar.

②Add the milk in little by little while kneading. Knead until the it has a consistency moister than regular cookie dough.

③Coat one glass with a little oil or butter.

④Affix the dough from step ② around the inside of the glass as shown in the photo below.

✩It's best to make your dough a little softer than regular cookie dough to prevent cracks from forming.

✩Press the batter firmly to ensure air doesn't get into it. If you don't do this then the batter will split.

⑤Place aluminium foil into the centre of the dough to stop it from expanding when baking.

⑥Shape a cup handle and Pompompurin's ears with leftover dough from step ④.

✩Bake for approximately 10-minutes at 190° with the handle and ears. Remove the handle and ears and bake the cup for a further 5-10 minutes.

3: Melt the chocolate over a bain marie.

4: Remove the aluminium ball and once the cup has cooled remove the cookie and smear in the chocolate.

✩It's possible to remove the baked cookie smoothly by coating with butter but it will make it break easily so ensure to do it carefully.

The inside of the cookie will look a little uneven after removing the aluminium ball but you won't be able to see it after adding the chocolate.

Once completely cooled use the leftover chocolate to draw on Pompompurin's facial features and use it to attach the handle and ears. After attaching the handle and ears hold them in place for a moment for the chocolate to  harden. You can make a hat from the remaining chocolate but I made one from sliced chocolate.

All done!

Kaori invites you into her world of character-themed food dishes in her recipe series. Be sure to check out her Instagram where she has uploaded many pictures of her character dishes!

Information

■Profile
Kaori Kubota (@kaopan27)
I live in Hokkaido and I love to make character themed foods, desserts and pastries♡

I want to see my family smile, so I enjoy putting in a bit of effort to make character foods and changing food into something cute♡

You can see more of my character foods and character bento boxes on my Instagram page→@kaopan27

Chocolate Packed Honey Toast Released in Collaboration With Black Thunder & PASELA

Karaoke chain PASELA is teaming up with the Black Thunder chocolate bar from February 1, 2019 which will see select PASELA branches getting decked out with Black Thunder chocolate products.

PASELA branches to sell Black Thunder Honey Toast

Black Thunder Honey Toast: ¥1,290 (Tax Included)

PASELA's famous honey toast is topped with chocolate sauce and baked, but this version takes it to the next level by crowning it with an entire Black Thunder bar, adding a satisfying crunch to the fluffy honey bread.

Black Thunder Cafe Mocha: ¥690 (Tax Included)

Sip on a sumptuously sweet cafe mocha made with lots of Black Thunder chocolate and finished whipped cream and mint.

These chocolate treats can also be enjoyed when going to karaoke with your sweetheart for Valentine's Day or with a friend.

Select PASELA branches to open Black Thunder shop!


Special Black Thunder shops will be open at select PASELA branches from February 1 to 14 where the eye-catching chocolate bars will be sold. The bars are enough to please anyone so why not pick some up as presents to your friends?

10,000 Black Thunder chocolate bars to be handed out on Valentine's Day!


Select PASELA branches will be handing out 10,000 Black Thunder bars to customers. First-come, first-served!

Information

Black Thunder Collaborative Menu
Location: 18 PASELA branches
Running: February 1, 2019 – February 28, 2019

Black Thunder Shop
Location: 6 PASELA branches (Shinjuku, Ikebukuro, AKIBA Multi Entertainment, Shibuya, Yokohama EAS, Osaka Namba Dotombori)
Running: February 1, 2019 – February 14, 2019
Content: Black Thunder chocolate bars to be sold

Free Black Thunder Bars
Location: 18 PASELA branches
Running: February 14, 2019
*Limited stock. First-come, first-served.

*Subject to change at each branch.

Krispy Kreme Meets Sesame Street With Colourful Doughnut Box

Krispy Kreme Doughnuts Japan (KKD) is celebrating 50 years of Sesame Street with a collaborative box of doughnuts which will be released on February 20.

Sesame Street is a long-running American children's TV show that combines live action and puppetry. This year marks the series' 50th anniversary during which it has been enjoyed in 150 countries worldwide.

KKD has create doughnuts based on the popular characters Elmo, Cookie Monster and Big Bird.

Sesame Street Dozen (12 Doughnuts): ¥1,800 (Before Tax) – Available February 20, 2019 – Mid-April 2019

Limited edition "Sesame Street Dozen" boxes of 12 doughnuts are also available in limited quantities which include these three doughnuts as well as the store's most popular doughnut selections.

A special paper craft set can also be downloaded and printed from the official KKD Japan website once the doughnuts are released.

Elmo Custard: ¥250 (Before Tax) – Available February 20, 2019 – Mid-April 2019

Fans of Elmo can look forward to enjoying this custard cream and vanilla bean-filled doughnut covered in strawberry chocolate and topped with red sprinkles. His big wide eyes are made from white and dark chocolate and his nose from a sweet and sour mix of fruits for a burst of energy.


Cookie & Cookie Monster: ¥250 (Before Tax) – Available February 20, 2019 – Mid-April 2019

Sesame Street's Cookie Monster is never seen without his cookies, and this doughnut proves that by putting a whole chocolate chip cookie inside his mouth. The doughnut is covered in a vanilla cream made with plenty of cookies before being topped with blue sprinkles. His eyes are also made with white and dark chocolate.


Big Bird Purin: ¥250 (Before Tax) – Available February 20, 2019 – Mid-April 2019

Everybody's favourite big yellow bird is made from custard pudding flavoured chocolate and crunchy pieces of butter crunch. His eyes are made from milky white chocolate and his beak from sweet castella.

Celebrate 50 years of Sesame Street by picking up a colourful character doughnut!

Information

KRISPY KREME meets SESAME STREET
Release Date: February 20, 2019
Available: At most Krispy Kreme Doughnut branches in Japan

Official Website: https://krispykreme.jp/

© 2019 Sesame Workshop. All rights reserved.

Valentine's Day Sweets in Japan 2019: Part 3

The Valentine's mood has set in strong already in Japan. Shops across the country are now selling limited time food and dessert for the season of love. It can be tough picking out the right gift for Valentine's Day, but a meal or delicious treat is always a winner. And if you're in Japan, you have plenty of options.

This is part two of our list of seasonal sweets you and your special someone can enjoy this Valentine's Day. Click here for part one and here for part two.

Itohkyuemon – Matcha Meets Chocolate Fair 2019

The Matcha Meets Chocolate Fair is currently ongoing at Kyoto-based green tea store Itohkyuemonーa longstanding location which first opened its doors at the end of the Edo period. There are over 10 matcha and houjicha chocolates for you chocoholics out there to choose from. One example is the new eye-catching matcha parfait that's made with dark chocolate and cocoa meringue before being topped with raw matcha chocolate, houjicha chocolate and strawberry matcha truffles. Is your mouth watering yet? Click the link below to find out more.

Full Details: https://www.moshimoshi-nippon.jp/161227

Gion Tsujiri – Valentine Soft

Gion Tsujiri introduced its takeaway Valentine's soft serve ice cream to the Tokyo Skytree Town Solamachi branch on January 16. The main player of this dessert is Tsujiri's incredible matcha ice cream made with rich Uji matcha. Packed into the little cup with it is a houjicha tea chocolate chip cookie and heart-shaped strawberry chocolate jelly. Underneath the delicious pile is granola and marble chocolate for added crunch.

Sanrio Valentine

Sanrio has prepared a delicious line-up of character themed goodies perfect for the Valentine's season. Available at Sanrio stores and department stores stocking Sanrio products, items include a DIY cookie kit, a Hello Kitty mini chocolate bar assortment and more. Enjoy chocolate based on eight characters: Hello Kitty, My Melody, Cinnamoroll, Marumofubiyori, Mewkledreamy, Runabouts, Snoopy and Doraemon.

GODIVA's 2019 Valentine Collection
Exclusive limited time Valentine's chocolates, colourful baked treats and more are now available from GODIVA. This includes the GODIVA Fairy Cake Keepsake box of four magical fairy cakes, such as the strawberry mousse and ganache cupcake. The packaging is super cute and dreamy too!

Full Details: https://www.moshimoshi-nippon.jp/161443

Find your favourite sweets this Valentine's Day♡

Kaori's Easy Recipe : Learn How to Make "Chocolate mousse of Pompompurin"

With just a small bit of ingenuity, turn everyday food into something cute using Kaori's Easy Recipe! With a few simple ideas, an ordinary recipe magically transforms into a cute dish.

In this recipe you'll learn how to make "Pompompurin rich chocolate mousse", which is perfect for valentine's season♡

1: Ingredients

Chocolate        50g

Gelatin               5g

Fresh cream  180g

Sugar-free cocoa powder    1 table spoon

Sugar             2 table spoons

2:

Put all the ingredients into a pot and stir while cold. Heat and melt the chocolate, being careful not to boil it.  Add 1 tablespoon of water to the gelatin until it becomes soft and then add to the mixture and stir until dissolved.

☆Mix well while still cold, otherwise the powder will go lumpy.

3:

From step 2, filter the mix after the gelatin has dissolved.

4:

Pour the mixture from step 3 to a vat, let it cool down a bit and then refrigerate until firm.

5:

Slice a yellow peach to make Purin, by drawing the eyes, nose, and hat with chocolate.

☆Wipe any syrup off from the surface of the yellow peach with kitchen paper, and then draw the parts.

Ears are connected to the face when the syrup dries, however you can also use some pasta to make it stronger.

6:

Put some cereal, whip cream, yellow peach and chocolate mousse of your choice in a cup, then place Purin on the top and you are done!

Just a little bit of chocolate mousse makes the parfait simply scrumptious! The taste of yellow peach and crunchy cereal makes for a good combination♡

Kaori also invites you into her world of character-themed rice dishes in her recipe series! Please check out her Instagram where she has uploaded many pictures of her character dishes!

Information

Profile
Kaori Kubota (@kaopan27)
I live in Hokkaido and I love to make character themed foods, desserts and pastries♡

I want to see my family smile, so I enjoy putting in a bit of effort to make character foods and changing food into something cute♡

You can see more of my character foods and character bento boxes on my Instagram page→@kaopan27

Valentine's Day at the KAWAII MONSTER CAFE Promises a 'Colorful Animal Valentine'

The KAWAII MONSTER CAFE in Harajuku has announced Valentine's themed fair titled Colorful Animal Valentine and it begins on January 28.

In Japan is common for friends to give each other chocolate during Valentine's but "friend sweets" is the latest Valentine's Day trend that has people enjoying desserts together instead of trading chocolate. The KAWAII MONSTER CAFE is jumping on this bandwagon with a colourful line-up of 7 animal themed desserts.

Shocking Pink Rabbit: ¥1,100

Prepare to nibble into a cute and colourful rabbit cake made with a doughnut and topped with a fluffy cassata.

Rainbow Love Letter With French Toast: ¥1,150

Enjoy sweet and juicy rainbow French toast decorated with chocolate ribbons and envelope seals served with fruit, fresh cream and chocolate sauce.

Sexy Blue Ice Cream: ¥850

You read that right. Indulge in a pastel blue ice cream topped with pink hearts, chocolate lips, white chocolate feather, and a strawberry Pocky.

Pastel Moko Monster Churro Churros: ¥950

This churro has become an angel and swooped down onto your plate. Shaped like a heart, the cocoa churro has white chocolate wings and plenty of other eye-catching treats surrounding it.

Black Teddy Bear: ¥1,580

If you don't fancy anything sweet and want a a real meal, then try the cute black teddy bear burger filled with hot salsa sauce and rich cheese sauce.

Orange Crush Rabbit Monster: ¥1,580

If you can't pick between a meal or a dessert then try this Mexican chocolate chicken burger. Made in the image of a crazy rabbit, this rich burger contains crispy chicken layered with a dark chocolate sauce.

Heart Chicken Rice & Egg: ¥1,380

Last up on the menu is this chicken rice dish enjoyed with hashed beef and scrambled egg. It is finished with a loving pierced heart.

Enjoy some delicious desserts or a colourful meal with your friends this Valentine's season at the KAWAII MONSTER CAFE.

Information

KAWAII MONSTER CAFE Harajuku
Address: YM Square Bldg. 4F, 4-31-10 Jingumae, Shibuya, Tokyo
Access: 5-minutes on foot Harajuku Station via JR / 1-minutes on foot from Meiji-Jigumae Station via Chiyoda Line and Fukutoshin Line
TEL/FAX: 03-5413-6142/03-5413-6143

Opening Hours
Weekdays & Saturday:
[Lunch] 11:30-16:30 (last entry 15:30 / last orders 16:00 – 90 min stay max)
[Dinner] 18:00-22:30 (last orders 22:00)

Sundays & Holidays:
11:00-20:00 (last orders 19:30)

*During busy times, a max stay time of 2 hours may be implemented.

KAWAII MONSTER CAFE: http://kawaiimonster.jp

Starbucks Japan Hands Out Coffee Cups With Heart Design

In line with Starbucks Japan's customisable Valentine's drinks the coffee chain is introducing coffee cups with hearts on them.

Available now until February 14, this limited time Valentine's design replaces the previous square boxes detailing the details of your drink. The cups are already pouring their way onto Japanese social media.

They are available in limited quantities, so you'll want to order your beverage ASAP for a chance to get one!

Valentine's Day Sweets in Japan 2019: Part 2

The Valentine's mood sets in early in Japan beginning in January where shops across the country begin selling limited time food and dessert for the season of love. It can be tough picking out the right gift for Valentine's Day, but a meal or delicious treat is always a winner. And if you're in Japan, you have plenty of options.

This is part two of our list of seasonal sweets you and your special someone can enjoy this Valentine's Day. Click here for part one.

Lindt Strawberry Marshmallow Hot Chocolate Drinks

Lindt is now selling a delicious and loving line-up of two drinks for the Valentine's season. Both beverages are called Strawberry Marshmallow Hot Chocolate and they come in two types: one made with bitter dark chocolate and another with milk chocolate. They are decorated with freeze dried strawberries and topped with strawberry marshmallows. But the fruity fun doesn't finish there as the drinks are drizzled in a strawberry sauce and finished with copeaux chocolate. The eye-catching pink colour is sure to grab the attention of your Valentine lover.

Full Details: https://www.moshimoshi-nippon.jp/153456

Starbucks Valentine's Day Frappuccino

Starbucks Japan is now serving two customizable beverages: the Valentine Customania Cocoa and Valentine Customania Frappuccino®. Chocolate lovers won't be able to resist either of these beverages which both contain a blend of rich dark chocolate sauce and full bodied caramel sauce.  Customize your drink with one of three options: Coffee, Romantic or Chocolate.

Full Details: https://www.moshimoshi-nippon.jp/159110

Scara Terrace's Valentine's Dessert Buffet

Buffer restaurant Scara Terrace are currently serving up a very special Valentine's themed dessert buffet for the season of love with strawberry, heart and bear motifs. Items include DIY bear pancakes which you customize yourself, desserts packed with strawberries picked from the Tokai region of Japan and more. And on the 15th of every month that the buffet is running premium brand strawberries will make their way to the buffet.

Eggs 'n Things Fondant Chocolate Pancakes

Eggs 'n Things will sell the new Fondant Chocolate Pancakes for a limited time. Plates are piled with a stack of 6 thick chocolate pancakes which are filled with a rich raspberry ganache. They are also served with a dollop of vanilla ice cream and a huge tower of whipped cream to complement the chocolate. This is a must-eat on Valentine's Day.

Find your favourite Valentine's Day sweets, and look forward to part three♡

Magical fairy cakes from GODIVA valentine collection 2019♡

"GODIVA fairy cake collection","G-cube", and colorful baked sweets are available from the luxury Belgium chocolate brand, "GODIVA", from the 16th (Wed) of January. "Belgium favorite assortment" are available from the 9th (Wed) of January.

GODIVA fairy cake keepsake 4 pieces ¥3,780

Cute cakes that fairies adore to eat are called fairy cakes, and these are now available as chocolates in the "GODIVA fairy collection" . These "fairy cakes" are made with strawberry moose on a rich strawberry ganache in a lovely chocolate cup, with a taste that will take you to a dream world. The package is designed by "Tolleson", a design studio based in San Francisco, USA.

  Belgium favorite assortment 2pieces ¥1,080〜

Fairy magic will make your wish come true with the GODIVA valentine collection 2019 and give you a magical Valentine's day.

Information

2019 GODIVA valentine collection
Running : from January 16th (Wed) 〜 February 15th (Fri), 2019 ※"Belgium Favorite Assortment" is available from January 9th (Wed) ※Select stores may end at a different date.
Available: GODIVA shops at all department stores across Japan and GODIVA speciality shops.
GODIVA Japan website: https://www.godiva.co.jp

Luxurious Matcha & Houjicha Valentine's Chocolate Released by Itohkyuemon

Itohkyuemon is a green tea store based in Uji, Kyoto that is releasing matcha and houjicha flavoured Valentine's chocolate this month.

Simply named the Chocolate Collection, they were produced to deliver the kind of chocolate only Itohkyuemon could create for the Valentine's season. The Uji matcha is made using a traditional ground millstone while the houjicha is a classic everyday tea enjoyed in Kyoto. Both chocolates in the collection will provide the full sumptuous taste of Uji tea.

Chocolate Collection -Tsubaki- (4 Chocolates): ¥1,200 (Tax Included)

Chocolate Collection -Ume- (6 Chocolates): ¥1,800 (Tax Included)

Matcha is a very delicate substance whose colour and smell can completely fade when exposed to even a little bit of light or heat. But with the exceptional skills of Itohkyuemon's chocolatiers and the addition of a little bit of Japanese craft sake the perfect calculations have been mastered to create these chocolates.

Chocolate Collection -Fuji- (9 Chocolates): ¥3,500 (Tax Included)

The collections come in what looks like a simple black folding fan box which when opened reveal an intricate and gorgeous byoubu-e and Kyoto aesthetic design. Each box has different flowers drawn in them: Tsubaki (camellia), Ume (plum blossom) and Fuji (wisteria).

If you're looking to spend a little extra on some luxurious chocolates this Valentine's Day then look no further.

Valentine's Day Sweets in Japan 2019: Part 1

The Valentine's mood sets in early in Japan beginning in January where shops across the country begin selling limited time food and dessert for the season of love. It can be tough picking out the right gift for Valentine's Day, but a meal or delicious treat is always a winner. And if you're in Japan, you have plenty of options.

Here's part one of our list of seasonal sweets you and your special someone can sink your teeth into this Valentine's Day.

Krispy Kreme Doughnuts: Fondant Doughnuts

Krispy Kreme Doughnuts Japan is gearing up for Valentine's Day with a string of loving (and delicious) releases. The first of these in the run up to the season of love comes in the heart-shape of three doughnuts and two chocolate flavoured drinks now available at most branches in Japan. These fondant doughnuts are a popular product making a return for the first time in two years. The three flavours include the standard chocolate and the new strawberry and banana caramel. Their heart shape make them perfect for Valentine's Day♡

Full Details: https://www.moshimoshi-nippon.jp/154797

GINZA SIX: 4 Valentine's Day Treats

Tokyo's luxurious Ginza district is home to countless famous chocolateirs. Four Valentine's Day gifts have been predicted to be the trend at GINZA SIX this year, the biggest shopping complex in the Ginza area. The first is Ruby Chocolate, a variety of chocolate that was in development for over 10 years and introduced in 2017. It is to be considered as the fourth category of chocolate alongside, dark, milk and white. The second is Galentine, a tea set packed full of Valentine's season-only specially made sweets and is aimed at girls who want to have a girl's-only get-together.The third is Wasozai chocolate and the fourth is "Health-conscious" chocolate. Head to GINZA SIX to get your hands on chocolate you can't get anywhere else!

Full Details: https://www.moshimoshi-nippon.jp/144657

BAKE CHEESE TART x Dandelion Chocolate: "Baked Chocolate Cheese Tart"

BAKE CHEESE TART has teamed up with Dandelion Chocolate―the bean-to-bar chocolate makers from San Francisco―to release the new Baked Chocolate Cheese Tart. In one bite your taste buds are treated to an amalgamation of cheese mousse and rich caramel with an aftertaste of cocoa beans that have a fruity sourness to them.

Full Details: https://www.moshimoshi-nippon.jp/?p=158747

Croquant Chou Zakuzaku: Choco Zaku & Choco Soft

The Choco Zaku and Choco Soft are two new crunchy chocolate delights created by cream puff chain Croquant Chou Zakuzaku for the Valentine's season. The Choco Zaku has a crunchy exterior made from an almond crunch base and is filled with chocolate flavoured custard cream made with milk from Hokkaido. The entire puff is drizzled with chocolate sauce and topped with chocolate flakes. The Choco Soft is made with rich soft serve ice cream that tastes almost frozen and has been dipped in chocolate sauce. It is crowned with chocolate flakes and croquant. Don't miss out on these new limited edition products from this popular brand!

Pompompurin Cafe x Gudetama: Valentine's Day & White Day Menu

Sanrio's hugely popular characters Pompompurin and Gudetama will meet at the Yokohama and Nagoya branches of the Pompompurin Cafe for a special Valentine's Day and White Day menu special. Five items will be served, including the Cream Cheese Sandwich Lovely Pancakes, cream cheese-filled pancake sandwiches with Purin and Macaroon's faces drawn on them.

Find your favourite Valentine's Day sweets, and look forward to part two♡

Delicious Fondant Chocolate Pancakes Releasing at Eggs 'n Things Japan

Eggs 'n Things Japan has revealed its new Fondant Chocolate Pancakes which will be served for a limited time from January 16 to February 28.

Plates are piled with a stack of 6 thick chocolate pancakes which are filled with a rich raspberry ganache. They are also served with a dollop of vanilla ice cream and a huge tower of whipped cream to complement the chocolate. This is a must-eat on Valentine's Day.

Whether it's a treat to yourself, a friend or that special someone, don't miss out on this very special treat.

Information

Fondant Chocolate Pancakes
Price: ¥1,480 (Before Tax)
Running: January 16, 2019 – February 28, 2019
Available: At Eggs 'n Things branches in Japan (Except LaLaport Nagoya Minato AQULS and Takasaki OPA)
Webpage: http://www.eggsnthingsjapan.com/news/190109.html