Universal Studios Japan Detective Conan Escape Game, Lupin III XR Ride
Universal Cool Japan has returned to Universal Studios Japan for the 5th time since starting in 2015. Running until August 25, the event this year has been "produced on the largest scale in the event's history." Six major names in Japanese entertainment have been turned into eight attractions including Detective Conan, Attack on Titan, Godzilla, Neon Genesis Evangelion, Sailor Moon and for the first time ever Lupin III.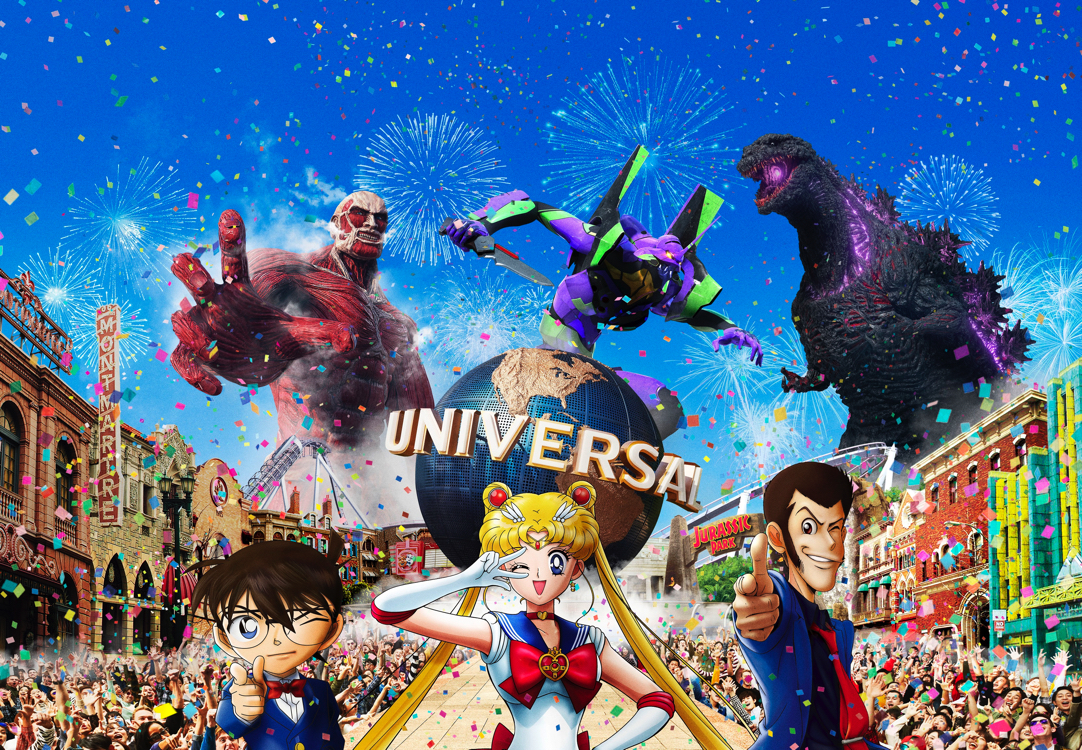 MOSHI MOSHI NIPPON attended Universal Cool Japan 2019's opening ceremony on January 17, 2019. Members of the team got to try out the new Lupin III XR ride before it opened to the general public on January 18. It is running until June 23. We also got to experience the Detective Conan themed escape game.
Japanese singer and actor Win Morisaki, who made his Hollywood debut last year, attended this year's opening ceremony. Clad in a red hakama, he got the crowd pumping, and it seemed like he had experienced the new attractions already. During an interview he said, "[The attraction's] quality and outlook are really cool. I couldn't stop my excitement in getting to dive into the worlds of series I have loved since forever for the very first time."
I also love Detective Conan so much so that I can't lose to Morisaki. I watch it almost every week and I too played the escape game with Conan. To have been able to enter his world is amazing!
One truth prevails in "Detective Conan The Escape: Konjou no Jomaku"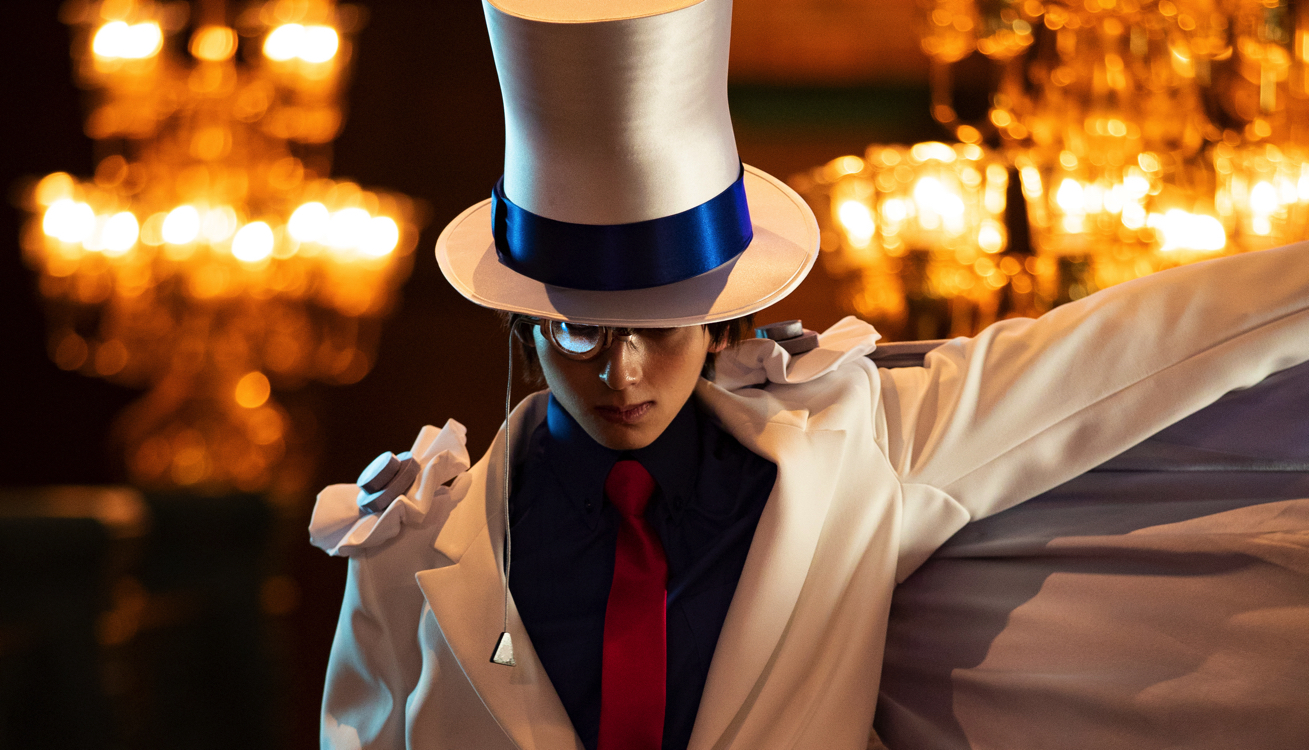 The attraction takes place in a certain building where you face off against Conan's greatest rival, Kid the Phantom Thief, to find the lose treasure. You are split into groups and use 2 touch panels while solving the riddles together with Conan. Will you be able to find the treasure before Kid…?!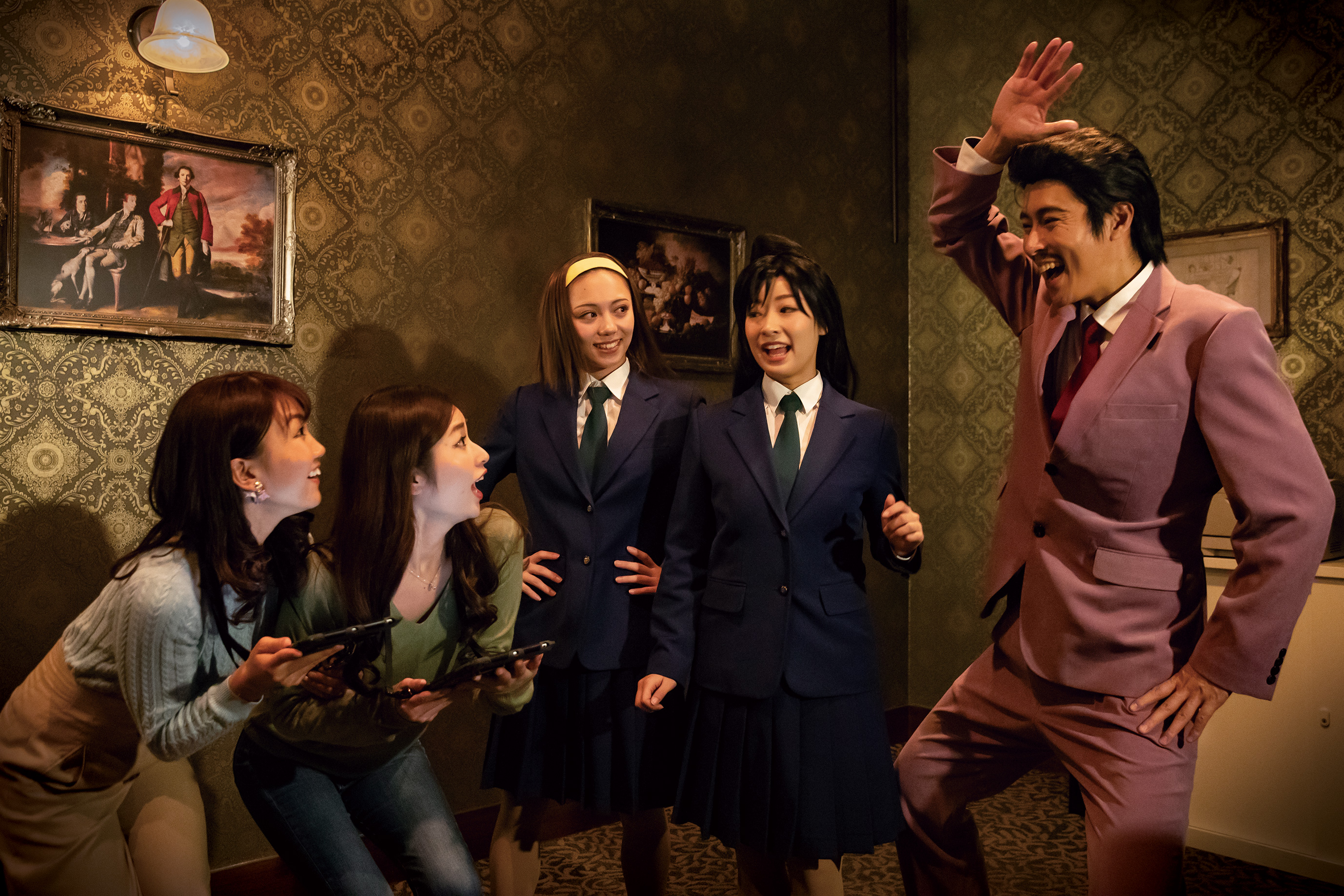 Familiar faces join you along the journey including Richard Moore, Rachel Moore, Serena Sebastian, and of course Conan. The game begins with an explanation on the hidden treasure. You advance through the story with the characters. It's just like being in the anime! It's as Win Morisaki said, you dive into the world of Conan.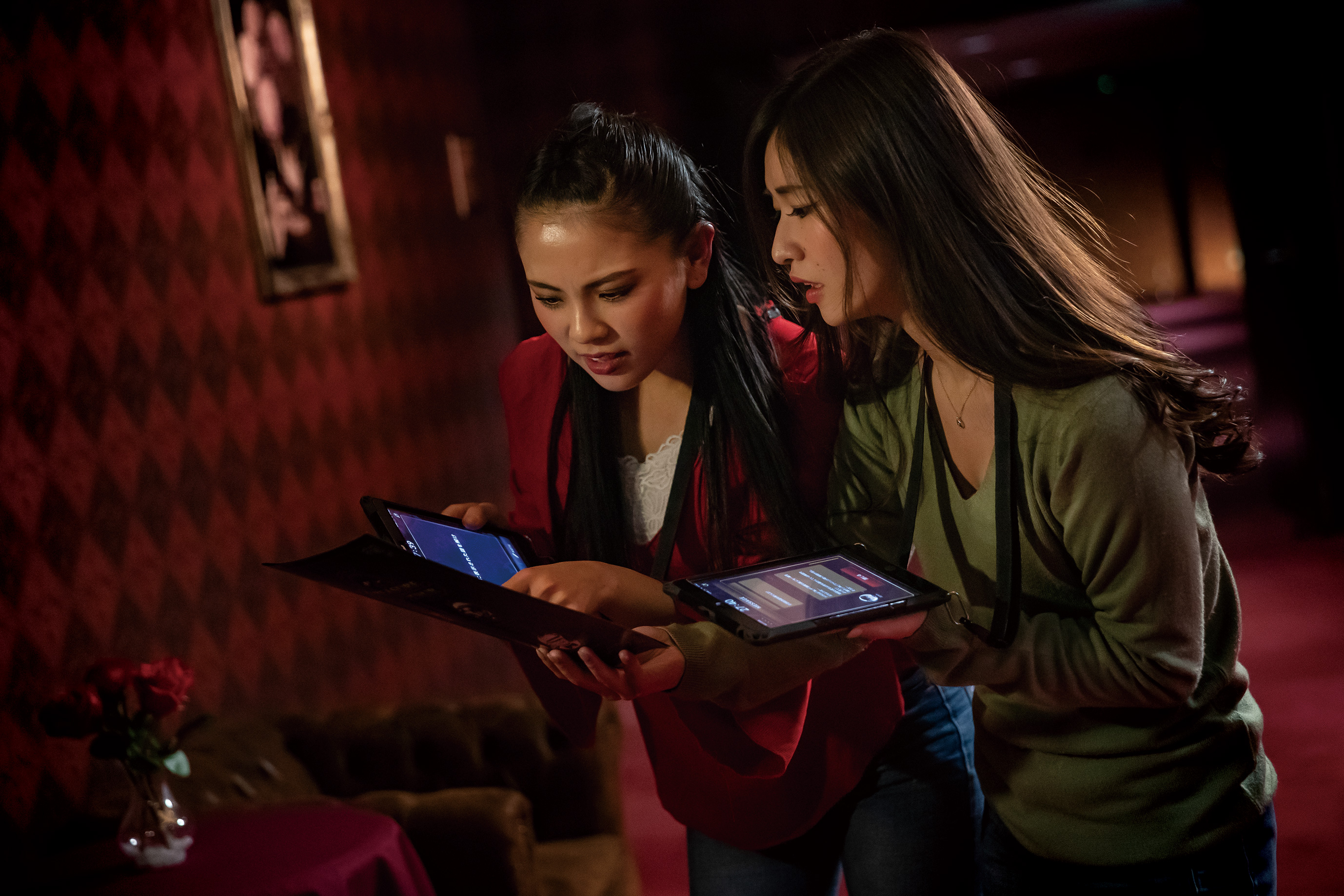 You are also in touch with Conan throughout the game. It was just like being in the Detective Boys―the detective team Conan made with his elementary school friends. Even with 5 adults the puzzles were fairly difficult. Brainstorming is valuable! It should be solved with a clear mind.
This attraction requires a separate ticket. The number of people that can participate is also limited, so be sure to check the USJ homepage in advance so you can see what day you can directly confront Kid the Phantom Thief with Conan!
Enjoy a car chase with Lupin at the "Lupin III Car Chase XR Ride"
An XR pairs VR technology with a roller coaster. The visuals are synchronised with the movements of the roller coaster itself, and this one places you in a car chase in Lupin III's beloved car.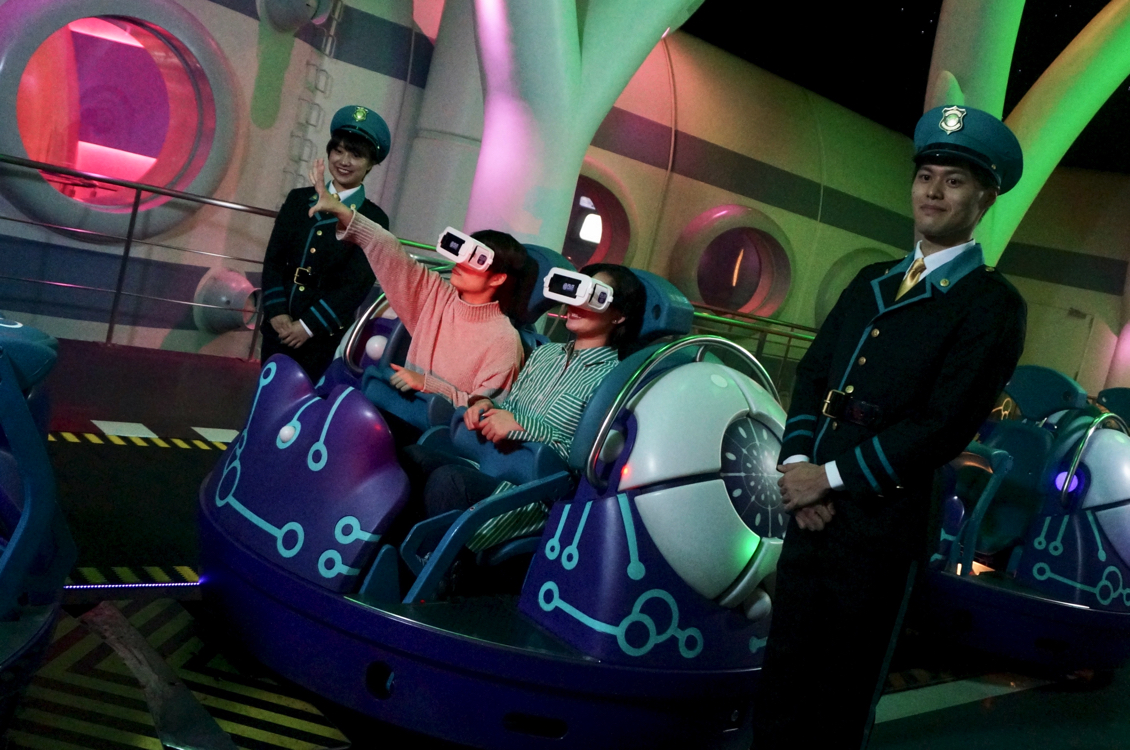 Once you've got your VR goggles on and are strapped in it's time to set off. The ride is pretty fast so I recommend putting your goggles slightly tight. I don't like tight things so I loosened them after the staff in charge put them on me but they ended up slipping off partway through.
I'm actually not good with roller coasters, but my fear was halved because I couldn't see when we were going to drop at all. You don't even realise you're gradually going up when looking in the VR goggles. This is a roller coaster that even people who don't like them can enjoy.
In the visuals not only do you see Lupin but Jigen, Goemon Ishikawa and Inspector Zenigata too. You've got to experience that feeling of Lupin being chased by Inspector Zenigata.
They also sell churros near the attraction with Fujiko Mine's kiss mark on them. They smell like roses and can only be bought here!
Visit Universal Studios Japan for yourself to enjoy an experience you can't anywhere else.
Information
Universal Cool Japan 2019
Springtime: January 18, 2019 – June 23, 2019
Detective Conan / Lupin III
Summertime: May 31, 2019 – August 25, 2019
Neon Genesis Evangelion / Godzilla / Attack on Titan / Sailor Moon
Official Website: https://www.usj.co.jp/
Official English Website: https://www.usj.co.jp/e/
Tickets: https://www.usj.co.jp/ticket/
原作/青山剛昌「名探偵コナン」(小学館「週刊少年サンデー」連載中)  © 2019 青山剛昌/名探偵コナン製作委員会  ©モンキー・パンチ/TMS・NTV
©諫山創・講談社/「進撃の巨人」製作委員会  TM & © TOHO CO., LTD.  ©カラー  ©Naoko Takeuchi  書・紫舟
TM & © Universal Studios. All rights reserved.
© SCRAP All rights reserved.
RELATED ENTRIES
Super Nintendo World Opening March 18 at Universal Studios Japan

Ouverture du Super Nintendo World le 18 mars à Universal Studios Japan

Cinq ans depuis sa première annonce en 2016 et son report de la date d'ouverture dû au corona virus, le moment est enfin venu : Universal Studios Japan ouvre la zone Super Nintendo World le 18 mars 2021 (jeudi).

Super Nintendo World est le premier parc à thème au monde à être basé sur les personnages et les jeux de Nintendo, combinant des idées innovantes avec une technologie de pointe. Il ouvre à l'occasion du 20e anniversaire de l'USJ, ce qui fait de ce printemps une période festive pour le parc.

Les fans pourront s'attendre à entrer dans le château de Bowser, frapper les blocs de point d'interrogation comme Mario, ou mettre la main sur des produits exclusifs et bien plus encore. Restez à l'écoute pour de plus amples informations pour préparer votre visite !

WIZARDING WORLD and all related trademarks, characters, names, and indicia are © & ™ Warner Bros. Entertainment Inc. Publishing Rights © JKR. (s21) Minions and all related elements and indicia TM & © 2021 Universal Studios. All rights reserved. TM & © 2021 Sesame Workshop © 2021 Peanuts Worldwide LLC TM & © Universal Studios & Amblin Entertainment Universal Studios Japan TM & © Universal Studios. All rights reserved. © Nintendo

Universal Studios Japan Announces Easter Universal Celebration 2021

Universal Studios Japan is set to spring into Easter starting on March 12 with the announcement of Universal Easter Celebration 2021. This year, which marks the 20th anniversary since USJ opened, will see the park's cute and iconic characters once again lull guests into an unforgettable Easter dream at Universal Wonderland and Minion Park.

Universal Easter Celebration

USJ will see colourful pastel decorations cover the Universal Wonderland and Minion Park areas, and the characters too will be dressed in their seasonal Easter costumes. A special Easter rendition of the Wonderland Seasons Joy show will also take place to commemorate the park's 20th anniversary with song and dance.

Wonderland Seasons Joy ~Easter Ver.~

Minion Park Easter

The park will also introduced a special egg hunt after Elmo and the Minions dropped some of their eggs. If you manage to find them all you get a limited-edition gold medal. USJ is also taking the Easter festivities online too with a special celebratory live stream called Let's Cooking! Kawaii Easter Party

WIZARDING WORLD and all related trademarks, characters, names, and indicia are © & ™ Warner Bros. Entertainment Inc. Publishing Rights © JKR. (s21)
Minions and all related elements and indicia TM & © 2021 Universal Studios. All rights reserved.
TM & © 2021 Sesame Workshop
© 2021 Peanuts Worldwide LLC TM & © Universal Studios & Amblin Entertainment
Universal Studios Japan TM & © Universal Studios. All rights reserved.

© Nintendo

Information

Universal Easter Celebration
Running: March 12, 2021 – June 27, 2021
Location: Universal Studios Japan
Official Website: https://www.usj.co.jp/web/en/us

Super Nintendo World Releases Virtual Tour of Entire Theme Park Area

Universal Studios Japan (USJ) announced last month that its highly-anticipated new Super Nintendo World area will open on February 4, 2021, which also happens to fall on the day of USJ's 20th anniversary.

Super Nintendo World comes as the world's first theme park area to be based around Nintendo's characters and games, combining innovative ideas with cutting-edge technology.

With just one month left until the grand opening, USJ has launched a special website for Super Nintendo World which offers a virtual tour through each part of the new theme park area. Mario fanatics are sure to be delighted by the adornments from Bowser's Castle to Pipes, Mushrooms, Question blocks, and more, as well as familiar faces like Goombas, Thwomps, Yoshi—the list goes on.

Accessing the site will bring you to an overview of the map. As you scroll down the website takes you on a virtual journey to each of its iconic attractions, all of which are designed to make you feel like you're really in the world of Super Mario.

Super Nintendo World Theme Park Area to Open at Universal Studios Japan in February 2021

Universal Studios Japan (USJ) has announced that its highly-anticipated new Super Nintendo World area will open on February 4, 2021, which also happens to fall on the day of USJ's 20th anniversary.

Super Nintendo World comes as the world's first theme park area to be based around Nintendo's characters and games, combining innovative ideas with cutting-edge technology.


While the grand opening is still a couple of months away, USJ is teasing fans by unveiling a portion of the park's Mario Kart-themed ride which takes place inside of a reconstructed Bowser's Castle.

Bowser's Castle

Bowser's Castle stands as one of the main symbols of Super Nintendo World. It's a faithful recreation with towering stone walls, thick and heavy steel doors, pointed iron fencing, and more, not to mention the enormous stone Bowser statue that adorns the middle of the winding staircase ready to greet guests. There are plenty of thrills and chills to look forward to inside the castle of the King Koopa himself.

Mario Kart: Koopa's Challenge will open as the world's first theme park ride centred on the popular video game series Mario Kart.


Thomas Garrity (Universal Creative, Executive Producer) | Comment

"Deep inside Bowser's Castle lies Mario Kart: Bowser's Castle, a collaborative effort between Nintendo and Universal Studio's Creative Team to recreate the world of the hugely popular Mario Kart series which has sold over 150 million copies. Guests will put on their headsets and experience limitless excitement and thrills as they speed around courses." (Translated from Japanese by MMN)

Mario Kart: Koopa's Challenge

Mario Kart: Koopa's Challenge is an XR ride that lets people feel like they are inside the world of Mario Kart while in the real world. The ride will feature all the details fans of the video game series are familiar with as they drift and spin around exciting courses alongside the game's characters while collecting items from boxes to use on their opponents.


The attraction makes use of AR and projection mapping technology to make the game as immersive as possible. Fans are sure to love driving through their favourite courses and scenes recreated using leading-edge technology. The attraction is six years in the making and the results of efforts between Nintendo's Creative Team, USJ, and the legendary Shigeru Miyamoto himself.

Endless fun for fans of Mario

SUPER NINTENDO WORLD will be the first-ever multilevel Nintendo-themed area at USJ, and the first of its kind in the world. Fans of the internationally beloved games can expected to see a whole host of rides and attractions dedicated to their favourite characters, from Mario Kart to Yoshi and beyond, as well as a themed cafe, merchandise shops—the list goes on. There is endless amount of fun for fans to feel a part of the Nintendo world as they take up the role of Mario and hit blocks to receive coins, collect items, and much more.

Guests will be able to purchase the Power Up Band, a wristband that works together with a smartphone app that allows you to collect virtual coins by punching Questions Blocks like Mario which are scattered around the park. Scores can be seen on the leaderboard so you can see how you stack up against other players.

Review: Universal Studios Japan Spreads the Christmas Cheer With Their Special Winter Program

Universal Studios Japan (USJ) has planned a special series of Christmas events for this year to celebrate everyone's endeavours throughout this tumultuous 2020. Celebrations began on November 13 and are set to run through to December 27. The amusement park held a press preview on November 12 which allowed early access..

The ceremony opening this year's Christmas season sees popular characters and the entertainers dressed in Christmas garbs fitting for the holiday season. Guests can feel safe as they enjoy the festivities with all of the necessary social distancing measures in place.

This year, USJ introduces new events including "Happy Christmas Street Party" and the romantic singing show "New York Christmas Wish." Guests can also purchase one of the park's special Happy Deco Mask stickers for their face masks. It's an exciting time at USJ this holiday season as the characters and entertainers dance and sing for guests to deliver the Christmas wish for 2020.

A special stage was set up for the press preview for an exclusive opening ceremony. It took place at Delancey Street in the New York area of USJ where the Despicable Me Minions, Elmo, Snoopy, Hello Kitty, and other characters dressed up alongside snowmen and entertainers. The characters encouraged guests to sing and dance along to Christmas songs in a COVID-safe environment, bringing smiles to all who attended like a true Christmas party. The performance ended with a blast of confetti in Christmas colours, and everyone posed their best pose of positivity to spread some Christmas cheer to all in attendance.

Sticking on an assortment of USJ's Christmas Deco Mask stickers onto face masks made wearing them fun.

Smiles are sure to be abound at USJ this year as they always are. For more information, be sure to check out our other article here as well as the park's official website.

WIZARDING WORLD and all related trademarks, characters, names, and indicia are © & ™ Warner Bros. Entertainment Inc. Publishing Rights © JKR. (s20)
Minions and all related elements and indicia TM & © 2020 Universal Studios. All rights reserved.
© Nintendo
TM & © 2020 Sesame Workshop
© 2020 Peanuts Worldwide LLC
© 1976, 1999, 2020 SANRIO CO., LTD. APPROVAL NO. EJ0110601
TM & © Universal Studios & Amblin Entertainment
TM & © Universal Studios. All rights reserved. 

Information

Universal Studios Japan Christmas Program

Running: November 13, 2020 – December 7, 2020

Address: 2-1-33 Sakurajima, Konohana-ku, Osaka

Official Website: https://www.usj.co.jp/web/en/us

Universal Studios Japan Announces Christmas 2020 Program

Universal Studios Japan is planning a special series of Christmas events for this year to celebrate everyone's endeavours throughout this tumultuous 2020. Set to run from November 13 to December 27, the park will be changing its Universal Crystal Christmas event from last year which included a night show and special Christmas tree set-up to create a more safe experience for guests during the pandemic.

The park is set to bring as much fun, excitement, and smiles as ever for this year's Christmas celebrations.

Happy Christmas Street Party: Dance with the park's characters

Happy Christmas Street Party is a new event to Universal Studios Japan this Christmas which will welcome characters from Sesame Street and Peanuts, as well as snowmen and entertainers, all dressed in their holiday season garbs to sing and dance for guests. Guests will be able to feel as one as they sing and dance to Christmas songs in a safe, socially-distanced environment, together with the characters.

Location: Hollywood Area

Duration: 2-3 times a day, approx 20 mins

The singing show gets a Christmas makeover

A special and romantic Christmas story of love called "New York Christmas Wish" will take over this year's singing show. Christmas songs will also be sung for the popular "Power of Pop" show.

Minion Park's Yellow Christmas: Happiness here, there, and everywhere

USJ welcomes the "Minion Park's Yellow Christmas" event once again this year where Minion decorations will adorn the park streets and the Minions themselves will be out and about dressed in Christmas costumes.

Happy Deco Masks

The park will be selling special stickers for people to adorn their masks with like decorating a Christmas tree.

 

Christmas food and merchandise

Guests can expect to tuck into some delicious Christmas-y food as well as get their hands on exclusive Christmas merchandise. There will also be special items available for guests who hold an Annual Passport to the park.

 

Universal Studios Japan Hotel

The park's official hotel is now offering a special plan for the holiday season called "Christmas Dramatic Stay" which included a special Christmas dinner and breakfast to guests who stay there.

More details will be released on USJ's official website in the lead up to the park's Christmas program.

WIZARDING WORLD and all related trademarks, characters, names, and indicia are © & ™ Warner Bros. Entertainment Inc. Publishing Rights © JKR. (s20)

Minions and all related elements and indicia TM & © 2020 Universal Studios. All rights reserved.

© Nintendo

TM & © 2020 Sesame Workshop

© 2020 Peanuts Worldwide LLC

© 1976, 2020 SANRIO CO., LTD. APPROVAL NO. EJ0102601

TM & © Universal Studios & Amblin Entertainment

©Fujiko Pro/2020 STAND BY ME Doraemon 2 Film Partners

Universal elements and all related indicia TM & © 2020 Universal Studios. All rights reserved.

Information

Universal Studios Japan Christmas Program

Running: November 13, 2020 – December 7, 2020

Address: 2-1-33 Sakurajima, Konohana-ku, Osaka

Official Website: https://www.usj.co.jp/web/en/us

World's First Mario Cafe and Shop Opens at Universal Studios Japan in Osaka

Universal Studios Japan (USJ) announced earlier this month that its new Nintendo-themed area SUPER NINTENDO WORLD will open in spring 2021. While the grand opening of SUPER NINTENDO is still a while away yet, USJ has everyone covered, as the new and first of its kind Mario Cafe & Store officially opened inside the park's Hollywood Area on October 16, 2020.

The cafe and shop is dream come true for fans of the Mario bros as they enter into a world inspired by the video game series with Mario and Luigi and level decorations in every corner. It can be easily spotted thanks to the red and green "M" and "L" letters on the windows symbolising Mario and Luigi as well as the Mario and Luigi hats. Gamers can enjoy this exciting space while they wait for the official opening of SUPER NINTENDO WORLD.

Themed food and merchandise line-up

Decorations are instantly recognisable with Question Blocks and Pipes on the walls, Mario Mushroom-coloured tables, and more.

The food line-up includes dishes, drinks, and desserts like pancake sandwiches made to look like Mario and Luigi's hats, fruit dream soda inspired by the brothers' moustaches, and a selection of original merchandise which reads "WHOSE CAP?" on it like T-shirts and more. You can see more of what's on the menu here.

© Nintendo.

SUPER NINTENDO WORLD Will Open at Universal Studios Japan in Spring 2021

Universal Studios Japan (USJ) has announced that its new Nintendo-themed area SUPER NINTENDO WORLD will open in spring 2021. The park was originally scheduled to open last year, the year of the Tokyo Olympics, but the date was postponed due to COVID-19.

SUPER NINTENDO WORLD: A Nintendo Fan's Dream

SUPER NINTENDO WORLD will be the first-ever multilevel Nintendo-themed area at USJ, and the first of its kind in the world. Fans of the internationally beloved games can expected to see a whole host of rides and attractions dedicated to their favourite characters, from Mario Kart to Yoshi and beyond, as well as themed restaurants, merchandise shops—the list goes on. There is endless amount of fun for fans to feel a part of the Nintendo world as they take up the role of Mario and hit blocks to receive coins, collect items, and much more.

While the grand opening of SUPER NINTENDO is still a while away yet, USJ has everyone covered. The new and first of its kind Mario Cafe & Store will officially open inside the park's Hollywood Area on October 16, 2020. Let's take a closer look.

Mario Cafe & Store

Mario Cafe & Store's location inside the Hollywood Area


This Mario themed space will serve up food and drink inspired by everybody's favourite plumber as well as sell merchandise.

The cafe and shops' exterior designs

The cafe and shop can be easily spotted thanks to the red and green "M" and "L" letters on the windows symbolising Mario and Luigi as well as the Mario and Luigi hats. Gamers can enjoy this exciting space while they wait for the official opening of SUPER NINTENDO WORLD.

Mario & Luigi themed food

The food and drink line-up pays tribute to the beloved Mario video game franchise with instantly-recognisable motifs.

①Strawberry Shortcake Mario Hat Pancake Sandwich ②Grape Cheesecake Luigi Hat Pancake Sandwich ③Mario's Strawberry Cream Fruit Cream Soda ④Luigi's Apple Cream Fruit Cream Soda ⑤Soft Drinks (Super Mushroom, comes with drinks bottle)

Everything on the menu is sure to have you snapping some photos for Instagram.

Exclusive Mario merchandise

The shop is located next to the cafe and offers a whole range of exclusive merchandise with references to the Mario games like the brothers' hats, Princess Peach's crown, and more.

There's also a special "WHOSE CAP?" series of goods to grab.

Stay tuned for future updates on SUPER NINTENDO WORLD.

*Photos are for illustrative purposes only

WIZARDING WORLD and all related trademarks, characters, names, and indicia are © & ™ Warner Bros. Entertainment Inc. Publishing Rights © JKR. (s20)
Minions and all related elements and indicia TM & © 2020 Universal Studios. All rights reserved.
TM & © 2020 Sesame Workshop © 2020 Peanuts Worldwide LLC © 1976, 2020 SANRIO CO., LTD. APPROVAL NO.EL0061901
TM & © Universal Studios & Amblin Entertainment TM & © Universal Studios. All rights reserved.
Nintendo properties are trademarks and copyrights of Nintendo. © Nintendo.

Universal Studios Japan Announces Halloween 2020 Event

Halloween at Universal Studios Japan (USJ) is set to begin on September 18, 2020 when guests will see each area around the park transformed into Halloween mode with decorations, a spooky soundtrack, and more. Popular characters at USJ will also be dressed up in their Halloween outfits ready to greet guests.

The "Minion Monster Greeting" will be a must-see as the cheeky Minions make an appearance for some mischief. The popular annual "Universal Monsters Live: Rock and Roll Show" will also return and see familiar faces like Dracula, Beetlejuice, and other creepers perform song and dance. This year will also see a special show called "Monster de Dance" where monsters and performers will take to the street in masses and perform the 'rat-tat-tat' dance with guests. This dance originates from Sandaime J Soul Brothers from Exile Tribe's song and music video Rat-tat-tat, and this year will be performed in a special "social distancing" version.

EXILE NAOTO | Comment

"We are returning again to Universal Studios Japan this Halloween to perform Sandaime J Soul Brother's 'Rat-tat-tat' once more! This year, we've evolved the dance into the 'Social Distancing Rat-tat-tat' so that people can still enjoy the dance while keeping a distance from other people. It would make me happy to see people get involved!"

Kenjiro Yamashita | Comment

"I'm aware that due to the coronavirus pandemic, the number of places that people can have a good time have become few in number across the world. I'm thankful to the many people who joined in with our 'Rat-tat-tat' dance last Halloween. This year, we've powered up the dance and kept social distancing in mind so that everyone can feel safe, so please be sure to give it a go!"

At USJ, which is known as the 'holy ground for costumes and dress-up,' they are continuing to provide exciting entertainment for people during the new normal to ensure that anyone can participate and feel safe.

Halloween food and merchandise

The Minions, Sesame Street characters, and others will be dressed up in their Halloween best. There will also be a special Halloween art display of the Minions and Snoopy at the 42nd Street Greeting Gallery.

Universal Studios Japan to Release Snoopy, Elmo and Other Cute Character Face Masks

In an effort to ensure the safety and protect the health of guests and staff, Universal Studios Japan (USJ) introduced strict measures to prevent the spread of COVID-19 on June 8, 2020, such as limiting the number of people who could enter the park each day and enforcing thorough cleaning routines. This enabled the park to reopen after its temporary closure. It has since been able to deliver its scope of fun and excitement to guests, albeit in a more structured way.

USJ wants to make wearing masks more fun too, and so it is releasing a range of character-inspired face masks, such as Snoopy, Elmo and the Cookie Monster, on August 7. Part of the money made from sales of these masks will be donated to the USJ Wonder Kids Program which helps support children in need.

Universal Studios Japan original design masks

The masks' unique designs take the mouths of each character. These can be worn together with each respective characters' headband which are also sold at USJ. Designs include Elmo, Cookie Monster, Snoopy, Tim, Jurassic Park, and Jaws.

Photos provided by Universal Studios Japan.
HARRY POTTER characters, names and related indicia are © & ™ Warner Bros. Entertainment Inc. Harry Potter Publishing Rights © JKR. (s20)
Minions and all related elements and indicia TM & © 2020 Universal Studios. All rights reserved.
TM & © 2020 Universal Studios.
© 2020 Peanuts
© '76, '20 SANRIO
© 2020 Sesame Workshop
TM & © Universal Studios & Amblin Entertainment
TM & © Universal Studios.
TM Universal Studios.

Information

Universal Studios Japan Original Design Face Masks
Release Date: August 7, 2020
Price: Single Mask – ¥900 (Tax Included) / Set of Two – ¥1,500 (Tax Included)

Universal Studios Japan Official Website: https://www.usj.co.jp/

Universal Studios Japan's 'Stand By Me Doraemon 2' XR Ride Food and Merchandise Revealed

To promote the upcoming 3D CG anime film Stand By Me Doraemon 2, USJ is opening its second-ever Doraemon themed XR ride on August 4 which will run until January 6, 2021.

Doraemon fans will be able to get their hands on a whole range of exclusive merchandise as well as tuck into themed food.

STAND BY ME Doraemon 2 XR Ride

The Stand By Me Doraemon 2 XR Ride will be a high-speed sensory explosion that makes use of VR technology to send riders on a VR coaster time travel experience through the past, present, and future. The ride will feature a completely original story that ties into the upcoming movie. Park guests will board the Time Coaster to travel through time and chase after Nobita-kun.

Doraemon Plate Set | ¥2,100 (Tax Included)

A special food menu inspired by the new movie will be served from August 4 for a limited time. The "Doraemon Plate Set" will have you salivating for the roast chicken topped with a demi-glace sauce and mushroom sauce and surrounded with a bed of vegetables and potato wedges. The plate is also appropriately topped with characters from the movie.

Doraemon Kid's Set | ¥1,200 (Tax Included)


Doraemon's Pass Loop Cake | ¥800 (Tax Included)

The Doraemon Kid's Set features nods to the robot cat's secret gadgets, like the Take-copter and Time Cloth, while the adorable Pass Loop Cake is inspired by Doraemon's Pass Loop.

Popcorn Bucket | ¥3,800 (Tax Included)

The Popcorn Bucket is fun to look at and even better to eat from, featuring a special Anywhere Door mechanic. Dorayaki is Doraemon's favourite food, and guests can enjoy dorayaki flavoured popcorn.

Doraemon Dango | ¥650 (Tax Included)


Doraemon Frozen | ¥900 (Tax Included)

Guests can also get their hands on a range of drinks and desserts too.

T-Shirts (Navy/White) | Folder Set | Mug
Sold At: Space Fantasy Station

A range of Doraemon merchandise will also roll out from August 28, including ticket holders, key rings, plush toys, and more. Pre-orders are available at Space Fantasy Station from August 4 to 27.

Follow Doraemon on an exciting journey on the STAND BY ME Doraemon 2 XR Ride!

©Fujiko Pro/2020 STAND BY ME Doraemon 2 Film Partners

Universal Studio Japan's New 'Stand By Me Doraemon 2' XR Ride Opens in August

To promote the 50th anniversary anime film Doraemon: Nobita's New Dinosaur, which is set for release in Japan on August 14, 2020, Doraemon himself is making appearances right now at Jurassic Park in Universal Studios Japan until July 22, 2020. Additionally, in promotion of the upcoming 3D CG anime film Stand By Me Doraemon 2, USJ is opening its second-ever Doraemon themed XR ride on August 4 which will run until January 6, 2021.

It will be a fast-paced Stand By Me Doraemon 2 themed XR ride and sensory explosion that makes use of VR technology to send riders on a VR coaster time travel experience through the past, present, and future.

Stand By Me Doraemon was released in 2014 as the first 3D CG animated Doraemon film and was a huge hit for the quality of its animation and moving story. The staff have returned to work on its sequel, Stand By Me Doraemon 2, including writers and directors Takashi Yamazaki and Ryuichi Yagi. The XR ride will feature an original story that is connected to the sequel film which itself will be based on the Doraemon short film Doraemon: A Grandmother's Recollections.

©Fujiko Pro/2020 STAND BY ME Doraemon 2 Film Partners

Information

Stand By Me Doraemon 2 XR Ride
Running: August 4, 2020 – January 6, 2020

Universal Studios Japan Official Website: https://www.usj.co.jp/e/