Mirai Nominated For Best Animated Feature at 91st Academy Awards
The Japanese animated film Mirai written and directed by Mamoru Hosoda and produced by Studio Chizu was nominated at the 91st Academy Awards for Best Animated Feature.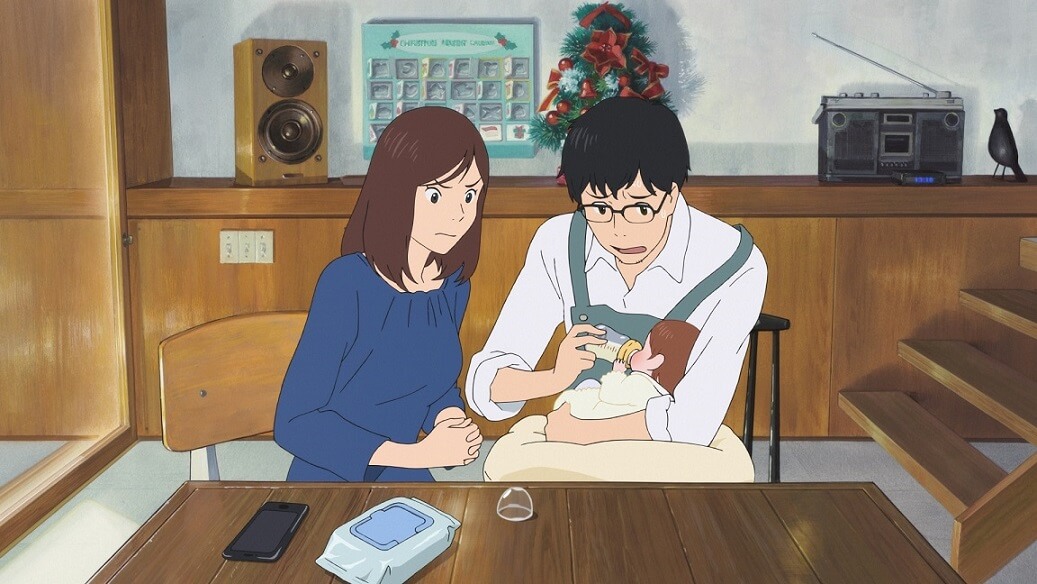 The film is described on the Oscars website:
Four-year-old Kun is overwhelmed by the arrival of his baby sister, Mirai. Although he wants to love her, Kun is jealous of the attention she receives and so retreats to a make-believe world where he is visited by their late grandfather and their dog in human form, as well as by Mirai herself, as a teenager from the future.
This marks the first of director Hosoda's films to be nominated for an Academy Award.
Speaking about the nomination, Hosoda stated: "I was simply overwhelmed when I heard that Mirai had been nominated for the 91st Academy Awards. It's a cute film that follows the simple story of a child's daily life and growing up. I feel a strong meaning and significance at the fact that the film is mixed together with other films that talk of heroes. I hope this serves as a chance for the film to spread and for more people to enjoy it."

The film is now available to buy on Blu-ray and DVD in Japan. The Special Edition features an interview with the producer who discusses the development of the film and character design, a new piece drawn by animation director Hiroyuki Aoyama, and more.
Information
Mirai Special Edition (Blu-ray w/ Bonus Disc): ¥7,800 (Before Tax)
Mirai Standard Edition (Blu-ray): ¥4,800 (Before Tax)
Mirai Standard Edition (DVD): ¥3,800 (Before Tax)
Official Website: http://mirai-no-mirai.jp/
©2018 Studio Chizu
RECOMMENDED ENTRIES
Anime Anthology Film 'Modest Heroes' Music to be Composed by Yasutaka Nakata & Other Music Veterans

Studio Ponoc, formed by former Studio Ghibli lead film producer Yoshiaki Nishimura, is releasing its next animated movie after their debut release Mary and the Witch's Flower (2017).

Modest Heroes is a three-part anime anthology film set for release in Japan on August 24. Several composers including DJ, record producer, songwriter Yasutaka Nakata (Capsule, Perfume, Kyary Pamyu Pamyu) have been unveiled to have worked on the movie's soundtrack.

The film is split into three parts with different directors. Kanini & Kanino is a fantasy short directed by Hiromasa Yonebayashi―who also directed Mary and the Witch's Flower―and follows two crab brothers on a big adventure. Life Ain't Gonna Lose is a drama short directed by animator Yoshiyuki Momose, a great talent who worked under the late Isao Takahata of Studio Ghibli. It's based on a true story and tells a tale of love between a mother and a young boy. The final part, Invisible, is directed by veteran animator Akihiko Yamashita who is known for having worked on Hayao Miyazaki's Howl's Moving Castle. It focuses on the struggles of a lonely invisible man.

Modest Heroes features a voiceover cast of well-known actors and actress such as Joe Odagiri and Fumino Kimura. The soundtrack is composed by three huge names in music: film composer, pianist and singer-songwriter Takatsugu Muramatsu, music producer and keyboardist Masanori Shimada, and Yasutaka Nakata.

Which film short are you most looking forward to from the anthology?

■Information

Studio Ponoc – "Modest Heroes"

Release Date: August 24, 2018

"Kanini & Kanino" – Director: Hiromasa Yonebayashi / Music: Takatsugu Muramatsu / Cast: Fumino Kimura, Rio Suzuki

"Life Ain't Gonna Lose" – Director: Yoshiyuki Momose / Music: Masanori Shimada / Cast: Machiko Ono, Sota Shinohara, Kentaro Sakaguchi

"Invisible" – Director: Akihiko Yamashita / Music: Yasutaka Nakata / Cast: Joe Odagiri, Min Tanaka

Movie Trailer: https://youtu.be/e5HXDXM5S04

Official Website: http://www.ponoc.jp/eiyu/

©2018 STUDIO PONOC

"Your Name." Gets DVD & Blu-ray Release & New Promotional Videos With Taki and Mitsuha

Your Name.—the romantic comedy anime movie that took the world by storm has so far raked in 25.03 billion yen (as of July 25, 2017) in the Japanese box office. The movie broke countless records upon its release and it currently holds the position of highest-grossing anime film worldwide.

Its popularity set new box office records as a Japanese film within one week of its release around Asia, ranking number one in Japan, Taiwan, Hong Kong, Thailand, China, South Korea, and Vietnam. It was released on April 7th, 2017 in North America where it has earned $5 million in the US box office.

The internationally acclaimed film was just released on Blu-ray and DVD in Japan on July 26th. To celebrate its release, Ryunosuke Kamiki who voices Taki and Mone Kamishiraishi who voices Mitsuha took part in a new promotional video which was also released today.

■Taki version

■Mitsuha version

Both videos are a must-watch for "Your Name." fans out there, who get to hear the voices of their favourite characters once more! There are two versions with each character, so be sure to check them both out.

■Information

"Your Name." Blu-ray & DVD – On Sale July 26th (Japan)
Blu-ray Collector's Edition  4K Ultra HD Blu-ray 5-Disc Set (Limited Release) – ¥12,000+tax
Blu-ray Special Edition 3-Disc Set – ¥7,800+tax
Blu-ray Standard Edition -¥4,800+tax
DVD Standard Edition – ¥3,800+tax
※Rentals for the Blu-ray&DVD will begin on the same day
Launch/Distributor: Toho
©2016 "Kimi no Na Wa." Executive Committee

—

Related Article:A part of the amenity video of the collector's edition of "Kimi no Na wa" will be released!

Related Article:Admire the Night Sky of "Your Name." With New Homestar Planetarium!

Experience Japanese High School With These 3 Youth-Packed Japanese Commercials

A common setting to see in anime is a Japanese high school. Do you ever wonder what it's like to put on a Japanese school uniform and go to school?

Well, look no further. These Japanese commercials (CM) will give you a peek into the life of a Japanese high school student, and also let you experience it a little.

A Japanese High School Musical – "Pocari Sweat"

"Pocari Sweat" always showcase high school students wearing their uniforms while dancing in their CM's. In this particular video, the students are on a school trip, and dance just about everywhere – by the ocean, on the bus, and around the camp fire. The lyrics of the song they are singing also embodies a strong sense of seizing what lies ahead in the future.

"kimi no yume to boku no yume / meguriatte kanau hazu sa / souzou ijou no mirai he" (translation: your dreams and mine / we shall encounter them, they will come true / towards an even greater future than we imagined")

What if Kiki & Tombo Became High School Students? – "Nissin Cup Noodle" CM

The theme for Nissin's "Cup Noodles" this year is "youth," and to capture that image they released a CM based on the Studio Ghibli classic "Kiki's Delivery Service." Set in a parallel world to the movie, the video focuses on the "what if" of what if Kiki and Tombo became high school students in our day and age?

This feelsy CM conveys Kiki's love for Tombo, as her eyes follow him wherever he goes hoping he will notice her.

To Love the 'Now' Even More – "Calpis" CM

Summers at high school in Japan are all about enjoying the things you will only be able to do during the 'now' to the fullest. The invigorating days of summer are fleeting and grow shorter. The song that the students sing in this video is a very famous song. Those of you who are into J-pop or anime may have heard it before.

Song Title: secret base ~Kimi ga Kureta Mono~

MOSHI MOSHI NIPPON will introduce to you even more Japanese CM's that capture the 'Japanese experience'! If you know of one yourself, then be sure to comment it on the MOSHI MOSHI NIPPON Facebook page.

—

Related Article:Introducing the latest clips and videos from internationally acclaimed Japanese artists—from Kyary Pamyu Pamyu to Perfume & more!

Related Article:It's possible to make Japanese food in 10 seconds?! Marukome X MMN shows you how with cute pop cooking videos!
RELATED ENTRIES
Fans Asked to Name Blimp Inspired by the Upcoming Film 'Doraemon: Nobita's Sky Utopia'

The film Doraemon: Nobita's Sky Utopia will be released on March 3, 2023. The 42nd Doraemon movie follows Doraemon, Nobita, and his friends as they venture off to find Utopia, a perfect land in the sky where everyone lines in joy and happiness. They do so using an airship with a time warp function on their adventure, and to commemorate the film's release, the Flying Doraemon Project began on January 14. A real-life 17-meter-long Doraemon blimp will soon appear in the sky, and fans are being asked to decide on a name for the craft.

The blimp, inspired by the Doraemon movie, will feature popular characters including Nobita, Shizuka, Suneo, and Gian. The blimp is the largest unmanned airship in Japan.

The message of the Flying Doraemon Project is to convey the feeling that in this day and age, children and adults alike can once again look upward and move forward toward their hopes and dreams.

Fans are asked to contribute ideas for the blimps name during the application period. Check the website for more details!

Natsume Mito to Appear in Upcoming Film 'Kono Chiisana Te'

Natsume Mito will star in the upcoming film Kono Chiisana Te (These Small Hands). The film will debut in theaters on April 8.

The movie is an adaptation of the manga series by Mamora Goda, also known for his works Kira Kira Hikaru and Mori no Asagao. The story follows a father who never cared for his daughter and a daughter who has forgotten her father.

This is the feature-length debut of director Hiroyuki Nakada, who previously worked as an assistant director on films such as Love is Light and Tsukuritai Onna to Tabetai Onna.

<Comment from Director Hiroyuki Nakada>

"What is a father?

This question came to me as I was watching my newborn son sleep.
Does supporting a family financially make a good father?
Can a man be a father in some other way? Can he do something else?
While I was pondering this, I came across Kono Chiisana Te.
I really wanted to find the answer to my question, so I decided to work on plans for this live-action film.

I hope that everyone who sees this film will take some time to think about their families in this fast-paced world."

<Story>
Kazuma, an illustrator, lives with his wife Sayuri and their three-year-old daughter Hina.

One night, while Kazuma is drinking with his work buddies, Sayuri gets into an accident and is hospitalized while out shopping.

Kazuma falls asleep at the bar and Hina wakes up alone the next day. She is rescued by the police and placed in an orphanage.

Given his actions, Kazuma can't take Hina home. Having done nothing to help raise her, he's decidedly unfit to parent. Sayuri doesn't wake up, and time continues to pass.

Desperate, Kazuma gradually realizes that there are people who care for him and want the best for his life. Determined, he sets out to repair his bond with his daughter.

When Kazuma visits, however, all Hina can do is cry. Has she forgotten her father's face?

(C)映画「この小さな手」製作委員会

Information

Kono Chiisana Te (These Small Hands)
Release Date: In theaters nationwide April 8, 2023at Euro Space and other locations
Original Story: Kono Chiisana Te by Mamora Goda / Hiroshi Yoshida
Director: Hiroyuki Nakada
Script: Yusuke Moriguchi
Theme Song: Karen Aoki
Producer: Sho Matsushima
Music: Rhythm & Note
Production: Kono Chiisana Te Production Committee
Distributor: Fulmotelmo Inc.
2022/Japanese/Color/Vista Size/90 minutes

<Starring>
Kouhei Takeda
Renwa Satou, Sei Ando
Chie Tsuji, Natsume Mito, Himena Irei, Kenji Mitamura, Yoko Asaji, Reon Yuzuki, Kanji Tsuda, Yuki Matsushita, Yasufumi Terawaki

SSSS.GRIDMAN Compilation Film Bonuses Revealed

Based on the Tsuburaya Productions Gridman live-action tokusatsu series from 1993, the
SSSS.GRIDMAN anime series aired in October 2018. A sequel, SSSS.DYNAZENON, followed in April 2021.

Ahead of the release of GRIDMAN UNIVERSE, an all-new anime film coming in March, both SSSS.GRIDMAN and SSSS.DYNAZENON will be getting compilation films. Each will only be
in theaters for two weeks.

劇場総集編『SSSS.GRIDMAN』

The SSSS.GRIDMAN film will be in theaters starting January 20. Those buying tickets will
receive a special illustration card with a voice drama created by Akira Amemiya, the director of the SSSS series, while supplies last. The title of the drama is Hinekuremono Demo (Even if You're Cynical) starring Soma Saito (Sho Utsumi) and Hass (Akari Kito).

The newly-revealed illustration card's design features Yuta Hibiki, Sho Utsumi, Rikka
Takarada, and Akane Shinjo happily snapping photos.

SSSS.DYNAZENON will be released for two weeks starting March 10, and those buying
tickets will also get an illustration card and a special voice drama written by Akira Amemiya.

The SSSS.GRIDMAN compilation film is being directed by Yoshiyuki Kaneko, who served as assistant director on the anime series. The film will show a somewhat new interpretation of the story under his new direction. Both compilation films will include extra footage leading
up to the release of GRIDMAN UNIVERSE on March 24, 2023.

©円谷プロ ©2023 TRIGGER・雨宮哲/「劇場版グリッドマンユニバース」製作委員会

Information

SSSS.GRIDMAN Compilation Film
Limited 2-week screenings begin January 20, 2023
Admission Bonus: Illustrated Card with Voice Drama by Akira Amemiya
Official Website: https://ssss-movie.net/

Studio Chizu Cinematic Orchestra to be Streamed Online

To celebrate the first anniversary of the animated Studio Chizu film Belle, a special Cinematic Orchestra will be held on August 14 at the Tokyo International Forum. Original merchandise will also be on sale at the venue, with some pieces featuring an incredible illustration of Belle from the feature film and others displaying Studio Chizu's symbolic blue sky and white clouds.

 

With only a few tickets left to attend the concert in person, it has been announced that the concert will be streamed online! Viewers can enjoy this powerful performance by the Tokyo Philharmonic Orchestra along with iconic footage from many Studio Chizu works from the comfort of their own homes. 

Studio Chizu's films are loved around the world. The songs to be performed in this special concert include those from The Girl Who Leapt Through Time, Summer Wars, Wolf Children, The Boy and the Beast, Mirai, and Belle.

Which Studio Chizu film has your favorite soundtrack?

©「時をかける少女」製作委員会2006/©2009 SUMMERWARS FILM PARTNERS/©2012「おおかみこどもの雨と雪」製作委員会/©2015 THE BOY AND THE BEAST FILM PARTNERS/©2018 スタジオ地図/©2021 スタジオ地図/©STUDIO CHIZU/©上野隆文

Studio Chizu to Hold Cinematic Orchestra to Commemorate the First Anniversary of 'Belle'

To celebrate the first anniversary of the animated Studio Chizu film Belle, a special Cinematic Orchestra will be held on August 14 at the Tokyo International Forum. The event will feature a number of other beloved Studio Chizu works.

The event will feature a symphony orchestra performing songs from many Studio Chizu films while famous scenes play on an oversized screen. The works to be featured include The Girl Who Leapt Through Time, Summer Wars, Wolf Children, The Boy and the Beast, Mirai, and Belle.


Masakatsu Takagi will be playing piano while Hanako Oku and Ann Sally will be attending as guest vocalists.

 

Original merchandise will also be on sale at the venue, with some pieces featuring an incredible illustration of Belle from the feature film.


Which Studio Chizu film is your favorite?

Featured Works

The Girl Who Leapt Through Time (2006)
Summer Wars (2009)
Wolf Children (2012)
The Boy and the Beast (2015)
Mirai (2018)
Belle (2021)

Information

Studio Chizu Cinematic Orchestra 2022 ~Belle 1-Year Anniversary~

Date: August 14, 2022 / 16:00 – 17:00
Venue: Tokyo International Forum Hall A

Official Site: https://www.promax.co.jp/studiochizu-inconcert

Tickets
Lottery Entry Period: May 18 – May 29 at 23:59
Lawson: https://l-tike.com/st1/studiochizu-2022
General Sales
Available starting June 18 at 10:00
*More details to be announced at a later date.

©「時をかける少女」製作委員会2006/©2009 SUMMERWARS FILM PARTNERS/©2012「おおかみこどもの雨と雪」製作委員会/©2015 THE BOY AND THE BEAST FILM PARTNERS/©2018 スタジオ地図/©2021 スタジオ地図/©STUDIO CHIZU/©上野隆文

New 90-Second Trailer, Key Visual Released for DEEMO: Memorial Keys

DEEMO: Memorial Keys is scheduled to release in select locations nationwide on February 25, 2022, and a new key visual and 90-second trailer filled with brand-new footage just dropped!

 

The key visual was created by Mebachi, a popular illustrator known for creating the character designs for both DEEMO and the ending animation of Love Live! Nijigasaki High School Idol Club.

Against the backdrop of the castle where Deemo lives, a spiral staircase made of piano keys leads guests to a mysterious world. Alice, the main heroine, and Deemo, the masked girl, along with other characters are seen gazing up at the sky. Cherry blossom petals and light pour down from above in this emotional key visual that perfectly encapsulates the story's world.

DEEMO tells the story of a girl who falls from the sky. She has no memories and finds herself traversing a strange castle. The sound of piano rings out, and the girl must discover the truth of who she is, and where she finds herself.

DEEMO: Memorial Keys Trailer

Based on the popular DEEMO mobile game, many famous tracks from the title will appear in the movie, so fans shouldn't miss it!

ⓒRayark Inc./「DEEMO THE MOVIE」製作委員会

Boat Race Tokoname in Aichi Prefecture to Screen Popular Films at Drive-in Theater

The Boat Race track at BOATRACE Tokonome will be home to a 3-day Drive-in Theater event on November 19, 20, and 21. The vast west parking lot will welcome guests to enjoy three films from the safety and privacy of their vehicles. In past years, the Hamanako, Tokuyama, Naruto, and Mikuni locations have participated. Now, it's Tokoname's turn!

Selected Films

La La Land (with subtitles) – November 19, 2021

© 2017 Summit Entertainment, LLC. All Rights Reserved.

The Secret Life of Pets 2 (dubbed) – November 20, 2021

© 2019 Universal Studios. All Rights Reserved.

A Whisker Away – November 21, 2021

© 2020「泣きたい私は猫をかぶる」製作委員会

This lineup of films can be enjoyed by families, lovers, and friends. The final film, A Whisker Away, is a coming-of-age fantasy set in the city of Tokoname. Visitors can enjoy these films on one of the largest air screens in Japan, at 722 inches. Don't miss some additional boat race content that even beginners can enjoy!

Information

BOATRACE de DRIVE-IN THEATER in BOATRACE Tokoname

Dates: November 19, 20, 21 – Doors open at 18:00, film starts at 19:00

Address: BOATRACE Tokoname West Parking Lot (4-111 Shinkaicho, Tokoname-shi, Aichi)

Official Site: https://boatrace-driveintheater.com

Studio Chizu's Belle Exhibition Gets Free Online Tour in Collaboration With Animate

In promotion of Studio Chizu's upcoming animated film Belle, Animate is holding a free online tour which will begin on July 15.

Studio Chizu's past works have enjoyed great success both in Japan overseas and include Wolf Children (2012), The Boy and the Beast (2015), Mirai (2018), and the highly-anticipated forthcoming entry Belle, which will be released in Japan on July 16, 2021. All the films are directed by the Academy Award-nominated Mamoru Hosoda.

The online tour will be offer early-access digital entry to Animate's upcoming Studio Chizu Exhibition which is set to open at Animate Yokohama Vivre on July 16. Shotaro Otan, the store manager of Animate Yokohama Vivre who is also active as a YouTuber, will guide viewers through the exhibition as well as show products that will be sold online as part of the event.

Ten random people who purchase Studio Chizu-related goods from Animate once the tour ends will be randomly chosen to win some free Belle merchandise too.

©スタジオ地図 ©2021 スタジオ地図

Studio Chizu Animation Studio Celebrates 10th Anniversary at Yomiuri Land

Tokyo-based amusement park Yomiuri Land and flower park HANA・BIYORI are celebrating 10 years of Studio Chizu, the animation studio spearheaded by director Mamoru Hosoda, as well as the upcoming release of their new film Belle with a special event that is running from July 17 to September 5.

Studio Chizu 10th Cross Park in Yomiuri Land

Flowers collide with digital art at HANA・BIYORI

Solve puzzles in an AR rally

Themed food

Exclusive merchandise

The events will celebrate Mamoru Hosoda and Studio Chizu's entire filmography including The Girl Who Leapt Through Time, Summer Wars, Wolf Children, The Boy and the Beast, Mirai, and their upcoming film Belle which will be released in Japan on July 16. This includes themed attraction, food, merchandise, and more. There will also be a special AR rally where guests will need to locate hidden characters around the park. A digital art show will also take place at HANA・BIYORI which is connected to Yomiuri Land.

More details about the attractions and food will roll out in early July.

YOASOBI's 'Mou Sukoshi Dake' Ranks Number One On RecoChoku's May 2021 Award

Japanese music streaming site RecoChoku has revealed the top song and album rankings of artists for April 2021 who earn the site's RecoChoku Award for the month. Taking the number one spot for the monthly single charts is YOASOBI with Mou Sukoshi Dake ('Just a Little More') which released on May 10 as the theme song for Fuji TV's Mezamashi TV.

RecoChoku Award Monthly Music – May 2021

Single Charts

1st Place: "Mou Sukoshi Dake" – YOASOBI (Released May 20, 2021)
2nd Place: "Kaitou" – back number
3rd Place: "Kirari" – Fujii Kaze
4th Place: "Butter" – BTS
5th Place: "Cry Baby" – Official HIGE DANdism

Album Charts

1st Place: "ZZ's II" – Momoiro Clover Z (Releasing May 17, 2021)
2nd Place: "THE BOOK" – YOASOBI
3rd Place: "Kimi Shika Katan (Special Edition)" – Hinatazaka46
4th Place: "Butter" – BTS
5th Place: "LADYBUG" – LiSA

YOASOBI's Mou Sukoshi Dake is inspired by the novel Meguru. by Chiharu and first hit the air on March 29 as the main theme for the weekly Japanese news show Mezamashi TV. Excited words of praise flooded social media in Japan when it played on the show. The single's cover art was created by hmng and captures a scene of a schoolgirl bathed in light. This girl also appears in the novel, giving a peek into its story as well as the feeling of the song itself. Mou Sukoshi Dake has ranked number one two weeks in a row for RecoChoku's weekly rankings on May 12 and 19 and has now taken the monthly spot.

YOASOBI's success doesn't stop there however as it was recently announced that band member ikura is receiving her voice acting role in Studio Chizu's upcoming anime film Belle which is set for release this July. 

Momoiro Clover Z's compilation album ZZ's II is set to release on May 17 in celebration of the group's 13th anniversary. The tracks were re-recorded by the current four members. There are 10 songs in title including Nippon Egao Hyakkei -ZZ ver.-, Saraba Itoshiki Kanashimi-tachi yo which features arrangement and guitar work by Tomoyasu Hotei, and more.


Momoiro Clover Z have been posting videos of songs from the album on their official YouTube channel. The album came in at number one on the daily charts and that has continued in the weekly and monthly charts.

Studio Chizu Releases 5th T-Shirt For 10th Anniversary

Since January, Studio Chizu has been teamed up with the Japanese apparel brand Graniph to release a new t-shirt design every month in celebration of their 10th anniversary. The fifth and final design was released on May 26.

Studio Chizu's past works have enjoyed great success both in Japan overseas and include Wolf Children (2012), The Boy and the Beast (2015), Mirai (2018), and the highly-anticipated forthcoming entry Belle (2021). All the films are directed by the Academy Award-nominated Mamoru Hosoda.

Mirai x tupera tupera

The past four t-shirt designs have included The Girl Who Leapt Through Time, Summer Wars, Wolf Children, andThe Boy and the Beast, each illustrated by a different popular artist. The fifth and final design is for Mirai which was drawn by tupera tupera and features Mirai, Kun, the mother, the father, and the pet dog Yukko.

Graniph posted an interview with tupera tupera on their YouTube channel which you can watch below in Japanese.

tupera tupera Interview

(C)2018 スタジオ地図
(C)STUDIO CHIZU

Anime Film Belle's Studio Chizu Announces Exhibition at TeNQ Space Museum

Studio Chizu, the Japanese animation studio working on the upcoming anime film Belle which is set for release sometime this summer, has announced an exhibition at TeNQ Space Museum in celebration of their 10th anniversary and in promotion of their newest work. It will be held from July 7 to November 14.

Studio Chizu's past works have enjoyed great success both in Japan overseas and include Wolf Children (2012), The Boy and the Beast (2015), Mirai (2018), and the highly-anticipated forthcoming entry Belle (2021). All the films are directed by the Academy Award-nominated Mamoru Hosoda.

One of the biggest aspects when it comes to creating an animated world are the backgrounds used. This exhibition will focus on two key background features threaded throughout Hosoda's creations: the sky and clouds. Both of these sceneries are showcased in different ways in all four of his films and will be explored throughout the event with a special, exclusive showing of a slideshow with various scenes of the sky and clouds littered in the filmography, as well as a more 'academic' exhibit of the cumulonimbus, a cloud that symbolises Studio Chizu, and more.

Limited edition mask case 

There will also be a selection of original merchandise for anime fans to pick up, as well as a limited stock face mask case when purchased together with select tickets.

Exhibits to look out for at the event

Who are Studio Chizu?

Learn about the 10 year history of the Japanese animation studio Studio Chizu.

Studio Chizu and the cumulonimbus

The cumulonimbus is a cloud synonymous with Studio Chizu's works – see it in all forms from their filmography in this special exhibit.

Information

TeNQ Studio Chizu 10th Anniversary Exhibition

Running: July 7, 2021 – November 14, 2021

Where: TeNQ Space Museum

Price: general ¥1,800 / Students ¥1,500 / 4-12 Years ¥1,200 / Seniors (65+) ¥1,200

Opening Hours: [July-August] Weekdays 11:00-18:00 / Weekends 10:00-19:00

Exhibition Page: https://www.tokyo-dome.co.jp/tenq/event/exhibition-24.html