Winners for MOSHI MOSHI LOTTO's Special Prize and Artist Prize are still being announced! J-POP SUMMIT attendees — make sure you apply fast!
From 7th 〜 10th July, France was host to JAPAN EXPO, and from 15th 〜 17th July, England hosted HYPER JAPAN. It is at these locations where MOSHI MOSHI NIPPON set up a lottery event in the booth area.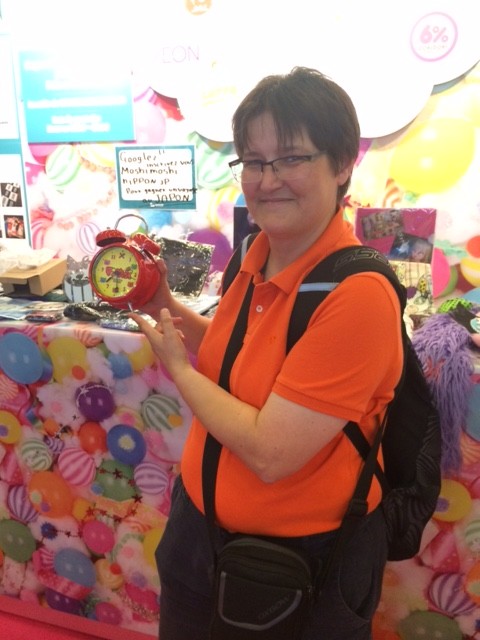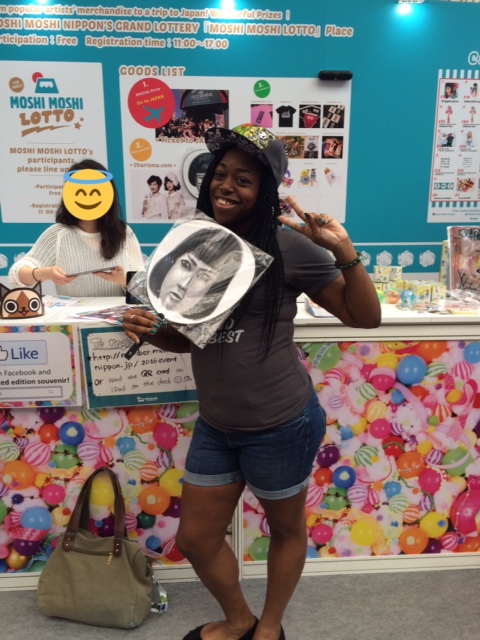 Many winners were announced and received merchandise prizes of artists who performed at that event, such as MAN WITH A MISSION, Cheeky Parade and Charisma.com. This lottery put a smile of excitement on everyone's face, and fans were able to experience the thrill and excitement of the event to the max. Don't forget the Special Prize which is a flight to Japan! The winner of this special ticket will be able to find out there and then what a massive prize they have just won.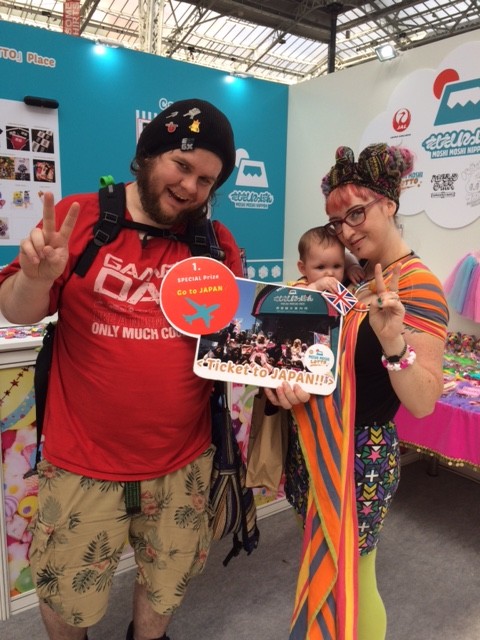 At England's HYPER JAPAN, a lovely, fashionable couple popped by and one of the lucky lovers managed to win a 6%DOKIDOKI T-shirt! The couple mentioned that they will be attending MOSHI MOSHI NIPPON FESTIVAL in TOKYO which will be held this year in November, and promised to come talk to us again!
At J-POP SUMMIT, Silent Siren, Una, Yanakiku and many other artists will be making their appearance on stage, and of course their merchandise, along with the special flight to Japan prize, will be up for grabs through MOSHI MOSHI LOTTO. As the Internet will be very crowded on the day, we recommend applying to take part in MOSHI MOSHI LOTTO before turning up at J-POP SUMMIT.
Click on the link below to apply to take part in MOSHI MOSHI LOTTO and come join in the fun with your QR code!
http://member.moshimoshi-nippon.jp/2016event
RELATED ENTRIES
[Live Report] Kyary Pamyu Pamyu Slays the Stage at Packed Anime Central Show in Chicago

Heading towards the concert venue inside the Hyatt Regency in Chicago, it was no surprise to see the line for Kyary Pamyu Pamyu's show snaking through the halls to wrap around the building. Anime Central–the largest anime and manga convention in the midwest United States–played host to the concert, and fittingly, plenty of fans were clad in over-the-top cosplay, while many others proudly wore past Kyary concert tees, touting their steadfast devotion to Japan's most kawaii pop princess.

This would be the third stop on Kyary's first world tour in five years, following successful shows in New York and Los Angeles.

Since her debut over a decade ago, Kyary Pamyu Pamyu has steadily amassed a global following, bringing new fans into the fold with every catchy tune and feast for the eyes she releases. Her name conjures thoughts of oversized bows and danceable earworms, and just last year, the artist performed for a hyped crowd at Coachella, a music festival that needs no introduction.

In October 2022, Kyary wrapped up her lengthy 10th Anniversary Tour around Japan, performing the majority of her 105 songs at the legendary Nippon Budokan in Tokyo. During this tour, the artist made global headlines by announcing the Local Japan Project, a way to revitalize towns and cities around Japan suffering from the pandemic's aftermath through collaborative releases with small businesses. From limited-edition foods to special pink KPP-inspired train cars, the impact was palpable–if not by sheer funds, by contagious cheeriness.

Named Japan's Kawaii Harajuku Ambassador by the Mayor of Shibuya, Kyary dabbles in a little of everything, from fashion and dance to cultural endeavors. Her natural ease in front of a crowd has a way of pulling in an audience–and Chicago was no exception. She came prepared to share the deeper meaning of kawaii while challenging stereotypes, accepting individuality, and sharing thoughts of a more open and artistic future.

Prior to the start of the show, French DJ and trackmaker Moe Shop warmed up the crowd with an intense set that had the room shaking with a combination of bass and mass jumping. Although seating was provided for audience members, it was impossible to stay standing as the set began, featuring some of the electro-artist's biggest hits from Baby Pink to GHOST FOOD (feat. TOREINA). As the first few seconds of CANDY CANDY (Moe Shop Remix) began, the room seemed to burst open, with more and more pink glowsticks beginning to illuminate the crowd.

Packed with kawaii devotees from wall to wall, brief quiet fell as stagehands rushed to decorate the set with POPPP icons, cueing some guests in the front to begin chanting Kyary's name. As the venue lights dimmed, a brief film briefly introduced Kyary Pamyu Pamyu's history as if she was a character in a storybook, a hero desperate to illuminate the darkness in the world with all things pink and cute.

With her trusty dancers in tow, she finally took the stage as De.Ba.Ya.Shi. 2021, the techno-heavy first track on Kyary's newest album Candy Racer, set the stage for a night of addictive tunes and carefree fun.

A highlight of the concert's first half was Dodonpa, sending the crowd into an absolute frenzy. The experimental track's erratic energy, heavy house influence, and gibberish lyrics invite anyone to sing along, regardless of mother tongue, making it an immediate fan-favorite with international Kyary fans.

Upon its release as the fifth single from Candy Racer, Kyary encouraged anyone interested to use the song in their online videos, also opening an official contest encouraging creators to send their best interpretation. The artist navigated through the tricky lyrics with relative ease as the audience egged her on, jumping along with the chorus's hypnotic beat.

As the song concluded, fans screamed and cheered as Kyary finally began her brief English MC clad in a completely pink princess dress, complete with crown. Asking the audience their favorite color, the correct answer was obvious, and the artist nodded enthusiastically. "This is a pink show," she stressed.

Leaping into Ninja Re Bang Bang, the artist and dancers performed the legendary choreography with ease as diehard fans imitated the shinobi hand gestures in time with the track.

In 2011, Kyary leaped from the local scene in Harajuku to the outside world with the release of PONPONPON. The bizarre and colorful music video immediately made the rounds on YouTube, and despite being relatively unknown at the time, the artist instantly had a viral hit on her hands. During the Chicago show, a remixed intro of the song, originally produced by Yasutaka Nakata, struck fans with the promise of lethal nostalgia. As the track began in earnest, Kyary bid the fans to dance along–it seemed that the request wasn't necessary, as the audience was already in full swing.

KYARY ANAN pic.twitter.com/aw77siGxOL

— きゃりーぱみゅぱみゅ (@pamyurin) May 20, 2023

Cherry Bonbon and Kyary ANAN followed, the latter of which saw fans chanting the singer's name along with the lyrics. Though some present at the concert were likely unfamiliar with the music filling the hall, the energy was unrivaled, and it was nearly impossible to escape the waves of exhilaration and feverish fondness that penetrated the air.

If you weren't a Kyary Pamyu Pamyu fan when you walked in, you certainly were when you walked out, whether her sound was your typical poison or not.

Invader Invader and Fashion Monster, tracks used in popular GU ads in Japan during the early 2010s, have similar staying power in the U.S., and are both credited as some of Kyary's most popular songs. Prior to the start of Fashion Monster, a brief interlude began, in which the video monitors broadcast an impressive collection of snapshots of Kyary's fashion over the past decade. A costume change was imminent, and when the artist returned to the stage, she donned a pink mask and pink ruffled dress, both seen during her Budokan performance late last year. Holding her mic beneath the mask seemed like an annoyance, but Kyary seemed to thrive off of the challenge, not missing a beat.

In its entirety, the setlist included nearly 20 tracks, easily checking off a bucket list item for hundreds of fans in the audience. Entry to the concert was included with a pass to the popular convention, though seating wasn't guaranteed, causing dedicated fans to line up for hours prior to the show's 6:30 start time.

But there were no complaints to be heard–instead, there was immense gratitude towards Kyary, her management company, and Anime Central for bringing the singer to Chicago.

Considering Kyary's upward trajectory to date, it's impossible to imagine a future in which the singer doesn't continue catapulting towards the zenith of bubble pop legends in a global sense. The singer will now travel to Europe for the remainder of her world tour, and reports from there are sure to reflect the same general sentiment. Kyary Pamyu Pamyu is here to stay, and kawaii culture is sure to continue its spread.

Written by Carley Garcia

Licaxxx Announces Tokyo Community Radio's Second Event Series 'communities' to be Held in Tokyo and Osaka

Tokyo Community Radio (TCR), an online radio platform run by Licaxxx, has announced a new event titled communities. The event will be held at Daikanyama UNIT / Saloon in Tokyo on June 30 and at Osaka JOULE on July 1.

The guest lineup includes re:ni and Laksa, two hot up-and-coming DJs and producers reshaping the UK music scene. The duo has a monthly program on NTS Radio titled re;lax, along with a party series of the same name. In February 2023, they released a new EP, Body Score, on their new label founded to explore music with faster tempos and to carry the torch of UK techno, jungle, dubstep, and grime. Each DJ is also active individually and the two have constantly been in the spotlight.

Music fans are invited to partake in this stunning musical event led by Licaxxx and targeted at the current generation of music makers as they extend beyond Asia and take their activities around the world.

re:lax (re:ni & Laksa)

Licaxxx

Information

■Tokyo
Tokyo Community Radio presents 'communities' with re;lax
Date: June 20, 2023
Time: 22:00
Venue: Daikanyama UNIT / SALOON
Admission: ¥2,000 (Early Discount) / ¥3,000 (ADV) / ¥3,500 (At the door)
Buy Tickets: https://tokyocommunityradio.zaiko.io/item/356159

LINEUP:
Licaxxx
Temple Ov Subsonic Youth (a.k.a Mars89) – Live
Romy Mats

and more..

[Starring]
Special Guest:
re:lax (re:ni & Laksa)

Lineup:
Licaxxx

Temple Ov Subsonic Youth (a.k.a Mars89) – Live
Romy Mats

and more!

■Osaka
Tokyo Community Radio presents 'communities' with re;lax in OSAKA
Date: July 1, 2023
Time: 22:00
Venue: Osaka JOULE
Admission: ¥2,000 (Early Discount) / ¥3,000 (ADV) / ¥3,500 (At the door)
Buy Tickets: https://peatix.com/event/3590421/view

[Starring]

SPECIAL GUEST:
re:lax (re:ni & Laksa)

LINEUP:
Licaxxx
kotsu(CYK)
Romy Mats

and more..

■Attention
Guests under the age of 20 will not be allowed entry.
All guests will be subject to an ID check prior to entry. Please bring a photo ID showing date of birth. (Photocopies will not be accepted.)
If we are unable to confirm your identity, you may be denied admission.

<About Tokyo Community Radio>
TCR is a distribution platform based in Tokyo that focuses on introducing both local DJs and up-and-coming DJs from around Japan. The program features all musical genres and showcases both DJ mixes and live performances. In featured podcasts, DJs talk about their music, hobbies, and interests, allowing fans the rare chance to learn more about their favorite creators. The station also cooperates with community radio stations in other Asian cities and supports DJs and artists from Asia and beyond when they visit Japan. In addition to regular DJ sessions and podcasts, TCR also collaborates with corporate events, produces music events, and matches DJs to places and brands

Kyary Pamyu Pamyu World Tour: Future Funk Guru Moe Shop to Perform at 3 U.S. Shows

Kyary Pamyu Pamyu will embark on her world tour POPPP in May, performing in seven cities around the world. Trackmaker and DJ Moe Shop, a leader in the world of Future Funk, will appear as the opening act for three U.S. tour dates.

Moe Shop's unique fusion of French house music and Japanese pop and club tunes has earned the artist over 26 million views per year on YouTube and over 31 million views per year on Spotify, making them one of the most popular electronic music artists around the globe. The artist has gone on record to say that they have been largely influenced by Yasutaka Nakata, Kyary Pamyu Pamyu's producer, and their addictive sound is making waves in both Japan and abroad.

To celebrate this incredible collaboration, a playlist of songs selected by Moe Shop is now available on Spotify. Be sure to give it a listen!

【Spotify】Kyary Pamyu Pamyu meets Moe Shop

ZEROTOKYO and ASOBISYSTEM Collaborate on ASOBIZA Party Event

ZEROTOKYO, an entertainment mecca known for heating up Tokyo nights, is teaming up with ASOBISYSTEM to create an exciting new party! ASOBIZA, named after the origin of Kabukicho, will be held on April 28.

The lineup includes music artists as well as charismatic figures at the top of their fields in fashion, beauty, and art. Transcending musical genres and generations, this night will embody ZEROTOKYO's concept of being a true "Entertainment Junction."

Additional performers may be announced in the future.

Kyary Pamyu Pamyu to Embark on First World Tour in Five Years

The Kyary Pamyu Pamyu World Tour 2023, titled POPPP, will begin this May!

This will be the singer's first world tour in five years, as last year's planned international tour was canceled. Kyary will perform in six cities–New York, Los Angeles, Madrid, Barcelona, Paris, and London. The Spain shows will take place during the massive Primavera Sound music festival.

In 2022, Kyary Pamyu Pamyu performed as the final act on the Gobi Stage at Coachella, the world's largest music festival held in Indio, California. The artist received accolades from both the American audience and viewers from around the world. This year, Kyary is continuing to attract attention as the first Japanese solo artist to be featured in Global Spin, an original showcase of artists from around the world made by the Recording Academy in the U.S., the organizer of the Grammy Awards.

Information

Kyary Pamyu Pamyu WORLD TOUR 2023 – POPPP –

May 15, 2023
New York, U.S. – Webster Hall
https://www.axs.com/events/471552/kyary-pamyu-pamyu-tickets?skin=websterhall

May 17, 2023
Los Angeles, U.S – The Novo
https://www.axs.com/artists/1262/kyary-pamyu-pamyu-tickets

June 2, 2023
Barcelona, Spain – PRIMAVERA SOUND 2023 Parc del Forum
https://www.primaverasound.com/

June 5, 2023
Paris, France – Cabaret Sauvage
https://www.seetickets.com/fr/d/event/kyary-pamyu-pamyu/cabaret-sauvage/8769451

June 7, 2023
London, England – London EartH Halll
https://www.gigsandtours.com/tour/kyary-pamyu-pamyu

June 9, 2023
Madrid, Spain – PRIMAVERA SOUND 2023 Ciudad del Rock
https://www.primaverasound.com/

More Details
https://wt2023.kyary.asobisystem.com/

London-based Japanese Artist Rina Sawayama Covers Hikaru Utada's Legendary 'First Love' at Tokyo Concert

Born in Niigata and living in London, international singer-songwriter Rina Sawayama released her second album Hold The Girl on September 16, 2022. Her Japan-based Hold The Girl Tour saw successful shows in Nagoya, Osaka, and Tokyo, with Sawayama generating plenty of buzz. During the final show on the tour, the singer surprised the audience with a cover of Hikaru Utada's hit songFirst Love. The video of this incredible performance is now available to watch on YouTube!

First Love – Rina Sawayama (Hikaru Utada Cover, Tokyo Garden Theatre)

Prior to the Tokyo show, Sawayama took to Instagram, posting a comment for fans. "Since this is the biggest show I've ever done, I think I should cover a special Japanese track to commemorate the event," she said. The singer had previously asked fans to share the songs they'd most like to see performed.

"Without this artist and without this song, I probably wouldn't have become a musician or an artist. I heard this track when I was around six years old, and I remember dancing for my parents who were sitting on the sofa. This artist also celebrated her 40th birthday yesterday. This is my first cover, but I think it's the perfect way to commemorate this special event. Please enjoy," Sawayama concluded.

The audience responded to this surprise with a chorus of excitement, and this was surely an unforgettable night for many fans.

Rina is currently on the Hold The Girl Tour in Europe. At the end of March, she will make her Hollywood debut in the fourth John Wickmovie.

BAND-MAID Reveals 10th Anniversary Tour in Japan and America, Additional Festival Appearances

Having amassed a global audience, BAND-MAID is starting off 2023 in the best possible way. The group performed their largest-ever concert, BAND-MAID TOKYO GARDEN THEATER OKYUJI, on January 9. Soon after, they announced a domestic and overseas tour set to begin in March 2023.

BAND-MAID's 10th-anniversary tour will commence with a show in Kumamoto on March 23 and will then travel to 20 cities around Japan for a total of 23 performances. The legendary finale will take place at Yokohama Arena on November 26, marking the largest-ever solo performance for the band. In May and August, the girls will tour the U.S. and appear at a number of major festivals. More details will be announced soon.

The sold-out TOKYO GARDEN THEATER performance is also available to stream. Tickets are now available through February 8 and fans around the world are welcome to enjoy this
incredible show from the comfort of their own home!

To commemorate BAND-MAID's 10th anniversary, a high-resolution stream of all works
after the group's transfer to Pony Canyon will be available on streaming sites starting January 10.

Akiyoshido Cave in Yamaguchi to be Illuminated for Christmas & Valentine Theater Event

The Mine City Tourism Association has announced a Christmas & Valentine's Day event at Akiyoshido Cave, one of the largest limestone caves in Japan. The event will see the natural wonder illuminated by a number of colorful lights. The Christmas event will run from December 21 to 25, 2022, while the Valentine's Day event will run from February 10 to 14, 2023.

Akiyoshido Cave is one of Yamaguchi Prefecture's most popular tourist attractions. The interior will be decorated with colorful lights and unique soundscapes, creating a once-in-a-lifetime setting for visitors. These illuminations and sounds were directed by world-renowned lighting designer Motoko Ishii, known for her work on Tokyo Tower and the Akashi-Kaikyo Bridge.

Information

Christmas & Valentine Theater ~ Akiyoshido Cave 'Fantasy of Light and Echoes'

Dates:
Christmas Theater: December 21 – December 25, 2022
Valentine Theater: February 10 – February 14, 2023
Times: (1) 10:00-11:00 (2) 12:00-13:00 (3) 14:00-15:00
3 events per day

Venue:
Akiyoshido Cave, Shuhocho Akiyoshi, Mine, Yamaguchi

Tickets/Details:  https://karusuto.com/event/christmas-valentine-theater-2022/

Chainsaw Man Tokyo Special Division 4 Event and Pop-Up Shop to Open in Tokyo

A story-based digital GPS rally inspired by Chainsaw Man will be held within Tokyo's subway system from November 1 until November 28. Fans of the anime series won't want to miss it!

Participants will be tasked with one vital mission: to find five senior devil hunters who are currently undercover at subway stations around the city.

Participants will download an app from the special website and follow the instructions within to find stamp locations at stations throughout Tokyo. When they reach the designated location, they'll find a special poster, and they'll just need to press a button in the app to earn a stamp. By collecting stamps in all six locations, fans will receive a unique key visual which can only be obtained through this event. 

Pop-Up Shop

During the event period, fans will also find a limited-time pop-up shop inside Ikebukuro Sunshine City. Original collaboration items will be on sale, and a game will be set up with winners able to walk away with unique prizes. From November 1 to November 20, admission to the shop will be by advance reservation only on a first-come, first-served basis to reduce crowding. Reservations can be made through the official website.

©藤本タツキ/集英社・MAPPA

Hello Kitty Autumn Event 'Apple Halloween 2022' Running Until October 31

HELLO KITTY SHOW BOX, a theater and restaurant offering Hello Kitty-themed shows and meals on Awaji Island, and HELLO KITTY APPLE HOUSE, an apple-shaped observation theater based on the popular character's home, are both currently holding the Apple Halloween 2022 event until October 31! 

Guests can enjoy a mystery-solving event and some adorable photo spots inspired by apples and the Halloween season. By solving certain riddles, visitors will be rewarded with candy!

Come have fun this Halloween with Hello Kitty, friends, and family!

Started in October, the New Show 'HELLO KITTY THE PARTIES' Gets Rave Reviews

HELLO KITTY THE PARTIES, a new show at the theater and restaurant HELLO KITTY SHOW BOX, will run until December 30, 2022. The show features a new theme each month and currently features a jazz band.

October's theme is Happy Halloween Party, and visitors can listen to a number of famous songs while enjoying tasty and healthy dishes packed with autumn flavors. At the end of the performance, a meet and greet with Hello Kitty will be held. November's theme will be Hello Kitty's Birthday Party, while December will focus on a Christmas Party!

Information

Apple Halloween 2022

Running until October 31, 2022

Hours: 11:00-17:00

Venue: Awaji Hello Kitty Apple Land ( 177-5 Nojimahirabayashi, Awaji, Hyogo)

Official Website: https://awaji-resort.com/hellokittyshowbox/

Popular Swimming Anime Free! to Hold 10th Anniversary Event at Saitama Super Arena in Summer 2023

The popular anime series Free! will celebrate its 10th anniversary with a special event at Saitama Super Arena on August 13, 2023. Cast members from the series, including Nobunaga Shimazaki, Tatsuhisa Suzuki, Mamoru Miyano, Tsubasa Yonaga, and Daisuke Hirakawa, will be in attendance. Free! -the Final Stroke- The Second Volume will be released on Blu-ray and DVD on April 5, 2023, and will include a priority purchase application ticket for the special event. Check out the official website for details!

 


The Free! anime franchise, which is loosely based on the High Speed! light novels by Kouji Ooji, began in 2013 and includes three TV series and multiple films produced by Kyoto Animation. The three anime series–Free!, Free! Eternal Summer, and Free! Dive to the Future–have been incredibly popular around the world. The first part of Free! The Final Stroke was released in theaters last year, with the second part hitting theaters in April 2022. Fans won't want to miss out on the exciting 10th-anniversary activities in 2023!

©おおじこうじ・京都アニメーション/岩鳶町後援会2021

Information

Free! 10th Anniversary Special Event

Date: August 13, 2023
Venue: Saitama Super Arena (8 Shintoshin, Chuo-ku, Saitama)
Cast: Nobunaga Shimazaki, Tatsuhisa Suzuki, Mamoru Miyano, Tsubasa Yonaga, Daisuke Hirakawa, more

Free! -the Final Stroke- The Second Volume Blu-ray&DVD
Release Date: April 5, 2023
Price: ¥11,000 (Tax Included)
Official Site: http://fs.iwatobi-sc.com/


Kuroko's Basketball 10th Anniversary Event Coming to Tokyo and Osaka This Summer

A special event is coming to Tokyo and Osaka this summer to celebrate the 10th anniversary of the Kuroko's Basketball anime series. Fans will want to visit Tokyo in July and Osaka in September.





Kuroko's Basketball is a manga series by Tadatoshi Fujimaki which was serialized in Weekly Shonen Jump until 2014 and tells the story of a high school basketball team trying to make it to the national tournament. The anime adaptation began airing in April 2012.

Kuroko's Basketball ~A Miracle One Day in the City~

Kuroko's Basketball ~ Kyoto Exhibition

Gallery Corner

Voice Guide

Admission Bonus – Invitation Card (9 varieties)

Exclusive Goods – F6 Character Board

Goods

Acrylic Stand (9 varieties)

Mini Acrylic Charms 1 (Random)

Mini Acrylic Charms 2 (Random)

Pin (9 varieties, random)

 

Purchase Bonus – Shopping Bag

 

The event will feature exhibits highlighting the history of the series and will feature a special voiceover. Exclusive merchandise will be on sale and guests will be welcomed by Kuroko and his friends at the entrance, all wearing special costumes drawn for the event.

Are you a Kuroko's Basketball fan?

© 藤巻忠俊/集英社・黒子のバスケ製作委員会
© 「黒子のバスケ」アニメ10周年プロジェクト

Information

Kuroko's Basketball 10th-Anniversary PARTY!

Tokyo Venue
Venue: Ikebukuro Sunshine City World Import Mart Bldg. 4F, Exhibition Hall A
Running: July 16 – July 31, 2022
Hours: Weekends and Holidays, 10:00-20:00
Weekdays: 12:00-20:00
*Closing at 17:00 on July 31.
*Last entry until 30 minutes prior to closing.

Osaka Venue
Venue: Hirakata Park Event Hall I
Running: September 16 – November 6, 2022
Event Details: https://kurobas-ap.com/


Tickets

On Sale: July 16, 0:00 – July 31, 16:00
Where to Buy: Loppi at Lawson / Ministop locations
Online Reservations: https://l-tike.com/event/kurobas_ap/