Food Review: Seahorse Bubble Tea at Sin an ju in Front of Harajuku Station
Hey, everyone. Midori here again from the MMN Editorial Team.
The bubble tea boom in Japan is still rife. Harajuku in particular has become a war zone with new bubble tea shops opening all the time. Si an ju is one of them and it has become popular for its delicious drink selection so I went to try it out myself!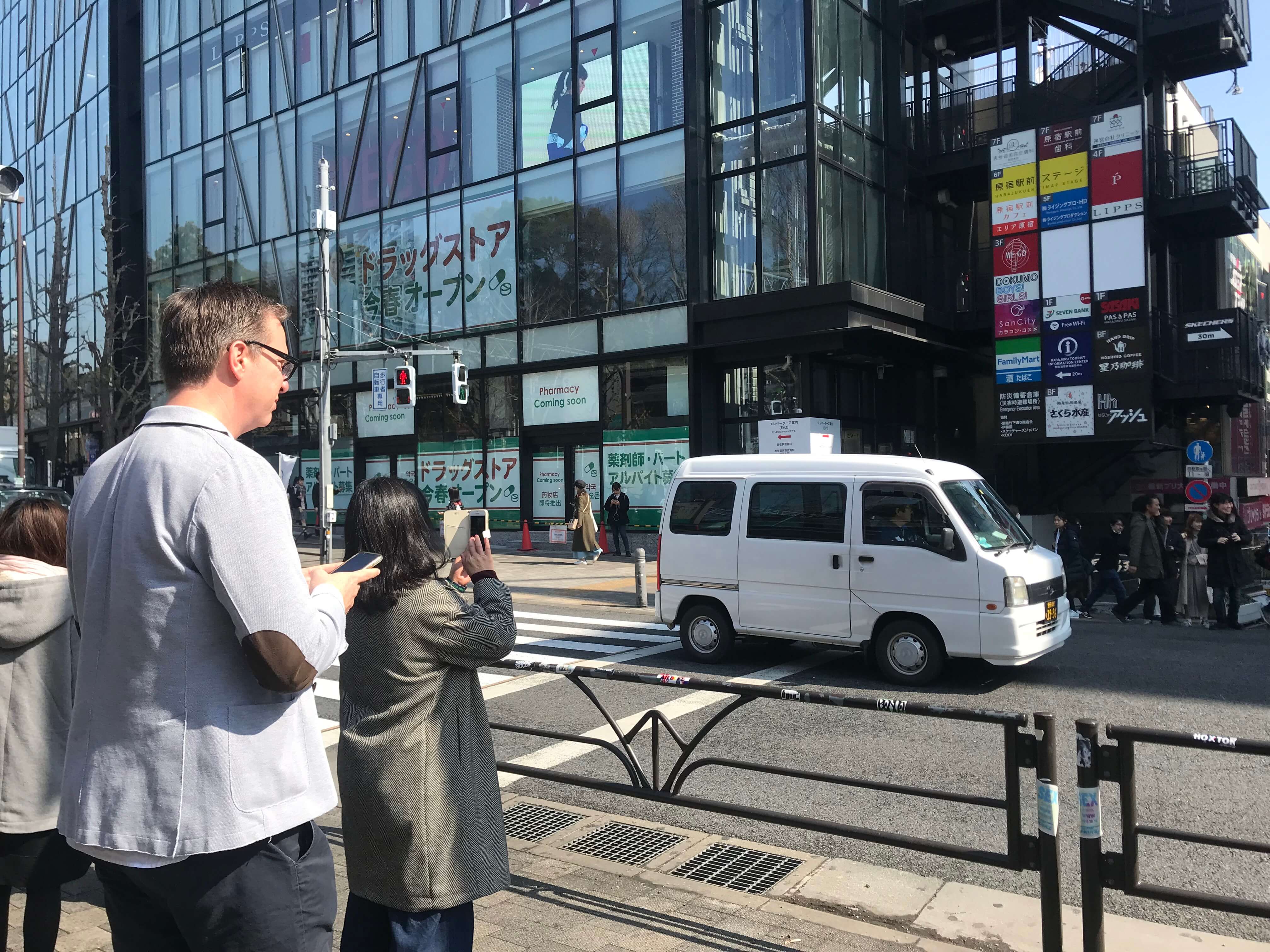 Si an ju is located just in front of Harajuku Station. Bubble tea shops in Harajuku tend to open along Cat Street or in Ura-Harajuku. Surprisingly there was even one in front of the station so it's safe to say bubble tea life is making progress.
To get there, exit from Harajuku Station's Takeshita Exit, cross at the traffic lights. Turn left and you'll be able to see the outdoor shop sign.
Also beyond that is Cafe Yolum, a South Korean cafe.
Related Article: Cafe Yolum: The Popular & Pretty Pink South Korean Cafe in Harajuku
At the storefront is a huge and airy bubble tea monument. Now I'm getting excited!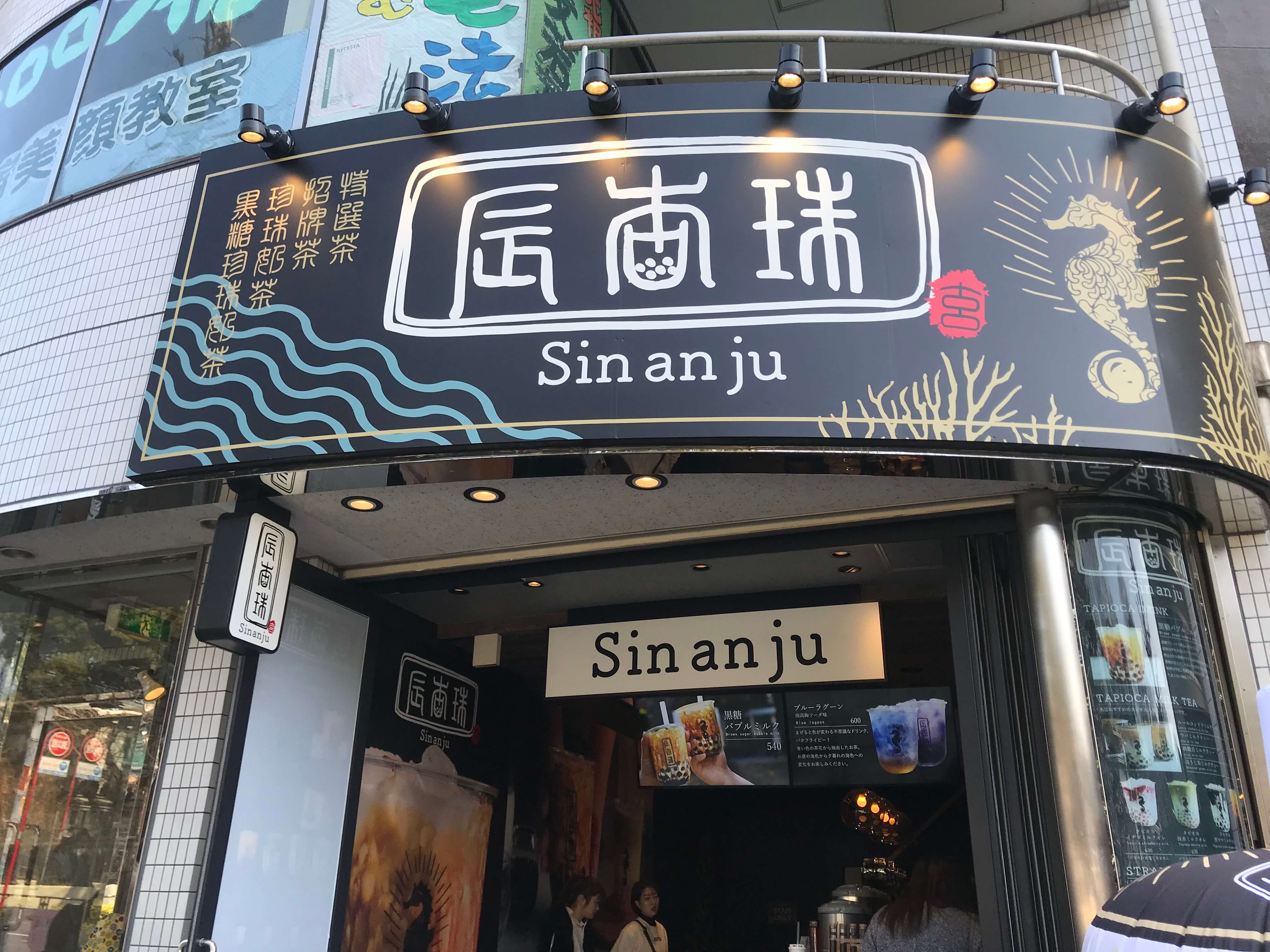 There are several tables inside for customers to sit down, relax and enjoy their beverages, but not many.
The menu is fairly big and they even have options without tapioca balls. The Blue Lagoon drink sounds interesting, it has a mysterious colour.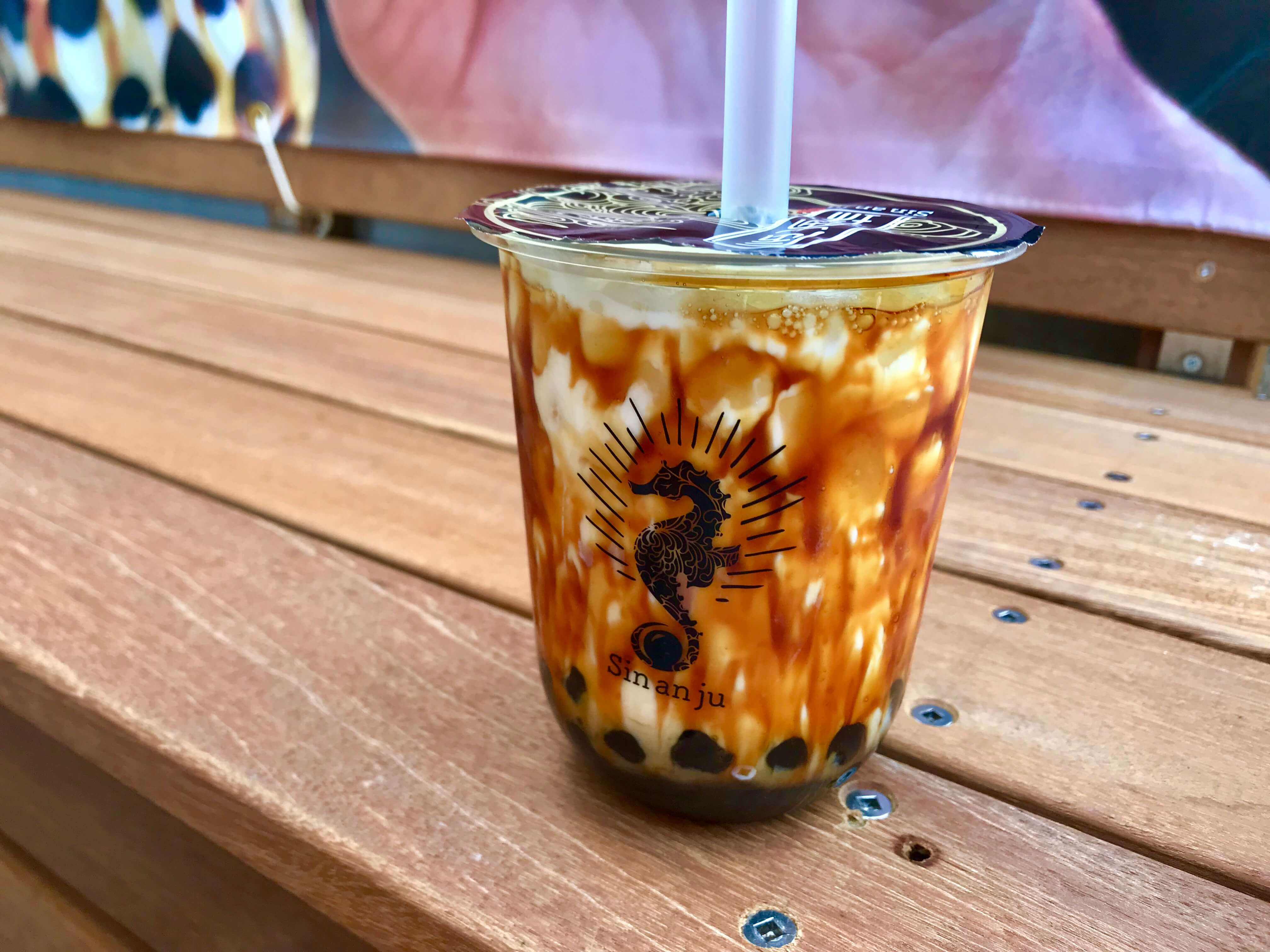 On my visit thought I ordered the shop's recommended Brown Sugar Bubble Milk.
The sauce in the cup is a brown sugar sauce which together with the decorative seahorse makes it look like a coral reef. Very beautiful!
The sauce is collected at the bottom and sinking around the sides so be sure to give the drink a good mix before drinking. Compared to other bubble teas the tapioca look pretty big. They might be almost as big as the thickness of the straw.
Time to drink!
It's pretty sweet-tasting. It's sweet even for me who orders their bubble tea with the maximum sugar option. But it's not an overpowering sweetness – the brown sugar has a refreshing sweet flavour. The tapioca balls are large and so are filling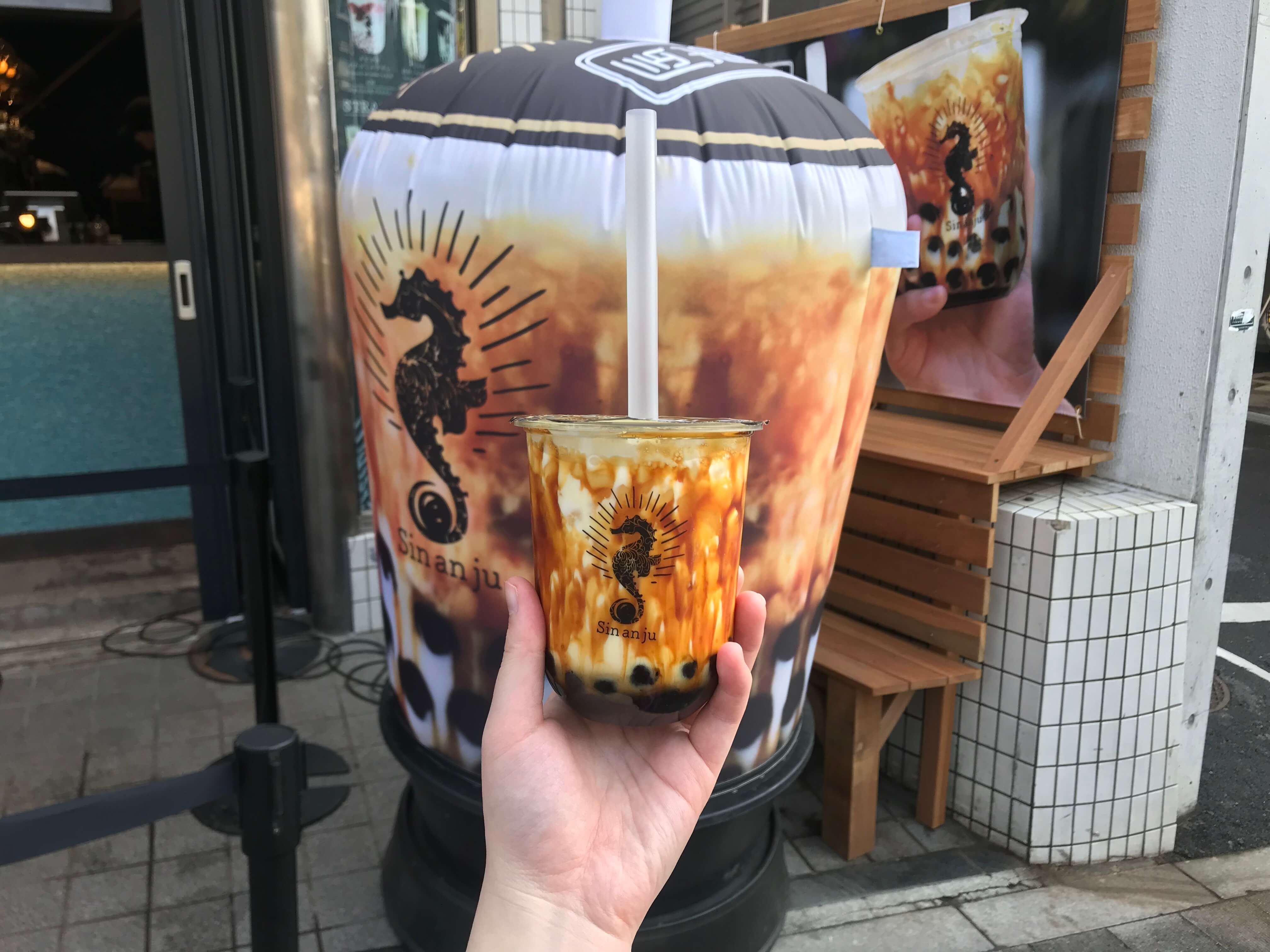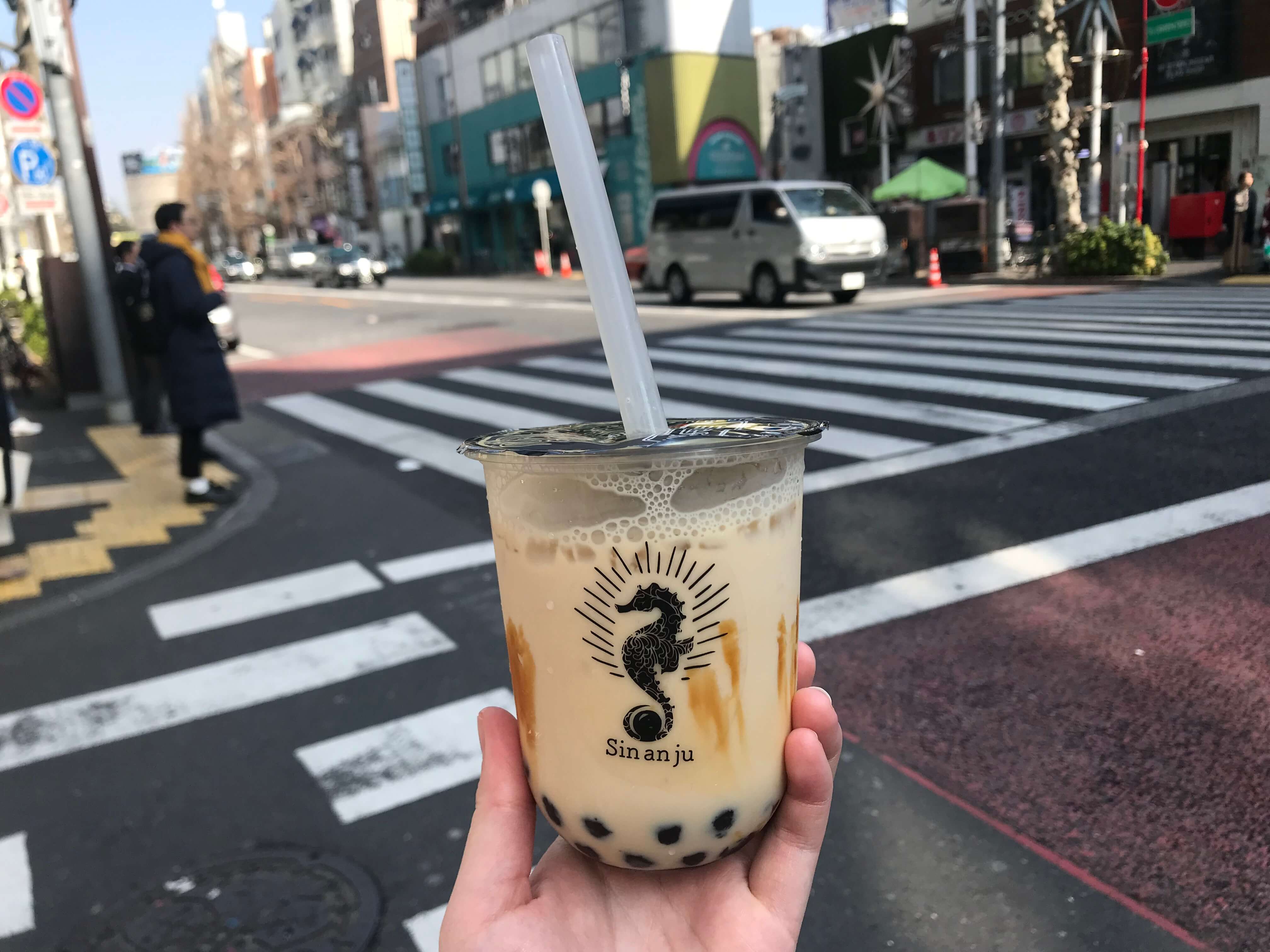 The brown sugar sauce will fall and mix into the drink as you sip so it's best to take a photo right away.
I visited the shop at the same time as they opened so I was able to buy my drink without waiting, but if you go on the weekend in the afternoon the lines can get pretty long, so it might be an idea to go earlier.
A lot of bubble tea shops open at 11:00am but Sin an ju opens at 10:00am so I recommend going there if you're in Harajuku early in the morning when no others are open!
I also highly recommend it for people who like chewy tapioca balls. Be sure to pay them a visit.
Information
Sin an ju
Address: 1-19-14 Jingumae, Shibuya, Tokyo
TEL: 03-5843-0229
Official Website: https://sin-an-ju.com/
RECOMMENDED ENTRIES
Visiting Harajuku's Newest Tapioca Drink Store KOI Thé

Japan is going through an unprecedented tapioca boom right now, and Harajuku is no exception, with tapioca stores opening left, right and centre. With so many to choose from no matter which you go to on a weekend there will be a huge line. I visited KOI Thé, a new shop that just opened on November 25.

It's located right near the MOSHI MOSHI BOX Tourist Information Center where you'll find us.

Head through Takeshita Street from Harajuku Station and go down the path between New Balance and Murasaki Sports.

Follow straight down and you'll find KOI Thé on your left. Look for the big tapioca drink outside – you can't miss it!

It's quite spacious instead and has simple decor rather than being stylish. Guys can line up without worry too.

This is how the menu looks. You can adjust how much ice and sugar you want in your drink.

I went with the classic tapioca milk tea!

The tapioca balls here aren't black but in fact golden. The reason they are gold is because they don't use food colouring.

Tapioca that is transparent like this is cute too. The balls are comparatively smaller and are chewy and taste delicious!

I ordered the drink with the normal amount of sweetness and it tastes even more refreshing than at other stores. It's a simple tapioca drink made for adults.

If you're a little embarrassed at lining up at a tapioca shop then I recommend getting it from one for grown-ups in Omotesando!

Information

KOI Thé
Address: 4-27-1 Jingumae, Shibuya, Tokyo
Opening Hours: 10:00-21:00
No Fixed Holidays.
TEL: 03-6434-5753
Website: https://koithe.jp/

Drink Tea in Style With FORTUNER tea-box's Cheese Tea Tapioca in Harajuku

Hi, everyone.  It's Midori from the MOSHI MOSHI BOX Harajuku Tourist Information Center.

It's been a trend for a while now, but tapioca shops have started popping up recently in Harajuku, and they've become so popular that most girls you see walking around there are drinking tapioca. Harajuku's going through a real tapioca boom!

They're all holding cups from a number of different shops, but the one getting much attention for their cute cups is FORTUNER tea-box, so I went to take a look!

FORTUNER tea-box is located behind the MOSHI MOSHI BOX along Tonchan Street (とんちゃん通り) on the first floor of a building called FLAG.

If you walk from Murasaki Sports along Tonchan Street you'll spot a 7-Eleven. Go past there and it's inside Anywhere Door opposite BEAMS RECORDS.

You'll know it once you've passed the offices and open conference rooms and see girls holding cups.

For those who aren't good with tapioca, have no fear. They also serve drinks without tapioca, as well as unsweetened teas amongst other things.

I ordered the "Cheese Tapioca Milk Tea"!

At first glance you can tell it's no ordinary tapioca milk tea, right? It has two layers with the top part being a whipped cream cheese.

I wondered to myself how cream cheese could work with sweet milk tea but when I took a sip the sourness of the cream cheese and sweetness of the milk tea came together to create a deliciousl salty-sweet taste! It contains big and small chewy tapioca. You can treat it like a dessert.

There are two mouthpieces on the lid and the straw is a super cute heart shape! It's cute as well when you knock it back and get a cream cheese moustache.

The inside of the shop too is cute and Instagram-worthy. There were lots of people taking photos when I went.

I recommend taking a photo with the BEAMS RECORD sign behind you which is close to the shop.

Buy a stylish drink with your friend and snap some photos with a snazzy background!

■Information

FORTUNE tea-box

Address: 3-27-15 Jingumae, Shibuya, Tokyo

Opening Hours: 11:30am-11:00pm (No Fixed Holidays)

TEL: 03-5755-5708

Website: http://fortuner.co.jp/index.html
RELATED ENTRIES
Cute and Chic Leather Wallets & Purses Released at Tiffany @ Cat Street in Harajuku

Tiffany & Co. released a new collection of small leather products at its Harajuku concept store Tiffany @ Cat Street on Wednesday.

What is Tiffany @ Cat Street?

 Tiffany @ Cat Street is a concept store that opened in April 2019 which is set to remain open for just 3 years. It is the company's first concept store to open in Japan. The shop showcases the wit, creativity, and timeless charm that Tiffany & Co. is known for, as well as a shopping experience in an interactive environment. It stocks everything from Tiffany's iconic collection from jewellery to home goods, accessories, and more. The line-up and designs also change themes on occasion. Tiffany @ Cat Street also has a cafe on the top floor.

Continental Flap Wallet – ¥72,000 (Before Tax)

Coin Pouch – ¥36,500 (Before Tax)

The small leather product line-up is made from high-quality Italian leather coloured in that eye-catching Tiffany blue. Each item is also stamped with the store's signature cat motif.

Card Case – ¥24,500 (Before Tax)

Compact Wallet – ¥55,000 (Before Tax)

The four variations are the perfect gift to yourself or someone you hold dear to you.

Be sure to stop by Tiffany @ Cat Street the next time you're in Harajuku.

Information

Tiffany @ Cat Street

Address: 6-14-5 Jingumae, Shibuya, Tokyo

Opening Hours: 11:00-19:00

Cafe Opening Hours: 11:30-18:30 (Last Orders 18:00)

Access: 5-minutes on foot from A4 exit of Meiji-Jingumae Station (Tokyo Metro Chiyoda Line/Fukutoshin Line) / 10-minutes on foot from Omotesando Exit of Harajuku Station

Official Website: https://www.tiffany.co.jp/jewelry-stores/cat-street/

Harajuku's Rilakkuma Fruits Cafe Entertains Customers With Projection Mapping

"HARAJUKU AR BOX -table projection mapping cafe-," a cafe in Harajuku whose name speaks for itself, has announced its second collaboration with Rilakkuma to bring the new Rilakkuma Fruits Cafe which will open for a limited time from April 3, 2020 to June 28, 2020.

The cafe's first collaboration with Rilakkuma was in December last year. It was called "Korilakkuma Cafe: another me in the mirror" and earned itself many fans for its cute food and decor, but especially for its interactive tables which used projection mapping technology to have Rilakkuma and friends running around people's tables.

Harajuku's Korilakkuma Cafe: another me in the mirror | Food Review: https://www.moshimoshi-nippon.jp/284456

Fruit is the theme of the new Rilakkuma Fruits Cafe, which follows that Chairoikoguma and the other characters have gathered lots of nutritious fruit to fill up the belly of hungry Rilakkuma.

Food

Rilakkuma's Fruit Salad – ¥1,590

Get your fill of refreshing fruit from this fruit salad plate which has Rilakkuma poking his cute face out from behind it all. When you order this dish, you'll need to touch the fruits that appear on the table to give them to Rilakkuma.

Korilakkuma's Apple Cheese Gratin – ¥1,690

A combination of hot apple and melted cheese, you'll find yourself addicted to the sweet and sour mix of flavours. Pick lots of apples with Rilakkuma and company with the projection mapping game. (*Serving April 3, 2020 – May 17, 2020 only)

Chairoikoguma's Orange Burger – ¥1,690

The bun of this hearty burger is branded with Chairokoguma's cute bear face. But what happens when you squeeze Rilakkuma's orange? (*Serving May 20, 2020 – June 28, 2020 only)

Desserts

Rilakkuma's Maku Maku Fruit Tree Parfait – ¥1,590

Korilakkuma's Maku Maku Strawberry Tree Parfait – ¥1,590 (Serving April 3, 2020 – May 17, 2020 only)

Kiiroitori's Maku Maku Peach Tree Parfait – ¥1,590 (Serving May 20, 2020 – June 28, 2020 only)

For dessert, you have a selection of fruit-topped parfaits to choose from featuring Rilakkuma, Korilakkuma, and Kiiroitori.

Drinks

Rilakkuma & Friends Maku Maku Drinks – ¥790 / With Glass – ¥1,990

Warm & Fluffy With Everyone Cafe Latte – ¥890

Pick between one of the cold beverages, or if it's a cold day, warm up with a hot drink. Feel warm and fluffy like Rilakkuma and his friends with a warm beverage after your parfait.

Exclusive Merchandise & Bonus Items

Pin Badges (9 Designs/Chosen Randomly) – ¥400

Acrylic Key Rings (8 Designs/Chosen Randomly) – ¥500

Get your hands on a selection of original merchandise too, including pin badges, acrylic key rings, and more.

Stickers (4 Designs/Chosen Randomly)

Coasters (4 Designs/Chosen Randomly)

Book a table online in advance and receive one of four possible stickers. Order a drink at the cafe and get one of the four coasters!

You're sure to get your five-a-day when you dine at the Rilakkuma Fruits Cafe, opening for spring on April 3, 2020 in Harajuku.

©2020San-X Co., Ltd. All Rights Reserved.

Information

Rilakkuma Fruits Cafe

Running: April 3, 2020 – June 28, 2020

Location: HARAJUKU AR BOX-table projection mapping cafe- (Lucessimo Bldg. Floor 2F, 4-28-28 Jingumae, Shibuya, Tokyo)

Table Bookings: Now Open

*Table Projection Mapping seats for two people are ¥2,960 (before Tax)

Official Website: https://rilakkuma-fruits-cafe.jp/

Pompompurin Celebrates 24th Anniversary With Birthday Menu at the Pompompurin Cafe

Sanrio's popular character Pompompurin is celebrating his 24th anniversary at three branches of the Pompompurin Cafe in Harajuku, Yokohama, and Umeda with a special birthday menu that will be served for the whole month of April.

A special celebratory menu for the floppy-eared golden retriever

The official date for Pompompurin's birthday is April 16. The birthday menu line-up includes two food items, a drink made in collaboration with popular Japanese picture book author Yukako Ohde, and some novelty gifts.

Birthday Menu

Happy Birthday Flower Bouquet Bisque – ¥1,590 (Before Tax)

This cute bisque soup has Pompompurin and Muffin holding a colourful boquet made from broccoli and mashed potatoes made to look like roses. It has a rich but mild flavour, and is both adorable and filling.

Happy Birthday Strawberry Mousse – ¥790 (Before Tax)

The strawberry mousse has a fluffy texture and refreshing, sweet taste. It can be eaten as it is or drizzled with the accompanying raspberry sauce.

Yukako Ohde x Pompompurin Lemonade – ¥550 (Before Tax)

Take a sip from this delicious lemonade from a straw adorned with a cute, warm illustration of Pompompurin by Yukako Ohde.

Exclusive Anniversary Novelty Gifts

Lunch Mat Design

Customers who dine at any of the three cafes during the anniversary celebration will receive a free lunch mat.

Coaster Designs

And those who order the lemonade will receive a coaster with designs illustrated by Yukako Ohde. The designs are different at each branch of the Pompompurin Cafe. You can also receive another special coaster if you spend over ¥1,000 each (tax included) at Pompompurin Cafe Umeda and KIDDY LAND Osaka Umeda. Simply show your receipts at the cafe.

©1996,2020 SANRIO CO., LTD. APPROVAL NO.S605291

Information

■Pompompurin Cafe Harajuku

Address: CUTE CUBE HARAJUKU 3F, 1-7-1 Jingumae, Shibuya, Tokyo

Opening Hours: 11:00-21:00 (Food Last Orders 20:00 / Drinks Last Orders 20:30)

Access: 3-minutes on foot from the Takeshita Exit at Harajuku Station

TEL: 03-5786-0770

■Pompompurin Cafe Yokohama

Address: Yokohama Sotetsu Square, 2-1-5 Minamisaiwai, Nishi-ku, Yokohama-shi

Opening Hours: 10:00-21:00 (Last Orders 20:30)

Access: 5-minutes on foot from West Exit at Yokohama Station via JR Line

TEL: 045-311-6750

■Pompompurin Cafe Umeda
Address: Hankyu Sanbangai South Wing B2F, 1-1-3 Shibata, Kita-ku, Osaka-shi
Opening Hours: Weekdays 11:00-22:00 (Last Orders 21:30) / Weekends & Holidays 10:00-22:00 (Last Orders 21:30)
Access: 3-minutes from Osaka Station via JR Line
TEL: 06-6292-7140

Pompompurin Cafe

Official Website: http://pompom.createrestaurants.com

MUUN SEOUL: Harajuku's Korean Cafe Serving Instagrammable 'Fatcaron' Macarons

MUUN SEOUL is a cafe located along Tonchan-dori Street in Harajuku that serves Instagram-worthy South Korean food.

Photo by Nagisa Kobayashi @popo_318

Photo by Nagisa Kobayashi @popo_318

The cafe sells "fatcarons," a South Korean-style macaron which have proven very popular with young women in Japan.

Photo by Taeco @taecostagram

Fatcarons are larger than the standard macaron. They are topped with things like strawberries, given marble textures, and more to give them a cute appearance. MOON SEOUL serves many different varieties, all of which are standout compared to normal macarons.

Photo by Sara @__sar310

But the fatcaron experience at MOON SEOUL isn't complete without ordering the drink above. It's strawberry milk flavoured, but the milk is whipped until it's fluffy, giving it a taste like no other strawberry milk you've tried. It also has sliced strawberries inside and on top, so if you love strawberries, you'll love this.

Photo by Yuina @popochan726

You can order your fatcarons for takeout too in a clear takeaway box so you can go have a dessert picnic with your friends, and get a great photo of them all together too.

Harajuku's KAWAII MONSTER CAFE Begins Spring Fair 'KAWAII×Sakura×Easter 2020'

If you've never heard of the KAWAII MONSTER CAFE in Tokyo, then you're going to want to visit by the time you see what they're cooking up for spring.

This year, the cafeーwhich is based on the idea of customers being inside the stomach of a giant monster that's eaten Harajuku wholeーis holding a spring fair entitled "KAWAII×Sakura×Easter 2020" which is running from March 13 to April 26. The menu line-up incorporates elements of Japanese spring with a colourful Harajuku twist, from Easter to cherry blossoms.

*Menu item names have been translated from Japanese

Colourful Pop Burger Cock-A-Doodle-Doo Monster – ¥1,680

This new chicken monster burger is stuffed full of delicious goodness, including sukiyaki.

Cherry Blossom Bloom Rice – ¥1,300

The year is 2020, and spring has arrived in Japan. This Earth-inspired blue rice has cherry blossom coloured cheese fondue dolloped on top of it which is sat on a bed of black curry. The spicy curry has delicious burnt caramel inside it.

Tropical Bibimbap – ¥1,200

Bibimbap, the soul food of South Korea. This colourful version is topped with edible flowers and cherry blossom wheat-gluten bread, giving it that springtime feeling. The specially-made monster furikake gives the dish a real spicy kick.

UFO Doughnut Pancakes – ¥1,200

These chewy in-house made doughnuts are filled fat with strawberries, mikan, lemon mousse, and strawberry ice cream. Doughnut pancakes are the latest gourmet indulgence in Harajuku.

Sakura Mousse Piyo Piyo Cake – ¥980

Aka-chan is the name of this newborn monster chick, whose cute face is made from cherry blossom mousse.

Pastel Easter Sakura Rabbit Parfait – ¥2,400

Wearing a cute pointy hat and a colourful dress, this sakura Easter bunny is caked in strawberry, orange, and melon flavoured cream, strawberry ice cream, panna cotta, Japanese pudding, fresh strawberries, and raspberry sauce.

A trip to Harajuku this spring isn't complete without a visit to the KAWAII MONSTER CAFE, so don't miss out on their spring fair.

Information

KAWAII×Sakura×Easter 2020

Running: March 13, 2020 – April 26, 2020

Address: YM Square Bldg. 4F, 4-31-10 Jingumae, Shibuya, Tokyo
Access: 5-minutes on foot Harajuku Station via JR / 1-minutes on foot from Meiji-Jigumae Station via Chiyoda Line and Fukutoshin Line
TEL/FAX: 03-5413-6142/03-5413-6143

Business Hours
Weekdays & Saturday:
[Lunch] 11:30-16:30 (last entry 15:30 / last orders 16:00 – 90 min stay max)
[Dinner] 18:00-22:30 (last orders 22:00)

Sundays & Holidays:
11:00-20:00 (last orders 19:30)

Official Website: http://kawaiimonster.jp

Shiseido Parlour to Open New Restaurant at WITH HARAJUKU in Tokyo

Shiseido Parlour, a pioneer of Japanese-style Western cuisine, has announced that it is opening its new restaurant and lounge Shiseido Parlour The Harajuku on the 8th floor of WITH HARAJUKU, a shopping centre located in front of Harajuku Station in Tokyo, on April 25, 2020.

Goshu no Sosai With Seasonal Ingredients

Main Dish

Shiseido Parlour The Harajuku breathes new life into the Japanese-style Western cuisine that has been cultivated in Ginza for 100 years, serving up a new prix fixe-style fixed price menu that elevates the taste, smell, and appearance of the seasonal ingredients used, from a Japanese way of thinking. This food can be enjoyed with a glass of one of the main wines selected by the restaurant's sommeliers, high-quality tea, and more.

Meals are enjoyed even more by the view offered at the restaurant, where you can see shrine groves of Meiji Jingu Shrine.

Main Dining

Forest Dinner (Chef's Recommendation) – ¥12,000 (Tax Included)

The design concept for the restaurant interior is forests. The restaurant promises a relaxing atmosphere like that of being wrapped amongst the mighty trees of the woods, the cool air blowing, and the rays of the sun spilling through the trees.

The interior design was created by Kazuya Ura, a Japanese architect who was involved with the building plan for the Kyoto State Guest House. The restaurant lounge features glass art on the wall which captures the image of sunlight filtering through the trees. This was created by Japanese glass designer Ikko Itabashi.

Lounge

The chic red lounge offers a view of the garden terrace and faces the direction of Akasaka. Tuck into appetisers and desserts and enjoy sipping on a drink. This is a great place to sit after your meal or for meeting up with someone.

If you're visiting Harajuku during your trip to Japan, why not pop into the new Shiseido Parlour The Harajuku?

Information

Shiseido Parlour The Harajuku

Address: WITH HARAJUKU (Floor 8F), 1-14-30 Jingumae, Shibuya, Tokyo
Opening Hours: 

Dining/Lunch: 11:30-15:30 (Last Orders 14:00)
Dinner: 18:00-22:00 (Last Orders 20:30)
Lounge: 11:30-22:30 (Last Orders 21:30)

Closed: Mondays (Except on public holidays), and closed April 27, 2020
Official Website: https://parlour.shiseido.co.jp/en/index.html

MOSHI MOSHI ROOMS Opens Sentō Bathhouse and Sumō-Themed Fusion Accommodation Called 'DOSUKOI'

MOSHI MOSHI ROOMS is located in the heart of Harajuku's tourism welcomes travellers from all over the world to immerse in Japanese culture in a way they've never experienced before. The cherry blossom-themed accommodation SAKURA is a blooming success throughout the year and ORIGAMI's mesmerizing and clever designs never fail to make tourists crease their necks in amusement. 

The third Japanese culture accommodation has stomped into MOSHI MOSHI ROOMS as a fusion of sumō wrestling and sentō bathhouse culture called 'DOSUKOI'. The word dosukoi is phrase that sumo wrestlers shout out to get hyped up – perfectly summing up your excitement as you explore this spectacular fusion world from corner to corner. From a giant sumō hand to a historical sentō bathtub with a magnificent mural artwork scenery, the entrance, living room and sentō-style bathing area is overflowing with originality.

Living Room

The entrance to the living room is themed around a sentō bath. The tiled roof and traditional entranceway noren fabric dividers will be the first thing to welcome tired travellers. 

A giant sumō hand overshadows the light on the ceiling, representing the tsuppari striking technique used by sumō wrestlers. The furniture, including the soft sofa, rug and chairs, is white and beige to represent the colour of the sumō ring. 

The relaxing room is punctuated with powerful illustrations of sumō wrestlers that cover the wallpaper. 

Bathroom


The round bathtub is made from Japanese cypress wood and is large enough to fit 3-4 people – perfect to soak off your tiredness with friends and family. A large wall painting (mural)  of a grand ocean view dominated by Mount. Fuji stretches across the wall. A purple curtain is suspended above the circular bath, representing the mizuhikimaku curtain which hangs above a sumō ring. 

The dressing area is equipped with a fridge and chair like a traditional bathhouse. DOSUKOI guests will also find complimentary bath salts which are a gift.

The grand mural is an original piece by Kiyoto Maruyama – one of Japan's three remaining sentō mural artists. This graceful painting was created using a large and smaller brush. As you admire the bold colours and fine details of this rare art, which is fading away as society progresses, you will be sent on a journey back through time. 

Bedroom

The spacious sleeping area consists of two levels, each of which has enough room for two people to sleep. The room also has another bed in storage, meaning that up to five guests can stay. 

Sink and Toilet

The separate sink area is equipped with a hair dryer. There is also a Japanese Washlet toilet with multiple functions. 

Amenities and Extras

The kitchen is fully equipped with cooking utensils, a microwave, refrigerator and all the daily essentials. 

After a long, relaxing hot soak, put on a light yokozuna yukata robe and you'll feel just like a sumō champion. There are also many amenities and items that fit with the DOSUKOI theme. 

MOSHI MOSHI ROOMS isn't just a hotel but is also the perfect party space for you and your friends to get together. As the cold days are still with us, how about warming up in a toasty sentō-style bathtub with your friends?

Matcha Bubble Tea and Japanese-Style Milano Sandwich to be Released at Doutor Coffee Shop

Doutor Coffee Shop is getting with the Japanese spring vibes with the unveiling of its new Uji Matcha Milk Bubble Tea and Milano C Smoked Chicken & Soft Boiled Egg which will hit branches of the cafe up and down Japan on March 19, 2020.

Tapioca ~Uji Matcha Milk~ / From ¥417 (Before Tax)〜

This tasty bubble tea is made with slightly bitter Uji matcha and subtly sweet milk and is finished with a serving of chewy tapioca pearls.

Milano C Smoked Chicken & Soft Boiled Egg ~Miso Ginger Sauce~ / From ¥382 (Before Tax)〜

This Japanese-style Milano sandwich is made with chicken that has been smoked with cherry blossom chips, a soft-boiled egg, and red onions. It's drizzled with a miso ginger sauce which gives a sweet and spicy flavour to the sandwich.

Spring is right around the corner in Japan, so be sure to enjoy all the seasonal goodies that are to come!

Information

Tapioca ~Uji Matcha Milk~

Milano C Smoked Chicken & Soft Boiled Egg ~Miso Ginger Sauce~

Release Date: March 19, 2020

Official Website: https://www.doutor.co.jp/

J-Pop Group Perfume to Open Fashion Pop-Up Shop 'Perfume Closet' at Laforet Harajuku

Worldwide famous Japanese pop group Perfume are taking their fashion project "Perfume Closet" to Laforet Harajuku where it will run in a pop-up shop from February 20-26 this year.

Perfume Closet is a fashion project helmed by Perfume which aims to connect with fans through Perfume's music by making outfits. This is the fourth time Perfume Closet has opened, and will feature a line-up entitled "Perfume Closet 2020SS" which is part of what Perfume are calling "Phase 2," which started in January this year and centres on clothing. It follows on from "Phase 1" which featured a line-up of miscellaneous items.

SATIN COMBI TRENCH COAT – ¥49,500 (Tax Included) / FLOWER PLEATS DRESS – ¥44,000 (Tax Included)

SHEER COMBI KNIT ¥17,600 (Tax Included) / 2 WAY PLEATS SKIRT ¥35,200 (Tax Included)

RELAX WEAR (LADIES) – ¥16,500 (Tax Included) / PLEATS SLEEVE TEE (WHITE) – ¥9,900 (Tax Included) / SHEER COMBI RELAX PANTS – ¥22,000 (Tax Included)

The pop-up shop will stock a plethora of items made by the Perfume members, who worked on the designs, chose the materials, and crafted the silhouettes. It includes everything from coats to one pieces, blouses, bottoms, as well as unisex items men can wear too like pants, shirts, and more.

Fans of Perfume and fans of Japanese fashion aren't going to want to miss out on the new Perfume Closet, open for one week only starting next Thursday!

Information

Perfume Closet

Running: February 20, 2020 – February 26, 2020

Location: Laforet Harajuku (Floor 2F CONTAINER)

Laforet Harajuku Official Website: https://www.laforet.ne.jp/

IKEA Harajuku to Open in April 2020 as IKEA Japan's First Central Tokyo Branch

IKEA Japan has announced the opening of its first central Tokyo branch. Located inside WITH HARAJUKU, and just a 1-minute walk from Harajuku Station, the store will officially open its doors on April 25, 2020.

Harajuku is the hub of Japanese youth fashion culture, and is known the world over as one of the main tourist spots for those travelling to Tokyo. IKEA is taking its Swedish roots and planting them in the ground of central Tokyo with its spacious new storeーwhich will also have its own cafe.

If you're travelling to Tokyo, make sure to pay IKEA Harajuku a visit during your inevitable Harajuku shopping spree.

Information

IKEA Harajuku

Address: WITH HARAJUKU, 1-14-30 Jingumae, Shibuya, Tokyo

Grand Opening: April 25, 2020

Access: 1-minute on foot from Harajuku Station via JR Line / 1-minute on foot from Meiji-Jingumae Station via Tokyo Metro

IKEA Japan Official Website: https://www.ikea.com/jp/en/

Visiting @cosme TOKYO in HarajukuーThe Place That Satisfies All Of Your Makeup & Cosmetic Needs

@cosme TOKYO is a new flagship store that opened in front of Harajuku Station in Tokyo on January 10, 2020.

@cosme is a web portal centred on makeup and cosmetics. Offering a wealth of beauty information from a number of perspective, the website lets you see the latest trending items in the makeup world from the word on the streetーby letting people comment on and rank itemsーoffers solutions to skincare and makeup-related problems, and more.

@cosme TOKYO is the first-ever physical store by @cosme. Its floor space spans over 1,300 square meters where it houses an enormous selection of cosmetics and makeup products, from inexpensive and affordable quality items to luxury brands. Since opening, it has become the talk of the town in Harajuku.

It's comprised of three floors, each with their own highlights. Let's go and check it out.

1st Floor: A Hall of Fame for the latest most popular cosmetics

When you walk into the first floor area, the first thing that's sure to catch your eye is the incredible "Best Cosmetic Award Tower," a collection of items that have have won past cosmetic awards for being the best. All the cosmetics are stacked up high in their own little display case.

As you proceed further across the shop floor, there is the "@cosme Weekly Ranking" corner which ranks the most popular items on the website for that week, so customers can always know what products are the best to incorporate into their makeup and beauty routine.

But perhaps the centrepiece of @cosme TOKYO is the "Tester Bar," where customers are free to try out products using the puffs and cotton pads provided. There's also a tap and sink for rinsing. You can't deny how great this service is; without worrying about others, you can try out all the cosmetics to your heart's desire and then buy them if they're to your liking.

There are also smart lockers so you can lock your things away, allowing for your hands to be free while you test makeup and shop. But it doesn't stop there, as there's even a foreign currency exchange machine which caters for 85 currencies in 120 countries.

2nd Floor: Men's cosmetics, beauty equipment, and more

Up on the second floor, you'll find another area that ranks products, this time the ones with the most sales at @cosme TOKYO. Everything is displayed in such a way that it's easy to find products as they are separated by base makeup, mascara, lipsticks, and so on. You'll find pop artwork hand drawn by the staff to highlight products, so enjoy comparing and considering all the different items.

Recently in Japan, men's products have been garnering attention, and so @cosme have created an entire section dedicated to male and unisex makeup items. Picking out makeup with your partner is goals, and now it's finally becoming a reality.

Another area that's popularーwith both Japanese people and foreignersーis one that stocks cosmetics made with naturally-derived ingredients from Japan, as well as products with Japanese-style packaging. It's perfect if you're looking for Japanese-specific items or for gifts and souvenirs.

Also on the second floor are beauty mirrors so you can check yourself out as well as two Tester Bars, so you can try out products here too.

If you have kids, you can drop them off in the kid's area while you shop. There's also bread-feeding rooms and places for changing diapers. They have it all!

3rd Floor: A place to relax exclusive to @cosme app users

The third floor is home to a lounge that can only be used by those who have the @cosme app installed on their phone. It can be used for relaxing or for hanging out with friends. It's hard to find a such a quiet and relaxing place like this so close to Harajuku Station.

If you want to retouch your makeup, there's a powder space you can do that for free, as well as oxygen boxes. This floor is packed full of different great services.

@cosme also has its own points system. One point equals one yen, and you get five for just visiting the store.

Anyone and everyone can enjoy a fun and easy shopping experience

 

Each product in the store has a JAN code on it which when scanned at one of the tablets in store will give you information about that product in multiple languages, including English, Simplified/Traditional Chinese, and Korean. This goes for the map of each floor too, so you can find out what each floor offers without getting lost.

@cosme TOKYO also has free Wi-Fi, and can also ship products around Japan. It offers a comprehensive shopping experience that caters to both Japanese and foreign customers.

You're sure to find many items you like when visiting @cosme TOKYO, so you can't miss out on visiting if you're travelling to Harajuku or Tokyo. Enjoy shopping!

Information

@cosme TOKYO
Opened: January 10, 2020

Address: 1-14-27 Jingumae, Shibuya, Tokyo
Opening Hours: 10:00-21:00
No Fixed Holidays
Official Website: https://www.cosme.net/flagship/

Japan's First CBD Shop 'HealthyTOKYO' to Open in Harajuku in February

HealthyTOKYO is set to open as the first shop in Japan specialising in the selling of CBD oil, and it's doing so in Harajukuーone of Tokyo's most famous towns that's at the forefront of trends and pop culture. It is both a shop and a cafe.

CBD oil has seen a spike in sales over the past year. Made from hemp, research shows that there are many health benefits to using CBD. The main gains are from helping reduce stress, relieving pain, improving sleep, and helping prevent skin inflammation.

CBD is used by mixing it with food or drink. It's also been recognised as having an effect as an ingredient in cosmetics and creams. While CBD oil is legal in Japan, the country's law is strict when it comes to traces of THC, and so only allows oils with 0%.


As well as the oil itself, HealthyTOKYO will also stock a variety of vegan sweets and drinks containing CBD. The food line-up includes vegan-friendly cheesecake, mont blanc, and gateau chocolate, as well as gluten-free lasagne, amongst many other things. For drinks, there's a variety of organic matcha, coffee, and more. A lot of these foods and drinks can be ordered with CBD oil too.

HealthyTOKYO brand CBD products all use naturally derived CBD oil, and the shop offers degrees of strength and different flavours too. They sell cosmetics, creams, and other products too.

If you've been looking for CBD while in Japan, or even vegan-friendly or gluten-free foods, then make sure you pay a visit to the country's first CBD shop and cafe in Harajuku.