Hotel Gajoen Tokyo launches 3-day limited plan! Enjoy a rickshaw ride through the cherry blossoms at Meguro.
Hotel Gajoen Tokyo is a museum hotel where you can discover the beauty of Japan. December 2018 marked its 90th anniversary since opening. For a three-day limited period from Friday 29th to Sunday 31st March 2019, you can thoroughly enjoy Japanese hospitality as the hotel will be running a rickshaw service around Meguro River for guests to enjoy the cherry blossoms.
The name of the rickshaw service accommodation plan is "Jinrikisha de meguru Meguro kawa no kano ko ryoko". You can select this plan whilst booking a room at the hotel. The plan involves a rickshaw ride around Tokyo's leading cherry blossom-viewing hotspot for 30 minutes. During the ride, guests can enjoy the spring breeze as they sweep around the sakura trees of Meguro river.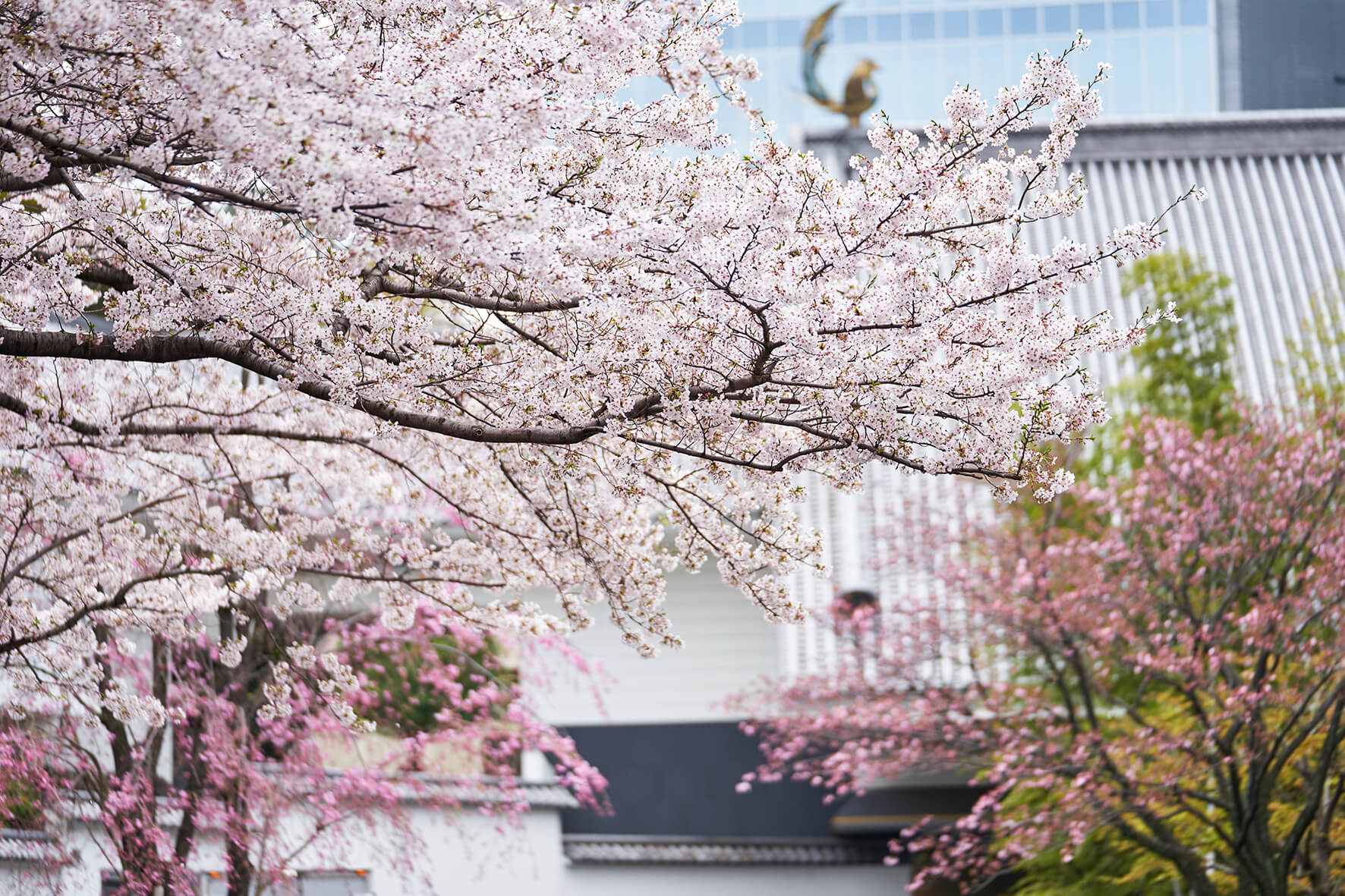 After cherry blossom-viewing from the rickshaw, your hotel room, fully equipped with a jet bathtub and steam sauna, will be waiting for you. Each room of the hotel was designed with the Japanese concept of "harmony, respect, purity and tranquillity" to ensure that every single guest can fully enjoy a luxurious and relaxing stay. Hotel Gajoen Tokyo can only offer this service as it is located along Meguro River near all the cherry blossoms. The reservation period started on Wednesday 20th February.
In addition, during the same period in March, all sorts of limited edition cherry blossom celebrations will be taking place at the hotel, from themed restaurant menus to special events. From art to gourmet and desserts, there is so much to enjoy. Make sure to check out these spring-themed menus as you cannot get them anywhere else! The smell of spring will be wafting around the hotel due to the limited edition  "Sakura Menus" which will be prepared by the restaurants in the hotel, for example, Tofuutei and RISTORANTE CANOVIANO.
You can fully embrace spring inside the hotel just as much as you can outside! Hotel Gajoen Tokyo is your chance to enjoy the cherry blossoms while they last. Come relax at your own pace with this comfortable and luxurious experience.
Information
Jinrikisha de meguru Meguro kawa no kano ko ryoko (Japanese hospitality accommodation plan)
人力車で巡る目黒川の観桜小旅行」
Name of accommodation plan: Jinrikisha de meguru Meguro kawa no kano ko ryoko
Rickshaw accommodation plan period: Friday 29th to Sunday 31st March 2019
Breakfast included.
The 8th floor "Executive lounge" serves a buffet-style breakfast featuring both western and Japanese food (Entry permitted between (7:00~10:30)   
Price of plan
※1 night, 1 room (2 guests/breakfast included) ¥116,000 ~ (accommodation fee + tax)
All rooms are non-smoking.
Tokyo Tangible Cultural Properties exhibition at Hyakudan Stairs Art Museum
東京都有形文化財「百段階段」
The rickshaw accommodation plan includes free entry to the "Spring, sakura, sakuya" exhibition at Hyakudan Stairs Art Museum. This is an exhibition of artwork featuring cherry blossoms blooming at cultural properties
To book a rickshaw ride, please choose a 30-minute time slot between 11:00 and 17:00
(Last opportunity to ride will be 16:30)
Book your special accommodation plan here ⇒ https://www.hotelgajoen-tokyo.com/stay
RECOMMENDED ENTRIES
Fate/Grand Order Themed Hotel Rooms Arriving to Sunshine City Prince Hotel

A new 'concept' floor of the Sunshine City Prince Hotel called IKEPI 25 is set to open in April this year and for the hotel's first tie-up the floor is collaborating with the internationally popular mobile game Fate/Grand Order.

IKEPI 25 is a new concept floor of the hotel that caters to fans of anime and manga. It's home to 4 shared communal spaces and 20 concept rooms all completely different from the main hotel.

Fate/Grand Order is an online free-to-play RPG that boasts huge popularity not only in Japan but overseas too with its user base comprised mostly of male gamers. It's available for download in Japan, China, Hong Kong, Macau, Taiwan, North America South Korea, Australia, Singapore, the Philippines, Vietnam and Thailand. It has been downloaded over 3.4 million times worldwide. A new anime season for the game is scheduled to be released this year

Information

IKEPI 25

Tie-Up: Fate/Grand Order

Concept Title: Hotel Chaldea

Opening: April 2019

Room Plan: 20 concept rooms

Plan Reservations: Available Early March 2019

Webpage: https://www.princehotels.co.jp/sunshine/ikepri25/

*Webpage scheduled to go live at the end of February.

Fate/Grand Order Official Website: https://www.fate-go.jp/

©TYPE-MOON / FGO PROJECT

Shiba Park Hotel in Tokyo to Host Cherry Blossom-Viewing Event

Shiba Park Hotel in Tokyo announced on January 22 that it will host an "Ohanami Sakura Walk" event between March 28 and April 5 to escort hotel guests to nearby spots where cherry blossoms beautifully bloom. The daily event is designed to allow guests from overseas to experience Japan's custom of viewing cherry blossoms. (The dates of the event may change according to circumstances.)

Shiba Park Hotel is a city hotel established in 1948 to accommodate foreign trade delegations, and since then has welcomed many guests from overseas. There are 269 guest rooms of various types as well as Japanese and Chinese restaurants, a steak restaurant and a bar. There is also Japanese Culture Salon SAKURA where guest can experience Japanese culture, entertainment and elements of lifestyle during their stay.

Shiba Park Hotel continues to welcome guests from around the world with the hope for guests to "feel relaxed as they are at home, even in the midst of a trip."

Hotel staff will guide guests to cherry blossom-viewing spots around the hotel, explaining the different types of the flower species. Among the locations, guests will see a view symbolizing Tokyo in spring at Zojoji Temple, where cherry blossoms rival nearby Tokyo Tower. Staff will also show interested guests how to enjoy food stalls set up at the temple's site. Guests at Shiba Park Hotel are welcome to join the event without any fee.

Cherry Blossom Art, Food & More at Hotel Gajoen Tokyo

Hotel Gajoen Tokyo celebrated its 90th anniversary in December last year, and for this year's hanami season, it has many cherry blossom themed food and events in the works all set to begin in March.

Hotel Gajoen Tokyo is located next to Meguro River, one of Japan's most famous cherry blossom sites. When the flowers are in bloom, a bunch of flowery themed events are set to take place around the hotel including the restaurant.

Sakura Cake: ¥550 (Before Tax) @ Patisserie Lien 1928 (Running: March 1 – April 30)

We begin with a delightful delectable made with a white chocolate casing and filled with strawberry biscuit, strawberry jam and cherry blossom cream. It's also laced with a little bit of Japanese sake jelly so when bitten into fills your mouth with a rich marriage of flavours.

Sakura Pancakes: ¥3,000 (Before Tax) @ Cafe&Bar Yuian (Running: March 18 – April 30)

To bring out the ultimate fluffiness, the pancakes are steamed on a seiro steaming basket before being topped with cherry blossom sweet bean jelly. It is served with salted kōji ice cream. When you open up the basket your nose is hit sumptuously with the fresh smell of butter.

 Sakura Afternoon Tea: ¥3,800 (Before Tax) @ KANADE TERRACE (Running: March 18 – April 14)

Indulge in a limited-time afternoon tea set brimming with beautiful cherry blossom inspired goodies.

Sakura Lunch Course: ¥5,000 (Before Tax) @ RISTORANTE "CANOVIANO" (Running: March 18 – April 30)

A springtime lunch course awaits made with lots of vegetables and a sauce that's simple yet serves to bring out the original flavour of the masu salmon.

Sakura Kaisekizen: ¥3,500 (Before Tax) @ Tofutei (Running: March 18 – Early April)

Enjoy a spring-inspired traditional Japanese kaisekizen―an elaborate dinner assortment―with its delicate flavours and combinations. Have your fill of food with ingredients that beckon springtime including vegetable appetisers, Kyoto-style grilled Japanese Spanish mackerel, and much more.

The hotel is also home to the Hyakudan Staircase, or '100 Step Staircase,' a registered Tangible Cultural Property of Tokyo. From March 28 to April 21 an exhibition of cherry blossom artwork will be on display including kabuki outfits with cherry blossom designs, ceramic art, paper crafts, bead art, patchwork quilts, flower arrangements, kusaki-zome natural dyeing, and more.

Secure a springtime trip in Japan this year at Hotel Gajoen Tokyo with a long line-up of exciting surprises.

Information

Haru・Sakura, Sayuka at Hyakudan Staircase

Location: Hotel Gajoen Tokyo (1-8-1 Shimomeguro, Meguro Ward, Tokyo)

Running:  March 28, 2019 – April 21, 2019

TEL: 03-5434-3140 (10:00-18:00)

Opening Hours

[Sunday-Thursday] 10:00-17:00 (Last Entries 16:30)

[Friday-Saturday] 10:00-20:00 (Last Entries 19:30)

Price

Event Same Day – ¥1,600

Event Advance – ¥1,300

Museum Advance – ¥1,100 (Until March 27, 2019 at 16:30)

University & High School Student – ¥1,200

Junior High & Elementary School Student – ¥600

*Student ID required. Free for preschoolers.

Hotel Gajoen Tokyo Official Website: https://www.hotelgajoen-tokyo.com/
RELATED ENTRIES
This Relaxing Onsen Hotel with Picturesque Nature and Luxurious Local Cuisine is the Perfect Getaway

Japan is full of picturesque locations where you can be at one with nature and soak the tiredness of your body away in the onsen baths. If you are looking for an escape from busy working life, then you're in luck: Today we'll be introducing you to a modern onsen hotel which is perfect for families, lovers, and even solo travellers. 

Escape from Tokyo on the bullet train, ride the Zairai line and finally, catch a bus. After your two-hour journey, you will arrive at onsen hot spot Uonuma city in Niigata Prefecture. Today, we'll be heading to Tomoya Hotel. The picturesque scenery of paddy fields and mountains will unfold before your very eyes and put your mind at ease.    

Sunlight pours over the reception desk from the giant window. It was time to check in. After being informed on meal times and private onsen rentals, I quickly headed to my room.

I was given room 305. The warm wooden structure made the room feel lavishly large. Whether you're snuggling up with a lover, chilling out with friends or relaxing with family, the atmosphere and size of the room allows for flexible usage.

The Sanashi river was right outside my window. I could watch the soothing clear water flow out to the horizon for hours. 

The room was prepared with loungewear, bath towels, toothbrushes, socks and many other amenities. It was even fitted with a fridge and water heater. 

From the lamps lighting the stairway and hallway sofas to the displayed artwork, every item in Tomoya Hotel is a carefully selected item of special design. 

There was even a DJ area next to the lobby which contained a surprising stash of records, CDs and DVDs which was uncountably large. Being able to discover new music and films is another admirable feature of the hotel. 

The front lobby is filled with a fresh and liberating atmosphere. There are plenty of spots to sit and read to yourself as the melodies of records weave through the air.

The shop sells specially selected products including locally produced juice, snacks and much more. You can even purchase Tomoya Hotel's original skincare goods. Reading the cheerful and thoughtful comments written on the goods by the manager made it clear that every single item in the shop was chosen with the utmost care. 

One by one, several lavish courses arrived at my door for dinner that evening. The locally-sourced ingredients and seasonal vegetables were served with Niigata prefecture's uonuma koshihikari rice, which is famed as Japan's best rice. 

Nameko mushroom hotpot, salt-fried East Asian trout, tofu mixed with lotus root, and sashimi were just some of the hotel's many original dishes that were brought to my door. As the rice was harvested from the first crop of the year, it was very sweet and so delicious that I helped myself to multiple servings without realising. The food was flavoured and seasoned very lightly to ensure that guests could fully enjoy the true flavours of the fresh harvest from the mountains and the sea. The luxurious dinner was highly enjoyable. 

I enjoyed sipping a small glass of Tomoya's chilled Reishu sake with my meal. This is an original recipe sake created by Tomoya Hotel and local sake brewery Tamagawa Shuzo. It was so refreshing, easy to drink and perfectly complimented every dish. The hotel provided a rich variety of alcoholic dinks including refreshing beer, carefully-selected wines, rare local sake, homemade fruit liqueurs, and more.

The onsen is home to rich history dating back to the year 1300 when it first opened its doors to the public. There are two types of private rental onsen and large public onsen indoors. Some square-shaped baths sit right beside a small stream which branches off from the Sanashi river. Treat yourself to a soothing soak in a historical onsen while absorbing the beautiful scenery. 

After finishing your relaxing soak, head to floor 1 of the main building to spend some time relaxing. This space is for guests to use freely and how they please. There are bookshelves lined with books and games available.

The first floor of the hotel annexe was my favourite place. Music from a variety of genres is played here. A disco ball hangs high, splashing light across the spacious room. There is a ping-pong table, a pool table, massage chair, piano, an old Nintendo game, manga and much more. It may seem like a relaxing place at first glance, but my heart was racing with excitement as I got hooked on the games.

The following morning, breakfast was delivered right to my room again. Seeing the tray filled with a luxurious mix of both western and Japanese-style cuisine was very pleasing to see. I indulged in yaki-fu: baked wheat gluten which is a specialty of Niigata, fried fish, rolled Japanese-style omelette, homemade cheesecake and much more. All the meals served at the hotel are made with the utmost care and precision. 

If I were to introduce all the wonderful services and features of Tomoya hotel then there would be no end to this article. The main highlights were the delicious meals made with locally sourced ingredients, the soothing onsen, the music, films and experience of art culture, and of course, the opportunity to get in touch with nature, watching the water trickle down the mountain streams as your mind discovers peace. 

If you are looking to heal your body, mind and soul whilst discovering nature and art, then Tomoya Hotel is perfect for you. 

Writer:Ellie(MOSHI MOSHI NIPPON)

Make Your Own Matcha Drink and Try Black Bean Butter Toast in Nakameguro, Tokyo

If you're looking for a cool café experience in Tokyo then head to Nakameguro for a goldmine of craft beer taprooms, coffee roasters and restaurants. One café to consider adding to your list of must-go places is music café and wine bar epulor. The café has added a number of exquisite and unique items to its menu this November including a matcha drink, black bean paste and butter toast and craft cola.

Take a seat and admire the walls of old records which create a soothing artistic atmosphere while sipping your cup of the café's specialty hand drip coffee or sommelier-selected wine as the music of old records fills the air. When you have finished, feel free to take a gander at the gallery corner to appreciate the cafés art. 

The November menu introduces a high-quality matcha by UK brand Matchæologist®, providing the opportunity to make and enjoy your own matcha drink. From the high-quality rich flavour to the contemporary design of the tea vessel, Matchæologist® lives up to its reputation as artisanal matcha green tea specialists.

Fans of epulor's popular Red Bean Paste and Butter Toast are in for a treat as the café is now serving up the Black Bean Paste and Butter Toast. The bread is a charcoal bread from the bakery Lotus baguette, which uses only natural yeast, Japan-produced wheat and no additives. The binchotan charcoal used to prepare the bread is a traditional charcoal which has been used since the Edo period. The appearance is just as striking as its taste. 

The café has also started to sell Japan's craft cola TOMO COLA. The cola is spiced with flavours from around the world including kola nut, nutmeg, Japanese herbs and Japanese citrus fruits. This natural cola contains no additives so you can indulge in the taste of nature and enjoy a unique flavourful experience of Japan. 

epulor is the perfect spot to enjoy a luxurious moment of relaxation during your busy day while immersing yourself in an artistic and cultural experience. 

Information

epulor

Address: ESCENARIO AOBADAI Floor 1, 1-19-10,Aobadai, Meguro, Tokyo

Opening Hours: 11:00 – 24:00

Closed: Mondays

Website: http://www.epulor.jp/

Hotel Chinzanso Tokyo to Hold Christmas Evening Party at Le Jardin Restaurant

Hotel Chinzanso Tokyo has announced that it will hold a special Christmastime "Evening Party" from December 20-25 at Le Jardin, the hotel's stylish cafe/restaurant that offers a gorgeous view of the hotel's quiet garden landscape.

The Evening Party will take place just a little later than afternoon tea time where customers can tuck into some succulent meat and fish. The hotel has held it for the past 14 years, and anyone that has experienced it will tell you that you'll want to go back after trying it once.

At the party, seasonal food is served on an extravagant 3-tier hors d'oeuvres stand together with champagne. You will never forget the taste of the chef's specially-prepared thick cut roast beef, as well as your own choice of dessert, tea, coffee and more.

The roast beef in particular is hugely popular, with repeat customers flocking to get a taste of its delicious flavour. It's seasoned with salt, fennel, rosemary and juniper berries, and garlic before being browned in the frying pan and subsequently cooked in an airtight pack together with a mirepoix made from carrots, onions, celery and other ingredients on a low heat at 63°C for 3 hours. This is the secret to the meat's popularity, resulting in soft and succulent heaven.

Menu items will be served in Christmas colours, including some made to look like Christmas trees, and there is also a meal plan that includes a present.

Enjoy a wonderful dinner time this Christmas in Tokyo at Hotel Chinzanso Tokyo.

Information

Christmas Evening Party

Running: December 20, 2019 – December 25, 2019

*Reservations required

*Musical performances to take place on December 20 and 21 (18:30-21:00)

Time: 18:00-22:00 (Last Orders 20:30)

Location: Le Jardin, Hotel Chinzaso Tokyo Floor 3F

Price: ¥4,600 (¥8,000 w/ present) (Tax & service charge not included)

Reservations/Enquiries: 03-3943-0920 (10:00-21:00)

Keio Plaza Hotel Tama's Hello Kitty & Sanrio Rooms Celebrate 5th Anniversary

To celebrate 5 years since the grand opening of the Hello Kitty Room at Keio Plaza Hotel Tama, guests are being treated to a very special present.

Friday November 1 marked the 45th anniversary of Hello Kitty. Together with the 5th anniversary of the hotel room, all guests who stay in any of the Sanrio character-themed hotels at Keio Plaza Hotel from now until February 29 next year will receive an application paper. Once they fill it out and then post it in the box in the lobby on the second floor they will be entered for a chance to win a one-night ticket to one of the three Sanrio character rooms. Exclusive merchandise will also be sold to commemorate the 5-year milestone.

The hotel poster promotional videos for the three rooms over on their homepage. This includes the revamped Hello Kitty Room, the My Melody Room which opened back in June, and the Little Twin Stars Room.

Information

Sanrio Character Room Ticket Campaign

Running: November 1, 2019 – February 29, 2020

Keio Plaza Hotel Tama

Address: 1-43 Ochiai, Tama, Tokyo

Official Website: https://www.keioplaza.com/tama/index.html

Meguro River Winter Sakura to be Illuminated Using 100% Recycled Oil Until January

This winter, MINNA no ILLUMI Executive Committee will be decorating Meguro River with an unmissable illumination display that will warm your heart. 100% of the energy for the illumination will be produced by recycled oil. The display will run from November 8, 2019 to January 5, 2020.

As Shinagawa Ward will also be lit up at the same time, visitors will be able to treat themselves to a glorious view of approximately 410 thousand sakura-coloured lights, creating a unique opportunity to witness Winter Sakura®. The beautiful illumination along the riverbanks of Meguro River will be the largest illumination project within Yamanote Line with a total length of 2.2km of riverbanks covered (counting both sides of the river). Enjoy the beautiful warm light reflecting off the river's surface.

The megurogawa MINNA no ILLUMINATION project was launched in response to the locals' desire, love and praise for riverside illumination displays. The project involves collecting waste oil from restaurants, cafés and households and recycling it as the sole energy source to power the illumination display. This project has become a symbol of winter and plays a significant role in strengthening bonds with the locals. 

Last year, approximately 5,500 litres of oil was collected from 11 places including restaurants, cafés and apartment blocks. This was converted by a power generator which supplied all the electricity necessary to run all the lights. This year, unused oil from local restaurants and apartment blocks will be recycled into biodiesel once again to run another Winter Sakura® light display which tourists flock to see. 

This year will also see the return of German Outdoor Dome Garden Igloos from last year. This creates the perfect spot to watch the Winter Sakura® without getting cold or being affected by rain or the wind. There will be three garden igloos at this year's event and each will have a unique colour theme. Each igloo will be 3.6 metres in diameter, 2.2m high and contain a ground area of 10m², allowing for plenty of space to relax.   

Igloo Availability: December 16 – 25, 2019 *Subject to change

Gotanda Fureai Mizube Hirobamade even made the news in overseas countries as a result of the illumination project. This is the perfect way warm your heart during the cold winter.

Information

meguro MINNA no ILLUMINATION 2019

Locations: Gotanda Fureai Mizube Hiroba (2 Chome-9-11 Higashigotanda, Shinagawa City, Tokyo)

Gotanda Minami Park and Meguro Riverside (2 Chome-8-8 Higashigotanda, Shinagawa City, Tokyo)

Running Dates: November 8, 2019 – January 1, 2020

Running Times: 17:00 – 22:00 

*The illumination project will still run in rainy weather but will be postponed in stormy weather.

Website: http://www.minna-no-illumi.com/ 

Website Opens: 10:00 on October 29, 2019

Hoshino Resorts to Open New Facilities in Okinawa, Hawaii & 3 More Places

Hoshino Resorts opened HOSHINOYA Guguan in Taiwan in June and Iriomotejima Hotel in Okinawa in October this year. It will also open Risonare Nasu in November. The hotel chain has now just announced that it will open 5 more new facilities in 2020, pushing the number of locations they manage up to 45 next year.

Iriomotejima Hotel

Risonare Nasu

Hoshino Resorts prides itself on offering a hotel experience that makes use of local regions as well as offering unique experiences. With their catalogue of facilities now set to increase, the company has a released a video detailing the five new hotels.

The five new hotels will open in Hawaii, Nagato in Yamaguchi Prefecture, Tsuchira in Ibaraki Prefecture, Kohama Island in Okinawa Prefecture, and mainland Okinawa.

The Hawaii hotel, named Hoshino Resorts Surf Jack Hawaii, describes itself as an "ohana-friendly retro boutique hotel with a satisfying Waikiki experience."

Nagato, Yamaguchi will give rise to the 16th hotel in Hoshino Resorts' brand of KAI hotels, named KAI Nagato. It will open in the Yumoto Hot Spring area and be inspired by Yamaguchi's traditional tea houses as well as buke samurai culture. Look forward to bathing in the hot springs of this traditional Japanese inn, steeped in history and culture.

Over in Ibaraki Prefecture, Hoshino Resorts will open Japan's biggest cycling resort, named Hoshino Resort BEB5 Tsuchiura, which we covered earlier this month. It will act as a "base camp" to enjoy cycling, with its core concept being "more an izakaya and less travel-focused where you can enjoy a laid-back time with friends." It hopes to put a new spin on travel by combining the worlds of cycling and accommodation.

Okinawa is getting three new hotels. Hoshino Resorts Risonare Kohama will feature 60 rooms each their own private villas. Its concept is "a private beach resort on a remote island swimming with the manta rays" and will offer a beach and resort-like experience to guests with views of the white sand and blue ocean.

HOSHINOYA Okinawa will be inspired by gusuku which refers to castles in the Ryukyu Islands that feature stone walls, with the hotel itself being enveloped in one. The hotel will be surrounded by the gorgeous ocean and coast, offering that quintessential Okinawan resort experience.

The tables at Hoshino Resorts Banta Cafe will offer a breathtaking view of Okinawa's grand seas, with a menu serving food and drink made with Okinawan ingredients.

2020 is looking to be a big year for Hoshino Resorts as it begins expansion. If you're travelling to Japan, why not check if one of their hotels is near where you're looking to stay?

Eat & Drink in Harajuku at MOSHI MOSHI ROOMS' Rooftop BBQ

Since opening in Harajuku last year, MOSHI MOSHI NIPPON's ultra-kawaii hotel MOSHI MOSHI ROOMS has been the talk of the town. We are here to announce a new BBQ plan for guests which is held on the hotel rooftop and which you can attend empty-handed.

MOSHI MOSHI ROOMS is only an 8-minute walk from Harajuku Station. You'll know you've arrived when you spot our neon sign pictured above. It's on the roof of this building you can look forward to getting your teeth into a delicious BBQ and chugging down drinks.

The rooftop design takes on a pop appearance, mixing blue with yellow. This cute design alone is enough to get you excited for what's to come. And since there are no tall buildings around us, you get a great view of Harajuku from below.

The BBQ plan comes equipped with everything you need: a fire, plates, cups, ingredients, and alcohol. We have a great option of drinks, including beer, wine, whisky, and soft drinks. There's also a beer server so you can enjoy your beer nice and frosty. If we don't have a drink you'd like, you can bring your own too. There's a FamilyMart and other shops nearby, so head there to stock up.

BBQ Set – ¥6,000 Per Person (Before Tax) *Photo is a select portion example for 5 people

For grub, our lineup includes meat, fish, egetables, fried onigiri, and sweets. There's Japanese beef too, as well as Japanese chicken, pork, lamb, sausage, and more. We prepare the most delicious ingredients for the current season. There's a lot of different meats to choose from, so rest assured you won't go hungry.

All the food is seasoned for you, so you can drop it all on straight away and get straight to eating.

Make a toast with your drinks and tuck in! The wagyu beef is nice and plump once it comes off the fire. One bite of the soft meat will treat your taste buds to a luxurious sweetness and the meat's delightful juices.

The chicken is seasoned sweet and spicy. It has a crunchy exterior and soft inside. The lamb is seasoned well too and has that distinct deep flavour lamb has.

Our fish and vegetables are all in season too. The fish pictured above is salmon cooked in foil and seared skipback tuna. The salmon is seasoned with butter and soy sauce. All of the delicious flavour of the skipback tuna is intensified while prepared on the fire, and the inside is sumptuously tender. It's seasoned with citrus soy sauce.

This here is giant okra which I tried for the first time. Giant okra is in season right now too. It's a lot more elastic than your regular size okra and has a juiciness when you bite into it.

I was so full already… until dessert arrived! These is a dessert sweet potato roasted on the fire.

I topped it with vanilla ice cream and tea flavoured ice cream before sprinkling on cornflakes to finish.

The mix of the hot potato and cold ice cream is a match made in heaven inside your mouth. The roasted sweet potato has a subtle sweetness which mixes perfectly with the creamy ice cream. I originally thought I was full but there's always room for dessert.

There are parasols too in case it rains. You can even rent out tents from the hotel if you like.

If you're looking to stay in Harajuku, come and see us at MOSHI MOSHI ROOMS and enjoy a BBQ with a rooftop view of Harajuku.

Writer: Sayuri Mizuno (MOSHI MOSHI NIPPON)

Translator: Joshua Kitosi-Isanga

Information

MOSHI MOSHI ROOMS BBQ Plan

Address: 2-18-7 Jingumae, Shibuya, Tokyo

Price: From ¥6,000 Per Person (Reservations Available)

Set Ingredients:

・Meat: Wagyu beef and other meats in season

・Fish: In season fish

・Vegetables: In season vegetables

・Other: Fried Onigiri, Satsuma Sweet Potato Dessert

・Drinks: 1 Beer Server, White Wine, Red Wine, Whisky, Shochu, Tea, Water, Orange Juice, Cola (soft drinks are served in 2ltr bottles)

Set Equipment:

・Grill, BBQ, Tongs, Plates, Cutlery, Cups

Reservation/Enquiries: info@moshimoshi-nippon.jp

*Prepared ingredients will differ from season to season

THE MACHIYA SHINSEN-EN: Kyoto's New Traditional & Modern Fused Hotel

THE MACHIYA SHINSEN-EN is a new hotel that just opened on Tuesday (October 15) located just a five-minute walk from Kyoto's world heritage site Nijō Castle. Renovated from an old Kyoto-esque townhouse, this 21-room hotel fuses traditional Japanese architecture with the modern, complete with a lounge on the first floor decked with an open space where guests can enjoy a gorgeous breakfast if they choose the option. The friendly staff will be waiting to welcome guests to the hotel like friends.

The hotel's name derives from Shinsenen, a Japanese Buddhist temple and Kyoto sightseeing  spot located just a one-minute walk from the site. The temple is home to Japan's only "ehomaki shrine" where Toshitokujin, the goddess of auspicious directions for the current year, is enshrined. The temple is also home to an enormous and beautiful lake, and is said to provide good luck with marriage ties, something which is known to everyone in Kyoto. The "machiya" part of the hotel's name means "townhouse" in Japanese.

The hotel combines the traditional with the modern effortlessly, with four types of suite rooms available including the spacious corner suite rooms, as well as suite rooms that focus more on traditional Japanese architecture, namely that of the old-fashioned townhouse. All suite rooms have a kitchen, washer/dryer, and other convenient amenities for those looking for a longer stay, as well as for families and larger groups.

THE SHINSEN-EN Deluxe Suite

Located on the top floor, this corner suite room offers a spacious environment and enjoys plenty of natural lighting for the window which takes up an entire wall. There are both beds as well as a tatami area with futons so you can pick how you want to sleep. There's also a roomy washroom as well as a dining space with a fully-equipped kitchen and washer dryer. The room also has a sofa, TV, refrigerator, free WiFi, and more for your convenience.

THE MACHIYA Deluxe Suite (Dragon)

This suite room has a Japanese aesthetic with its paper sliding doors and hanging scrolls. Natural light seeps in from the ceiling window fitted to the high ceiling. As well as the Japanese-style bedroom, it also has a western-style bedroom and living room, as well as both beds and futons, so you can pick if you want a Japanese sleep or a western sleep. There is a fully-equipped kitchen and washer dryer. The room also has a sofa, TV, refrigerator, free WiFi, and more for your convenience.

THE SHINSEN-EN Suite

The entrance to this suite room has lattice doors and stone paving, welcoming you with that traditional Japanese aesthetic. The spacious room basks in natural lighting from the enormous windows. There is a fully-equipped kitchen and washer dryer. The room also has a sofa, TV, refrigerator, free WiFi, and more for your convenience.

In addition to suite rooms there are four other types including Deluxe Twin, Superior Hollywood Twin, Hollywood Twin, and Classic Hollywood Twin. The rooms enjoy indigo blue and orange colouring for a relaxed and modern feel. Each have their own washrooms, toilets, sofas and desks. Additionally, all first floor rooms can be connected, so you can turn them into full 2-3 or 4-5 people spaces.

Guests can use the first floor lounge space freely and at their own leisure. And if they choose so they can also enjoy breakfast there.

The front desk staff can speak both English and Japanese so can support foreign travelers. The hotel is situated in a great place for sightseeing, so be sure to consider booking at the all-new THE MACHIYA SHINSEN-EN if travelling to Tokyo.

Information

THE MACHIYA SHINSEN-EN

Opened: October 15, 2019

Address: 17-1 17 Shinsenencho, Nakagyo Ward, Kyoto

Access: 5-minutes on foot from Nijōjō-mae Station

Rooms: 21 (approx. 22-45㎡)

Capacity: 2-5 people

Breakfast: Served in first floor lounge for an additional fee

Official Website: https://shinsen-en.com/

Experience Art and the Japanese Tea Ceremony Come Together at hotel koe tokyo's Private Lounge

"hotel koe tokyo" isn't your everyday normal hotel. Developed and produced by "koe," the hotel brings together fashion, music, cuisine, and a luxury accommodation experience. In line with DESIGNART TOKYO 2019, the hotel has announced it will hold a reservation-only event entitled "DESIGNART TOKYO 2019: Tea ceremony by artless+asahiyaki" at its third-floor private lounge on October 19 and 20.

Asahi ware is a type of Japanese pottery originating in Uji, Kyoto almost 400 years ago. Hosai Matsubayashi is the 16th generation master of this long-running workshop, known as Asahiyaki, and he's set to collaborate with Shun Kawakami, an artist and art director of global branding agency artless Inc. The collaboration is being held to promote Japanese culture not only to the people of Japan but those overseas too, and "hotel koe tokyo" is the perfect place to do it due to the huge number of foreign visitors that stay at the hotel.

The two of them have taken the traditional Japanese tearoom and have put a modern spin on it. Normally, this private lounge of the hotel is only usable by guests staying there, but this reservation-only event will grant exclusive access to all. It brings together Japanese tea and art in the form of a special tea-making course. Attendees will follow Hosai Matsubayashi's instructions and prepare their own tea. During the session, both Matsubayashi and Kawakami will give talks on their work while you enjoy your tea.

Take advantage of this special occasion to learn about the beauty of Japanese tea.

Information

Tea ceremony by artless + asahiyaki
Dates: Saturday October 19, 2019 / Sunday October 20, 2019
Time: 4 Slots – ①12:00 / ②13:30 / ③15:00 / ④16:30 (60 minutes each)
Capacity: 10 per slot
Location: hotel koe tokyo ("koe lounge" on Floor 3F)
Content: Tea Making + Tea Art
Price: ¥3,000 (Before Tax)
Reservations:  https://www.tablecheck.com/ja/shops/hotelkoe-tokyo-privatelounge/reserve
*This event is reservation-only

Suiran Ranks as Japan's Best Hotel in Condé Nast Traveler For Second Year in a Row

"Suiran, a Luxury Collection Hotel, Kyoto" has ranked as the number one hotel in Japan for the second year in a row in the Japan's Top Hotels category of Readers' Choice Awards 2019 in Condé Nast Traveler.

The Condé Nast Traveler Readers' Choice Awards lists the world's best travel experiences as ranked by international travellers. Over 600,000 people voted Suiran as Japan's best hotel for the second time.

Suiran is located in Arashiyama, Kyoto and first opened in March 2015 under a brand of luxury hotels known as The Luxury Collection®. The hotel's concept is to make full use of Arashiyama's appeal, lauded for its deep culture and history, while paving the way to the future. It houses guests from around the world who can enjoy a view of Arashiyama's lush natural landscape which changes beautifully with the seasons, and who can experience a fusion of the traditional and the modern while being served classic Kyoto hospitality.

Speaking about the award, the hotel's general manager Hiroyuki Hatori said the following: "I am greatly honoured that we have been given the number one spot two years in a row in this internationally-recognised poll. To all the people in the region who continue to support Suiran, and to all our guests who use the hotel, I thank you from the bottom of my heart. These results are an incentive to further work hard with our associates to ensure this is a hotel that people will love even more."

If you are travelling to Kyoto and looking for a place to stay, why not consider the city's best: Suiran, a hotel which continues to pass down tradition while embracing the modern?

Information

Suiran, a Luxury Collection Hotel, Kyoto

Address: 12 Sagatenryūji Susukinobabachō, Ukyo Ward, Kyoto

Access: 15-minutes on foot from Saga-Arashiyama Station / 6-minutes on foot from Arashiyama Station via Keifuku Electric Railroad / 15-minutes on foot from Arashiyama Station via the Hankyu Arashiyama Line

Official Website: https://www.marriott.com/hotels/travel/ukylc-suiran-a-luxury-collection-hotel-kyoto/

Izu Shaboten Zoo Opens New Hotel Izushaboten Village

Izu Shaboten Zoo in Ito, Shizuoka has opened its very own hotel Izushaboten Village Petit Hotel which is less than a minutes' walk from the zoo itself, making it an ideal location for those looking to see the animals so they can take their time at their own leisure.

The hotel offers various different rooms, from modern and chic to the Izu Shaboten Zoo Room, Pirate Room and more. Each room has its own unique touch you won't find anywhere else. The hotel also offers an accommodation plan that comes with entry tickets to the zoo.

For food, guests can enjoy dining at La Chic, a new restaurant that opened in spring this year that makes use of homegrown vegetables and produce sourced from contracted farmers. Food is served in a semi-buffet style in mornings and evenings so you can make up your own dish. Non-guests can eat here too if they make a reservation*.

*Reservations for non-guests are dependent on free tables and other conditions. The menu style and ingredients and subject to change without notice.

If you're looking to visit Izu Shaboten Zoo, consider booking a room at their official hotel.

Royal Park Hotel Tokyo Transforms For Halloween 2019

Royal Park Hotel Tokyo in Nihonbashi has begun its Halloween festivities for 2019, including a bone-chilling black and orange food and dessert menu, spooky decorations, a photo spot in the first floor main lobby, and more.

Check out their mouth-watering sweets assortment! Their Halloween Afternoon Tea set is packed full of autumntime flavours, from the glass desserts, to the apple chiboust, chocolate pocket watches with bats on them, adorable monster burgers, and more.

The hotel is also offering a Halloween Dinner Buffet on weekends and holidays decorated in Halloween colours. Pile your tray with figs and blackcurrants, chestnut mousse, pumpkin tarts, and plenty of other tasty treats, all prepared fresh in the kitchen.

This is just a peek into the hair-raising fun happening right now at Royal Park Hotel Tokyo. There's also the Halloween Cocktail Fair, Halloween Sweets & Bread event, and much more.

Spend your Halloween here, or even use it as an opportunity to try wearing your Halloween costume out so you're ready for October 31!

Information

Halloween Afternoon Tea

Running: October 1, 2019 – October 31, 2019

Location: Fontaine (Floor 1F Lobby Lounge)

Price: ¥4,840 Per Person (Tax Included)

Halloween Dinner Buffet (Weekends & Holidays Only)

Running: October 5, 2019 – October 27, 2019

Location: Symphony (Floor 1F Lobby Lounge)

Price: ¥7,260 Per Person (Tax Included) / Seniors ¥6,050 Per Person (Tax Included)

*¥4,235 Per Person (Tax Included) for those aged 4-12 years and 65+

Halloween Cocktail Fair

Running: October 1, 2019 – October 31, 2019

Location: Fontaine (Floor 1F Lobby Lounge) / Royal Scots (Floor B1F Main Bar)

Price: ¥1,936 Per Person (Tax Included)

Halloween Sweets & Bread

Running: October 1, 2019 – October 31, 2019

Location IKI (Floor 1F Sweets & Bakery)

Royal Park Hotel Tokyo

Address: 2-1-1 Nihonbashikakigarachō, Chuo Ward, Tokyo

Official Website: https://www.rph.co.jp/