Learn About Shimane Prefecture's Oki Islands with Japanese Model Saki Shibata
On March 2, 2019 Japanese model Saki Shibata, along with nine others, carried out a research project entitled "Research Lab on the Charms of Oki" (隠岐のお気に入り研究所) to come up with a travel plan for the Oki Islands.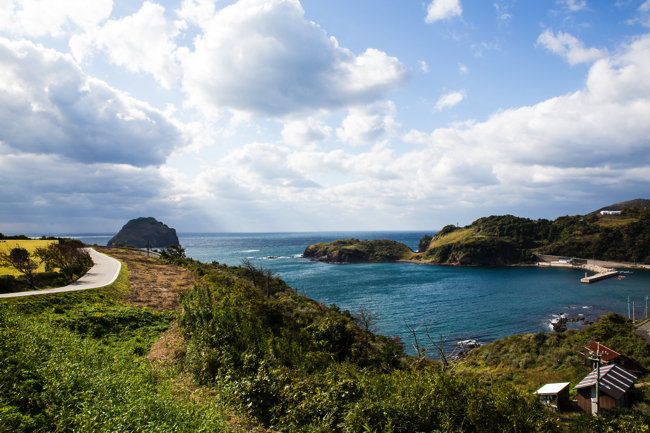 The Oki Islands are part of Shimane Prefecture. There are over 180 islands in total, sixteen of which are named, but only four of which are inhabited by humans. These can be visited via a ferry or high-speed boat.
The islands were formed almost 6 million years ago from volcanic activity. In September 2014, the islands were designated a UNESCO Global Geopark for their rich land and unique flora and fauna, history and culture. Visiting the islands offers the opportunity to experience unique nature you can't anywhere else in Japan. It is a place to enjoy characteristic culture of a different locale.
If you flip over a map of Japan you will also see that the Sea of Japan side of the islands are in the centre of the country. The Oki Islands also used to bustle with people as the doorstep to Japanese trade.
Saki Shibata visited the Oki Islands for the first time last year. She saw the bright red and immense Matengai Cliffs formed by the volcanoes' magma, the sea waves, felt the breeze in her hair and more. See her full nature-packed trip here.
An island local proposed her desire to show the wonder of the Oki Islands to the people of the world, and so the "Research Lab on the Charms of Oki" was formed. Saki, having already experienced those charms, was appointed Research Leader, and recruited other fellow members to join. She would convey her experiences and time spent on the islands for everybody to learn more about them so they could think up a travel plan together.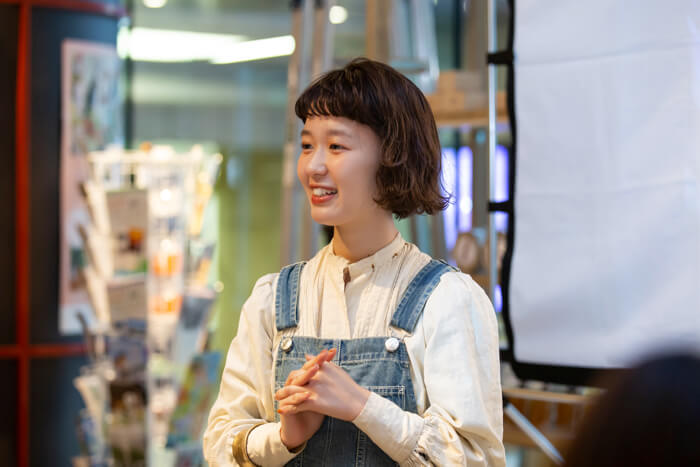 The event began with project leader Saki Shibata greeting everybody. She spoke about her memories of the Oki Islands and expressed enthusiasm to create a wonderful travel plan to the participants. Her talk was accompanied by slideshows with which she presented photos taken during her trip last year.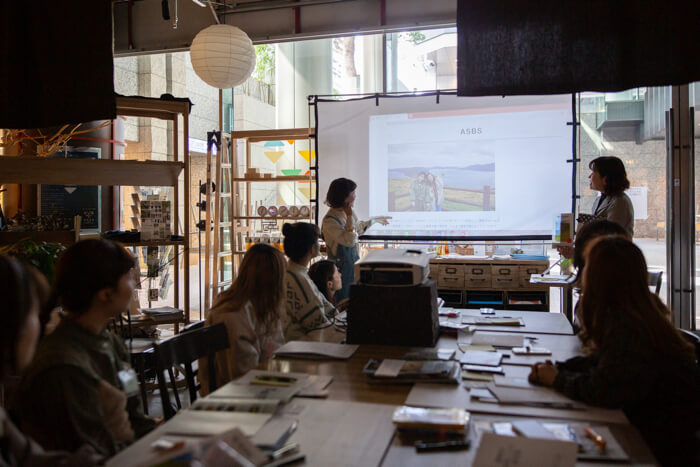 Saki played back through her mind how overwhelmed she was by the islands' nature and how warm and welcoming the locals were. All the other research members were absorbed in her talk and listened intently.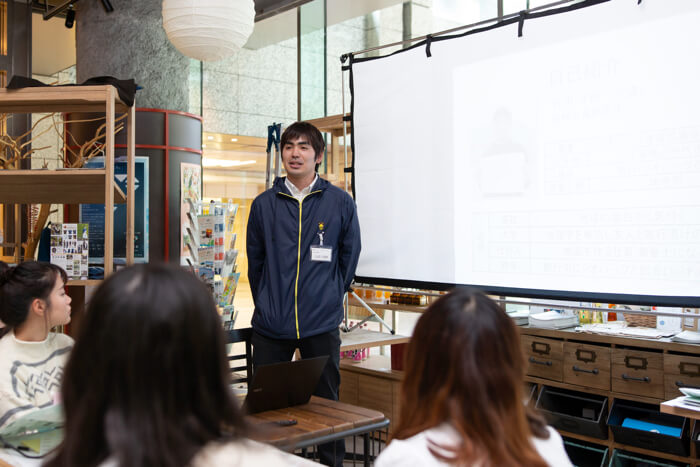 After Saki said her piece, a member of the Oki Islands UNESCO Global Geopark Association―which seeks to promote the charms of Oki Islands―spoke about Oki.
A "geopark" is a location with valuable geological features and forms and promotes the well-being of people living there through education and tourism.
Japan has nine officially-designated UNESCO Global Geoparks, one of them being the Oki Islands. Check out the video above which includes drone footage showcasing the expanse of nature there. It makes you want to see it with your very own eyes.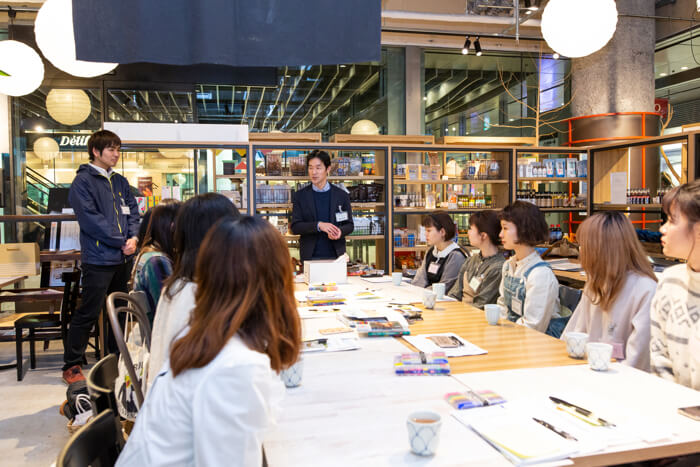 The group subsequently went on to creating a travel plan for the Oki Islands. Each member wrote down where they wanted to visit in Oki amongst other things.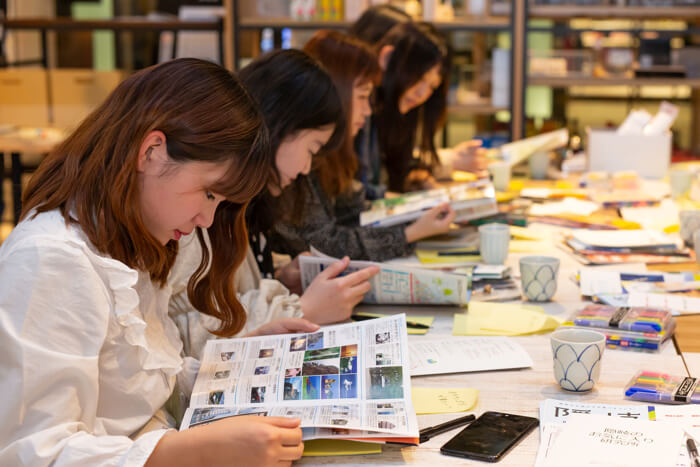 They asked questions to the Geopark associate such as whether you can fish squid there, do skydiving and so on. When the group were asked what they had written down, all 9 of them had said they wanted to try eating Okigyu, or "Oki Beef." Local food is an absolute must to include on any travel plan.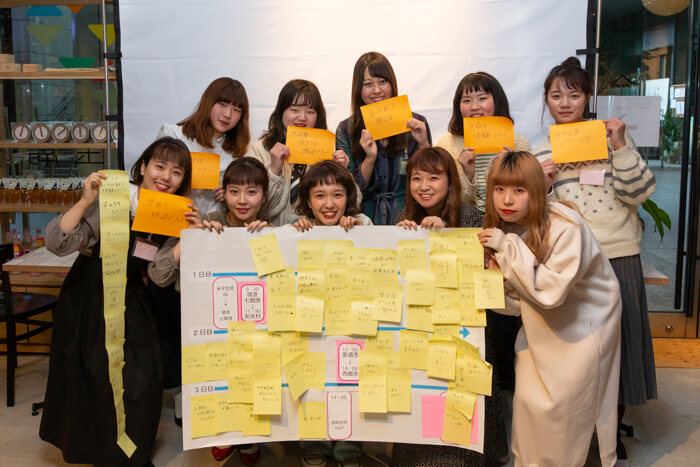 Saki and her fellow research members' original plan is complete, full of ways to feel the full power of Oki's nature.
After learning about Oki, everybody got to try specialty products from the island. They lapped up the flavours of Oki while listening to Saki speak more about her time there.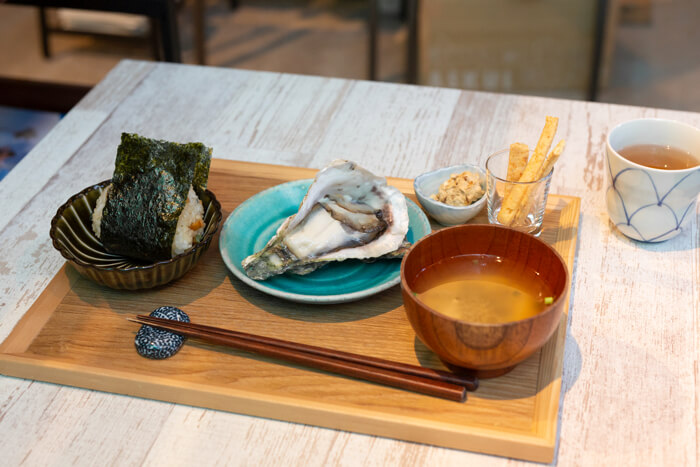 Oki is famous for "Haruka," a type of Iwagaki oyster. They are a brand of oyster raised in the beautiful waters of Nakanoshima in the town of Ama. They also tried other local delights such as turbo sazae rice balls, seaweed miso soup, sake lees crackers and kojouyu miso, fukugi tea and more.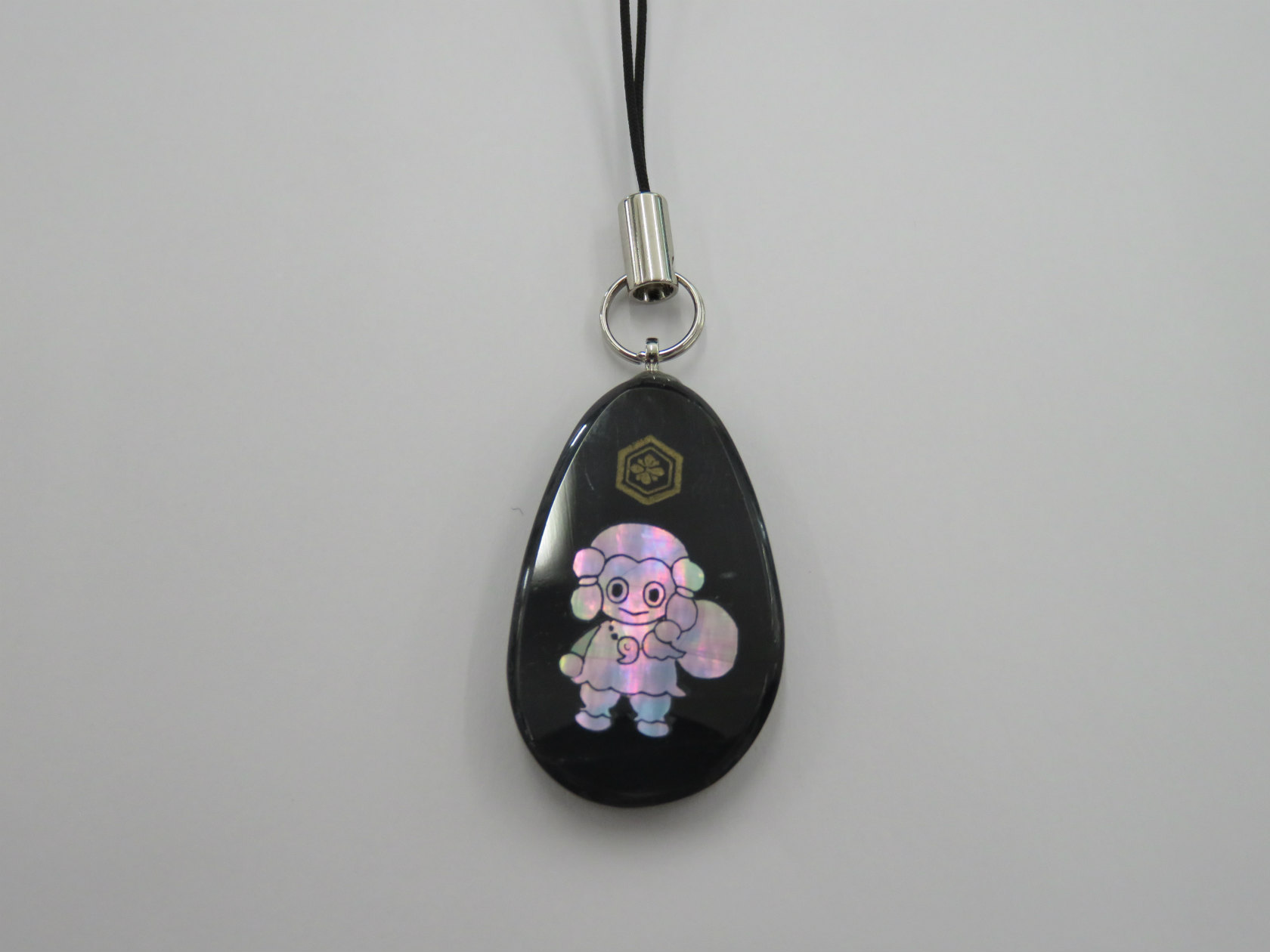 Obsidian
Salted Polvorón Cookies (Oki Kisen Shoji) / Sake Lees Crackers (Oki Brewery) / Sake Lees Soap (jimono) / Fukugi Mist (jimono) / Fukugi Tea (Amacho Sakura no Ie)
At the end of the event, Saki and the members were given an obsidian key ring and batch of Oki souvenirs from the associate. Though the event took place in Tokyo, everybody was able to get their fill of Oki.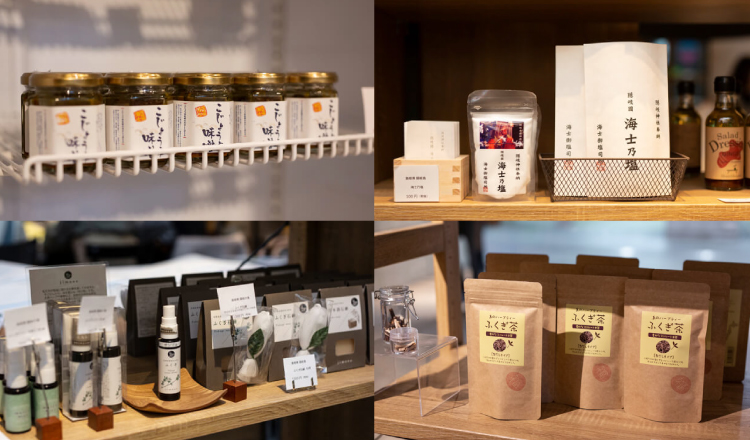 If you read this article and are interested in the Oki Islands, then we have some good news. All of the specialty products and souvenirs shown can be bought at Rito Kitchen Nihombashi who carried out this event. These aren't easy to get your hands on unless you visit the islands, so if you're in Tokyo, be sure to visit and enjoy the flavours of the Oki Islands.
RECOMMENDED ENTRIES
Explore the Beautiful Agriculture of Tokunoshima Island with Saki Shibata

Saki Shibata loves travel, both in her personal and work life. She was recently appointed ambassador of the Tokunoshima Island Gem Project.

Her position runs until March 31, and during that time she is going to introduce to all of us the "gems," or things made on the island, as well as its allures and charms.

Saki receives her official ambassador certificate. "I will put my all into promoting the appeals of Tokunoshima. Let's all work hard, together!" she says with enthusiasm and a smile.

View this post on Instagram

To know the products, Saki must first learn about the people making them and where. She gets her hands on a tourist guidebook of Tokunoshima and studies. The island is approximately 470km south of mainland Kagoshima. It takes about an hour to get from there to the island in a plane. It's also famous for triathlons and bullfighting.

The main produce farmed on Tokunoshima is sugarcane. You can see sugarcane growing all over the island, and there are lots of different products made from sugarcane in souvenir shops.

There is a rare and unusual product made from the island's sugarcane "Shima no Napoleon." It's a type of sugarcane shochu sold on the island, outside of which only Amami Ōshima has special approval to make it, a neighbouring island. Saki saw the alcohol in shops and restaurants on Tokunoshima.

Sugarcane shochu demands delicate control and management in the production process. Multiple types of storage vessels are used to contain it. Saki felt even more so just how special Shima no Napoleon is when she saw the place it was being made.

There are plenty more special products being made from the sugarcane too. This includes additive-free cookies. They are sold in various flavours and are made on Tokunoshima. The manager said that the cookies came about from a desire to stock more products in the island's souvenir shops using things available on the island. Much trial and error was put into crafting the best possible cookies.

You can get them in stylish pouches or high quality packaging for that proper souvenir feel. The box type is really cute!

The manager also kindly showed us around the factory. He has a wonderful smile!

Saki was healed by the harmonious and peaceful atmosphere of everybody working.

The next place Saki headed to was Tomita, an industrial association in Tokunoshima where they make raw peanuts. Tokunoshima is a producer of peanuts which has earned them the name Jimame, or "land of legumes."

The reason they sell the peanuts raw is because they want people to eat them with the flavour of their choosing at home. They also come with some simple recipes. Also, when planted, the raw peanuts give rise to sprouts in just a few days. People planting their own peanuts is something they want to encourage too.

Let's take a look at some of the other wonderful products. The Papaya Spice, a product of Okayama, goes well sprinkled lightly on meat, helping to bring out the meat's full flavour. It's packed with papaya enzymes and is supposed to be good when dieting.

The Buta Miso is an accompaniment to a meal and is made from Berkshire pig, ginger, peanuts and other ingredients.

If you want to visit Tokunoshima but haven't got time then we've got some good news for you! If you're in Tokyo between February 9 and March 8 this year, all of the "gems" you've seen up to now and more can be bought at Rito Kitchen in Nihonbashi. These are available for a limited time only, so head on over ASAP and enjoy the flavours of Tokunoshima.

■Information

Rito Kitchen Nihonbashi

Address: YUITO Nihonbashi Muromachi Nomura Building Floor B1F, 2-4-3 Nihonbashi Muromachi, Chuo Ward, Tokyo

TEL: 03-6225-2095

Here are the products that Saki was most interested in when visiting Tokunoshima.

The first is Shima no Hachimitsu, or "Island Honey" made by Shigeaki Maeda. This raw honey contains no sugar or additives. It has a very organic flavour that lets you taste the nature of Tokunoshima.

Mr. Maeda handles every part of the manual labour effort when creating his honey, from collecting bees to operating the centrifuge to packaging. He understands customers may become worried as the concentrated honey solidifies when it's stored below 14℃ (though this does not affect its quality, he explains), so he sells it from springtime.

Contact:Shigeaki Maeda #201 5553-8 Kamezu Tokunoshima-cho Oshimagun Kagoshina

This is called a Great Green Turban. You often see them spanning 20cm on Amami Ōshima, and you can even prep and cook them. Saki made them herself during her stay and enjoyed pasta and curry.

Blue Shell, a Great Green Turban workshop, uses their mother-of-pearls to create beautiful stamps. Each and every one is handmade by the owner Umeyama, so all of them have their own unique forms and shapes.

You can't miss out on products made with oranges native to Tokunoshima either. The Dressing Candy, a brand of ponzu, is made with orange juice and fine powder and uses absolutely no agrochemicals. It's a product that's hard to get your hands on anywhere else.

The 100% orange juice too is full of nutritional value and has even been called a "high power food."

Tokunoshima Airport is nicknamed Kodakara Kuukou, or "the airport treasured with children." This comes from the high birth rate up and down the island. When you exit the airport you see women dubbed Nesugatayama as they look like the mountains when laying down. The airport is supposed to give you very good luck!

Try discovering the beautiful charms of Tokunoshima yourself too like Saki, the ambassador of the Tokunoshima Island Gem Project, and be sure to visit Rito Kitchen too to enjoy the natural flavours of the island if you can't make the trip.

【Tokyo Stroll】Head to Vegetable Corporation in Motoasakusa for Coffee, music, and something for all five of your senses

Having appeared in many magazines such as "mer", popular model Shibasaki is here today to start her "MY BOOM" pick-up plan. Since returning from her exchange in Korea, Shibasaki has been enlightened by delicious coffee. On this very day, she stepped foot into coffee bean and beer specialist shop "Vegetable Corporation", which also provides music.

The shop is easily accessible. It is only a 5-minute walk from Inarichō station (Tokyo Metro Ginza line) and Shin-okachimachi Station (Toei Ōedo line). It can be reached within a 10-minute walk from Tawaramachi Station (Tokyo Metro Ginza line), Kuramae Station (Toei Ōedo Line) and Ueno station (JR Yamanote line).

Shop owners Ryota Mikami and Syotaro Hayashi also own the music label Vegetable Record. Straying from an original format, the dream of entertaining many people with their music was the foundation for their new business. This is where the latest technology is fused with analogue, and coffee beans are sold with download codes alongside craft beer.

You can purchase coffee beans with an album download code or create your own personalized pack. The package label is decorated with their album artwork, creating a product that stimulates all five of your senses. Of course, there is the option of purchasing just the beans on their own.

You can also buy roaster coffee beans from Fukui prefecture that were specially selected by COZY COFFEE. You can enjoy the changing flavour of coffee that has been freshly brewed and when it cools. The deeply roasted coffee beans come in six varieties. You can taste the coffee before making a purchase whilst simultaneously enjoying the wonderful music – there's no rush here. Relax and enjoy carefully choosing your dream beans at your own pace.

Shibasaki got right on the coffee tasting. As her preferences lean towards light flavours, she was recommended the Dominica Princess.

 "The flavour spread through my entire mouth. The scent of rum was amazing! The aftertaste was refreshing like black tea. Non coffee-lovers would be alright with this!" said Shibasaki, affixing her seal of approval.

Next, Shibasaki experienced the changing flavour of coffee by trying it at different temperatures. It was time to try a freshly brewed coffee. Not only can you purchase coffee beans here, but also drip coffee (tax included price: ¥500). You can take out the drip coffee, so we recommend you enjoy a nice stroll around the area with a cup of coffee in one hand.

This is one of the popular items on the menu – the walnut and honey toastie (kurumi to hachimitsu no hottosando). The price including tax is ¥600. If you're feeling rather peckish, you could try this dessert-like toastie.

The toastie is filled with juicy honey and the texture is like apple pie. It was so tasty that Shibasaki couldn't help but exclaim "yum!" after just her first mouthful. By the way, this menu goes great with coffee and beer!

In addition, the signboard menu's craft beer includes VERTERE craft beer, which is the best beer out of the 23 from Okutama's breweries.

These are different to ordinary beers – the fruity dessert beer is particularly popular. Shibasaki took advantage of it being midday and drank a glass.

You can taste vanilla beans and orange in the brunch cream (price including tax: ¥700). It is more bittersweet than bitter to make a glass you can enjoy. Shibasaki's verdict: "You can taste the fruity flavour so much that you won't even think it is beer! It was so easy to drink! Even those who do not like beer will be able to easily gulp it all down".

She was very impressed.

※The brunch cream is currently sold out and therefore further sales are being postponed. For the latest updates, please check the store's Instgram account. (https://www.instagram.com/vegetablecorporation/)

Not only can you purchase their music through coffee beans and craft beer, but also CDs and cassette tapes. From the analogue generation to the digital native generation, Vegetable Cooperation is devoted to music and cannot stop loving it. How about spending a moment of supreme bliss at Vegetable Corporation yourself?

■Information

Vegetable Corporation

Address: 1st floor Matsushima Building, 1-14-7, Motoasakusa, Taitō ward, Tokyo

Opening hours:11:00 〜 23:00 (Saturdays, Sundays & national holidays: 10:00 〜 23:00)

Fixed holidays: None

Access:A 5-minute walk from Inarichō station (Tokyo Metro Ginza line) and Shin-okachimachi Station (Toei Ōedo Line). A 10-minute walk from Tawaramachi Station (Tokyo Metro Ginza line), Kuramae Station (Toei Ōedo Line) and Ueno station (JR Yamanote line)

Model: Saki Shibata @shibasaaki

Through her nickname "Shibasaki", the much loved, multitalented model Saki Shibata has reached out to girls and women of all ages. Born an Aichi girl, Shibasaki grew to become a fashion model, featuring on the front cover of magazine "mer". Her activity extends to broadcasting on the local radio and on Internet TV. Although time passes and trends change, you can always count on our Shibasaki to stay by your side. This is why many, many girls support her.

Writer:Ryoichi Komaba

Photographer :Kayo Sekiguchi

Translator: Samantha Fernandes

【Tokyo Stroll】Step into the Showa area at Uenosakuragi Atari, Yanesen. Introducing Kabaya Bakery & Yanaka Beer Hall.

The essence of the Showa era lingers in the district of Yanesen. In the nearby residential area called "Uenosakuragi", a new tourist spot by the name of "Uenosakuragi Atari" has been born. Model Saki Shibata pays a visit and expresses her love for the area, as the real authentic essence of Japan can be felt here. Today, we're joining Saki-chan as she takes a stroll around the elegant and old Japanese-style neighbourhood.

 

A living space you can share

After a short walk from Yanesen, we stumbled upon the residential area "Uenosakuragi Atari", where a residential complex that was built 80 years ago had been refurbished. Many institutions sit snug in the complex, including a beer hall, bakery, salt and olive stores, rental spaces and much more.

Uenosakuragi Atari is only a 10-minute walk from JR Nippori station, JR Ueno station, Tokyo Metro Nezu station and Sendagi station. You can also get there quickly from Shibuya station and Harajuku station!

These three buildings were once used as a place of residence and was built in the 13th year of the Showa era. Whilst the outside retains its authentic appearance from the past, the inside has been renovated. Looking at the outside of the building, you would see a building from long ago. As you inspect the shops, each step you take reveals the extent of its beauty.

When the council stumbled upon the old building, they pondered over whether it should be turned into a new car park, or whether it should serve as a new apartment complex. At that moment, the idea of renovating it came to mind. This is how the renovation came to be.

From children to the elderly, people join together here to enjoy the neighbourhood. Uenosakuragi was created as a place where one can live in harmony with others.

 

The bakery locals love

The love for Kayaba Bakery spreads not just amongst the tourists, but also the locals. This is the bakery of the famous coffee shop Yanaka Coffee.

The wheat used to make the bread is grown in Japan. Enjoy the soft and springy texture of this cutely-shaped bread – all of them look so delicious! The variety looked so good that Saki-chan took ages to decide which one to buy!

Small breads and small prices – that's why we recommend you to buy lots and try lots! Look at Saki-chan, sat on a bench outside, stuffing her cheeks with the store's popular "Jyagapan" (potato bread). The scent of rosemary from the bread wafting through the air will definitely catch you off guard.

Breakfast, lunch or a quick snack – if you're peckish and looking for a petit treat, this sweat bread is perfect!

▼ Store information

Kayaba Bakery

Address:Atari 2-1F, 2-15-6, Uenosakuragi, Taito, Tokyo

Opening hours: 9:00〜19:00

Closed: Mondays

Telephone number: 03-5809-0789

http://www.kayaba-bakery.com

>>next page
RELATED ENTRIES
Model Shibata Saki's Trip to Mie Prefecture to Air on BS12 for 2 Consecutive Weeks

On November 18 and November 25, national free broadcasting service BS12 will air 'NEXT TRIP: A Luxury Resort Trip to Ise and Shima.' The host for the excursion will be popular model Shibata Saki (nicknamed Shibasaki), who is a well-known figure to women of all ages.

NEXT TRIP is a new travel program that helps travelers figure out where to go next. The theme of the series is "Where should I go once the world settles down?" From visiting popular city spots to faraway resorts in Japan and abroad, the show aims to introduce people to locations they haven't discovered yet, showcasing what the world has to offer. Those watching should keep a lookout for spectacular scenery, gourmet local food, outdoor activities, and so much more. 

[Part 1] November 18, 2021, 9:00 – 'NEXT TRIP: A Journey to Ise'

In this episode, Saki Shibata travels to Ise, Mie Prefecture, first visiting Ise Shrine to pay her respects. The shrine is one of the holiest and important sites in the Shinto faith and was said to be established in the year 4 BCE. After visiting the Inner Shrine on a bright and sunny morning, Shibata travels to the ancient Okage Yokocho street to find some souvenirs and enjoy a local cafe to enjoy Ise's famous rice cakes and traditional Japanese sweets. For lunch, she visits a very retro western-style building. At the nearby Ise Ninja Kingdom, guests can wear ninja costumes, and Shibata does just that! As the day comes to an end, Shibata opts to stay at a luxurious ryokan, Ikyuu, and highlights the incredible dinner and other services the lodging offers.

Air Date: November 18, 2021 / 9:00-10:00

[Part 2] November 25, 2021, 9:00 – 'NEXT TRIP: A Luxury Resort Trip to Ise and Shima' 

The second part of the trip begins with cycling. Visiting the famous Married Couple Rocks on the coast of Futami, Shibata sets out for Shima. After enjoying the breathtaking view from the 'Mailbox in the Sky' on the Ise-Shima Skyline, she stays at a resort overlooking the Shima coast. Guests are welcome to take a leisurely stroll around the grounds and enjoy a luxury cruise or dinner. The sunset is something Saki Shibata will surely never forget.

 

Air Date: November 25, 2021 / 9:00-10:00

Where do you want to travel in Japan once the world settles down?

Four New Pokemon Manhole Covers Appear in Katori City, Chiba Prefecture

On November 10, 2021, four new Pokemon-themed manhole covers were unveiled in Katori City, Chiba prefecture. These will be the first appearance of the Poke Lids project in both the city and prefecture and each will feature landscapes specific to the area. Pokemon featured in these new covers include Galarian Farfetch'd, Falinks, Florges, and Lotad. 

The Poke Lids project features completely original art, and each serves as a PokeStop in the mobile game Pokemon GO. Many are located in smaller towns and areas, and this has brought more tourism and attention to some of Japan's more charming hidden gems. Going on a pilgrimage to visit these locations has become a popular new fad, so be sure to try it out once Japan opens!

Poke Lid Locations in Katori

Galarian Farfetch'd Poke Lid: 109-14 Sawara, Katori, Chiba

Falinks Poke Lid: 1722-1 Sawara, Katori, Chiba

Florges Poke Lid: 4549-1 Sawara, Katori, Chiba

Lotad Poke Lid: 4053-3 Sawara, Katori, Chiba

©Pokémon. ©Nintendo/Creatures Inc./GAME FREAK inc.
ポケットモンスター・ポケモン・Pokémonは任天堂・クリーチャーズ・ゲームフリークの登録商標です。

First Collection from Fragrance Brand ainou Produced by Four ASOBISYSTEM Talents

ASOBISYSTEM has teamed up with cosmetics company Bijinaru to launch a new fragrance brand ainou. Offering a variety of products, the first collection was produced by models Yuri Suganuma, Saki Shibata, Rinko Murata, and Goto Yutaro. The four were asked to come up with fragrances inspired by their own personal thoughts and feelings. Products will be on sale starting October 20 at PLAZA/MINiPLA locations nationwide and at the ainou online store. 


ainou = i know

 

Scents can evoke memories. 

If we could share our precious memories through scents…

 

The Scent of Memories

ainou

 

1st Collection Producers

Yuri Suganuma

'A clear, sweet, and fresh aroma,' produced by Yuri Suganuma

ainou 0 Fragrance Mist Eau de Toilette

 

With the nickname 'Yuripa,' Suganuma has gained a massive following among young women. She has become a social media influencer and often shares her beauty knowledge online, having obtained certification in cosmetics and skincare. Suganuma has acted as an MC for numerous events, has produced apparel and accessories in the past, and has collaborated with popular brands from Zoff to CA4LA. She recently started her own brand, LOBJECT. 

Saki Shibata

'The happy scent of flowers and grass after the rain,' produced by Saki Shibata

ainou 8 Fragrance Mist Eau de Toilette

 

Nicknamed 'Shibasaki,' she is a model from Aichi Prefecture who is loved by women of all ages. During her time as a fashion model, she has appeared on the cover of popular women's magazine mer for 12 consecutive months and has also appeared in numerous commercials and other mediums. She has also begun selling her clothing and vintage items overseas as part of a broadcast she produces and has collaborated with many other designers and brands. Shibata has traveled all over Japan to help revitalize small towns and has served as a PR ambassador for several outlying islands. 

Rinko Murata

'The unforgettably sweet scent of a bouquet,' produced by Rinko Murata

ainou 23 Fragrance Mist Eau de Toilette

 

Murata has appeared across a wide range of mediums, including in fashion magazines, on the radio, in web and TV advertising, and strutting the catwalk in fashion shows. She writes a popular online column titled 'Curry Tokidoki Rinko Murata,' where she catalogs her hobby of visiting curry shops, as well as 'Pub Patrol,' a series in Tabelog Magazine. Murata is active in product collaborations and has produced a number of popular products using her heightened sense of style. She also is the director of her own brand, idem. 

Goto Yutaro

'A scent that causes you to turn your head,' produced by Goto Yutaro

ainou 66 Fragrance Mist Eau de Toilette

 

Goto Yutaro was born on June 3, 1998, in Hiroshima prefecture. In 2016, he began his career as a vintage clothing store clerk before becoming a model known to the industry as being 'too cute.' He began his acting career in 2017 and has appeared in the popular drama series Trouble of the Blue Vampire and Cherry Magic! Thirty Years of Virginity Can Make You a Wizard?! With a number of films currently in the pipeline, the actor is expected to continue his upward trajectory as a unique talent on screen. The star is currently appearing in the NHK drama series Komi Can't Communicate, as well as in theaters in both It's a Summer Film and Kaguya-Sama: Love is War Final. 

Kurobe Gorge Trekking Tour Offers Breathtaking Two-Day Trolley Journey

The Kurobe Gorge Trolley in Toyama will offer a special two-day journey through the fall foliage on October 29 and November 1, 2021. 

Atobiki Bridge

Okukane Bridge

Promenade

Babadani Jigoku

On the day of the tour, guests will enjoy a leisurely journey through nature as a Kurobe Gorge tour guide explains the features of the surrounding environment. 

Kyoto's Kurodani Temple, Typically Closed to the Public, to Accept Visitors for Limited Time

Constructed in 1175, the Kurodani Temple is one of the head temples of the Jodo Sect of Buddhism. Though typically closed to the public, the grounds will open for a short period to allow guests to experience some beautiful autumn scenery beginning November 12, 2021. This temple is associated with the Shinsengumi and served as the headquarters of the Aizu Clan at the end of the Edo period, so those interested in history won't want to miss out on this incredible opportunity. 

[Night] Shiun Garden

[Day] Autumn Leaves at the Main Gate

[Day] Shiun Garden

[Night] Autumn Leaves at the Main Gate

Temple Grounds at Sunset

The Tiger's Room

Ohoujou Garden

Founders Hall

Live Koto Performance

Gokoushiyuiamidabutsu, 'Afro Buddha' 

Guests will be able to enjoy the gorgeous autumn temple scenery during both daytime and nighttime, with the night viewing also offering some traditional Japanese live music. Visitors can also see various temple treasures and historical items, as well as the Tiger Room, known for its painted doors. The unique and aptly named Afro Buddha will also be on display. After training for an extremely long period of time, the Buddha's hair piled up, giving him this strangely modern appearance. 

On a clear day, guests will be able to see clear to the Abeno Harukas building in Osaka. Vividly painted ceilings and other statues will completely surround visitors in spiritual history. At night, traditional Japanese music will be played at three different times in the front gardens. On Friday, Saturday, and Sunday, the temple will offer a Premium Plan, allowing interested guests to enter the grounds 30 minutes before general admission starts. (This will require reservations made on the official website.) This will also include a guided tour!

How would you like to experience this piece of Japanese history while surrounded by unforgettable autumn foliage? 

Information

Special Autumn Viewing

Kudodani Temple, Kyoto – The Head Temple of the Jodo Sect of Buddhism

Address: 121 Kurodanicho, Sakyo-ku, Kyoto

Night Viewing Details: https://www.kurodani.jp/lightup/

Day Viewing Details: https://www.kurodani.jp/sp_daytime/

Daytime Viewing

Running: November 12 – December 5, 2021

Hours: 10:00-16:30 (Final Admission at 16:00)

Special Viewing Areas: Mikado, Daihojo, the Gardens, two locations at the main gate

Night Viewing

Running: November 12 – December 5, 2021

Hours: 17:30-20:30 (Final Admission at 20:00)

Live traditional Japanese music will be performed in the garden located in front of the Main Hall at 17:45, 18:30, and 19:15

Junei Hotel Kyoto Adds New Plan Allowing Guests to Reserve Entire Property

The Junei Hotel Kyoto Imperial Palace West, a small luxury hotel located in the heart of Japan's ancient capital, has revealed a new plan allowing guests to rent out the entire premises. Imagine being in a hotel with only your closest family and friends!

The Junei Hotel Kyoto Imperial Palace West – Guest Room

The Junei Hotel Kyoto Imperial Palace West – Bathroom

The Junei Hotel Kyoto – Bamboo Suite

The Junei Hotel Kyoto – Bamboo Suite Bathroom

The Junei Hotel Kyoto – Standard Room

The Junei Hotel Kyoto – Standard Bathroom

The Junei Hotel Kyoto – Breakfast at Futago

The Junei Hotel Kyoto – Futago Restaurant Interior

The Junei Hotel Kyoto – Dinner at Futago

Arashiyama Yusaitei

Arashiyama Yusaitei

Kibune Riverbed

Hozucho River Boat Ride

The Junei Hotel Kyoto Rooftop View of Kiyomizu-dera Lights

The Junei Hotel Kyoto Rooftop Garden Moon Viewing

With two locations in Kyoto, guests will be able to enjoy the entirety of the hotel in complete privacy while still enjoying hotel hospitality. With between 8-11 rooms, this would be the perfect spot for a family gathering, wedding reception, graduation trip with friends, corporate meeting place, or even for overseas guests!

The Junei Hotel Kyoto Imperial Palace West opened in 2017 as a community-based luxury hotel with only eight rooms, with a single mission: bringing the beauty of Japan to the world. Beyond simply finding a place to sleep for the night, the hotel wants guests to experience something special and to provide an unforgettable experience. By partnering with local tourism associations, the Junei Hotel hopes to accurately convey the traditions and singular culture of the city of Kyoto. 

In March 2020, a second location opened. The Junei Hotel Kyoto is surrounded by bamboo, and in fact, the theme of the hotel itself is bamboo and the moon. Each of the guest rooms is decorated with traditional and local bamboo crafts, and every detail is pulled from the natural beauty of Higashiyama, Kyoto. 

The restaurant attached to the hotel, Futago, is the perfect place for adults to unwind and recharge. The kappo-style course menu features Kyoto vegetables and seasonal ingredients, blending the delicious with the nutritious. Chefs will cook each dish using a variety of methods, and guests will be amazed by how the flavor of the meat changes from course to course. The menu changes each month, so be sure to come back throughout the year!

Guests can also rent out Arashiyama Yusaitei, a gorgeous building deep in the forests of Kyoto perfect for wedding receptions, photoshoots, tea ceremonies, and more. The rooftop garden offers a stunning view of Kiyomizu-dera and is also perfect for moon viewing. Those wanting to get even closer to nature can enjoy a boat ride down the Hozucho river, and for those craving desserts, a Japanese sweets-making class is also available!

Who would you take with you on a private stay at the Junei Hotel Kyoto? 

Matsue Excel Hotel Tokyu in Shimane to Hold 2021 Matsue Water Lantern Festival

A number of beautifully decorated paper lanterns are currently on display in the lobby of the Matsue Excel Hotel Tokyu in Shimane prefecture until October 31. 

Normally, the event is held around Matsue Castle, with lanterns lighting up the streets and stalls set up to allow guests to design their own lanterns. Due to the current pandemic, the popular yearly event was abruptly canceled, and the Matsue Excel Hotel Tokyu stepped up, with the support of the Matsue Tourism Association, hosting the event in its first-floor lobby. 

For the past three years, the hotel has continuously hosted events and activities to help guests learn more about Matsue, including hosting trips to the area around Matsue Castle and cruises on the Horikawa River. For this year's event, hotel staff created their own lanterns based on these attractions, for a total of 17. If you could attend, how would you decorate your lantern? 

Universal Studio Japan to Expand Super Nintendo World with Donkey Kong Area

Since opening in March, Super Nintendo World at Universal Studios Japan has caught the world's attention, leading global game fans to pray even harder for Japan to reopen for tourism. Now, the park is scheduled to level up with a new Donkey Kong-themed area scheduled to open in 2024. 

Currently, Super Nintendo World is filled with Mario-inspired attractions, dining options, and shops, recreating some of the most memorable parts of the franchise in a larger-than-life way. The new Donkey Kong area will feature a roller coaster and more interactive experiences, as well as themed merchandise and food options. Guests will be able to walk through lush jungles, where Donkey Kong and his friends live. The creation of the new area will more than double the size of Super Nintendo World. 

Launched as an arcade game by Nintendo in 1981, Donkey Kong quickly took the world by storm, with games continuing to be released on Nintendo systems from the SNES to the Nintendo Switch. As of March 2021, the series has sold over 65 million units worldwide.

Comment from Nintendo's Shigeru Miyamoto

"I am very happy to be able to make the world of Donkey Kong a reality following the world of Mario. I am looking forward to creating a thrilling Donkey Kong experience with the amazing team at Universal. It will take some time until it is completed, but it will be a unique area for not only people who are familiar with Donkey Kong games but for all guests."

WIZARDING WORLD and all related trademarks, characters, names, and indicia are © & ™ Warner Bros. Entertainment Inc. Publishing Rights © JKR. (s21)
Minions and all related elements and indicia TM & © 2021 Universal Studios. All rights reserved. TM & © Universal Studios & Amblin Entertainment. TM & © Universal Studios. All rights reserved. © Nintendo

Three Unique Japanese Cafes You'll Want to Visit Again and Again

Most of us have been spending more and more time at home over the past year. It's time to get out for a change of scenery, and what better activity than cafe hopping! Check out these unique cafes around Japan, each offering a safe and relaxing space to enjoy a day out. 

[Saitama] Bath Cafe BIVOUAC

This cafe located in Kumagaya City offers a full range of bath and sauna facilities, as well as a restaurant featuring healthy dishes filled with local, freshly-picked veggies. 

Details: https://www.moshimoshi-nippon.jp/497213

[Gifu] Activity Cafe Takayama Zenko-ji

Set inside a Buddhist temple, this cafe invites anyone, regardless of faith or nationality, to enjoy a cup of tea while experiencing traditional culture. It's also a great space to work remotely, with free Wi-fi!

Details: https://www.moshimoshi-nippon.jp/484296

[Tokyo] NANARIDA

Filled with plants and light, NANARIDA has been dubbed a digital detox cafe, not allowing smartphones or laptops each Sunday. Leaving your phone with the staff will grant you a free beverage, so come enjoy some tea and conversation. 

Details: https://www.moshimoshi-nippon.jp/493631

TEXT: Natalie(MOSHI MOSHI NIPPON)

Editor's Choice! 3 Best Exhibitions to Visit Before Time Runs Out

Autumn has shaped up to be a great time for art lovers to explore Japan, with a number of inspiring exhibitions of all different genres popping up around the country. The editorial team at Moshi Moshi Nippon has taken special notice of three must-visit events still open now, so be sure to check these out while you still can!

[Tokyo] 'Shonen, Shou' 

Yasunari Ikenaga, a leading figure in the world of contemporary beauty painting, is currently holding an exhibition featuring portraits of the up-and-coming actor and model Shou. Pay special attention to the delicate techniques the artist utilizes to capture the subject's expressions. 

Running: Until October 15, 2021

Details: https://www.moshimoshi-nippon.jp/497728

[Fukuoka] teamLab Forest

Art collective teamLab has opened a permanent museum in Fukuoka City! Those wanting to see the interactive exhibits transformed for autumn, however, better hurry before the event ends.

Now Open

Details: https://www.moshimoshi-nippon.jp/500506

[Saitama] Machi Tawara: #JustOneLike – From Salad Anniversary to Size of the Future

Japanese poet Machi Tawara, the winner of the Kadokawa Tanka Award in 1986, is a powerhouse in the world of prose. Her 1987 book Salad Anniversary sold over three million copies, and 35 years later, the writer is still at the forefront of her field. This exhibition depicts her life in words and is sure to inspire. 

Running: Until December 5, 2021

Details: https://www.moshimoshi-nippon.jp/500300

Text: Natalie (MOSHI MOSHI NIPPON)

New Balance 996 Model Sneakers to be Redesigned, Relabeled

Since their creation in 1988, the 996-model sneaker has been one of New Balance's most popular models. This month, the 996 will be reborn as the New Balance Standard, with the same comfortable feel and some minor changes to the logo.

In the new campaign, Natsume Mito, Saki Shibata, Fumiko Aoyagi, and Shiho Takechi will be modeling the new shoes, each in a sleek new color. The photos are meant to depict women living their daily lives with positivity, as they did in 1988 and as they do today.

The 996 model sneakers are the third model in the 99X series. Released in 1988 as a running shoe meant to be used on paved surfaces, its comfort and design has made it a best-seller among both men and women.

Will you be grabbing a pair of these updated kicks?

Meiji Marble Chocolate Themed Hotel Room Opens at The Royal Park Hotel Kyoto Umekoji

In celebration of Meiji's popular Marble chocolate, The Royal Park Hotel Kyoto Umekoji is collaborating with the confectionery brand to offer a Marble themed hotel room for guests. The room opened on July 27.

Showa retro-style posters, telephone, and other decorations

Meiji's colourful Marble chocolate was first released in 1961. It turned 60-years-old in February of this year, meaning it has continued to be enjoyed by three generations. Grandparents have passed them onto mothers and fathers, and them to their own children. Now the whole family can celebrate the chocolate in a themed hotel room in Kyoto.


Named the Marble Room, the hotel room is decorated in seven colours just like the chocolates themselves. This includes seven individual pillows on the sofa, balloons, wall decorations, and more. There's even a crane game inside the room where guests can obtain some chocolates for free.

Also inside the room are Showa retro-style posters and a telephone, and guests can watch all of the old Marble commercials on the television which have aired these past 60 years. Guests also receive a free smartphone ring, eco bag, pouch, and other little freebies as part of the plan.