Learn About Shimane Prefecture's Oki Islands with Japanese Model Saki Shibata
On March 2, 2019 Japanese model Saki Shibata, along with nine others, carried out a research project entitled "Research Lab on the Charms of Oki" (隠岐のお気に入り研究所) to come up with a travel plan for the Oki Islands.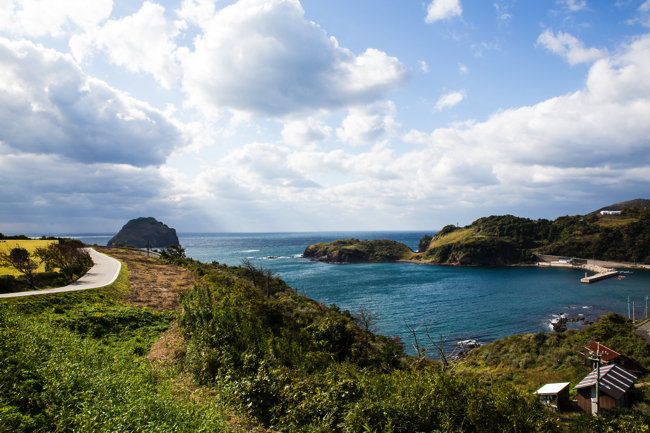 The Oki Islands are part of Shimane Prefecture. There are over 180 islands in total, sixteen of which are named, but only four of which are inhabited by humans. These can be visited via a ferry or high-speed boat.
The islands were formed almost 6 million years ago from volcanic activity. In September 2014, the islands were designated a UNESCO Global Geopark for their rich land and unique flora and fauna, history and culture. Visiting the islands offers the opportunity to experience unique nature you can't anywhere else in Japan. It is a place to enjoy characteristic culture of a different locale.
If you flip over a map of Japan you will also see that the Sea of Japan side of the islands are in the centre of the country. The Oki Islands also used to bustle with people as the doorstep to Japanese trade.
Saki Shibata visited the Oki Islands for the first time last year. She saw the bright red and immense Matengai Cliffs formed by the volcanoes' magma, the sea waves, felt the breeze in her hair and more. See her full nature-packed trip here.
An island local proposed her desire to show the wonder of the Oki Islands to the people of the world, and so the "Research Lab on the Charms of Oki" was formed. Saki, having already experienced those charms, was appointed Research Leader, and recruited other fellow members to join. She would convey her experiences and time spent on the islands for everybody to learn more about them so they could think up a travel plan together.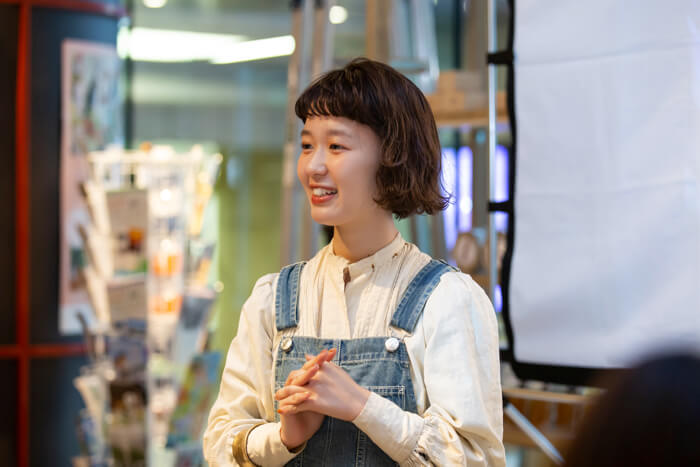 The event began with project leader Saki Shibata greeting everybody. She spoke about her memories of the Oki Islands and expressed enthusiasm to create a wonderful travel plan to the participants. Her talk was accompanied by slideshows with which she presented photos taken during her trip last year.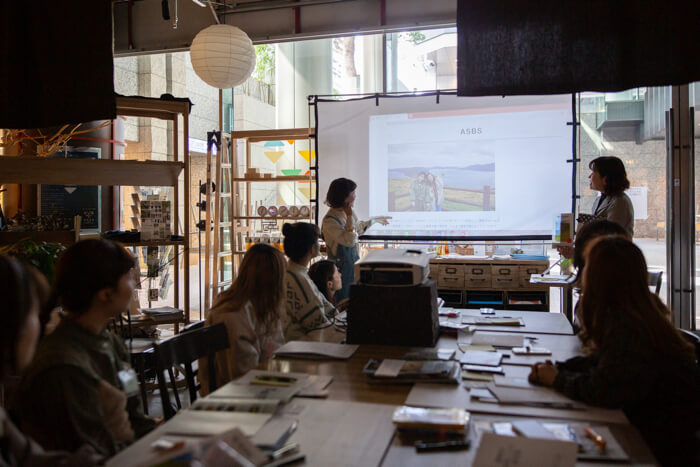 Saki played back through her mind how overwhelmed she was by the islands' nature and how warm and welcoming the locals were. All the other research members were absorbed in her talk and listened intently.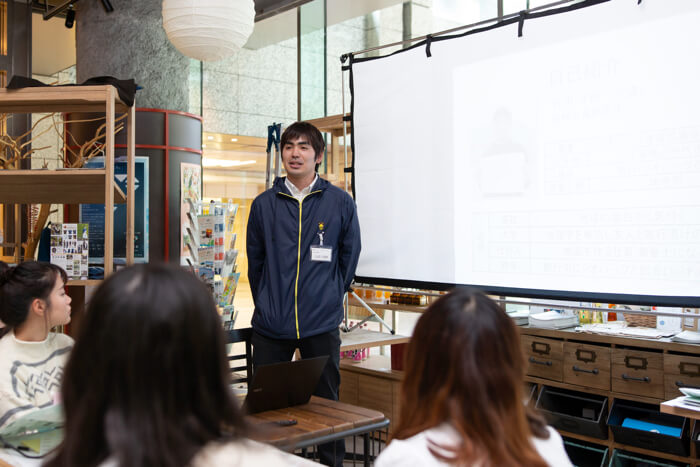 After Saki said her piece, a member of the Oki Islands UNESCO Global Geopark Association―which seeks to promote the charms of Oki Islands―spoke about Oki.
A "geopark" is a location with valuable geological features and forms and promotes the well-being of people living there through education and tourism.
Japan has nine officially-designated UNESCO Global Geoparks, one of them being the Oki Islands. Check out the video above which includes drone footage showcasing the expanse of nature there. It makes you want to see it with your very own eyes.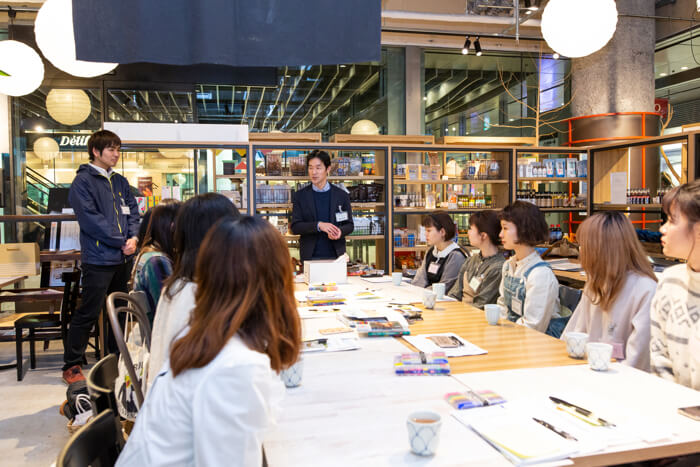 The group subsequently went on to creating a travel plan for the Oki Islands. Each member wrote down where they wanted to visit in Oki amongst other things.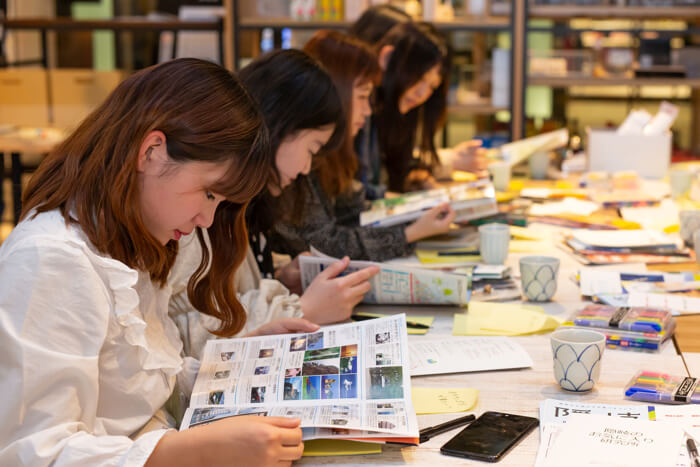 They asked questions to the Geopark associate such as whether you can fish squid there, do skydiving and so on. When the group were asked what they had written down, all 9 of them had said they wanted to try eating Okigyu, or "Oki Beef." Local food is an absolute must to include on any travel plan.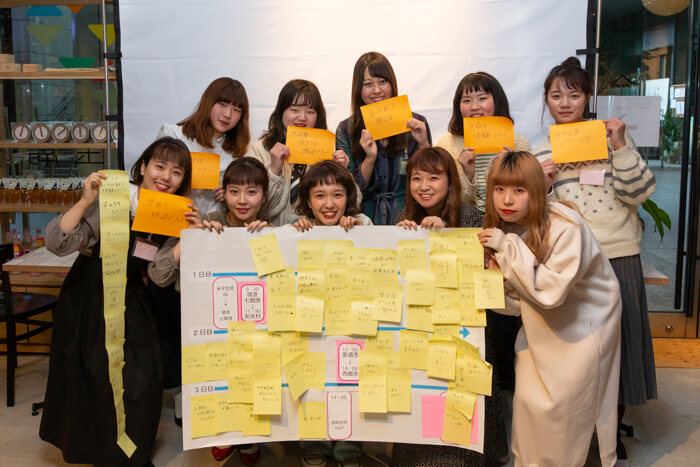 Saki and her fellow research members' original plan is complete, full of ways to feel the full power of Oki's nature.
After learning about Oki, everybody got to try specialty products from the island. They lapped up the flavours of Oki while listening to Saki speak more about her time there.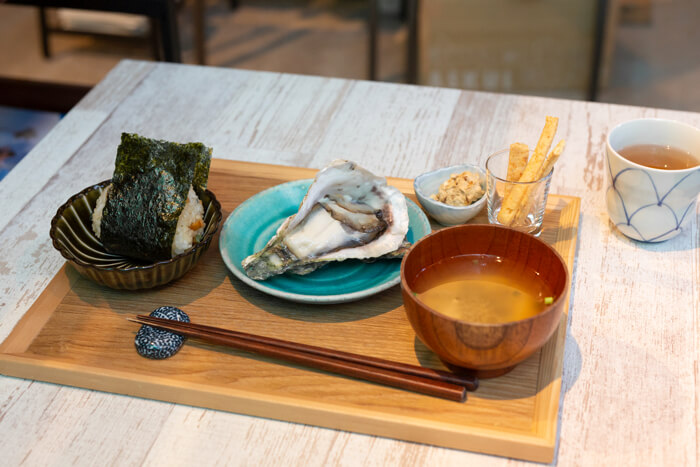 Oki is famous for "Haruka," a type of Iwagaki oyster. They are a brand of oyster raised in the beautiful waters of Nakanoshima in the town of Ama. They also tried other local delights such as turbo sazae rice balls, seaweed miso soup, sake lees crackers and kojouyu miso, fukugi tea and more.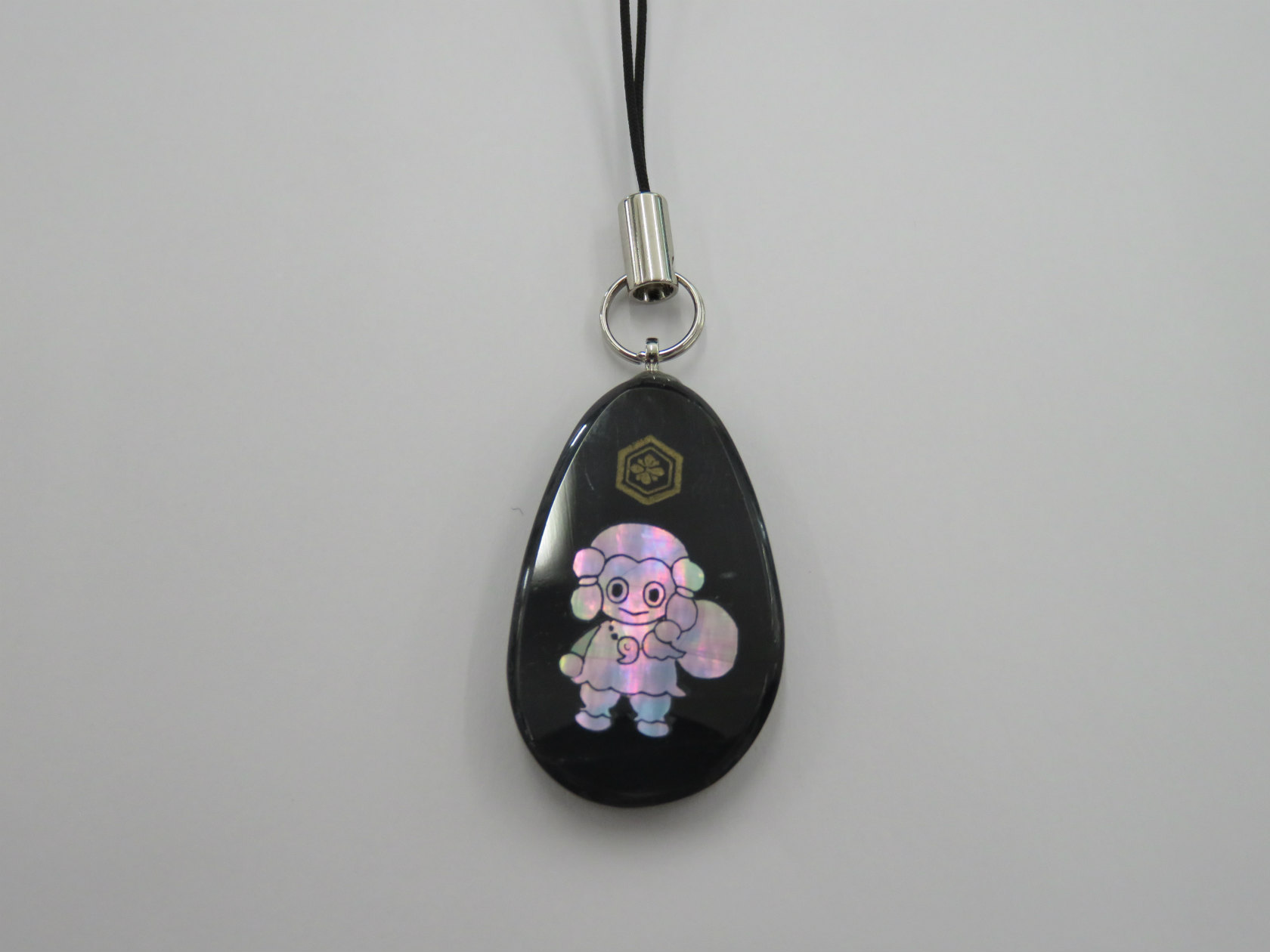 Obsidian
Salted Polvorón Cookies (Oki Kisen Shoji) / Sake Lees Crackers (Oki Brewery) / Sake Lees Soap (jimono) / Fukugi Mist (jimono) / Fukugi Tea (Amacho Sakura no Ie)
At the end of the event, Saki and the members were given an obsidian key ring and batch of Oki souvenirs from the associate. Though the event took place in Tokyo, everybody was able to get their fill of Oki.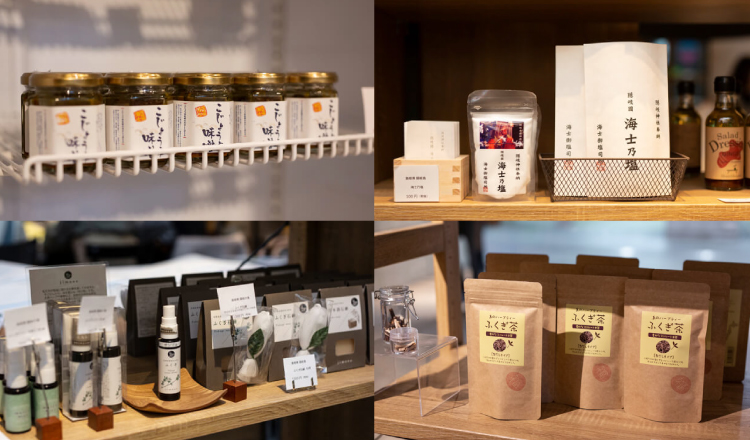 If you read this article and are interested in the Oki Islands, then we have some good news. All of the specialty products and souvenirs shown can be bought at Rito Kitchen Nihombashi who carried out this event. These aren't easy to get your hands on unless you visit the islands, so if you're in Tokyo, be sure to visit and enjoy the flavours of the Oki Islands.
RECOMMENDED ENTRIES
Explore the Beautiful Agriculture of Tokunoshima Island with Saki Shibata

Saki Shibata loves travel, both in her personal and work life. She was recently appointed ambassador of the Tokunoshima Island Gem Project.

Her position runs until March 31, and during that time she is going to introduce to all of us the "gems," or things made on the island, as well as its allures and charms.

Saki receives her official ambassador certificate. "I will put my all into promoting the appeals of Tokunoshima. Let's all work hard, together!" she says with enthusiasm and a smile.

View this post on Instagram

To know the products, Saki must first learn about the people making them and where. She gets her hands on a tourist guidebook of Tokunoshima and studies. The island is approximately 470km south of mainland Kagoshima. It takes about an hour to get from there to the island in a plane. It's also famous for triathlons and bullfighting.

The main produce farmed on Tokunoshima is sugarcane. You can see sugarcane growing all over the island, and there are lots of different products made from sugarcane in souvenir shops.

There is a rare and unusual product made from the island's sugarcane "Shima no Napoleon." It's a type of sugarcane shochu sold on the island, outside of which only Amami Ōshima has special approval to make it, a neighbouring island. Saki saw the alcohol in shops and restaurants on Tokunoshima.

Sugarcane shochu demands delicate control and management in the production process. Multiple types of storage vessels are used to contain it. Saki felt even more so just how special Shima no Napoleon is when she saw the place it was being made.

There are plenty more special products being made from the sugarcane too. This includes additive-free cookies. They are sold in various flavours and are made on Tokunoshima. The manager said that the cookies came about from a desire to stock more products in the island's souvenir shops using things available on the island. Much trial and error was put into crafting the best possible cookies.

You can get them in stylish pouches or high quality packaging for that proper souvenir feel. The box type is really cute!

The manager also kindly showed us around the factory. He has a wonderful smile!

Saki was healed by the harmonious and peaceful atmosphere of everybody working.

The next place Saki headed to was Tomita, an industrial association in Tokunoshima where they make raw peanuts. Tokunoshima is a producer of peanuts which has earned them the name Jimame, or "land of legumes."

The reason they sell the peanuts raw is because they want people to eat them with the flavour of their choosing at home. They also come with some simple recipes. Also, when planted, the raw peanuts give rise to sprouts in just a few days. People planting their own peanuts is something they want to encourage too.

Let's take a look at some of the other wonderful products. The Papaya Spice, a product of Okayama, goes well sprinkled lightly on meat, helping to bring out the meat's full flavour. It's packed with papaya enzymes and is supposed to be good when dieting.

The Buta Miso is an accompaniment to a meal and is made from Berkshire pig, ginger, peanuts and other ingredients.

If you want to visit Tokunoshima but haven't got time then we've got some good news for you! If you're in Tokyo between February 9 and March 8 this year, all of the "gems" you've seen up to now and more can be bought at Rito Kitchen in Nihonbashi. These are available for a limited time only, so head on over ASAP and enjoy the flavours of Tokunoshima.

■Information

Rito Kitchen Nihonbashi

Address: YUITO Nihonbashi Muromachi Nomura Building Floor B1F, 2-4-3 Nihonbashi Muromachi, Chuo Ward, Tokyo

TEL: 03-6225-2095

Here are the products that Saki was most interested in when visiting Tokunoshima.

The first is Shima no Hachimitsu, or "Island Honey" made by Shigeaki Maeda. This raw honey contains no sugar or additives. It has a very organic flavour that lets you taste the nature of Tokunoshima.

Mr. Maeda handles every part of the manual labour effort when creating his honey, from collecting bees to operating the centrifuge to packaging. He understands customers may become worried as the concentrated honey solidifies when it's stored below 14℃ (though this does not affect its quality, he explains), so he sells it from springtime.

Contact:Shigeaki Maeda #201 5553-8 Kamezu Tokunoshima-cho Oshimagun Kagoshina

This is called a Great Green Turban. You often see them spanning 20cm on Amami Ōshima, and you can even prep and cook them. Saki made them herself during her stay and enjoyed pasta and curry.

Blue Shell, a Great Green Turban workshop, uses their mother-of-pearls to create beautiful stamps. Each and every one is handmade by the owner Umeyama, so all of them have their own unique forms and shapes.

You can't miss out on products made with oranges native to Tokunoshima either. The Dressing Candy, a brand of ponzu, is made with orange juice and fine powder and uses absolutely no agrochemicals. It's a product that's hard to get your hands on anywhere else.

The 100% orange juice too is full of nutritional value and has even been called a "high power food."

Tokunoshima Airport is nicknamed Kodakara Kuukou, or "the airport treasured with children." This comes from the high birth rate up and down the island. When you exit the airport you see women dubbed Nesugatayama as they look like the mountains when laying down. The airport is supposed to give you very good luck!

Try discovering the beautiful charms of Tokunoshima yourself too like Saki, the ambassador of the Tokunoshima Island Gem Project, and be sure to visit Rito Kitchen too to enjoy the natural flavours of the island if you can't make the trip.

【Tokyo Stroll】Head to Vegetable Corporation in Motoasakusa for Coffee, music, and something for all five of your senses

Having appeared in many magazines such as "mer", popular model Shibasaki is here today to start her "MY BOOM" pick-up plan. Since returning from her exchange in Korea, Shibasaki has been enlightened by delicious coffee. On this very day, she stepped foot into coffee bean and beer specialist shop "Vegetable Corporation", which also provides music.

The shop is easily accessible. It is only a 5-minute walk from Inarichō station (Tokyo Metro Ginza line) and Shin-okachimachi Station (Toei Ōedo line). It can be reached within a 10-minute walk from Tawaramachi Station (Tokyo Metro Ginza line), Kuramae Station (Toei Ōedo Line) and Ueno station (JR Yamanote line).

Shop owners Ryota Mikami and Syotaro Hayashi also own the music label Vegetable Record. Straying from an original format, the dream of entertaining many people with their music was the foundation for their new business. This is where the latest technology is fused with analogue, and coffee beans are sold with download codes alongside craft beer.

You can purchase coffee beans with an album download code or create your own personalized pack. The package label is decorated with their album artwork, creating a product that stimulates all five of your senses. Of course, there is the option of purchasing just the beans on their own.

You can also buy roaster coffee beans from Fukui prefecture that were specially selected by COZY COFFEE. You can enjoy the changing flavour of coffee that has been freshly brewed and when it cools. The deeply roasted coffee beans come in six varieties. You can taste the coffee before making a purchase whilst simultaneously enjoying the wonderful music – there's no rush here. Relax and enjoy carefully choosing your dream beans at your own pace.

Shibasaki got right on the coffee tasting. As her preferences lean towards light flavours, she was recommended the Dominica Princess.

 "The flavour spread through my entire mouth. The scent of rum was amazing! The aftertaste was refreshing like black tea. Non coffee-lovers would be alright with this!" said Shibasaki, affixing her seal of approval.

Next, Shibasaki experienced the changing flavour of coffee by trying it at different temperatures. It was time to try a freshly brewed coffee. Not only can you purchase coffee beans here, but also drip coffee (tax included price: ¥500). You can take out the drip coffee, so we recommend you enjoy a nice stroll around the area with a cup of coffee in one hand.

This is one of the popular items on the menu – the walnut and honey toastie (kurumi to hachimitsu no hottosando). The price including tax is ¥600. If you're feeling rather peckish, you could try this dessert-like toastie.

The toastie is filled with juicy honey and the texture is like apple pie. It was so tasty that Shibasaki couldn't help but exclaim "yum!" after just her first mouthful. By the way, this menu goes great with coffee and beer!

In addition, the signboard menu's craft beer includes VERTERE craft beer, which is the best beer out of the 23 from Okutama's breweries.

These are different to ordinary beers – the fruity dessert beer is particularly popular. Shibasaki took advantage of it being midday and drank a glass.

You can taste vanilla beans and orange in the brunch cream (price including tax: ¥700). It is more bittersweet than bitter to make a glass you can enjoy. Shibasaki's verdict: "You can taste the fruity flavour so much that you won't even think it is beer! It was so easy to drink! Even those who do not like beer will be able to easily gulp it all down".

She was very impressed.

※The brunch cream is currently sold out and therefore further sales are being postponed. For the latest updates, please check the store's Instgram account. (https://www.instagram.com/vegetablecorporation/)

Not only can you purchase their music through coffee beans and craft beer, but also CDs and cassette tapes. From the analogue generation to the digital native generation, Vegetable Cooperation is devoted to music and cannot stop loving it. How about spending a moment of supreme bliss at Vegetable Corporation yourself?

■Information

Vegetable Corporation

Address: 1st floor Matsushima Building, 1-14-7, Motoasakusa, Taitō ward, Tokyo

Opening hours:11:00 〜 23:00 (Saturdays, Sundays & national holidays: 10:00 〜 23:00)

Fixed holidays: None

Access:A 5-minute walk from Inarichō station (Tokyo Metro Ginza line) and Shin-okachimachi Station (Toei Ōedo Line). A 10-minute walk from Tawaramachi Station (Tokyo Metro Ginza line), Kuramae Station (Toei Ōedo Line) and Ueno station (JR Yamanote line)

Model: Saki Shibata @shibasaaki

Through her nickname "Shibasaki", the much loved, multitalented model Saki Shibata has reached out to girls and women of all ages. Born an Aichi girl, Shibasaki grew to become a fashion model, featuring on the front cover of magazine "mer". Her activity extends to broadcasting on the local radio and on Internet TV. Although time passes and trends change, you can always count on our Shibasaki to stay by your side. This is why many, many girls support her.

Writer:Ryoichi Komaba

Photographer :Kayo Sekiguchi

Translator: Samantha Fernandes

【Tokyo Stroll】Step into the Showa area at Uenosakuragi Atari, Yanesen. Introducing Kabaya Bakery & Yanaka Beer Hall.

The essence of the Showa era lingers in the district of Yanesen. In the nearby residential area called "Uenosakuragi", a new tourist spot by the name of "Uenosakuragi Atari" has been born. Model Saki Shibata pays a visit and expresses her love for the area, as the real authentic essence of Japan can be felt here. Today, we're joining Saki-chan as she takes a stroll around the elegant and old Japanese-style neighbourhood.

 

A living space you can share

After a short walk from Yanesen, we stumbled upon the residential area "Uenosakuragi Atari", where a residential complex that was built 80 years ago had been refurbished. Many institutions sit snug in the complex, including a beer hall, bakery, salt and olive stores, rental spaces and much more.

Uenosakuragi Atari is only a 10-minute walk from JR Nippori station, JR Ueno station, Tokyo Metro Nezu station and Sendagi station. You can also get there quickly from Shibuya station and Harajuku station!

These three buildings were once used as a place of residence and was built in the 13th year of the Showa era. Whilst the outside retains its authentic appearance from the past, the inside has been renovated. Looking at the outside of the building, you would see a building from long ago. As you inspect the shops, each step you take reveals the extent of its beauty.

When the council stumbled upon the old building, they pondered over whether it should be turned into a new car park, or whether it should serve as a new apartment complex. At that moment, the idea of renovating it came to mind. This is how the renovation came to be.

From children to the elderly, people join together here to enjoy the neighbourhood. Uenosakuragi was created as a place where one can live in harmony with others.

 

The bakery locals love

The love for Kayaba Bakery spreads not just amongst the tourists, but also the locals. This is the bakery of the famous coffee shop Yanaka Coffee.

The wheat used to make the bread is grown in Japan. Enjoy the soft and springy texture of this cutely-shaped bread – all of them look so delicious! The variety looked so good that Saki-chan took ages to decide which one to buy!

Small breads and small prices – that's why we recommend you to buy lots and try lots! Look at Saki-chan, sat on a bench outside, stuffing her cheeks with the store's popular "Jyagapan" (potato bread). The scent of rosemary from the bread wafting through the air will definitely catch you off guard.

Breakfast, lunch or a quick snack – if you're peckish and looking for a petit treat, this sweat bread is perfect!

▼ Store information

Kayaba Bakery

Address:Atari 2-1F, 2-15-6, Uenosakuragi, Taito, Tokyo

Opening hours: 9:00〜19:00

Closed: Mondays

Telephone number: 03-5809-0789

http://www.kayaba-bakery.com

>>next page
RELATED ENTRIES
Stay in a Penguin Themed Hotel Room at Hoshino Resorts OMO7 Asahikawa

Hoshino Resorts OMO7 Asahikawa opened its Penguin Room on April 6, a single new guest room themed around penguins designed in collaboration with Asahikawa Zoo.

Penguin Room Feature ①

Guests are immediately greeted with penguins galore as the enter their room, with penguin plushies by the bedside, on the ceiling, and pretty much everywhere else. It will be like staying with a family of penguins for the duration of their stay.

Penguin Room Feature ②

After a visit to Asahikawa Zoo, guests can head back to their hotel room where a variety of fun penguin-related items are stocked including games, all of which will remind them of their time at the zoo.

Penguin Room Feature ③

The room is also decorated with boards featuring photos and information of animals at Asahikawa Zoo. The boards are handwritten by the zoo staff, something they do every spring season.

Hoshino Resorts OMO7 Asahikawa previously collaborated with Asahikawa Zoo when a polar bear themed room. Now, penguin lovers can have their dream come true as they spend their time surrounded by penguin decorations in their room. The hotel is just a 30-minute car ride from Asahikawa Zoo, so why not make a plan to experience both if you're visiting Hokkaido this spring?

GUNDAM FACTORY YOKOHAMA x my route Launch Collaborative Campaign

Japanese company @YOKOHAMA is helping to promote the regional development of Yokohama by collaborating with GUNDAM FACTORY YOKOHAMA using the multimodal mobility service app "my route" with the launch of a campaign.

The campaign is taking place for residents of Yokohama, running from February 8 to 28. All people need to do is download and open the app and fill out the form. Fifty lucky people will have the chance to win a free ticket to GUNDAM FACTORY YOKOHAMA, an amusement park themed on the popular Gundam franchise.

my route is an app that lets users search for the most affordable way to travel as well as letting them book and buy tickets. @YOKOHAMA's portal site is also now linked to the app, offering information about local stores, events, and other information regarding Yokohama.

Information

GUNDAM FACTORY YOKOHAMA Collaboration Download Campaign
Running: February 8 – 28 2021

GUNDAM FACTORY YOKOHAMA
Open: December 19, 2020 – March 31, 2022
Location: Yokohama, Yamashita Futo
Address: 279-25, Yamashitacho, Naka Ward, Yokohama, Kanagawa

Access: Minato Mirai Line

7-minute walk from Motomachi-Chukagai Station (Minatomirai Line)
Yokohama BAYSIDE BLUE Bus: 3-minute walk from Yamashitafuto Bus Stop

GUNDAM FACTORY YOKOHAMA Official Website: https://gundam-factory.net/

Special Edition Website: https://www.at-yokohama.net/topics/article20210208_02.html

Made in OME: Japan's Millennials Promote Micro Tourism Project For Ome in Tokyo

Ome—a city located in western Tokyo that's about an hour's train ride from the populous Shinjuku. It's a place enjoyed by many for its hiking and river swimming locales, as well as its architecture, in which one can still feel the influences of Japan's Edo period, and kindness of the locals.

MATINOEKI OUME, an Ome-based company, recently launched its "Made in OME" project which aims to revitalise the city. The project will create a new kind of Ome through the eyes of the millennial generation. Its goal is to polish and refine the appealing aspects of Ome to offer up new tourism opportunities while bringing in new fans to the city.

Made in OME's first step towards that is teaming up with DJ and YouTuber Yuna Yabe and illustrator and streamer MIOCHIN, two models signed to ASOBISYSTEM who will represent the millennial generation as the navigators of this journey as they participate in workshops with local producers and manufacturers, developing a variety of products such as sweets made with ingredients from Ome, like baumkuchen and chocolate rolls, and more.

You can catch their activity live over on MIOCHIN's official Instagram page. Visit Made in OME's official website below for more details.

Yuna Yabe


MIOCHIN

The two of them will host a free 'monitor tour' on February 21, 2021. These monitor tours aim to have people developing a strong relationship with new products from Ome. Participants will learn about the history and culture of Ome via local producers and manufacturers with products such as sake and indigo dyeing. Made in OME plants to expand their range of tourist monitor tours in the future.

Local Ome residents will also be invited to the tour in the evening of the same day. Learn all there is to know about Ome at Made in OME's website which is available in English, Japanese, and Chinese.

Information

Made in OME
Instagram: made_in_ome
Official Website (English): http://madeinome.com/en/

MATINOEKI OUME opened in November 2016. Its focus is on livening up the city of Ome and getting more people to learn about its wonders by offering information on famous tourist spots, stocking a bounty of local products, and more.

MATINOEKI OUME Official Website: https://www.matinoeki-oume.com/

FANCL Ginza Square Opens Onsen Hot Spring That You Can Walk Into Wearing Your Clothes

FANCL has brought the hot spring experience to its flagship site FANCL Ginza Square for a limited time with a variety of content that makes visitors feel like they've come to a Japanese onsen. The experience, named Tabi Suru Square Yu, is running until February 11, 2021.

Café au Lait / Fruit au Lait / Soy Milk Aojiru – ¥300 Each

Reiwa Honzen (FANCL Ginza Square Floor 9F)

Lunch Sana Winter Seafood Bento | ¥3,500

Winter Dinner Seafood Course | From ¥9,000

FANCL BROWN RICE MEALS (FANCL Ginza Square Floor B1F)

Hiroshima Oyster & Spinach Risotto Parmesan Cheese Galette Lunch Set | ¥1,850

Tomato Cream Pasta Lunch Set ¥1,850

Original Hand Towel

FANCL Ginza Square Onsen Essentials Set | ¥3,668

Breathing exercises at SUU-HAKU

At Tabi Suru Square Yu, visitors can enter a room that fully recreates the experience of being in a hot spring. The room is set at the same temperature, is filled with the same aromas, and is decorated in the same way. Visitors sit on one of the relaxation sheets to soak up the experience – effectively getting into a hot spring without having to change their clothes.

A variety of classic drinks and dishes sold at hot springs in Japan will also be sold, and visitors can get involved in the breathing exercises on offer.

YOKOHAMA AIR CABIN: Japan's First Permanent Inner-City Cable Car Opens in April

Japan is set to get its first ever permanent city cable car in Yokohama on April 22 called the YOKOHAMA AIR CABIN.

The YOKOHAMA AIR CABIN is a cable car system that will offer locals and tourists a chance to enjoy Yokohama from a new perspective whether during the hot summers or during the cool evenings when the city lights wake up.

The system will be connected directly to Sakuragichō Station and Shinko Pier for easy, quick access to enjoy Yokohama Minato Mirai from up high.

If you're planning a trip to Yokohama at some point, be sure to take a ride on YOKOHAMA AIR CABIN, officially opening on April 22, 2021.

Information

YOKOHAMA AIR CABIN
Opening: April 22, 2021
Operating Hours: 10:00-22:00
Duration: 5-minutes
Price: General ¥1,000 / Children ¥500

Hoshino Resorts BANTA CAFE Releases Video of Magical Beachside Illuminations

The incredible beachside Hoshino Resorts BANTA CAFE, which offers guests a breathtaking ocean view along the Okinawan coast, released a video on the official Hoshino Resorts YouTube page showcasing the cafe's ongoing illumination event, "Illumi Banta," which is running until February 28, 2021. Guests can enjoy some limited-time menu options and then take a romantic stroll along the beach with a warm lantern in hand.

Okinawa is known for its warm climate, rarely dipping below 15°C in the chilly season of winter. There are many celebratory days enjoyed every year around Christmas and New Years, and so BANTA CAFE decided to get in on the action with Illumi Banta, which has been running since December 1 last year—while following the necessary precautions against COVID-19 to ensure everyone stays safe. The spacious cafe is mostly outdoors so visitors can enjoy their time without worry.

A seat at the cafe in on a clear evening guarantees a front row seat to a beautiful orange sunset that sinks into the horizon. Normally, the cafe closes as sunset arrives, but for this event, opening hour have been extended into the night.

BANTA CAFE is located in the village of Yomitan where the beautiful ocean is surrounded by coral reef, enormous rocks, and a rich natural environment. It's a must-visit if travelling to Okinawa.

Information

Illumi Banta
Running: December 1, 2020 – February 28, 2021 (Except February 1st-5th)
Time: 18:00-22:00 (Last Orders 21:00)

BANTA CAFE
Address: 560 Gima, Yomitan, Nakagami District, Okinawa
TEL: 098-921-6810
Opening Hours: 10:00 to one hour after sunset (from 08:00 on weekends and holidays)
Official Website: https://banta-cafe.com/en/

Nagasaki's 112 Year Old Hotel Nampuro Opens Terraces With Panoramic Ocean and Sky Views

The 112-year-old Hotel Nampuro in Nagasaki is set to open the new Sky Terrace and Ocean Terrace this month. These vistas offer breathtaking, unbroken views of the sea and sky that make it feel as if you're floating on the ocean with rolling skies ahead that stretch to the horizon.

Observation Terrace (1)

Observation Terrace (2)

Infinity Pool-Style Open-Air Bath

Silky Bath

Beautifying Bubble Baths

Jacuzzi Bath (Male Only)

Children's Bath

Hinoki Sauna & Steam Sauna

Iyashi Onsen Cafe

Rental Open-Air Bath

The observation terrace offers an incredible panoramic view of the great Ariake Sea that offers a picturesque spectacle at all times of the day. Guests can enjoy seeing the morning, noon, and night skies which merge together with the ocean for an unbeatable result. There's also a "no talking" rule on the terrace so guests can fully soak up what's in front of them as they take a luxirous soak in the warm baths.

The infinity pool-style open-air bath offers a refreshing view while making it seem as if you are part of the ocean. The silky bath uses delicate micro bubbles which become an air cushion and promote good blood circulation using massage. The jacuzzi bath relaxes the entire body with stimulating bubbles, while the children's bath allows kids to get in on the fun too. Both saunas are a change to unwind fatigue and the tired body. The steam sauna is set at a lower temperature than your usual high-temperature dry sauna which ensures it doesn't have as much strain on the body so guests can sweat it out comfortably. The freshly-brewed coffee available at the hot spring is also exclusive to the hotel's Onsen Cafe.

Universal Studios Japan Announces Easter Universal Celebration 2021

Universal Studios Japan is set to spring into Easter starting on March 12 with the announcement of Universal Easter Celebration 2021. This year, which marks the 20th anniversary since USJ opened, will see the park's cute and iconic characters once again lull guests into an unforgettable Easter dream at Universal Wonderland and Minion Park.

Universal Easter Celebration

USJ will see colourful pastel decorations cover the Universal Wonderland and Minion Park areas, and the characters too will be dressed in their seasonal Easter costumes. A special Easter rendition of the Wonderland Seasons Joy show will also take place to commemorate the park's 20th anniversary with song and dance.

Wonderland Seasons Joy ~Easter Ver.~

Minion Park Easter

The park will also introduced a special egg hunt after Elmo and the Minions dropped some of their eggs. If you manage to find them all you get a limited-edition gold medal. USJ is also taking the Easter festivities online too with a special celebratory live stream called Let's Cooking! Kawaii Easter Party

WIZARDING WORLD and all related trademarks, characters, names, and indicia are © & ™ Warner Bros. Entertainment Inc. Publishing Rights © JKR. (s21)
Minions and all related elements and indicia TM & © 2021 Universal Studios. All rights reserved.
TM & © 2021 Sesame Workshop
© 2021 Peanuts Worldwide LLC TM & © Universal Studios & Amblin Entertainment
Universal Studios Japan TM & © Universal Studios. All rights reserved.

© Nintendo

Information

Universal Easter Celebration
Running: March 12, 2021 – June 27, 2021
Location: Universal Studios Japan
Official Website: https://www.usj.co.jp/web/en/us

200 Varieties of Japanese Iris to Bloom at Odawara Flower Garden

The plum blossoms of Odawara Flower Garden, which is located in Odawara, Kanagawa, are at the height of their blossom right now. The park's Keiryu no Baien ("Mountain Stream Plum Garden") area boasts the largest collection of plum blossoms in Japan's Kanto region, with 480 trees spanning 200 species.

480 individual Japanese ayame plum blossoms of 200 varieties will adorn the garden once again this year. The event has a different theme each year, with this year's focusing on the interweaving of red and white coloured flowers on each tree branch.

Visitors will be able to see the beautiful colour combination from many different iris varieties such as the murui-shibori which sometimes sees red safflowers come to life, the wachigai which witnesses wonderful variegated flowering, the impeccably beautiful maki-tateyama, and more.

2021 Keiryu no Baien
Running: January 23, 2021 – March 7, 2021
Location: Odawara Flower Garden
Address: 3798-5 Kuno, Odawara, Kanagawa
Entry: Free
Parking: Free
Opening Hours: 9:00-17:00

*No holidays for the duration of the event – open every day

Keiryu no Baien Guide Tour

Takayuki Otsubo, the president of the garden, is also an advisor on the management of its plants. He will be offering a detailed tour for the event.

Date: February 21, 2021
Times: 10:30 / 13:30 (1 hour each)
Participation: Free
Capacity: 30 per slot (first-come, first-served)

*Tour will be held seated indoors if it rains

Keiryu no Baien Flowers and Kimono Girls

A kimono rental and fitting service will be available at the event so visitors can take photo next to the gorgeous flowers while adorned in traditional Japanese dress.

Date: February 13, 2021
Time: 9:30-16:00 (Bookable slots)
Price: ¥3,000 (Tax/Rental/Fitting included)
No. of People: 15 (Booking required)
Bookings: By phone call by February 7, 2021
TEL: 0465-34-2814

*Must be at least 140m tall
*Visitors are asked to do their own makeup
*Male kimono are available in limited quantities

Plum Menu

The Odawara Flower Garden cafe, Cafe Hibiscus, is serving a selection of plum blossom themed meals and drinks for the festival. This includes the above-pictured new soba noodle dish, which is topped with plum pulp grown in Odawara as well as kamaboko fish cake, shrimp fritters, and spring onion. The broth in particular is worth of note which the staff went to great lengths to create. There's also plum blossom ice cream too made with nanko plums, as well as other delicious bites.

Plum Blossom Festival Soba Noodles – ¥600 (Tax Included) / With Drink ¥700 (Tax Included)

Plum Ice Cream – ¥380 (Tax Included)

Location: Cafe Hibiscus
Opening Hours: 10:00-16:00 (Last Orders 15:30)
*No holidays for the duration of the event – open every day

Plum Blossom Souvenirs


A selection of plum blossom-themed souvenirs will be available like umeboshi dried plum, plum jelly, and more.

Available: From early January 2021
Location: Entrance souvenir corner
Opening Hours: 9:00-17:00

Super Nintendo World Releases Virtual Tour of Entire Theme Park Area

Universal Studios Japan (USJ) announced last month that its highly-anticipated new Super Nintendo World area will open on February 4, 2021, which also happens to fall on the day of USJ's 20th anniversary.

Super Nintendo World comes as the world's first theme park area to be based around Nintendo's characters and games, combining innovative ideas with cutting-edge technology.

With just one month left until the grand opening, USJ has launched a special website for Super Nintendo World which offers a virtual tour through each part of the new theme park area. Mario fanatics are sure to be delighted by the adornments from Bowser's Castle to Pipes, Mushrooms, Question blocks, and more, as well as familiar faces like Goombas, Thwomps, Yoshi—the list goes on.

Accessing the site will bring you to an overview of the map. As you scroll down the website takes you on a virtual journey to each of its iconic attractions, all of which are designed to make you feel like you're really in the world of Super Mario.

teamLab Reconnect Project Combines Art With the Sauna Experience in Roppongi

Art collective teamLab has announced the opening of teamLab Reconnect: Art with Rinkan Sauna Roppongi which will run for half a year starting this March in Roppngi, Tokyo.

Since 2019, teamLab has been combining saunas with digital art to create wholly new and unique sauna experiences never before seen.

teamLab Reconnect's aim is not to offer a luxury and high-end venue for seeing artwork, but to put visitors into a luxurious state to experience the art. Through contrast bath therapy, where visitors are placed in a hot sauna followed by cold water and then relaxation, they can open their minds and senses to a variety of artworks and in essence become part of the art itself. teamLab hopes this will enable visitors to realise their own existence―their mind, body, and environment―and in turn 'reconnect' with the world and time.

Levitation
teamLab, 2021, Digital Installation, Sound: Hideaki Takahashi

teamLab Reconnect will welcome a variety of new artworks based on teamLab's new art project 'Supernature Phenomenon' which captures different natural phenomena in nature.

Proliferating Immense Life – A Whole Year per Year
teamLab, 2020, Interactive Digital Installation, Sound: Hideaki Takahashi

This artwork captures the life cycle of flowers. It is not a pre-recorded image that is played back; it is created by a computer program that continuously renders the work in real time. The interaction between people and the installation causes continuous change in the artwork, meaning previous visual states can never be replicated, and will never reoccur.

Since opening their sauna in Mifuneyama Rakuen in Kyushu back in 2019, which won the SAUNACHELIN two years in a row in 2019 and 2020, teamLab has gone on to create new works of sauna art such as teamLab: A Forest Where Gods Live and teamLab Ruins and Heritage: Rinkan Spa & Tea Ceremony.

Information

teamLab Reconnect: Art with Rinkan Sauna Roppongi
Location: teamLab Reconnect, 5-10-25 Roppongi, Minato-ku, Tokyo
Running March 2021 – August 2021
Official Website: https://www.teamlab.art/e/reconnect/

hotel androoms Announces Opening of New Kyoto Shijo Branch in March

Solare Hotels and Resorts has announced that a new branch of hotels androoms will open in Kyoto Shijo on March 6, 2021. In the run up to its grand opening, the company has opened a website where guests can book hotels with Solare Hotels and Resorts at the cheapest possible price. The website will begin rolling out more information about each hotel on the site through the year.

Access

hotel androoms Kyoto Shijo is located a convenient 5-minute walk from Kyoto Station's Karasuma Line section and 7 minutes from the Central Exit in the JR section, placing it within close distance to many of Kyoto's sightseeing spots.

The hotel offers seven different room types from standard to double to premium twin. One room can house a maximum of three people, accommodating groups and families. It also promises to be packed with a variety of exclusive services you won't find at other hotels.

Specialty coffee by Unir Kyoto

hotel androoms Kyoto Shijo will welcome the opening of a new branch of Unir inside the hotel which serves coffee made from specially-selected coffee beans. The coffee is hand-roasted on site with baristas pouring their love and skill into every cup.

Breakfast delivered right to your room

The morning time is your time and should be used as you please without you having to rush around, so says the hotel, and so it offers a breakfast delivery service which must be booked in advance.

Relax and unwind in the modern-style baths

Those looking for a little relaxation can look forward to pushing all their stresses aside in a modern bathing area which is inspired by a cave. It's open from 3pm-2am and again from 6am-10am.

If you're planning a trip to Kyoto and want a hotel with easy access to all the hot spots then be sure to consider hotel androoms Kyoto Shijo.