Comedians Naomi Watanabe and James Corden take part in SK-II new beauty video series!
Global skincare brand SK-Ⅱ will release the first episode of the new beauty entertainment series called "Suppin Suhada Talk" on 25th March. The official trailer was released on 20th March.
One of the participants in the talk series includes Naomi Watanabe, a famous Japanese comedian who is known is the "Japanese Beyoncé" and has also performed overseas. Another other is James Corden; the host from the American TV show "The Late Late Show", who is also famous for his carpool karaoke hosting. This will be  James' and Naomi's first ever time to take part in the video series! The two comedians will suddenly appear in the bathrooms of famous actresses Kasumi Arimura and Chloë Grace Moretz. Throughout the series, the viewers and comedians will then uncover beauty secrets from the actresses that everyone is dying to know.
From the other side of the closed door, one by one, the four participants burst into a charming or silly pose that they have never shown anyone before. With all their might, Arimura Takahashi and Chloe Moretz challenge themselves to everything from beatboxing to dancing to ASMR. They will also reveal their beauty secrets and try out the SK-II PiteraTM * Essence (facial treatment) which is "just like liquid foundation".
The first episode of the "Suppin Suhada Talk" series will be released worldwide on 25th March at the same time. After that, a new episode will be released every two weeks to form a sequel. Gradually, the secrets of beauty will be unravelled!
Statements from the participants:
Kasumi Arimura
For this series, I was given the role of explaining the amazing qualities of Pitera™ to Naomi Watanabe ー it's a pretty heavy role and before the shoot I was nervous thinking about it but after the shoot I felt completely different ー I was relaxed and really enjoyed myself! I was not sure how Watanabe would react during the shoot so I just acted natural and interacted with her in a fun way! I'll be very happy if everyone watching also feels just as enthusiastic about Pitera™!
Naomi Watanabe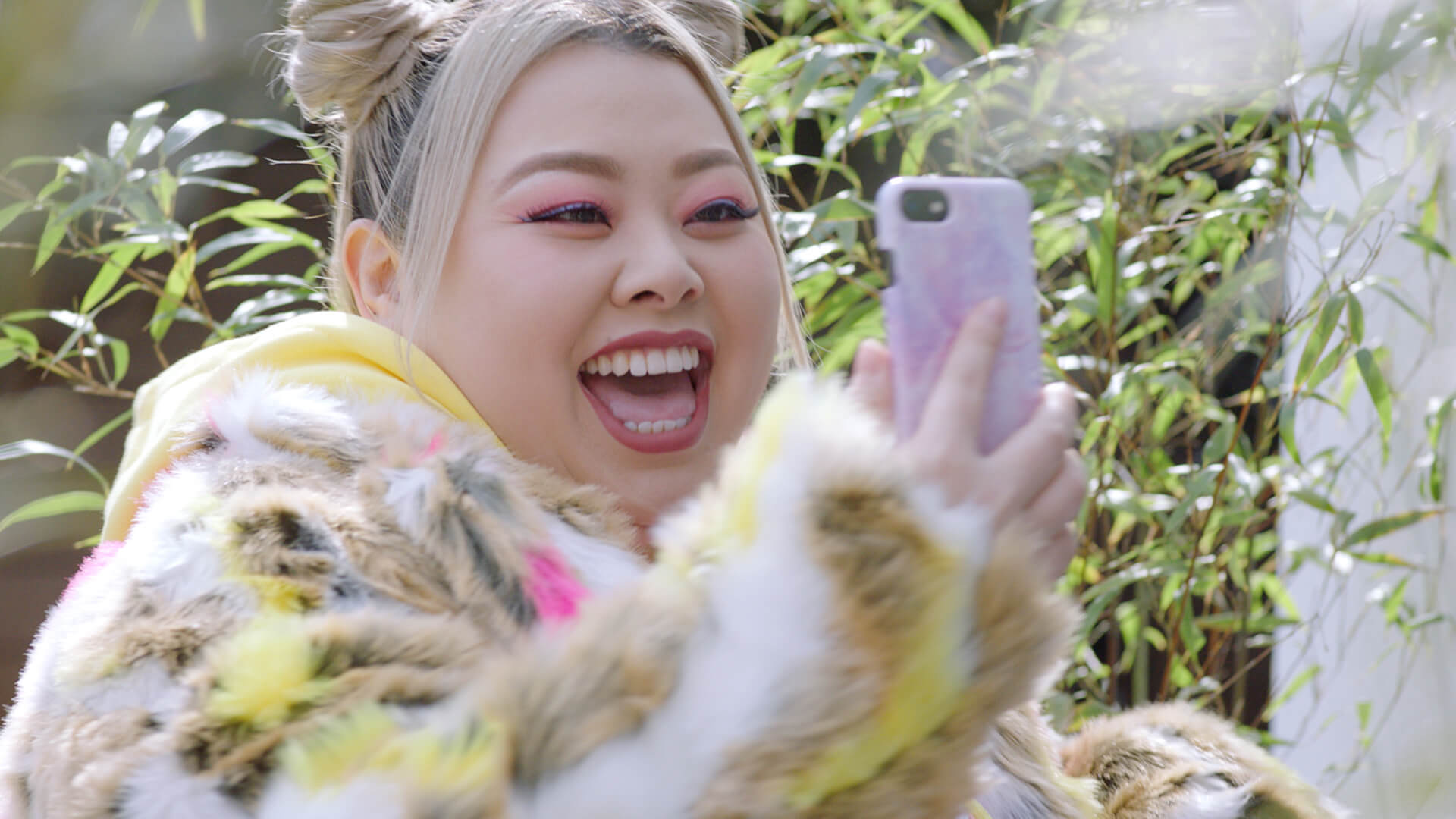 This is a brand I have always adored, so when I first heard the news about being part of the series I was so happy. As a comedian, I had fun interacting with Arimura and incorporating comedy into the introduction of the product ー I think it is a very original idea and made the shoot really fun! Whilst being given the freedom to steer the show, I could really feel Arimura's enthusiasm to spread the news about Pitera™. It was fun and I learned a lot about SK- II. I say this in the video too but… I think this is something that a god would even purchases!
Chloë Grace Moretz
The video shoot was really fun and the set was overflowing with laughter. I'm pretty sure viewers at home will also be able to sense the fun. There are times when you don't want to be thinking too seriously about skincare but would rather just have fun!
James Corden
Me being associated with a skincare brand is nothing to be surprised about. I have always been a big fan. Nowadays, SK-II is essential to support my skin every morning and afternoon and evening.
RELATED ENTRIES
Naomi Watanabe Posts Parody Music Video of 'Rain on Me' by Lady Gaga and Ariana Grande

Japanese comedian Naomi Watanabe uploaded a music video parody of Lady Gaga and Ariana Grande's song Rain on Me. The original song was released on May 22, 2020 and features on Gaga's latest studio album Chromatica. It went on to reach No. 1 on weekly charts across the globe, and its music video has over 160 million views on YouTube (as of July 2020).

Lady Gaga "Rain On Me with Ariana Grande" Official Parody

Naomi Watanabe explained that she felt incredible power from Lady Gaga and Ariana Grande when Rain on Me dropped back in May. She described the "motherly presence [of Gaga] that greatly envelops me." In the parody music video, Watanabe plays the part of Lady Gaga while comedian Yuriyan Retriever takes up the role of Ariana Grande.

The music video was shot after the state of emergency was lifted in Japan. It was directed by Daisuke Ninomiya, who has worked on many music videos for many big artists in Japan such as Daichi Miura and Sandaime J Soul Brothers. It was shot in collaboration with makeup artists, stylists, and manicurists who are close with Watanabe. The music video plays up Watanabe's iconic comedy while still managing to be as thrilling as the original music video.

Speaking about the music video, Naomi Watanabe said: "I thought it would be amusing to shoot this video as close as possible to the original, and because I like parodies, so we really went all-out with the little details."

The music video parody received praise from Lady Gaga's production team for its quality. It currently has 2.5 million views on YouTube (as of July 2020). Check it out and be sure to compare it with the original.

SCALP-D Collaborates With Pokémon to Release Pikachu Design Eyelash Serum

ANGFA will is collaborating with Pokémon to release Pikachu packaging in Japan for its SCALP-D Eyelash Serum on July 22, 2020.


This is the first time the brand has teamed up wit Pokémon, and sees both the packaging and bottles of the eye serums with cute Pikachu designs.

SCALP-D Beaute Pure Free Eyelash Serum Pokémon Design: ¥1,762 (Tax Included)

SCALP-D Beaute Pure Free Eyelash Serum Premium Pokémon Design: ¥3,524 (Tax Included)

The SCALP-D Eyelash Serum is a daily use product to make women's eyes beautiful, healthy, and supple so that they don't fall out as easy. The Pikachu collaboration concept is to make the user's eyes "as cute as Pikachu." There are two products to choose from: the regular eyelash serum and a premium version.

A social media campaign is also being held in Japan for 30 random people to win a bottle of the serum. All you need to do is follow SCALP-D on Twitter or Instagram and retweet/repost the following posts.

Campaign: July 13, 2020 @ 12:00 – July 20, 2020 @ 23:59 (JST)

SCALP-D Instagram: scalpd_eye

SCALP-D Twitter: @scalpd_eye

ANGFA is also selling sets of the serum with a limited-edition Pikachu towel. These are available while supplies last.

SCALP-D Beaute Pure Free Eyelash Serum Towel Set: ¥5,286 (Tax Included)


SCALP-D Beaute Pure Free Eyelash Serum Premium Towel Set: ¥7,048 (Tax Included)

Make your eyelashes Pika-Pika pretty with a cute bottle of Pikachu SCALP-D!

Gaspard and Lisa Cosmetic Range Releases in Collaboration With Cosme Kitchen

To celebrate the 10th anniversary of MASH Beauty Lab, a range of original and exclusive merchandise made in collaboration with popular French fictional characters Gaspard and Lisa and Cosme Kitchen will be released in limited quantities. Pre-sales opened at Cosme Kitchen's web store on July 15 while in-store purchases will be available at 70 branches in Japan from July 17.

Cosme Kitchen is a shop whose first branch opened in Daikanyama, Tokyo. They stock specially selected natural and organic cosmetic products from around the world. Gaspard and Lisa are fictional characters that appear in a children's book series of the same name by wife and husband Anne Gutman and Georg Hallensleben. The collaboration hopes to bring smiles to people's faces around Japan with organic, sustainable, and cute products.

Gaspard and Lisa Sauvent la Planete: ¥1,200 (Before Tax)

A new children's book has been created exclusively for this collaboration. It will be sold at Cosme Kitchen only.

Product Line-Up (Excerpt)

Cosme Kitchen Small Eco-Bag: ¥1,800 (Before Tax)

This sustainable eco-bag is made from 100% plastic waste from the ocean. Available while supplies last.

MAMA BUTTER Chamomile & Orange (40ml): ¥1,200 (Before Tax)

A hand cream which is gentle blend of organic chamomile and orange. The bottle features a cute illustration of Gaspard and Lisa.

nahrin Herb Oil 33+7 Roll-On (10ml): ¥2,300 (Before Tax)

This herb oil is based on a Swiss herb recipe made using a blend of 40 different herbs. A perfect choice for those necessary moments of self care.

made of Organics Manuka Honey & Chamomile Spray Strawberry (25ml): ¥1,500 (Before Tax)

An alcohol-free spray which can be used for anyone over the age of 2-years-old. It's an organic blend of manuka honey and leatherwood honey.

WELEDA Bath Milk Mini Set (20ml x 5): ¥2,500 (Before Tax)

An assortment of five different bath milk fragrances. Choose a scent based on how you feel that day.

This is just a peek at the products that are on offer for the collaboration. To see more, visit the Cosme Kitchen Webstore at the link below.

Kyary Pamyu Pamyu Features in Summer Promotional Poster For Shiseido Beauty Square in Harajuku

A new summer key visual was released on July 10, 2020 for Shiseido Beauty Square, a beauty facility in front of Harajuku Station, featuring Kyary Pamyu Pamyu, who is an ambassador for the establishment.

Beauty Square's concept aims to have people discovering their beauty, having fun, sharing experiences, and learning the latest in the scene. Visitors will be able to purchase cosmetics and makeup products, participate in interactive digital content, experience the salon where hair and makeup artists will beauty up customers, and more. Focused on younger customers, Beauty Square is a place to find your inner beauty, and what better place to do it than in Harajuku—Tokyo's hub for youth fashion, beauty, and culture?

The new key visual conceives Harajuku's night sky lit up by bright and vivid fireworks, with Kyary's hair and makeup an expression of the balance and harmony of beauty. Kyary Pamyu Pamyu conveys the sense of beauty and transience of Japanese fireworks and a midsummer night's dream. Kyary will continue to collaborate with "Beauty Diversity" focused company Shiseido's top hair and makeup artist Tadashi Harada on a variety of beauty projects that will stimulate people's curiosity when it comes to beauty.

Information

Beauty Square
Opened: June 18, 2020

Address: WITH HARAJUKU Floor 1F, 1-14-30 Jingumae, Shibuya, Tokyo

Opening Hours: 11:00-20:00

No Fixed Holidays
TEL: 03-5413-7717

Official Website: https://beautysquare.tokyo/

*Website available in English, Japanese, and Chinese

SHISEIDO Announces Global Campaign "With One Another. Without Limits. Our Future Is Beautiful."

Global prestige brand SHISEIDO will launch its new global campaign "With One Another. Without Limits. Our Future Is Beautiful." on July 1, 2020. For global ambassadors have been selected as part of the campaign: Bibari Maeda, an actress whose beauty transcends age; Lauren Wasser, a model who chooses to find the beauty in overcoming her limitations; Huang Xuan, an actor who aspires to the kind of beauty that overcomes stereotypes; and Alina Zagitova, a world champion figure skater who chases beauty as an athlete. Together, these four figures each express that beauty has no boundaries, and that all of us can overcome our limits.

Founded in 1872, SHISEIDO was the first Western-style pharmacy to hit Japan when it opened in Ginza, Tokyo. For the past 148 years, the global brand has continue to innovate and sought to bring more beauty into the world. SHISEIDO helps people to be more beautiful from the inside out so they can look and feel their best.

Uncertainty reigns across the globe right now, and in the face of such adversity, SHISEIDO aims to get people overcoming their own boundaries and in turn move towards a brighter future. And that's at the heart of the brand's new campaign, "With One Another. Without Limits. Our Future Is Beautiful."

SHISEIDO's four brand ambassadors come from various backgrounds, each having their own unique stories when it comes to finding beauty by transcending boundaries. But one message connects them all—that #beautyisboundless.

Bibari Maeda


"Stay young at heart, and your true beauty will come out."
By Bibari Maeda

By Lauren Wasser


"Do not force yourself to accept your destiny, change it."
By Lauren Wasser

By Huang Xuan


"Life has many possibilities, we should embrace them all."
By Huang Xuan

Alina Zagitova


"Imagination is the secret to beauty it makes beauty boundless."
By Alina Zagitova

When the brand campaign website goes live on July 1, a video showcasing all four ambassadors will be available to watch. Additionally, alongside the campaign, SHISEIDO will also release their "Ultimune™ Defense Refresh Mist" and their cushion compact "Shiseido Synchro Skin" for summer with limited-edition packaging.

Sailor Moon Cosmetic Set Released in Collaboration With MAQuillAGE

To promote the upcoming 2-part film Sailor Moon Eternal, Japanese makeup brand MAQuillAGE has created some special Sailor Moon cosmetic items including a foundation set, makeup base, and compact pouch. Pre-orders opened on Bandai's official shopping website Premium Bandai on June 22 and on the official Sailor Moon fan club Pretty Guardians on June 23.

Sailor Moon x MAQuillAGE Premium Bandai Special Set: ¥7,150 (Tax Included/Shipping & Handling Fees Charged Separately)

The line-up features a limited-edition design compact case made by Shiseido's MAQuillAGE in collaboration with the Sailor Moon franchise, the popular "Dramatic Powdery UV" foundation, the "Dramatic Skin Sensor Base EX," and an original design compact pouch. The item designs capture that sparkly moment when the Sailors transform.

*The compact pouch is exclusive to Premium Bandai and the Sailor Moon store

MAQuillAGE collaborated with Sailor Moon once before back in April 2017 and proved immensely popular amongst fans. Users have since expressed their desire for another collaboration, and their wish has finally been granted.

The "Dramatic Powdery UV" foundation gently covers your pores and colour spots, leaving your skin looking clear and beautiful. It comes in three colours, more than the last collaboration: Ochre 00, Ochre 10, and Ochre 20. The "Dramatic Skin Sensor Base EX" tones up your face and prevents it from looking shiny.

The products come as a set with the Compact Pouch which you can safely store them in. It's made from velvet, adding a luxurious feel.

Make your skincare routine even more glamorous with this new line-up of Sailor Moon cosmetics.

©Naoko Takeuchi
©Naoko Takeuchi・PNP / "Bishojo Senshi Sailor Moon Eternal" Production Committee

Information

Bishojo Senshi Sailor Moon x MAQuillAGE Premium Bandai Special Set
Includes: MAQuillAGE Dramatic Powdery / UV & Compact Case Limited Edition Set SMII (Foundation with sponge and compact case) / MAQuillAGE Dramatic Skin Sensor Base EX SMII / Original Compact Pouch

Pre-Orders: Now Open (Limited Stock)
Delivery September 2020

Buy Here: Premium Bandai / Sailor Moon Stores (Japan)

Kyary Pamyu Pamyu Steps Up As Harajuku's Beauty Square Ambassador

On June 18, WITH HARAJUKU, a shopping complex located in front of Harajuku Station, opened its Shiseido beauty facility "Beauty Square" on the first floor. To strike a chord with beauty-loving millennials across the country, Kyary Pamyu Pamyu has been appointed as the shop's ambassador. With "beauty diversity" as its main theme, Shiseido's top hair and makeup artist Tadashi Harada is also getting involved by launching a variety of beauty projects.

Harajuku Shiseido Beauty Square Ambassador Video:



Before the facility celebrated its grand opening, Kyary Pamyu Pamyu stepped through its doors, visiting the makeup counter and enjoying the fun interactive features such as the large LED screen located in the centre which displays endless videos.

The concept of Beauty Square is to become an interactive space to discover beauty, have fun, and share your experiences. Along with the sale of cosmetics, customers can enjoy digital interactive experiences to connect with the world of beauty or treat themselves to a makeover at the hair and makeup salon, which will glamour up your look in the bat of an eye.

From transforming your look to digital interaction, this is the perfect day out for fashion-lovers from all over the world.

Information

Beauty Square (Shiseido Beauty Square)
Open: June 18, 2020
Address: 1-14-30, Jingumae, Shibuya, Tokyo
Phone Number: 03-5413-7717 (Main Number)
Business Hours: 11:00 – 20:00 *Current business hours: 11:00 – 19:00
No Fixed Holidays

Official Website: https://beautysquare.tokyo/?rt_pr=trg20

Beauty Square: Discover Your Inner Beauty at Harajuku's New Beauty Salon

Shiseido is set to open its new beauty salon Beauty Square inside WITH HARAJUKU on June 18, 2020. WITH HARAJUKU is a shopping centre located in front of Harajuku Station in Tokyo.

Beauty Square's concept aims to have people discovering their beauty, having fun, sharing experiences, and learning the latest in the scene. Visitors will be able to purchase cosmetics and makeup products, participate in interactive digital content, experience the salon where hair and makeup artists will beauty up customers, and more. Focused on younger customers, Beauty Square is a place to find your inner beauty, and what better place to do it than in Harajuku—Tokyo's hub for youth fashion, beauty, and culture?

Beauty Square is split into 4 separate zones: the Go-Live Zone, Brand Zone, Installation Zone, and Salon Zone. Let's take a look at each in detail.

Go-Live Zone

In this area, the real world and digital world collide: enormous LED screens and signs fill the area where a variety of content will be broadcast, like hair and makeup tips from the Salon Zone artists. Influencers will visit the Go-Live Zone everyday and stream live.

Brand Zone

Brand Zone is the shopping area of Beauty Square featuring a lineup of numerous Shiseido group brands, like Laura Mercier, SHISEIDO, SHISEIDO PROFESSIONAL, Dolce & Gabbana Beauty, NARS, bareMinerals, IPSA, Cle de Peau Beaute, THE GINZA, and more. The Brand Zone also offers a one-on-one counselling service carried out by beauty consultants.

Installation Zone

This is the entertainment space filled with immersive artistic content like towering LED screens, kinetic lights that move up and down, moving lights, as well a tie-up with the 3D avatar social media app ZEPETO for customers to interact with, and more. Events and pop-up shops will also open in this area.

Salon Zone

Makeup artists who honed their skills and craft at the hair and makeup academy and studio SABFA will be customers' one-on-on producers, carrying out personal hair and makeup styling. Talks will also be held.

The restaurant and lounge SHISEIDO PARLOUR THE HARAJUKU opened up on the 8th floor on June 16, 2020, where people from around the world can enjoy the traditional taste of SHISEIDO PARLOUR.

Japanese international superstar Kyary Pamyu Pamyu has also been appointed the ambassador f Beauty Square. She will be promoting beauty in various forms throughout the year with the theme "Beauty Diversity."

Information

Beauty Square
Grand Opening: June 18, 2020

Address: WITH HARAJUKU Floor 1F, 1-14-30 Jingumae, Shibuya, Tokyo

Opening Hours: 11:00-20:00

No Fixed Holidays
TEL: 03-5413-7717

Official Website: https://beautysquare.tokyo/

*Website available in English, Japanese, and Chinese

Shu Uemura to Release 100 New Pressed Eye Shadow Colours

Shu Uemura has revamped its Pressed Eyeshadow collection and is releasing 100 colours on June 19, 2020.

6 textures add further shape and depth to Asian eyes

Six textures have been developed for the 100 different colours specifically to further elevate the beauty of the eyes of Asian people. The combinations are diverse, allowing buyers to find their own tailor-made colour.

Pressed Eye Shadow: ¥2,300 Each (Before Tax) *Refill

The gorgeous colours are made from pigments sourced in Japan. The colours are well compatible with the skin and leave you with beautiful eye makeup all day long. Pre-sales for the new eye shadows as well as eye shadow cases went live on Shu Uemura's official online shop on June 1.

Your 2020 Summer Makeup: The Shu Uemura x Onitsuka Tiger Collection


Beyond The Limit Eye Pallete: ¥8,500 (Before Tax)

The "Beyond The Limit" eye palette is a collection of summertime colours to energise your mood and give you a playful look this summer.

Deep, Blood Red Lipstick


Rouge Unlimited Matte M RD 163 Red Boost: ¥3,300 (Before Tax)

The product to look out for is the Rouge Unlimited Matte lipstick that glides smoothly onto your lips and lasts all day. This highly-pigmented lipstick adds dimension to your look.

In a time where many people are having to wear face masks right now, make your eyes stand out beautifully even more with Shu Uemura's new Pressed Eye Shadow line-up.

Information

Pressed Eye Shadow
Pre-Orders: June 12, 2020

Release Date: June 19, 2020

Official Website: http://www.shuuemura.jp

Cute Japanese Design Face Cream Tins Releasing by Sonotas and STEAMCREAM

Sonotas is teaming up with Japanese facial cream brand STEAMCREAM to release two new tins of moisturising cream in collaboration with Edo Kiriko cut glass brand Hanasho and hand towel brand Todoya Shouten. The tins will be released on June 10, 2020 in limited quantities.

Since STEAMCREAM was established, it has collaborated with many different artists and businesses, both old and new, Japanese and overseas, for them to create artwork for their makeup packaging.

Hanasho's Kiriko Mouyou hand towel design

Established 70 years ago, Hanasho is a company that manufactures Edo Kiriko cut glass. The brand's high level of artistry and skill has led their products to be used as gifts to state guests to Japan, and event at the G8 Hokkaido Toyako Summit. The company also sells hand towels that combines Hanasho's unique ideas with cut glass designs. These designs are then cut and patched together by Todoya Shouten.

KIRIKO MONYOU (75g): ¥1,680 (Before Tax) *Limited edition

This design, which combines Hansho's original pattern ideas spliced together by Todoya Shouten, is being used for a tin from STEAMCREAM. The tins elicit the beauty of Japanese tradition and artisan skill.


KINGYO NO MAI (75g): ¥1,680 (Before Tax)

A previous design from Todoya Shouten is also being re-released in limited quantities. This one has a Japanese summertime feel to it.

These tins are a representation of traditional Japanese craftsmanship and make for a great souvenir from Japan.

Information

KIRIKO MONYOU

Release Date: June 10, 2020

Major Retailers: STEAMCREAM online store / STEAMCREAM shop / Japanese department stores / Select variety shops in Japan
*The KIRIKO MONYOU design is available at STEAMCREAM's online store and in-store, including the IKSPIARI branch

Official Website: https://brand.steamcream.com/

Japanese Makeup Brand SUQQU Opens New Store in Paris

E'quipe opened the first French branch of its makeup brand SUQQU in Paris on June 9, 2020.

SUQQU launched in 2003 as a high-end makeup brand targeted at women. In 2006, it expanded overseas to Thailand and subsequently the UK, Taiwan, and South Korea. Until now, the only European branch of SUQQU was in the UK where it has earned rave reviews for the high quality of its products and unique concept. It is also gaining recognition as a leading brand from Japan.

France holds great influence in the beauty industry. SUQQU's first branch in France will open in Le Bon Marché's new Atelier Maquillage cosmetic area where there will be a full showcase of SUQQU's diverse range as well as a cabin space where you can learn about the brand's unique massage methods and more.

With SUQQU's establishment in France, its recognition as a premium and trustworthy brand is set to skyrocket even more.

Information

SUQQU Paris

Address: 1st Floor Atelier Maquillage, Le Bon Marchè Rive Gauche, 24, rue de Sèrves, 75007 Paris, France

Opening Hours: 11:00-19:00

*Opening hours subject to change depending as a result of the COVID-19 outbreak

Official Website: https://www.suqqu.com/

Kirby Face Masks Take Care Of Your Skin While at Home

Japanese cosmetic brand Lovisia has shipped over 1.1 million products, including the super popular Pokémon Cosmetic Series which we have covered in detail.

Now, to celebrate the 28th anniversary of HAL Laboratory and Nintendo's video game Kirby's Dream Land this year, Lovisia has revealed its new "Kirby's Dram Land Face Masks" which will go on sale at variety shops, online sites like Tokyu Hands and Village Vanguard, and elsewhere in Japan on June 19, 2020.

"Pink Lush" is the concept behind the cute pink-coloured masks. The masks themselves are like the characters from the game. Lovisia previously released eye shadow, lipstick, and a mirror as part of the same series in April which proved popular amongst fans.




There are three designs in total: Kirby, Waddle Dee, and Meta Knight, all of which are Instagram-worthy and great as a treat to yourself or a gift to friends.

The masks are made in Japan, and contain collagen, hyaluronic acid, and shea butter, all for their moisturising effects. Each has a soap scent, which will leave your skin smelling fresh and looking cute and soft. The perfect accompaniment to enjoy at home right now.

©Nintendo / HAL Laboratory, Inc. KB20-P2210