【MOSHI MOSHI Pick-Up Spot】Traditional Culture Festival: Shin Akita no Gyoji in Odate 2016
Experience a variety of Akita's traditional culture all in one place
Akita prefecture has 17 different kinds of nationally designated, intangible, folk cultural properties which is the largest number throughout Japan. The big event that gathers festivals, traditional cultures and other folk events is coming up this fall. It's named "Traditional Cultures Festival: Shin Akita no Gyoji in Odate 2016." It is a new type of event where you will be able to experience Akita's traditional culture in Odate Jukai Dome, Odate city.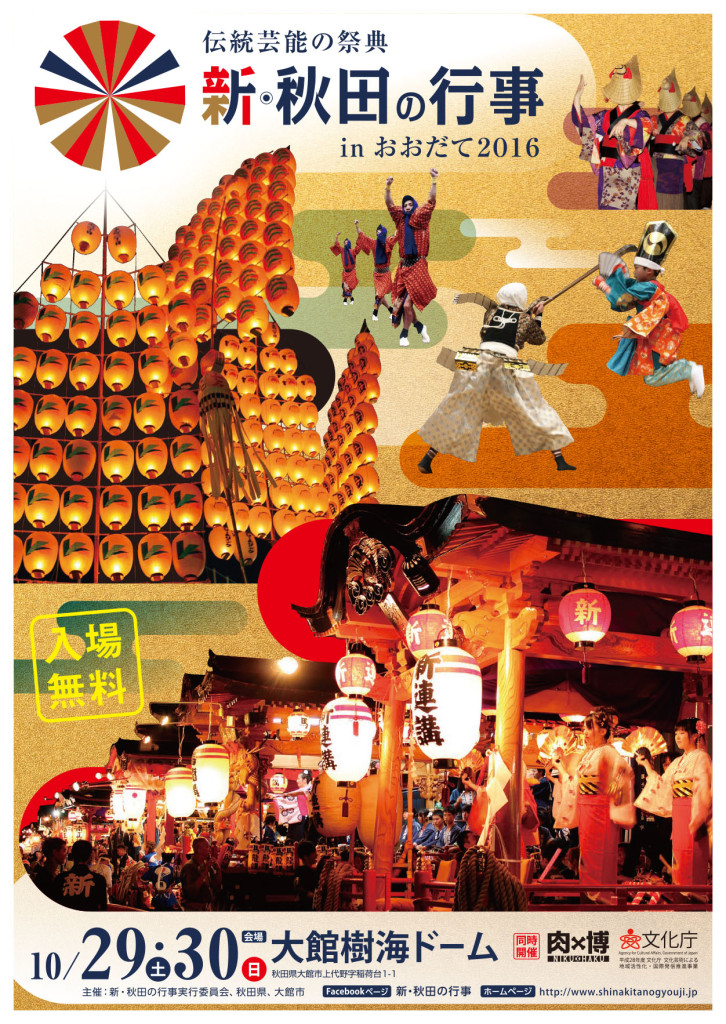 There is a main stage inside the dome which holds more than 2000 seats where you can see the strong and powerful performances. There are also booths near the stage where you will be able to see other performances. The program consists of "Akita no Kanto" from Akita city, "Kemanai no Bonodori" from Kazuno city, "Honkai-Shishimai-Bangaku" from Yurihonjo city, "Tsuzureko no Odaiko" from Kita-Akita city, "Odate-Shinmeisha-Reisha no Hikiyama Gyoji" from Odate city, "Sannai-Bangaku" from Gojome-machi, and "Namahage Daiko" from Oga city. You will also be able to participate in some experience such as holding "Kanto" which is a bamboo pole bearing many lanterns and dressing up as "Namahage" which is a Japanese folklore demon-like being. The traditional craft of making containers such as lunch boxes by bending wood called "Odate Magewappa" from Odate city will be exhibited as well.
At the same time, there will be a food festival for many different kinds of meat dishes from this area called "Niku Haku ~Niku no Hakurankai in Odate 2016." Outside of the Odate-Jukai Dome, booths which sell Hinaijidori, one of the most popular chicken brands in Japan, Odate-Sakura pork, Akita beef, and horse meat will be lined up. Other than these, there will be a lot of booths that advertise sightseeing spots, foods, sake, hot springs, and special products from this area. These events in Odate where people can enjoy watching and experiencing many different traditional events from Akita will attract a great deal of public attention.
▪️information
Event Schedule : October 29th Sat 12:00~7:00PM
                               October 30th Sun 10:00AM~6:00PM
Place : Odate-Jukai Dome
Access : A free shuttle bus will be running from JR Ou Main Line, Odate station to the Dome.
It takes about 2 hours to go from Akita station to Odate station on the JR Ou Main Line.
Admission Free
Call for inquires : Shin Akita no Gyoji Executive Committee Office (018-860-1530)
▪️Related article:MOSHI MOSHI Pick-Up Spot:Go on tours with the new convenient Hokkaido Bullet Train!
RELATED ENTRIES
Odate City in Akita to open new tourist exchange centre featuring cute and fluffy Japanese Akita dogs!

In the cultural northern region of Japan, a tourist exchange centre will open in front of JR Odate Station in Odate city, Akita! The centre, which is called the Akita Dog Visitor Centre (Akita Inu no Sato) will open on Wednesday 8th May.

At the Akita Dog Visitor Centre, you can fully discover Akita's most beloved furry friend the Japanese Akita dog! The centre also contains a museum where you can learn about the history of Japanese Akita and their characteristics. There is also a tourist information desk, souvenir corner and much more! You can also visit the Japanese Akita exhibition area where you can get close to the Akita dogs or pop by the large lawn area located right next to the exhibition room to play with the dogs!

A statue dedicated to the faithful Akita dog Hachiko will be located right outside the centre. Hachiko was born in Odate city back when it was called Niidamura. Hachiko is known worldwide as the dog who waited faithfully for his owner's return in front of Shibuya station from the Taisho era to the start of the Showa era. The Hachiko statue will be moved from its current position in the front of JR Odate station to in front of the Akita Dog Visitor Centre in order to properly greet the people and dogs who come to visit. At the grand opening ceremony on the 8th May, there will be a photo stand-in board allowing anyone to transform into the faithful dog Hachiko. You can also see a red and white curtain made to take on the appearance of the fur of a Japanese Akita ー this is going to be one fluffy ceremony!

There are also two special promotion measures to support the grand opening!

The first promotion measure is an original web video series called "Akita Inu ga Odate no Miryoku o shinan!? Odate Lesson by Akita Dog". This is an official web series released by Odate city featuring an Akita dog teaching the world about the famous cultural wonders of Akita! From local food such as Kiritanpo (rice sticks) and delicious Hinaichidori chicken to crafts made from Akita sugi cedar wood, and spots such as the mountainous region of Tashiro Dake, this dog will show you everything! The web series is available on the YouTube channel called Akita Inu no Sato (秋田犬の里).

The second promotion measure is the release of a newspaper which will feature a countdown to the grand opening. The newspaper will contain the latest information and will be launched on Wednesday 1st May and lead up to the grand opening! The contents will be like Japan's famous newspaper Mainichi Shimbun, but its main design theme will be the Japanese Akita. The contents will really bring out the wonders of the region's loyal Akita dogs!

 

Through the Akita Dog Visitor Centre, Odate city is aiming to spread the news of the beloved Japanese Akita dog. They hope to create a facility that is loved by many people, so please come attend the grand opening ceremony of the Akita Dog Visitor Centre on Wednesday 8th May!

Information

Akita Dog Visitor Centre (Akita Inu no Sato)

Open from: 8th May 2019.

Address: 1-13-1, Onarimachi, Odate city, Akita.

Website: https://akitainunosato.jp/

Akita the Dog is Taking Over Shibuya to Promote Akita Prefecture

Akita is the name of a dog (who is also of the dog breed Akita) who has been used to promote tourist information about Akita Prefecture in northern Honshu since 2016. The 4th promotional campaign will be run from September 3 to October 31.

The campaign is being taken to Shibuya in Tokyo. This is an ideal location because not only are there many tourists in Shibuya, but it's also affiliated with the famous dog Hachiko, who was also an Akita dog born in Akita Prefecture

The campaign's catchphrase "GO! AKITA" has been changed to "Yeah! AKITA" to express Akita the dog's joyful voice for his hometown as well as to capture traveller's reactions to visiting the prefecture.

Look out for the big advertising posters of Akita the dog featuring photos posted on his social media that show the beauty of Akita Prefecture such as at Nekobari Iwa and next to a Kashima (above).

10,000 free rubbish bags will also be handed out featuring an Akita the dog "Happy HalloWan!" design – with wan being the Japanese equivalent of 'woof.' The streets of Shibuya become very messy during Halloween, so Akita will be there to lend a paw!

Akita will be dotted all around Shibuya promoting Akita Prefecture, so be sure to find him everywhere!

■Information

Advertising Locations

( 1 ) Keio Inokashira Line trains (body of train and posters hanging inside)

Running: September 3, 2018 – September 30, 2018

( 2 ) JR Shibuya Station – Shibuya Hachiko Cross

Details: A 1.75m x 3.7m sized board will be placed in the northern passageway inside the Hachiko Entrance ticket gates.

Running: September 16, 2018 – September 29, 2018

( 3 ) Shibuya Station, Tokyo Metro (Hanzomon) pillars

Running: September 17, 2018 – September 23, 2018

( 4 ) Omotesando Station, Tokyo Metro pillars

Details: 11 pillars will be used inside the ticket gates of Omotesando Station

Running: September 24, 2018 – September 30, 2018

( 5 ) Happy HalloWan! Rubbish Bags Sampling

Details: To help clean up the streets of Shibuya during Halloween, 10,000 free rubbish bags will be handed out in front of Shibuya Mark City and in two places in front of the Moyai statue.

Available: October 27, October 28 and October 31

Nanavi reports on the latest news in Tohoku and Niigata for your travel plans

Nanavi is a news website that provides information on seven prefectures in Japan: Aomori, Iwate, Akita, Miyagi, Yamagata, Fukushima, and Niigata. New reports for 2018 detailing must-see information for these prefectures is currently spilling forth.

Secret Charms of Yamagata: The Foot of Mount Zaō!

Yamagata-shi, the capital of Yamagata Prefecture, is a place of scenic and natural beauty famous for many reasons, including being home to the Zaō Onsen and being the stage for Matsuo Basho's poems, the most famous Edo period poet. It's a popular tourist with a very unique culture, including a big food culture that centers on imoni simmered potatoes, ramen and more.

Website: https://nanavi.net/series

Aomori Prefecture Latest News: 'Apple Park Winter Festival'

Snow, apples… we're talking wintertime in Aomori! Aomori Prefecture is the leading producer of apples in Japan. Its city of Hirosaki is known as 'apple town' and celebrates winter with the Ringo Kouen Winter Festival (Apple Park Winter Festival) where you can enjoy their famous apples together with the piling snow. There are plenty of fun workshops and activities to enjoy – and you can even try eating a cooked apple.

Aomori-shi, the capital city of Aomori Prefecutre, hosts the Aomori Yuki Akari Matsuri (Aomori Snow Light Festival) where your heart and mind will be healed by the soft, warm lights possible only in winter.

Website: https://nanavi.net/keyword/96

Iwate Prefecture Latest News: Spectacular Ice Sculptures at Iwate's 'Snow Festival'

The 'Iwate Snow Festival' is held in the town of Shizukuishi in Iwate Prefecture. When talking about ice sculptures in Japan, most people will think about those at the annual Sapporo Snow Festival, but the sculptures in Iwate are also a dazzling sight to see. When lit up, they are truly impressive. The festival also holds various exciting events.

The latest reports also highlight 'Iwachu Tekkikan,' a long-standing shop that shelves traditional handicrafts and ironware form the south. They have typical traditional items as well as more colourful and contemporary ones.

Website: https://nanavi.net/keyword/108

Akita Prefecture Latest News: Witness Animals You Can Only See Here

News from Akita Omoriyama Zoo puts spotlight on the "Yuki no Doubutsuen" (Snow Zoo) that is praised every year. During this event, you can examine bears in hibernation, as well as witness how animals live life in the snow. It's a fresh experience indeed, made possible only by this special zoo that is situated in a region that receives heavy snowfall.

In the city of Odate, they will hold an event titled 'Hinai Tori no Shi' where you can try eating Japan's 3 main chickens that have been locally raised, Kiritanpo and lots of other delicious food.

Website: https://nanavi.net/keyword/122

Fukushima Latest News: If you're looking for winter activities, look no further!

Fukushima has a lot of snowfall. 'Urabandai Lake Resort' is a spot where you can enjoy fun winter activities to the fullest. All items in the establishment are free to rent and use. If you're looking to enjoy yourself, then this snow country is the place to be.

Website: https://nanavi.net/keyword/135

The new year has arrived, which means the real winter is here for these prefectures. Although the cold is bitter, the snow country shines even brighter in winter.

If you're thinking of heading to Tohoku or Niigata, be sure to check "Nanavi" first!

Yokote Kamakura Snow Festival In Akita – A Fantastic Winter Landscape!

The Yokote Kamakura Snow Festival is an annual winter festival held from January to February in Yokote, Akita prefecture, in the Tohoku region of Japan. Not only can you experience seeing kamakura or cave-like houses made from snow, but you can also see the bonden, a large offering ceremony at a Shinto shrine during this amazing event.

Kamakura have been built as a part of the 14th-16th days of the lunar calendar New Year celebrations in the northern areas of Japan for the past 450 years or so; these are built to worship the water gods. After making a monetary offering to the water gods that are enshrined within the kamakura during this time, worshipers pray for blessings regarding the safety of their family, business prosperity, abundant harvests, and for other wishes.

The bonden is a 300 year old traditional event in this region where 5 m tall, gigantic shrine tools are dedicated at a shrine. The men in this procession wear splendid implement-shaped headdresses while competing against one another as they head towards Asahiokayama Shrine, where they battle against one another to enter the main shrine area for the dedications – it is an exciting spectacle to behold.

MOSHI MOSHI Pick-up spot:Downtown Hiroshima is going to be filled with colorful lights「Hiroshima Dreamination 2016」

The event that has a lot of lights everywhere called "Hiroshima Dreamination" is going to be held decorating with more than a hundred forty million light bulbs in Peace Boulevard and downtown in Hiroshima as the concept of "Fairyland." This year there will be art objects of "Hiroshima Peace Memorial" and "Torii gate of Itsukushima Shrine" that both of these are the 20th anniversaries of designated a UNESCO World Heritage Site at a green zone in Peace Boulevard. There also will be "open cafe" in this area to make everyone enjoy this.

This event is mainly held in Peace Boulevard, and each area has a different theme of lights. At C area named "Prayers of Hiroshima Peace Memorial," a white and beautiful lights-up shaped like a Hiroshima Peace Memorial which has been twenty years since it was designated as a UNESCO World Heritage is expressing the hope for Hiroshima. At the east side of this area, there is a zone that you can write down the congratulation messages for the Hiroshima Toyo Carp, the baseball team that has won the central league this year. D area called "Torii gate and The World Tree" has an art work designed in the motif of torii gate of Itsukushima Shrine which also has been twenty years since it was designated as a UNESCO. You can enjoy the collaborations of torii gate and the mysterious world tree which is a symbol of life.  There is a "sweet cafe" that sells hot drinks and sweets at L area. The huge cake and fruits, the chairs and table shaped like sweets are waiting for you.

Other than these, there are some art works such as a photo spot that you can pretend the be  "queen of ice," the illumination of the beautiful night sky that you can look up when you go inside of the "Flower Tree," the light-up that expresses the light for peace by holding hands called "Love and Peace." "The world of ice" at E area is expressing the image of the ship and whale proceeding in this beautiful but severe world by helping each other. "Flower land" at G area is expressing the peaceful world that people, bug and dinosaurs are playing together after you wandered around in fairyland. Why don't you visit the town in Hiroshima filled with light-ups?

■Information

Event Schedule:Thursday November 17th 2016 to Tuesday January 3rd 2017 (48 days)

Light-up Time Schedule:5:30PM to 10:30PM

Places:Green zone in Peace Boulevard, Left bank of Motoyasugawa River, Namiki Street, Kinza district, Central Street, Main Street, Naka-no-tana shopping street, Alice garden, Higashi-shintenchi Public square, public area in the left bank of Kyobashi-gawa river, Motomachi Credo, Kamiya-cho shareo, Hakushima q-garden

Call for inquiries:Hiroshima Light-up Executive Committee Office

☎ 082-247-6805 http://www.dreamination.com/index.html

−−−

■Related article:Best 7 photo taking spot in Harajuku to take a photogenic picture in Tokyo sightseeing

【MOSHI MOSHI Pick-up spot】Enjoy the light-up of the flower garden 「 Ashikaga Flower Park "Flower Fantasy –the light of the flower garden-"」

The theme park which is filled with lots of flowers called "Ashikaga Flower Park" is going to hold this event called "Flower Fantasy -the light of the flower garden-" from Saturday Oct 22nd to Sunday February 5th in 2017. This was acknowledged as one of three Kanto area illumination events. They put up more than three hundred and fifty million light bulbs to light up the trees in winter, and you can enjoy the beautiful light of the flowers everywhere in this park.

One of the programs called "The miracle of huge Wisteria" is showing purple lights to look like wisteria flowers blooming one after another. The way it flutters in the breeze looks like real wisteria flowers. There are other great programs such as "The light of Roses" which uses five hundred roses, "The light of Wisteria," and "The light of Water lily" which is newly included in 2016. There are some fabulous time-limited programs such as "The fusion of the light and Amethyst sage" to mid-November, Christmas light-up called "Christmas Fantasy" from the end of November to the end of December, New year's light-up called "The competitive performance of the light and Paeonia suffruticosa in winter" from new year to February 5th .

This park will be open till 9:00PM on weekdays, and 9:30PM on weekends and holidays during this event.  Please enjoy the colorful light-up after it gets dark.

■Information

Event Schedule:October 22 nd(Sat)to February 5th(Sun)in 2017

Place:Ashikaga Flower Park

Admission:Night time fee from 3:30PM to 9:00PM (9:30 on weekends) cost 800yen for adult, 400yen for kids.

*Day time fee from 9:00AM to 3:00PM cost 400~700yen for adult, 200~400yen for kids.

Access:It's an 18 minute drive from Tohoku Expressway Sano-Fujioka interchange on route 50.

It's a 30 minute drive on shuttle bus from Tobu Railway Ashikaga-city station.

Call for inquires:https://www.ashikaga.co.jp/flowerfantasy_special2016/jp/

ーーー

■Related article:Meguro River will be dyed in sakura coloured illuminations this winter for this year's "Meguro River Minna no Illumination 2016″

■Related article:【MOSHI MOSHI Pick-up spot】Enjoy the nature in Okutama-machi and Hinohara-mura by using this transportation

【MOSHI MOSHI Pick-up spot】Enjoy the nature in Okutama-machi and Hinohara-mura by using this transportation

It is great fall season in the area around Okutama-machi and Hinohara-village which has 1500 meter high mountains and some lakes includeing Lake Okutama which is one of the important source for supplying drinking water for Tokyo. This west Tama area is popular for people who enjoy hiking. As a matter of fact, the free shuttle bus is going to run this round trip route which connects JR Okutama station, Okutama lake, Yama-no-Furusato-Mura to Hinohara-mori for limited period in 2016. The local buses do not go to these sections.

<JR Oume line Okutama train station which you can start hiking in Okutama>

This shuttle bus runs a wonderful route which goes to quite popular spots in west Tama area such as Ogochi Dam in Lake Okutama where you can see the dynamic scenery and Hinohara-mori which preserves beautiful Japanese beech.  If you are going to walk in the forest in Hinohara-mori, it is recommended to go around Mito great falls which only takes about an hour to stroll.

It is also good to go sightseeing efficienctly by using a taxi. Keio Jidosha co. is setting a recommended route for tourist which goes from Okutama station, Nippara cave, Nippara valley, to JR Oume line Sawai train station.  (It takes about three hours, cost 17,280 yen. Prior booking is essential.) You can visit great places such as Nippara cave which is said to be one of the best sightseeing spots in Tokyo, Nippara valley which is little-known but a good place for seeing fall leaves, and Ozawa Sake brewing which is pretty close from Sawai train station.

Why don't you go enjoy the nature in Okutama-machi and Hinohara-mura in this great fall season by using this special route?

■Information

▶Service Period:November 12th (Sat), 13th (Sun), 18th (Fri), 19th (Sat), 20th (Sun), 23rd (Wed), 25th (Fri), 26th (Sat), 27th (Sun)

▶How to use shuttle bus:You can use this bus for free without reservation, but its tickets are available on a first come, first served basis.  You are also required to fill out a questionnaire.

*The bus stop in Okutama station is in front of the tourist office where you go left after getting through the ticket gate.  Please be careful not to mix up with other local buses.

*if seats are full (40 seats are available), you won't be able to use this bus even standing up.

▶Shuttle bus service schedule:Okutama train station to Hinohara mori : Ginkgo liner

Weekends schedule (three times per day)

 Leaving Okutama train station at 10:35AM, 1:15PM, 2:15PM

Friday (two times per day)

Leaving Okutama train station at 10:35AM and 2:15PM

*It takes about 15 minutes to Lake Okutama, 40 minutes to Yama no Furusato-Mura, 1 hour and 10 minutes to Hinohara mori from Okutama train station.

*Please note that if you used Ginkgo liner, there is no returning shuttle bus from Hinohara mori on that day. There is local bus which goes to JR Musashi-Itsukashi train station from Hinohara mori. (The last bus leaves at 4:45PM.)

Hinohara mori to Okutama train station: Autumn leaves liner

Weekends schedule (three times per day)

Leaving Hinohara mori at 11:20AM, 12:20PM and 2:50PM

Friday schedule (once per day)

Leaving Hinohara mori at 12:20PM

▶About using a taxi:It cost 5760 yen for an hour, 17,280 yen for about three hours.

*Prior reservation is essential.

*Recommended route is starting from Okutama train station, Nippara cave, Nippara valley to Sawai train station. (It takes about three hours.)

*Admission for facilities are not included.

▶Call for inquiries

Free shuttle bus service (only on weekdays 9:30AM to 5:30PM) TEL.03-5909-8090

About a taxi Keio Jidosha co. (9:00AM to 6:00PM) TEL.0428-22-2612

*This business is a demonstration experiment of Tokyo and Tokyo Convention and Visitors Bureau.

▶Top photo:Sanzu Great Falls in Hinohara mori

【MOSHI MOSHI Pick-up spot】Enjoy the Worldwide outdoor sculpture in beautiful fall weather!

This will be the 27th large-scale outdoor sculpture competition which is called "UBE Biennale (Japanese Contemporary Sculpture)" since it was started in 1961. They are going to exhibit these model works which were entered from all over the world. They choose forty out of all model works during the first screening on October 2nd, and then selected eighteen works to be sculptured in actual size.

During October 3rd to November 3rd, all model works from all over the world are going to be exhibited in Kosui Hall (a Tokiwa museum annex) in Tokiwa Park, Ube city.

There are about three hundred model works which came from about thirty different countries and they are one-tenth the size of the outside sculptures.

During this exhibition, there will be many events where you can enjoy the art works more such as "Toccyao! Chokoku de Halloween" where you can get candy after taking a picture of you in your Halloween costume and certain sculptures that set as checkpoints on October 30th. Some kids will be the tour guide for this exhibition in "Wakuwaku Kodomo Guide" on October 31st. And you can appreciate of sculptures with curators in this museum in "One Point Talk of the Curator!" on November 3rd.

Enjoy various art works which came from all over the world in this beautiful fall weather.

■Information

Access:15 minutes' walk from JR Ube line, Tokiwa train station.

Or Use limited express bus about 30 minutes from the Sanyo bullet train, Yamaguchi station, and get off at the Tokiwa Park Entrance.

Event schedule:October 3rd to November 3rd

10:00AM~5:00PM

Some events charge money, and need reservations in advance.

Admission free:Parking ticket cost 200yen to 500yen for standard-size car.

Call for inquiries:UBE Biennale Office

☎0836-37-2888

ーーー

■Related article:The Exhibition across the borders, cultures and generations:Okayama Art Summit 2016

■Related article:Lecture meetings to talk about Nihon Shoki.

【MOSHI MOSHI Pick-Up Spot】Let's go to the art festival of ocean and mountain

The modern art festival in Ibaraki prefecture called "KENPOKU ART 2016 North Ibaraki Prefecture Arts Festival "will be held during Saturday September 17th to Sunday November 20th. They are going to exhibit the arts utilizing specialties for both ocean and mountains in these 6 cities in the north area of Ibaraki prefecture which will include Hitachi city, Takahagi city, Kita-Ibaraki city, Hitachi-ota city and Hitach-omiya city (Daikomachi.) The characteristic of this event is applying forefront artworks such as the arts in harmony with nature, media arts utilizing the science technology and the arts making use of biology.

As a special exhibition, the scientists group called "team Lab" which represents modern technology is going to hold an event called " Team Lab thinking of transitory of these tiny flowers that bloomed unlimitedly."in Tenshin Memorial Museum of Art in Goura which is famous with the artist, Okakura Tenshin, who contributed the development of Japanese art. Some digital works which based on the Japanese painting styles are going to be shown.

              Team Lab:The flowers bloomed in infinity inside of tiny things

This exhibition is going to show eight digital art works themed "Japanese style" created by TeamLab based on the spirit of the artist, Okakura Tenshin, who puts importance on both traditional and development of Japanese art. Two of these art works are brand new. The newest participatory art which was created for only this event called "The flowers bloomed in infinity inside of tiny things."  is themed Japanese tea ceremony which Tenshin pursued the beauty through it.

This will be the first year of this art event. There are already rich art works. Enjoy arts and trips to Ibaraki in this beautiful fall season.

■Information

Event schedule:September 17th Sat to November 20th Sun in 2016

Place:Tenshin Memorial Museum of Art in Ibaraki prefecture

Access:15 minutes from interchange of Jorban Expressway or use taxi from JR Joban line, Otsu-kou station

Opening:from 9:00AM ~5:00PM

Admission:Individual appreciation tickets cost 1000yen (students and over 65years old cost 700yen).

Call for inquiries:North Ibaraki Prefecture Arts Festival Executive Committee Office

☎029-301-2727 kenpoku@pref.ibaraki.lg.jp

■Related article:Beautiful scenery of nature in Tokyo

■Related article:Let's go on a trip and collect stamps on 11 islands in Tokyo "Passport for going to islands in Tokyo"

【MOSHI MOSHI Pick-up spot】Come to Shibuya's largest sake event ー packed with over 100 different varieties of Japanese alcohol!

On Saturday 19th November, Miyashita Park in Shibuya will be the gathering point for a total of 20 different breweries from all over the country to show off their range of Japanese alcohols at Shibuya's largest Japanese alcohol festival in history — 「SHIBUYA SAKE FESTIVAL 2016 AUTUMN」!

This event will be concentrated with a variety of alcohol from all over Japan that cannot be purchased in Tokyo, so drink to your heart's content! The large variety of drinks includes a healthy stash of Umeshu (plum liqueur ), Kajitsushu (Fruit wine) and Shochu (spirits distilled through rice/potatoes etc.) , and more! This year's event will bring more excitement and fun than last year!

Participants will receive a wristband and sampling cup upon reception, and will then be able to enter the alcohol brewery area of the park to drink to their heart's content ー what a wonderful event!

Come join in the fun ー fill up on tasty drinks and create memories to last forever!

■Information

SHIBUYA SAKE FESTIVAL 2016 AUTUMN

Date:Saturday 19th November 2016

Time:11:00 〜 17:00(reception desk opens: 10:30, closes: 16:30)

Website: http://kurand.jp/event/shibuya-sake-festival-2016-autumn/

【MOSHI MOSHI Pick-Up Spot】Beautiful scenery of nature in Tokyo

Even though you are in Tokyo which is known as one of the big cities in the world, you can enjoy the beautiful scenery of nature everywhere in West Tama area and the Tokyo ilands.

        〈Beautiful fall weather in Mihara-yama〉

Post the pictures on Twitter when you visit great spots that you want to recommend to many people. If your pictures are chosen as the best shot, it will be shown on the cite called TAMASHIMA best shot stamp rally. (Procesure of how you post the pictures on stamp rally is following.) Let's share the great scenery with a lot of people.

■Information

Event schedule:September 22th 2016 to February 28th 2017

Subject areas:Nishi-Tama area in Tokyo and Tokyo ilands

(Oume city, Fussa city, Hamura city, Akiruno city, Hinode-cho Yarihara village, Oku-tama machi, Oshima, Toshima, Niijima, Shikine-jima, Kozushima, Miyake-jima, Miikura-jima, Hachijo-shima, Aogashima, Chchi-jima, Haha-jima. )

How you post the pictures on "TAMASHIMA Best Shot Stamp Rally"

Follow the acount @tokyo_reporter(外部サイトへリンク) on Twitter.
Visit any above-mentioned islands, and take some pictures of the spot that you want to recommend to people.
Post the pictures on Twitter with hash tags: #name of the place where you took pictures and #TAMASHIMA Best Shot Stamp Rally.
If your pictures are chosen as the best shot of each islands, it will appear on this following website to complete the stamp rally. https://tokyoreporter.jp/stamp/

This webcite is going to be updated three times (beginning of October, middle of December in 2016, and middle of March in 2017 ) druring this event.

If you want to check more details, use this following website. https://tokyoreporter.jp/stamp/

Call for inquiries:tokyo reporter Shima-tabi&Yama-tabi Office(Tokyo Convention & Visitors Bureau)

☎03-5579-2682

■Related article:Let's go on a trip and collect stamps on 11 islands in Tokyo "Passport for going to islands in Tokyo"

■Related article:20 Year Anniversary of Itsukushima Shrine UNESCO Registration

【MOSHI MOSHI Pick-Up Spot】Lecture meetings to talk about Nihon Shoki.

Lecture meetings to talk about Nihon Shoki (The Chronicle of Japan) in Nara prefecture. It will be the 1300-year anniversary of Japans oldest book of history.

In 2020, it will be 1300 years since the oldest Japanese history book called "Nihon Shoki (The Chronicle of Japan)"was completed. Nara prefecture is planning a project utilizing historical books which are proven to be important tools for historians include Kojiki, Nihon Shoki, and Manyoshu.  They will sponsor serial lecture meetings themed Nihon Shoki from November 2016 to March 2017.

There are going to be lecture meetings in ten different areas in Nara prefecture starting from Sango-cho, Kashiba city, Kashihara city, Ouji town, Gose city, Kawai-cho, Asuka-mura, Nara city, Takatori-cho, to Tawaramoto-cho. Ten different lecturers such as college professors and comic writers are going to talk about their specialized field of Nihon Shoki. Some places are also holding excursion tours with volunteer guides where you can visit some places associated with these historical books.

This is a good chance to get to know about the Chronicle of Japan more deeply through these meetings in Nara prefecture where this book was accomplished.

■Information

Event schedules, places, subject of lecture meetings and lectures

Opening at 12:00AM

Starting at 1:00PM

Ends about at 2:40PM

Excursion tours are going to start in the morning before the lectures.

Sat November 5th

Cultural center in Sango, Cultural hall

"Prince Shotoku and Japanese" by Minoru Senda (Director of Public library in Nara)

No excursion tour

Sat November 26th

Kashiba city, Takafumi Cultural center in Kashiba city, civic hall

"After the generation of Katshuragi clan (The history of hilly area in Umami)"by Shinji Yoshikawa (the professor of Kyoto University)

Kashiba city excursion tour "going the place where Sumo has started and inherited"

Sat December 3rd

Kashihara city, Nara Prefecture Integrated Social Welfare Center, Big hall

"The textbook of "The Chronicle of Japan" and "The History of Japan"" by Shunichiro Kanaya (Pundit and CEO of Nippon Culture Promote Organization)

Kashihara city excursion tour "Learn about old capital of Japan from the great mountain of Unebi"

Sat December 27th

Ouji Town Local Exchange Center, Liebell Hall

"Things that the chronicle talk about Yamato sovereignty and Kawachi" by Takehiko Yoshimura (the professor of Meiji University)

Ouji town excursion tour "Going ruins in Yamato River and Ouji"

Sat January 14th, 2017

Gose city, Gose Cultural Center

"Interaction of People and Mountain in Katsuragi" by Hajime Baba (the principal investigator of Nara National Research Institute for Cultural Property)

No excursion tour

Sat January 28th

Kawai-cho Central Community Center, meeting room

"Establishment of Uniforms and Court Rank Systems" by Sachiko Takeda (The professor of Outemon University)

Excursion tour "Visit to Hirose Shrine where Tenmu emperor associated with"

Sat February 4th

Asuka-mura, Nara Prefecture Complex of Manyo Culture, exhibition room

"The hidden truth of Isshi incident" by Masahiro Sonomura (Pundit, the storywriter of comic called天智と天武)

Excursion tour "The life of Emperor Tenmu"

Sun February 19th

Nara city, NaraMachi Center, civic hall

"Interpret Nihon Shoki with Pottery" by Yuki Oda (Researcher of Nara National Research Institute for Cultural Properties)

Nara city excursion tour "Visit the place where Emperor Jintoku associated with"

Sun February 26th

Takatori-cho, Takatori-cho Liberte Hall, Big hall

"Nihon shoki and Yama-taikoku" by Fuminori Sugaya (The manager of Archaeological Institute of Kashihara)

Takatori-cho excursion tour "tour for the ancient history of Takatori-cho"

Sun March 5th

Tawaramoto Aogaki Lifelong Learning Center

"Messages from Nihon Shoki" by Makoto Ueno (The professor of Nara University)

No excursion tour

Call for inquiries:Lectures secretariat meetings to talk about chronicle of Japan

☎︎03-5226-8537 Weekdays 10:00AM to 5:00PM

Entry from this following website

http://www.sap-co.jp/nihonshoki.html