In this edition of The Café That You Want to Visit to See Someone, I visited Donguriya.
To get there I plodded along from the North Exit of JR Nishi-Ogikubo Station, and after about 3-minutes I saw it!
Various shops lined the street, but nature had almost reclaimed this single building which was wrapped in foliage. There's no doubt that the people who pass by this way stop to take a look. Its inviting appearance elicits a peek as you're left wondering what kind of place it is. I feel like a wonderful story is about to unfold!
A sign sits at the front of the cafe with its mascot character waiting to greet you.

He's cute in a way that I can't describe♬
Time to head inside.
Most of the interior is made of wood, a perfect accompaniment to the cafe's name Donguriya ("Acorn Hut").

All of the signs as well as the menu on the wall are handwritten by the owner himself. It's heartwarming just to look at♬
Sipping coffee while enjoying the jazz music coming from the record player is nothing short of a luxury!
I ordered pizza toast (drink + pizza toast set is ¥800), a Donguri cookie and coffee (drink + Donguri cookie set is ¥650).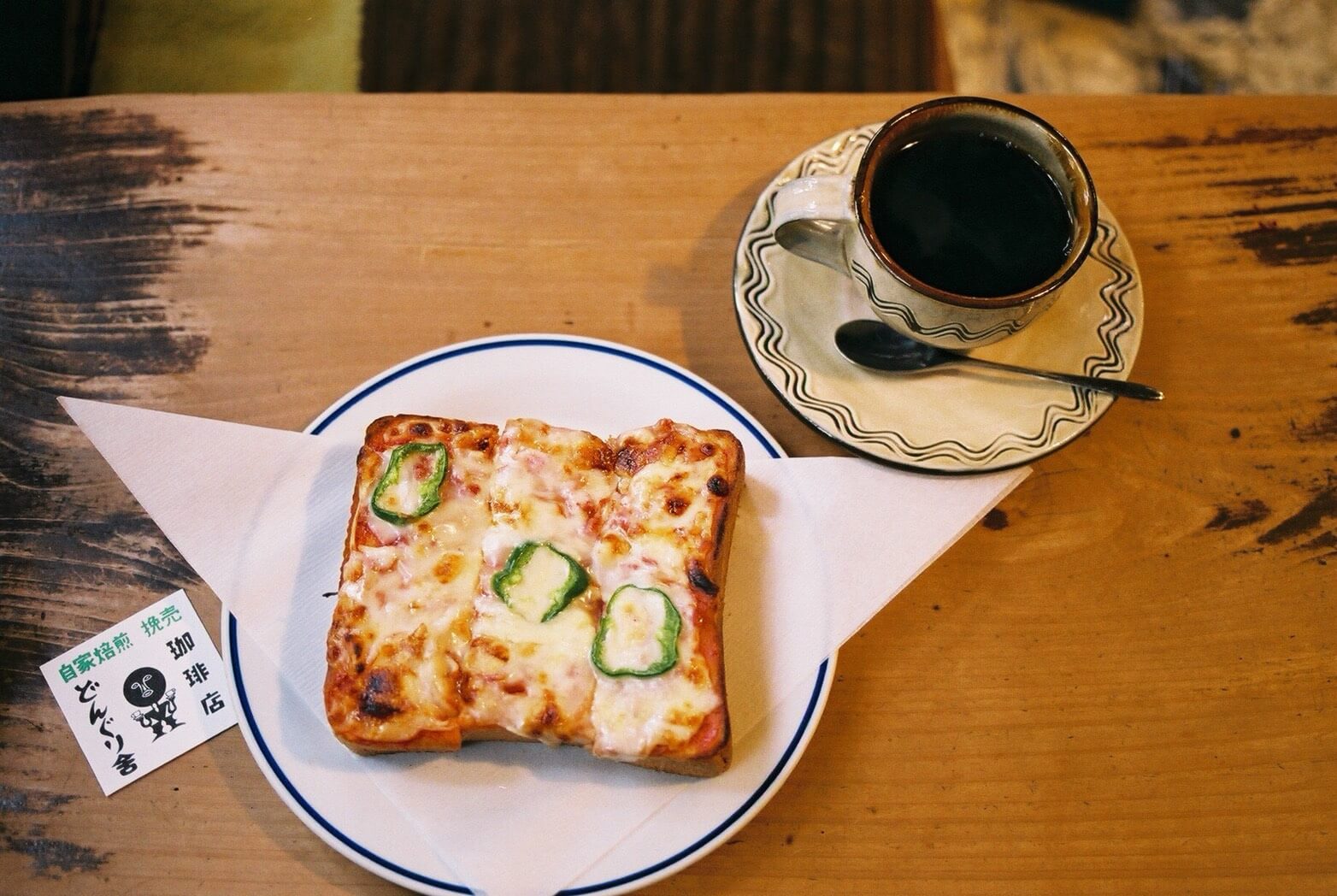 The toast is sliced thickly; the crusts are crunchy and the middle is soft. It was really tasty and had an old-fashioned taste to it.

Donguri's cookies are made by someone who has been a fan of the cafe  since long ago. They have a simple sweetness and go perfectly with the coffee!
Since the cookies are made by a regular who has always loved Donguri they are the perfect cookies for Donguriya! If you pay a visit then you should definitely order one.
The blend coffee is full-bodied and has a rich aroma. There is a slightly bitter aftertaste too. The coffee beans are also roasted in-house! It was really tasty and easy to drink even for someone like me who doesn't know a lot about coffee.
The owner and his older brother went to numerous cafes with their friends to try various different coffees before coming up with their own blend. It's the real deal.
It really felt as if I had been sucked into the world of a story with the warm light filtering through the windows and illuminating the tableware and furniture.
Finally, a photo with the owner himself!
He told me wonderful stories about the coffee and food at Donguriya which made me fall in love with the cafe even more.
I want to bring my friends here next time♬
Writer: Ema Tanioku
Photographer: Haruka Yamamoto
Design: Yuko Abe (ASOBISYSTEM)
Translator: Joshua Kitosi-Isanga
Information
Donguriya
Address: 3-30-1 Nishiogikita, Suginami Ward, Tokyo
Business Hours: [Mon-Thur] 10:30-22:00 / [Fri-Sun] 10:30-22:30
Access: 3-minutes on foot from JR Nishi-Ogikubo Station
TALENT PROFILE
Ema Tanioku
"Emaeri" is the nickname for models Ema and Eri Tanioku, who are Aomoji fashion model twins. Ema and Eri Tanioku specialise in twin fashion coordination. Over the years their fanbase has increased due to their cute looks. Ema Tanioku spreads Harajuku culture within Japan as well as overseas and works as a Harajuku Tourism Ambassador. Starting off as a model, Ema has broadened her talent range from fashion magazines to TV, and from playing the lead role in dramas to movies.