Tokyo Stroll: Walking Through Akasaka Palace, a European-Style Splendor
Akasaka Palace―a building that has welcomed emperors, presidents and prime ministers across the world into its architectural wonders. While it is mainly used for official purposes, did you know that it also offers a public viewing, one that doesn't hinder on business affairs?
The palace is considered a national treasure of Japan. I paid a visit to this gorgeous edifice that looks just like a European-style palace. Photography is strictly forbidden when visiting, but I was able to receive special permission to cover the inner secrets of this exclusive wonder.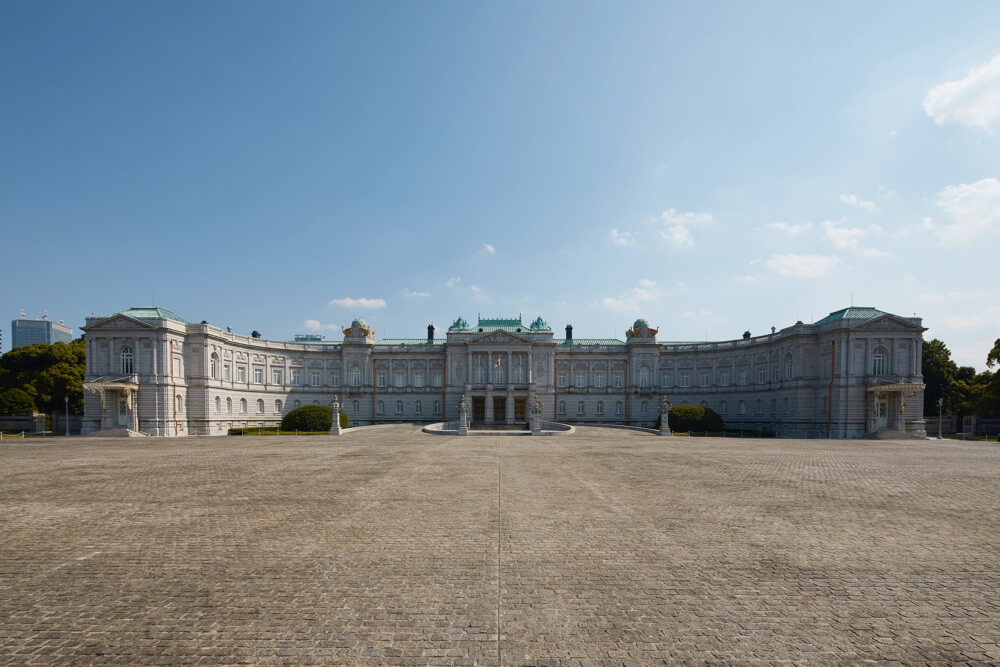 Akasaka Palace is open throughout the year. There is a daytime reception that lets you enter without having to book a spot in advance (though you'll have to book if you want to visit the Japanese Style Annex). Visitation is restricted when international state officials are present, so when planning your trip be sure to check the palace's schedule on the official website. Visitation through the daytime reception begins at the West Gate.
Originally built in 1909 as the Imperial Palace for the Crown Prince, the building is the only example of neo-Baroque architecture in Japan. It was built by Japanese imperial court architect Katayama Tōkuma. When planning the design for the building, he referenced various palaces across Europe which is why people liken it to Palace of Versailles in France.
Hagoromo no Ma – A reception hall for visitation welcomings
The first room you come to on the public viewing is "Hagoromo no Ma." It was originally called a ball room which is why it houses orchestra boxes. Aperitifs dance around the room for invitees who may be there for send-offs, dinner parties or even musical performances.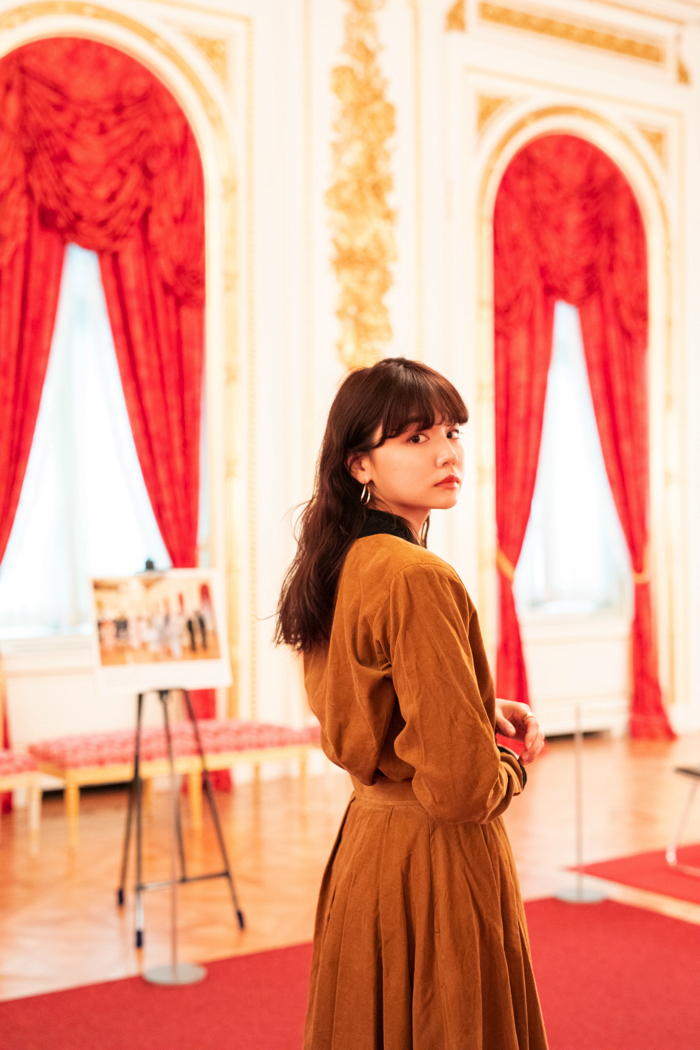 Overhead is a gorgeous chandelier which is made up of almost 7,000 separate parts, most of which is crystal. It is the biggest chandelier in the entire palace. The inner part of the mezzanine floor, which looks like a balcony, is used as an orchestra box when the room is used for orchestral concerts.
The intricate design of the chandelier includes masks inspired by a ball while the walls too are littered with relevant motifs such as instruments. The whole room is decorated in all things musical.
Asahi no Ma – The most high-class room of the palace
The next room you step into is "Asahi no Ma" which is used for courtesy calls of officials and important people as well as summit meetings. It is the most high-class room in all of Akasaka Palace and is where the state guests say their goodbyes to the Emperor and Empress. The room began reconstruction two years ago and reopened in April this year.
The room gets its name Asahi ("morning sun") from the painting of Aurora, the Roman Goddess of dawn, that overlooks the room.
It is said that in the Meiji Period, when the palace was built, people painted pictures of helmets to symbolize the army and boats to symbolize the navy as the country declared the political measure known as Fukoku kyōhei, which meant to "Enrich the Country, Strengthen the Armed Forces."
Shoumen Genkan/Large Hall – Welcoming guests of honour
The "Shoumen Genkan," or front entrance is where international guests of honour are welcomed. When visiting during public opening hours you don't enter from this entrance but you are allowed inside. The large hall, which is located up the stairs from the hall that continues through the entrance room, has a striking and vivid deep crimson carpet. Together with the eight towering marble pillars, this hall makes for an overwhelming viewing. The room directly opposite down the stairs is Asahi no Ma.
Sairan no Ma – Where treaties are signed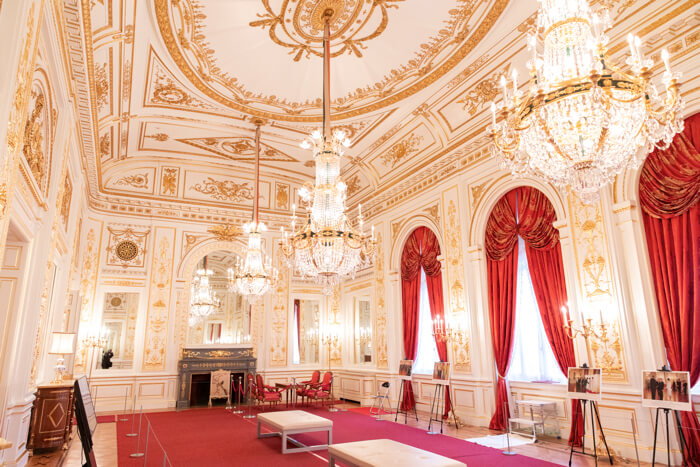 The next most high-class room from Asahi no Ma is "Sairan no Ma" which is primarily used for signing ceremonies of treaties. When Asahi no Ma was undergoing renovations, this room was used for informal talks carried out by the emperor and prime minister with foreign rulers.
The entire room takes on the Empire style which was popular during the rule of Napoleon I. Scattered throughout the room are gold leaf designs of armour, helmets, swords and so on.
Kacho no Ma – Dinner parties with guests of honour
Kacho no Ma is used for dinner banquets with important official from countries around the world. The room has a more relaxed feeling from the others due to its interior wooden design. It's also often used for press conferences so those who watch Japanese news may recognise it.
The room, with its mellow deep wooden design, houses 30 oval cloisonné medallions, depicting four seasons' flowers and birds. The ceiling art, too, depicts images of birds and wildlife killed by hunting.
It also has the heaviest chandelier in the palace inside which is a globular speaker.
Yushintei – Japanese-style hospitality in the Japanese Style Annex
The Yushintei is located in the Japanese Style Annex on the west side of Akasaka Palace. It was built in 1974. Akasaka Palace carries out events and receptions in a western style but the Yushintei welcomes international guests of honour with Japanese-style hospitality. Those who wish to enter must book in advance. The booking comes with a tour.
As you step through the entrance and into the inner garden through the passage, you will see moso bamboo. This area has a garden with shirakawa gravel and kibune stone from Kyoto.
In the main Japanese-style room where guests are served Japanese food one can observe the pond from the window. You might recognise it as the place where Prime Minster Shinzo Abe and President Donald Trump fed the fish.
The tea room comes with chairs for foreign visitors who are unable to sit in the traditional Japanese seiza position. Tea is prepared on the upper step which is inspired by Noh theatre.
Afternoon tea in the extraordinary front garden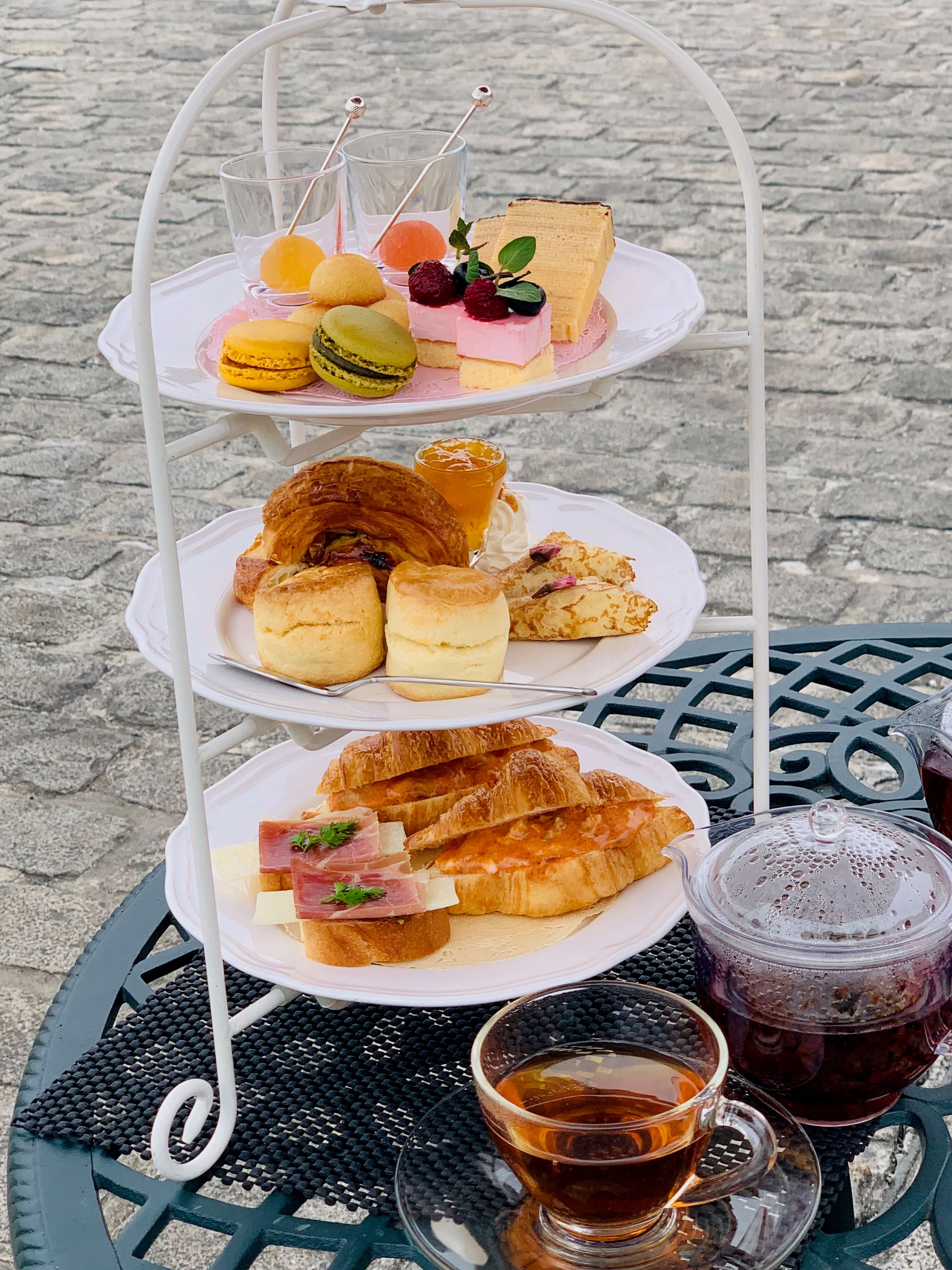 20 afternoon tea sets are prepared each day to be enjoyed in the front garden of Akasaka Palace. These cannot be reserved in advance so be sure to arrive early if you'd like to order one. As you enjoy your afternoon tea while gazing around you are filled with a gorgeous feeling you can't experience anywhere else.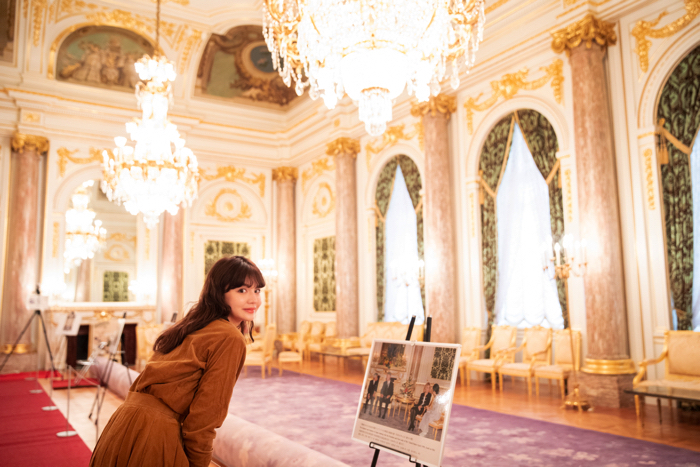 The general public viewing offers a chance to see numerous parts of the palace. We asked Rinko Murata, who's pictured in the photos on the viewing, for her thoughts.
"With the first step you take in a gorgeous space unfolds before you. Its grand design made me feel as if I had been summoned to the palace. It was like visiting a foreign country. When you look closely there are lots of decorations that symbolize Japan. It was a fresh experience where you can feel both the Japanese spirit and culture of another country. I feel moved that Japan has such a place as beautiful as this. You all need to visit too."
There is no requirement to book this viewing in advance, but during busy times (20+ people) those who do book online prior to visiting will be prioritized. Foreign visitors won't miss out on anything either as they can purchase a voice guide machine for ¥200. These guides come in Japanese, English, Chinese, French and Spanish. A visit to the Japanese Style Annex Yushintei however requires booking prior to your visit. When doing so you can choose between either a Japanese or English-speaking guide. In the case of a sudden official reception, all scheduled public viewings for that day are cancelled, so be sure to check the calendar on the official website before heading there.
Model:Rinko Murata
Writer:Sayoko Ishi
Photographer:Kayo Sekiguchi
Translation: Joshua Kitosi-Isanga
Information
Akasaka Palace
Address: 2-1-1 Motoakasaka, Minato Ward, Tokyo
Access: 7-minutes on foot from Yotsuya Station via JR and Tokyo Metro
Visiting Prices
Main Building & Garden: Adult ¥1,500 / University Student ¥1,000 / High & Junior High School Student ¥500 / Elementary School Student – Free
Japanese Style Annex, Main Building & Garden: Adult ¥2,000 / University Student ¥1,500 / High & Junior High School Student ¥700 / Not open for elementary school students
Japanese Style Annex & Garden: Adult ¥1,500 / University Student ¥1,000 / High & Junior High School Student / Not open for elementary school students ¥500
Garden: Adult ¥300 / University Student & Below – Free
*The above listed prices are the general prices. Prices may change during special openings.
Official Website: https://www.geihinkan.go.jp/en/akasaka/
TALENT PROFILE
Rinko Murata
Rinko Murata works in fashion and is active on radio and TV. Sales of her first style book were so successful that it required extra printing during its first week. She also has a rapidly growing following on her social media. As well as modelling at big fashion events, she has her own column online at "She magazine," and receives much attention for her work in the areas of culture and lifestyle.
RECOMMENDED ENTRIES
Tokyo Stroll: Indulge at Harajuku's Conveyor Belt Dessert Cafe 'MAISON ABLE Cafe Ron Ron'

MAISON ABLE Cafe Ron Ron is a new hot spot in Harajuku that has been popping up all over Japanese social media. It's so popular that it's common to see lines of people waiting outside to get in, and that's due to the fact that this is the world's first-ever all-you-can-eat conveyor belt dessert cafe!

MMN decided to visit the cafe to see what all the fuss was about. Unfortunately, it was raining on the day, but that didn't stop the smiles on girls' faces waiting outside for it to open which gleamed like a clear summer's day.

We visited the cafe with Japanese model Rinko Murata who has a weakness for sweet things and whose anticipation for this place was growing.

Upon entering the cafe you must first buy a ticket from the ticket machine. It costs ¥1,800 (tax included) for all-you-can-eat desserts and a drink.

This is the drink shelf. You can choose your favourite from a selection of colourful beverages that come in original bottles.

Rinko-chan picked out a photogenic-looking drink too!

If you stand against the pastel pink walls you can snap a cute photo from any angle!

Rinko-chan was quick in wanting to snap one. There are messages written over the walls too. It makes you want to take your dessert in hand and take lots of pictures.

The dessert lane stretches a sweet 38 meters. There are over 25 delights to choose from which appetisingly pass by one by one. They arrive crowning pastel coloured plates looking like precious gems and jewels. There's even light savoury food in addition to the sweet stuff.

You're allowed 40 minutes. Heaven begins as you sit down: pick, take a photo, tuck in and repeat.

Is this one an ice cream? It actually isn't – underneath the cone hides potato salad! This is one of the non-dessert light foods and is perfect for cleansing your palate. There's a meat ball burger, nikuman meat bun, popcorn and others too. (And keep in mind that items change depending on the season!)

All the sweets are bite-sized meaning you can enjoy lots of different kinds one after the other.

"Eating something this cute feels such a waste!" commented Rinko-chan.

Piling up the plates after you've finished is kinda fun too!

The shortcake dessert with the black cat wafer is the most popular. Only 10 of them come by in an hour. Rinko-chan was lucky enough to get her hands on one.

The cat has an iconic presence in the cafe. In fact, the "Ron Ron" in the cafe's name comes from French and refers to the purring sound a cat makes when it's happy.

There's a super cute girly powder room up on the second floor.

They have hair straighteners, makeup and other bits and bobs that customers are free to use. Use of the powder room isn't included within the time restriction of the all-you-can-eat service, so once you've filled your belly with treats you can hit it up, touch up your makeup and head out shopping.

If you're in Harajuku why not enjoy lots of desserts and a girly time over at MAISON ABLE Cafe Ron Ron?

MOSHI MOSHI NIPPON Social Media Campaign

Running: November 29, 2018 – December 4, 2018

We are giving away chekki photographs of Rinko Murata randomly to 2 lucky people who follow us on either our Instagram, Twitter or Weibo pages and share this article (or hit 'Like' on Instagram). Anyone from around the world can participate in this campaign, so get involved!

Writer: Ai Watanabe

Photographer: Haruka Yamamoto

Translator: Joshua Kitosi-Isanga

Information

MAISON ABLE Cafe Ron Ron
Address: 6-7-15 Jingumae, Shibuya, Tokyo
Business Hours: 11:00-19:00 (Last Orders 18:00)
TEL: 03-5468-8290
Price: ¥1,800 (Tax Included) w/drink [40 Minutes Allowed]

Website: https://cafe-ronron.com/

Tokyo Stroll: Goshuin Collecting #8―Azabu Hikawa Shrine, the Sailor Moon Holy Ground

In the Tokyo Stroll series, we take you on a trip to various locations around Japan's capital. One of the frequent locations are shrines where our navigator Ellie adds to her goshuin collection.

In this entry, Ellie visits Azabu Hikawa Shrine which is located in the district of Azabu-Juban known for being referenced many times in the Sailor Moon series.

Azabu-Juban station is the closest station to the shrine. Naoko Takeuchi, the author of Sailor Moon, actually lived in Azabu-Juban when the series was being serialised in Nakayoshi from 1991 to 1997. The shrine was used as a model for Hikawa Shrine where Rei, or Sailor Mars, worked as a shrine maiden. The shrine can be found just a 10-minute walk from the station past the rich residential area where the embassy is. It's enveloped in a bright green oasis of trees.

The main shrine is a vivid vermilion. Enshrined there are the deities Susanoo-no-Mikoto―the young brother of Amaterasu, the goddess of the sun and the universe―and Yamato Takeru no Mikoto. The shrine is seen as lucky for many reasons. People pray there for increased luck, business prosperity, warding off evil, better fortune, success in life, wealth, safe childbirth, protection against misfortune, academic achievement, exam success, family safety, marriage, national security, and more. When Ellie visited the shrine was decorated for Sendai tanabata.

There are many Inari shrines in Japan which are erected to worship the god Inari. There is one here too as pictured above. It was originally located at a nearby daimyo residence for the Sendai domaign Date clan during the Edo Period but was relocated to Azabu Hikawa Shrine at the beginning of the Showa Period.

For this reason it has strong ties with Sendai, hence the tanabata decorations, which will be there until August 8.

It was time for Ellie to head to the chozuya (also known as temizuya) to cleanse herself before praying which is part of shrine etiquette. Take the ladle with your right hand, scoop up plenty of water, and rinse your left hand first.

Next, switch hands. Hold the ladle with your left hand and rinse your right.

Then take the ladle with your right hand once more, pour some water into your left hand and rinse your mouth. Never bring the ladle directly to your mouth, and do not swallow the water or spit it back into the basin. There will be an area below the basin, like a bed of rocks, where you can spit the water out.

After rinsing your left hand one more time, pour out any remaining water into the rocks (never back into the basin), and return the ladle.

Having cleansed herself, Ellie headed to the main shrine.

When praying, remember this: two bows, two claps, one bow. Straighten your posture and begin with two bows.

Clap twice, pray, and bow one final time to finish.

It's time for the main event. Getting that goshuin! It costs just ¥300.

This goshuin includes a stamp of Azabu Hikawa Shrine as well as blue and pink Sendai tanabata decorations. It's a very colourful goshuin and is only available for a limited period of time.

Not only is Azabu Hikawa Shrine loved by locals as a place of worship, but because of its Sailor Moon references. Fans flock to the shrine, as do the staff of the ongoing Sailor Moon musical.

The number of people visiting the shrine from Japan and overseas is increasing. If you're in Tokyo, make a trip to this iconic spot.

■Information

Azabu Hikawa Shrine

Address: 1-4-23 Motoazabu, Minato-ku, Tokyo
Time: Shop 9:00am-5:00pm / Shrine 9:00am-4:30pm

TEL: 03-3446-8796

Access: 8-minutes on foot from Azabu-Juban Station via the Tokyo Metro Namboku Line or Toei Oedo Line

Website: http://www.azabuhikawa.or.jp

Outfit

HEART HIT HAT:¥8,000 One-piece Dress:¥16,000

*all prices include tax (Aymmy in the batty girls)

【Tokyo Stroll 】Recommended spots around Tokyo Station before/after the trip.

"Where do we go now?" "How shall we end the day?" – these are just two of the questions that you will be asking yourself if you spend a day in Tokyo. Tokyo station is both the first and last stop of numerous journeys and is connected to every corner of Japan. Many enter Tokyo to begin their adventure, and many leave to embark on a new adventure. Today, we'll be looking at the enjoyment that awaits us before and after Shinkansen and normal trains depart on their journeys. Today, Hikari Shibata will be recommending you just some of the best spots in Yurakucho!

A direct connection to KITTE!

From Tokyo Station Marunouchi south exit, you will immediately be faced with "KITTE". From fashion and miscellaneous to gourmet to souvenirs – a wide range of wonderful items have been gathered in one spot.

A specialist hankerchief shop gleaming with style

First up on Hikari's list of recommendations is the handkerchief specialist store "H TOKYO", which is located on the 3rd floor. From illustrators to novelists, these handkerchiefs are the result of many artist collaborations. The handkerchiefs line the shop, filling up the display areas.

Whether you're looking for a beautiful handkerchief to brighten your spirit, or whether you are looking for the perfect gift for a loved one, you can take your time browsing here to your heart's content.

Patterns and traditional Japanese designs such as these can only be found in Tokyo. You can also purchase badges and uchiwa fans, small items made from the fabric of the handkerchiefs and many KITTE limited items that cannot be obtained anywhere else.

You can also purchase personalized handkerchiefs with initials, messages and even embroidery. Many foreign visitors and other tourists who are staying in Tokyo for a while choose to order their designs and then collect them before returning home.

■Information

H TOKYO Marunouchi store

Address:3rd floor KITTE, 2-7-2, Marunouchi, Chiyoda, Tokyo

Access: Approx. 1 min walk from JR/Marunouchi line (Tokyo Station), approx. 2 min walk from Chiyoda line (Nijubashimae Station)

Opening hours 11:00-21:00 (Open until 20.00 on national holidays) 
Fixed holidays:Decided by KITTE
Telephone number:03-6256-0811

A museum too?!

Did you know that KITTE doesn't just sell goods; it also has its own museum? This highly attention-grabbing museum is a big hit with the public and not only displays art, but is also a highly attractive academic spot.

© INTERMEDIATHEQUE

Room and display design ©UMUT works 2013-

INTERMEDIATHEQUE is located on the 2nd and 3rd floors. Here, the museum space merges academic pursuits with culture. The heritage of the arts collected from Tokyo University over 140 years has been gathered here. Therefore, this is a very special spot. Specimens, samples, stuffed animals and much more – this part of the museum contains precious findings in academic pursuit and teaches the generations of the future all kinds of history.

© INTERMEDIATHEQUE

Room and display design ©UMUT works 2013-

This has been the storage area of academic specimens. A viewing of these specimens fills us with wonder about our present world. The exhibition provokes us to wonder where these discoveries can lead us and what impression they make. Visitors can enjoy the vast collection of historical items and their hidden messages.

© INTERMEDIATHEQUE

Room and display design ©UMUT works 2013-

■Information

JP Tower Gakujutsu Bunka Sogo Museum「Intermediatheque」

Address:2nd – 3rd floor KITTE, 2-7-2, Marunouchi, Chiyoda

Access: Approx. 1 min walk from JR/Marunouchi line (Tokyo Station), approx. 2 min walk from Chiyoda line (Nijubashimae Station)

Opening hours:11:00 – 18:00 (Fri. and Sat. until 20:00)

Entrance fee: free

Last entries accepted 30 mins before closing time.

Fixed holidays:Mondays and during the New Year period. The institution decides on any further closing days. The museum is closed for both Monday and Tuesday if the Monday is a national holiday.

Telephone number:03-5777-8600

 

>>next page
RELATED ENTRIES
Tokyo Stroll: The Café That You Want to Visit to See Someone #14 – 'Kayaba Coffee' in Yanaka

In this edition of The Café That You Want to Visit to See Someone, I visited Kayaba Coffee, a coffee shop in Yanaka, Tokyo, which is a perfect example of the old and traditional shitamachi neighbourhoods.

Kayaba Coffee is just a 10-minute walk from both Nezu Station and Nippori Station.


This is a place I've visited in my private time out of work and I'm always excited to go. Kayaba Coffee was established in 1938, and actually closed in 2006. But due to public demand, the cafe reopened just two years later in 2008. It's a popular coffee shop loved by people of all generations.

Time to head on in.

The first floor houses the counter and table seats, while the seating on the second floor is traditional zashiki style on tatami flooring. Although it's a cafe, you I feel so relaxed in there that it's like I'm visiting my grandma's house. The sun shines through the big windows, making you all warm and want to take a nap.

I ordered their super popular egg sandwich! The menu was changed in May this year, and a new and improved version of their egg sandwich was put on there. It's made using sourdough bread from VANER, a local bakery in Uenosakuragi not far from the cafe.


Breakfast Menu – Egg Sandwich | ¥1,000

The chewy, sour bread is the perfect combination with the fluffy eggs.

Lemon Squash | ¥600

The lemon squash has a cinnamon aftertaste. Everything on the menu is made with love and perfection; before I realised it, I was hooked on going there.

Strawberry Shaved Ice | ¥800

This was my first shaved ice of the year! I went with the classic strawberry flavour. The syrup is super juicy and nearly collapsed the fluffy shaved ice the moment I put it on. It has a syrupy texture and the strawberry juice has a sweet and sour kick that's just simply delightful♡

And you can make it even sweeter by pouring over your desired amount of condensed milk. It was really tasty.


Kayaba Coffee is the same as it was back in the day, and continues to be loved dearly. I think even people who visit it for the first time will feel a sense of nostalgia. If you have a place you can go to relax on bad days or when you're feeling down, it's sure to give you the strength to work hard again. This cafe is a wonderful place that's close to people's hearts.

I want to visit there again already.

Writer/Model: Ema Tanioku
Photographer: Haruka Yamamoto
Design: Yuko Takayama (ASOBISYSTEM)

Translator: Joshua Kitosi-Isanga

Information

Kabaya Coffee
Address: 6-1-29 Yanaka, Taito-ku, Tokyo

Opening Hours: [Tue-Fri] 8:00-18:00 (Last Orders 17:30) / [Weekends] 8:00-19:00 (Last Orders 18:30)

Closed: Mondays

Rinko Murata Produces Sparkling Sudachishu Japanese Sake 'Awasu'

Liquor Innovation released a new sparkling sudachishu Japanese sake called 'Awasu' over on the Japanese online sake store KURAND today. Available as made-to-order only, the sake will be shipped out to customers in Japan at the beginning of September.

Awasu is a sparkling sudachishu—a type of liquor similar to umeshu—produced by Japanese model and brand director Rinko Murata. The beverage is made with lots of sudachi, a type of Japanese citrus, sourced from Tokushima Prefecture, which adds an extra layer of freshness to the sparkling factor as well as a sour kick. And it's not just the juice of the fruit that is used—the skin is too. Sudachi is an all-purpose ingredient that goes hand in hand with many dishes, whether it be traditional Japanese food, more modern food, or snacks, adding a refreshing taste to them.

Awasu benefits from the amount of vitamin C of the sudachi which is said to be greater than that of a lemon. It also contains honey, which is known for helping to recover from fatigue, making it a great post-work drink.

The concept of Awasu is to be a companion during those times you want to feel indulged. Rinko Murata says that the drink is "A treat for working so hard in the day. It gives you some luxury time without any effort." Awasu is served in a can, so you can easily crack one open and enjoy with ease. The freshness of the sudachi together with the subtle sweetness of the honey will reset your fatigue after a long day.

Information

Awasu – Sparkling Sudachishu
Price: ¥450 (Before Tax)
Available: Set of 6 / Set of 24
Alcohol Content: 6%
Quantity: 270ml
Ingredients: Brewed Liquor / Sudachi Juice / Sweetener / Honey / Seishu Refined Sake / Carbon Dioxide / Flavourings
Manufacturer: Honke Matsuura Brewery
Distributor: Liquor Innovation

Product Details: https://awasu.me

Tokyo Stroll: The Café That You Want to Visit to See Someone #13 – 'Sepia' in Shibamata

In this edition of The Café That You Want to Visit to See Someone, I visited Sepia in Shibamata, a Showa-retro style cafe which I've always wanted to visit.

The cafe is just a 2-minute stroll from Shibamata Station which appears in the Japanese film Otoko wa Tsurai yo. The walk along the road that leads to Sepia, which is nearby the Buddhist temple Shibamata Taishakuten, is a pleasant one. Tokyo is a city consistently perceived as one that is cutting-edge in every aspect, but what I felt from each and every building surrounding Shibamata Station was a kind of warmth that you feel when something has history to it.

It's been seven years since I came to Tokyo. Visiting Shibamata made me me realised how many places there are which I still don't know about. It invigorated me. As my mind wandered with these pondering thoughts, I finally spotted the sign outside the cafe, and it sure is a cute one!

The moment I stepped inside, I stood, my mouth agape, and looked at my surroundings. It's the first time I've entered such a bright, shining cafe. It was littered with characters I've never seen before, manga, magazines, and more.

When you hear the word kira kira ("glitter," "sparkle"), the first thing that comes to mind for a lot of people is probably Harajuku and the Harajuku style, but Sepia's version of kira kira is a nostalgic one betwixt 1965 and 1975 during the Showa Period. The cafe is incredibly delicate in every spot and corner, like I'm looking inside some grand treasure chest.

The owner of Sepia is Kiyoko Hasezawa. The cafe gets its name from the manga Milky Sepia Monogatari by Ako Mutsu. Ms. Hasezawa said that she wanted to bring to life the world of the manga she loved. The cafe is full of her dreams and is enjoyed by everyone, both children and adults alike.

The cafe menu is even inspired by the food that appears in the Milky Sepia Monogatari manga. The hard pudding I had, which combined caramel sauce and cream, was an absolute delight.

Homemade Showa Pudding & Cream Soda Set: ¥1,200

If we're talking cafes, then you can't go wrong with cream soda. The cream soda served at Sepia comes in seven different flavours and colours: melon, Blue Hawaii, strawberry, lemon, peach, grape, and orange. I was spoilt for choice on which to go for, but in the end I went with the pink-coloured strawberry. It had a sweet flavour and was really delicious.

Strawberry Cream Soda: ¥750

I devoured the hotcakes too. The pastry was so fluffy and tasty – I could have eaten a hundred of them. The second one I ate with honey.

Hotcakes: ¥600


At the back of the cafe, they also have the "Candy Candy Museum." There's a personal collection of items from Candy H Milky, a female fashion enthusiastic who used to be a customer at Sepia. There's a photo spot for snapping a photo in the cafe too.

It's a great time getting to go and look at the displays after eating. I recommend going to see the collection yourself with your own eyes. Entry to the museum is ¥300.

There's a tearoom up on the second floor which has a nostalgic vibe to it. I felt warm and relaxed, like I'd been transported to my grandma's house.

Humans can't travel back in time, but if we look after mementos properly, we can go back there in our minds and memories. Sepia, a place that continues to be cherished and loved, is everybody's treasure trove.

My oh my, I really want to go back there again.

Writer/Model:Ema Tanioku
Photographer:Haruka Yamamoto
Design:Yuko Takayama(ASOBISYSTEM)

Information

Sepia
Address: 7-4-11 Shibamata, Katsushika-ku, Tokyo
Days Open: Fridays, Saturdays, Mondays
Business Hours: 12:00-17:00 (Last Orders 16:30)
For the latest information, visit Sepia's official Twitter page @sepia_mama

Ornament-Like Cake Parfaits Now Being Baked Up at Pascal Le Gac Tokyo in Akasaka

Pascal Le Gac Tokyo is the first overseas branch of internationally-recognised French-based chocolate company Pascal Le Gac which released some breathtaking new desserts to its menu on Wednesday.

Chocolate Parfait Flurry / Phrase Parfait Flurry

The original Parfait Flurry desserts are made in the image of a bloomed flower. When they were released back in April 2019, they instantly garnered attention across social media and news websites for their gorgeous design. Pascal Le Gac Tokyo has brought them back to the menu, this time in the form of cakes.

Cakes that are like parfaits

The new desserts take the same concept of the original parfaits, but instead turns them into cakes. But that doesn't simply mean taking the parfait ingredients as they are and turning them into a cake. Rather, the cakes recreate the taste of the parfaits, so it's like eating the real thing. The wine glass that the parfaits were served in have been recreated using icing to give that shiny effect, and the chocolate flowers have been cut thin so they are easy to eat.

Chocolate Flurry – ¥864 (Tax Included)

Starting from the bottom upwards, the Chocolate Flurry is layered with chocolate cookie pieces, chocolate flavoured almond sponge, chocolate cream, chocolate mousse, cacao flavoured vanilla cream, more chocolate cream, dark chocolate, milk chocolate, and chocolate glaçage. Every part of this art piece is made with cacao.

Phrase Flurry (Tax Included)

Starting from the bottom upwards, the Phrase Flurry is layered with pistachio cookie pieces, almond sponge, pistachio mousse, strawberry mousse, lychee jelly, strawberry compote, raspberry flavoured fresh cream, strawberry chocolate, and red glaçage. The marriage of strawberry, lychee, and pistachio flavours is nothing short of heavenly.

*Please note that opening hours and closures are subject to change depending on the situation of the coronavirus outbreak. Check the cafe's official website for the latest details.

Information

Pascal Le Gac Tokyo
Address: 2-12-13 Akasaka, Minato Ward, Tokyo
Opening Hours: [Weekdays] 10:00-20:00 (Last Orders 19:30) / [Weekends] 10:00-18:00 (Last Orders 17:30)

Closed: Sundays

Access: 5-minutes on foot from Exit 2 of Akasaka Station (via Chiyoda Line) / 1-minute on foot from Exit 11 of Tameike-Sannō Station (via Ginza and Namboku Lines)

TEL: 03-6230-9413

Official Website: http://www.legac-chocolatier.jp/

Akasaka Yuuga: The New Japanese Restaurant in Tokyo's Gourmet Warzone Akasaka

Akasaka is known as a warzone when it comes to gourmet restaurants, but a new contender has arrived. Akasaka Yuuga opened this month in Akasaka Ni-chome, Tokyo. This restaurant serves Japanese style cuisine featuring carefully selected flavours taken from across the country.

Yuuga gets most of their fish from Choshi Port, which boasts the best fish yield in Japan, as well as other carefully chosen seafood from across Japan in addition to seasonal vegetables. They bring out the full flavour of their ingredients, all of which are matched to the current season. They even serve Japanese black beef.

Their concept centres on how recognised and loved Japanese food is internationally. The restaurant makes full use of Japan's traditional food culture and prepares food using a variety of cooking methods. Everything in the restaurant is carefully considered to ensure diners enjoy their meal experience with all five senses, from not only the food but the decor and hospitality too. There are also counter seats available for customers who want to watch their food being prepared while they talk, whether to their friends or with the skilled chefs, offering an unforgettable dining experience for Japanese people and foreigners alike. There are also private eating booths for those who want to eat with friends, family, or celebrate a special day.

Nijushisekki

Nijushisekki refers to the days that divide the solar year into twenty four equal sections and highlight the longest days of sun in summer, the shortest days in winter, and the days being the same in spring and autumn.

The dishes at the restaurant reflect these regular changes; the dishes are not bound strictly by Japanese cuisine, but make use of various cooking and preparation methods, with thought and consideration put into every dish.

Japanese Black Beef

Yuuga prides itself not only on seasonal vegetable and fish-filled menu, which is both a feast for the belly and eyes, but on the beef used in its course meals too.

Yuuga serves Japanese black beef which comes from a rare breed of cow which is difficult to rear. It has a distinct rich flavour and low melting point which gives it a melt-in-the-mouth texture.

Courses

There are three courses to choose from that cater to customers desires, costing ¥8,000, ¥12,000, and ¥20,000 respectively. This includes appetisers, and customers can choose from a range of wines from around the world select by sommeliers, as well as champagne, whisky, and of course sake and shochu.

Information

Akasaka Yuuga

Address: Yamaguchi Bldg. 1F, 2-14-8 Akasaka, Minato Ward, Tokyo

Business Hours: 17:00-23:00 (Last Orders 22:00)

Closed: Sundays & Public Holidays

Official Website: http://yuuga.ku-shin.jp

Tokyo Stroll: The Café That You Want to Visit to See Someone #12 – 'J-COOK' in Gaiemmae

In this edition of The Café That You Want to Visit to See Someone, I visited J-COOK in Gaiemmae, a place I visited one time while off work which ended up in me wanting to absolutely feature it in the series!

It's just a 5-minute stroll from Gaiemmae Station.

The cafe enjoys lots of sunlight, which is brightened further by all the plants scattered through the shop. The cafes I have visited to date are often a little darker with only a little light seeping through the windows to create a certain atmosphere, and they are wonderful, but this was the first I have ever visited with so might light and so many plants. The air felt clear, adding to the level of comfort in the cafe, perhaps because there are so many plants adorning the interior.

The cafe also has a space with a slightly more darker light and atmosphere on the left side. I haven't sat in that area yet, so I think I'll try it out on my next visit.

When I come to J-COOK, my eyes always wander over to the marzipan creations (¥450).

These ones here were actually all individually handmade by the owner's husband from the early morning.

If you look really closely, you'll notice all the dog designs are different. When ordering, get to pick out which one you want, so try finding your perfect pup!

I had mine together with an iced coffee (¥450). The sweet marzipan is a delicious combination with the bitterness of the coffee.

I also got some potted cream (¥450). It's kind of like a Japanese custard pudding with just a moderate amount of sweetness.

I had mine with a bit of brandy which had fragrant vanilla notes. They've had this brandy for 33 years since the store first opened.

The cream was sensational, and the gentle notes linger afterwards.

They have a lot of different homemade soups too which are perfect for the coming cold weather. I got the New Orleans-style gumbo soup. It's spicy with clam and okra in it.

Relaxing jazz music plays in the cafe while you sit and enjoy your drink and meal.

J-COOK is a wonderful little cafe run by a husband and wife. When I first came, the wife came and talked to me. She's super friendly, and although it was our first meeting, she made me feel really comfortable and welcome. She must be full of happiness, which in turn naturally gives people who visit the strength to be positive and work hard.

I reckon their smiles have saved a lot of people.

I can't wait to visit again!

Writer/Model: Ema Tanioku

Photographer: Haruka Yamamoto

Design: Yuko Abe (ASOBISYSTEM)

Translator: Joshua Kitosi-Isanga

Information

J-COOK

Address: 3-36-26 Jingumae, Shibuya, Tokyo

Opening Hours: [Tue-Sat] 8:00-22:00 (Last Orders) / [Sun] 11:00-18:00 (Last Orders 17:30)

Closed: Mondays

Official Twitter: @jcookjp

Go Grape Picking, Buy Fresh Fruit and Veg & More at Hills Marche in Tokyo This Autumn

Hills Marche is a market held every Saturday at ARK Hills in Tokyo, and on September 28, it is set to hold the Hills Marche 10th Anniversary "Great Harvest Festival."

Hills Marche began in September 2009 as the first project of Marche Japon which is run by the Japanese Ministry of Agriculture, Forestry and Fisheries. It has become one of Tokyo's representative markets, with more than 740,000 people having attended since its establishment.

The 10th Anniversary Great Harvest Festival brings together farmers from all across Japan, with fresh fruit and vegetables harvested from that morning. There will also be various events including a grape-picking session. Lots of lunch options will also be served using fresh vegetables used as the market.

Farmers Band Together

A total of 44 sellers from both Japan and overseas will set up shop for the Marche. The first 100 people to shop at over 5 stalls and collect the stamps will also receive a festival tote bag.

Taste and Compare 10 Varieties Of Grape

From popular varieties such as Shine Muscats to rarer, hard-to-find varieties, choose from 10 different types of grapes to enjoy. You'll be surprised at how different their sweetness and sourness is!

Go Grape Picking

Have even more fun by picking your own grapes at Karayan Square. Kids and adults alike will enjoy this experience. Bring friends and family and relish in the flavours of the autumn harvest.

Time: From 11:00

Price: ¥500
Anyone can join, but the grapes are limited in stock, so it's first-come, first-served!

Bistro Marche with Ark Hills Cafe

The Ark Hills Cafe is also celebrating its 10th anniversary alongside Hills Marche and will collaborate with the market for the occasion. Tuck into a healthy buffet made with ingredients from Hills Marche and enjoy a saxophone performance by Japanese musician Shunosuke Ishikawa. There will also be discount lunches using the ingredients from the market from September 24 to 27.

Price: General – ¥1,000 (Tax Included) / Elementary School Children & Younger – ¥500 (Tax Included)
Time: 10:00-15:00 (Last Entries 14:00)

Jazz Performances: ①11:15 / ②12:15 (subject to change)

There's plenty more to look forward to as well, including lots for parents and children to enjoy together such as workshops.

Information

Hills Marche 10th Anniversary "Great Harvest Festival"

Date: September 28, 2019

Time: 10:00-15:00

Location: ARK Hills Karayan Square (1-12-32 Akasaka, Minato Ward, Tokyo)

*Hills Marche is normally held until 14:00, but it has been extended an extra hour for the anniversary

*An opening ceremony will also be held from 9:20-9:50 to commemorate the celebrations

*Festival will go ahead if it rains but will stop if the weather turns stormy

Official Website: https://www.arkhills.com/en/hillsmarche/

A Date With Yutaro: Soaking Up the Japanese Summer Sun & Visiting the Art Aquarium | Tokyo Stroll

It's been a while since our last date with Yutaro. He's been very busy with film shoots. He had some spare time today so we paid a visit to Nihonbashi for our next date. "ECO EDO Nihonbashi: Enjoy Cool Edo With All Five Senses" is an event held every year in the Nihonbashi area which takes the Edo period cultural idea of "coolness"―an in, to enjoy being cool during the summer-and puts a modern spin on it. There are many exciting things to look forward to, including the art aquarium which proves massively popular every year.

We gave ourselves more time to arrive at the meeting place to be in the safe side, but it seems Yutaro-kun was already there waiting for us!

Nihonbashi Information Center | IPPIN CAFÉ "Sparkling Herb Tea" – ¥518 (Tax Included)

"Here, you must be boiling." Yutaro-kun kindly offers a cup of IPPIN CAFE's limited-edition sparkling herb tea. It's a delicious mix of fizzy soda and lemon, a perfect refreshment for the summer. Since he ordered takeout the drink came with a goldfish straw. Goldfish are a staple sight during Japanese summer festivals so it's very fitting for the occasion! 

With our drinks in hand, it's time to head to Nihonbashi for our Edo summer date!

Wind-Chime Forest Path

Lining the path between Fukutoku Shrine and Fukutoku Garden is the Wind-Chime Forest Path where around 200 Edo-style wind chimes dangled. This year, during the evenings, the path is illuminated with beautiful lighting. 

When the breeze rolls past the wind chimes ring one by one-a cool and refreshing sound.

"I hear each one of these Edo wind chimes are individually handmade by craftsmen."

When you hear the sound of the wind chimes it makes you feel cool like a gentle breeze of the wind.

After strolling along the Wind-Chime Forest Path we make our way towards this year's ECO EDO Art Aquarium event.

The moment we step instead Yutaro is already dazzled by all the goldfish: "Wow! I knew about this place from what I'd seen online, but this my first time here! This art aquarium really is something!"

The full title of the event is "ECO EDO Nihonbashi ART AQUARIUM 2019 ~Edo, Coolness of Kingyo~ & Night Aquarium."  Goldfish were a huge part of the common culture in Nihonbashi during the Edo period. This event recreates that and brings that "coolness" aspect while combining it with contemporary art by having people observe the fish in lots of different artistic environments.

Super Oiran

"This is the biggest fish tank, apparently it has 3,000 fish swimming inside!"

"Seeing the light reflect on the water from the illuminations lets you see the fish in a different light, doesn't it?"

Looks like Yutaro-kun is having a lot of fun taking photos.

He's equally interested in just about every fish tank!

These other fish tanks have a different aesthetic to them. Their Japanese-style designs make for great photos.

Kaleidorium 3D

"This one's beautiful, it's like a kaleidoscope."

It really does look like one. When you take a peek instead you can glimpse all kinds of colourful fish gently swimming around.

Ceiling Kingyo

"There're goldfish swimming on the ceiling too. So cool! This aquarium is incredible. It brings together the great culture of Edo and contemporary art."

The Art Aquarium bustles every single year with visitors, but this year will mark its last run. It's being held at Nihonbashi Mitsui Hall, so if you have the chance to go then please do.

We of course checked out some local Nihonbashi treats too! We stopped by morozoff for some cheesecake after the aquarium.

morozoff Kamadashi Cheesecake (Goldfish) – ¥270 Each (Tax Included)

These cute cheesecakes with their goldfish designs are available for a limited time only. They're filled with sweet red bean paste. They perfect with iced tea.

"Got some! Let's eat them while we head back."

Goldfish Lantern Walkway

Our first date in Nihonbashi was so much fun. While on the date Yutaro-kun spoke about the new live-action film he's in, Kaguya-sama: Love Is War.

"It's a romance film with mind games to try and make the other person confess their love. I play the character Tsubasa. His number one highlight scene is the kabedon scene. That was my first day shooting, so I was super nervous, but I got along well with the other actors, and the atmosphere on set was harmonious, so I was able to relax for the shoots. Tsubasa is a genuine guy who will believe things that have been said to him in earnest. You've definitely gotta check out all his scenes throughout the film!"

"A lot of the cast are the same age as me, so we were all energetic together in the waiting room. There's a scene at the end where all the cast get together. It took 3 days to shoot so we ended up getting along really well."

"This film has made me realise that love comes in many shapes, and that mind games happen in a variety of ways between guys and girls. There's cute scenes that express that small bit of pride that teenagers have, the embarassment they feel, when they get butterflies, scenes that will warm your heart. The film has various elements to it so I thoroughly enjoyed watching it myself. I hope that couples in love in their teens and twenties watch it, and I also hope that married couples watch it and crack up laughing too."

"In the film it's summer break, and they go and see fireworks and stuff. It's definitely one to watch durnig the summer. You're gonna come watch it too, right? Shall we go?"

An offer we cannot refuse! We'll definitely go and see it with you, Yutaro-kun! 

Model: Yutaro

Writer: Yuki Yokoo

Photographer: Kayo Sekiguchi

Information

ECO EDO Nihonbashi 2019 ~Enjoy Cool Edo With All Five Senses~

Running: July 5, 2019 – September 23, 2019

Location: Nihonbashi Area

TEL: 03-3242-0010 (Nihonbashi Information Center)

Event Page: https://www.nihonbashi-tokyo.jp/en/ecoedo2019/

ECO EDO Nihonbashi ART AQUARIUM 2019 ~Edo, Coolness of Kingyo~ & Night Aquarium

Running: July 5, 2019 – September 23, 2019

Location: Nihonbashi Mitsui Hall Floor 5F (Entrance at 4F),  COREDO Muromachi 1, 2-2-1 Nihonbashimuromachi, Chuo Ward, Tokyo

Opening Hours: Art Aquarium 11:00-19:00 / Night Aquarium From 19:00

[Sun-Fri] 11:00-22:00 (Last Entries 22:00) [Sat & days prior to public hoiday] 11:00-23:30 (Last Entries 23:00)

Access: Directly connected to Exit A6 of Mitsukoshimae Station, accessible on the Tokyo Metro Ginza Line and Hanzomon Line / Directly connected to Shin-Nihombashi Station / 8-minutes on foot from East Exit of Kanda Station JR 8-minutes on foot from Nihonbashi Exit of Tokyo Station

TEL: 03-3270-2590

Event Page: https://www.nihonbashi-tokyo.jp/en/ecoedo2019/contents/005.html

Kaguya-sama: Love Is War Film

Release Date: September 6, 2019

Adapted from the manga of the same name by Aka Akasaka (Shueisha/Weekly Young Jump)

Cast: Sho Hirano (King & Prince), Kanna Hashimoto, Hayato Sano, Natsumi Ikema, Nana Asakawa, Mayu Hotta, YUTARO, Takashima Masahiro, Jiro Sato

Official Website: https://kaguyasama-movie.com/

TALENT PROFILE

Yutaro

Yutaro was born in Hiroshima on June 3rd 1998. His modeling career has earned him lots of attention as a fashion icon of the new generation. The famous model also works as a "charisma" shop assistant. Yutaro has gained his reputation as a "mysterious and handsome guy" from his appearance on Japanese variety shows. His debut was made on the show "Gyoretsu no Dekiru Horitsu Sodanjo" and has since then appeared on numerous different TV shows. He challenged himself to appear on stage for the very first time in March this year and is gaining popularity by the day for his diverse work.

Tokyo Stroll: The Café That You Want to Visit to See Someone #11 – 'Hatoya' in Asakusa

In this edition of The Café That You Want to Visit to See Someone, I visited Hatoya which is located in Asakusa Shin-Nakamise Arcade.

The streets of Tokyo's historical district of Asakusa are packed to end with cafés. You can be spoiled for choice, but Hatoya stood out to me in particular as it's an especially old café. Business there began back in 1927 but the actual building was built back in the Taisho period, meaning its history spans more than 90 years ago!

The outside appearance of the shop is smart and chic so it's very easy to spot. I couldn't tell by looking from the outside, but the inside is full of old decorations and odds and ends which make you feel the history of the café.

One reason why I wanted to visit this place so much is because I was drawn to their logo. It's really retro-kawaii so I just couldn't resist!

You should take some photos too if you visit.

It was time to head inside. It's really comfy and cozy in there; the atmosphere was nice and relaxed.

Framed on the wall is a map of the Asakusa area during the Taisho era. Hatoya became famous back then because people could buy coffee for a mere 5 sen (a single sen is one-hundredth of a yen).

When business first began at Hatoya, because the café was opposite the stage door of a theatre, all of the famous actors and actresses would pop in. Some include famous Japanese comedian Roppa Furukawa and film actor Kiyoshi Atsumi who played Tora-san in the film series Otoko wa Tsurai yo.

I ordered the café's popular hotcakes which cost ¥600. They have been making these same hotcakes since before the war.

They were nice and fluffy and had a deliciously gorgeous brown colour. The flavour was out of this world when the butter melted from the heat of the hotcakes and mixed together with the syrup.

The portion might look like a lot but they are fluffy and have a light flavour so can be finished with no problem.

And is the café's signature milkshake (¥500).

It's so refreshing that you can knock it back all in one go. It has a simple flavour but it tasted so good!

I also ordered the ¥600 cream soda, my favourite beverage.

I've been to many cafés, and have covered many in this series, but this is the first I have dined at with such a deep history. I found myself enthralled by the stories of the owner who has continued to treasure the café and maintained it all the same since it opened. I feel like I have learned about a world I never knew about. The next time I go to Hatoya with a friend I'll be sure to let them in on its history. I encourage you to visit too!

Writer/Model: Ema Tanioku
Photographer: Haruka Yamamoto
Design: Yuko Abe (ASOBISYSTEM)

TALENT PROFILE

Ema Tanioku

"Emaeri" is the nickname for models Ema and Eri Tanioku, who are Aomoji fashion model twins. Ema and Eri Tanioku specialise in twin fashion coordination. Over the years their fanbase has increased due to their cute looks. Ema Tanioku spreads Harajuku culture within Japan as well as overseas and works as a Harajuku Tourism Ambassador. Starting off as a model, Ema has broadened her talent range from fashion magazines to TV, and from playing the lead role in dramas to movies.

Tokyo Stroll: Shopping & Sightseeing with Mozuku-kun the Dog #5 – Uzumako Ceramic Art School

It's been a minute since we last ventured out with Japanese model Yuna Yabe and her beloved pet pup Mozuku. If you're new to this feature, Yuna Yabe takes her trusty partner Mozuku to various hot spots in Japan that you can enjoy with your pet dog. Their relationship continues to deepen in this priceless experience.

Today, Yuna and Mozuku head to Uzumako Ceramic Art School which is close to Shiba Park. You can get a good view of TokyoTower from this famous park.

What's unique about this art school is that visitors are allowed to take their pets with them. So this means you can take your dog with you to do some ceramics!

Yuna has always had an interest in ceramics. And what better way to experience creating something than with her partner in crime Mozuku! With him tottering beside her, she headed through the entrance curtain with a spring in her step.

When you enter the classroom, there are lots of examples of pottery ware lining the shelves. The room has that smell of craftsmanship which lingers as you begin the class with a demonstration by the teacher. Once you have your apron on and are fired up to begin, it's time to start.

The work begins with kneading the clay to make its firmness uniform. This step helps prevent air bubbles from forming.

Yuna asked the teacher many different questions as she enjoyed kneading her clay. "Where does ceramic work originate from?" "What kind of things to other dog owners make when they come here?"

"What's Yuna up to?" Mozuku's puzzled face seemed to imply as he listened to Yuna and the teacher talk.

Yuna turned to Mozuku and said to him, "I'm going to make you a food bowl!" It seemed like the message got through as his face read, "Looks like my owner is making something just for me."

Yuna wet her hands with some water and began forming a hole in the centre of her clay bundle. The hole forms and gets bigger as the pottery wheel spins.

Next, she used both of her hands to ensure the thickness of the bowl was even all the way around.

"Amazing! The shape of the clay changes in an instant!"

By adding a little bit of pressure the pile of clay can change shape rapidly. It's like a living thing.

"It's like the clay is my own child. I wanna wrap it up!"

Once the shape is formed, Yuna cut around the edges. She is a skilled individual, she got the hang of it straight away.

Mozuku sat right beside Yuna, quiet and curious.

"Is it my turn yet?"

He seemed itching to have a go at making something himself too.

He watched over Yuna's work from atop the table.

"I wanna try spinning the wheel too!"

Mozuku in fact had the most important job of all. Yuna popped a wooden mould onto his paw and stamped a paw print into thebottom of the bowl.

"There we go!" said Yuna

Mozuku mustered all of his strength to make his mark, his facial expression unusually serious as he carried out his big task.

Time to check if the print was done properly!

Here's the final product―Mozuku did a great job!

Their teamwork paid off as they were able to create a really cute dog bowl. The tiny footprint is packed with pet love. The art school actually sells a lot of different cute and stylish pet items but the owner making their own makes it unique―the only one in the world.

If that love is able to get through to your pup, the food they eat from the bowl is sure to be even more delicious.

Thanks for your help, Mozuku.

"I can't wait to fire it!" Yuna's excitement was peak from start to finish. She was very satisfied after the class finished.

After two weeks of waiting, the bowl was completely finished.

Why not try creating something unique special for your own pet―together with them?

Model: Yuna Yabe/Mozuku @yunaaay1030

Text: Ai Watanabe

Photographer: Kayo Sekiguchi

Translator: Joshua Kitosi-Isanga

Information

Uzumako Ceramic Art School
Address: Sekisui House Floor 1F, 3-29-11 Shiba, Minato Ward, Tokyo

Business Hours: 10:00-19:00

Access: https://www.uzumakotougei.com/en/access.html

TEL: 03-6809-6363

Official Website: https://www.uzumakotougei.com/en/index.html

*The course Yuna took with Mozuku was the "Pet Ceramics Plan" where you can make 2-4 ceramic items and fire them. For your first try the staff will carve and glaze the final product to completion. This can be picked up one to one-and-a-half months after your course for ¥4,500. Please check the website for more details.

*Obedient dogs permitted. Please note that there are other participants so dogs who bark a lot or cannot relax are not permitted.

TALENT PROFILE

Yuna Yabe

Yuna Yabe won the grand prix prize at the "Zipper×ASOBISYSTEM Model Auditions" at the age of 15. She is an expert not only in fashion but make-up and video editing too. She's an influential figure to the people in her generation. Recently, her work has expanded greatly, such as appearing in music videos. Her activity continues to grow and looks to be very promising indeed.

Tokyo Stroll: The Café That You Want to Visit to See Someone #10 – 'Donguriya' in Nishi-Ogikubo

In this edition of The Café That You Want to Visit to See Someone, I visited Donguriya.

To get there I plodded along from the North Exit of JR Nishi-Ogikubo Station, and after about 3-minutes I saw it!

Various shops lined the street, but nature had almost reclaimed this single building which was wrapped in foliage. There's no doubt that the people who pass by this way stop to take a look. Its inviting appearance elicits a peek as you're left wondering what kind of place it is. I feel like a wonderful story is about to unfold!

A sign sits at the front of the cafe with its mascot character waiting to greet you.


He's cute in a way that I can't describe♬

Time to head inside.

Most of the interior is made of wood, a perfect accompaniment to the cafe's name Donguriya ("Acorn Hut").


All of the signs as well as the menu on the wall are handwritten by the owner himself. It's heartwarming just to look at♬

Sipping coffee while enjoying the jazz music coming from the record player is nothing short of a luxury!

I ordered pizza toast (drink + pizza toast set is ¥800), a Donguri cookie and coffee (drink + Donguri cookie set is ¥650).

The toast is sliced thickly; the crusts are crunchy and the middle is soft. It was really tasty and had an old-fashioned taste to it.
Donguri's cookies are made by someone who has been a fan of the cafe  since long ago. They have a simple sweetness and go perfectly with the coffee!

Since the cookies are made by a regular who has always loved Donguri they are the perfect cookies for Donguriya! If you pay a visit then you should definitely order one.

The blend coffee is full-bodied and has a rich aroma. There is a slightly bitter aftertaste too. The coffee beans are also roasted in-house! It was really tasty and easy to drink even for someone like me who doesn't know a lot about coffee.

The owner and his older brother went to numerous cafes with their friends to try various different coffees before coming up with their own blend. It's the real deal.

It really felt as if I had been sucked into the world of a story with the warm light filtering through the windows and illuminating the tableware and furniture.

Finally, a photo with the owner himself!

He told me wonderful stories about the coffee and food at Donguriya which made me fall in love with the cafe even more.

I want to bring my friends here next time♬

Writer: Ema Tanioku
Photographer: Haruka Yamamoto
Design: Yuko Abe (ASOBISYSTEM)

Translator: Joshua Kitosi-Isanga

Information

Donguriya
Address: 3-30-1 Nishiogikita, Suginami Ward, Tokyo
Business Hours: [Mon-Thur] 10:30-22:00 / [Fri-Sun] 10:30-22:30
Access: 3-minutes on foot from JR Nishi-Ogikubo Station

TALENT PROFILE

Ema Tanioku

"Emaeri" is the nickname for models Ema and Eri Tanioku, who are Aomoji fashion model twins. Ema and Eri Tanioku specialise in twin fashion coordination. Over the years their fanbase has increased due to their cute looks. Ema Tanioku spreads Harajuku culture within Japan as well as overseas and works as a Harajuku Tourism Ambassador. Starting off as a model, Ema has broadened her talent range from fashion magazines to TV, and from playing the lead role in dramas to movies.

See Inside the Gorgeous Akasaka Palace in This New Promotional Video

The Akasaka Palace State Guest House is considered one of Japan's National Treasures in the architecture department. Originally built in 1909 as the Imperial Palace for the Crown Prince, the building is the only example of neo-Baroque architecture in Japan. To date, it has opened its doors to emperors, presidents and prime minsters, and has even served as a venue for international conferences.


An in-depth promotional video was recently released showcasing the outside and inside of the palace, shining light on its beautiful features and architecture.

The video begins at the dazzling and elegant entrance. The door opens to reveal a crimson carpet sprawled across the floor which beckons you into a beautiful world.

We then move into the Sairan no Ma, a hall guarded by golden phoenixes with enormous mirrors set against the wall. The room opens into an overwhelmingly spacious area.

Next is the "Hagoromo no Ma" which houses the palace's three biggest chandeliers each made up of almost 7,000 separate parts, mostly crystal.

We then arrived at the "Asahi no Ma," the most elegant room in the entire building. It is currently closed to restore the ceiling tiles and other parts of the room,  but it will re-open to the public on April 2, 2019. Overlooking the room on the ceiling is a painting of Aurora, the Roman goddess of dawn, chairs made with golden thread, hanging chandeliers, the purple carpet woven with 47 shades of purple, and so on.

See the full beauty of the palace's interior by checking out the video.

*The photos shown are of the palace before repairs were carried out.

Information

Akasaka Palace State Guest House
Address: 2-1-1 Motoakasaka, Minato Ward, Tokyo
Opening Hours: 10:00-17:00
Closed: Wednesdays

Please visit here if you wish to find out about the latest public openings.

Visiting Prices
Main Building & Garden: Adult ¥1,500 / University Student ¥1,000 / High & Junior High School Student ¥500 / Elementary School Student – Free
Japanese Style Annex, Main Building & Garden: Adult ¥2,000 / University Student ¥1,500 / High & Junior High School Student ¥700 / Not open for elementary school students
Japanese Style Annex & Garden: Adult ¥1,500 / University Student ¥1,000 / High & Junior High School Student / Not open for elementary school students ¥500
Garden: Adult ¥300 / University Student & Below – Free
*The above listed prices are the general prices. Prices may change during special openings.

Official Website: https://www.geihinkan.go.jp/en/akasaka/