Chilled Blue Chocolate Released by Shizuoka Matcha Sweet Makers Nanaya
Nanaya, a producer of confections made using matcha from Shizuoka, is releasing a new line of blue chocolates. They will began rolling out at the Fujieda, Shizuoka, Aoyama and Kyoto Sanjo branches on May 9.
Blue chocolate is not something you see everyday. Nanaya make this melt-in-the-mouth chocolate by using the same original methods they developed to make white chocolate. It is more reminiscent of hard candy than the smooth velvety chocolate served in summer. It has a gentle sweetness brought about by the light brown sugar which is delicious until the last bite. It's also seasoned with salt and pepper for accent and deeper flavours. The chocolate also uses butterfly pea which is popular in herbal teas in Thailand.
To further bring out the unique qualities of the herb tea, natural salt and three types of pepper are used: red, white and black. This adds a spicy kick to the sweetness of the chocolate. The chocolate is to be kept cool in the refrigerator and best enjoyed after leaving to come to room temperature before eating.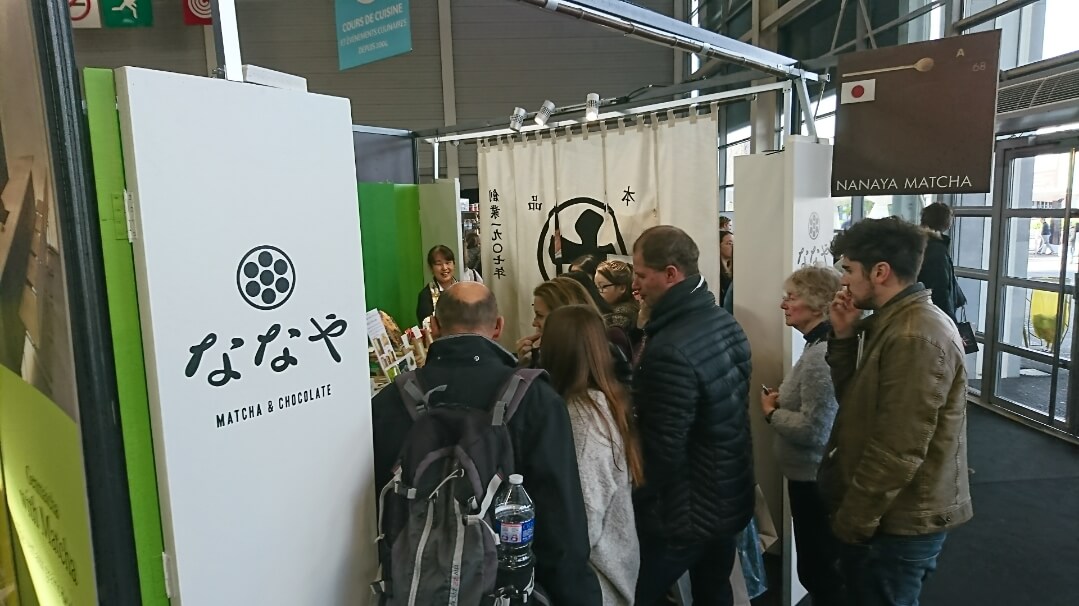 Try this exotic blue chocolate yourself this spring.
RELATED ENTRIES
Jambuka Pancakes Get Tossed and Loaded With Fresh Cream and Fruits in Osaka

Jambuka Abeno Q's Mall is the only place in Osaka where locals can enjoy the incredible pancakes created by the fresh cream desserts specialist shop MILK. This summer, they are now serving a new seasonal treat: the 'Sweet Summer Mikan & Lemon Pancakes.'

Sweet Summer Mikan & Lemon Pancakes | ¥1,089 (Tax Included)

Fresh Cream Milk Pancakes | ¥858 (Tax Included)

Fresh Cream Strawberry Milk Pancakes | ¥1,089 (Tax Included)

Fresh Cream Chocolate Banana Milk Pancakes | ¥979 (Tax Included)

All pancakes are made-to-order and are covered in a rich, creamy sauce made from fresh cream from Hokkaido. Enjoy them plain or topped with fresh fruit.

Information

Sweet Summer Mikan & Lemon Pancakes

Running: July 15, 2021 – August 31, 2021

Location: Jambuka Abeno Q's Mall
Address: Abeno Q's Mall Floor 4F, 1-6-1 Abenosuji, Abeno Ward, Osaka, 545-0052, Japan
Opening Hours: 11:00-21:00
TEL: 06-6636-0555
Official Instagram: https://www.instagram.com/jambuka_abeno/

Milkshake Shaved Ice and Milk Frozen Desserts Served Up at Motosue in Hyogo

The new Motosue Hanare has opened next to Motosue Kurakuen in Hyogo where they are selling a range of desserts including the Milkshake Shaved Ice and Milk Frozen.

Milkshake Shaved Ice Pudding | ¥1,290 (Tax Included)

Milkshake Shaved Ice Sweet Potato | ¥1,350 (Tax Included)

Milkshake Shaved Ice Matcha Adzuki | ¥1,200 (Tax Included)

Milk Frozen Chocolate Banana | ¥650 (Tax Included)

Milk Frozen Strawberry | ¥720 (Tax Included)

Eggy Bread | ¥750 (Tax Included)

Using milkshake as the base ingredients, the shave ice line-up gets its super fluffy texture from free range eggs. There are three flavours to enjoy, such as the pudding one which is topped with a whole Japanese pudding, adding a smooth and velvety texture to the fluffy shaved ice. Each is a perfect pick for cooling down during the summer season.

The 'Milk Frozen' desserts use frozen milk for the base and are topped with fruit. Each is made carefully handmade one by one, and they are even more refreshing than the shave ices. The eggy breads also come in a range of flavours including plain and custard.

Information

Motosue Hanare

Japanese Shop Name: 本巣ヱ 離れ

Address: 1-28 Kikutanichō, Nishinomiya, Hyogo 662-0078, Japan

Access: 3-minutes from Kurakuenguchi Station

Opening Hours: 10:00-19:00 (Last Orders 18:30)

Closed: Every 2nd and 4th Tuesdays of the month

Official Website: https://supertamago.com/

McDonald's Japan Releases Strawberry and Banana Frappes at McCafe by Barista®

McDonald's Japan released its new Strawberry & Condensed Milk Frappe and Banana Caramel Frappe beverages at McCafe by Barista® branches up and down the country on July 14. The fruity frappes and the perfect choice for the hot summer season.

Strawberry & Condensed Milk Frappe | Regular: ¥490


The strawberry frappe is made with a sweet and tangy strawberry sauce that has fresh strawberry pieces in it as well as juice taken from amaou strawberries grown in Fukuoka which are known for their fresh and sweet taste. Added to the cup is rich condensed milk along with a squirt of whipped cream for a milky and velvety finish.

Banana Caramel Frappe | Regular: ¥490


The banana frappe is filled with a banana puree sauce, banana syrup, and a crème brûlée syrup. It's topped with smooth whipped cream and a drizzle of caramel sauce. The banana and caramel make for a delicious combination.

Kaori's Easy Recipe: Learn to Make a Rilakkuma Banana Cake

With just a small bit of ingenuity, turn everyday food into something cute using Kaori's Easy Recipe! With a few simple ideas, an ordinary recipe magically transforms into a cute dish.

In this recipe, I'll show you how to make a delicious banana cake that is tasty even if refrigerated!

Ingredients

Makes a 18cm pound cake

2 ripe bananas

100g unsalted butter

50g granulated sugar

2 eggs

100g weak flour

1

Bring the butter to room temperature and mix it with the sugar until it becomes white. I used unsalted margarine for this.

2

Gradually add both the egg whites and yolks and pour slowly into the mixture while mixing. Mash the banana with a fork, add to the bowl, and mix.

3

Sieve in the flour and mix lightly.

4

Bake at 160℃ for 40-45 minutes and it's ready! I used a 15cm pound cake tin and muffin tin to make mine. If using a muffin tin, bake for 30 minutes.

Leave to cool and use the edge of the pound cake tin to cut ears. Finish by using a chocolate pen to draw on Rilakkuma's face.

Kaori invites you into her world of character-themed food dishes in her recipe series. Be sure to check out her Instagram where she has uploaded many pictures of her character dishes!

Kaori Kubota (@kaopan27)

I live in Hokkaido and I love to make character themed foods, desserts and pastries♡

I want to see my family smile, so I enjoy putting in a bit of effort to make character foods and changing food into something cute♡

You can see more of my character foods and character bento boxes on my Instagram page → @kaopan72

Toy Story Inspired Ice Cream Cakes Release at Baskin-Robbins Japan

Baskin Robbins released a new collection of ice cream cakes inspired by the characters from the Pixar film Toy Story. There are 15 delicious flavours to enjoy, so let's take a look.

Buzz Lightyear

Popping Candy / Chocolate Chips / Strawberry / White Sponge

Ham 

Love Potion / Chocolate / Chocolate Sponge
 

Rex

Matcha Cookie / Vanilla / Chocolate Sponge

Ducky & Bunny

Very Berry Strawberry / Chocolate Chips / White Sponge

Forky

Dark Chocolate / Chocolate Bits / Milk Chocolate / Chocolate Sponge

Little Green Men

Popping Candy / Melon / White Sponge

Bo Peep

Strawberry Cheesecake / Strawberry / White Sponge

Woody

Caramel Ribbon / Chopped Chocolate / Chocolate Sponge

Pick

Mat

The ice cream cakes include designs based on everyone's favourite toys such as Woody and Buzz, as well as their new friends Forky, Ducky, and Bunny.

Information

Baskin-Robbins Japan's Toy Story/Palette 8

Released: July 9, 2021 (Available all year)

Price: ¥4,200 (Tax Included)

*Price different by branch

Size: 18.5cm x 5cm

Baskin-Robbins Japan Official Website: https://www.31ice.co.jp/

Mister Donut x BAKE Release Crispy Cream Puffs

BAKE CHEESE TART has teamed up with Mister Donut to release CROQUANTCHOU ZAKUZAKU, a crispy cream puff by BAKE CHEESE TART's sister company of the same name. They are being served from July 2 to August 1.

CROQUANTCHOU ZAKUZAKU is a crispy cream puff with a custard cream filling made from Hokkaido milk. It was first produced in Hokkaido. They are stick shaped and covered in almond crunch and 'ZAKUZAKU,' a coating combination of egg white and sugar.

Don't miss the chance to enjoy both BAKE CHEESE TART and CROQUANTCHOU ZAKUZAKU's tasty treats at the same time.

Information

CROQUANTCHOU ZAKUZAKU

Price: ¥250 Each (Tax Included)

Serving: July 2, 2021 – August 1, 2021 (Fridays, Weekends, Public Holidays Only)

Where: 17 branches of BAKE CHEESE TART in Japan

*Available while supplies last

More Details: https://cheesetart.com/news/zaku2021/

Lotte's Craft Sake Chocolate brand YOIYO Releases Yakushima Flavour

YOIYO is a chocolate brand created by confectionery company that fuses chocolate with sake. Online pre-orders for its second release opened on June 6, and it's scheduled to release on June 13. This chocolate is made with Single Malt Komagatake Yakushima Aging, a whisky made at the Shinshu Mars Distillery in Miyada, Nagano.

YOIYO YAKUSHIMA NEW

YOIYO KOMAGATAKE 

限定TASING SET KOMAGATAKE×YAKUSHIMA


YOIYO uses specially-selected sake from across Japan and infuses it with the brand's own smooth and tasty milk chocolate. One bites makes it feel as if you have visited the region in which the sake is produced thanks to the combination of pure water, ingredients rooted in the land, and the use of traditional techniques. The brand's name YOIYO is Japanese for 'good evening' as Lotte wants people to enjoy indulging in the chocolate at dusk or after dinner.

Single Malt Komagatake Yakushima Aging is a whisky that is aged for 5+ years, and Lotte picks only from the best barrels. A bite into the chocolate first invites the full flavour of the whisky before the sweet and rich beckon of the chocolate arrives.


Lotte is also releasing a limited-edition tasting set which includes a bar of their first YOIYO release so chocoholic and sake-lovers out there can enjoy taste testing both.

Vegetable Shaved Ice Arrives On Honjitsuno's Menu For Summer

Honjitsuno is a cafe based in Takeyacho, Kyoto, which introduced its new vegetable shaved ice desserts to the menu on July 1. Every month will see a different vegetable used.

Strawberry & Fruit Tomato | ¥1,600 (Tax Included)

Made with strawberry sauce, fruit tomato jam, and milk pudding. Hidden inside is soft cheesecake.

Peach & Corn | ¥1,600 (Tax Included)

Made with peach sauce, sweetcorn, custard cream, and caramel sauce. You can really taste the original sweet taste of the corn.

Matcha & Edamame | ¥1,600 (Tax Included)

Made with Mashed green soybeans, seaweed salted red bean paste, mango, and matcha sauce.

All of the sauces and jams are homemade. Combining vegetables with fruits on shaved ice creates a whole new delicious eating experience.

Information

Honjitsuno
Address: 371 Sashimonoyachō, Nakagyo Ward, Kyoto, 604-0095, Japan

Opening Hours: 9:00-18:00 (Currently operating on reduced hours)

No Fixed Holidays

TEL: 075-746-2995
Official Website: http://www.bread-espresso.jp/

Matcha Republic Takes Kyoto's Uji Matcha to Tokyo For the First Time

Uji-based matcha tea shop Matcha Republic is taking their menu to Tokyo for the first time with a pop-up shop inside Shibuya Hikarie which will run from July 15-28.

Matcha Ink Hikarie Exclusive Version Premium Matcha Latte | ¥681 (Tax Included)

Original Clear Shopping Bag

Matcha Republic's ink bottle matcha lattes are super popular on Japanese social media. For their Tokyo pop-up shop, their premium matcha latte arrives in an exclusive design. The dirnk is made from only the best picked matcha leaves to make a smooth, milky beverage. The bottle is also sold in an original shopping bag.

Matcha Panna Cotta Hikarie Exclusive Version | ¥681 (Tax Included)

The brand's popular panna cotta set also arrives in a Hikarie exclusive design. The delicious dessert is made with fragrant Uji matcha.

PREMIUM GOLDEN UJI MATCHA CASTELLA | ¥2,381 (Tax Included)

Matcha Republic's moist matcha castella is sprinkled delicately with gold leaf, creating a luxurious dessert.

Information

Matcha Kyowakoku

Location: Shibuya Hikarie ShinQs B2 Food Stage

Running: July 15, 2021 – July 28, 2021

Opening Hours: 11:00-20:00

Official Website: https://www.matcha-republic.com

Sendagaya's Japanese Tea Cafe Hachiya Reopens After Renovations

Hachiya, a Japanese tea cafe located in Setagaya, Tokyo, reopened on June 28 after undergoing renovations.

Handmade onigiri rice balls

Seasonal fruit anmitsu with Japanese tea set

Hachiya offers a new way to enjoy Japanese tea, serving it in a range of styles such as carbonated, as a tea latte, in smoothies, and more. It's located in Setagaya, a stylish and relaxed part of Shibuya that's surrounded by trees and plants and has become more talked about in recent years. Alongside the cafe's reopening, it has also introduced new items to the menu such as onigiri and animitsu which can be enjoyed together with a cup of tea.

Matcha with confections

Ice cream available in four flavours: vanilla, nanko-ume, sobacha, and kusa mochi

Other new menu items include a set of matcha and confections as well as four different ice cream flavours, all of which go perfect with Japanese tea.

The cafe has incorporated a new lightning system and has also introduced a special coating that uses photocatalysis which can eliminate up to 99% COVID-19, allowing for guests to enjoy their time there safely.

Information

Hachiya

Reopening: June 28, 2021

Address: 3-2-10 Setagaya, Shibuya-ku, Tokyo

Opening Hours: 8:30-18:30 (Last Orders 18:15)

Closed: Weekends / National Holidays/ New Year

Acccess: 2-minutes on foot from Kita-Sando Station / 8-minutes on foot from Harajuku Station

Hachiya Official Website: http://8ya.jp/

LOUANGE TOKYO Le Musée Releases Refreshing Summer Dessert Menu

LOUANGE TOKYO has released their 'SUMMER COLLECTION 2021' menu line-up of refreshing desserts for cooling down this summer. They are available to enjoy at LOUANGE TOKYO Le Musée in Ginza, Tokyo.

PARFAIT SOFT PISTACHE

PARFAIT SOFT CANECHEE

CRYSTAL MELON

CRYSTAL PECHE (Available from July)

PARFAIT FLAFFY NOOMY CARAMEL ORANGE (Also available online)

PARFAIT FLAFFY NOOMY MIXED BERRY (Exclusive to Cake.jp)

LOUANGE TOKYO Le Musée's SUMMER COLLECTION 2021 includes a seasonal fruit parfait made by world class baker Koji Fujita, artistic summery ice creams, and more. All the mouth-watering picks are served in delicious luxury.

Uji Matcha and White Peach Shaved Ice Gets Served at Nihonbashi E-Chaya in Tokyo For Summer

Eitaro Sohonpo Co. Ltd. has released two new seasonal shaved ice desserts at Nihonbashi E-Chaya in Tokyo for summertime.

Uji Matcha Yamamotoyama x Eitaro | ¥660

Made with Uji matcha from Yamamotoyama and honey from Eirato, this shaved ice is topped with adzuki beans from Hokkaido. A refreshing delight for the hot Japanese summer that's not overly sweet.

Peach & Cream Cheese | ¥660

This flavour is made with lots of white peach puree from Yamanashi along with fresh peach pieces and Eitaro's honey. It's finished with cream cheese from Hokkaido and peach fluffy cream. Another perfect pick for cooling down this summer.

Information

Nihonbashi E-Chaya

Address: Eitaro Bldg. 1F, 1-2-5 Nihonbashi, Chuo-ku, Tokyo

Opening Hours: [Mon-Fri] 8:00-16:00 / [Sat] 10:00-16:30

Closed: Sundays/Public Holidays

Official Website: https://www.eitaro.com/

*These desserts are eat-in only