Junpaku no Mori Night Museum: Japan's Wedding Facilities Turned Into Pure White Forests
Japanese wedding company NOVARESE Inc. is set to open 19 of its marriage ceremony facilities as museums for a limited time this year. The theme of this art event is "Pure White Forest" and will showcasing tree-inspired objet d'art, candles and more, and projection mapping will also be used.
This event will run from June 7, 2019 to February 20, 2020 and will roll out from different dates at each venue. Venues in Chiba, Atsugi, Kyoto, Ashiya, Gifu and Aomori will open on Friday June 7 and will be open until Saturday June 8. Entry is free and there are no age restrictions.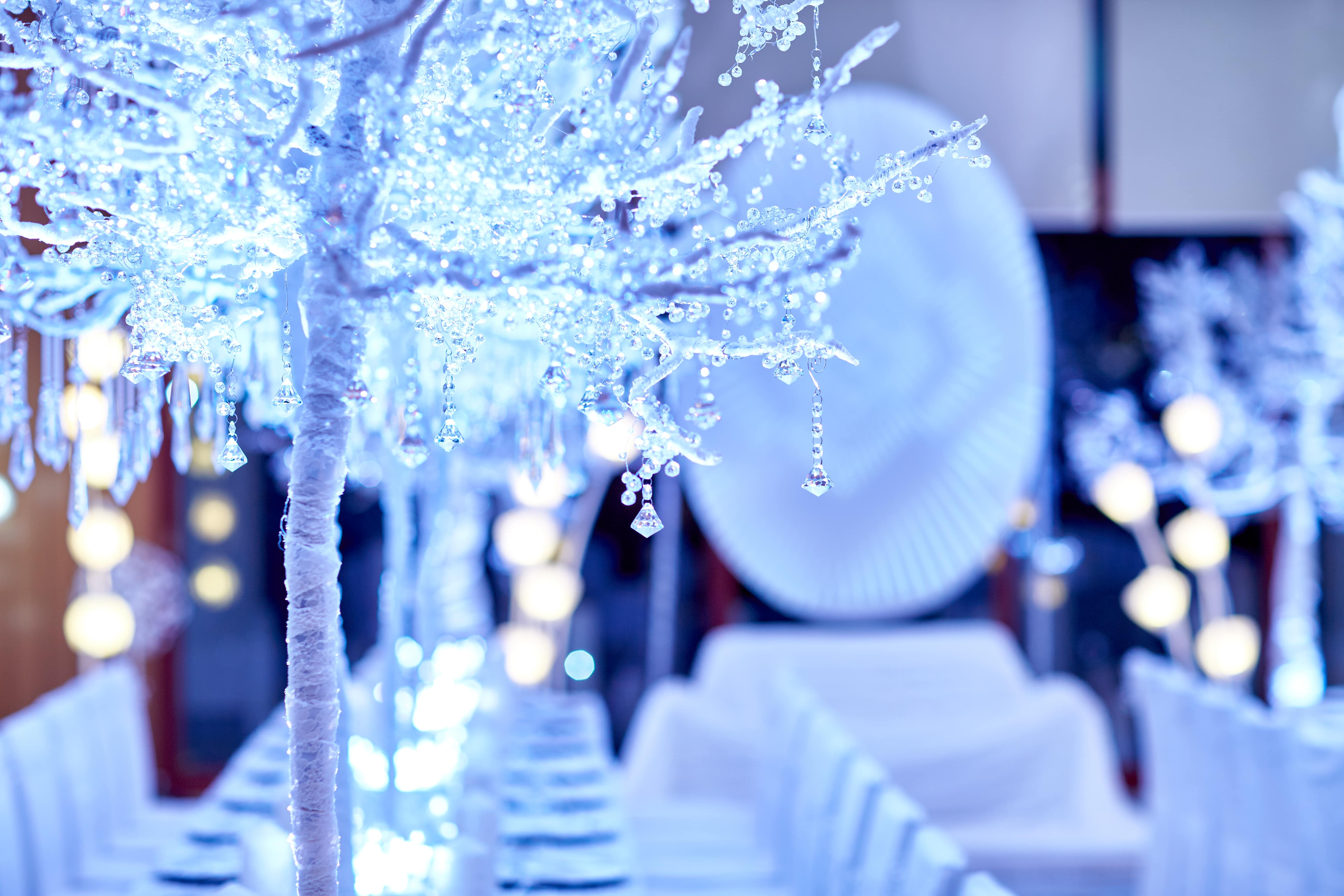 To create the Pure White Forest, the banquet table of each main venue will give way to 14 huge white trees decorated in glitter and hanging decorations. Tables and the floor will be lined with white lace reminiscent of leaves and flowers. The walls and ceilings will transport guests into a wonderful white world using projection mapping. Flower-shaped interior lights will also be dotted around  with white LED lights to brighten the room. Once the doors open, you are transported into the dazzling world of the Pure White Forest.
150 enchanting floating candles of various sizes will bob by the wedding aisle of the chapel.
There will also be a 1.94m x 1.3m tall white canvas where a living painting session will be carried out. Expect to take lots of photos too at the "Flower Walls" that adorn each venue as well as herbariums made from dried flowers and preserved in glass bottles.
If you're in Japan, have your camera in hand and head to one of the wedding venues to see the forest for yourself.
RELATED ENTRIES
Nihonbashi Art Aquarium Museum Closes for Renewal and Relocation

The Nihonbashi ART AQUARIUM will be closed on September 26 2021 to make way for new exhibits and works. The museum is scheduled to be relocated in the first half of 2022.

The ART AQUARIUM Museum opened in Nihonbashi, Tokyo on August 28 202 with the concept of "a museum where life dwells." This will be the largest renewal in the history of the museum Museum, opened by writer and general producer Hidetomo Kimura, with the addition of more exhibits and new and improved interactive areas.

The Nihonbashi Art AQUARIUM Museum opened alongside the 2020 Tokyo Olympics and Paralympic, with the expectations that visitors would come from both within Japan and overseas, thanks to the exhibitions which easily explain and represent Japan's proud traditional culture and performing arts, but due to Covid restrictions, foreign tourists are still unable to enter the country. Despite this, the Museum saw many customers and with the closing of the Olympic and Paralympic Games, the museum will be closed in preparation to relocate to the new ART AQUARIUM. If you want to see the Nihonbashi location for yourself then this is your last chance!

In addition, the "ART AQUARIUM" digital tour is being held from September 12, allowing you to appreciate the Museum in a digital format until the reopening.

Make sure to check out the Nihonbashi ART AQUARIUM while you have the chance!

Information

ART AQUARIUM Museum

Address::1-3-9 Nihonbashihonchō, Chuo-ku, Tokyo

Opening Hours: 10:00~19:00 (L.A 18:30)

Official Site: https://artaquarium.jp

Japan's Manga Artists Gather at Tokyo's Museum of Contemporary Art

The Museum of Contemporary Art, Tokyo is set to host the Moshimo Tokyo Exhibition as part of Tokyo Tokyo FESTIVAL's 13 special exhibits from August 4 to September 5. The event is free to enter but tickets, which are now available, must be ordered in advance.

Japan's top manga artists drew exclusive pieces for the exhibition

©Inio Asano – taken from TP

©Shinichi Ishizuka – taken from Tokyo Sound

©Taiyō Matsumoto

©Sumito Oowara – taken from East East

The theme of Moshimo Tokyo is "Tokyo" and will exhibit works from 20 big Japanese manga artists, such as Taiyō Matsumoto (Ping Pong; Tekkonkinkreet; Sunny), Inio Asano (Goodnight Punpun; Dead Dead Demon's Dededede Destruction), and Shinichi Ishizuka (Blue Giant). Each artist has illustrated special pieces in line with the exhibition's theme which will be shown at the in and around museum.

Information

Moshimo Tokyo Exhibition

Running: August 4, 2021 – September 5, 2021
Venue: Museum of Contemporary Art, Tokyo

Address: 4-1-1 Miyoshi, Koto-ku, Tokyo 135-0022, Japan

Closed: Monday (except August 9 so will be closed August 10)  / Mondays during Tokyo 2020 (except August 30)

Opening Hours: 10:00-18:00 (Last Entries 17:30)
Price: Free

Book Here: https://artsticker.app/events/646

Official Website: https://mangamoshimotokyo.jp/

Minerva Cafe to Open at The Promised Neverland Jailbreak Arc Museum Exhibition

Roppongi Museum is set to open its The Promised Neverland exhibition on July 17 where it will run until December 30. The exhibition covers the Grace Field House Jailbreak Arc, where guests can feel like they're really walking through the house.

Cafe Logo


As part of the exhibition, a themed cafe called the Minerva Cafe will open inside the museum serving food and drink inspired by the anime series.

BLT Sandwich & Salmon Cream Cheese | ¥1,740 (Tax Included)

Minerva & Phil's Chocolate Banana Pancakes | ¥1,600 (Tax Included)

The Minerva Cafe menu includes the mysterious William Minerva who Emma, Norman, and Ray are pursuing, chocolate banana pancakes with Minerva and Phil designs, and more, including a range drinks.

Latte Art | ¥770 (Tax Included)

Isabella's Brown Sugar Milk Tea | ¥540 (Tax Included)

The Emma, Norman, and Ray lattes also come with a coaster you can take home, and there's a special Isabella milk tea you can buy at THE ALLEY, a food truck at Roppongi Musuem that's popular for its Taiwanese milk teas.

©白井カイウ・出水ぽすか/集英社・約束のネバーランド製作委員会

Information

The Promised Neverland Grace Field House Jailbreak Arc Exhibition

​Running: July 17, 2021 – December 30, 2021

Venue: Roppongi Museum
Address: 5-6-20 Roppongi, Minato-ku, Tokyo

Opening Hours: 10:00-18:00 (Until 20:00 on Saturdays)

Tickets: On sale June 30, 2021

Event Page: https://neverland.taiken-museum.com

Kyoto's National Museum of Modern Art Announces 'Modern Crafts' Exhibition

The National Museum of Modern Art, Kyoto has announced a new exhibition. A Chronicle of Modern Crafts: Works from the National Museum of Modern Art, Kyoto Collection will run from July 9 to August 22.



Crafts are one of the pillars of the activities at the National Museum of Modern Art, Kyoto, a facility that opened in 1963. This emphasis has helped form one of Japan's premiere collections of crafts. Moreover, they have on occasion presented exhibitions such as the International Exhibition of Contemporary Ceramic Art, Contemporary Ceramic Art: Canada, U.S.A., Mexico and Japan, Fiber Works: Europe and Japan, and Contemporary Glass: Europe and Japan, which introduced and compared crafts from other countries with Japanese works, and exerted a strong influence on the Japanese art and crafts scene.

In this exhibition, the museum takes a look back at some of these events from the past based on works from the museum collection while retracing the development of modern crafts. This includes the exhibiting of 305 pieces, 231 from Japanese craftsmen and 74 from those overseas.

Information

A Chronicle of Modern Crafts: Works from the National Museum of Modern Art, Kyoto Collection
Running: July 9, 2021 – August 22, 2021

Venue: National Museum of Modern Art, Kyoto
Opening Hours: 9:30-17:00 (Until 20:00 on Fridays and Saturdays)

Closed: Mondays (but open August 9) and August 10
Price: General ¥1,200 / University Students ¥500 / Free for those aged 18 and below

Official Site:https://www.momak.go.jp/

*Opening hours subject to change depending on COVID-19

The Promised Neverland Jailbreak Arc Museum Exhibition Announces Exclusive Merchandise

Roppongi Museum is set to open its The Promised Neverland exhibition on July 17 where it will run until December 30. The exhibition covers the Grace Field House Jailbreak Arc, where guests can feel like they're really walking through the house.

Newly illustrated artwork to be used on exclusive merchandise

Limited-edition museum exclusive merch line-up

Hangers | 3 Designs: Emma, Norman, Ray | ¥1,430 Each (Tax Included)

Pins | 10 Designs | ¥440 Each (Tax Included)

Acrylic Figures With Stills | 3 Designs: Emma, Norman, Ray | ¥1,430 Each (Tax Included)

Croquis Notebook | ¥990 (Tax Included)

Folder | ¥440 (Tax Included)

3D Postcard Set | ¥990 (Tax Included)

Stainless Steel Bottles | 3 Designs: Emma, Norman, Ray | ¥1,870 Each (Tax Included)

Key Keyring | ¥990 (Tax Included)

4C Ballpoint Pens | 4 Designs: Emma, Norman, Ray, Little Bunny | ¥880 Each (Tax Included)

Flat Pouches | 3 Designs: Emma, Norman, Ray | ¥1,760 Each (Tax Included)

Compact Mirror | ¥2,200 (Tax Included)

Little Bunny Pouch | ¥3,080 (Tax Included)

The exhibition artwork and 136 pieces of merchandise focus on the strong bond between Emma, Norman, and Ray. Dive into the world of The Promised Neverland at the special exhibition arriving this summer.

Information

The Promised Neverland Grace Field House Jailbreak Arc Exhibition

​Running: July 17, 2021 – December 30, 2021

Venue: Roppongi Museum
Address: 5-6-20 Roppongi, Minato-ku, Tokyo

Opening Hours: 10:00-18:00 (Until 20:00 on Saturdays)

Tickets: On sale June 30, 2021

Event Page: https://neverland.taiken-museum.com

Unko Museum: Japan's Poo Museum Heads to Hiroshima

The poop-themed Unko Museum is heading to Hiroshima Marina Hop for a limited time from July 17 to September 12. The museum has been around both inside and outside Japan since 2019. It has popped up in Yokohama, Tokyo, Shanghai, Fukuoka, and online.

The museum is an educational facility that teaches visitors (also called poopers at the museum) everything they ever wanted (or didn't want) to know about poo.




All the classic installations and facilities are making an appearance including the poop-spurting Unko Volcano, the Poopteractive Area which is filled with games, the Poopogenic Area which is covered in cute sparkly poo decorations, and more.

The Promised Neverland Museum Exhibition Opening in Roppongi Cover the Jailbreak Arc

Roppongi Museum is set to open its The Promised Neverland exhibition on July 17 where it will run until December 30. The exhibition covers the Grace Field House Jailbreak Arc, where guests can feel like they're really walking through the house.

Grace Field House entrance

Venue map

The exhibition is split into seven 'chapters' which recreate various scenes from the manga and anime series. The areas are littered with props such as the truck that Conny goes into, the test room desks, ​William Minerva's pen, and so on. They even have the rooms smelling like they would in the series.

Information

The Promised Neverland Grace Field House Jailbreak Arc Exhibition

​Running: July 17, 2021 – December 30, 2021

Venue: Roppongi Museum
Address: 5-6-20 Roppongi, Minato-ku, Tokyo

Opening Hours: 10:00-18:00 (Until 20:00 on Saturdays)

Tickets: On sale June 30, 2021

Event Page: https://neverland.taiken-museum.com

Experience Products and Services From Japan's 47 Prefectures in Shibuya

D&DEPARTMENT PROJECT is teaming up with Loftwork to open the 47 RENTAL STORE inside the d47 MUSEUM located on the 8th floor of Shibuya Hikarie in Tokyo. Running from July 1 to September 27, the store will offer 'rental' products and services from Japan's 47 prefectures.

Some of the exhibits include

Sense of Tono・TONO MADE (Iwate Prefecture) / KIYO Dessert Set・ZIKICO (Tokyo) / XYLOPHONE CHAIR・Chiffon Chair・Toymasu  / suwa megami・suwa megami (Nagano Prefecture)

What to look out for

Experience things from 47 prefectures and help support their promotion and growth.

This project has been held 27 times in the past at d47 MUSEUM, with various themes centred on Japan's prefectures such as travel, craftsmanship, lifestyle, fermentation, and more. The theme for its 28th run is the 47 RENTAL STORE which focuses on fostering communication through services. Visitors will be able to buy and experience a range of products and services first-hand and in turn help to provide feedback to exhibitors.

The products or services visitors are interested in at the event can be tested or rented to see if they wish to incorporate them into their own lives. It's a chance to discover new and wonderful things for adoring lifestyles.

Information

MOLT PROJECT 2021 – 47 RENTAL STORE
Running: July 1, 2021 – September 27, 2021

Closed: Wednesdays

Opening Hours: 12:00-20:00 (Last Entries 19:30)
Location: d47 MUSEUM

Address: Shibuya Hikarie 8F, 2-21-1 Shibuya, Shibuya-ku, Tokyo, 150-8510
Price: Open donations

Event Details: https://www.d-department.com/item/DD_EVENT_27160.html

d47 MUSEUM Official Website: https://www.d47museum.com


*Opening hours subject to change depending on COVID-19 situation

Nadia: The Secret of Blue Water Anime Exhibition Opens in Japan

To celebrate the 30th anniversary of the anime series Nadia: The Secret of Blue Water, which aired from 1990-1991, an exhibition is now taking place at Niigata Prefecture Manga and Anime Museum until June 20, 2021. The series was directed by Hideaki Anno who also worked on Neon Genesis Evangelion (1995-1996) and The End of Evangelion (1997).

©NHK・NEP

The exhibition features a bounty of original materials from the anime's production, from notes jotted down by Hideaki Anno to image boards, character designs, storyboards and more by Mahiro Maeda, and so on. It's an unmissable deep-diving opportunity into the anime classic.

Information

Nadia: The Secret of Blue Water Exhibition

Running: May 15, 2021 – June 20, 2021

Venue: Niigata Prefecture Manga and Anime Museum

Opening Hours: 11:00-19:00 (Last Entries 18:30 / Open from 10:00 on weekends and holidays)

Tickets: Buy at the venue or from Lawson (L-Code: 33344)
Buy Tickets Online: https://l-tike.com/event/nadia-ex

Exhibition Official Website: https://www.nadia-exhibition.com/

Anime Film Belle's Studio Chizu Announces Exhibition at TeNQ Space Museum

Studio Chizu, the Japanese animation studio working on the upcoming anime film Belle which is set for release sometime this summer, has announced an exhibition at TeNQ Space Museum in celebration of their 10th anniversary and in promotion of their newest work. It will be held from July 7 to November 14.

Studio Chizu's past works have enjoyed great success both in Japan overseas and include Wolf Children (2012), The Boy and the Beast (2015), Mirai (2018), and the highly-anticipated forthcoming entry Belle (2021). All the films are directed by the Academy Award-nominated Mamoru Hosoda.

One of the biggest aspects when it comes to creating an animated world are the backgrounds used. This exhibition will focus on two key background features threaded throughout Hosoda's creations: the sky and clouds. Both of these sceneries are showcased in different ways in all four of his films and will be explored throughout the event with a special, exclusive showing of a slideshow with various scenes of the sky and clouds littered in the filmography, as well as a more 'academic' exhibit of the cumulonimbus, a cloud that symbolises Studio Chizu, and more.

Limited edition mask case 

There will also be a selection of original merchandise for anime fans to pick up, as well as a limited stock face mask case when purchased together with select tickets.

Exhibits to look out for at the event

Who are Studio Chizu?

Learn about the 10 year history of the Japanese animation studio Studio Chizu.

Studio Chizu and the cumulonimbus

The cumulonimbus is a cloud synonymous with Studio Chizu's works – see it in all forms from their filmography in this special exhibit.

Information

TeNQ Studio Chizu 10th Anniversary Exhibition

Running: July 7, 2021 – November 14, 2021

Where: TeNQ Space Museum

Price: general ¥1,800 / Students ¥1,500 / 4-12 Years ¥1,200 / Seniors (65+) ¥1,200

Opening Hours: [July-August] Weekdays 11:00-18:00 / Weekends 10:00-19:00

Exhibition Page: https://www.tokyo-dome.co.jp/tenq/event/exhibition-24.html

Have a One Piece Anime Themed Wedding in Japan

Japanese bridal company ESCRIT INC. launched its new "One Piece Bridal Fair" service on May 5, 2021 in collaboration with the manga series One Piece.

The service is inspired by the Grand Line in One Piece, the ocean current that wraps eternally around the entire world like a ring. Those who order the service will be given a collection of One Piece wedding items and gifts including original wedding registrations for all guests, a welcome board for greeting everyone, a life-sized photo cutout of Luffy and the Straw Hat Pirates, a special Sanji-themed food course, and more.

Japan's Biggest Goldfish Museum Reopens After Refurbishments

The Kingyo Museum, which stands in Nara as the biggest goldfish aquarium and museum in Japan, reopened on April 27 after undergoing refurbishments.

AQUA oasis, an aquatic display and power spot

JAPANESE AQUARIUM DISCO

JAPONE Lane

Goldfish have been tied to Japanese culture since the beginning of the 16th century during the Muromachi Period when they were imported from China. The city of Yamatokoriyama in Nara Prefecture is the oldest location in Japan that has been raising goldfishes.

Due to COVID-19, many summer festivals and events where goldfish would be present have been cancelled up and down the country. That's where Kingyo Museum's renovations come in as a way to bring in tourists and sightseers. The museum has expanded to almost double its previous size to bring in new areas that utilise projection mapping and art, such as the AQUA oasis and the JAPANESE AQUARIUM DISCO which has brought in Japan's first die-cut fish tanks. Visitors can enjoy 38 of Japan' most prominent goldfish species, from familiar faces to rarer kinds.

Information

Kingyo Museum

Reopened: April 27, 2021

Opening Hours: 10:00-18:00 (Last Entries 17:30)

Official Website: https://kingyomuseum.com/