【Booth Edition】What to expect at MOSHI MOSHI NIPPON FESTIVAL 2016. Experience Japanese traditional & pop culture at the booth area!
The MOSHI MOSHI NIPPON FESTIVAL is loaded with exciting things to experience. Not can you look forward to the fashion shows and live performances, but the booth area too, where you can get hands on with many things Japanese culture has to offer. The number of booths has increased this year – and so has the fun! Let us introduce you to the indoor booths.
【Yagura Stage】YAGURA STAGE TIME TABLE
At the centre of the booths is the "Yagura Stage," where lots of different Japanese performances will be held.
【26th】Bon Odori 
Bon Odori, a style of dancing performed during the Bon Festival, is a Japanese summer tradition. You'll be able to try out dancing the Bon dance yourself around the Yagura stage! You'll be joined by "yuru-chara", the Japanese term for "mascot characters". Get involved and make the stage even more of a fun time.
【27th】Domobics by Tokyo Performance Domo
"Tokyo Performance Domo" is a collaborative unit between J-pop idol group "Tokyo Performance Doll" and NHK mascot character "Domo-kun" which has everybody joining in with fun and original exercises together. Get involved!
【26th &27th】DJ MARUKOME
MARUKOME … will be a DJ?! That's right, DJ MARUKOME , the mascot for Japan's #1 miso company, will be a DJ and followed by Japanese traditional instruments performers. The anticipation continues to grow as we look forward to hearing just what kind of music DJ Marukome will play for us!
【26th &27th】Traditional Japanese Arts Performances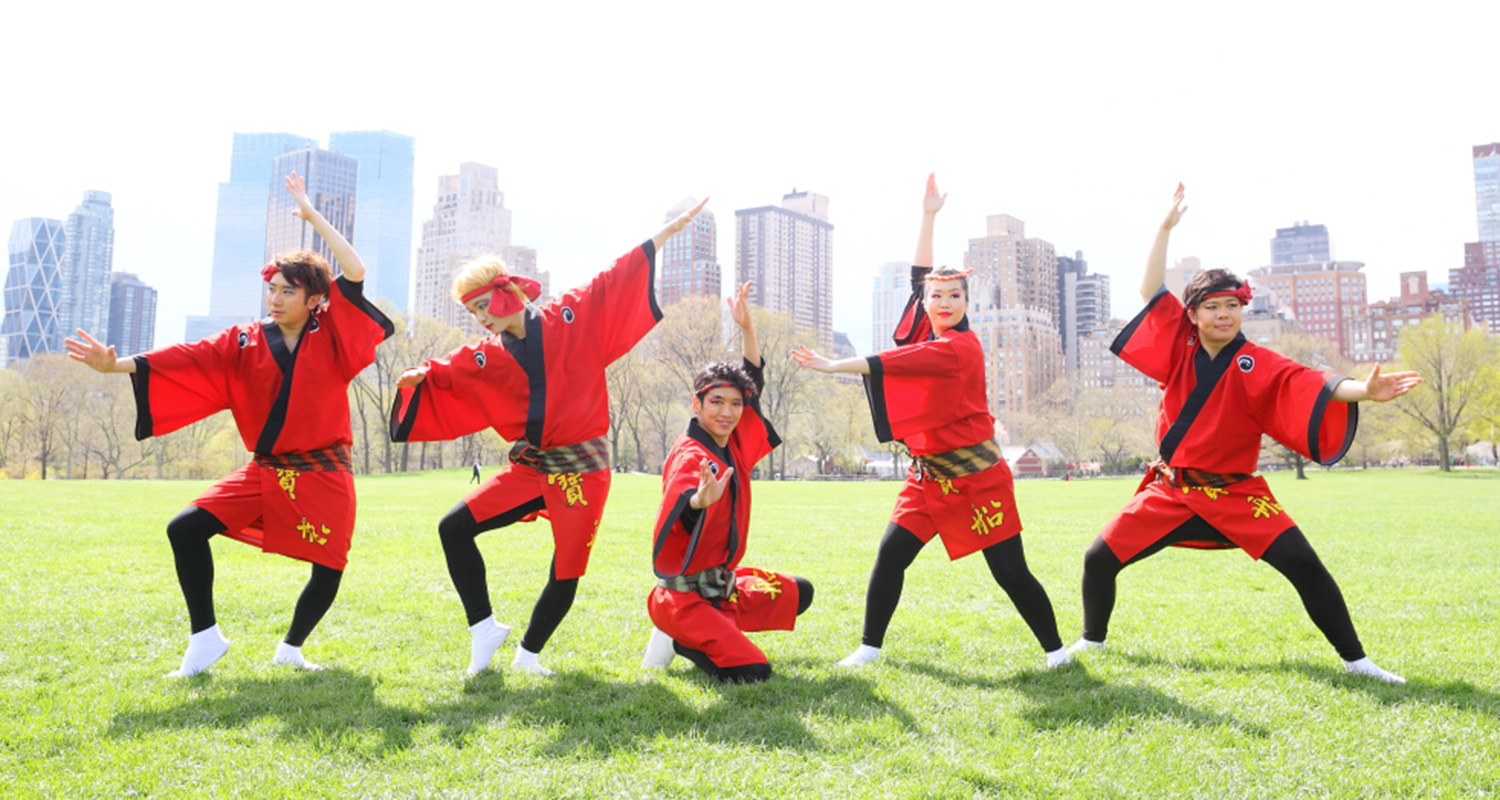 Look forward to seeing lots of traditional Japan delivered to you, such as "Awa Odori", a type of traditional dance, as well as performances of traditional Japanese music and instruments. Be sure to look out for the kind of traditional performances you wouldn't normally get the chance to see.
【Booth Details】
There are lots of booths this year where you can get hands on with Japanese culture. Experience the Japan "today" through a variety of different booths from traditional to fashion, technology and much, much more!
・Outdoor / FOOD AREA(NIPPON UMAI YOKOCHO)
【Japanese traditional culture】
Experience Japanese Culture Booth "WABI-SABI"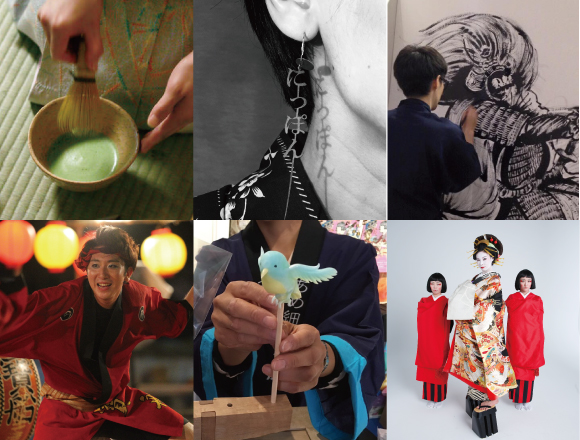 "WABI-SABI" is the booth area where you can experience traditional Japanese culture hands on. For just ¥500 you can get involved in lots of different workshops!!! For more information on what kind of booths you can experience, click the following link:more details
Itani-shoten
Itani-shoten's bridal costume brand, Kimono Yugi, a combination of craftsmanship techniques and modern colors, offers a new kawaii. You can also take a commemorative photo with a model wearing it.
Pray for wishes. Create your card to pray.
Paformance of weaving Amami's traaditional cloth, Amamifu.We usually used cloth for weaving Amamifu, but we use sheets of paper written your wishes, and weaves Amamifu.
Harajuku Nippon Market
Full-fledged Japanese armor used for photographs of Japanese period dramas, Japanese traditional items, other Japanese things are exhibited.
SUPER UKIYO-E "THE EDO CODE"

The digital art exhibition "SUPER UKIYO-E 'Edo no Himitsu Ten'" is being held from January 28th, 2017 to May 21st, 2017. The exhibition will see the best pieces of art chosen from around 20,000 works (and rising) turned into high resolution digital art.
You can stand in front of a visual image of lots of digital ukiyo-e works at the booth and take an immersive photograph.Be sure to use the hashtags #superukiyoe #スーパー浮世絵

【TECHNOLOGY】
RecoChoku
You can experience a VR view of Kyary Pamyu Pamyu's "KPP 5iVE YEARS MONSTER WORLD TOUR 2016 in San Francisco" concert which was held on July 2nd, 2016, over at the Reco Choku booth! The entire concert was filmed in full 360° on a 4K camera for this VR experience. Try it out yourself and feel just like you're part of the concert!
『DRONE VISION』 produced by fujitelevision
"DRONE VISION"produced by Fuji Television lets people have unique experience with drones! Not only can participants operate the drone but also experience the epic sensation through taking the video!
BIOHAZARD 7 resident evil (CAPCOM)

Abosultely terrifying virtual reality "BIOHAZARD 7 resident evil" is coming to MOSHI MOSHI NIPPON. Take also a look at some of the most popular and anticipated Play Station®VR "Lantern". Let's have the most frightening and bone chilling experience of the year!
MADE IN JAPAN OKAMOTO ZEROONE BOOTH
Okamoto's condom "001 (OKAMOTO ZERO ONE)" are Made in Japan. They are manufactured at our Ibaraki Plant in Ryugasaki, Ibaraki Prefecture. As the name suggests, Okamoto's condom "001 (OKAMOTO ZERO ONE)" are our thinnest condom ever, at just 0.01 millimeter range.
【FASHION & BEAUTY BOOTH】
AEON KAWAii RANDSEL STATION
Colorful Shopping Wonderland comes to MOSHI MOSHI NIPPON Festival!!! AEON, Asia's number one premier retailer will have two booths at this year's event! Inside, we will be showcasing our World Tour and the widely popular Randsel in a variety of colors at the KAWAii RANDSEL STATION. Try one on! Here we will also be giving away limited edition souvenirs. But hurry, supplies are limited so grab them while they last!
OLIVE des OLIVE
A new project was started on OLIVE des OLIVE's LINE account in October this year. Introducing IBM's artificial intelligence system "Watson", which can offer fashion styling tips via questions sent by users.The system has learnt all information relating to clients, as well as stock information and trending information, all of which is managed by OLIVE des OLIVE. It is capable of answering questions posed in natural language and via image data and so can offer fashion coordinates to customers.This is an unprecedented style of shopping, a first-of-a-kind, innovative service using artificial intelligence.
KERA
Have yourself a go at trying on clothes from MILPOM★, as well lolita fashion and more.
Models from KERA will also be coming over periodically, so you might even get a chance to have your picture taken together with that model you've always wanted to!
Monster Party!
There are various Japanese visual bands, punk and Gothic fashion costume! You can take a hair makeup on the spot! Let's take a picture like Bandman and Diva who went up to a live stage.
Model's belonging  & SNOW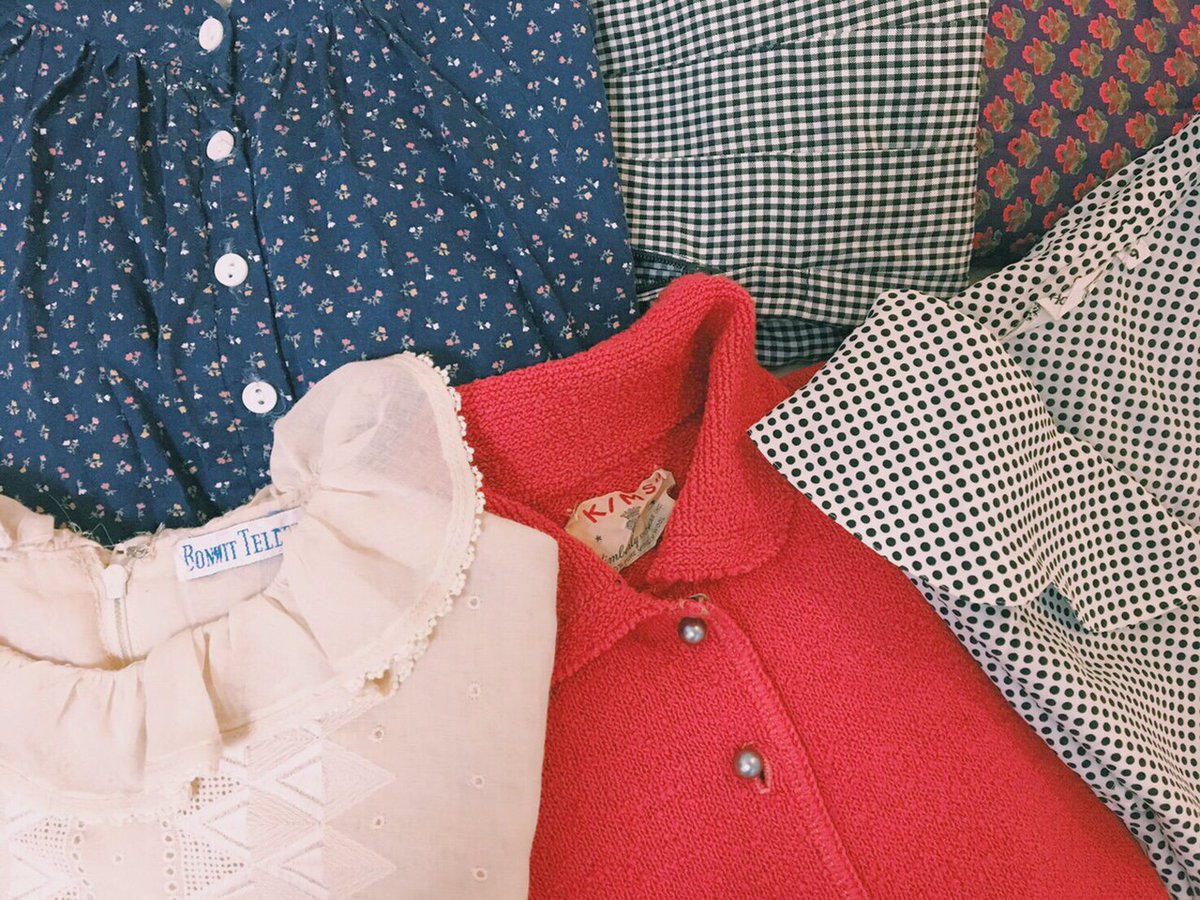 At model's belonging booth, models who are popular in harajuku will sell their personal belongings! Let's get your favorite models goods and enjoy the fashion! You can also enter the raffle event at the SNOW, a photo app, booth! There will be limited edition photo frame!
"KAWAII ROOM" 〜 experience a secret of Japanese Girls' Beauty〜
This is a joint promotion booth for Japanese cosmetics and consumer goods. See a variety of items themed around "Busy Morning, No Time" and "Night-time Care" and experience make-up application from a professional beautician. We recommend this booth to foreigners so they can take part and discover and experience the secrets and quality of this make-up. And those of you who take the questionnaire will receive a gorgeous sample!!
KIREIMO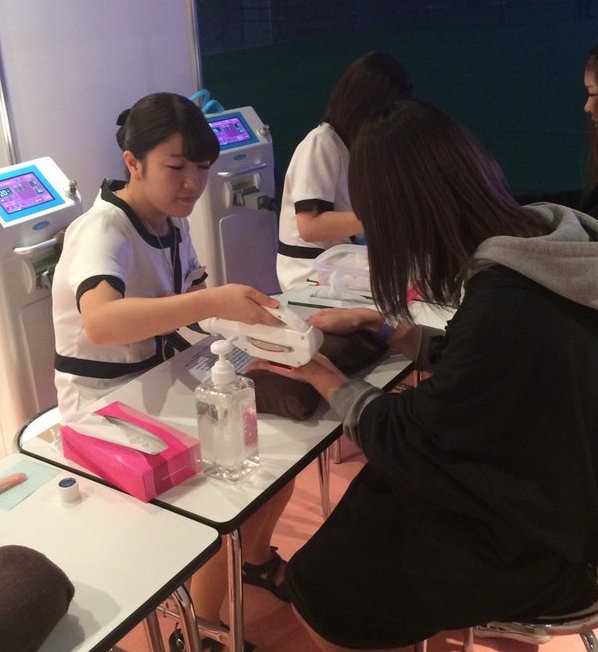 KIREIMO is a new hair removal salon that upholds and maintain 3 fortes and 7 promises, offering you the most luxurious relaxation time you could ever imagine alongside the hair removal. There are currently 33 stores running exclusive campaigns, offering free service and student discounts for first timers, Try out a painless, full-body hair removal treatment yourself at KIREIMO! ♪
Bonita Bubble
This bubbles of this Peko produced clay mix are spongy and springy and do not harm your skin. They will repair pores that that are full of old keratin and impurities.
By absorbing these, the clay will clean your face and your pores will become fresh with your skin left feeling healthy and transparent.
【Japansese Information】
&TOKYO
As part of the "Tokyo Brand Suishin Project", the exhibition of the various products offered by &TOKYO which was held by Tokyo and business officials is being held at the &TOKYO booth. In addition, there is a designated photo spot where you can take a commemorative photo to remember the day. You'll can also print the photo off for free and receive original goods as a present from &TOKYO.
Find Your JAPAN  Powerd by studioALTA
In summer 2017, Studio Alta will open an amusement theatre in Yurakucho in Tokyo that is aimed at and for all the people of the world! And we are happy to reveal the initial information about it here!We'd also like to announce "webTV「FIND YOUR JAPAN」" which explores overlooked areas of Japan.Moreover, you can become Japan discovery ambassador so that you can report places of Japan that you have discovered and want to spread the word about! Those of you who report for us can receive your very own original.
GOOD LUCK TRIP
Come to our booth and tell us where you have visited and where you want to go in Japan! We have some special present if you answer questionnaire. You can also get the  GOOD LUCK TRIP magazine which contains the latest topics and the detailed maps.
Good stuff from all over Japan.
You can sit and hvea break in our place, where we play bing!
Welcome to Pink city !
Matching Tottori Prefecture's new specialties Foods, pink curry and pink soy sauce, we colored our space.Come and see the new Kawaii specialties Foods.
Jurassic Photo session in Fukui prefecture.
Trick art of dinosaurs is comming from the Fukui prefecture dinosaur museum which is one of Japan's dinosaur fossil excavated sites. Enjoy taking pictures with a powerful dinosaur's trick art and also taking a picture wearing dinosaur's headdress.
【CHARACTER】
DJ MARUKOME
Who's that skinhead? Its Marukome, spinning the ingredients like spinning on the dance floor. This is a taste of a mixture of Japanese groove and Future Techno, and a hint of Kraftwerk. Just listen to the dance remix of "Marukome- Marukome-" and EDM- "Enjoy Dance with Marukome". I keep this floor hot while spinning the pot!
You will be a captain "Tsubasa"
You can enjoy striking out by kicking a soccer ball and dropping the target can. If you can drop all, present Japanese popular manga "Captain Tsubasa" collaboration ball type "Oden" cans!
CHOBITTTODUKAN
The booth of CHOBITTTODUKAN  spinned off from KOBITODUKAN, the 10th anniversary title is broadcasting now on KIDS STATION and TOKYO MX. We sell goods of KOBITODUKAN and release the new character. TEMPURA KIDZ who sing the main theme song and KAKUREMOMOJIRI, the main character might come…!?
The 40th anniversary of  UNICO
This booth displays copies of the original panels from the manga "Unico" as well as a special collaborative piece between WEDNESDAY CAMPANELLA, jouetie, and Unico. The MOSHI MOSHI NIPPON FESTIVAL is a place full of the kind of photogenic spots that you can only get here at the event, so be sure to snap some cute shots together with everyone.
【OTHER】
LAWSON DREAM ARTIST AUDITION
Lawson, one of the biggest convenience store in Japan, will have an "Lawson dream audition" for those who want to become a singer! Don't miss out on this big opportunity!
instax SHARE
"My favourite…" – Take a picture with your smartphone, print it as a chekki photo, tag it with the special tag (which we will announce at the booth) and post it to Twitter or Instagram.Whether it's a person or an object, your favourite thing can be anything!(So that we know the message has been sent properly, be sure to follow the official Chekki Twitter or Instagram accounts)
ZippMUFF
ZiPPMUFF is a new product with a simple combination, but something that's never been seen before: "Towel with superb absorbency" and "Zipper". In sports, outdoors, fashion and many other contexts…… Enjoy your own style with ZiPPMUFF! * ZiPPMUFF is a registered trademark of LUCK'A Inc. and has been submitted as a utility model. ZiPPMUFF×MOSHI MOSHI NIPPON×imabari towel COLLABORATION ITEM <JAPAN MADE> Available now!
Nature feeling Yoga trip
Experience of yoga at the place where display Amami's pictures. After photographing yoga poses and submitting it to Instagram, it shows up in a slideshow on the screen set up at the venue on the same site. Yoga beginners are also welcome! Please come and visit.
CAPSULE TOY BOOTH
We have over 100 kinds of capsule toys as japanese culture. Please come, find, get your favorite item. Good Luck!!
Rocket News24 Gachapon capsules
Rocket News 24 is a popular web magazine that reports interesting, strange and exciting news! At MOSHI MOSHI NIPPON, rocket news 24 will provide goods that has been used in the magazine but has no where to go. Let!s try the limited event spcial lottery!
SAGAWA EXPRESS CO.,LTD.
Sagawa Express can hold onto your luggage for a period of time and even deliver it to the airport or a hotel for you.If your baggage is a struggle from being too heavy, if you feel like you just want to leave it somewhere for a little while, if you did some shopping but have too much to carry and can't get back, or if you want to enjoy the event to the fullest, then this service is most definitely for you.
The booth area at MOSHI MOSHI NIPPON FESTIVAL 2016 will be bubbling with everything you could ever want and expect from Japanese culture. Join in and have fun with us and experience all aspects of the culture!
■MOSHI MOSHI NIPPON CONTENTS
・Saturday 26th MOSHI MOSHI STAGE
・Sunday 27th MOSHI MOSHI STAGE
・Outdoor / FOOD AREA(NIPPON UMAI YOKOCHO)
—
■Information
MOSHI MOSHI NIPPON FESTIVAL 2016 in TOKYO
Venue:TOKYO TAIIKUKAN (1-17-1 Sendagaya Shibuyaku Tokyo)
Date:November 26th(Sat.) and 27th(Sun.) , 2016
Tickets:http://msmsnippon16-1.peatix.com
※Foreigners who register beforehand can enter the venue free of charge on condition that they show their passport or residence card to the entry staff on the day of the event