This is the first article of a new series here on MOSHI MOSHI NIPPON we are calling Mogu Mogu Nippon ("Gobbling Japan").
It's no secret that we here at MMN love eating. At any time of the day someone in the office is eating or drinking something. We have a particular weakness for new products and limited edition seasonal items that are released here in Japan. From time to time, someone will buy something and share it amongst everyone!
In Mogu Mogu Nippon, we will showcase a selection of food, sweets and more that we want to recommend to you―our readers. For this first entry, we are heading to the convenience store to review the Häagen-Dazs Mini Cup Houjicha Latte.
Here in Japan, Häagen-Dazs regularly scoops out a variety of limited edition ice cream flavours, many of which are tea flavoured.
The one we recommend is their Houjicha Latte. This flavour was first released back in 2017 and has gone on to become hugely popular. Demand for this limited edition product to return has been huge (and I'm one of those people!). If you love tea, especially Japanese tea, then you'll find this one irresistible.
Matcha and matcha flavoured products are enjoying a boom around the world today. Like matcha, there are a lot of houjicha items sold here in Japan.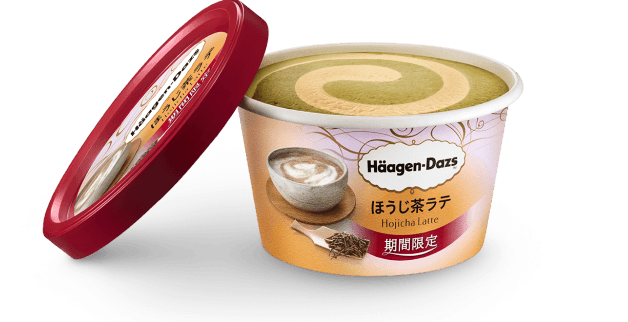 The Houjicha Latte Häagen-Dazs ice cream is on sale right now for a limited time. I ate mine during snack time.
Upon opening the lid you are met with a spiralling marble-like pattern in your ice cream which are two different types of houjicha. The ice cream is rich and has a full-bodied milk flavour. This is coupled with the fragrance and delicious taste of the tea making for a seriously refreshing ice cream. The balance between the flavours is perfect, so you get richness but your taste buds are also left feeling refreshed.
The ice cream isn't overly sweet and has just the right amount of bitterness from the houjicha. The sweetness of the milk fills your mouth and harmonises it all.
We recommend the Häagen-Dazs Mini Cup Houjicha Latte to those looking to eat a dessert made in Japan. You can pick up a cup at most convenience stores across the country, so be sure to give it a try if you're here for summer, especially if you've never tried houjicha sweets or desserts before!
Information
Häagen-Dazs Mini Cup Houjicha Latte (Limited Edition)
Available: At most major convenience stores, supermarkets and department stores in Japan
Price: ¥272 (Before Tax)
Product Page: https://www.haagen-dazs.co.jp/houjicha_latte/