3 New Shops Open In Tokyo Station selling Curry Buns, Souvenirs, Bentos and More
From 2012, East Japan Railway has been developing the shopping area in the north eastern part of Tokyo station. As part of this project, three new shops will be added to this shopping area from July 10, 2019. The shops include a highly praised bakery, which is adored by bread-lovers, and even a shop that sells a wide range of Japan's finest desserts, sweets, souvenirs and much more.
Zopf Curry bun shop (First Tokyo shop)
In a quiet remote part of Matsudo, Chiba lies what is known to many as the "sacred home of delicious bread". This shop is called Zopf, and it brings in masses of customers daily, selling up to 700 delicious breads every single day. Zopf's original recipe curry bun cannot be shaken from its holy heights. They are all deep fried at the station so your first bite is always crunchy and delicious.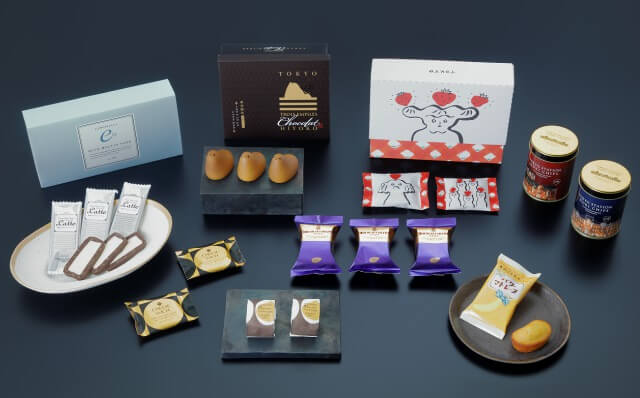 HANAGATAYA, Gransta Tokyo Chuo Line area  ※New brand
HANAGATAYA Gransta Tokyo located in the Chuo Line passage contains a variety of carefully chosen popular Tokyo souvenirs, limited edition goods that cannot be purchased elsewhere, specially selected souvenirs and carefully-made bento lunches. The storefront will sell special branded goods which will regularly changed, displaying the latest and finest of Tokyo goods.
NewDays Gransta Tokyo Chuo Line Area
NewsDays convenience store never fails to serve the various needs of the busy people at the station. From food to items to services, quickly pop in here to solve all your last-minute problems!
Come explore the new souvenirs, delicious bento lunches and much more at Tokyo Station!
Information
3 new shops opening at Tokyo Station
Tokyo Station Northern Shopping Area
Address: JR Tokyo Station Basement floor 1/floor 1, outside the ticket barriers
(1-9-1, Marunouchi, Chiyoda, Tokyo)
More Information: http://www.tokyoinfo.com
RECOMMENDED ENTRIES
【Tokyo Stroll 】Recommended spots around Tokyo Station before/after the trip.

"Where do we go now?" "How shall we end the day?" – these are just two of the questions that you will be asking yourself if you spend a day in Tokyo. Tokyo station is both the first and last stop of numerous journeys and is connected to every corner of Japan. Many enter Tokyo to begin their adventure, and many leave to embark on a new adventure. Today, we'll be looking at the enjoyment that awaits us before and after Shinkansen and normal trains depart on their journeys. Today, Hikari Shibata will be recommending you just some of the best spots in Yurakucho!

A direct connection to KITTE!

From Tokyo Station Marunouchi south exit, you will immediately be faced with "KITTE". From fashion and miscellaneous to gourmet to souvenirs – a wide range of wonderful items have been gathered in one spot.

A specialist hankerchief shop gleaming with style

First up on Hikari's list of recommendations is the handkerchief specialist store "H TOKYO", which is located on the 3rd floor. From illustrators to novelists, these handkerchiefs are the result of many artist collaborations. The handkerchiefs line the shop, filling up the display areas.

Whether you're looking for a beautiful handkerchief to brighten your spirit, or whether you are looking for the perfect gift for a loved one, you can take your time browsing here to your heart's content.

Patterns and traditional Japanese designs such as these can only be found in Tokyo. You can also purchase badges and uchiwa fans, small items made from the fabric of the handkerchiefs and many KITTE limited items that cannot be obtained anywhere else.

You can also purchase personalized handkerchiefs with initials, messages and even embroidery. Many foreign visitors and other tourists who are staying in Tokyo for a while choose to order their designs and then collect them before returning home.

■Information

H TOKYO Marunouchi store

Address:3rd floor KITTE, 2-7-2, Marunouchi, Chiyoda, Tokyo

Access: Approx. 1 min walk from JR/Marunouchi line (Tokyo Station), approx. 2 min walk from Chiyoda line (Nijubashimae Station)

Opening hours 11:00-21:00 (Open until 20.00 on national holidays) 
Fixed holidays:Decided by KITTE
Telephone number:03-6256-0811

A museum too?!

Did you know that KITTE doesn't just sell goods; it also has its own museum? This highly attention-grabbing museum is a big hit with the public and not only displays art, but is also a highly attractive academic spot.

© INTERMEDIATHEQUE

Room and display design ©UMUT works 2013-

INTERMEDIATHEQUE is located on the 2nd and 3rd floors. Here, the museum space merges academic pursuits with culture. The heritage of the arts collected from Tokyo University over 140 years has been gathered here. Therefore, this is a very special spot. Specimens, samples, stuffed animals and much more – this part of the museum contains precious findings in academic pursuit and teaches the generations of the future all kinds of history.

© INTERMEDIATHEQUE

Room and display design ©UMUT works 2013-

This has been the storage area of academic specimens. A viewing of these specimens fills us with wonder about our present world. The exhibition provokes us to wonder where these discoveries can lead us and what impression they make. Visitors can enjoy the vast collection of historical items and their hidden messages.

© INTERMEDIATHEQUE

Room and display design ©UMUT works 2013-

■Information

JP Tower Gakujutsu Bunka Sogo Museum「Intermediatheque」

Address:2nd – 3rd floor KITTE, 2-7-2, Marunouchi, Chiyoda

Access: Approx. 1 min walk from JR/Marunouchi line (Tokyo Station), approx. 2 min walk from Chiyoda line (Nijubashimae Station)

Opening hours:11:00 – 18:00 (Fri. and Sat. until 20:00)

Entrance fee: free

Last entries accepted 30 mins before closing time.

Fixed holidays:Mondays and during the New Year period. The institution decides on any further closing days. The museum is closed for both Monday and Tuesday if the Monday is a national holiday.

Telephone number:03-5777-8600

 

>>next page

Presenting the Tokyo station bento lunch rankings to accompany your Golden Week travels!

Japan's favourite holiday Golden Week technically starts on Saturday 27th April. This year, the holiday stretches over a long 10 days and I'm sure there's many of you who will be taking the bullet train to travel or to visit your families! That's where Tokyo Station's best bento lunch rankings come in handy!

Gransta

1st place: Shrimp, crab & salmon bento (Tsukiji Sushi Sei, Marusei) ¥1,250 (price after tax)

This bento is packed with salmon and shrimp and pieces of crab meat. It's quite popular amongst girls!

 

2nd place: Beef in sweet ankake sauce served with fried rice (KAMONKA) ¥741  (price after tax)

Beef boiled in a special sweet ankake sauce and then dished up with fresh fried rice when the order comes in!

※ Sales may continue only until the start of summer.

3rd: place Ginger-fried pork bento (Asakusa Teppantei) ¥1,190 (price after tax)

The beef used is from Japanese Black cattle, which is sourced from within Japan. The strong ginger taste makes for a very adult-like flavour.

Ecute Tokyo

1st place: Large hamburg steak with kinako pork katsu bento (TSUBAME GRILL DELI)  ¥1,280  (price after tax)

You can enjoy both TSUBAME GRILL DELI's popular hamburg steak and pork katsu in one hearty serving!

※ Limited to Ecute Tokyo, only 50 of these bentos will be sold every day.

2nd place: Hifumi bento (Furusato ryouri Fukuzen) ¥1,350  (price after tax)

Flame-seared Kanzaki aged beef, sweet and spicy beef tendon boiled in soy sauce and Japanese pepper, and a hamburg steak made from beef and hakkinton (creamy, delicious pork), seasoned with shio-kombu. This is your chance to enjoy three different kinds of meat and deliciously seasoned kombu (kelp).

3rd place:  Yellowtail fish in teriyaki sauce and nori seaweed bento (Hakejyoyu Noribenyamanobori) ¥1,944 (price after tax)

This isn't too oily and the Japanese Amberjack yellowtail even remains plump and delicious when cooled. There are only a limited number of these bento and once they're gone, they're gone!

Extra:

Tokyo station bento: Nihombashi Daimasu, Tokyo  ¥1,680  (price after tax)

If you're looking for the perfect Tokyo ekiben (station-bought lunch box), this is it! It comes in a box with a beautiful Tokyo station print and retro wrapping. The contents are also delicious and carefully made, packed with the special flavours of an experienced bento-making shop.

Pop by to discover these lunches and enjoy the holidays!

7 Tasty Places to Eat Breakfast at Tokyo Station

Tokyo Station is one of the busiest stations in Japan, home to many of the JR Lines as well as the Tokaido Shinkansen which runs between Tokyo and Shin-Osaka.

But Tokyo Station isn't just a simple station. It's a giant complex packed with many places to eat. Today, we're going to take a look at 7 places you can eat breakfast at Tokyo Station before departing on your journey.

Fruit Parlor Kajitsuen

Fruit Parlor Kajitsuen can be found in Kitchen Street which is a one-minute walk from the Yaesu North Exit ticket gates of Tokyo Station. As the name suggests, their menu is packed full of fresh fruity food. The breakfast menu has things like pancakes and toast, all of which arrive with fresh fruit. If you like to eat fruit in the morning then this is the place for you.

Rokurinsha

The popularity of Rokurinsha has never died down ever since it opened on Tokyo Ramen Street in 2009. It has gone on to become a leader in the tsukemen, or dipping noodle industry. The restaurant also serves three types of ramen in the morning. The irresistible soup is nice and light so can be enjoyed even in the early hours.

Yaesu Hatsufuji

This izakaya is located in Yaesu Shopping Mall and opens at 7am. They serve 7 different breakfast sets such as fried salmon, pork miso soup, fried eggs, and simmered meat and tofu. Their portions are big and they use great ingredients. If you want a Japanese-style breakfast then check this place out!

Tsukiji Sushi Say

Located in Gransta on floor B1F is Tsukiji Sushi Say, a sushi restaurant that has been around since 1889. Their recommended breakfast meal is sea bream with sesame sauce. The rich sauce replaces the usual soy sauce and covers a sea bream sashimi. It can be eaten as it is or covered with kombu and bonito dashi. Being able to eat fresh fish in the morning is a luxury!

Misogen

This looks like coffee, but it isn't. The drink is called 'Shijimi Expresso' and is made with clams from Lake Shinji in Shimane Prefecture together with flavoursome miso paste and served in an espresso cup. You get a small 70ml serving.

T's Tantan

Vegan food is hard to come by in Japan, but T's Tantan is a rare exception. Their vegan menu uses no meat, dairy or animal products. Enjoy a selection of vegan foods on their breakfast menu including shoyu ramen, tantanmen, soup and rice, and more. Their recommended meal is the 'Shiawase Tantan Soup Kake Gohan,' a mix of rice and grains and an original T's Tantan soup. Visit here if you want something healthy when you wake up.

Boulangerie La Terre

If you're looking for bread in the morning then we recommend this place. They bake lots of fresh bread nice and early. This fluffy looking bread is made with milk from Jersey cattle from the city of Aso in Kumamoto Prefecture. Its fresh sweetness and fluffy texture is loved by customers.

We hope you find this useful when staying in Tokyo. Start your day with a delicious breakfast at Tokyo Station.

Start your morning with one of Tokyo Station's 200+ delicious breads and pastries!

Tokyo Station City is a bread battleground where over 200 types of breads and pastries are sold. In this article we show you the top bread rankings at Gransta, ecute Tokyo and ecute Keiyo Street that serve up the perfect breakfast to start your day.

Gransta

 

1st Place – Curry Bread: ¥220 (Tax Included) @ BURDIGALA EXPRESS

Taking the No.1 spot in Gransta is BURDIGALA EXPRESS's curry bread cooked with spicy fillings.
*Tax-inclusive price to increase to ¥226 on April 1, 2019.

2nd Place – Croissant: ¥220 (Tax Included) @ BURDIGALA EXPRESS

A light and crunchy croissant wrapped delicately in rich butter.
*Tax-inclusive price to increase to ¥226 on April 1, 2019.

3rd Place – Pain au Chocolat: ¥240 (Tax Included) @ BURDIGALA EXPRESS)

Known as a "chocolatine" in southern France, this puff pastry-like delight is full of delicious chocolate.

*Tax-inclusive price to increase to ¥248 on April 1, 2019.

4th Place – Croissant B.C.: ¥292 (Tax Included) @ Daisy Tokyo

An almond cake wrapped in a croissant pastry and topped with cookie dough and almonds.

5th Place – Onion Curry Bread: ¥324 (Tax Included) @ Boulangerie Asano

This tasty curry bread is made with rich onions. The outside is crunchy without being greasy.

ecute Tokyo

1st Place – Tokyo Brick Bread: ¥287 (Tax Included) @ Tokyo Anpan Mame-Ichizu

Made to look like the red bricks of Tokyo Station this bread is filled with adzuki beans and a specially made cream before being stamped with the station's name.

2nd Place – Denmark Sausage Roll: ¥291 (Tax Included) @ Andersen

A soft rolled pierced with a Denmark sausage and topped with cheese perfect for lunch or just a quick bite to eat.

3rd Place – Tokyo Red Bean Paste Pancake: ¥480 (Tax Included) @ Tokyo Anpan Mame-Ichizu

A 'pancake sandwich' smothered in butter and packed with large-grained red beans from Tokachi District, Hokkaido.

4th Place – Tochiotome Strawberry Cream Anpan: ¥280 (Tax Included) @ Tokyo Anpan Mame-Ichizu

The strawberry cream is made with Tochiotome strawberries which have a full-bodied flavour. This is mixed with coarse sweet red bean paste to create something both delicious and cute-looking.

5th Place – Milk France: ¥172 (Tax Included) @ Andersen

This bread has a light and piquant texture to it and is filled with cream that has a milky flavour. The delicious taste of the cream with the bread gives it a distinct flavour.

ecute Keiyo Street

 

1st Place – Beef Stew: ¥292 (Tax Included) @ Boulangerie La Terre

An interesting mix that combines a chewy doughnut and slow cooked beef stew.

2nd Place – Happiness Calling Cream Bread: ¥195 (Tax Included) @ Boulangerie La Terre

The Jersey cattle milk used to make the custard cream filling is rich in flavour but light in texture. Everything is wrapped in a fluffy dough with a cute smiling face on it.

Chickpea Curry: ¥216 (Tax Included) @ Boulangerie La Terre

A curry doughnut stuffed with chickpeas. The slow cooked roux complements and bring out the flavours of the beef and vegetables even more.

Start your morning off with a hearty breakfast at Tokyo Station!
RELATED ENTRIES
Tokyo Station Hotel to Offer Accommodation Plan in Conjunction with the 150th Anniversary of Railway in Japan Exhibition

Starting on October 8, Tokyo Station Gallery will begin the 150th Anniversary of Railway in Japan Exhibition. To celebrate the opening of the event, Tokyo Station Hotel will begin offering a special lodging plan which includes a special ticket for entry starting September 15. 

2022 marks the 15th anniversary of Japan's first railroad. The exhibition will look back at the history of railroads from their inception in 1872 to the present day, and will also feature modern and contemporary Japanese art.

 

Over 150 works will be on display, from oil paintings to photographs. The exhibition will also include Kawanabe Kyosai's Jigoku Gokuraku Meguri-zu and Utagawa Hiroshige's masterwork Steam Train Running Along the Shore at Yokohama. The train headmark was designed by Katsuhiko Hibino in 2021.

 

The accommodation plan will include a special tour held on the morning of check-out day before the gallery opens to the public. Visitors can enjoy the exhibition in depth while listening to explanations by the curators who planned the exhibition. After the tour, visitors can enjoy the exhibition again. The special ticket features Utagawa Hiroshige's painting Steam Train Running Along the Shore at Yokohama and is perfect as a souvenir.

Enjoy a rare moment surrounded by the historic architecture of Tokyo Station's Marunouchi Station Building and immerse yourself in the history of the railroad.

Chiikawa Store to Open for Limited Time on Tokyo Character Street

From August 19 until September 1, a special Chiikawa shop will open on Tokyo Character Street, located inside Tokyo Station!

Chiikawa is a popular character first revealed by Japanese illustrator Nagano on Twitter. The artist's creations have become massively popular, with Nagano's follower count on social media reaching over 1.2 million fans. From collaboration cafes and exhibitions to a recent anime series, the sky's the limit for these adorable characters!

Commemorative Stamp

Purchase Bonus: Holographic Card (6 varieties, random) *Not for Sale

Bonus for Guests Spending ¥3,300 (Including Tax): Heart Fan *Not for Sale

Bonus for Guests Spending ¥8,800 (Including Tax): Bath Towel (2 varieties) *Not for Sale
*Available while supplies last.

Exclusive Merchandise

At this limited-time Magical Chikawa shop, fans can find exclusive products featuring new illustrations, as well as special purchase bonuses and commemorative stamps for guests!

©nagano / chiikawa committee

Popular Character Shirotan Inspires Limited-Time Store at First Avenue Tokyo Station

Tokyo Character Street, located within First Avenue Tokyo Station, has opened a special pop-up shop dedicated to the popular character Shirotan! The store will be open until May 26, 2022. 

Shirotan, an adorable harp seal, represents "comfort, healing, encouragement, and connectedness." 

Aiming to cover Tokyo Station in this cute and inspiring character, the pop-up shop isn't the only Shirotan appearance going on. Those strolling from the Nozomi Plaza in front of the Yaesu Underground Central Exit ticket gate towards Character Street will see Shirotan covering the walls, welcoming guests.

In addition to standard Shirotan products, fans can also grab 17 brand-new items being sold exclusively at the pop-up shop. 

 

The book Welcome to Shirotan's World will be available on July 7, so be sure to preorder!

Information

Shirotan's Fluffy Store
Address: First Avenue Tokyo Station (1-9-1 Marunouchi, Chiyoda-ku, Tokyo)
Open: May 13 – May 26, 2022
Hours: 10:00AM – 8:30PM (Closing at 6:00PM on May 26, 2022)

Chibi Maruko-chan 35th Anniversary Pop-up Shop Coming to First Avenue Tokyo Station

To commemorate the 35th anniversary of Chibi Maruko-chan, the Momoko Sakura Pop-up Shop will open from March 18 to March 31, 2022, at Ichiban Plaza on Tokyo Character Street in the First Avenue Tokyo Station mall.

The Chibi Maruko-chan manga series began in 1986, and was serialized in the popular shojo manga magazine Ribon until 2018. Written by Momoko Sakura, it tells the everyday life of the third-grade troublemaker Maruko and her family. The series is set in the Irie district in Shimizu, now a part of Shizuoka City, where Momoko Sakura was born.


 

About 40 never-before-seen items will be available at the shop with new illustrations by Momoko Sakura. From stationary to accessories, fans of the series shouldn't miss it!

Information

Momoko Sakura Pop-up Shop

Running: March 18 – March 31, 2022
Address: First Avenue Tokyo Station, Tokyo Character Street B1, Ichiban Plaza (1-9-1 Marunouchi, Chiyoda-ku, Tokyo)
Official Site: https://www.tokyoeki-1bangai.co.jp

Vintage Furniture Exhibition 'Life in Art: Tokyo Modernism 2022' to Open at Three Venues Including MUJI HOTEL GINZA

Ryohin Keikaku, which operates the interior design brand IDÉE, will open the 'Life in Art: Tokyo Modernism 2022' exhibition from February 25 until April 10, 2022. Vintage stores and galleries from all over Japan that deal mainly with furniture from the 1940s to 1960s will come together to introduce audiences to exquisite designs from around the world. Shinichiro Nakahara and Takahiro Goko have organized the exhibition in an effort to spread the word about modern design in the golden age. The exhibition will be held in three parts, beginning with a showing at ATELIER MUJI GINZA and continuing to an auction at IDÉE Tokyo. The final exhibition will be held at MUJI HOTEL GINZA.

Modernism Gallery

This exhibition is composed of items from a number of unique galleries and stores. Intended to promote the beauty of mid-century vintage furniture and interior design, each piece will be introduced alongside stories from the original designers. 

Modernism Auction #Chairs

Store owners, creators, and artists participating in TOKYO MODERNISM 2022 will be auctioning off a selection of unique chairs during this unique event.

Modernism Show

About 30 galleries and vintage shops from around Japan will transform the guest rooms on the 7th and 8th floors of MUJI HOTEL GINZA into stores for this special show. This is the main event and will gather together masterpieces of modern design from the United States, Brazil, Scandinavia, and Japan.

Information

Life in Art "TOKYO MODERNISM 2022"


Modernism Gallery

Running: February 25 – April 10, 2022

Address: ATELIER MUJI GINZA (Muji Ginza 6F / 3-5-3 Ginza, Chuo-ku, Tokyo)

Free Admission

 

Modernism Auction #Chairs

Part 1: February 25 – March 16, 2022

Part 2: March 18 – April 10, 2022

Address: IDÉE TOKYO (Square Zero Area #48, B1F, Gransta Tokyo inside the ticket gates of JR Tokyo Station)

Free Admission: 

 

Modernism Show

Running: April 7 – April 10, 2022

Address: MUJI HOTEL GINZA 7F/8F Guest Rooms (3-3-5 Ginza, Chuo-ku, Tokyo)

Admission:
April 7, 17:00-20:00 / ¥5,000 (Tax Included) *Preview
April 8-9, 11:00-20:00 / ¥3,000 (Tax Included)
April 10, 11:00-17:00 / ¥2,000 (Tax Included)

Tickets: https://idee-lifeinart.peatix.com/

Official Site: https://www.idee-lifeinart.com/


Tokyo Gift Palette at Tokyo Station Selling Seasonal Strawberry Sweets

Tokyo Gift Palette, located near the Yaesu North Gate at Tokyo Station, offers a wide selection of unique souvenirs. From December 26, 2021 until January 11, 2022, the location will be holding the Exciting New Year's Fair, with the Strawberry Sweets Fair coming soon after from January 5 until January 25, 2022. 

Konigs-Krone Luxury 'Strawberry Parfait'


Patisserie Ginza Sembikiya 'Strawberry Omelet'


Strawberry Shop by FRANCAIS 'Strawberry Parfait'


*Only available at Tokyo Gift Palette
Tokyo Kaikan 'Reward Parfait ~Strawberry & Chestnut~

Strawberry Shop by FRANCAIS 'Fresh Strawberry Milk Cake'

Oosumi Tamaya 'Strawberry Daifuku'

Oosumi Tamaya 'Chinese New Year Daifuku'

Tokyo Kaikan 'Chocolate & Orange Tart' 

Paq & Mog Terrace 'Calbee and Tokyo Banana Bonito & Kelp Umami Dashi Potato Chips

The New Year's Fair will feature cute cakes and sweets inspired by the Chinese Zodiac, along with traditional Japanese goods. The Strawberry Sweets Fair will see a number of popular goodies on sale, including desserts that won top prizes in the 'Favorite Fruit Survey' conducted by Tokyo Gift Palette on Instagram in June 2021.

Tokyo Michi Terrace 2021 Event to Illuminate the City's Marunouchi Area

East Japan Railway and Mitsubishi Estate Company are teaming up for Tokyo Michi Terrace 2021, a special light-up event being held at Tokyo Station from December 14 until December 25. This year's theme is 'Scenery at Dawn,' and was inspired by the phrase 'after the night comes the day.' 2021 was another difficult year for people around the world, and this event signifies the dawn of a new era. 

The Tokyo Station Marunouchi Station Building, the trees in the Station Square, and the trees along Gyoko-Dori Avenue will all be decorated with lights that gradually change color. Hopefully, 2022 will be an easier year!

2021 Event Theme: 'Scenery at Dawn' 

After all of the hardships of the year, Christmas 2021 will be the dawn of a new era. 

Tokyo will give citizens and guests a beautiful moment illuminated with the morning sunlight.

Information

Tokyo Michi Terrace 2021 

Running: December 14 – December 25, 2021

Hours: 15:00-21:00

Location: Tokyo Station Marunouchi Station Building, Tokyo Station Marunouchi Station Square, Gyoko-Dori Avenue

*Event period, hours, and contents are subject to change. 

*Content may be altered or canceled due to various circumstances. 

Tokyo Revengers Characters Speak Local Dialects on New Posters Across Tokyo Station

Starting September 13, characters from the popular anime series Tokyo Revengers are taking over Tokyo Station in a unique new poster campaign! In addition to one main poster featuring all main characters, 47 local posters–one for each Japanese prefecture–are being displayed throughout the massive train station, with characters speaking in local dialects to promote different areas of Japan. For those learning Japanese, this is a neat way to learn more about the unique vocabulary used throughout the country. 





A fun Twitter campaign is also underway, asking fans to tweet #オレの地元が最強 (#MyHometownIsTheStrongest). The special prize will be a B0 Japan Revengers poster, given to only one winner, with the remaining 47 winners able to snag a B2-size poster. 

A special advertisement for Japan Revengers will appear in the morning edition of the September 17th edition of the Asahi Shimbun newspaper. Additionally, to celebrate the release of the 24th volume of the Tokyo Revengers manga series, those who purchase the new volume will receive one randomly-selected 47-prefecture illustration card during the in-store campaign.

Be sure to check out which prefecture your favorite character is repping! 

Special Area for Doraemon Tokyo Banana Opens in JR Tokyo Station

Popular souvenir brand Tokyo Banana is celebrating 30 years! These tasty treats are a must-buy for those visiting Japan, and now, a familiar face will be popping up at a special area in the JR Tokyo Station Tokyo Banana shop: Doraemon Tokyo Banana Tokyo Station opens on August 6, 2021. Our favorite blue robot-cat just turned 50 in 2020, and this is the perfect way to celebrate!

Doraemon Tokyo Banana 'Found it!' 

Shop Image

Package Design

The Doraemon Tokyo Banana is a fluffy, gluten-free sponge cake. Created to celebrate the original creation of these dreamy sweets, the special Doraemon Tokyo Banana Tokyo Station area is now open at JR Tokyo Station. Adorned with various super cute designs, you'll also be able to find these treats at convenience stores across Japan!

Visitors will also be able to purchase a special gift box, complete with a gently smiling Doraemon design. The box contains eight Tokyo Banana sweets, and is perfect as a souvenir for family and friends–or even for yourself! The sweets within are decorated with random Doraemon designs, so you'll have to open the box to find out which ones you got! This item is sure to bring joy to all Doraemon fans both young and old.

A two-pack Doraemon Tokyo Banana will also be available. Three different Take-copter varieties and three different Anywhere Door varieties will be on sale, each with uniquely adorable designs to make you want to collect them all. Be sure to check out this special area, and pick up some memorable gifts!

(Please note that the shop has certain quantities of each package, and not all packages may be available depending on the date.

This product is manufactured in the same facility as products containing wheat flour.)

©Fujiko-Pro,Shogakukan,TV-Asahi,Shin-ei,and ADK

Chibi Maruko-chan and Coji-Coji Get Retro-Themed Shop in Tokyo Station

Two of Nippon Animation's most loved properties have come together for a limited-time shop like no other! Chibi Maruko-chan and Coji-Coji have joined forces to bring customers a curious collection of retro goods, available now at First Avenue Tokyo Station. The shop will be open until October 4, so there's plenty of time to grab some new swag!

Wet Wipes: ¥550 each (Tax Included) / Alcohol Hand Spray: ¥880 (Tax Included) / Drug Notebook: ¥550 (Tax Included) / Clear File: ¥385 (Tax Included) / Acrylic Keychain: ¥715 each (Tax Included) / Acrylic Stand: ¥1,100 each (Tax Included) / Mini Tote Bag: ¥1,650 (Tax Included) / Canned Konpeito: ¥1,100 each (Tax Included) / Gacha Can Badge: 1 Turn ¥300 (Tax Included) / Gacha Mini Photo Stand: 1 Turn ¥400 (Tax Included)

Novelty Clear Bookmark

Novelty Set of 4 Clear Bookmarks with Mounts

 

Ten items in the shop feature this stunning new artwork, inspired by the idea of modern boys and girls in Taisho (1912-1926) retro style. In addition, plenty of other Chibi Maruko-chan and Coji-Coji goods are available at the shop for those wanting a more complete collection!

Customers spending over ¥1,500 or more (with tax) will receive a clear bookmark featuring the new retro art, while those spending over ¥6,000 (with tax) will get all four bookmarks with mounts, making it easy to decorate your space with these limited-time products. 

Which of these goods are you most hoping to snag? Don't miss your chance!

Information

The Maruko & Coji-Coji Store Tokyo

Running: August 4, 2021 – October 4, 2021

Location: First Avenue Tokyo Station, Basement 1F North (Next to Mihashi)

Hours of Operation: 10:00-20:00 (Hours subject to change.) 

Phone Number: 03-6260-9048

Official Instagram: https://www.instagram.com/chibimaruko_official/ 

(@chibimaruko_official)

Tokyo's Cat-Shaped Food Bakery Tokyo Neko Neko Announces New Branch in Tokyo Station

Tokyo Neko Neko will open a new branch at ecute Keiyo Street inside Tokyo Station on January 25, 2021.

The launch comes just 6 months after the bakery opened its store in Ginza, attracting customers from all over for its line-up of cat-shaped pastries. Both of these bakeries are the result of yet another branch, Kyoto Neko Neko, which opened in June last year as the first in the line of these cute locations.

Tokyo Station Exclusives: Neko Neko Jam Bread – Marmalade, Caramel, Strawberry, Blueberry

Tokyo Neko Neko Bread – Plain, Chocolate, Caramel Almond, Tsubu-an, Matcha, Soybean

As well as the classic Tokyo Neko Neko Bread—which is like a croissant being loaded with French butter, crunchy on the outside, and moist on the inside—the new Tokyo Station branch is also serving its own exclusive pastry treat: the Neko Neko Jam Bread, made with plenty of milk, and arriving in four irresistible flavours including marmalade, caramel, strawberry, and blueberry. And most important of all: everything is shaped like an adorable kitty.

If you're travelling through Tokyo Station then don't miss out on a trip to Tokyo Neko Neko, opening January 25.

Information

Tokyo Neko Neko (Tokyo Station branch)
Grand Opening: January 25, 2021

Shop Name: Tokyo Neko Neko ecute Keiyo Street

Location JR Tokyo Station inside the ticket gates of the Yaesu South Exit on Floor 1F

Address: 1-9-1 Marunouchi, Chiyoda, Tokyo, 〒100-0005

Opening Hours: 8:00-22:00 (until 21:30 on weekends and holidays)

No Fixed Holidays
TEL: 03-3217-5557
Official Website: https://nekoshoku.jp

Tokyo Station's Pokémon Tokyo Banana is the Souvenir to Buy in Tokyo

Tokyo's official souvenir sweets brand Tokyo Banana launched pre-sales of its new Pokémon Tokyo Banana series of confections last month, with Pikachu as the first catch. Official sales will roll out at the Tokyo Station branch of Tokyo Banana on December 10, 2020.

Pokémon turn into Tokyo's official souvenir sweets

Pikachu will be the first Pokémon to feature as the design for Tokyo Banana.

A special Pokémon Tokyo Banana stall will open at Tokyo Station's JR Line

An official Pokémon Tokyo Banana stall will open inside Hanagataya on the JR side of Tokyo Station on December 10 which will sell exclusively Pokémon Tokyo Banana products. This will begin with Pikachu followed by an upcoming new entry set for release in January 2021.

They come in a cute gift box

Pikachu Tokyo Banana (Contains 8) | ¥1,188 (Tax Included)

Pokémon Trainers can pick up a pack of eight in a special gift box. These boxes are also available at other branches of Tokyo Banana in Tokyo including Shinagawa, Ueno, Ebina, and elsewhere. A must-grab to take home if you're travelling to Tokyo.

©2020 Pokémon. ©1995-2020 Nintendo/Creatures Inc. /GAME FREAK inc.
ポケットモンスター・ポケモン・Pokémonは任天堂・クリーチャーズ・ゲームフリークの登録商標です。