20,000 Pink Flowers to Adorn Fuji-Q Highland For 'Pink Garden' Event
The free-to-enter theme park Fuji-Q Highland is set to hold an event entitled Pink Garden at Lisa & Gaspard Town where around 20,000 pink flowers are set to bloom.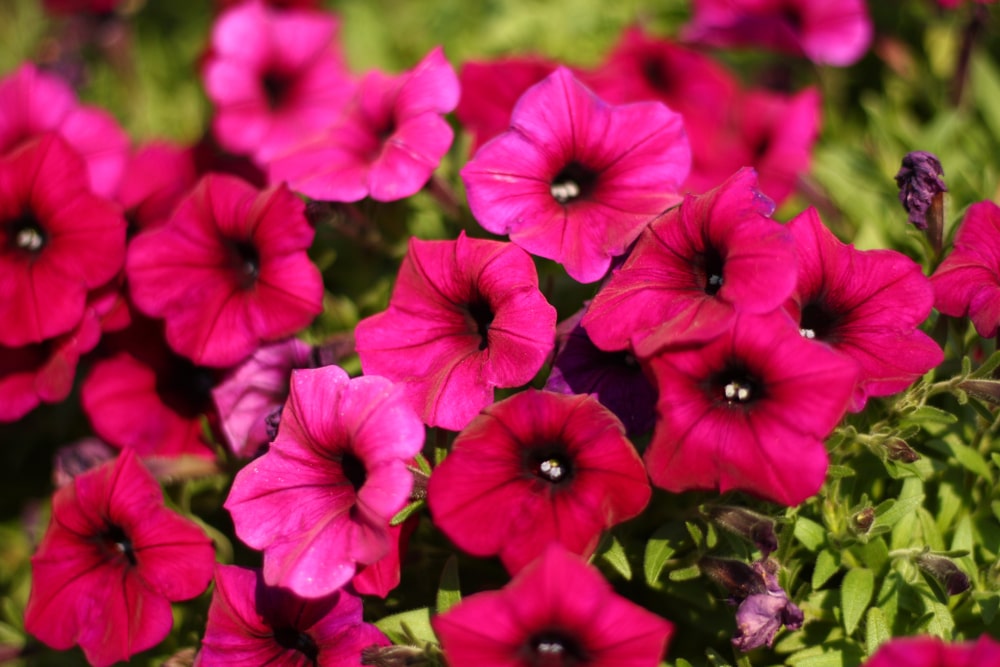 The event is being held as a way for both local and foreign tourists to Mount Fuji to enjoy the beautiful scene of flowers with the mountain in the background. The event will follow the ongoing Yellow Garden event which is ongoing until June 23. During the full bloom period, the town's symbolic 13 meter tall Eiffel Tower will be surrounded by 4 types of summer plants including petunias and impatiens for a total of 20,000 flowers. The best time to see them will be at the end of July.
As well as that, a fruit-themed event entitled Fruits Festa will also be held in Lisa & Gaspard Town from June 29 to September 6. The town will be decorated in colourful flowers and fruits, and visitors can look forward to cooling down with some decorative shaved ice made by the hotel, or one of the refreshing drinks. There will also be some adorable looking fruity desserts too.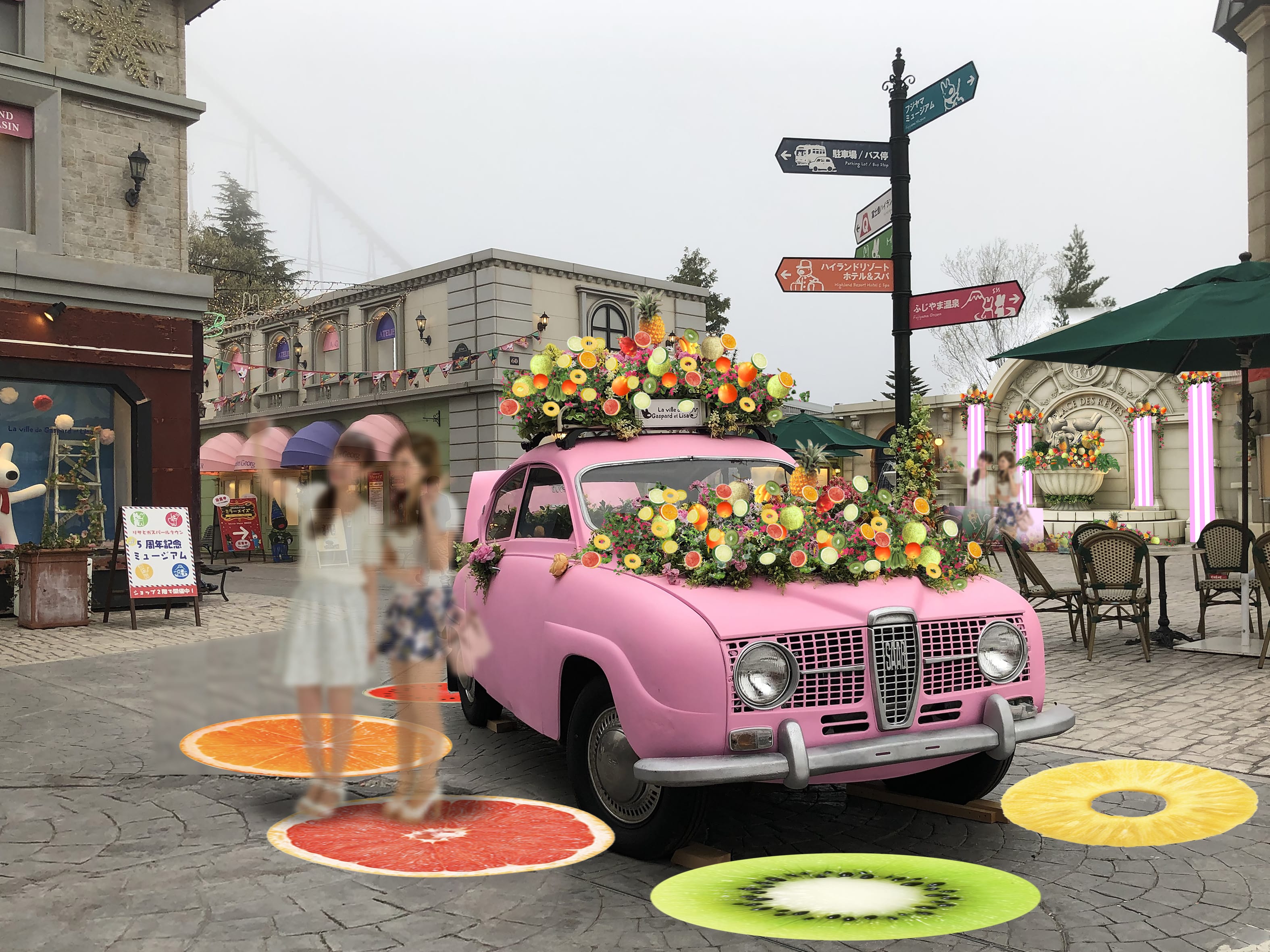 Enter Fuji-Q Highland for free if you're visiting Japan this summer and enjoy the gorgeous flowers with Mount Fuji as the backdrop.
Information
Lisa & Gaspard Town – Pink Garden
Location: Lisa & Gaspard Town Eiffel Tower Plaza
Running: Early July – Late August
High Season: Late July – Late August (Subject to change depending on climate)
Entry: Free
Fuji-Q Highland – Lisa & Gaspard Town
Address: 5 C-6-1 Shinnishihara, Fujiyoshida, Yamanashi Prefecture
Opening Hours: Weekdays 9:30-17:00 / Weekends & Holidays 9:30-18:00
*Lisa & Gaspard Town is open 30 minutes before Fuji-Q's opening hours and closes 30 minutes after Fuji-Q's closing hours
No Fixed Holidays.
Entry: Free
Free Pass: Adults ¥5,700 / Junior High School Students ¥5,200 / Children ¥4,300
TEL: 0555-23-2111
Fuji-Q Highland Official Website: https://www.fujiq.jp/
Lisa & Gaspard Town: https://www.fujiq.jp/area/lisagas/
RELATED ENTRIES
Fuji-Q Highland's Hidden Leaf Village Theme Park Area Adds New Photo Spots

Fuji-Q Highland, an amusement park in Yamanashi, Japan, added new photo spots to its popular Naruto x Boruto Fuji Hidden Leaf Village area on Friday (December 4).

The new spots

New statues of Jiraiya, Tsunade, Gaara, and Itachi have been placed around the park, making the perfect for a photo opportunity and to make guests feel even more like they're in the world of Naruto.

A new Gaara-inspired ramen dish

¥1,180 (Tax Included)

The area is home to Ramen Ichiraku which is inspired by the ramen bar seen in the Naruto series. There, they have cooked up a new ramen dish inspired by Gaara which comes with a boiled egg with the kanji for 'love' (愛) that's written on the character's forehead.

Naruto themed hotel rooms at Highland Resort Hotel & Spa

Fuji-Q Highland's official hotel, Highland Resort Hotel & Spa, has its own special Naruto-themed rooms with references to shinobi and the Hidden Leaf Village dotted everywhere. A new batch of amenities are also set to roll out for guests from February 1, 2021 which will include yukata that dress you like Naruto and Sasuke, face towels with Naruto and Sasuke on them during their final battle, and more.

If you've always wanted to feel like you're in the world of Naruto, look no further than Fuji-Q Highland.

ⓒ岸本斉史 スコット/集英社・テレビ東京・ぴえろ

Information

Fuji-Q Highland Naruto x Boruto Hidden Leaf Village
Opening Hours: 10:00-17:00
Closed: [2020] December 10th / [2021] January 7th, 14th, 21st, 28th
Official Website: https://www.fujiq.jp/

Shinobi Japanese Ninja Suite Room NARUTO
Capacity: 4 People (¥6,000 for each additional person up to 6 people)
Book: https://www.highlandresort.co.jp/
*Booking comes with amenities

Fuji-Q Highland Begins Christmas Event at Gaspard and Lisa Town

Christmas cheer is here at Fuji-Q Highland, the popular amusement park in Yamanashi, where a special Christmas event is taking place at Gaspard and Lisa Town in the park.

Christmas gift set with original tote bag

Hot Coffee Set | ¥2,000 (Tax Included)

Up until Christmas Day, the Gaspard and Lisa Town shop is selling a special hot coffee set to warm visitors this holiday season which comes with coffee, cookies, and a coffee cup sleeve.


The set comes in a festive tote bag with Gaspard and Lisa celebrating Christmas 2020 around a Christmas tree.

Hot Coffee Set Contents
①Drip Coffee (Gaspard or Lisa version)
②5 Fujiyama Cookies
③Sleeve (Gaspard or Lisa version)
*Tote bags are available while supplies las

Treats for Christmastime

Gaspard and Lisa Christmas Jar Sweets | ¥500 (Tax Included)

At the Les Rêves Salon de thé tea salon, visitors can pick up a jar dessert which contains a sweet and sour tart topped with Gaspard and Lisa shaped cookies. Cafe Brioche is also selling a selection of freshly-made Christmas pastries.

When visitors spend over ¥2,000 in a single transaction at shops in the town they will receive a limited-edition Gaspard and Lisa Christmas coaster.

Send Christmas post to the Gaspard and Lisa creators

When buying something in the town, customers will be handed a Christmas card that they can send a message in to post in the town's Christmas postbox. The post will be sent to wife and husband Anne Gutman and Georg Hallensleben, the creators of Gaspard and Lisa, in Paris, France. Up on the second floor of the town's shop are also drawings and messages by the two creators delivered for this year's Christmas event.

Post Collection: November 14, 2020 – December 13, 2020

Location: Gaspard and Lisa Town Shop

*1 card per transaction, available while supplies last

Meet Gaspard and Lisa

Gaspard and Lisa donning Christmas cloaks will make an appearance on Christmas cloaks to light up the Towatomo Tree. Visitors can also enjoy a soup with a cute Gaspard or Lisa sleeve.

Date: December 25, 2020
Time: From 16:30
Location: Gasprd and Lisa Town's Towatomo Tree
Prices:
Soup Only – ¥300 (Tax Included)

Soup & Sleeve – ¥720 (Tax Included)

Wine bottle shaped chocolate

~Le Premier~Le chocolate au vin | ¥2,980 (Tax Included)

The bakers at Highland Resort Hotel & Spa have crafted a new wine bottle-shaped chocolate for the Christmas event. Its sweetness makes it perfect for pairing with wine.

Available: Les Rêves Salon de thé in Gaspard and Lisa Town

©2020 Hachette Livre

Information

Gaspard and Lisa Town Christmas
Running: November 14, 2020 – December 25, 2020

Location: Fuji-Q Highland

Address: 5–6-1 Shinnishihara, Fujiyoshida, Yamanashi

Opening Hours: 9:00-17:00

Closed: December 3 / December 10

Official Website: https://www.fujiq.jp/en/

Directions to the park: https://www.fujiq.jp/en/access/

Celebrate Naruto's Birthday at Fuji-Q Highland's Hidden Leaf Village Theme Park Area

Naruto Uzumaki's birthday falls on October 10, so to celebrate, Fuji-Q Highland, an amusement park in Yamanashi, Japan, is holding a birthday festival for the titular character of the popular anime series. The event will be held at the park's Naruto x Boruto Fuji Hidden Leaf Village area.

Naruto Ramen | ¥1,280 | Available: October 10, 2020 and October 11, 2020

Customers who order the special ramen dish from the ramen bar at the park, which is called Ramen Ichiraku after Naruto's favourite eatery in the series, will get a huge topping of naruto, a type of Japanese steamed fish-paste cake. Only 100 of these hearty dishes will be served a day.

The park is also holding a social media campaign. If they can reach 7,610 followers—a number which can be read as "na-ru-to" in Japanese—this year, then they'll hold a lottery for fans to win a special prize.

Naruto Print Cake / Naruto Team 7 Print Cake

Fuji-Q Highland will also serve up two cakes, one with just Naruto and the other with Naruto and the rest of Team 7 including Sasuke, Sakura, and Kakashi.


Jiraiya / Tsunade / Gaara / Itachi

Lastly, from the end of November, life-sized portraits of Jiraiya, Tsunade, Gaara, and Itachi will be set up at the park for fans to take photos with.

ⓒMasashi Kishimoto Scott / Shueisha・TV Tokyo・Pierrot

Information

Naruto Uzumaki Birthday Festival 2020 – Naruto x Boruto Fuji Hidden Leaf Village
Fuji-Q Highland Official Website (English): https://www.fujiq.jp/en/

Gaspard and Lisa Cosmetic Range Releases in Collaboration With Cosme Kitchen

To celebrate the 10th anniversary of MASH Beauty Lab, a range of original and exclusive merchandise made in collaboration with popular French fictional characters Gaspard and Lisa and Cosme Kitchen will be released in limited quantities. Pre-sales opened at Cosme Kitchen's web store on July 15 while in-store purchases will be available at 70 branches in Japan from July 17.

Cosme Kitchen is a shop whose first branch opened in Daikanyama, Tokyo. They stock specially selected natural and organic cosmetic products from around the world. Gaspard and Lisa are fictional characters that appear in a children's book series of the same name by wife and husband Anne Gutman and Georg Hallensleben. The collaboration hopes to bring smiles to people's faces around Japan with organic, sustainable, and cute products.

Gaspard and Lisa Sauvent la Planete: ¥1,200 (Before Tax)

A new children's book has been created exclusively for this collaboration. It will be sold at Cosme Kitchen only.

Product Line-Up (Excerpt)

Cosme Kitchen Small Eco-Bag: ¥1,800 (Before Tax)

This sustainable eco-bag is made from 100% plastic waste from the ocean. Available while supplies last.

MAMA BUTTER Chamomile & Orange (40ml): ¥1,200 (Before Tax)

A hand cream which is gentle blend of organic chamomile and orange. The bottle features a cute illustration of Gaspard and Lisa.

nahrin Herb Oil 33+7 Roll-On (10ml): ¥2,300 (Before Tax)

This herb oil is based on a Swiss herb recipe made using a blend of 40 different herbs. A perfect choice for those necessary moments of self care.

made of Organics Manuka Honey & Chamomile Spray Strawberry (25ml): ¥1,500 (Before Tax)

An alcohol-free spray which can be used for anyone over the age of 2-years-old. It's an organic blend of manuka honey and leatherwood honey.

WELEDA Bath Milk Mini Set (20ml x 5): ¥2,500 (Before Tax)

An assortment of five different bath milk fragrances. Choose a scent based on how you feel that day.

This is just a peek at the products that are on offer for the collaboration. To see more, visit the Cosme Kitchen Webstore at the link below.

Enjoy a Carpet of Pink Flowers and The Summer Silhouette of Mt.Fuji at Fuji-Q Highland

Fuji-Q Highland is an amusement park located near the base of Mount Fuji. This summer, the park is turning pink as 20,000 pink flowers bloom at Lisa and Gaspard Town.

Petunias, Impatiens and more ー a range of vibrant summer flowers are currently in full bloom at the park. From the magnificent, snowless summer silhouette of Mount Fuji towering in the background to the mini Eiffel Tower and pink carpet before your eyes, there is just so much beauty competing to capture your gaze. This picturesque view is limited to the summer season and cannot be seen anywhere else in the world.

This year marks the 20th anniversary of the French characters Gaspard and Lisa, who were "born" on August 26th and August 19th respectively. To celebrate, the park has set up a wide range of events and fun features including a giant flower wall creation event, a birthday party, a special scheme via Instagram and much more.

Many of the events are open for anyone to participate in for free. There is also a new Lisa and Gaspard Town-limited birthday plan that will be available until the end of September. Les Rêves Salon de thé, a restaurant located at the Highland Resort and Spa, has even prepared a special anniversary cake and is even running a special celebratory scheme where customers have the chance of receiving a special Gaspard and Lisa-themed embroidered badge. This is the perfect way to celebrate the birthdays of these two lovable characters. 

Looking for some refreshing energy to battle the heat? There is currently a summer holiday Fruit Festival running until September 9. 

Lisa and Gaspard Town will be selling special summer shaved ice desserts that are full of vibrant colours and juicy fruity flavours. There are also drinks, desserts and so much more. This is also the perfect opportunity to indulge in Yamanashi prefecture's specialty; the Japanese pear. 

There is no better way to enjoy the summer holidays than an amusement park located at the foot of Mount Fuji. Enjoy the pink scenery and take advantage of the free park entry!

© 2019 Anne Gutman & Georg Hallensleben / Hachette Livre

Information

Pink Garden

Full Bloom: Until the end of August 2019 *Subject to change due to weather and other conditions.

Location: Lisa and Gaspard Town Eiffel Tower area

Entry: Free 

Number of flowers: Approximately 20,000

Number of species: 4 (Petunia, Impatiens walleriana, Egyptian starcluster, Zinnia) 

Fuji-Q Highland Lisa and Gaspard Town

Opening Hours

Summer (July 20 ー Aug 31) Weekdays: 8:30 ー 21:00 Weekends/National Holidays/Obon: 8:00 ー 22:00

Regular Opening Hours: Weekdays: 9:00 ー 17:00 Weekends/National Holidays: 9:00 ー 18:00

*Lisa and Gaspard Town opens 30 mins before and closes 30 mins after Fuji-Q Highland.

Opening Hours for shops: Varies from shop to shop.

※ Opening Hours may vary depending on the season. Please check this information by referring to the park's official website. 

Open every day during August, September and October. 

Prices

Free park entry.

Free Pass: Adults: ¥6,200/Middle-High School Students: ¥5,700/Elementary School Students: ¥4,500/Preschool Children (above the age of 1) and Seniors (over 65): ¥2,100

Fuji-Q Highland Official Website: https://www.fujiq.jp/

Lisa and Gaspard Town: https://www.fujiq.jp/area/lisagas/

7 Character Themed Cafés Running in August 2019

Character cafés are an exciting experience in Japan which sees a café collaborate with well-known anime series, game series or other franchise by decorating the café interior with designs and illustrations based on them and meals and drinks inspired by them.

Before continuing this article be sure to check out our June 2019 list of character cafés as some of them are still running!

Sanrio x Ichigo Shimbun Collaboration – Ichigo Shimbun Dinder (July 11-September 30)

Ichigo Shimbun is a monthly magazine published by Sanrio which includes information about the latest character merchandise and much more. Sanrio has opened a café themed on their magazine at EGG & SPUMA which located on the 8th floor of Shinjuku Lumine EST. "Vacation" is the theme of the café where Sanrio fans can enjoy a summery food menu. Enjoy a fun summer together with the Sanrio characters♡

Full Details: https://www.moshimoshi-nippon.jp/230790

▼Ichigo Shimbun Diner
Location: EGG & SPUMA, Shinjuku Lumine EST Floor 8F, 3-38-1 Shinjuku, Shinjuku Ward, Tokyo
Running: July 11, 2019 – September 30, 2019
Business Hours: Weekdays 11:00-23:00 (Last Orders 22:00) / Weekends & Holidays 11:00-22:30 (Last Orders 21:30)
TEL: 03-6273-0255
Website: http://salt-group.jp/shop/egg-spuma/

AAA CITY SUMMER PARTY – AAA Cafés in Tokyo & Osaka (July 19-September 1)

AAA's collaborative café is themed on midsummer city pop. Their seasonal menu features drinks, desserts and more inspired by each respective colour of the group members. If you dine at the café you'll get yourself a special lunch mat, and if you order a drink, you'll get an original drink coaster. There's plenty of other exclusive AAA café merchandise too, so if you're a fan of the pop group then this is one you won't want to miss out on this summer!

▼AAA CITY SUMMER PARTY

Running

Omotesando (Tokyo): July 19, 2019 – September 1, 2019

Shinsaibashi (Osaka): July 19, 2019 – September 1, 2019

Location

Tokyo: OMOTESANDO BOX CAFE&SPACE (Pine Under Flat B1F, 5-13-2 Jingumae, Shibuya, Tokyo)

Osaka: Shinsaibashi contact (1-6-24 Kita-Horie, Nishi Ward, Osaka, Osaka Prefecture)

Reservations

・Table reservations for August 1 to September 1 opened on July 12 at 18:00 (JST)

・Reservation Price: ¥650 (Before Tax) *Comes with bonus merchandise

AAA CITY SUMMER PARTY Official Website: https://aaa-cafe-2019.jp

AAA Official Website: https://avex.jp/aaa/

Bonobono & Pompompurin's First Ever Café Collaboration (July 11-September 1)

The Harajuku, Umeda and Yokohama branches of the Pompompurin Café have teamed up with the beloved anime character Bonobono to release four menu items themed on playing together at the beach.

Both Bonobono and Pompompurin fans alike won't be able to resist the cute and delicious dishes being served at the cafes this summer.

Full Details: https://www.moshimoshi-nippon.jp/231395

▼Pompompurin Café Harajuku

Address: CUTE CUBE HARAJUKU 3F, 1-7-1 Jingumae, Shibuya, Tokyo

Opening Hours: 11:00-21:00 (Food Last Orders 20:00 / Drinks Last Orders 20:30)

Pompompurin Café Umeda
Address: Hankyu Sanbangai South Wing B2F, 1-1-3 Shibata, Kita-ku, Osaka-shi
Opening Hours: Weekdays 11:00-22:00 (Last Orders 21:30) / Weekends & Holidays 10:00-22:00 (Last Orders 21:30)

Pompompurin Café Yokohama

Address: Yokohama Sotetsu Square, 2-1-5 Minamisaiwai, Nishi-ku, Yokohama-shi

Opening Hours: 10:00-21:00 (Last Orders 20:30)

Bonobono Official Website: http://www.bonoanime.jp/

Pompompurin Café Official Website: http://pompom.createrestaurants.com

©Mikio Igarashi /Takeshobo, Fuji TV, Eiken © 1996, 2019 SANRIO CO., LTD. APPROVAL NO.S601363

Astronaut Snoopy Soars Up Tokyo Skytree (July 18-October 14)

Tokyo Skytree is now holding the FIRST BEAGLE IN SKYTREE® event in collaboration with the astronaut version of Snoopy which appeared in the original comic 50 years ago.

Every astronaut needs a good meal to keep them going. Head to the SKYTREE CAFE on the Tembo Deck on floor 340F and enjoy a selection of themed desserts, drinks and more. Astronaut Snoopy decorations line the cafe where you can get limited-edition novelties too. Soar into and learn all about space this summer with your pal Snoopy♡

Full Details: https://www.moshimoshi-nippon.jp/232293

▼FIRST BEAGLE IN SKYTREE®

Running: July 18, 2019 – October 14, 2019

Location: Tokyo Skytree Tembo Deck and Tembo Galleria

*A separate fee must be paid to to enter the Tokyo Skytree Tembo Galleria

Tokyo Skytree Official Website: http://www.tokyo-skytree.jp/en/

Snoopy Japan Website: http://www.snoopy.co.jp/

©2019 Peanuts Worldwide LLC

©TOKYO-SKYTREE

Gaspard & Lisa x Afternoon Tea TEAROOM (July 25-August 28)

The Koshigaya Laketown kaze, LaLaport Yokohama, Terrace Mall Shonan, and Nagoya LACHIC branches of the Afternoon Tea TEAROOM have joined hands with the French picture book series Gaspard and Lisa to celebrate its 20th anniversary.

The tea shops have been decorated with a special Gaspard and Lisa theme. There are photo spots at each cafe, and in the Nagoya LACHIC branch there is even a book corner with 20 books from the series. This is the perfect place to enjoy a special summer meal with your family, so don't miss out!

Full Details: https://www.moshimoshi-nippon.jp/233786

▼Lisa and Gaspard Collaboration

Running: July 25, 2019 – August 28, 2019

Afternoon Tea Official Website: https://www.afternoon-tea.net/

Lisa and Gaspard Official Website: http://www.lisagas.jp/

©2019 Anne Gutman & Georg Hallensleben / Hachette Livre

Koupen-chan Café in Shinjuku & Shinsaibashi (August 8-September 23)

The baby emperor penguin Koupen-chan, who is often the go-to sticker for many Twitter and LINE users in Japan, is illustrated by the well-known RURUTEA. Many of these social media users turn to the relaxing, soft and cuddly penguin to send soothing words of encouragement and a fuzzy hug to their loved ones. No wonder our adorable penguin has over 300,000 followers on Twitter.

The café returns from 2017 with a refreshed image which plunges deeper into the depths of Koupen chan's affectionate world. There are even more features packed into this year's collaboration menu. No matter what you order, your table will be overflowing with adorable penguin love.

Full Details: https://www.moshimoshi-nippon.jp/241560

▼Koupen-chan Café 2019 Summer

Tokyo Cafe

Location: SHIBUYA BOX CAFE&SPACE (Shibuya LOFT Floor 2F, 21-1 Udagawacho, Shibuya, Tokyo)

Running: August 8, 2019 – September 23, 2019

Osaka Café

Location: Shinsaibashi contact (1-6-24 Kita-Horie, Nishi Ward, Osaka, Osaka Prefecture)

Running: September 5, 2019 – October 6, 2019

Reservation Price: ¥500 (includes a complementary souvenir for making the reservation)

*A limit of 4 seats can be reserved through 1 reservation.

Official Website: https://koupenchan-cafe2019.jp/

©RURUTEA

Did you enjoy this list? Be sure to visit a character café while in Japan this summer.

Bring Back Childhood Memories At The Lisa and Gaspard Afternoon Tea Collaboration Café

From July 25 to August 28, four Afternoon Tea shops will be collaborating with the French picture book Gaspard and Lisa to celebrate the book's 20th anniversary. The collaboration will only be running at the following branches: AEON Lake Town kaze, Koshigaya, LaLaport Yokohama, Terrace Mall Shonan and Nagoya LACHIC.

Tomboy Lisa Katsu Curry Plate (Drink included): ¥1,491 (after tax)  

Lisa's Tomato Chicken Curry (Kids Drink included) : ¥1,005 (after tax) 

The Tomboy Lisa Katsu Curry Plate consists of a European-style curry with a crispy chicken cutlet and carrot marinade. There is also a sweet apple and honey tomato chicken curry which is limited to kids only.

Peach Peach Clown Parfait Straight Out of the Picture Book: ¥1,404 (after tax)


Lisa and Gaspard Strawberry/ Melon Sundae Sodas: ¥864 (after tax)

The menu also includes desserts and drinks from the picture book. For example, the peach peach clown parfait and two flavours of Lisa and Gaspard Sundae Soda. Make sure you order one of these drinks to go with one of the five delicious collaboration meals. 

During the collaboration period, the tea shop will be decorated with a special Lisa and Gaspard theme. There will be photo spots and even a book corner with 20 Lisa and Gaspard books (limited to Nagoya LACHIC only).

This is the perfect place to enjoy a special summer meal with your family so please check it out!

©2019 Anne Gutman & Georg Hallensleben / Hachette Livre

Hello Kitty & Lisa and Gaspard Collaborative Merchandise Released

Sanrio's popular character Hello Kitty has teamed up with French fictional character duo Lisa and Gaspard to release a line of merchandise at Sanrio shops, Sanrio corners of department stores and the official Sanrio online shop.

These characters first collaborated in September 2017 with the announcement of a selection of merchandise with oil painting designs. This collection was released in Japan in January 2018. Their second collaboration was the creation of 7 new oil paintings along with an original picture book which was published by French publisher Hachette Livre in January this year.

This new series uses designs from the new oil paintings that were released last year and also featured in the picture book. The theme of the works is "Paris."

Foldable Tote Bag: ¥3,024 (Tax Included)

This foldable tote bag has an adjustable handle so you can use it as a carrier case.

iPhone 7/8 Case: ¥3,240 (Tax Included)

This case is compatible with the iPhone 7 a nd 8 and comes with a ring on the back.

A4 Clipboard: ¥972 (Tax Included)

This adorable A4 size clipboard can be used in a variety of situations whether at work or for studying.

The cute new collection can be enjoyed by fans and newcomers to the characters alike.

© 2019 Sony Creative Products Inc. / Hachette Livre, Anne Gutman and Georg Hallensleben ©1976, 2019 SANRIO CO.,LTD.

Sword Art Online: Alicization Collaborates With Fuji-Q Highland

Yamanashi amusement park Fuji-Q Highland is set to hold a collaborative campaign with Sword Art Online: Alicization from April 27 to June 2. This year marks the 50th anniversary of the park and the 10th anniversary of the Sword Art Online light novel series.

Fuji-Q has much planned for the collaboration. The standout event is a screening of Symphonic Alicization Orchestra Special Edition, a special 40-minute compilation of the Sword Art Online Alicization series that aired from October last year to March this year. The video will contain character songs from the CD's that were coupled with limited pressing DVD and Blu-ray copies of the anime.

The park will also have announcements read by characters from the series, a Sword Art Online puzzle quest, stamp rally, photo spots, a themed menu, original merchandise and more.

A colourful firework display will also be held from May 1 to 4 while ADAMAS by LiSA plays, the opening theme for the anime series.


Rapid buses with SAO artwork on them have also been running since April 13.

People who use Fujiyama Onsen or the cabin and lounge Highland Station which are connected to the park will also received an original postcard. Additionally, there is a collaborative accommodation plan taking place at PICA Lake Saiko Fuji as well as a special photo spot of the Blue Rose Sword at the Narusawa Ice Caves.

Information

Sword Art Online: Alicization x Fuji-Q Highland Collaboration
Running: April 27, 2019 – June 2, 2019
Website: https://www.fujiq.jp/special/201904_sao/

Fuji-Q Highland
Address: 5-6-1 Shinnishihara, Fujiyoshida, Yamanashi Prefecture

Opening Hours: Weekdays 9:30-17:00 / Weekends & Holidays 9:30-18:00

Closed: May 9, 2019
TEL: 0555-23-2111

Official Website: https://www.fujiq.jp/

Fuji-Q Highland Announces Strawberry Festival at Park's Lisa & Gaspard Town

Lisa & Gaspard Town in Fuji-Q Highland―which became free to enter last year―is set to host a strawberry themed event from February 25 to April 19.

The town will be decorated with gigantic strawberry monuments, strawberry red and green leaf designs, pink ribbons and more, bringing springtime to Lisa & Gaspard's.

Strawberry derived snacks, drinks, cookies and more will line the town stores while on weekends and national holidays at Les Rêves Salon de Thé a strawberry dessert buffet will fill the bellies of customers.

A new attraction is set to hit the park on March 8 too titled "Welcome to Lisa & Gaspard's Mirror Maze Magic Show," a mystifying mirror maze with stained glass arches that invites guests to get lost in a world of magic. There will also be a Lisa & Gaspard photo spot.

Welcome the Japanese spring and have fun with Lisa & Gaspard's strawberry festival and new attraction.

Information

Lisa & Gaspard Town Strawberry Festa
Running: February 25, 2019 – April 19, 2019

Welcome to Lisa & Gaspard's Mirror Maze Magic Show
Opening: March 8, 2019

Fuji-Q Highland – Lisa & Gaspard Town
Address: 5 C-6-1 Shinnishihara, Fujiyoshida, Yamanashi Prefecture
Opening Hours: Weekdays 9:30-17:00 / Weekends & Holidays 9:30-18:00
*Lisa & Gaspard Town is open 30 minutes before Fuji-Q's opening hours and closes 30 minutes after Fuji-Q's closing hours
No Fixed Holidays.
Entry: Free
Free Pass: Adults ¥5,700 / Junior High School Students ¥5,200 / Children ¥4,300
TEL: 0555-23-2111

Fuji-Q Highland Official Website: https://www.fujiq.jp/
Lisa & Gaspard Town: https://www.fujiq.jp/area/lisagas/

©2019 Hachette Livre

Free Entry to Fuji-Q Highland from July!

Fuji-Q Highland is one of Japan's most popular theme parks, and from mid-July this year, you'll be able to enter for free.


The decision to open the park to free entry was made to bolster the fantastic tourism of Mount Fuji together with the many things available to do around Fuji Five Lakes. As it is now, the park, together with the other surrounding sightseeing spots, is a place people only spend a little time at, but by making it free to enter, they hope to increase the way people enjoy themselves.


Fuji-Q Highland plans to introduce more popular schemes and hold collaborative events, as well as events in line with the seasons. They also hope to proactively spread their global chain brand power and attract people to local specialities and famous products. By doing all of this, they aim to develop the area around Mount Fuji to increase tourism in the future.

Look forward to the continued development of the park and what they have planned as they build it into a place that people can enjoy going visiting to enjoy the things they like when they like.

A"TOKYO SKYTREE" × "Lisa and Gaspard" Christmas event will be held.

Tobu Tower SKYTREE which runs TOKYO SKYTREE and Sony Creative Products which owns the master license of "Lisa and Gaspard" will collaborate to hold an event titled, "Lisa to Gaspard to Sugosu France no Christmas in TOKYO SKYTREE" from the 9th of November 2017 (Thurs.) to 25th of December (Mon.).

 

The event will create the atmosphere of "Christmas in France,"home to Lisa and Gaspard, centering on the 450m high galleria based on an original story of "the first Christmas in Tokyo where Lisa and Gaspard decorate the highest galleria of TOKYO SKYTREE."

French oil paintings that make the viewer feel warmhearted and art works expressing the world of "Lisa and Gaspard" can be enjoyed at the galleria of TOKYO SKYTREE along with the wonderful night view. An original art photo spot and exhibition of copied original works can also be enjoyed at the galleria.

Getting off the galleria shuttle (elevator), a story-book-like huge photo spot with Lisa and Gaspard will appear before you. The photo spot is will be an iconic rendition which exhibits the first page of the original story.

At 451.2m high "Sorakara Point," you can enjoy a photo spot with Christmas ornaments and SKYTREE figures created with Lisa's magical walking stick which will make you feel like you are in the world of the original story.

Moreover, they will sell Christmas-limited menu items, desserts and drinks which are collaborative "Lisa and Gaspard"items at "SKYTREE CAFÉ" located on Floor 340 inside the 340m high viewing deck.

They will also sell limited goods, pair tickets and offer limited goods to visitors and hold a character-greeting event.

Let's have a wonderful Christmas season with Lisa and Gaspard at TOKYO SKYTREE.

■Information

Date: 2017,11,09 (Thurs.) to 12,25 (Mon.)

Venue: TOKYO SKYTREE viewing deck, galleria

Content: ・Exhibition at the viewing deck and galleria (event map 1~4, 6)

・Selling original goods at the special store located on Floor 450.

(event map 5)

・Selling collaborative cafe menu items at the Viewing Deck's floor 340 "SKYTREE CAFÉ" (event map 7)

・"Lisa and Gaspard" greeting event (event map 8)

Fee: Entrance fee of TOKYO SKYTREE observation deck

▶︎"Lisa and Gaspard" greeting

Date: 2017,11,12 (Sun.), 19 (Sun.), 26 (Sun.), 12,3 (Sun.), 10 (Sun.), 17 (Sun.), 23 (Sat. / holiday), 24 (Sun.), 25 (Mon.)

Date: 10:30/12:30/14:30/16:00 (four sessions / 20 minutes per session)

Venue: TOKYO SKYTREE galleria event map 8

Fee: free

※The time and venue might be changed without notice.

▶Gifts for the visitors

Date: 2017,11,9 (Thurs.) to 12,25 (Mon.)

※The number of the gifts is limited

Venue: TOKYO SKYTREE observation deck, galleria

TOKYO SKY TREE official site: http://www.tokyo-skytree.jp