Summer 2019 Japanese Fireworks Festivals With The Wow Factor
Hello everyone, this is Midori from MMN's Editorial Department!
The first thing that pops into your head when you think of summer is fireworks. During the summer, Japan hosts so many large-scale fireworks events that it can be difficult to decide which one to visit. However, some festivals really stand out from the crowd. Today, I will share with you some fireworks festivals I would highly recommend for their extra wow-factor. 
If you're interested, check out the 2019 list for the top 10 fireworks festivals in Japan. 
2019 Artistic Fireworks at Moerenuma Park, Sapporo
Last year, this event was cancelled due to an earthquake, so excitement levels are high this year.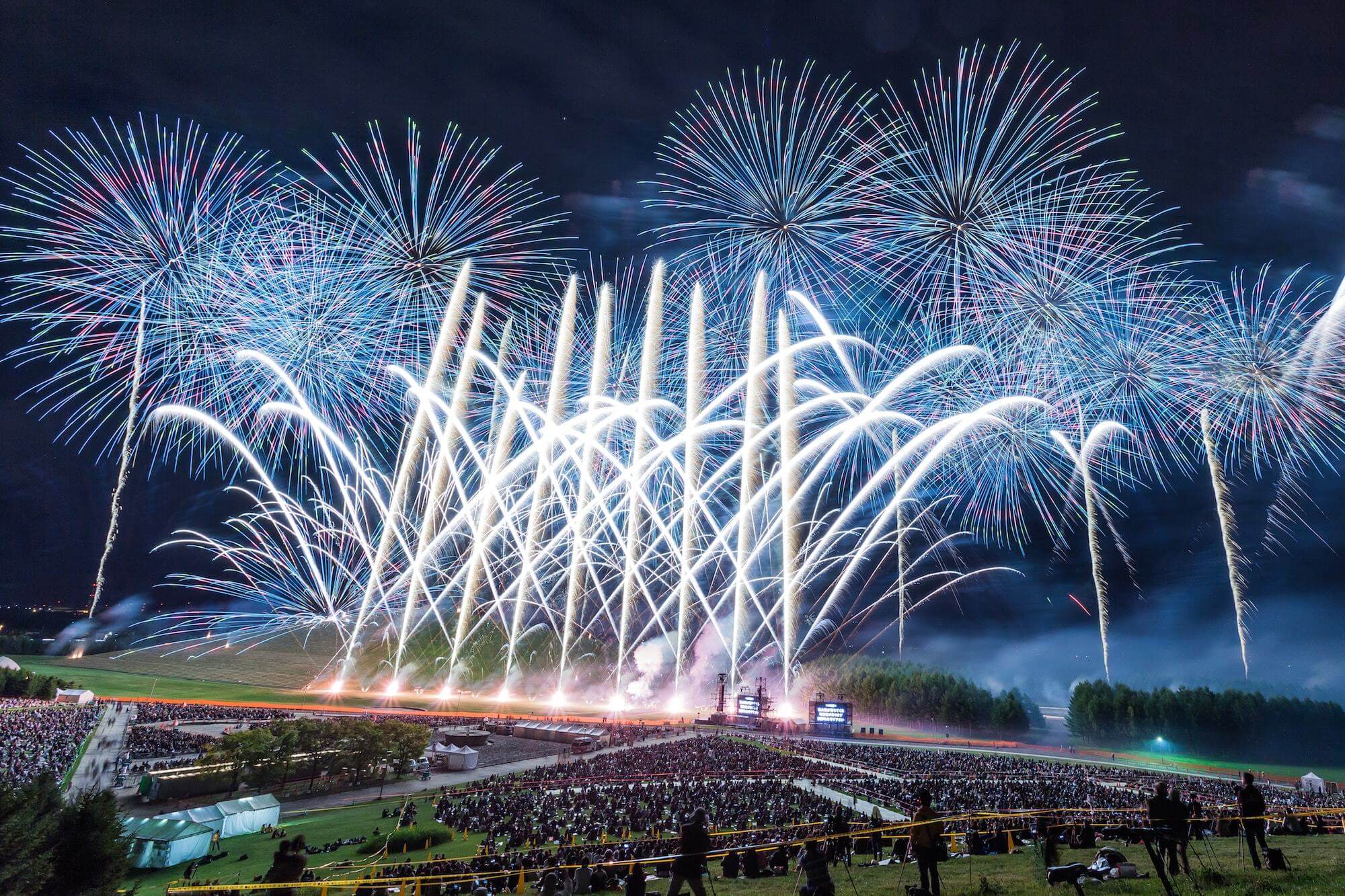 This year, the fireworks dream team have put together a special non-stop program which includes the highest fireworks in the whole country. A fireworks photo and painting competition will be held after the fireworks event day.
▼2019 Artistic Fireworks at Moerenuma Park
Date: September 7, 2019
Official Website: https://www.moere.jp/
Relax 221m Above Ground: The RESTAURANT LUKE with SLY LOUNGE Fireworks Plan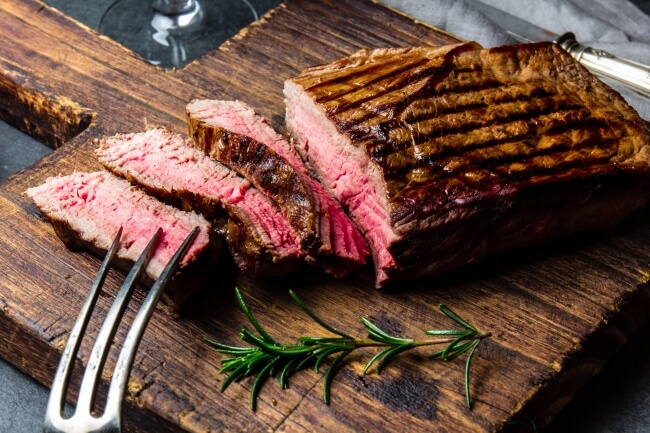 Fireworks events held within the city can get very crowded, so how about watching them explode beautifully in the night sky from a restaurant? RESTAURANT LUKE with SLY LOUNGE is the perfect place to watch the Sumida River Fireworks festival and its 20,000 fireworks, or the Edogawa Fireworks Festival, where 14,000 fireworks are launched. Make sure to ask for the fireworks plan if you want this experience.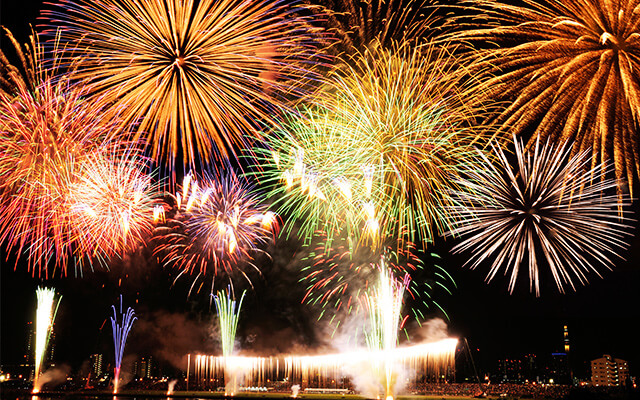 Being able to watch fireworks high in the sky is a wonderful lifetime opportunity. 
▼RESTAURANT LUKE with SLY LOUNGE
Address: St.Luke's Garden, 47th floor, 8-1 Akashicho, Chuo City, Tokyo
TEL: 03-3248-0211
Firework event plans:
July 27 Sumida River Fireworks Festival Special Plan
August 3 Edogawa Fireworks Festival Special Plan
Adults: ¥15,000, high school students: ¥6,000, middle school students: ¥4,000, elementary school students: ¥2,000 (Free for those under elementary school age)
Official Website: https://www.restaurant-luke.com/restaurant.html
Shin Yokohama Fireworks Festival  2019 Special Tickets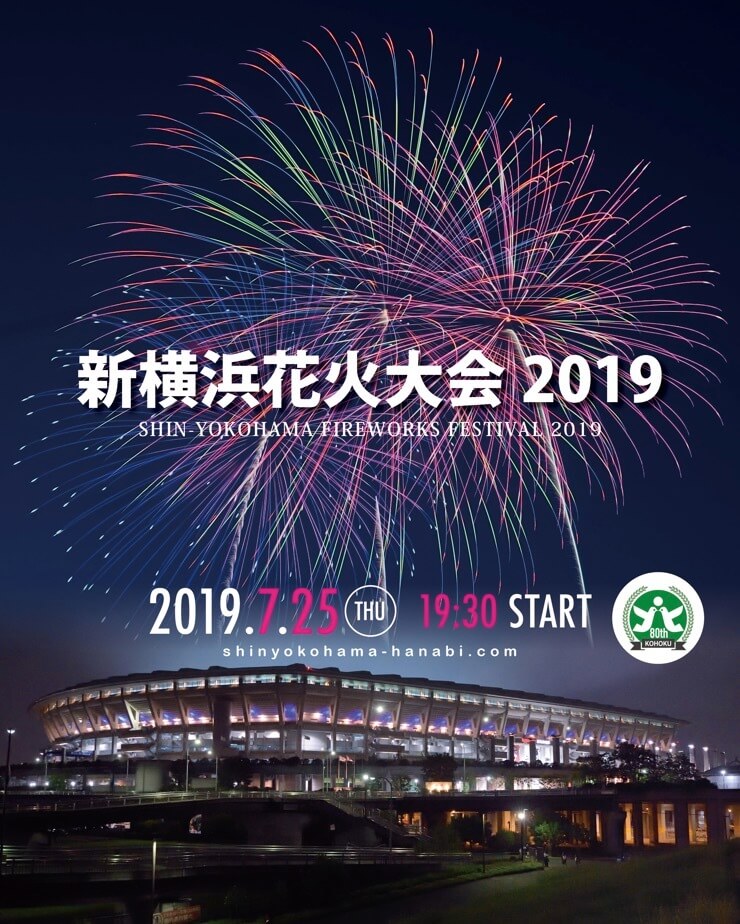 Kohoku-ku, Yokohama will be celebrating the 80th year of the Shin Yokohama Fireworks Festival. Tickets for seats to watch the 2019 fireworks event are now being sold. The fireworks will be launched in an area that is hundreds of metres wide. For the finale, you can enjoy yellow streams of light as they fall out of the sky. As this fireworks event is taking place at Shin Yokohama, you can get seats at the Nissan Stadium or the tennis court to enjoy a beautiful night.  
Photo: Takeshi Kanetake 
▼Shin Yokohama Fireworks Festival 2019
Date: July 7, 2019
Prices: Special entry area (unreserved seats): ¥2,000 (per person, 1m2 picnic sheet, 1 entry ticket).
Tennis court garden table seat: ¥20,000 (4 people, 4 tickets, 1 garden table), Nissan Stadium north side (for legal supporters/ event sponsors and others who contributed to the event: ¥54,000 (6 people, 6 tickets, table seating).
Official Website: http://shinyokohama-hanabi.com/
Enjoy Fishing With A Beautiful Fireworks Display In The Sky at Echizen, Fukui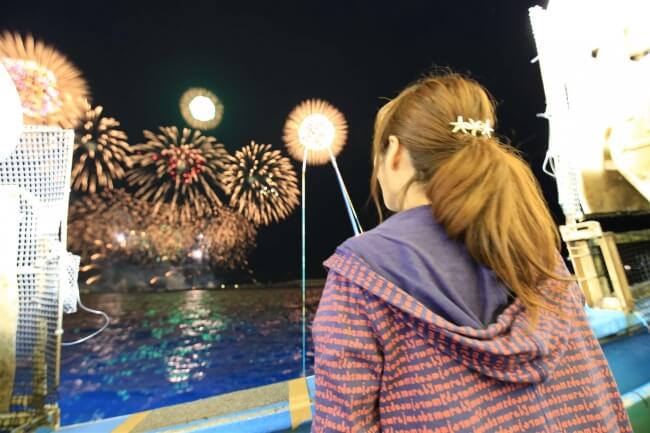 Visit Echizen port to enjoy a beautiful fireworks display whilst on the hunt for fish and squid. This is a relatively cheap plan considering that you also get the chance to enjoy a beautiful view. This is a wonderful way to create special memories.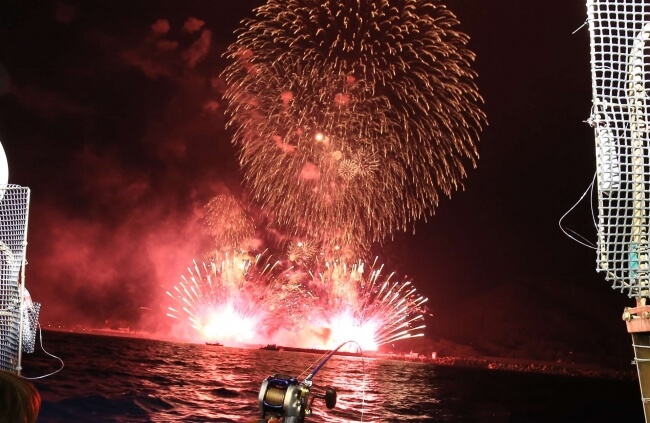 ▼ Fishing and Fireworks in Echizen, 2019
Date: July 13, 2019
Price: Squid: ¥ 6,000 per person Fish: ¥7,000 per person (40 people max).
(Includes fishing equipement. Price is the same for both children and adults).
Official website: https://www.town-echizen.jp/SSL/experience/detail.php?id=90
A Cool Night at The Pool and Fireworks Every Day at Phoenix Seagaia Resort, Miyazaki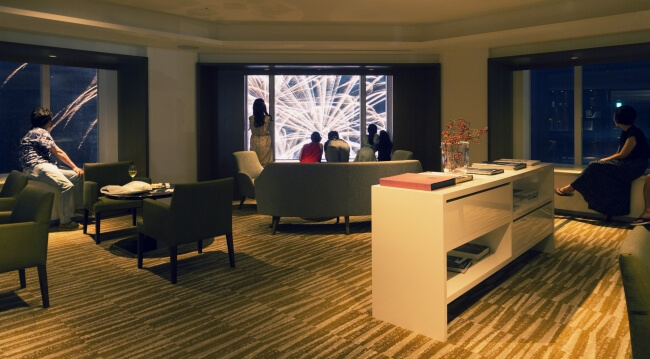 During the summer holidays, there will be a fireworks show every evening at Phoenix Seagaia Resort in Miyazaki prefecture. They have special seating, and also those who choose accommodation on the club floor can see the fireworks launched before their very eyes.
You can also enjoy the night pool or barbeque and simultaneously witness the fireworks. The best part is that there is a show everyday, so there is no need to worry about fitting it in with the rest of your plans.
▼Phoenix Seagaia Resort Summer Fireworks 2019
Event Period: Every day from July 20 ー August 31, 2019
Official Website: https://seagaia.co.jp/
This summer will be the first ever fireworks season of the Reiwa era, so how about making it extra special by attending a fireworks festival with that extra wow factor?
RECOMMENDED ENTRIES
Traditional Japanese Fireworks Fuse With Cutting-Edge Technology for STAR ISLAND 2019 in Tokyo & Singapore

This year marks the third year of STAR ISLAND, a firework festival set to take place at Toyosu Gurui Park on July 20, 2019. Tickets are now on sale.

STAR ISLAND will collapse together traditional Japanese fireworks with the latest in cutting-edge technology including 3D sound, lighting and show performances. This immersive entertainment experience will stimulate all five senses of attendees as they enjoy the show with against panoramic backdrop of Tokyo's towering skyscrapers.

Past STAR ISLAND event

The tickets for STAR ISLAND sell out every single year. 2019 will be its fourth run and it promises to scale things up to greater heights as the event is moved to Toyosu Gururi Park for the first time.

Past STAR ISLAND event

The event will now house two children's areas for families which have proven popular each year as well as new BBQ seats.

Past STAR ISLAND event

This year, STAR ISLAND is expanding its experience overseas. Up to now, the event has been held at Odaiba Seaside Park in Tokyo for two years in a row since its inception in 2017. At the end of 2018, it embarked to Singapore for the New Year's event "Marina Bay Singapore Countdown 2019" where it was the main attraction, showcasing its wondrous and moving content to people from 86 different countries.

STAR ISLAND will return to Singapore for the same event for the 2020 countdown. Before that, it will make its way to Saudi Arabia for Saudi-Japan Vision 2030 on September 23, 2019, the same date the kingdom was founded.

If you get the chance, make sure to book your tickets to witness STAR ISLAND 2019 for yourself.

Information

STAR ISLAND 2019

Date: July 20, 2019

Time: 16:00-21:00 (*Will go ahead if it rains but stop during stormy weather)

Location: TOKYO STAR ISLAND (Toyosu Gururi Park, 6-5 Toyosu, Koto Ward, Tokyo)

Tickets: http://r.y-tickets.jp/starisland2019

Enquiries: Kyodo Tokyo 0570-550-799 (Weekdays 11:00-18:00 / Weekends & Holidays 10:00-18:00)

Official Website: http://www.star-island.jp

STAR ISLAND 2019 Schedule

2019/7/20 – STAR ISLAND 2019 in Toyosu Gururi Park, Tokyo

2019/9/23 – STAR ISLAND in Saudi Arabia

2019/12/31 @ STAR ISLAND in Singapore

Mapping event, "Sky Fireworks ‐FIREWORKS BY NAKED‐" will be held at Osaka Abeno Harukas

The night-time projection mapping event, "Tenku Hanabi 

‐

FIREWORKS BY NAKED –" staged by NAKED will be held at the observation deck of "Abeno Harukas" named "Harukas 300" from September 21

st

 2018 (Fri.).

 "Harukas 300" has been holding the projection mapping event called, "CITY LIGHT FANTASIA BY NAKED" for the past 4 years, during the winter season. This event has gained much popularity from both domestic and foreign visitors and over 600 thousand visitors have visited the event to date.

This time, the creative team of NAKED developed an art collection, "Tenku Hanabi ‐FIREWORKS BY NAKED." Fireworks can usually only be seen in one direction but they have successfully created fireworks that can be projected on the walls of buildings using projection mapping technology. The visitors of the event can enjoy a "colorful sky rocket experience" using projection mapping technology and they can sense technology by touching the 16m-high wall named "Twin Tower" which is located on the west side of Tenku Teien (sky garden / 58F).

Visitors can also enjoy watching fireworks from different angles in a space (58F to 60F) surrounded by 3-layered glass which is known as a unique aspect of "Harukas 300." 

Let's enjoy this brand-new fireworks entertainment event which is a combination of traditional fireworks and a sparkling world created using the motif of a kaleidoscope.

■Information

Address: 1-1-43, Abenosuji, Abenoku, Osakashi

Business hours: 9:00 to 22:00

Tenku Hanabi -FIREWORKS BY NAKED-

Venue: Harukas 300 (observation deck) 58F "Tenku Teien"

Date: starting from September, 21

st

 2018 (Fri.)

Time: After sunset 

~ 

21:40

Event price: Free. You can enjoy this event just by paying the entrance fee to the observation deck.

Tickets: Abeno Harukas 16F Harukas 300 (observation deck) ticket counter, Kintetsu Business Office, Family Mart

Fireworks inside a mall?! Enjoy the wonders of projection mapping at Ginza San-ai Dream Centre!

From Friday 10th August 2018, make your way to San-ai Dream Centre, which is located at the crossing on Ginza 4-Chome, to witness fireworks blooming in the mall by 80 Ricoh Ultra Short Throw Projectors.

As fireworks are heavily associated with Japanese summers, this is the theme for the projection mapping project. Combining colours and 3D images, Ginza's night sky will glisten as fireworks launch into the sky, producing a magical atmosphere. This project was first launched in December 2017 with the intention of contributing to Tokyo's diverse culture and entertaining visitors in Ginza. 

Since opening in January 1963, San-ai Dream Centre has become a landmark of Ginza. The projection mapping will utilise every inch of the many characteristic glass windows of the mall. Digital image artist group WOW, who operate globally, was in charge of using this characteristic building as their canvas, transforming every inch into a fun display.

Enjoy the summer feeling of fireworks launching into the night sky of the city.

■Information

Display period: Friday 10th August 2018 — Sunday 16th September 2018

Display times: 19:00 — 23:30  (One cycle lasts 7 minutes and is repeated every 30 minutes)

Display area: San-ai Dream Centre (Ginza 4-Chome Crossing), 5-7-2, Ginza,  Chūō Ward, Tokyo

Access: Directly outside Ginza station (exit A2), 2-minute walk from Higashi- Ginza station (exit A1), 4-minute walk from  Yūrakuchō (exit A0 on the Eastern side)

Official website: http://jp.ricoh.com/company/advertisement/dreamcenter/

Top 10 Japanese Summer Fireworks Festivals to Attend in 2019

When May rolls around in Japan, ticket sales open for the country's many firework festivals. It is the season when Japanese people start checking their calendars so they don't miss out on the summer fireworks and being drawing up any travel plans if they are attending a faraway festival.

Today we will take a look at the Top 10 firework events to attend in Japan this summer as ranked by Hankyu Travel International from the number of attendees from last year's festivals.

1st Place: Omagari Fireworks Festival (Daisen, Akita Prefecture)

Soaring in at No. 1 is the Omagari Fireworks Festival. Boasting a bright history of over 100 years, this famous festival enjoys an attendance rate exceeding 700,000 every single year. As well as the general display, the event also holds a firework competition which sees firework masters from all across Japan come together in a battle to put on the best light show. Some of these experts have received various awards such as the Prime Minister Award and Ministry of Economy, Trade and Industry Award. Omagari is also the only place in Japan to hold a firework competition in the late afternoon.

The theme for 2019 is Heizei Rinrin ("the awe-inspiring ordinary"). In the latter half of of the program, a display will be held called "Firework Musical Reiwa Festival" where over 2,000 fireworks will be launched. It will commemorate the new Reiwa era of Japan with hit songs from the Heisei period and more.

Date: August 31, 2019

Time: Afternoon Fireworks – From 17:15 / Evening Fireworks – From 18:50

Location: Omagari, Daisen, Akita Prefecture (大仙市大曲 雄物川河畔)

Access: 30-minutes on foot from JR Omagari Station

▼Omagari Fireworks Festival Details & Tour (Japanese)

https://www.hankyu-travel.com/kokunai/event/oomagari/?p_baitai=9599

2nd Place: Nagaoka Fireworks Festival (Nagaoka, Niigata Prefecture)


On August 1, 1945, the lives of 1,488 locals were taken during the Bombing of Nagaoka. The following year, a festival was held in an effort to aid in restoring the destroyed town. This is the precedent to the annual Nagaoka Festival which includes a firework display. It has been held every year for over 70 years with people from all over the country travelling to attend it. It is considered one of the main three firework festivals of Japan.

2019's program has several famous fireworks lined up for the display as well as the Phoenix, a firework to commemorate the restoration of the Chuetsu area of Niigata Prefecture from the earthquake back in 2004.

Date: August 2, 2019 – August 3, 2019 (*Nagaoka Festival will take place on August 1)

Time: 19:20-21:15

Location: Riverside of Shinano River under the Chosei Bridge in Nagaoka, Niigata Prefecture

Access: 30-minutes on foot from JR Nagaoka Station

▼Nagaoka Fireworks Festival Details & Tour (Japanese)

https://www.hankyu-travel.com/kokunai/event/nagaoka-hanabi/?p_baitai=9599

3rd Place: Huis Ten Bosch Fireworks Festival (Sasebo, Nagasaki Prefecture)

The Huis Ten Bosch Fireworks Festival is the biggest in all of Kyushu. Fireworks can be enjoyed at Huis Ten Bosch all throughout the year, but what's special about this year's festival are two particular displays: one which will be combined with music from Studio Ghibli films and another being a competition between firework experts from all around the world. The estimated number of fireworks to be launched is around 22,000. Don't miss out!

Dates

Ghibli Music Fireworks: July 13, 2019

Summer Special Fireworks: August 10, 2019

Kyushu Fireworks Competition: September 21, 2019

Location: Huis Ten Bosch

Access: 5-minutes on foot from JR Huis Ten Bosch Station

▼Huis Ten Bosch Hotel Tour & Information (Japanese)

https://www.hankyu-travel.com/kyushu/nagasaki/huistenbosch/?p_baitai=9599

4th Place: Ashikaga Fireworks Festival (Ashikaga, Tochigi Prefecture)


This year will mark the 105th run of the Ashikagawa Fireworks Festival which takes place beside the Watarase River. Last Year, Hankyu Travel International offered a tour plan consisting of both the Ashikagawa Fireworks Festival and the Kiryuyagibushi Festival. The latter gained popularity for its program which included a Blue Impulse performance, an aerobatic demonstration from the Japan Air Self-Defense Force. The finale of this year's Ashikagawa festival will feature an 800 meter firework display.

Date: August 3, 2019

Time: 19:00-20:45

Location: Under Tanaka Bridge near Fujioka Watarase Sports Park and the riverside

Access: 5-minutes on foot from Ashikaga Station via the JR Ryomo Line

5th Place: Kachimai Fireworks Festival (Obihiro, Hokkaido)


The Kachimai Fireworks Festival is organised by Tokachi Mainichi News which celebrates 100 years since launching this year. The first run of this festival dates back to 1929 when it was the first ever fireworks festival to be held in Hokkaido. In recent years, the company have set up a live VR stream which offers a a 360° view of the fireworks and festival. This year, to celebrate Tokachi Mainichi's 100th anniversary, they will also hold a demonstration on how fireworks are launched for the first time. The finale will be the Nishikikamuro, a special firework launch synonymous with the festival, which will light up the night sky with a spectacular display.

Date: August 13, 2019

Time: 19:30-21:00

Location: 400 meters along the Tokachi Ohashi Bridge in Obihiro, Hokkaido

Access: 30-minutes on foot from JR Obihiro Station

▼Kamachi Fireworks Festival Tour (Japanese)

https://www.hankyu-travel.com/kokunai/keyword/%E5%8B%9D%E6%AF%8E%E8%8A%B1%E7%81%AB%E5%A4%A7%E4%BC%9A/?p_baitai=9599

For numbers 6-10 on the list check out Hankyu Travel International's website below.
RELATED ENTRIES
Kuroko's Basketball 10th Anniversary Event Coming to Tokyo and Osaka This Summer

A special event is coming to Tokyo and Osaka this summer to celebrate the 10th anniversary of the Kuroko's Basketball anime series. Fans will want to visit Tokyo in July and Osaka in September.





Kuroko's Basketball is a manga series by Tadatoshi Fujimaki which was serialized in Weekly Shonen Jump until 2014 and tells the story of a high school basketball team trying to make it to the national tournament. The anime adaptation began airing in April 2012.

Kuroko's Basketball ~A Miracle One Day in the City~

Kuroko's Basketball ~ Kyoto Exhibition

Gallery Corner

Voice Guide

Admission Bonus – Invitation Card (9 varieties)

Exclusive Goods – F6 Character Board

Goods

Acrylic Stand (9 varieties)

Mini Acrylic Charms 1 (Random)

Mini Acrylic Charms 2 (Random)

Pin (9 varieties, random)

 

Purchase Bonus – Shopping Bag

 

The event will feature exhibits highlighting the history of the series and will feature a special voiceover. Exclusive merchandise will be on sale and guests will be welcomed by Kuroko and his friends at the entrance, all wearing special costumes drawn for the event.

Are you a Kuroko's Basketball fan?

© 藤巻忠俊/集英社・黒子のバスケ製作委員会
© 「黒子のバスケ」アニメ10周年プロジェクト

Information

Kuroko's Basketball 10th-Anniversary PARTY!

Tokyo Venue
Venue: Ikebukuro Sunshine City World Import Mart Bldg. 4F, Exhibition Hall A
Running: July 16 – July 31, 2022
Hours: Weekends and Holidays, 10:00-20:00
Weekdays: 12:00-20:00
*Closing at 17:00 on July 31.
*Last entry until 30 minutes prior to closing.

Osaka Venue
Venue: Hirakata Park Event Hall I
Running: September 16 – November 6, 2022
Event Details: https://kurobas-ap.com/


Tickets

On Sale: July 16, 0:00 – July 31, 16:00
Where to Buy: Loppi at Lawson / Ministop locations
Online Reservations: https://l-tike.com/event/kurobas_ap/

Aniplex Online Fest 2022 to Stream Worldwide on September 24

Aniplex Online Fest 2022 will be available to stream worldwide on September 24, 2022! This is the third such event, with the first streaming in 2020. The large-scale online festival will share the latest information on Aniplex's anime works and a number of live performances are planned. Participating artists will be announced soon, so keep an eye out for more information. 

Last year's Aniplex Online Fest featured information on 11 anime series and had a lineup of incredible musical artists, DJs, and live drawing events. The festival was streamed on YouTube worldwide in both English and Japanese for over six hours and recorded a total of 850,000 viewers.

To commemorate the upcoming event, the main visual has been revealed. The illustration was done by Kerorira, the character designer for Bocchi the Rock!


Comment from Kerorira

"It's not often I get to create an original image from scratch, so I've been given a very rare opportunity! Please enjoy it!"

Stay tuned for more Aniplex Online Fest 2022 information!

Hololive Meet to Bring Popular VTubers to Anime Expo 2022 in Los Angeles

Massively popular VTubers from Hololive Productions will appear at Anime Expo 2022 in Los Angeles from July 1 until July 4, 2022. The contention is one of the largest anime events in North America.

 

Fans will be able to purchase exclusive merchandise featuring the Hololive Meet ambassadors: Gawr Gura, Tokino Sora, and Ayunda Risu. The three represent Hololive English, Hololive, and Hololive Indonesia, respectively. Everything from shirts to wall scrolls will be on sale, so if you're in the LA area, be sure to come out and support your favorite streamer!

Information

Anime Expo 2022

Booth Number: Exhibit Hall #4606
Dates: July 1 – July 4, 2022
Hours: 10:00-18:00 (Closing at 15:00 on July 4)
Location: Los Angeles Convention Center
Official Site: https://www.anime-expo.org/

Private Jet Package Now Available in Toyama Offering Spectacular View of Tateyama Mountains

Mizu to Takumi, a company associated with the Toyama West Tourism Promotion Association, has teamed up with SKYTREK to offer guests a once-in-a-lifetime chance to visit the area via private jet. Reservations for the incredible experience began on June 17, 2022.

Offering an entirely new tourism experience in Toyama Prefecture, visitors can see the area's natural wonders from miles above the Earth. The program also aims to share local culture and more about traditional craftsmanship and cuisine.

Toyama Prefecture boasts dramatic topography, from the massive peaks of the Northern Alps and the Tateyama Mountains to the deep waters of Toyama Bay. To better allow visitors to see the sights, these private jet tours will be chartered on special courses different from standard airlines.

After the flights, guests will be welcomed to explore Takaoka's deep history and culture. Kane no Sanzun, a restored and preserved inn, will welcome visitors, offering a relaxing and rejuvenating time.

Visitors can also book optional excursions to further explore the area, such as a Zen meditation experience at a famous temple in Takaoka, a traditional crafting workshop, and a tour and tasting of the only whiskey distillery in the Hokuriku region.

Come enjoy a trip to Toyama with a whole new perspective!

Airbnb Reveals Top 10 Most Popular Summer Destinations in Japan

Airbnb boasts one of the largest travel communities in the world, filled with users offering up lodging and those eager to visit somewhere new. The Japanese subsidiary of the company has revealed the top spots added to Japanese users 'Favorites (Wish Lists)' from May 1 to May 17, 2022. Where will travelers in the country be headed this summer?

Golden Week is long gone and users are starting to think about where to visit during the hottest part of the year. This national 'Wish List' might make it easier to pick a spot, with many locations highlighting lesser-known areas!

Gujo Hachiman Villa, Limited to 1 Couple Per Day (Gifu)

This completely private rental villa was made for sauna enthusiasts. One lucky pair per day can book this suite along the Yoshida River flowing through Gujo Hachiman, known as the "City of Water and Dance." Currently booked through the end of August, reservations for September and beyond will be available in early June. Book a stay to enjoy the gorgeous autumn foliage!

A House Surrounded by Lush Greenery in the Countryside (Tottori)

Hosted by a family of musicians and architects, this guesthouse invites guests to enjoy gorgeous Nordic-inspired interiors and the serene quiet of the countryside. For those looking to escape the hustle and bustle of the city, this is the perfect spot.

Hoshina Satomachi, Limited to 1 Couple Per Day (Nagano)

There's nothing like spending the summer in a traditional Japanese home. Enjoy a barbeque on the terrace and relax on the massive lawn. This is the perfect spot for families with children or pets!

Coastal Cabin (Chiba)

You can't have summer without a pool. This luxurious coastal retreat boasts a 15-meter pool, outdoor Jacuzzi, bonfire space, and a barbeque. Relax by the pool while listening to your favorite songs or soak in the outdoor bath as you watch the waves crash along the shore.

An Elegant and Peaceful Log Cabin (Nagano)

Located at 1,300 meters above sea level on the Iizuna plateau, this log cabin is situated in the midst of a dense forest. A perfect space for couples, families, or small groups of friends, guests are welcome to enjoy hiking through this gorgeous landscape in the center of Japan!

Izu, the Setting for Laid-Back Camp, Now Offering Travel Plans

JR Tokai Tours has released a new travel plan for fans of Laid-Back Camp Season 2, which aired from January to March 2021. The tour will take place in the Izu area, which was heavily featured in episodes 10, 11, and 12. Guests can enjoy a travel plan with single lodging and original goods starting May 23 until June 29, 2022.

Original Stickers

 

The slice-of-life series Laid-Back Camp is currently serialized in COMIC FUZ.

 

Set in Yamanashi and Shizuoka Prefectures, Laid-Back Camp is a relaxing series following a group of high school girls going camping and enjoying their daily lives. The series is based on the author Afro's personal experiences and interviews, and since serialization in 2015, the series has attracted fans from around the world. The original comic has sold over 7 million copies. In 2018, the first anime series premiered, inspiring a spin-off Room Camp in 2020 and a second season in 2021.


Four years after it was announced in 2018, a Laid-Back Camp animated film will arrive in theaters this summer.

EMOCAL, a Project to Support Japanese Regions, Releases Music Using Local Sound Samples

The EMOCAL project aims to support small-town areas of Japan. As a new initiative in the project, specific soundscapes only found in certain areas of the country have been combined with music to create some unique tracks. A selection of musical artists have collaborated with the project to bring these songs to life!


EMOCAL was created by ZOWA's original label, CatchyStuck. The project supports local regions and communities by using ASMR soundscape videos recorded in each region to convey their particular charms to all of Japan. The sounds recorded in each place are considered to be very valuable and are intended to serve two purposes: to bring tourism back after the pandemic and to provide fans of ASMR a way to experience these areas from afar.



Check out each of these unique ambient tracks created by four up-and-coming musicians! Each song is available on viviON's ASMR platform ZOWA and on Spotify.

Ube, Yamaguchi Prefecture / Ikkyuu x Hige Driver, I Love Ikkyuu

Beard Driver created this ambient track with sounds recorded inside of Ikkyuu, a ramen shop.

ZOWA: https://zowa.app/play/20019
Spotify: https://open.spotify.com/track/1RP4RcpJwMrFzoYQbnfDYm?si=f1f1e816adb14db0


Odawara, Kanagawa Prefecture / Miyuki no Hama x Powerless, Seiren

Powerless created this track, inspired by the sounds of waves crashing at Miyuki no Hama, a seaside recreation area 20 minutes from Odawara Station.

ZOWA: https://zowa.app/play/20016
Spotify: https://open.spotify.com/track/5DkQ9FeM7jQBacUf7Nbuxc?si=c7d771e73ddd44b6

Shizuoka, Shizuoka Prefecture / Wasabi Field x baker, On the silent hill

Utogi in Shizuoka city is surrounded by incredible nature. Known as the birthplace of wasabi cultivation, baker used sounds recorded in the area to create this ambient track.

ZOWA: https://zowa.app/play/20017
Spotify: https://open.spotify.com/track/0oIU4x7MjVKmpouRwEPaXZ?si=04dcb805cea540b7

Ibusuki, Kagoshima Prefecture / Cape Tara x SeA0, Akushu

Cape Tara is a popular spot featuring an 800-meter-long sandbar at low tide. The sounds captured here were used by artist SeA0, and this track is sure to make you miss the water.

ZOWA: https://zowa.app/play/20018
Spotify: https://open.spotify.com/track/1Utz5j0oB4GmSDOMVdUcXU?si=eafa1949b3ea44d0

Hypnosis Mic -Division Rap Battle- Event Heads to Nagoya and Osaka after Successful Tokyo Run

In 2021, the Hypnosis Mic -Division Rap Battle- Hypnosis Flava event was held at Mixalive Tokyo, attracting tons of attention and making fans of the franchise extremely happy. Now, the event will travel to Nagoya and Osaka!

Hypnosis Flava -The Missing Case-

CAFÉ  Hypnosis Flava

Food

Hypnosis Flava 〜 Rap Roll Buster Bros!!! (Curry-flavored Chicken)/ MAD TRIGGER CREW(Meatball)/Fling Posse(Meat Tacos)/Matenrou(Grilled Salmon)/Dotsuitare Hompo(Yakisoba with Mayo)/Bad Ass Temple (Miso Katsu)

Dessert

Hypnosis Flava -Division Rap Battle-
Hypnosis Flava 〜 Mille Crepe Buster Bros!!! / MAD TRIGGER CREW / Fling Posse /Matenrou / Dotsuitare Hompo /Bad Ass Temple〜

Drink

Hypnosis Mic -Division Rap Battle-
Hypnosis Flava ~ Jelly Soda Drink Buster Bros!!! / MAD TRIGGER CREW / Fling Posse/ Matenrou / Dotsuitare Hompo /Bad Ass Temple

Menu Order Bonus

Coaster (36 varieties)

Cafe Merchandise Corner

Sticker Set /Clear Photo Card/Square Pin Hypnosis Flava Ver.2(6 varieties) / Acrylic Block Keychain Hypnosis Flava Ver. (18 varieties) / Candy and Magnet, Hypnosis Flava Ver. (6 varieties) / Handkerchief Hypnosis Flava Ver. (1 variety)

Store

2nd D.R.B Winner: Commemorative Acrylic Smartphone Stand (Fling Posse) / Acrylic Panel (Division Leaders) /2nd D.R.B Postcard Collection

T-Shirt /Hoodie Hypnosis Flava Ver.

The event contains three events: Hypnosis Flava -The Missing Case-, an interactive riddle-solving attraction that challenges guests to solve a mission to find the missing Division team leader, Cafe Hypnosis Flava, offering food and drinks inspired by the world of Hypnosis Mic, and Store Hypnosis Flava, a shop selling exclusive merchandise featuring newly-drawn illustrations. A merchandise corner will be set up at the cafe, where six new items will be on sale to commemorate the Nagoya and Osaka events.

©︎ヒプノシスマイク-Division Rap Battle- HypnosisFlava@Mixalive TOKYO製作委員会

Information

Hypnosis Mic -Division Rap Battle- Hypnosis Flava @ Mixalive TOKYO in NAGOYA & OSAKA

●Nagoya Event
The Missing Case

Running: April 28 – May 22, 2022 (11:00-20:00)

Venue: Nagoya PARCO South Building 9F Event Space


Cafe

Running: April 28 – June 6, 2022 (11:00-20:00) *Last food order 19:00 / Last drink order 19:30

Address: Nagoya PARCO South Building 8F THE GUEST cafe&diner

Store

Running: April 28 – May 22 (11:00-20:00)

Address: Nagoya PARCO South Building 9F Event Space

●Osaka Event
The Missing Case

Running: July 1 – July 31, 2022

Venue: Shinsaibashi Opa Main Building 6F Event Space

Admission: ¥2,100 (Tax Included)

Cafe

Running: July 1 – August 7, 2022

Venue: Shinsaibashi PARCO 6F THE GUEST cafe&diner

Reservation Deposit: ¥300 (Tax Included)


Store
Running: July 1 – July 31, 2022

Venue: Shinsaibashi Opa Main Building 6F Event Space

Admission: Free

Tickets/Official Site: https://art.parco.jp


Banyan Tree Rooftop Bar Opens on Japan's Southernmost Island

The Banyan Tree Rooftop Bar, located at Hoshino Resort Risonare Kohamajima on Japan's southernmost island, is holding a special stargazing event until April 20, 2022. Visitors can enjoy a cocktail as they gaze at the countless twinkling stars overhead.

Kohama Island is located within the Yaeyama Islands. With a warm climate, it's comfortable to spend long hours outside, even at night. Kohamajima was also the first island in Japan to be protected by the IDA (International Darkness Association), meaning that no bright manmade lights can interfere with stargazing. Visitors can see 84 of 88 constellations! 

Enjoy a Boundless Starry Sky

The Banyan Tree Terrace will bring guests together to feel the sea breeze and taste colorful mojitos as they enjoy the pleasant weather. Why not spend a relaxing time in a fantastic space lit with faintly glowing candles as you stargaze?

Taste Colorful Mojitos

A limited number of colorful mojitos will be available at a bar counter set up on the terrace for this event only. You can also enjoy Okinawan original mojitos with made with Okinawa lime, brown sugar instead of sugar, non-alcoholic mojitos for children, and tropical fruit mojitos with pineapple and passion fruit.

Munch on Snacks Perfect to Pair with Cocktails

Guests can also enjoy a snack set with salty nuts perfect for enjoying with alcohol!

Information

Banyan Tree Rooftop Bar

Open: March 1 – April 20, 2022
Hours: 19:00-20:00
Location: Banyan Tree Terrace

Official Site: https://risonare.com/kohamajima/

Kyary Pamyu Pamyu Collaborates with Popular Shimane Manju for LOCAL POWER JAPAN Project

Celebrating the 10th anniversary of her major label debut, Kyary Pamyu Pamyu is staying active in 2022. In conjunction with the nationwide tour, the "LOCAL POWER JAPAN Project" was launched to energize Japan through the appeal of regional towns and cities, and has been attracting major attention. Kyary's tour made it to Shimane on March 12, and the details of her next collaboration have been revealed!


Kyary will be teaming up with Nakaura Foods and their delicious local delicacy Dojou Sukui Manju. Known as the representative treat of the San'in region, the name is a reference to the mask worn during local performances of the Yasugibushi folk song. The steamed buns were developed by Nakaura Foods in 1967 and have been loved by locals ever since. In the 2000s, the company began experimenting with new flavors by teaming up with other local creators.

 

The company's logo is being reimagined for the project, inspired by Kyary Pamyu Pamyu's 2013 Furisodeshon music video. 

The name of the popular product has also been changed to Kyary Sukui Manju! Each box has a pop design and would make a perfect souvenir for Kyary fans.

A collaborative T-shirt is also on sale featuring the new logo and the singer's 10th-anniversary logo. A special LINE collaboration is also underway, and 50 people who order the new Kyary-themed treats from the official Nakaura Foods online store will be entered to win a shirt!

Information

Dojou Sukui Manju (Shimane) x LOCAL POWER JAPAN Project
Sales Period: March 12 – April 8, 2022
Where to Buy:
Nakaura Foods Official Online Store
https://www.sanin-nakaura.jp/products/detail/1269
Nakaura Foods Stores in Matsue, Shimane Prefecture and Sakaiminato, Tottori Prefecture 


Collaboration T-shirt
Where to Purchase: LOCAL POWER JAPAN Project Online Shop
Available until March 25 at 23:59
https://store-localpowerjapan.com/




Commemorative Kyary Sukui Manju T-shirt Gift Campaign
Application Period: April 8, 2022
How to Enter: 

Add Nakaura Foods as a friend on LINE and get the campaign keyword. 

Enter the keyword when purchasing Kyary Sukui Manju from the Nakaura Foods online store.

50 winners will be selected by drawing to receive a special collaborative T-shirt!




 

Official Site:https://localpowerjapan.com

Sanrio Puroland Opens Easter Event with Oldies Flare

Tokyo's Sanrio Puroland has begun its annual Easter celebration! The oldies-themed Puro Easter event will run until July 5, 2022.

This year marks the third Puro Easter event, and the annual stage show has been revamped for 2022! 'Egg 'n' Roll Easter! -BLAST' will be performed in the Entertainment Hall on the first floor of the park. Fans of My Melody and Kuromi won't want to miss out, as the popular characters will appear in brand new costumes.

Egg 'n' Roll Easter! -BLAST-

Limited-Time Easter Photo Spot

Easter Egg Hunt Mini-Game

Puroland Special Easter Greeting

Food & Dessert Menu

Original Easter Goods

An Easter-themed photo spot is located at the entrance to the 3rd floor with pop and retro style. Fans can participate in an Easter Egg Hunt mini-game, scavenging around Puro Village searching for eggs and collecting keywords to unlock an original video. Don't miss out on new food and merchandise during the event period, with colorful curries and pasta perfect for filling hungry tummies. 

 

The 1st-floor Event Corner will also allow guests to interact with characters dressed in Easter costumes. Staff will be dressed in Easter outfits!

© 2022 SANRIO CO., LTD. TOKYO, JAPAN  著作 株式会社サンリオ

Information

Puro Easter
Running: March 11 – July 5, 2022

Booking.com Reveals 4 Best Lodgings with Outdoor Baths for Snow Viewing

Booking.com Japan has revealed its top four picks for the Japanese accommodations with the best outdoor baths and snow views! 

Zao Kokusai Hotel (Zao Onsen, Yamagata Prefecture)


Located 900 meters above sea level and surrounded by the gorgeous natural beauty of the Zao mountains, this resort has long been renowned for its spectacular view of seasonal scenery. During winter, guests can enjoy a fully spring-fed open-air bath while gazing at the snow-capped mountains. The milky white waters of the Zao Hot Springs have high sulfur content which will improve the texture of your skin. The resort also has a bath large enough to accommodate up to seven people at a time and a private bath for families or lovers. 

Midorinokaze Resort Kitayuzawa (Date, Hokkaido)

The Midorinokaze Resort Kitayuzawa is surrounded by nature and contains one of the largest open-air baths in Japan, along with 20 unique fragrant baths for guests to enjoy. In winter, the surrounding trees seem to glisten with snow, and visitors are sure to find plenty of peace and relaxation while lounging beneath the grey skies. 

Akakura Kanko Hotel (Myoko, Niigata Prefecture)

This highland resort sits on a 1,000-meter peak, offering unmatched views of Niigata Prefecture. The natural hot spring flows from the inside of Mt. Myoko, with healing waters perfect for soaking in during the cold winter months. The large baths are also equipped with a sauna and deck, and those wanting to view the scenery from their room can enjoy guest accommodations with private baths as well!

Satoyama Jujo (Minamiuonuma, Niigata Prefecture)

Winning a design award for its facilities, Satoyama Jujo has a different feel when compared to most hotels and ryokan. Booking.com recommends it for travelers looking for new experiences! In the open-air bath, visitors can relax while enjoying a panoramic view of Mt. Makihata, one of Japan's 100 most famous peaks. Guests can also enjoy the starry skies at night. This is a perfect location for couples!

Each season in Japan offers uniquely beautiful scenery. How would you like to enjoy winter in one of these luxurious baths?