Summer 2019 Japanese Fireworks Festivals With The Wow Factor
Hello everyone, this is Midori from MMN's Editorial Department!
The first thing that pops into your head when you think of summer is fireworks. During the summer, Japan hosts so many large-scale fireworks events that it can be difficult to decide which one to visit. However, some festivals really stand out from the crowd. Today, I will share with you some fireworks festivals I would highly recommend for their extra wow-factor. 
If you're interested, check out the 2019 list for the top 10 fireworks festivals in Japan. 
2019 Artistic Fireworks at Moerenuma Park, Sapporo
Last year, this event was cancelled due to an earthquake, so excitement levels are high this year.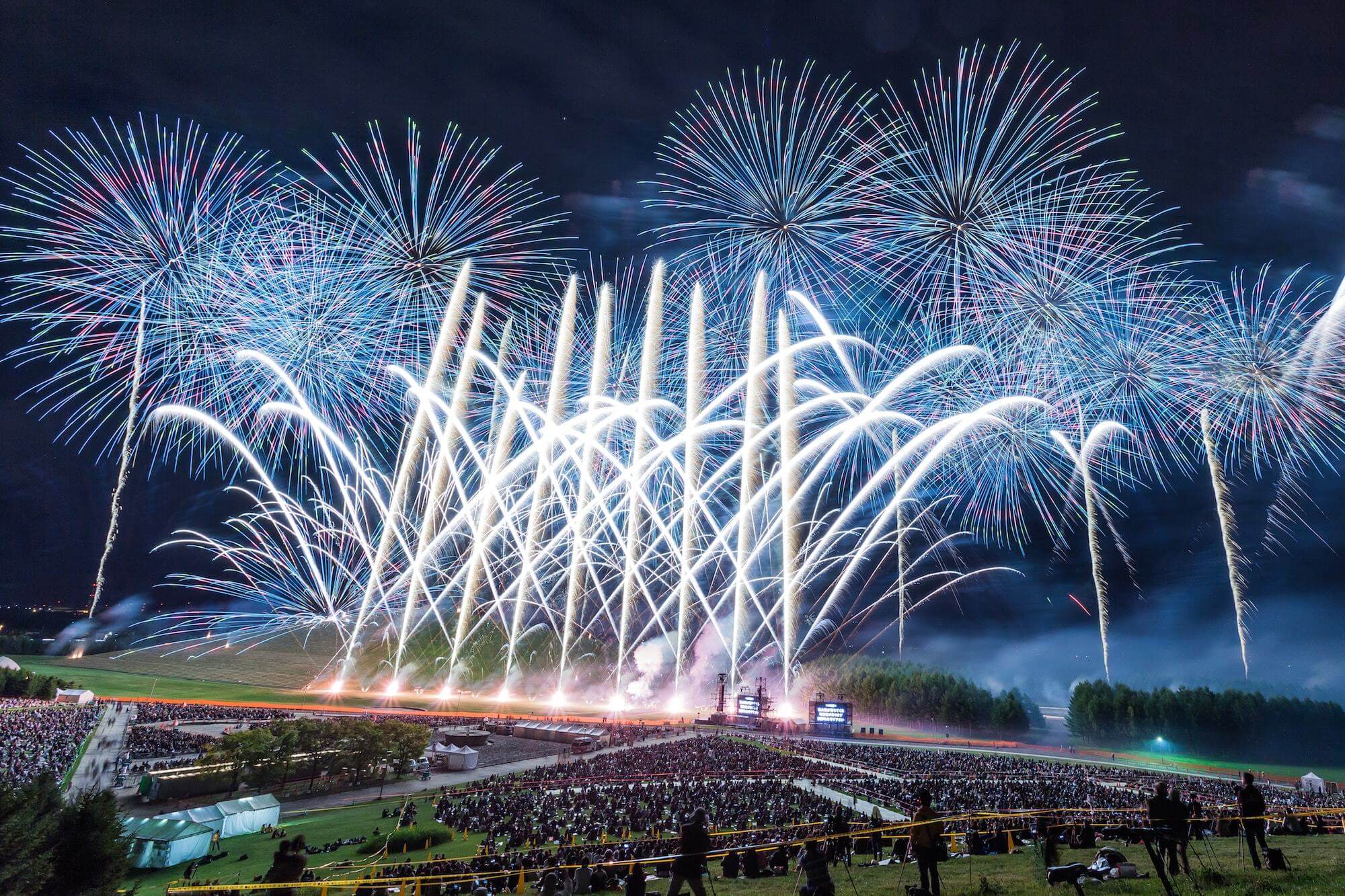 This year, the fireworks dream team have put together a special non-stop program which includes the highest fireworks in the whole country. A fireworks photo and painting competition will be held after the fireworks event day.
▼2019 Artistic Fireworks at Moerenuma Park
Date: September 7, 2019
Official Website: https://www.moere.jp/
Relax 221m Above Ground: The RESTAURANT LUKE with SLY LOUNGE Fireworks Plan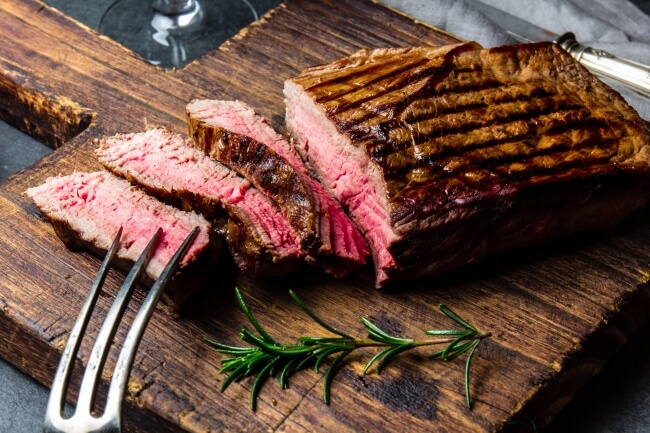 Fireworks events held within the city can get very crowded, so how about watching them explode beautifully in the night sky from a restaurant? RESTAURANT LUKE with SLY LOUNGE is the perfect place to watch the Sumida River Fireworks festival and its 20,000 fireworks, or the Edogawa Fireworks Festival, where 14,000 fireworks are launched. Make sure to ask for the fireworks plan if you want this experience.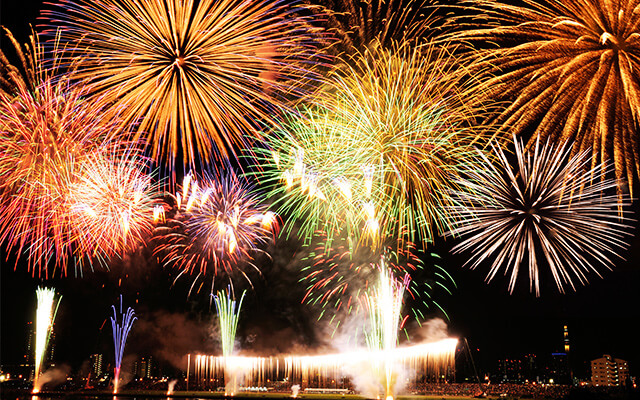 Being able to watch fireworks high in the sky is a wonderful lifetime opportunity. 
▼RESTAURANT LUKE with SLY LOUNGE
Address: St.Luke's Garden, 47th floor, 8-1 Akashicho, Chuo City, Tokyo
TEL: 03-3248-0211
Firework event plans:
July 27 Sumida River Fireworks Festival Special Plan
August 3 Edogawa Fireworks Festival Special Plan
Adults: ¥15,000, high school students: ¥6,000, middle school students: ¥4,000, elementary school students: ¥2,000 (Free for those under elementary school age)
Official Website: https://www.restaurant-luke.com/restaurant.html
Shin Yokohama Fireworks Festival  2019 Special Tickets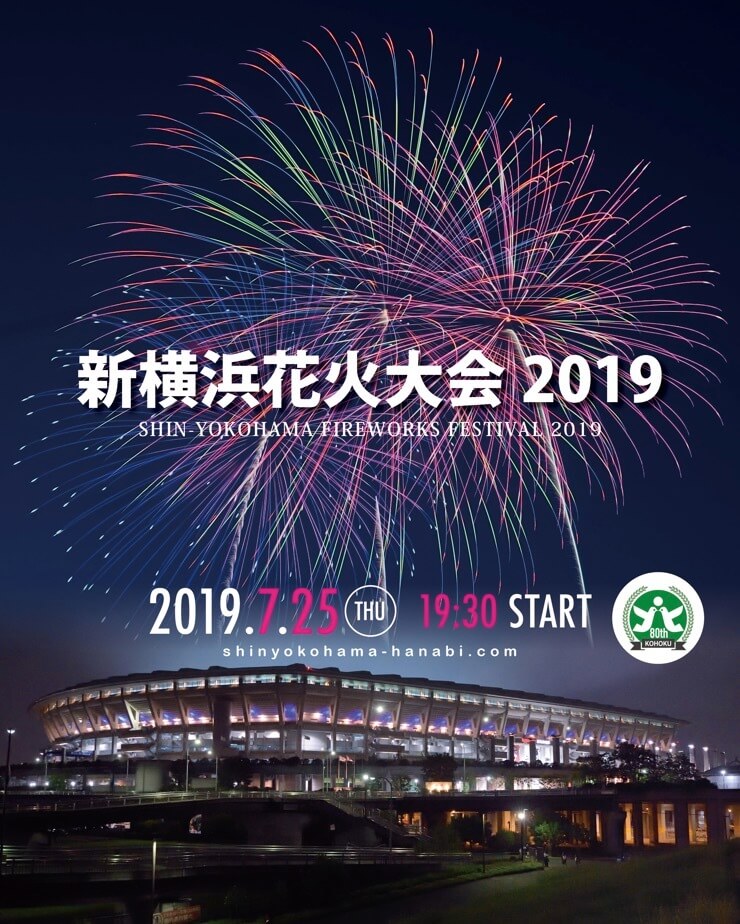 Kohoku-ku, Yokohama will be celebrating the 80th year of the Shin Yokohama Fireworks Festival. Tickets for seats to watch the 2019 fireworks event are now being sold. The fireworks will be launched in an area that is hundreds of metres wide. For the finale, you can enjoy yellow streams of light as they fall out of the sky. As this fireworks event is taking place at Shin Yokohama, you can get seats at the Nissan Stadium or the tennis court to enjoy a beautiful night.  
Photo: Takeshi Kanetake 
▼Shin Yokohama Fireworks Festival 2019
Date: July 7, 2019
Prices: Special entry area (unreserved seats): ¥2,000 (per person, 1m2 picnic sheet, 1 entry ticket).
Tennis court garden table seat: ¥20,000 (4 people, 4 tickets, 1 garden table), Nissan Stadium north side (for legal supporters/ event sponsors and others who contributed to the event: ¥54,000 (6 people, 6 tickets, table seating).
Official Website: http://shinyokohama-hanabi.com/
Enjoy Fishing With A Beautiful Fireworks Display In The Sky at Echizen, Fukui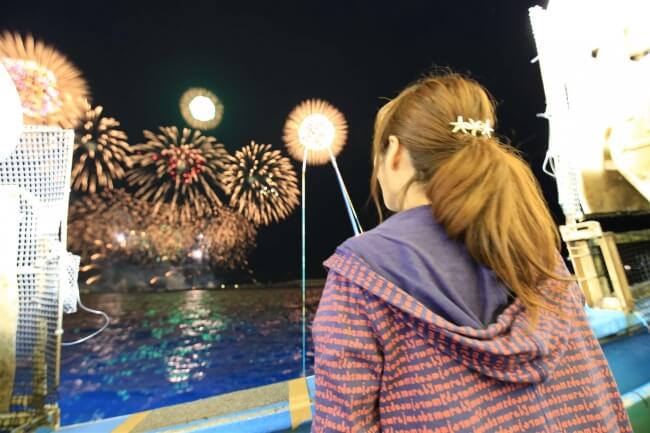 Visit Echizen port to enjoy a beautiful fireworks display whilst on the hunt for fish and squid. This is a relatively cheap plan considering that you also get the chance to enjoy a beautiful view. This is a wonderful way to create special memories.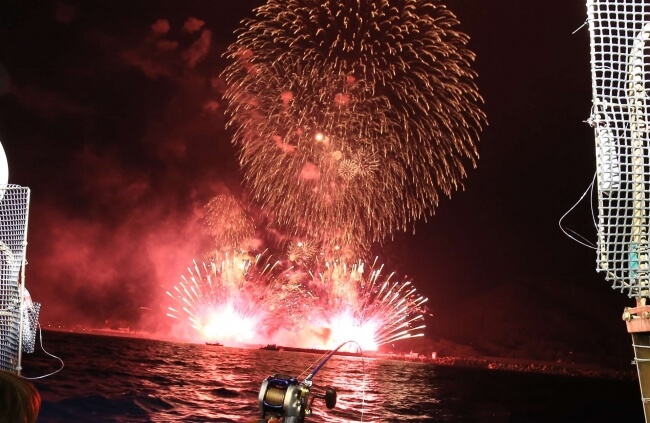 ▼ Fishing and Fireworks in Echizen, 2019
Date: July 13, 2019
Price: Squid: ¥ 6,000 per person Fish: ¥7,000 per person (40 people max).
(Includes fishing equipement. Price is the same for both children and adults).
Official website: https://www.town-echizen.jp/SSL/experience/detail.php?id=90
A Cool Night at The Pool and Fireworks Every Day at Phoenix Seagaia Resort, Miyazaki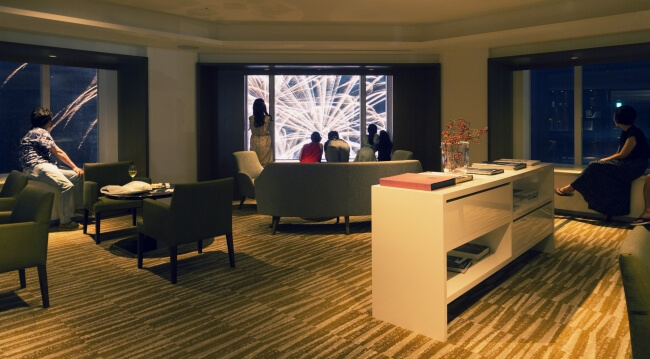 During the summer holidays, there will be a fireworks show every evening at Phoenix Seagaia Resort in Miyazaki prefecture. They have special seating, and also those who choose accommodation on the club floor can see the fireworks launched before their very eyes.
You can also enjoy the night pool or barbeque and simultaneously witness the fireworks. The best part is that there is a show everyday, so there is no need to worry about fitting it in with the rest of your plans.
▼Phoenix Seagaia Resort Summer Fireworks 2019
Event Period: Every day from July 20 ー August 31, 2019
Official Website: https://seagaia.co.jp/
This summer will be the first ever fireworks season of the Reiwa era, so how about making it extra special by attending a fireworks festival with that extra wow factor?
RECOMMENDED ENTRIES
Traditional Japanese Fireworks Fuse With Cutting-Edge Technology for STAR ISLAND 2019 in Tokyo&Singapore

This year marks the third year of STAR ISLAND, a firework festival set to take place at Toyosu Gurui Park on July 20, 2019. Tickets are now on sale.

STAR ISLAND will collapse together traditional Japanese fireworks with the latest in cutting-edge technology including 3D sound, lighting and show performances. This immersive entertainment experience will stimulate all five senses of attendees as they enjoy the show with against panoramic backdrop of Tokyo's towering skyscrapers.

Past STAR ISLAND event

The tickets for STAR ISLAND sell out every single year. 2019 will be its fourth run and it promises to scale things up to greater heights as the event is moved to Toyosu Gururi Park for the first time.

Past STAR ISLAND event

The event will now house two children's areas for families which have proven popular each year as well as new BBQ seats.

Past STAR ISLAND event

This year, STAR ISLAND is expanding its experience overseas. Up to now, the event has been held at Odaiba Seaside Park in Tokyo for two years in a row since its inception in 2017. At the end of 2018, it embarked to Singapore for the New Year's event "Marina Bay Singapore Countdown 2019" where it was the main attraction, showcasing its wondrous and moving content to people from 86 different countries.

STAR ISLAND will return to Singapore for the same event for the 2020 countdown. Before that, it will make its way to Saudi Arabia for Saudi-Japan Vision 2030 on September 23, 2019, the same date the kingdom was founded.

If you get the chance, make sure to book your tickets to witness STAR ISLAND 2019 for yourself.

Information

STAR ISLAND 2019

Date: July 20, 2019

Time: 16:00-21:00 (*Will go ahead if it rains but stop during stormy weather)

Location: TOKYO STAR ISLAND (Toyosu Gururi Park, 6-5 Toyosu, Koto Ward, Tokyo)

Tickets: http://r.y-tickets.jp/starisland2019

Enquiries: Kyodo Tokyo 0570-550-799 (Weekdays 11:00-18:00 / Weekends & Holidays 10:00-18:00)

Official Website: http://www.star-island.jp

STAR ISLAND 2019 Schedule

2019/7/20 – STAR ISLAND 2019 in Toyosu Gururi Park, Tokyo

2019/9/23 – STAR ISLAND in Saudi Arabia

2019/12/31 @ STAR ISLAND in Singapore

Mapping event, "Sky Fireworks ‐FIREWORKS BY NAKED‐" will be held at Osaka Abeno Harukas

The night-time projection mapping event, "Tenku Hanabi 

‐

FIREWORKS BY NAKED –" staged by NAKED will be held at the observation deck of "Abeno Harukas" named "Harukas 300" from September 21

st

 2018 (Fri.).

 "Harukas 300" has been holding the projection mapping event called, "CITY LIGHT FANTASIA BY NAKED" for the past 4 years, during the winter season. This event has gained much popularity from both domestic and foreign visitors and over 600 thousand visitors have visited the event to date.

This time, the creative team of NAKED developed an art collection, "Tenku Hanabi ‐FIREWORKS BY NAKED." Fireworks can usually only be seen in one direction but they have successfully created fireworks that can be projected on the walls of buildings using projection mapping technology. The visitors of the event can enjoy a "colorful sky rocket experience" using projection mapping technology and they can sense technology by touching the 16m-high wall named "Twin Tower" which is located on the west side of Tenku Teien (sky garden / 58F).

Visitors can also enjoy watching fireworks from different angles in a space (58F to 60F) surrounded by 3-layered glass which is known as a unique aspect of "Harukas 300." 

Let's enjoy this brand-new fireworks entertainment event which is a combination of traditional fireworks and a sparkling world created using the motif of a kaleidoscope.

■Information

Address: 1-1-43, Abenosuji, Abenoku, Osakashi

Business hours: 9:00 to 22:00

Tenku Hanabi -FIREWORKS BY NAKED-

Venue: Harukas 300 (observation deck) 58F "Tenku Teien"

Date: starting from September, 21

st

 2018 (Fri.)

Time: After sunset 

~ 

21:40

Event price: Free. You can enjoy this event just by paying the entrance fee to the observation deck.

Tickets: Abeno Harukas 16F Harukas 300 (observation deck) ticket counter, Kintetsu Business Office, Family Mart

Fireworks inside a mall?! Enjoy the wonders of projection mapping at Ginza San-ai Dream Centre!

From Friday 10th August 2018, make your way to San-ai Dream Centre, which is located at the crossing on Ginza 4-Chome, to witness fireworks blooming in the mall by 80 Ricoh Ultra Short Throw Projectors.

As fireworks are heavily associated with Japanese summers, this is the theme for the projection mapping project. Combining colours and 3D images, Ginza's night sky will glisten as fireworks launch into the sky, producing a magical atmosphere. This project was first launched in December 2017 with the intention of contributing to Tokyo's diverse culture and entertaining visitors in Ginza. 

Since opening in January 1963, San-ai Dream Centre has become a landmark of Ginza. The projection mapping will utilise every inch of the many characteristic glass windows of the mall. Digital image artist group WOW, who operate globally, was in charge of using this characteristic building as their canvas, transforming every inch into a fun display.

Enjoy the summer feeling of fireworks launching into the night sky of the city.

■Information

Display period: Friday 10th August 2018 — Sunday 16th September 2018

Display times: 19:00 — 23:30  (One cycle lasts 7 minutes and is repeated every 30 minutes)

Display area: San-ai Dream Centre (Ginza 4-Chome Crossing), 5-7-2, Ginza,  Chūō Ward, Tokyo

Access: Directly outside Ginza station (exit A2), 2-minute walk from Higashi- Ginza station (exit A1), 4-minute walk from  Yūrakuchō (exit A0 on the Eastern side)

Official website: http://jp.ricoh.com/company/advertisement/dreamcenter/

Top 10 Japanese Summer Fireworks Festivals to Attend in 2019

When May rolls around in Japan, ticket sales open for the country's many firework festivals. It is the season when Japanese people start checking their calendars so they don't miss out on the summer fireworks and being drawing up any travel plans if they are attending a faraway festival.

Today we will take a look at the Top 10 firework events to attend in Japan this summer as ranked by Hankyu Travel International from the number of attendees from last year's festivals.

1st Place: Omagari Fireworks Festival (Daisen, Akita Prefecture)

Soaring in at No. 1 is the Omagari Fireworks Festival. Boasting a bright history of over 100 years, this famous festival enjoys an attendance rate exceeding 700,000 every single year. As well as the general display, the event also holds a firework competition which sees firework masters from all across Japan come together in a battle to put on the best light show. Some of these experts have received various awards such as the Prime Minister Award and Ministry of Economy, Trade and Industry Award. Omagari is also the only place in Japan to hold a firework competition in the late afternoon.

The theme for 2019 is Heizei Rinrin ("the awe-inspiring ordinary"). In the latter half of of the program, a display will be held called "Firework Musical Reiwa Festival" where over 2,000 fireworks will be launched. It will commemorate the new Reiwa era of Japan with hit songs from the Heisei period and more.

Date: August 31, 2019

Time: Afternoon Fireworks – From 17:15 / Evening Fireworks – From 18:50

Location: Omagari, Daisen, Akita Prefecture (大仙市大曲 雄物川河畔)

Access: 30-minutes on foot from JR Omagari Station

▼Omagari Fireworks Festival Details & Tour (Japanese)

https://www.hankyu-travel.com/kokunai/event/oomagari/?p_baitai=9599

2nd Place: Nagaoka Fireworks Festival (Nagaoka, Niigata Prefecture)


On August 1, 1945, the lives of 1,488 locals were taken during the Bombing of Nagaoka. The following year, a festival was held in an effort to aid in restoring the destroyed town. This is the precedent to the annual Nagaoka Festival which includes a firework display. It has been held every year for over 70 years with people from all over the country travelling to attend it. It is considered one of the main three firework festivals of Japan.

2019's program has several famous fireworks lined up for the display as well as the Phoenix, a firework to commemorate the restoration of the Chuetsu area of Niigata Prefecture from the earthquake back in 2004.

Date: August 2, 2019 – August 3, 2019 (*Nagaoka Festival will take place on August 1)

Time: 19:20-21:15

Location: Riverside of Shinano River under the Chosei Bridge in Nagaoka, Niigata Prefecture

Access: 30-minutes on foot from JR Nagaoka Station

▼Nagaoka Fireworks Festival Details & Tour (Japanese)

https://www.hankyu-travel.com/kokunai/event/nagaoka-hanabi/?p_baitai=9599

3rd Place: Huis Ten Bosch Fireworks Festival (Sasebo, Nagasaki Prefecture)

The Huis Ten Bosch Fireworks Festival is the biggest in all of Kyushu. Fireworks can be enjoyed at Huis Ten Bosch all throughout the year, but what's special about this year's festival are two particular displays: one which will be combined with music from Studio Ghibli films and another being a competition between firework experts from all around the world. The estimated number of fireworks to be launched is around 22,000. Don't miss out!

Dates

Ghibli Music Fireworks: July 13, 2019

Summer Special Fireworks: August 10, 2019

Kyushu Fireworks Competition: September 21, 2019

Location: Huis Ten Bosch

Access: 5-minutes on foot from JR Huis Ten Bosch Station

▼Huis Ten Bosch Hotel Tour & Information (Japanese)

https://www.hankyu-travel.com/kyushu/nagasaki/huistenbosch/?p_baitai=9599

4th Place: Ashikaga Fireworks Festival (Ashikaga, Tochigi Prefecture)


This year will mark the 105th run of the Ashikagawa Fireworks Festival which takes place beside the Watarase River. Last Year, Hankyu Travel International offered a tour plan consisting of both the Ashikagawa Fireworks Festival and the Kiryuyagibushi Festival. The latter gained popularity for its program which included a Blue Impulse performance, an aerobatic demonstration from the Japan Air Self-Defense Force. The finale of this year's Ashikagawa festival will feature an 800 meter firework display.

Date: August 3, 2019

Time: 19:00-20:45

Location: Under Tanaka Bridge near Fujioka Watarase Sports Park and the riverside

Access: 5-minutes on foot from Ashikaga Station via the JR Ryomo Line

5th Place: Kachimai Fireworks Festival (Obihiro, Hokkaido)


The Kachimai Fireworks Festival is organised by Tokachi Mainichi News which celebrates 100 years since launching this year. The first run of this festival dates back to 1929 when it was the first ever fireworks festival to be held in Hokkaido. In recent years, the company have set up a live VR stream which offers a a 360° view of the fireworks and festival. This year, to celebrate Tokachi Mainichi's 100th anniversary, they will also hold a demonstration on how fireworks are launched for the first time. The finale will be the Nishikikamuro, a special firework launch synonymous with the festival, which will light up the night sky with a spectacular display.

Date: August 13, 2019

Time: 19:30-21:00

Location: 400 meters along the Tokachi Ohashi Bridge in Obihiro, Hokkaido

Access: 30-minutes on foot from JR Obihiro Station

▼Kamachi Fireworks Festival Tour (Japanese)

https://www.hankyu-travel.com/kokunai/keyword/%E5%8B%9D%E6%AF%8E%E8%8A%B1%E7%81%AB%E5%A4%A7%E4%BC%9A/?p_baitai=9599

For numbers 6-10 on the list check out Hankyu Travel International's website below.
RELATED ENTRIES
ONSEN GUEST HOUSE TSUTAYA to Open in Hakone This November

ONSEN GUEST HOUSE TSUTAYA is a new hot spring and guest house facility set to open in the town of Sokokura in Hakone on November 26. The building is being renovated from an old guest house that has enjoyed a long history of hot springs since the Edo period.

Sokura Onsen is about a 90 minute car drive from the city centre and is considered one of Hakone's "7 Hot Springs," a list that has been around since the Edo period. The place is said to have been used and loved by many military commanders back in the day for the high water yield gifted by the water source.

When the building was first constructed it was known as "Tsutaya Ryokan" and became a famous guest house with not only locals but travellers who would arrive all the way from Tokyo. ONSEN GUEST HOUSE TSUTAYA combines history of both Sokura Onsen and Tsutaya Ryokan.

The renovated building was built 29 years ago. Though it has been revamped, it still maintains a nostalgic air to it in the style of a traditional guest house. It's home to 6 spacious ryokan-type rooms and 46 compact rooms.

There is a space where one can gaze at the river after taking a dip in the hot springs, as well as a lounge with tables which encourages you to socialise with people you have just met. There are male and female open-air baths and indoor baths as well as a cooking space and laundry service for those looking to stay longer.

 The facility offers a retro environment in which each guest can relax and enjoy their own time as they please. Throughout the guest house is original old-fashioned furniture that has been upcycled, including kotatsu tables and shelves, to give that sense of traditional Japanese culture. This has been combined with contemporary art to create a fusion of the old and new.

It is a harmonious combination of a traditional Japanese hot spring ryokan, or inn, and a guest house, which means travellers from abroad will be able to enjoy the beauty of the country's traditional culture.

Escape the noisy city and enjoy peace and tranquillity surrounded in the colours of autumn at ONSEN GUEST HOUSE TSUTAYA

Information

ONSEN GUEST HOUSE TSUTAYA (Sokokura no Yu Tsutaya Ryokan)
Address: 240-1 SokokuraHakone, Ashigarashimo-gun, Kanagawa 250-0403
Arrival: 10-minutes on foot from Miyanoshita Station or 12-minutes on foot from Kowakidani Station, both via the Hakone Tozan Line 
Grand Opening: November 26, 2019 (Bookings begin in late October)

Official Website: https://hakone-tsutaya.com/

Complete a Mission and Explore Enoshima with The Mekakushi Dan

Ever dreamt of teaming up with the Mekakushi Dan from the Kagerou Project to complete a mission? Now you can and explore the wonders of Enoshima while you are at it. From September 14 to November 17, Enoshima will hold its biggest ever real life rescue game featuring Japanese mixed-media project The Kagerou Project. The event will be called Mekakucity Quest in Enoshima and will run over approximately two months.

From games and music to novels, anime and manga, The Kagerou Project characters have dominated the scene in a large range of media forms. The Mekakucity Quest in Enoshima was created in collaboration with SCRAP, who are famous countrywide for their real life escape games. 

This game can only be cleared by walking around Enoshima to find hints and answers to the challenges but don't worryーThe Mekakushi Dan will be in contact with you via the messaging app LINE to help you solve the riddles. 

Upon accepting your mission, you will receive a mission guide full of information on the mouthwatering gourmet food and fascinating history of Enoshima. The guide will take you on a wonderful journey of discovery through locations popular among tourists and even romantic date spots. This is the perfect way to enhance your Enoshima experience. 

Multimedia creator Jin, who is the founder of the Kagerou Project, has teamed up with SCRAP to create this exciting real life game which is full of fun contents that anyone can enjoy. The original storyline takes advantage of the wonders of Enoshima, creating a unique experience that is not available anywhere else. It is a rare opportunity to get close to the Mekakushi Dan and simultaneously enjoy the exciting culture of Enoshima. 

Your journey will start at Subana Kaikan (スバナ会館) which will be selling lots of Kagerou Project collaboration merchandise that cannot be obtained from anywhere else. Make sure to check out the official website for more information. 

There is an exciting bonus in store for those who successfully clear the game: A surprise phone call from Ene and Shintaro! Just hearing the voice message of these two popular characters is enough to send some fans wild. Those who clear the game will also have the opportunity to take part in a special lottery for the chance to win a ticket to watch the debut screening of the anime Kagerou Daze No.9 before anyone else. This series is set to go live next spring. 

*The debut screening is a private event that you can only take part in by clearing the Mekakucity Quest in Enoshima. There is no general screening event for those who do not succeed. 

As the sweltering heat of summer has finally subsided, this is the perfect chance to explore the wonderful tourist spots and indulge in the delicious local food of Enoshima while facing challenges with your pals or even your partner.

Information

Mekakucity Quest in Enoshima

Start Point: Subana Kaikan (スバナ会館), 1-9-12, Katasekaigan, Fujisawa, Kanagawa

Running: September 14 ー November 17, 2019 

Approximate amount of time required to complete the quest: 2 hours

Ticket Availability:

Selling on September 12, 2019 (10:00ー16:00)

*  Advanced tickets and more information is available on the official website.

* It is possible to obtain tickets after the ticket sale period has ended.

Official Website: https://realdgame.jp/mekakucityquest/

Tickets: http://bit.ly/2kJajwP

Pompompurin Zombieland: Save Pompompurin From Zombies at Sanrio's Horror Event

Sanrio's popular character Pompompurin is collaborating with Obaken, a horror experience creative company, to bring the brand new horror event known as Pompompurin Zombieland to Sanrio Puroland on November 16 and 30.

Tickets will go on pre-sale for official Pompompurin ambassadors, or Pombassadors, on September 14 at 10:00am (JST) and general sales will begin on September 28 at 10:00am (JST). To find out more about Pombassadors and how to become one click here.

Pompompurin Zombieland Promo Video

Horror experience planner Obaken is set to shake the cute world of Pompompurin into a terrifying zombie-infested one. In the story, Pompompurin was happily looking for some tasty mushrooms to pick when all of a sudden he eats a poisonous one by mistake. It is your mission to deliver him the antidote to stop him from becoming a zombie. Other unfortunate victims who also ate poisonous mushrooms have died and returned as the living dead and will roam around Puroland. The antidote to save Pompompurin, who is on the brinks of turning into a green zombie, lies in the non-poisonous mushrooms located in 6 areas of the park.

You must survive getting infected by the zombie virus and get your hands on mushrooms. If you succeed you'll receive an exclusive Pompompurin Zombieland pin badge stating that you have cleared the mission.

You can even pick up an exclusive Zombie Purin t-shirt. These are limited in stock and can't be bought anywhere else.

Additionally, if you wear a combination of yellow and brown-coloured clothing when attending the event―which are the colours of Pompompurin―you'll get the above-pictured Zombie Purin sticker.

Full details can be found on the event's website below. Don't miss out on this creepy-cute experience this autumn.

©︎'96, '19 SANRIO

Escape From Godzilla at TOKYO MYSTERY CIRCUS Escape Game Theme Park

TOKYO MYSTERY CIRCUS's catalogue of games just keeps on growing. The puzzle and escape game theme park has just announced the return of its escape game Escape From Shin Godzilla which is being held in collaboration with the 2016 film Shin Godzilla.

The event was previously held last April where it ran until October, enjoying huge popularity with over 40,000 escape game-goers. Players took the role of a member of the Kyosaitai―the anti-Godzilla task force―based in Kabukicho, Shinjuku where you will be tasked with solving puzzles to defeat the colossal giant.

The thrilling event returns once more with original visuals created to make it look like Godzilla has really invaded Kabukicho. Tickets are now on sale, and you can pick up exclusive merchandise and themed food at the venue too. Can you defeat Godzilla?

TM&©TOHO CO., LTD. ©SCRAP

Information

Escape From Shin Godzilla

Location: Himitsu Kichi Lab, TOKYO MYSTERY CIRCUS (Floor B1F)

Running: October 4, 2019 – November 10, 2019

Times

Weekdays: 13:20 / 16:20 / 19:20
Weekends & Holidays: 10:10 / 12:40 / 15:10 / 17:40 / 20:10
*The event will end 100 minutes after each starting time

Price
Advance: Single ¥3,300 / Group ¥12,000 / Repeater Group Ticket ¥12,000
Same-Day: Single ¥3,800 / Group ¥14,000 / Repeater Group Ticket ¥14,000
*Same-day tickets will not be available if all advance tickets sell out

 

TOKYO MYSTERY CIRCUS

Address: APM Bldg., 1-27-5 Kabukicho, Shinjuku, Tokyo, 160-0021

Opening Hours: Weekdays 11:30-23:00 / Weekends & Holidays 09:30-23:00

No Fixed Holidays.

Price: Free Entry (*Separate tickets required for games)

Official Homepage (English): https://mysterycircus.jp/en/

Event Page (Japanese): https://mysterycircus.jp/shin-godzilla/

Halloween at HEP FIVE Osaka: Horror Ferris Wheel, Guillotine Photo Spot & More

Osaka's landmark shopping centre HEP in Umeda is just a short 3-minute walk from Umeda Station, meaning you don't have to worry so much about looking over your shoulder to see if Michael Myers or Dracula is following this Halloween as you make your way to "HEP FIVE HORROR×HORROR AUTUMN."

This bone-chilling event is set to deliver horror, beauty and fashion all in one place.

Junji Inagawa's Horror Ferris Wheel

The Horror Ferris Wheel was such a hit last year that it's set to return again this Halloween, better and scarier than ever. There will be two Ferris wheels, each inspired by two of ghost story writer Junji Inagawa's masterpieces. Incorporating an all-new horror system, the Ferris wheels will take riders up 106 meters high for a hair-raising experience they cannot escape. Once you're in, you're in until the end.

Monster Food

Of course, no Halloween party is complete without some fang-tastic food. HEP FIVE's restaurants have each whipped up their own unique dishes for the holiday.

Lulu Hashimoto's Doll World

Lulu Hashimoto has garnered attention both in Japan and overseas as the "living doll" for her doll costume. She will be present at HEP FIVE where you can get a photo with her at the first floor entrance atrium.

Date: October 12, 2019

Time: Slot ① 13:00 (Floors 5F-6F), Photos at 13:30 / Slot ② 15:00 (Floors 3F-4F), Photos at 15:30 /  Slot ③ 17:00 (Floors B1F & 2F), Photos at 17:30

Locations: The initial fan greeting will take place at various places across the shopping centre, and photos will take place on the first floor atrium

Getting a Photo: Tickets will be handed out from 11:00 on the day. 15 people per slot on a first-come, first-served basis.

Horror Show Time

Ghost performed Sadawo is set to take on the form of Japan's most famous horror icon Sadako from Ringu while riding a Segway. Look forward to a whole host of terrifying performances.

Date: October 19, 2019

Times: ①12:00 (Floots 6F-7F) / ②14:00 (Floors 4F-5F) / ③16:00 (Floors 2F-3F) / ④18:00 (Floors B1F-1F)

Locations: Various places across the shopping centre

Guillotine Photo Spot

Get your photo taken at the guillotine photo spot at the first floor atrium and look like something straight out of a slasher movie. Make it even better by dressing up in cosplay or Halloween outfits with friends!

Enjoy a horror experience like no other this Halloween at HEP in Umeda, Osaka.

Information

HEP FIVE "HORROR×HORROR AUTUMN"

Location: HEP FIVE (5-15 Kakudacho, Kita Ward, Osaka, Osaka Prefecture)

Date: September 20, 2019 – October 31, 2019
HEP FIVE Official Website: https://www.hepfive.jp/

Go Grape Picking, Buy Fresh Fruit and Veg & More at Hills Marche in Tokyo This Autumn

Hills Marche is a market held every Saturday at ARK Hills in Tokyo, and on September 28, it is set to hold the Hills Marche 10th Anniversary "Great Harvest Festival."

Hills Marche began in September 2009 as the first project of Marche Japon which is run by the Japanese Ministry of Agriculture, Forestry and Fisheries. It has become one of Tokyo's representative markets, with more than 740,000 people having attended since its establishment.

The 10th Anniversary Great Harvest Festival brings together farmers from all across Japan, with fresh fruit and vegetables harvested from that morning. There will also be various events including a grape-picking session. Lots of lunch options will also be served using fresh vegetables used as the market.

Farmers Band Together

A total of 44 sellers from both Japan and overseas will set up shop for the Marche. The first 100 people to shop at over 5 stalls and collect the stamps will also receive a festival tote bag.

Taste and Compare 10 Varieties Of Grape

From popular varieties such as Shine Muscats to rarer, hard-to-find varieties, choose from 10 different types of grapes to enjoy. You'll be surprised at how different their sweetness and sourness is!

Go Grape Picking

Have even more fun by picking your own grapes at Karayan Square. Kids and adults alike will enjoy this experience. Bring friends and family and relish in the flavours of the autumn harvest.

Time: From 11:00

Price: ¥500
Anyone can join, but the grapes are limited in stock, so it's first-come, first-served!

Bistro Marche with Ark Hills Cafe

The Ark Hills Cafe is also celebrating its 10th anniversary alongside Hills Marche and will collaborate with the market for the occasion. Tuck into a healthy buffet made with ingredients from Hills Marche and enjoy a saxophone performance by Japanese musician Shunosuke Ishikawa. There will also be discount lunches using the ingredients from the market from September 24 to 27.

Price: General – ¥1,000 (Tax Included) / Elementary School Children & Younger – ¥500 (Tax Included)
Time: 10:00-15:00 (Last Entries 14:00)

Jazz Performances: ①11:15 / ②12:15 (subject to change)

There's plenty more to look forward to as well, including lots for parents and children to enjoy together such as workshops.

Information

Hills Marche 10th Anniversary "Great Harvest Festival"

Date: September 28, 2019

Time: 10:00-15:00

Location: ARK Hills Karayan Square (1-12-32 Akasaka, Minato Ward, Tokyo)

*Hills Marche is normally held until 14:00, but it has been extended an extra hour for the anniversary

*An opening ceremony will also be held from 9:20-9:50 to commemorate the celebrations

*Festival will go ahead if it rains but will stop if the weather turns stormy

Official Website: https://www.arkhills.com/en/hillsmarche/

Warm The Cockles Of Your Heart This Christmas at HOSHINO Karuizawa Area

This holiday season, Hoshino Resorts is set to hold a Christmas event at HOSHINO Karuizawa Area, a place managed by the company which brings together people who love culture and nature. It will run from November 16 to December 25.

The event's theme is "A Town Where Happiness Shines." From mistletoe illuminations to xmas desserts and more, you're sure to have the cockles of your heart warmed this year at this happiness-filled festival.

Mistletoe Illuminations

At Harunire Terrace, where 16 shops line the cosy wooden terrace, the columns and overhangs will be adorned in Christmas garlands, and mistletoe-shaped illuminations will dangle from tree branches.

You can spot a lot of mistletoe in Karuizawa Wild Bird Sanctuary. Even in wintertime the plant does not wither, instead keeping its green leaves, which in folklore has led it to be viewed as a symbol of immortality.

Mistletoe is known in many cultures as a symbol of happiness. In the Western world, lovers who stand under mistletoe are expected to kiss. The warm illuminations are set to light a warm and romantic atmosphere to all those who attend.

Mistletoe Lanterns

As well as the illuminations, there will also be mistletoe lanterns hiding in the trees to celebrate romantic love this Christmas. Get ready to count down with everybody at the event as when you reach zero, all of the lanterns will turn on at the same time. There will even be mini live performances where you can sing along to Christmas songs.

Christmas Sweets at Hoshino Resorts Karuizawa Hotel Bleston Court

Order the "Episode de Noel" at Hoshino Resorts Karuizawa Hotel Bleston Court for a delicious Christmas sweets dessert course of 4 treats.

This is just a peek inside the stocking of what's to come at the festival. There will be a hot chocolate bar, fresh s'mores, kids events, photo spots, a Christmas market, and more. Ride your sleigh into HOSHINO Karuizawa Area this winter.

Information

HOSHINO Karuizawa Area Christmas 2019

Running: November 16, 2019 – December 25, 2019

Time: 16:00-23:00 (Times differ for certain events)

Location: HOSHINO Karuizawa Area

Entry: Free

TEL: 0267-45-5853

Mistletoe Illuminations

Location: Harunire Terrace

Running: November 16, 2019 – December 25, 2019

Time: 16:00-23:00

Mistletoe Lanterns

Location: Harunire Terrace, Woods

Running: December 7th, 8th, 14th, 15th, 21st-25th

Time: 16:50-17:10

Price: Free

Dessert Course

Running: December 13, 2019 – December 25, 2019

Time: 10:00-16:00

Price: ¥3,500 (pre-tax and service charge)

HOSHINO Karuizawa Area

Address: Hoshino Nagakura, Karuizawa, Kitasaku District, Nagano Prefecture

TEL: 0267-45-5853

Access: 15-minutes by car from Karuizawa Station (via JR Hokuriku Shinkansen)

Official Website (English): http://www.hoshino-area.jp/en

Gamers! Rally Your Teammates For A New Quest: TOKYO GAME SHOW

The TOKYO GAME SHOW is in a league of its own. It is a mecca for gamers who cannot get enough of Japanese games and entertainment. This is where Japan's major game publishers from all kinds of platforms unite to put on an enormous exhibition. 

This includes the opportunity to explore games that are yet to be released as well as hear new announcements about the direction developers are steering the future of gaming. There's no lagging behind. This is a major event for the gaming industry, raking in leagues of heroes every year. 

On August 28, a total of 2,417 game booths were announced, which is the largest number the event has ever seen in its history. This event is home to games on a range of platforms including for console, smartphone and PC. The enormous variety of genres includes the most cutting-edge and latest trends including Esports, VR and much more.

For those of you who love cosplay, this event is your chance to finally meet your fantasy. The outside area of Hall 9 will have a Cosplaying Area Stage where two events will take place: a cosplay fashion show and a gathering. 

On Saturday 14th, Hall 1 event stage will hold the Cosplay Collection Night@2019 event where participants and event staff will take over the stage in game character cosplay. Spectating is free, so feel free to watch as each cosplayer dominates the entire stage, showing off their excellent craftsmanship and skills as they walk the runway and strike a pose definitely worth saving in your highlights! 

On Sunday 15th at 2:30 pm, cosplayers will take to the stage in units of two or more to put on a dance or combat show that you just cannot critically miss out on. 

Schedule:

September 14 (Sat)  From 12:00 ー Cosplay Runway  From 15:30 ー Cosplay Runway

September 15 (Sun) From 13:30 ー Cosplay Runway From 14:30 ー Cosplay Dance and Combat Shows From 15:30 ー Cosplay Runway

The Gathering is where cosplayers can interact with one another and have photos taken ー the perfect opportunity to send those friend requests. On September 14, a gathering dedicated to the Final Fantasy Tales Series will take place on the Cosplay Area Stage. On September 15, there will be gatherings for the Dynasty Warriors and Samurai Warriors series.

Schedule:

September 14  13:00-13:30 Final Fantasy Series Gathering  14:00-15:00 Final Fantasy Tales Series Gathering 

September 15 12:30-13:00 Dynasty Warriors and Samurai Warriors Series Gathering

More information on the exhibitions, booths and events will be announced on the morning of September 12 so please check it out. 

There is no better way to multi kill your time than to spend the entire day at TOKYO GAME SHOW 2019 ー get your tickets and GLHF!

Information

TOKYO GAME SHOW 2019

Event Information

Business Days*: September 12 & 13, 2019 (10:00~17:00)

*Business Days are open to industry and press only.

Public Entry*: September 14 & 15, 2019  (10:00~17:00)

*Doors may open at 9:30 am according to conditions on the day.  

Venue: Makuhari Messe (Mihama Ward, Chiba)

Exhibition Halls 1-11/ Event Hall/ International Conference Hall

Entry Fee: Advanced tickets: ¥1,500 (after tax)

On The Door: ¥2,000 (after tax)

Those under Elementary School age can enter for free (public entry days only)

Official Website: https://expo.nikkeibp.co.jp/tgs/2019/en/

5 Temples in Kyoto Announce Exclusive Viewings For Their Secret Cultural Assets

The history of Yamashina dates back over 1,400 years when Kyoto, then known as "Heian-kyō," was the official capital of Japan. Located in the southeastern part of Kyoto, Yamashina is rich in history, abound with nature, and has maintained a traditional industry that has gone unbroken since ancient times.

This year, with the arrival of Japan's new emperor and the opening of a brand new era, five of Yamashina's great temples are set to unveil several cultural assets, which until now have never been shown to the public.

They are as follows.

Anshoji Temple's Wooden Jūichimen Kannon Statue (Important National Treasure)

Kajū-ji Temple's Sliding Door Panel Artwork  – "Eight Views of Ōmi" & "Tatsuta River Autumn Leaves" (Important National Treasures)

Zuishinin Temple's Gold Lacquered Fan Inkstone Case & 4-Panel Folding Screen

Bishamon-do Temple's Imperial Prince Flag & Tortoise Shell Doors

Honkokuji Temple's Kyōzō (Important National Treasure)

Get away from the hustle and bustle of central Kyoto and steep yourself in its history with this very special once-in-a-lifetime opportunity.

Information

Special Viewings

Running: November 16, 2019 – December 1, 2019

Viewing Times:

Anshoji Temple, Kajū-ji Temple & Honkokuji Temple: 9:00-16:30 (Last Entries 16:30)

Zuishinin Temple: 9:00-17:00 (Last Entries 16:30)

Bishamon-do Temple: [Until November 31] 8:30-17:00 (Last Entries 16:30) / [From December 1] 8:30-16:30 (Last Entries 16:00)

Price

Anshoji Temple: ¥500 / Kajū-ji Temple: ¥400 / Bishamon-do Temple: ¥500

Zuishinin Temple: ¥500 (¥700 during illuminations at 6pm-8:30pm)

Honkokuji Temple: ¥500 (+¥500 to view the Kyōzō)

More details can be found over on Totteoki Kyoto Travel: https://totteoki.kyoto.travel/ (Japanese)

Kobe Readies For Rugby World Cup With Hospitable Events

The 2019 Rugby World Cup is set to take place in Japan from September 20 to November 2. Many stadiums are hosting the games across Japan this year, one of which is Kobe Misaki Stadium. It is predicted that there will be many people visiting the city of Kobe for the World Cup.

The competing teams at Kobe Misaki Stadium, also known as Noevir Stadium Kobe, are as follows: England vs USA on September 30, Ireland vs Russia on October 3, and South Africa vs Canada on October 8. An estimated 120,000 spectators will be present across the four matches, around 30,000 of which arriving from overseas.

In response to the many fans set to appear in Japan's sixth-largest city, venues are shops across Kobe are set to serve up a classic plate of Japanese omotenashi―or "hospitality―with a line-up of events and tours. Let's take a look at just some of the exciting things the city has planned for the 2019 Rugby World Cup.

1. Meriken Park Fanzone in Kobe

Rugby fans can enjoy the thrilling atmosphere of the World Cup at one of the many Fanzones set to open across Japan for the games. Entry to all of the Fanzones is free. In Kobe, look forward to live screenings of the matches, food stalls serving local food, promotional booths and more. The fun doesn't have to end at the matches: fans can continue to enjoy the excitement before and after too at a Fanzone.

 

2. Hospitable Events

The Kobe Tourism Bureau has teamed up with local business around the city to prepare what they are calling "Hospitable Events For Fans." Taking place from late September to early October, these events will offer exclusive and unique Kobe experiences. There are 6 in total, but we will take a look at just 2.

MUSIC&DANCE@KOBE PORTOPIA Night 2019

From big disco hits to rock tunes, EDM beats and groove, enjoy a feel-good late-night dance and music party at the fancy Kobe Portopia Hotel. Soak up the warm summer evening while freestyle boogieing.

YORU-BAR ~Night Food Festival~

People of all ages are invited to the popular YORU-BAR at Sannomiya Center Gai which will run from late September to early October. They will serve up a tasty selection of Japanese seafood to Kobe cuisine.

3. KOBE Experience Guided Tour

Aimed at foreign tourists attending the Rugby World Cup in Kobe, the Experience Guided Tour is comprised of 25 unique programs for people to experience Japanese culture, Kobe's local food culture, and more. The tours will not only be limited to Kobe either―some will also spread to neighbouring cities. Let's take a look at some of them.

*All programs available in English only

Premium Kobe beef at the almost 150-year-old restaurant Oi Nikuten

Kobe beef is one of the three top brands of high-quality Japanese Wagyu beef. It's the most well-known and popular type of Wagyu in Japan. With this program, you will learn various ways to enjoy Kobe beef at Oi Nikuten, a long-standing restaurant that first opened back in 1871.

▼Bookings

https://www.viator.com/tours/Kobe/Various-ways-to-enjoy-Kobe-beef-Long-established-store/d27432-165105P24

Experience Zen Meditation at Tenjoji Temple in Kobe City

Immerse yourself in traditional Japanese culture with Zen meditation session at Tenjoji Temple. Learn all about the rich history of the temple with an incredible guided walk before sinking deep into meditation.

▼Bookings

https://www.govoyagin.com/ja/activities/japan-kobe-experience-zen-meditation-tenjo-ji-kobe-city/11290

There is lots to be discovered in Kobe, and the doors to its culture are open and ready to embrace all for the Rugby World Cup. Look forward to everything here and much, much more when the matches begin on September 20.

Information

Meriken Park Fanzone in Kobe

Dates/Times

9/26@ 11:00-22:00
9/28 @ 11:00-21:30
9/29 @ 11:00-19:00
9/30 @ 11:00-21:30
10/3 @ 11:00-21:30
10/5 @ 11:00-22:00
10/6 @ 11:00-19:00
10/8 @ 11:00-21:30

Venue: Kobe Meriken Park (Address: 2-2 Hatobacho, Chuo Ward, Kobe, Hyogo Prefecture
Entry: Free

Official Website (English): https://www.2019kobe.com/news/20190816_03/

MUSIC&DANCE@KOBE PORTOPIA Night 2019

Dates: September 25th-30th / October 3rd-4th, 7th-8th

Time: 19:00-Midnight

*An event titled "FM802 & FM COCOLO Night" will run on September 27 and October 4

Venue: Party Room Key Notes at Kobe Portopia Hotel (South Building Floor 3F) (Address: 6-10-1 Minatojima Nakamachi, Chuo Ward, Kobe, Hyogo Prefecture)

Official Website (English): https://www.portopia.co.jp/en/convention/venues/keynotes/

Official Website (Japanese): https://www.portopia.co.jp/event-culture/event/detail/25/

YORU-BAR ~Night Food Festival~

Dates: September 26 / September 30 / October 3 / October 8

Time: 20:00-Midnight
Location: Sannomiya Center Gai, Kobe
Official Website (Japanese): http://yorubaru.kobe-sc.jp/

Adventure World Wildlife Theme Park in Wakayama Adopts SmaLingual Multilingual App

Adventure World has announced that it has adopted SmaLingual to the park, a multilingual app designed for foreign tourists and travellers in Japan to help them get around.

SmaLingual is a simultaneous multilingual interpretation service which uses a multilingual speech translation engine. Available in 10 languages including English and Brazilian Portuguese on both phones and browsers, the service translates and interprets both text and speech simultaneously, enabling people to have conversations with each other in different languages. The app's functions also have a language level over TOEIC800, ensuring that you convey the right information correctly.

Using this app means you will be able to read and understand descriptions and explanations written around the park, cautious on interacting with the animals, and so on.

Now guests can enjoy Adventure World with friends and family to the fullest without making a mistake.

Information

Adventure World – SmaLingual

・Park Services Using App: 45

・Adventure World currently accepts 10 languages including Japanese, English, Traditional Chinese, Simplified Chinese, Korean, Thai, Indonesian, Myanmar, Vietnamese, and Brazilian Portuguese

How to Use

①Scan the QR code provided on the park staff's tablet

②Translate your own text or voice using your own smart device

*Guests do not need to install the app if they do not wish. The app can be used online.

Adventure World

Address: 2399 Katata, Shirahama, Nishimuro District, Wakayama Prefecture

Official Website: https://www.aws-s.com/

Himeji Castle Places Number 1 On Japan's Top 20 Castles For 4th Year in a Row

TripAdvisor® has just released its list of the top 20 castles in Japan from 2019 as reviewed by travellers and tourists.

Himeiji Castle

This is the 7th time the website has run this list. Coming in at No. 1 for the fourth year in a row is none other than Himeiji Castle, located in the city of Himeiji in Hyogo Prefecture.

Matsumoro Castle

Kumamoto Castle

Moving up from 4th place to 2nd place this year is Matsumoto Castle in Nagano Prefecture, and from not ranking at all last year to 3rd place this year Kumamoto Castle. These top three castles comes as a package as they are considered Japan's three premier castles.

Kumamoto Castle is set to re-open this autumn after reconstruction work is complete. The castle suffered damages after the 2016 Kumamoto earthquakes. Although time is required for the full restoration, you can still see the majestic tower keep surrounded by paling. Japanese users on TripAdvisor have commended it as a symbol of restoration and their joy with the repairs being done.

Hirosaki Castle

For the first time in four years, Hirosaki Castle ranks on the list in 12th place. Situated in central Hirosaki in Aomori Prefecture, the castle is a known living symbol of the Edo Period (1603-1868). Construction work has been taking place since 2015 to repair the base of the castle structure on the east side due to deterioration. In summer 2015, the castle tower was moved 70 meters without taking the castle apart to allow for work to be carried out. A moving castle is certainly a rare sight to see in Japan-and something you only imagine from a Studio Ghibli movie!

The castle has been praised on TripAdvisor for how beautiful its surrounding nature is, from the cherry blossoms in spring to the red and yellow leaves in autumn. The castle can be enjoyed throughout all the seasons.

Tsuyama Castle

Making the list for the first time ever is Tsuyama Castle which can be found in the beautiful Kakuzan Park in Okayama. When you ascend the magnificent stone steps of the castle and turn around you can enjoy a panoramic view of the city of Tsuyama. In spring, the castle's white watchtowers look picturesque next to the pink cherry blossom trees.

From castles that have been maintained since they were first built to others that have been rebuilt from their former forms, there are countless sites to behold while in Japan. Be sure to use the Top 20 list as reference when travelling there!